I am not sure when wearing birthday shirts started becoming a thing, but it sure makes the celebration more fun and memorable. And since then, this birthday shirt trend has expanded to include family and friends with birthday squad shirts. Everything is just taken to an entirely new level when your family or your entire gang is also excited or at least cool about sporting a custom shirt in your honor. So if you or a loved one has a birthday coming up, you shouldn't miss the chance to get birthday squad shirts to make things a lot more special. All you got to do is gather some great birthday squad shirt ideas, pick a design, and get it printed on your tees.
Truth is, I love it when my girlfriends and I wear squad shirts for whenever one of us has a birthday. Whether we're just having drinks at a bar, having dinner at a restaurant, playing a game of laser tag, or doing whatever the celebrant fancies doing for her birthday, there's nothing that gets us in the right celebratory mood more than wearing our birthday squad shirts. These shirts are sort of an unspoken declaration that we're ready to let our hair down, even if we think we look utterly ridiculous wearing shirts in matching colors and with matching prints.
My Bottom Line Up Front
When it comes to birthday celebrations with family and friends, I'm always the one in charge of getting the squad shirts, and my go-to designs are always the personalized ones. While the birthday squad shirts are supposedly uniform so that the birthday celebrant's shirt will stand out, you can still customize them a bit. Ideally, the squad shirts' color and font should be the same, but you can personalize each print.
I personally prefer squad shirts personalized according to each squad member's personality. I especially like shirts that sort of "warn" people about who most likely is to do something during the party. Now these birthday squad shirt ideas are technically for a bridal shower squad, but they'd be perfect for when you go out for birthday drinks at the club, too: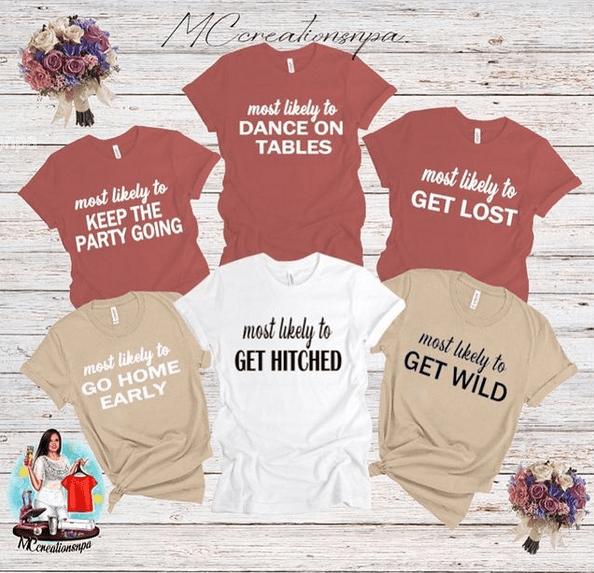 Tips on Getting Birthday Squad Shirts
Is this the first time you and your friends are getting birthday squad shirts? And are you the lucky person assigned to get them? Well, today's your lucky day because I have some pointers to make this task painless and hassle-free for you.
Here's how you can go about getting birthday squad shirts:
Pick a design. Gather all the nice birthday squad shirt ideas you like and maybe pick your top five or top three. You can then show these designs to the rest of your gang and get their votes. You would want a shirt design that a majority of you, if not all, would want to wear.
Get your sizes. List down your squad's shirt sizes. Some printing companies provide their own shirts, while there are also some who can print the shirts you provide. This is important to know if you're particular about fabrics and prints.
Pick a printer. Check out t-shirt printing businesses in your area that can print your shirts for you before your party. Now, you have to remember that different printers produce different quality prints. So you need to see samples. It would be better if you can see these sample prints in person. Make sure to get the company that turns over a high-quality shirt printing job. You also need to give the company ample time to print your shirts.
Selecting Birthday Squad Shirt Ideas
Birthday squad shirts are pretty straightforward, so I didn't really go by certain rules or criteria when choosing the designs. However, I opted for shirts with more interesting prints than the plain "Birthday Squad." The more customized the shirt's design, the more chances of making it to this list.
Birthday Squad Shirt Ideas
#01 Labor and Delivery Squad Shirts
Celebrate your baby's birthday on Day 1 and get its birthday squad on standby, ready to welcome your new bundle of joy. It would be great if your squad would be there with cake, birthday hats, and their shirts in your hospital room.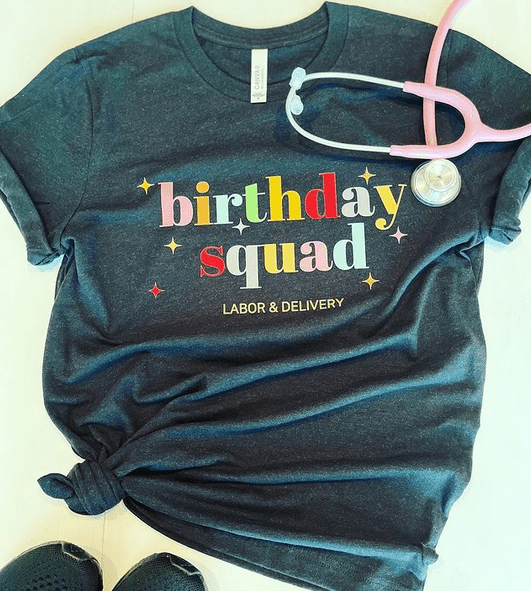 This squad shirt has "Labor and Delivery" in fine print to make it clear your squad's there to celebrate your baby's birth with you. This shirt also works if all of you are nurses in the labor and delivery department.
#02 Movie Night Birthday Crew Shirts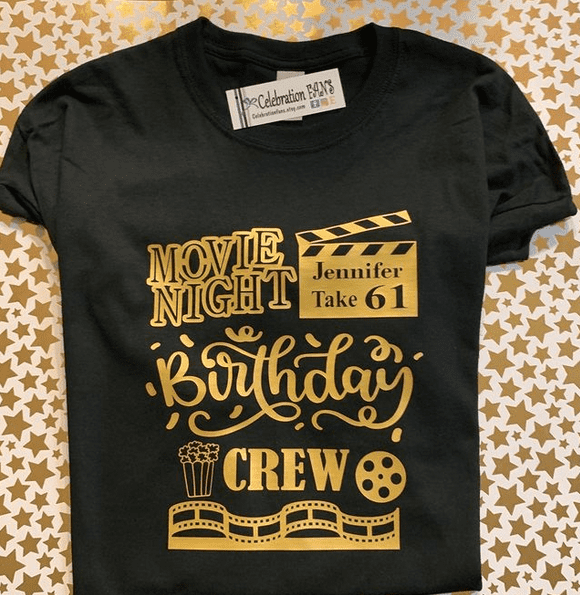 If you're doing a movie night with your friends or your family for your birthday, then this shirt design would be perfect. It is creative and contains everything you want to know without going overboard, including the birthday celebrant's name and age, as well as the activity you're doing. There are even some cute graphics or illustrations in there.
This design idea is totally applicable to other birthday activities, like laser tag, escape room, spa day, mini golf, or bowling. Simply change the text and the graphics.
#03 Tie-Dye Birthday Squad Shirts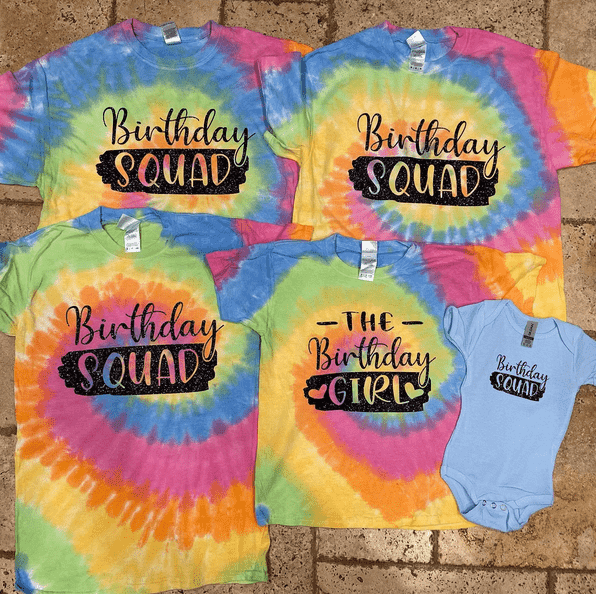 I know I said I prefer shirts that don't just say "Birthday Squad" on them because they're just too common and boring. But what got to me are the tie-dyed colors and the fact that there's a onesie in there. Besides, you can always just change the words to something more interesting and unique, maybe like "Birthday Cake Eaters" or "Birthday Troop."
#04 Anything-The-Birthday-Boy/Girl-Fancies Shirt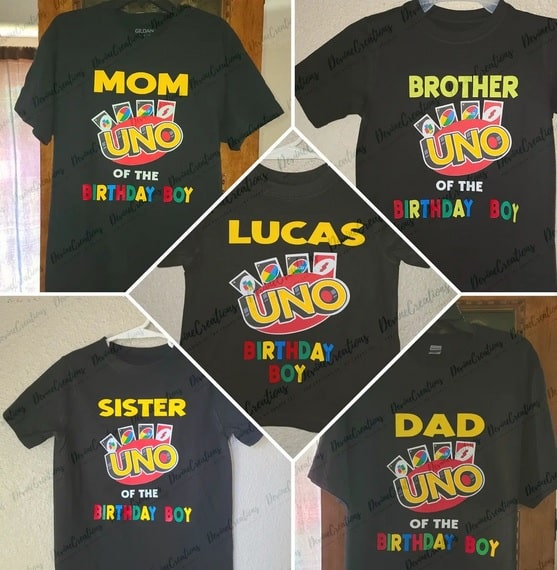 From this shirt alone, you can guess the birthday boy's favorite card game: UNO. The Uno design makes the black shirt look colorful. And it's nice that it has a label saying how you're related to the celebrant.
It can also be anything the birthday girl or birthday boy loves. And if we're talking about kids, this is the easiest to figure out.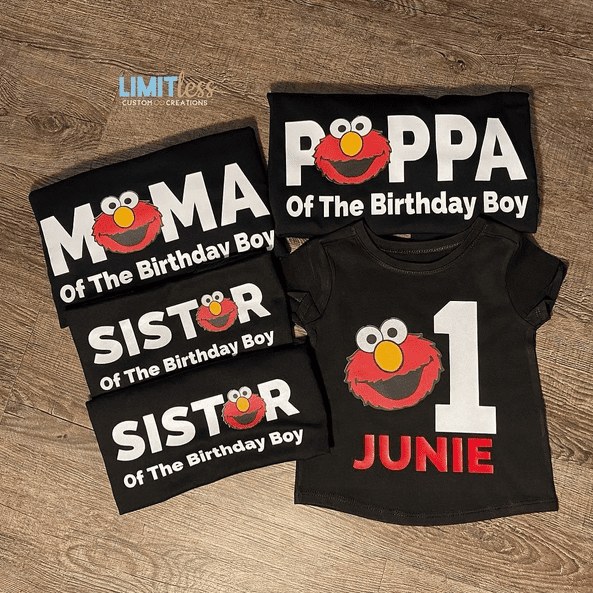 These birthday squad shirts, for example, are for a tiny celebrant who loves Elmo from Sesame Street.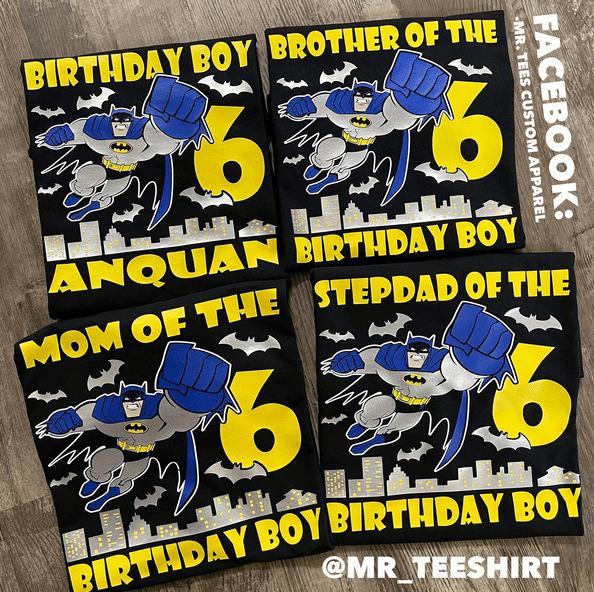 And if it's not cartoon character, a puppet, or a game, then it must be a superhero, right? These squad shirts are in honor of the birthday boy who looks up to Gotham's resident superhero: Batman.
Well, for a little girl who fancies being a mermaid, you can all be her mermaid squad on her birthday!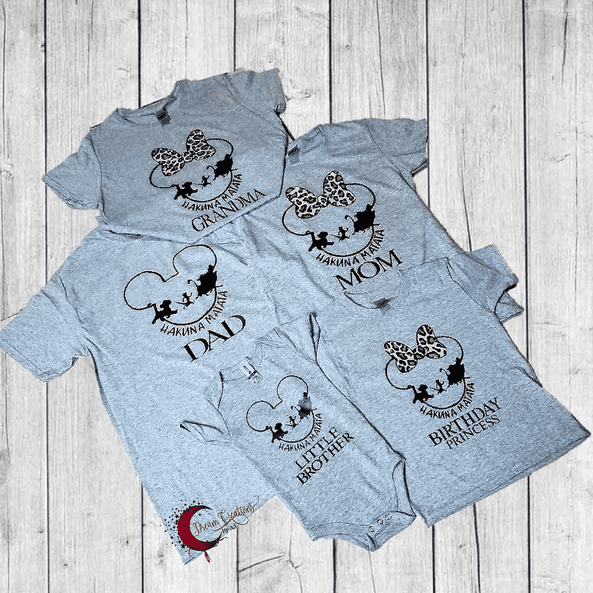 And aren't these Hakuna Matata birthday squad shirts for a Disneyland trip just cute? I love the silhouette design of our beloved Lion King characters inside the Disney Mouse logo and I love how the shirts for the girls have a leopard print bough on the logo. It's fun even while they stuck with the subdued gray-and-black color theme. And if they get an extra shirt for the birthday girl that simply says "Big Sister," they can totally wear these shirts again for another family excursion.
#05 Simple Labeled Shirts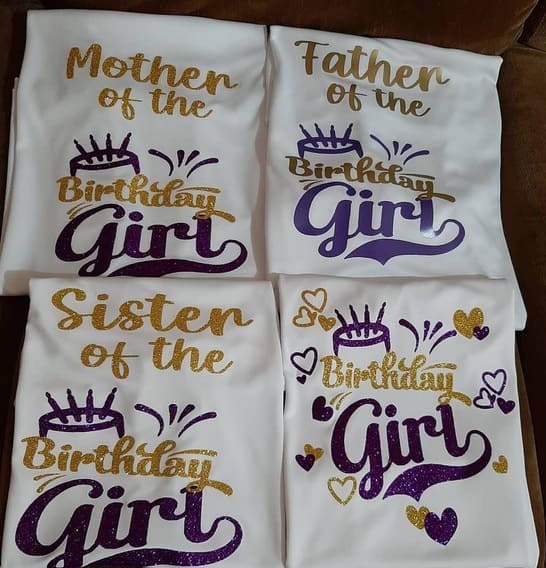 Speaking of squad shirts that are customized for every family member, you can always go for simple designs. I like the metallic gold and purple prints of these shirts. And even if there are only two colors, it's nice that they chose a font that matches the celebratory mood. The colors really pop out from the white background, too.
#06 Personalized Squad Shirts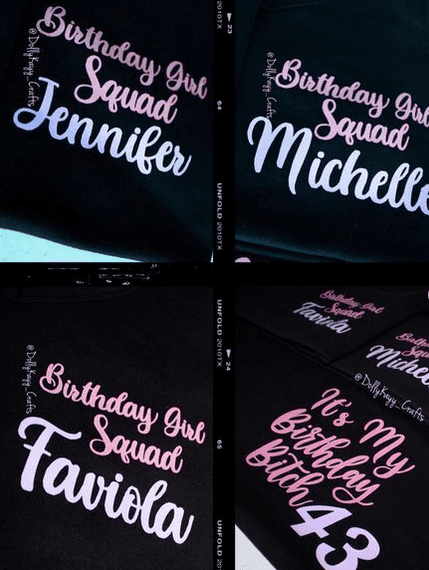 What's more personalized than squad shirts with your names on them? You can pick simple and no-fuss designs like these shirts, but you can make up for it by adding the name of each squad member.
#07 Birthday Squad Tank Tops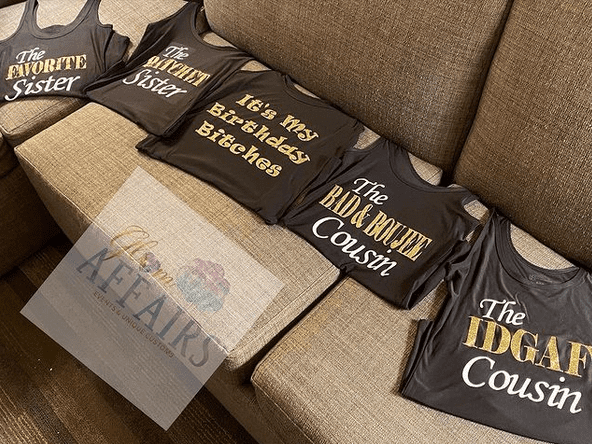 To be a bit more unique, your friends can go for tank tops instead of the usual t-shirts. Tank tops are perfect for an all-girls birthday night out or something a bit more adventurous or sporty. And what I love about the prints on these shirts are the descriptions and the labels, like "The Bad and Boujee Cousin" and "The IDGAF Cousin" (its I Don't Give a F*ck, for those who still don't know).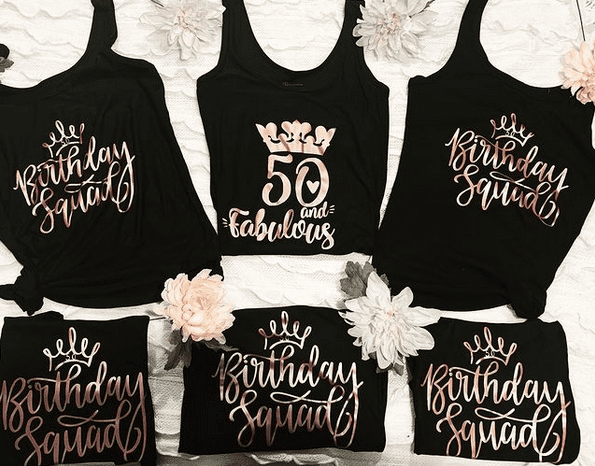 These birthday squad tank tops don't have a lot going on: no fancy wordings, no creative designs, and they are not even personalized. But I just love the metallic rose gold print on black, the script font they used, and the simple crown vignette. Everything just looks classy and elegant.
#08 Squad and Bodyguard Shirts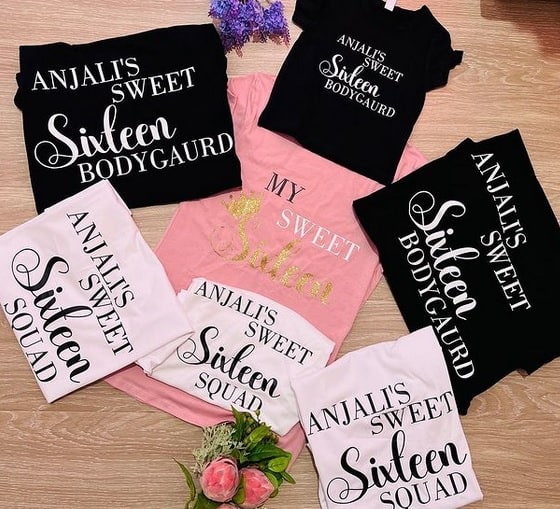 These shirts just make you go "Awww" because they're obviously for a girl's family to wear as she turns sixteen. Clearly, the girls in the family wear Sweet Sixteen Squad shirts while the boys wear Sweet Sixteen Bodyguard shirts. They had me at bodyguard!
#09 Homies Birthday Shirts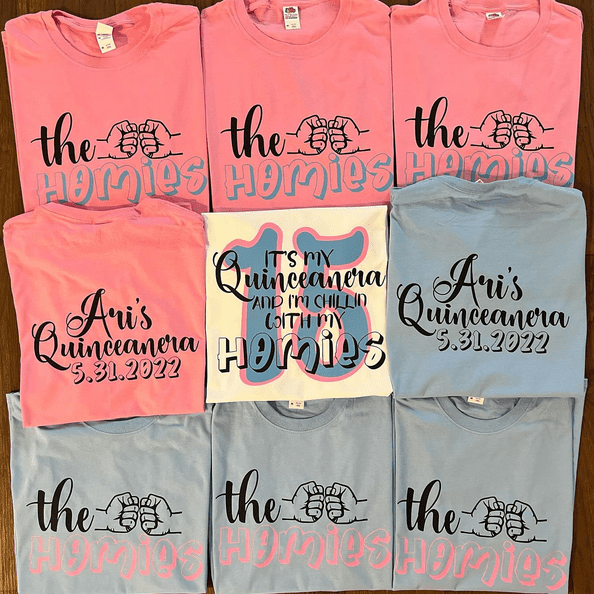 The word "squad" is pretty overused when it comes to birthday squad shirts. So why not look for an alternative word to make things more unique? In this case, it's "Homies" and I'm here for it! For these shirts, the front simply says "The Homies" while the back has "Ari's Quinceanera" and the date.
Because it's a quinceanera, you can tell these shirts are for a lovely Latino family, and the word "homies" — while used by do many people nowadays — does have a Latino flavor to it, so it's perfect. I don't know the etymology, but the slang may have originated from the Spanish word "hombre" and is used to refer to a friend or someone you know from your community.
#10 Name Your Own Squad
Many friend groups have named themselves. I know mine has. As cheesy as it may sound, my girlfriends and I call ourselves the "Cheerleaders" and no, we're not members of a cheering squad in high school. Anyway, you can get shirts that reflect your squad name.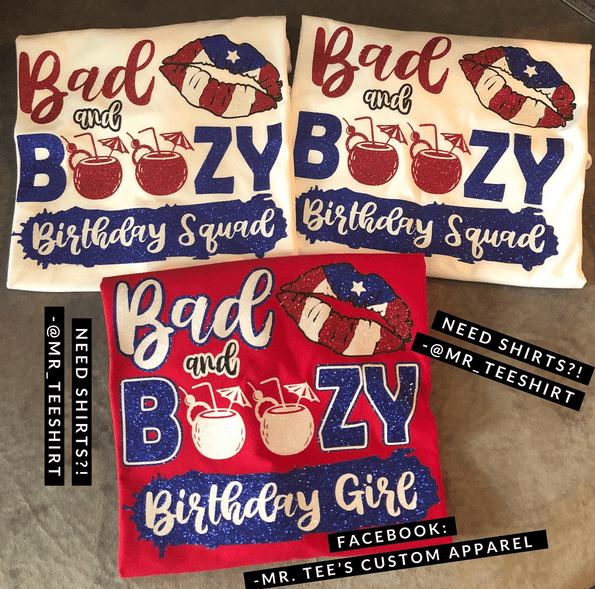 This squad has clearly adopted the name "Bad and Boozy," and they have these cool red-and-blue sparkly shirts to show for it.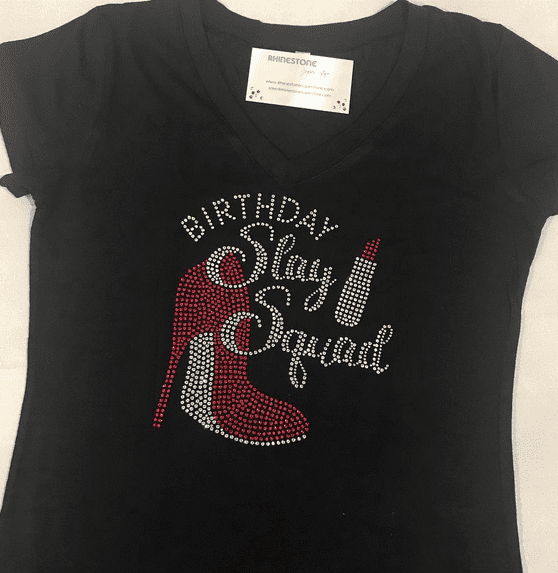 Check out this "Slay Squad" shirt. Pretty apt for a group of girl friends who dress up to slay. And they have found a way to make their squad shirts stylish and fashionable, too: rhinestones. Who needs a print when you can design your shirt with sparkly rhinestones, right?
#11 What Are You Bringing to the Party?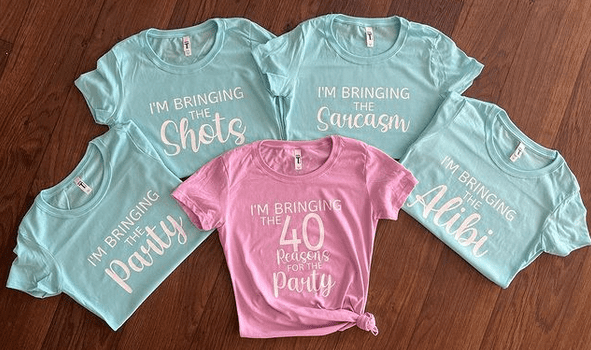 When you get your shirts printed, you may want to personalize each one to say what you're bringing to the party. Of course, these would be based on each of your personalities and would have some humor or inside jokes injected into them. For example, there's the "I'm bringing the sarcasm" for the squad's resident sarcastic member. There's also the "I'm bringing the alibi" for the person who never runs out of excuses.
Of course, these are usually just parts of your individual personalities that only your close friends would know and they're the only people allowed to print them on a shirt.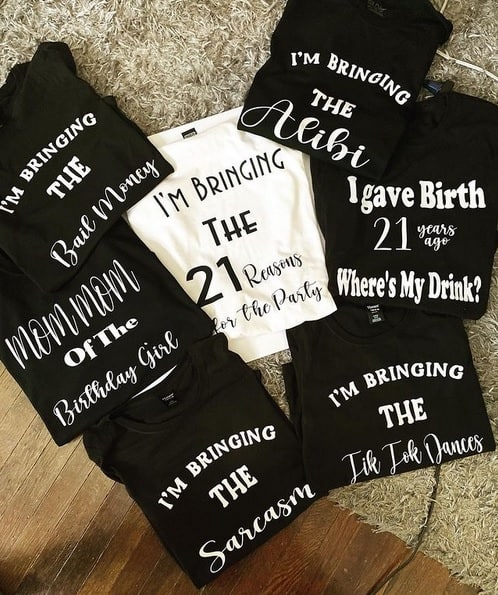 Here's another take on the "I'm bringing…" game.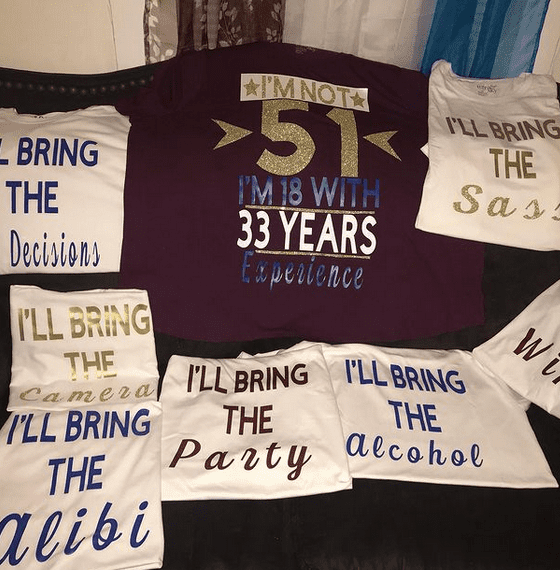 You can go literal for some of the shirts, too. Like these shirts that say "I'll bring the alcohol" for the person who's literally bringing the booze, "I'll bring the wine" for the one who's bringing the wine or the champagne, and "I'll bring the camera" for the one in charge of taking the photos.
#12 Which Friend/Family Member Are You?
It's also a cool idea to personalize your shirts to indicate which friend or which family member each of you are.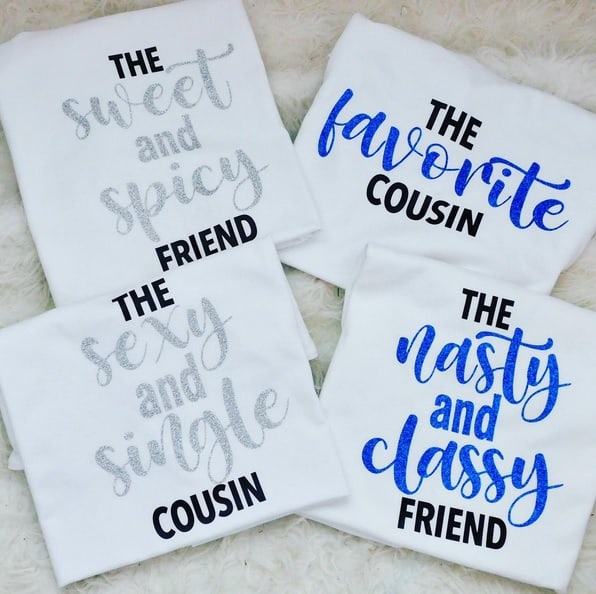 Take these shirts, for instance. It says which one is the "Sweet and Spicy" friend (it's probably the one who starts off sweet and ends up being adventurous or talkative as the night progresses and as more alcohol is consumed), which one is the "Sexy and Single" cousin, or which one is the "Nasty and Classy" friend (which is pretty intriguing since I have no idea how one can be classy yet nasty at the same time — thus serving its purpose, I guess).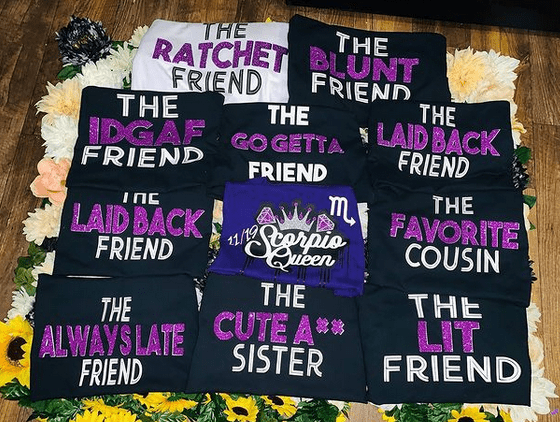 There's a shirt for your blunt friend, your laidback friend, your lit friend, your go-getter friend, and, of course, your friend who's always late.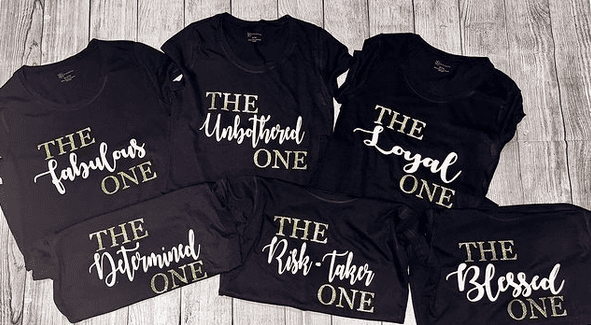 With these squad shirts, you can leave out the shade and just do the positives entirely. What's more wholesome than loyal, determined, blessed, and risk-taker?
#13 PotterHead Squad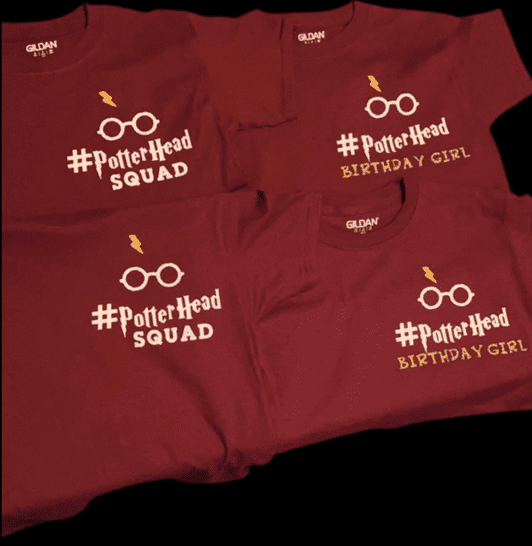 Are you a Harry Potter-loving bunch? If you and your friend squad have this in common, then get Harry Potter-themed birthday squad shirts! These shirts show you a simple #PotterHead Squad design for your squad that you can definitely wear outside the house again. Unless you're the birthday girl and have to wear one with the "Birthday Girl" print on it, these squad shirts look pretty generic even when you're out by yourself. Sure, there's that "Squad" word on it, but as long as you are a Potter fan, it applies appropriately.
This concept works for other fandoms, too. Find something you all have in common and start from there. For example, if you're all Star Wars fans, look for ways to work Star Wars into your design. If you all love Game of Thrones, there's a way to incorporate that into your shirt as well. And it's so much easier if you know of an artist to do the designs for you. If you don't, the good news is that most printers have in-house artists and you can always ask them to help you out.
#14 "Find the Others" Squad Shirts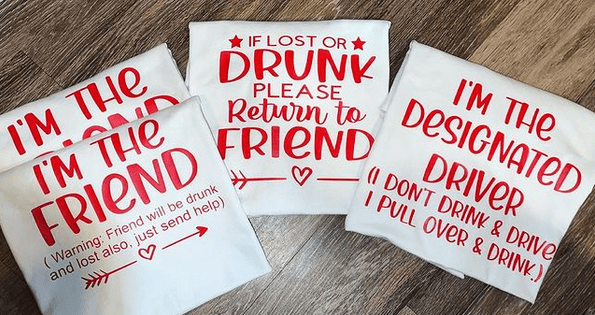 You know those squad shirts that seem to talk to people and direct them to other squad members? Take these shirts for example, which are perfect for a birthday night out at the club. One shirt tells people to "return" drunk or lost squad member to a friend. Another shirt says "I'm the friend," but with a disclaimer that said friend might also be drunk and lost, too. Of course, there's the designated driver friend who's not allowed to drink.
Frequently Asked Questions
Question: How much does each birthday squad shirt cost?
Answer: Printing costs for birthday squad shirts depend on a few things. There's the printing technique, for one. And then there's the number of shirts you need printed. There are certain printing methods that work best for bulk printing orders, while there are those that are better for small or individual orders and, therefore, means a higher cost per t-shirt. Of course, the more personalized each shirt is, the higher the costs are going to be. The quality of the plain shirts would also influence the overall pricing.
To give you an idea: a single t-shirt may cost you anywhere from $15 to $30 to print, while bulk printing orders can bring the cost per shirt down to a third of that price, which is $5 to $10.
Question: What are the different shirt printing techniques and which one is ideal for birthday squad shirts?
Answer: There are several shirt printing techniques and methods, but the most popular are screen printing, heat transfer printing, direct-to-garment or DTG printing, dye-sublimation printing, and heat transfer vinyl. Each of these printing methods delivers a different print quality and a different look and effect. Each also has its own pros and cons.
For example, some of these methods are better than the others for designs that use many colors and with many details, some are better for multiple printing orders, and some are great only for certain types of fabric. Some methods are also cheaper than the others. It is best to know about the basics of these methods if you are particular about your shirt prints and see which one suits the design and the look you have in mind.
But if you don't have the time to read up on the various techniques, shirt printing businesses are always happy to share with you information about the printing method they are using, the kind of shirts or fabrics they can print on, the quality of prints, and how much they charge. You can also visit these stores and personally check their printed shirt samples.
Question: Are birthday squad shirts for one-time use only?
Answer: Not really. You can always wear birthday squad shirts more than once. Surely, nobody would object if you wear them at home while you do some gardening or some grilling, or even while you work out. However, if your shirt doesn't have the word "birthday," doesn't have the birthday celebrant's name and age, doesn't have your name or a description of your personality, and is overall safe and generic, then you can definitely wear your shirt again when you go out.
Conclusion
Birthday squad shirts add so much fun vibes to a birthday party or a celebration. Like when you go out for birthday drinks with your family and friends, wearing squad shirts is like a declaration that you're all down for a super enjoyable time. And as they say, there is strength in numbers. So when there are several of you wearing the same shirt in honor of a friend's or a family member's birthday, it exponentially increases the fun and excitement.
Recommended Reads: