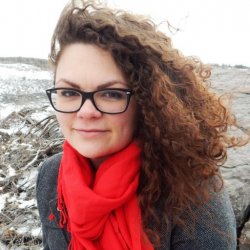 Latest posts by Candace Osmond
(see all)
Is your kid hard at work beating Roblox games right now? Is their birthday coming up soon? If so, I've got the best idea for parents like you. I'm going to show you the best Roblox cake ideas so you can surprise your little one with a homemade or professionally decorated cake. Roblox is a wildly popular gaming platform with a cast of lovable avatars, which I'll talk about in greater depth down below. Let's get started!
Bottom Line Upfront
My two kids are utterly obsessed with this game. To the point, even I know just about everything to do with it LOL! So, I'm sensing a request for Roblox birthday cakes this year. And, if that's the case, I'm going with the Charlene's Dazzling Sweets Roblox Cake and the Roblox Themed Birthday Celebration Cake.
Top 3 Picks
Before we dive into the 28 best Roblox cakes on the internet, I'd like to show you these special 3. Each of these cakes has detailing that goes above and beyond, delicious ingredients, bright colors, and a design Roblox fans will love. Check these out before we go any further!
Best Roblox Cake Idea for Girls: Charlene's Dazzling Sweets Roblox Cake: This elegant, gorgeous cake incorporates your daughter's favorite Roblox avatars. The pink butterflies and golden balls used to decorate this cake are a must.
Best Roblox Cake Idea for Boys: Roblox Themed Birthday Celebration Cake: This cake is a serious work of art with some of the best-piped buttercream decorations I've seen on kids cakes. Each detail is sure to make your son smile.
Best DIY Roblox Cake Idea: Handmade Roblox Cake: The theme of this cake is rainbow! Your child will love the funfetti cake, funfetti icing, and cookies made with rainbow sprinkles.
Best Roblox Cake Ideas
Get ready for a truckload of Roblox cakes! I've rounded up the 30 best Roblox cake ideas that you can either take inspiration from to recreate yourself or take to a professional baker near you. Roblox is a fun, action-packed, kid-friendly gaming platform with a cast of loveable characters. If your youngster is a big fan, I'm sure they'd be thrilled to receive any one of these cakes.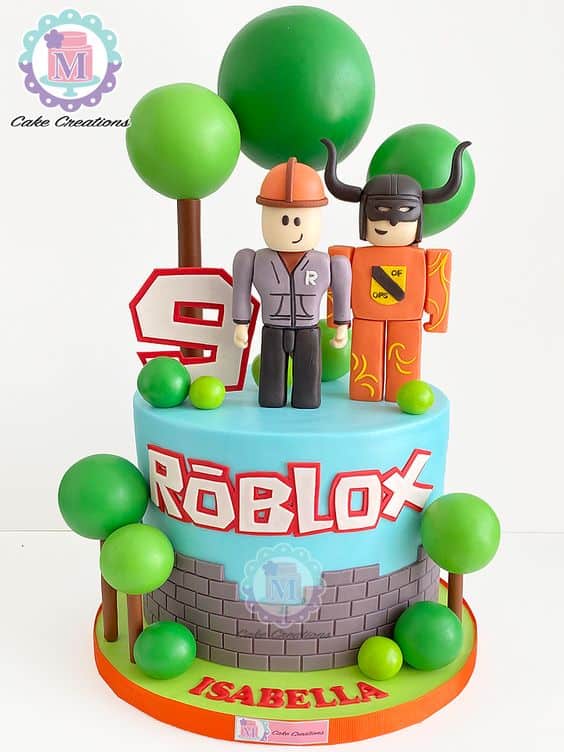 Best For: Best Small Roblox Cake
These 2 popular Roblox avatars are iconic to fans of the game. Both of these avatars are beloved by avid Roblox players for their cute yet tough designs. You'll need to pull out your fondant cutting skills if you want to make the perfect lettering and brick pattern around the sides of the cake.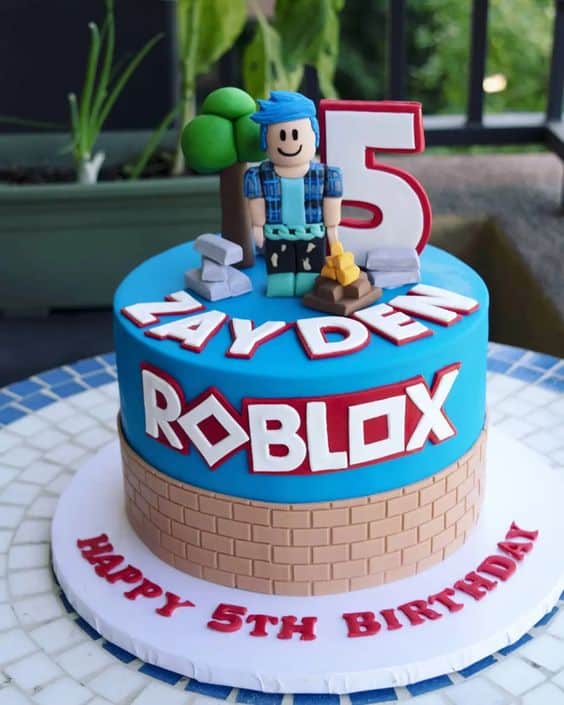 Best For Cute Accents made of Fondant
By layering the white fondant over the red, you get a 3D, realistic Roblox logo for the front of your cake. You can create the Roblox avatar pictured on the cake with modeling chocolate, or you could use a figurine instead. Ask your child who their favorite Roblox avatar is so that you can create or purchase a cake, especially for them. Make sure to keep the stacked blocks and the campfire details. Those are adorable.
3. Pink and Purple Roblox Cake
Best Roblox Cake without Fondant or Modeling Chocolate
If your girly girl must have everything pink and purple, consider this cake for her birthday. Instead of worrying about modeling chocolate or fondant, you can use a layered paper cut-out showcasing your child's favorite Roblox avatars. Oooh! Maybe even use their avatars! Yes, yes…that's what I'm doing! Also, the multi-colored chocolate blocks are a nice touch, aren't they?
4. Blue Roblox Cake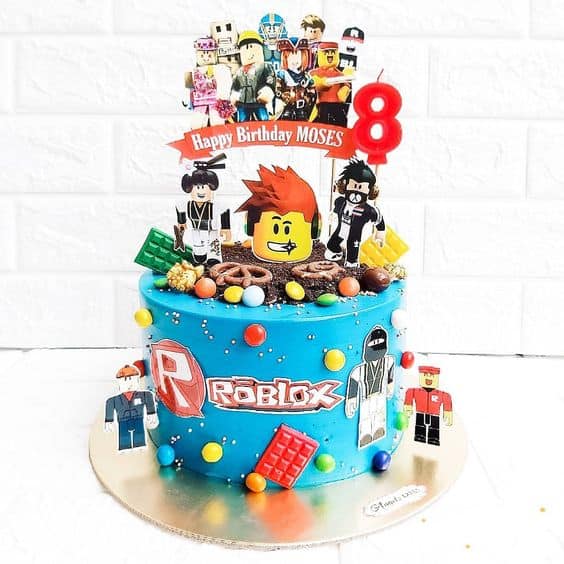 Best For: Colorful Design
Oh, it's so adorable! My goddaughter would flip over this. Just look at how striking the colors in this cake are! The blue cake makes the red in the Roblox logo pop. Using a paper cut-out that shows off tons of Roblox characters wearing brightly colored outfits adds to this cake's eye-catching appeal. The use of so much candy is sure to be appreciated by little ones, too.
See also: Frozen Birthday Party Ideas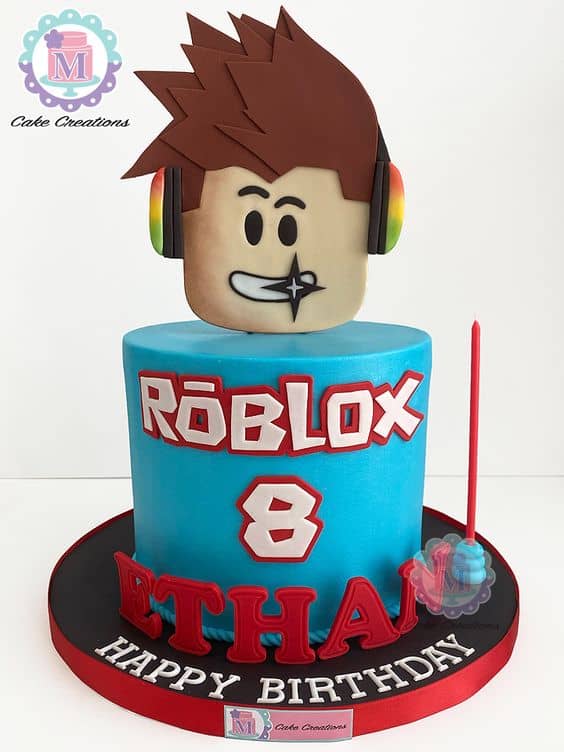 Best For: Minimalism
This is a simple, clean-cut Roblox cake featuring one of the most popular Roblox avatars. I'm pretty confident I could pull this one-off. And, if I can, so can you. This character is known for his bright smile, spiky hair, and cool headphones. I like the simplicity of this cake because it lets you focus on the singular Roblox character, the Roblox logo, and the name of the birthday kid.
6. 3-Tier Roblox Cake
Best 3-Tier DIY Cake
Pull out your fondant and modeling chocolate! This cake is all about doing everything from scratch. The first and third tiers show off brilliant blue fondant. The third tier features the avatar from the cake above, with shiny teeth and headphones. Modeling chocolate can be used to make the other avatar stand on top of the cake. Don't forget to make or order the Roblox cookie pops on the side!
See also: 10th Birthday Party Ideas That Your Little One Will Never Forget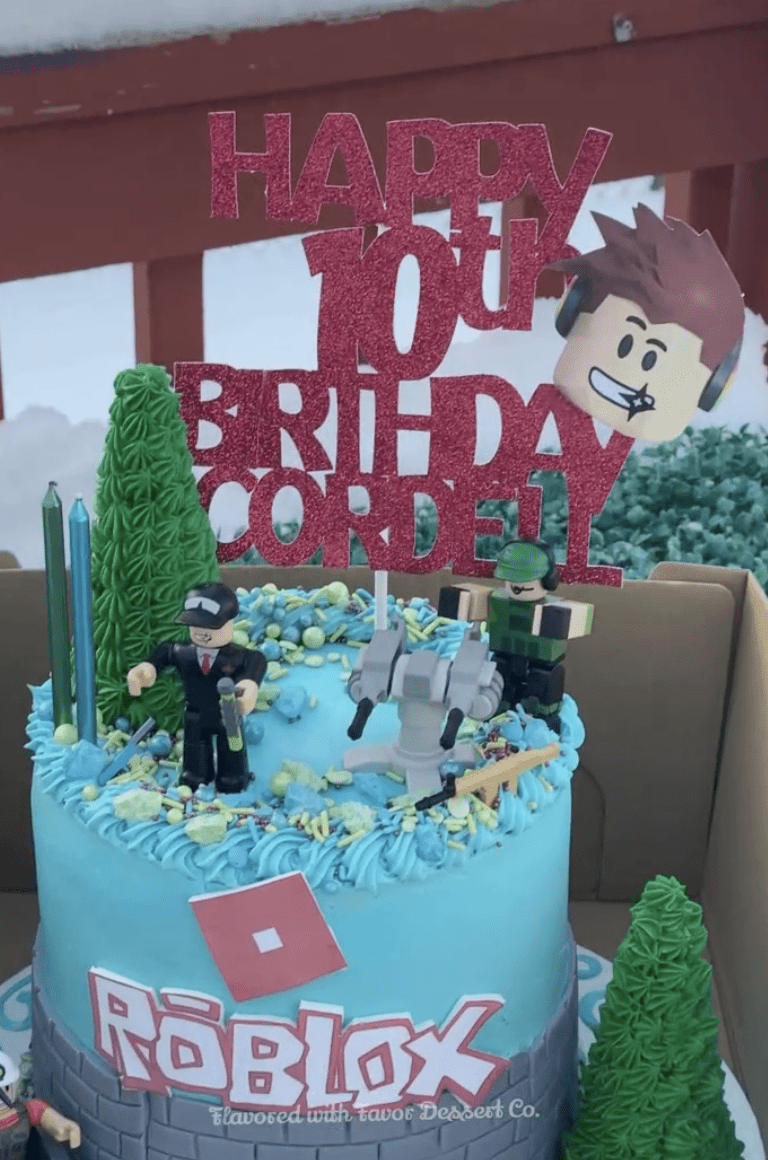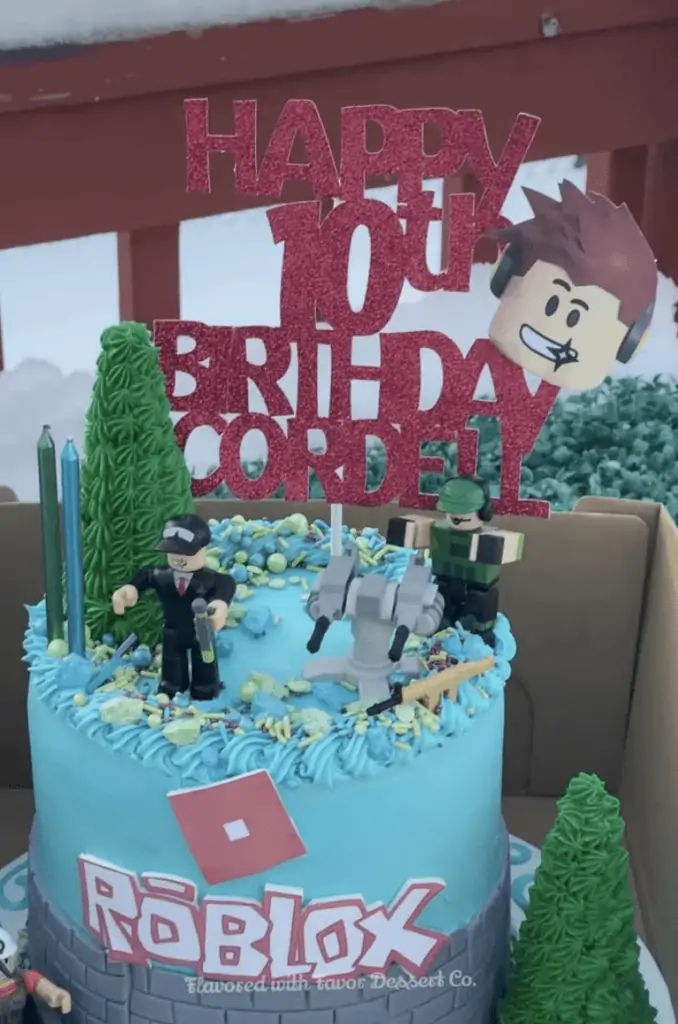 Best Roblox Cake for Boys
Look at how nice and neat the pipework is on this cake. (this person has far more patience than I'll ever have) The pine branches on those evergreen trees are made entirely of buttercream frosting! Using blue, yellow, and white sprinkles around the edges that have been decorated with piped icing was a smart color choice. You can place whichever Roblox characters your child wants on their personalized cake.
8. Charlene's Dazzling Sweets Roblox Cake
Best Roblox Cake for Girls
This is a Roblox cake I'd want to have made for my daughter. I love how this cake shows Roblox girls all happy together, which is sure to remind your little one of her and all her friends. The clean white cake decorated with golden balls and pink butterflies is beautiful and elegant in a way most kids' cakes lack.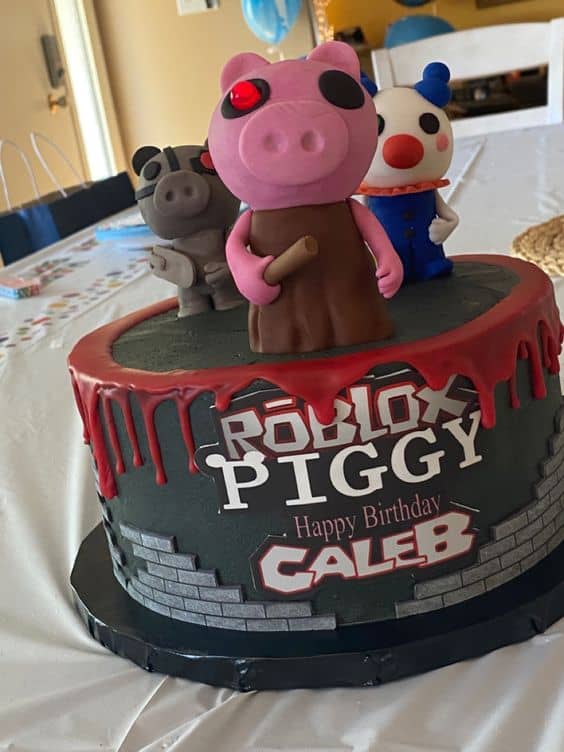 Best For: Fans of Roblox Villains
Uh-oh! Here come the piggies! Did you know there are 18 different piggy Roblox characters in all? I did because I hear about it every friggen day.
If your little one would like an unconventional Roblox cake featuring the villains of the franchise, consider making this one. This cake features 2 of the most popular piggy characters, Piggy and Clowny. This cake may look eerie, but it's sweet on the inside!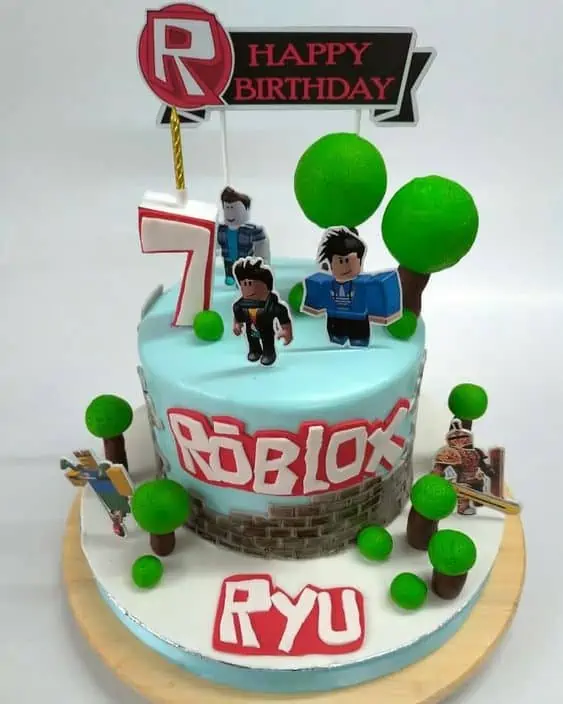 Best For: Unique Light Blue Fondant
I love the shade of the light teal fondant covering this Roblox cake and giving it a polished look. The trademark Roblox blocks and Roblox logo are included on the front. You or the professional baker in your area could make use of modeling chocolate to make the adorable, chubby trees. Paper or plastic cutouts can be used for whichever Roblox characters you want to place around the cake.
See also: Best LEGO Cake Ideas To Love For Your Next Birthday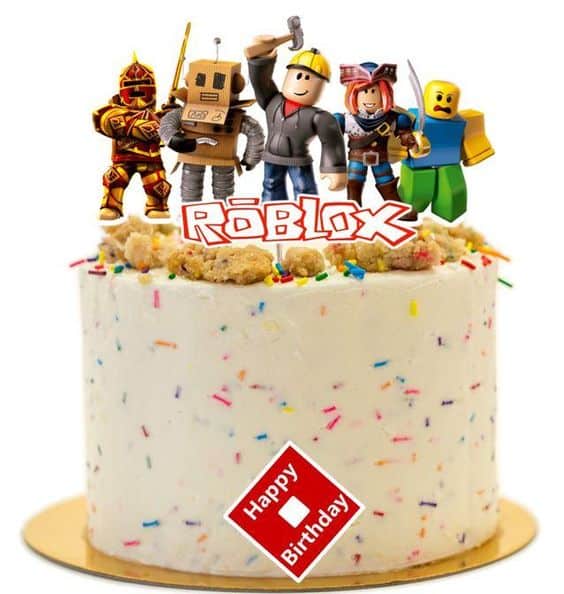 Best For: Best DIY Roblox Cake
This Roblox cake from Party Mania USA is a DIY cake that you can make at home. You can make the funfetti icing look perfect like it does in the picture with an icing spatula. The sprinkles and funfetti cookie pieces on top add even more flair to the rainbow color scheme. Like Party Mania USA, you can choose to place Roblox figurines on the cake, so the characters look perfect.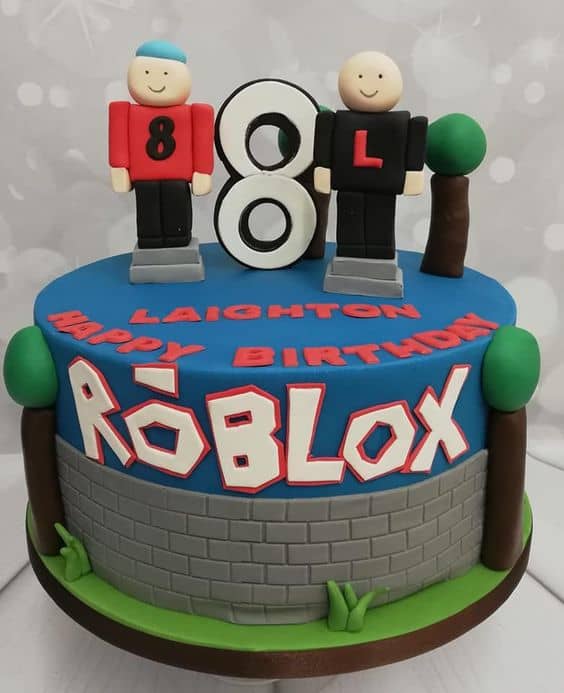 Best For: Simplicity
Though simple, this Roblox cake captures the tone of Roblox perfectly through hand-crafted modeling chocolate creations. The 2 Roblox avatars on top of the cake are made by hand with modeling chocolate. The trees and bits of grass are, too. It's easy to cut the Roblox logo out of fondant since the letters are big and chunky.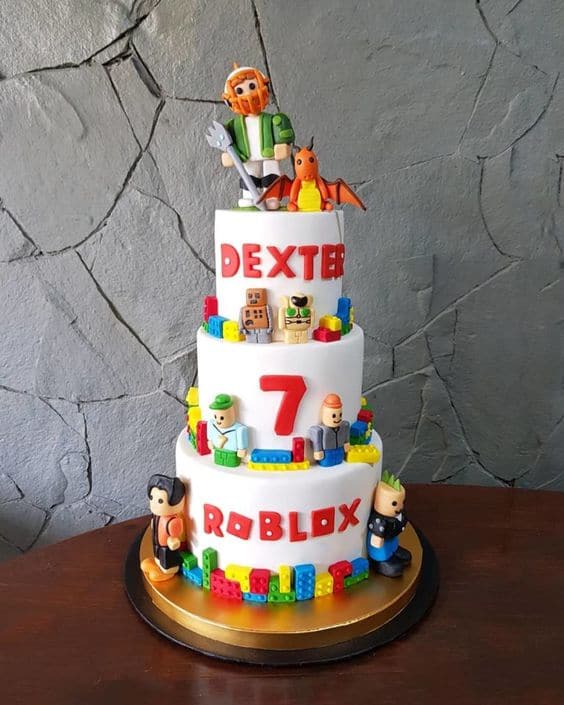 Best Professionally-Made Roblox Cake
I'm going to give the award of "Best Roblox Cake No Matter Who You Are" to this cake right here. I recommend hiring a professional for this one. The modeling chocolate dragon and avatar on top are perfectly shaped to capture the classic round, cute Roblox aesthetic. Though the cake is white, the fondant letters, modeling chocolate characters, and colorful blocks make this cake stand out.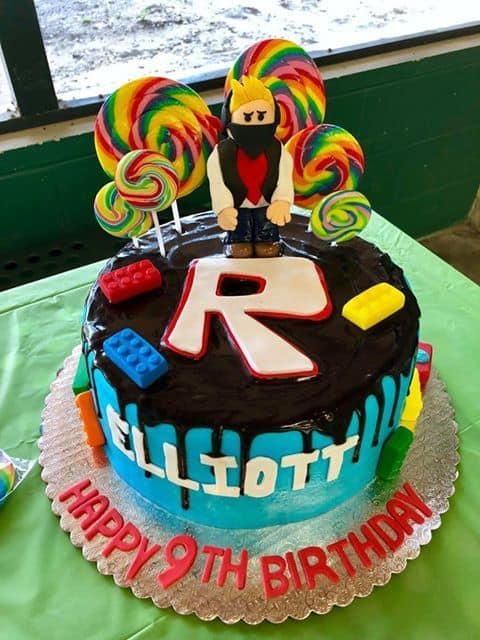 Best For: Additional Candy
What kid doesn't love giant swirly pops? Take another look. This is also the only Roblox cake on the list to make use of delicious chocolate ganache. Kids are going to see this ooey gooey and richly sweet cake and want more than just one slice. The swirly pops and blocks placed on and in the cake add brightness.
15. Mastello Creations Roblox Cake
Best Roblox Cake Featuring a Single Avatar
This Roblox cake featuring the iconic character with a dazzling smile is unique compared to the rest. Why? The entire cake looks like this character's head. See how the modeling chocolate and fondant are perfectly shaped to resemble this character's hair, smile, and headphones? Fans of this classic character will be gushing over this professionally-made cake.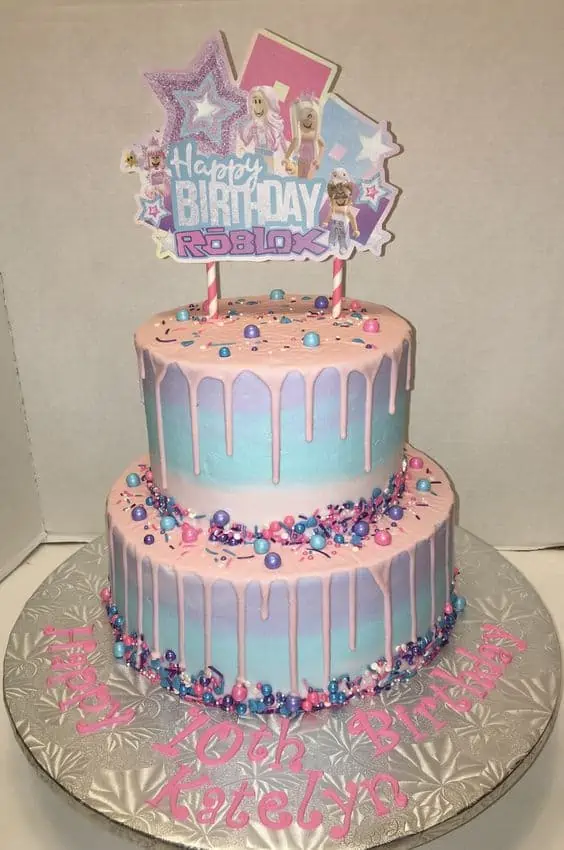 Best For: Luxury
What a luxurious Roblox cake! Does your princess love to play Roblox? She'll love the fairy pink drizzle all over this cake as much as the pink, purple, and blue candy balls. Did I mention there are plenty of sprinkles? By making the colors on the sides of the cake into an ombre like Ovilia, you can give this cake greater depth.
See also: 40th Birthday Party Ideas: The Only Inspo You'll Need For Your Big Day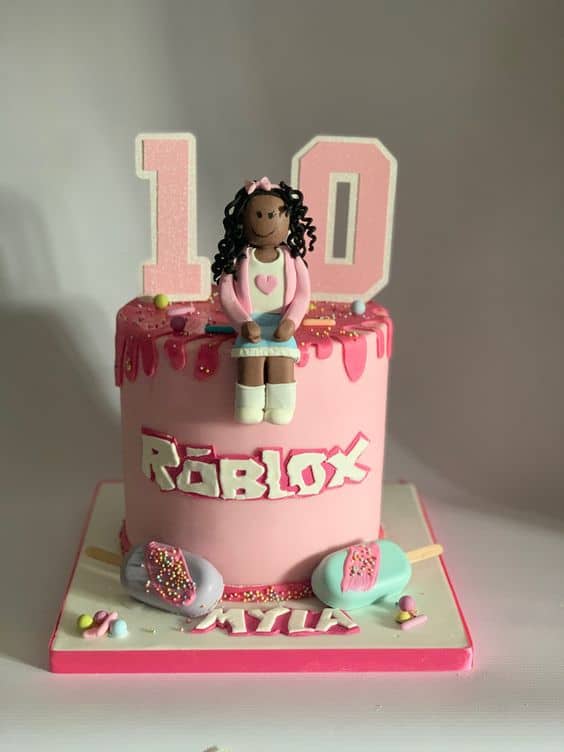 Best For: Handmade Details
Aren't those ice cream pops made of modeling chocolate the cutest cake details you've ever seen? Look at how precisely the avatar's accessories are made, like the heart on her shirt and the bow on her headband. Cake Divine DG even got her hands right! This cake is pretty in pink, so it's perfect for kids who are obsessed with this color.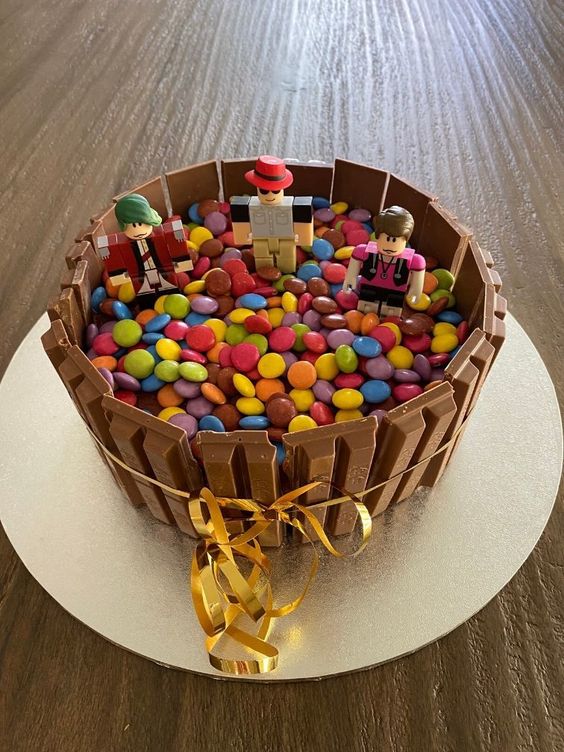 Best For: Candy Filling
There's candy galore! Okay, I want this cake for myself; I can even see how it could be tweaked for other themes.
This Roblox cake is packed with a ton of M&Ms. The M&Ms are held in place on top of the cake by a fortress of KitKat bars, which are secured tightly together with a golden ribbon. Once the ribbon is snipped or untied, the KitKats will fall and an explosion of M&Ms will pour out. Yum!
Best For: Layered Decorations on Top of the Cake
See how the big honeycomb piece is placed in the back and the smaller Roblox blocks are up in the front? Sonya's Sweet Cakes did an amazing job of layering the decorations so there's a build-up of depth. You can't go wrong with adding more candy pieces all around the cake in the fondant like she did, either.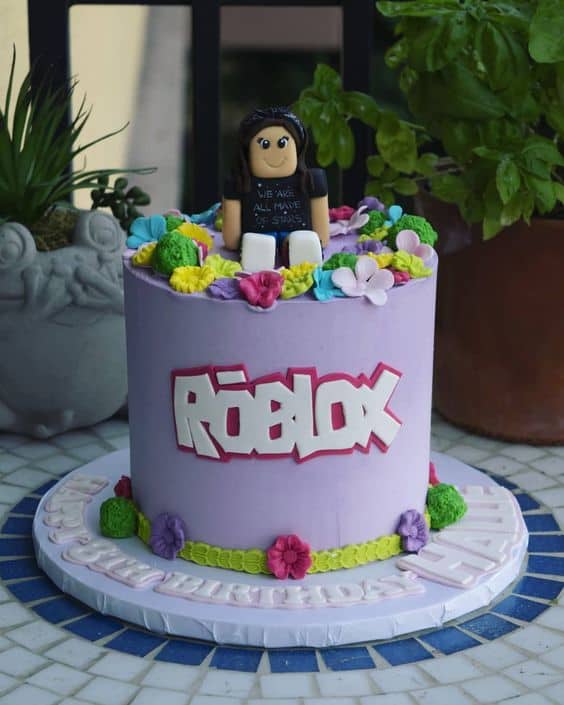 Best For: Flower Details
Some love their cake to have classic decorations, and what could be more classic than beautifully shaped candy and icing flowers? This is a gorgeous cake with lilac fondant and an adorable Roblox avatar made from modeling chocolate sitting on top. The simple design with flowers and the Roblox logo makes this cake recognizable as Roblox and yet classy, too.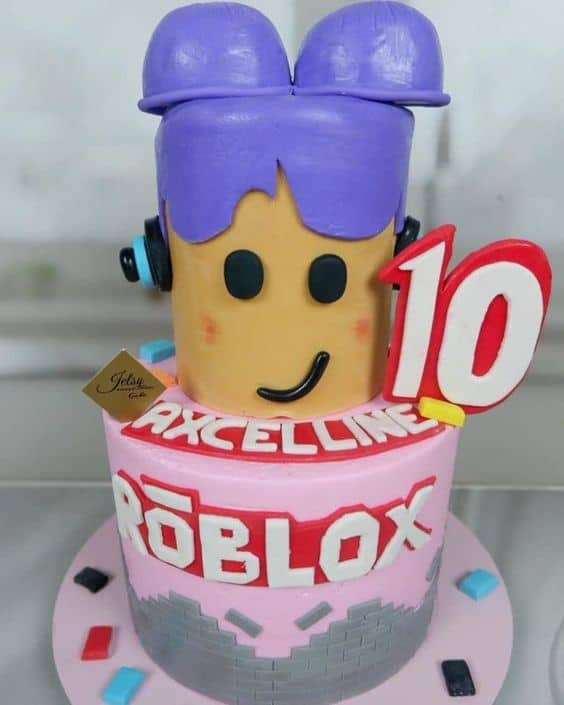 Best 2-Tier Roblox Character Cake
Awww! How cute is the Roblox avatar cake on the second tier? The larger cake on the bottom showcases the classic Roblox logo in red and white fondant. The second tier makes use of fondant and modeling chocolate so that a popular Roblox character's face is shown. You can use Rice Krispies and fondant to make her hair.
22. Cakemonsterlahore Personalized Roblox Cake
Best Roblox Logos
You can't go wrong with this design. The color scheme (bright primary colors) is instantly recognizable as "Roblox." I particularly love the gray blocks with the Roblox "R." Using the Roblox logo color scheme to spell out the birthday kid's name was smart, too.
Best Big Paper Cut-Outs
Pink and other jewel-tone colors make this Roblox cake beautiful! If you want to make your daughter a Roblox cake at home, this cake is perfect for DIY enthusiasts. Whipped topping, sprinkles, and chocolate candy balls are all you'll need for the detailing on top. With some paper cut-outs, a birthday candle, and a few other simple ingredients, you'll be good to make this on your own!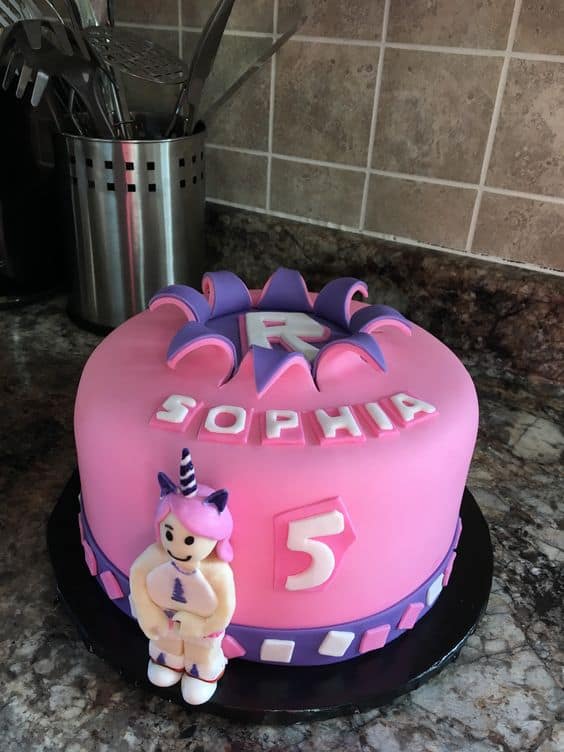 Best For: Unique Use of Fondant
The Roblox "R" is exploding out of the top of this cake! See how it looks like there's a rip in the cake like the R is punching its way through the fondant? I love how the pink and purple fondant look together. What's more, is how Tracy Churchill used the same shades of pink and purple and incorporated them into the Roblox avatar's outfit.
25. Bake and Jam Roblox Cake
Best For: Pink Everything
Pink here! Pink there! Pink everywhere! Not only is the Roblox birthday cake covered in pink, but so are the chocolate cupcakes layered in front of the cake, too! The fun use of paper cutouts featuring Roblox characters and the Roblox logo in pink ties the theme together.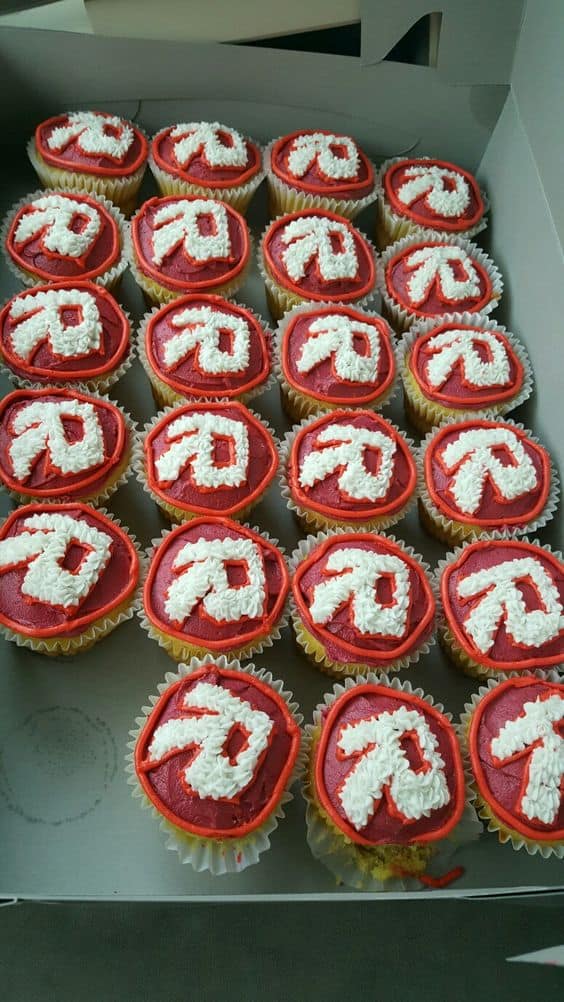 Best For: DIY Roblox Cupcakes
Want to make Roblox cupcakes from scratch? You could make these in a snap! All you'll need are cupcakes in your favorite flavor and buttercream frosting. With red and white frosting, you can use piping bags to make the Roblox "R," so lots of kids can enjoy a tiny Roblox cake made just for them.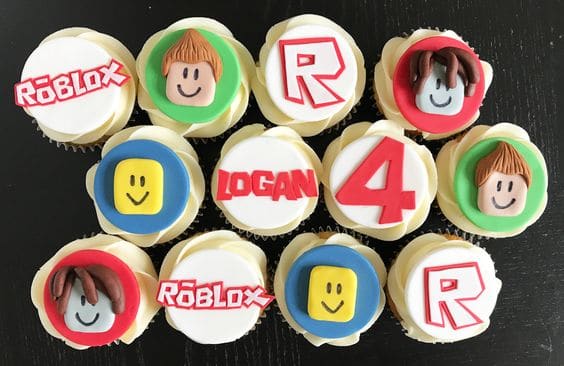 Best For: Professionally-Made Roblox Cupcakes
That vanilla buttercream frosting looks soft and luxurious, doesn't it? See how crisp and clean the fondant details on the fondant circles are? Yeah, I don't know about you, but I'd leave these cupcakes and cookies to a professional. These cupcakes look deceivingly simple, but all the little details are what make them impressive and frustrating to recreate.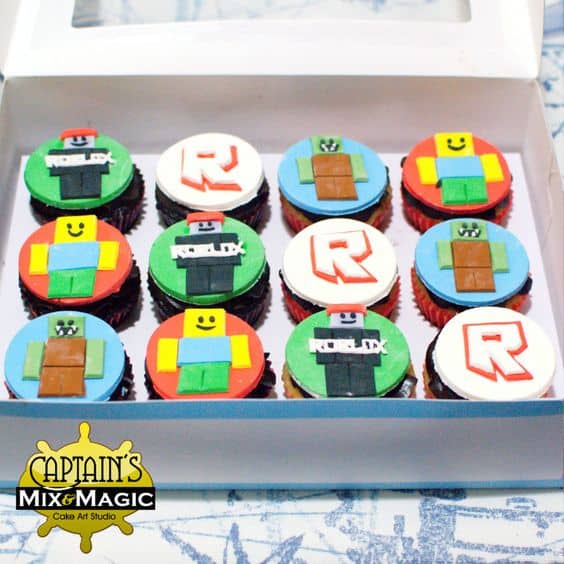 Best For: Cute Roblox Cupcake Toppers
Aren't these Roblox cupcakes adorable? You'll need buttercream frosting and fondant to create the looks on the tops. If you take your time cutting the fondant, you'll be an expert in no time! These Roblox characters and logos are relatively blocky and simple, which is great for those with limited fondant-shaping experience.
What is Roblox?
Roblox is a child-friendly equivalent to Steam. It isn't a game per se, but rather a platform that lets users play games on it. What makes this particular platform unique? All the games available on Roblox are made by other Roblox players. Roblox allows you to play over 20 million games created by other players and also create your games for other users to play. Pretty cool, right?
Key Features of Roblox
Not sure what to look for when it comes to picking out the perfect Roblox cake? I'll give you a few quick pointers in this next section!
Popular Players
This list will show you the usernames of some of the most popular Roblox players on the platform.
DenisDaily
Roblox
The Overseer
MonkeyvsRoblocks
John Doe
Designs
Roblox designs are reminiscent of Legos' characters. The Roblox world is defined by chunky, geometric shapes. The Roblox logo is always shown in big, blocky lettering. If you're unsure which design you'd like to recreate, you can always look up pictures of Roblox characters for inspiration!
Colors
Roblox is defined by bright primary colors. The logo is firetruck red and white. Other colors you see often are bright yellow, bright blue, and bright green. The gray Roblox blocks can be used as a neutral to balance the color scheme out.
Most Popular Roblox Games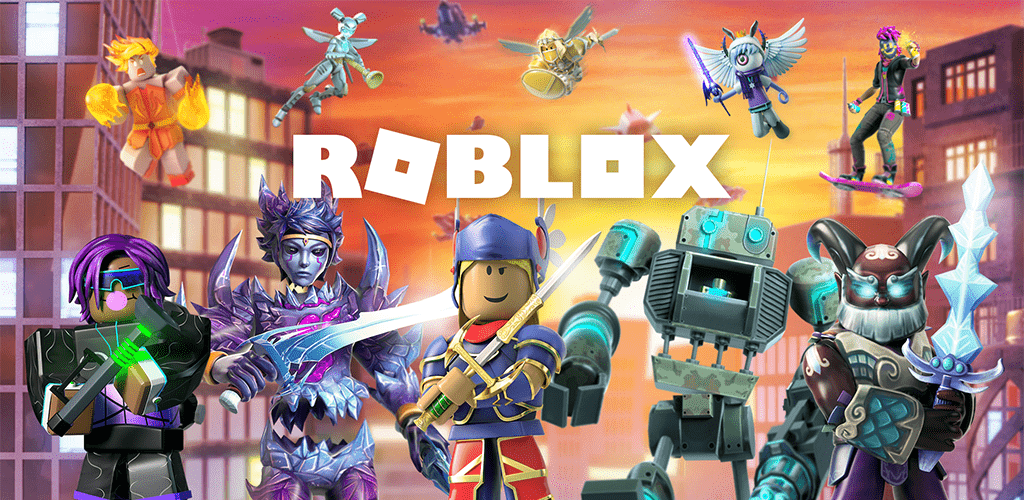 In order, these are the most popular Roblox games on the platform. Keep that in mind when searching for cake ideas.
Adopt Me!
Tower of Hell
Brookhaven
Meep City
Piggy
Murder Mystery 2
Royale High
Welcome to Bloxburg
Jailbreak
Blox Fruits
FAQ
In this last section, your most frequently asked questions about Roblox will be answered! Even though Roblox is wildly popular, there seems to be so much mystery surrounding it.
Question: How Old is Roblox?
Answer: Roblox is older than Minecraft by 5 years-did you know that? As of 2022, Roblox is 16 years old. Wow. Instead of popularity for Roblox dying down, it's only grown bigger as time has gone on.
Question: Is Roblox Appropriate for Small Kids?
Answer: Roblox is rated E10+. This means the platform and the games on the platform are intended for kids aged 10 and up. Some fantasy violence occurs in Roblox games, and some games have bad language in the title, which is where the rating comes from.
Question: Why is Roblox so Popular?
Answer: Roblox allows players the chance to make their impact on the platform by creating unique games to be played by other users. There are over 20 million games to choose from, which means hours and hours of entertainment for players. Need I say more?
The End
That's the end of it! Are you inspired to create a Roblox cake of your own or have a professional baker near you recreate one? Let me know which cake out of the 30 best Roblox cakes on the internet you thought was the best! To learn more about Roblox gifts and novelty ideas, please come visit our website!
Recommended Reads: