The good thing about planning a birthday party for little boys and girls is that they always know what they want. And they can be very firm and unyielding about it. When you ask them what kind of party they would like you to throw for them, it's almost always their favorite TV show, favorite movie, or favorite characters. So, if your darling daughter loves Disney's Frozen, she's very likely going to insist on a Frozen-themed party. Now, I have a bunch of Frozen birthday party ideas in case that's what you're looking for.
Frozen may have been released almost nine years ago — with its sequel, Frozen II, released in 2019 — but it's still a huge hit among little kids now. Girls still love to dance and twirl to "Let It Go," and dress up in Elsa's sparkly blue gown or in Anna's traditional Norwegian dress and magenta cape. Needless to say, Frozen is up there with Disney's beloved animated princesses and is now considered a children's classic.
My daughter is already 15 years old now, but Frozen came out when she was seven. She fell in love with the whole gang, especially Olaf, and asked for a Frozen birthday party. Unfortunately, there weren't too many Frozen merchandise and products available in our area at the time, so we had to improvise and DIY everything. But now, all things Frozen can be seen everywhere. And because of the wide array of Frozen party products available now, we forget to be a little more creative. I get it, coming up with Frozen party ideas for your daughter's birthday can be a headache and a bit of a stretch when you can just order a Frozen cake, buy an Elsa costume, then put up Frozen buntings, and your girl will be happy nonetheless. Well, you don't have to rack your brain because I'm here to share some creative Frozen party ideas with you.
My Bottom Line Up Front
Frozen is a common birthday party theme for little girls. You can get Frozen cups, printed foil balloons, birthday buntings, costumes, birthday cakes, cookies, toys, etc., and you're all set. However, aside from throwing in all these Frozen merch, you can make your kid's birthday party a lot more interesting, exciting, and memorable by incorporating unique Frozen-inspired activities and party ideas. These ideas don't exactly need to have the word "Frozen" in big, bold letters. You can actually go for something ice-related, something wintry, or even something with a Nordic touch to it.
Shortlisting Frozen Birthday Party Ideas
My goal here is to give you a narrowed-down list of Frozen party ideas so you don't have to sift through everything you find online. In other words, I did the sifting for you to save you from any potential headache. I scoured the internet for anything of aesthetic or creative value, then looked into how you can replicate it. I have categorized these ideas into three:
1. Activities that you can do with the kids. I needed to assess the activities that caught my attention and made sure they are easy for little kids to do. I also made sure the materials are easy to find and the activities are easy for you to supervise.
2. Decoration ideas that you can easily do yourself. Again, these decorations should not require high-level crafting skills and should allow you to save on costs. The materials should be easy to find, too. As such, I made sure video tutorials are available for some of them.
3. Unique party ideas. I also added a couple of themes for your Frozen-inspired party. These unique concepts are more focused on a specific activity and are, therefore, great for very small and intimate parties in case you didn't want to invite too many guests.
Frozen Birthday Party Activities
Sure, party and craft supply stores offer a smorgasbord of Frozen products you can choose from. But there has to be more to this Frozen party than just cakes, party favors, balloons, and other items bearing the faces of Elsa, Anna, Olaf, Kristoff, and Sven. You can go the extra mile and prepare kid-friendly activities and games that are somehow connected or related to the movie's themes. What exactly am I talking about? Here are several examples:
Snowcone Stand
Nothing says "Frozen" better than ice and snow, so why not prepare a snowcone stand or a snowcone corner? Get your ice crusher or blender ready and prepare different sugar syrup or Kool Air syrup flavors before the party. You will also need cups and spoons. Maybe you can toss in some fruit toppings, too. You can ask the kids what flavors they'd like, or you can actually let them make their own snowcone. Let them scoop their own shaved ice and pick their own flavors and colors, and "garnish" it with a Frozen-inspired topper.
Here's how you can make Kool Aid Snow Cones:
Dress a Snowman
It's time for Olaf to meet new snowman friends! Let the kids make or dress their own snowman and hone their crafting skills at the same time. Assemble snowman figures out of Styrofoam balls, out of white socks, or even out of paper ahead of time. Prepare sticks or twigs, color markers, decorative papers, ribbons, glue, and other craft accessories for the kids to use. Don't forget to set up a crafting table with little chairs, and label the area "Snowman Factory."
You can also make a contest out of the whole thing to motivate the kids to squeeze out their creative juices and come up with a really nice snowman. You can also make it into one of those mommy-and-me activities. The most creative snowman gets a special prize. But, of course, it's always a great idea to award everyone and think of special prizes for all of them, like "Fastest Snowman Maker," "Most Glittery Snowman," "Most Original Snowman," and "Most Out-of-the-Box Snowman."
See also: 10th Birthday Party Ideas That Your Little One Will Never Forget
Decorate Your Own Snowflake Cookie
Let the kids decorate their own cookies. In the birthday parties I've hosted or planned for my children, nieces, and nephews throughout the years, a cookie decorating activity never fails. Most kids have never tried baking cookies, much less holding icing bags and decorating these goodies, so, for them, this experience is something entirely new and exciting.
All you need to do before the party is cut sugar cookies into snowflake shapes and bake them. Prepare blue, white, baby pink, and other pastel-colored royal icing and place them into little piping bags. Make sure you have enough piping bags to go around for all the kiddie guests. You can also prepare some silver, gold, or glittery edible sprinkles. Set up a cookie decorating table in the yard or party venue. Make sure you have clear cookie packets for the kids to put their snowflake cookie masterpieces in.
Troll Hunt
You know how kids love Easter Egg Hunts? Well, this is similar, except they don't have to wait for Easter and, instead of eggs, they will be looking for trolls.
Look for small rocks about the size of eggs, clean them up, and paint troll faces on them. Hide them in certain areas of your backyard or garden before the party starts. Let the kids look for the trolls, and make sure you have a prize for each troll they find.
Play in the Snow
Since Frozen is set in a cold, snow-covered fictional kingdom, it's only right to bring the snow to your party, too. Especially if you are in a place that does not experience any winter. The kids will surely be giddy about finally being able to touch and play with snow.
It is quite easy to make play snow. All you need are shaving foam and baking soda. The great thing about this snow recipe is that it smells good and feels cold to the touch. You can also leave it in the fridge for a little while to make it a bit colder. Of course, if you want to fill up a whole inflatable tub or pool with play snow, you'll need a lot of baking soda and shaving cream. Trust me, seeing the excitement on the kids' faces as they dig their hands into the snow is going to be worth it!
Here's a video on how to make fake snow using different recipes. You'll see here that the recipe with the best snow-like texture is the one using baking soda and shaving foam.
By the way, you can also have a different version of a treasure hunt using your play snow. Get little Frozen toy figurines, bury them in the snow, and have the kids look for them.
See also: Best LEGO Cake Ideas To Love For Your Next Birthday
Make a Frozen Snow Globe
Let the kids make their own Frozen snow globes to take home with them. You can prepare rounded glass jars, tiny Frozen toy figurines or ornaments, waterproof glue, water, glycerin, and white and silver glitters.
Here's a video tutorial on how to make one.
Frozen Birthday Party Decoration Ideas
While there are so many Frozen decorations available in party supply stores it is still a good idea to give certain details some touch of DIY so your little girl's party doesn't appear too commercialized. Here are some DIY Frozen decorative ideas you can try to incorporate into the party.
Frozen Photo Booth or Corner
Set up a Frozen photo booth or photo corner so guests can have Instagram-worthy pictures of your party. You can make a balloon arrangement, paint Frozen standees or have them printed, get a printed or shiny backdrop, or put up paper snowflake curtains. Just pick a color motif and stick to it. Here are examples of Frozen photo booths:
You can also make photo booth props for your guests to use.
And you know what else is cool? Face cutouts! A giant DIY Frozen-inspired photo frame would be a neat idea, too.
Crocheted Snowflakes Garland
If you know how to crochet, then make some snowflake garlands that you can hang down the edges of the tables or on the table as an accent. The great thing about crochet and knitted items is that they are washable and reusable, so that's a win for any environment-friendly or sustainable concept. You can definitely keep these and use them as Christmas decorations, or for any winter-themed event in the future.
Frozen Terrarium Centerpieces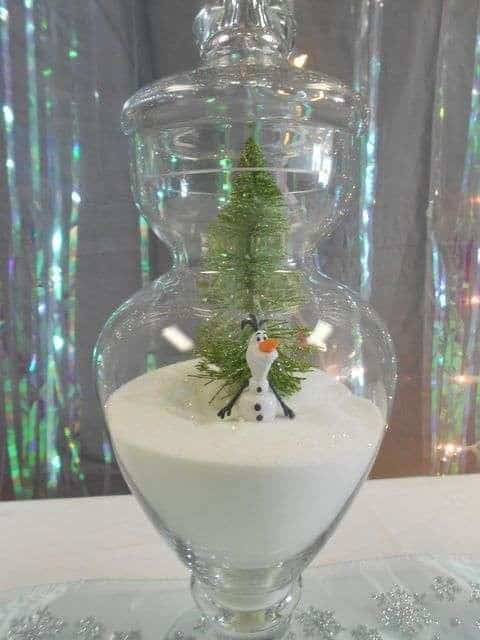 If you are looking for DIY table centerpiece ideas, winter terrariums are fun and easy to make. Your little girl can even help you! All you need are glass jars, vases, fishbowls, and terrarium jars in various sizes, tiny Frozen toy figurines, fake pine trees or dry twigs, and Epsom salt or instant snow powder. You can also add some glitter to give your terrariums a magical effect.
Here's a video tutorial on how to make a winter scene terrarium using instant snow.
When arranging the terrariums on the tables, make sure to group together those jars with significant size differences for contrast. You can also elevate some jars to add height. Add some flowers or winter foliage to conceal the bottom of the jars, some fairy lights, and other accents to the arrangement.
Frozen in the Summer, Spring, or Fall
If your birthday girl loves colors, you can go for a Frozen theme but go outside of the usual whites, silvers, and pastel blues, pinks, and lilacs. In other words, you can incorporate colors and give it a summer, autumn, or spring vibe. You can also just add a dramatic pop of color to your otherwise very winter aesthetic.
Cardboard Arendelle Castle Backdrop
You can make your own Frozen Arendelle cardboard castle backdrop for your dessert corner or your stage. A castle has pretty basic lines and shapes, so it won't be that difficult to draw and cut out. You might find painting it a bit of a challenge, though, especially if it's quite big. You will also need to make sure the backdrop can stand firmly in place, so you need something to stabilize it. You can make leg supports from wood. Of course, you can also just leave the entire job to the experts.
You can also make a cardboard castle for the girls to play with instead of a backdrop. Make sure it's big enough for them to enter the doors. This playhouse is a great idea if you are not renting a bounce castle.
Another cool idea would be to transform your house's or venue's entrance into a castle door.

Intimate and Unique Frozen Birthday Party Concepts
You can go for a different kind of Frozen party by giving it a sub-theme. Simply put, it's a theme within a Frozen theme. This is more ideal if you prefer a more intimate gathering, with only your daughter's closest friends in the exclusive guest list. This way, you no longer need to invite as many kids her age as you can and worry about entertaining them. Your planning is more focused. All you have to do is prepare something fun for four, five or six little girls.
Here are a couple of unique and exclusive Frozen birthday ideas:
Frozen Birthday Teepee Sleepover Party
You can invite your little girl's BFFs for a Frozen-themed sleepover party. You can go the extra mile by transforming your living room or her bedroom into a teepee ground, with small mattresses, pillows, teepees, bed trays, string and fairy lights, and balloons. You can prepare Frozen pajamas for all of them, too.
The girls can watch movies over popcorn, make hot cocoa, sing and dance, or just have some plain, old girl talk.
Frozen Spa Party
Little girls would see their mommies do their makeup, get their hair done, and prettify their nails. So throw your baby girl a spa party with her friends and let them enjoy a day of pampering and making themselves pretty.
What you need to do is prepare spa buckets for everyone. Inside each bucket would be a little bathrobe, a face towel, a little eye or sleep mask, a fluffy headband, fluffy bedroom slippers, a hand mirror, and non-toxic and hypoallergenic nail polish and other cosmetic items. You can throw in a Frozen tiara and wand, too.
You can get the help of other female adults to give the girls a mani-pedi, do some nail art, give them facials, curl their hair, and do their makeup. This while the girls enjoy sip juice in champagne flutes.
Frequently Asked Questions
Question: Do I really have to buy little chairs and tables for our little party guests?
Answer: You don't need to buy kiddie chairs and tables for the kids to use at the party. Especially if you plan to invite many kids and would have no use for all these chairs and tables afterward. What you can do instead is rent them. There are party supply stores that are offering chairs and tables for rent. Some rent out tents, too, if you are planning on an outdoor party. You can do a quick online search for furniture rental in your area. Some rental companies also offer kiddie table sets, where one table already comes with six or so chairs. You may also want to get a couple of extra sets as a craft table or for certain activities like cookie decorating.

And oh, when hosting a kiddie party, you would also need tables and chairs for grownups. Your little guests will be coming with their parents, so you would also need something for their adult companions to sit on.
Question: What food should I serve at a kiddie birthday party?
Answer: When hosting a birthday party for kids, your menu selection should include food items that are easy and not too messy to eat. These include finger foods and bite-sized items. You may also want to call the kids' parents ahead and check if their kids have a specialized diet, whether it's due to health or cultural reasons. Ask about certain food restrictions and food allergies. See if their kids can have dairy or meat. If a parent tells you that their kid has dietary restrictions, ask them what kind of food you should prepare. You would want to be sensitive about these things and be inclusive; you wouldn't want any kid to feel left out just because they couldn't eat what everyone else is having. It's also one way to make sure everyone's safe at the party and that it doesn't end up in a trip to the ER for anybody.
Question: Are party favors really necessary at a kiddie birthday party?
Answer: Giving party favors to the guests at a party has become quite the standard these days. But they are not really necessary. In other words, there really is no rulebook that says party favors are a must. Some people don't even believe in giving gifts to guests. However, it's become a tradition for hosts to give people a token of their appreciation for attending their party. After all, a party will never be considered a success if nobody makes the effort to come.

As such, it is safe to say that you go with whatever feels right to you. If you want to give guests something to show how much their presence means to you, then go ahead and give party favors. But if you would rather not give favors and instead spend your money on something else for the party, then that is fine, too.
Conclusion
A Frozen birthday party is one of the most common birthday party themes requested by little girls. And it has become one of the easiest to plan and execute because there are many materials and resources available.  Any party supply store has a selection of Frozen items and you can just pick up all the items you need, put them all together, and voila, you have an instant Frozen party! But if you're planning one for your daughter, you can always give it a unique twist to make her party different and more special from the others. There are always plenty of creative ideas you can incorporate to make it more enjoyable and memorable for your daughter and her guests.
Recommended Reads: