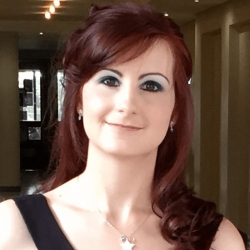 Latest posts by Denine Walters
(see all)
Everyone has a golden birthday, but sometimes we are too young to remember the celebrations (unless we look back at old photos). Sometimes, we simply don't know that we should make our golden birthday party ideas extra special. 
I was too young to remember my golden birthday – turning 7 on December 7. And my parents think a golden birthday is when you turn 50 or everything at the party is #gold. So when my niece was born, I wanted to make sure her golden birthday would be one to remember. At least she was 12 when hers took place, so it'll be an event she will remember. 
I went all out to plan the best golden birthday party for my niece. But first, I needed to find the best idea to execute. 
Are you in the same golden boat? I've put in all the hard work and compiled the best of the best golden birthday party ideas. 
Ready? 
My Golden Idea Up Front 
There were many ideas to consider when planning my niece's golden birthday party, but I had to narrow it down. The winning golden birthday party idea was the moon and back birthday party setup. 
It worked well for my niece – it had that dreamy kid element while also being "mature" enough for a tween. I didn't go with the all-gold decor. Instead, I added her favorite colors – purple and black, and the gold was merely a complementary color. 
My Golden Criteria: How I Chose the Best Golden Birthday Party Ideas 
Choosing the best ideas for any party is never a quick and easy task. So I decided I needed some criteria to help me. 
The best golden-themed birthday party ideas needed to: 
Be full of gold (#everything). That means supplies, decor, food, and more. 

Incorporate gold as the central color theme when there are complementing colors like red and black. 

Be loads and loads of fun. You want your party guests and guest of honor to have a fantastic time, right? 

Be budget-friendly (who wants to break their bank account?) 

Easy to buy or DIY 

Adaptable (so you can make the idea work for your needs) 
Top tip: When planning your party, create a party mood board and use this for inspiration when choosing your theme, invites, decor, tableware, activities, refreshments, and more. 
The Best Golden Birthday Party Ideas 
Here is a golden goose full of golden ideas for your birthday party needs! 
I've categorized all the ideas so you can easily find what you are looking for. 
Ready? 
Golden Party Invitations 
When you send out invitations to the party guests, you have the power to put them in a party mood. Sure, the invites go out days, weeks, or months before the actual party, but think of it this way: You get an A-M-A-Z-I-N-G invite AND you are already booking the party date in your calendar AND you simply can't wait to attend. 
That's exactly the energy you want to capture with your invitation. 
#01

Go for Gold: VIP Ticket Invitation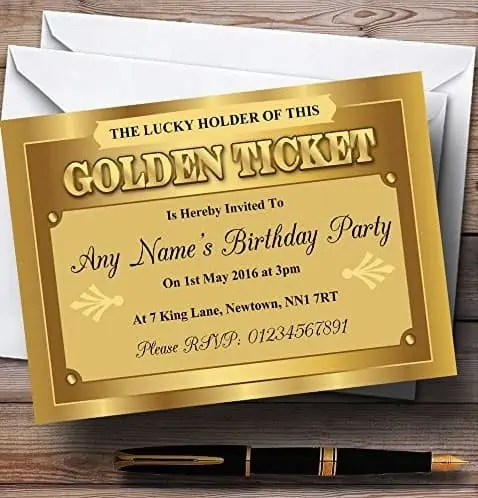 There's always something special about receiving a golden (VIP) ticket. In this case, the ticket is the invite to the special birthday event. 
I love these Golden Ticket Personalized Birthday Party Invitations. The invite is simple and elegant, but it perfectly fits a golden birthday party. It tells the guests they are in for a treat. 
#02 A DIY Digital Gold Invite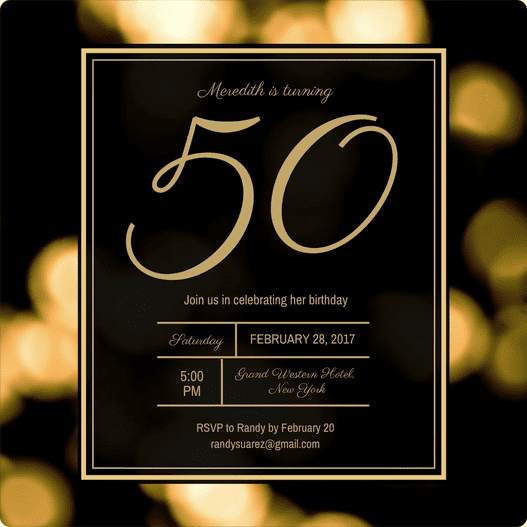 OK, so most of us have a strict budget we need to work with when we plan a party. I always like to DIY where I can and then spend the money on more snacks, better entertainment, or a few cool decor items. 
Saving ±$15 for invitations may not sound like much, but when you add every $15 you save, you'll be surprised by the total. 
Canva is my go-to for DIY-ing invites. Easily and quickly design stunning invites to suit your theme and more. Not everyone has a talent for digital design, so check out some of these templates and simply customize them to make the invite work for you. 
#03 A Subtle Gold Birthday Invitation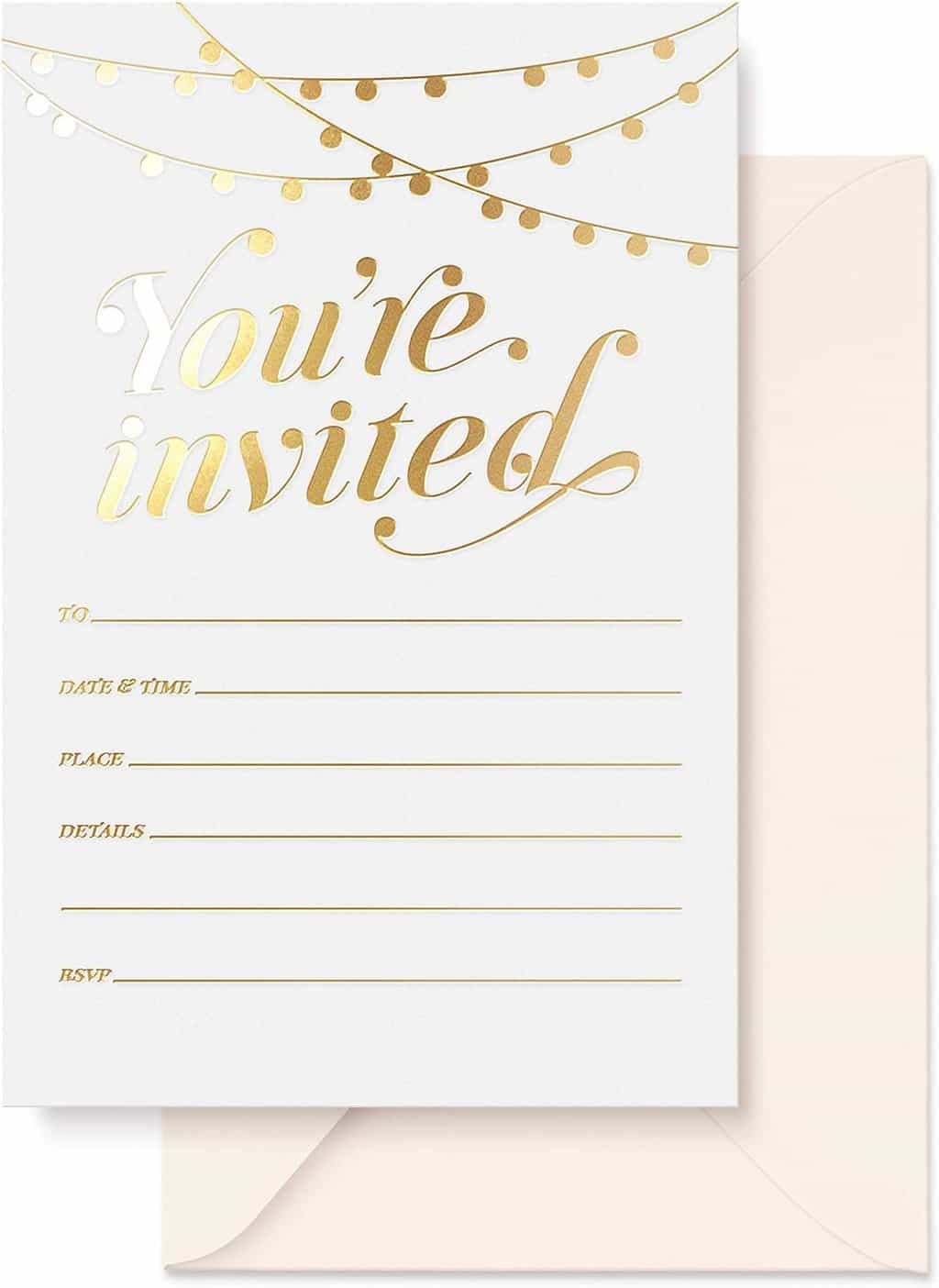 There's an art to being subtle, and not everything needs to be in-your-face golden. I like the understated elegance of these Gold Foil Party Invitations. The simple white background with the gold lettering and golden garlands tells your guests that the party will be stylish. 
The invites are versatile, so use them for any true golden birthday party, a 50th gold birthday, and more. 
An All Gold-Themed Birthday Party 
When you opt for a birthday party decked out in gold only, I recommend choosing shades of gold. I'd include some cream and beige (which is pretty much like watered-down gold without the metallic sheen) to add depth and bring out the gold more. 
#01 The Moon and Back All-Gold Setup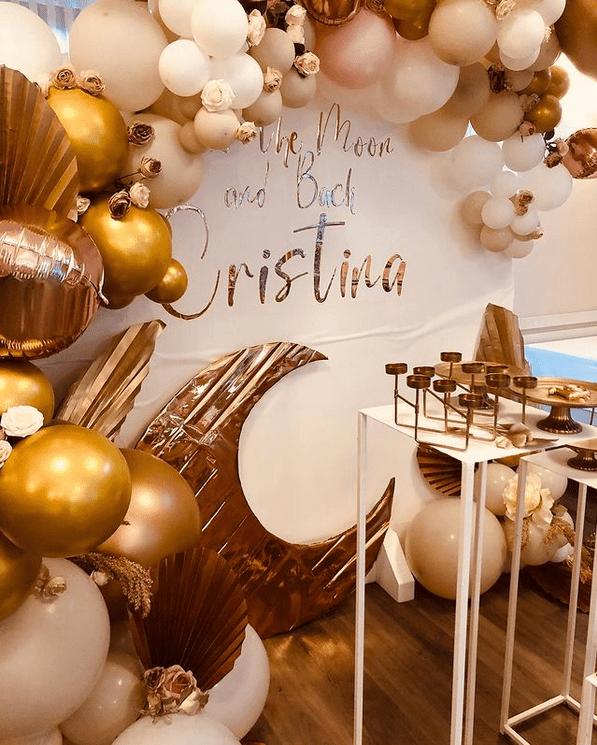 There's something quite dreamy about this moon and back all-gold birthday party setup. The backdrop is a creamy white with "to the moon and back" lettering. It's surrounded by balloons in shades of gold. 
There's also a metallic moon, dried or fake roses stuck between the balloons, and various other elements like feathers and leaves. 
Psst … I'd love to see this in rose gold (#hearteyes). 
#02 Sparkly Gold Setup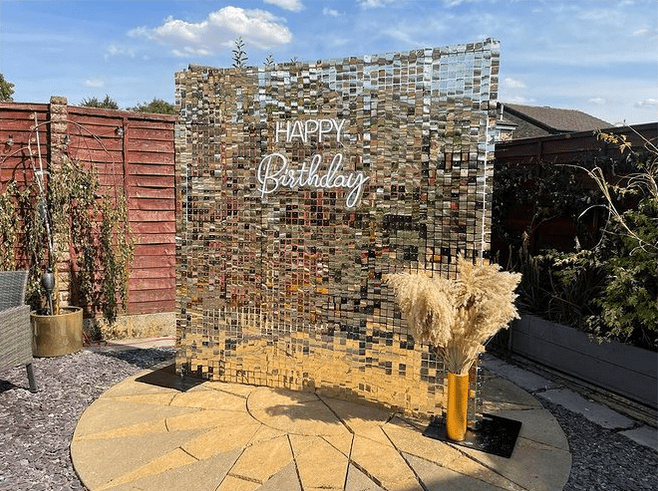 If you are more of a minimalist at heart but want the gold in your birthday party to shine, I'd suggest a sparkly golden setup. The photo wall or party backdrop is small mirror-like elements that sparkle in gold. The backdrop features the typical "happy birthday" wording, and I can just imagine that it lights up at night. 
You can do a balloon arch in gold, cream, and white on one side of the glittery gold backdrop. The setup is finished with a pampas grass-filled vase and sun flooring. (#talkaboutspecial) 
Here's another version of a very glittery gold party setup with the sparkly golden backdrop, gold balloon arch on the one side, more balloons on the other, and three modern tables for the birthday cake, the age of the guest of honor (with a cutout board), and party favors.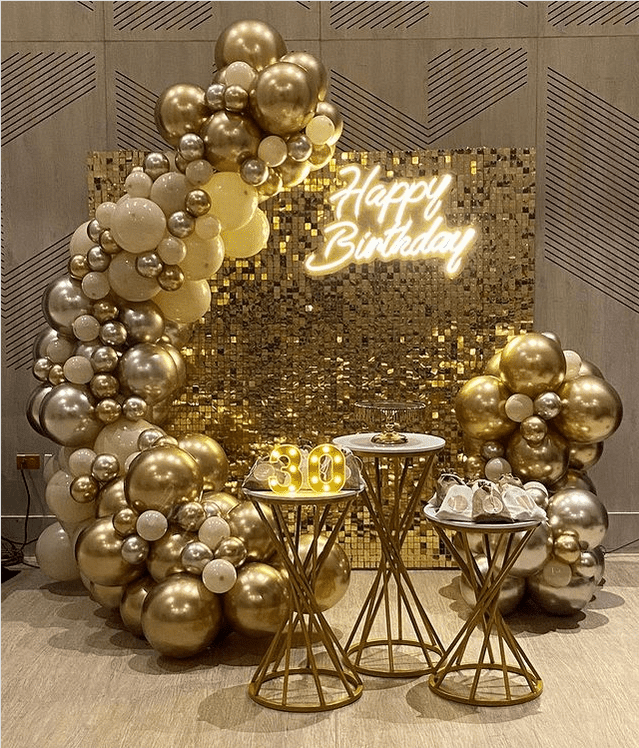 #03 Infinity Cream and Gold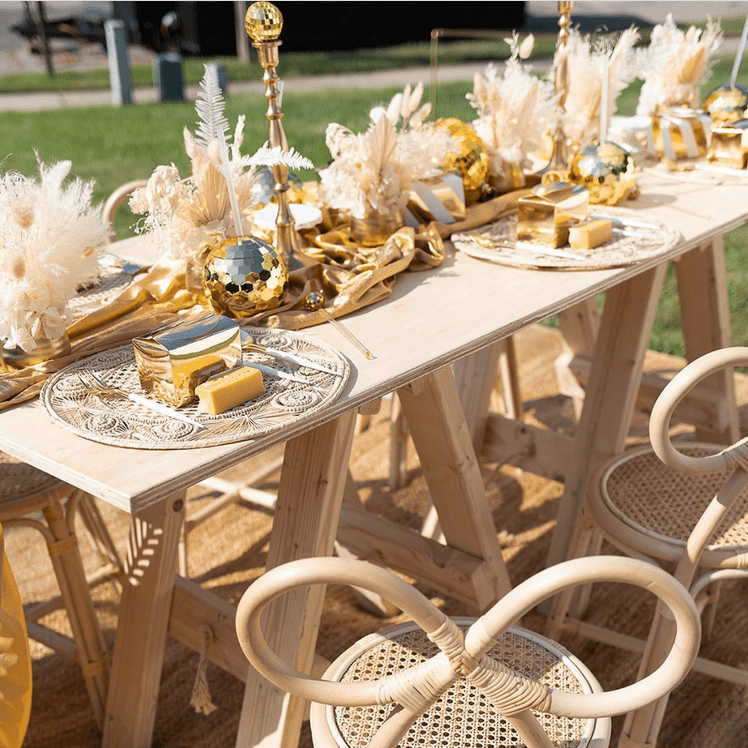 What do you say to an outdoor golden birthday party? My vote is a resounding yes!
I can just see a beautifully manicured green lawn, the late afternoon sun, and a golden birthday party setup with infinity bow chairs and gold decorations. These infinity bow chairs are super cutesy and pair perfectly with the wooden table. 
As for decorations, opt for lace patterned cream-gold placemats, mini but giant cake pops, a ruffled tablecloth draped in the center, and mini vases filled with faux short pampas leaves and feathers.
This is one beautiful and classy to-do.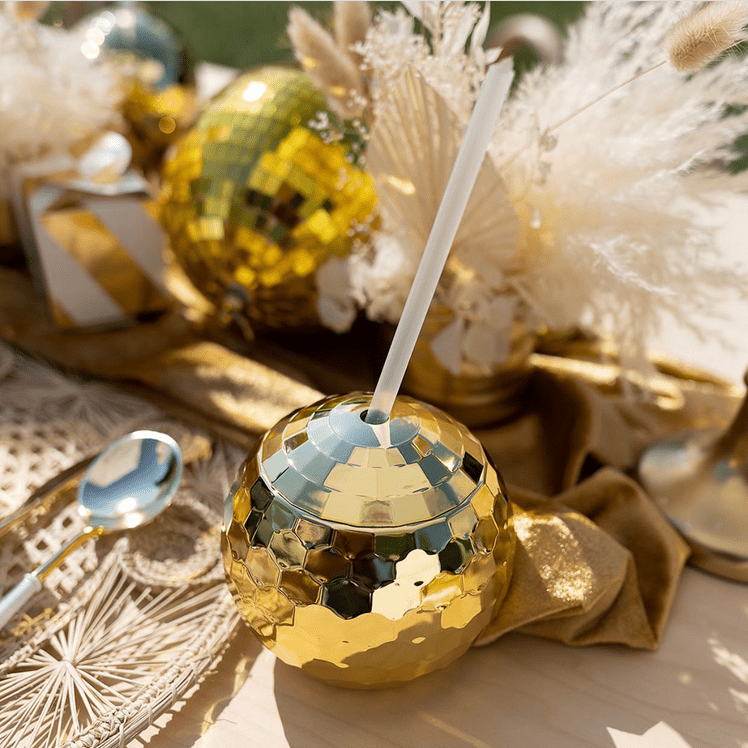 Gold within Another Color Theme Party 
Not everything needs to be gold when you throw a golden birthday event. Gold is such a decadent color, but it sometimes looks even better when combined with complementary colors. And let's be honest, pretty much every color works with gold, so it's a #win-win. 
#01 Carnival Gold, Pink, and Red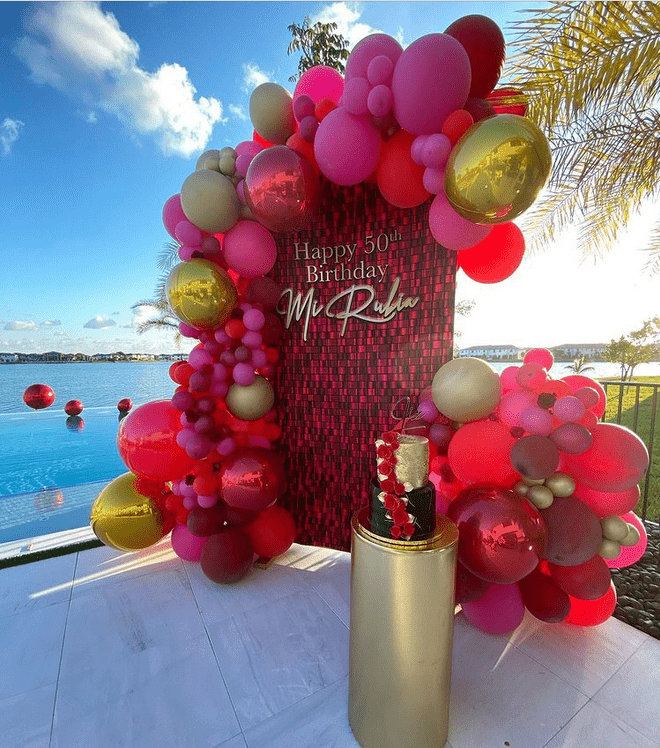 There's something that screams P-A-R-T-A-Y (yip, not a typo!) when I look at this golden birthday party setup in pinks, reds, and gold. You can see that the reds and pinks are the dominant colors, while the gold is more of an accent color. And it just works so perfectly. 
I love how the palm tree leaves look golden too. 
I'd like to do a bit more gold and include a gold metallic foil fringe curtain. If you want a shinier gold, there's this option too. 
#02 Classy Gold and Black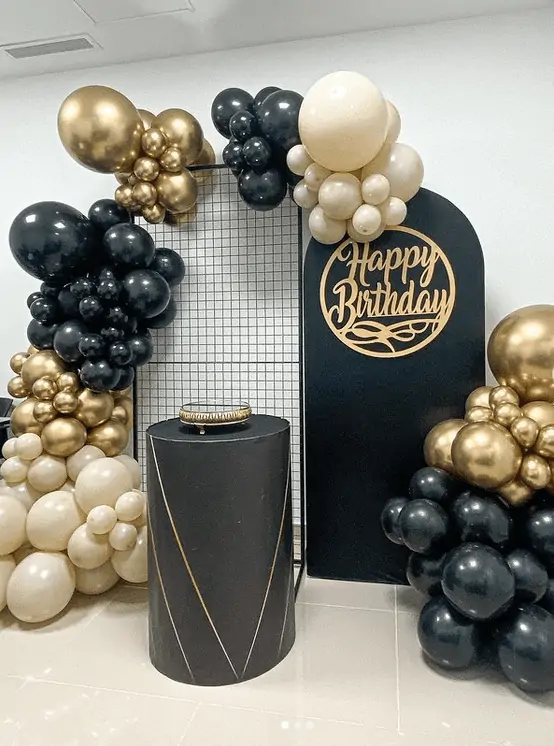 For a more formal birthday party, sticking with colors like gold and black is always a great choice. And guess what? You can't go wrong with this classy combination. 
Consider a setup like this gold and black party theme. The balloon arch combines black, gold, and stone/beige sections. Place the cake on a high cylindrical table. Add a unique backdrop with the fence and solid panel, stating "happy birthday." 
Another option is to go for a circular design with a half-moon balloon arch. This setup is gold and pink, but I can only imagine how beautiful it'll look in black and gold.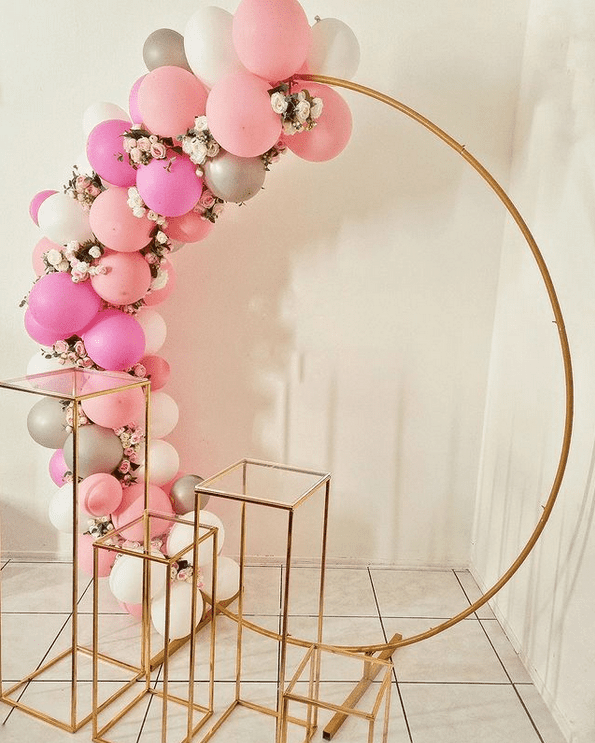 For a busier and perhaps more party-esque design, I also like this leafy tropical black and gold theme. The balloon arch forms a circle around the gold lettering of "Happy Birthday" in the middle. The modern high table is ideal for the cake, but I'd move the cake to the side so you can see it better. Now, it just disappears with the backdrop.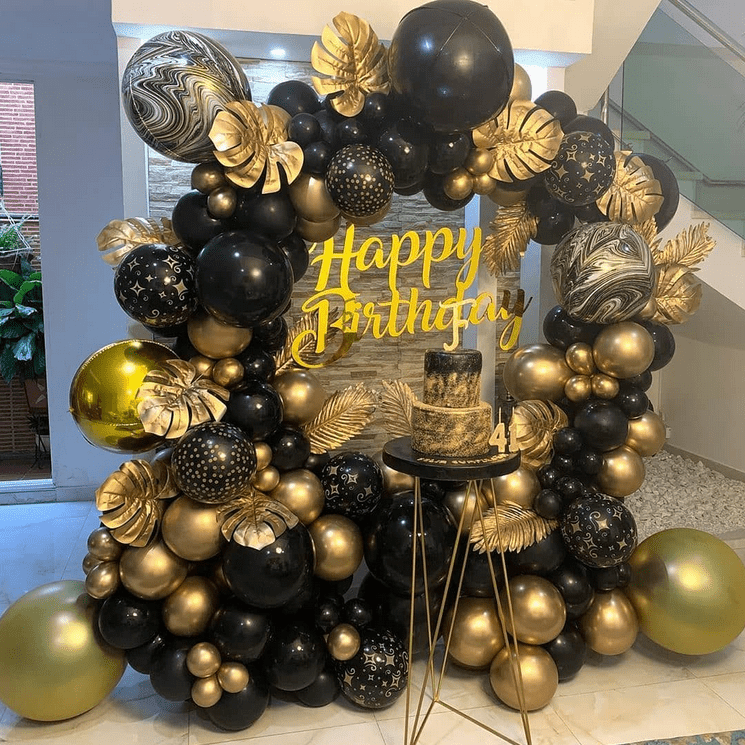 #03 A Rainbow of Pink, Turquoise, and Gold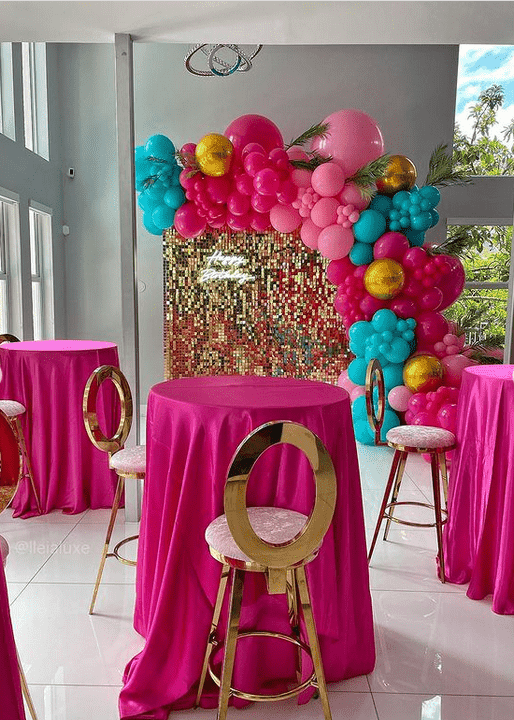 Three colors that work together well are pink, turquoise, and gold. Check out this golden birthday party setup with a shiny gold backdrop and gigantic balloon arch with shades of pink, turquoise, and gold balloons? 
The colors are perfect for a little girl's or teenager's golden b-day … but if you're a grownup and you love this color scheme, it's pretty perfect too! 
Another version of this is to opt for purple hues and gold. 
Gold Party Decor 
An essential element of any party is how you decorate the venue. The best thing about the decorations is that you don't just need to look at "proper" party decor. You can use anything and make elements to add pizzazz, fun, and more. 
#01 Golden Leaf Lights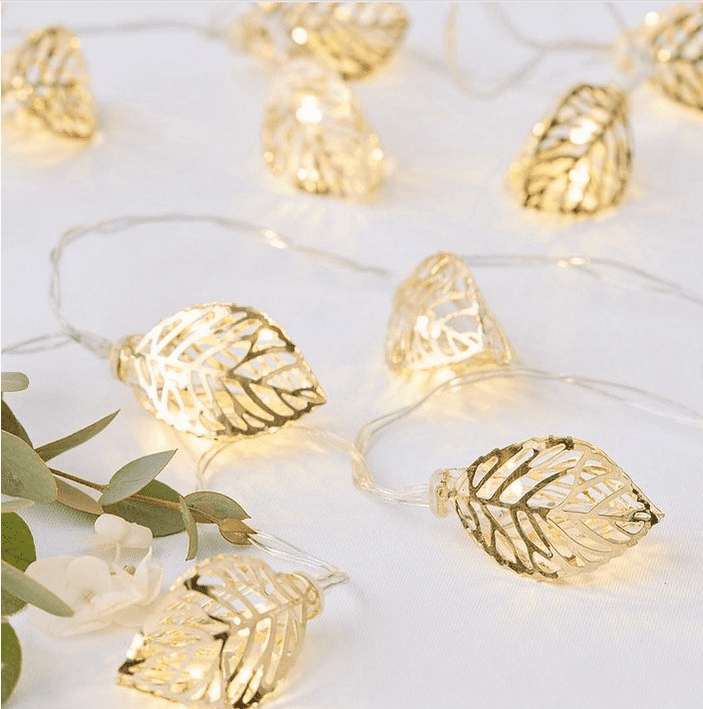 I adore these golden leaf lights. They remind me of fairy lights; you can hang them around the venue or drape them on the tables. 
The lights are multi-functional, and I'll easily use them around my home or patio. 
#02 Golden Balloons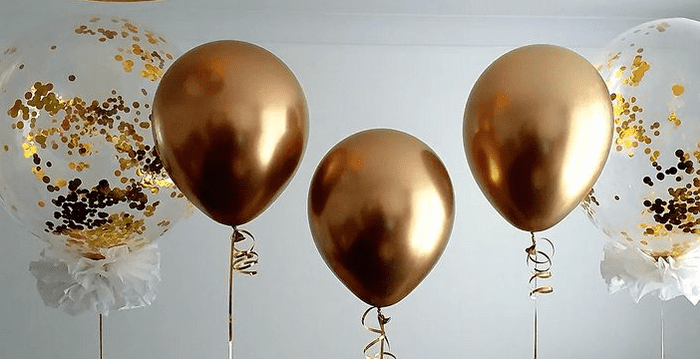 What's a party with no balloons? 
Sure, you can opt for the traditional balloon arch in gold or other colors with gold. However, you can place your inflated balloons on golden sticks or pipes for something more unique. It adds height and creates a pretty photo backdrop.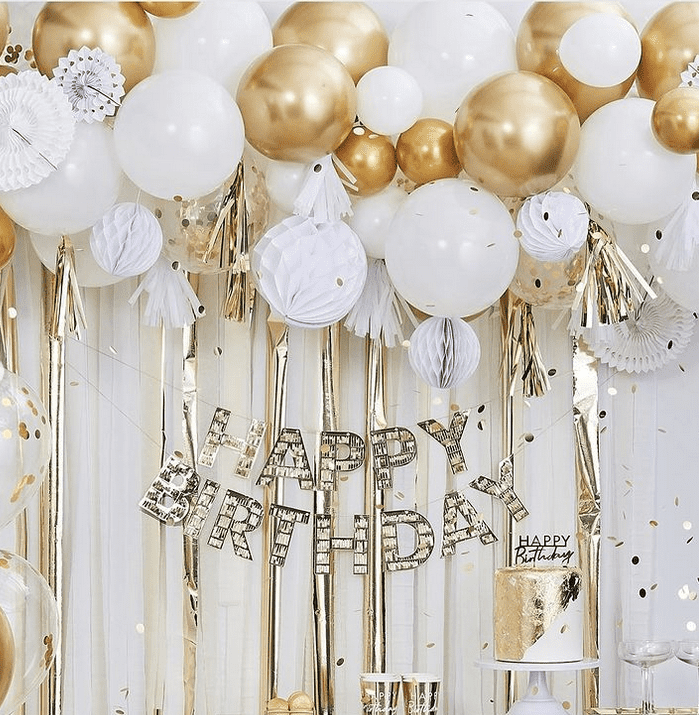 Combine the balloon-stick look with a "Happy Birthday" banner in glittery gold, and you're all set for a minimalistic yet sophisticated look. 
Golden Foodie Goodies 
You can obviously serve "normal" snacks and food at your golden birthday party, but why should you when you can choose refreshments that go with the theme? 
#01 Pop Golden Champagne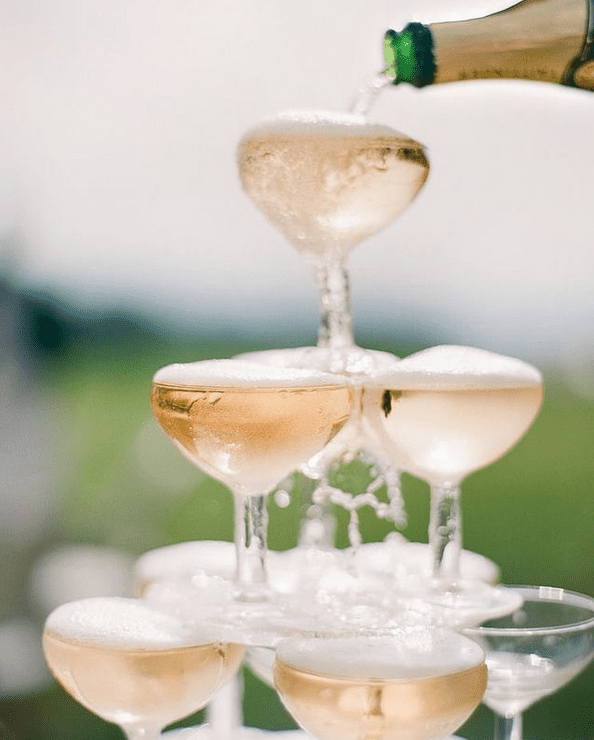 Serving golden champagne (#popthechampagne) is ideal for an adult golden birthday event. You can even set up a champagne fountain. 
And if you have a kiddie's birthday event, make your own virgin (non-alcoholic) champagne that's littlies-friendly. In a large jug, mix 1 part white grape juice (4 cups) with 2 parts ginger ale (8 cups). 
Pour in plastic champagne flutes and decorate with 3-5 floating gummy bears (gold ones only or a rainbow of colors). Or use strawberry slices as a garnish and add a funky straw. 
#02 Golden Snacksies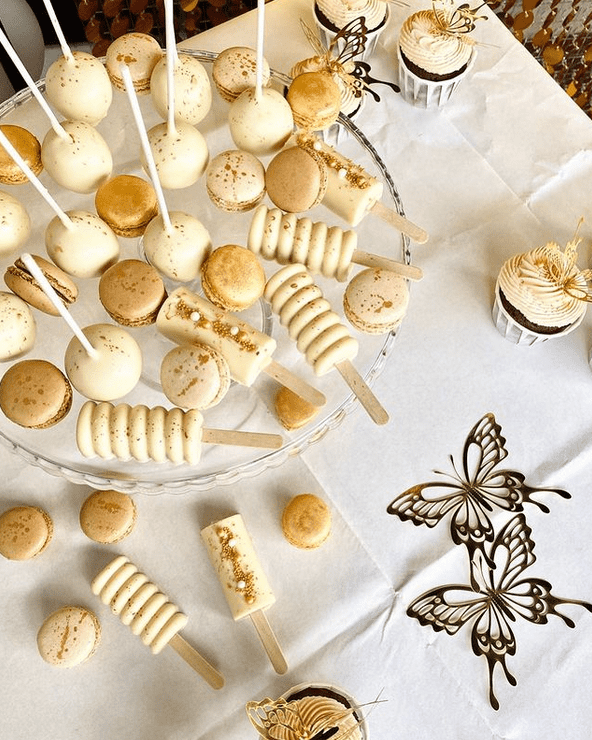 Not all your refreshments need to be in hues of gold, but you can get creative if that's your end game. 
I adore this display of golden snacksies: macarons, cake pops, and funky cakesicles in shades of gold, golden honey brown, and cream. (Plus, the golden butterfly decorations win me over).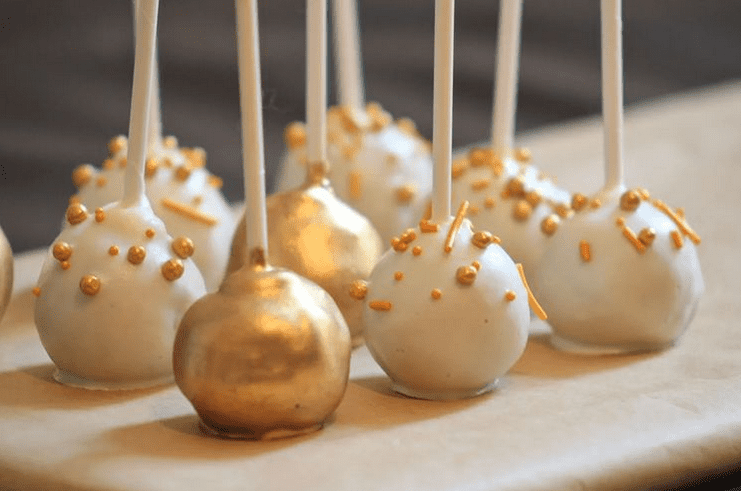 Other golden snack ideas include billionaire's shortbread (#yummy-yum) and chocolate-dipped strawberries with elements of gold leaf and gold chocolate blocks (#prettyanddivine). 
#03 A Very Gold Birthday Cake
It would be a crime to not include the best golden birthday cakes. And yes, cakes. Plural. So you have options. 
This tall metallic gold and white drip cake is one of the prettiest cakes for a golden birthday. It's just ooh-la-la beautiful. The cake features alternating white and gold stripes, edible gold leaf, metallic dots, pearls, and a delicious oozing gold drip layer. Serve the cake on a gold plate, and you're golden.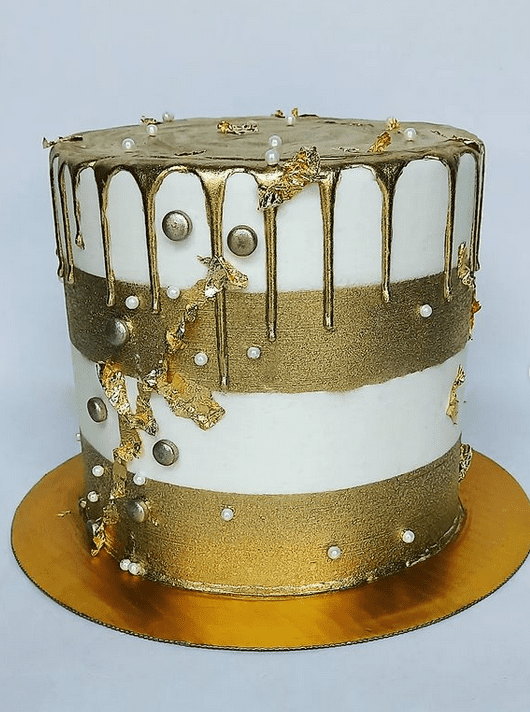 Another attractive option is this glittery gold cake. It's probably better suited for a wedding, but I say, "what the heck; why not make it a b-day cake?" The tall-tiered cake is decorated in gold squares, rectangles, and dots. The cake top has large and small gold balls with leaves, which reminds me of berries for some reason.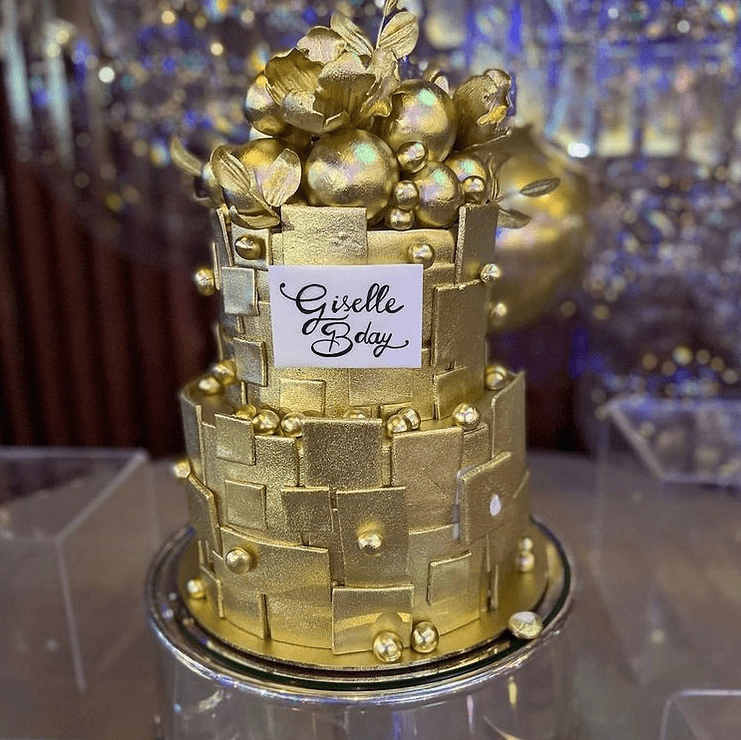 This half-moon cream fondant cake with golden butterflies, flowers, and leaves is an interesting design. While the cake features an exquisite design, I'd incorporate soft pastel colors to match the party theme. How? Easy. I'd marble the cake outer and then place all the golden decorations on the cake. 
And, of course, there needs to be a proper golden butterfly cake. This two-layer white buttercream drip cake is decorated with Ferrero-Rocher chocolates, a cool "Happy Birthday" cake topper with a geometric square design, macarons, edible pearls, white buttercream rose petals, and golden butterflies. There are also small pieces of gold leaf stuck to the cake outer.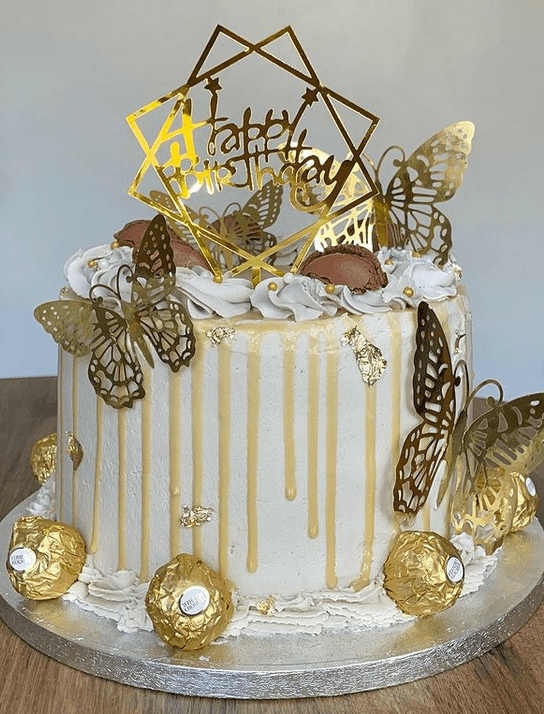 Golden Dress Code 
When you throw a golden b-day party, have the guest of honor dress in gold, accessorize with gold, or have your guests wear at least one golden clothing item to fit the theme.
#01 A Golden Outfit for a Queen or King 
If the guest of honor dresses in gold, they'll stand out and catch everyone's eyes. 
There are so many golden outfit options you can choose from, but here's the best of the best.
For ladies: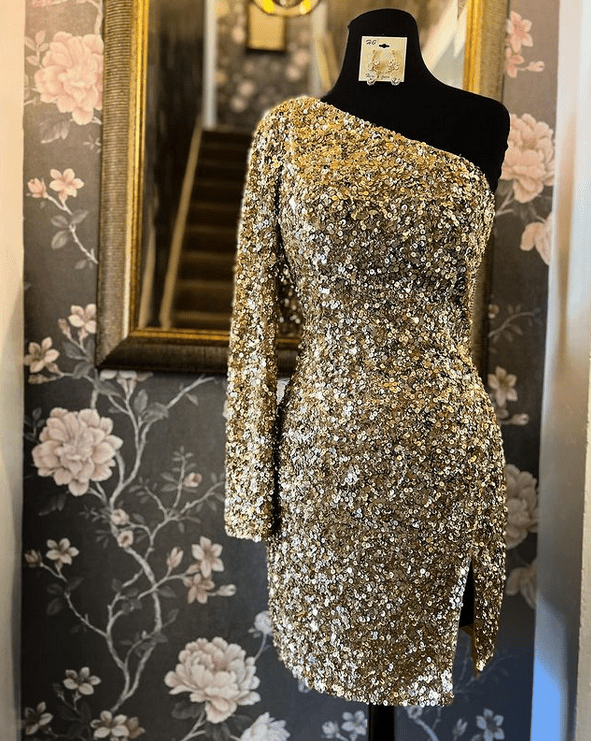 For little girls: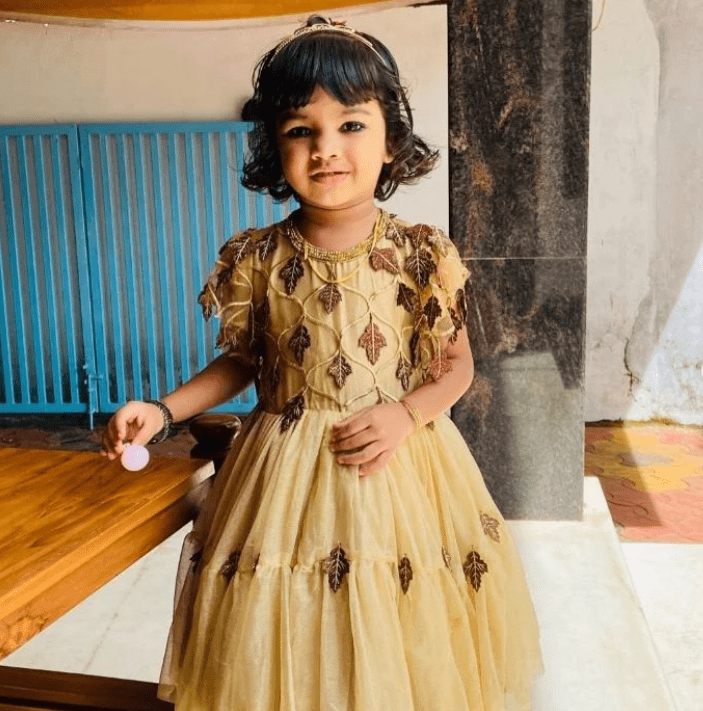 For men: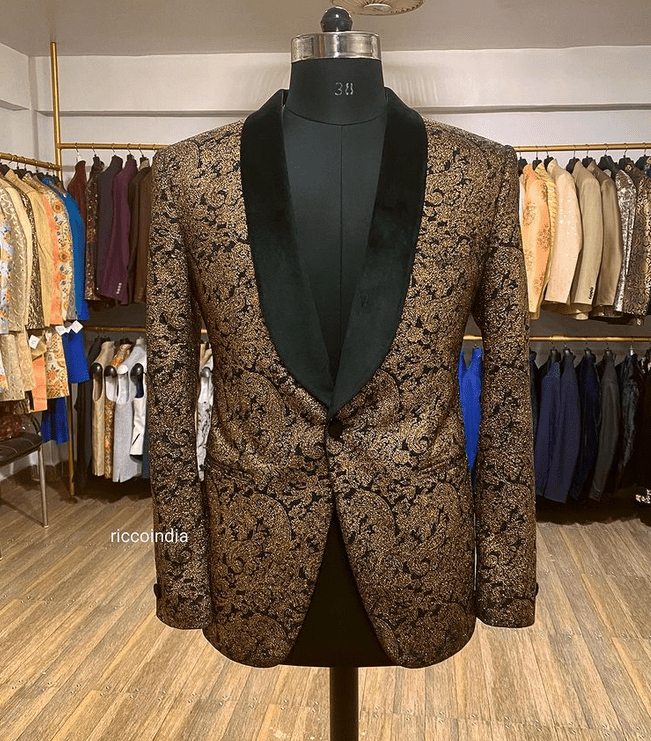 For little boys: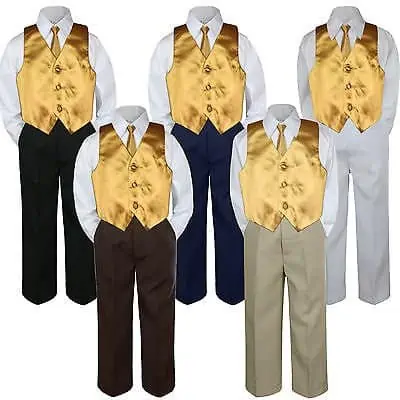 #02 Dream Gold Nails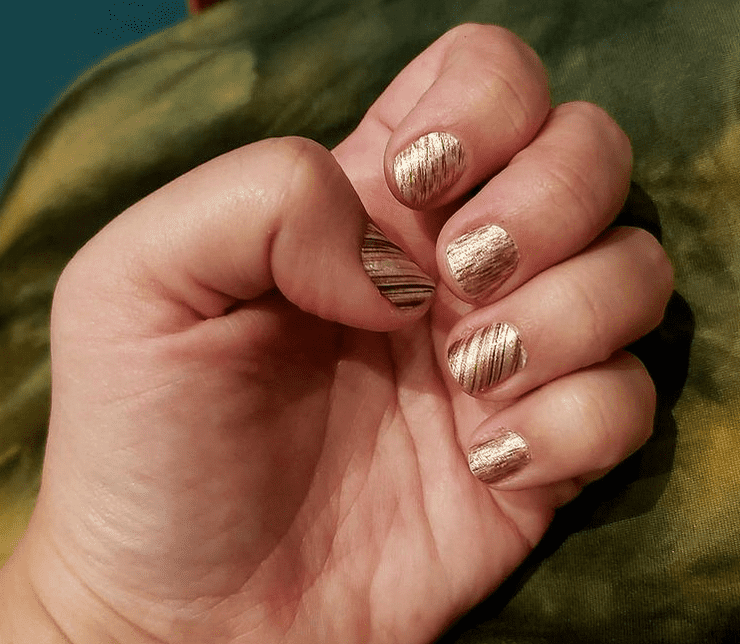 Add more gold and bling by getting your nails done in gold gel or acrylic. I like this subtle yet elegant gold brush look, and your nails will look stunning for work or when you go out after the party too. 
You can opt for gold French tips: a golden touch instead of the usual pink or white tips. 
Or really put the gold in golden with these gold birthday nails that feature clear and glittered undercoats, diamanté, and charms (birthday girl's star sign, a butterfly, bows, and more).  
#03 A Golden Birthday Sash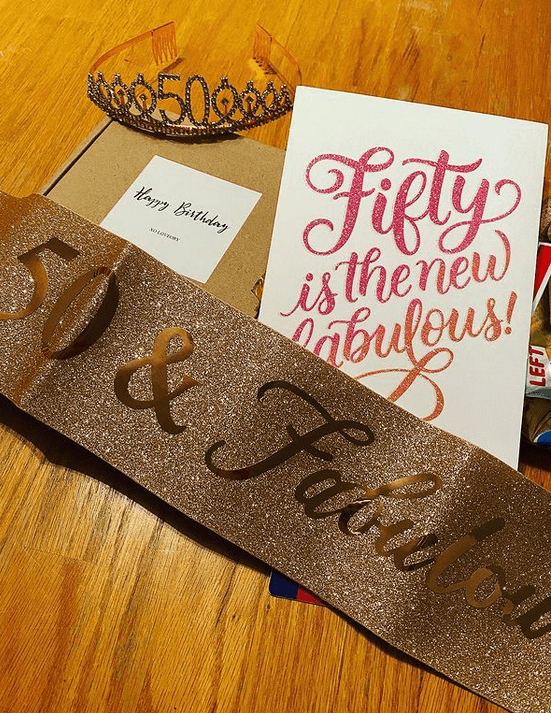 A more demure option than being kitted out in gold is to get a golden birthday sash for the b-day girl or boy. 
Birthday sashes come in various colors and messages. 
The best golden birthday sashes are: 
#04 A Tiara Fit for Birthday Royalty 
The guest of honor should feel extra special on their birthday. A great way to add that "special" feeling is with a golden tiara, crown, or headband. 
I love this crown with the flower arrangement and number to let everyone know how old the birthday person is.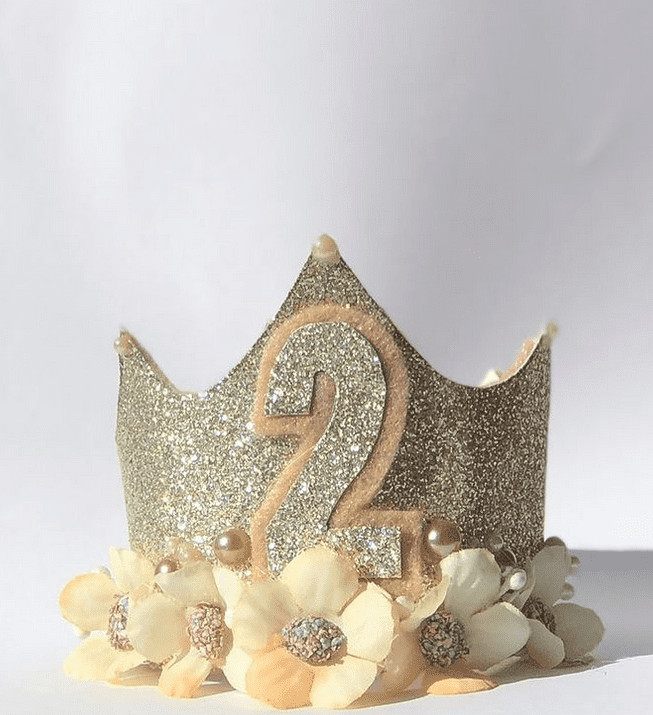 Or what about this pretty-as-a-pearl headband for a gypsy feel? The intricate headband features pearls and gold wire. (I'd love one of these!)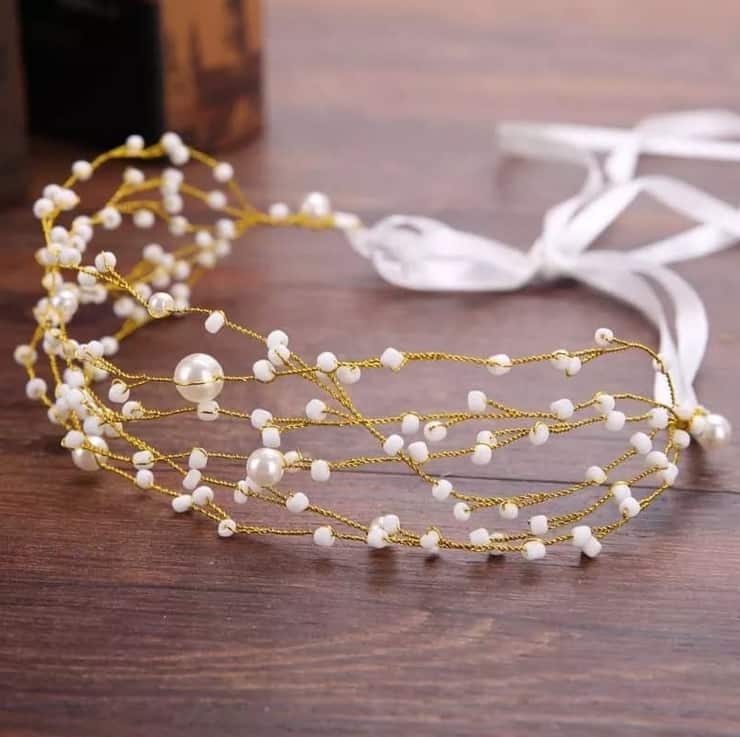 And the best for last: A "birthday queen" tiara for the birthday girl.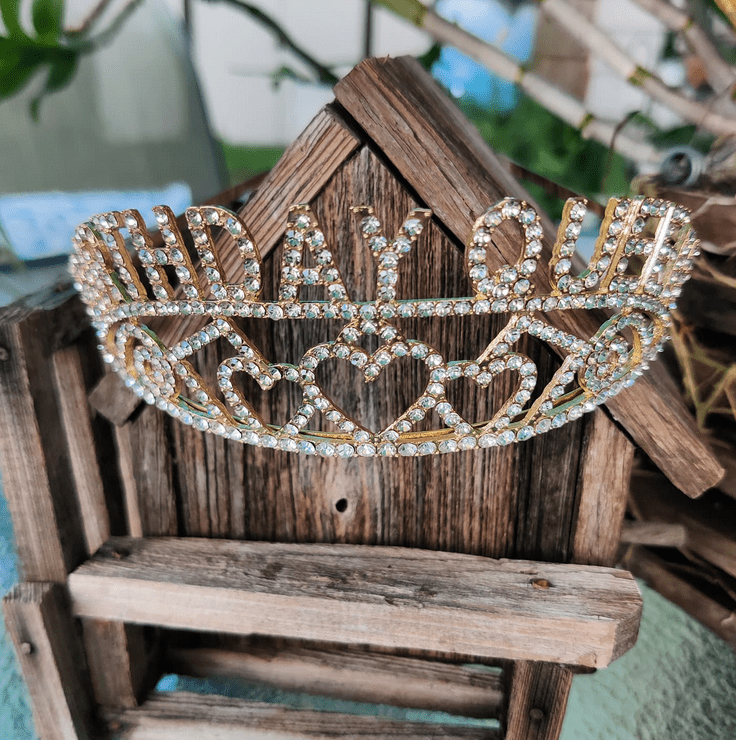 Golden Birthday Activities 
People like to mingle, eat, drink, and be engaged at the party. 
#01 A Golden Piñata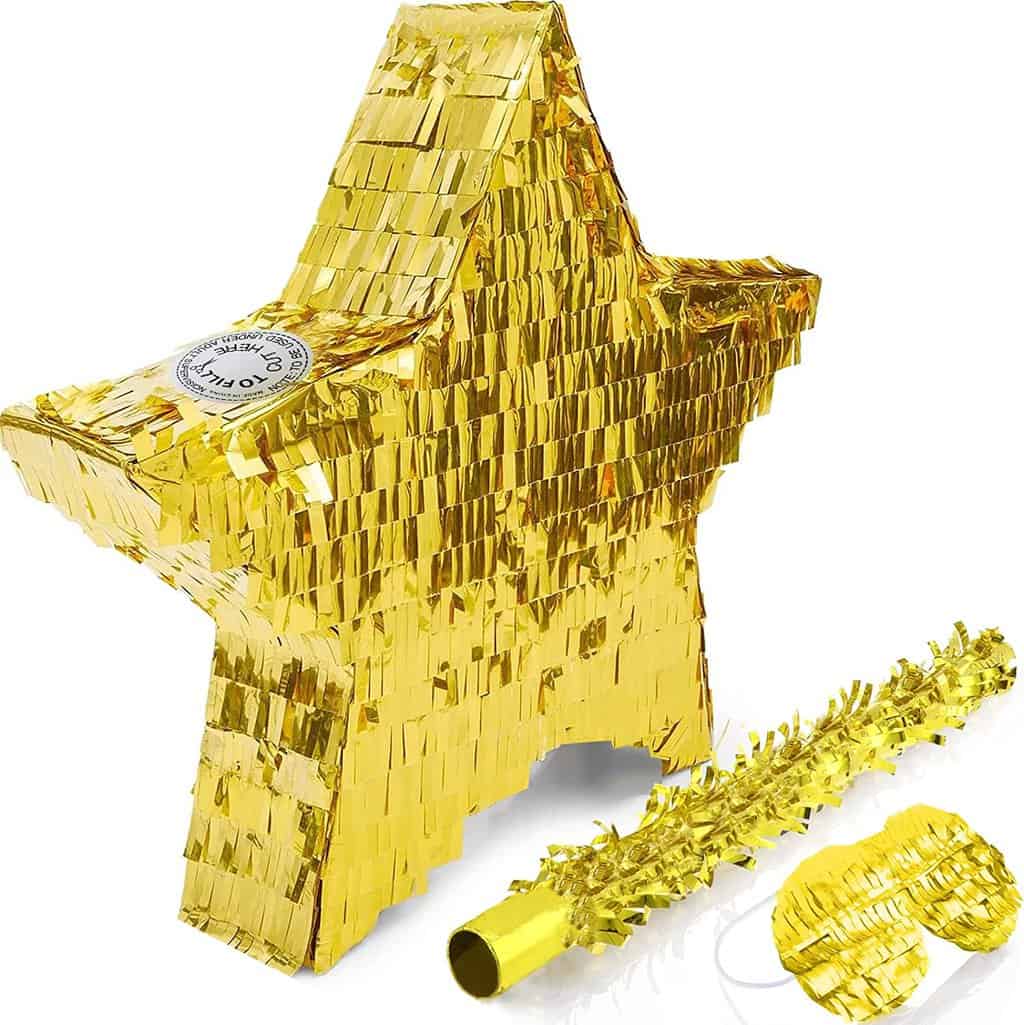 A golden piñata is fun for everyone. 
Sure, it's usually the guest of honor who gets to stake a stab at beating and breaking the piñata, but for a small party, get a few of these so everyone can join in on the fun. 
I like the gold star piñata and age number piñata, but you can get any piñata that works with your theme. 
Golden Birthday Party FAQs 
Question: What are golden birthdays? 
Question: What are golden birthdays? 
Answer: A golden birthday, also called a lucky birthday or a champagne birthday, is a birthday that happens once in a lifetime. It's when you turn as old as the day of the month you are born – turning 8 on October 8th or 21 on January 21. 
There are also double or triple golden birthdays. You'll celebrate a double golden birthday when you turn 12 if your birthday is the 6th, and you'll have a triple birthday, in this case, when you turn 18. 
A golden birthday party can also be interpreted more generally: when you have a golden-themed event with lots of gold balloons, a gold backdrop, a gold cake, and so forth. 
Question: How should you plan a golden birthday party? 
Answer: Any good party starts with a theme and a budget. For a golden birthday party, you can use the gold color as your theme. Or, you can think out of the box and throw a golden mermaid party, a gold space party, or a "treasure hunt for gold" pirate party. 
From there, you need to find a venue, decide how many guests you want to invite, look for party supplies, organize the music, food, and entertainment, and plan for setting up everything. 
Question: What do you need to make a golden birthday party golden? 
Answer: Anything gold and sparkly will make a golden birthday party. Consider asking the guests to dress up in gold, order and create foods and snacks and drinks in gold, and get gold birthday party supplies. 
Use gold as an accent color with a primarily black palette, or choose three colors and use gold as a primary one. 
My Final Golden Thoughts
It's fun planning parties and coming up with cool ideas. There are plenty of ideas you can use as inspiration; plus, you'll easily find decorations, activities, and refreshments that fit your golden birthday theme.
My niece loved her to the moon and back birthday party, and she was over the moon when she saw that I used her favorite colors too to celebrate her 12th birthday on March 12.
So remember to personalize any golden birthday party idea you have. The party is – first and foremost – to celebrate the birthday boy or girl – and secondly – for the invited beloved friends and family.
Looking for more birthday party inspiration? Check out my guides on the best mermaid birthday party ideas, Moana birthday party ideas, or unicorn party supplies.
Psst … I also have THE ultimate guide on the best birthday party ideas for you!
Further Reads: