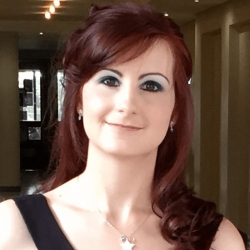 Latest posts by Denine Walters
(see all)
Okay, so full disclosure, being asked to throw a Blippi birthday party for a 6-year-old is terrifying. Blippi is a big deal for kids (#nopressure). My brother asked me to throw my niece a Blippi-themed party. At first, I was a little worried, Blippi is a huge favorite for many children, and with all the ideas available, I was literally "Blipping" out. 
I was looking for the best Blippi Birthday party ideas out there. There were such beautiful and fun ideas that I had to put the brakes on and make a list of all the ideas I felt would cater to the partygoer's needs. So I sat on the floor and watched about five episodes of Blippi to familiarize myself with the character. Now I can't get the theme song out of my head (#great). 
Blippi is such a whimsical character, and he really knows how to reach children on their level. That's the inspiration I was looking for when I put this guide together. Thank you, Blippi. 
So, are you about to throw an epic Blippi party for someone special? Great stuff! I've got you covered with this fantastic guide to the best Blippi birthday party ideas.
Bottomline Up Front
Of all of these fun-tastic Blippi birthday ideas, my absolute favorite is the Blippi dress-up costume. I mean, after all, what is a Blippi-inspired party without Blippi?  If you want to see your little guests beyond excited, hire a kids' party entertainer to dress up as Blippi.
Otherwise, you can dress up as Blippi yourself with this awesome Blippi character costume. 
You could have a simple cake, some sodas, and snacks, and then add the Blippi costume, and…boom…you have a Blippi party. (Awesome, right?)
Selection Criteria for the Best Blippi Birthday Party Ideas
If there's one piece of advice I can give you, it's this: When planning a kids' birthday party, especially a themed one, you need to think out of the box. You need to take classic party elements and (for lack of a better word) "Blippify" them. 
So, to do this, I had to put my Blippi glasses on so I could see the party through his eyes. I made sure that all my Blippi birthday party ideas:
Were readily available, or they were easy DIY options

Were relatively affordable

Kept my little guests interested and happy

Showcased the famous Blippi color scheme (blue, orange, and indigo)

Brought in elements from the hit YouTube channel, books, and the fun music album

Included activities that would carry the Blippi stamp of approval
The Best Ideas for a Blippi Birthday Party
Great, so now we have our selection criteria and are ready to P-A-R-T-Y. 
Blippi Birthday Party Invitations
Aaah, I remember receiving birthday invites as a kid. I stuck them in my diary (especially the extra-cool ones, #fact). Handing out invites to your friends is part of the fun and sets the tone for the party you are about to throw. 
Check out these fantastic invitation options: 
I am all about modern technology, and these editable digital invites are a treat. They are super easy to design and deliver (literally, send them with the click of a button). 
Another great thing about the digital option is that you can animate them, and they are eco-friendly. Blippi is all about the eco-friendly life.
If your kiddo would like to hand out their invites personally, these awesome Blippi invites with envelopes are perfect.
Some Good Ole Blippi Tunes
Music is life (the life of the party, that is). If there's one thing Blippi isn't short of, it's music. The dude sings at least twice during an episode on his famous YouTube channel. Blippi has a song or an album for any party you throw his way.
Allow me to educate you: 
Are you throwing a Blippi excavator and construction party? No problem. Blippi's got you with the Blippi Tunes Volume 2 Machines album.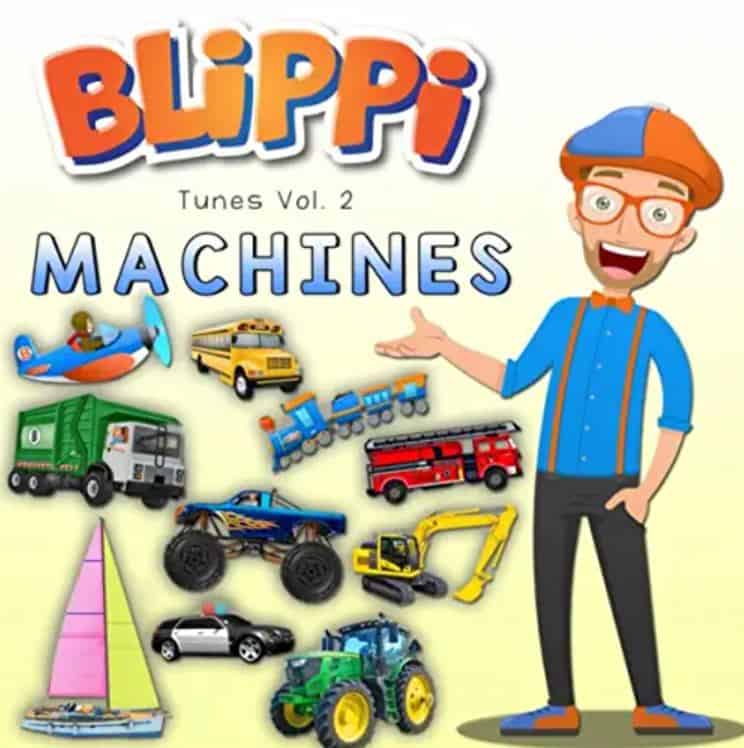 What's that? Are you throwing a Blippi farm animal party? No prob. Try Blippi's animal friends album.
Do you want to throw an "around the world in 80 days" party with Blippi? No sweat, that's an easy one. Give Blippi's Tunes Volume 5: Exploring the world album a go.
Blippi's albums are super easy to find online. Amazon Music, Spotify, and YouTube have all of his albums. 
Blippi Decor
The decor is so important, especially for themed birthday parties. You want to stay as true to the Blippi aesthetic as possible, and there are so many ways to bring Blippi into any theme. 
Here are a few of my top decor ideas for an amazing Blippi birthday party:
Blippi Balloon Arch 
There is something about a balloon arch that makes a party so much more festive. It's a fabulous way to bring in the Blippi color scheme and really make it stand out. This balloon arch is made using different sizes and colors of balloons.
Making a balloon arch at home is pretty straightforward. Whenever I need to put together a balloon arch, I follow the easy steps in this tutorial video. This tutorial shows you how to get the same effect without using a stand.
If you don't have the time to put a balloon arch together at home, you could always contact a local party shop to set one up for you.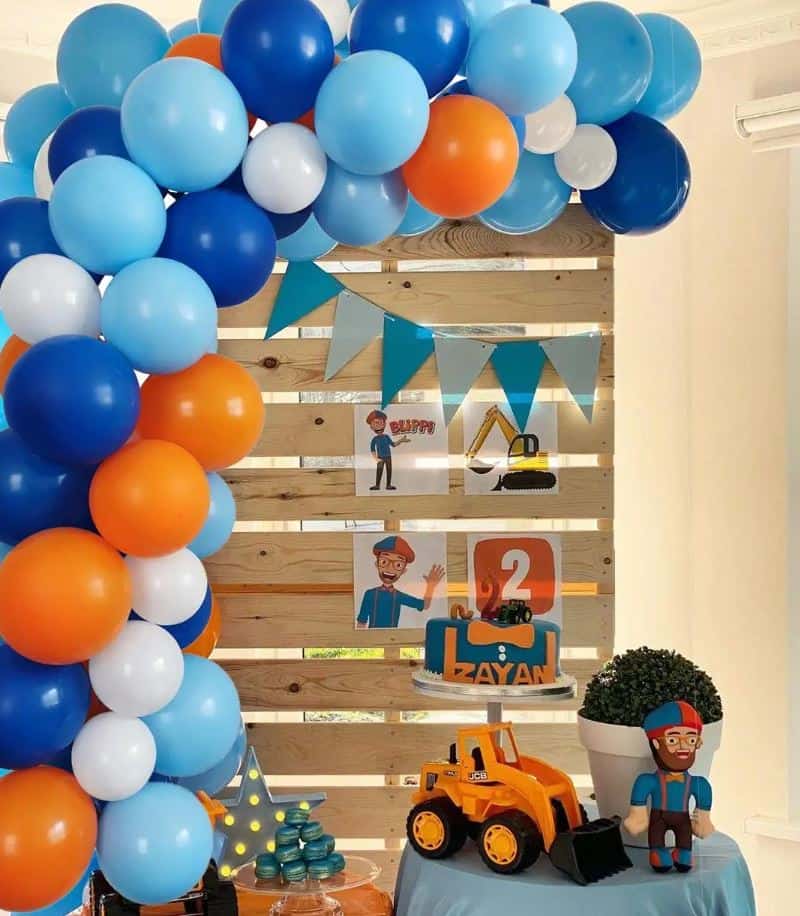 Top Tip: Amazon has unique balloon arch kits that come with everything you need to set up a gorgeous arch.
Blippi Yard Sign
There's something so exciting about driving to a party venue and seeing balloons or a yard sign showing you the way to the fun. You can use anything for a yard sign.
I based my yard sign on this cute cake topper. It has the birthday boy or girl's name and Blippi's welcoming face, and you customize it further with some arrows pointing the way to the party. 
Another fun idea is to use a giant cupcake cutout as a birthday yard sign. Your guests definitely won't miss the turn. I'd just Blippify the giant cupcake, use the Blippi colors, and decorate it with Blippi's infamous bowtie. 
Blippi Birthday Banner
Your guest of honor will feel like the bee's knees when they walk into their party and see their name in big, bold Blippi colors. Birthday banners are a fantastic way to bring the Blippi theme into your party.
You can go with the traditional bunting flag banner look.
Or, do something different like this construction vehicle birthday banner, which is also very effective against the black backdrop.
Again, you can make a birthday banner out of any Blippi theme. Here's an easy DIY birthday banner idea you can use. Tie scrap pieces of material or old ties together (in the Blippi colors) for a fun and a busy birthday banner.
Blippi Backdrop
Using character-themed backdrops is a great way to create a theme without putting in a lot of work. This Blippi backdrop is stunning. Make it even better by adding a cute Blippi-inspired tablecloth.
Table Decor
I am a massive fan of decor sets, and they usually aren't too expensive. This Blippi-themed table decor set includes: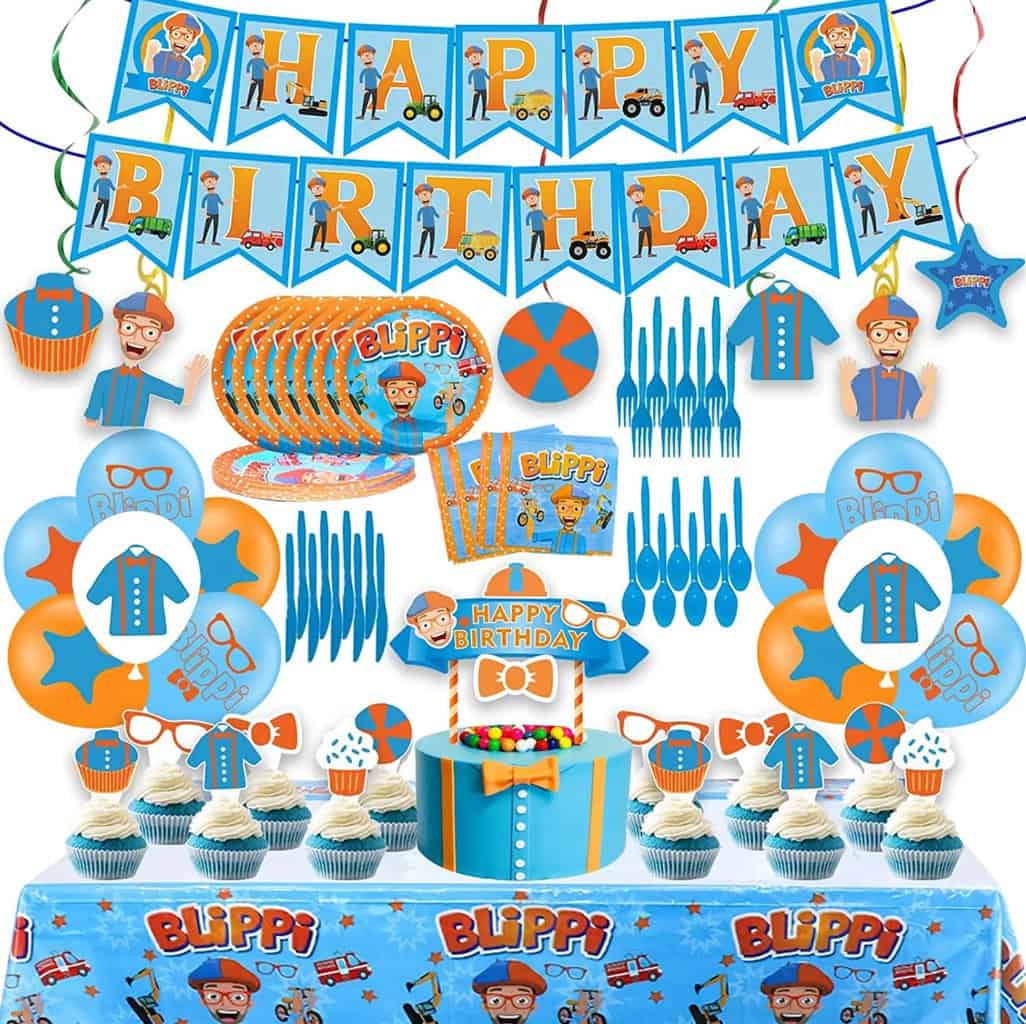 Tablecloths

Paper plates (trust me, paper plates are always the better option for kids' parties)

Napkins

Knives, forks, and spoons
I found these awesome construction vehicle straws, and they looked amazing on the tables.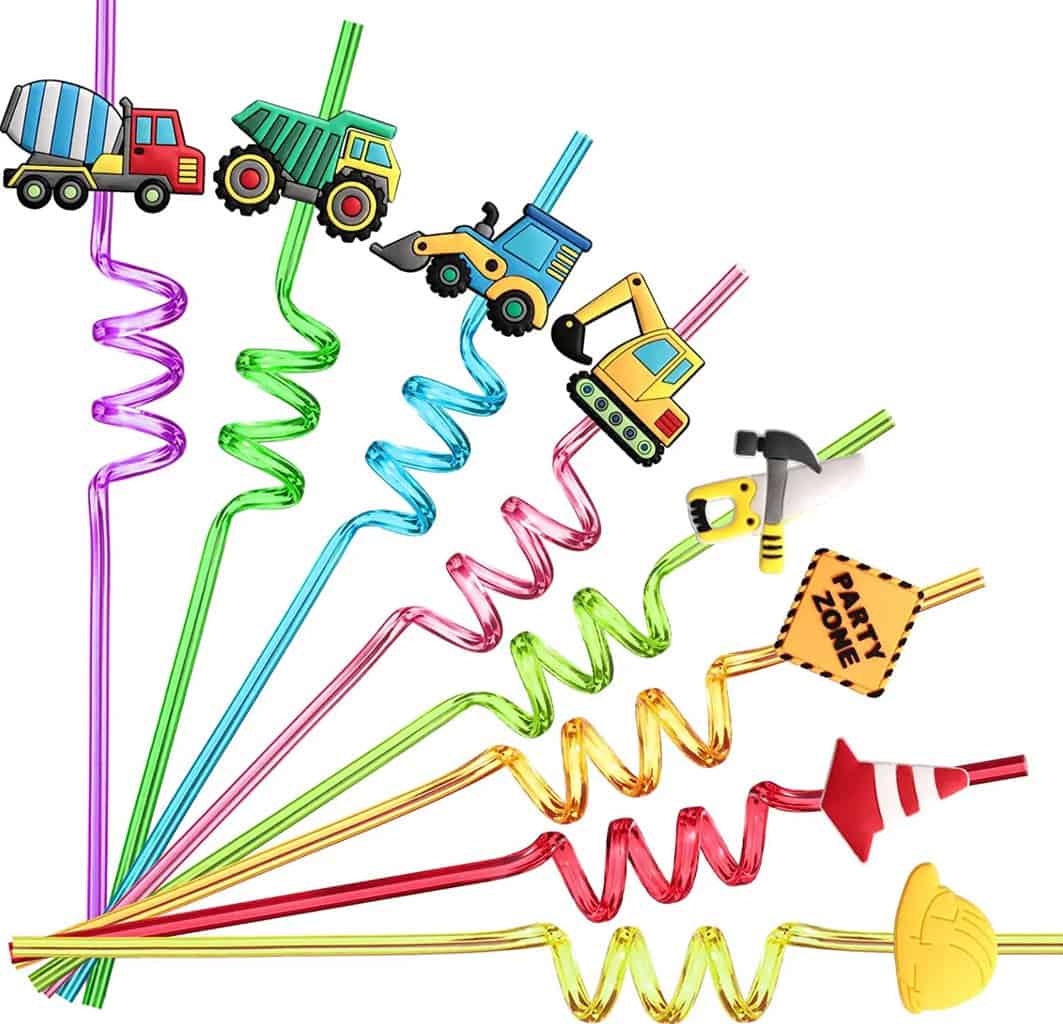 Balloons
Balloons add such a nice touch to any party. You can use bright colors, pastel colors, or stick to the famous Blippi colors. Adjust the colors according to the theme within your Blippi theme (for example, yellow and black for construction vehicles or pink and blue for under the sea). Mix it up using various balloons such as latex, mylar, and foil balloons. 
Top Tip: Set up an awesome Blippi balloon man to impress your guests.
You can make your own balloon Blippi by following this balloon twisting tutorial.
Party Munchies
Now for my favorite part. Choosing snacks for a Blippi birthday party is a piece of cake (#getit?). Here are a few of my favorite ideas:
Blippi Iced Cookies
If you're looking for something tasty, eye-catching, and less messy than a cake, these Blippi iced cookies are for you. You can decorate them any way you like and use different shapes such as numbers, letters, or dino shapes to fit your theme.
Blippi Cakesicles
If you are new to cakesicles, I can promise you that these delicious delights will be a hit at any party. Instead of laying them down flat on the table, stack them on some polystyrene rings and pop a cake topper on top to mimic the look of a cake. Voila, a funky cake stand. 
Blippi Bow Tie Cake
This Blippi bow tie cake is a show-stopper. I would make this cake out of a soft chocolate sponge wrapped in a creamy peanut butter-flavored fondant. 
Decorate the cake to look like Blippi's famous outfit, and include his glasses as a cake topper. Add some different themed cake toppers to your cake to fit the theme you're going for. 
M&M Butterflies
These M&M butterflies are a creative DIY snack option that is guaranteed to make your table pop with color. Follow this simple tutorial video to put these beauties together. 
If you have the time, separate the M&M colors into blue and orange. This is how I "Blippified" my butterflies. The kiddos loved the Blippi butterflies.
Blippi Candy Apples
I am sure you must remember those shiny red or green candy apples our parents used to buy us as kids. They were my favorite treat. Well, these Blippi candy apples are even better. 
I dipped my apples into a sticky syrup, then took it a step further and dipped it into some colored melted chocolate. The result was glorious. 
Psst… Wrap these apples in a nice bow, and they make excellent party favors. 
Blippi Juice Bottles
Give each child their own Blippi juice bottle (they can take these home with them after the party). Prepare two or three different types of juice, let your little guests choose their flavors, and fill their bottles whenever they are thirsty. 
Blippi says: Customize the bottles with each kiddo's name. That way, no one will be able to take another's bottle.
Another themed refreshment is to get some Blippi labels made for Kool-Aid or Capri Sun juices.
Fun and Games
Okay, okay, I will admit it. This is my favorite part about putting together a party. I love finding games and activities for the children to play. Here are a few of my top choices:
Slime Bar
Let the children get creative by setting up a slime bar. Give them two colors of slime to choose from, and let them design the slime as they see fit. 
I suggest giving them each a tub to put their customized slime into so they can take it home with them. Slime is easy and affordable to make at home. (Your bank will thank you.)
"I Like That" Coloring Book
These Blippi "I Like That" coloring books are great! The books aren't chunky, and they come with a set of crayons. Let the littlies color in some great Blippi pictures.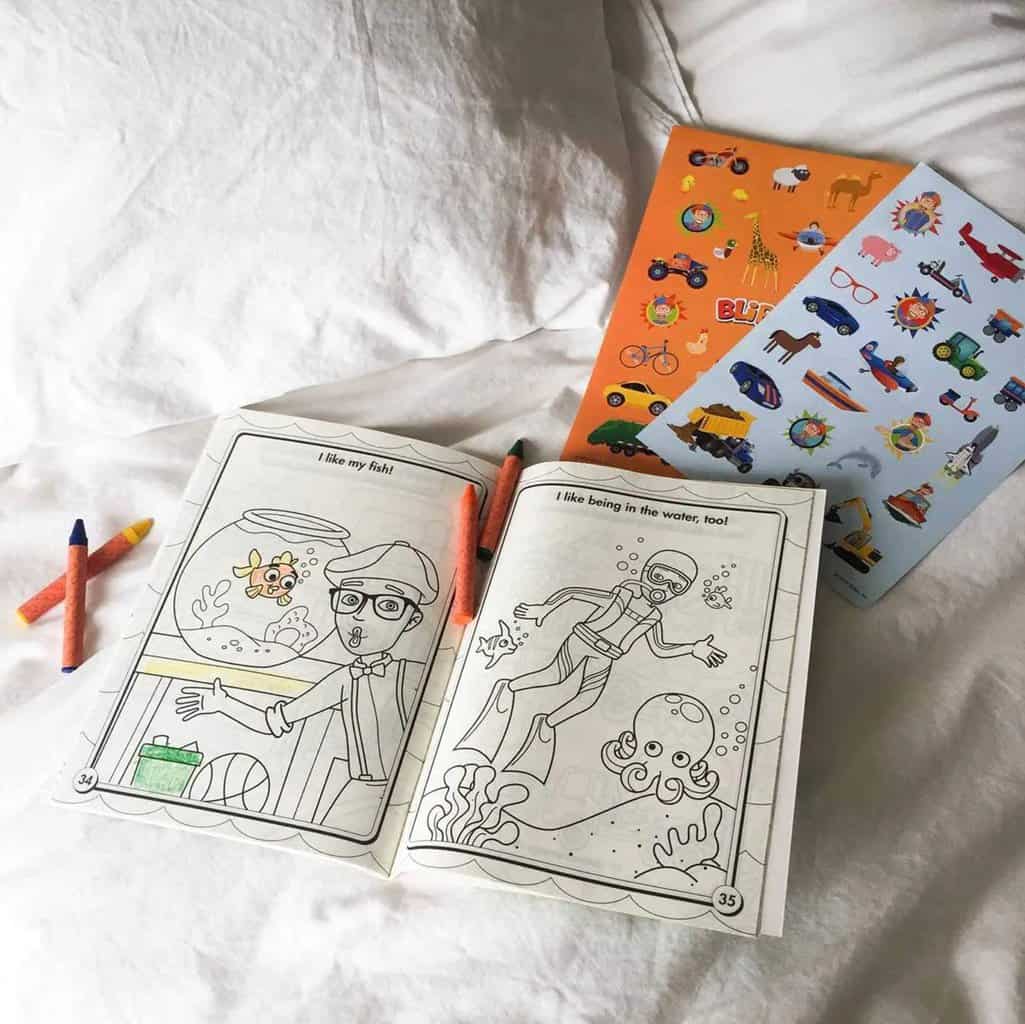 Blippi says: Host a coloring competition, and whoever wins gets a surprise lucky packet.
Fill the lucky packet with various Blippi treats, toys, and activities. 
Ball Pit Scavenger Hunt
Let the party guests hunt for treasures inside a giant ball pit. Give each child a list of items that need to be found. 
To make it a bit more tricky, they have to freeze whenever the music stops. This game will entertain your little guests for ages (it's not easy to find all the hidden objects in a ball pit). 
Blippi Party Entertainer
Organizing a kid's party entertainer to dress up as Blippi is a real treat. The children will sing, dance, and take photos with Blippi. This is a dream come true for any child. 
If you can't find a kids' party entertainer, you could always get the birthday boy or girl's older brother or dad to dress up as Blippi. The kids will be so excited that they won't even know the difference.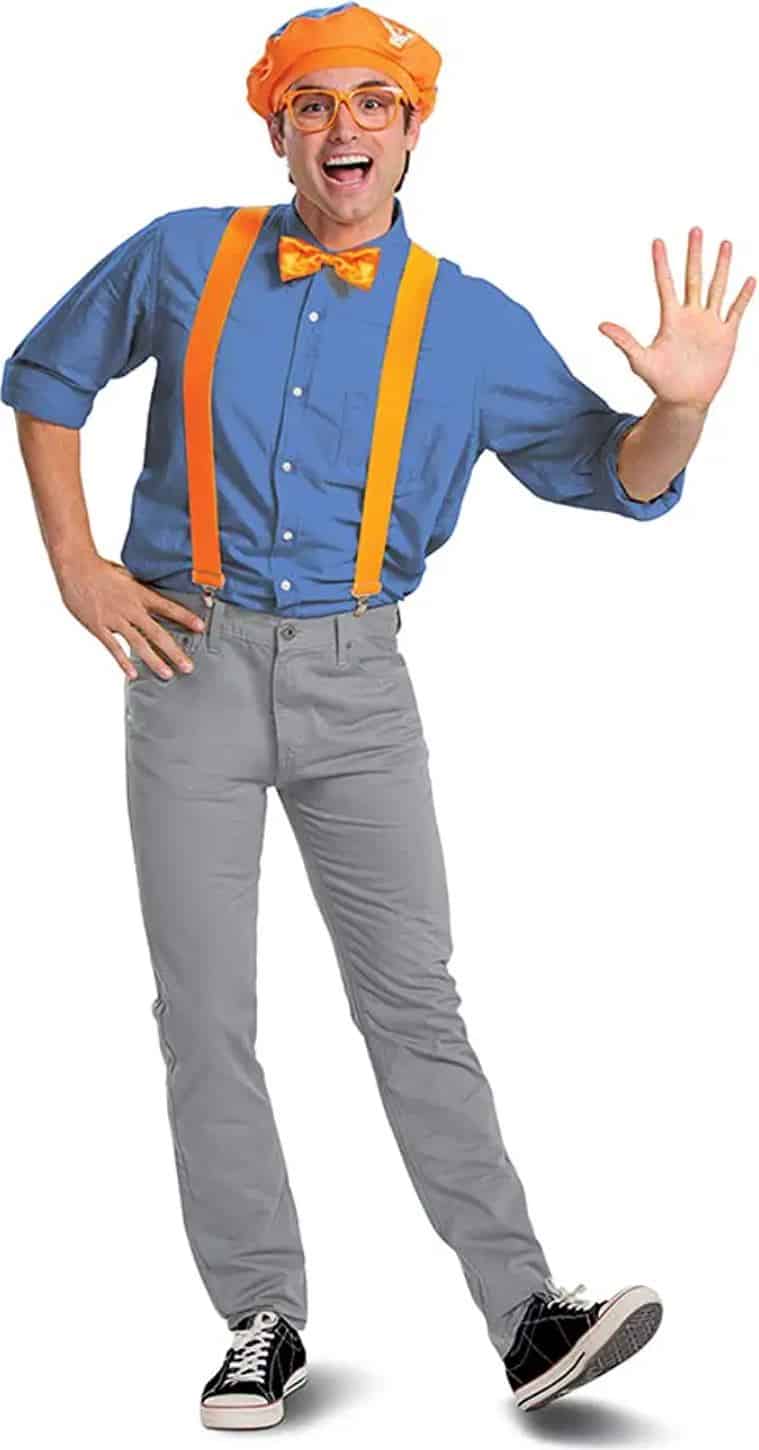 Dinosaur Inflatable
Kids love to jump, and what better way to "Blippify" a party than by adding a bouncy inflatable to the mix? This dinosaur inflatable will have your little guests jumping for joy. 
There's a bounce house for all your theme needs, like this under-the-sea-inspired inflatable. There are so many different kinds you can rent. 
Echo Game
Here's a game that's sure to make Blippi proud. The show educates kids about weird, wonderful, and sometimes mundane things. The echo game is a fun way for the kids to hear how different their voices sound in different environments. 
I don't know about you, but I loved shouting down a long tunnel to hear my voice distort. It was a treat when I listened to my voice echo back. 
Blippi Standing Piñata
This Blippi standing piñata design is genius. I have always felt that hanging pinatas have an unfair advantage for the taller kiddies. 
The standing piñata allows your smaller guests to have a chance to give it a whack as well. You can fill your pinata with anything from toys to different types of candy.
Party Favors
Oooh, yes, the goodie bag fillers. One of the most critical parts of any party is the goodie bag. The exterior and the interior have to be equally impressive.
You can use themed goodie bags or goodie boxes. Another lovely idea is to use customized Blippi backpacks as your goodie bags (they look amazing hanging from the back of each child's chair). 
There are so many cute ideas out there (I wish I could list them all). Here's a look at some of my favorite Blippi goodie bag fillers: 
Lollipops
Customized lollipops are all the rage at the moment. These Blippi lollipops come in different flavors, such as apricot, pineapple, raspberry, and lemonade. 
While we are on the topic of customized candy, don't you think these Blippi-wrapped candy bars will look great in the goodie bags? 
Bubble Wands
My kids love bubbles, and bubble wands provide even more fun. These dinosaur bubble wands would fit a dino Blippi birthday party perfectly. 
Mini Magnetic Drawing Board
If your child is anything like mine, you know they love to collect little treasures. These mini magnetic drawing boards make a lovely party favor and keep your guests busy. They come in many different colors.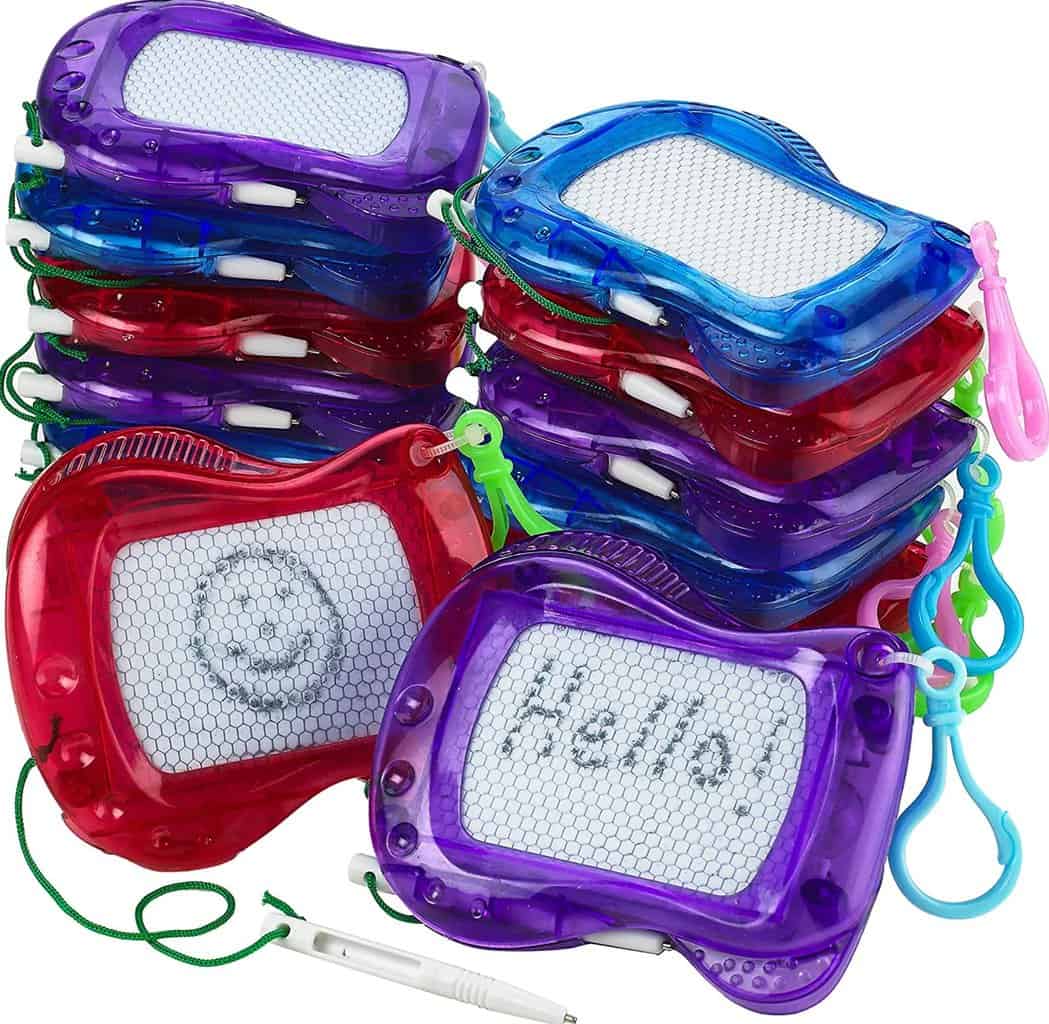 Goofy Glasses
Imagine your guests' excitement when they reach into their goody bags and pull out a pair of Blippi's bright orange glasses. It's the small details that bring your party to life.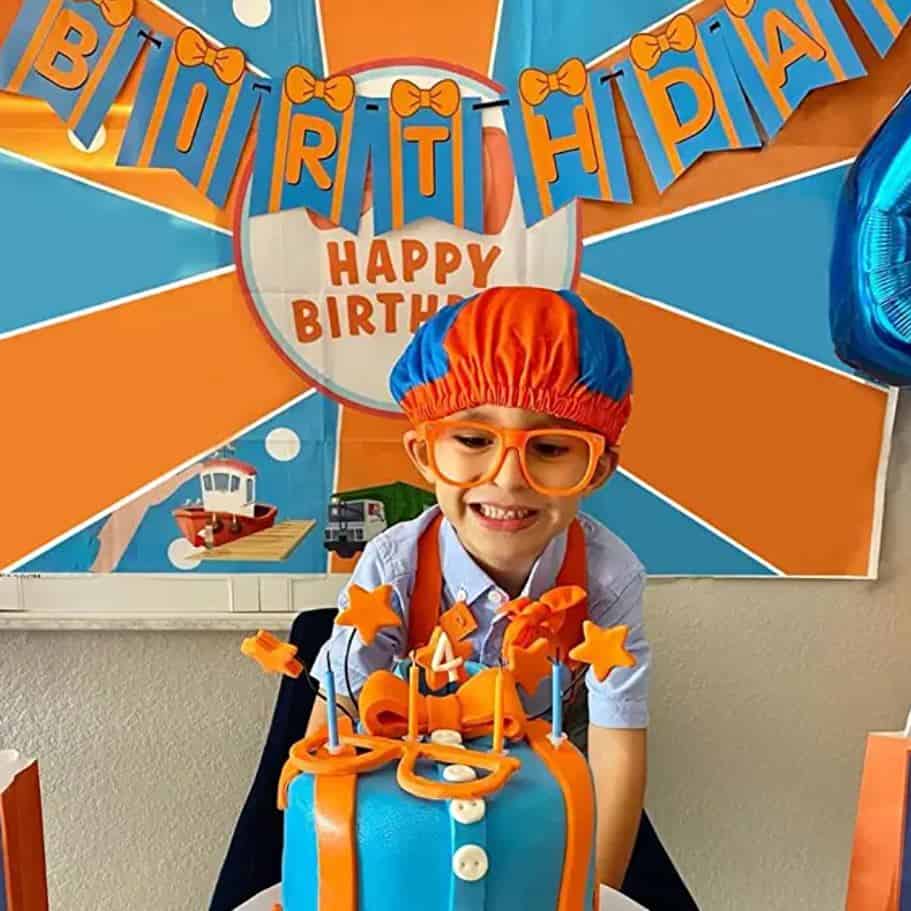 Puffer Balls
Did you ever play with a yoyo in school? Great. 
Well, puffer balls are very similar, except that puffer balls are super squishy and light up when you throw them (okay, so maybe they aren't so similar). You can choose from various colors, and the kids love them.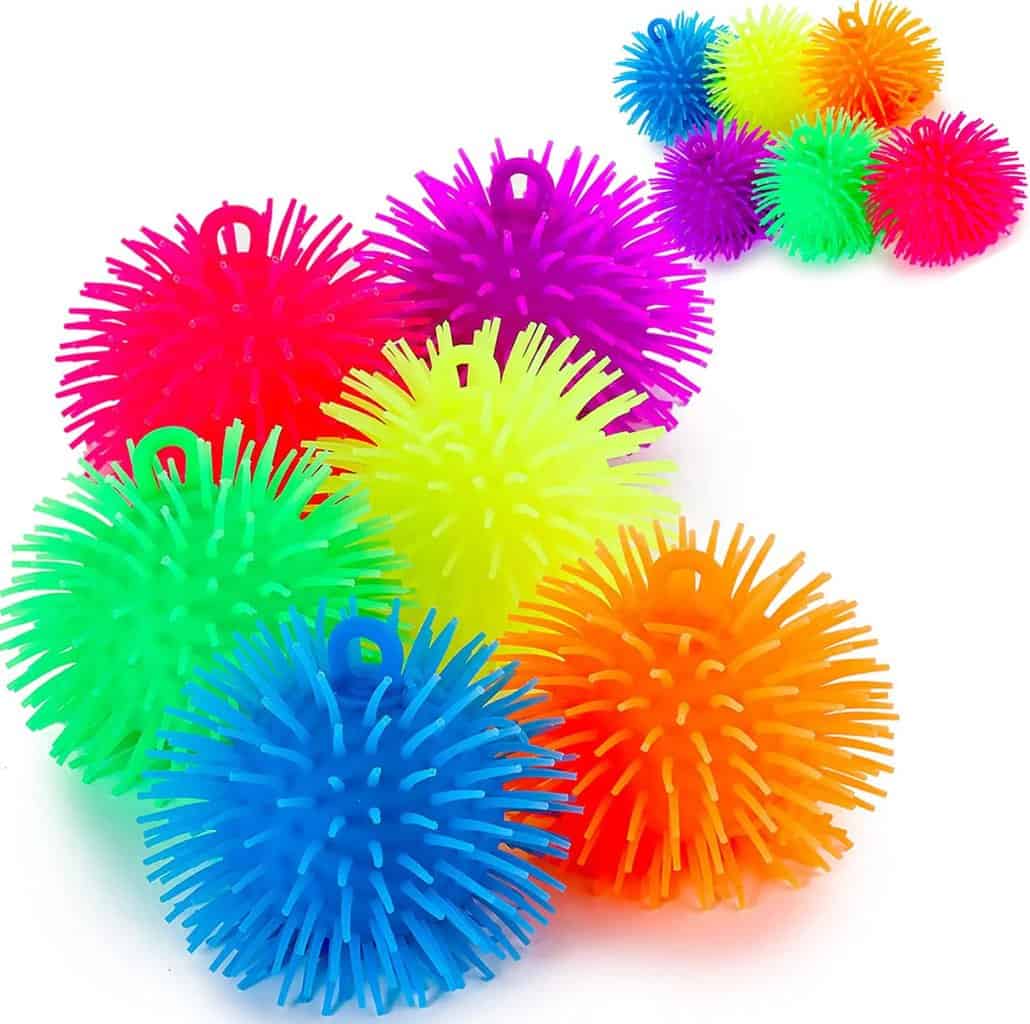 FAQs –
Blippi-Themed Birthday Party Ideas 
Question: Where can I watch Blippi?
Answer: You can watch Blippi on most streaming services, such as Hulu, Amazon Prime, HBO Max, Peacock, and of course, YouTube. Netflix also streams the show, but it's important to note that this is the new version and doesn't have the original Blippi character as the presenter.
Question: What happened to the original Blippi presenter?
Answer: Blippi's original presenter, Stevin John, no longer plays the role of Blippi. He announced on Instagram in October 2021 that he and his fiancèe were having a baby. Blippi is a dad now. 
Question: Who plays Blippi in the new show? 
Answer: Clayton Grimm, a New York City actor, has taken the role of Blippi in the new "Learn with Blippi" series. He has been involved in the Blippi show since 2019 and took over the part of Blippi in 2021.
The Last Blippi Birthday Party Thought
Putting together a Blippi birthday party was so much fun. The amount of merchandise and themed goodies out there is crazy, and this made my job so much easier. The little guests enjoyed their party and took photos with a "movie star."
I made sure that every Blippi birthday party idea catered to every kid's Blippi obsession, from customized goodie bags to ball pit scavenger hunts. I've got it all.
If you enjoyed reading this article and would like to see more Blippi-inspired cakes or get more inspiration for other party ideas, check out the best Barbie supplies guide and the Hot Wheels cake ideas.
Further Reads: