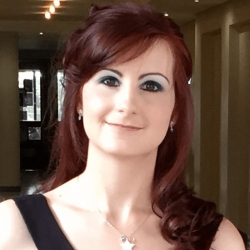 Latest posts by Denine Walters
(see all)
When you have to organize a mermaid birthday party for your daughter, best friend, or sister, you may think it is easy. And it isn't rocket science (thank goodness!) But there are a lot of elements to think of when planning a party. Considering the best mermaid birthday party ideas to ensure everyone – guests and the birthday girl or lady – have a fantastic time takes time. 
When I planned a mermaid-themed birthday party for my cousin, I had a lot to consider. Firstly, there was the color scheme ( yeah, I know, you probably think mermaid colors are blue, turquoise, purple, and pink – and everyone knows this). I also had to think about the venue, invitations, decorations, and gift/party favor bags and what goes inside for the attendees. 
I also had to hire a photographer and caterer and give them briefs of precisely what I wanted. After all, I had a cousin to impress with my party (event) planning skills. 
If you also have to plan a birthday party for that special someone in your life, here are the best party ideas for a mermaid-themed event. 
Bottom Line Up Front for Mermaid Birthday Party Ideas 
It's difficult to decide on the best mermaid birthday party idea; everything is so pretty. But I must choose, right? 
So if you are in a hurry, then I recommend the NAIWOXI Mermaid Party Decorations as the most comprehensive party set at the most affordable price. You get decorations, tableware, and event invitations. All you need is to invite the guests, order the snacks, drinks, and birthday cake, and set up the decorations!   
The Best Ideas for a Mermaid Birthday Party 
There are so many mermaid party ideas that it's easy to get overwhelmed. I know I did when I had to look at what was available at my local party supply shop. And when I looked online, I was ready to cancel the whole shindig.
But I took a day or two to brainstorm what I wanted the party to look like. I also chatted with my cousin to get her input (since it wasn't a surprise birthday party) and divided what I needed into several categories. From there, it was a lot easier to gather ideas and then sort through them to find exactly what I was looking for. 
Here are the best ideas for your mermaid birthday party, also divided into categories to make choosing elements and inspiring you easy:
Mermaid Birthday Party "All-in-One" Solution
When I started looking on Amazon for mermaid-themed party ideas for my cousin's birthday, I loved all the "all-in-one" solutions (aka party decoration sets). 
1. Mermaid Party Supplies
The Mermaid Party Supplies kit by KINNJAS is well rated on Amazon. You really get a lot of party supplies for under $20. This means you can easily add extra stuff and still stay within your budget! 
The colors for this kit are primarily greenish turquoise with sky blue and lavender purple, so very mermaid-worthy! In the party supply kit, you get: 
1 glittered mermaid "happy birthday" banner 

12 plain balloons 

4 confetti balloons 

2 foil balloons with a mermaid tail and "happy birthday" prints 

9 tissue pom poms 

15 pcs tissue tassels 

2 x 6.5 feet dot garlands    

12 glitter cupcake toppers (sea star, mermaid tail, and seahorse)

1 cake topper 

2 foil curtains (33" x 66")

1 tablecloth
2. Mermaid Birthday Party Decorations Set


The Mermaid Birthday Party Decorations Set by STKYGOOD Store is a reasonable budget buy. This party deco set is more metallic in bluish turquoise, pink, and purple. I really like the "happy birthday" banner, the mermaid tail hats (x8), and the mermaid tail balloons (x2).    
In the set, you also get: 
4 coral ornaments 

2 seashell balloons 

6 hanging swirls 

8 confetti balloons 
3. NAIWOXI Mermaid Party Decorations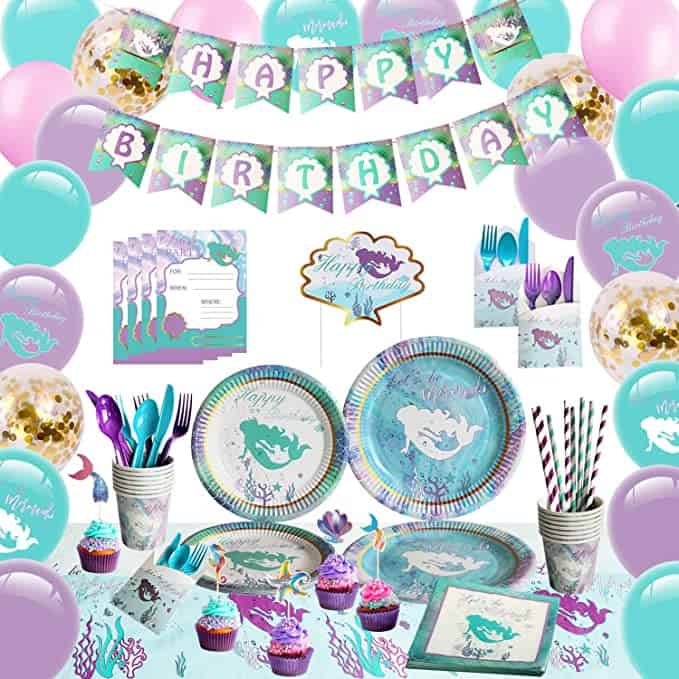 Another winner with lots in the set is the NAIWOXI Mermaid Party Decorations. You get a lot more items in this supplies set. 
The colors are more muted – not metallic or glittery like the other deco sets I've included. But don't despair. You can also jazz up the mermaid cake with edible glitter or get extra decorations that make this set pop. 
You get: 
16 mermaid invitation cards

16 x 7" plates

16 x 9" plates

16 cups

16-set plastic cutlery (forks, spoons, and knives)

16 mermaid cutlery bags

16 mermaid napkins

24 x 12" latex balloons (8 with mermaid printing)

16 mermaid cake toppers

16 eco-friendly straws (8 purple, 8 blue)

2 mermaid tablecloths

1 big topper

1 happy birthday banner

1 ribbon
Mermaid Invitation Ideas  
You can't just send out any old (or new) invitations to a mermaid birthday party. That's sacrilege. You want to get your guests in the mood and excited for the party when they see the fantastic invitations. As such, only mermaid invitations will work. 
You can design your invitations and have tons of fun with them. Still, sometimes it's just easier to order invitations and send them out in this busy world. Quick and easy!  
4. Mermaid Invitations with Envelopes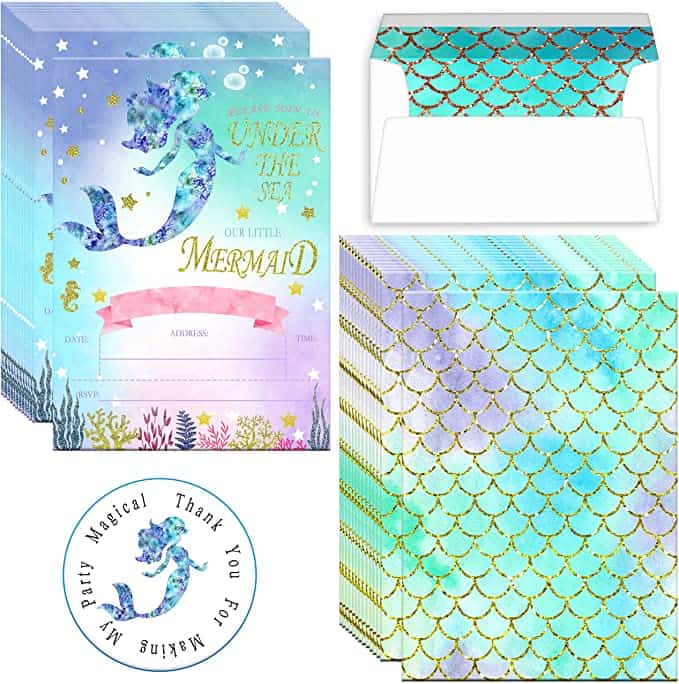 These Mermaid Invitations with Envelopes from SamPartyShop come with 20 invitations, 20 envelopes, and 20 "thank you" stickers. The invitations are really pretty, and can work for little girls and even grown-ups who are in love with everything mermaid. 
The "thank you" sticker is something you can hand out after the party. Alternatively, you can include it in a "thank you" note or add it to the gift bags.   
5. Mermaid Party Invitations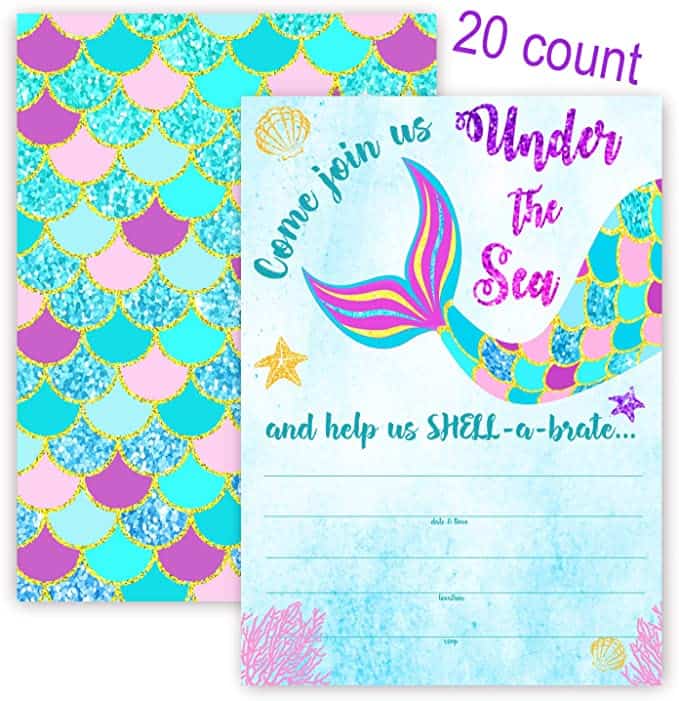 The POP Parties Mermaid Party Invitations tell your invitees that they should come "shell-a-brate" with you at an Under the Sea party. 
The 20 invitations are printed on 140 g matte paper. They are enhanced with glitter – letting everyone know they are in for THE mermaid birthday party. You also get 20 white envelopes, and while these are rather plain, your invitees will be surprised when they see the mermaid invites.    
6. Let's Be Mermaids Birthday Party Invitations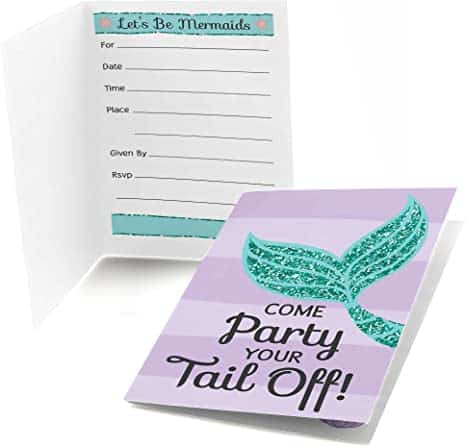 The Let's Be Mermaids Birthday Party Invitations (or Baby Shower Invites) by Big Dot of Happiness Store are fit for any mermaid birthday party – kids or adults. The front of the invitation is a glittery turquoise mermaid tail on a purple background with the wording "come party your tail off!" 
You get 8 invitations and 8 premium white envelopes.    
Mermaid Party Decor Ideas 
Anything you can decorate the venue with falls under mermaid birthday party decorations. When choosing the best decorations for your event, consider where the party is held – in an outdoor setting or indoors – and where you want to place the focus. 
If you want to emphasize the backdrop and balloons, go for a plain tablecloth. Or if you have a small party, then glitter the hell out of your tablecloth. 
7. Mermaid Banner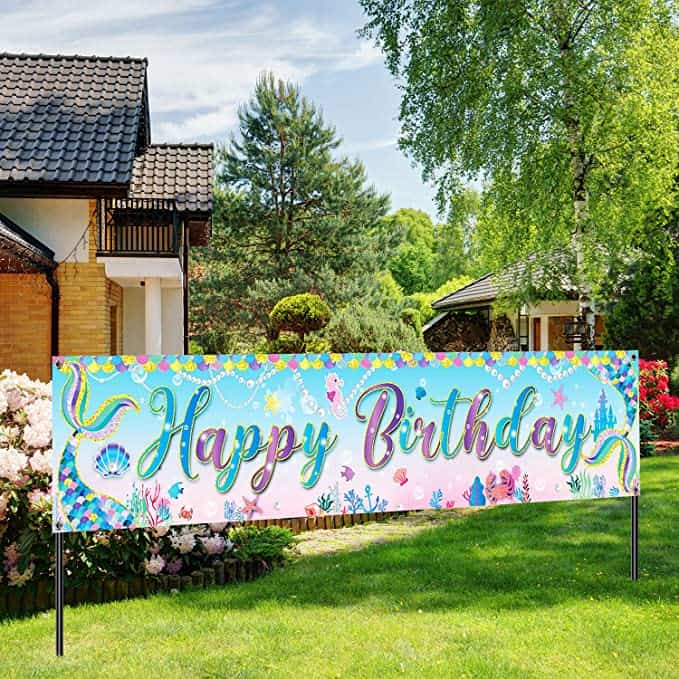 This Mermaid Banner says "happy birthday." It's ideal for an outdoor party because it's waterproof. You can attach the banner to stakes you put into the ground or hang it up for an indoor mermaid birthday party setup (rope for hanging is included).   
The banner is decorated with mermaid tails, pearls, seaweed, shells, and other under-the-sea elements, making it perfect for a young or more mature birthday girl.    
8. Mermaid Tablecloth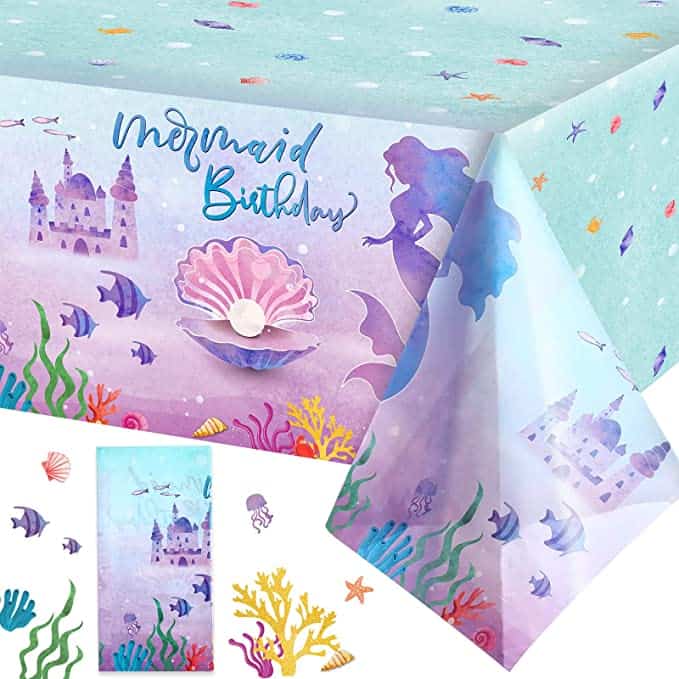 This Mermaid Tablecloth by Tatuo Store is an Amazon's Choice option. You get 3 disposable tablecloths made from thick waterproof PE plastic for the price. This tablecloth is perfect for a party for the little ones!  
The sides of the tablecloth feature repeated prints of a mermaid, a seashell, an underwater castle, fish, and the phrase "happy birthday." The top of the tablecloth is plainer, featuring starfish, dots, and shells.  
9. RUBFAC Mermaid Balloon Garland Kit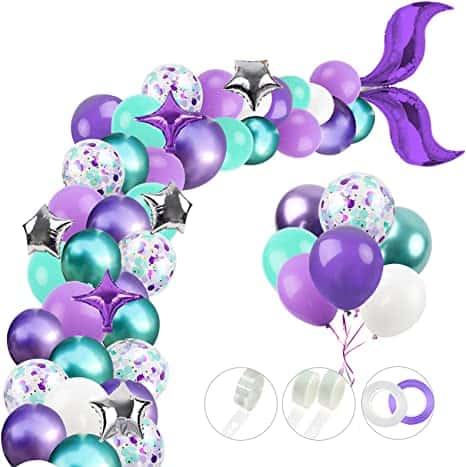 This Mermaid Balloon Garland Kit is an easy DIY solution to make a mermaid tail arch. The arch is ideal for a photo backdrop (with a banner). Or, if you have two arches, it's the perfect entryway to the mermaid-themed party. 
The kit includes everything you'd need to create the arch, from the balloons, glue rolls, arch strip, tie tool, and ribbons.  
See also: The Best 50th Birthday Cake Ideas [2022]
Mermaid Tableware Ideas
When it came to mermaid tableware, I was again quite overwhelmed by all the options. There are plain-colored tableware solutions in the standard mermaid colors and those with everything mermaid, under the sea, and related designs. 
When considering the tableware as part of your mermaid birthday party ideas, look at napkins, plates, cutlery, cups, straws, and even cake stands.
10. Mermaid Party Tableware Kit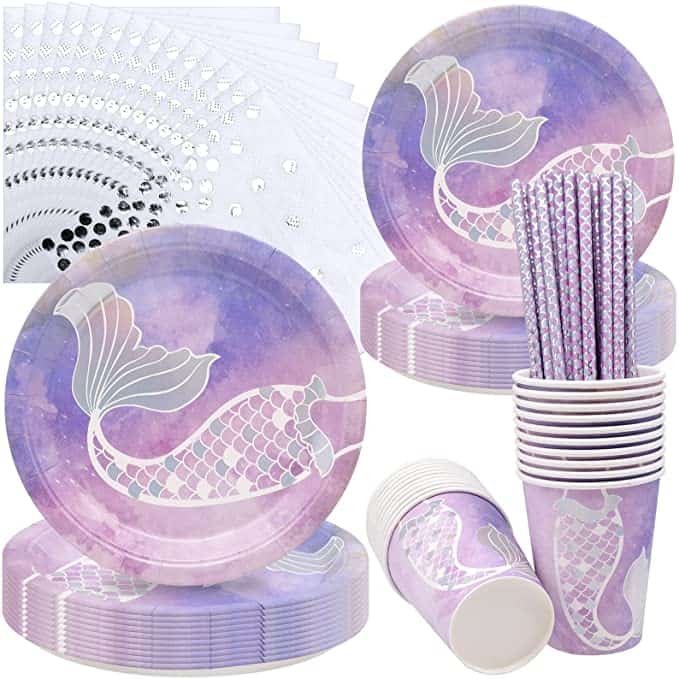 Rather than buying the plates, cups, and straws separately and trying to get the items to match (unless you want to go for mix-n-match tableware, which is awesome too!), I decided to go for a tableware kit. 
This Mermaid Party Tableware Kit is not so bold in color. The background is a marbled pink and purple with a glittery silver mermaid tail design. I thought it was well suited for adults and kids. 
This kit can serve 20 guests; you get 10 dinner plates, 10 dessert plates, 20 paper cups, 20 paper napkins, and 25 paper straws.    
11. Mermaid Party Napkins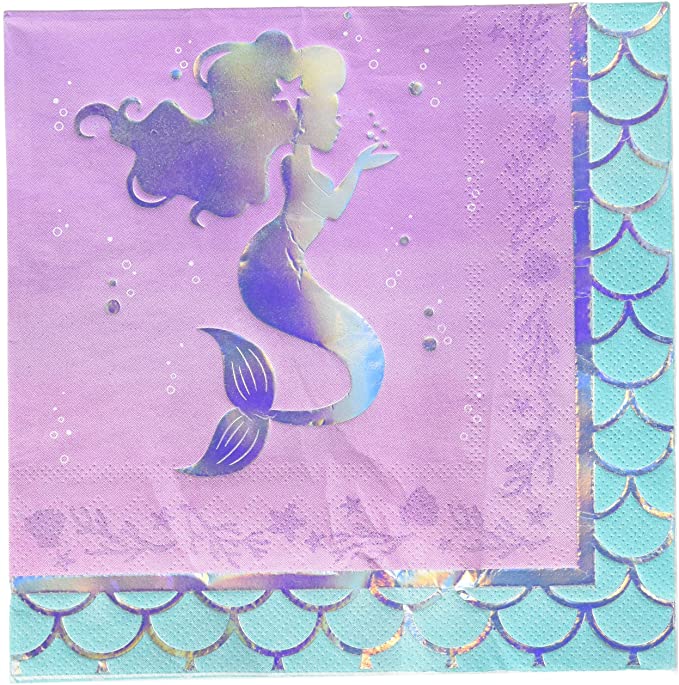 I really like these unusual mermaid napkins. They are in the shape of a mer tail and were a wish-to-have item on my list. For the price, you get 100 napkins, so there'll be plenty for a large mermaid birthday party.  
12. Mermaid Cake Stand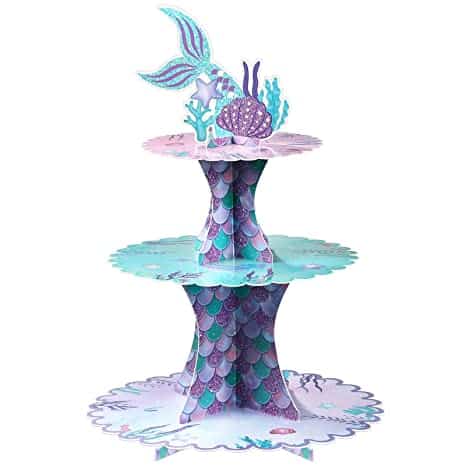 I decided to get many mermaid cupcakes for my cousin's birthday party. I wanted to display the beautiful cupcakes on a cake stand. I adore this 3-tier cake stand with the mermaid decorations on top, and with the cupcakes, it was quite the centerpiece on the table. 
This cake stand is reusable and easy to assemble, so I can easily store it and use it for future mermaid parties. That's a win!     
Mermaid Gift Bags Ideas
These days, no birthday party is complete without gift bags with keepsakes and fun for the guests to take home. While some party planners believe the more elaborate gift bags are the way to go, they come with quite the price tag. 
If you need to keep to a budget, there are plenty of options to make a stunning gift bag – it's the thought that counts, right? And you can add plenty of goodies or leftover snacks if your wallet can stretch a bit.  
13. Zonon Mermaid Party Favors Bags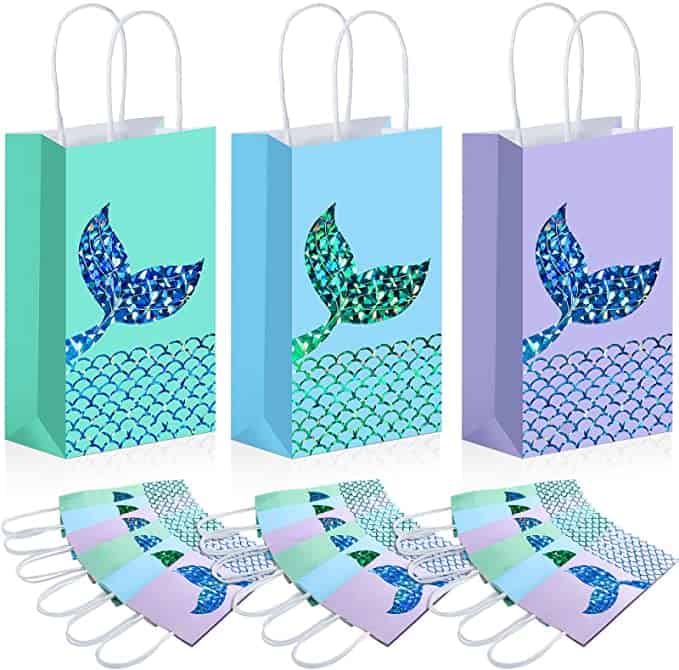 I love these Mermaid Party Favors Bags. There are 18 bags in total, and they come in three different colors – green, blue, and purple – with a shiny mer tail and wave design. 
They are ideal for adult and kiddie guests. The only downside is that kids may fight over who gets what color, so you may be better off going for uniform gift bags like this 12-pack option.     
14. Mermaid Party Favor Set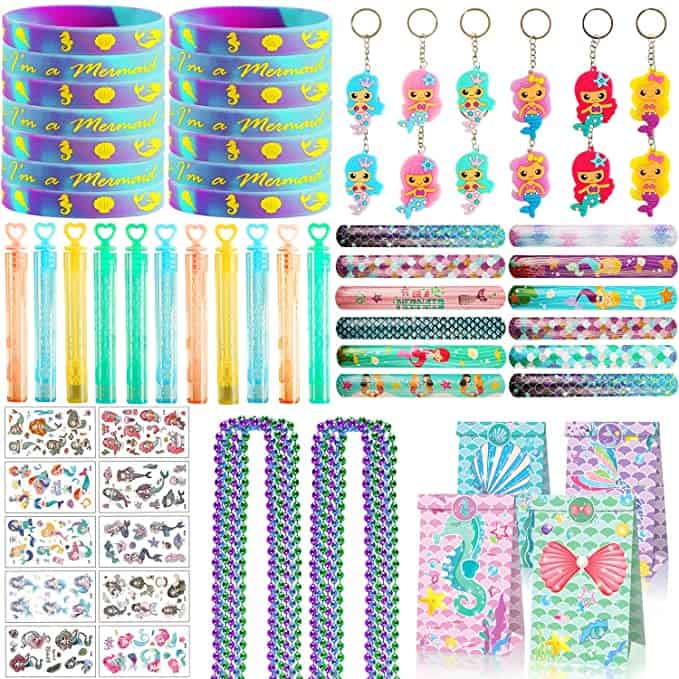 This 80-piece Mermaid Party Favor Set is a winner for a kid's birthday party. The set includes an assortment of goodies for the party favor bags. 
You get: 
12 gift bags 

12 bubble sticks 

20 tattoo stickers 

12 strings of beads

12 slap bracelets   
15. Frienda Mermaid Tail Coin Purse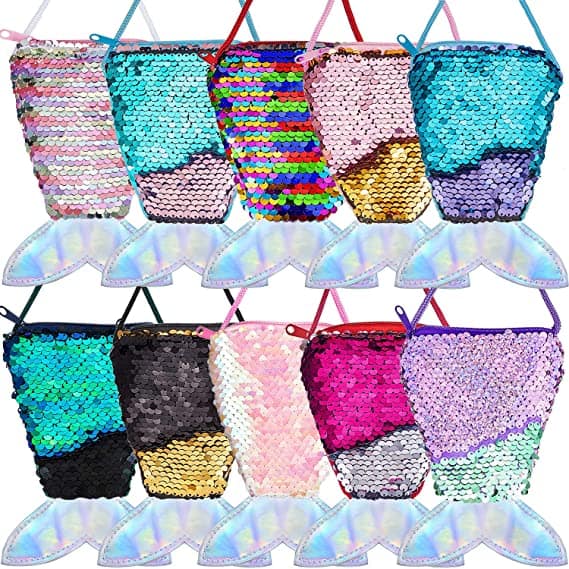 A firm favorite! The Frienda Mermaid Tail Coin Purse is so functional, and every little girl (and grown-up mermaid-loving one) should have one. 
Little ladies can use this crossbody bag to hold cash, snacks, keys, jewelry, and other things a (little) lady needs to carry around with her. Adults can cut off the sling and use the mermaid coin purse to keep coins together in their larger purse or laptop bag.  
You get 10 mermaid coin purses in this set, all of which are different colors.      
Mermaid Party Ideas for the Birthday Girl  
Whether the birthday girl is grown-up or a little girl, a few great ideas to make her feel special will set the tone for the best mermaid birthday party. 
16. Mermaid Dress for a Little Girl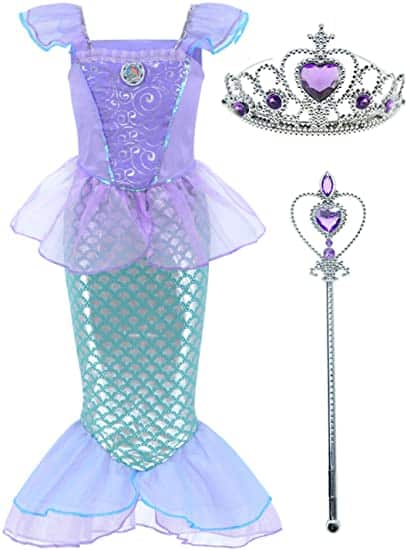 This Little Girls Mermaid Princess Costume Dress for Girls is an ideal choice for a birthday party for girls. If your budget allows, you can choose different mermaid dresses for each, or opt for a mermaid dress for the birthday girl. This dress will make your birthday mermaid feel ultra special as it comes with a crown and scepter to rule the party with.
17. Birthday Piñata Shell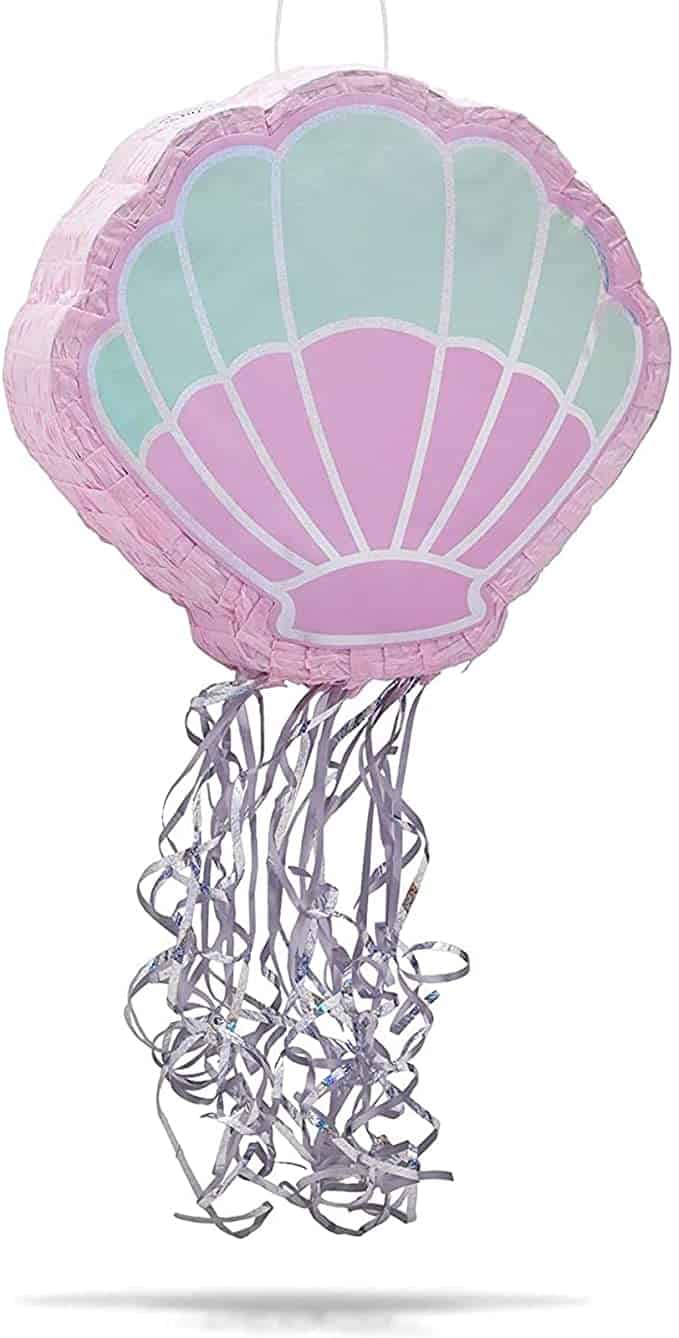 No birthday party is complete without a birthday piñata and the birthday girl having a whack with a homemade wooden oar or simply pulling on the strings to release some fun. 
The Seashell Pull String Piñata from the Blue Panda Store is ideal for the mermaid lady of the party. Fill the piñata with great sweets, toys, treats, keepsakes, and other appropriate items that will have everyone in stitches as they scramble for treasure.
18. Mermaid Pool Float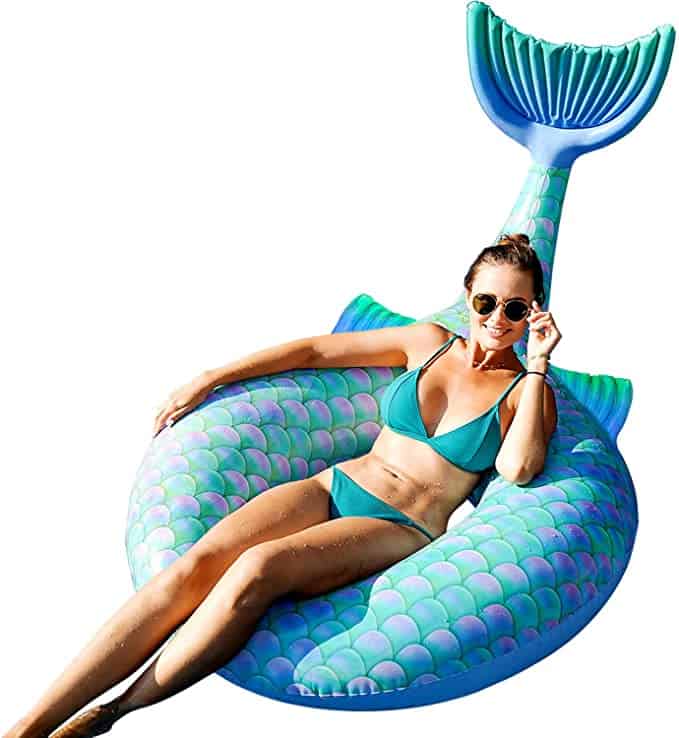 Suppose you're hosting a grown-up mermaid party. In that case, a couple of these amazing Parentswell Inflatable Mermaid Pool Floats are a treat. Finish off the mermaid pool party in style as the birthday mermaid relaxes with a mermaid-inspired cocktail in her hand while floating on the "ocean." 
Made with quality PVC, the mermaid ring with the tail will be floating happily in your pool for many summers.      
Selection Criteria for Mermaid Birthday Party Ideas 
When planning your mermaid party, there should be a plan that helps you choose decorations, gifts, decor, and other ideas. I used these three criteria to help me stay on track and choose the best options to host a stunning mermaid party for my cousin.
Affordability 
While I'd have loved to host a six-figure party for my cousin, I didn't have the budget. Therefore, I considered the overall budget of the party and how many guests I invited. I was also mindful of achieving the best overall look at the least spend-per-person. 
It meant I had to sacrifice some of the more unusual items that I really loved such as giant inflatable clam seats and glow-in-the-dark plastic seaweed I had wanted to hang from the walls. However, I managed to come in just under budget, which meant I could also enjoy the party without worrying about how I would pay for everything.  
Colors 
Mermaids are associated with a swirl of colors. I kept it simple and focused on turquoise, pink, and purple shades whenever I bought a single item. The mermaid "all-in-one" packs were a great color inspiration, and I could simply pick up a few accent colors to build the party's overall look. 
Versatility 
Whenever I had to choose between two or more items for the party, I asked myself one simple question: Could this work if I suddenly had to change something at the party? Was this item versatile enough? 
If an item only worked in one particular setting, it was a risky buy, so I would prefer a more functional item instead.  
FAQs
Question: What do you need for a mermaid party? 
Answer: For a mermaid party, you need: 
Creative invitations that fit the mermaid theme
Decorations like mermaid tails, seashells, pearls, balloons, streamers 
Mermaid cake or cupcake toppers
Mermaid inflatable pool floats for a pool party
Happy birthday banner in mermaid colors
Funky mermaid straws and tableware
Temporary mermaid and related tattoos
Tablecloths
Tinsel foil fringe curtains
Fishnet
Mermaid garlands
Mermaid headbands 
And more!
Question: How do you decorate a mermaid party? 
Answer: How you decorate a mermaid party depends on the kind of party because a birthday party for a 3-year-old will be pretty different from a mermaid-theme bachelorette party. In general, decorating a party starts with ordering or making the decorations and whatever you need to meet the theme requirements. 

Next, you need to hang banners from the ceiling or place them against a wall, set up the tables with mermaid tablecloths, and lay out the mermaid tableware. Inflate the balloons, find a place to put the photo backdrop, and make the party area look pretty and unique. 

Part of decorating a mermaid party is also creatively placing the cake, party foods or snacks, and drinks on a table. 
Question: How do you throw a mermaid party?  
Answer: The best way to throw a mermaid-themed party is to brainstorm ideas (preferably with the birthday lady) – from the color palette and the venue to the music, decorations, food, and more. Next, you need to send out the invitations and order all the mermaidy items you need and a cake. Consult with the caterer, photographer, and venue manager, and decorate the venue (a few days before or fewer, depending on how elaborate the party is). Once the venue is set up and everything is in order, it's time to party. 
The Last Mermaid Birthday Party Thought 
My cousin was ecstatic about her mermaid birthday party. The photo opportunities at the backdrop, surrounded by floating jellyfish and paper garlands, were truly magical. The mermaid party ran well into the late evening, and we even popped a few glow sticks into the pool for a nighttime party that would not be forgotten. 
With a few mermaid packs, some ingenuity, and a plentiful supply of glitter and giggles, you can also host the best mermaid party for the birthday girl. 
Recommended Reads: