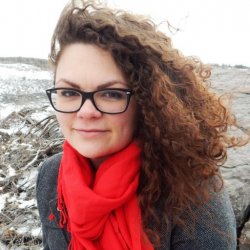 Latest posts by Candace Osmond
(see all)
Ready to wow the Marvel fan you know for their birthday, anniversary, or graduation? If someone you know adores Spider-Man, then you've got to make or buy a cake that includes their favorite web-slinging hero! That's why I've got 27 of the best Spider-Man cake ideas to show you today.
Some of these you can DIY, but you can always take the picture to a professional cake decorator to have your cake come out especially polished, too. Ready? Let's begin!
Bottom Line Upfront
These are all amazing ideas, but I have to say, I might be trying the Spider-Man Cake by Stardust Cake Studio for the next birthday in my household! It looks easy enough that I could give it a go.
Top 3 Picks
Even though I'm going to go over almost 30 different amazing Spider-Man cakes down below, first I'd like to show you the best 3. Whether you want a cake for a kid, an adult Marvel fan, or an overall crowd-pleaser, one of these 3 would really stand out!
Best Spider-Man Cake for Toddlers: Figen Williams Spider-Man Cake for 4-Year-Olds
This cake is shaped like the number 4 and filled with lots of candy! Check this one out to see a cute, eye-catching cake design.
Best Spider-Man Cake for Adults: Navy Blue Spider-Man Cake
This cake looks like pure elegance, which is perfect for an adult Spider-Man fan.
Best DIY Spider-Man Cake Idea: Spider-Man Cake by Stardust Cake Studio
The fondant designs are precise and yet simple so even beginner bakers can make this cake for themselves!
The Best Spider-Man Cake Ideas
If your spidey senses are telling you you're about to see the best Spider-Man cake ideas, then your sixth sense is correct! Each of these cakes brings something unique, colorful, and fun to the table.
You can either use these cakes as examples to make a cake at home on your own, or you can show a picture of the cake you like best to a professional and get a replica made. Either way, the power rests in your hands now, Avenger.
1. Trendy Cake Decorating Ideas for Men – Spider-Man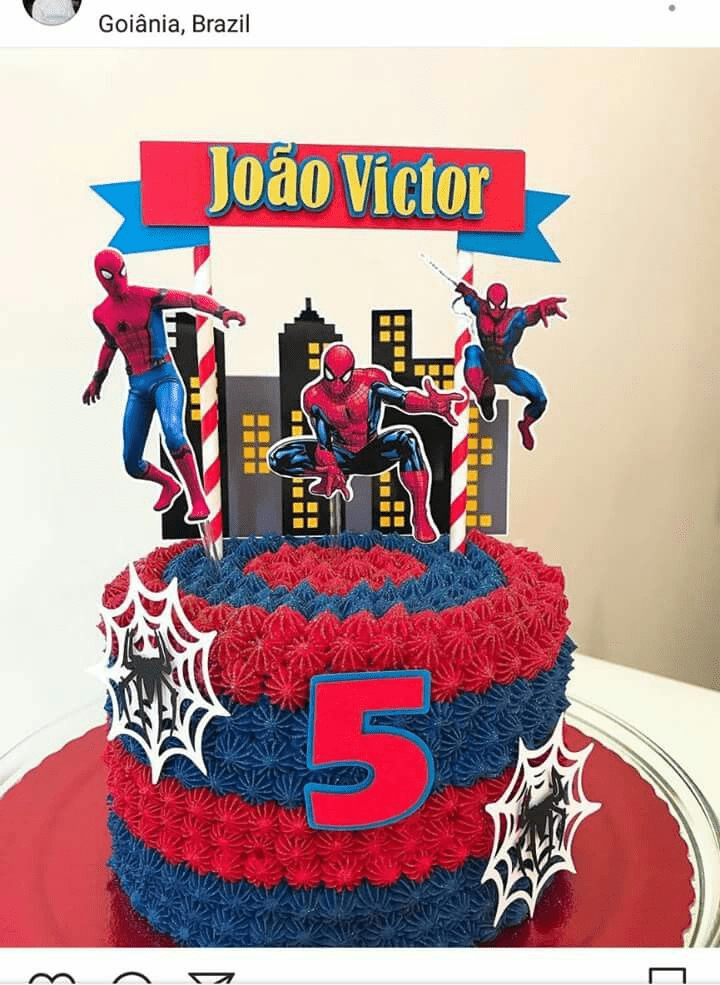 Best For: Piped Buttercream Frosting
Danica Reed from Danica Reed Ideas has outdone herself with this pipework! This cake design is a great example of how you can make a simple layer cake and turn it into a one-of-a-kind creation. The Spider-Man cut-outs on top could easily be inserted to give your cake definitive Peter Parker flair.
2. Maria West Spider-Man Cake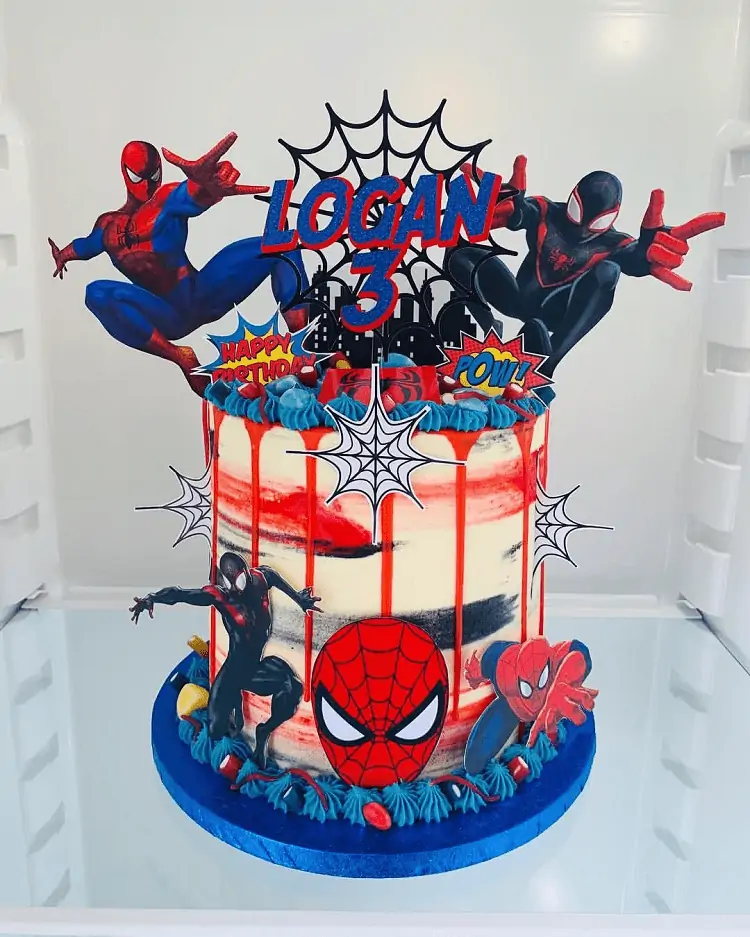 Best: Miles Morales Cake
Don't you love this combination of old and new? Peter Parker and Miles Morales stand side-by-side on this layered cake as 2 popular versions of Spider-Man. The way color has been applied to the sides of the cake gives it an edgy tone.
3. Yvonne Thompson Spider-Man Cake
Best For: Silver Accents
By cutting around the edges of the cake, Yvonne Thompson made her Spider-Man cake into the shape of a web! The shading on Peter's costume is something straight out of a comic book. Even the silver plate the cake rests on helps to bring out the silver in the webbing, because presentation is everything.
See also: 28 Amazing Roblox Cake Ideas for All Ages
4. GialloBlogs Spider-Man Cake
Best: Molded Spider-Man
This DIY creation showcases Spider-Man about to web his way off the cake. With some precise handiwork, you too can create the web at the edge of the cake just waiting to stick to your fork. When it comes to the webbed pattern on Spider-Man's costume? You'll need the patience to recreate this. Lots and lots of patience.
5. Abbyliciousz Spider-Man Cake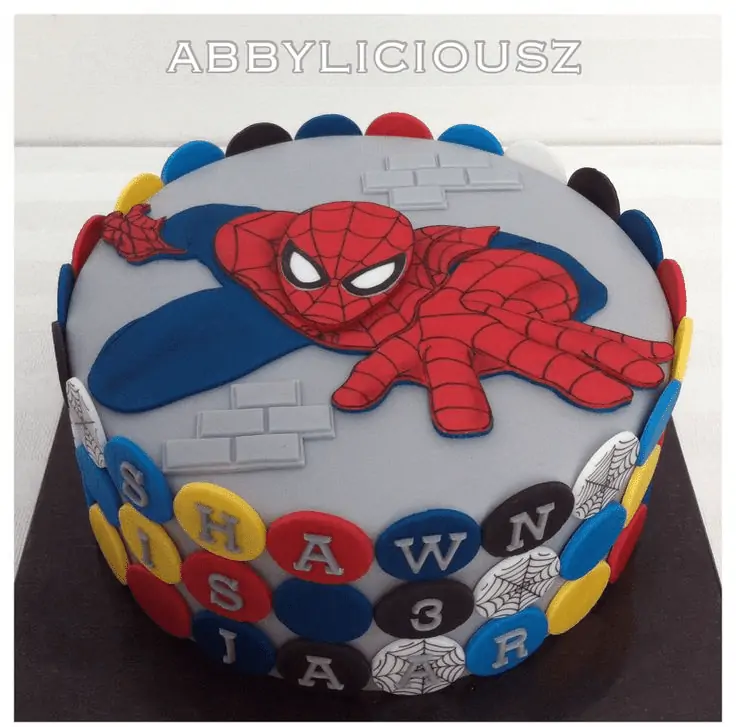 Best For: Precise, Clean Lines
Every line on this Spider-Man cake is clean cut. The colors are bold and eye-catching. The creative use of fondant circles rising above the height of the cake makes the design stand out. For classic 2D Spider-Man with 3D effects, I love to use this cake as an example.
6. Stylishly Sweet 3D Spider-Man Cake
Best For: Cutest Molding Chocolate Spider-Man
Watch as Spider-Man protects the city from up above! This cake gives us an adorable take on our favorite arachnid hero. Fondant wrapped around plastic pieces is stuck into the cake to hold Spider-Man up and look like a web. Isn't his perfectly round little head the cutest thing you've ever seen?
7. CakesDecor Spider-Man Cake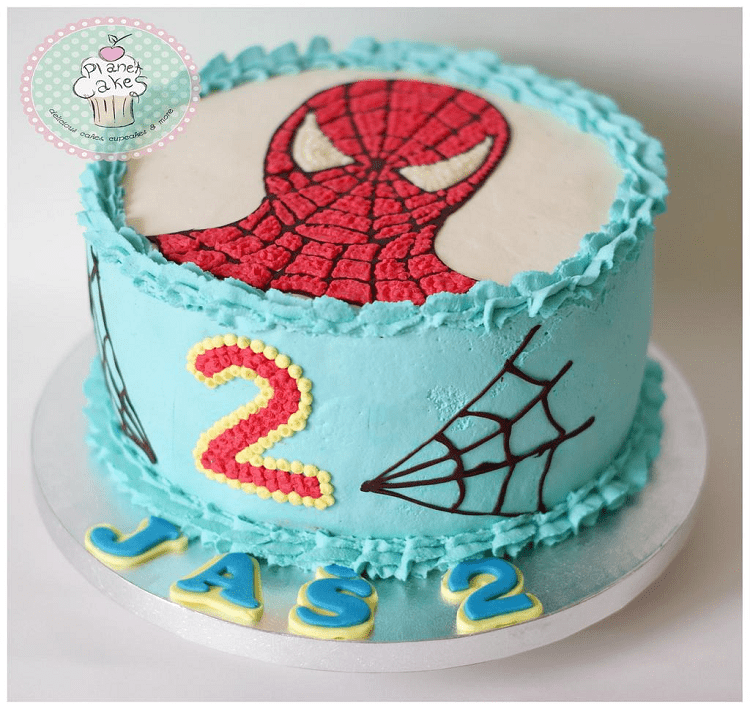 Best: Simple Cake
Are you one for classics? This is a classic, 1-tier circular birthday cake with a portrait of classic Spider-Man. Using a black gel for the webbing against the cyan blue makes it stand out more than if you used white.
8. That's Good Cake Spider-Man Cake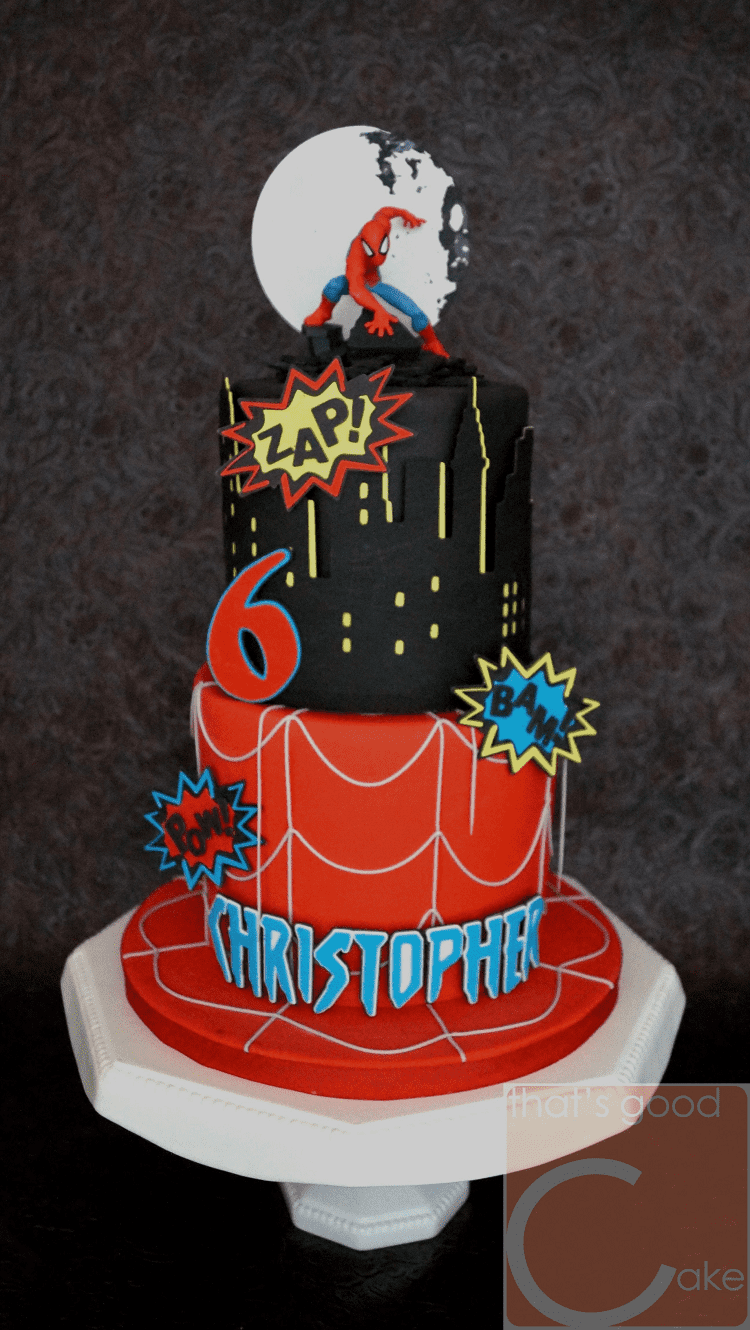 Best: Tiered Spider-Man Cake
Spiderman strikes a powerful pose above the city, where he watches ever-vigilant… Isn't this cake so cool? A 3D Spider-Man stands in front of a moon on top of a cake cloaked in black fondant with a skyline design. The bottom tier is covered up with red fondant and white "webbing" to look just like our heroes' costume.
9. CakesbyAshley Spider-Man Cake
Best: Use of Buttercream Frosting
This is another tiered Spider-Man cake that makes use of the New York City skyline, but this time blue icing is used to make the night sky and black fondant creates the buildings. The cute Spider-Man mask at the bottom and the fondant stars leaping off the cake make this one a stand-out dessert.
10. Spider-Man Cake by Sweet Picasso Cake Creations
Best: Comic Book Inspired Cake
What do I love about this cake? The Spider-Man on top looks just like the comic book-drawn version of him in his classic spider-like pose. Everything about this cake screams attention to detail. The webbing on the 2nd tier that makes up the webbing on Spidey's costume looks to be shooting from his hands at the top of the cake.
11. Figen Williams Spider-Man Cake for 4-Year-Olds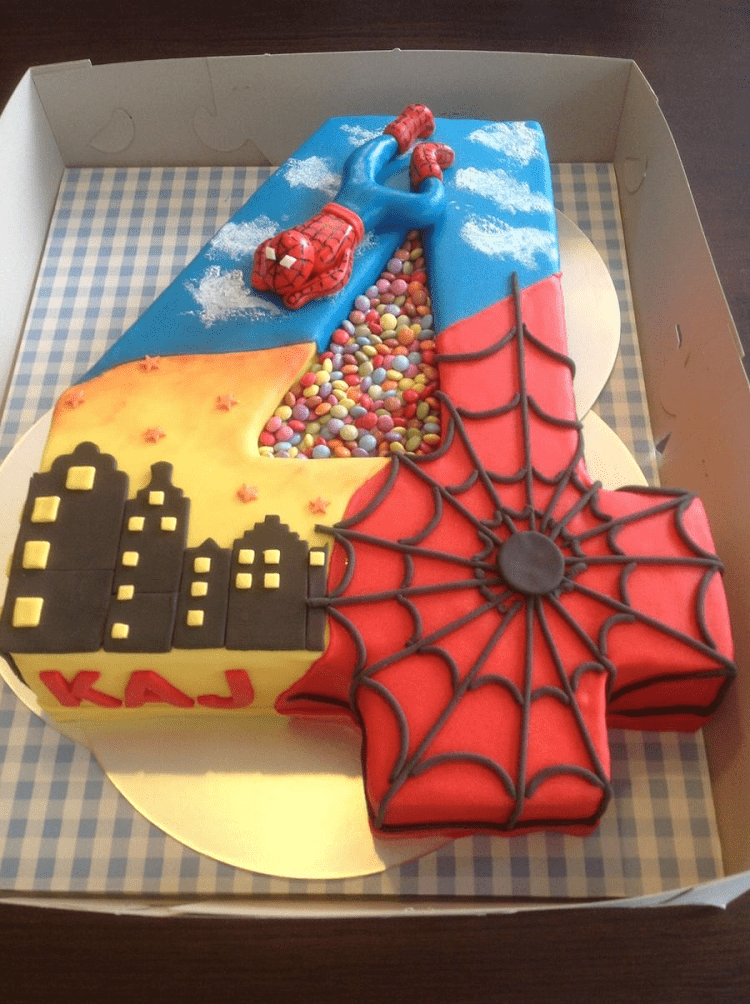 Best: Spider-Man Cake for Toddlers
If you're making a cake or getting a Spider-Man cake made for a 4-year-old, take a look at this one! The cake is made into the shape of the number "4." Each section of the 4 shows off various scenes that are distinctly Spider-Man-esque. I think filling the middle of the 4 with candy makes it even more appealing to toddlers.
12. CakesDecor 3D Spider-Man Cake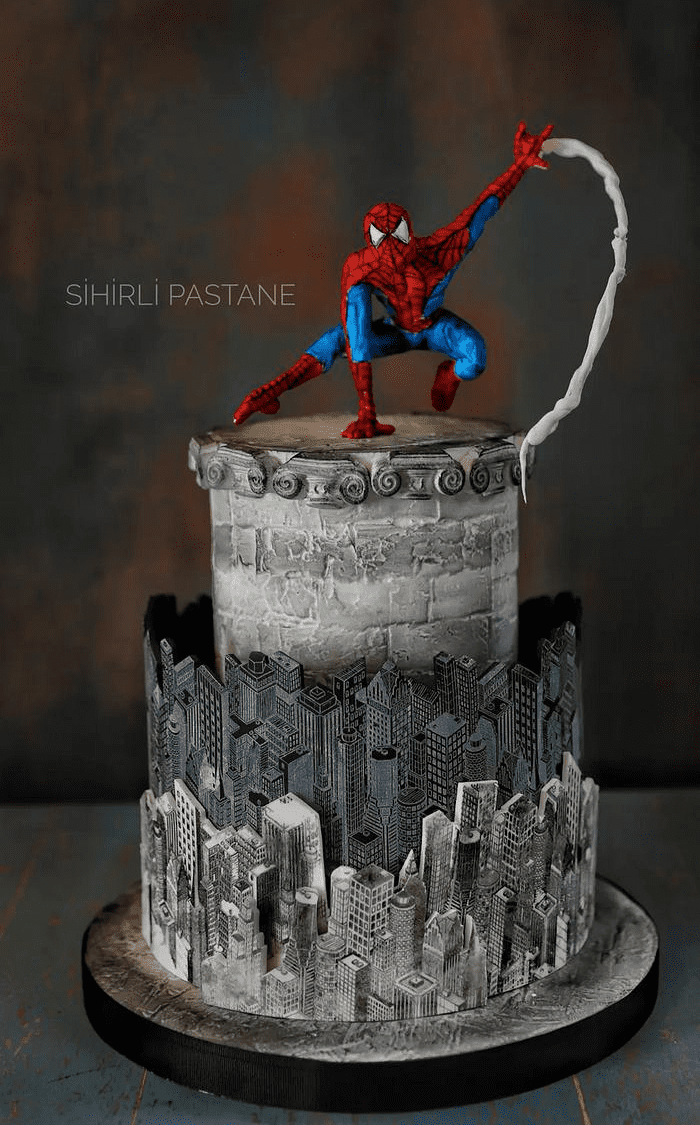 Best: Spider-Man Cake for Teens
Whoa. This cake is cool. This is the only cake on the list to make use of black, gray, and white to make the cake look like it's formed from pillars and realistic skyscrapers. The webbing shooting from Peter's hand attaches itself to the side of the pillar he's posed on. This cake appears to be in motion, which is what makes it art.
13. Spider-Girl Cake by Nancy Bardt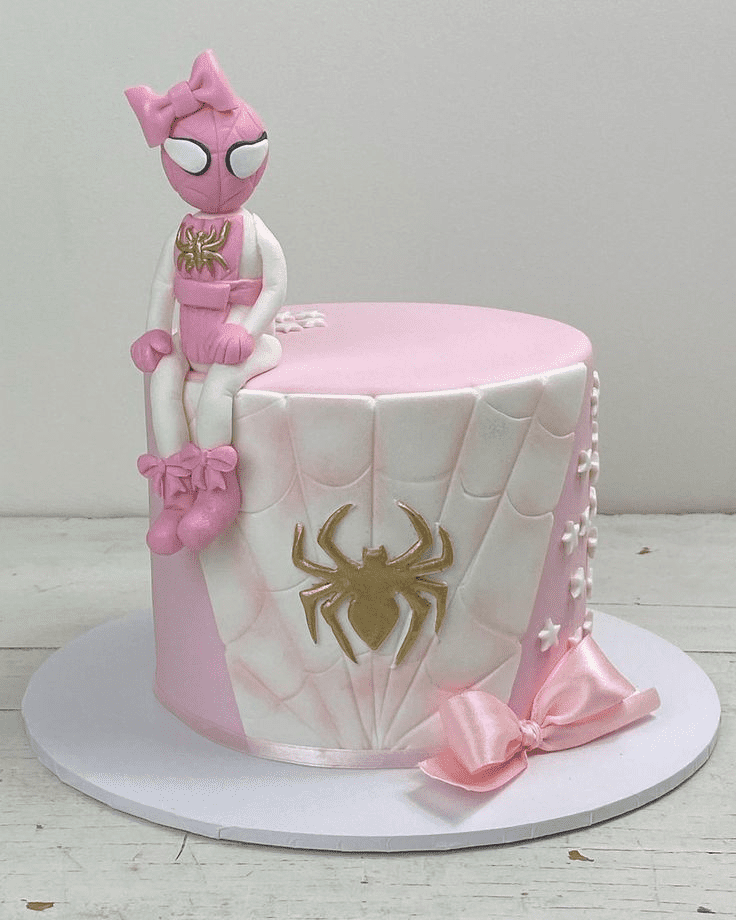 Best For: Young Girls
Spider-Girl is pretty in pink! If your daughter is a fan of Spider-Man and all things pink, this cake gives her the best of both worlds. The delicate, pale pink webbing on the front of the cake plus the gold spider look beautiful together. You'll need fondant, an Exacto knife, and an airbrush to achieve the same look.
14. Donna Gill Olsen Pink Spider-Man Cake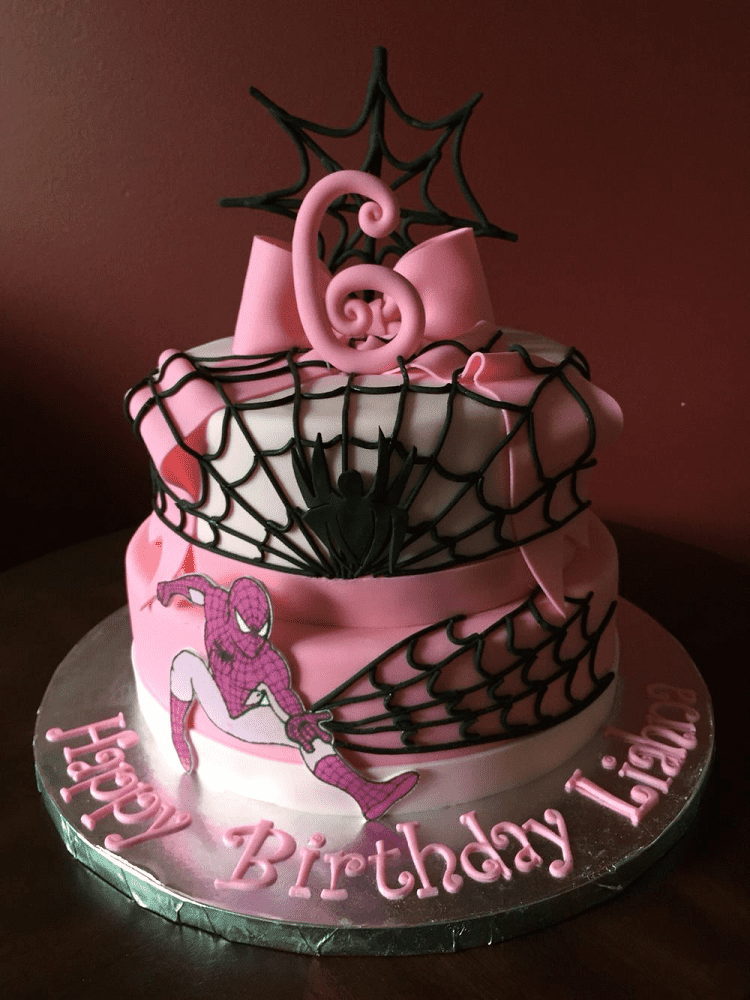 Best For: Women
Here's another Spider-Man cake for the girly girls. This time, a Spider-Man cut-out swings into action from a two-tiered cake covered in pink ribbons and black webbings. You'll need lots and lots of fondant to make this cake since every decoration here except Spider-Man is made from it.
See also: 22 Best Ocean Cake Ideas
15. Spider-Man Cake with Fruit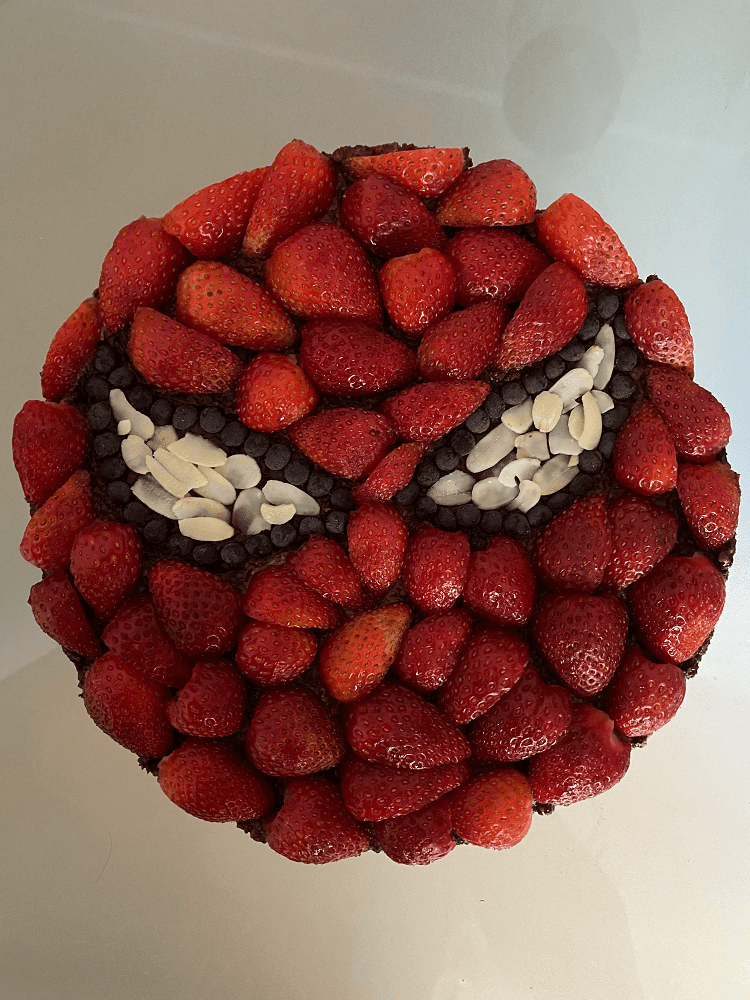 Best: Cake with fruit
What a cute, creative, and healthier take on a Spider-Man cake! Instead of using buttercream or fondant to create a Spider-Man look, this uploader used strawberries, chocolate chips, and nuts. See how the chocolate chips form the lines of Spider-Man's eyes and nuts fill in the white slits?
16. CoolestParties Spider-Man Cupcake Idea
Best: Creative Use of Cupcakes
Check out this idea, which shows you how to make a Spider-Man cupcake cake (no, I promise that wasn't a typo.) If you put all the cupcakes together and ice them this way, you can make one solid-looking Spider-Man mask out of a couple of dozen cupcakes. You can even use extra cupcakes to spell out someone's name at the bottom as CoolestParties did.
17. Single-Tier Spider-Man Cake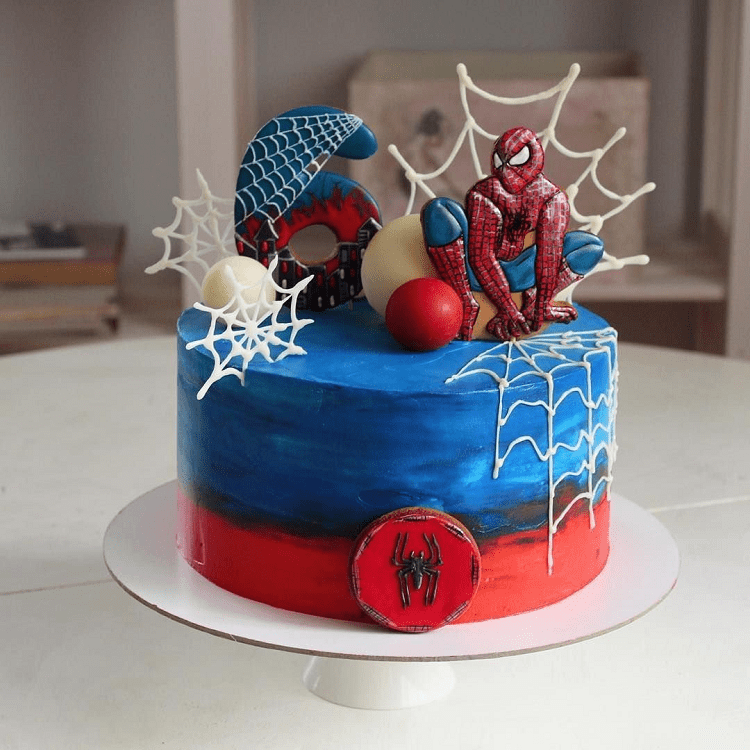 Best: Airbrushed Spider-Man Cake
The airbrushed red and blue design gives this cake an edgy look. I love how it looks like Spider-Man is shooting his webs down the side of the cake. Using white gel icing will give your cake the same effect. The Spider-Man spider logo placed on a cookie in front of the cake adds a nice, crunchy touch.
See also: Graduation Cake Ideas
18. Spider-Man Red and Blue Cupcakes by Michelle Sprague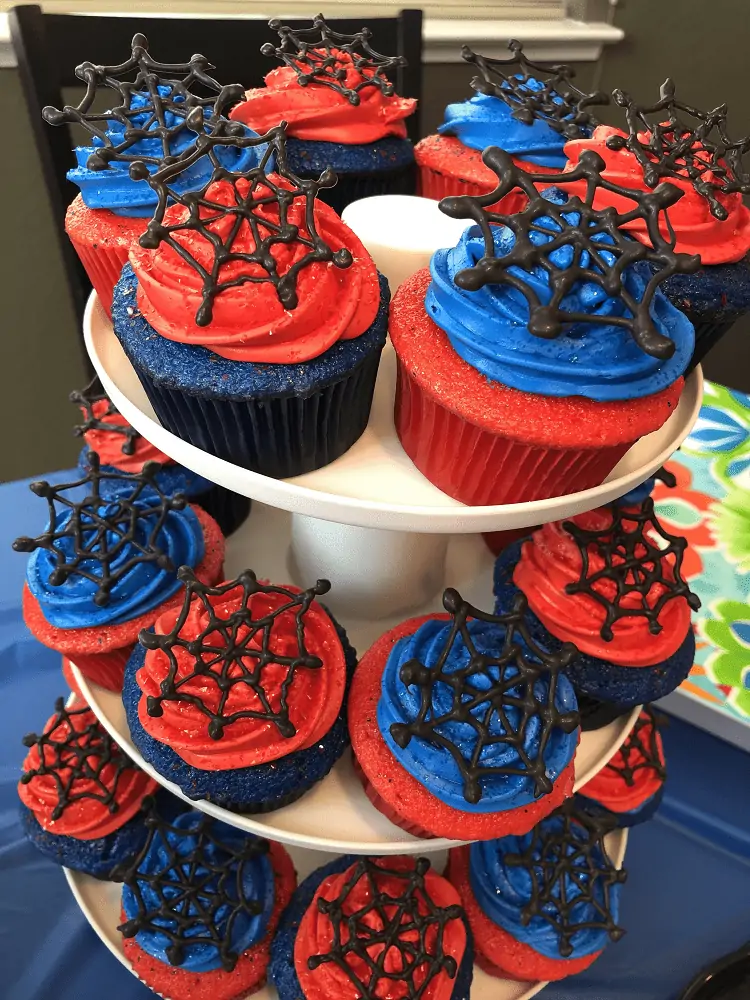 Best: Dyed Cakes
These red and blue cupcakes are sure to be a hit with Spider-Man fans. To make your own cupcakes blue and red, just mix a little blue and red food coloring into the cake batter. You can make the chocolate webs by piping chocolate onto wax paper and putting your chocolate webs in the freezer.
19. Diana Dharma Spider-Man Mask Cupcakes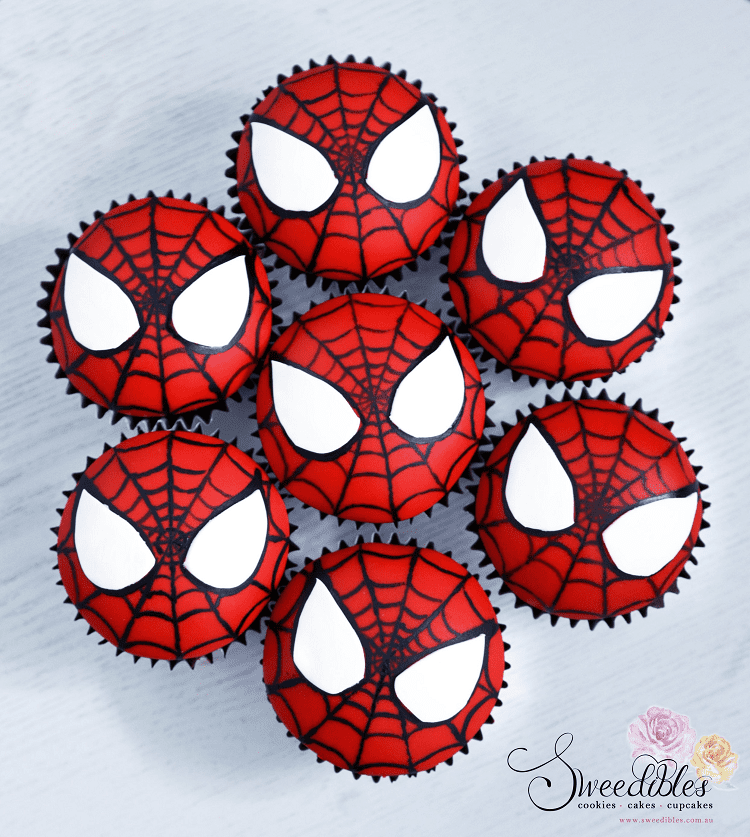 Best: Spider-Man Cupcakes
Here is an adorable take on Spider-Man cupcakes that makes use of red fondant. I think these cupcakes stand out because of how cute Diana Dharma made the masks. Her secret? Make the eyes bigger and rounded than Peter Parker's normal slitted spider eyes.
20. Chrissy Persel Jost Spider-Man Cupcakes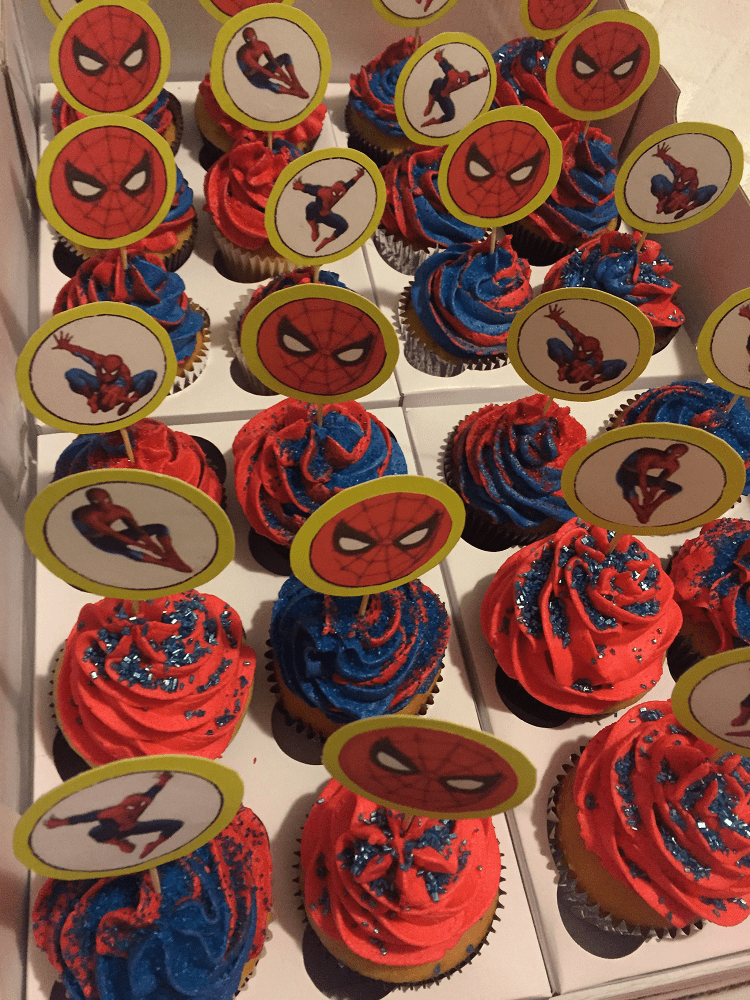 Best: Simple Spider-Man Cupcakes
If you're searching for simple but eye-catching Spider-Man cupcakes without any fondant or extra fancy schmancy stuff, check these out. Chrissy Jost kept within the Spider-Man color scheme by piping red and blue buttercream onto the cupcakes.
Then, she used sprinkles in the opposite color for decoration. Finally, a paper Spider-Man cut-out is attached to a toothpick and placed in the center of each cupcake.
21. Spider-Man Cakes with Cookies, Candies, and Fruits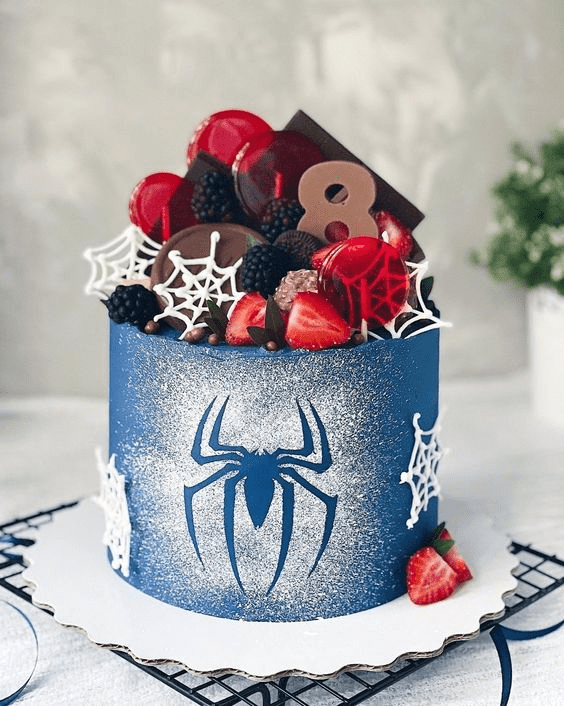 Best For: Extra Sweets
I'm so biased towards cakes that include huge amounts of other sweets, so I had to include this one. See how a simple tiered cake can be transformed into an elegant, clean-cut masterpiece?
Even though the cake itself is a frosty blue, red is added in through red lollipops and strawberries placed on top of and around the cake.
22. Spider-Man/Venom Cake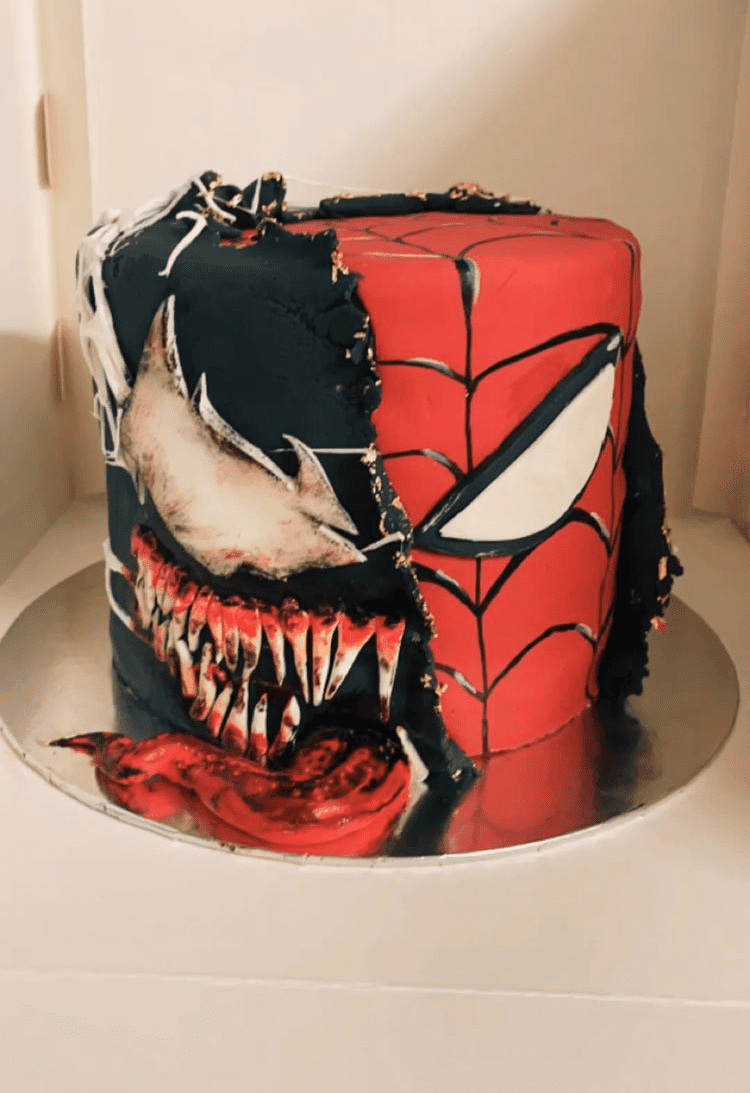 Best: Venom Cake
Wow. Maybe leave this one to a professional if you're unsure about your cake-decorating skills. The precise detailing (particularly on the Venom side-did you see his teeth?) makes this cake one to remember. Half Spider-Man and half Venom, this cake perfectly captures the struggle between the 2. Venom's tongue hanging off the cake looks cool, too.
23. Pastelillo Spider-Man Cake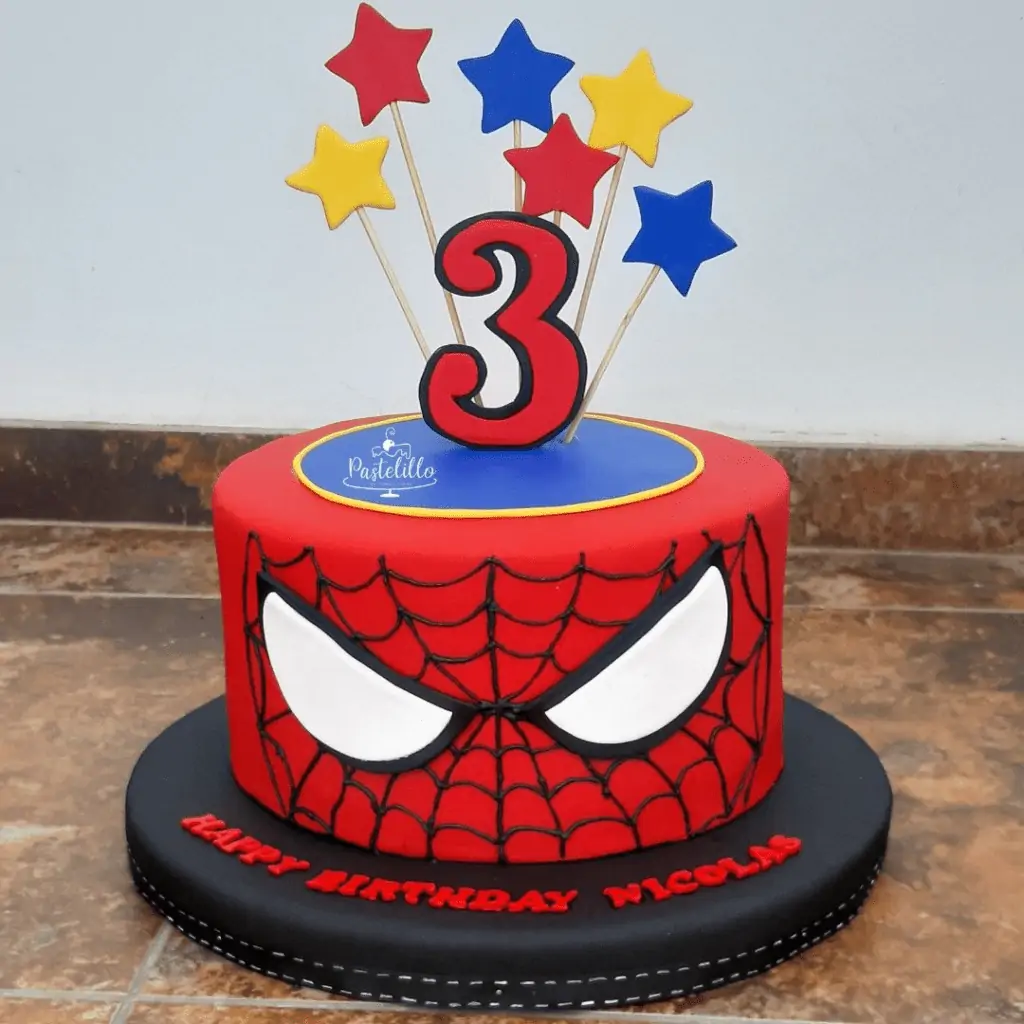 Best: Easy DIY Fondant
This Spider-Man cake keeps the decorations clean and simple. Red fondant and black gel icing make up Spider-Man's mask. His eyes can be made using even more black and white fondant. Using something like stars or even webs on the top makes the cake 3D, which is simple to do.
24. Sticky Web Spider-Man Cake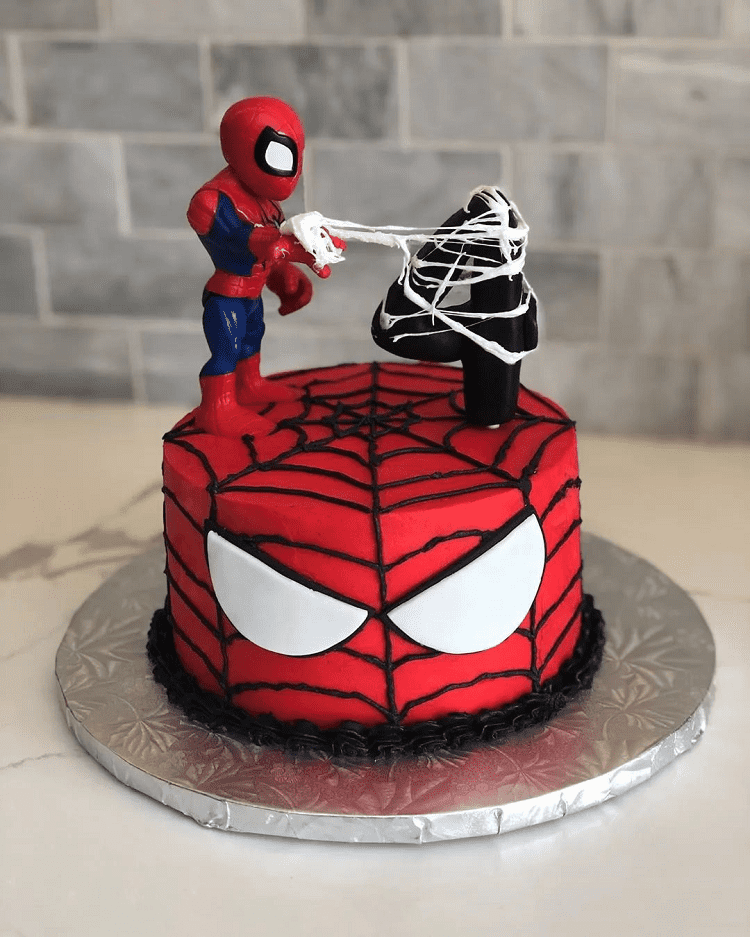 Best For: Sticky Webs
Does your Spider-Man fan love marshmallow fluff? Well, it so happens the sticky stuff looks a lot like Spider-Man's webs! See how this creator used marshmallow fluff to make it look like Spider-Man is shooting webs at the birthday candle?
The other thing I love is this person had the idea to use a Spider-Man toy for the top of the cake instead of making their own out of fondant or modeling chocolate.
25. Navy Blue Spider-Man Cake
Best Spider-Man Cake for Adults
How elegant! Spider-Man's mask looks like it would be in a cameo necklace. The creative use of berries on top of and beside the cake gives this dessert a combination of classiness and sophistication. If you're making or buying a cake for an adult Marvel fan, this might be a perfect idea.
26. Spider-Man Cake by Stardust Cake Studio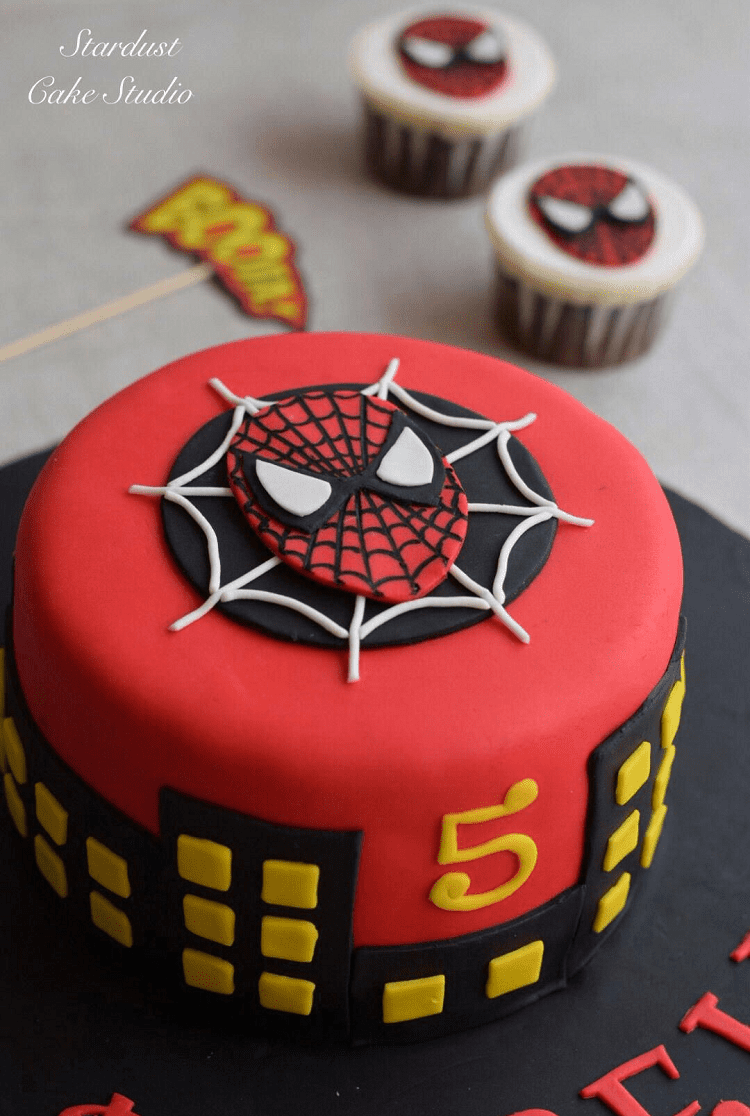 Best DIY Spider-Man Cake Idea
Out of all the cakes that make use of fondant, I think this Spider-Man cake from Stardust Cake Studio is one of the easiest to recreate at home. The hardest part will be creating the lines in Spider-Man's mask, but with food-safe dye and some patience, you can do it, too.
27. Spider-Man Cake by Nube's Cake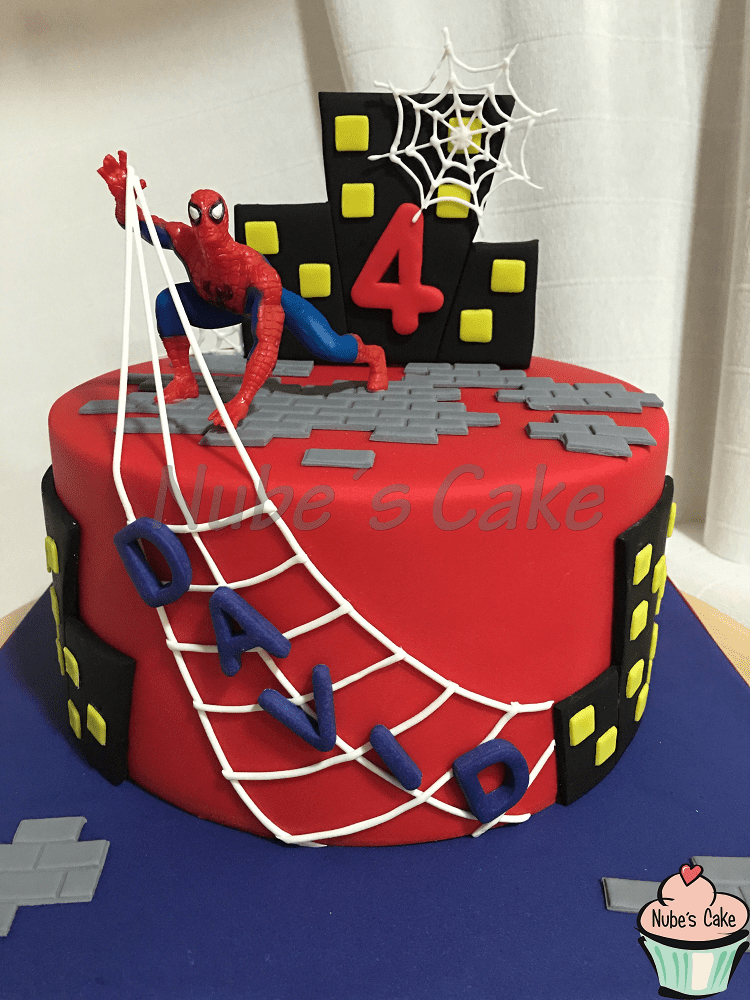 Best: Extra Effects
Last but not least, we have this Spider-Man cake that uses a Spider-Man toy on top as a centerpiece. Don't you think it's creative to place the letters of someone's name inside the webbing?
Marvel fans are sure to love this classic city scene with their favorite hero on a cake. The buildings are uniquely shaped instead of regular rectangles, which makes them stand out.
Tips for Hiring a Cake Decorator
Hiring a cake decorator is kind of like hiring a tattoo artist. Before you commit to any one cake decorator, you should check out their profile online to browse through their past works. Make sure you like their previous creations before giving anyone money to recreate what you want.
If you're unsure what to ask a cake decorator in person to make sure you get the perfect Spider-Man cake for the Marvel fan you love, here's a list to go through at your local bakery:
Ask about what kind of frosting or fondant they use to make sure the person who the cake is intended for is satisfied with the flavor
Inquire about what cake flavors are available
Ask if they've ever made comic-book-style cakes before
If the person you're buying a cake for has food allergies, make sure to tell the cake decorator this and ask about what alternative ingredients they can use
Ask what their policy is in case you are dissatisfied with the cake you receive
Tips for Making a DIY Theme Cake
If you're an ambitious and skilled home baker, then you can make a Spider-Man cake from the comfort of your own kitchen! Even if you want to try out making a stylized cake for the first time, with a little patience, you can achieve the look you want.
Whether you're a home baker that wins every award in town or you're just beginning your baking journey, here are some helpful tips for making a delicious and stylish Spider-Man cake:
Buy piping bags and tips from the store if you plan to pipe buttercream frosting in a pattern all over your cake or along the rims.
Fondant is more readily available than you might think! Try picking up fondant in your local Walmart.
You can also buy modeling chocolate in Walmart, but if it isn't available, you can always buy some online.
Using buttermilk instead of regular milk will make your cake even moister and more delicious.
If you use vegetable oil instead of butter, your cake will turn out very moist even if you put it in the fridge.
You can buy icing spatulas to give your buttercream frosting a polished, clean look.
What You Need to Make a Spider-Man Cake Yourself
Let's get into the nitty gritty of cake making, shall we? This list of tools briefly describes the essentials for making the perfect cake. Your Spider-Man cake can turn out just as good as a pro's if you have the right equipment at your disposal.
Cake Tools – Some of the cake tools I recommend are an icing spatula so your icing looks perfect on all sides, a sheet pan, piping bags, and an electric mixer. Cutting your cake circles out of a sheet pan cake actually makes your cake moister than using circular cake pans.
Fondant – This is a sweet, moldable material that's perfect for creating crisp lines and clean details in your cake. Fondant lets you create perfect circles, webs with fine lines, and even cityscapes like the ones we saw on the cakes up above. If there's none available locally, make sure to order some online!
Buttercream – You can't go wrong with good, old-fashioned buttercream frosting. You can easily whip this up yourself if you have an electric mixer. All you need for a basic buttercream frosting is butter and sugar.
Props – Do you want to include action figures on your cake? Paper cut-outs attached to toothpicks? You could even add plastic spider rings to cupcakes for a Spider-Man-esque design, if you wanted. Imagine how you want your cake to look before buying your props. If you can, try to sketch out what the cake will look like on paper.
Modeling Chocolate – You can use modeling chocolate to create clay-like figurines and accents to go on your cake. By using modeling chocolate, you can shape your own Spider-Man instead of using fondant or placing an action figure on top. Modeling chocolate can seem hard to work with if you aren't used to it, but make sure to never heat it up! You'll end up with a sticky mess.
Cake Molds – Cake molds take some of the hassles out of creating a unique shape with your cake. By pouring cake batter into a cake mold, you can bake a cake into any shape you want. Some molds, which will turn your cake into the shape of a number or letter, are inexpensive. Other molds that look like a web or Spider-Man's face will be pricier.
FAQs
Your most frequently asked questions about cake making will be answered in this section here! Trying to make the perfect Spider-Man cake? Not sure where to start?
Question: What is Fondant?
Answer: It might not look like it, fondant is a type of icing! It's made from a mixture of sugar, vegetable fat/shortening, water, glycerol, and gelatin. Fondant is popular in cake decorating because it's moldable and holds its shape. You can 3D figures, letters, numbers, and other effects with this stuff. In fact, you can use fondant to cover up the entire cake!
Question: Can You Make Fondant?
Answer: Yes, you can make fondant at home! It's easier than you might think, too. An easy way to make fondant at home is to use marshmallows as a base. Marshmallows are delicious and hold their shape, which is exactly the way you want your fondant to be.
Question: What Can I Make Instead of Cake?
Answer: There are tons upon tons of desserts you can make instead of cake! If you want a Spider-Man-themed dessert that isn't cake, why don't you try making Spider-Man cookies or a Spider-Man pie? You could freeze popsicles using the colors in Spider-Man's uniform for a really easy-to-make option.
The Cherry Red Spider on Top
With great cake-making power comes great responsibility. I hope you enjoyed diving into the world of cake making and purchasing professionally decorated cakes.
Was there a Spider-Man cake up above that was your favorite? Let me know in the comments below! If you can't get enough of Marvel's beloved hero from Queens and you're ready for some more content to make your spidey senses tingle, come check out our website!
Recommended Reads: