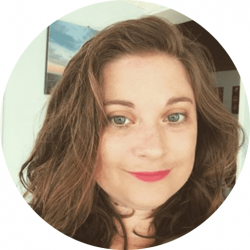 Latest posts by Samantha Bellinger
(see all)
Birthday party photoshoots are a unique way to celebrate, and it provides an exciting way to preserve birthday memories. As an event planner and a photography enthusiast, I have a soft spot for event photoshoots. Full confession: they are one of my favorite additions to any event. The resulting photos are perfect for social media or just a cute way to remember the event. No matter your age, you can plan a spectacular photoshoot.
Things to Consider Before Arranging Your Birthday Photoshoot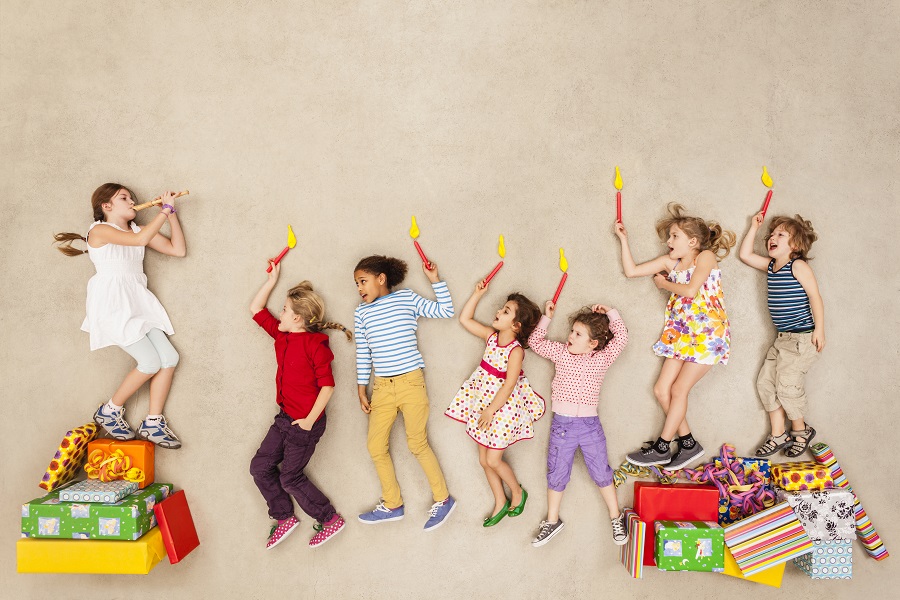 Before jumping into the photoshoot ideas, there are a few things you need to consider.
DIY vs. Professional
Determine if you you want to DIY or hire a professional photographer. Many factors can help you select which option is best for you. The three primary considerations are comfortability with a camera, budget, and the level of ease.
Consider how comfortable you, your family, and your friends are taking photos. Be honest. Is there anyone that stands out as the best photographer in your group or maybe a few people? Compare that list to who you want in the photoshoot. Make sure they don't overlap. I always find I'm the goto photographer with my friends. This is great if a friend is the star of the birthday party shoot, but not ideal if I'm the birthday girl. I always need to hire someone. Your situation is unique, so just evaluate it honestly and decide what direction to go.
Budget is a significant consideration for many of my clients when deciding whether they want a professional photographer or not. Look at how much you want to spend and then plan accordingly. A professional not in your budget? DIY can be no additional cost, especially if you have a friend who takes great photos and you plan to just use the decorations you already have for the party.
Also be sure to consider the level of ease. Do you find it easier to have someone show up and take care of everything? Or do you find it uncomfortable to have a stranger directing your pose? Whatever your answer, be sure to consider it in your selection. Most of my clients don't think about that until too late.
The Look
Next, determine the look. I'm not going to try to dictate your style. That isn't my business: it's yours. Just be sure that you have a clear vision.
See also: Frozen Birthday Party Ideas
Who will be involved?
Finally, who you want to be photographed? Do you want it to be just the birthday person or everyone at the party? Knowing who you want photographed can help you coordinate and support your desired look by requesting specific outfits or color schemes.
Remember, there is no wrong answer. You do you.
Selection Criteria
Now that we've discussed what to consider before your birthday party photoshoot, let's talk selection criteria for the photoshoot ideas:
The photoshoot ideas are able to capture a birthday party feel.
The photoshoot ideas can be recreated regardless of the photographer; they are perfect for DIY and Professional photographers.
The photoshoot ideas involved props that people regularly have at birthday parties.
Now let's turn to a few ideas to consider when planning the content of your photoshoot. Below are a few of my favorite ideas for the best birthday party photoshoots.
Ideas for Birthday Party Photoshoot
Balloons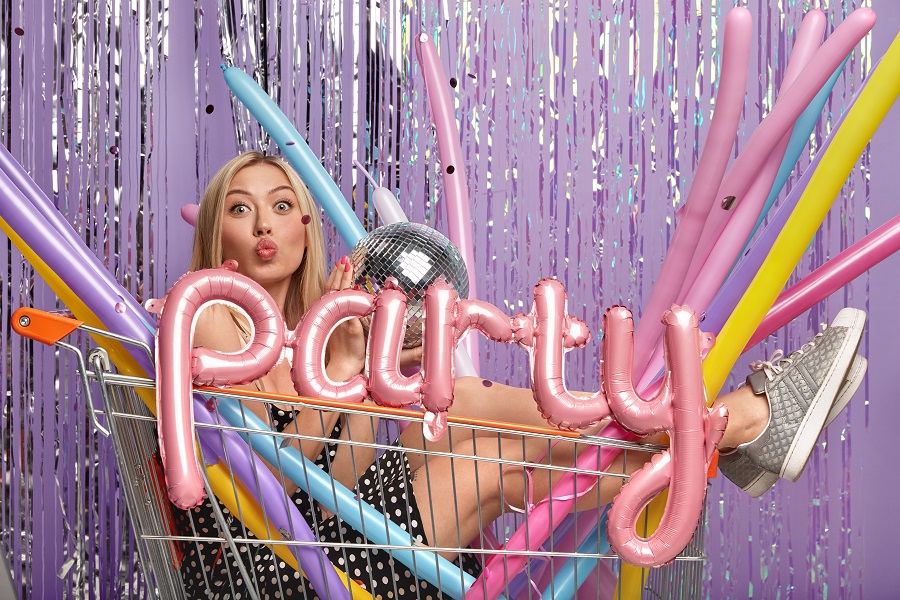 Balloons are a staple of celebrating birthdays. I can't think about celebrating a birthday without balloons coming to mind. They are almost an essential part of the celebration or, at the very least, one of the top traditions. You also have tons of options!
Balloon Bouquet
A classic look is holding a big bunch of balloons. I enjoy this option because you can easily switch things up by adding another prop. Imagine having a bunch of balloons in one hand and a bouquet of flowers in the other. The addition adds a new twist to an old classic.
Arch/backdrop made of balloons
One trend I can't get enough of is balloon garlands and/or arches incorporated into a backdrop. It frames the picture perfectly. The half arch with varying-sized balloons in a muted palette is perfect for photos regardless of your celebration style.
Balloon release
Releasing a handful of balloons can make for a fun photo too. Talk about pure delight on the face of the birthday person. Be sure to have the camera set to an action setting so it can take multiple shots, one right after the other. I love the multi-frame option to capture as many photos and expressions as possible. It increases the chances you capture that perfect shot; you know, the one with the biggest smile and balloons framing the person perfectly. A word of advice: this trick is best done in an enclosed space with low ceilings. That way, you can recollect the balloons and redo the shot or simply enjoy them for the remainder of the party.
A floor full of balloons
Another great option is to have balloons covering the floor, especially for people like me who love DIY and don't want to purchase helium. You still get the fun of balloons without them floating away. Sitting on the floor surrounded by balloons and throwing them in the air makes for a joyful, light-hearted photoshoot.
See also: Best LEGO Cake Ideas To Love For Your Next Birthday
A single large colorful balloon
Think Winnie the Pooh vibes: a single large balloon. It can help to call attention to your birthday without being in one place. You can literally be anywhere for this one. No need to be limited to an indoor space. Pose outside for natural lighting.
Balloon message
I am particularly fond of the letter balloons you can use to spell out a birthday message. One of my favorites is having "happy birthday" written in shiny balloons against a wall. Then the birthday person can pose in front of the balloon sign. It is an adorable addition to any birthday photoshoot.
Number balloons
You can also purchase number-shaped balloons. Grab balloons representing your age and get started! These are particularly popular on social media right now. Any age is worth celebrating with number balloons, and the bigger and shiner the balloons, the better. It is fun to play with them during the photoshoot, put them in the background, or hang them as a stationary prop. You'll undoubtedly make a statement with these during your birthday party.
Regardless of what you choose, balloons make a cute and fun photoshoot. Plus, nothing screams "birthday party!" like balloons. All you need is the balloons and any background turns into a possibility. Though I would recommend a simple, well-lit background. Neutrals help the colors really pop in your photos. It'll turn regular snapshots into insta-worthy masterpieces.
Birthday Cake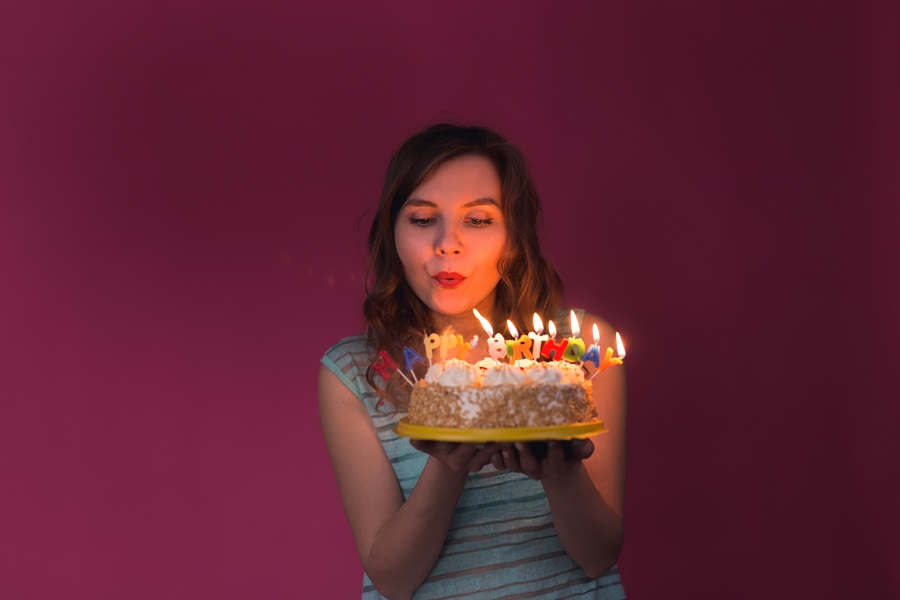 Cake is another iconic but simple prop perfect for a birthday party photoshoot. It can be the center of attention or just a prop to highlight the birthday person.
Cake & Blowing out candles
This is SO necessary for your birthday party photoshoot! Not only does it capture the birthday person with their cake, but the candles create a unique play of light in the photograph. My favorite is to take a picture with the candles lit, a picture of the person blowing out the candles, and a photo right after. It creates a memorable photo series.
Smash the Birthday Cake
A social media famous theme is cake smashing. It is typically used for kids' birthday parties, especially babies, but could be co-opted for adult birthday party. Just find a beautiful cake, sit in front of it and smash it! The best photos come from when there is a neutral background, a brightly colored cake, and the cake is all over the hands/face of the birthday person. My favorite is when it goes wedding style, and more than one person is (consensually) smashing cake in another person's face. It makes for some fantastic photos, just a lot of clean-up.
Confetti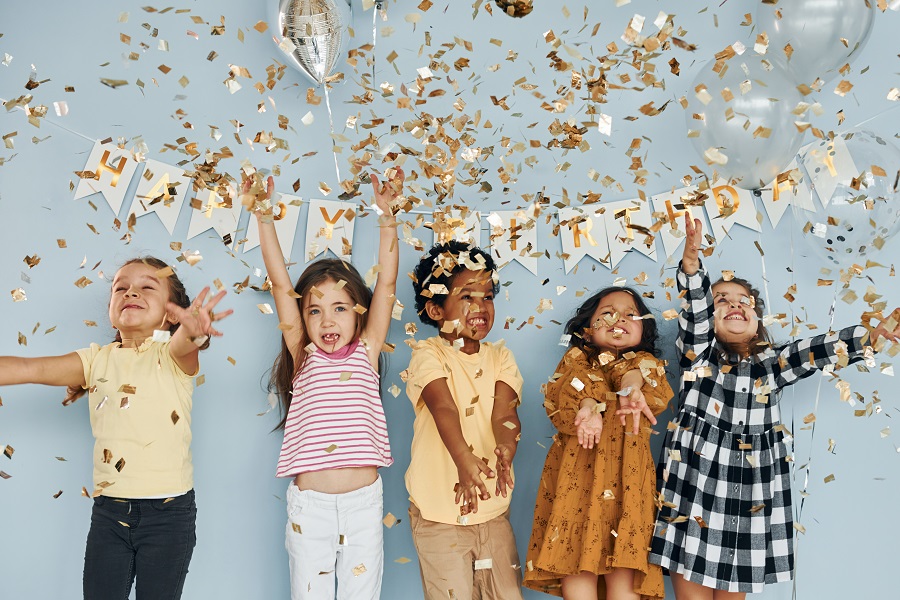 Confetti photos are the cutest! It is a simple way to create a sense of fun, both during the shoot and within the images themselves. It immediately adds a celebratory feel. I am particularly fond of having the person throwing the confetti in the air and catching multiple moments, including the throw and the downward movement of the confetti. Pro tip: use confetti that has larger pieces. This allows the camera to capture more of the action, and it allows for easier clean-up. Also, be sure to use environmentally safe confetti, especially if you are doing an outdoor photoshoot. It'll help ensure that any pieces you miss during clean-up won't be a lasting issue.
See also: Sunflower Cake Ideas
Flowers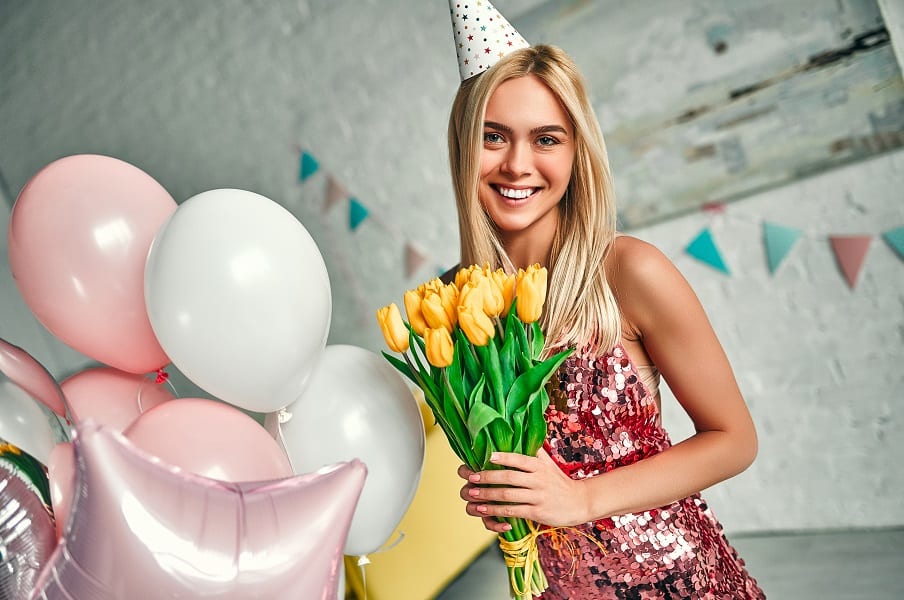 Flowers are a perfect birthday party photoshoot prop. Nothing beats striking a pose while holding a bouquet of flowers or wearing a flower crown. Both can create playful, fun photos for your portfolio.
I also love flowers as a backdrop. Surrounding yourself with flowers can create an interesting shot. If your photoshoot is inside, have the birthday person lay on the ground and have the flowers all around them. Then take the photo from overhead.
Or you can utilize outside for this part of the photoshoot. You can schedule time in a garden or scout out a nearby flower field. Both are fun ways to surround yourself with flowers without spending a fortune on cut blooms.
Drinks/Champaign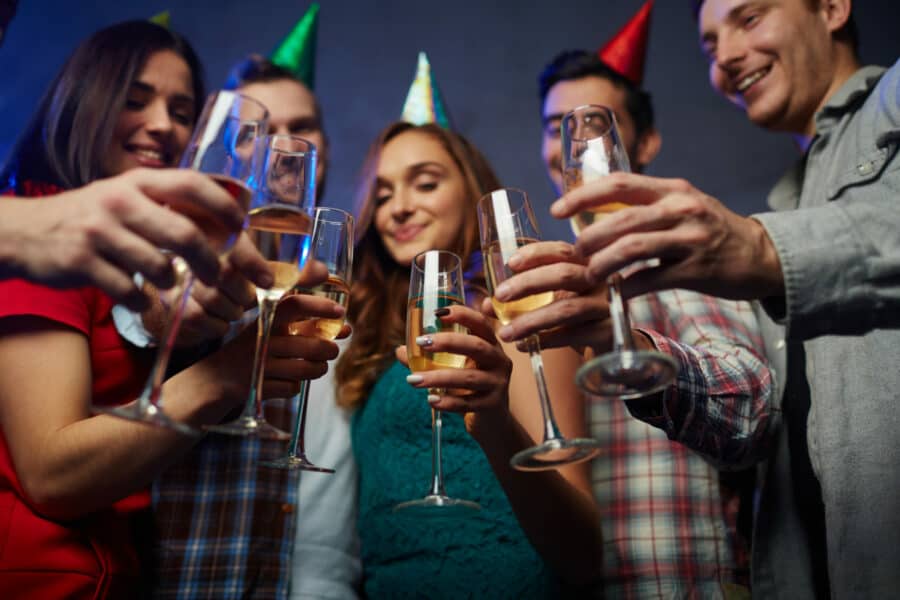 This one is high on my list when doing birthday party photoshoots for adult parties. I love the photos of the birthday person opening the champagne, especially when they've shaken it up beforehand and the cork really flies. Just be sure not to aim the bottle directly at the camera or photographer.
You can also use the glasses of bubbly as a prop. A cheers between friends or even the birthday person raising a glass is a perfect addition to a celebratory photoshoot. Those bubbles are exceptionally photogenic and will only enhance any portraits.
Not into alcoholic drinks? Not to worry, you can recreate it with sparkling juice. The bottle might not pop the same, but it will definitely work for the photos focused on the bubbly liquid.
Cheers to that!
Bubbles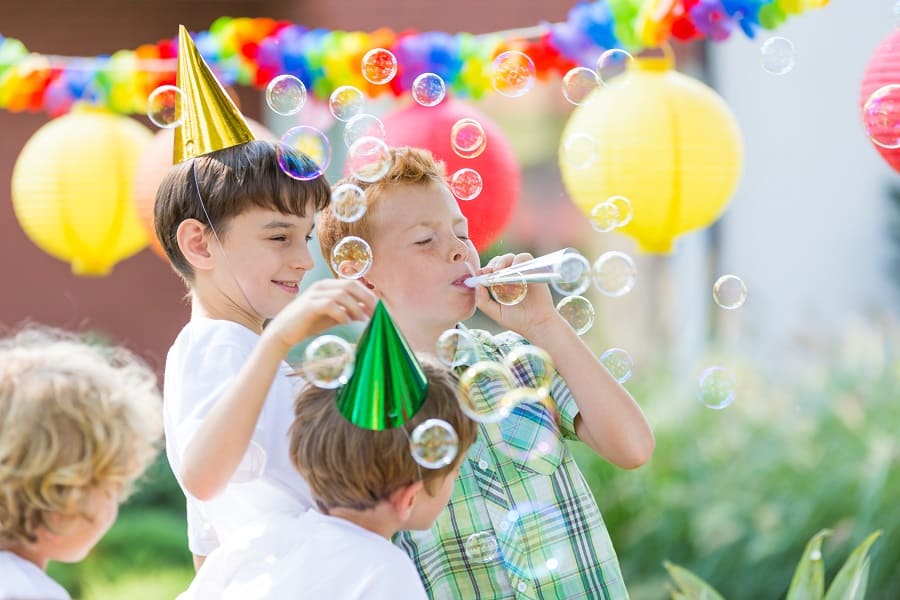 Forget filters! Nothing beats the photos with party participants playing with bubbles. Any portrait with a background of IRL bubbles or a few bubbles floating by your face is instantly unmatchable. You capture a true sense of joy in your photos.
Another fun alternative is taking photos of the person blowing the bubbles; you'll get some fantastic expressions with those photos. The best part of bubbles is that you don't have to think about posing as much. They make for some perfect candid action shots.
Sparklers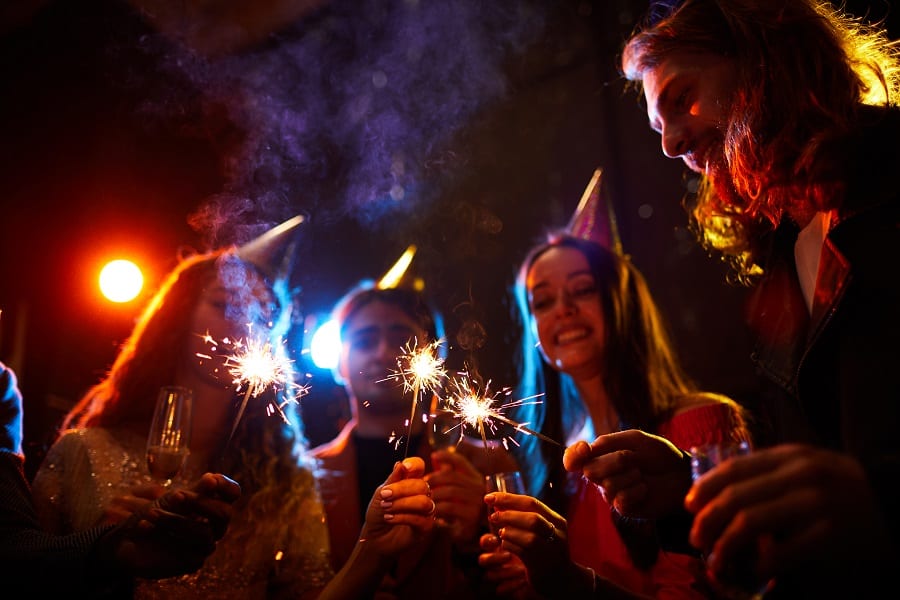 Sparklers are an excellent addition to your birthday party photoshoot. Of course, the availability of sparklers depends entirely on where you live and the laws around fireworks. However, most places allow sparklers or something like them.
I'm particularly fond of waiting until dusk and using the light of the sparklers to provide dramatic lighting in portraits. I love how the sparkler makes people's faces glow while letting the background fade to black.
Another amazing trick to consider is to create a design or even write a message with the light. How do you do that? Slow down the shutter speed or set it on a delayed shutter release on your camera. Then you can capture a long exposure of you "writing" a message with the sparkler. It can make for a fantastic photo!
Regardless of how you use sparklers in your photoshoot, they create some social-media-worthy photos! Get ready to be star-struck by the results.
Piñata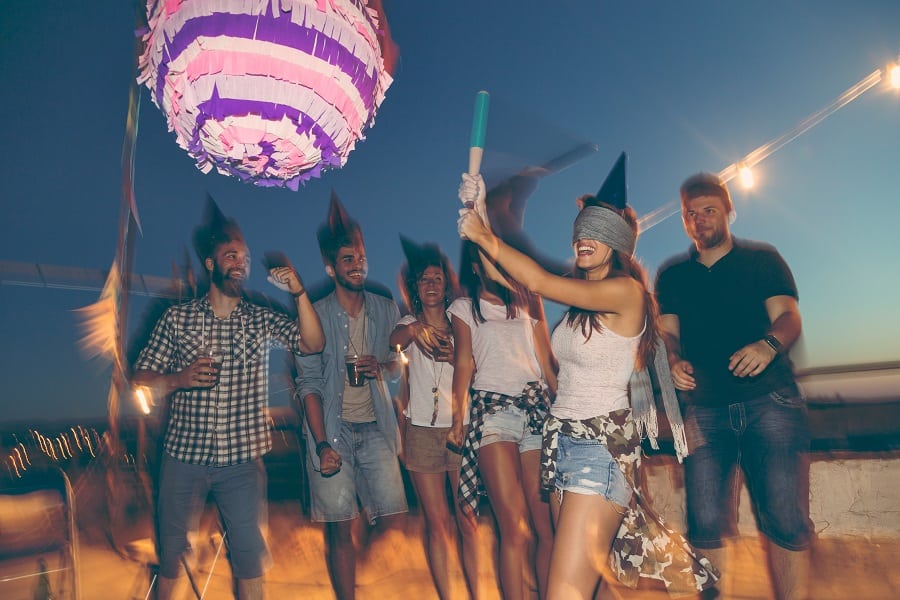 Piñatas aren't just for kids. They make a great addition to a photoshoot regardless of age. Something about swinging a stick and trying to break open the piñata makes for the perfect action shot. Plus, it's a great way to capture a group shot with guests in the background cheering the birthday person on.
Want to make it an adult-only version? Swap out the candy for alcohol. This can get adult party-goers more invested. Capturing the piñata breaking opening and the guests rushing to grab the prizes is a fun way to get the party to participate in the photoshoot.
Group Photos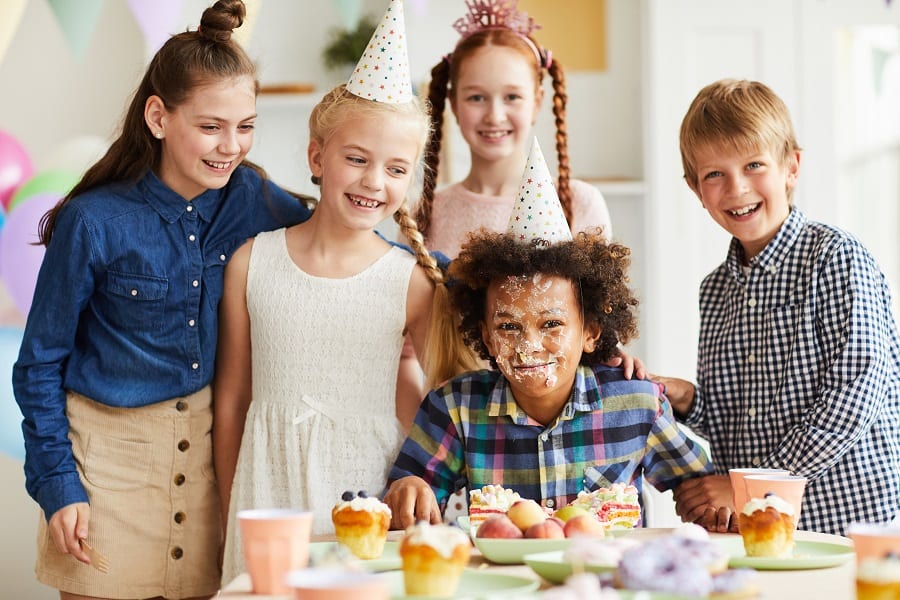 Ok, if a group shot isn't one of the most heart-warming ideas for your birthday photoshoot, I don't know what is! While it might take more work to set up, it is a great way to capture all those present to celebrate you!
Group shots with Family
One of my favorite group shots is with family. There is something special about having your parents, siblings, and/or extended family at your side while celebrating your birthday. Strike a pose and capture your time together. Talk about an adorable keepsake for years to come.
Group shots with Friends
I love group friend shots, especially if you are doing a photoshoot while partying it up. Do a series of both fun and serious poses. If your friends are anything like mine, we first have to do a series of funny faces or ridiculous poses. It gets us comfortable in front of the camera, so we can eventually smile our genuine smiles. This always helps us with the more serious photos and allows us to capture the true loveliness of friends.
Group Action shots
Another fun photoshoot idea is a group action shot. It doesn't need to be elaborate. It could be as simple as a candid action shot during the party or as elaborate as a staged action sequence. I'm particularly fond of those shots that feature something like dancing with each other or jumping into a pool together. The action helps bond the group – not only in the moment but also in the photograph. They are fun photos to take and can create a fabulous composition in the end.
Backdrops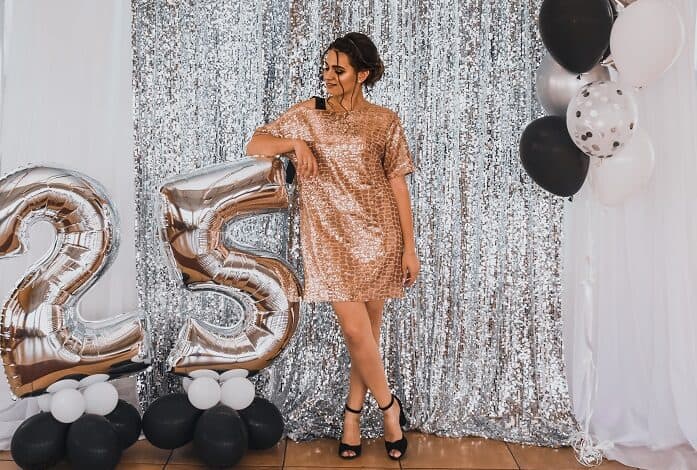 Setting up a backdrop or building a set is an excellent addition to any birthday party shoot. It not only helps you stay on theme, but it gives you a chance to set up flattering lighting and, as a result, get more professional-looking photos.
The look and feel of the backdrop are up to you. You can DIY a backdrop reasonably easily but don't have to if you don't want to. Regardless of your approach to a backdrop, it'll provide a consistent and festive area to capture photos during your photoshoot.
Props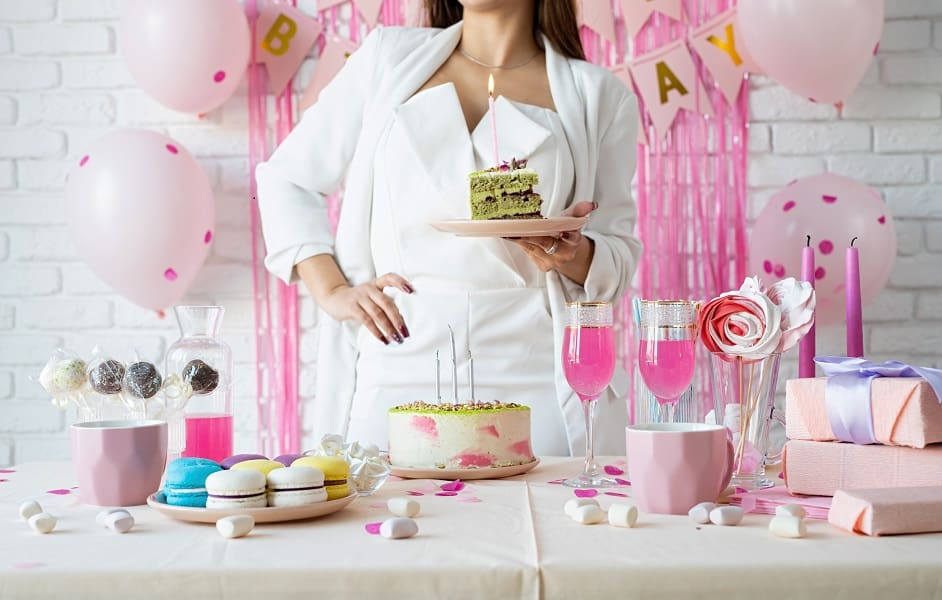 A birthday party photoshoot is a great reason to be creative with props. I recommend finding wearable props that make you laugh. The goofy smiles that result from amusing props are hard to beat. If you've been posing for too long, capturing a natural smile can sometimes be challenging. A funny prop will break you out of that photo fatigue and renew your authentic joy.
FAQ Section
Question: How long should my photoshoot last?
Answer: The answer is as unique as you. It depends on the number of backgrounds, props, wardrobe changes, and people. That said, I can provide general guidelines. Plan for around an hour if it is just the birthday person and a few props. If your photoshoot involves multiple locations, people, and costume changes, plan for 2-3 hours.
 
Question: I'm scared that my partner, family, and friends won't want to participate. How do I get them excited about the photoshoot?
Answer: Many people don't like their photos taken. It isn't surprising you are worried one or more of your guests won't be excited to participate. I recommend telling people in advance, so they have plenty of time to plan their outfits and looks. Much of the uneasiness about photos comes from not feeling prepared. The best way to drum up excitement the day of is to be excited yourself. Some emotions are contagious, and if you are having a great time, others will likely feel the same. Plus, that authentic emotion will come through in the photos.
Question: What should I wear to a birthday photoshoot?
Answer: My question back to you is, what would you wear if your party didn't involve a photoshoot? Your outfit should reflect you and your style. If you really can't decide, consider bringing a change of wardrobe. That way, you can showcase a few outfits during your photoshoot.
Let me know what your favorite photo ideas are in the comments. They don't have to be from the ones above; feel free to add your own! We can't wait to see your fabulous birthday party photos.
Recommended Reads:
References
DS, A. (2021, August 24). 8 fun birthday photoshoot ideas for everyone. Photography Course. Retrieved April 13, 2022, from https://photographycourse.net/birthday-photoshoot-ideas/
Houstons, A. (2022, February 15). Fantastic birthday photoshoot ideas and tips you need to try. SLR Lounge. Retrieved April 13, 2022, from https://www.slrlounge.com/fantastic-birthday-photoshoot-ideas-and-tips/
Mireles, A. (2022, March 15). 18 Fun Home & Outdoor 21st birthday photoshoot ideas. Shotkit. Retrieved April 13, 2022, from https://shotkit.com/21st-birthday-photoshoot/
Style your occasion. (2022, March 16). 15+ classy photoshoot ideas for birthday celebrations you'll Love. style your occasion. Retrieved April 13, 2022, from https://styleyouroccasion.com/photoshoot-ideas-for-birthday/
Travelandabroad. (2021, November 17). 29 birthday photoshoot ideas you will love. Travelandabroad Photographers. Retrieved April 13, 2022, from https://travelandabroad.com/birthday-photoshoot/