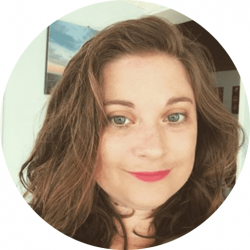 Latest posts by Samantha Bellinger
(see all)
Barbie is one of those iconic party themes that has shown up for years. I remember attending a few Barbie birthdays as a kid. Now that I'm a seasoned event planner, I've seen numerous types of Barbie events (baby showers, bachelorette parties, birthdays, etc.). I'm honestly impressed a party theme can carry on for so many years and still be going so strong.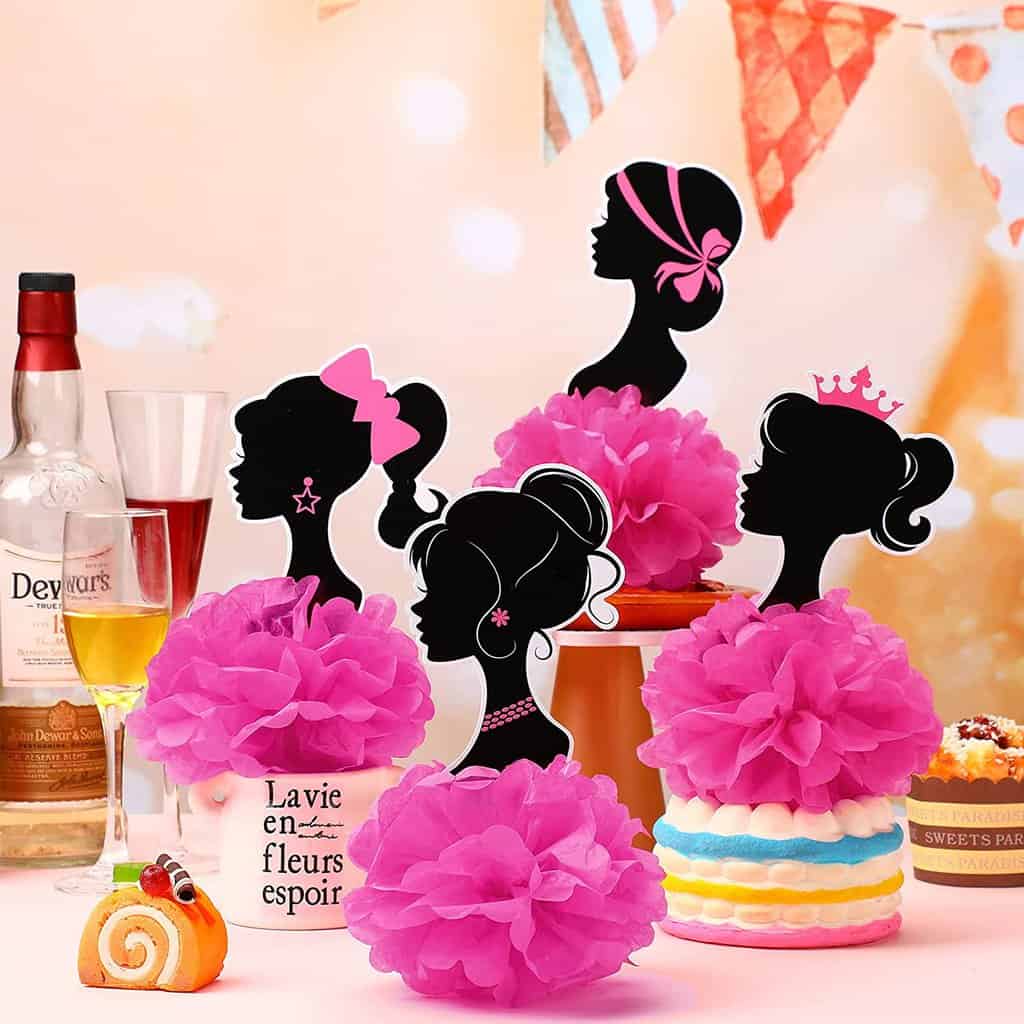 Bottom Line Up Front
While the theme isn't new, the party supplies keep evolving. So many excellent Barbie-themed party supplies are available; some have a nostalgic feel while others are up to date. I thought back to all the parties I've witnessed and narrowed the Barbie party supplies down to a manageable list for you. 
That said, one item stands out: the Barbie Dreamhouse Cake topper. The dream house was THE thing to have growing up (that and the jeep). So when I saw this cake topper set, my inner kid nearly squealed with joy. It lets you decorate the cake with the dream house and comes with Barbie and friends too!
Clearly, my choice of supplies was personally motivated (can you blame me?), but some practical things recommend it to a picky party planner like me. Namely, it meets all my list criteria: it can be ordered online easily, is relatively affordable, and can be used with all celebration types. It also allows you to rearrange the various pieces to fit perfectly on any size or shape of cake. Plus, nothing says Barbie-themed party like a Barbie dream house on your cake! 
Things to Consider
Before we get to buying supplies, there are a few steps you need to consider while planning your Barbie-themed party. I promise that determining these answers will help you decide which supplies are right for you.
Purpose of the Party
For a theme like Barbie, the types of parties it can be associated with are endless. Are you throwing a kids' birthday party? Or your best friend's bachelorette party? Those two have vastly different requirements. 
This step doesn't need to be complicated. You probably already know the purpose of your party. I'm just saying you should be aware of what you are celebrating and ask yourself if each supply is well-suited to your party's purpose. 
The Audience of Your Party (i.e., Your Guests)
Knowing who you are celebrating with can impact what type of supplies you go for and how many to buy. The most important things to determine are the general ages of your guests (2-year-olds have different needs than 25-year-olds) and the number of people you invite. Also, be aware of all the people who might tag along without RSVPing (kids, partners, parents, etc.) Determine this early on so you don't have to go back and order extras of each supply.  
Budget
I think I heard you just groan. Yeah, I know; budgets aren't fun. They are the thing most of my clients try to skip. They grudgingly do it at the beginning of the party planning process (with some prompting) and later tell me how glad they are. 
While I can't twist your arm and make you budget, I can tell you why it'd be helpful. Establishing your budget helps you control your spending and allows you to adjust your plans based on price. It isn't glamorous, but it'll help you know where you need to be mindful of cost.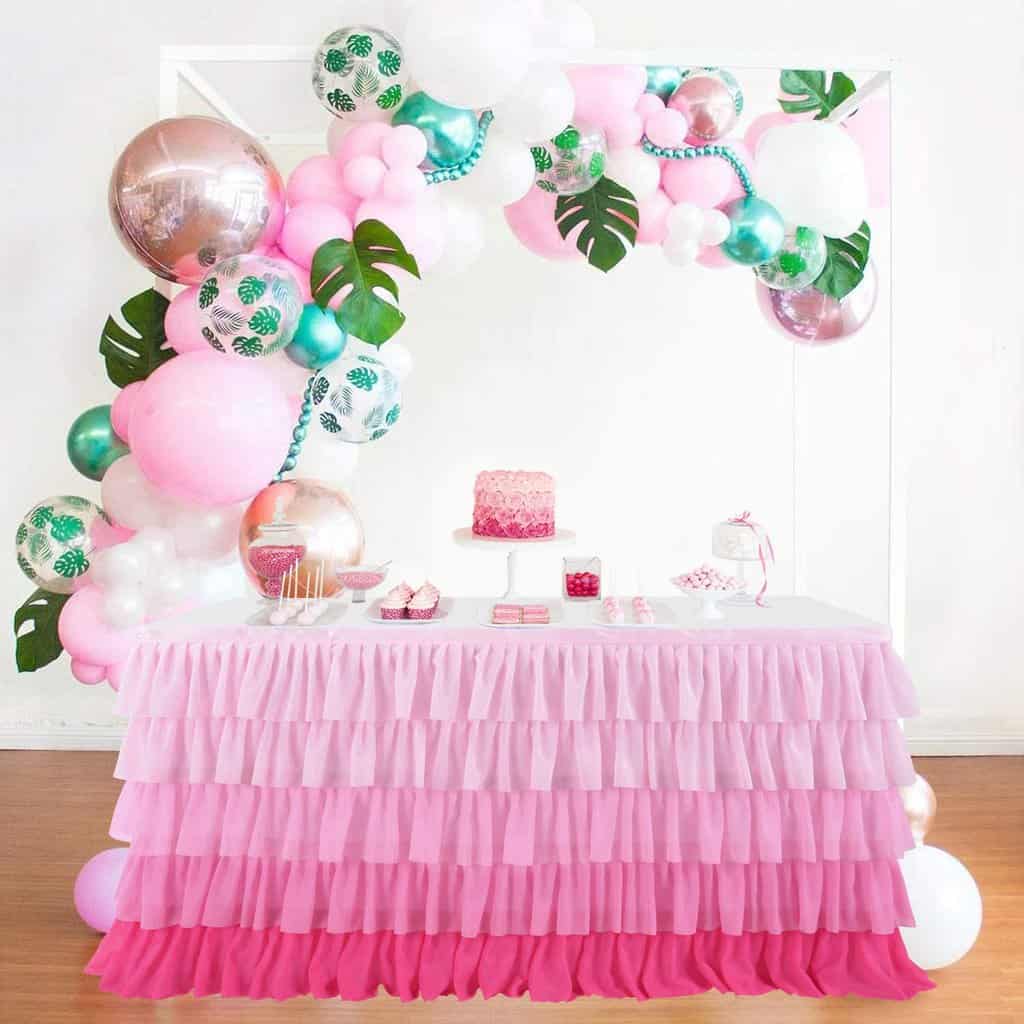 Selection Criteria
Now you are probably wondering how I narrowed down thousands of options into a concise list of party supplies. Let me fill you in. Given the wide variety of Barbie celebrations I've seen, I've opted to focus on Barbie party supplies that you can use for all types of parties. That means there is a little something for everyone and plenty of universal items from which to choose. Within that, I focused on two main things:
I can easily order each item online (shipping is appreciated by people like me who live in the middle of nowhere)

The supplies were relatively affordable (aka, they won't break the bank)
It sounds like reasonably simple selection criteria, but you might be surprised how many items it eliminated. 
27 of the Best Barbie Party Supplies
Yay! Now onto the fun part: the party supplies themselves. I might be a colossal event planning nerd for admitting this, but party supplies make me giddy, and I can't wait to plan a party with them. I hope some of the items on this list make you just as excited to design your own Barbie party!
So you know, these supplies aren't in any particular order. I loosely organized them under types of parties. It isn't absolute, but it'll give you an idea of where to find things. 
Universal Party Supplies
First up is a section for all the supplies you can use, regardless of your celebration's purpose.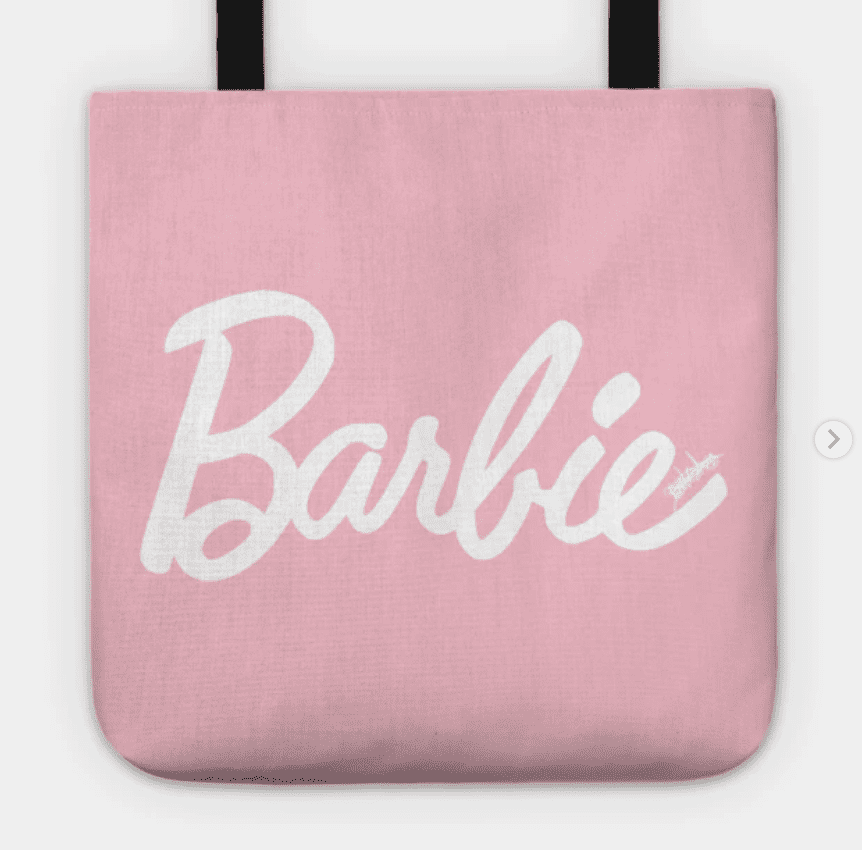 Most of the events I plan are in Vermont, meaning my clients and their events' guests are predictably Eco-conscious. I always expect people to bring their multi-use water bottles, and we always have recycling/compost receptacles in addition to trash bins. One thing that has become increasingly popular is sending guests home with a cloth bag. That is where this Barbie favor bag comes in. It doubles as a favor bag and can be used for years to come.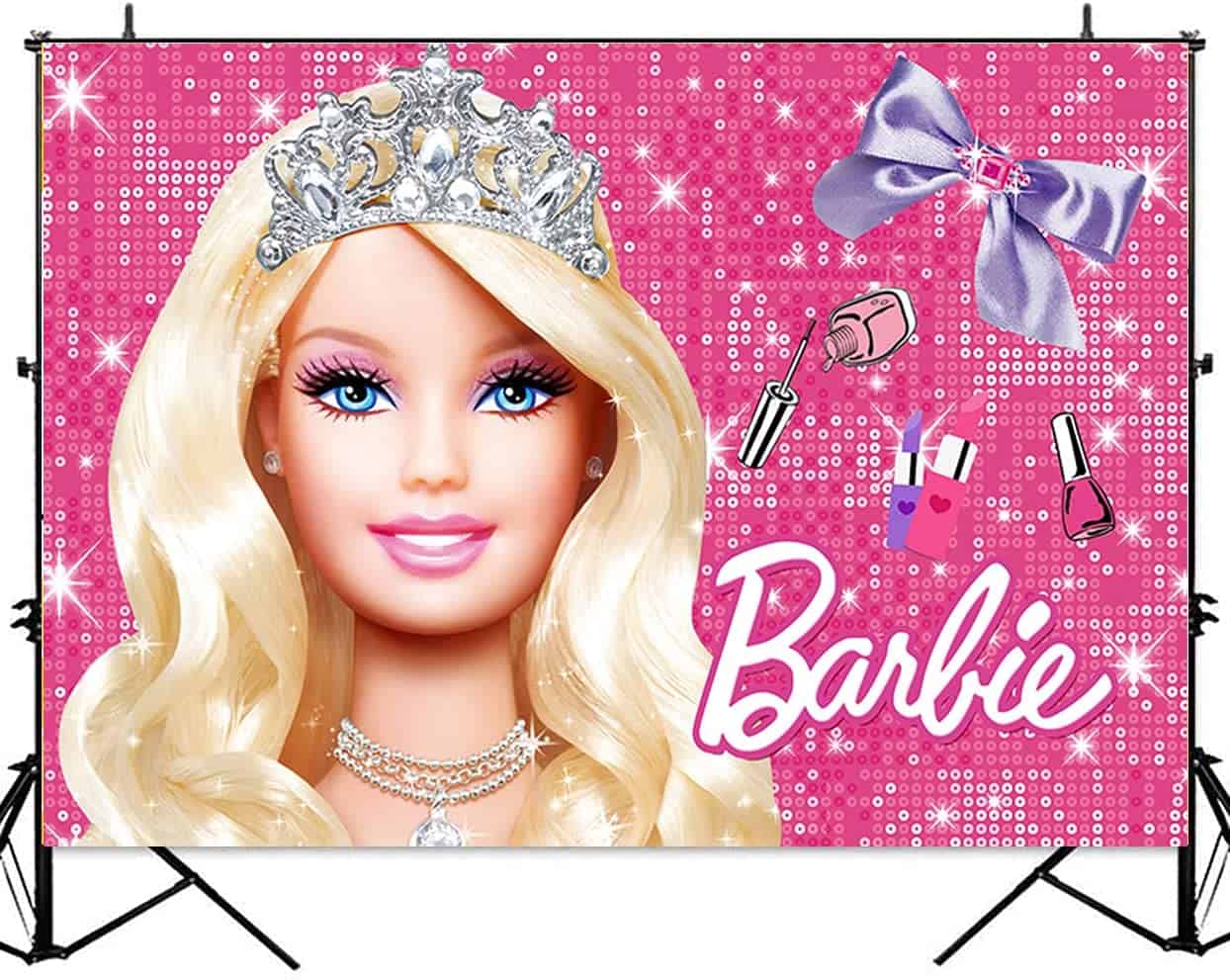 I highly encourage party planners to consider a full-sized backdrop. You can use this large printed backdrop for all kinds of decor during the celebration. They make a great backdrop behind your cake table, dining area, or even as a photo/selfie backdrop. The possibilities are endless. Regardless of where you put it, the background sets the scene and communicates the party theme with little fuss on your end.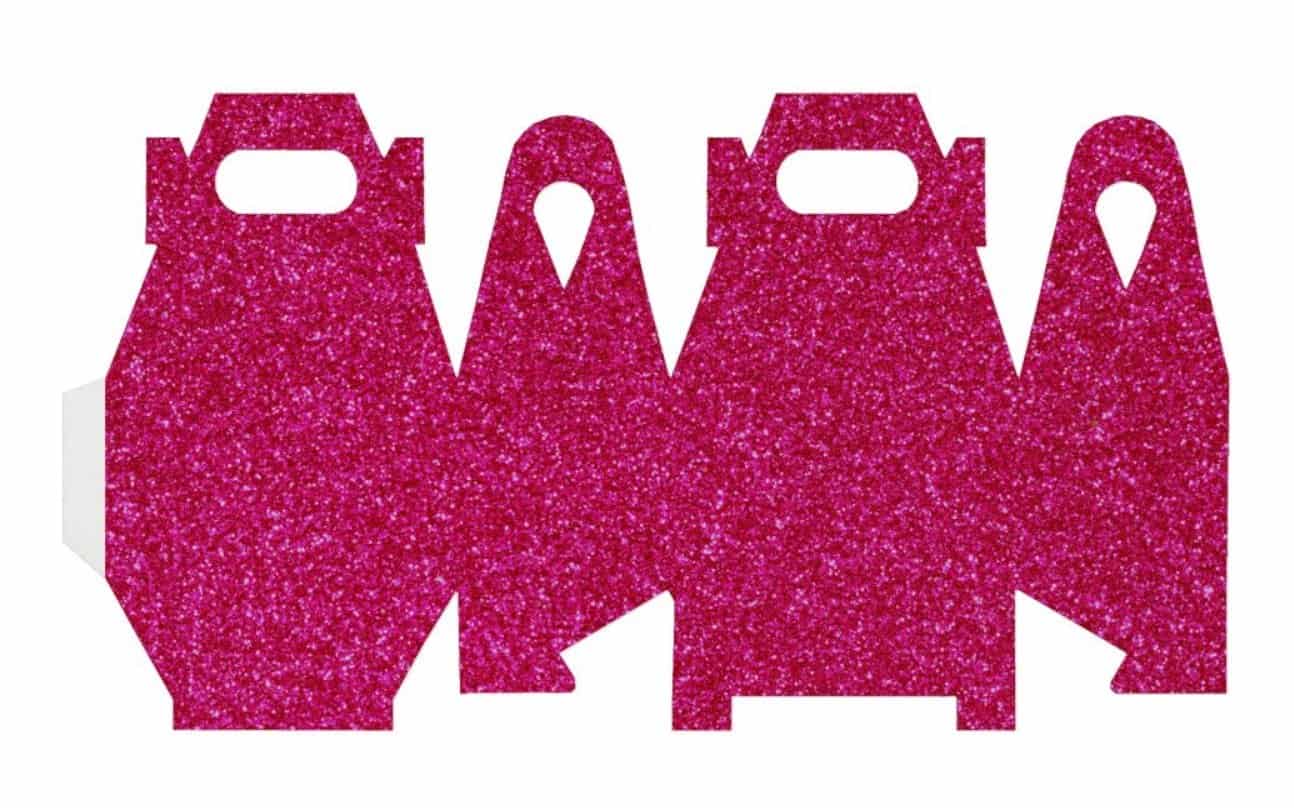 I routinely look for items that indirectly relate to a party theme. By that, I mean I look for things close enough to match the theme, but if you saw them on their own, you wouldn't immediately associate them with the theme. After years of planning, I know adding in a few non-branded supplies goes a long way in preventing guests from getting overwhelmed by the strong prints typically associated with official decor.
That is where these favor boxes come in. Why not package your favors in a print pink, glittery box? It is just extra enough to fit in with any barbie party, and no one will question why it doesn't have official branding.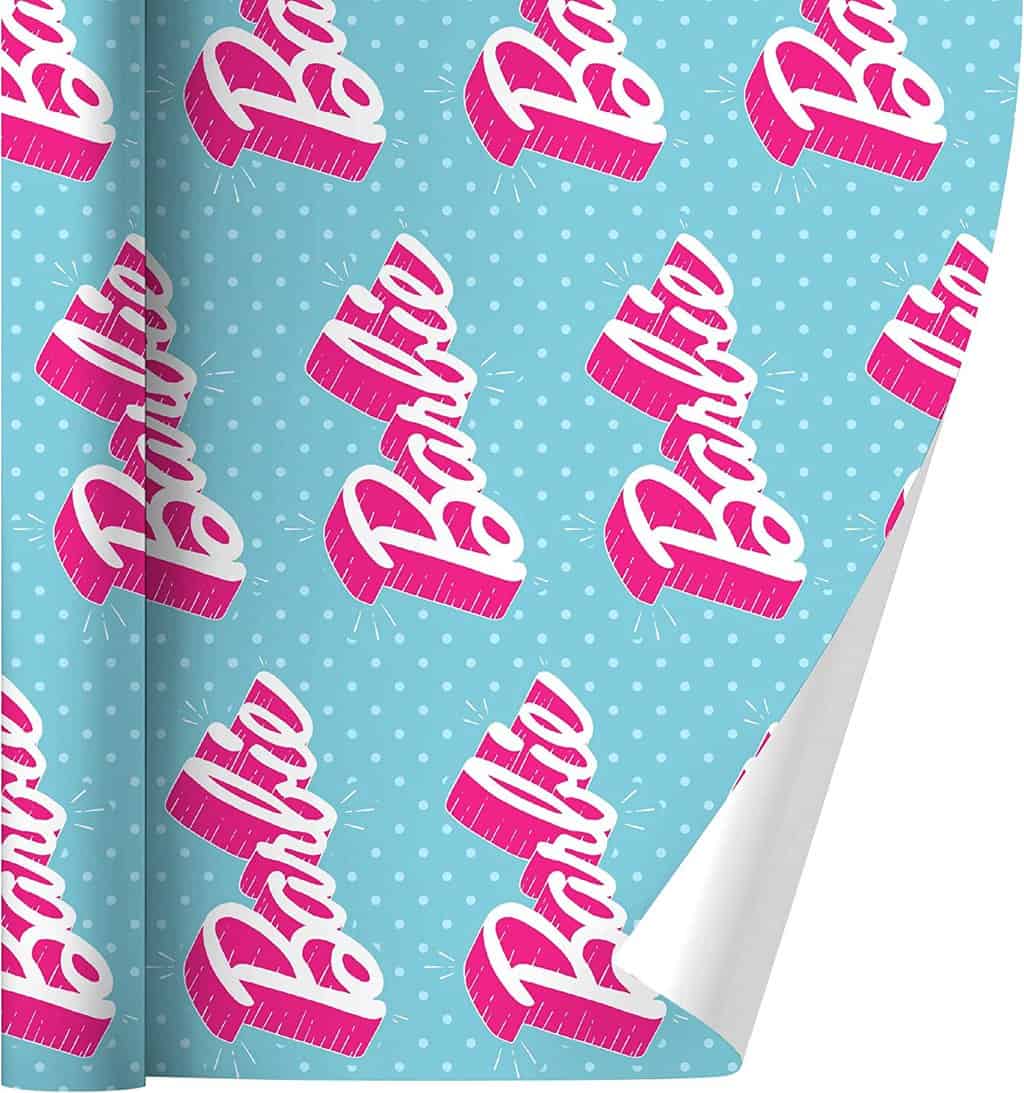 Did you know they made Barbie wrapping paper? I didn't, and I was thrilled to see it available! My event planner mind is thinking of ways to use it in decor. Think giant fake gifts by the photo station, framed pieces on the wall, and wrapping for the guests' favors. I might have to buy it without an upcoming party to oversee.

If we were chatting IRL, I'd start singing, "come on, Barbie, let's go party, ah ah aaaah yeah," on repeat. (It's in your head now, right? You're welcome). That is at least what I started doing as soon as I saw this banner. I love that "come on, Barbie / let's go party" is split into two lines and is spiced up with some pink glitter. It is the perfect banner for any party occasion.
What I love about this option is that you can instantly get your guests into the party mood, and if they are old enough, they might remember that ridiculous Aqua song well enough to turn it into a sing-along. 
I might be a sucker for multipurpose party supplies. This Barbie Cosmetic tumbler from Five Below is just that: it is a glittery tumbler with a lid that you can use many times over for your favorite drinks, and you get themed cosmetics like nail polish and lip balm. Are the cosmetics the best quality? Of course not, but the tumbler more than makes up for it. I imagine these would be a perfect pre-party gift for your bachelorette girlies (to-go drinks for sure!) or a cute take-home favor for any birthday party.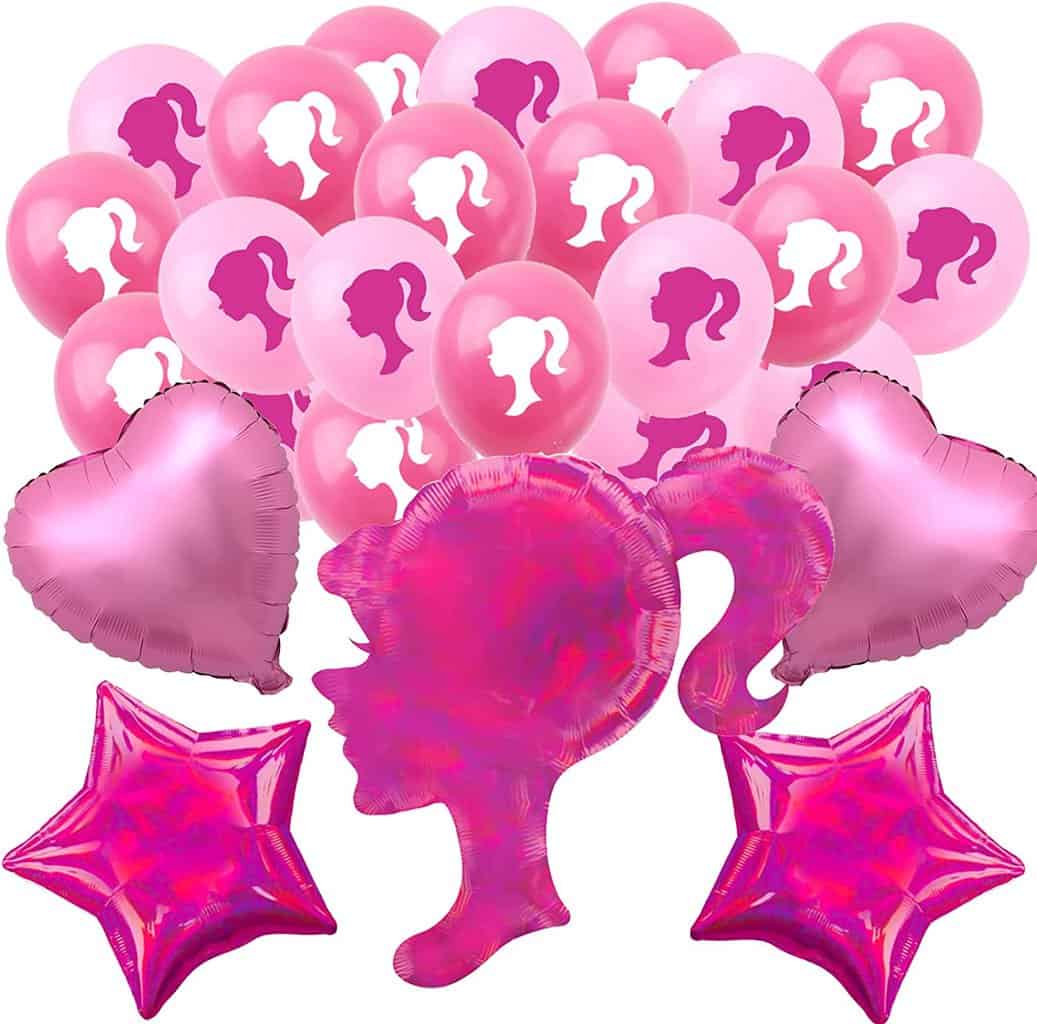 Pink is a must if you plan a Barbie-themed party, and balloons are a staple for almost any party type. Enter: pink barbie balloons. This pack goes over the top and will take care of all your balloon needs in one. It has 24 latex balloons, one barbie silhouette, two stars, and two hearts; all are shades of pink.
The only downside of this amazon bundle is that they are shipped deflated. It makes complete sense, but inflating balloons isn't my favorite (being a nearly weekly occurrence might have something to do with that). Just be prepared to build in the time necessary if you go this route.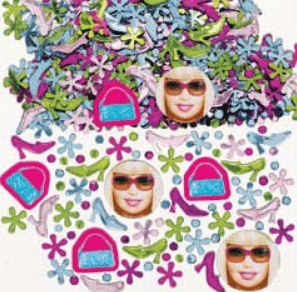 Themed confetti?! What an invention! I love confetti, and you can use it in all sorts of ways: hand-thrown, released from above, sprinkled on a table for added decor, or even stuffed in invitation envelopes. These 1/2-ounce packs contain a wide variety of shapes so that you will get a nice mix of things. My only word of caution is that confetti takes forever to clean up and keeps showing up for months, even after the initial clear.
It is also banned in specific venues. Here in Vermont, a few venues don't allow it at all, and I've worked a few events at outdoor locations that wouldn't allow it if it isn't biodegradable. I say this just as a word of caution; make sure you know your venue's rules and use confetti in a way that isn't too hard to clean up.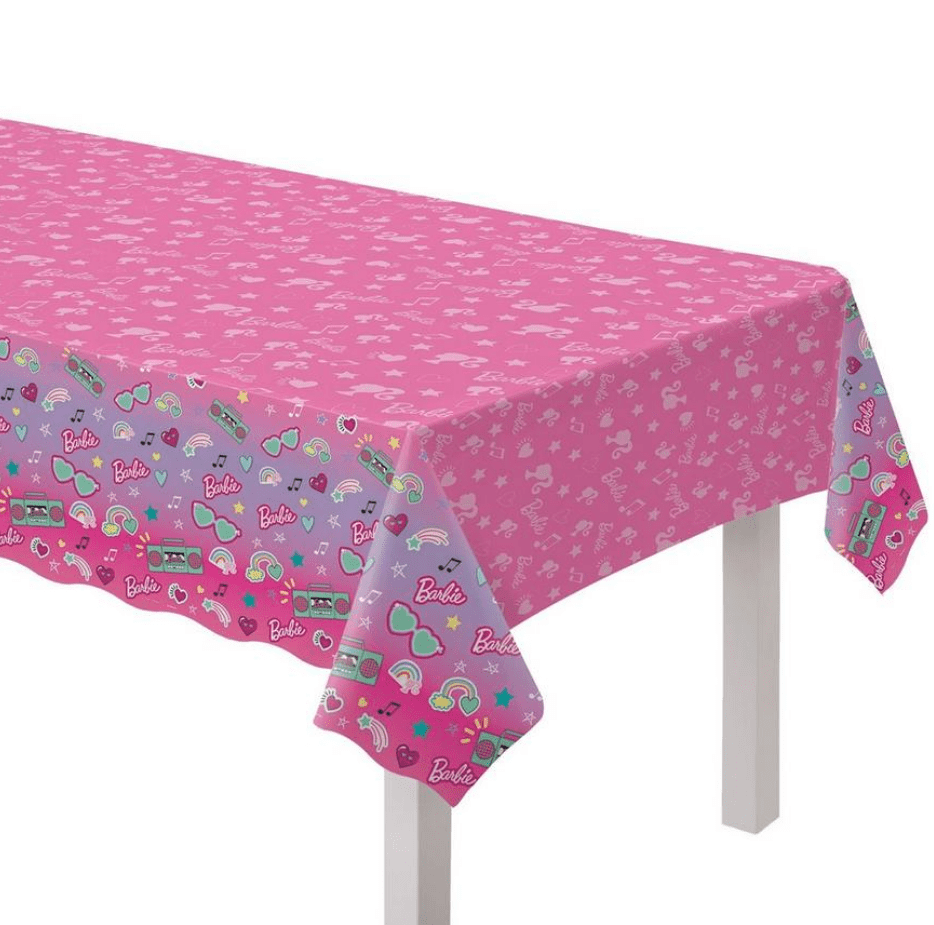 This Party City find is considered officially licensed, which I love. The only downside is how busy the design is; it is a pink backdrop with many little icons on all sides. Looking at it for an extended period of time makes my eyes hurt. It wouldn't be too bad if you plan to have the top of the table covered with gifts, food, place settings, or the like. I must admit that the affordability made me add this particular tablecloth to the list. It is a great price, and I'm always a sucker for a good deal.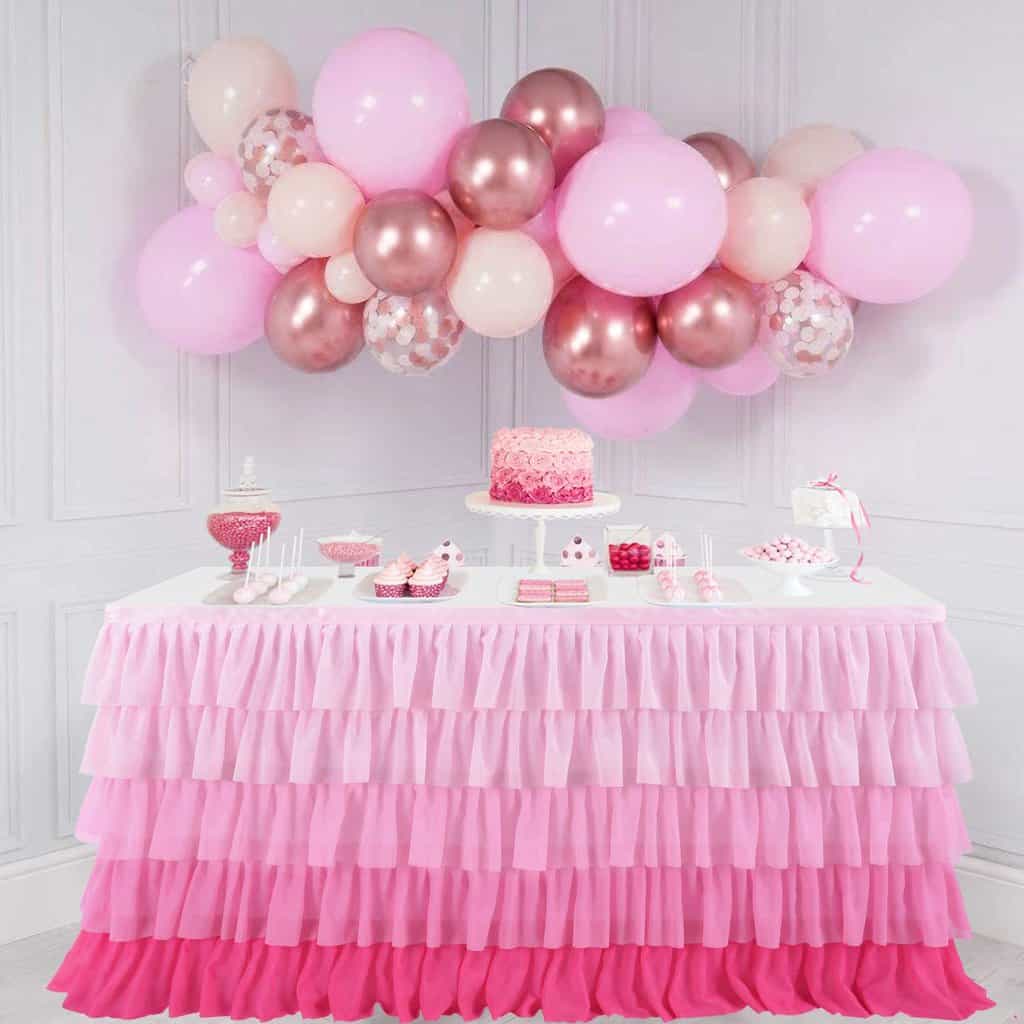 As I mentioned above, many Barbie tablecloths are busy and visually overwhelming. I decided to look for a fabulous option and one that doesn't take away from the other decor. This tablecloth caught my eye as the perfect alternative. The pink ombre layers down the side are free of busy designs, but the ruffle style brings tons of pizzazz that I typically associate with barbie supplies.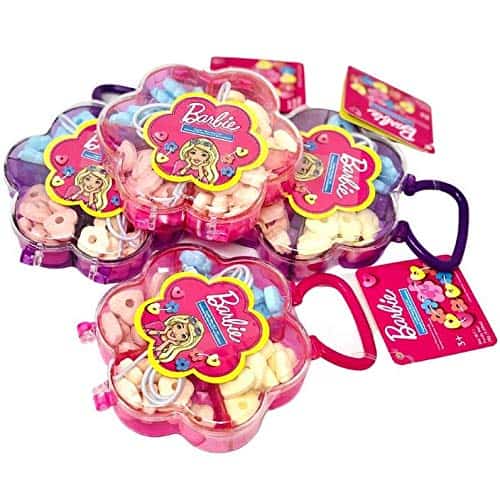 I'm always looking for a way to keep the party going, and one way to do that is to add in themed party favors. These candy favors are not only a pack of candy but also an activity! These flower-shaped kits are filled with candy beads ready to be made into a candy bracelet! Sometimes playing with your food is necessary fun.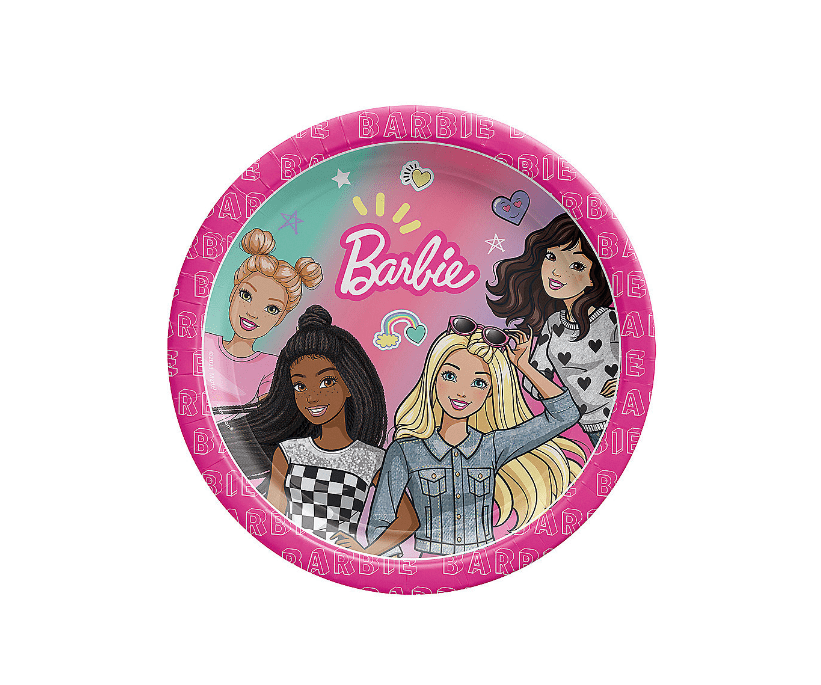 Any party serving food would do well to consider adding in themed dishes. These are affordable, easily purchasable options regardless of what you are celebrating. This particular option comes from Oriental Trading, but you can find the same design at several other large retailers. That availability is precisely why I suggest these; you can routinely find them online and at many major party store locations.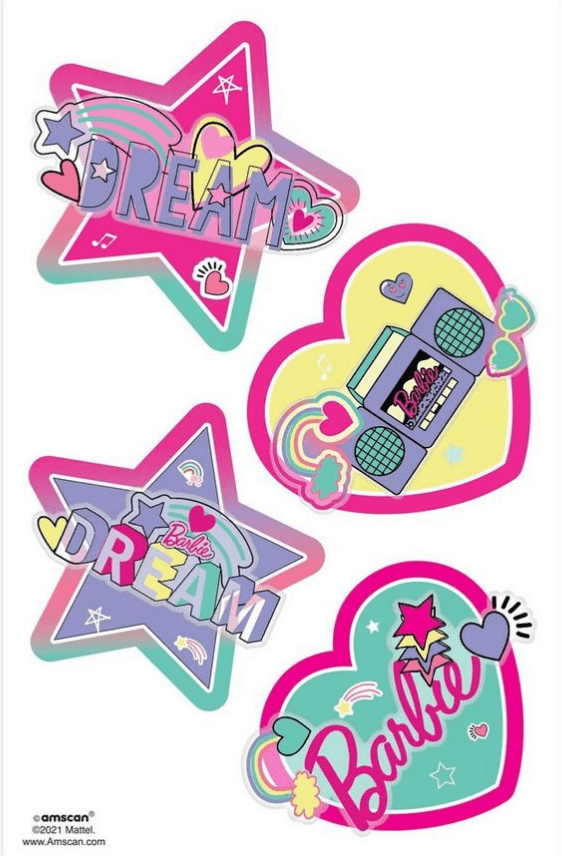 I love tattoos (even if I don't have one myself), so I'm constantly pushing temporary tattoos for all types of events; this includes both as a party activity and as a favor to take home. I usually only recommend temporary tattoos as favors for kids' parties, but I can think of a few people who'd jump at adding them to their Bachelorette Party festivities too.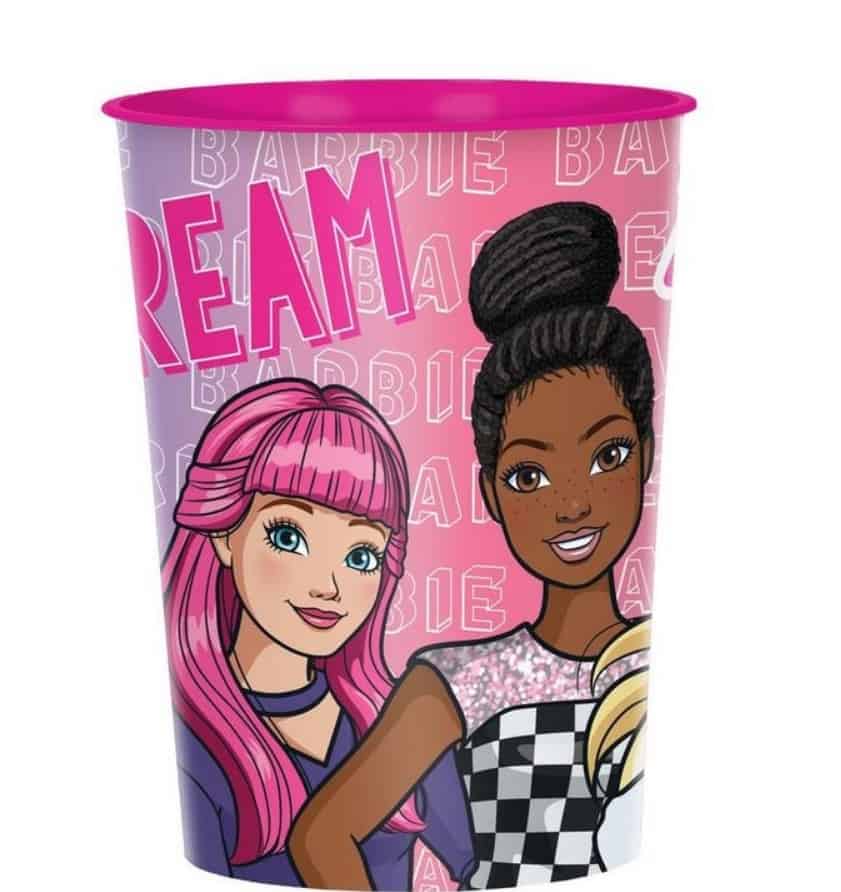 As an event planner, I adapt to the prevailing trends in my area. The most notable trend is providing environmentally conscious events, including party supplies. One way I do that is by trying to offer reusable drinkware. That is where these plastic favor cups come in.
Yes, they can be sent home in goodie bags as a favor, but they'd also be perfect for use during the party. That could mean juice for a kid's party or an adult beverage for events like Bachelorette parties. Whatever it contains, this cup is an eco-friendly way to serve drinks.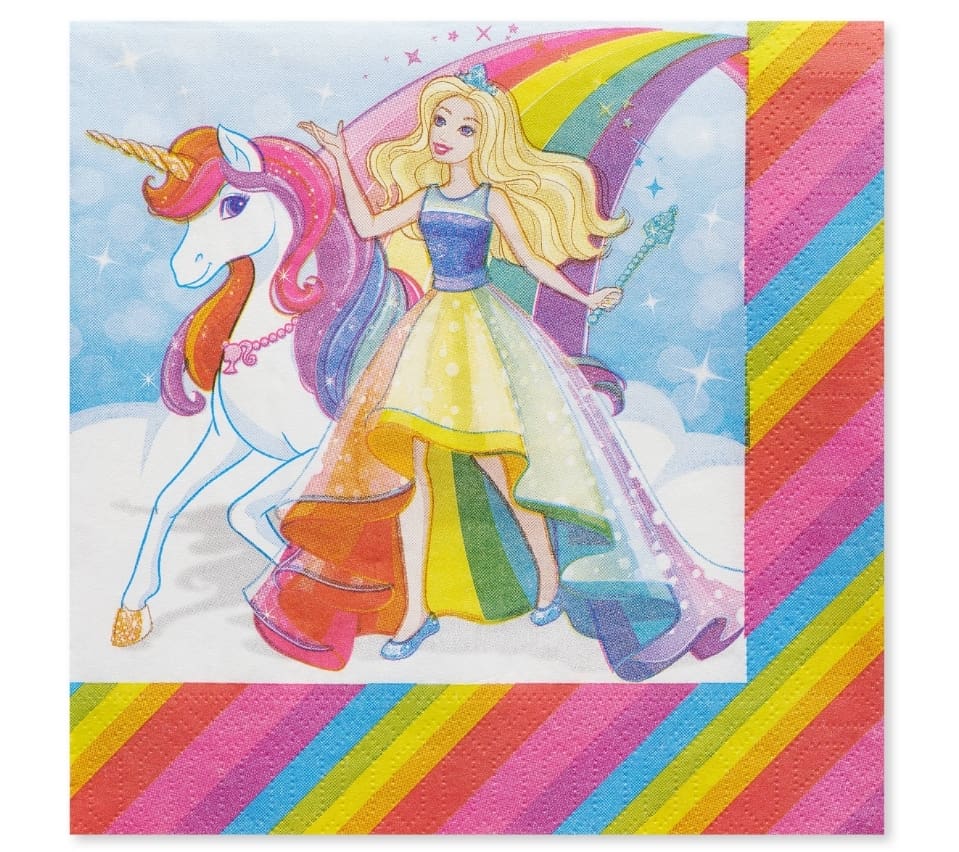 When I see these napkins, all I can think of is Rainbow Bright. That probably dates me, but I can't unsee it. Even if you have no idea what I'm talking about and have never heard of Rainbow Bright in your life, I know you'll still admit that these are adorable napkins. Most importantly, you can use them for any celebration to match your Barbie party theme.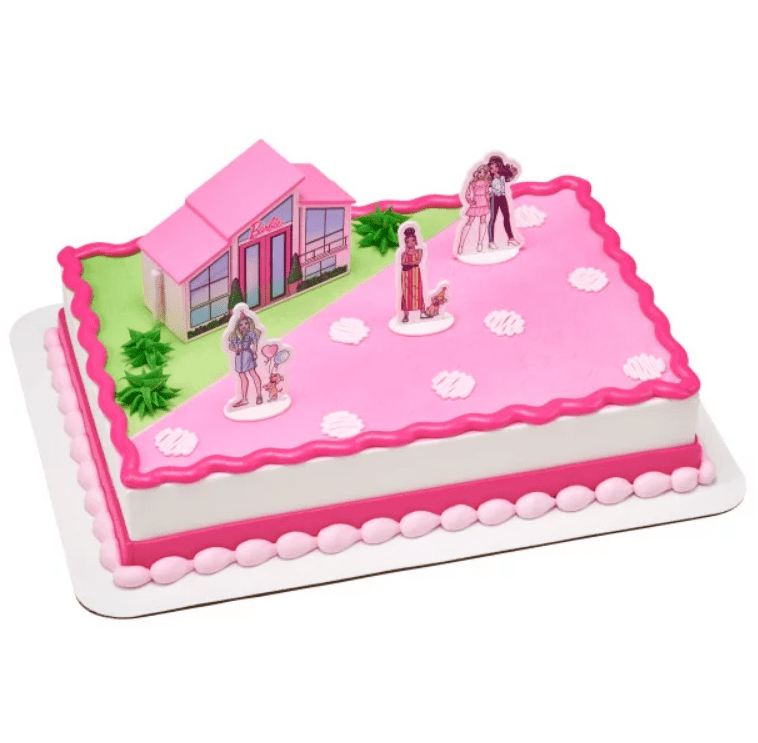 It might be my nostalgia talking, but this is one party supply I got giddy over. I mentioned earlier that the Barbie dream house was THE thing to have as a kid. What I didn't say is that I never got one myself. So when I saw this cake topper set, my inner kid nearly hit "add to cart," even without a Barbie party on the books.
While this addition was personally motivated, a few things recommend it as the best party supply. It is readily available online, maybe even available in-store, it is budget-friendly, and it isn't limited to one party type; you can use it at any celebration you want!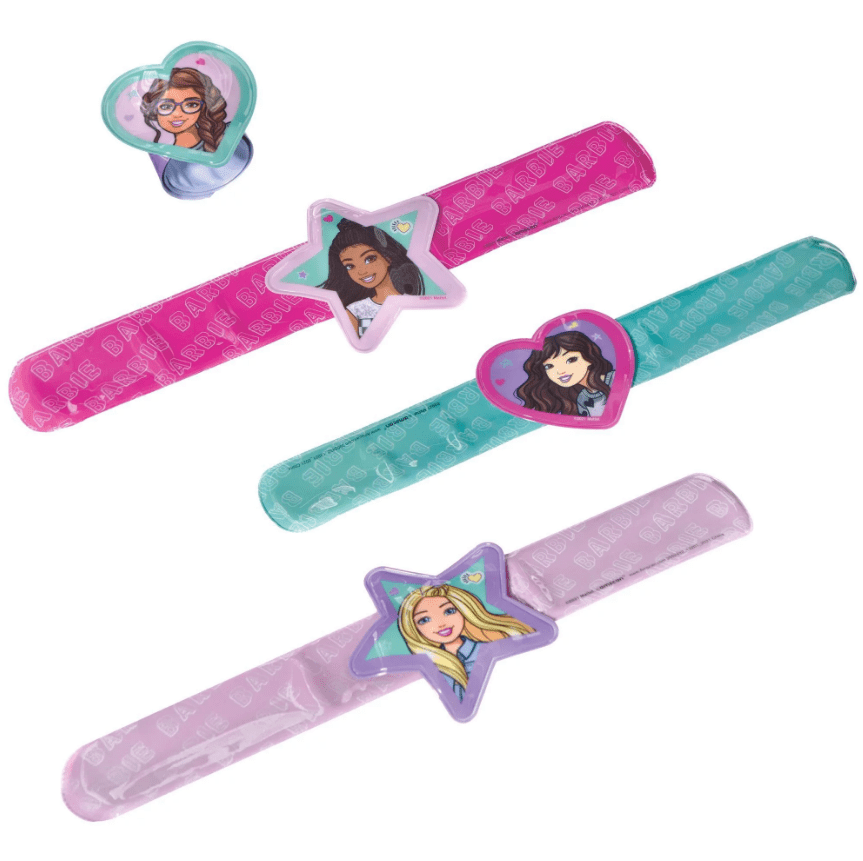 I love that Walmart is selling slap bracelets again. I'd generally suggest them as birthday party favors. Still, those celebrating bachelorette parties and baby showers would be thrilled by the nostalgia—a whole generation of people (old and young) LOVE slap bracelets. If your target audience falls into those categories, add this to your supply list and work it in. You won't be disappointed!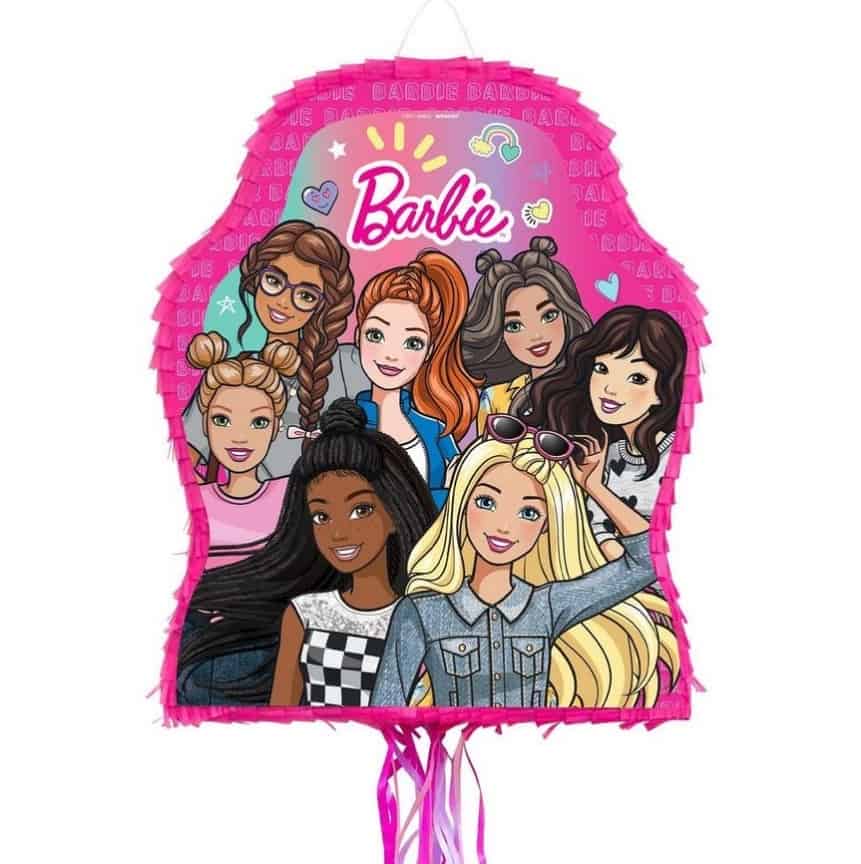 This Barbie and friends pull-string piñata would be perfect for all occasions. Before you think, "but piñatas are for kids," let me stop you right there. Pinatas are for everyone, regardless of age, because you can customize what goes inside.
I've planned parties that use regular candy for a kid's birthday, condoms/party beads for a Greek Life party, and my husband once added mini booze bottles inside to liven up a friend's joint baby shower. Since then, I have firmly believed that piñatas are a hit regardless of the average age of the party guests.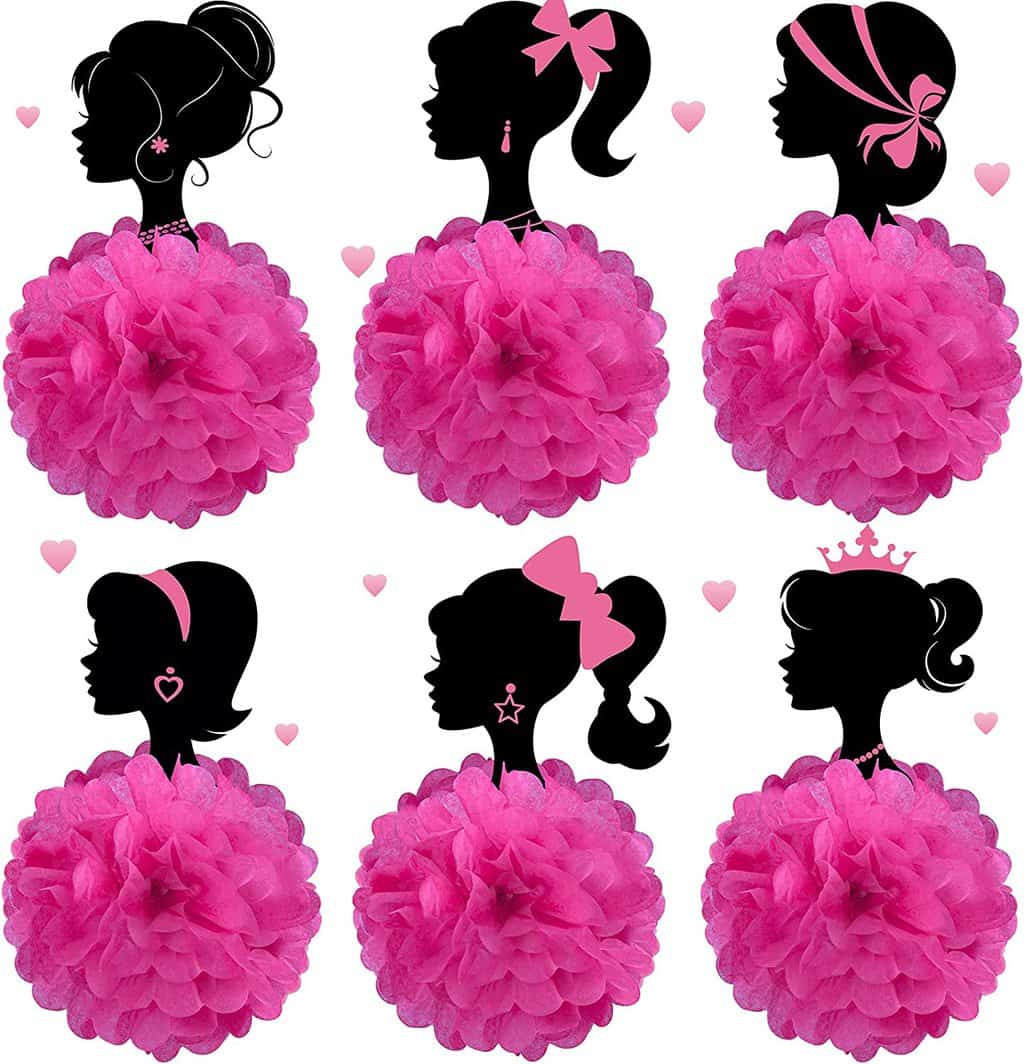 These Barbie centerpieces are perfect for any barbie-themed event that requires tables. They are generic enough that they aren't limited to a specific age or celebration type. That said, I'd recommend these centerpieces for parties with adults in attendance. The reason is simple: kids are notorious for destroying centerpieces while sitting down to eat. Thankfully, these are cost-effective enough that you can risk it. 
Bachelorette Parties
Now onto the themed party supplies; this section is all things Bachelorette parties. I've known a few brides obsessed with Barbie, and this type of Bachelorette party would have been right up their alley!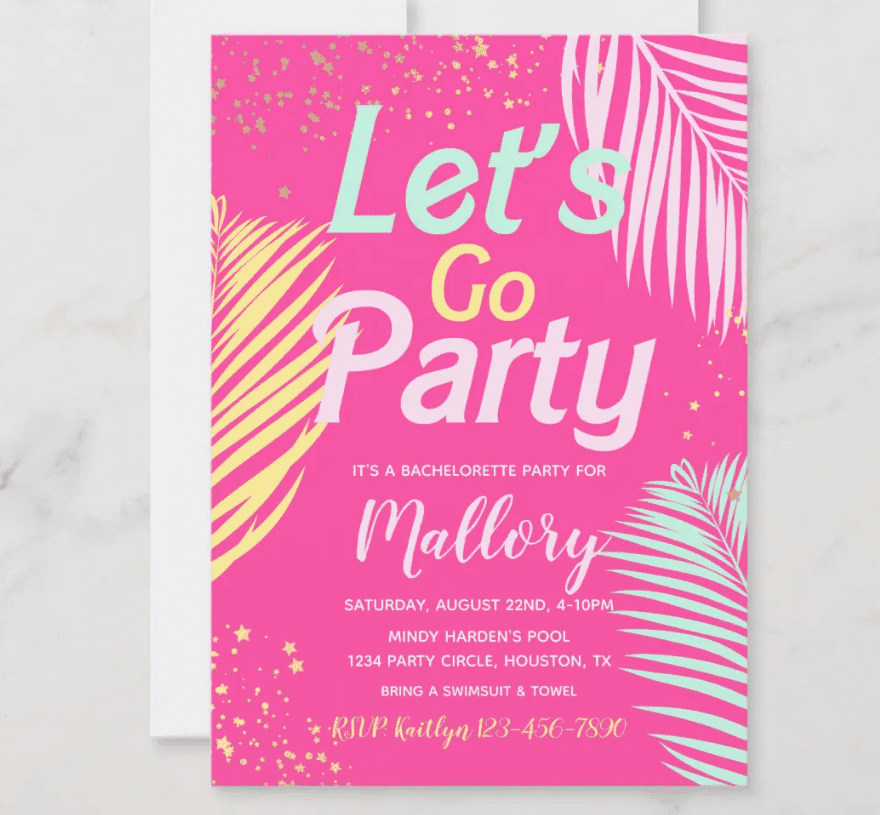 I love that this printed invite allows you to personalize the details while sticking with the Barbie-inspired look. Zazzle enables you to change the guest of honor's name, the date/time, the party location, RSVP info, and even a line for extra info. It is that additional info line that won me over. Never underestimate the power of extra event info on the invitation; it can go a long way to help an event go smoothly.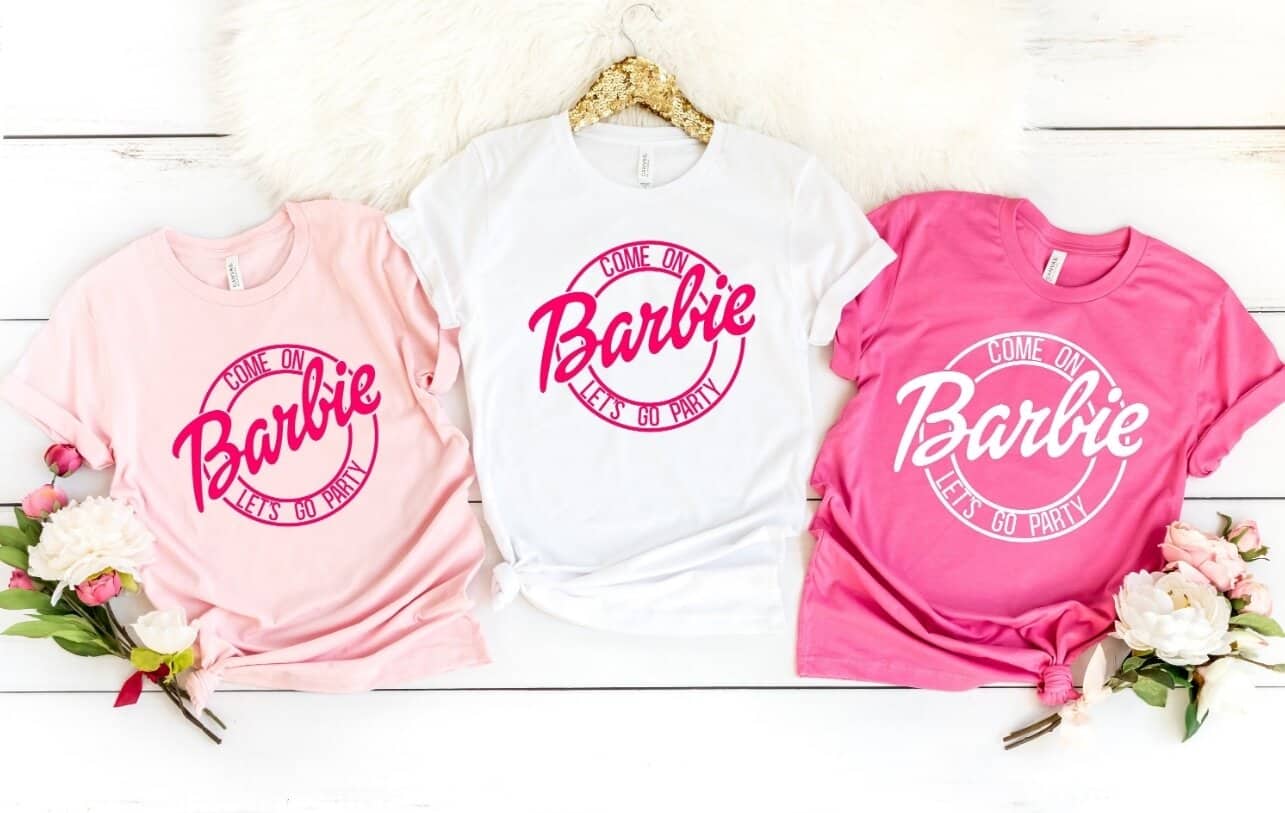 One thing so many of my bridal clients do is order matching t-shirts or tank tops for the bachelorette party. Most are run-of-the-mill and simply say something like "bride" and some other descriptor for the friends in the bride's entourage. However, I'm always encouraging them to be creative and find something that fits the theme. Naturally, I looked for a Barbie-themed bachelorette party shirt and found this gem. 
Birthday Parties
Next up, let's jump into birthday party supplies. There are way more birthday party supplies than any other category, especially for Barbie-themed celebrations. That means this section is much longer.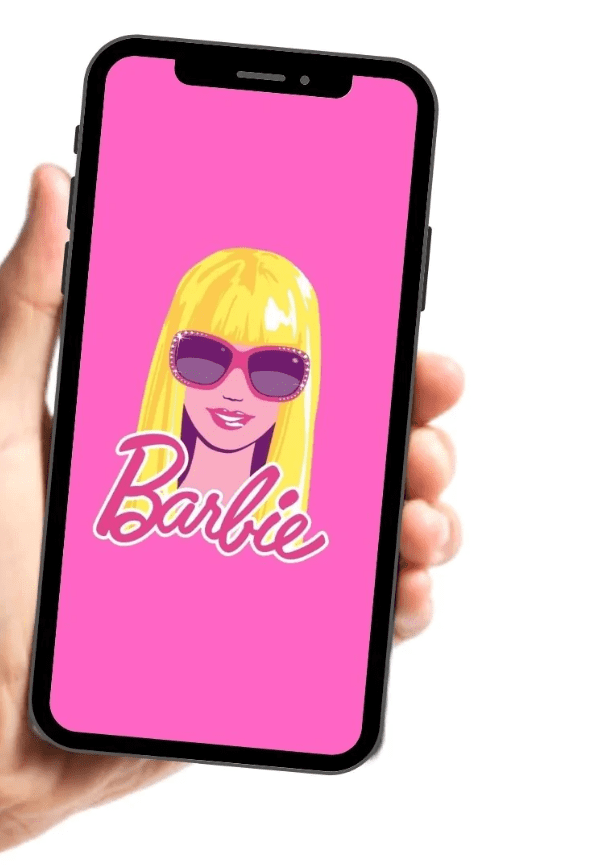 I have to be upfront about this – I picked this digital video invite because of the song. After getting it stuck in my head because of the banner, I couldn't help myself. There are alternatives for those who hate that song. This digital video invite has a song that is much less of a mind worm, so to speak. Check it out here.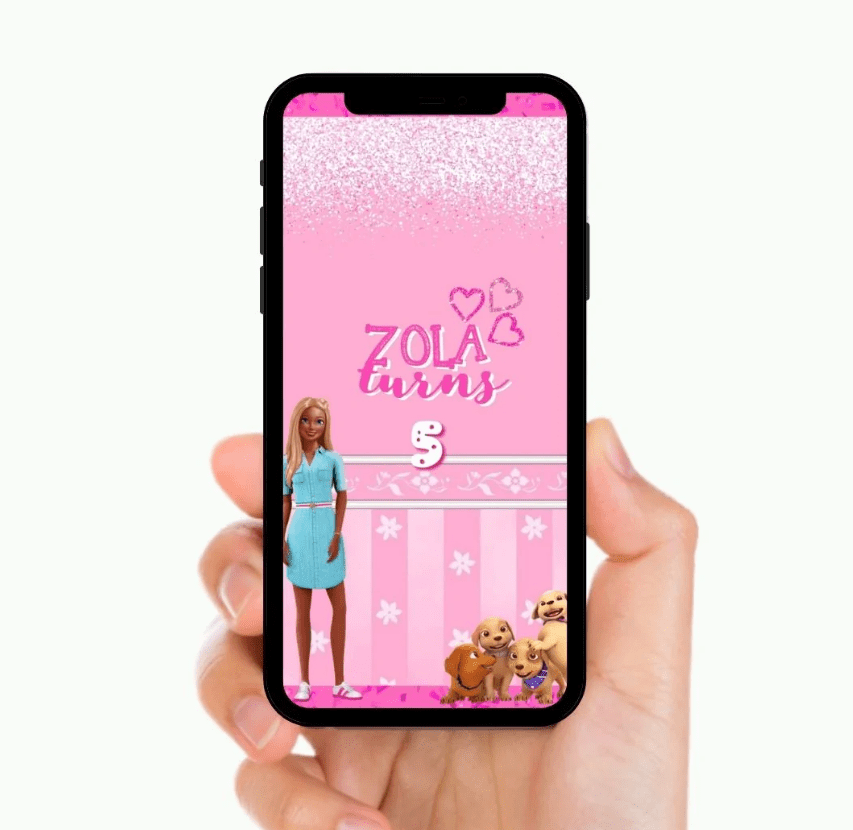 What I love about both options is that they are at the height of the event planning trend (or at least they are in my area). Everyone is jumping on board with themed animated invites that they text or send out digitally to all their invitees.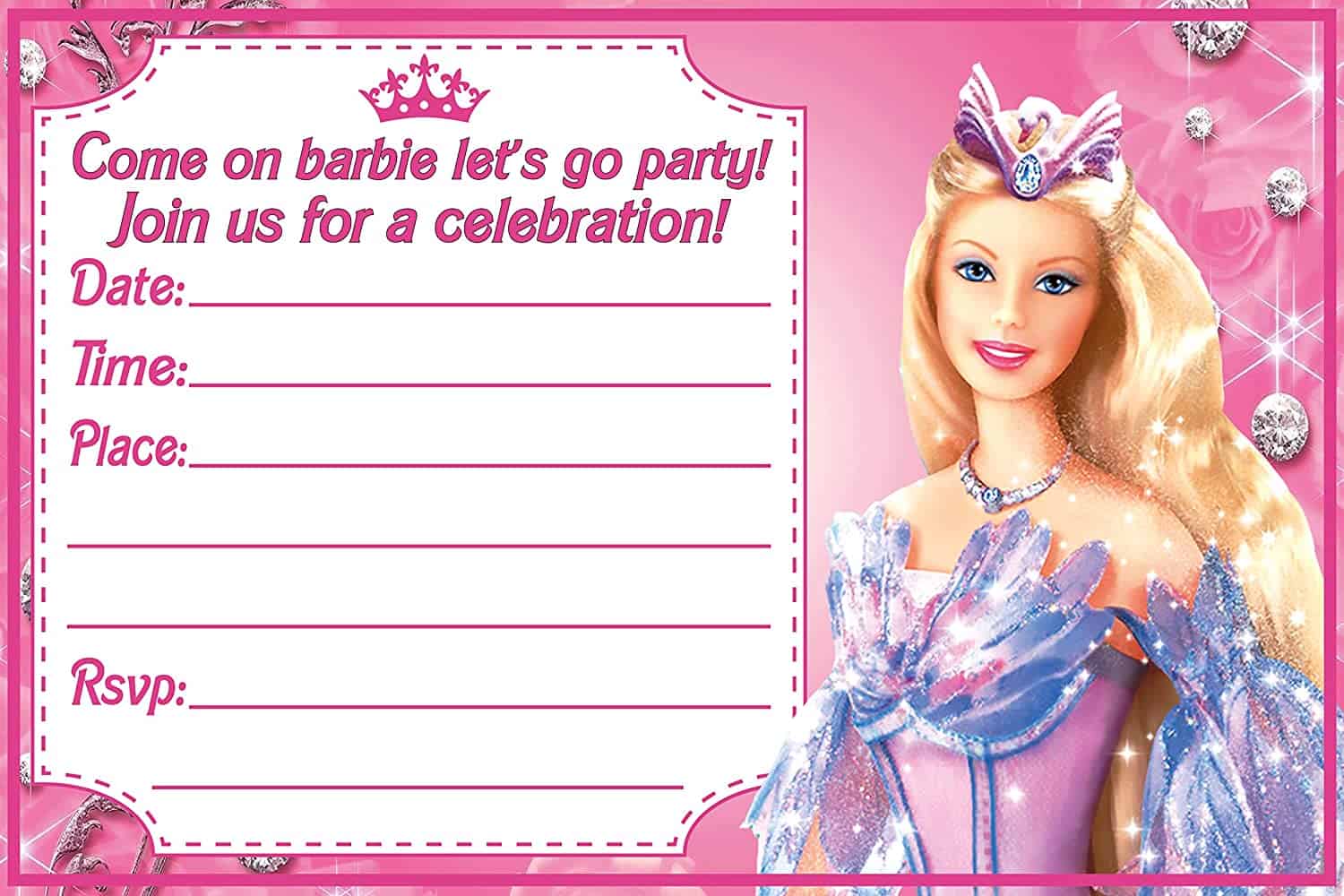 These cute pre-printed invites are perfect for a birthday party. They have room for you to write in all the party details. You might wonder why I added a printed invite when I just talked about the digital invite trend. I'll tell you, there is a small anti-digital movement in event planning.
It is reviving the use of analog elements such as no-social media events or printed invitations that are mailed through the post office. To honor this counter-trend, I added the hand-written version of printed invites. It is a way to stand out by sticking to a fading tradition.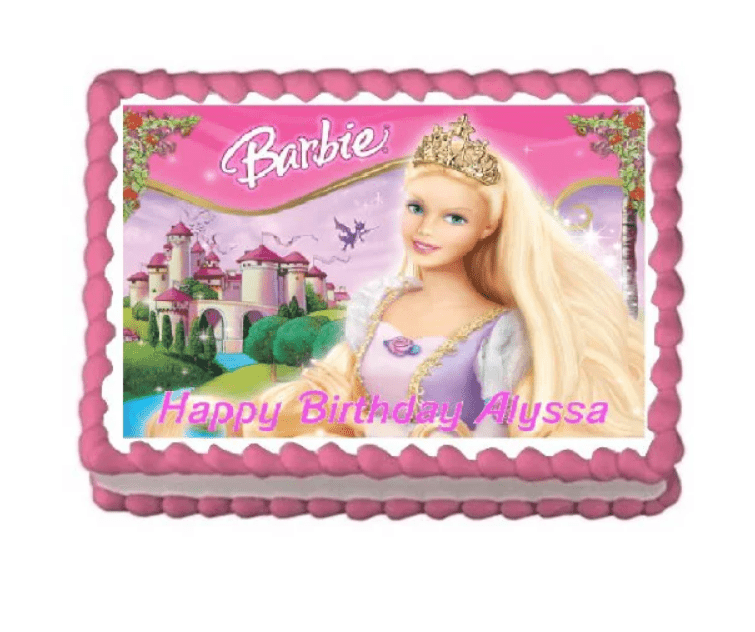 I love edible images as an option for cake toppers. This option in the picture shows the rectangular sheet cake option, but many different sizes and shapes are available via Walmart's website. I picked this particular one because it appears you can have it customized with the birthday person's name. Personalization goes a long way; I can't tell you how often people are thrilled to see their name on a cake.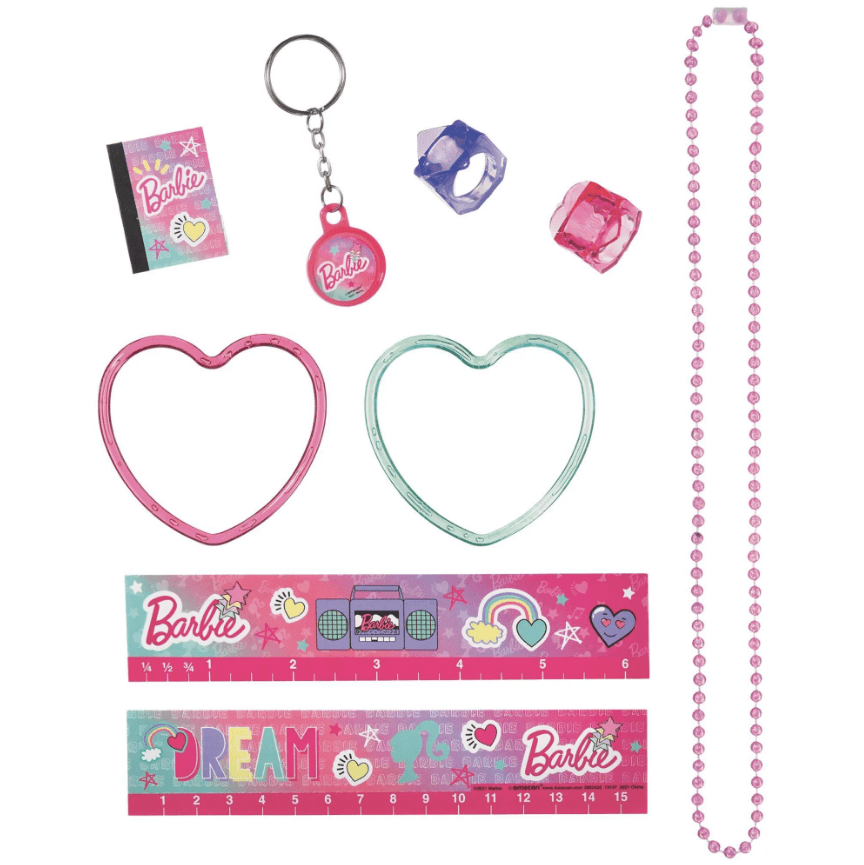 Bundles are one of my favorite go-to items for event planning. I love that they help streamline the planning process and reduce the time and mental stress required to check something off your list. This giant mix of Barbie party favors is fantastic because it adds a vintage throwback flare. There are gelly bracelets, chunky plastic rings, keychains, rulers, etc.
If you grew up in the 80s or 90s, you know this is what you'd put in your goodie bags as a kid. If the nostalgia wasn't enough, the pack has 48 pieces total, so you can make a substantial number of birthday gift bags without breaking the bank. So to recap, it saves you time and money and might evoke positive memories for some of your guests (or their parents).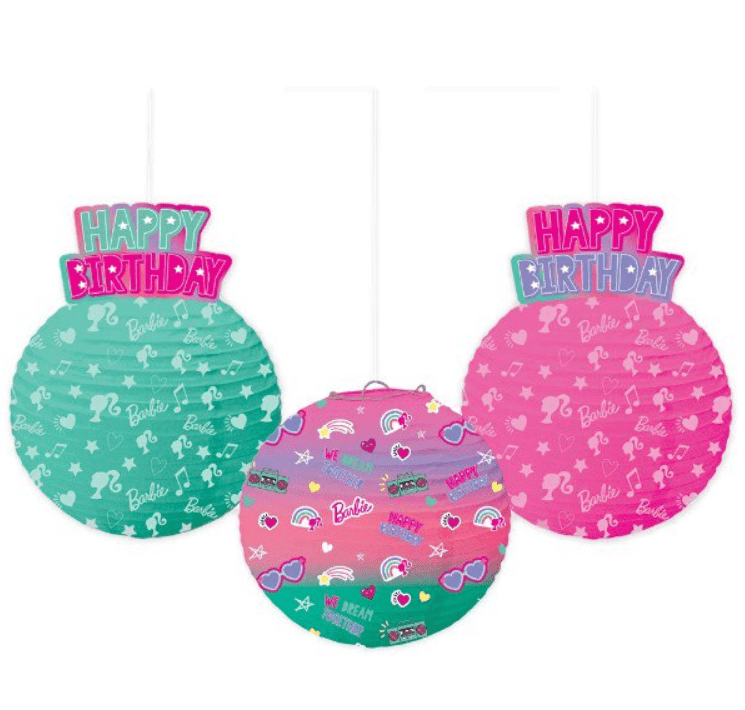 Themed paper lanterns aren't an everyday occurrence in the event world. I've decorated with all manner of colors but never a themed paper lantern. They are relatively hard to find for most themes (unless you DIY). That's why I couldn't resist adding this product to the list! They'd be perfect for any birthday party where you want to do something a little different. 
Baby Showers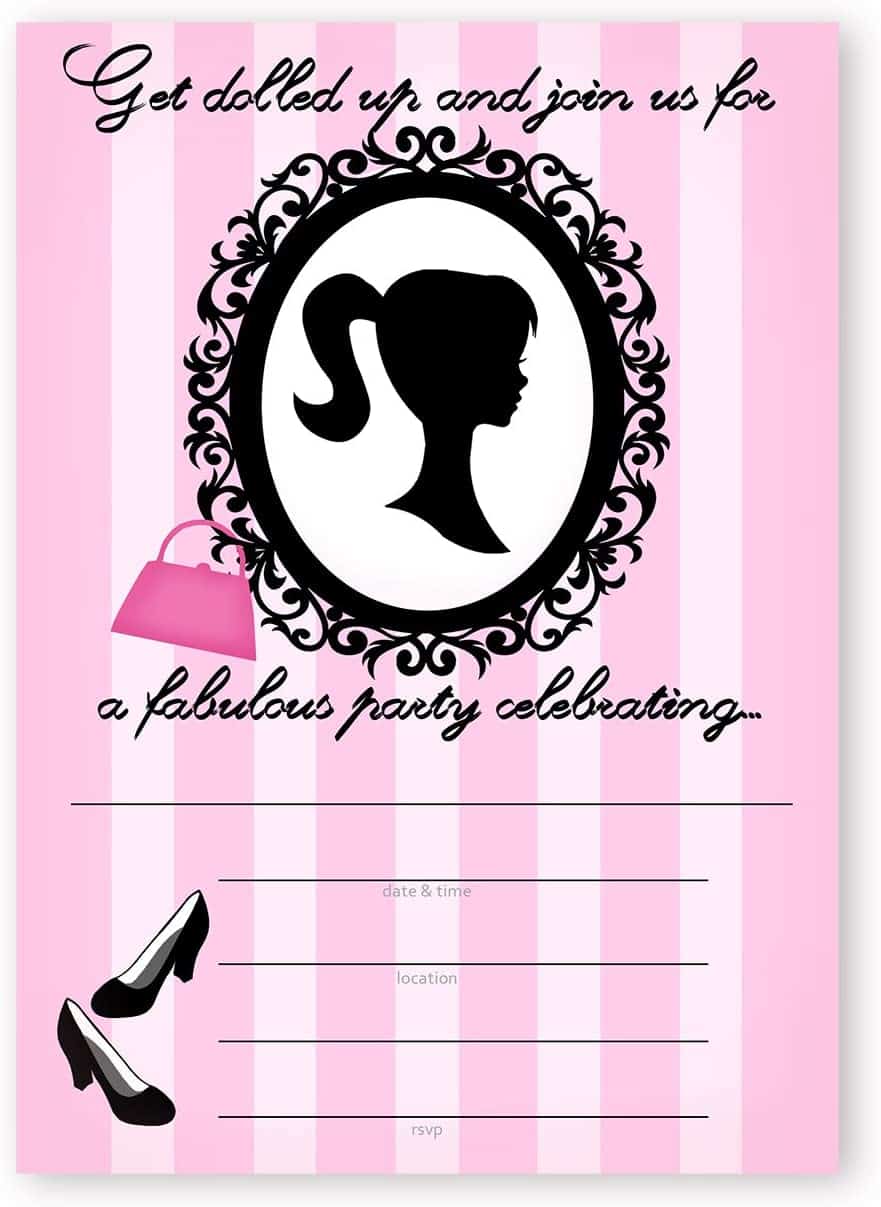 Finding pregnant barbie invites is nearly impossible. It isn't something the Barbie brand necessarily sanctions, though they do have pregnant barbie dolls now, so maybe it is just a matter of time. Regardless, there are generic invites available. This invite would be great for any mother-to-be that loves Barbie or someone who is having a little girl.
What I love about these particular invites is that you can hand-write what you are celebrating and all the party details. I know hand-writing is old school, but in this case, it gives you so much freedom.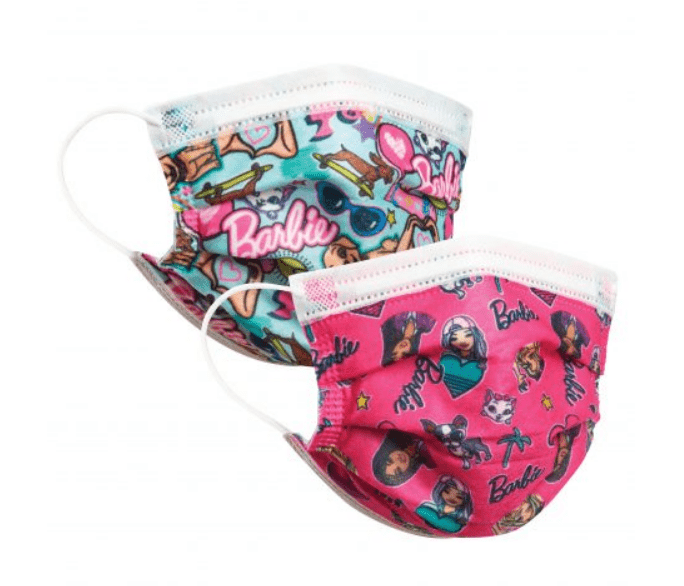 I'm planning a baby shower right now, and one thing that came up was the request that all participants still wear masks, regardless of vaccination status. I know that might be controversial in some areas and for some people, but in my experience, it is a very reasonable ask when the guest of honor is immune-compromised. Expectant mothers are more susceptible to disease than their non-pregnant counterparts.
Not only that, but they can't take all the usual medications when sick. So why not protect the momma-to-be with a mask appropriate for the barbie-themed shower? This pack of single-use face masks is from a site specializing in face masks, but the same group of designs is also available at Walmart. It is something to consider offering to guests if your guest of honor requests it.
FAQ
Question: How do I go about planning a Barbie Party?
Answer: Planning a Barbie-themed party is a lot like planning any party. First, you have to determine the party's purpose; this means determining if it is for a kid's birthday, bachelorette, baby shower, etc. and who the guest of honor is. I'm guessing you already know that.
Then you need to determine the date and location; you can evaluate those around the same time. You'll also need to select the party size and how many people you want to invite. These basics will give you the foundation you need to start ordering the correct number of supplies within a reasonable timeframe before the party. 
Question: Why pick a Barbie-themed party over another theme?
Answer: If the guest-of-honor is a fan of Barbie, that is enough reason. But if you need convincing or help to decide between two themes, let me give you some additional reasons to choose a Barbie theme for your next party. In addition to being a long-standing favorite, there are some practical reasons to choose this theme.
First, Barbie's years of popularity mean that party supplies are readily accessible, and items will be available for all price points. Your guests will instantly recognize the theme; almost everyone knows BarbieBarbie. And finally, you can use the theme for all types of celebrations regardless of age or reason. All this to say that choosing a Barbie-themed party is an excellent option.  
Question: How do I know if it is official Barbie Merchandise?
Answer: It can be hard to tell what is official Barbie merchandise and what isn't. I've found that the larger chain retailers always seem to carry Barbie party supplies that Matel officially licenses. Small retailers can have several options too, but it isn't as common. Some will specifically say that they use formally licensed materials.
The product wording gives it away; look to see if they use the word Barbie in the listing title. If they only use related words (such as doll theme, Malibu, dreamhouse), then you can assume it is not official. That roundabout language is their way of avoiding copyright infringement issues. Choose wisely. 

Conclusion
If it weren't clear, my pick from the party supply guide would be the Dreamhouse Cake topper. I mainly picked it because Barbie Dreamhouse was the envy of many girls growing up (myself included). Personal attachment helped it skyrocket to the top of the list, but it first had to meet all my criteria. This cake topper fits all my criteria perfectly. I can easily order it online, it is affordable, and I could reuse it for all celebration types. I could even clean them up and use them as kids' toys after the fact.
There are so many excellent Barbie-themed party supplies out there. Let me know your favorites and add them to the comments below.
Recommended Reads: