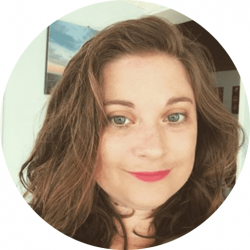 Latest posts by Samantha Bellinger
(see all)
My nephew is obsessed with all things sharks, and I mean OBSESSED. He can talk your ear off will all things sharks; this includes the Baby Shark song. That song will be stuck in my head for weeks after spending a weekend with my nephews.
As a professional event planner, it is only natural that I'm always thinking about how I can turn my nephew's interests into fun party ideas. One way I do this is to monitor the party supplies available for any theme. I have a running shark party supplies list for him, and I'm excited to share the Baby Shark items with you.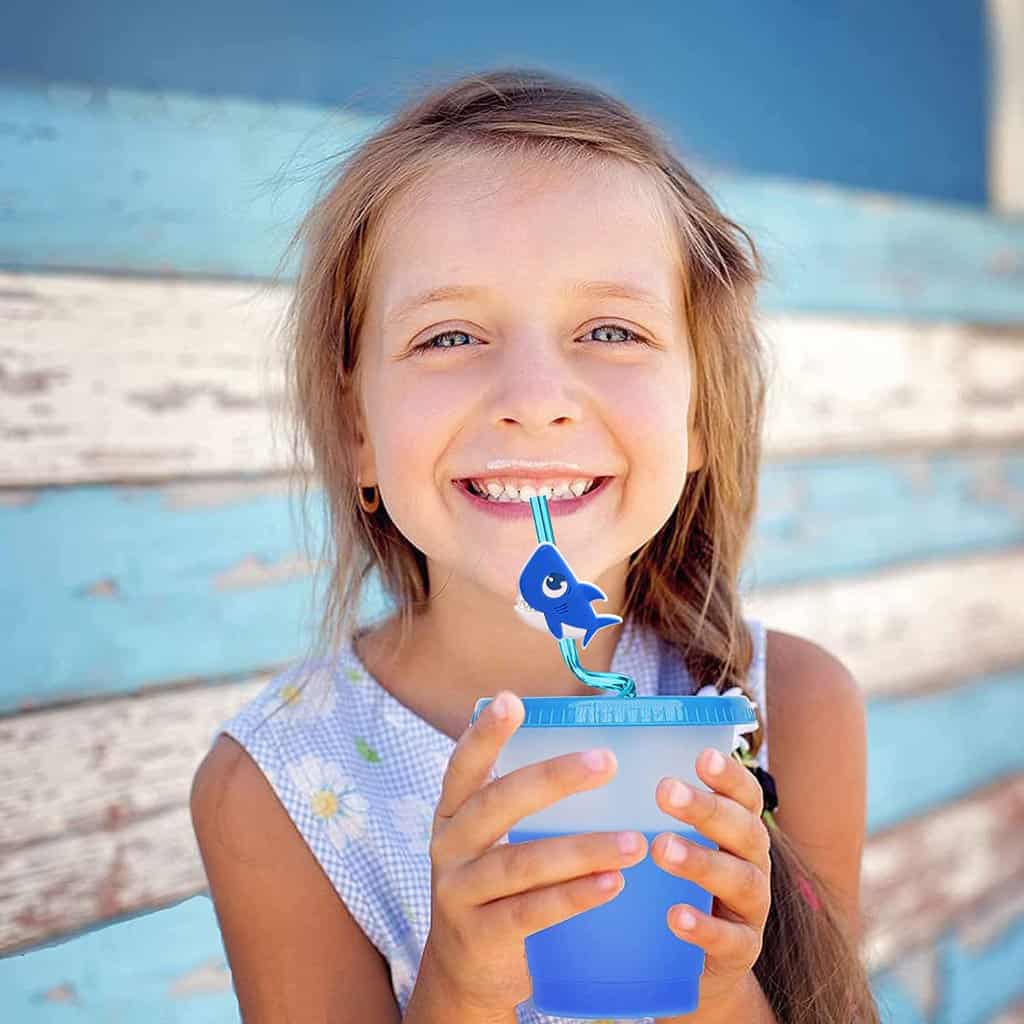 Things to Consider
Before we jump into the fun list of supplies, there are a few things you need to consider when planning a Baby Shark party. They aren't as fun to think about, but I assure you that determining the answers to the following early in the planning process will make your life easier. Namely, it'll help you decide which supplies are suitable for your party and how much you need to purchase. 
When/Where Is the Party
Whenever working with my clients, I make them come up with a general location and time of year. From there, we can narrow down the specific day and place to hold the party. Typically, that decision happens simultaneously and in one of two ways: 1) you find the place first and then select the date depending on availability, or 2) you determine the date and then find somewhere available on that day.
Sometimes there is back and forth until you make that final decision. Regardless of your decision process, remember that picking the when and where of a party is necessary, especially when you need to decide on and order the appropriate party supplies. Trust me; when you get to the list below, you'll be glad you already know when you have to place your order and where to ship it. 
Size of the Party
Another vital piece of information to decide is the size of the party. How many people do you want there, and how many does your location fit? For kids' parties, there is an extra layer to this conversation. Are you including the parents, siblings, and family members that might tag along with the invitee? Are you asking them to RSVP, too, or just planning for a few extra?
Think these questions through and figure out a rough estimate of how many people. The number doesn't need to be exact, but the estimate will help you determine the quantities of supplies you'll need.
Age of Attendees
I have to admit that the age of guests doesn't always factor into party planning. However, I found it oddly helpful when planning kids' parties over the years. It mainly comes into play when you need to plan developmentally appropriate activities and purchase related supplies. For example, I'd never give a 2-year-old a pair of scissors for a party-themed craft activity.
I'd also plan more advanced activities for a group of 9-year-olds than a group of 4-year-olds. Regardless of how old your guests might be, ensure the party activities and goodies are appropriate for the age group. 
Bottom Line Up Front
The amount of Baby Shark party supplies available is impressive. You type "Baby Shark party" into your favorite search engine and be prepared to be overwhelmed. Hopefully, this list will help to quell some of that overwhelm and set you on the right track while planning.
Out of all the Baby Shark Party Supplies, my favorite is the Shark Platters (#8 on the list). It is memorable and affordable, plus you can reuse it long after the party is over. Most of all, my nephew would go crazy for these. I've already ordered them for his birthday, which isn't until five months from now.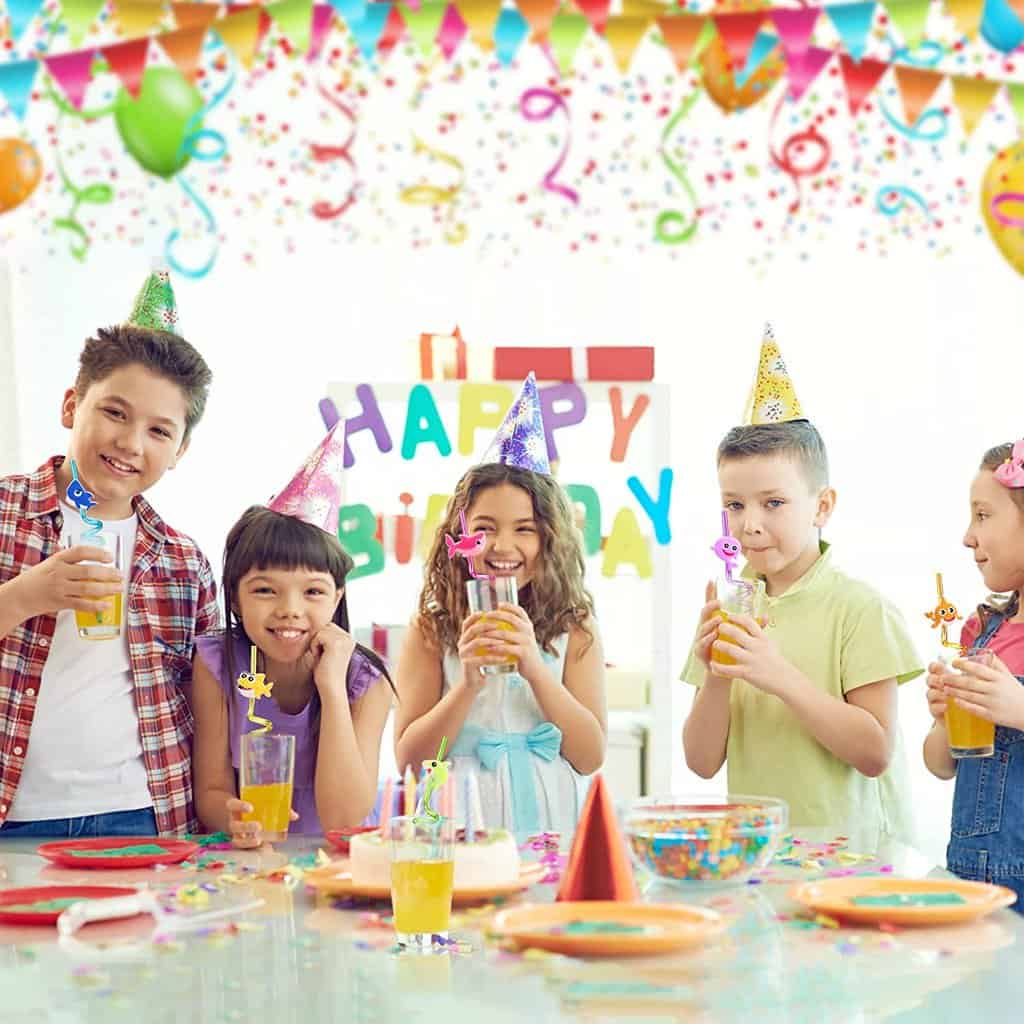 Selection Criteria
My selection criteria for this Baby Shark party supply guide were reasonably straightforward.
My nephew would love it (this is my primary criteria)

The supplies were readily available

They were relatively affordable
Now that you know how I decided on which Baby Yoda Party Supplies to include, let's jump right into the ideas.
23 of the Best Baby Shark Party Supplies
Now onto the fun stuff. Below are numerous options for the best Baby Shark Party Supplies.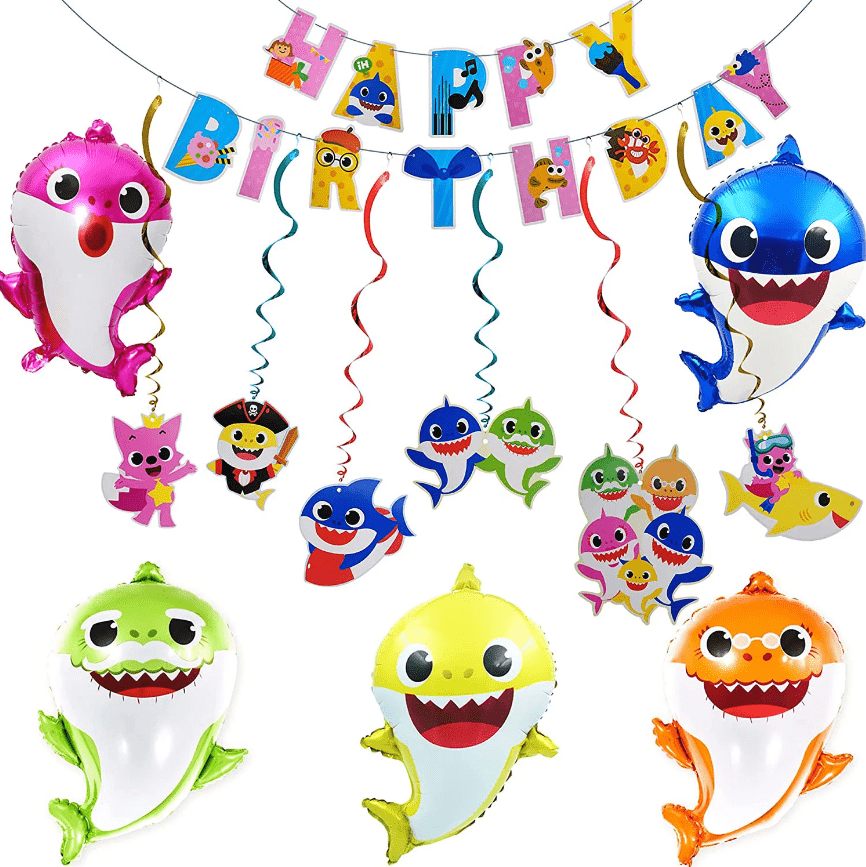 Whenever I plan parties for busy parents, one thing is first and foremost in my mind: how do I save them time, money, and mental stress? My go-to answer is bundles. Walmart offers a decoration kit with all sorts of decorations (shaped balloons, a birthday banner, and hanging decorations). I think it is an excellent one-stop-shop option for busy parents. It is a no-brainer for my mom-friends, so I thought you might love it too.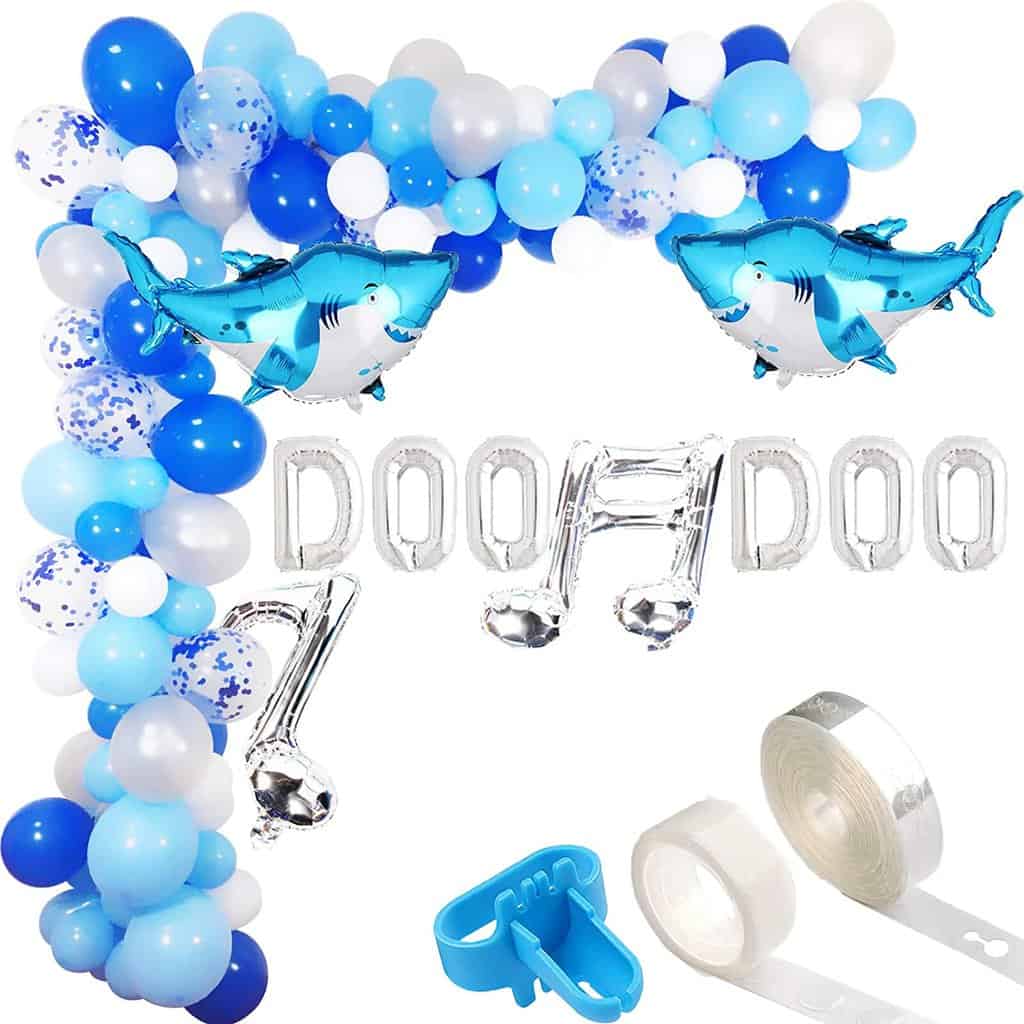 Balloon garlands and/or arches are a great way to provide an impressive display while honoring a theme. This amazon version has latex balloons and a few Shark-themed balloons. I picked this option out of all the possibilities because the reviews mentioned that it was easy to assemble. That is a rarity. I've put together my fair share of balloon kits, and ease of construction is one thing that is usually lacking for garland kits.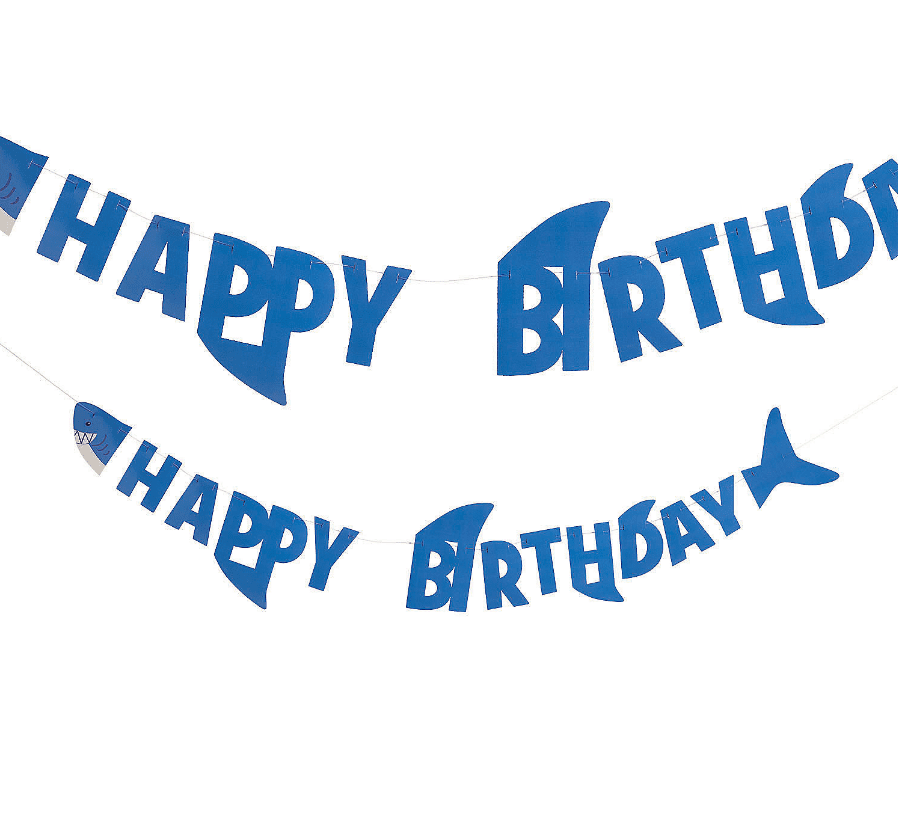 How cute! A happy birthday sign that is meant to look like a shark! My nephew would flip if he had this. Knowing him, it'd end up in his room year-round. Even if your little guest of honor isn't as obsessed as my nephew, this shark birthday banner is still the perfect addition to a birthday party. I can't get over that they add a shark fin on some of the letters for added effect — just adorable.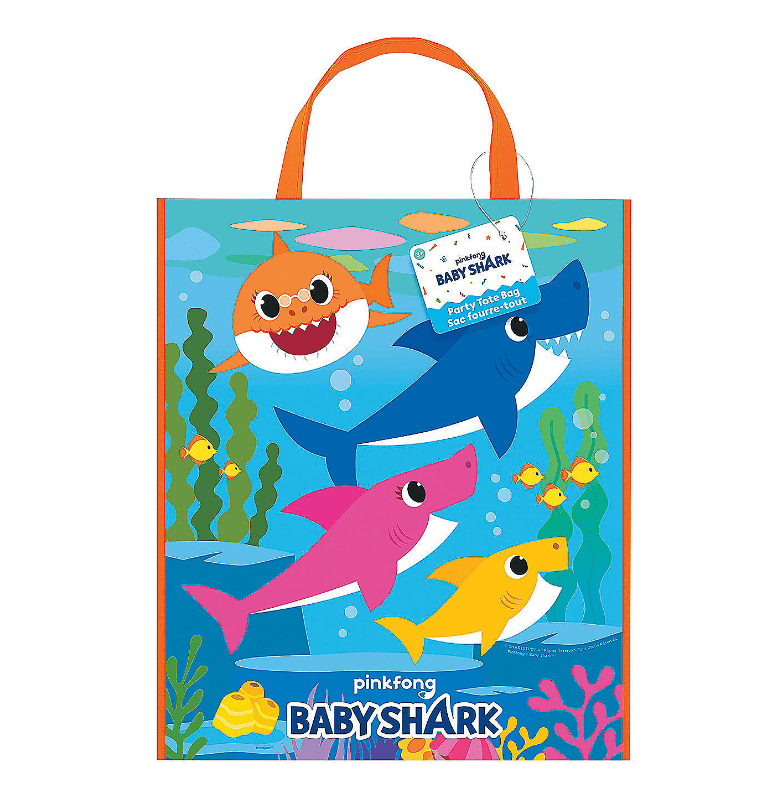 My event business is out of Vermont, and we are one of those super eco-conscious states. Nearly everyone has at least 15 reusable bags in their car to use for groceries or other shopping trip purchases. This eco-friendly trend means that most events need to focus on sustainable party supplies: cue tote bags as favors.
Totes are a perfect way to let your guests carry out their goodies, and it allows them to leave with a reusable bag they can regularly use in the future. It is a win-win for Vermonters, and I'm guessing it'd also be a great addition to your party supply list.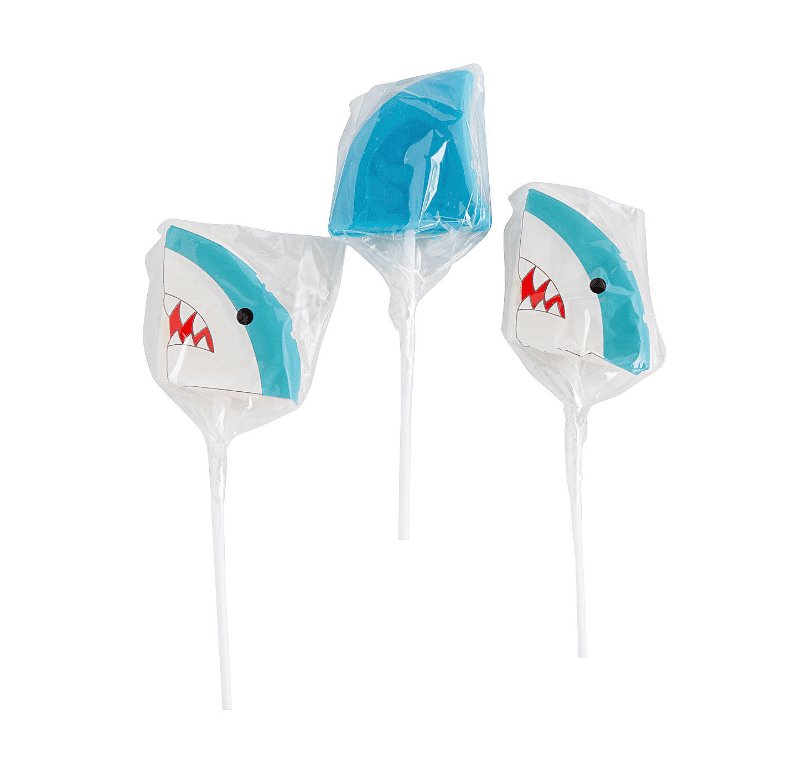 These might not be specifically baby shark character lollipops, but they are a cartoon style that would still match your theme. They'd make a great party favor, snack, or even an edible cake topper. What I love about these is that they are an affordable option from oriental trading and come in packs of a dozen, meaning you could easily use them for multiple purposes during your party. Think cupcake toppers during the party and then wrapped lollipops in your favor bags.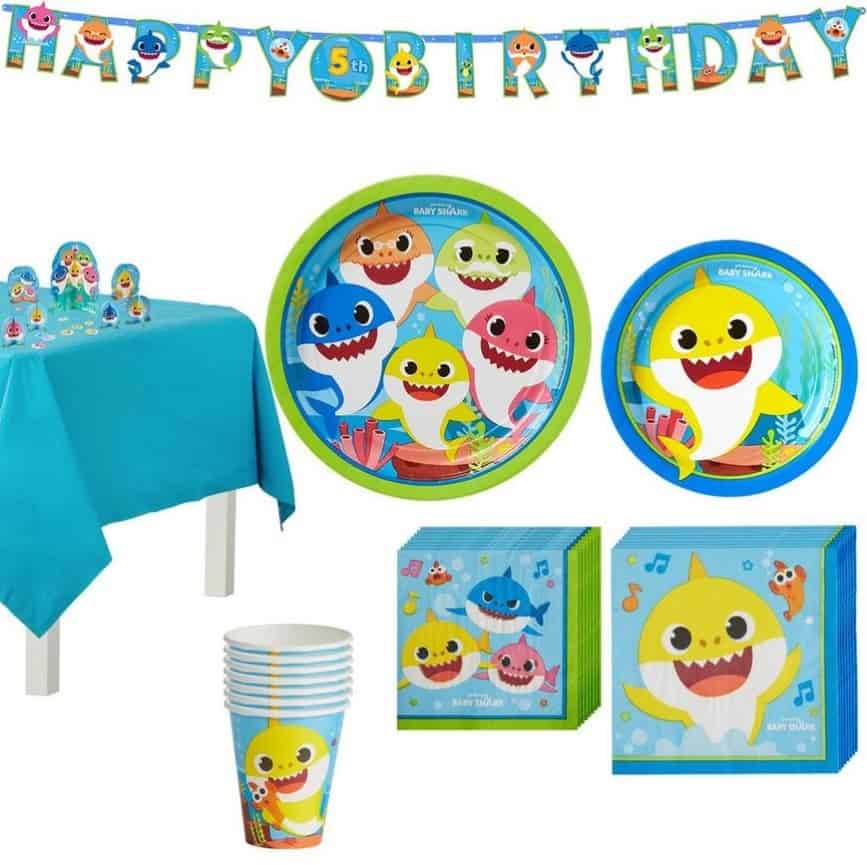 As I mentioned earlier, sets are one of my favorite time savers when buying party supplies. Do I personally love picking each item? Yes, but I recognize it takes a particular type of person to enjoy such details. Most of my clients are exhausted by that type of thing, so they hire me to plan their parties.
For the clients who still want to weigh in on the decor, I usually supply them with a few bundles or tableware sets to help them visualize the table set-up. It helps to narrow down options and saves my clients a lot of time and money. I want to do the same for you. I highly recommend this Party City Baby Shark Tableware kit; I love that it is in sets of 8, 16, or 24, so you can better match it with your desired party size.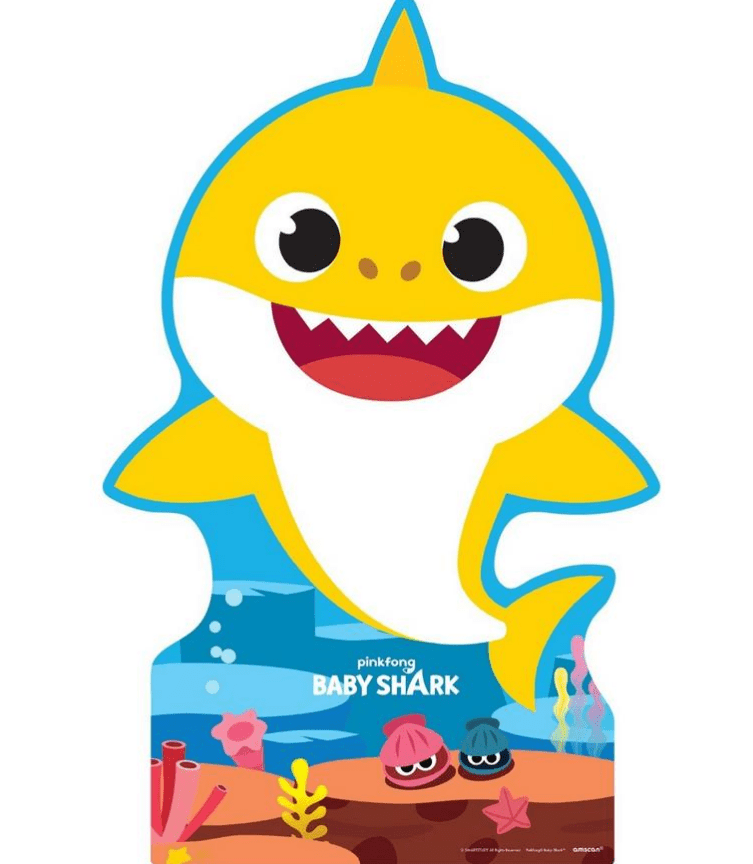 I'm a giant fan of using cardboard cutouts to help guide party guests into the correct location. It might be my event planner anxiety, but I hate seeing guests wander around looking lost when they first arrive. If you can't station a greeter at the entrance, this type of visual indicator of a party provides reassurance that you are at the right place. It is like balloons on the mailbox, but without the risk of them popping.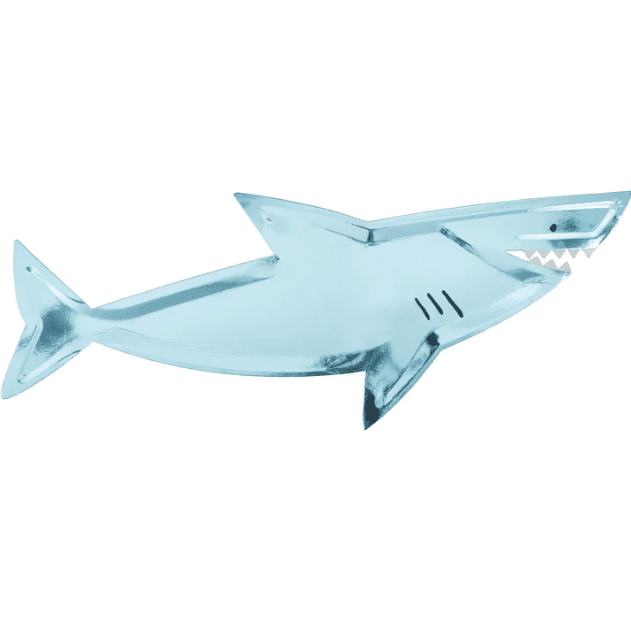 Okay, so this is just shark-themed and not limited to Baby Shark. However, I added it because my nephew would lose his mind if he had this at one of his parties. I mean, he would be thrilled beyond words. I'm willing to bet he would request dinner off these platters for the rest of the year if he thought he could get away with it.
I'm so convinced of his reaction that I've already purchased a set for his birthday, which is still five months away. If he is as excited as I expect, I'm guessing your guest-of-honor will have a similar reaction!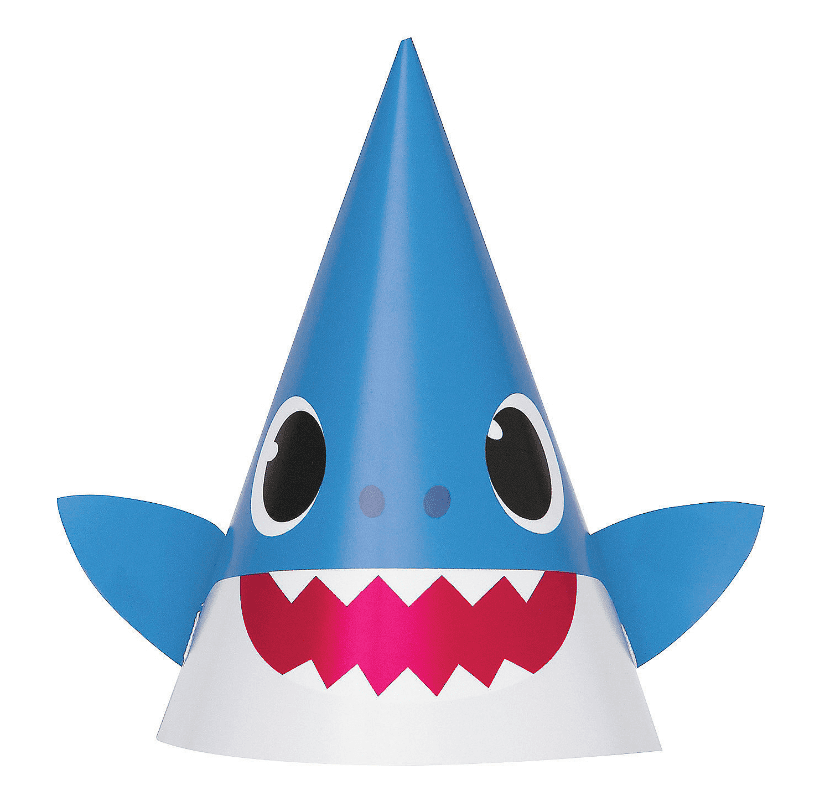 OMG! These party hats are adorable. I want to buy a pack for myself even without throwing a party. Party hats are a favorite of mine; I don't care about the theme; I need them, especially for kids' parties. I've never heard so many squeals and giggles from a group of kids as when I presented the guest-of-honor with a party hat.
The joy and envy of all the younger guests are evident, and the unique presentation makes everyone else want one too. These Baby Shark party hats will undoubtedly elicit a similarly positive reaction from your partygoers.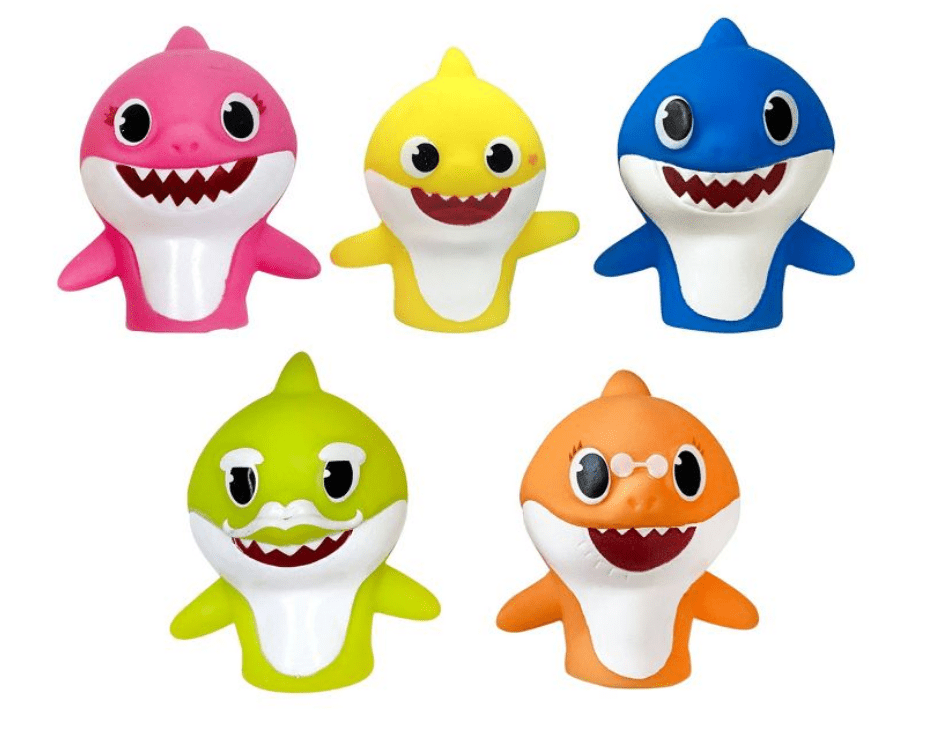 I'd need to play with this type of party supply at the party. I'd be putting one on each finger and showing them off to the kiddos in attendance. One thing I love about kids' parties is that it is beneficial to act goofy around the kids; it sets them at ease. In addition to party time fun, Baby Shark finger puppets would make a great addition to any favor bag. I love that these are waterproof too! It means much easier cleaning. This pack of 5 means you could easily divide them amongst numerous goodie bags.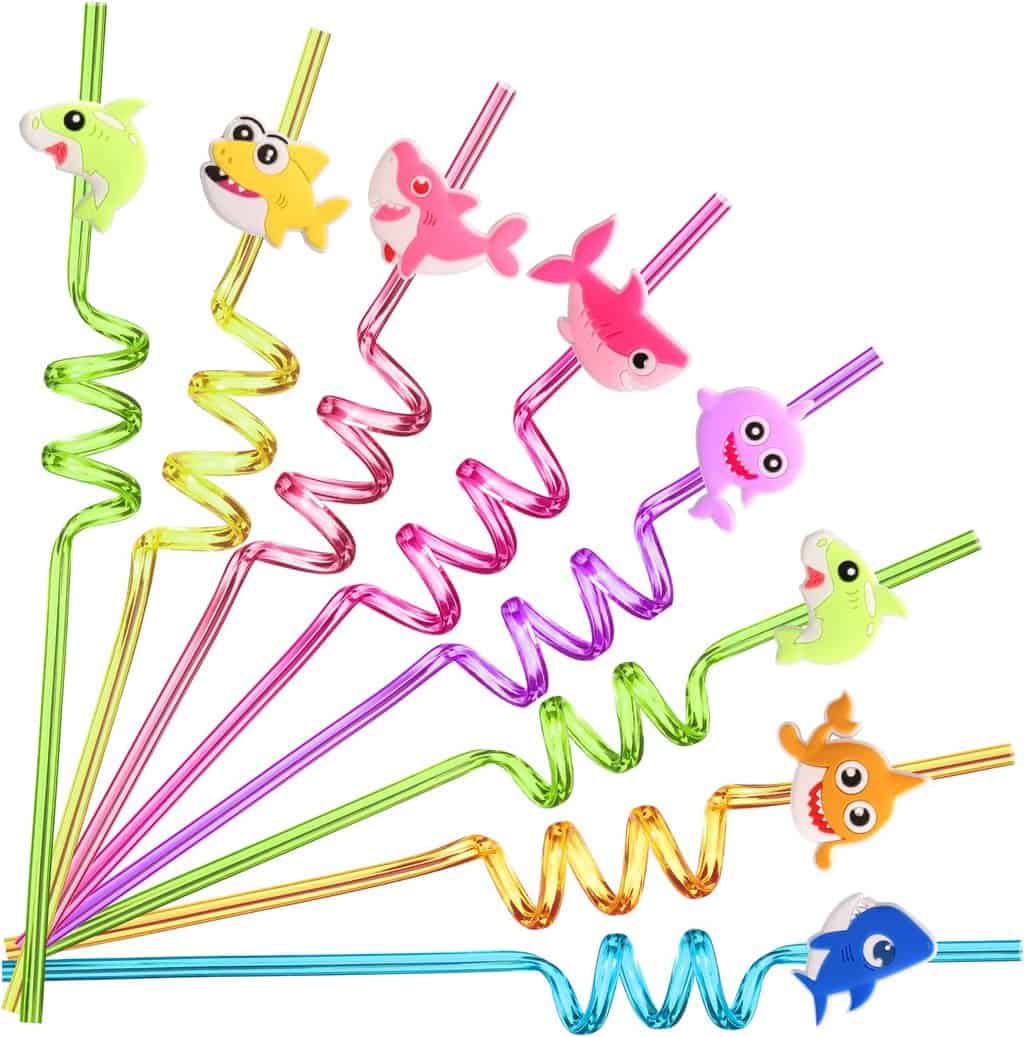 Crazy straws have magical powers over little kids. Add a baby shark-themed character to those loop-da-loops, and you have a winner. Talk about a mesmerizing option for your Baby-shark-themed party! These straws are perfect for "fancy" party drinks and favor bags. Not only can they be reused repeatedly, but they will be a big hit with the kiddos. Plus, my nephew would argue that everything tastes better with a fun straw, and I wholeheartedly agree.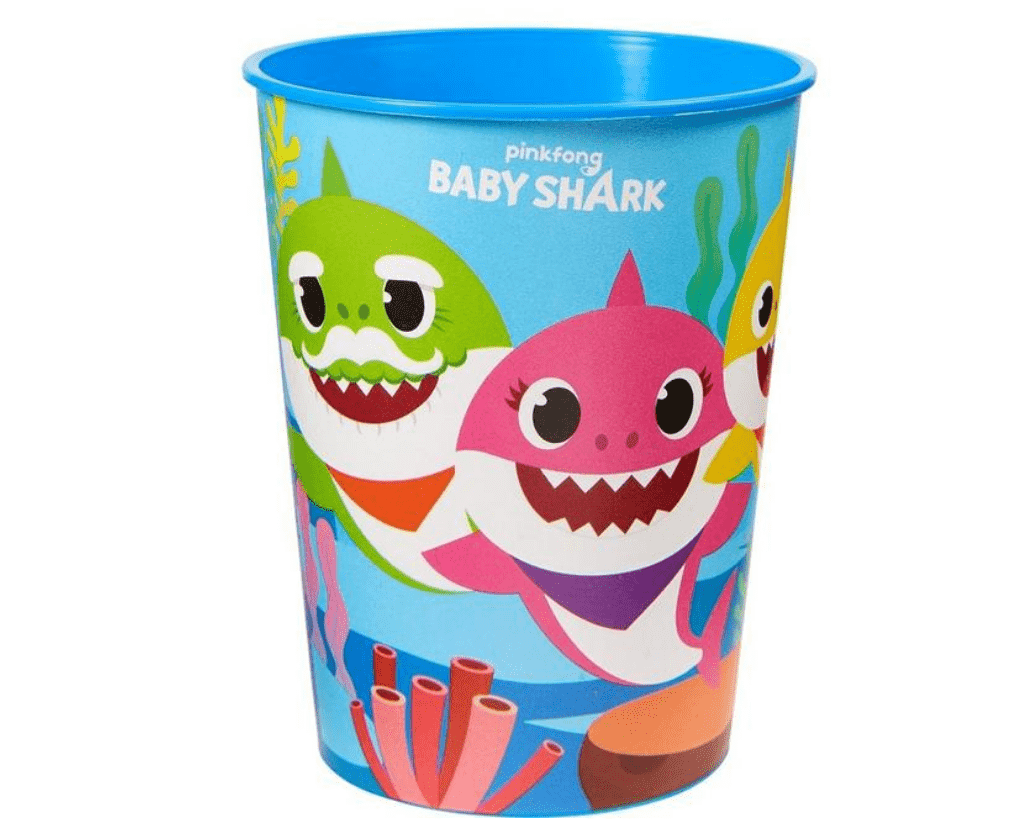 My Vermont clients cringe when they hear about all the disposable paper cups we used to go through when I worked in Maryland. They nearly faint when I tell them I had to have event staff stationed by the trash/recycling bins to instruct guests they should recycle bottles and cans. With this background info, you shouldn't be surprised that I push for reusable and compostable cups.
I can't wait for the day that compostable cups are party themed, but until then, I recommend reusable party cups. These 16oz baby shark-themed party cups are only a dollar. That means you could use them for the party, in favor bags, or both!
A quick pro tip: if you are going to use them for the party, please take the time to label them with each kid's name. That way, you can avoid the dreaded "I lost my cup" debacle that leads to half-drunk abandoned cups at the end of the event.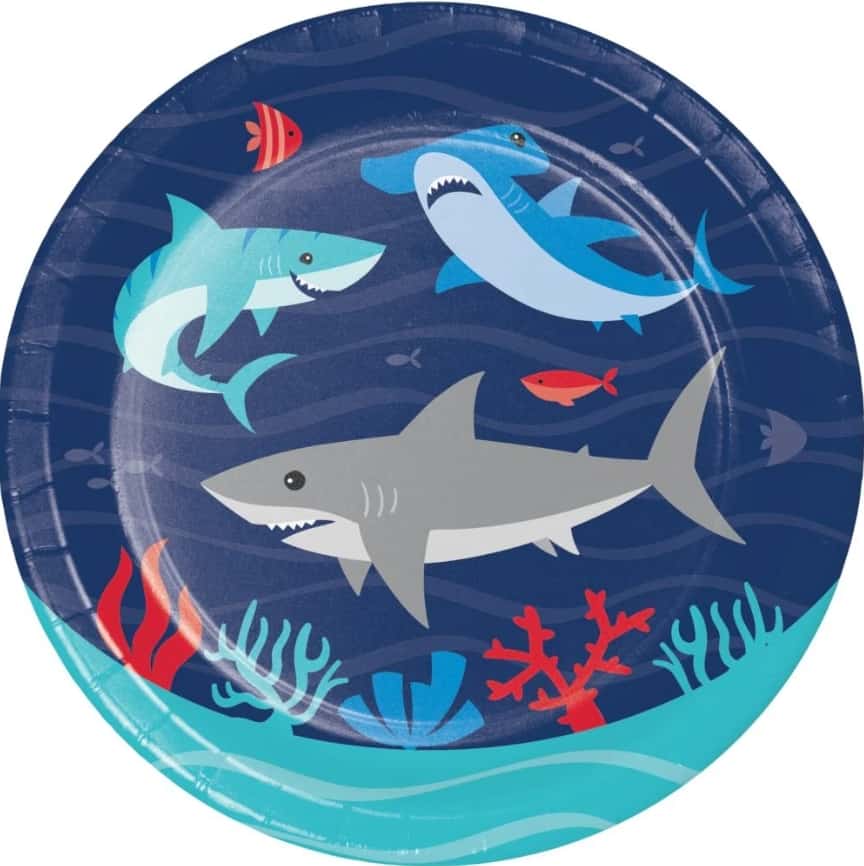 A Baby Shark party wouldn't be complete without themed tableware. While I usually suggest tableware bundles, I know there are people like me who love the option of picking different but complementary patterns. That is where these plates come in. These cartoon shark plates aren't Baby Shark per se but certainly fit our kid-friendly theme.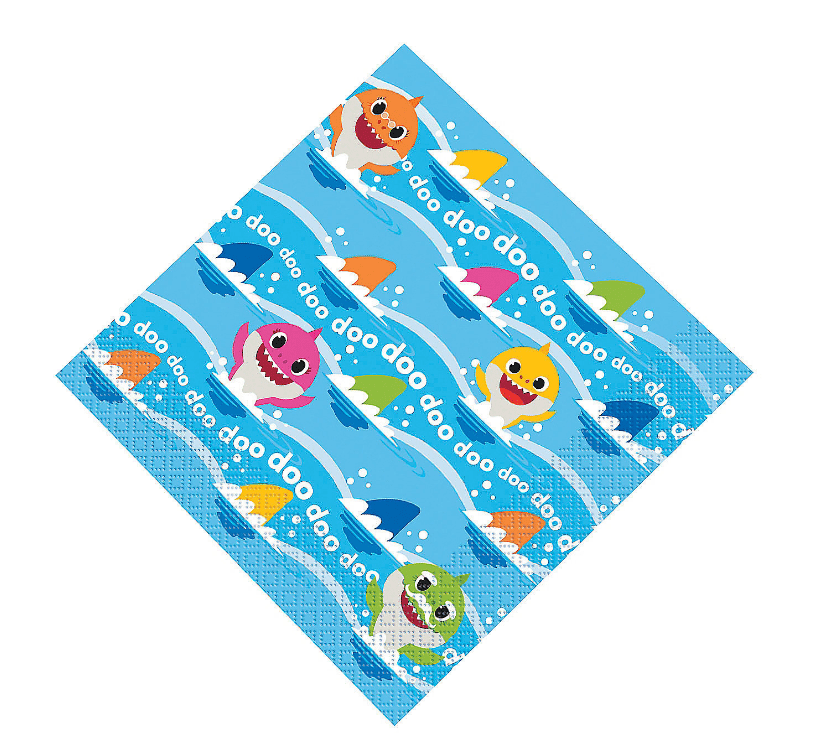 I had to laugh when I saw these napkins from Oriental Trading. Not only were they baby shark characters, but it has "doo doo doo" written in waves across the design. I love that nod to the song; what a great product design! The only downside is that they only come 16 in a pack. That sounds like an average amount, but I've witnessed kids go through a whole stack in minutes. The more napkins you have on hand, the better!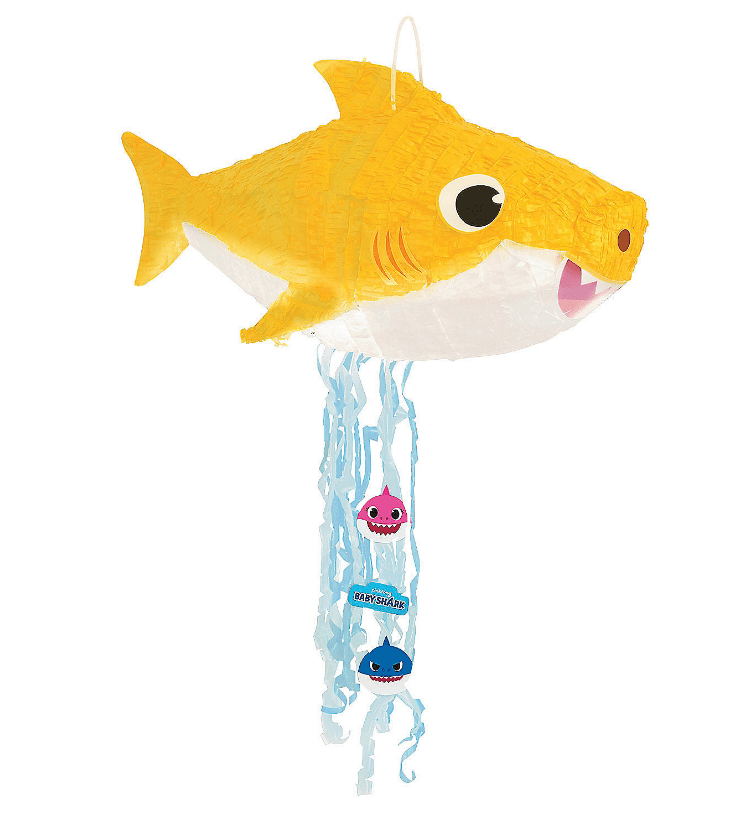 This Baby Shark-themed piñata is perfect for younger kids. It comes with a pull string so adults can quickly release the candy without the kids needing to break it open. My shark-obsessed nephew wouldn't have an issue with a traditional Piñata, but my younger nephew would do better with the pull-string option. I can't tell if he'd cry about hitting a favorite character or gleefully smash it, awakening his destructive streak. It is child-specific so consider your options wisely.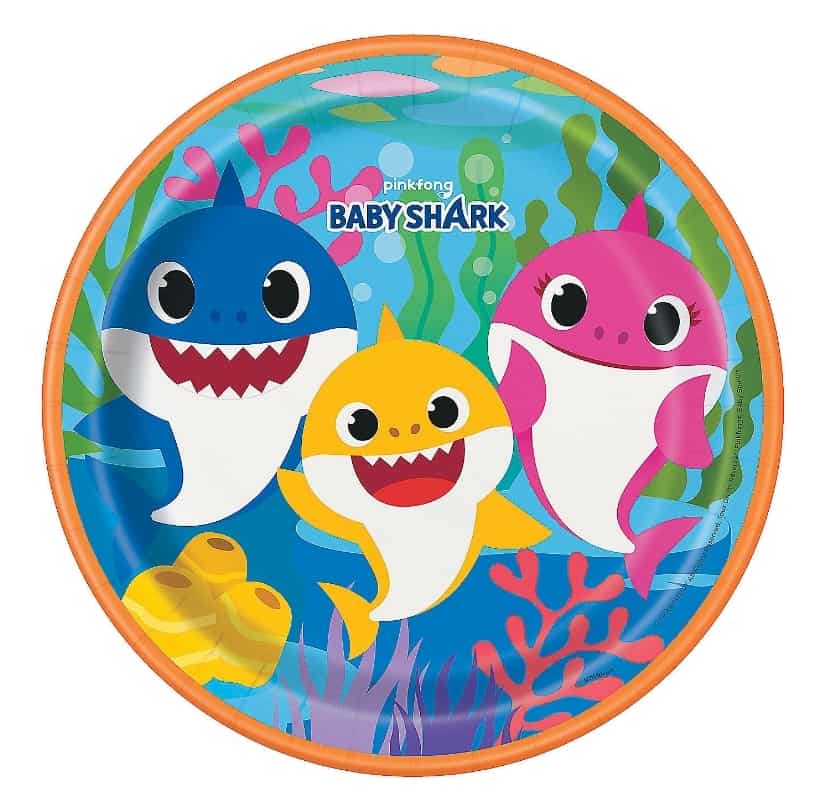 I already included dessert plates on this party supply guide, but I recognize those aren't the best if you serve a full meal. I know from experience that pizza slices don't always fit comfortably on those little plates. So, I recommend having some dinner plates on hand, too, if you are serving a full meal.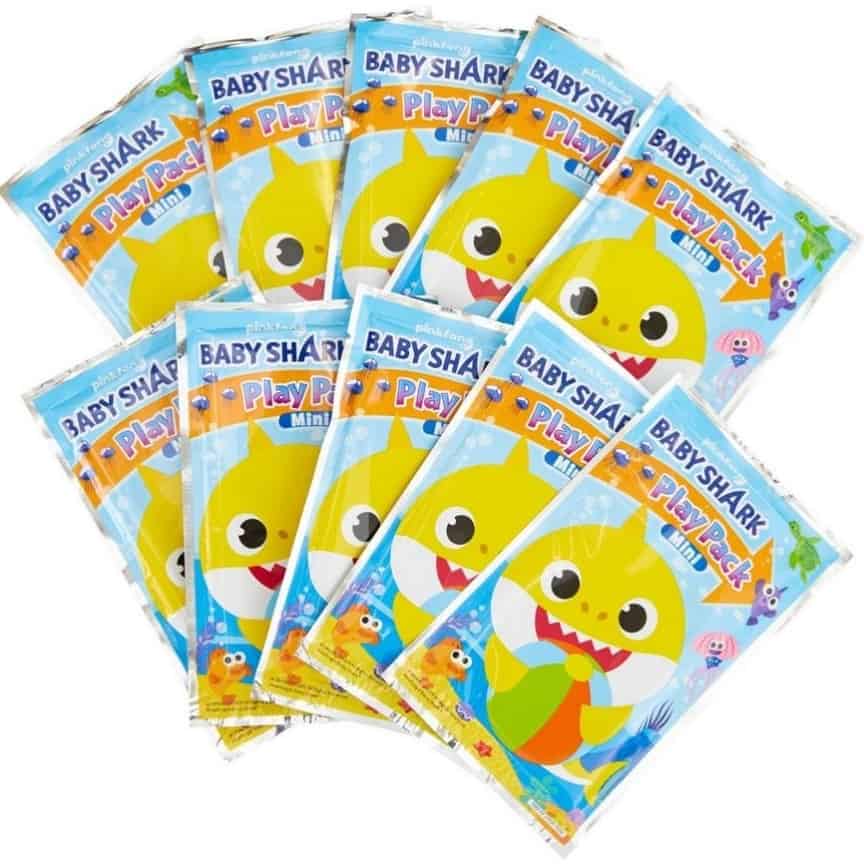 I know; I included another party pack. After working with busy parents for years, all-in-one favor bags have become my go-to. Plus, my experience working for art venues means coloring-based favors have become a favorite of mine. It is just a simple way to let kids engage with the theme at home. These Baby Shark play packs come in packs of 10, each with an activity book, crayon, and sticker. I really appreciate that you can get favors for ten kids for only $6. Talk about affordable!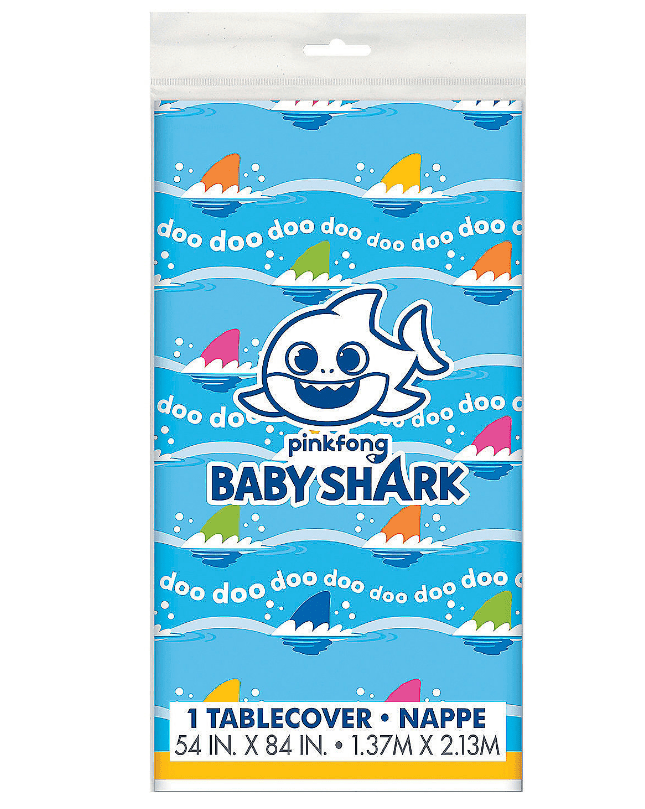 I love this plastic tablecloth. Similar to the napkins I mentioned above, this one made me laugh a little. I love that it references the song with a few added "doo doo doo" as waves amongst the baby shark characters. My only suggestion for this one is to get double the amount you think you need. There is a specific reason for this.
I once had to spend hours scrubbing a table after one of the thin plastic tablecloths ripped, and the table underneath was stained by the brightly colored icing. Since then, I've been doubling up the tablecloths – one taped on underneath, and one draped over. It has saved me so many times!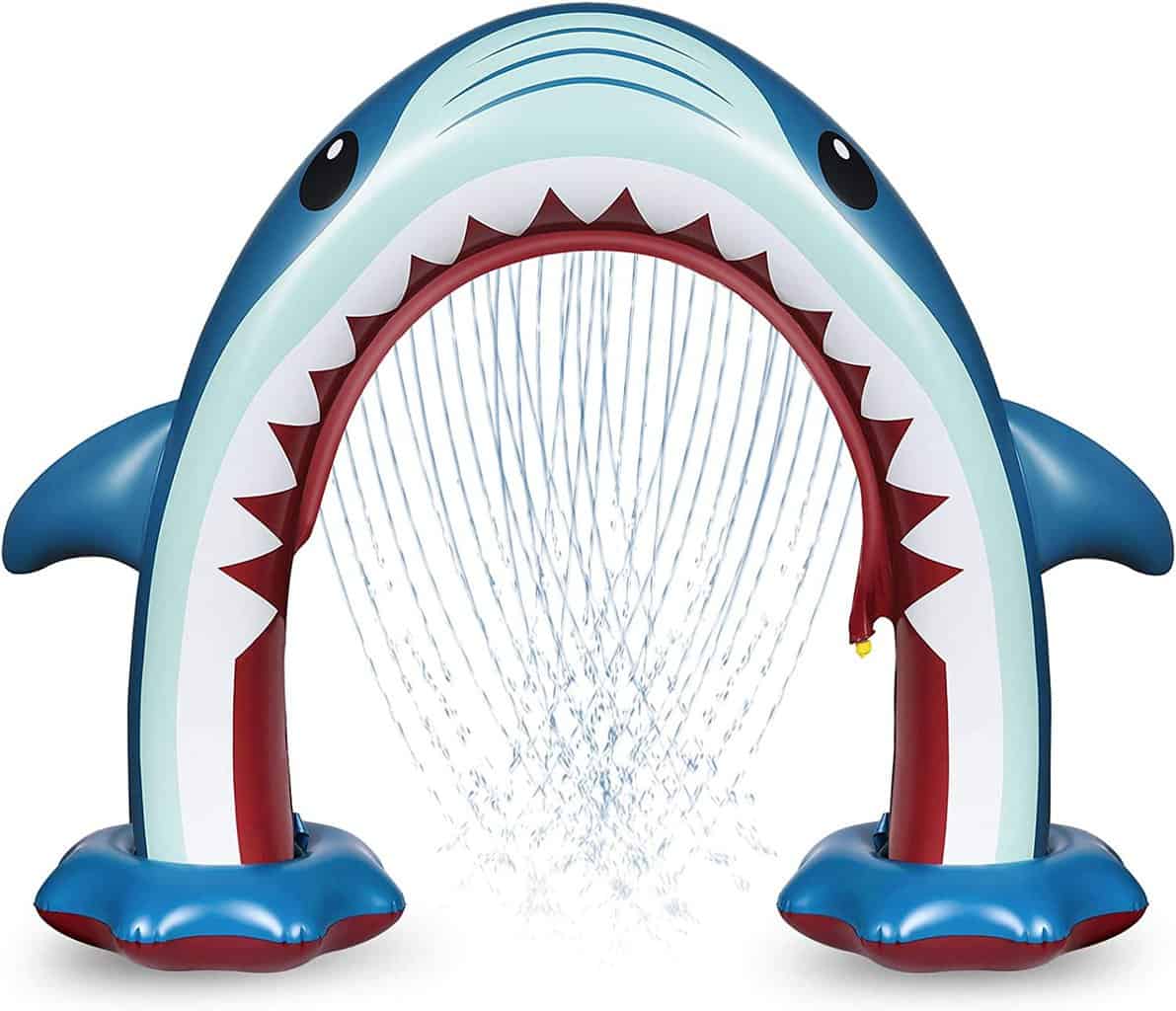 I don't usually add something so expensive onto my party supply lists, but I just attended a kid's party that had water games as part of their themed activities. The fun they had and the length of time the water features entertained them sold me on the idea of adding water games to your summer parties.
This shark sprinkler would do just that. It'll match your baby shark party theme and help you entertain all the young guests for hours on end. I know that takes the pressure off of me as the event planner, and I'm guessing it takes the pressure off all the parents in attendance too. It seemed like a good enough trade that I'd wave the price requirement just this once.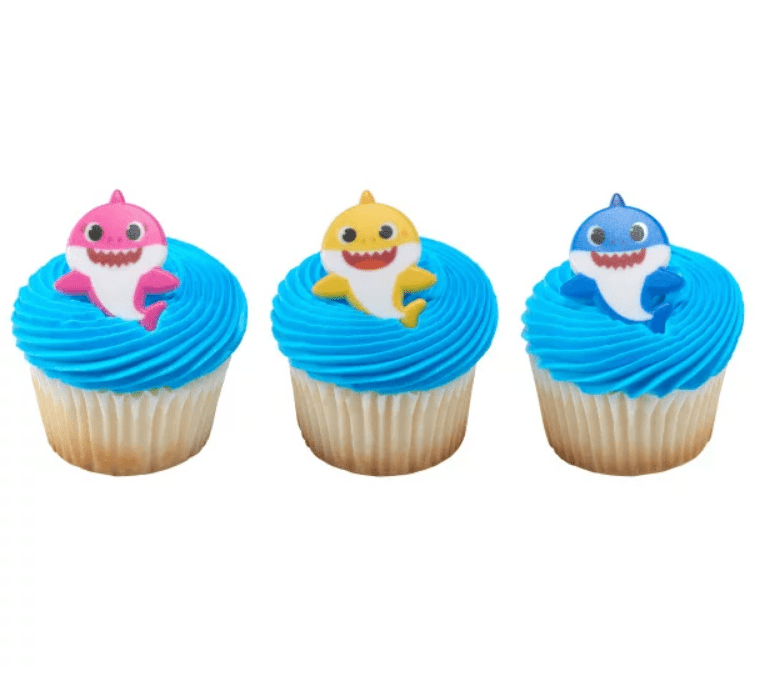 These plastic Baby Shark rings are perfect for cupcakes. I always see my nephews lick off the icing and then wear the rings for days after the party. I bet some of the young guests will do the same.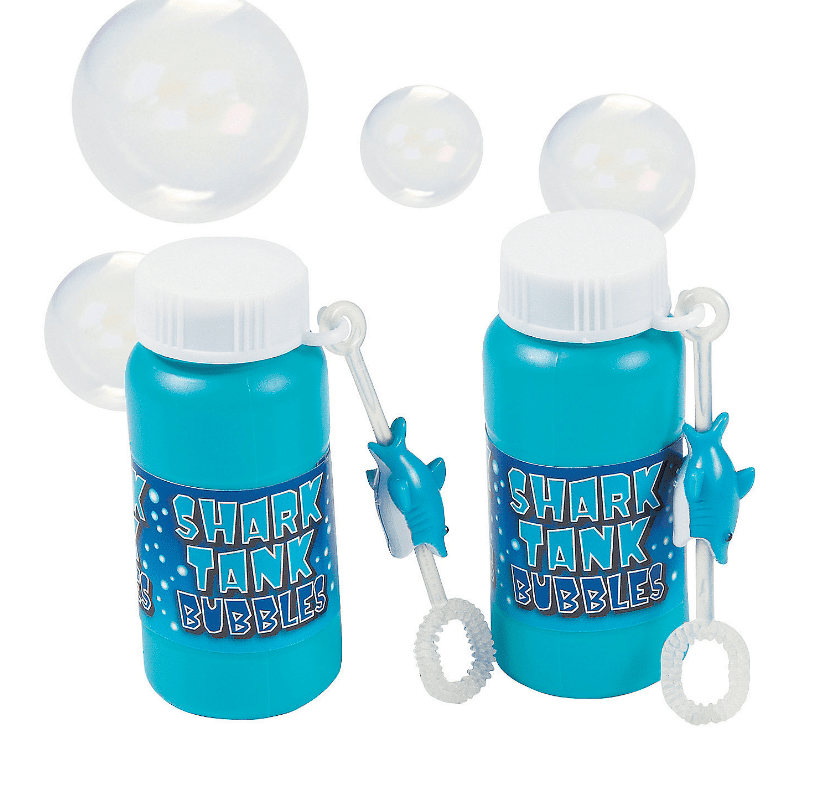 What kid doesn't like bubbles? They are fun and provide hours of endless entertainment at a low cost. As a party favor, you can't go wrong with them, and these shark-themed bubbles won't disappoint! They are readily available and cheap; plus, most kids will love them (my nephew included).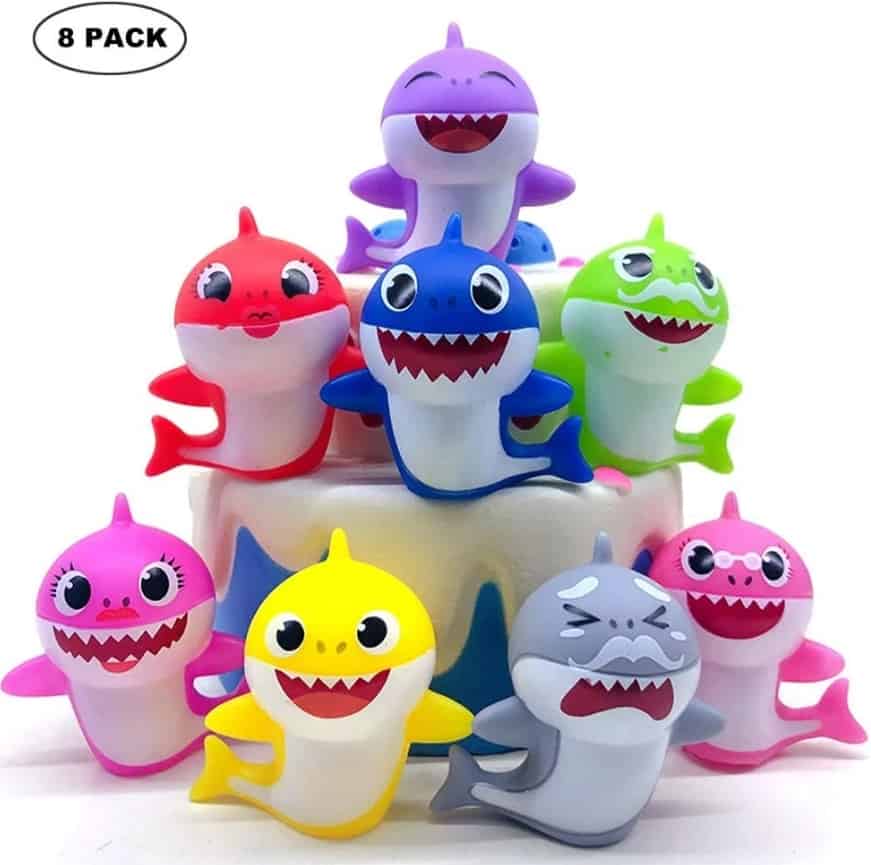 Cake toppers are an excellent way to dress up your cakes without having to spend a fortune on an elaborately designed confection. Plus, this set of cake toppers is adorable beyond words. It is an 8-pack with all the baby shark characters so that you can cover a lot of space with these. The product images suggest they'd work well for a tiered or sheet cake.
I'm guessing you could also add them to cupcakes as toppers, but it depends on the cupcake size. Regardless of what sweet treat you used them for, you can repurpose them afterward as toys. That reusability made me pick these over some of the paper-based cake toppers. Durability is key.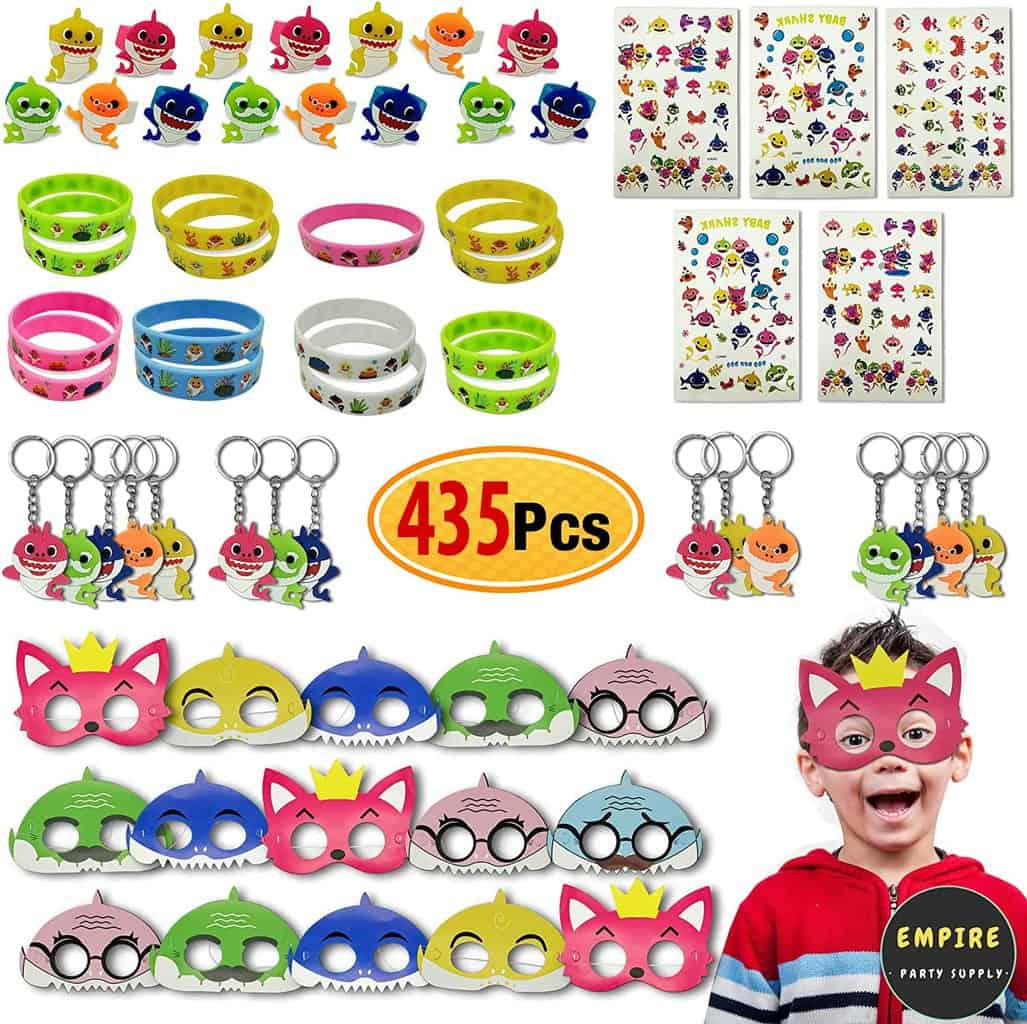 My love of big party supply packs nearly exploded when I saw this option. I can't believe Walmart offers this 75-piece bundle with masks, wrist bands, key chains, and more. I usually see much smaller bundles that require bigger parties to buy more than one pack. This pack, on the other hand, eliminates that need. I'm honestly impressed.
FAQ
Question: Who is Baby Shark?
Answer: Baby Shark started as a song. It is rumored to have started at summer camps at some point (I remember signing it when I was a camp counselor years ago). Even though it has had a long history, the song wasn't widely known until the South Korean company Pinkfong! recorded the viral version we all know today. That song sparked the TV show and associated cartoon characters populating this supply list. 
Question: Is there official Baby Shark Merchandise?
Answer: Yes and no. While the song isn't copyrighted, a Nickelodeon show created the visual graphics featured on most of the items at big box stores; this means there is officially licensed merchandise related to the show. However, there is also merchandise that can legally use the terms Baby Shark since it was an established camp song long before the viral version. That is why this supply list has a mix of both. 
Question: Should I DIY party supplies or buy them?
Answer: The decision is up to you; I know that might not be helpful, so let me give you advice. Your response should be whatever you find easier. I typically buy the things I don't have the time to do or the creative skill to accomplish. Then attempt to DIY a few things if I think I have the time and ability to meet my standards.
Sometimes I try to DIY, realize it is a fail, and buy a similar supply because my time is more precious than my pride. If you want to buy everything up front, I fully support you in that decision. This Baby Shark Party Supplies Guide will help you find the best supplies available for purchase. 

Conclusion
I hope you enjoyed this Baby Shark party supplies Guide. It narrows down the thousands of options to 23 of the best party supplies on the market. Any one of them would be great for your party.
That said, if I had to pick one Baby Shark Party Supply from the list above, it'd have to be #8, the set of four shark platters. As I mentioned earlier, my nephew would flip if he had this at his party. I am buying it for this birthday, regardless of whether or not he has a theme party. My nephew's approval won me over on this one, but it is also a practical party supply. It is an affordable, disposable tray that can be used for food and to continue the theme cost-effectively. It is a win-win, in my opinion.
What is your favorite Baby Shark party supply? Is it on this list, or do you have something to add? I look forward to reading your comments and hearing your personal preferences.
Recommended Reads: