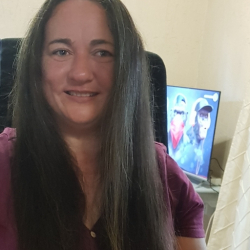 Latest posts by Caroline Lambert
(see all)
Rev your engines because I'm about to share the wildest, fastest, and coolest Hot Wheels cake ideas. I'm a motorhead and artisan baker, which I know makes no sense, but I don't intend to be normal. Instead, I'm a biker who loves baking, collecting Hot Wheels models, and racing, even drifting.
I'm beyond excited to show you the wild world of Hot Wheels cake ideas to make every motorhead's party the talk of the town. You're most welcome to check our party supplies and party ideas for more of the best motorhead inspirations for kids and adults. But for now, buckle up because we're going for a hot ride.
Bottom Line Up Front
I must share the exciting news because it relates to this article. I'm getting married next month, and our wedding theme is hardcore road bikers. So, looking for the best Hot Wheels cake ideas undoubtedly inspired some motorhead creativity. As a result, my ultimate Hot Wheels cake idea is unusual.
Fortunately, I have two favorite Hot Wheels cake ideas. However, the first one looks like a Hot Wheels far reach but resembles the wedding cake design for our exciting day. The "Harley Davidson" Hot Wheels Cake Idea is closest to our wedding cake. Our cake design looks slightly different, which I'll share soon.
The "Easy Riding" Hot Wheels Cake Idea is my second favorite pick and appeals more to four-wheeled motorheads. Moreover, it also adds some character with a cake that looks professional. I love the depth and changing track that allows the cake to feel original. My cake designs will offer simple and challenging options.
I'll also share tutorials to help home bakers with challenging cake ideas. So, stick around for more.
How to Select Hot Wheels Cake Ideas for Motorheads
Hot Wheels has long been a collectible fandom, with kids and adults loving the cars, trucks, and motorbikes. So, picking a handful of top Hot Wheels cake ideas is challenging. My first requirement is that the cake is possible for home bakers and amateur decorators. If it offers a challenge, I'll share tutorials to help.
Secondly, I want appealing cakes with pleasing aesthetics and decorations. Aesthetically beautiful Hot Wheels cakes need a few touches to make them stand out. The decorations should include two or more of the following Hot Wheels-related cake toppers:
A Hot Wheels fondant logo
A Hot Wheels model, whether the vehicle is a non-edible Hot Wheels model or an edible sculpture
Racing colors or flags with the white and black checkered colors
A gravel racing track for the mini cake toppers to challenge each other
The famous Hot Wheels flames as a fondant cutout or sculpt
Traffic decorations that enhance the Hot Wheels design with cones and road signs
Smooth fondant or buttercream edges to make the cake presentable
You're probably wondering how to do this professionally at home without spending a fortune. Firstly, remember that the aesthetics require two or more factors, meaning the cake idea could use smooth fondant edges with a much-loved Hot Wheels car as a cake topper.
Next, see my tips for the more challenging decorations.
Hot Wheels Themed-Cake Tips to Get Started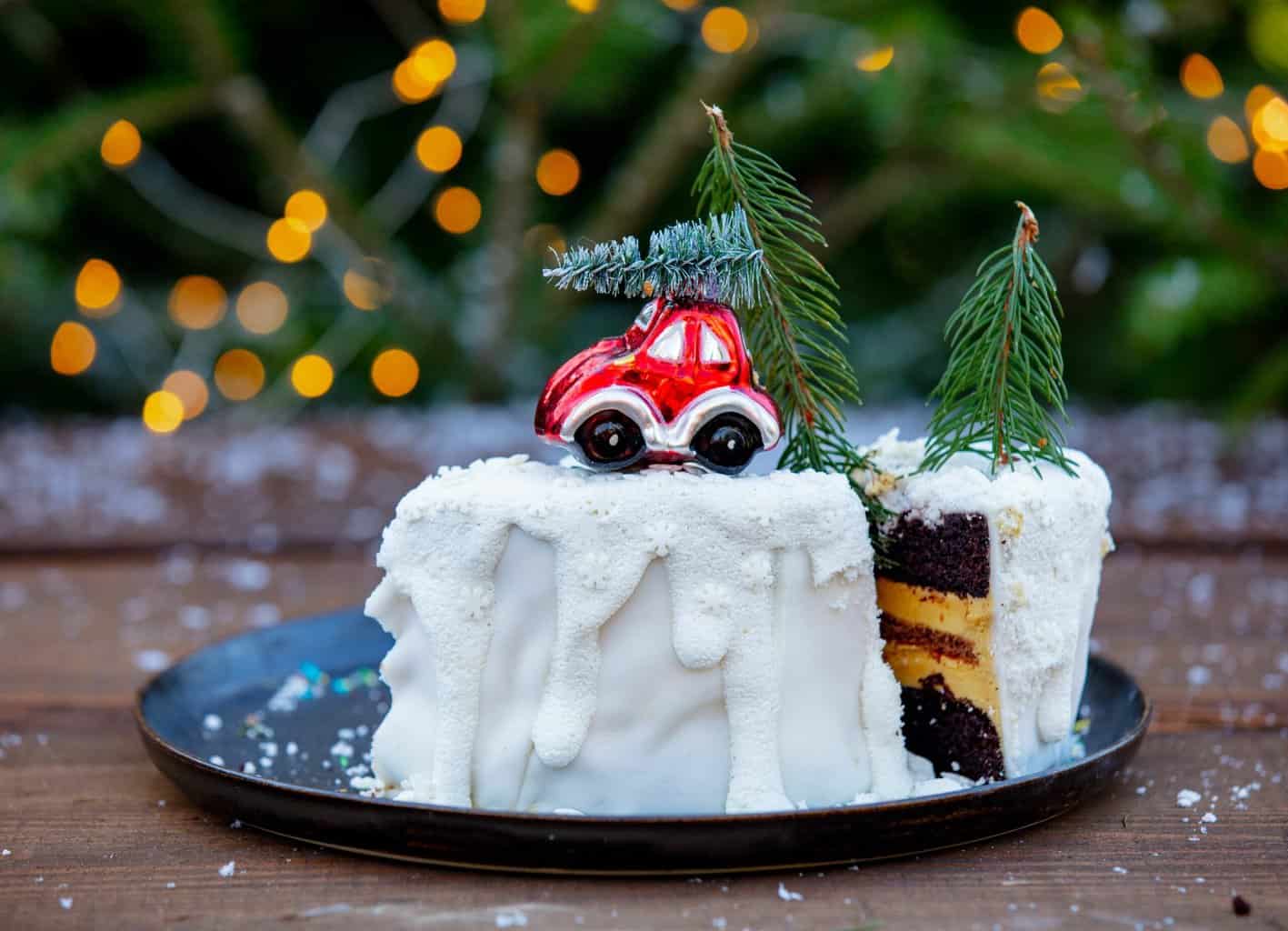 I might be a baker with years of experience. Still, I know baking and decorating birthday cakes at home can be challenging. You might need a few tools, which you'll realize as you watch the needed tutorials. My first tip is to watch every tutorial that helps with a specific cake design before planning your tools and time.
Furthermore, let me share the video tutorials that make most Hot Wheels cake designs a breeze for amateur bakers at home. Here are my top tips and tutorials:
A good baker knows the secret to design an accurate and aesthetically brilliant brand logo on cakes. It starts by learning how to draw the logo. Then, you can change the size to fit the cake design you choose. Copying a drawing with fondant cutouts will feel much more spartan than eye-balling it off a screen.
Hot Wheels have the ideal diecast model sizes to use non-edible cake toppers, but you'll have to warn guests that they're not edible. However, when using diecast model cars, trucks, and motorbikes, you don't need to worry about the designs, sculpts, or accuracy.
An alternative to diecast models is sculpting the Hot Wheels cars, trucks, and motorbikes, which considerably limits the birthday child or fan's models. The challenge is insane for amateur bakers, but nothing says you can't try. However, fondant cars aren't too challenging with the right tutorials.
Amateur bakers would find it easy to make race checkered flags for their cakes. This tutorial shares a simple method and includes a bonus mini race car cake topper.
You can learn how to make a race track or gravel road on a cake by watching the Easy Hot Wheels Cake Tutorial. I love how the road wraps around the cake.
Adding the flames brings the Hot Wheels cakes to life, and there's a simple fondant cutout method to use.
Traffic decorations can add depth to a Hot Wheels cake. The first tutorial shows you how to make miniature fondant wheels. The second video shares guidelines for edible fondant traffic cones. Finally, another video shows how to make edible fondant road signs.
A neat cake stands out more than others. Learn how to get smooth fondant edges on Hot Wheels cakes or smooth things over with neat buttercream edges.
Another tip is to learn how to blend black buttercream frosting and fondant perfectly because you'll use plenty of it on Hot Wheels cakes. Then, you can add a glossy effect with edible glitter or cake spray.
Finally, you'll need basic piping techniques. The first one for Hot Wheels cakes is grass piping techniques to add texture and color. Secondly, you might need some sand along the tracks. Use crushed graham crackers to look like fine sand. In addition, use this video tutorial for a muddy or dirt effect.
My tips will help you achieve perfection on most of the top Hot Wheels cake ideas. However, I'll include tutorials for challenging tasks if I share a vision that seems complicated.
The Best Hot Wheels Cake Ideas for Motorheads, Young and Old
In that order, I love giving you cake ideas that range from easy to more challenging. So, I'll share the best Hot Wheels cake ideas, from easy to challenging, in ascending order. However, the harder bakes won't be too challenging for home bakers, especially if you follow the tutorials and plan. Then, it's time to hit the track.
Young motorheads are undoubtedly the easiest to please with affordable amateur cakes that still look fantastic. The baker used an actual Hot Wheels model on this cake and added a simple roundabout track with race board colors and the famous flames. I love that she painted the cake board and added traffic lines.
The cake is an otherworldly beauty that appeals to young motorheads with a passion for fast little cars. All the bent track takes is a fondant sheet cooled in the fridge to keep the shape. In addition, you can add the child's name or the Hot Wheels logo and finish the cake off with any diecast model you desire.
Many variations work for young motorheads who love Hot Wheels cakes. This cake design uses the Hot Wheels logo in front of the diecast model car and moves the flags to the front of the cake. The bent track adds depth again, and the famous flames behind the track enhance the aesthetics.
However, you'll need to chill the flames properly for the proper support. I also love how the baker did something new with the cake board instead of using a gravel road design. She took traffic cones and the child's name as the decorations, which are simple yet effective. The cake works wonders for younger fans again.
Another simple approach for the best Hot Wheels cake ideas is to use buttercream without fondant around the cake. However, getting the piping techniques perfect requires a longer time commitment. In addition, I recommend practicing the piping techniques away from the cake first.
Meanwhile, the aesthetics look gorgeous for a buttercream Hot Wheels cake design that appeals to younger motorheads. In addition, I recommend using the tutorial for racing flags because they'll look much better than the printed edibles. The Hot Wheels logo also needs some work, but that's a fondant story.
This cake design is another straightforward Hot Wheels cake idea that undoubtedly appeals mainly to young motorheads. Don't worry; I'll soon add more detailed plans for older motorheads. However, children love cakes that look like their ages, and this one uses a race track to bring Hot Wheels to life.
The diecast model cars can be anything, and the track is a breeze to make. The video has a tutorial to show you how to carve the number two. Still, you can watch other videos to cut different numbers if your child is older. This Hot Wheels cake is ultimately one of my favorites because it's beautiful and relevant.
Younger and older motorheads will enjoy this amateur Hot Wheels cake that looks like it cost a fortune. The cake's design has similar details to the last few options, but it adds more color to the bent track and cake. The cake has a few of the famous Hot Wheels flames around it, and it adds some stars and racing flags.
If you feel like challenging yourself, change the diecast car model to a sculpted piece. In contrast, using diecast models will welcome most Hot Wheel cars and motorcycles fandoms. The bonus touch is that the cake design has cupcakes to match, and everyone enjoys a themed cupcake. The Hot Wheels cupcakes are easy to make.
My ultimate four-wheel Hot Wheels cake idea looks more original than others because it uses a carved cake track that runs from the cake board to the top of the edible beauty. It's also one of the more customizable options for Hot Wheels fans because you can add any cars, trucks, motorcycles, or decorations around it.
I recommend changing the cake's color slightly to match the theme better. Otherwise, use the blue by breaking it with a fondant cutout of two racing flags above the bottom of the track. The only thing I would change entirely is the cake board. It must look neater and be a solid color.
This cake idea might look like it's getting complicated, but it works beautifully if your child has a track for their toy cars. Indeed, it uses an actual track from one cake to another. In addition, the idea works perfectly for larger parties and more guests. Somehow, the cake has a 3D effect because of the different designs.
You can also use diecast Hot Wheels cake toppers instead of the sculpted versions to simplify the aesthetically gorgeous cake. The idea behind the beauty is to use two different styles on the cakes, as you can see with this example. Maybe decorate the first cake to be the starting point and the second cake to be the finish line.
I love creative Hot Wheels cake ideas that feel original and remain home-baked opportunities. Unfortunately, everyone smacks Hot Wheels cakes with diecast models, race tracks, and flags. However, this Hot Wheels cake idea is entirely original because it adds a tunnel through which diecast models can run.
In addition, the cake would work well with a toy track again. If you need three cakes, you could use this as the centerpiece for the last cake idea. Who said you have to stack the tiers on a Hot Wheels cake? Instead, use creative and original ideas to decorate something massive with the potential to wow guests.
There's nothing wrong with stacking a Hot Wheels cake for larger parties. It's the traditional way of feeding many people impressive and delicious cake. I'm showing this Hot Wheels triple-tier cake idea because it's plain and simple. As a result, you can imagine the decorations, change them, and use customized cars.
I have ideas to stack the cones and road signs between the two layers, where you see a border. Another idea is to add an upside-down Hot Wheels cake topper running under the top track. Furthermore, you can add a name on a Hot Wheels fondant logo or turn the track into a flaming ring.
Many Hot Wheels fans also enjoy monster trucks. So, I had to add this cake design among the easier bakes. It's straightforward because you're using the decorations from the tutorials while adding a monstrous diecast cake topper to finish the style. You'll also use the mud tutorial to create a base for the monster truck.
In contrast, you can change the base to something else. Maybe a starting line will suit the monster truck better. This baker used a mud base because monster trucks are well-known as mud-kickers. However, I'm here to nurture your home-baking creativity, meaning most of the ideas I share are customizable.
There's another way to make a massive Hot Wheels cake with many guests. This one works beautifully for older and younger motorheads. For example, instead of taking three tiers and making them look like a wedding cake, you could merely stack many sponge cakes until you reach your desired height.
Sometimes, the clean stack looks neater than the standard tiers. However, I love the decorations on this Hot Wheels cake. I wouldn't recommend changes unless you want a different Hot Wheels cake topper driving up the side. It's another original idea to use the decoration tutorials to create an impressive cake.
LEGO and Hot Wheels marry two massive fandoms, and there are a few cake ideas that combine them. However, this Hot Wheels LEGO cake idea is the better option for home bakers without too much time or tools. The Ninjago LEGO tier at the bottom is an easy fondant layering method to get the ninja's face.
The top tier has menial decorations. Instead, I would replace them with better Hot Wheels cake toppers, decorations, and a logo. I'm not a fan of printed edible wafer paper designs. It looks amateur, and you're trying to impress the guests or the Hot Wheels lover. So, use the fondant LEGO block tutorial for the bottom tier.
This cake idea isn't directly a Hot Wheels design, but it's the one I'm using as my wedding cake inspiration. The cake design is fully customizable to turn it into a Hot Wheels Honda cake for hardcore bikers like my fiancé and me. Before you wonder, Hot Wheels has motorcycle models, including the BMW, Harley Davidson, and Honda.
The differences on our cake are that we have a sculpted Honda figure with a border that looks like a tire and a cake topper that says, "Ride With Me Forever." However, you can use a Hot Wheels motorcycle as a cake topper. In addition, you can use this idea for birthdays and anniversaries. It's not only a wedding cake idea.
Gravity-defying cakes are trendy, and I found a few Hot Wheels gravity-defying cakes. However, I needed something more possible for a home baker. Gravity-defying cakes don't have to hang from the ceiling to look incredible. Instead, you can use a fondant ribbon around a cake to defy the odds.
In addition, you can add Hot Wheels cake toppers riding sideways along the ribbon, as this baker did. Some buttercream frosting will hold the lighter Hot Wheels models in place. However, you'll need a higher cake with a clean stacked style to finish this idea. Four or five sponge cakes stacked will do the trick.
So, you don't need a wedding to use my favorite Hot Wheels cake idea. You don't need to be a hardcore biker because you can customize each cake idea to suit your needs. This two-tier Hot Wheels cake idea is brilliant because it adds texture. It's not challenging to make a wheel-styled fondant texture around the cake.
Chyna was kind enough to share an easy-to-follow video tutorial on making a tire-wrapped cake. You have the creative advantage of adding whatever Hot Wheels cake toppers you want once you wrap the cake tiers in fondant. You can attempt the odd track running down the side or merely use a cake-touching track.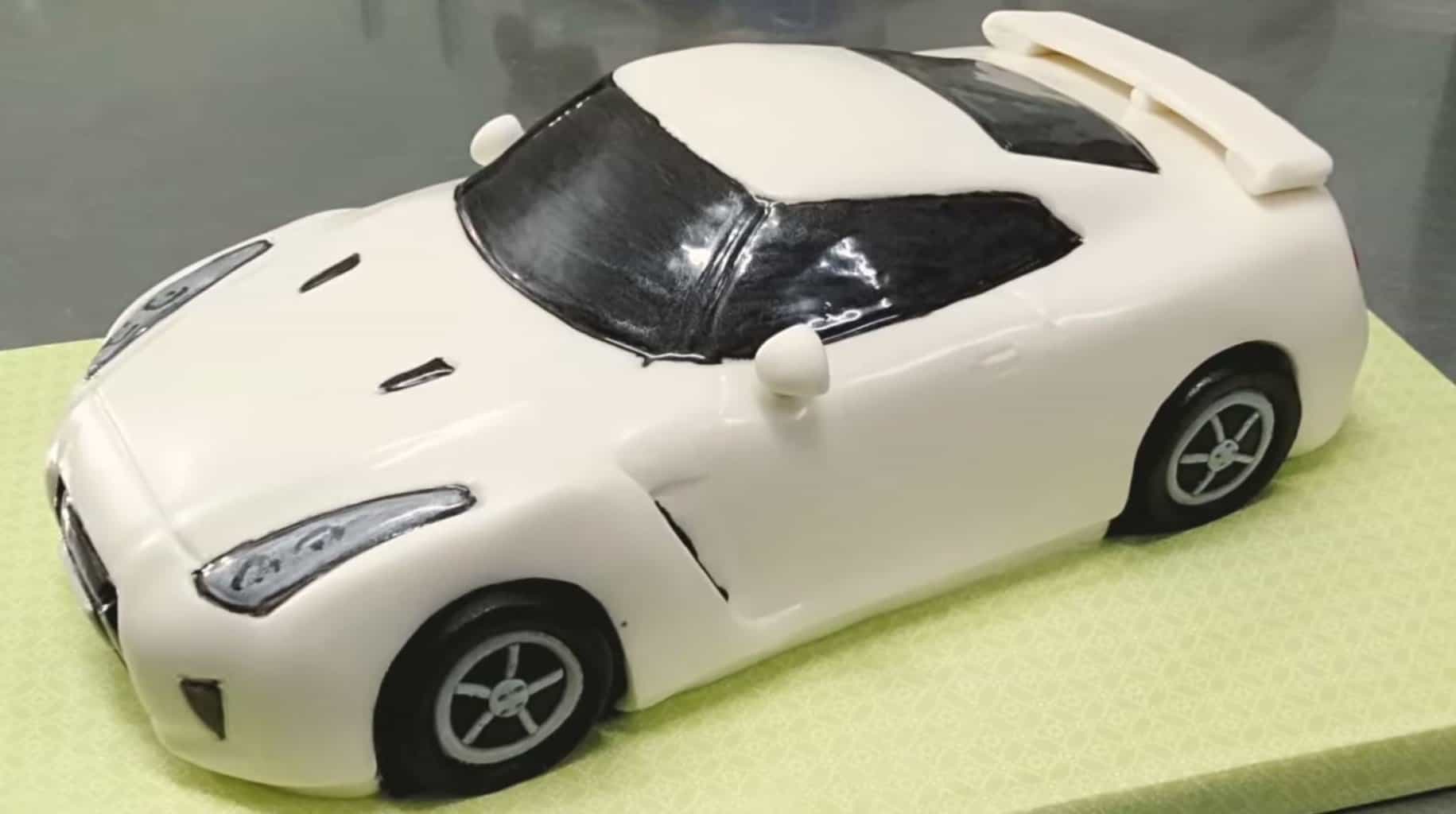 How inventive and brave do you feel as a home baker? Do you think you're creative enough to attempt a 3D Hot Wheels car cake idea? If so, this car cake is beautiful, and you can customize the features, type of car, and color. Moreover, I ensured I shared the video tutorial to help you carve the cake.
Carving a car-shaped cake is much simpler than you think. However, decorating it will be challenging at home. Getting smooth fondant edges on a cake like this one will require patience and possibly a few errors at first. Permit yourself to make mistakes because the best bakers (even artisans) make them.
Another idea for three-tier Hot Wheels cakes is to add a crazy looped track around the cake. It's another more challenging idea that works better for larger parties but looks incredible. The details around the cake tiers aren't neat enough for my liking, so I recommend sprucing them up with the tutorials.
However, the lopping track can challenge you as a home baker. This video tutorial teaches you about making a looped bow, which shares the same concept. You must support and dry the fondant correctly before adding it to the cake. I recommend chilling the fondant loop pieces before attempting to attach the loops.
Some cake designs look surprisingly simple until you attempt the balancing act. This cake is a balancing act because the middle tier supports a larger, heavier sponge cake on top. Decorating the cake around the uneven and misaligned levels can also challenge you. However, it's a gorgeously customizable design.
The trick to balancing a larger tier of sponge cake over a smaller tier is to use cake boards as support plates between them. Otherwise, your cake will topple and ruin. Furthermore, you can use this video tutorial to help you frost an upside-down cake. Finally, use a smaller knife to achieve sharp edges around the cake.
A more challenging task would be to sculpt a beautiful monster truck on top of the Hot Wheels cake. It requires some skill and experience, but experimentation is a must. Fortunately, I found a video tutorial for a fondant monster truck you can attempt at home. Remember that every cake should be customizable.
So, here's to trying a sculpted fondant monster truck. The design isn't as impressive as the one on the cake, but it would work beautifully for someone who wants a challenge as a home baker. The rest of the cake doesn't need much, and you can stick to the inspiration on this Hot Wheels cake.
Suppose you're ready to attempt a more challenging Hot Wheels cake design at home. This cake looks eerily complicated, but you'll be changing the size of your Hot Wheels flames at worst. On the other hand, the sideways wheel cake design isn't that challenging if you follow the baker's instructions closely.
The support and weight might challenge you more than the design. You can avoid issues with weight and unsupported cake structures by following the video steps. However, this cake will pose a great challenge, but it will lead to one of the most original and impressive Hot Wheels cake designs.
My idea of a motorhead's heaven on a Hot Wheels cake isn't about clouds and glory. Instead, it combines multiple cakes, different heights, and astonishing decorations on a massive track. Indeed, this challenge will take time and cost more than a first car. However, it will be worth every second.
The only issue with this Hot Wheels cake idea is that you'll need an army of guests to feed. Meanwhile, the Hot Wheels cake idea can also become functional if you follow the instructions. An entire track allows guests to enjoy playing with the cake before eating it. This cake is likely my fourth favorite of the Hot Wheels designs.
I might be adding this cake idea as inspiration if you're having one made by experts because it will be too great of a challenge for home bakers. However, there's nothing wrong with spending a few more dollars and following the tutorial closely. Sculpted and carved monster truck cakes aren't easy, though.
Let's suppose you get this Hot Wheels monster truck cake. In that case, it appeals to monster truck lovers, Hot Wheels fans, and the Bone Shaker's fandom. You'll impress guests, and they'll talk about it for years. Meanwhile, you'll fear cutting into the gorgeously sculpted monster truck cake design.
FAQs
Question: Can I Use Hot Wheels Cars as Cake Toppers?
Answer: Fortunately, Hot Wheels car cake toppers are encouraged for home bakers who don't have countless hours to sculpt miniature models. In addition, the Hot Wheels car cake toppers allow versatility and customization. Sculpted cake toppers offer limited cars, trucks, and motorcycles for Hot Wheels fans.
Question: How Can I Make Fondant Hot Wheels Loops?
Answer: Hot Wheels is a famous cake idea. So, YouTube is full of surprises with tutorials for amateur bakers or at-home moms looking to personalize a cake. Ashley's Hot Wheels Loop Tutorial is one of the easiest to follow, and the cake might inspire you. Alternatively, you can use Hot Wheels track loops as cake decorations.
Hot Wheels Cake Ideas: Drifting Finale
The best Hot Wheels cake ideas inspire you in many ways. I feel more inspired. In fact, I changed something on my wedding cake design because of this inspirational article. I'm having an expert hand-sculpt the motorcycle with our names engraved on the sides after seeing the beautiful monster truck 3D Hot Wheels cake idea.
Indeed, it will cost me, but this is my wedding, and I'm not afraid to pay. Nonetheless, I hope my Hot Wheels cake ideas inspired you for the next motorhead party, whether it's a birthday or anniversary. Hot Wheels cake ideas appeal to a broad age range, meaning you merely have to turn your inspiration into a beautiful cake now.
For More Cake Inspiration: