In our family, a birthday shirt is a birthday staple, and a loved one wearing it on their special day has become a tradition. For a few people, getting their own customized birthday t-shirt is no big deal and they have no qualms wearing one. But let's be real — most of the time it's really our family or our friends who talk us into wearing a birthday shirt. It's like an initiation of sorts into a non-existent brotherhood/sisterhood you are entering. And what's an initiation if it's not embarrassing, right? For others, though, it could just be a shirt with a sentimental or relevant message. So I guess that's the challenge right there: to get that perfect birthday shirt for a loved one, or for yourself, to wear. And I am here to help you come up with the best birthday shirt ideas.
You have to remember though that there's more to wearing a birthday shirt than just announcing you're turning a year older. It is actually a great way to make your birthday celebration more special. It is an unspoken declaration that you are proud of your age, that you're grateful to be spending another birthday on earth, and that you're excited about what's to come. It's also a great way to show people that you are not too cool for anything and that you're totally up for a little fun, even if you'd look ridiculous and even if t-shirts are not exactly your style. And take my word for it: if you look at your photos years later and see yourself wearing a custom shirt, it's going to make you smile or laugh a bit more.
My Bottom Line Up Front
Everyone in my family wears a birthday shirt on our respective birthdays each year. It has become a family tradition since I started it six years ago, and our shirts have evolved from the simple "It's my 13th birthday" to the more customized or personalized ones, including funny pictures of the celebrant.
My favorite birthday shirts for adults are those with customized text because more thought is given to them. I'm talking about statement shirts that highlight:
your achievements or milestones since your previous birthday or within the past year
a funny anecdote about you
an inside joke that pertains to you
your goal or dream before your next birthday.
Such shirts give more meaning to you as an individual and the things you've been through. So when you look at photos of your past birthdays, you'd be reminded not of how old you've gotten but more of how far you've come or how much you've grown up.
For a kid's birthday shirt, however, it just needs to reflect something they love. Like this cute mermaid birthday shirt for a four-year-old mermaid wannabe: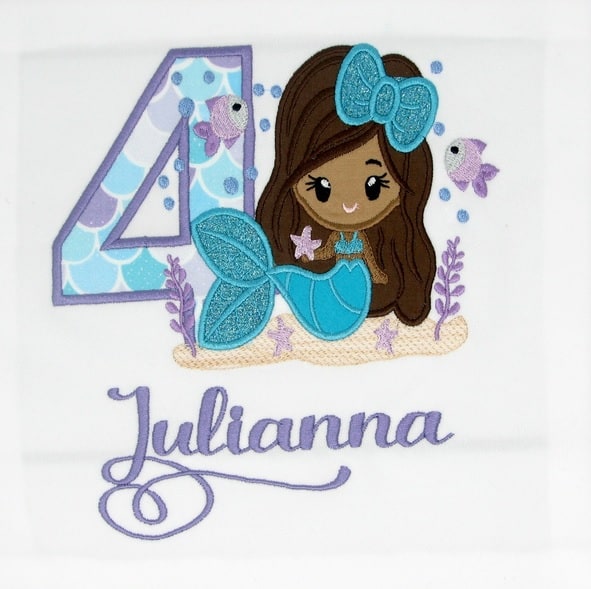 I'm also okay with using simple or commonly used text or phrases, but you ought to make up for it with a cool graphic design. Just like this shirt: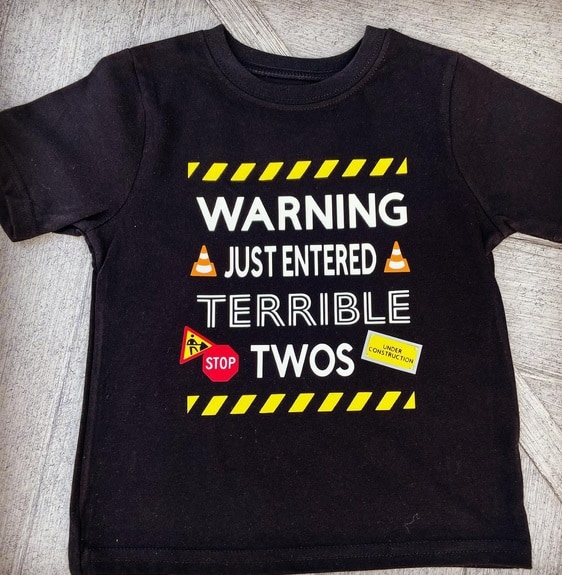 Choosing The Best Birthday Shirt Ideas
If you have a birthday celebrant who's okay with being silly or is playful enough to wear a birthday shirt, then the next step to finding that perfect shirt design should come easy. That's because you no longer have to worry about the celebrant objecting to the design. That also means you have full creative license.
To come up with the best birthday shirt ideas, I only have these criteria:
No cliché designs like "Birthday Girl," "Birthday Boy", "40 and Fabulous," "50 Never Looked This Awesome," or "Vintage 1965"
Unique or at least not that common
Funny or relevant
Something more personal
Best Birthday Shirt Ideas
#01 Bucket List On a Shirt
You can have a shirt printed with a list of the celebrant's biggest achievements or milestones for the past year, or their whole life so far. Tick every item on this checklist to mean they've done it. I think this is a great idea for a birthday shirt because it would remind the birthday girl or boy of the things they were able to do in the past year. This way, they'd appreciate themselves more and value their age. Their family and friends would also feel even prouder of them.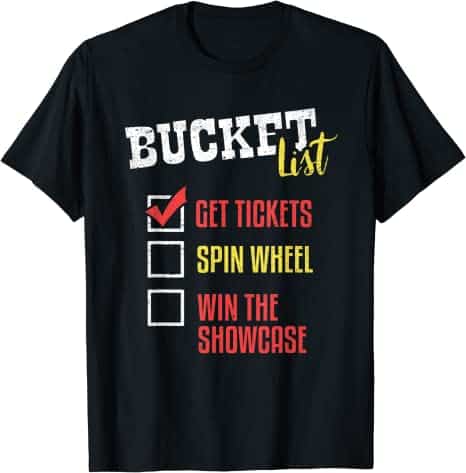 This bucket list shirt is pretty much how it should look like.
But I'm thinking of more relevant achievements like "Get a master's degree: check," "Get married: check," "Get a dog: check," "Travel to Asia: check," and "Have a baby: check." Of course, you can pick a better font and color for it and have an artist do a much better design, and perhaps add some graphics, too.
It can also be a list of the things the celebrant wishes to do for their birthday. Like this shirt from Etsy.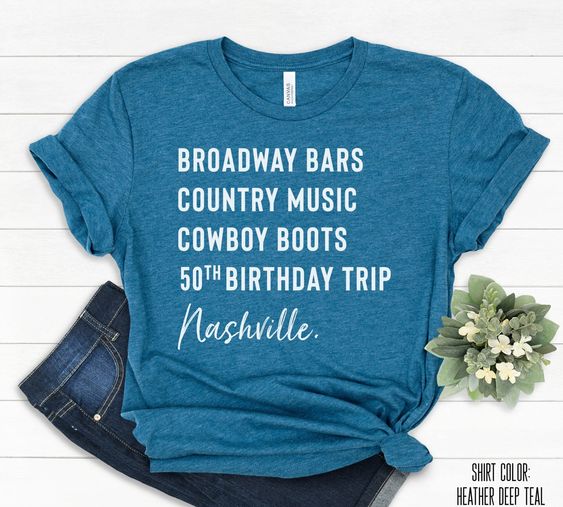 Or it could be a list of "Things I want to achieve before my next birthday" shirt. And they can tick it off and perhaps wear that shirt the following year to show their progress. Check out this shirt from JerricaJaneen to get the drift: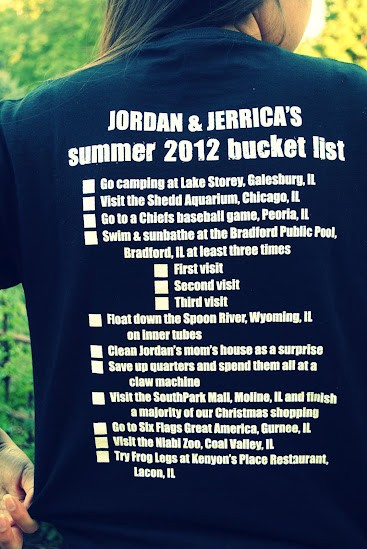 To be funny, it can also be the total opposite of a serious bucket list. Like this shirt from MyClub Tee Clothing: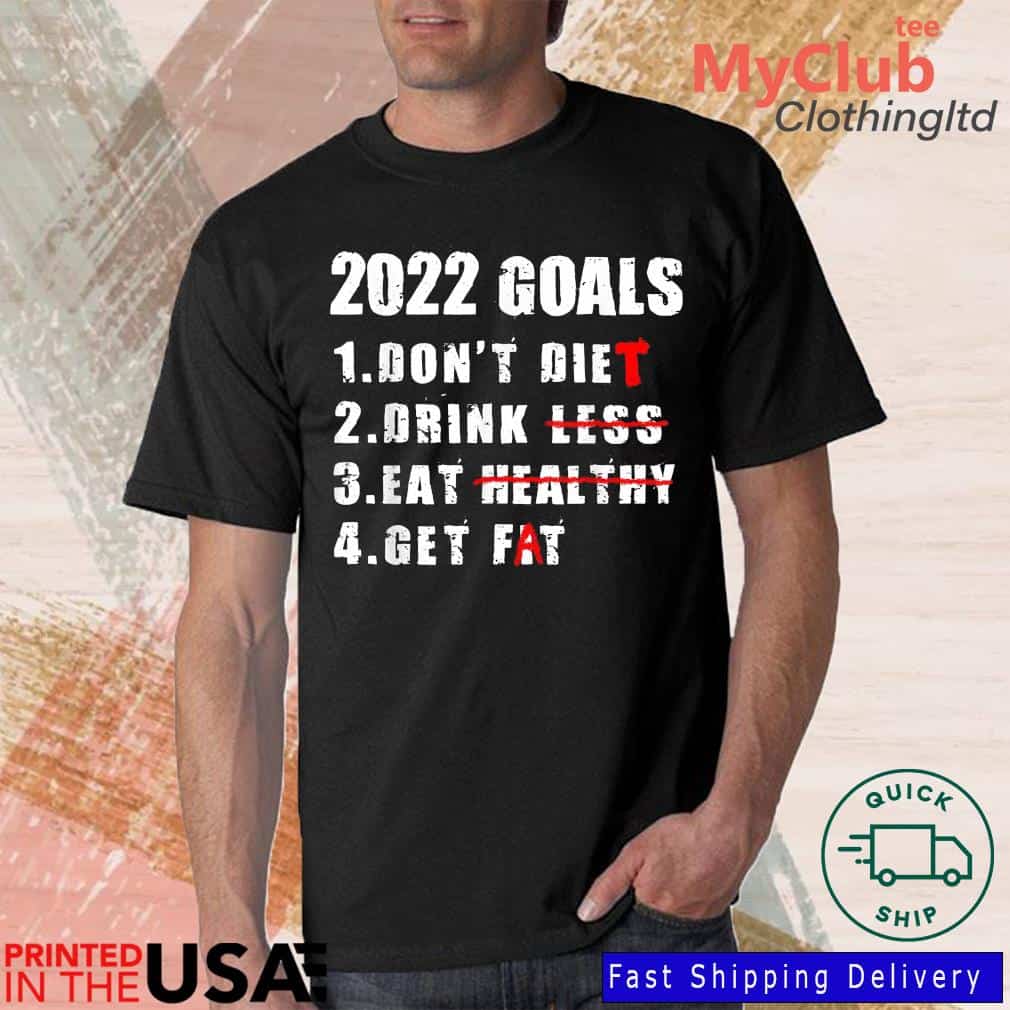 #02 Inspirational/Quote Shirt
You can look for funny or touching birthday-related quotes and have them printed on a shirt. You can even get a quote about age in general or something that doesn't really mention the word "birthday" so you can wear the shirt again, any time.
You can try creating a quote shirt via design-your-own-shirt sites like Design Hill and Custom Ink.
Another option would be to print something inspirational. It can be something that's inspirational or affirming for the birthday celebrant, like this shirt: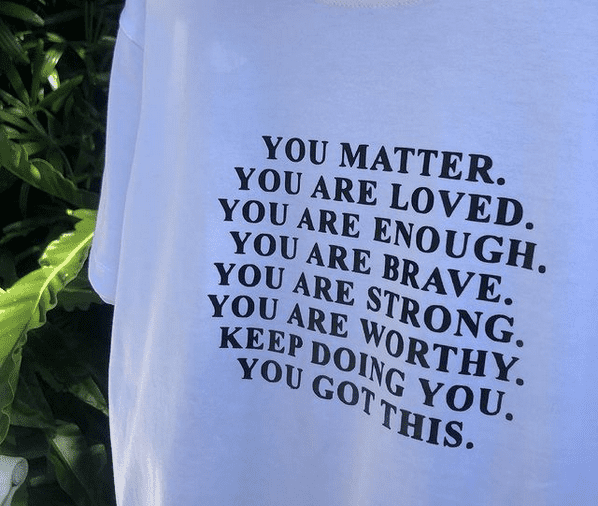 It could be something really nice that aptly describes the birthday girl or birthday boy or what they represent: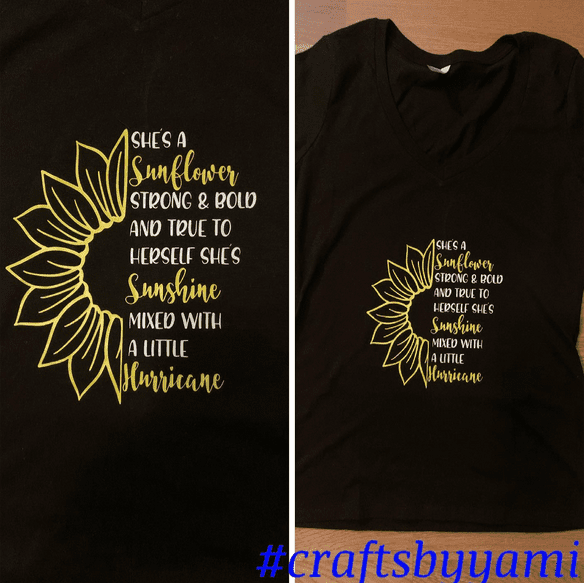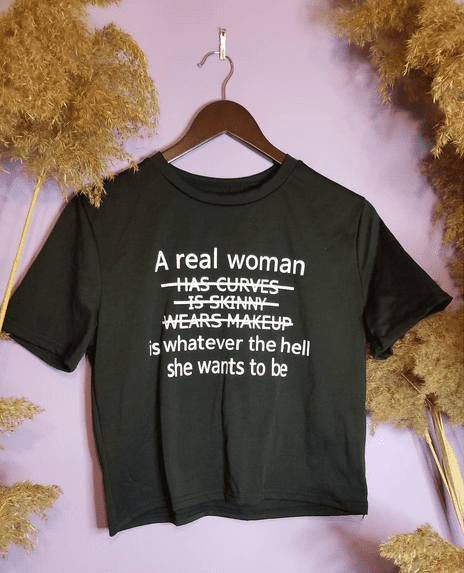 Or it could be the celebrant's favorite quote, or something they say a lot.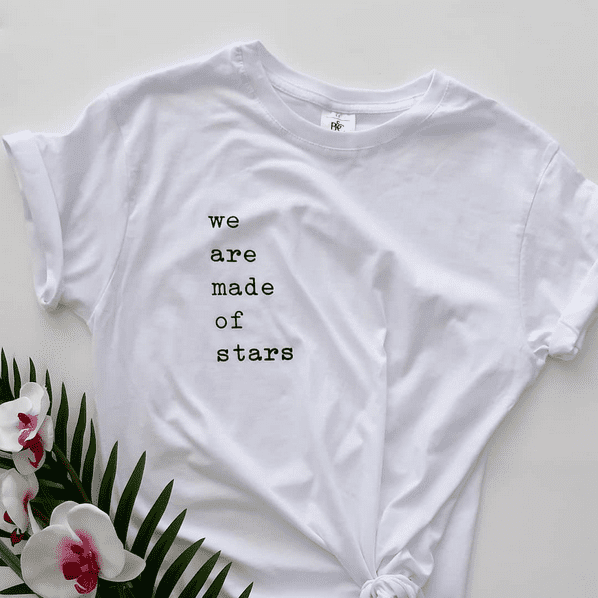 A friend of mine who's such a big fan of the TV drama "This is Us" would surely love this shirt with the famous quote from the series finale: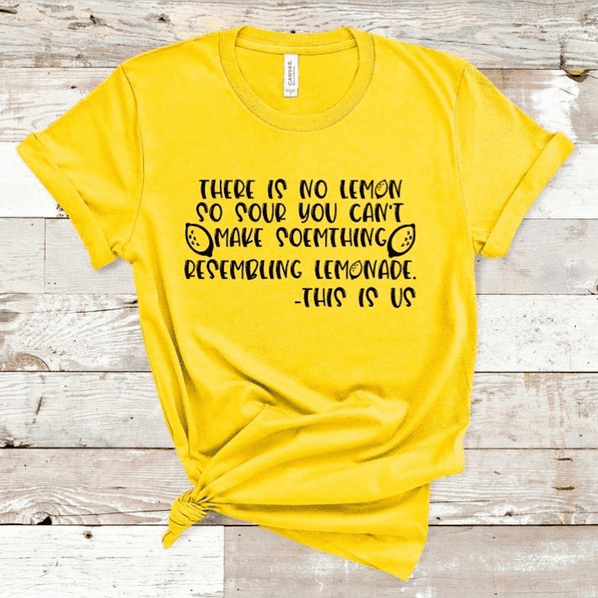 You can also go for simple lines or phrases that pertain to the birthday celebration.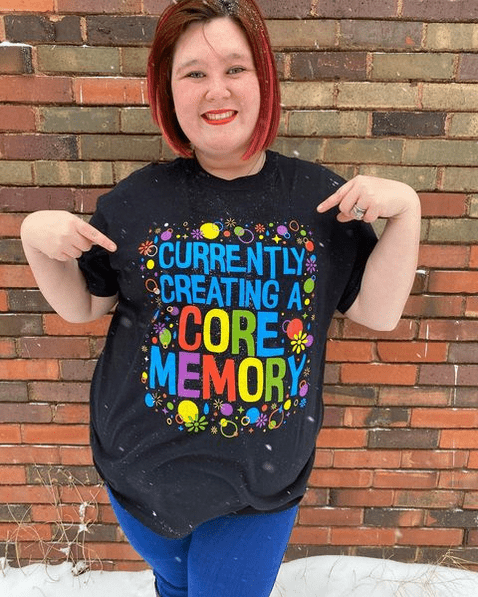 How about something relatable for all of us? Something about life, perhaps?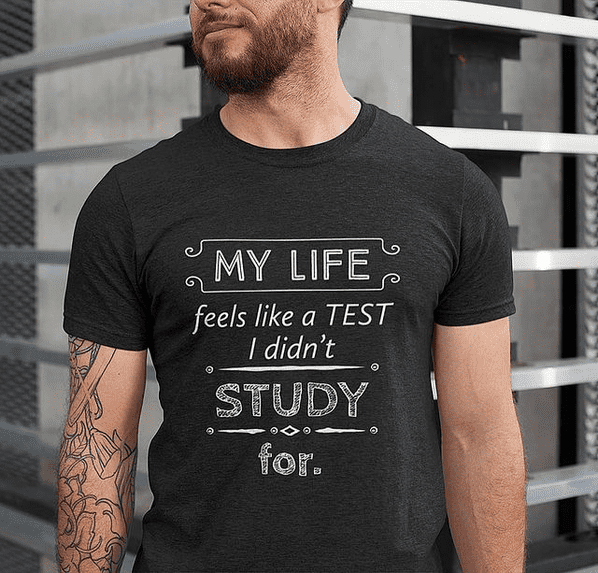 #03 C'mon, Make Fun of Yourself!
Show your sense of humor and your ability to make fun of yourself, especially your age. Wear a shirt that's going to make friends, family, and even strangers who pass by laugh or at least chuckle.
This shirt, for example, makes fun of everything an older lady gets to experience. I call this "old lady problems" and I'm definitely getting a similar shirt printed for cousin when she turns 40 a few months from now.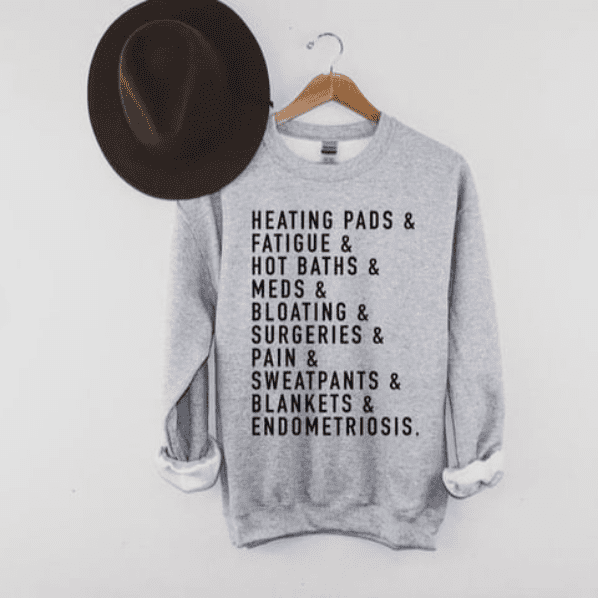 Here's another example of a funny shirt for people over 40. It has all these arrows pointing to their physical attributes: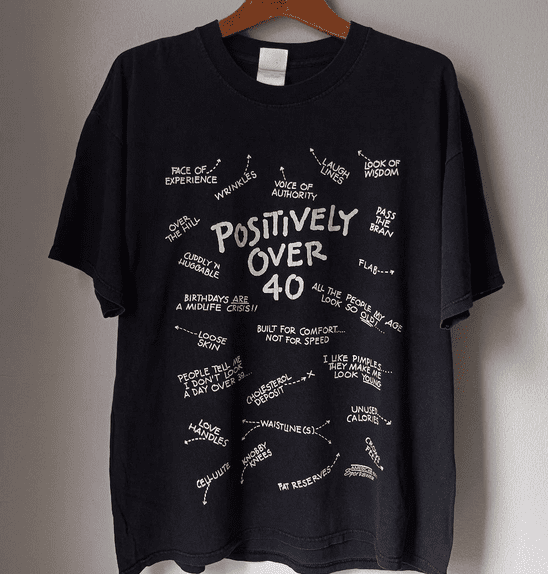 Are we talking about someone whom everyone knows to be a master procrastinator or who never seems to finish something? Well, this shirt might be perfect for them: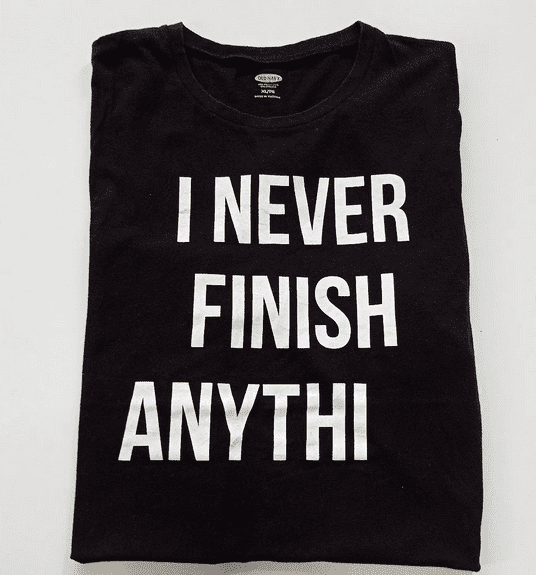 And if the celebrant is someone who's very introverted and shy, they'd be happy to wear this shirt to their party: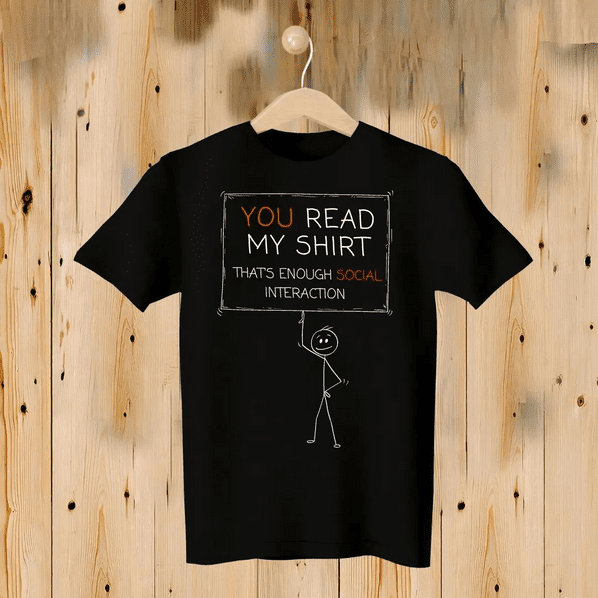 Tip: You can take a witty line and tweak it a little bit so it sounds more like it's the celebrant saying it. Something like: "I need some help with my candles. Happy Birthday to me!"
Here are other examples:
"It's the 30th anniversary of my 18th birthday today."
"They say that age is all in our mind. Well, my goal is to keep it from trickling down into my body."
"I am not stressed about my eyesight failing as I get older. I know it's nature's way of protecting me from shock as I walk past the mirror."
"I have attended more birthday parties for kids than adults this year."
"Forty??? I demand a recount!"
"I aint gonna let aging get me down. Because it's too hard to get back up again!"
#04 Inside Joke / Shade Shirt
If you are going to surprise a birthday celebrant with an intimate gathering with family or close friends and you're in charge of getting the birthday shirt, you may want to think of an inside joke and have it printed. Not only will this get everyone who's privy to the joke laughing, but it will also be a good ice breaker. And when you see the pictures later on, perhaps in your FB Memories, it would surely give you some laughs.
Here's an example of a similar shirt I had printed for a friend. This shirt shows what her typical daily schedule or routine looks like: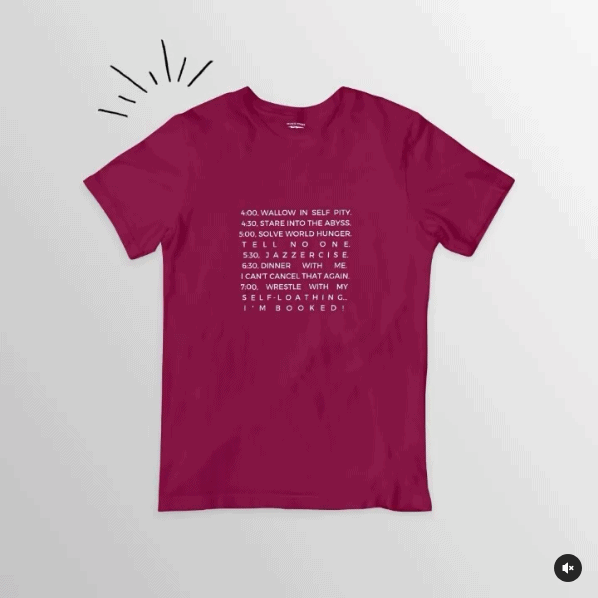 A former work colleague (now very good friend) had once blurted out something about our boss that the rest of us couldn't say out loud. Well, our boss heard it. Needless to say, my friend ended up being the boss' least favorite employee and we constantly tease her about it. So, guess what? She is definitely wearing this shirt on her birthday: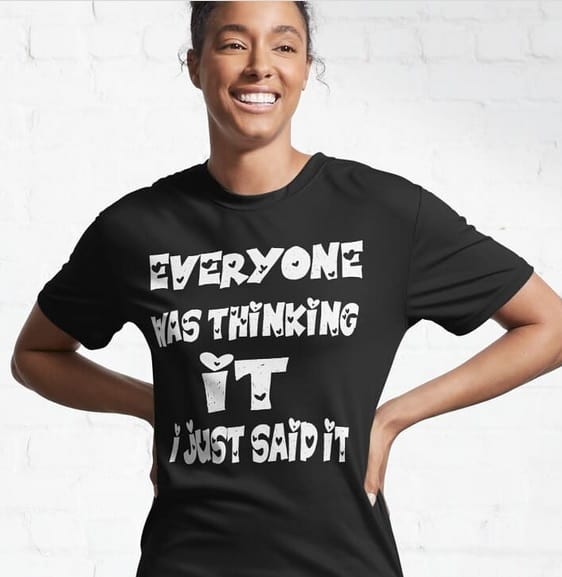 A gamer kid? Then they deserve a birthday shirt like this: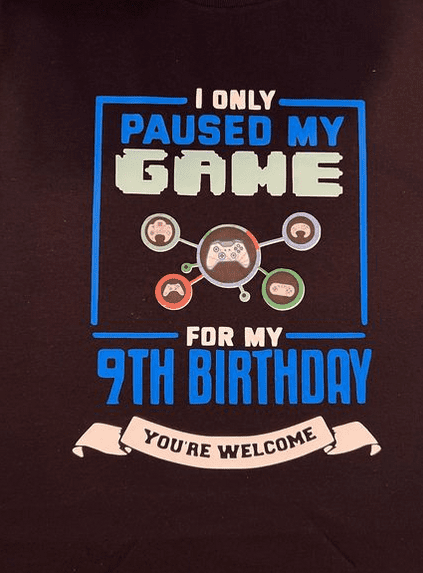 #05 Interactive Birthday Shirt
What does an interactive birthday shirt even mean? It could be a shirt that guests can sign or write on. This kind of shirt makes the perfect souvenir shirt because years from now, you can see who made it to your party and celebrated your birthday with you.
This shirt, for example, is pretty direct. It says it's your birthday and asks people to sign it. Don't forget to carry fabric markers or permanent markers around.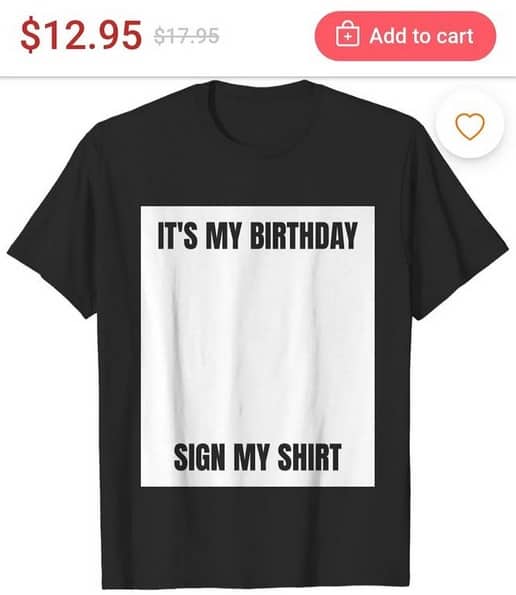 Another kind of interactive shirt is one with a QR code printed on it.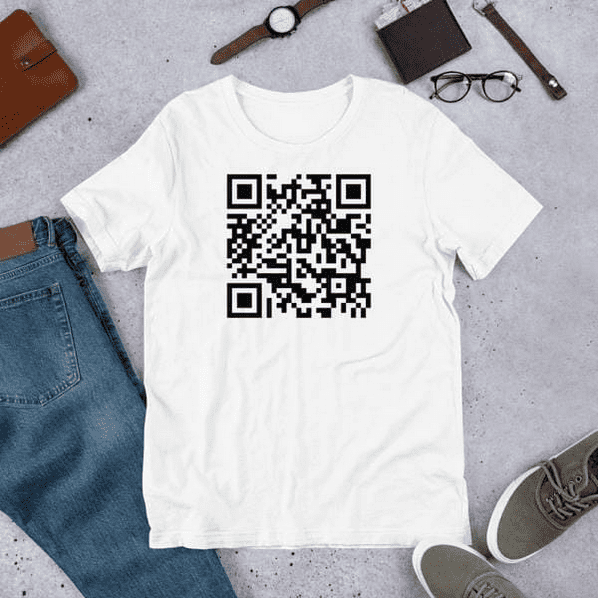 People can scan the code and be directed to a video you made for the birthday celebrant, to their favorite song on Youtube, or to their website. It could also direct scanners to their LinkedIn or their Facebook profile. Anything.
#06 Descriptive Birthday Shirt
List up all the adjectives that describe the birthday boy or birthday girl and use all the words to form their age. Here's an example: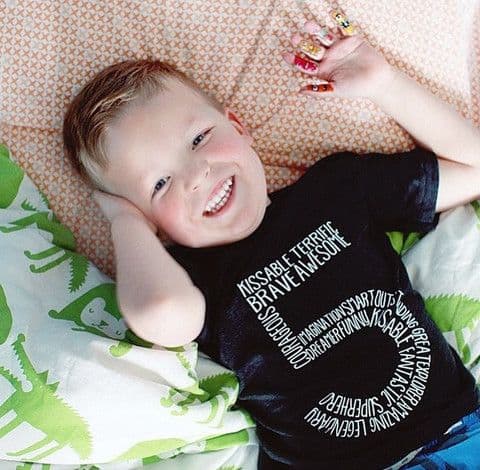 You can ask a graphic artist to do the layout for you. They would know how to fit the words into any number. Most t-shirt printing companies also have in-house artists who will help you.
#07 Favorite Things
You can also list down all of the celebrant's favorite things. Gather images of these favorites, add them to the design and layout, and print them all on a shirt. This will make everyone look at the shirt longer and inspect what's printed on it.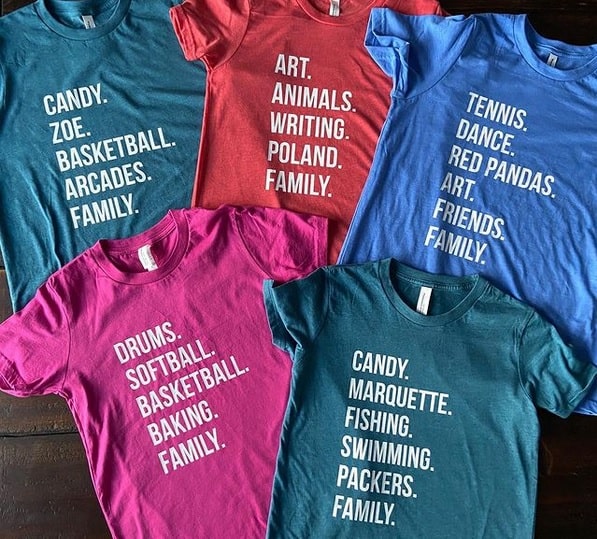 This shirt from Herivar shows you how it's done. But you can give it a header like "Birthday Boy's Favorite Things" or "Gift Suggestions for Next Year."
https://teeherivar.com/wp-content/uploads/2021/06/210623AFL30563-1.jpg
Here's another sample shirt from Mamma Tee: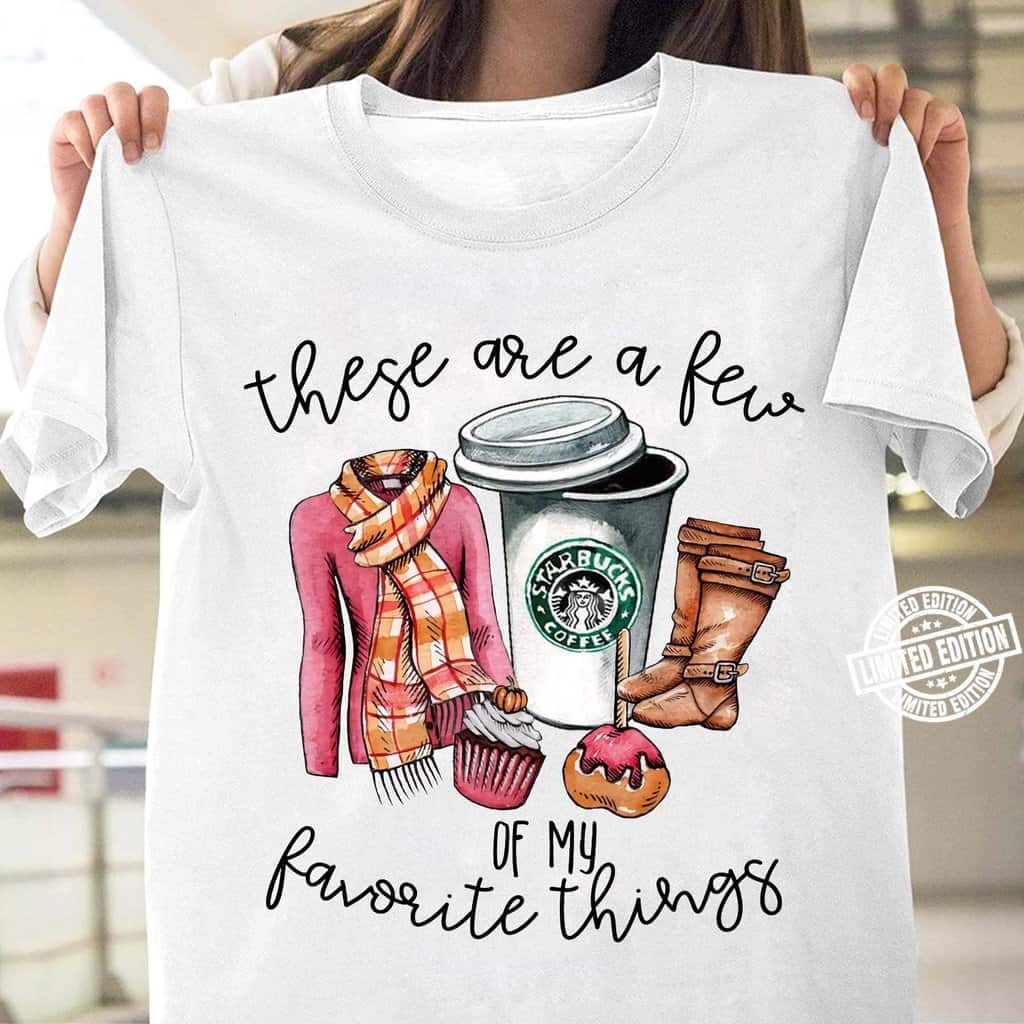 This shirt design is perfect for someone who's also celebrating their birthday on Halloween: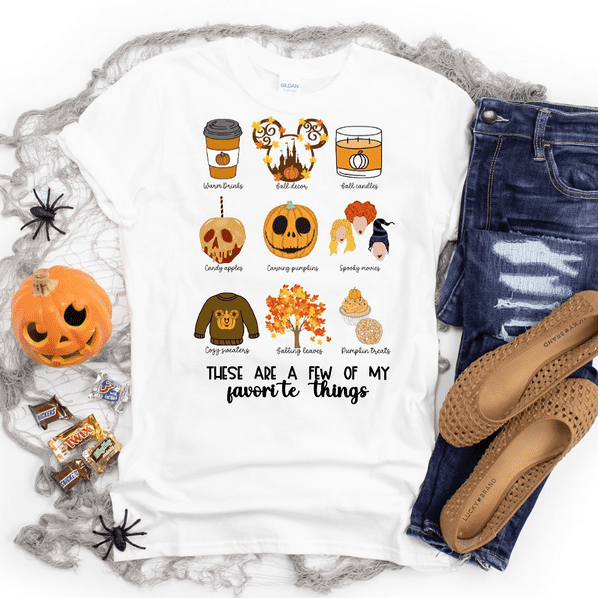 You can also do the reverse and, instead of favorite things, do a "Pet Peeves" edition.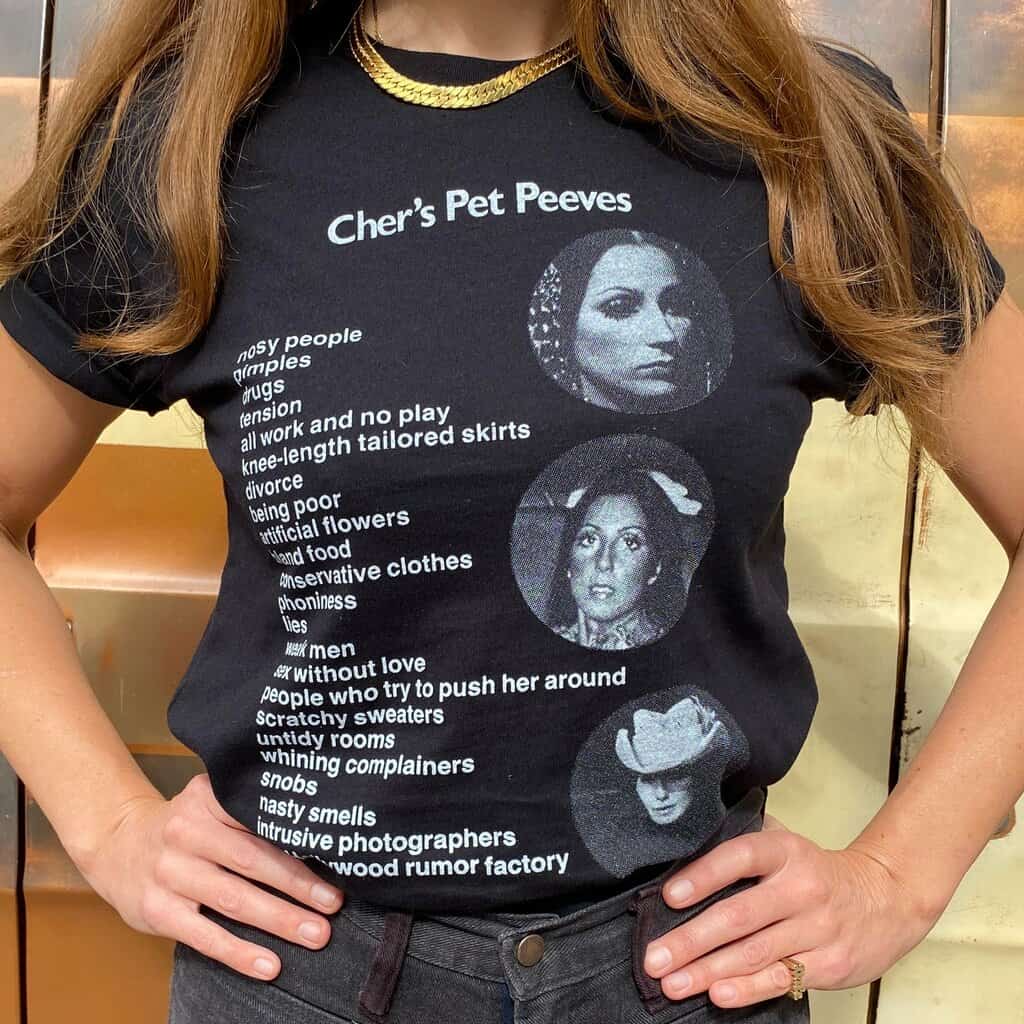 #08 Trivia Shirt
For me, the best way to celebrate a loved one's birthday is to show them how well you know them. For starters, you can make a list of interesting tidbits about the birthday girl or the birthday boy. Or you can do a numbers game and add a header like "I am 40, but there are more interesting numbers to know about me" or "My Life in Numbers." Here's a suggestion of items you can include:
Current weight
Current number of children (or cats)
Cups of coffee consumed per day
Number of books you've read the past year
Number of minutes it takes you to finish a meal
Number of squats you do in a day
Level of attractiveness
And here's a sample layout:
http://www.motherinc.org/wp-content/uploads/2010/05/numbers-1024×768.jpg
#09 Birth Month or Horoscope Shirt
You can print a birthday shirt that highlights the celebrant's birth month. And you can add some of the signature characteristics of those born on that month, or  belonging to a certain zodiac sign.  Of course, it doesn't have to be 100 percent accurate according to astrology. You can just write something that describes the birthday boy or girl.
This shirt is for someone born in February and who happens to be a firecracker: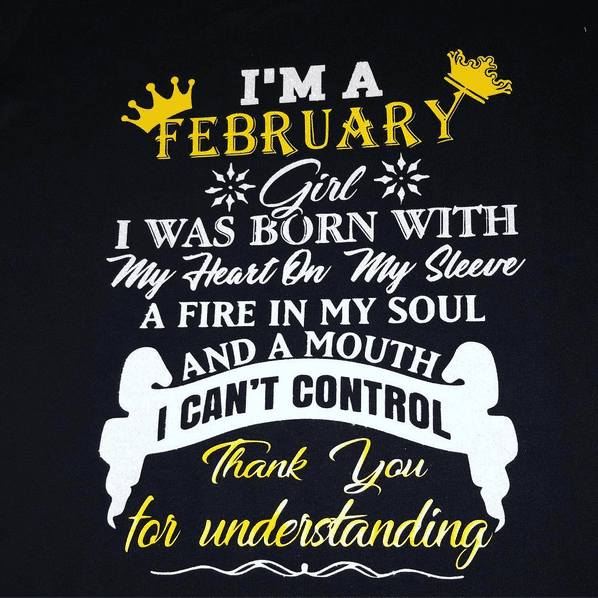 Here's a birthday shirt for a Taurus guy. And I love how it highlights both his good and bad qualities.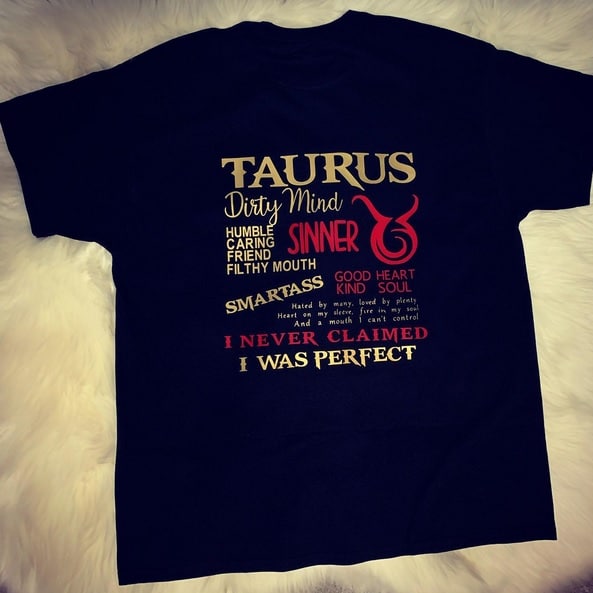 This shirt from All Blue Tees perfectly describes my husband, who was born in November: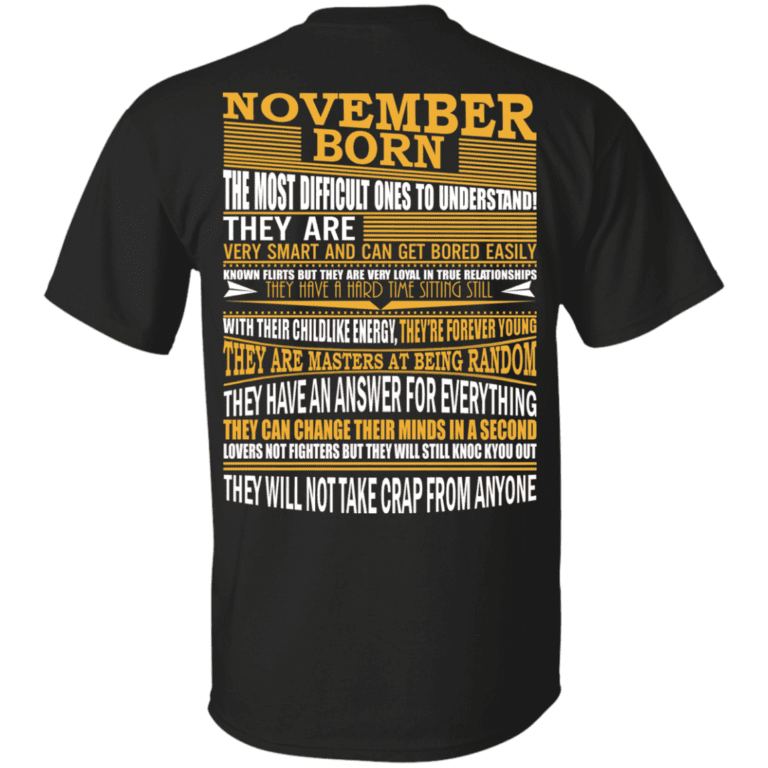 Here's another take on the zodiac shirt: Nutrition facts about Geminis.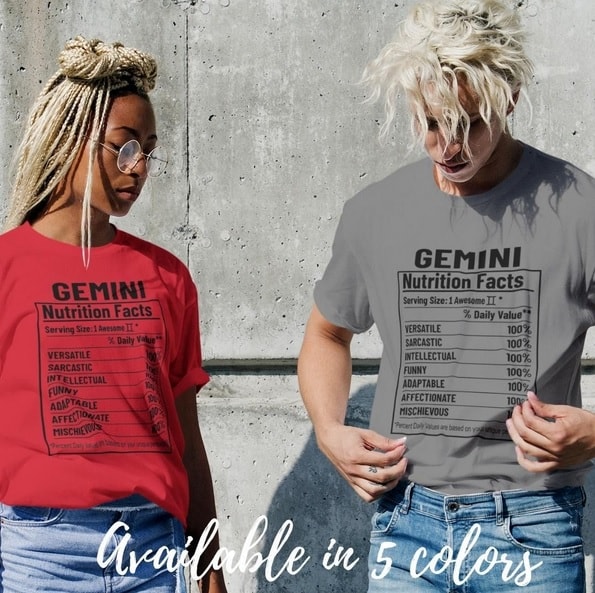 I love shirts with a handful of text. It really makes me look more closely and read everything. This shirt, in particular, describes in Aquarius babies in detail: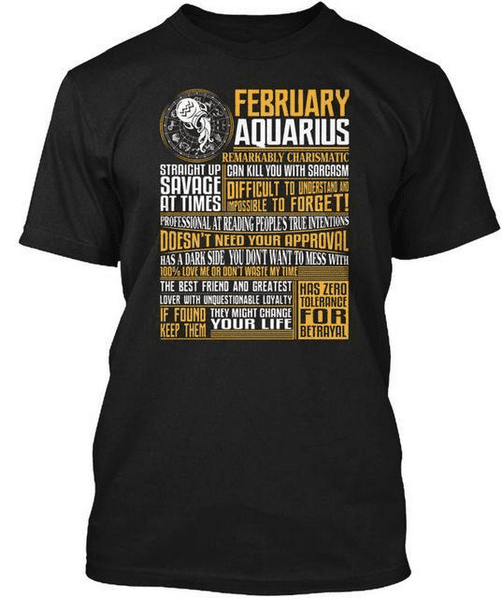 This design looks pretty neat, too: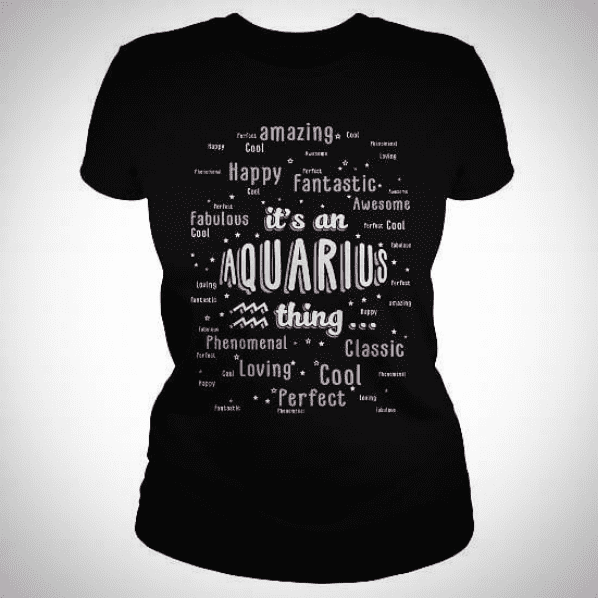 #10 Caricature Shirt
Find an artist who can do caricatures of a person's likeness. Pick a picture that best represents the birthday celebrant, and get the artist to draw a caricature version. Get this caricature printed on a shirt. You can even add a quote from the celebrant or their name and birthdate.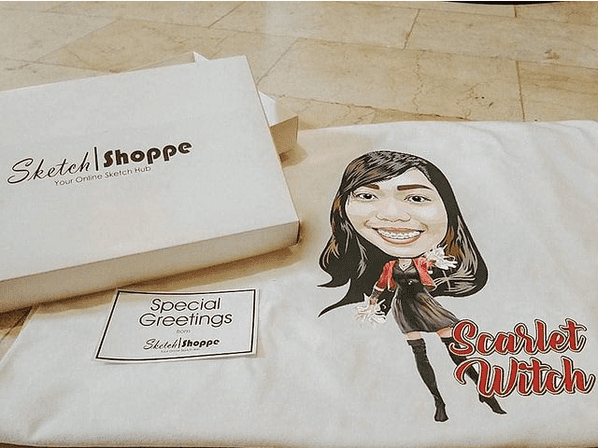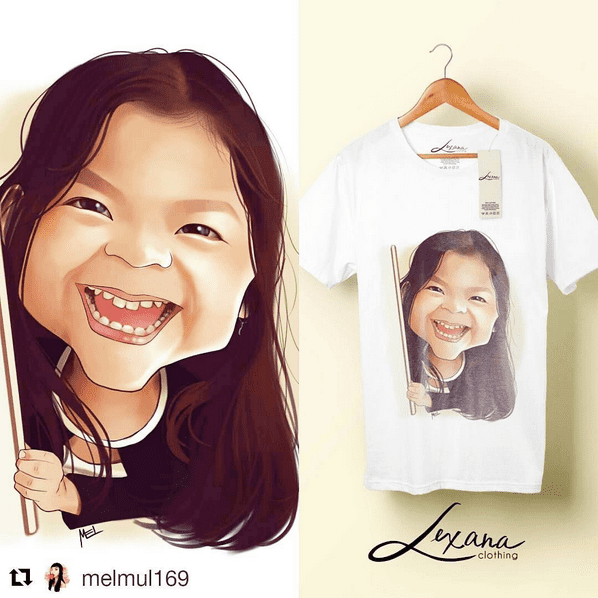 Shirts for the Birthday Guests
And who says only the birthday celebrant has to wear a custom shirt? Of course, it would be double the fun and laughter if family and friends who are at the party would wear their own custom shirts, too, in honor of the celebrant. And when picking a shirt design for everyone else, you can either print uniform ones for all of you, or you can personalize each shirt.
Are you the parent of a now-sixteen-year-old girl? Then you should get a shirt that sort of solicits sympathy drinks. Like this: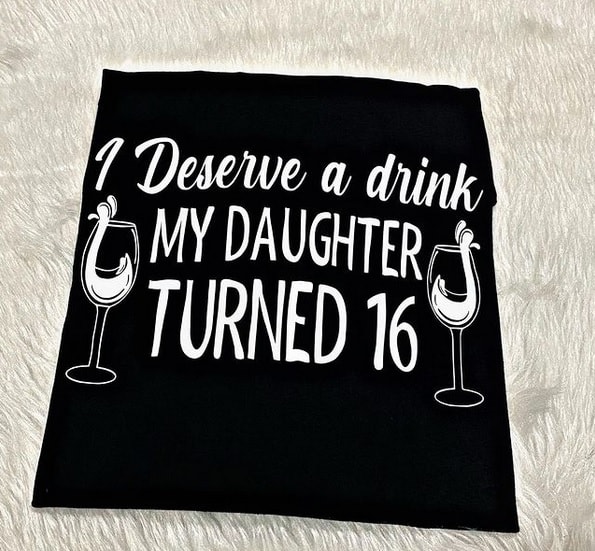 Here's a nice shirt idea for a husband whose wife was born in September: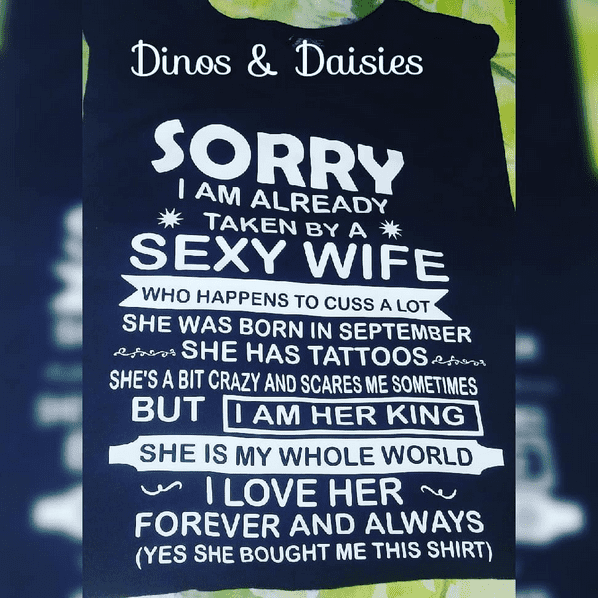 You can print some funny quips, like the ones you would usually read on birthday cards. And you can also wear shirts that say your respective birthday wishes for the birthday girl or birthday boy. That is, of course, if you have no issue paying extra for a few more shirts, each with its own text design.
You can also just do something cute and wholesome as a family, with not much text.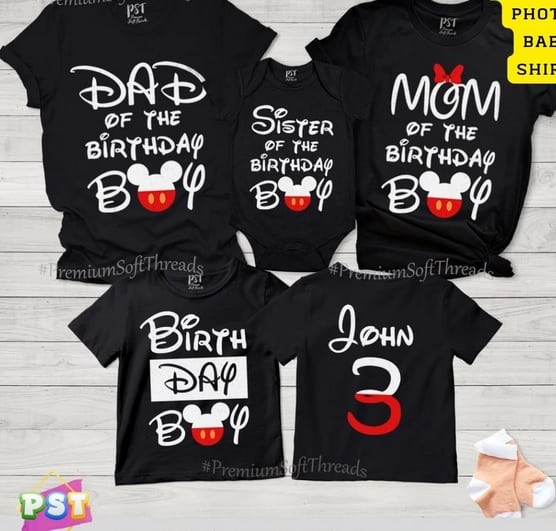 And since we've talked about caricature shirts earlier, what if the entire gang wears a caricature of the birthday celebrant?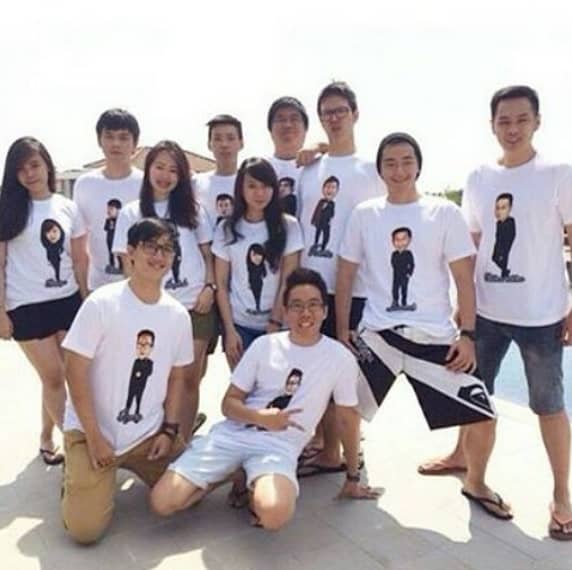 Frequently Asked Questions
Question: Why do people wear birthday shirts on their birthday?
Answer: Birthday shirts are much like birthday cakes; they are not usually something the celebrants get for themselves, but something friends or family get for them. While birthday shirts are not really as important and indispensable as birthday cakes, they do add to the fun factor.
A birthday shirt also makes a good conversation piece or ice breaker. This is why it is important to pick one that is unique and interesting, inspiring, meaningful, or funny.
Question: How much does it cost to have a birthday shirt custom-printed?
Answer: The cost for printing custom T-shirts depends on a few things. One of these is quantity. Having only one shirt printed is going to cost more than if you print a few pieces at one time. Moreover, different printers use different printing equipment and techniques, too. So that would also affect pricing. Shirt quality and shirt color should also be factored in. Naturally, heavy cotton shirts are more expensive, and white shirts are a lot cheaper than the colored ones.
Your shirt design and layout could mean additional charge, too. If you ask the printer's in-house artist to help with your shirt design and layout, you may have to pay extra. So you may be able to save if you or someone else in the family could do the design.
Question: I want to have a birthday shirt printed, but there are apparently different printing methods. Which one is the best?
Answer: Yes, there are different t-shirt printing techniques, and these different techniques have varying efficiencies. This means that there are certain methods that are suitable for certain types of fabric, and there are also methods that are suitable for printing a small number of shirts but not for mass printing.
There's screen printing, which is what most professionals prefer because it has the best print quality. This method seems time-consuming, but it is suitable for large orders and is relatively low-cost.
There's also the DTG or Direct to Garments method, which works the same way as paper printing, using a textile printer and ink. The design is loaded to a computer and is then fed to the printer. This method is quick and works best for designs that are too complicated and involves too many colors for screen printing to do.
You also have dye sublimation, which is suitable for light and breathable fabrics like polyester and for printing large designs. In this method, a special liquid dye is used, and this dye dries up when it comes into contact with the shirt.
These three are the methods most used by printing companies. But there's also heat press printing, which uses transfer paper plus heat and pressure to transfer your design; heat transfer vinyl, which uses a special cloth cut into shapes then transfers them via heat press; plastisol transfer, which is like silk screen printing but with plastisol replacing the screen; and computer-aided design cut printing, which also uses heat press to transfer a CAD-cut design on colored vinyl.
Conclusion
Birthday shirts make birthdays a lot more fun and special. It is like putting the spotlight on the celebrant at all times during the day and not just when it is time to blow their candles. Birthday shirts are also great for birthday photoshoots, so when the celebrant looks at the photos years from now, they will see how much love, care, and effort went into the celebration. As such, if you are picking a birthday shirt for a loved one, skip the run-of-the-mill designs and go for something more personalized, something the celebrant and the guests would laugh about or could truly relate with.
Recommended Reads: