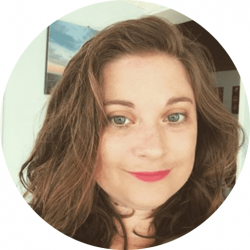 Latest posts by Samantha Bellinger
(see all)
After over a decade of event planning, I've planned my share of alcohol-themed parties, especially for 21st birthdays. Hennessy is one of those alcohols with a strong following, and I see it routinely in party themes. Hennessy cake ideas are one of the best ways to incorporate the theme into the celebration, regardless of what you are celebrating.
Bottom Line Up Front
Of all the Hennessy Cake Ideas listed below, my favorite is the pink Hennessy cake with pink cupcakes (#15 on the list). It is simplistic, elegant, and provides a unique combo of cake and cupcakes in one go. I also really love the combination of pink and a hint of gold. It doesn't seem like a lot at first glance, but it stuck in my mind, and I had to go back to look at it a few times. That is a winner in my book!
Selection Criteria
My selection criteria for this Hennessy Cake Idea guide were simple. The cake either needed to have:
a visual reference to the alcohol

contain the flavor 

or a combination of both
All 35 options below match one of these criteria.
35 Hennessy Cake Ideas
I love this classy cream-colored cake that is a spot-on match for the label color. The design is elevated with edible gold pearls, wrapped Ferrero Rocher chocolates, and a matching gold topper that says, "Happy Birthday." Not only is the decoration lovely, but it also adds in the boozy flavor of Hennessy with overturned bottles of Hennessy and a few smaller vials containing the alcohol.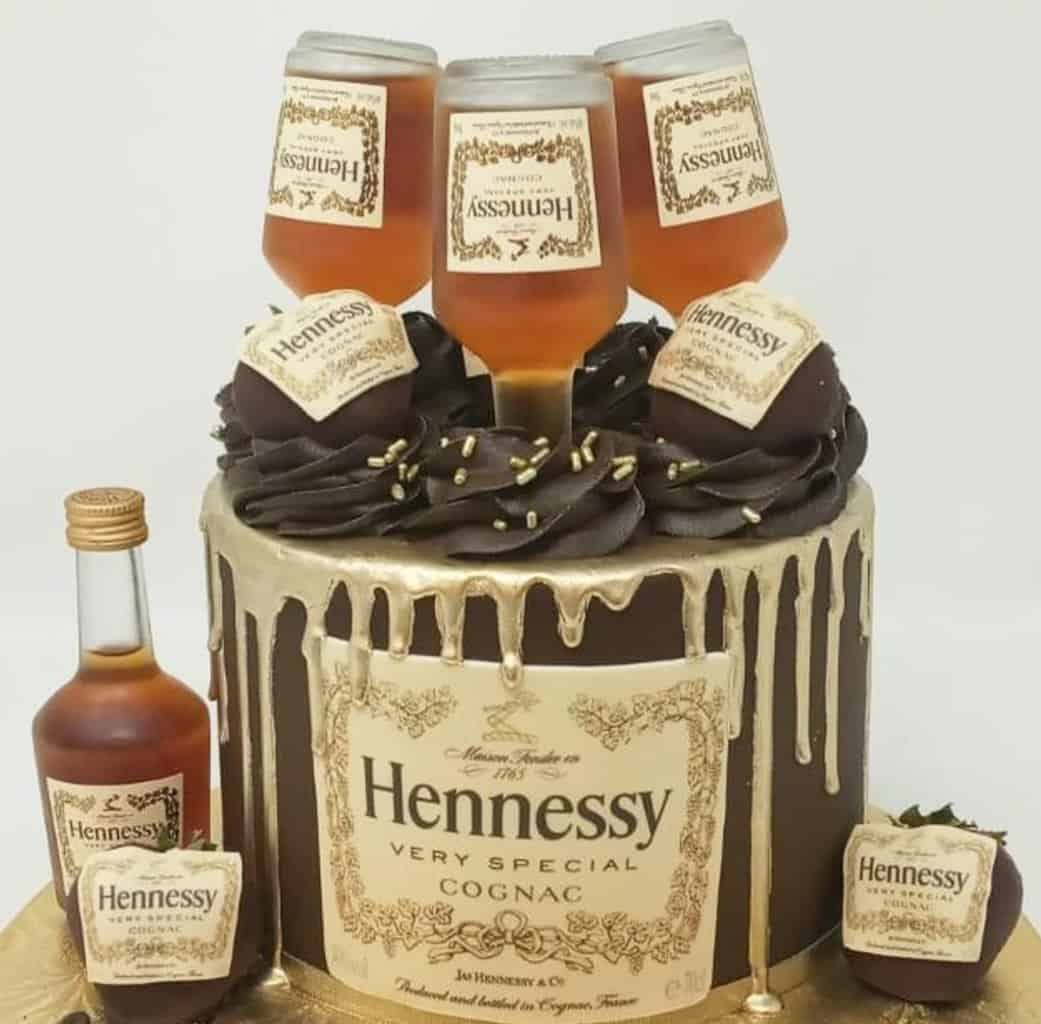 Are you a chocolate fan? This chocolate Hennessy Cake is for you. Not only is the chocolate cake covered in chocolate icing, but it is topped with dark chocolate swirls of icing and chocolate-covered strawberries. I'm a fan of the golden drip down the sides of the cake and that they put edible icing Hennessy labels not only on the cake but also on the chocolate-covered strawberries.  
 This Duchle de Leche Cake is topped with a chocolate drip and surrounded by Hennessy, Ferrero Rocher chocolates, and chocolate-covered strawberries. If that wasn't decadent enough, the chocolate-covered strawberries have small vials of Hennessy inserted into them too! Talk about a boozy delight! You can see multiple angles of this cake in this Youtube video.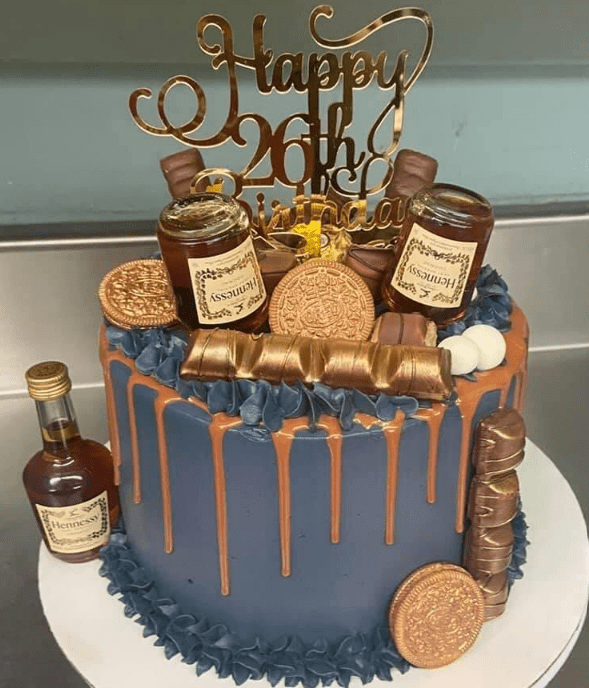 This cake caught my eye because of the striking contrast between the blue and gold colors. The 2-layer cake is covered in smooth blue icing and topped with gold decor and Hennessy bottles. I was particularly struck by the gold Oreos and candy bar, which were coated with edible gold spray before being added to the cake. Credit goes to Delicious Sweets Bakeshop for this beauty.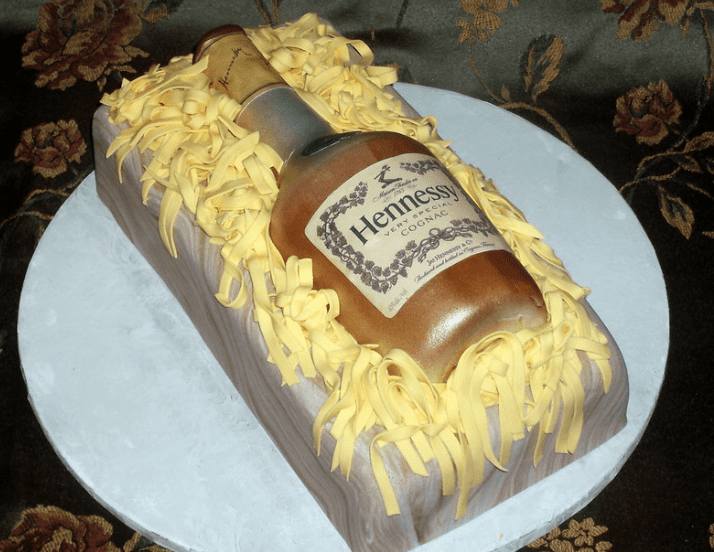 While this isn't the prettiest option on this Hennessy Cake Ideas list, it is one of the simpler ones to create. You can simply have a long rectangular cake, icing the cake, add a full, unopened bottle of Hennessy and add icing decorations around it to visually integrate it into the cake. Not too bad if you are trying to DIY this cake.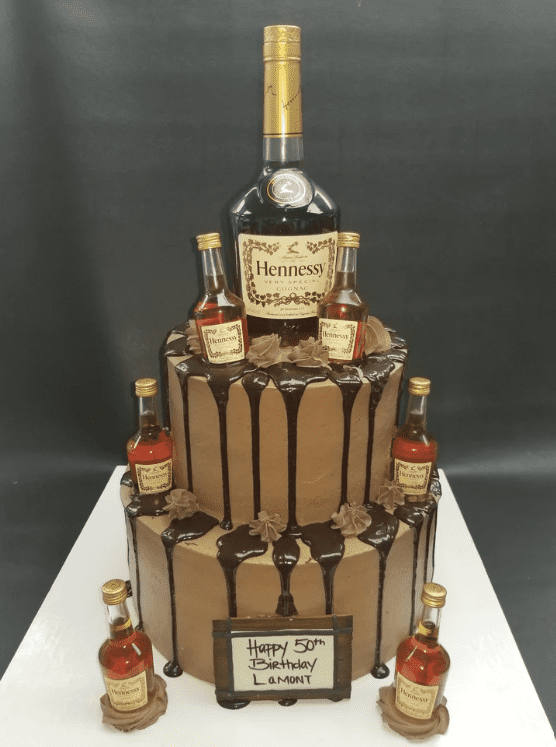 Circo's Pastry Shop outdid itself with the two-tiered Hennessy cake. The cake is a chocolate mouse cake with drips of dark chocolate. Then there are four mini Hennessy bottles along the edges and a large bottle on the very top. I'm particularly fond of how they used chocolate moues frosting to hold those bottles in place. 
TikTok has a wealth of cake ideas, and this bright pink Hennessy cake is no exception. I could watch the video of its creation on repeat. The bright pink icing is stunning enough, but add in gold accents, pink chocolate-covered strawberries, and three flask-sized bottles of Hennessy, and you've got my attention. 
Sweet Cake Fetish created this elegant cake. The cake resembles a champagne bucket – black with gold decorations. The top of the cake features an entire Hennessy bottle surrounded by fake ice. I'm guessing it must be a sugar-based treat, but I didn't find any concrete information on how they created the "ice."
Credit goes to Cakes by Zana for this Money and Hennessy cake. The cake itself is barely visible, with the appearance of hundred-dollar bills covering the entire surface of the cake. On the top and the side are two small bottles of Hennessy with tiny black bowties on the bottlenecks. This particular version also has a cake topper and banner along the base, indicating this is a birthday cake. Still, you could easily change those two features to reflect any reason for celebration.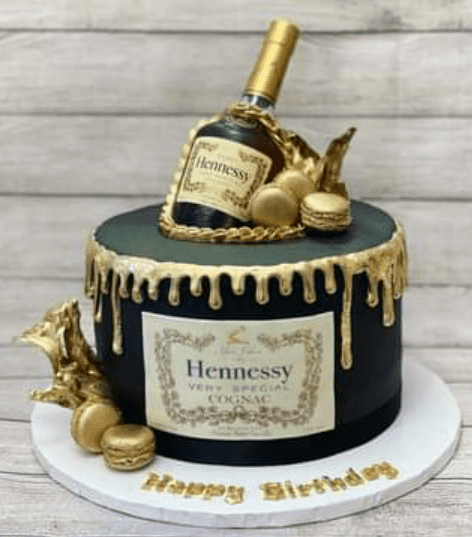 This green and gold Hennessy Cake by JTM Cakes' N' Pops caught my eye because of its unique color combination. I rarely see this dark of a green icing. The color's richness is alluring in itself but add in the gold accents, which is a striking combination.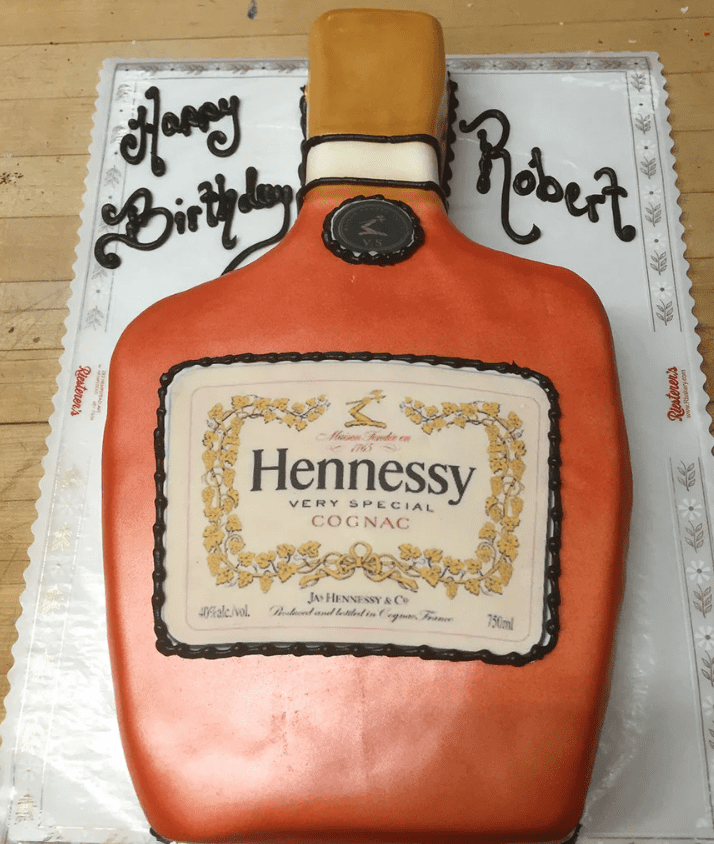 Props go to Riesterer's Bakery & Cake Gallery for this bottle cake. They seem to specialize in fondant-covered cakes shaped into desired themes. This bottle cake appears to be a shaped sheet cake and looks like it'd feed a crowd.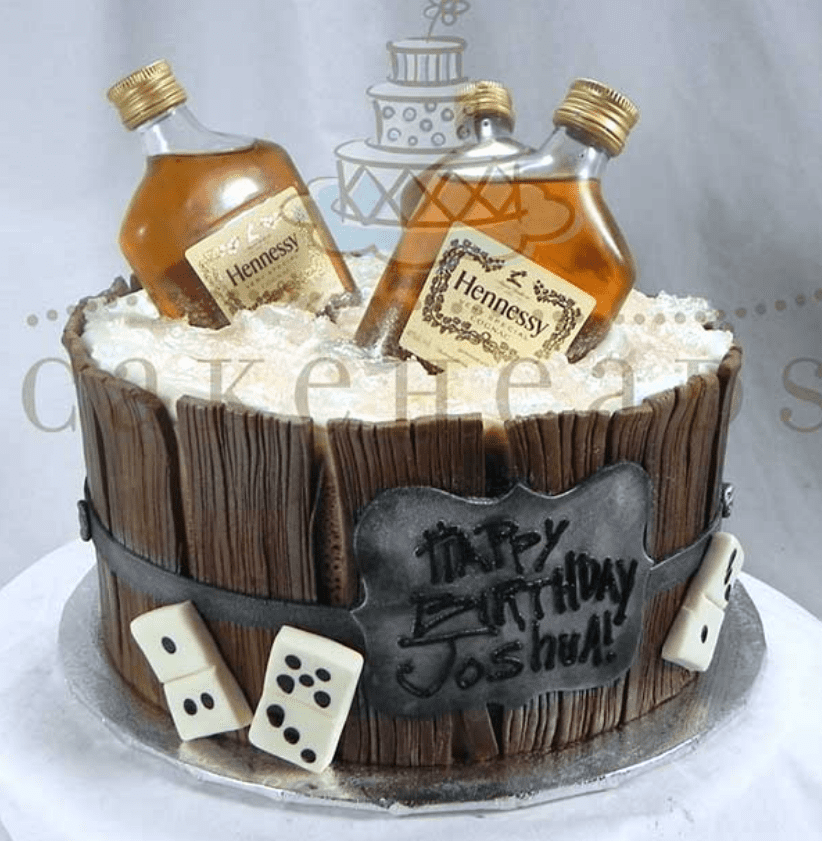 Cakeheads Bakery created this Barrel and Dominos Hennessy Cake. The side looks like an oak barrel and features a plaque dedicated to the birthday person. There are a few domino pieces also along the bottom. The top of the cake has three bottles of Hennessy leaning in several directions.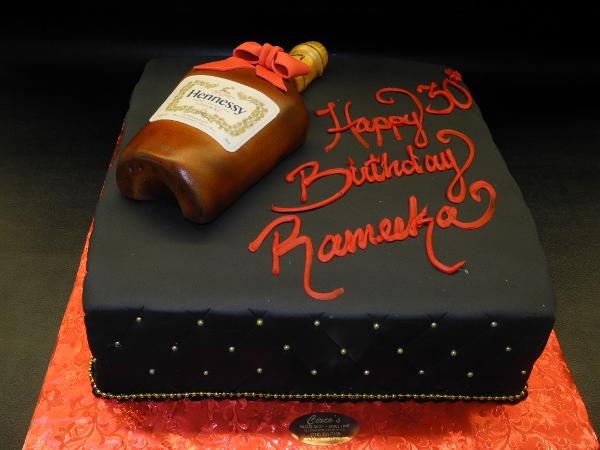 This cake from Circo's Pastry Shop is a large square sheet cake covered in black fondant icing. The top features a birthday message and an edible Hennessy bottle made from fondant.
I love the simplistic look of this cake and cupcake combo. The pink cylindrical cake is covered with light-pink icing and accompanied by four pink cupcakes – 2 at the base and two on top. I love that the cupcakes are in pink metallic wrappers, topped with pink icing, and crowned with a white chocolate-covered cherry. Plus, there are gold flecks and three tiny bottles of Hennessy strategically placed. Pilar Cake Studio created this masterpiece.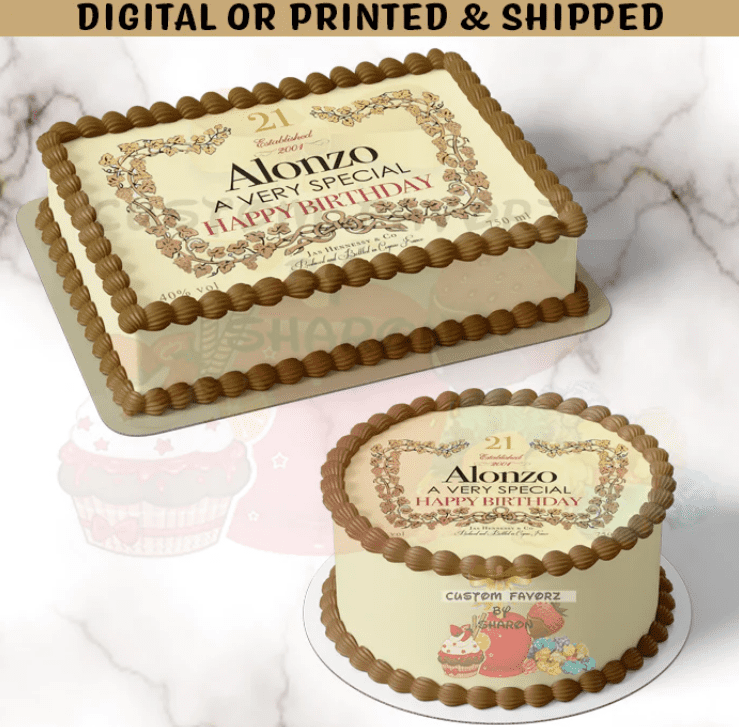 I must admit that this is less of a specific cake idea and more of a "wow! I can't believe that type of cake decoration exists!" I decided to include it because you can use it on any size or shape of the cake. It'd be perfect in place of some of the edible images with traditional labels. What do you think? Would you customize this edible Hennessy label for your next Hennessy Cake? If so, check out Custom Favors by Sharon; credit goes to them for this idea.
Since I was so taken by the edible image above, I wanted to include another cake idea that used this type of edible image. Forever Yours Creations made this sheet cake with white icing, an edible image on the top, and four mini bottles of Hennessy in the corners. I laughed when I read the little banner at the bottom edge. It says, "Hennything for Bo$$man." I'm still chuckling over that.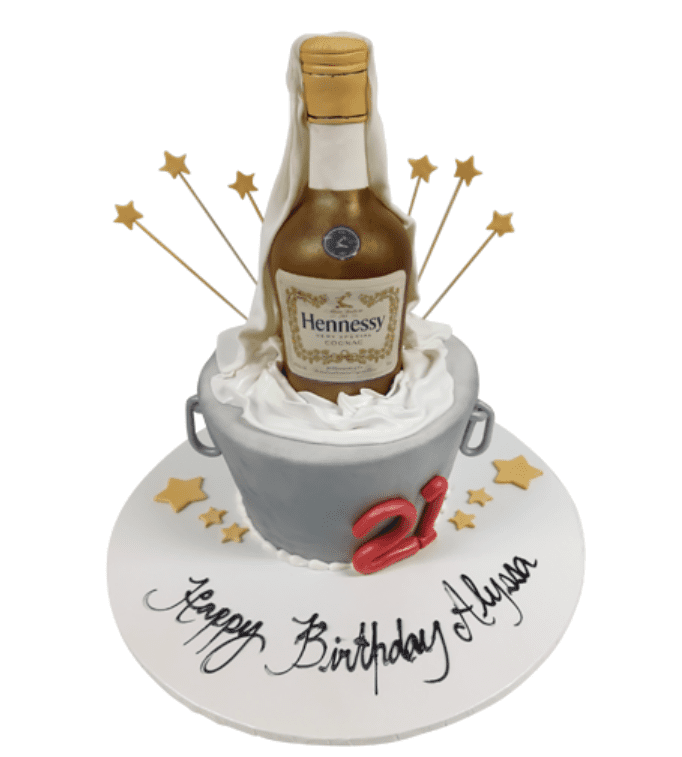 This simple cake is perfect for a 21st birthday. It is a small round cake with white icing, but the top is decorated with an edible Hennessy bottle decoration and a series of stars on the end of skewers giving the impression that they are shooting stars. 
While this was labeled red and gold by the original poster, I argue that it is solidly orange. Regardless, it is a brightly-colored cake featuring strawberries and gold accents. You can watch the creation process on YouTube up.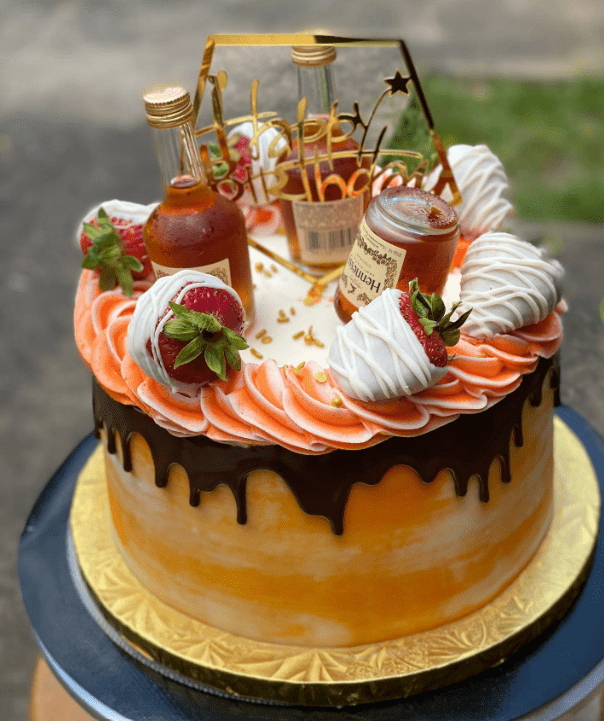 This creamsicle cake is a close runner-up. Part of my appreciation of it is the decoration; part of it is a personal association with creamsicles. One of my best friends loves all things creamsicle and orange flavored. Think orange soda, orange sherbet, creamsicles, etc. This cake would be perfect for him.
Even if I didn't have that association, I would love the decoration of this cake. The orange cake has a chocolate drip around the edge, is topped with fluffy white and orange icing, and white chocolate-covered strawberries line the border. There is a gold happy birthday topper and three mini Hennessy bottles on top in the middle. I particularly like that two are upright, and one is upside down, adding Hennessy to the cake. Overall, it is visually stunning and probably delicious. Credit goes to Sweet Treats by Quinn LLC.
Of all the Hennessy Cakes I searched through, very few were purple. So naturally, I had to include it in this list of Hennessy Cake ideas. This cake is almost neon purple. The purple cake has swirled purple icing on top, a drip of dark purple along the top edge, and purple bling around the bottom of the cake. Not only that but the decorating cupcakes and covered strawberries are decked out in purple. It is so bright that I nearly missed the Hennessy bottle on top.
This cake puts the glam into glamorous. It was created by B Dallas Cakes and is downright eye-catching. I don't even know how they managed to make the sculptural design on top behind the Hennessy bottles. Add in the solidly gold strawberries, and I'm fascinated by how they created this cake.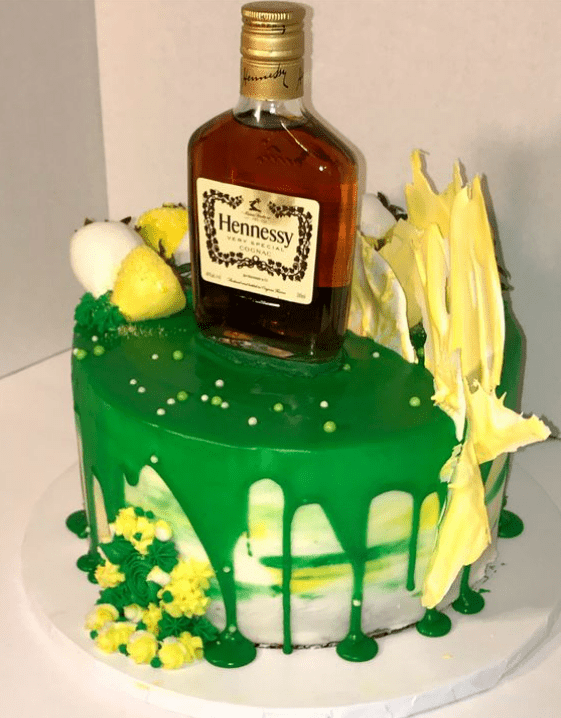 Another interesting sculptural cake is this green drip Hennessy Cake. The top of the cake has a glassy-looking green topping that drips down the sides. Then on one side is a series of whitish-yellow sugar spikes that stick out almost like stegosaurus spikes or a jagged rock formation. Those spikes continue behind the Hennessy bottle in the center and lead our eye to the white and yellow-covered strawberries. It is one of those cakes you stare at to try and figure it out. It might not be for everyone, but it is certainly memorable. 
These Hennessy Infused cupcakes look delicious. I love that there are multiple designs — happy birthday, the number 50, plain icing, and even some with personalized Hennessy labels featuring the guest of honor's name. I was also impressed that some had vials of Hennessy to create infused cupcakes while others purposely offered a booze-free option to guests. Sweet Life of CeCe uploaded this particular photo, but you can see the whole YouTube video here.
Don't want the Hennessy imagery but enjoy the taste? Try this pineapple upside-down cake made with Hennessy. My aunt loves Pineapple Upside Down Cake, so I love that there is a Hennessy version of it. You can watch the YouTube video here.
Bani Bakery created this Artsy Hennessy Cake. Honestly, it looks way more like a sculpture than a cake. I'm not sure I love the colors, but the intensity of the sculptural elements caught my eye.  
Want the best of the best? Try this Strawberry crunch cake infused with Hennessy and decorated with glittery Hennessy bottles. Bsweet Treatz created it, and I'm guessing it is delicious. 
If you are anything like my husband, you prefer ice cream cakes over regular cakes. Tipsy Scoop has you covered with their Henny Ice Cream Cake. What cake ideas list is complete without ice cream cake, right?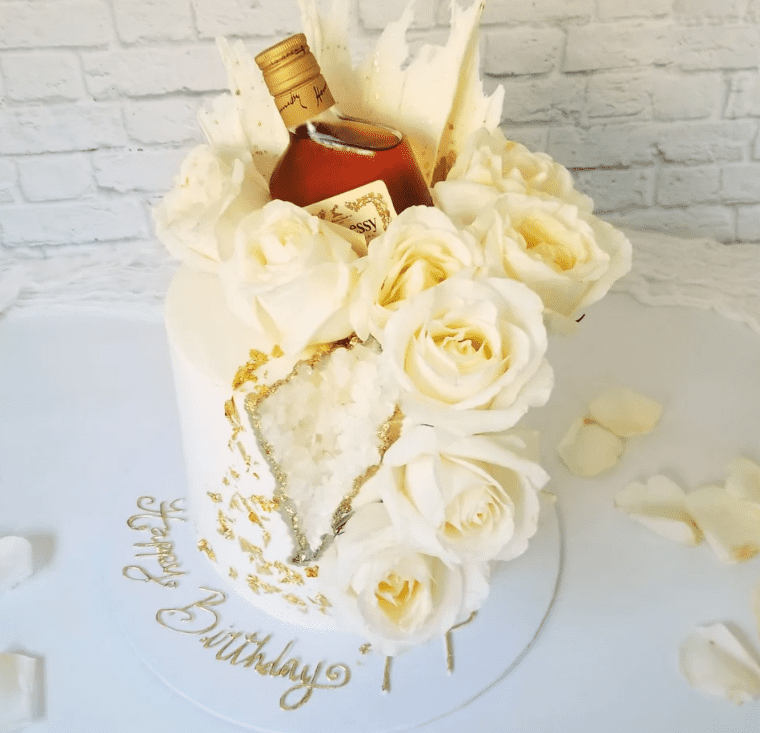 I am particularly impressed by the unlikely combination of a rock-candy geode-like cut-out and fresh flowers. Those two don't usually go together. Throw in the Hennessy bottle, and you have even more of a unique combination. 
Red Velvet has a special place in my heart. Growing up in the south, I saw red velvet cake everywhere. Then I move to Vermont, and you have to order it specially. I also love that with cupcakes, you can have the option of just the cupcakes or getting them with mini bottles of Hennessy upturned in them.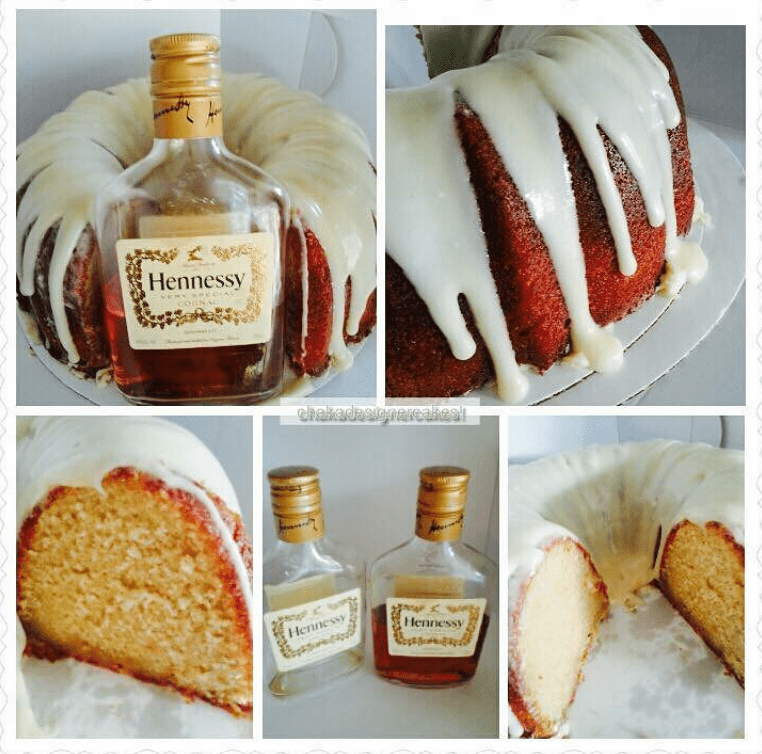 Not a fan of too much icing? This Hennessy Bundt Cake has you covered. You can even place a small bottle of Hennessy in the middle of the bundt cake if you want a visual indication of what it contains.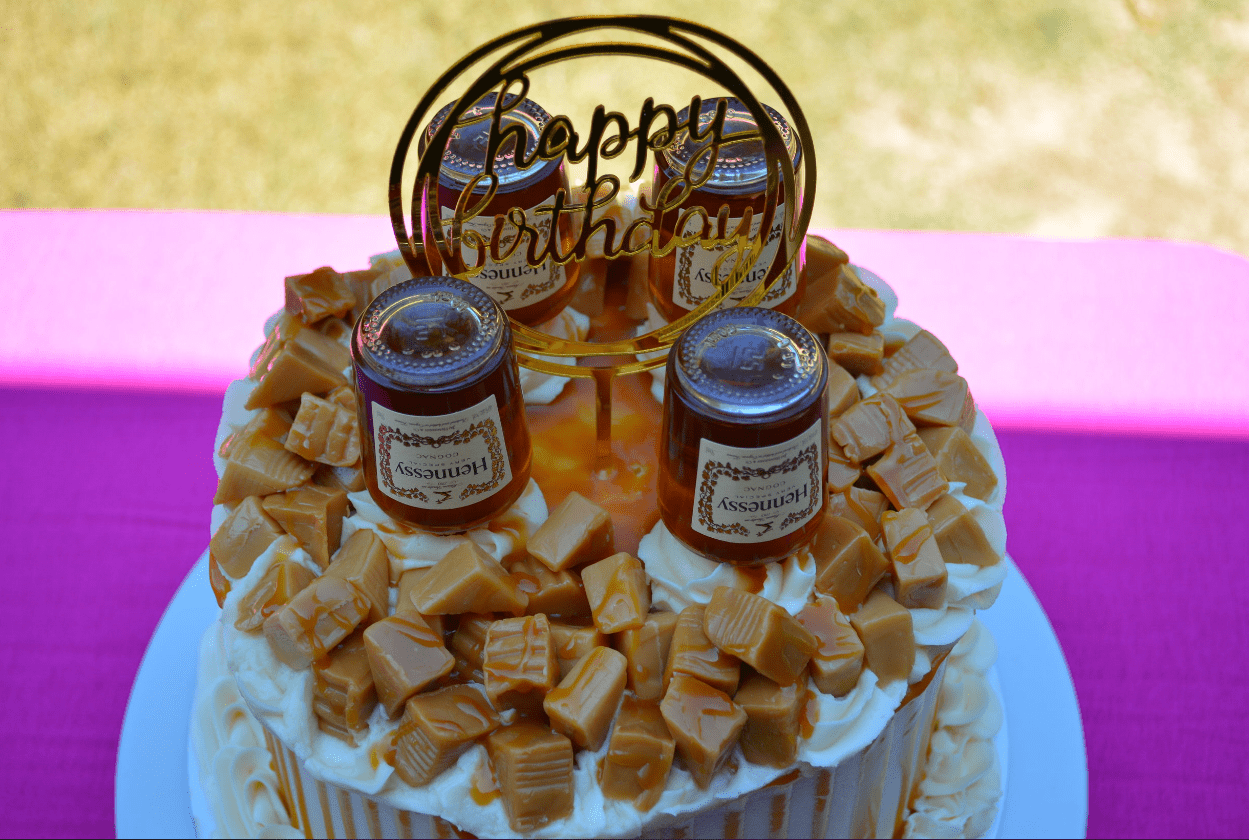 Holy caramel, batman! This Caramel Hennessy Cake by Crumbs and Confetti is laden with caramel candies on top. That initially caught my eye, but I also appreciated that the baker included a note about the cake flavors. The caramel on top is apparent, but they say it is a vanilla cake topped with a combination of coffee and plain buttercream icing.
This colorful Hennessy cake features pink, teal, white, and gold decorations. I'm particularly curious about all the gold bling along the Hennessy bottles and on the top of the cake; I can't work out what they are or if they are edible.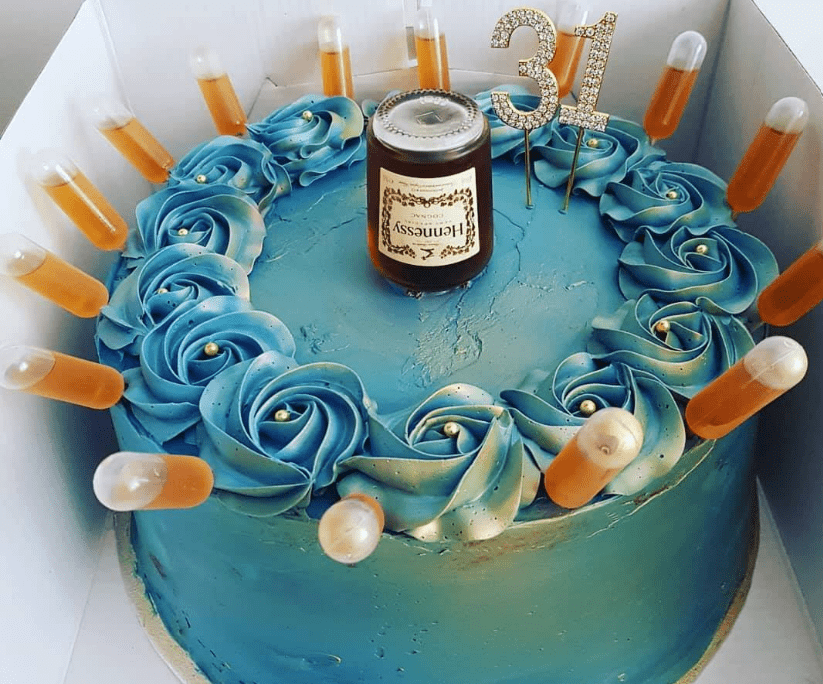 I love that this has infusions not only in the center but also in intervals around the side, so each slice gets its own infusion of Hennessy. This blue and gold cake is perfect for a boozy option. 
Finally, we have the "Hennything is Possible" cake. And yes, I did pick it because of the saying on the cake. It also seemed like the perfect cake on which to end. It has the customizable edible label image, mini Hennessy bottles as decoration, and vials of Hennessy stuck into the cake for a boozy rush.  
FAQ
Question: Can you find a non-alcoholic Hennessy Cake?
Answer: Yes! I've hosted alcohol-themed parties with two cakes: the alcohol-infused one for the guest of honor and a non-alcoholic version for the guests who were not drinking. This option is vital if you have guests who can't partake (including sober, pregnant guests, and those who aren't of legal drinking age). You could easily make ideas number 18, 15, 12, and 24 with regular cake and no added alcohol. 
You might wonder, isn't it cooked off in the baking process? Not necessarily. Some of the cake options above have small bottles of Hennessy or small vials of alcohol overturned into the cooked cake, which means it wouldn't have the opportunity to cook off in the process. 
Question: Is this something I can buy, or do I need to make it myself?
Answer: You have both options for many of the cake ideas listed above. Bakeries offer some of these ideas for purchase, while others are homemade using self-purchased decorations. It is really up to you and what is available in your area. 
Question: Is the Hennessy-themed cake appropriate for all occasions? 
Answer: It depends on your intended crowd and the purpose of celebrating. Hennessy Cakes are excellent options for adult birthday parties, college graduations, new years parties, and the like. There are a few instances where they probably aren't appropriate (children's parties and baby showers seem like a no-go). That said, you know your crowd and your purpose. Hennessy Cakes can be modified as need be to fit your needs. 
Conclusion
Any of these Hennessy Cake ideas would be an excellent choice for your next get-together. You can't go wrong with any cake ideas on this Hennessy Cake Ideas list. That said, my personal favorite is the Pink Hennessy Cake with Pink Cupcakes for two main reasons: the deceptive amount of skill required to create such an elegant cake/cupcake combo and the fact that they made it a lovely shade of pink (I might be a sucker for all things pink).
I'm curious about which one you'll choose; let me know your favorites, and comment below with photos!
Recommended Reads: