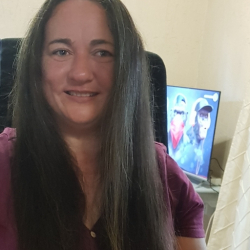 Latest posts by Caroline Lambert
(see all)
Murder mystery parties are a cornerstone of endless hours of fun for kids and adults. The Among Us cake ideas bring the world of murder mystery parties to birthdays, socials, anniversaries, and any gathering. It's one of the most exciting cake ideas, and you'll have opportunities to turn the cake into a mystery.
I'm a baker who has decorated some insane cakes, and I'm known to add surprises, which perfectly fits the Among Us cakes. Of course, not all cakes need a wild surprise, but I'll share a few that work well with murder mystery party ideas and gamer's party supplies. I love a party theme that appeals to two fandoms.
The Among Us cake ideas work for gamers and murder mystery fanatics. So, let's reveal the inspiring cake ideas.
The Most Insane Among Us Cake Idea Upfront
Among Us is an insane smartphone and PC game that combines a murder mystery with a touch of horror, sabotage, and safe gaming for kids over nine. The characters are simple and adorable, making the cake ideas a breeze. However, I'm a snob with cake ideas and would prefer an aesthetically pretty design with a surprise.
So, my ultimate Among Us design is the "Trapped Crewmate" Among Us Cake Idea. The design is multi-dimensional, but it's an easy job for an amateur baker who doesn't want to spend a fortune. The various cakes on the board can also contain different inner surprises, which you'll learn more about soon enough.
A moist, buttercream cake would do perfectly, and the fondant wraps will be easy with the upcoming tutorials. Moreover, the Among Us Crewmate cake looks like he's in some kind of puzzle, and the cake appeals to older and younger fans. However, I have a few more excellent Among Us cake ideas.
How to Find Mysterious Among Us Cake Ideas
I love how versatile the Among Us cake theme feels because I feel my creative juices bursting through the seams when I look for the best Among Us cake ideas. However, there are too many to share, and some fall short of artistic yet amateur flair. That's right; I want Among Us cakes that look professional.
However, you should be able to design and decorate the cake at home. Should you fall short of experience, I'll add video tutorials to help with the more challenging designs. Furthermore, the best Among Us cake ideas must be appealing to look professional, even if amateur bakers can pull complete them.
Cakes that meet my aesthetic requirements include at least one of these factors:
The greatest Among Us cake ideas will have at least one aesthetic value, but some will have all. I shared the tutorials to ensure you can achieve professional-looking cakes at home, even if you haven't baked or decorated an artisan cake. Artisan cakes cost around $100, so it's better to inspire you with ideas you can make at home.
Tips for Among Us Cakes That Drop Jaws
The theme behind the game revolves around a mystery. Indeed, there's sabotage, crew members helping each other, and dangerous and deceitful behavior. However, the game's foundation is a mystery, meaning there are ways to improve your cake beyond the external aesthetics. I have three top tips to enhance the cakes.
My tips are ideas for the inside of Among Us cakes. These surprises will double the value and ensure delicious snacking once the cake slices open. I'm giving you three ideas for the inside of these cakes to help you better match a surprise to the exterior design. Try to stay close in color arrangements or contrast them entirely.
Among Us Sponge Cake Idea 1
The first idea is to hide candy inside the Among Us cake. For example, hiding Skittles, M&M's, Milk Duds, Goobers, Whoppers, or Sour Patch Kids inside the cake would turn it into a surprising piñata. You can quickly learn how to stuff a cake with a candy surprise by watching this YouTube video. The idea works for:
Cakes in the shape of Among Us crew members and imposters
Among Us, cakes baked for younger children
Brightly colored, single-tier Among Us cake ideas
Among Us Sponge Cake Idea 2
My second mystery idea is to add colorful frosting inside the cake. You could go with rainbow frosting like The Icing Artist does in her tutorials. The rainbow-colored frosting would work for the same ideas as the first mystery cake inner idea. However, my surprise is galactic because the Among Us cakes have attractive options.
A galaxy-styled inner frosting surprise would work better for:
Among Us cakes with a similar exterior (black background or space-inspired exterior cake design)
More mature fans of Among Us cakes
Multi-layered Among Us cake ideas with or without cake toppers and fondant cutouts
Among Us Sponge Cake Idea 3
My third idea is the most insane. It also only works with multi-tier or massive Among Us cake ideas. Cutting the cake wrong might spoil the little surprises, but that won't stop me. I believe placing miniature fondant Among Us figures inside the layers would look brilliant. However, you'll have to squish them into the sponge.
The Most Epic Among Us Cake Ideas
The most epic Among Us cake ideas will blow you away because they're anything but as simple as the crew member designs. There are many beautiful ideas, and I'll put the easiest ones first. Then, I'll add a few more challenging cake ideas to attempt if you feel like the tutorials will help.
In addition, I'll add tutorials for designs using more complicated carvings, piping, and painting techniques. So, let's find the mysterious cake that will leave your guests in awe.
"Easy Going" Among Us Crew Member Cake Idea
The center of the game is the mystery as to whether the crew members are imposters or not. So naturally, many fans expect and enjoy a crew member/imposter cake. The tutorial by Creative Cakes is an easy-to-follow joy that most amateur bakers can pull off to look like an expert. It's also my favorite color crew member.
In addition, you can change the crew member's color as you or your child wishes. The Among Us characters are super simple, but I'd kick things up by adding a better buttercream border. Use this tutorial to pick one of a few popular piping borders. However, stick to the black because it fits with the game's crew members.
"The Simple Life" Among Us Cake Idea
It isn't always necessary to go overboard with your cake. A simple design with buttercream frosting and piping techniques works well and makes for an affordable Among Us cake idea. This cake has a lovely sheen to the buttercream frosting, which you can achieve with this glossy buttercream tutorial.
In addition, the little crewmates aren't hard to make. You could use a simple piping bag without a special nozzle to achieve the same straight lines. Indeed, you'll need a steady hand, but some practice off of the cake will ensure success. Add something funny to the Among Us line, maybe like "your child's name" walks Among Us.
"Lighting the Skeld" Among Us Cake Idea
I love cakes with effects, and this idea won't be overly complicated. The cake is a simple buttercream frosting delight with a few creative fondant cutouts. The lighting effect is as simple as adding a non-edible toy with an LED attached. However, the result is stunning and will wow your guests.
In addition, the best playground for murder mystery games is in The Skeld spaceship. I would take the design and effect to another level by sprinkling edible glitter over the darker fondant to give the cake a space feel. This cake idea is a versatile option for older and younger fans.
"Spot the Imposter" Among Us Imposter Cake Idea
The tutorial I shared earlier is helpful because many of the cake ideas, even the easiest ones, will use Among Us cake toppers. It's all about placing them differently to tell a varying story. For example, this imposter cake looks like a story of imposters because two crew members are off the cake.
However, you can place the cake toppers in any display you desire. This display works well for an imposter cake idea. The cake toppers aren't even sculpted fondant figures. Instead, they're simple fondant shapes you can mold with your hands. You can also omit the scary, dead crew member for younger kids.
"Venturing to The Skeld" Among Us Cake Idea
Another professional-looking yet simple Among Us cake idea is flat fondant cutouts against a space-styled background. This cake idea would work beautifully with surprise number two as the inner decorations. In addition, the bright colors pop against the darkness of the space-styled background.
However, the glossy fondant wrap could be tricky to achieve. Hence, this tutorial should help you get a shiny background. You could also use a plain matte black background, which still pops the bright colors of the little fondant cutouts. I also recommend adding more stars and space features as cake toppers.
"Pretty Mystery" Among Us Cake Idea
My daughter is another fan of the Among Us game, meaning I must add a cake idea for girls. You can tame the heat and horror attached to the game's characters and decorative styles by putting a crew member on a pretty pink and blue cake. The buttercream ombre frosting is simple to achieve with this tutorial.
In addition, the beautiful rosette border piping technique is another breeze with this tutorial. This cake design is undoubtedly a gorgeously edible masterpiece for girls. However, you can change the ombre and buttercream colors to suit boys better. My most significant change is to use a fondant crew member cutout.
"The Skeld Arena" Among Us Cake Idea
A flat design over a three-tier Among Us cake will be ideal for larger parties if you need to wow many guests. This cake idea undoubtedly calls for a massive surprise inside. I would avoid the candy piñata ideas and go straight to the galaxy-styled buttercream frosting between the layers. It adds depth to the cake.
However, I would try to improve the fondant crewmate cutouts and other decorations. They feel a little sloppy on this cake. Additionally, you can add a few victims for older gamers and Among Us fans. Meanwhile, I must admit that the crewmate with his teeth showing is an adorably creepy addition.
"Abundant Sabotage" Among Us Imposter Cake Idea
Humans tend to have a thing for dark and creepy, and I admit to loving it when the game picks me as an imposter. I love planning the sabotage of the century. This cake is a straightforward design that depicts the imposters and how they sabotage and hurt crewmates. It might be a dark idea for younger fans.
Do you remember the teeth-wielding imposter from the last cake? Now, imagine putting him on this cake. It would bring the horror side of Among Us to the cake design without making it look like a Halloween decoration. So, have fun with the dark edge of abundant sabotage if you're catering to an older fan.
"Blues Crew" Among Us Cake Idea
I realized that many Among Us cake ideas show the red crewmate, but I found a 'blues" crewmate, and he looks incredible. In addition, this crewmate cake idea isn't too challenging for a home bake. You'll need more fondant and patience, but the tutorials will help. Remember to use the crewmate carving tutorial for the top tier.
Your greatest challenge would be to wrap the crewmate neatly in fondant, but patience and determination pay well. The cake can also feel complicated once you have too much weight on the bottom tier. So, I recommend using a Rice Crispies top hat tutorial to balance the weight better. It adds another super tasty surprise inside.
"Flat Earth" Among Us Crewmate Cake Idea
The Among Us crewmates might or might not be flat-earthers, and there's no relevance other than the irony of this cake idea. The Among Us cake idea might look as plain as day, but the color changes and depth add a touch of professionalism. The thick black border will also hide many amateur mistakes in the color blends.
The green Among Us crewmate with a plant on top of his head is an ideal change for flat, rectangular cake ideas everyone copies. It also looks like the crewmate is walking, thanks to the subtle rise on the leg. You'll find completing this beautiful Among Us cake idea much easier than you think.
"Living Gamer" Among Us Cake Idea
I love adding a few challenges, and making these cakes at home will cost less than ordering them from an artisan baker. The gamer's cake for fans will wow even the hardest critics. Yet, it's a simple design with flat fondant cutouts around buttercream frosting.
However, the gamer cake topper will pose a challenge. Use this tutorial to sculpt a fondant or gum paste gamer for the top of your cake. Remember that the gamer doesn't have to match precisely. This cake idea would work like a bomb with tiny crewmate surprises hidden in the tiers. For humor, I'd make the beanbag a crewmate.
"Blazing Trails" Among Us Cake Idea
I've placed a lot of emphasis on the Among Us crewmates and imposters with my cake ideas. However, there's another avenue to explore altogether. What about using a cake that looks like the platform inside The Skeld? It's a two-tier Among Us cake idea with flat fondant cutouts and two miniature crewmate figures on the top.
In addition, it adds simple textures you can create with a knife around the tiers. Using a fondant stencil or textured roller would also make the metallic walls inside the spaceship. The blazing fire trail around the top level is two fondant cutouts over each other, and you secure them with a bit of water between the cutouts.
"Flat Imposter" Among Us Cake Idea
This cake idea seems silly against the green crewmate with a leaf on its head. However, the cake is less of a rectangular bore. Instead, it has a deeper effect with a rounded feel. You could also make the cake as big as your party needs. In addition, the cake would work well with the last inner surprise to wow guests.
They'll think you baked a simple Among Us cake until they realize how you squished a bunch of little crewmates into the sponge. Meanwhile, the smooth edges blow them away because they never thought you'd take it that far. Admittedly, the smooth fondant edges on a semi-round and semi-square cake are more challenging.
"Lost in Space" Among Us Cake Idea
The Among Us crewmates often look lost in space, and it's another fantastic idea to add to their cakes. I'm referring to the first Among Us cake in the video. The one that makes the crewmates look entirely lost in their thoughts, fears, and minds. It's a bonus that the tutorial has an inside surprise.
However, the humor is another touch of professional elements on a cake. Some crew members have banana peels on their heads, while another walks around with a toilet roll on his head. It's insane, but the little details add so much excitement. You'll have your guests chuckling at the silly ideas, and you can customize them.
"Nervous Imposter" Among Us Cake Idea
The imposters often have to complete nasty tasks on the game, sometimes eradicating the crewmates. It's a weird concept, but the Among Us game is popular because it's odd. This cake idea takes imposters and places them in a position to plan major sabotage or crisis. As a result, they look naughty and nervous simultaneously.
The cake's edges won't require much effort if you use a textured fondant rolling pin or sheet. The color is more challenging than the cutouts. However, I love the touches around the cake, including the little hazard poster, cables, and doomsday button. The Among Us imposter cake idea is awe-inspiring and original.
"Pro Mystery Girls" Among Us Cake Idea
The Among Us cake idea for girls was brilliant. However, let's see this idea that shadows the last one because it adds more details and stunning effects. The ombre buttercream frosting is gorgeous, and the dripping chocolate adds panache. Meanwhile, the crewmates take a pastel color to appeal more to girls.
The cake topper designs are straightforward and would work with gum paste or fondant. The tiny meringue touches add a more girly flair, and the massive candy pops behind the crewmates are ideal for a pretty design. Adding floral touches with heart-shaped fondant cutouts kicks the girliness up ten notches.
"Standing Crewmate" Among Us Cake Idea
I love the first two cakes in this video tutorial because it welcomes pink and yellow crewmate cake ideas. The tutorial also walks you through every step, including the carving, stacking, and connections of each standing crewmate cake idea for Among Us fans. You'll require some patience, but the cakes aren't too complicated.
Instead, you'll have jaws dropping at the party when guests wonder how you pulled these cakes off like a pro. I recommend stuffing the legs with a candy piñata surprise for kids' parties. Avoid adding too much weight to the torso part of the cake. Only make thin holes to throw candy inside the legs, or you'll ruin the support.
"Best Mates" Among Us Crewmate Cake Idea
In contrast to the last Among Us standing crewmate cake idea, I bring you a best friend's cake idea. Indeed, the crewmates have family and friends, and adding them as a cake idea would blow guests' minds. So instead, they think you're experimenting with gravity-defying Among Us cake ideas.
Meanwhile, you'll follow an easy tutorial that walks you through every step of creating this gorgeous cake with a mini-me on top. The cake's structure and support will be perfect because the mini crewmate is a Rise Crispies treat that doesn't sabotage the bottom cake. These are crewmates and not saboteurs or imposters.
"Too Late" Among Us Crewmate Cake Idea
I have one more Among Us standing crewmate cake idea, which differs from the last. You can change the color, but the surprise inside this cake makes it ideal for older fans. Unfortunately, this crewmate had already succumbed to the imposters, revealing his half-body would show his bare bones.
It's a fantastic idea for older Among Us cake fanatics, and the tutorial simplifies the entire decoration process. You'll also learn how to make the bone and build the cake around it. This crewmate cake idea looks straightforward, but it has a phenomenal surprise on the inside.
Bonus Among Us Cupcake Idea
The Among Us cupcakes are popular, and there are a few gorgeous designs you can achieve at home. For example, the "Starry Sky" Among Us Cupcakes use flat fondant cutouts against black backgrounds with a touch of buttercream to keep them in place. However, the "Whimsical" Among Us Crewmate Cupcakes impress me.
Each crewmate faces a different position, some even lying down. It adds another touch of humor to Among Us cupcake ideas. Finally, the Among Us Party Combo Cupcakes are ideal for larger children's parties. In addition, kids can enjoy a cake, cupcakes, and cake pops that look like mini ice-cream cakes.
Bonus Among Us Cake Pop Idea
Can you make gorgeous Among Us cake pops? Indeed, the same tutorial you follow for making the inside surprises with fondant and sponge cake will work on sticks for mobile edibles. These Among Us cake pops will also work beautifully for a themed birthday party. The Sideserf Cake Studio also turns the pops into fun ideas.
Humor is a huge turning point for professional cakes. Hence, the studio uses funny positions and designs to make each cake pop unique. You have dead crewmates, imposters, and various funny head decorations. One imposter shows its teeth to add exceptional and expert-level details.
FAQs
Among Us Cake Ideas: Mystery Solved!
The best Among Us cake ideas require some patience, bright colors, and edible surprises to make them look like professional bakes. Meanwhile, you won't spend as much as you would ordering one from an artisan baker. The ideas I shared come with tutorials that make them possible for amateur bakers at home.
You might need to buy some tools, but baking is fun. So, you'll likely use the tools again, especially if you have growing kids. The Among Us cake ideas appeal more to me because they cater to older and younger fans, using different surprises and designs for various ages.
The Among Us crewmates are likely the most popular cake designs but don't forget about the spaceship styles and imposters. So first, choose a cake design that comforts your baking skills. Then, dig into the details and wow yourself before your guests see the beauty.
For More Cake Inspiration