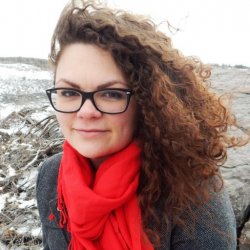 Latest posts by Candace Osmond
(see all)
If your kid is a huge fan of the video game Among Us like mine are, then throwing them an Among Us-themed party makes for the perfect birthday. Even if you're entirely unfamiliar with the galactic game aside from the bits and pieces your child has shared with you, don't stress because I've made this guide to help.
I'll cover what Among Us is and where you can find the best Among Us party supplies. Strap into your space shuttle, crewmates, because we've got a lot of options to cover!
Bottom Line Upfront
As always, I'm an all-in-one kind of mom, so I go for the party supplies bundles like the 140-piece Among Us Party Decorations set! I mean, come on. It basically has all you need to pull off a themed part like this.
Top Picks
Want to check out the best of the best before we get started? Even though I'm excited to show you lots of Among Us birthday party supplies today, I think you should click through your best options before we look at anything else.
What Is Among Us?
Among Us is a wildly popular social deduction game of who dunnit? If you've ever played Ultimate Werewolf or the card game Mafia, you'll find Among Us to be quite similar. Players, who act as crewmates on a spaceship, must band together to suss out which one of the players is killing other astronauts. The player who is the killer must keep their identity a secret by trying to blend in with other players and lie when necessary.
Among Us gets intense, because everyone tends to turn on each other quickly. Players with a good poker face might have an easier time fooling everyone else as the killer. The motto of the game: Trust no one.
Best Among Us Party Supplies
Now that you've been briefed on the basics of Among Us, it's time to show you the best party supplies featuring the mischievous little crewmates. With just the right mix of cuteness and action, it's no wonder kids are drawn to this intensive game.
I was surprised to see how many Among Us party supplies are out there, so I've put this convenient list to take the stress out of searching for options. I chose everything based on convenience, price points, and fun-factor! Let's check out what's going to make your loved one's Among Us party so special, shall we?
Best Among Us Balloons
Balloons are as essential to a birthday party as gifts and a cake. Instead of hanging up plain red or blue balloons, I'm going to show you how you can take this party's decor up a notch with Among Us balloons. These balloons are higher quality than anything you can get at the dollar store, and they look like cute crewmates from the game.
There's a whole crew on board with this balloon set! Each balloon shows off playable Among Us characters in different colors.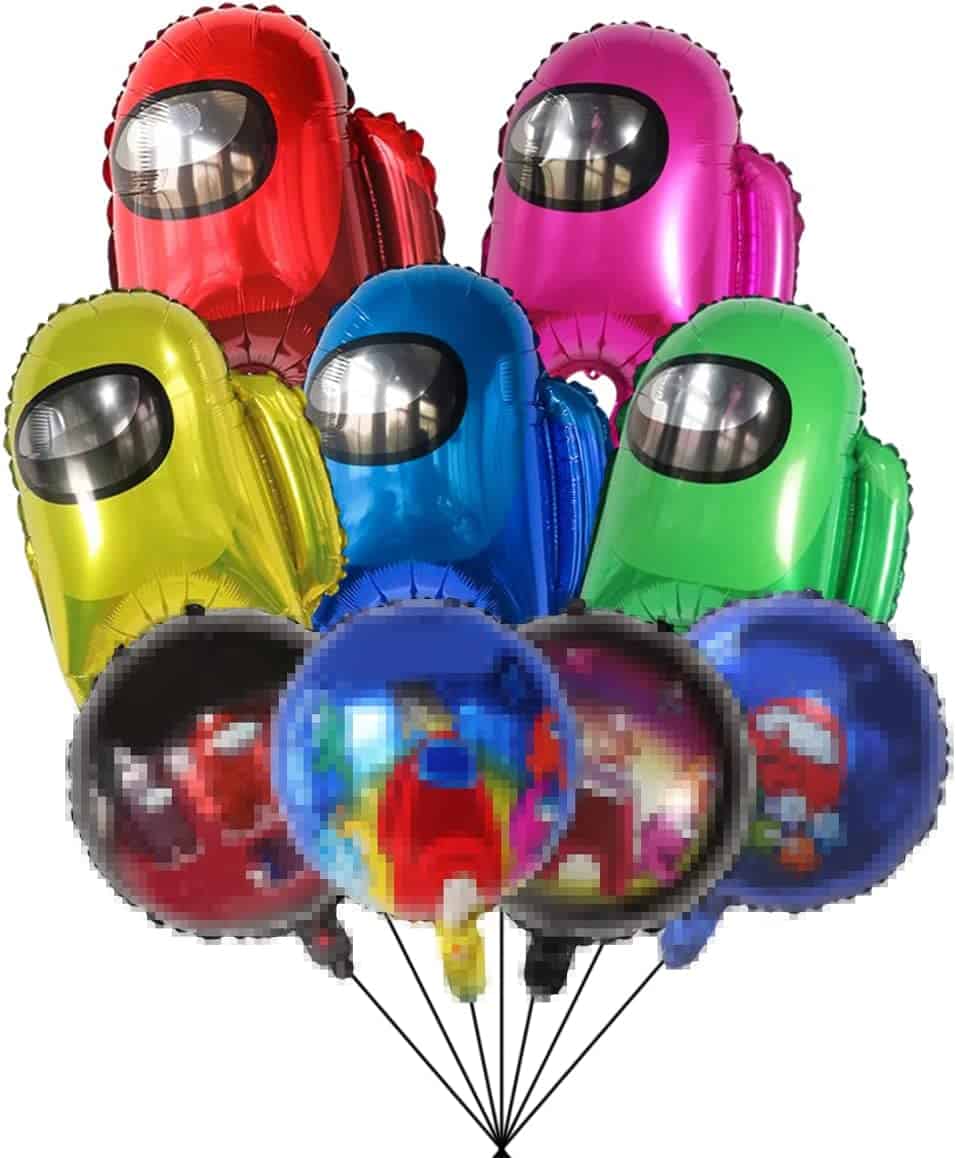 Key Specs
Price Range: $3-$9
Color: Multicolor
Amount: 9
I'm loving this Among Us balloon set the best even though it's the smallest. Here's why: 1) Every balloon in the set features playable characters. 5 of the foil balloons are shaped just like crewmates and come in different colors you can customize in the game. The other 4 balloons show off the crewmates getting into some intergalactic fun. 2) Since this set is the cheapest, I would just buy 1-2 more of this set to make sure there are enough balloons to decorate with.
Pros
Helps define the theme of the party
Balloons are shiny and brightly colored
Each balloon features playable characters
Low price
Cons
Only 9 balloons in the set
It will be a game of red team vs. blue team at this birthday bash. I love the intergalactic designs on the circular balloons!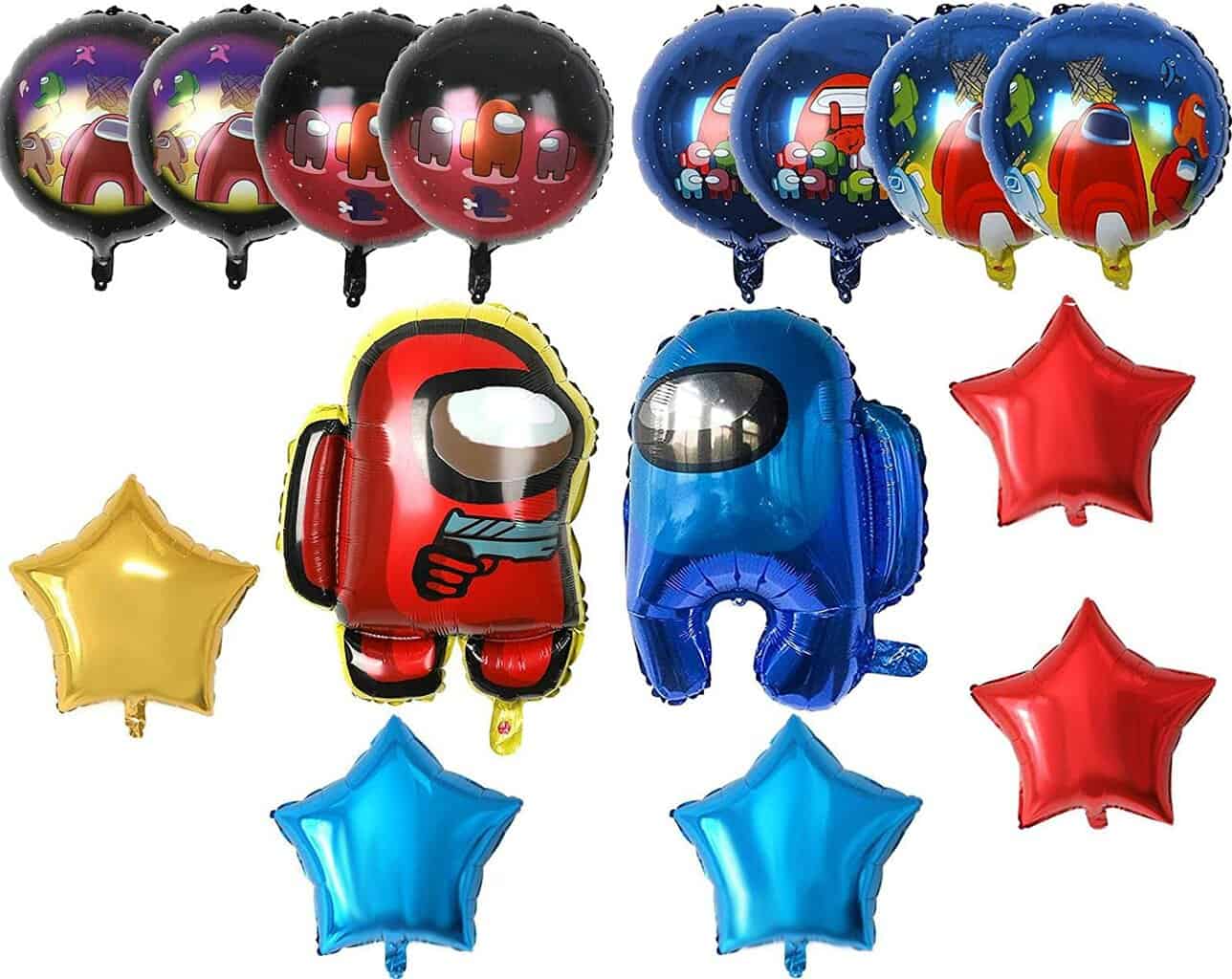 Key Specs
Price Range: $4-$12
Color: Red, blue, and yellow
Amount: 15
The red crewmate is holding a gun! Guess you know who the guilty one is this round. Keeping within the mischievous and morbid humor of the game, this balloon set shows off what Among Us is all about. 2 of the balloons are shaped like crewmates, while the circular balloons show the crewmates in space. The only part I don't like is that the star balloons don't feature any Among Us characters at all, but they'd still look nice with the color scheme.
Pros
Very affordable
Many balloons feature characters
One of the larger Among Us balloon sets
Cons
The plain star balloons don't have much to do with Among Us
I told you Among Us was brutal. Now, do you believe me?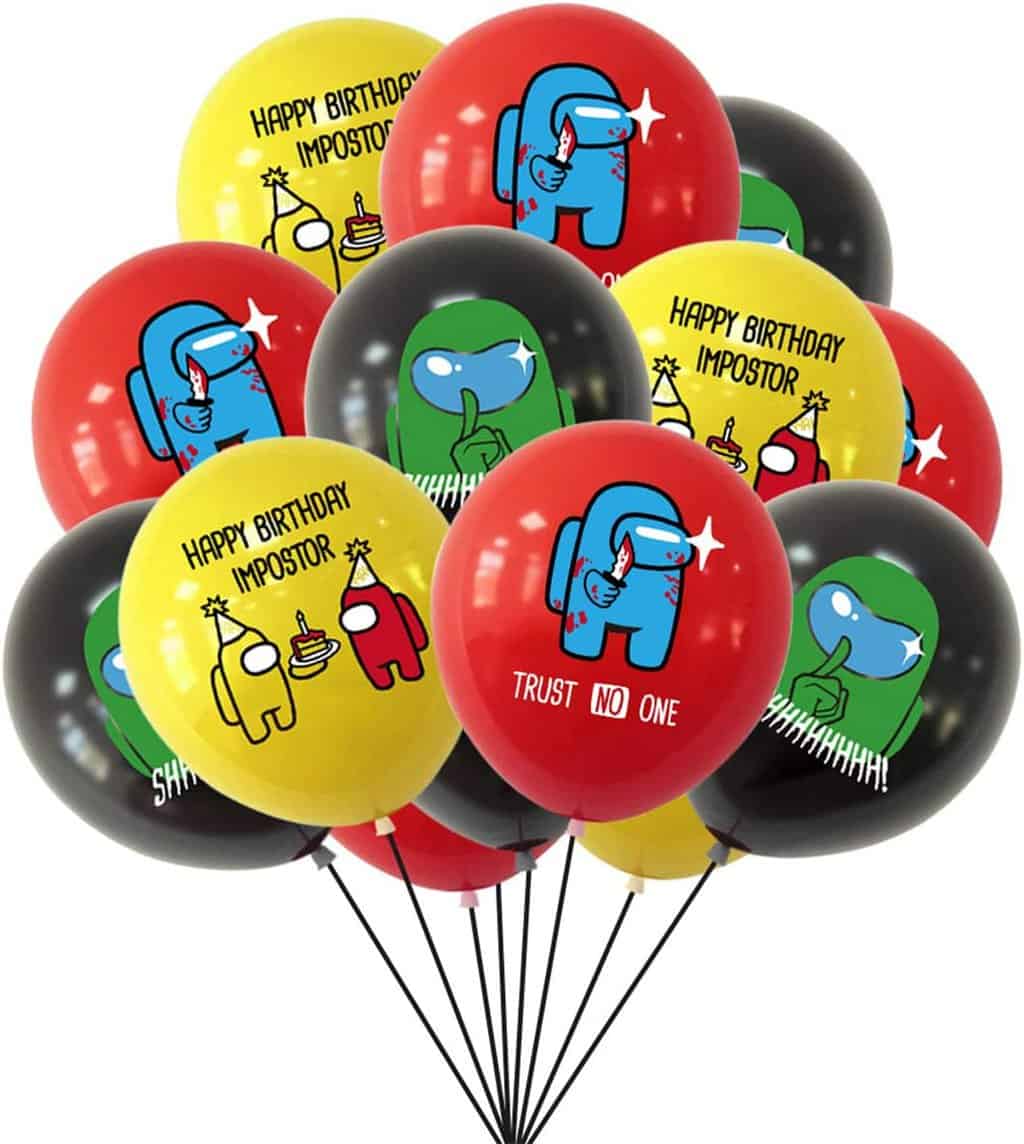 Key Specs
Price Range: $4-$12
Color: Red, yellow, and black
Amount: 20
I want to give this balloon set the award for being the most hilarious. "Trust No One," and "Happy Birthday Imposter," are some of the phrases printed on the balloons. It's pretty adorable that on some of the balloons, crewmates are rocking party hats and holding onto birthday cakes. Keep in mind that Among Us is a violent game, so if the bloody knife balloons bother you, I would recommend one of the other sets.
Pros
Adorable art style
Brightly colored
Affordable
Each balloon features playable characters
Cons
Some balloons may be too violent for a kids' party
This huge balloon arch made of 116 balloons will be a star decoration at the party. It's tall enough to tower over your guests and would be a great backdrop for photos.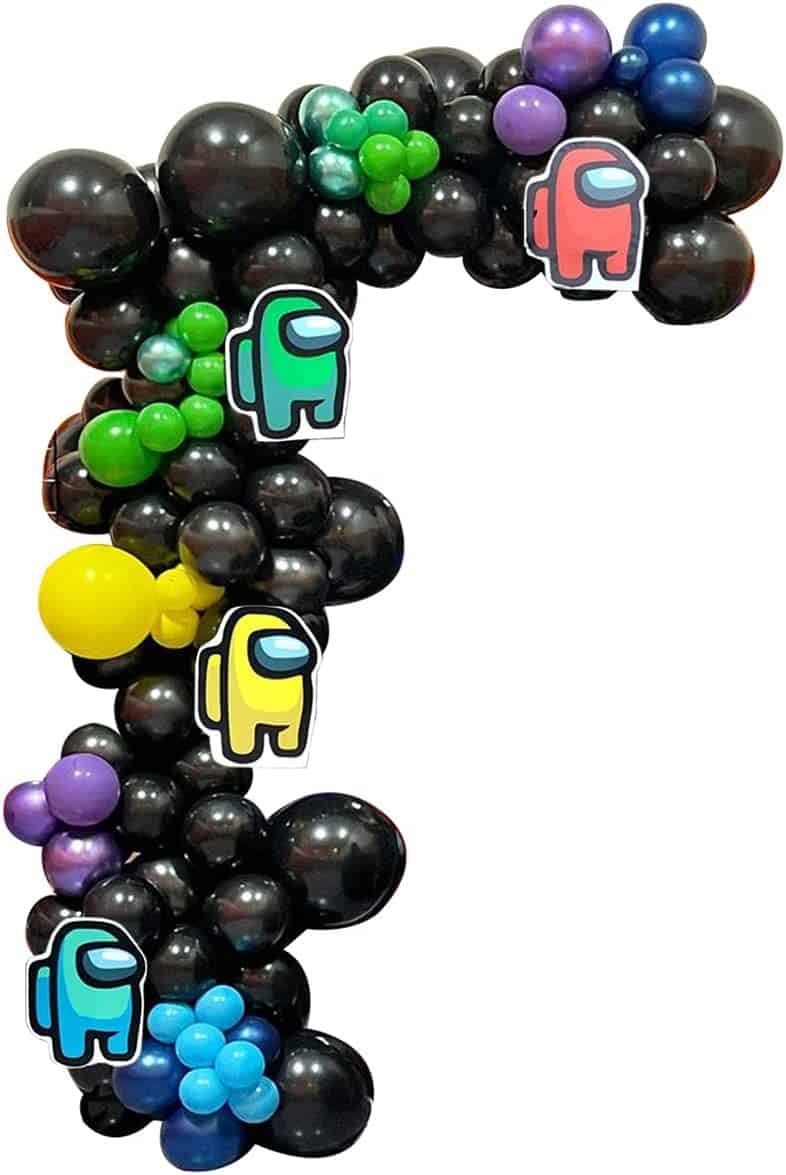 Key Specs
Price Range: $14-$24
Color: Black and multicolor
Amount: 116
Want the Among Us party you throw to be bold? Here's how it's done. Buy this enormous Among Us balloon arch, take 30 minutes to assemble it, and have guests pose under it for pictures. You can also set it up in front of the snack table or gift table to give the display some extra umph. I like that since many of the balloons are black, it fits the interstellar backdrop every round of Among Us is set in.
Pros
Big and creative decoration idea
Features 5 playable characters
Attention-grabbing
Cons
Priciest balloon option on the list
Best Among Us Decorations
If you thought Among Us was too specific a game to have its own plethora of party decorations, you'd be wrong. That's why I've done the hard work and found the best decorations for your little one's big day. Let's check them out!
If I was throwing an Among Us party, this is the decoration set I would buy. With this one set, you can consider the kitchen decorated.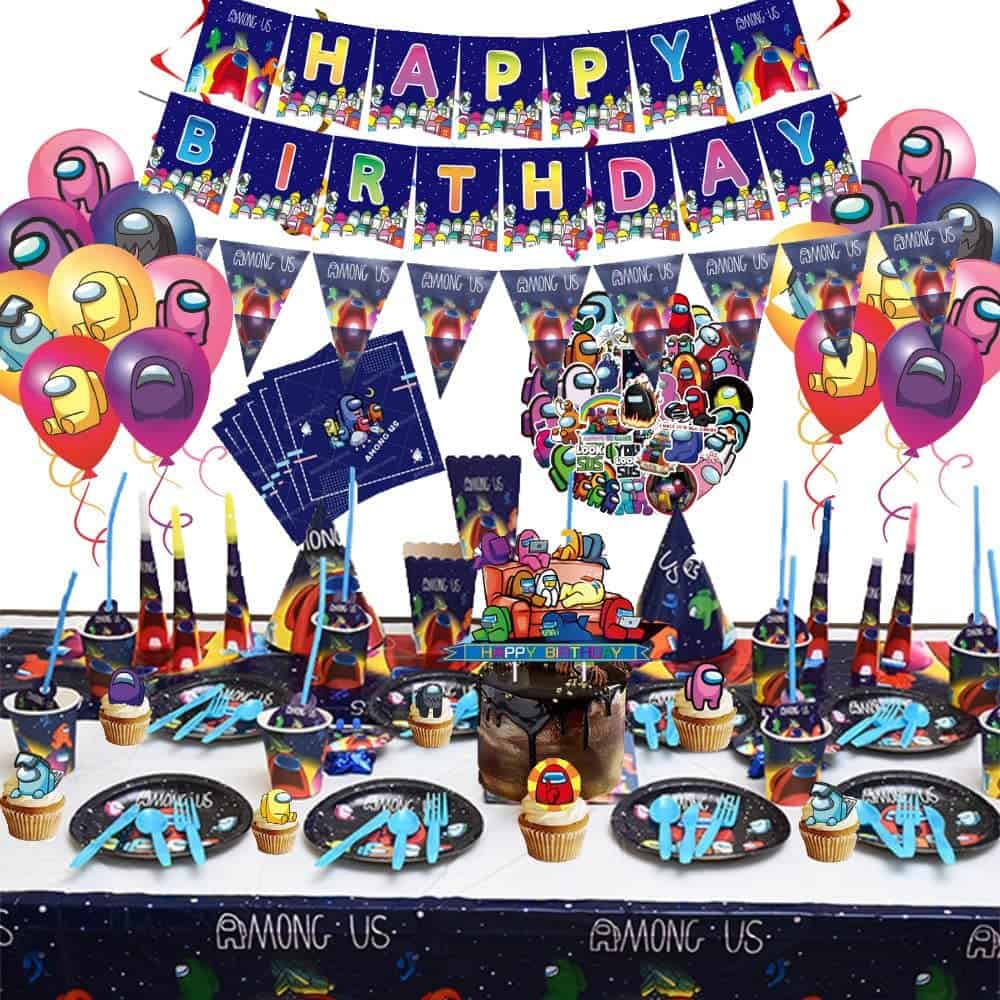 Key Specs
Price Range: $19-$29
Color: Galaxy print and multicolor
Amount: 140 pcs
Stressing about how you're going to accumulate all the Among Us party decorations you need for your kid's birthday? That's why I want to show off this decoration set because with this, you won't have to worry about hunting down individual items. I'd want this set because of the huge variety of items, too. You'll find balloons, gift bags, forks, spoons, plates, stickers, cupcake toppers, a banner, a ribbon, a cake topper, and a tablecloth. That's surely enough to bring a smile to any crewmate's face.
Pros
Inexpensive
Wide assortment of items
Large quantity of items
Galaxy print goes well with an overall space theme
Cons
You may not need everything in the set
If you're doing cupcakes for the Among Us party, these are absolutely essential. The toppers look like lots of different crewmates, so all the guests can grab their favorite avatar color.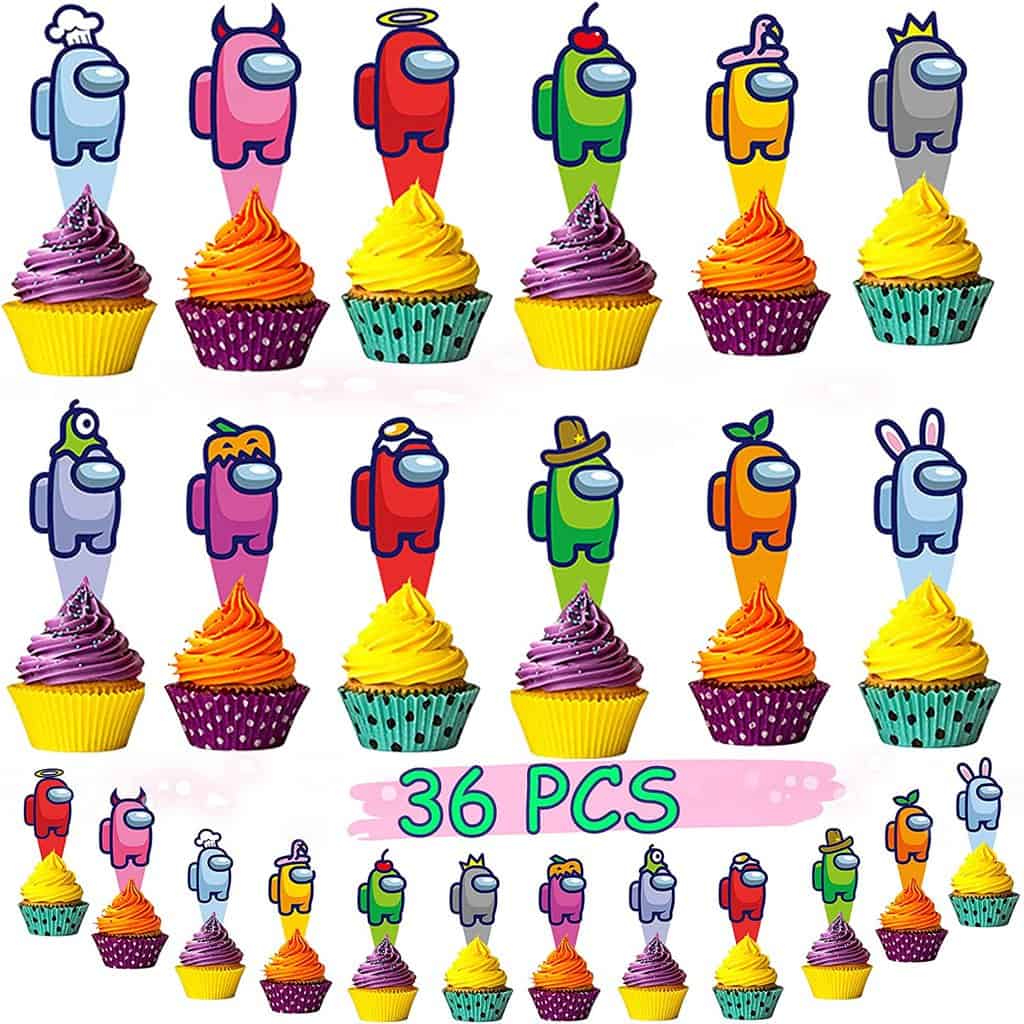 Key Specs
Price Range: $6-$16
Color: Bright multicolor
Amount: 36 Pcs
Considering the low price and the fact that these cupcake toppers are unique to the Among Us franchise, I think these are a necessity. I think cupcakes can be an even better option than big cakes at birthday parties because you can make cupcakes in a few different flavors (and that way, everyone gets a flavor they like.) Each topper looks like an Among Us crewmate customized with classic accessories from the game. Delicious and adorable cupcakes? Yes, please!
Pros
Inexpensive
Easy to use
Will make your cupcakes fit in with the theme of the party
Cons
If you already have a large cake, you may not need cupcakes
Best Among Us Party Favors
Party favors are the perfect way to make sure the guests don't feel left out of all the gift-giving festivities. What I would do is pair these two gift bag ideas together with some candy and intergalactic pencils and erasers into one bag. Remember that not everything in the bag has to be branded as Among Us merchandise-just make sure you stick with the space theme.
Kids and stickers are like peanut butter and jelly. If you want an inexpensive way to bring the Among Us party theme into your gift bags, then take a look at these.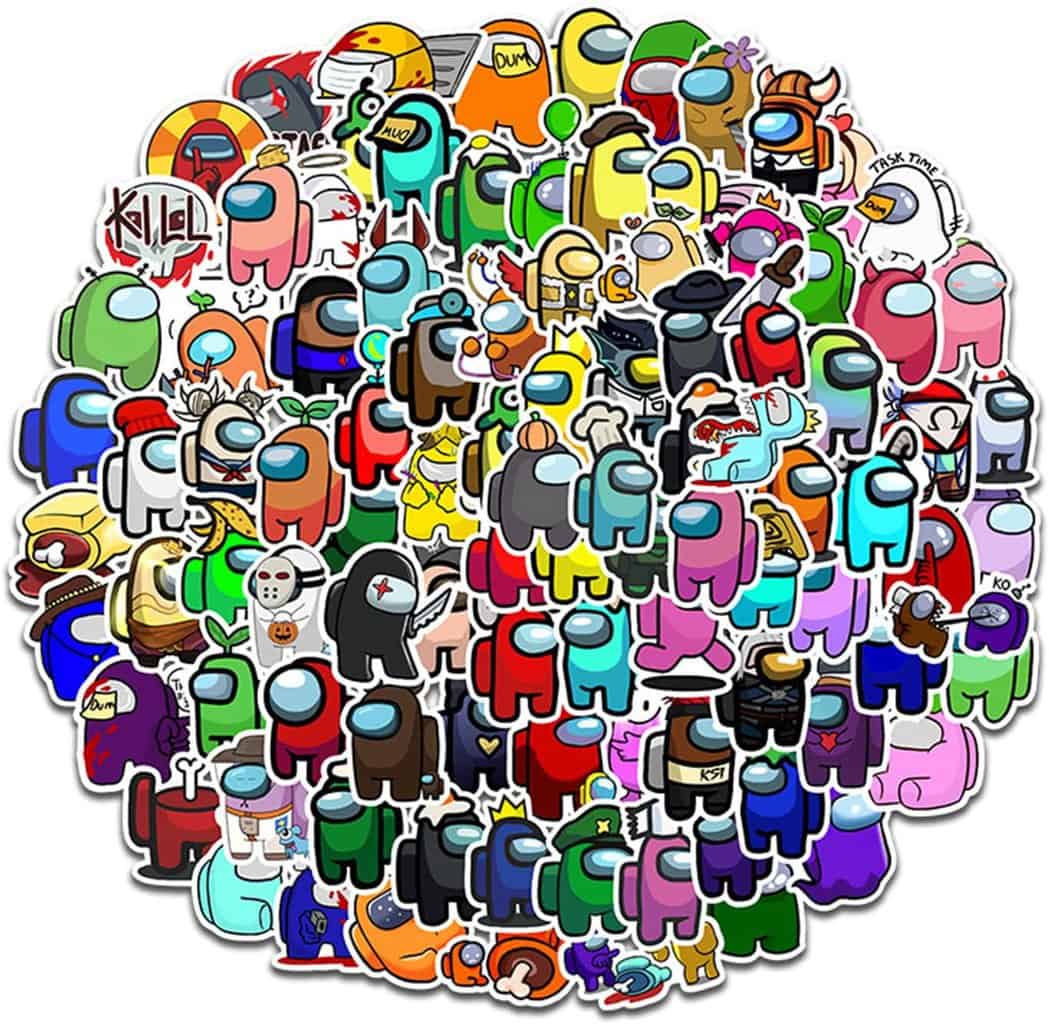 Key Specs
Price Range: $4-$14
Color: Bright multicolor
Amount: 100
There are 100 crewmate stickers in this Among Us sticker pack, so every kid can get a little something to remind them of their favorite social deduction game. Since the sticker pack is so cheap, what I'd do is load up the gift bags with 8-10 stickers per kid. This way, even if you need to buy more sticker packs depending on the number of guests you'll have, you still won't have to break the bank on party favors.
Oh, and just because the stickers are inexpensive doesn't mean they're bad quality. In fact, I like these ones so much because they're waterproof and great for phones, laptops, etc.
Pros
Very inexpensive gift bag idea
Every sticker looks like a crewmate
Tons of color and accessory options for crewmates
Cons
Kids might sticker the inside of your home
Turn the birthday bash into an intergalactic masquerade with these 8 Among Us party masks. My favorite part is how comfortable these masks are to wear since the band to secure the masks is made of elastic felt.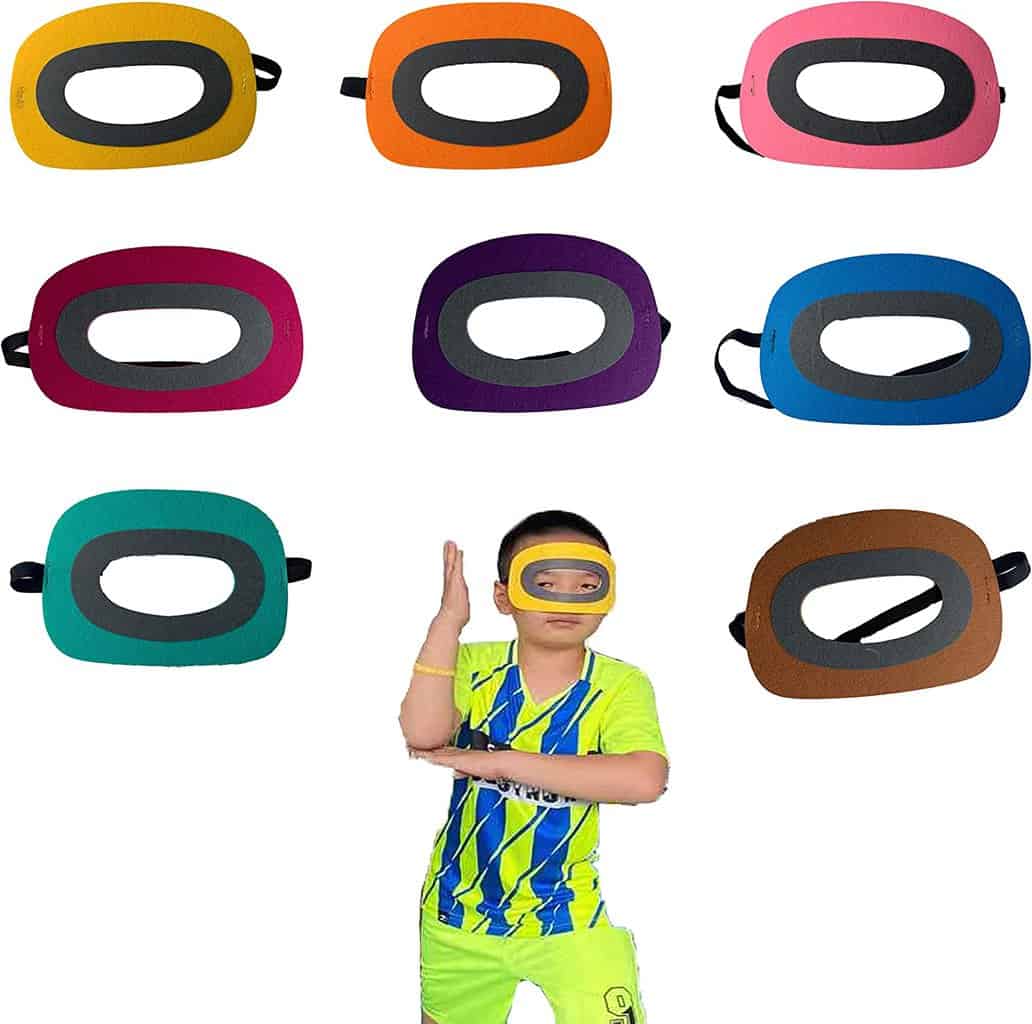 Key Specs
Price Range: $8-$18
Color: Yellow, orange, pink, purple, blue, and brown
Amount: 8
You'll never be able to tell the innocent from the killer once everyone dons their Among Us party masks. Dun dun dun! Remember when party hats were the worst because the band hurt after a while? Well, here in the future, these party masks are made with elastic bands so that your kid won't have that issue.
A fun idea might be to use the masks in a real-life social deduction game of Among Us. There are ideas for how to do this online.
Pros
Masks look like crewmate helmets
Eight shades to choose from
Inexpensive
Cons
Not every kid is guaranteed their favorite color
Best Among Us Party Dishes
When it's time for cake, cupcakes, and snacks, no one wants a plain old display and solid color plates (I don't, anyways.) I think themed plates make cake time feel extra special, and including Among Us snack holders will show everyone you went the extra mile. Take a look and judge for yourself, but I think you're going to want these.
Snack time! What better way for your guests to receive snacks than in cute Among Us popcorn boxes that are perfect for candy, popcorn, chips, pretzels, and more?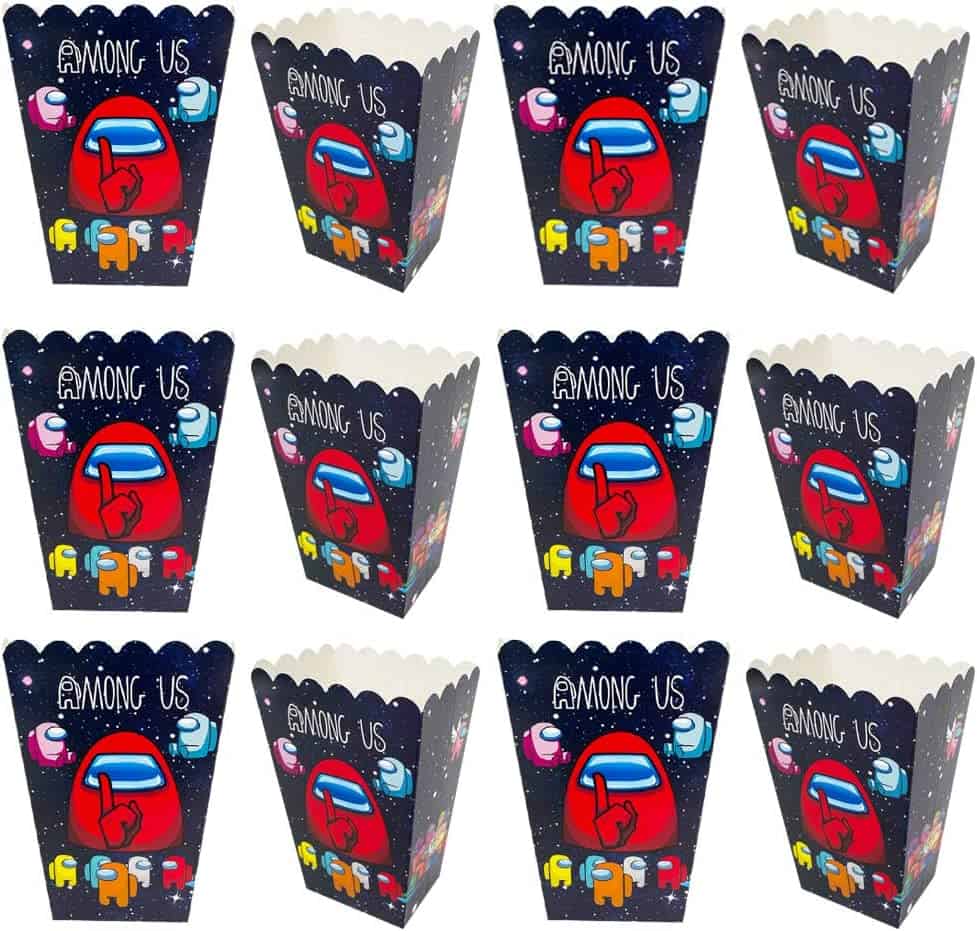 Key Specs
Price Range: N/A
Color: Black and multicolor
Amount: 30
I'm such a sucker for cute snack boxes at parties, and I hope you are, too. When it isn't dinnertime or cake time, your guests still might want something to snack on while they enjoy the party. Fill these cute boxes decorated with brightly colored crewmates up with all your kid's favorite snack foods. Do they love popcorn and M&Ms? Are they into Flaming Hot Cheetos and gummy bears? Since it's their day, fill these boxes up with whatever their heart desires.
Pros
Includes Among Us characters
Use them for a variety of snacks
Accommodates up to 30 guests
Cons
If you have cute cupcake wrappers and the Among Us cupcake toppers I've shown above, it's time to complete your cupcake display with this! The red crewmate in a party hat on top of the display broadcasts the Among Us theme and all the birthday party vibes.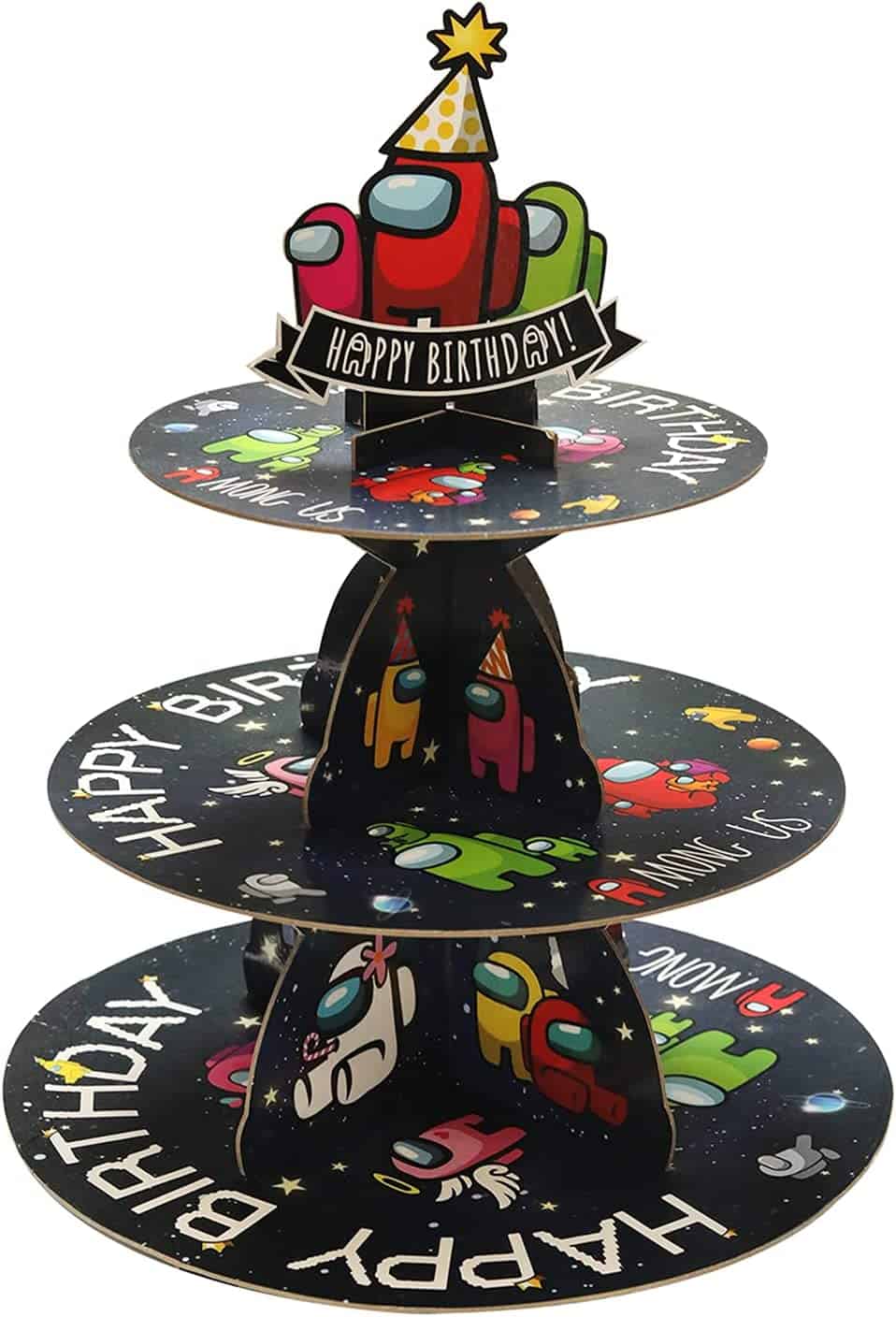 Key Specs
Price Range: $4-$14
Color: Black and multicolor
Amount: 1
I adore this cupcake display, and I know your child will, too. But why? It's colorful, it's got crewmates from Among Us on every tier, and the top display has a big red crewmate in a party hat. The extra "Happy Birthday"s written on each tier make the display feel even more special because they help differentiate the party as a birthday party instead of just a video-game-themed party. The display is super easy to set up, and I like that it's inexpensive, too.
Pros
Among Us characters included
Inexpensive
Perfect for displaying themed cupcakes
Cons
You might not need cupcakes at the party
Among Us takes place in space, so what better backdrop for cake time than a starry night sky? Check out this galactic party set that includes plates, napkins, and a tablecloth.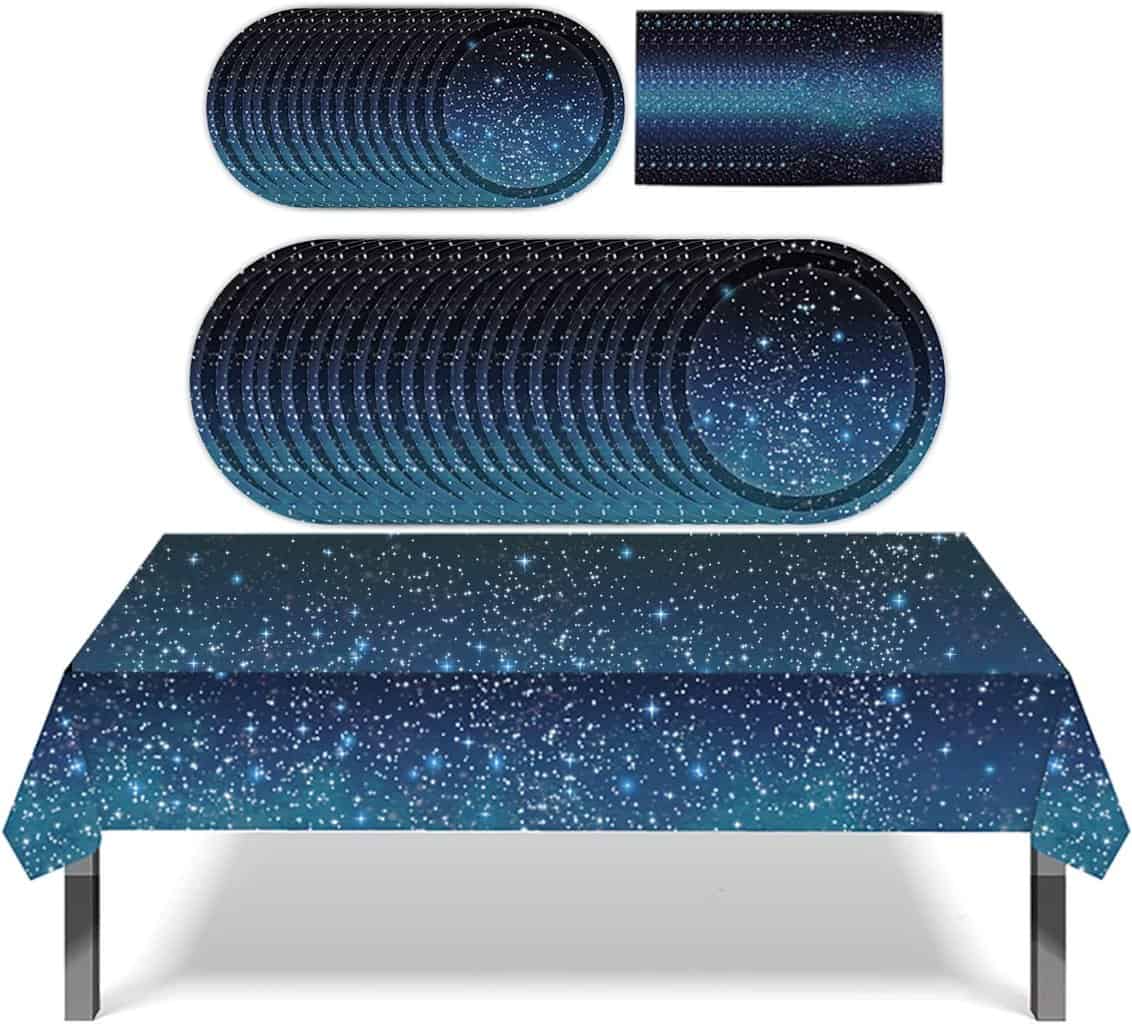 Key Specs
Price Range: $10-$20
Color: Dark blue galaxy print
Amount: 49 Pcs
I know this set doesn't have Among Us branding, but it still totally fits the theme. The tablecloth, both sizes of plates, and the napkins all feature a gorgeous dark blue galaxy print. If you want to make the table display even more crewmate-related, then all you need to do is add a few Among Us decorations on top. I'm recommending this set, because for the price, you can't beat it. The plates and napkins serve 16 guests.
If you did want an Among Us-themed tablecloth and dish set, you could find everything you'll need in the best Among Us party decoration set I've listed above. If you're unsure which set would look best, ask your kid what they think!
Pros
Fits galactic theme
Inexpensive for the number of pieces you get
Offers a cohesive table display
Cons
Best Among Us Game Ideas
While I assume the kids will want to play some rounds of Among Us at the party, they may not want to spend the whole birthday bash glued to a screen. These fun Among Us party game ideas will keep kids active while engaging in Among Us-themed activities. Let's have a look!
Time to take the party outdoors and let the kids enjoy some sunshine? Check out this party game that will keep them entertained.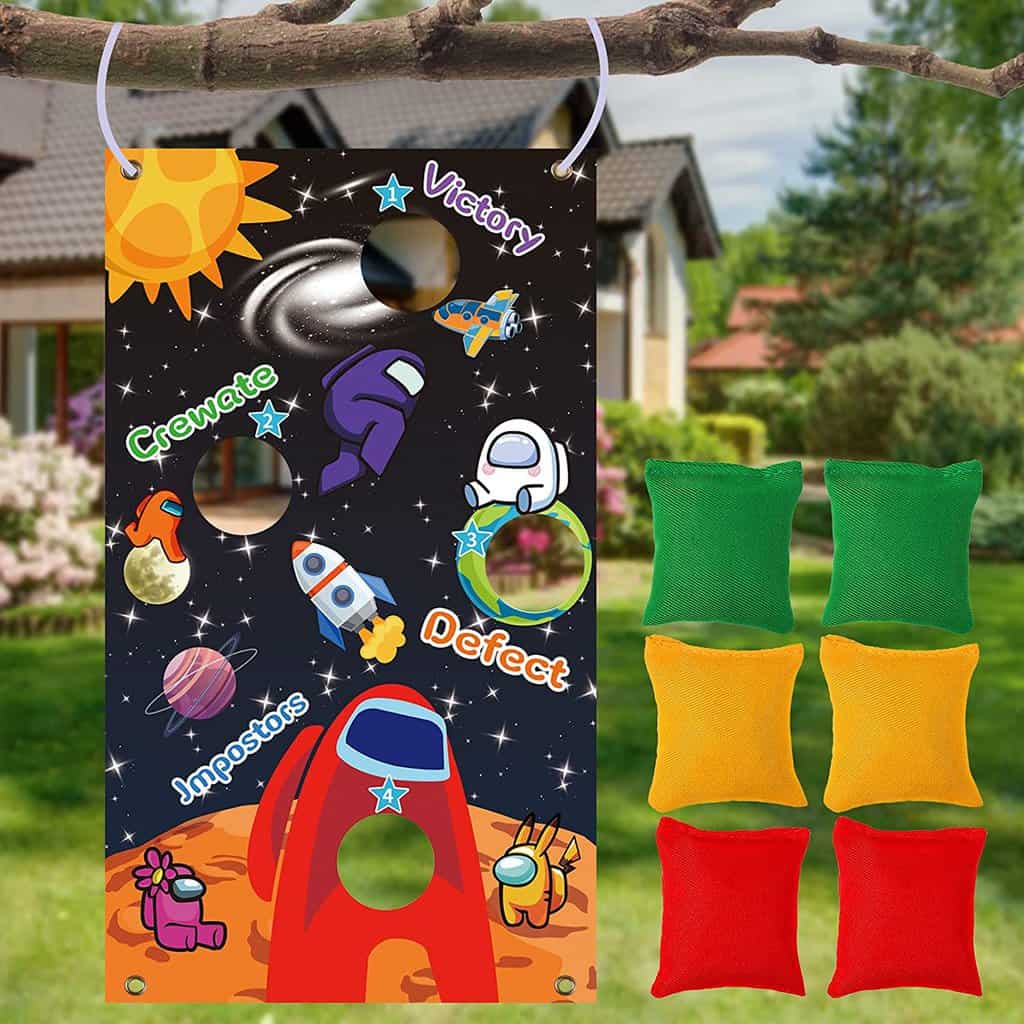 Key Specs
Price Range: $8-$16
Color: Black and multicolor
Amount: 1 game and six bean bags
You can't miss with a classic game, and I say there's a reason kids have gotten a kick out of bean bag tosses for decades. I love how well the Among Us color scheme and characters have been tied into a vibrant game board like this one. With six bean bags, your kid and their guests won't run out of ammunition. If you want part of the party to be outdoors, an outdoor game like this one will give the kids something to do.
Pros
Fun outdoor game to get kids active
Great for practicing hand-eye coordination
Cute and colorful game board
Cons
If it rains, it may be harder to use this indoors
As in every game of Among Us, trust no one. Anyone could be the murderer. It's kind of like life. Wait, no, that's too dark!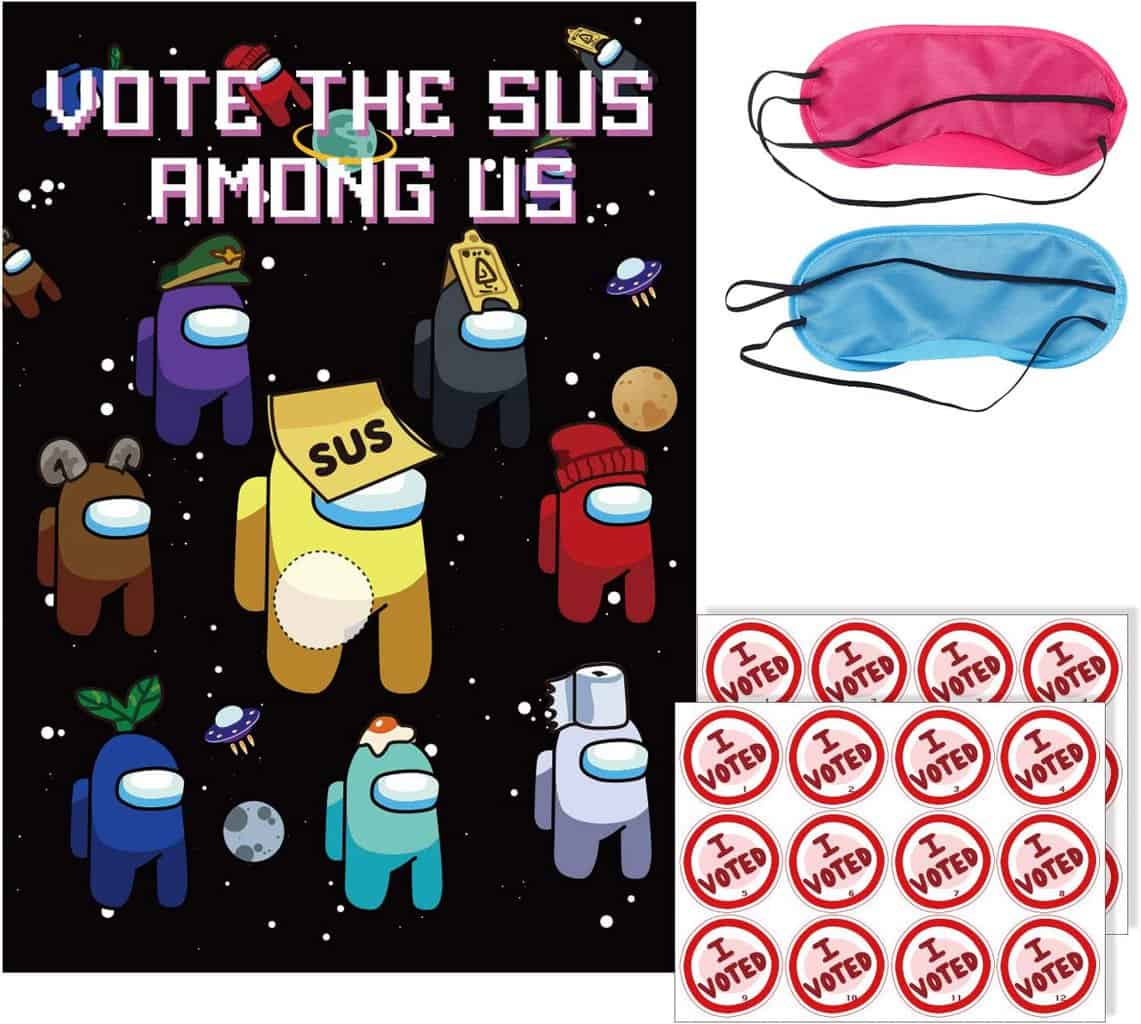 Key Specs
Price Range: $5-$15
Color: Blue, pink, and a multicolor game board
Amount: 24 stickers
It's time to vote out the suspect! No one can be trusted during a game of Among Us, and this party game is actually quite similar to the video game. Kids will have to vote out the person they think is the killer onboard, and by narrowing down their choices and selecting the correct player, the majority wins. Of course, if the killer among them is stealthy, they can win the game, too. Since the gameplay here is similar to the actual Among Us, I think kids who are obsessed with the franchise will love this.
Pros
Stickers are reusable, so the game can be played multiple times
Gameplay is similar to Among Us gameplay
Cool Among Us poster
Cons
Eventually, the stickiness of the stickers may fade
FAQ
It's time for me to answer your most frequently asked questions about Among Us before you head out!
Question: What Age Range is Among Us for?
Answer: Generally speaking, Among Us is recommended for children who are nine and up. The game is popular with older kids and adults, too.
Question: Where Can You Play Among Us?
Answer: Here is a list of your options:
Android
iOS
PC
Nintendo Switch
Playstation 4
Playstation 5
Xbox One
Xbox Series X|S
Question: Is Among Us Violent?
Answer: Among Us is violent, but I wouldn't say it's gory. One player's objective for the entire game is to kill everyone else without getting caught, so take that how you will. The game will show crewmate deaths, but since Among Us looks so cartoonish, none of the violence looks anything like real violence.
There's a Birthday Person Among Us!
I hope you feel better informed about what Among Us is and where you can find the best Among Us party supplies. Have your eye on any of the party supplies I showed you? To save time and money, go with the 140-piece Among Us Party Decorations set. For even more helpful party supplies guides, please come check out our website!
Recommended Reads: