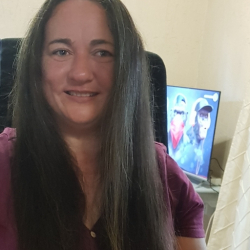 Latest posts by Caroline Lambert
(see all)
TikTok is a clever trend, so popular that it overtook Google as a search engine in 2022. Therefore, I'll show you the best TikTok cake ideas that coincide with the trend's unknown little feature. Let's say I'm a baker who sees outside the standard lines, and my ability to connect TikTok's subliminal trending idea to cakes will shock you.
I've been baking cakes and sharing party ideas with friends and family for years. They love turning to me for the most original ideas for the most outrageous party supplies. I'm also keen on gorgeous cakes and use TikTok daily. So, are you ready for what lies outside the expected lines and trending TikTok cakes?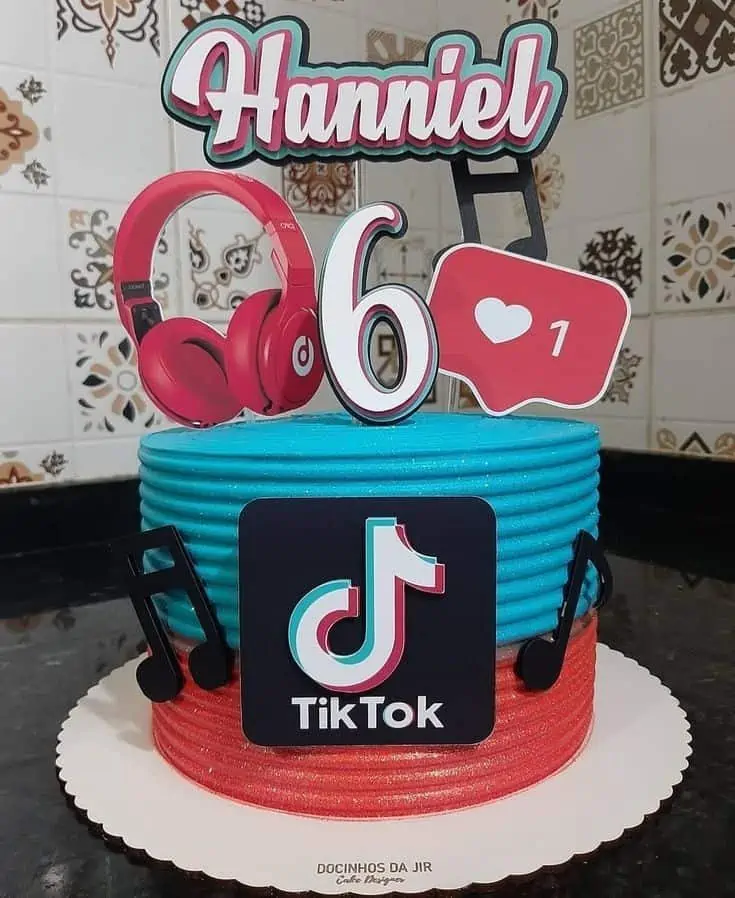 Bottom Line Upfront
The bottom line is that my TikTok cakes will meet professional-looking standards, whether you're an experienced or inexperienced baker. I want beautiful-looking cakes with smooth fondant or buttercream, cake toppers, and TikTok-related decorations. Of course, the decorations will depend on the cake's difficulty level.
I'll also mention upfront that my ideas come from Instagram and YouTube because TikTok doesn't allow everyone to log in from a laptop. I don't want you to see a brilliant idea among mine and not be able to access it. However, I have picked my ultimate TikTok cake ideas for beginners and experts.
Check them out before learning more about how I picked them and seeing the many fantastic ideas.
My Ultimate TikTok Cake Idea for Beginners
The Candyland TikTok Cake Idea is my ultimate pick for beginners. It includes the right colors and adds delectable delights such as eye candy cake decorations. The printed TikTok cake toppers make it much easier to focus on the mouthwatering cake. In addition, the butterflies add a unique touch, ideal for female TikTokers.
My Ultimate TikTok Cake Idea for Experts
The Painted Girl TikTok Cake Idea blows me away as an artistic masterpiece. Even experienced bakers may or may not pull this idea off, and you might have to source an expert in cake painting. However, I picked this as my ultimate idea because you can have the picture of the TikToker custom-painted onto the cake's side.
Selecting the Best TikTok Cake Ideas for Trending Parties
TikTok users and fanatics don't all know the hidden secret behind the brand's logo. TikTok cleverly chose a logo that looks like a chromatic aberration, meaning it makes the logo look like a glitch. So, look carefully at your logo. Doesn't it look obscured, blurred, and glitch-like? The brand did this on purpose because it's a trend.
As a result, TikTokers often think the best parties for the theme include black and white. The logo fools you into believing that's what you see when you look at the app on your phone. However, the aberration includes pink and aqua. It looks like the white logo slips around, creating the other colors.
Hence, my first criterion for beginner and expert TikTok cakes is that they must predominantly use these colors. I'll accept TikTok cakes with black, white, pink, and shades of blue as the primary colors. Furthermore, I'll have different criteria for expert and beginner TikTok cakes.
However, beginners are welcome to find inspiration from professional cake designs because they merely require more work.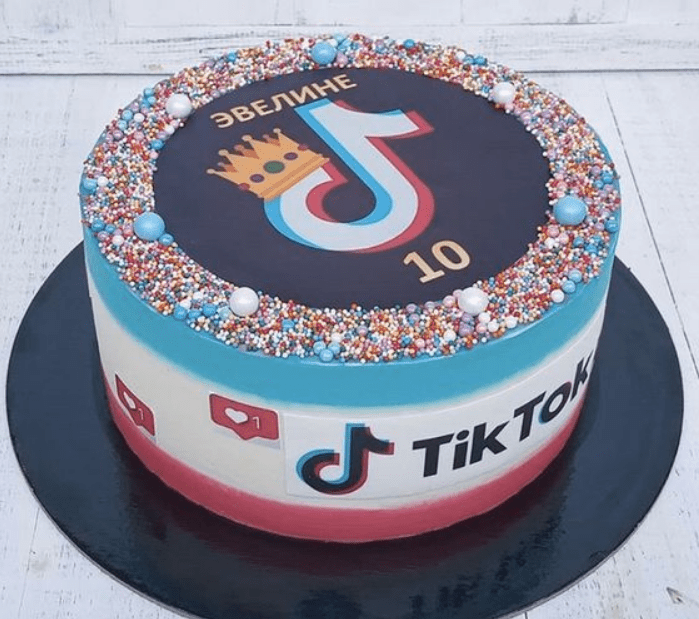 My Selection Criteria for Easy TikTok Cake Ideas
Easy TikTok cake ideas should still inspire you to create something gorgeous. An aesthetically beautiful TikTok cake for beginners should:
Have clean and sharp fondant or buttercream edges, with or without buttercream frosting borders
Include at least one cake topper, edible printed sheet, or 3D-style decoration to make it pop
My Selection Criteria for Expert TikTok Cake Ideas
Experienced bakers and decorators don't need the easy TikTok cake ideas. Neither do inexperienced bakers if they're willing to watch tutorials or order a cake from a baker. However, my selection criteria for expert TikTok cakes mean they must meet both requirements in the amateur section with some added pizzaz.
TikTok cake ideas for experienced bakers should also have at least one sculpted fondant or gum paste cake topper. I won't accept printed edibles or sheets for expert cakes. Instead, I'll change the ideas to suit experts. I'd also love to see more color-blending, glitter, buttercream piping, and more advanced decorations.
15 Best TikTok Cake Ideas for Beginners
Starting your baking and decorating journey can feel intimidating. Still, you can always look for video tutorials for anything you can't do yet. I followed many, perfecting my cakes with time. However, my easy TikTok cake ideas will be a breeze for home bakers. So, let's get to the exquisite details before trends change.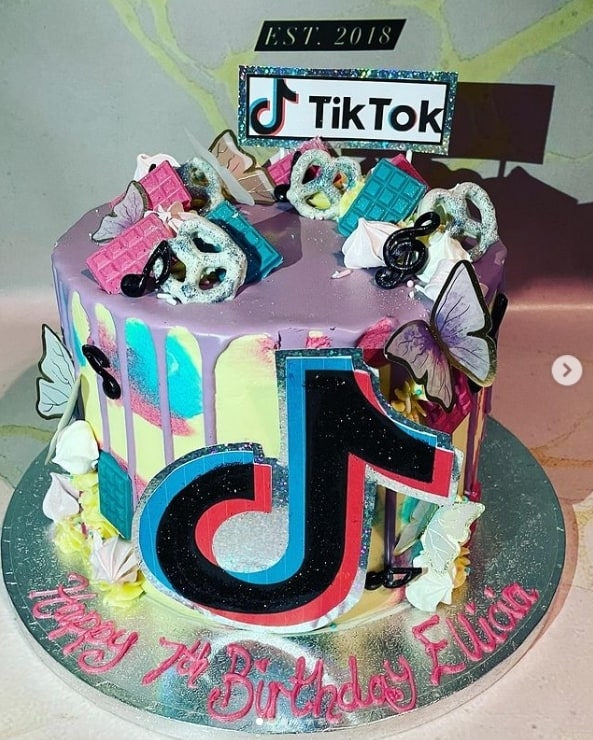 Candyland designs turn any cake into a beautiful masterpiece. This TikTok cake idea jumps at its audience, grabbing likes as far as the eyes see and mouth water. The TikTok logo is bold, and the background drips and oozes with candylicious inspiration. The dripping effect makes it look like the candy melted over the cake.
The decorations are mainly prints; you can opt for edible printed wafer paper. The butterflies are a welcomed addition to the beautiful cake design. Even the meringues and chocolate look delicious. However, the buttercream frosting is a blending technique you can leave out if you want a solid background.
Buttercream cakes are aesthetically gorgeous and tasty simultaneously. Unfortunately, fondant doesn't taste as good, especially when you layer it too thick over the buttercream. This buttercream TikTok cake idea also uses a simple technique to create an in-depth design with the frosting. You'll get this right with a butter knife.
In addition, the headphones and TikTok logo are fondant cutouts simple enough for a first-time baker to enjoy. Add a few sprinkles, and the cake comes together like thirsty Thursdays and wine. I'm just kidding! However, I would remove the massive printed TikTok sheet over the cake because it distracts from the simple design.
Admittedly, I've seen more female TikToker cake ideas than the number for guys. The easy TikTok drip cake is another beautifully delicious design that implements the trendy dripping effect. Chocolate ganache or royal frosting are easy ways to achieve the impact on your cakes. Using two colors is showing off here.
However, I love two-toned TikTok cake ideas that combine a blend of dripping frosting. The colors also match the logo perfectly, and the buttercream piping as a border gives it pizazz. Meanwhile, I'm unsure why bakers use such massive printed cake toppers. Instead, I'd make it smaller and center it better between the piping.
Sheet cakes are famous for larger parties with a lower budget. In addition, they're much easier to turn into masterpieces. This TikTok cake idea looks simple yet gorgeous, using the popular headphones I often see my kids wearing while watching TikTok videos. Those viral soundtracks constantly pump into their ears.
Nonetheless, the cake is a beauty. The white background looks excellent on a sheet cake, with subtle aqua and pink lines running through the cake. The video shows you how to get this effect with your colors, and there's nothing wrong with using actual headphones as long as you remember to remove them.
There's another way to achieve the two-tone waterfall effect on a TikTok cake. This baker uses royal frosting to create two color streams that end on the cake board. You can make royal frosting (runnier than buttercream) by adding milk to your buttercream frosting mix. However, it's much sweeter, so tread lightly.
The baker finishes the cake with a double-colored frosting technique around the cake board and on top. It's easy to get two colors by adding them next to each other in a piping bag. Meanwhile, the baker shows you a simple technique to get a fondant TikTok cake topper, adding age as a bonus piece.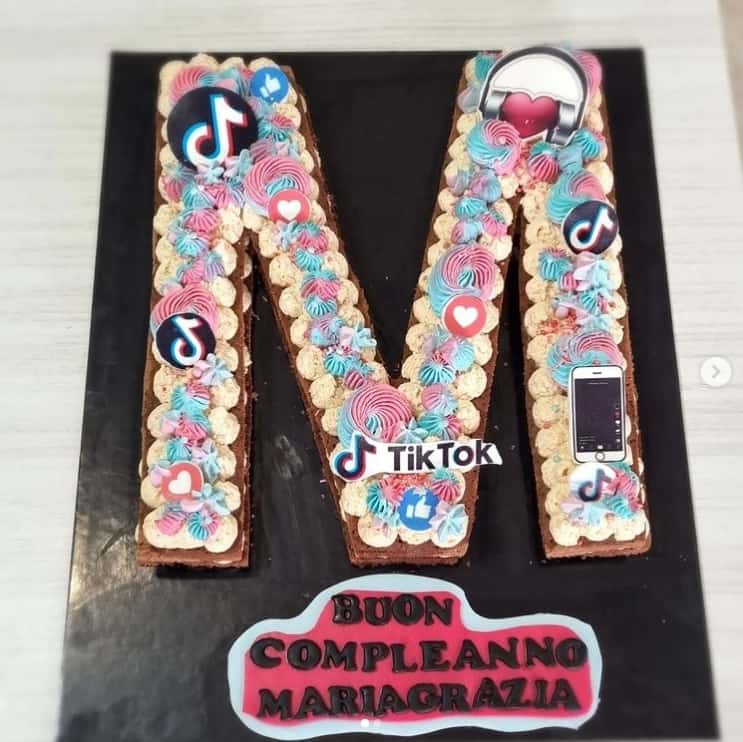 If you use TikTok, you'll know that hashtags are the path to making the famous "for you page," where every user tries to go viral with trending soundtracks and clever wordplay. Meanwhile, I'm trying to see if my cake ideas will inspire some viral videos from influential TikTokers—wink, wink.
TikTokers also use hashtags to tag themselves and friends, and this cake idea makes me think of a hashtag. So, there's nothing wrong with designing a massive hashtag cake topper to add to the top-left corner, making the cake read #M or the letter you need for the TikToker's name. It's a brilliant idea, enough to go viral—wink, wink.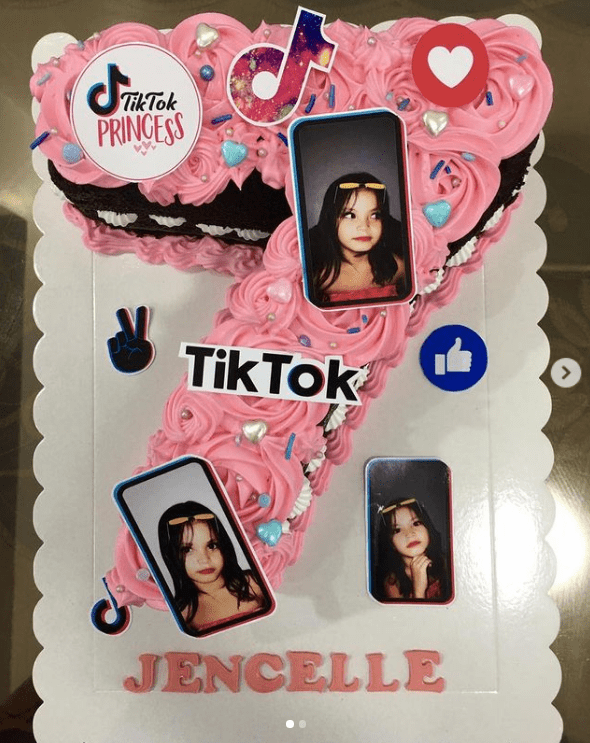 The numbered and hashtag cake ideas are similar, but I have some ideas to change this. For example, I would undoubtedly frost the cake's sides because the basic design leads to dry sponges. You don't need a cake to look trendy because everyone loves naked cakes while complaining about how dry your sponge cake tastes.
I'm experiencing this dilemma because my wedding guests have so much to say, even before the big day. You can't make everyone ecstatic, but you sure can tick everyone off with dry sponge cake. In addition, I love the personalized picture cake toppers for TikTokers, which you can change to their most viral video snapshots.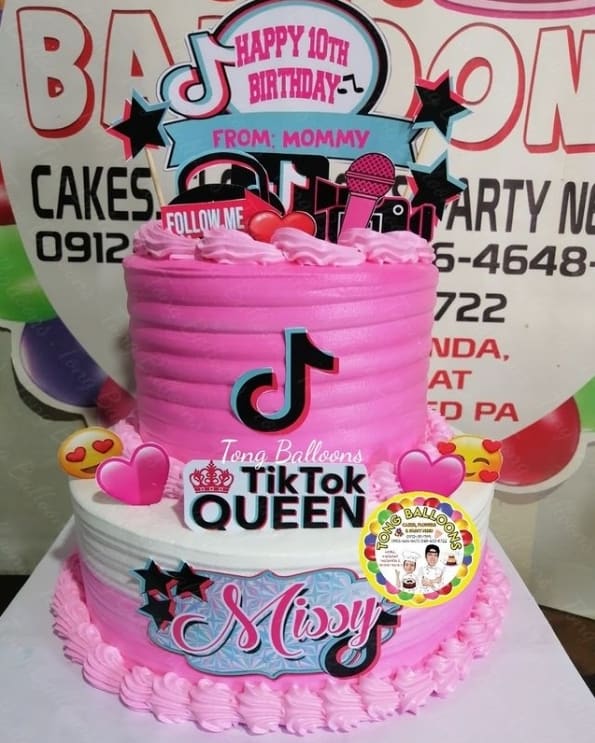 I've noticed another trend on TikTok, and it's as old as the app. Every young girl enjoys making makeup tutorials and dance challenge videos, hoping to become the next queen of TikTok. My daughter and I sadly practice some of these videos, and TikTokers often say I'm too old for the platform. I disagree!
However, I'm steering away from this gorgeous cake that made me think of TikTok queens. The color blends between the buttercream frosting and TikTok cake toppers are ideal. Also, I like the love emoji because it's the only way to "like" videos on TikTok. So, why not give a TikTok queen a cake with a "love" cake topper?
One of the previous cake ideas had simple headphones on top, but I like this one more. It uses the less is more concept of only adding butter knife colors to the cake's bottom with easy-to-make fondant headphones over the cake. The baker uses a simple painting technique in this video, which you're welcome to try.
However, I would remove the added colors, only keeping aqua and pink as painted borders. In addition, the baker shows you how to make a simple TikTok fondant cake topper and logo. I prefer to share tutorial videos for cakes that use techniques because home bakers don't always have experience with these designs.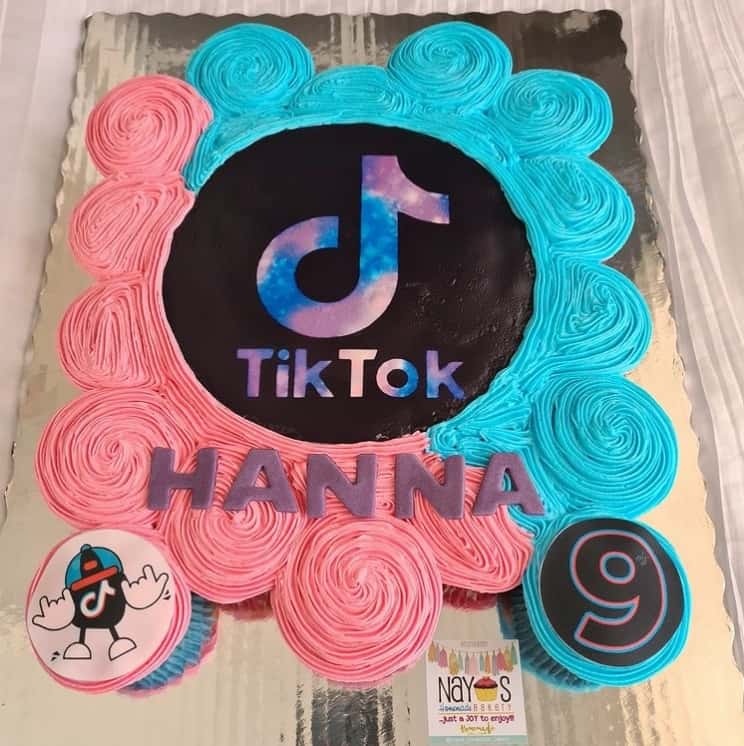 TikTok cupcakes come in various forms and shapes, and this idea looks like a stage. TikTokers often imagine themselves on a stage, performing for their set of friends and followers anyway. This idea is brilliant. However, I would change a few things to beautify the stage-setting TikTok cake idea.
For example, I would remove the bottom-left fondant cupcake topper because it seems misplaced. Instead, replace it with something that seems more relevant to the theme. I recommend a printed sheet with headphones, a musical note, or a smartphone. In addition, I would add sprinkles and color-appropriate decor.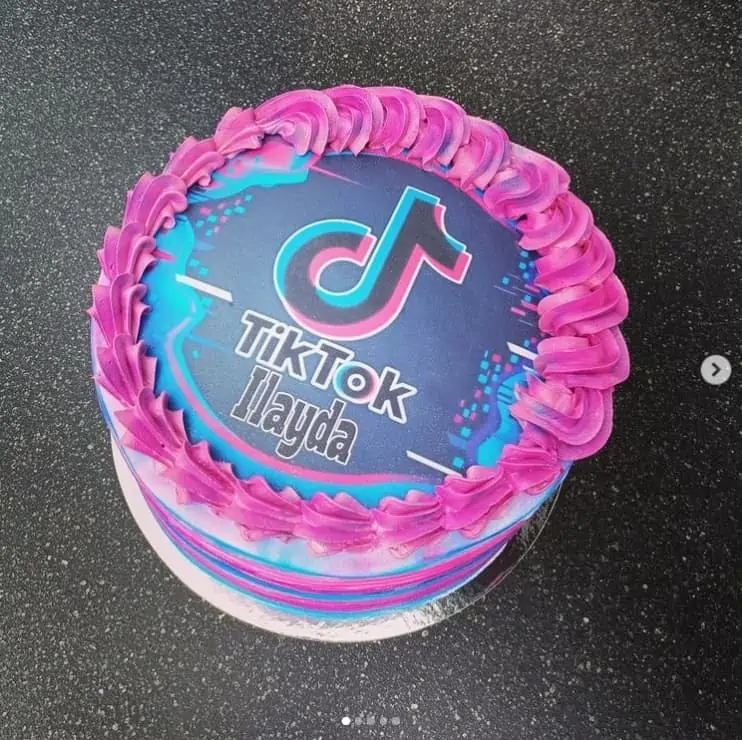 Indeed, TikTok smash cakes aren't a massive trend unless the parents are avid TikTokers and want their babies to make the next viral video. I've seen a few TikTok accounts that use babies to go viral, always hoping the babies belong to the parents and aren't merely little superstars for strangers.
Nonetheless, smash cakes are perfect for first birthdays. I would've posted a video if my kids were that age when I began using TikTok. Additionally, smash cakes should be as simple as possible. This one uses a printed sheet instead of a cake topper, and it has pretty borders, waiting for a little one to smash into it and go viral.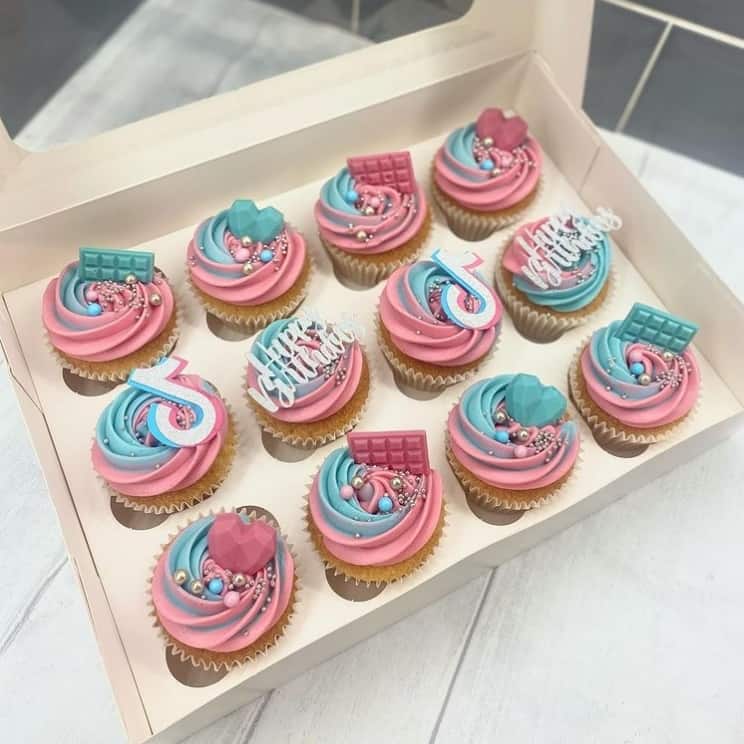 Cupcakes are as famous as TikTok cakes and are much simpler to beautify. It begins with a simple rosette piping technique over a yummy cupcake before adding the decorations. This baker used candy balls and glitter effects before adding simple printed TikTok cupcake toppers. I love that she maintained the minimal TikTok design.
The colors are perfect, and the TikTok cupcake toppers only go on every couple of cupcakes. Every other cupcake uses candy and chocolate bars with the right colors to finish the design. TikTok cupcakes would work perfectly for smaller parties when you don't need a week's cake leftovers. No one wants that responsibility.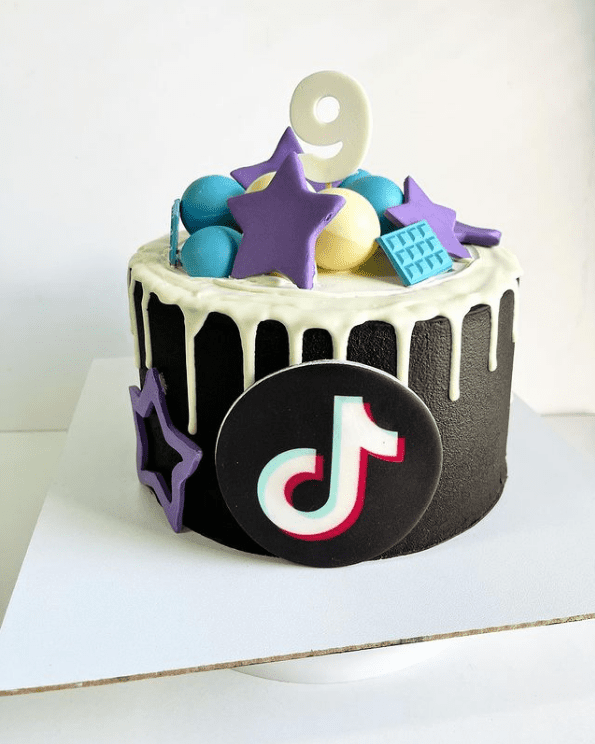 I've been watching the TikTok cake ideas on my phone (similar to Instagram and YouTube), and I saw a surprise TikTok cake trend. The designs are similar to this idea, including a matte black buttercream frosting cake with minimal toppers.
Instead, the baker uses buttercream piping techniques to make a beautiful border. In addition, the TikTok cake topper logo is a no-brainer, but the cake holds a surprise inside. TikTokers are cutting their matte black cakes open to find sprinkles and other surprises, some even using these cakes for gender-reveal parties.
Drip cakes are some of my favorites. This TikTok drip cake idea changes the previous one to a surprise TikTok cake with hidden edibles. The viral TikTok cake idea doesn't stop at simple designs. Instead, this baker uses a cake design that would work beautifully for birthdays and gender-reveal parties.
The baker uses pink and blue dripping, ironically relating to whether parents will have a boy or a girl. The inside surprise can hold the answer. However, the cake design is also beautiful for birthday parties. TikTok's favorite colors on a matte black cake would even work for parties celebrating a boy's and girl's birthday in one.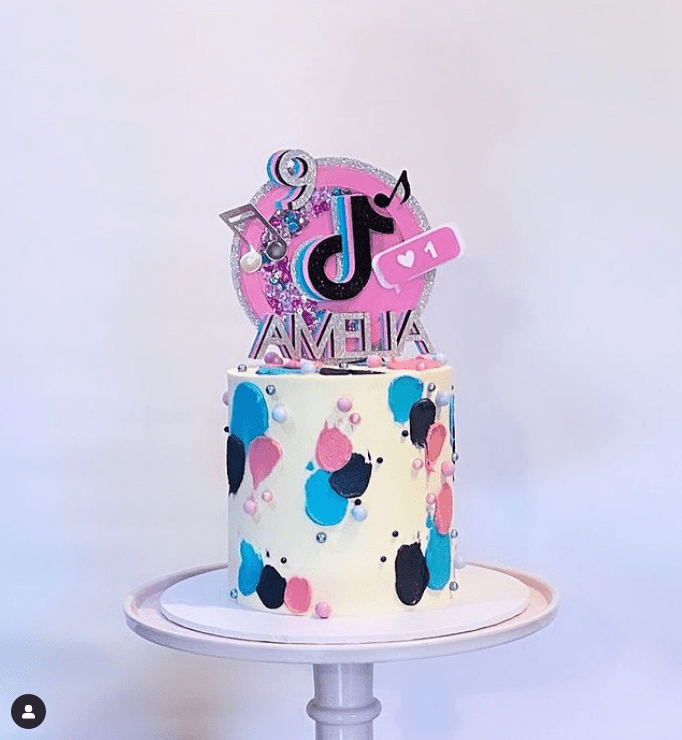 Every young TikToker dreams of getting their first like before they achieve stardom. Even viral videos begin with a single "like." This easy TikTok cake idea is perfect for the viral dreamer because it has the first like they desire. The cake is impressive and doesn't require endless experience to finish like a pro.
The color-blending techniques around the buttercream cake are simple and imperfect, sometimes perfect with beginner's cakes. The little chocolate balls add some glamor, while I love the printed cake topper. It has glitter, the TikTok logo, musical notes, and the young star's name and is an ideal blend for TikTok fans.
10 Best TikTok Cake Ideas for Experts
The best TikTok cake ideas for experienced bakers include complicated techniques, buttercream blends, and hand-sculpted fondant cake toppers. However, I'm inspiring you with these ideas. Still, I'll explain the intended changes to ensure they meet my selection criteria for expert cakes. So, let's get to the beautiful TikTok cakes.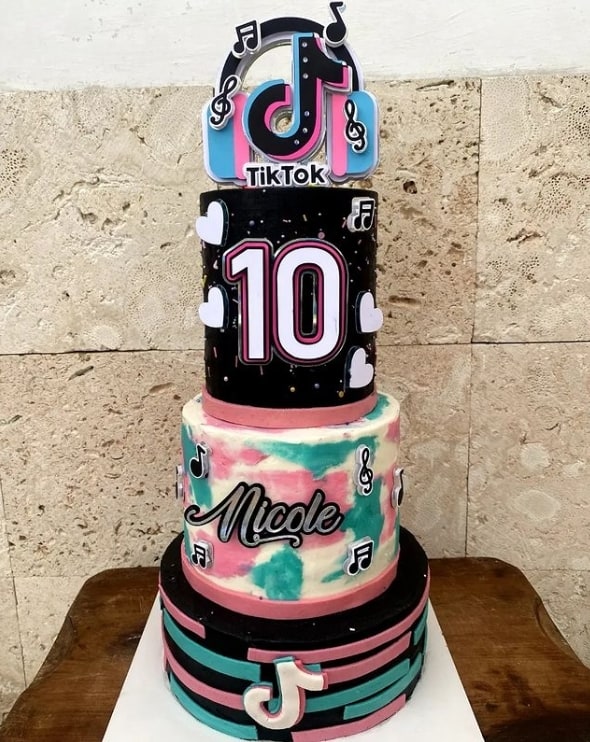 The big TikTok dream is to go viral. Sadly, I haven't achieved this yet, but my son came close a few months back with a dance video. Of course, every TikTok user dreams of becoming a viral star. Nonetheless, my cake ideas may inspire young TikTokers to become their viral selves. Seeing this cake at a party would undoubtedly start it.
My son once attended a party with a similar TikTok birthday cake. The cake reached over 100,000 views and 9,000 likes in a week, also nearly a viral video. So, this grand gesture of TikTok fandom is a possible entry into the viral kingdom. However, I recommend experienced bakers only use fondant or gum-paste cake toppers.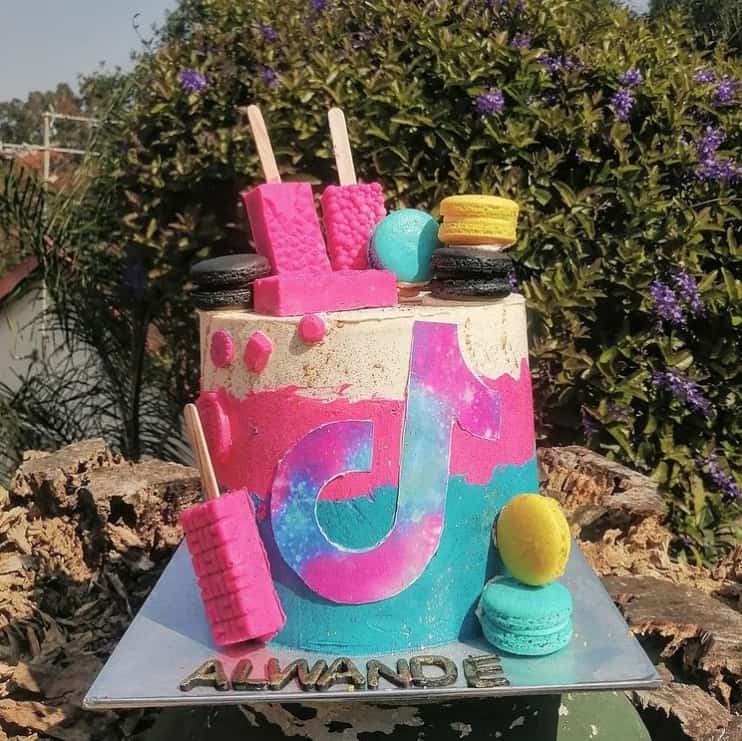 Candy looks delicious on cake, even though it's a sugar overload. This TikTok cake idea uses candy as cake toppers. However, I recommend challenging yourself to make the cake toppers from scratch. I'd also undoubtedly change the TikTok logo because you can improve it with the right colors and fondant.
Macarons are challenging to make from fondant or gum paste, so you can skip making those from scratch. However, the ice lollies cake toppers would taste brilliant as miniature cakes with fondant around them. So, please don't make them from fondant. Instead, use Rice Crispies to make the inners feel lighter on the cake.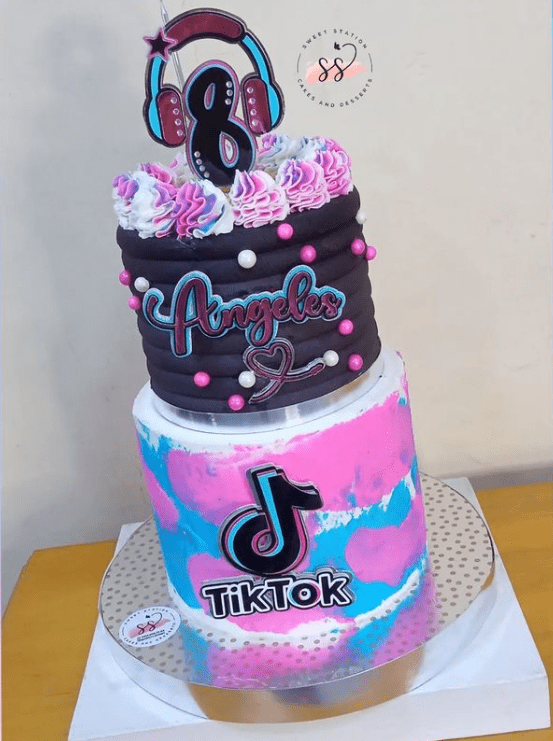 This cake idea would be easy as a professional conversion to the viral concept of hiding sprinkles inside the top tier. However, the two-tier TikTok cake also has attractive features and would wow guests with a few added extras. Meanwhile, you can also make both levels a surprise waiting to happen when the knife slices them.
The tri-colored buttercream rosettes on the top tier also look more impressive than two-tone buttercream piping. In addition, the buttercream color blending on the bottom level is fantastic. The change I would recommend is that you replace the unsculpted cake topper headphones with edible ones for an expert design.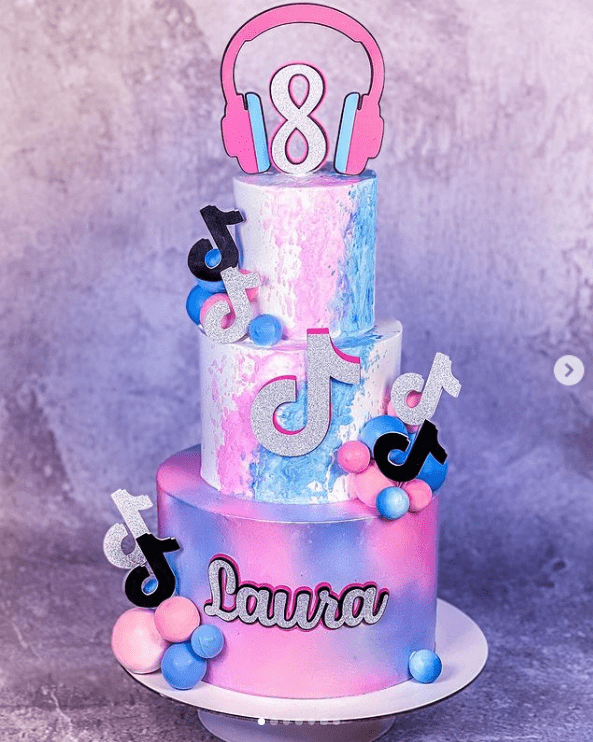 TikTok girls sure love glamor, glitz, and everything sparkly. I don't always understand the makeup trends, but the cakes look phenomenal. This three-tier TikTok cake idea uses two different paint techniques on the buttercream, creating a professional design from the start. Also, the chocolate balls suit the cake nicely.
However, I recommend some changes, like taking away the printed edible cake toppers and sheets. Instead, use fondant cutouts or sculpted headphones and music notes. Stick to the TikTok music note, or it will look like a different cake. Finally, I would create a dripping cake with the bottom tier to emphasize the beauty.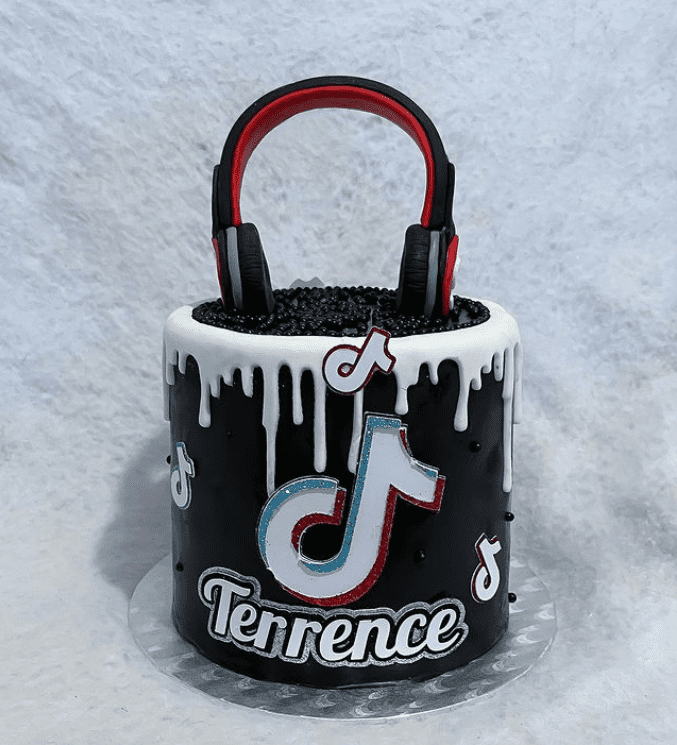 There's a gravity-defying cake for every theme, but this is the closest one I found for TikTok fans. Indeed, the headphones are a sculpted, edible fondant cake topper. The details are eerily accurate, and it looks like a guest can slap them on their ears to listen to the next viral soundtrack playing behind the TikTok videos.
The magnificence of the headphone cake topper is so stunning that I wouldn't even bother changing the printed sheets to edible fondant sculpts. However, I won't stop you from changing them because experienced bakers love edible cake toppers more than printed papers. The beaded effect just brings the cake to life.
I found another cute TikTok cake idea with edible headphones that don't require gravity-defying skills. Instead, the headphones lying on the cake, accompanied by a microphone, are also edible. The headphone undoubtedly looks better than the microphone, but having two edible cake toppers on the cake is a brilliant design.
The TikTok logo is another fondant cutout; you can see the baker's effort in this design. However, there's one change I recommend. The frosting style seems minimal for a karaoke-styled cake idea. So, I recommend sprucing it up with color-blending or delicate piping techniques. It would look so much better.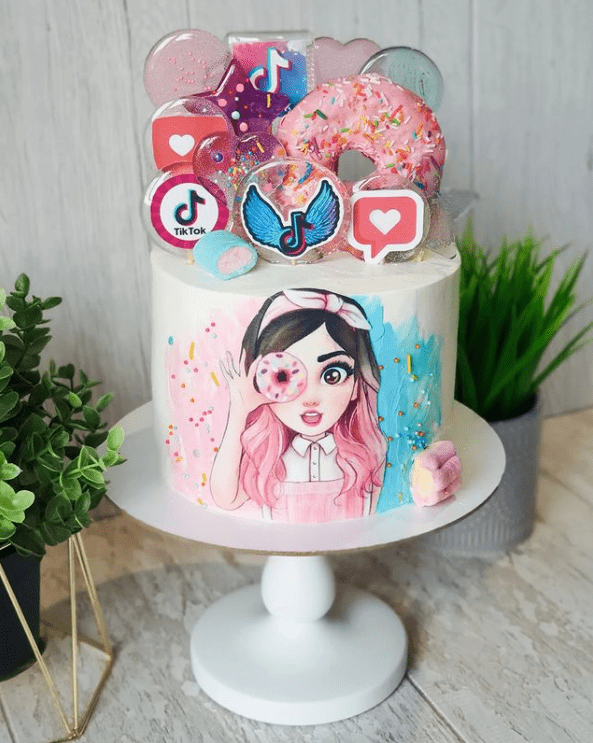 I know my ultimate pick isn't in everyone's range, but it took my breath away when I saw it. The anime-styled girl on the front of the cake is inspirational to find an artisan baker capable of this quality painting. Then, I would give them a picture of my daughter to place on the cake. Guests will never believe this beautiful piece.
However, I suggest some changes because the cake looks busier than it should be for an artistic piece. First, I would remove some of the cake toppers, only using a TikTok fondant cake topper with my child's name and age. Finally, I would border the cake with a pretty buttercream frosting on top, avoiding the artwork.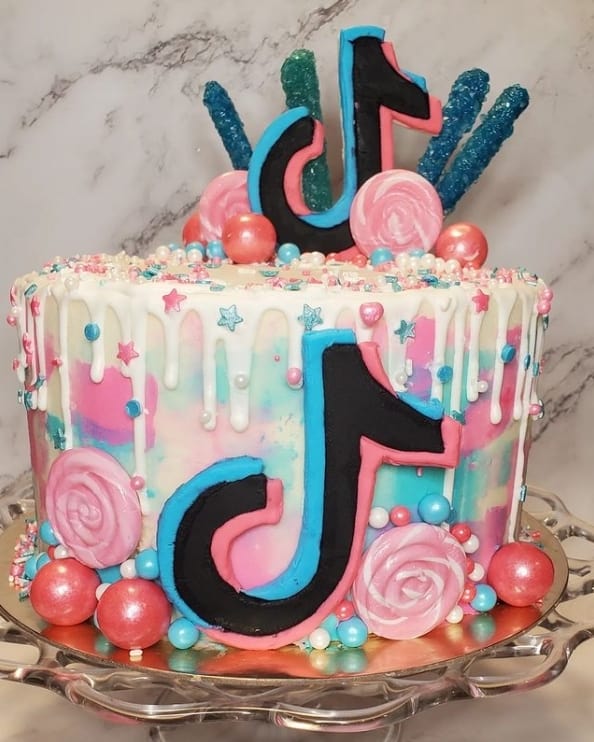 Let's move from art to candy masterpieces again. This Candyland cake idea works perfectly with TikTok fans. The baker steps things up by adding decorations to the dripping effect, and they use a beautiful color-blending technique for the surrounding buttercream. The chocolate balls make it look more delicious.
In addition, the candy canes and TikTok cake toppers are edible. However, the baker wasn't patient enough with the TikTok cake toppers. As a result, they look sloppy. I recommend improving them. I'm also unsure what the glitter sticks are for in the background, but I would remove them entirely. They add too much dark blue color.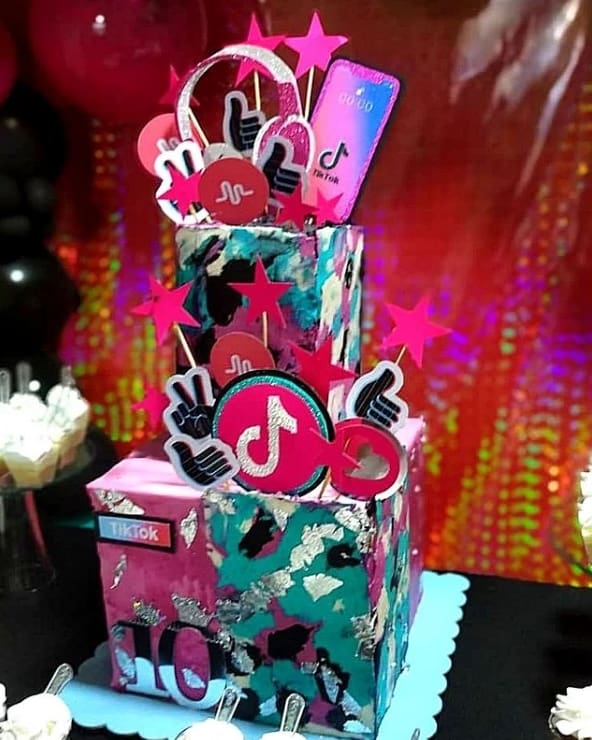 Two-tier TikTok cakes all look the same. The round cake tiers are popular, but maybe it's time to change them. This square cake idea is perfect for a unique design. I'm impressed by the gold-leaf decorations against the buttercream frosting. In addition, the baker uses professional-looking color-blending techniques.
However, the top of the cake is too busy. So, I recommend removing some decorations and using more sculpted cake toppers for the TikTok logo. Meanwhile, I like the idea of adding fondant headphones and a smartphone to the top cake tier. But please, I highly recommend taming the visual noise on this cake.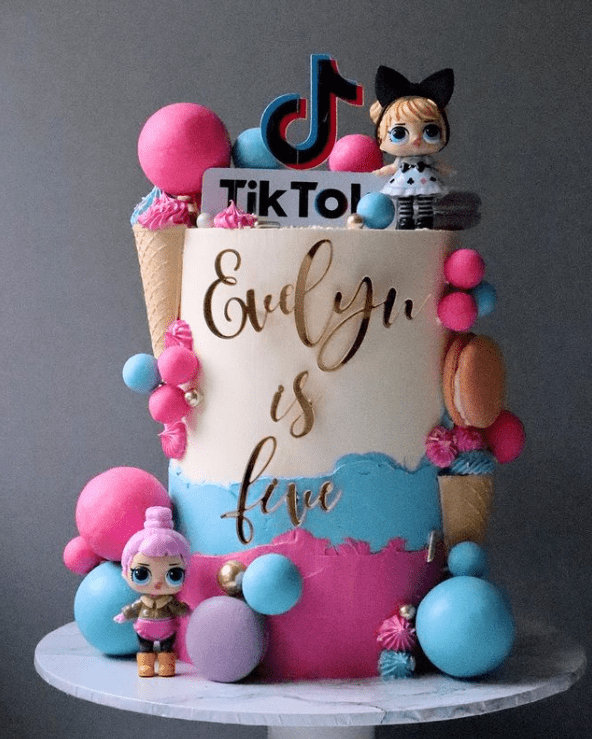 Going viral preludes the influential account stage on TikTok, which has many benefits, including sponsorships and brand affiliation. However, this Influencer TikTok cake idea combines the app with LoL cake ideas. The cute girls and dolls from LoL Surprise will turn a TikTok cake into a brand collaboration for young TikTokers.
They'll feel like influencers at their birthday parties, showing everyone how gorgeous their double-themed cake looks. Meanwhile, the LoL Surprise TikTok cake idea should only use edible cake toppers. So instead, the LoL dolls are sculpted gum paste cake toppers but change the TikTok logo to match the quality of everything else.
FAQs
Question: What Is the TikTok Surprise Cake Trend?
Answer: The TikTok Surprise cake trend is when bakers and TikTokers use the classic trick of adding a piñata into a cake. I shared the TikTok Surprise Cake Idea to show you what it looks like outside. The traditional matte black cakes have hidden sprinkles for birthday surprises or gender-reveal parties, a popular trend in 2022.
Question: How Do I Get a TikTok Cake Box?
Answer: Unfortunately, you can't get one from TikTok, but nothing says you can't custom order one from a baker's supply store. However, TikTok surprised 2,000 content creators with surprise cakes in 2020 with tall surprise matte black cakes in TikTok branded boxes. It's what began the TikTok Surprise cake trend.
Question: How Do I Make a Fondant TikTok Logo for My Cake?
Answer: The foundation of baking a TikTok cake is to start with the tri-colored logo. Fondant logos look more professional and are edible. Meanwhile, they're not hard to make. This cake tutorial shares a simple technique for making a fondant TikTok cake topper. You can also pipe the TikTok logo with buttercream frosting.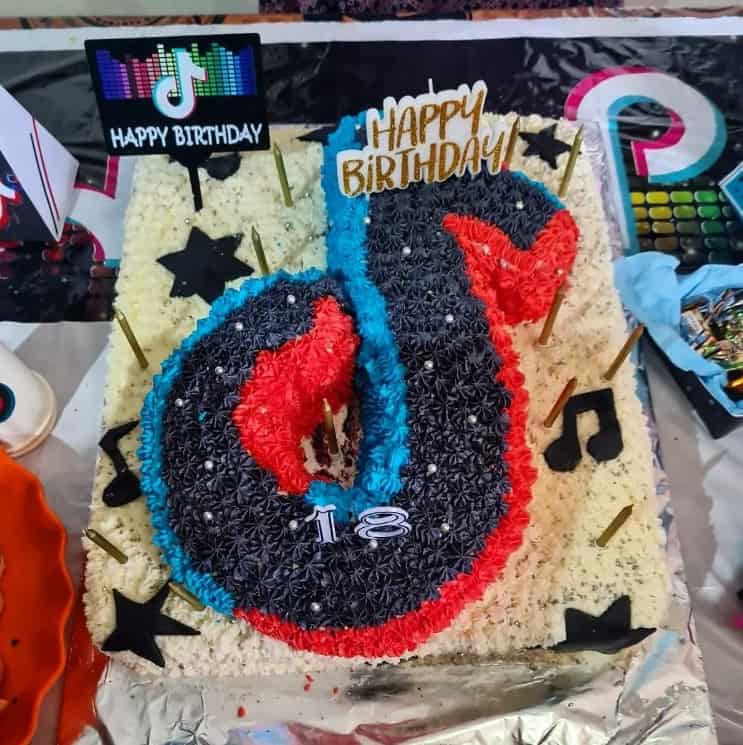 TikTok Cake Ideas: Conclusion
Some brilliant TikTok cake ideas range from easy to more challenging. It depends on your patience and time allowances. However, each one has unique features and creative decorations. I enjoy the more challenging designs that encourage me to use paint and color-blending techniques with edible cake toppers.
Meanwhile, some bakers enjoy cakes that look neat and minimal. I shared a few choices for each among the experienced and inexperienced ideas. So, swipe up to choose the TikTok cake idea of your dreams. Some cakes appeal more to younger TikTokers, while others impress older divas and superstars.
For more party ideas: