Are you planning a Sonic the Hedgehog party and need Sonic cake ideas? Well, I got your back. This anthropomorphic hedgehog has been around since I was a kid, although he has since gone through a redesign with a more mature look.
Sonic is a gaming icon and one of the world's best-known game characters; with his spinoff animations, comics, film, and other media, it's not surprising for kids to want a Sonic-themed party. In fact, since last year, I've already done four Sonic the Hedgehog-themed parties.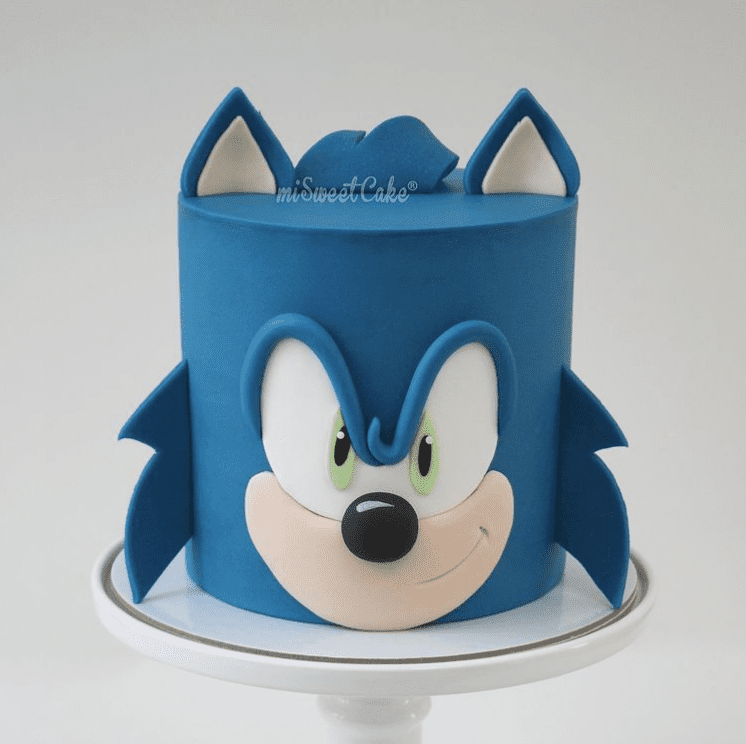 My Bottom Line Up Front
When it comes to cakes with a cartoon or animated character theme, those with excellent fondant art grab most people's attention. However, I know these cakes are not a practical choice for everyone. Not all of us know somebody with awesome fondant sculpting skills who can accurately recreate characters. So I personally wouldn't risk having a cake with a fondant Sonic the Hedgehog topper that looks like a rat from outer space.
That is why I would prefer number or letter cakes for those with character themes. Number and letter cakes allow you more creative freedom when it comes to your decorative elements. These cakes have cream piping on top, but you are free to put whatever accessories or décor you want as long as the colors are well-coordinated. You can add acrylic charms, paper toppers, printouts, edible images, or customized sugar cookies to introduce your theme.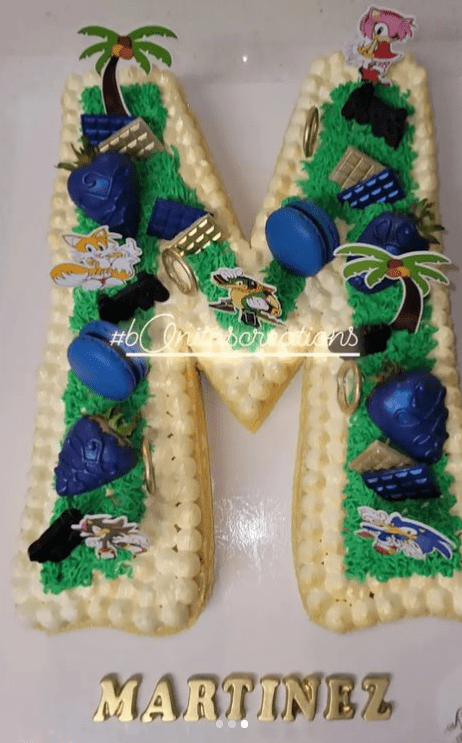 Take this Sonic-themed number cake, for example. The grassy buttercream or icing is decorated with fresh strawberries dipped in blue chocolate, molded chocolate bars, blue macarons, gaming joystick charms, and Sonic-themed paper toppers.
Selecting Sonic Cake Ideas
Looking for Sonic cake ideas online can get overwhelming because of the large number of results. Instagram alone will give you over 60,000 hits. Who has time to go over all these cakes?
The good thing is that you don't have to; I've done it for you. Years of helping people plan their celebrations and pick their perfect cakes have taught me to compartmentalize. In other words, I have learned to automatically sort cake images into categories when I see them, making the job easier.
As such, I always prepare my "categories" or my criteria before I even begin my search. But I also edit these categories as I go along to give way to certain trends and to make sure my cake ideas don't just consist of very common designs. So, in coming up with Sonic cake ideas, I look for cakes that:
showcase modern cake decorating styles or trends
are done in colors that are not typical of the Sonic the Hedgehog theme (which is blue)
are practical and easy to replicate at home or by non-professional cake makers
have an overall unique and eye-catching design
Things to Consider when Getting a Sonic Cake
Before picking a Sonic cake, or any cake for that matter, you need to consider some things.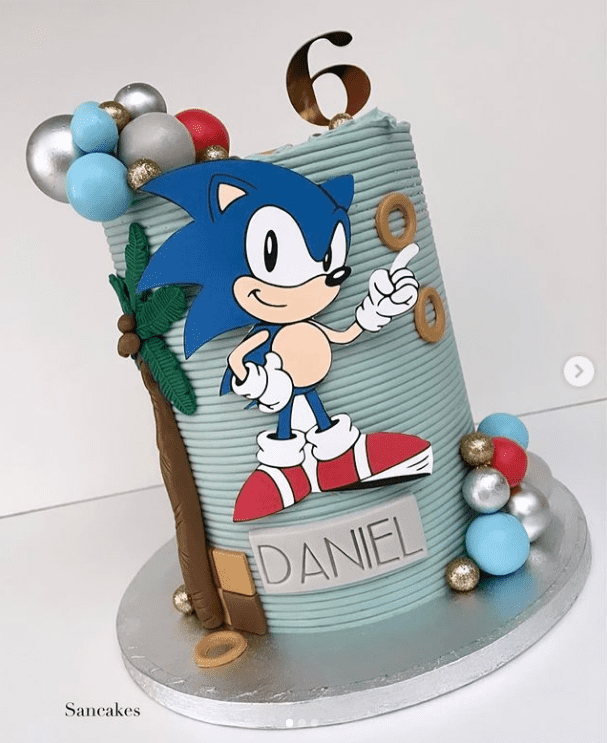 Cake Size. What are you celebrating, and what kind of celebration will it be? The answer to these questions will help you determine how small or how big your Sonic cake is going to be. A small round cake will be good enough if it's a family-only affair or an intimate gathering with a few good friends. But if it's a party with several invited guests, you can go for a two-tier cake.
Cake Flavors. Think about what cake flavors the birthday boy or birthday girl would like. Or what the guests would like. Yes, we're saying "flavors" — in plural form — because cakes nowadays come in at least two different flavors.
The cake alone can come in flavors like chocolate sponge, mocha, vanilla sponge, carrot-walnut, butterscotch, lemon, banana, or whatever special flavor combination your baker offers. The cream filling between the layers of cake is usually in a different flavor, too. You need to pick a flavor for your frosting, too.
Budget. How much are you willing to spend on a Sonic cake? Setting a budget is like having a form of guide as to how small or big and how simple or grand your cake can go. Your budget will help you decide on the flavors and on your design.
Party Guests. The flavors and design of your cake will depend on who's eating it. Is the cake for a children's party? Then you should go for simple and basic flavors because kids' tastes aren't that refined and sophisticated yet. Kids would also love colorful cakes with all the cartoon and animated characters. Conversely, grownups are more adventurous with cake flavors and prefer simple, elegant, or relevant designs.
Sonic Cake Ideas
Blue with Gold Dust and Sprinkles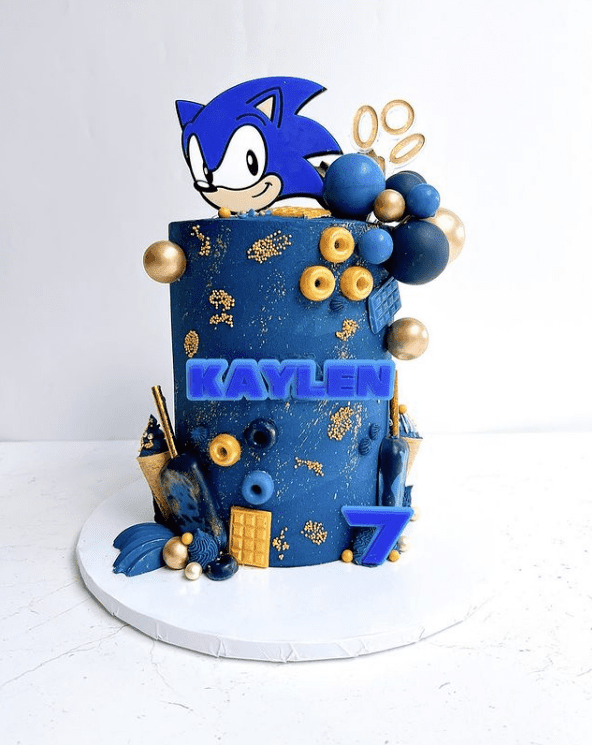 Most of the Sonic cakes you will see will be dominantly blue and yellow. So this cake stands out because it's mainly blue with touches of gold. Plus, it has many modern cake decorating elements: chocolate balls, meringues, molded chocolate bars, golden pearl sprinkles, splashes of gold edible paint, cake pops, and faux ice cream. A Sonic the Hedgehog is used as a topper.
Sonic Paper Toppers
If you can't find a really good fondant artist in your area who could create Sonic perfectly, using printed paper toppers or cutouts would be a great way to execute your theme. The best thing about it is that you can get these paper toppers from your favorite party supplies store, or you can print the images yourself.
You can use Sonic-themed paper accents without your cake looking cheap and tacky. If you're cutting your own printouts, just make sure you do it with steady hands and follow the edges smoothly. If you're buying the toppers, get those that have been printed perfectly. The next thing would be to be mindful of their placement. Don't get carried away.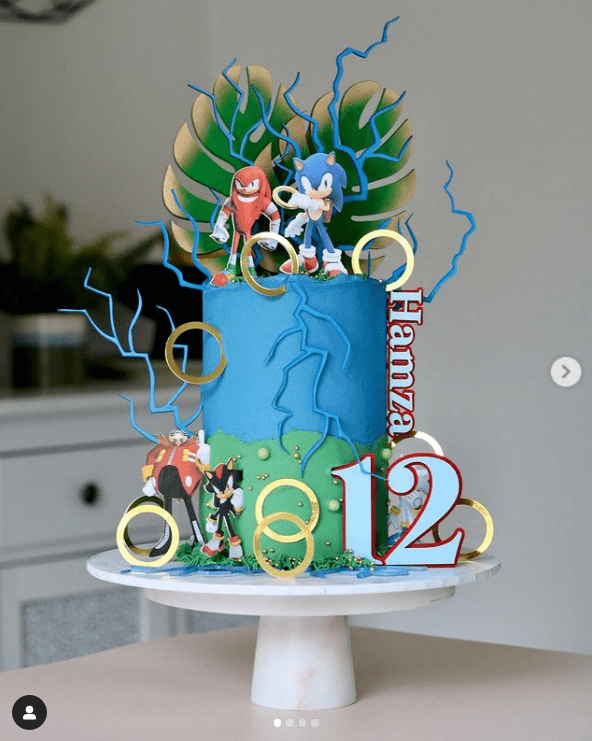 This cake has paper toppers, but it looks modern and stylish with tropical leaves and blue lightning bolts giving it height and dimension.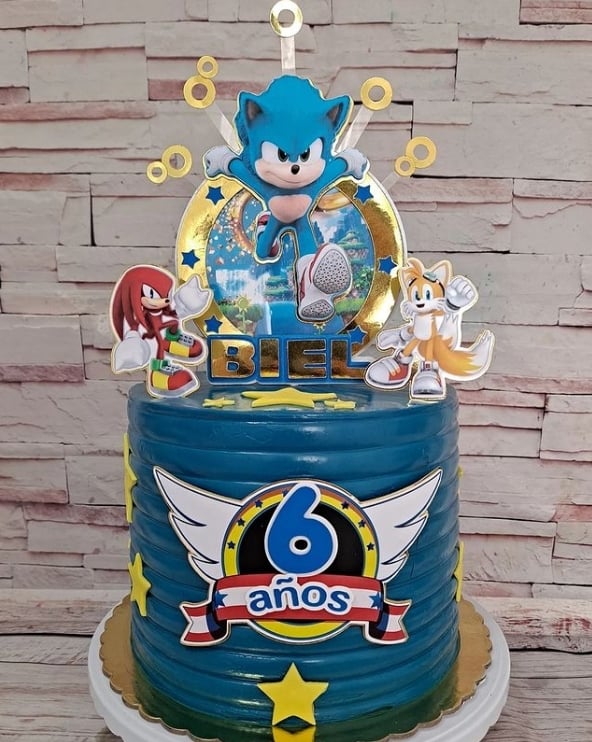 This paper Sonic topper is customized with the celebrant's name on it. I love how this piece of papercraft is large enough to cover the width of the cake's top. With Sonic much bigger at the center compared to his two friends on the sides, the image looks almost three-dimensional instead of just flat. The ridged buttercream surface adds more texture to the cake, too.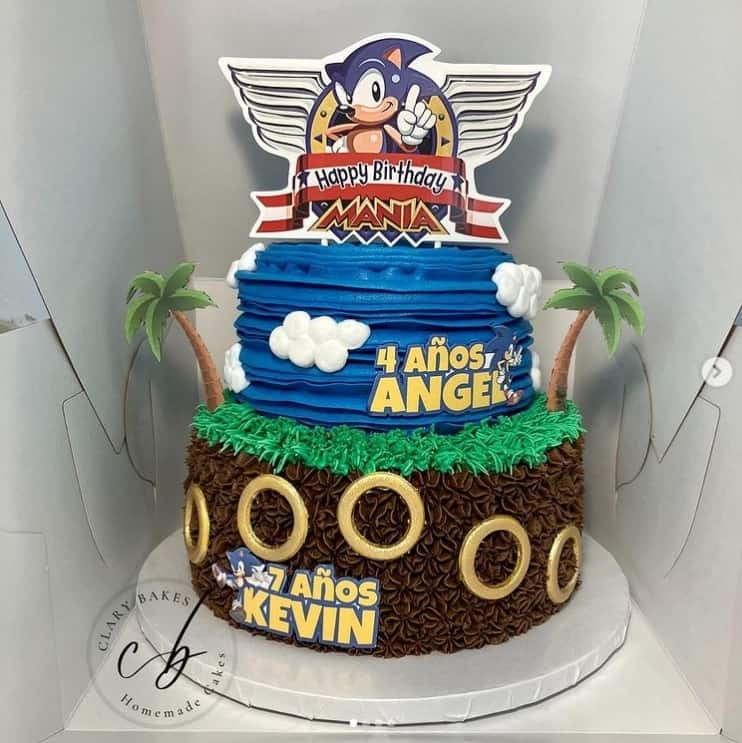 One big piece of Sonic paper topper is all this cake needs. No extra characters to steal the show. But, to be honest, this cake would have looked very plain and boring if it had not been for the different textures. The lower tier is covered with piped grass and brown swirl icing, with gold rings up front. On the other hand, the upper tier has layered piping and fluffy clouds.
2D Fondant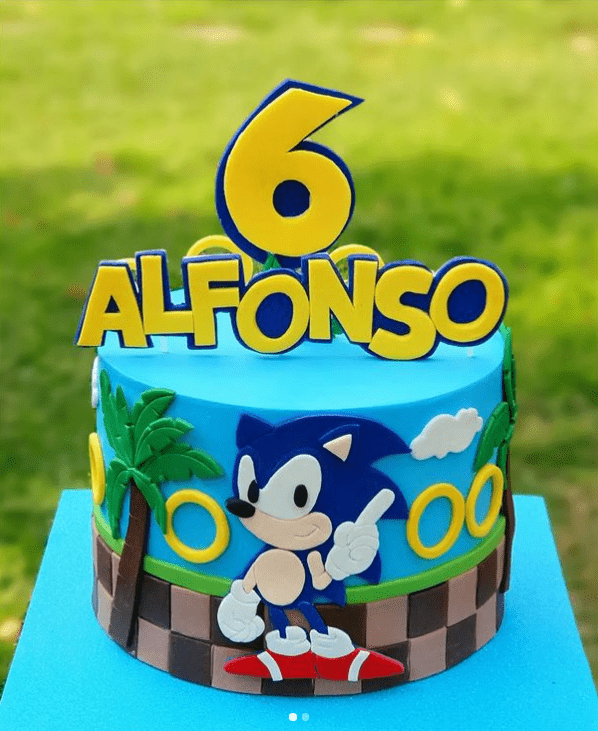 Two-dimensional fondant art is easier than sculpting 3D characters. You have better chances of recreating their faces or their looks more accurately, even if you don't have excellent fondant modeling skills.
All you really need to do is print the image you'd like to copy, prepare flat sheets of fondant in the colors you need, use your printout as patterns, trace the shapes on the fondant using a cutter, and assemble the shapes together.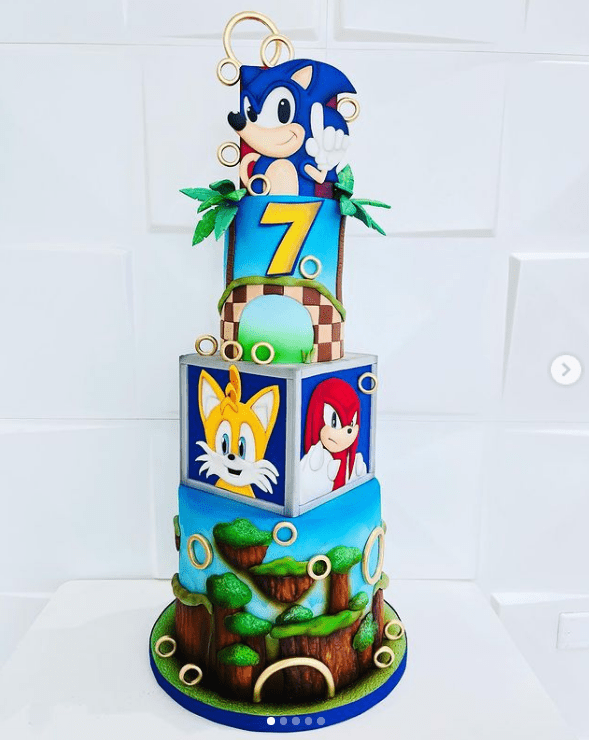 This three-tier cake has flat Sonic characters in fondant. I especially like the cube-shaped second tier, with each side face of the cube bearing its own Sonic character.
Sonic and Isomalt Lollipops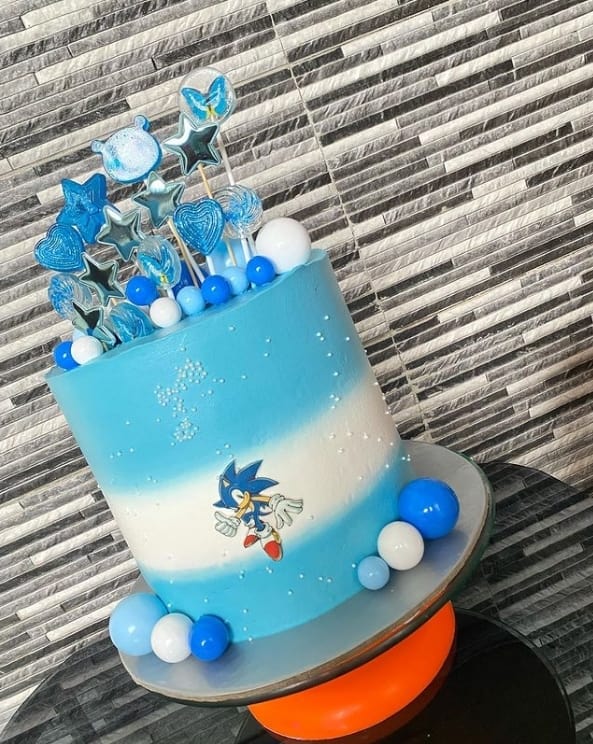 Isomalt lollipops are another modern cake decorating favorite. The lollipops are planted on top of the cake, along with other decorative elements. In this case, it's chocolate balls and metallic stars. I actually like how low-key the theme is and how nothing screams "Sonic the Hedgehog." There's just a little Sonic charm in front of the cake, and that's it.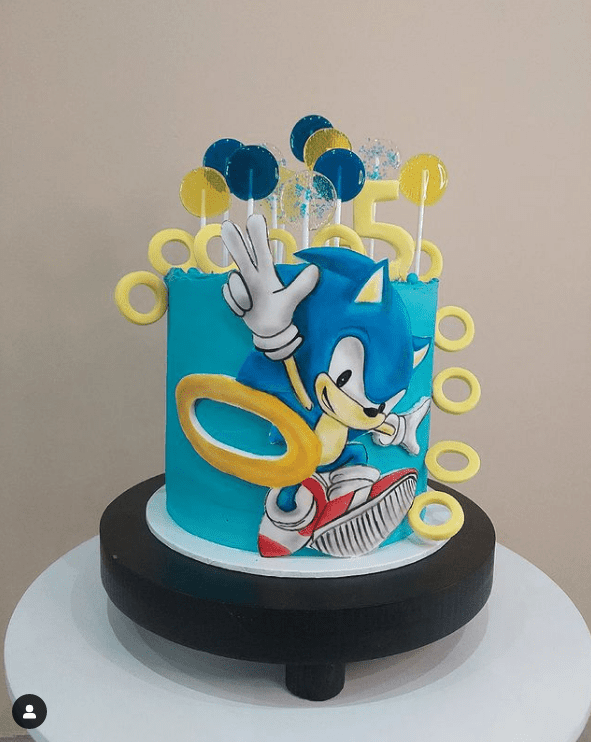 Here's another cake that skillfully uses isomalt lollipops and yellow rings to give itself the illusion of height and depth. Sonic occupies most of the front area, so no other decorative elements are needed there.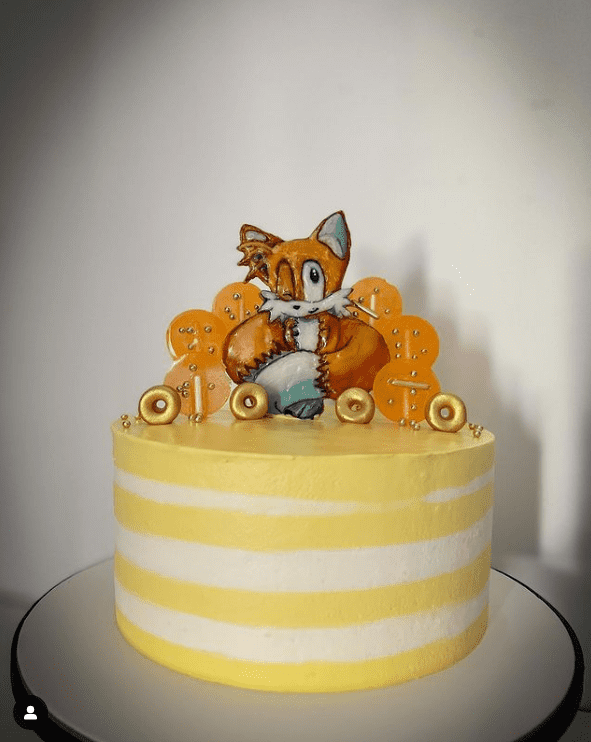 Here's another cake using isomalt lollipops. It's just refreshing how this Sonic-themed cake showcases another character, Miles 'Tails' Prower, and how it's in yellow.
Sonic and Amy Rose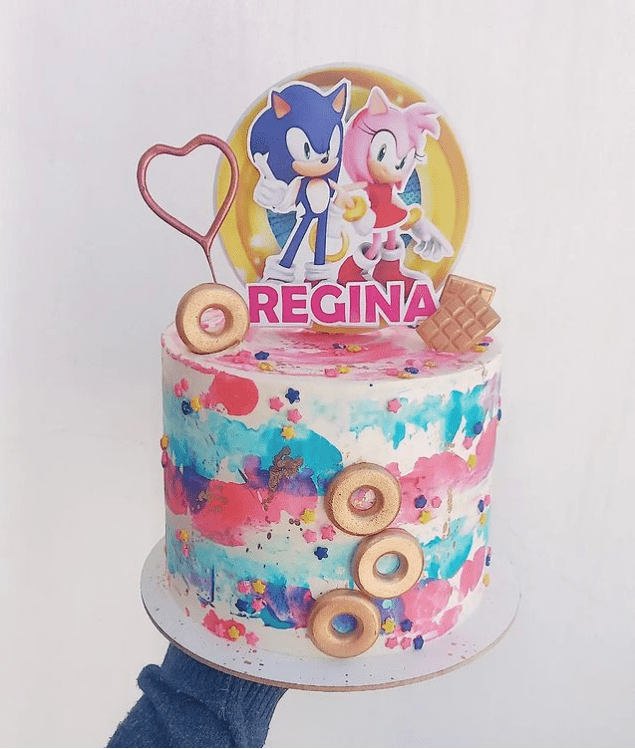 If you think Sonic would be too lonely by himself on top of your cake and there's not enough room for all of his friends, then let his girlfriend, Amy Rose, give him company. This cake is a lovely Sonic and Amy Rose cake, with a blue and pink buttercream palette painted on the side to reflect their colors.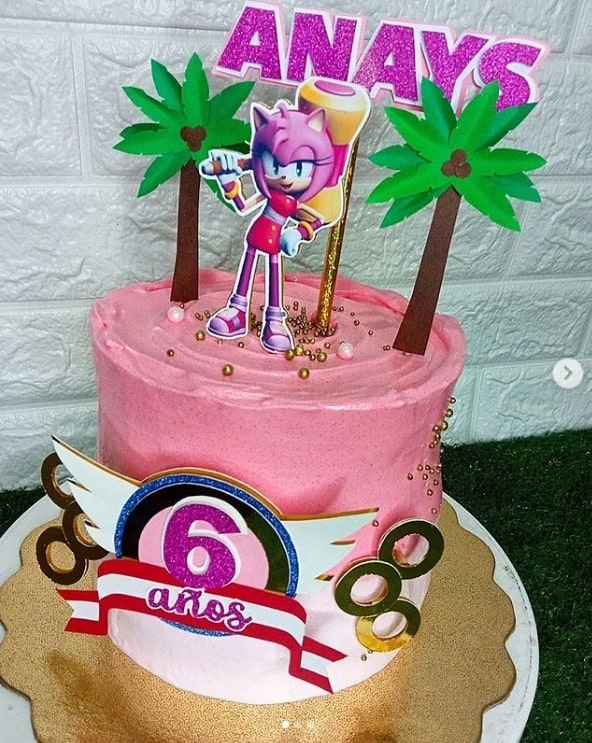 Or, you can just go for Amy Rose and give Sonic a break from cake duties. Just like this Sonic-themed cake in pink and gold.
Textured Fondant Art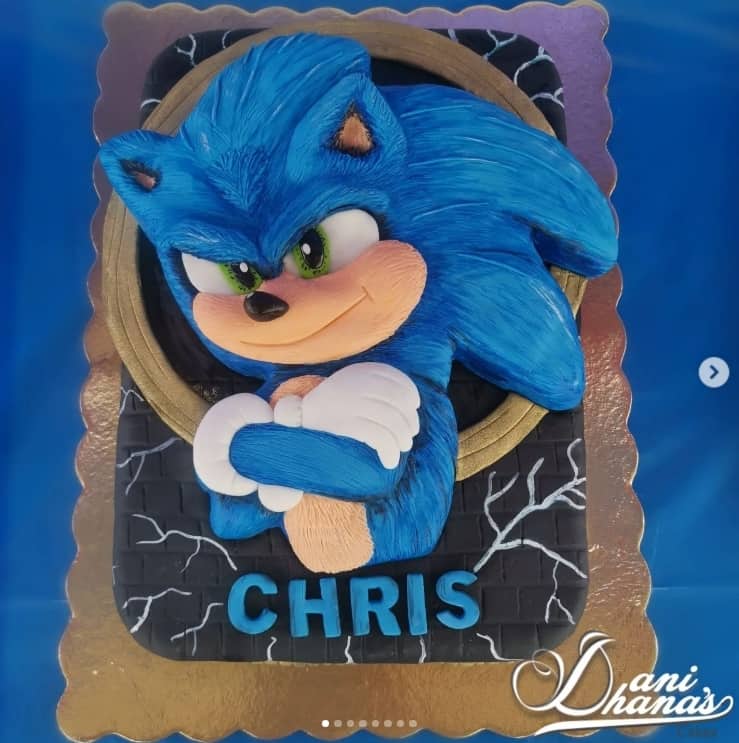 If you know of a really good fondant artist, then get them to work on a motion capture Sonic, which is an ultra-realistic three-dimensional version of the character. This is Sonic, complete with hair, which is exactly what makes this cake one-of-a-kind.
Piped Icing Cake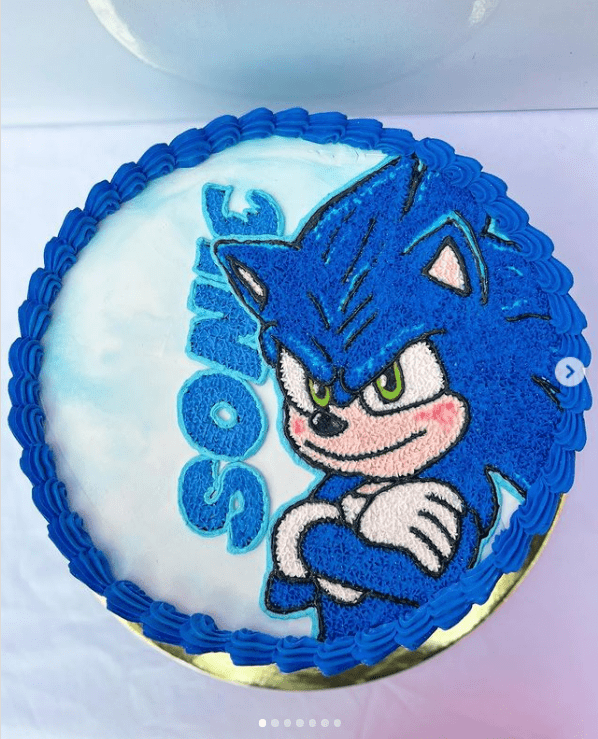 Confession: I have a weakness for simple cakes with piped icing design. This is because this was what celebration cakes used to look like when I was still a kid. It could be really tiring to pipe the design, but it's all worth it when the colors come together. Not to mention that iced cakes like this taste way better than the fondant ones.
Drip Cake
Drip cakes are the first in mind when you say modern cake decorating trends. It's really just colored chocolate poured along the top edge of the cake to drip down before it hardens.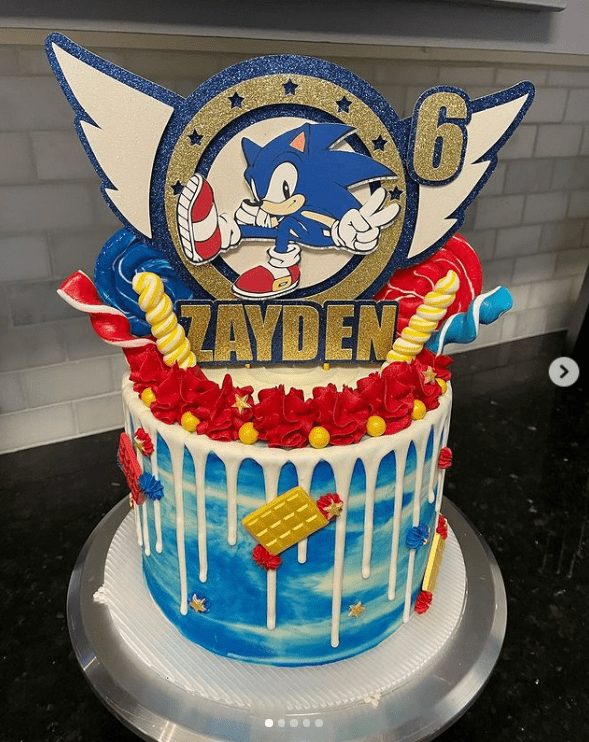 This cake has papercraft topper with candies and lollies. The white chocolate drips down the marbled blue-and-white buttercream frosting.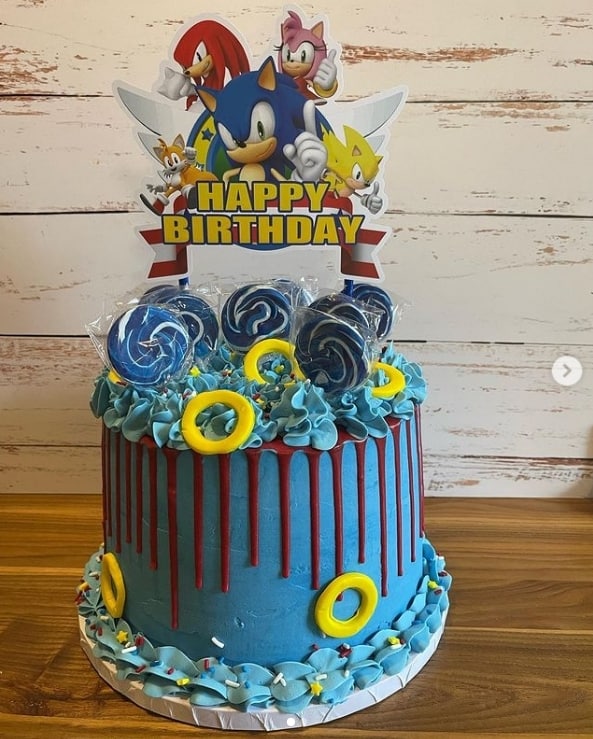 And this drip cake used red chocolate on light blue. It's pretty cool how the lollipops are individually wrapped in clear plastic so they are still visible and so guests can just pick one up when the party's over.
Any Color But Blue
White and Turquoise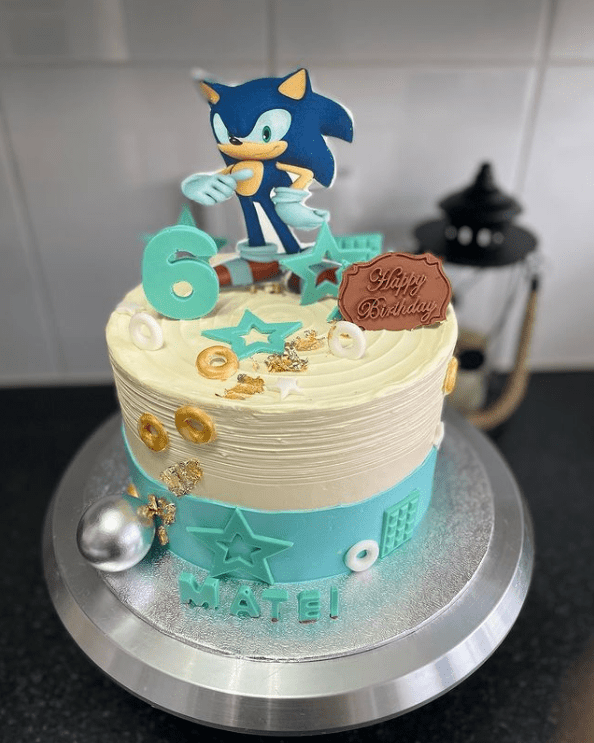 Sonic cakes are usually blue, so why not mix it up a little and experiment with other colors? A white and turquoise combo is a good start because they're safe-enough colors.
Pink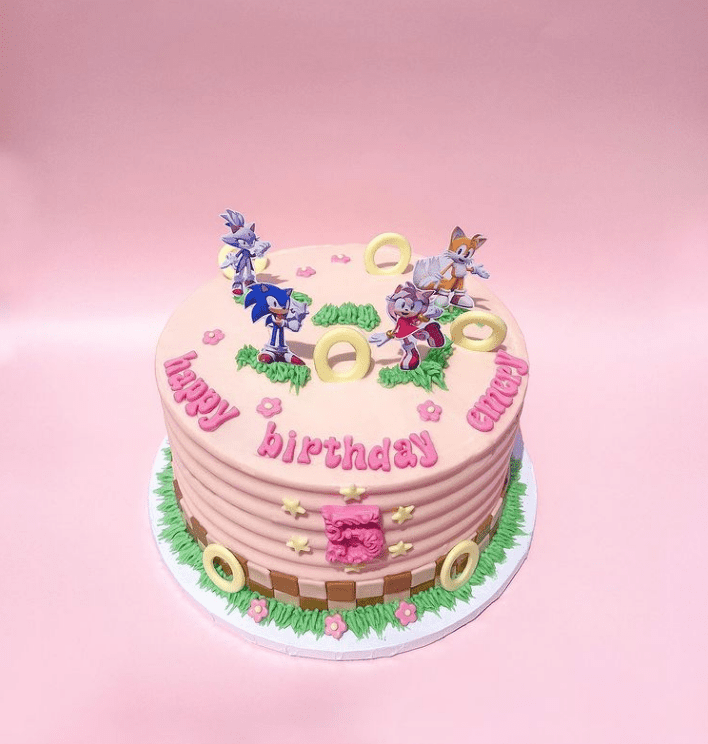 A pink Sonic cake is also unique. This buttercream ridged cake shows us that you can make it feminine enough for a little girl.
Grey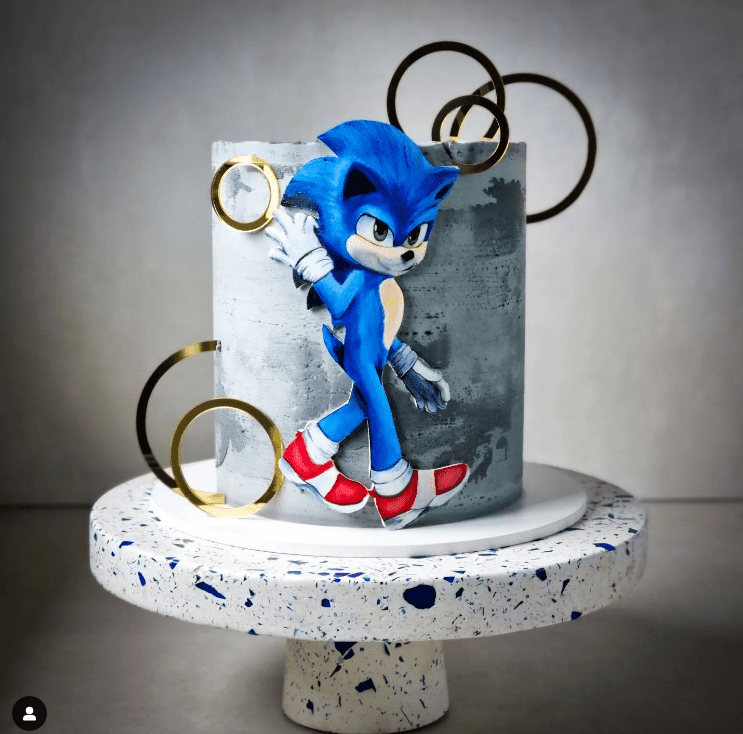 This marbled grey buttercream cake with a big Sonic the Hedgehog up front is proof that even with a cartoon or animated character as your main decorative element, a cake could still look elegant. This cake is something older Sonic fans would love.
Sonic Cookies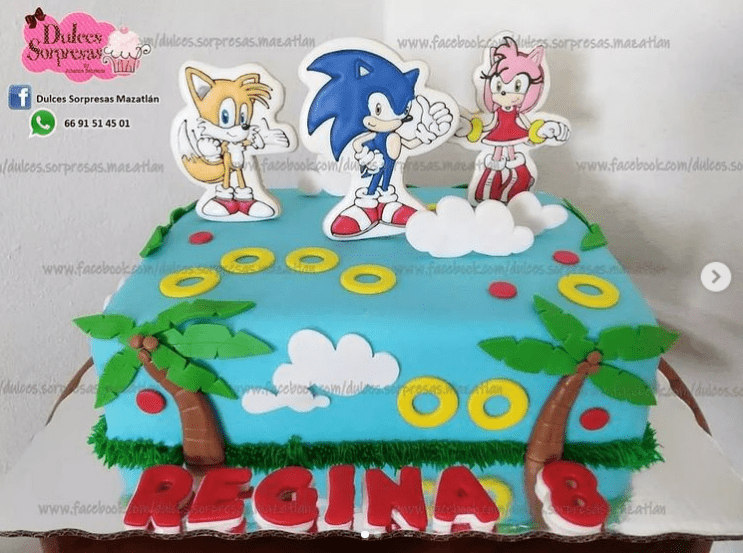 Cookies make great cake toppers, especially if you want something that not only carries the theme but is also edible and tasty. Of course, you'd need a very skilled cookie artist to achieve custom cookies like these.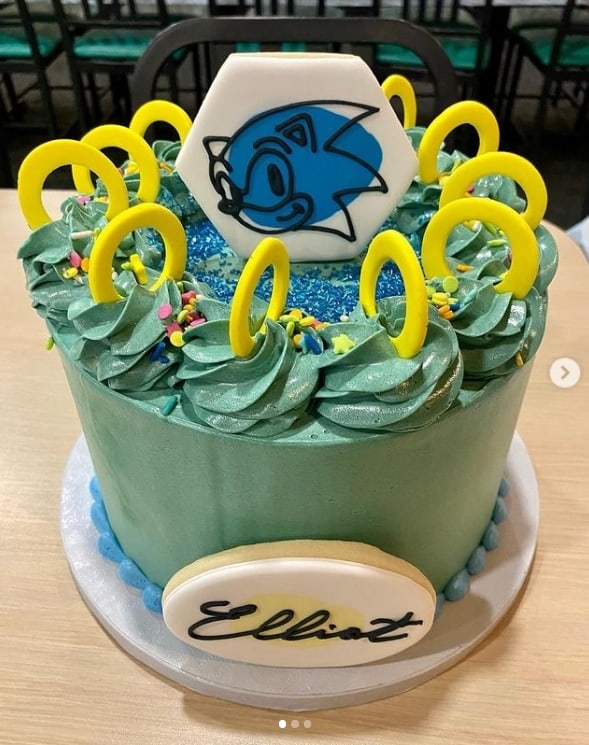 Your cookie topper doesn't have to be a fully colored illustration of Sonic. This cake, for example, shows you a cookie with just a black outline of Sonic the Hedgehog, while another cookie simply has the celebrant's name in royal icing.
Toy Figurines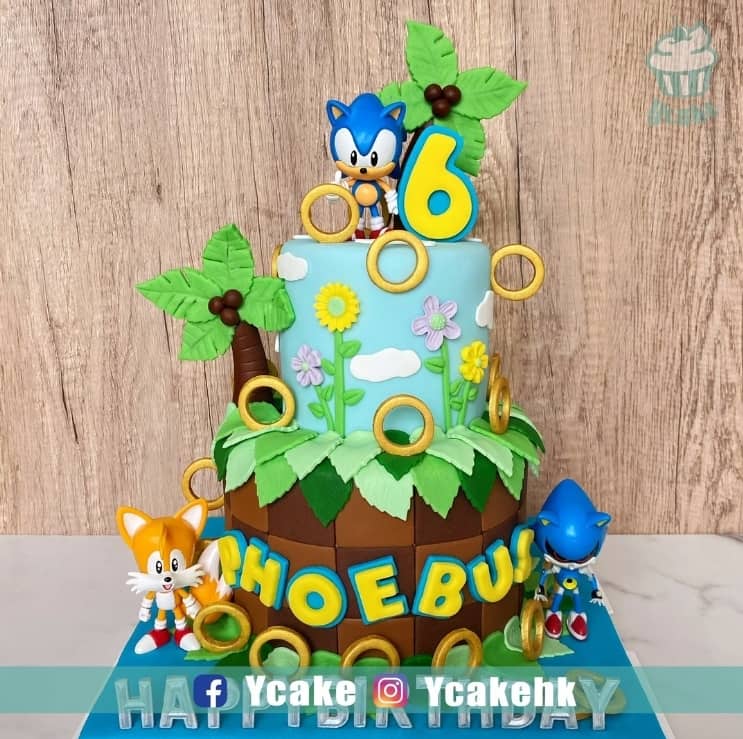 Using toy figurines as cake toppers is a very practical choice for children's birthday cakes. Because which kid doesn't love toys, right? They get a souvenir from their birthday celebration to play with too.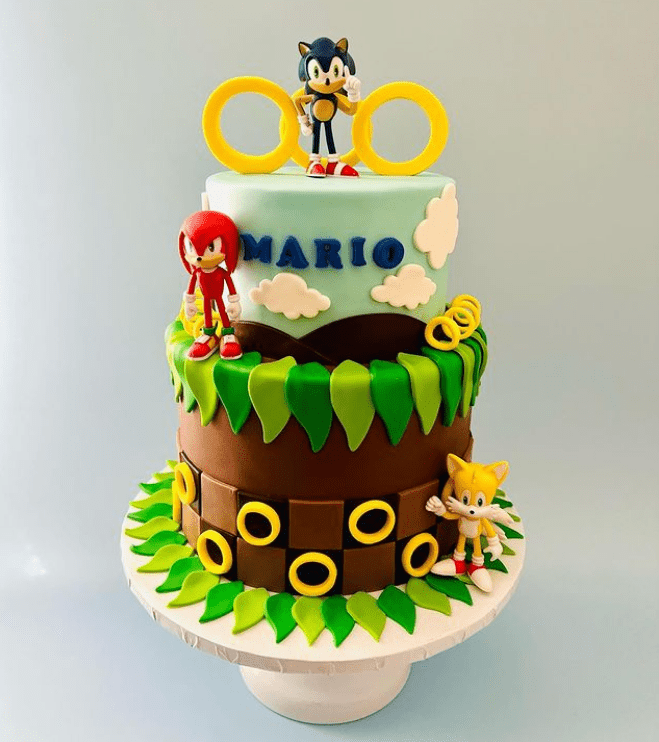 This fondant cake did the right thing by using toys to present its Sonic theme. Because even if a fondant artist is good at doing more generic shapes and objects like leaves, clouds, flowers, and trees, sculpting specific characters is still a different story. So you can just imagine how a finely made fondant scenery like this could get ruined by funny-looking Sonic characters.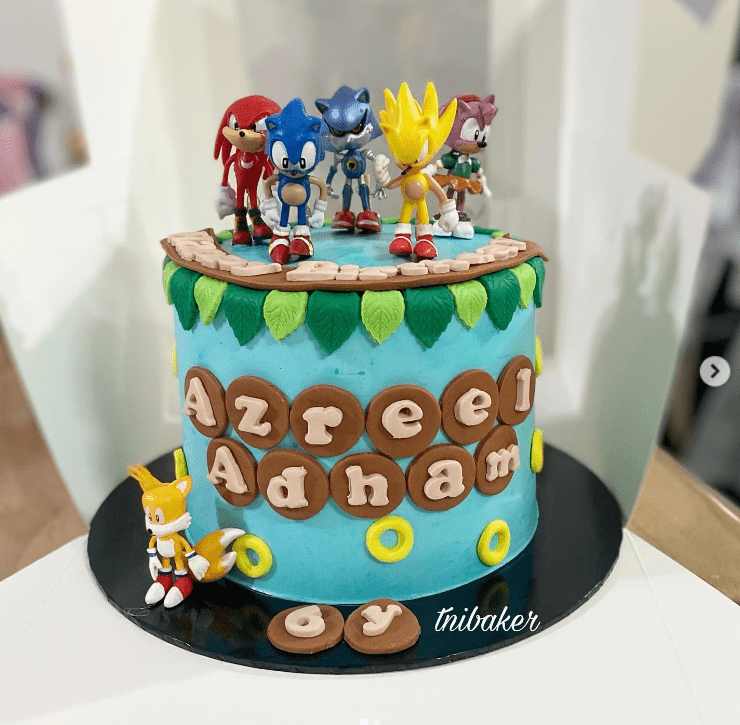 Here's another fondant cake with toy figurines. My only problem with this cake is its lack of height and its use of too many toys. By lack of height and depth, I mean that it looks too flat with similar-sized toys lined up on top of the cake. You can avoid this by adding other decorative elements that are taller than your toys, and that would serve as a backdrop for these figurines.
For example, you can add a paper tree, long isomalt lollipops, or a "happy birthday" topper. Taking some of the toys out would give you more space for these other decorative items while also making your cake look less cluttered. Using all the toys that came in the pack is overkill.
Frequently Asked Questions
Question: How do I set a budget for a Sonic the Hedgehog cake?
Answer: You can set a budget for a Sonic cake, or any themed cake, by asking your local cake shops for a quotation. Cake shops already have a list of cake prices for certain sizes and flavors, and they will make adjustments depending on your design requirements. Base your budget on these cake shop prices.
If you are making the cake yourself, you can check the cost of ingredients and materials at your baking and party supplies stores.
Questions: Why do many kids like Sonic the Hedgehog for a party and cake theme?
Answer: Sonic the Hedgehog has been around since 1996 and has entertained many generations of anime-loving kids and video gamers. It shouldn't be surprising that many kids these days love Sonic because the plot of the animated series and the game are fun and full of adventure.
The game focuses on speed, so it gets exciting. Sonic the Hedgehog, as an animated series, is funny, heartwarming, and delightful, and it underscores the value of friendship and of helping and protecting others. Visually, the characters are simple and colorful, contributing to strong recall.
Question: My daughter wants a Sonic birthday cake. Is it a theme that's more suitable for boys?
Answer: Sonic is suitable for both boys and girls. You can definitely give your daughter a Sonic-themed cake. There are so many ways to give the cake a feminine touch. For one, you can use more feminine colors instead of solid blue. You can also add girly decorative elements like flowers and heart-shaped isomalt lollipops. You can also ask your daughter if she'd like her cake to focus on female characters like Amy.

Conclusion
Sonic the Hedgehog has been around since I was a kid, and it is nice to know that many of today's generation of young anime fans and video players love this character and his friends. As such, it's not difficult to find Sonic cake ideas online because there are a lot of them.
However, you might find that many of the designs look similar. The good thing is that there are many different ways to make your cake look less ordinary and more unique. You can add modern cake trends and styles, experiment and play with colors, and be more creative with the decorative elements you use.
Recommended Reads: