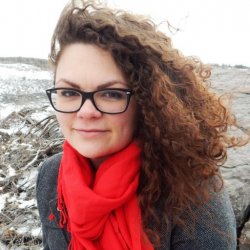 Latest posts by Candace Osmond
(see all)
Is TikTok part of your daily routine? That's okay; we all do it! Whether absorbing content or making it, TikTok's a part of our lives now. From short craft reels to cat videos, TikTok is a platform with content that appeals to everyone.
I'm on the platform to promote my books, plus hang out with other writers and readers, and I'm almost at 10k followers! I'm planning a big online party when I do, but now I'm thinking about throwing an actual party too! I can do that with this TikTok party supplies guide, and so can you!
Bottom Line Upfront
I'm totally going to get the usual stuff like balloons and whatnot, but now I'm definitely getting a TikTok pinata. The 80s Boombox Pinata idea is a great option for me because I'm old as dirt, and a boombox would be so funny. I could add little TikTok stickers just to make it more TikTok-ish.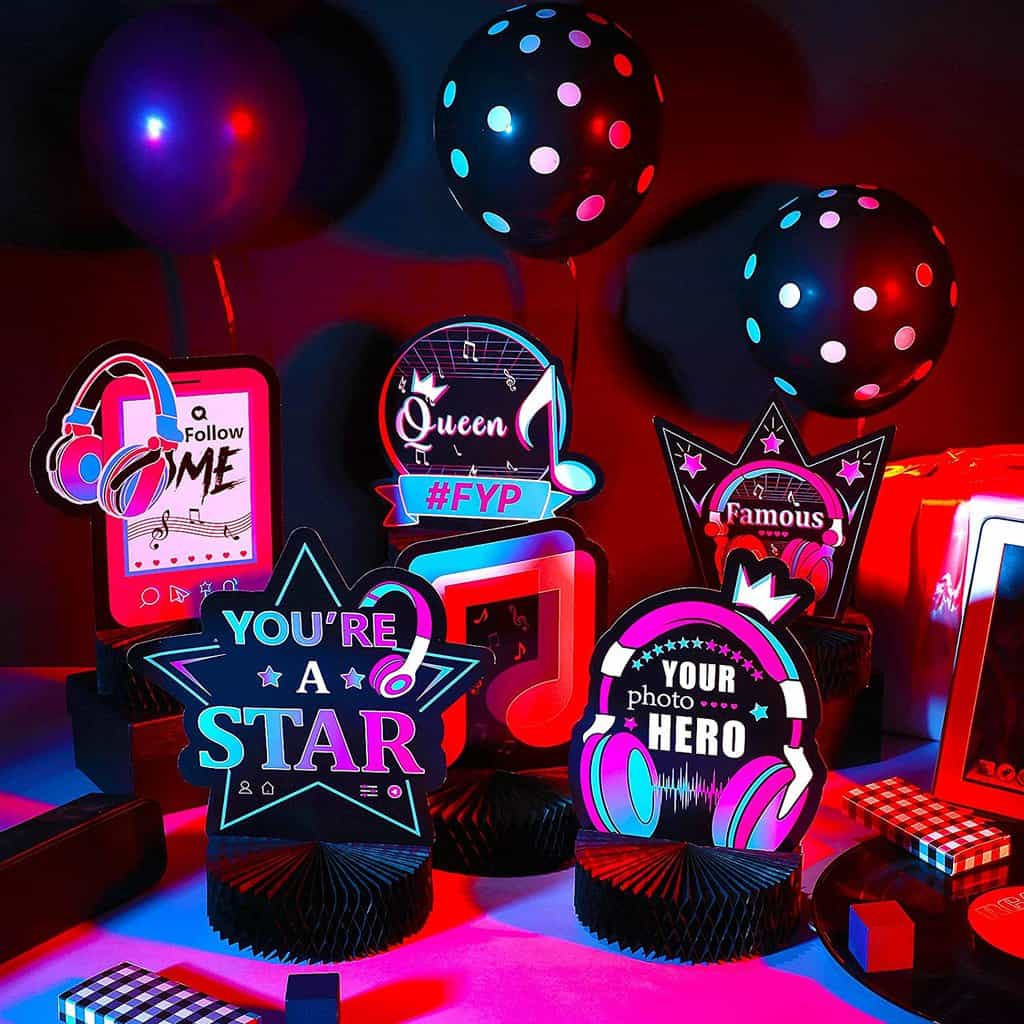 Top Picks
Best Tiktok Party Accessories: Honeycomb Centerpieces
Best Tiktok Party Balloons: Suilung Music Themed Party Balloons
Best Tiktok Party Favors: Empire Party Supply Store Party Favors
Best Tiktok Party Dishes: Ssailue Decor Store Party Supplies
Best Tiktok Party Supplies Package: FZR Legend Store Music Birthday Party Supplies
Best Tiktok Party Pinata: Tik Tok Pinata
What Are the Tiktok Signature Colors?
TikTok's signature colors are pink, aqua, and black. The hex and RGB for the exact colors are, as follows:
TikTok Pink – Hex: #ff0050 – RGB: 255, 0, 80
TikTok Aqua – Hex: #00f2ea – RGB: 0, 242, 234
TikTok Black – Hex: #000000 – RGB: 0, 0, 0
Who Would Have a Tiktok Party?
You might be wondering who would go through all the trouble to put together a TikTok party, but many people would enjoy it.
TikTok Lovers
Celebrating your next birthday in style calls for a TikTok party if you love this platform. No need to be a big fish on TikTok to have a themed party, especially since the supplies are inexpensive to buy.
Influencers
If you've got a ton of followers on TikTok, then you need to host at least one TikTok party in your lifetime. It could be to celebrate reaching a big follower milestone, or it could be just a birthday TikTok party. Personally, I'm in the midst of planning my 10k follower party.
Brands
Whether launching a new product or celebrating a follower milestone, your brand could benefit significantly from a TikTok party. Consider streaming the party live on TikTok to gain a large follower base so that more people find out about your brand or new product.
Kids
Not everyone knows this, but TikTok was initially designed as an app for kids. Naturally, it has expanded to the TikTok we all know and love, which everyone uses regardless of age. However, a lot of kids still use the platform, so it would make sense for children to want to have a TikTok-themed party.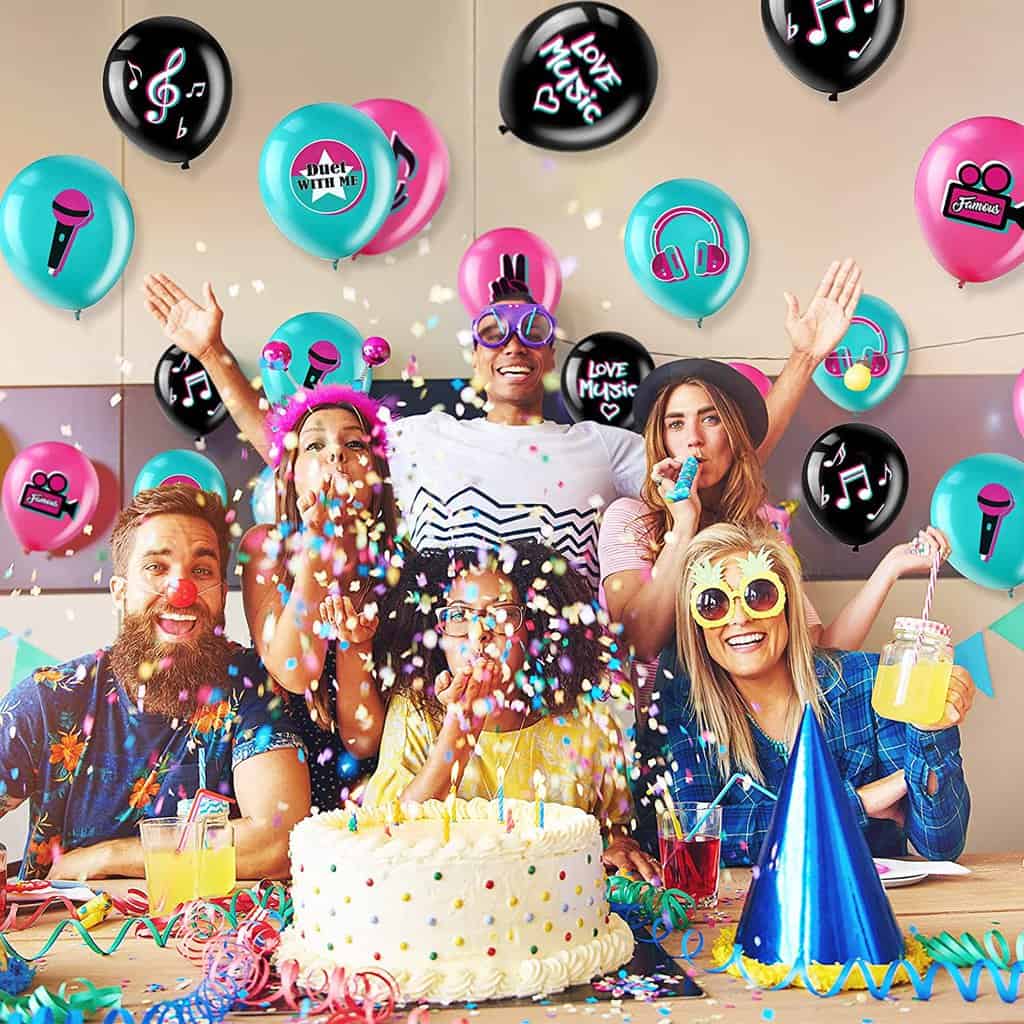 A Guide to the Best Tiktok Party Supplies
As a TikTok user, I have a good idea of what's needed to throw a TikTok party. So, I broke it all down into categories for easier planning. I hope that helps you!
Best Tiktok Party Accessories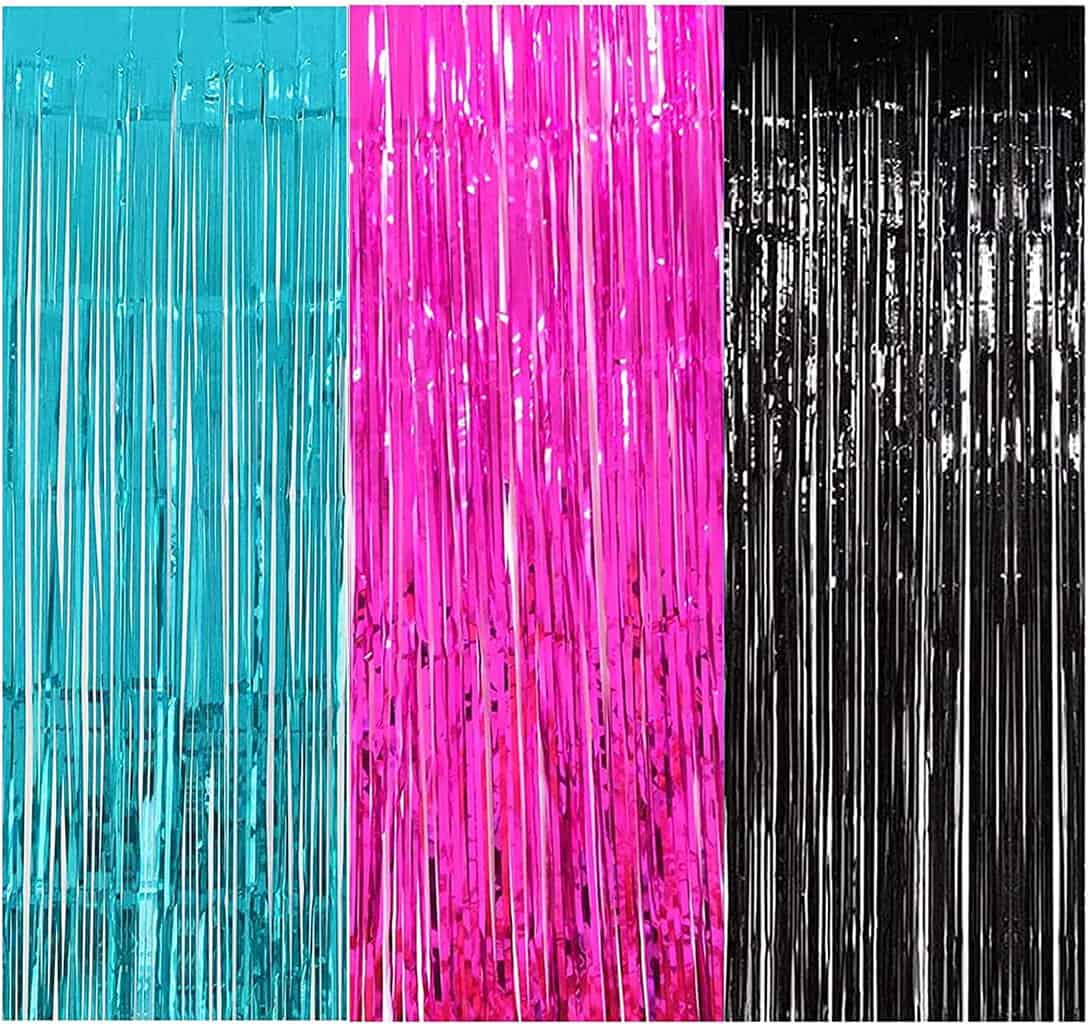 When you want a nice backdrop for your TikTok party, this foil curtain is a worthy purchase. This tinsel-type background is the colored foil in TikTok's signature colors: pink, blue, and black. You can layer multiple curtains for a more interesting effect.
Price range: $10 – $20
Product category: 3.3 x 6.6 feet
Material: foil
I love the shiny reflection of this curtain because of the stunning visuals. You can set up a particular corner for pictures and TikToks and use these curtains as a background.
Pros
Available in TikTok's colors.
It can be layered for better visuals.
Can be cut to size if needed.
Cons
It will easily rip if you walk through it.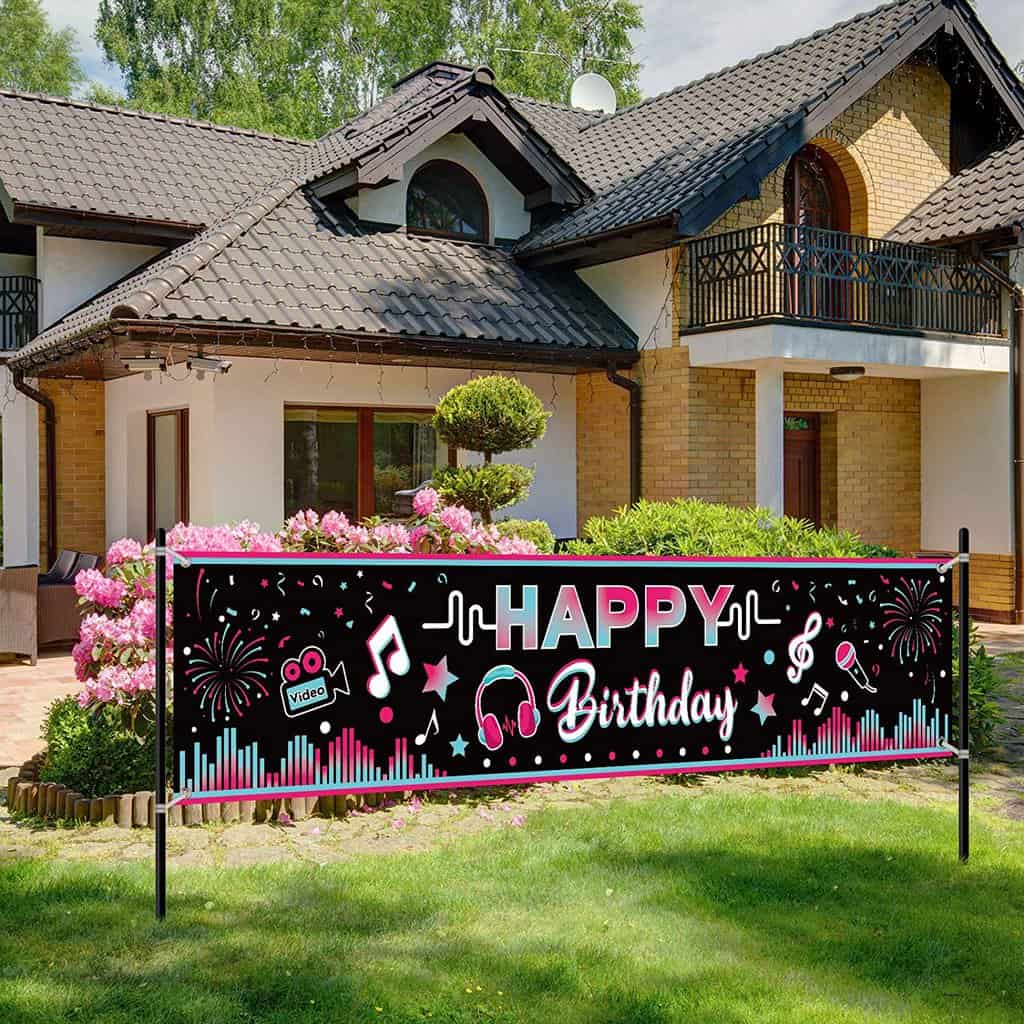 If you want to celebrate your next birthday party in style and have a TikTok theme planned, this banner will be perfect for your decor setup.
Price range: $5 – $10
Product category: banners
Material: polyester
Made from polyester, this banner is good for both indoor and outdoor use. It features the main TikTok colors and elements that could help one spot the theme of the party from miles away.
Pros
Good for indoor and outdoor use.
Vivid colors.
It can be reused.
Cons
Poles in the image are not included.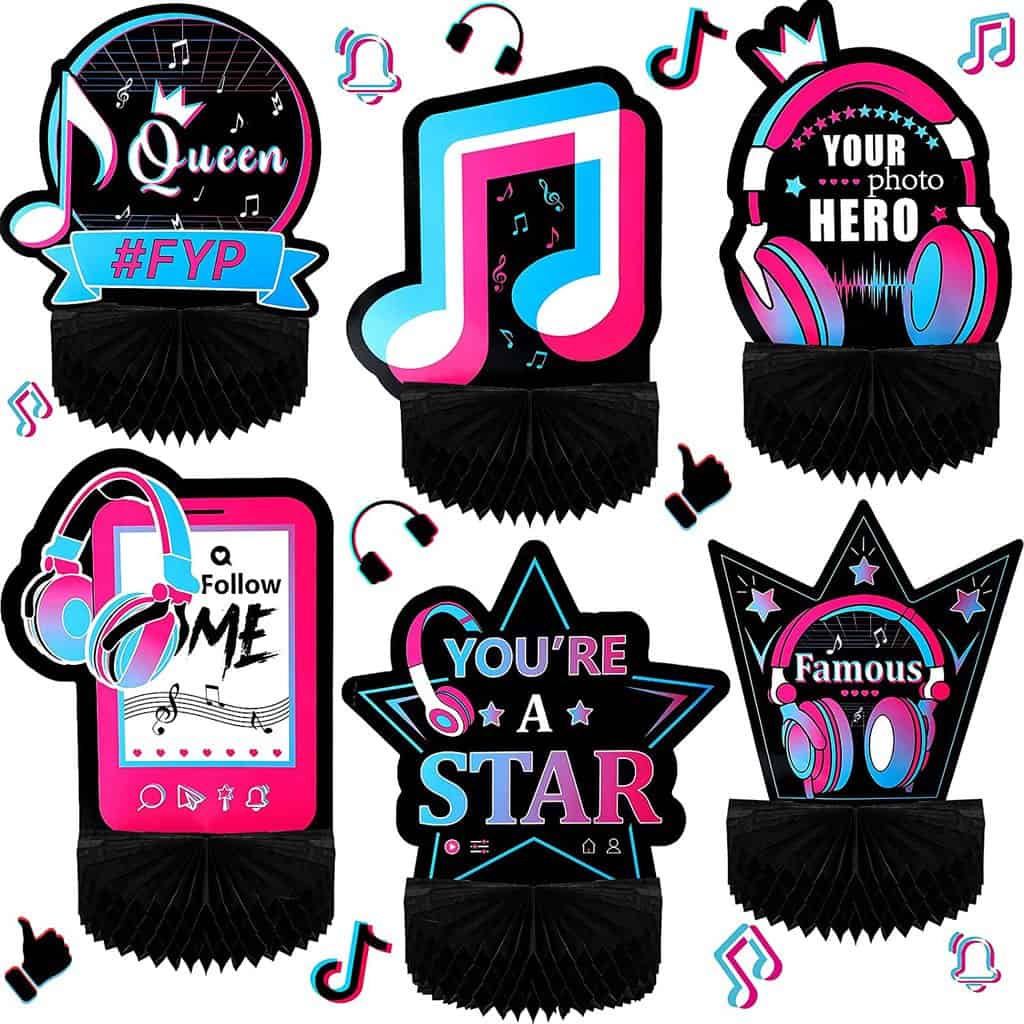 I adore these centerpieces because they match the theme so well, and they can be used time and time again. This is a set that comes with 6 party centerpieces, each with its TikTok-themed design.
Price range: $10 – $15
Product category: centerpieces
Material: cardstock and paper
Each of the 6 centerpieces is made from cardstock and paper, and while durable, I would advise against getting these wet.
Pros
It can be reused.
Made with thick cardstock.
Large enough to be visible.
Cons
Best Tiktok Party Balloons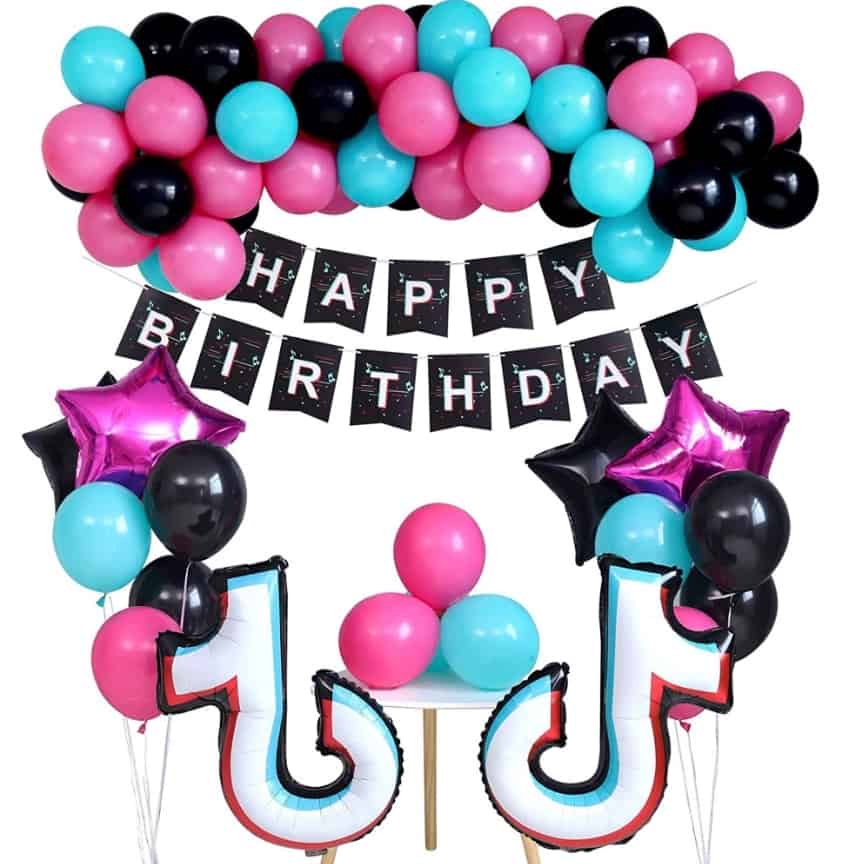 Nothing screams "TikTok party" like a bunch of black, blue, and pink balloons. When they're accompanied by a Happy Birthday banner, they make an excellent purchase for any celebratory party in the name of one of the coolest social media platforms we've ever seen.
Price range: $30 – $40
Number of balloons: 64
Single color/printed: single color
I think I might grab these for my own upcoming TikTok party. These latex balloons are great for setting up that cheerful ambiance everyone seeks when planning the birthday party of the year.
Pros
Quality latex balloons.
Available in all TikTok colors.
Includes a Happy Birthday banner.
Cons
Comes with only 2 TikTok logo-shaped balloons.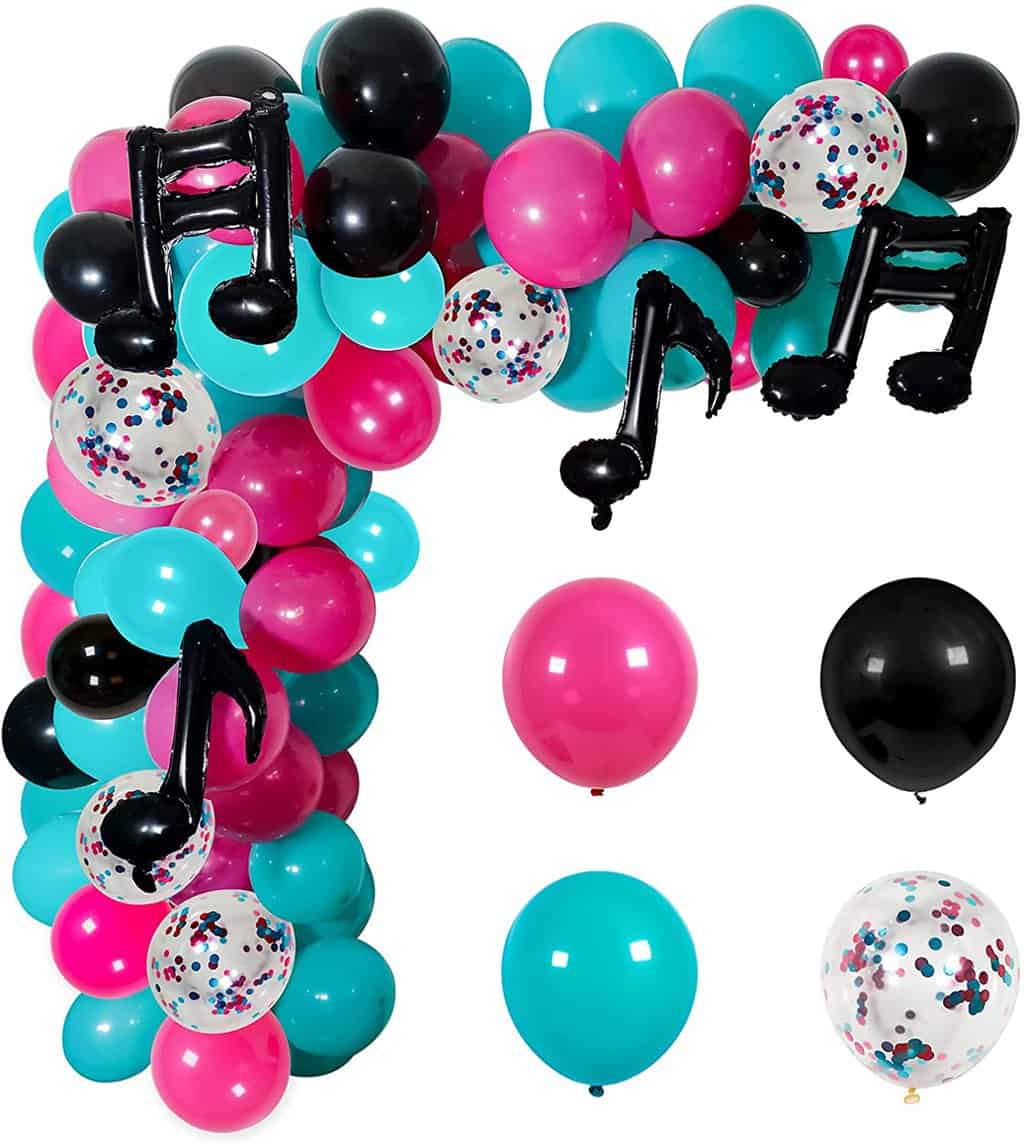 Are you throwing a party with a musical theme for a special occasion? Your visitors will be ready to share videos about your event once they see these awesome TikTok party balloons set floating around the room.
Price range: $10 – $20
Number of balloons: 127
Single color/printed: single color
There are 124 pieces of party balloons, each of which comes in three distinct colors and sizes. There are four individual music note foil balloons, one individual tying tool, one individual strip of balloon tape, and one roll of sticky dots included in the package.
Pros
Includes music note-shaped balloons.
Non-toxic latex material.
Includes glue and string.
Cons
They have a chemical scent.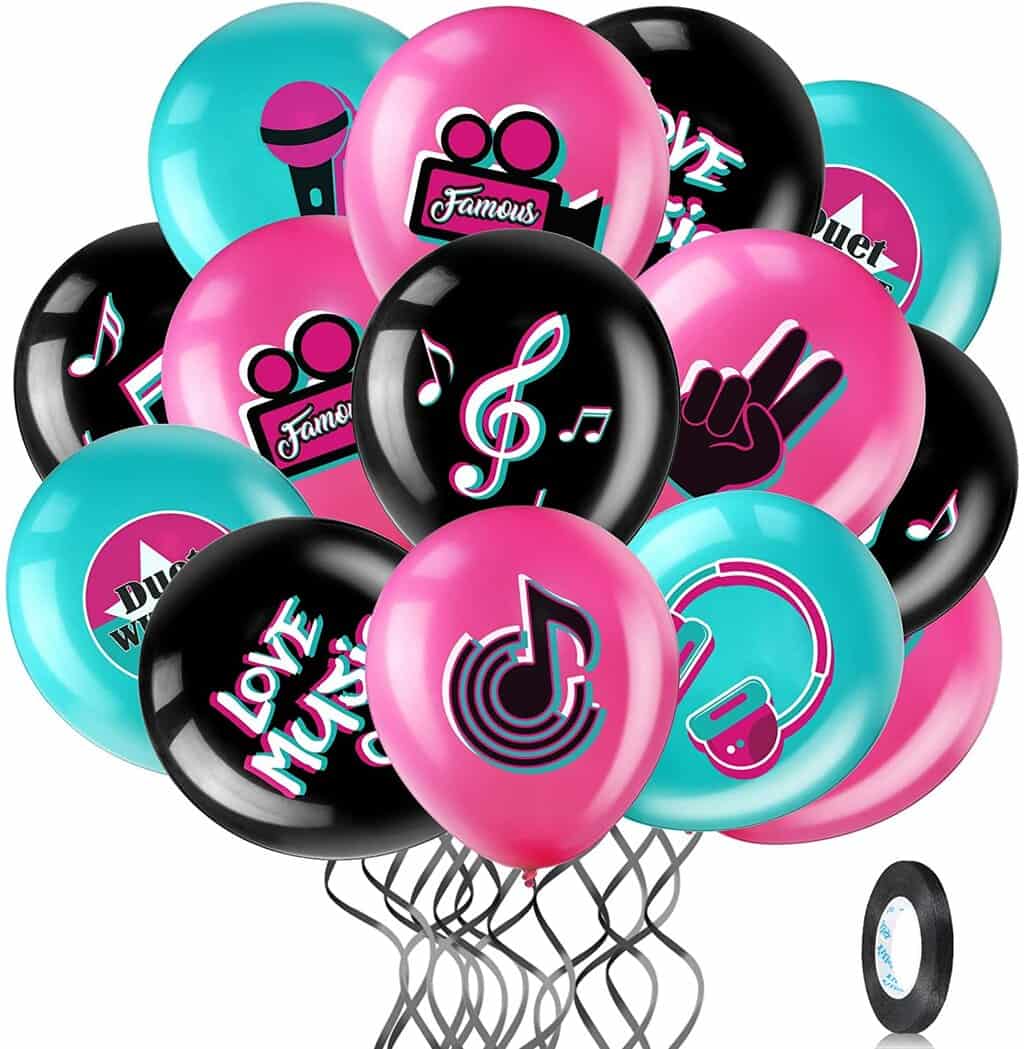 This collection is a little different from the others because all these balloons have adorable, themed prints on them. Some of them have musical notes. Others have the actual TikTok logo.
Price range: $10 – $20
Number of balloons: 45
Single color/printed: printed
You can see stars, video cameras, and headphones; every print is perfect for your TikTok-themed party. There are 45 balloons in total, all made with rubber latex. That's insane! You could decorate a whole house with that many.
Pros
Durable latex material.
9 different prints.
Black ribbon included.
Cons
Only one side has the print.
Best Tiktok Party Favors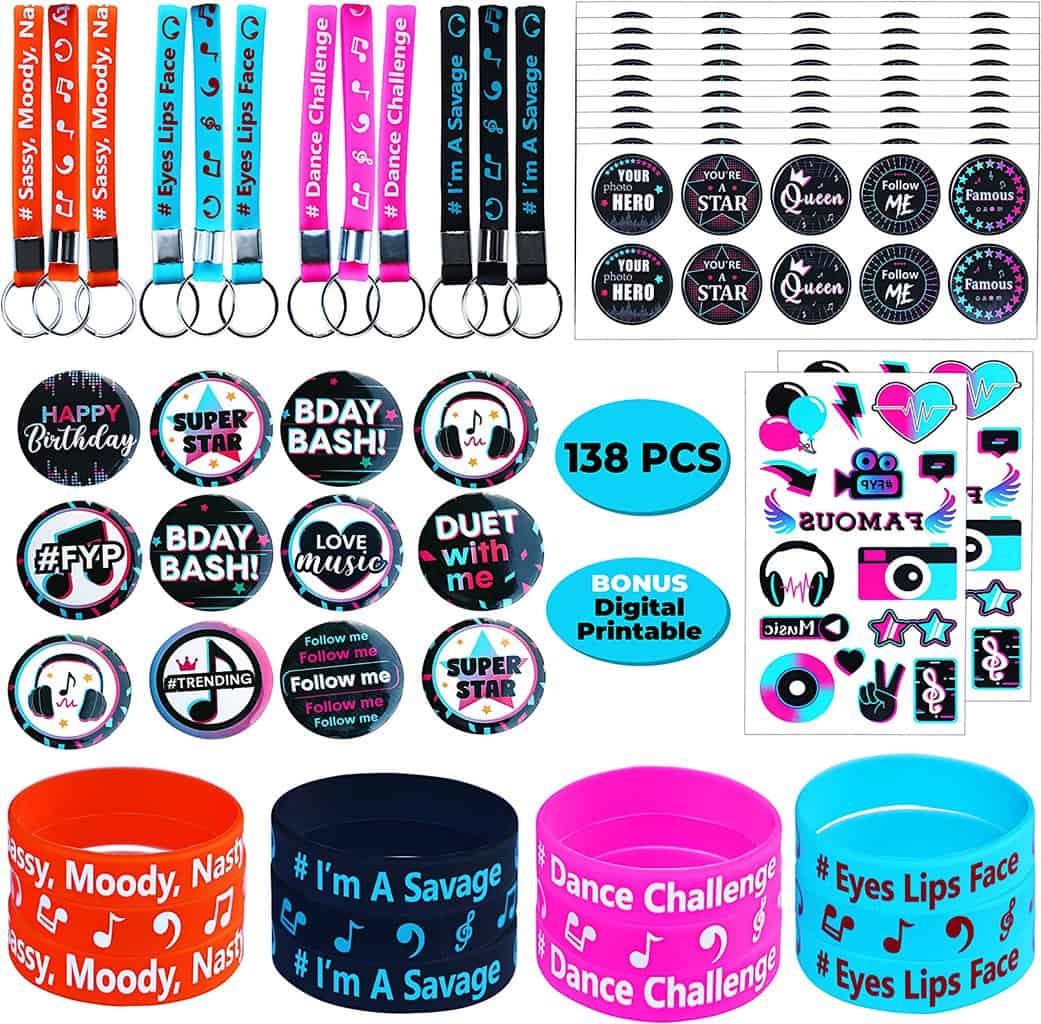 Want your awesome guests to remember this party for a long time? I mean, you don't want to put in all this work for nothing, right? Then you need to have cool party favors for people to take home.
Price range: $10 – $20
Number of pieces: 138
Included items: pins, keychains, wristbands
This set comes with 12 wristbands, music challenge keychains, social media badge pins, and temporary tattoos. There are tons of goodies available in TikTok colors, so you can put together 12 cool bags with party favors.
Pros
Different products included.
All products are qualitative.
Good for any music-themed party.
Cons
Some pieces are small and pose a choking hazard.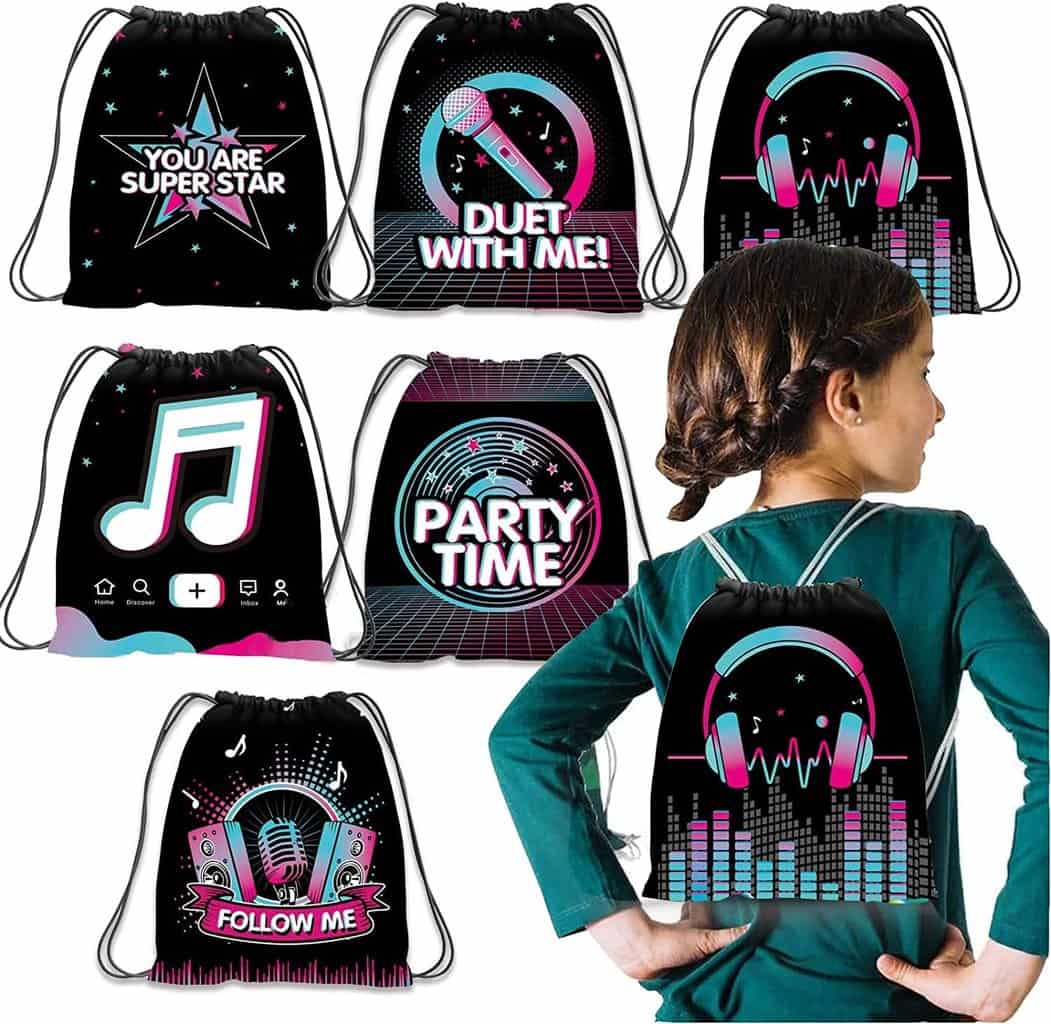 OMG! These are so cute! I might even grab a few just for follower giveaways. But, if you're looking for some party favors that people are going to use after the party has ended, these drawstring bags seem like a cool idea. Not only do they have awesome prints, but they can be used to carry stuff around.
Price range: $10 – $20
Number of pieces: 12
Included items: drawstring bags
Whether it's a notebook, a piece of clothing, or some personal belongings, these bags are more than just a trinket you got from a cool party: they are useful for both adults and children.
Pros
6 different prints.
TikTok-themed colors.
Machine washable.
Cons
Some complaints about bag missing from the package.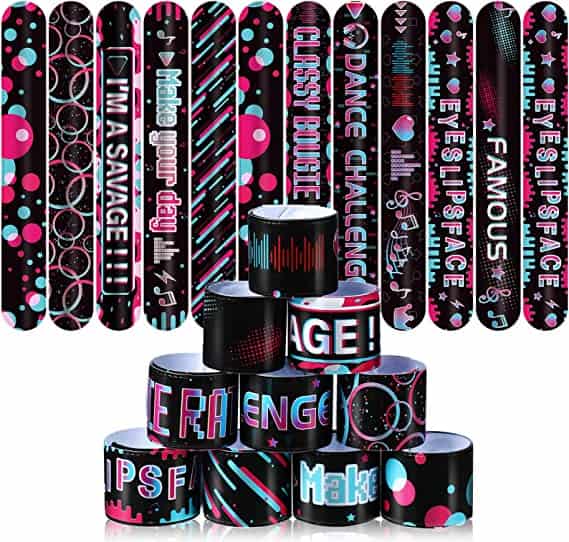 Wait, snap bracelets are back in? Man, this takes me back. They were all the rage when I was a kid…a few thousand years ago(LOL), but it makes sense. Snap bracelets are such a cool, cheap, and easy party favor. This particular set comes with 40 slap bracelets printed with 10 different designs.
Price range: $10 – $20
Number of pieces: 40
Included items: slap bracelets
They are something kids will love wearing during the party, but they also make great party favors that go in their box of memorabilia.
Pros
10 different designs are included.
Reusable.
Adults can wear them too.
Cons
Best Tiktok Party Dishes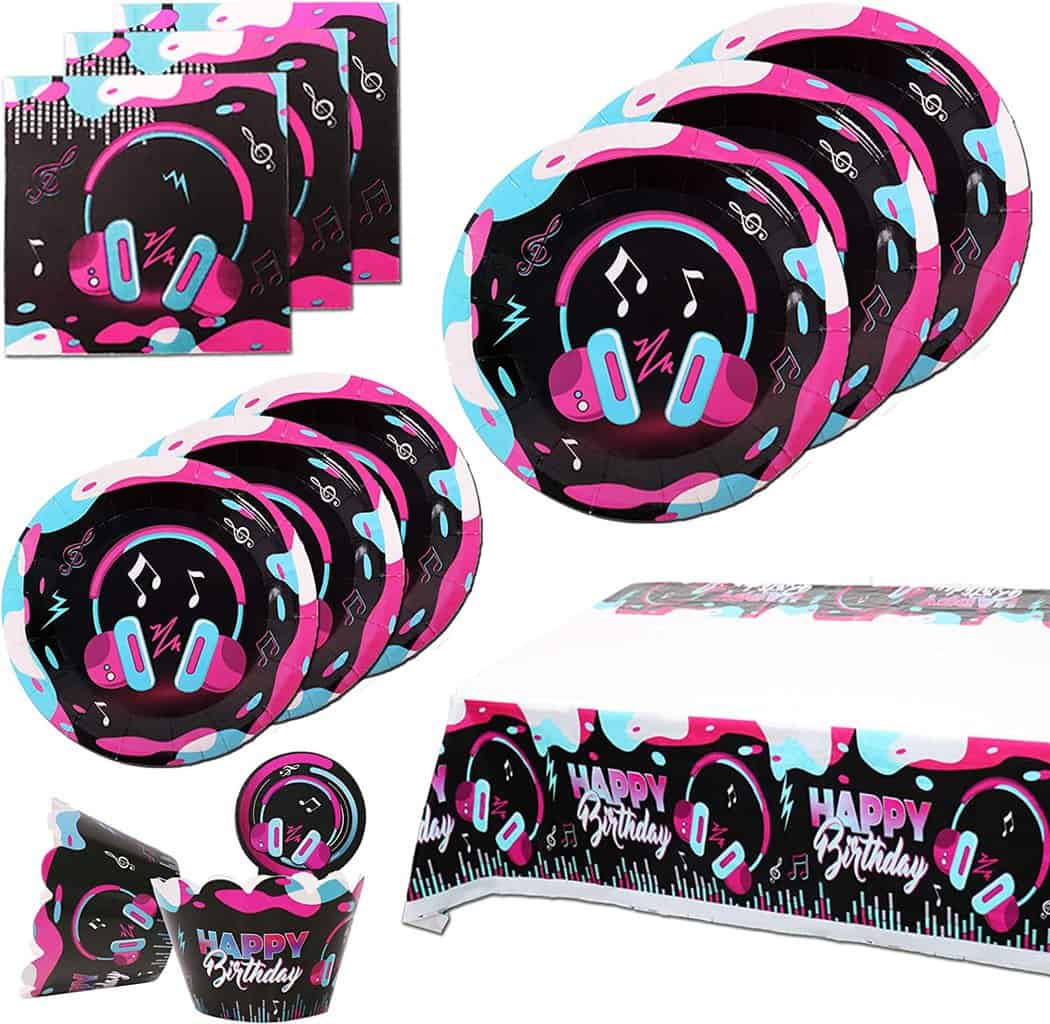 Listen, you can't throw a party without cake, and you can't have cake without some cool TikTok plates to eat it from. Hmmm…now I wanna go research TikTok cake ideas.
Price range: $20 – $30
Number of pieces: 61
Total weight: 12.31 Ounces
This set is designed to provide you with everything you need to cut the cake (minus the actual cake itself). You get a bunch of different-sized plates, some cupcake toppers and wrappers, and some cool music-themed napkins.
Pros
Includes 2 plate sizes.
Matching napkins are available.
Includes a tablecloth.
Cons
The tablecloth feels cheap and thin.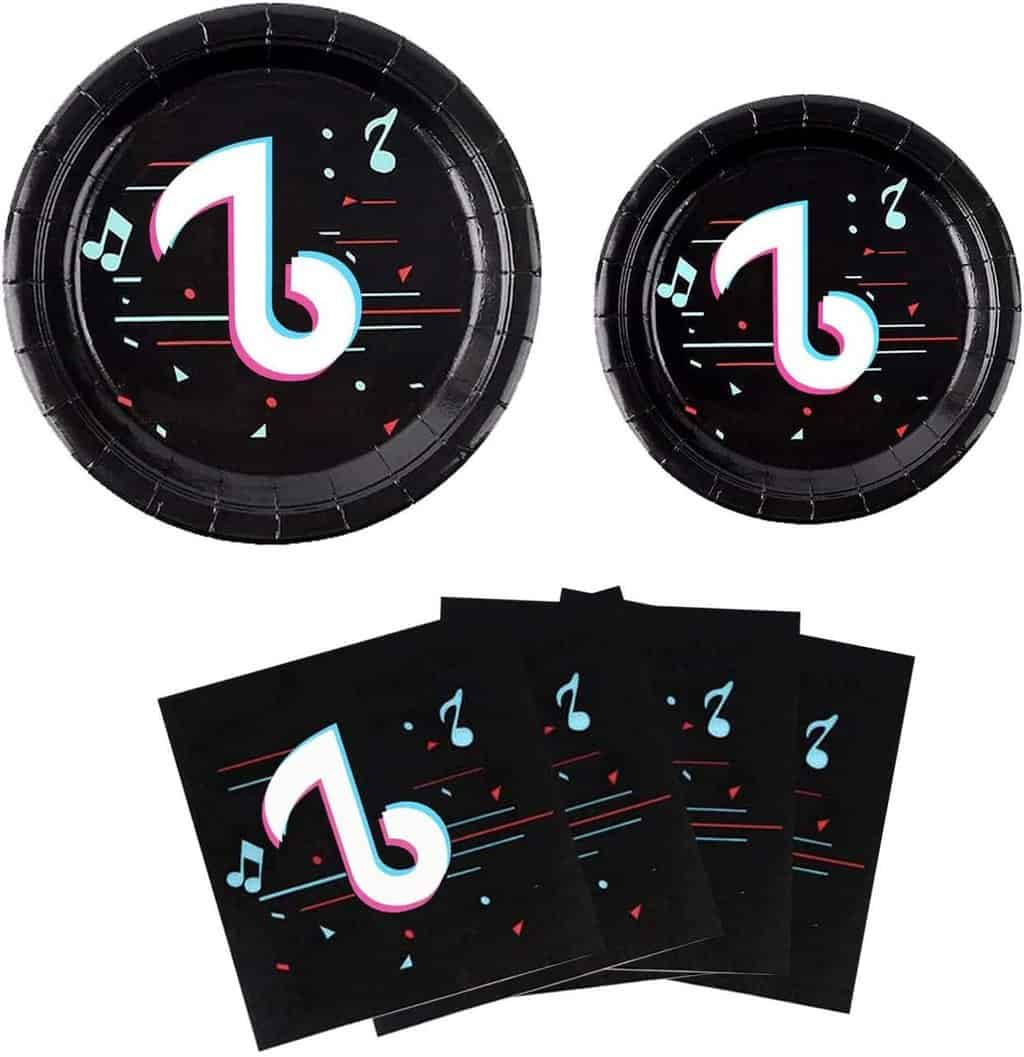 If it's plates and napkins you need for your TikTok party, KEJI has got your back! This set comes with 7 and 9-inch plates, plus matching napkins so your table can stay in line with the theme.
Price range: $10 – $20
Number of pieces: 48
Total weight: 0.95 ounces
You get 16 pieces from each of the 2 plate sizes and 16 napkins. The plates are made from thin cardboard and can be discarded once the party is over.
Pros
2 plate sizes included.
Come with matching napkins.
They all include the TikTok logo.
Cons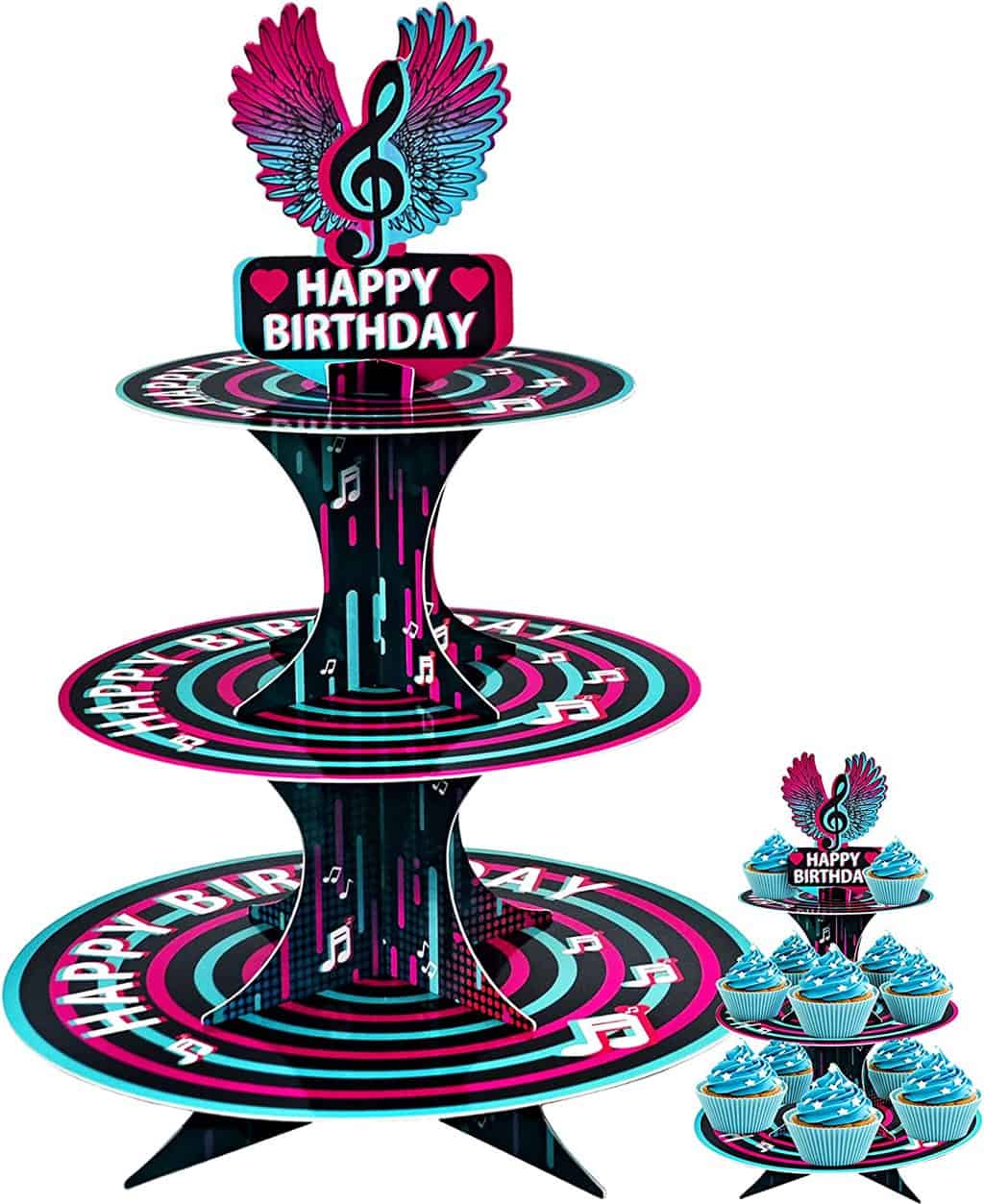 Want every little detail of your party decor to match the theme? Then you have to look into the TikTok music cupcake stand. Okay, now I definitely have to research TikTok cake and cupcake ideas. And cupcakes would be super easy, too!
Price range: $10 – $20
Number of pieces: 1
Total weight: 7.8 ounces
Made from sturdy cardboard, this is the stand that will allow you to decorate your candy bar with cupcakes that people are dying to try. It has three tiers in total and is pretty straightforward to assemble.
Pros
Easy to assemble.
TikTok colors.
Reusable.
Cons
No information on the weight limit.
Best Tiktok Party Pinata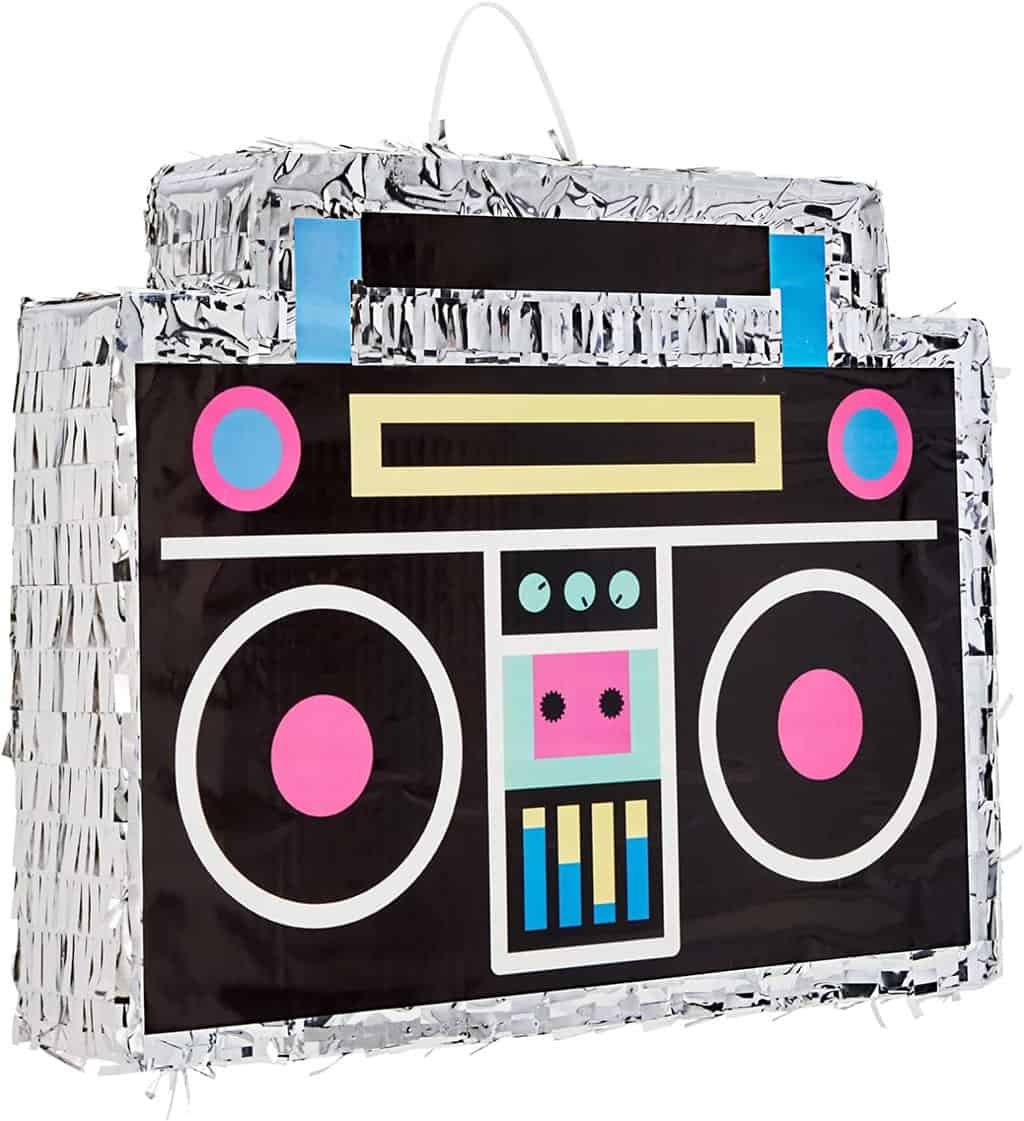 This vintage boombox piñata is the perfect way to get the party started while staying true to your sense of cool. Include this darling little pinata in your TikTok theme party games to generate a jovial and pleasurable mood for the occasion of celebration.
Price Range: $20 – $30
Size: 17.76 x 13.7 x 3.46 inches
Weight: 15.2 ounces
Everyone, from toddlers to grandparents, will have a great time taking a swing at this piñata and seeing if they can break it open to reveal the tasty candies, fun toys, or bulk party favors hiding inside! The piñata has dimensions of 16.5 by 12.8 inches with a very little aperture at the very top for easy access when filling.
Pros
Easy to fill.
Versatile theme application.
Easy to hang.
Cons
Tend to fall off the hanger.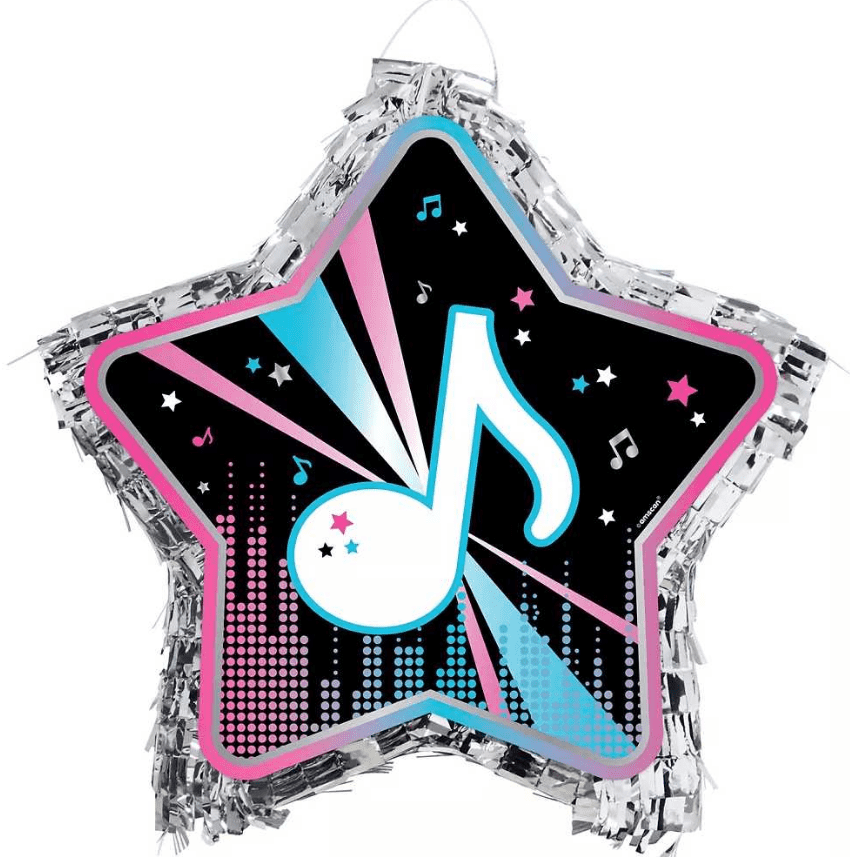 This is one of the best TikTok pinatas I've seen so far, hands down. It comes with the most adorable star shape and matches the TikTok colors that you're already familiar with. I'm not internet famous yet, but I'm on my way! Maybe I'll buy this one in hopes I one day reach a million followers LOL
Price Range: $20 – $30
Size: not specified
Weight: not specified
You can put about 2 pounds of goodies inside, but, I have to be honest with you, I'd feel sorry about breaking this. It could serve as a pretty cool decoration in a TikTok-loving teenager's bedroom.
Pros
Very nice design.
Can be used as a room decoration.
Holds up to 2 pounds of candy.
Cons
More product info would be nice.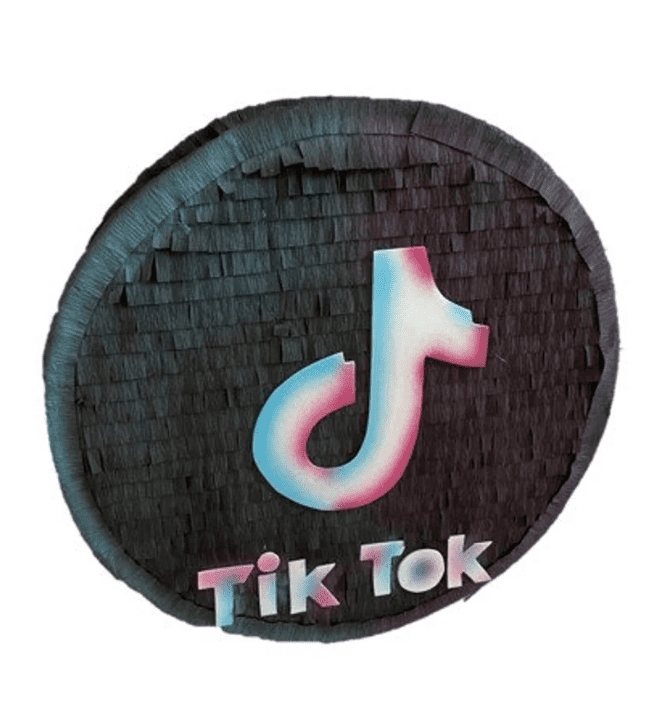 Listen, Etsy is such a cool source for one-of-a-kind things like this. I shop on Etsy weekly. It's insane. Mostly for bookish things, but I love that there's someone who makes custom pinatas. As far as handmade pinatas go, this one is one of the best options out there. There's tons of talented people on Etsy, and this pinata is proof of that.
Price Range: $30 – $40
Size: 20 x 16 x 4 inches
Weight: 4 to 6 lbs.
It's a made-to-order product, so you can expect the seller to start working on your order after you've made payment. And since Etsy is all about crafts, you can customize the pinata with your name!
Pros
Customizable.
Available in round and rectangular shapes.
Hole for filling available.
Cons
The order takes longer to ship.
Best Tiktok Party Supplies Package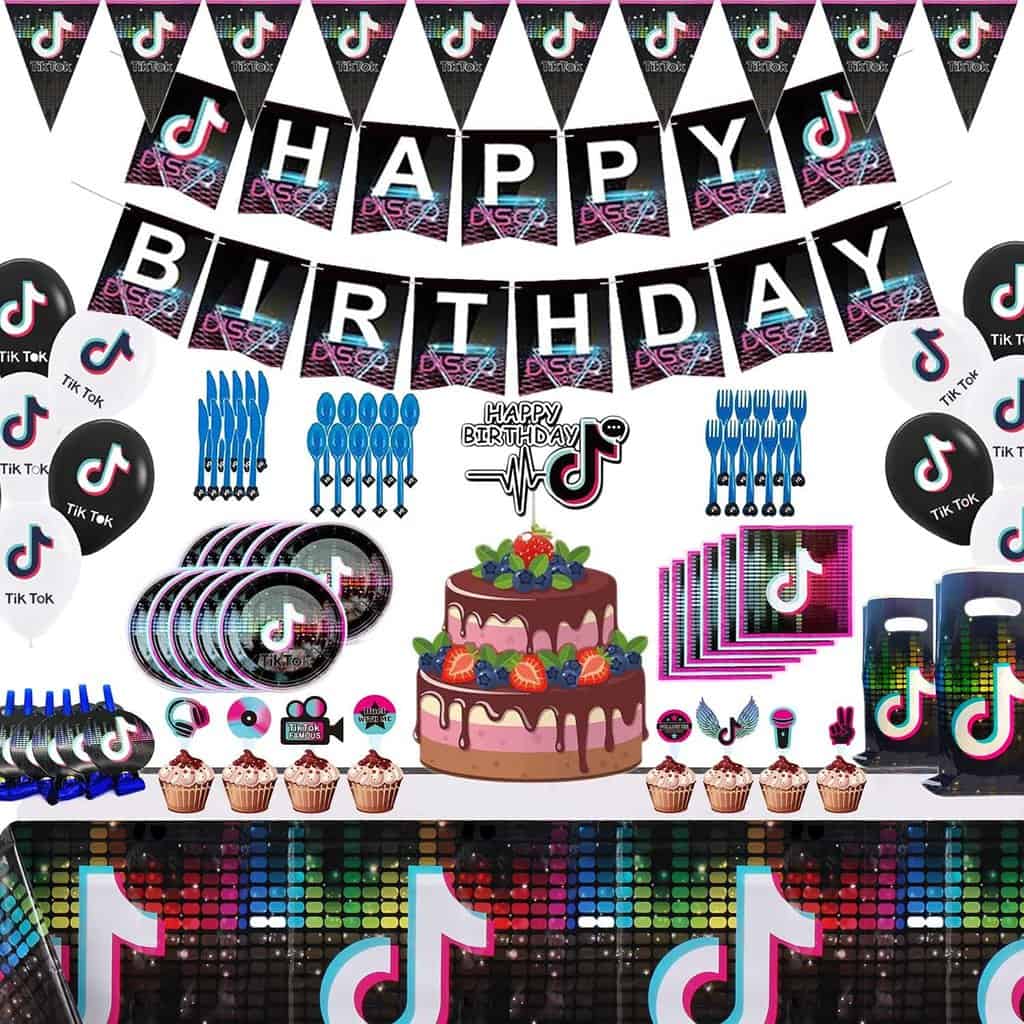 One of the best sets that are filled with goodies for a TikTok party comes from Junjie. This pack includes no less than 137 pieces that range from paper plates and napkins to cake toppers and souvenir bags.
Price Range: $20 – $30
Number of pieces: 137 pieces
Pieces included: paper plates, napkins, souvenir bags, cake toppers, cupcake toppers, blowouts, tablecloths, triangle banner, etc.
These supplies are suitable for kids and an adult party, and it saves you the trouble of purchasing them separately or making them yourself.
Pros
Supply variety.
Suitable for 10 to 20 people.
Vivid colors on the products.
Cons
Some complaints about missing pieces.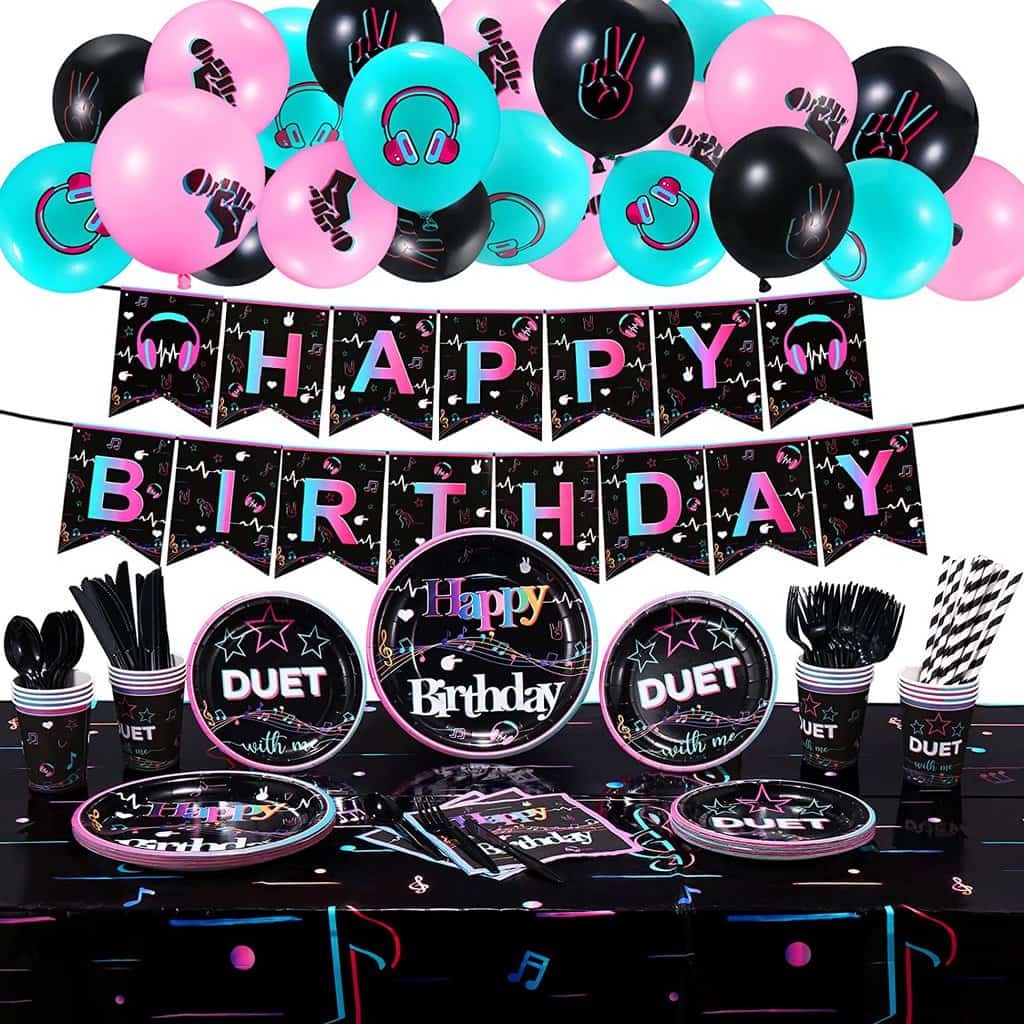 FZR Legend Store sells a music-themed party pack that can serve up to 16 people. It includes small and large paper plates, cups, spoons, knives, forks, table cloth, and other goodies that are available in the TikTok colors we are all so familiar with.
Price Range: $20 – $30
Number of pieces: 142
Pieces included: plates, straws, cups, balloons, table-cover, etc.
I love this set because it works for TikTok-themed parties, but they could also be used for music or a disco-themed party. So, maybe even double up and use the extras for another event!
Pros
Includes a resistant polyester banner.
Suitable for multiple party themes.
Includes some balloons.
Cons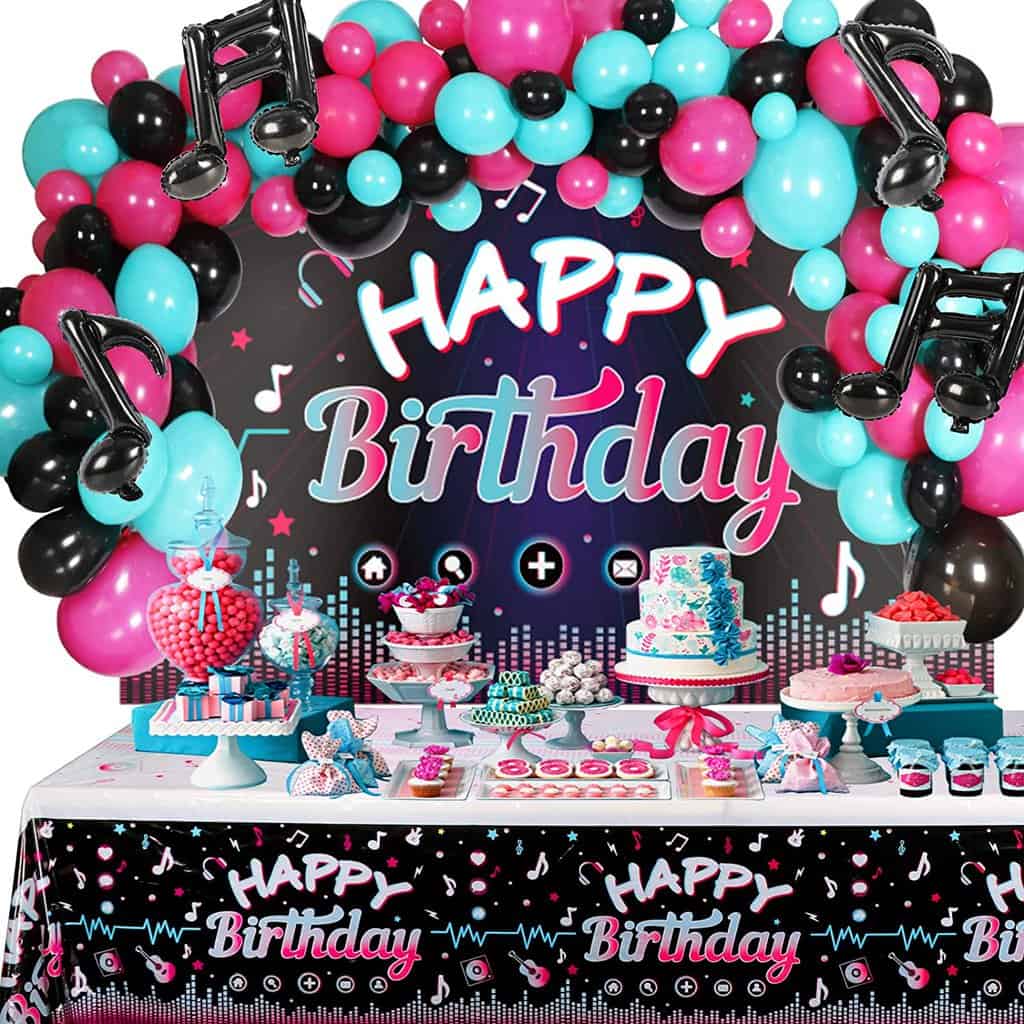 So, this is mostly a pack with different balloons that would be suitable for a TikTok party. It also has a few other goodies worth mentioning.
Price Range: $20 – $30
Number of pieces: 130
Pieces included: birthday banner, table cloths, balloons
The birthday banner is constructed of a durable polyester fabric that can be washed in the machine and used more than once. The waterproof and oilproof properties of the disposable tablecloths mean that there is no need to clean them after the party; simply roll up the tablecloth and toss it away.
Pros
Includes a cool backdrop.
Balloons can be used in multiple types.
The banner is reusable.
Cons
Most of the supplies are balloons.
Tips for Throwing a Tiktok Party
A TikTok party is a perfect way to celebrate your love for this social media platform and to get some nice bits of content for your followers. To throw the best TikTok party, consider the following tips:
Stream the party live for everyone that couldn't make it.
Invite your most loyal followers.
Do an online and offline giveaway.
Set up a corner where people can make TikToks.
Consider playing some TikTok-themed games.
Recreate some of the most famous TikTok trends with your guests.
Invest in decor that's specific to TikTok.
Have some TikTok party favors for your guests to take when they leave.
Can I Make a Tiktok Pinata?
If you want to make your TikTok pinata, you can follow pretty much any pinata-making tutorial and just change the shape and colors used. This tutorial will show you through the process, so if you have the patience and time to make it, the materials needed are pretty inexpensive.
FAQ
Question: What Do You Do at a TikTok Party?
Answer: There are tons of activities suitable for a Tiktok party, including taking photos and making TikTok in a corner decorated in the theme, doing certain TikTok challenges, and enjoying a candy bar with sweets in TikTok colors, and many other similar activities.
Question: Why Does TikTok Need My Birthday?
Answer: TikTok wants to ensure that you only view content suitable for your age on your feed, which is why it has begun asking you for your birthday. Recently, several users have reported coming across potentially harmful trends that went viral on the network. TikTok is taking certain preventative measures to ensure that something like this does not occur again.
Question: What are Good Party Themes for Adults?
Answer: If you think TikTok parties are mostly for kids, some other themes you could look into include a murder-mystery party, spa party, cocktail party, pirate party, disco party, or even an international cuisine party.
Bottom Line
A TikTok party allows you to get creative in so many different ways. Since everyone knows what TikTok's official colors look like, it's easy to make your party supplies, but you can purchase them too if you don't want to spend time making them. If nothing else, I highly recommend getting a TikTok pinata because it's cool, decorative, and gives your guests something fun to do! And for even more great party planning ideas, jump over to our site!
Recommended Reads: