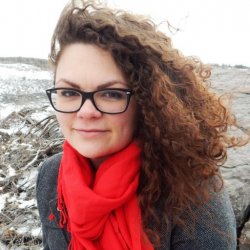 Latest posts by Candace Osmond
(see all)
Is your child a Fortnite game fan desperately wanting a themed party, but you have no clue about the game yourself? Not to worry, I'm here to show you where you can get everything you need. My kids are obsessed with the popular game (and frankly, so am I! LOL), so I know a thing or two about the details. Keep reading this Fortnite party supplies guide to planning the best possible party.
Bottom Line Upfront
I'm a one-stop-shop kinda gal, so of all the awesome items in this guide, I have to say the TOYOYO Video Game Party Supplies set is what I'd go for. It has all the stuff I'd need to plan a Fortnite party; just add food.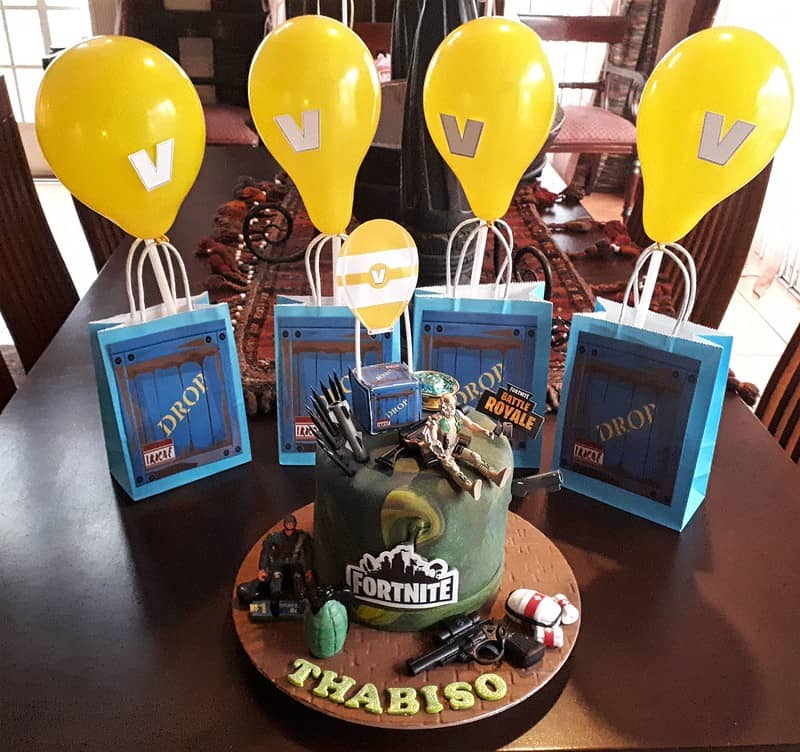 Top Picks
Best Fornite Balloons: Flohuaer
Best Fornite Party Decor: TOYOYO Video Game Party Supplies
Best Fornite Party Dishes: Fortnite Party Supplies
Best Fornite Game Ideas: Hasbro Gaming Jenga
Best Fornite Party Favors: Cosmic Party Gaming Party Supplies Set
Fortnite Party Essentials
Fortnite is the ultimate multiplayer game for children, ranking somewhere in the top 3 with Minecraft and Roblox. If you want to throw a Fortnite birthday party for your little human or perhaps someone else dear to you, here are some decorating ideas and supplies you might need:
Favor bags with balloons attached to them to make them look like in-game loot drops.
A pinata shaped like a llama.
Nerf guns for kids to play with.
Fortnite slurp juice.
Shield potion bottles with something blue inside (maybe candy).
Scavenger hunt for Fortnite supplies (pieces of wood, bacon, flower petals, etc.)
Table decorations that look like popular Fortnite characters.
Birthday cake like the one in Fortnite.
Spicy tacos.
Fortnite location signs decorations (Tailed Towers, Paradise Palms, Fatal Fields, etc.)
Outdoor nerf gun target game.
Best Fornite Party Supplies
I laid these out in different categories to make it easier for you to scroll and find what you need.
Best Fornite Balloons
Did you know that balloons used to be an actual thing in Fortnite? The balloons would nullify the damage that would have been caused by falling. In addition to that, they caused the player to fall more slowly and jump higher. At any given time, a player could have a maximum of three balloons in their inventory that are inflated.
When the maximum number of balloons is reached, the player will begin to float upward. They would explode if the player floated for an excessively long period or if they were shot at. So, it makes sense to have balloons when decorating a Fortnite party venue.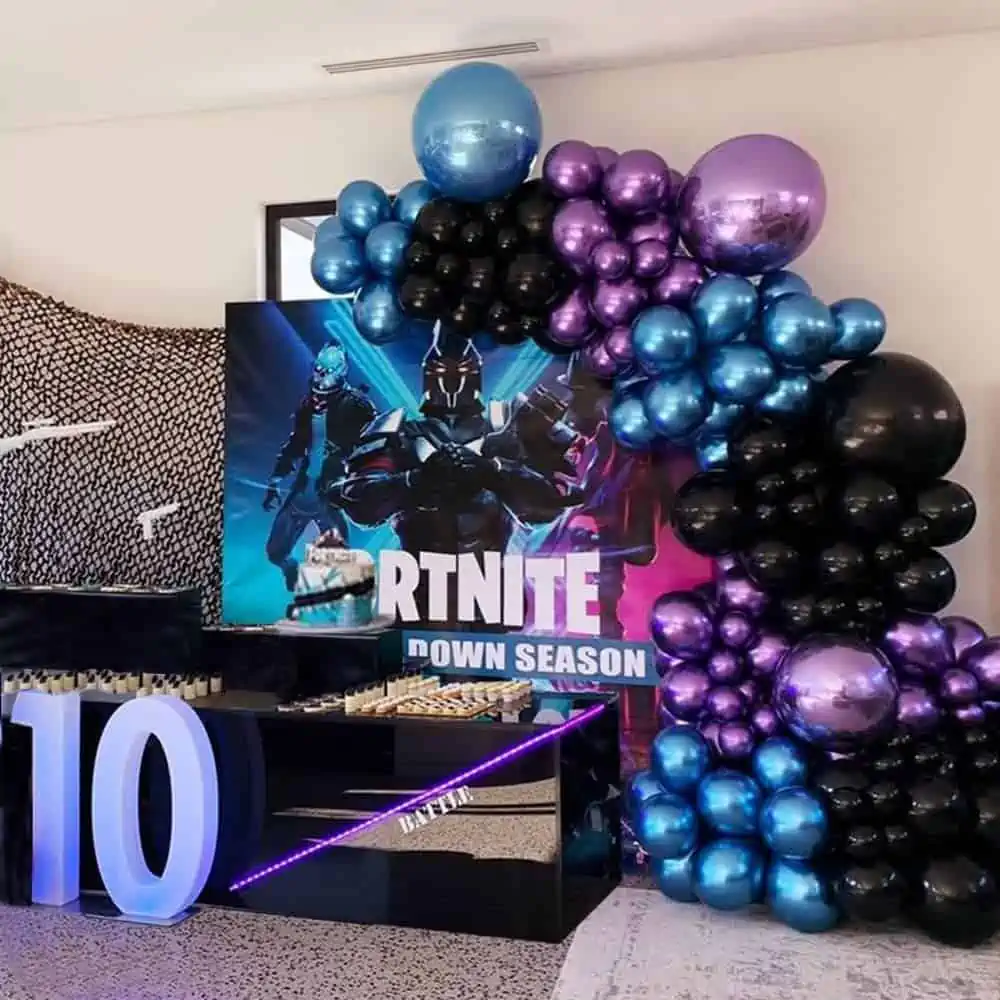 I am a huge fan of balloons when it comes to any party. Not only do they add color to the place, but if you want to make the venue seems fuller, they are great space fillers. They remind us of childhood and are a joy to look at. This is why I wanted to start this round up with a set of 111 gorgeous metallic balloons for your upcoming Minecraft party.
Price Range: $15 – $20
Quantity: 111
Colors: metallic blue, metallic purple, metallic black
Not only will you get the balloons in different sizes, but they also come with everything needed to set them up. That includes a bunch of glue dots, a plastic strip, and hooks to make a beautiful balloon arch.
Separate the smaller size balloons from the larger size balloons so that later arrangements will be more straightforward. Inflate all balloons using either a manual or an electronic pump. If you have access to an electric pump, use it instead. For a beautiful round form, balloons should have roughly three-quarters of their capacity filled.
Pros
111 balloons of different sizes.
Complete kit to make a balloon arch.
Beautiful metallic finish.
Cons
They leave color residue on your hands.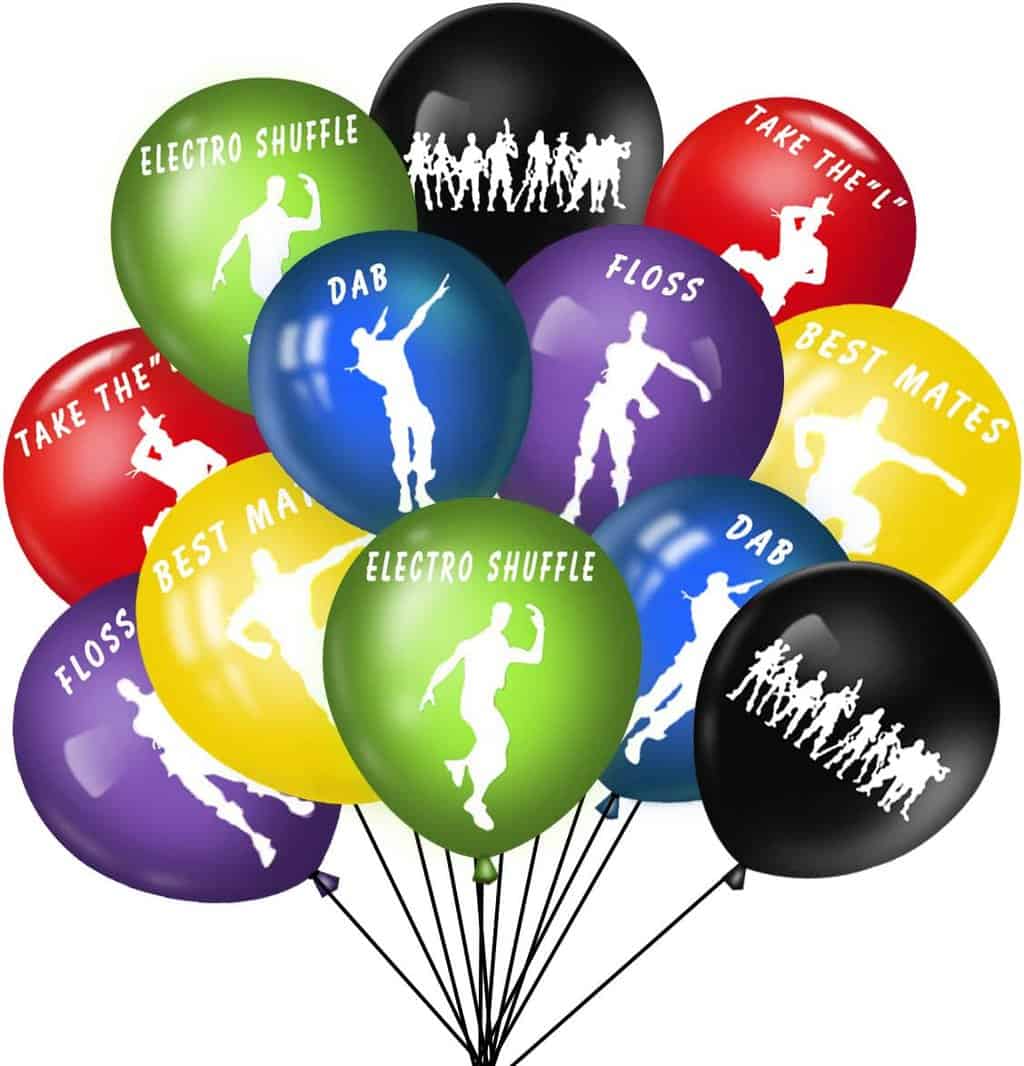 One of the many things Fortnite is known for is its wide collection of emotes and dances. They are so popular that they are acted out even in real life, and you will likely see children doing them during the party. These dance moves are part of the Fornite culture and having them printed on this set of balloons just makes sense.
Price Range: $10 – $15
Quantity: 60
Colors: mixed
The pack includes 60 balloons of mixed colors, including red, purple, green, and blue. Since there are six designs in total, each is repeated ten times. Some of the emote and dances showcased on the balloons include Fortnite's famous dab move, the floss, and electro shuffle.
Pros
Made with durable latex.
It can be reused.
Biodegradable construction.
Cons
Strong latex smell when first unpacking.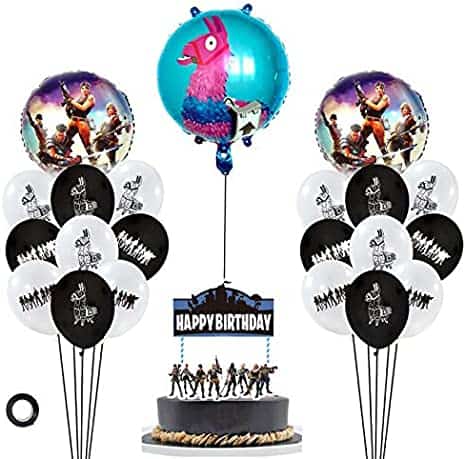 Back when balloons were still available in Fortnite, players would use them to get the advantage of being harder to hit and reaching higher grounds easier.
Price Range: $5 – $10
Quantity: 21
Colors: black, white, colored
In Fortnite, higher ground meant better chances of staying hidden from the enemy's line of sight and better seeing the surrounding environment. It would help you spot enemies without being spotted, helping the player get the kill easier.
While Fortnite balloons are now vaulted, they can still be a significant part of your themed party. This set comes with 18 latex balloons available in black and white and three foil balloons that are more colorful (but still Fortnite-themed). You also cake one cake topper.
Pros
Cake topper included.
Quality latex construction.
Balloons are reusable.
Cons
Some balloons may arrive with holes in them.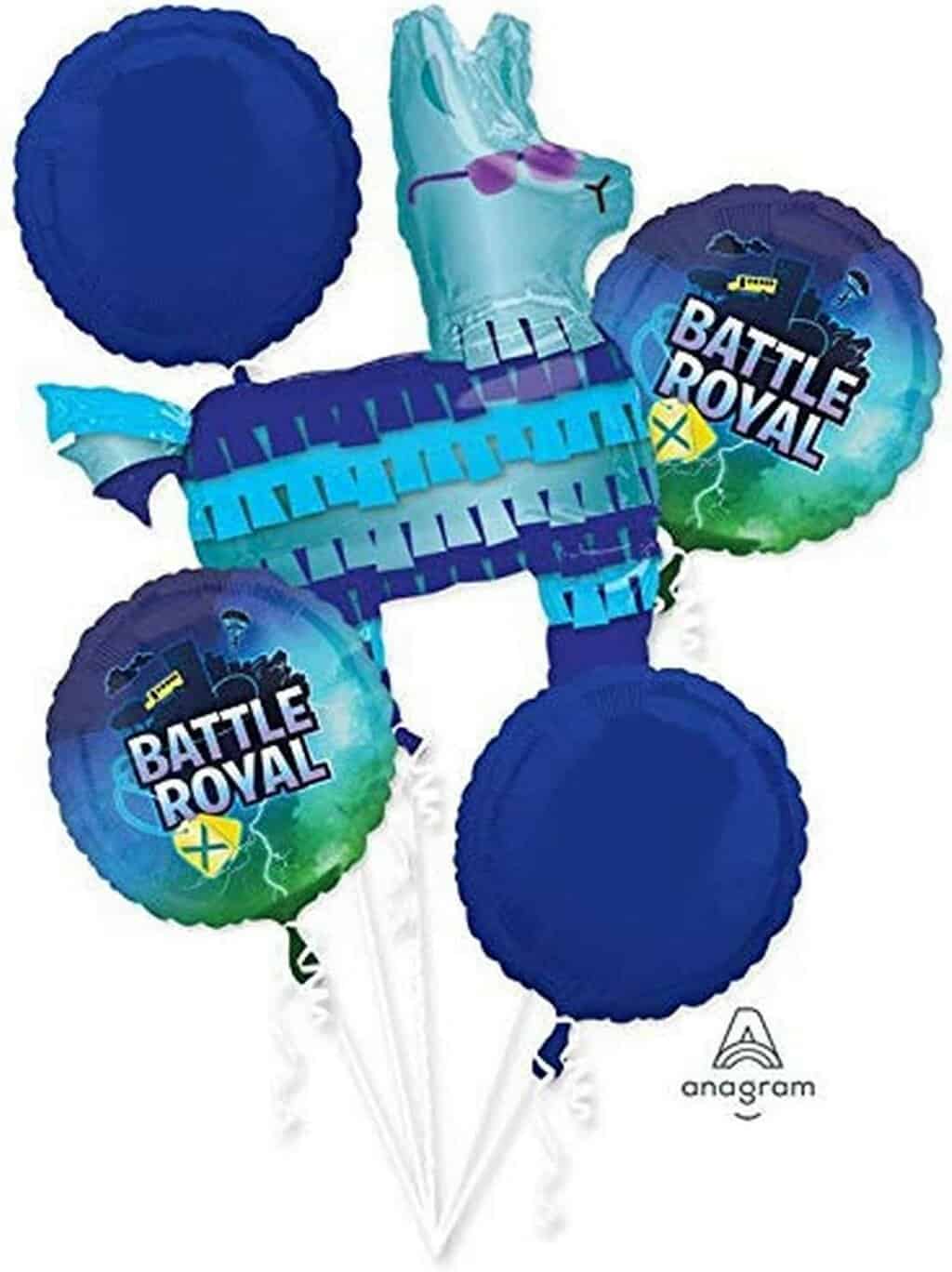 Llamas are the symbol of Fortnite. Most of the "loot boxes" in Fortnite: Save the World are represented by llamas, also called Llama Pinatas. So having a llama balloon for a Fortnite party just makes sense. Compared to some of the packs I've shown you today, this one may not seem like much since it only comes with five balloons.
Price Range: $10 – $15
Quantity: 5
Colors: blue
However, these are high-quality items, and the fact that you get a llama-shaped balloon is what ups the price of this set. The balloons can also be inflated with helium to form a bouquet.
Pros
Includes a llama balloon.
Self-sealing valve.
Good quality.
Cons
Ribbons are not included.
Best Fornite Party Décor
Decor is a key part of any themed party. Sometimes, a single piece of decor can hint at the entire theme. When it comes to Fortnite, there are plenty of decor items you can turn to for a sensational setup. If you're short on ideas, here are some examples.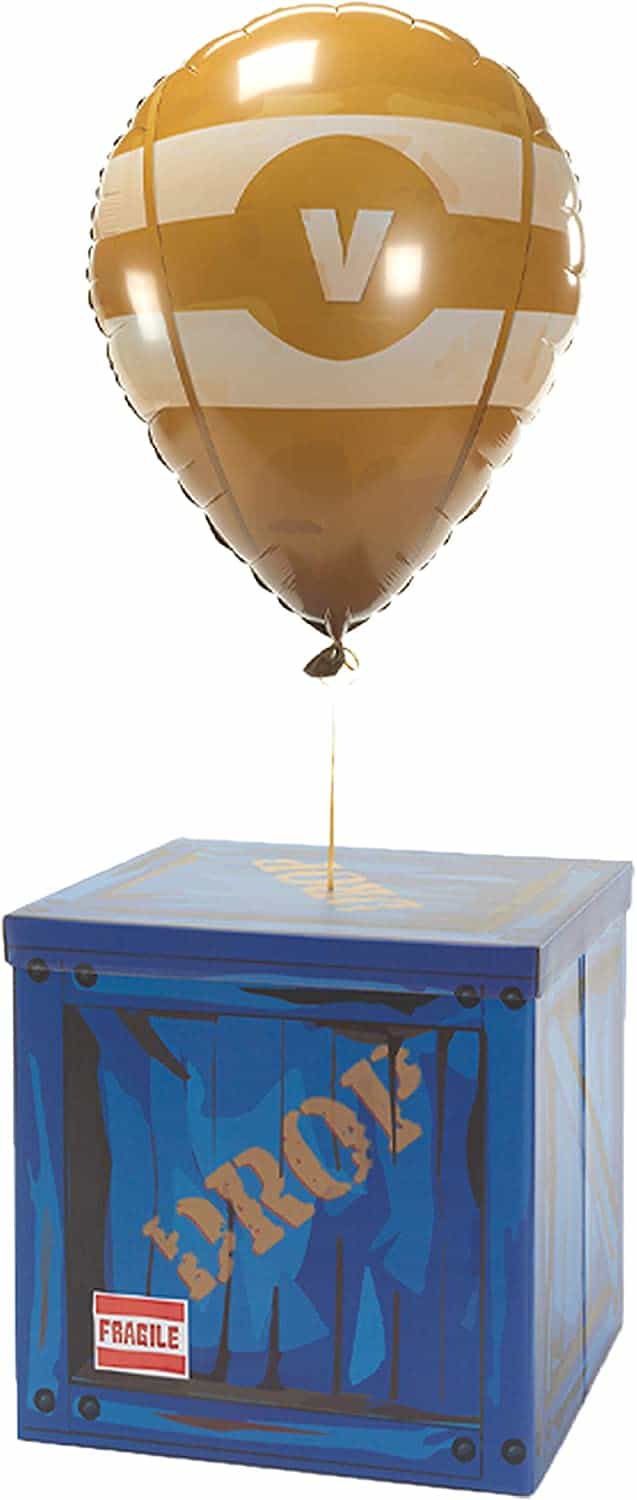 Firstly, this is not a mystery box. That means you're not getting a bunch of Fortnite-related goodies. This is only the box and an inflatable balloon. When you put these two together, they mimic the supply drops that players crave during the game.
Price Range: $10 – $15
Type of Decor: loot box
What's Included: loot box, inflatable balloon
You can easily integrate this into the decor. Add something heavy inside the box to prevent tipping it over. You can also fill it with party supplies, like Nerf guns or candy. Another way to use this is to fill it with party favor bags and have the guests take one each when they leave.
Pros
Very nice and accurate design.
Comes with an inflatable balloon.
Versatile use.
Cons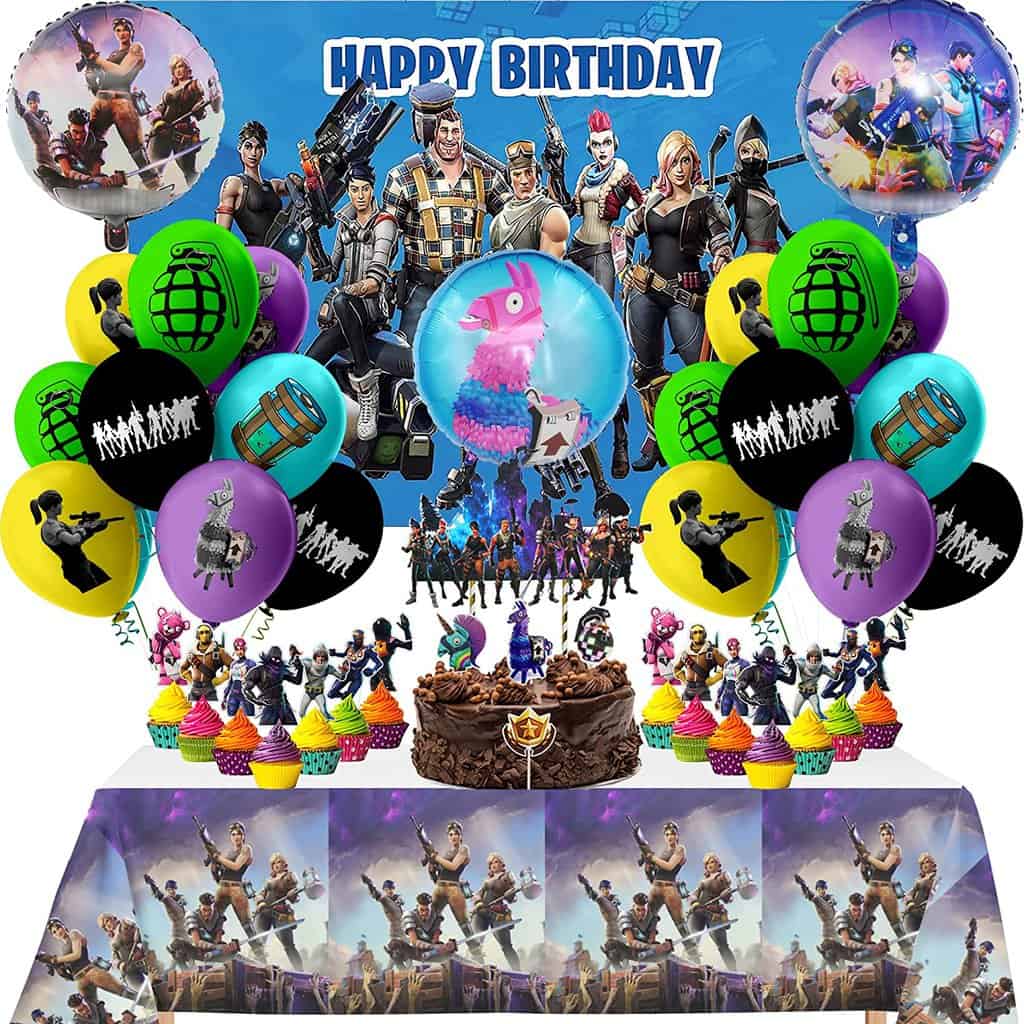 Time to go crazy with details when planning your upcoming Fortnite party, but also chill and save time by placing a million orders. This set includes latex balloons, foil balloons, a birthday backdrop, a tablecloth, cupcake, and even a cake topper. All the products are made with non-toxic materials, although I am not a fan of the chemical scent of those latex balloons when you first unbox them.
Price Range: $20 – $25
Type of Decor: mixed
What's Included: balloons, cupcake toppers, tablecloth, backdrop
Overall, the package offers excellent value and makes a good buy for parents looking to throw a Fortnite birthday party for their little humans.
Pros
Item variety.
Durable latex balloons.
Reusable backdrop.
Cons
Complaints about missing items.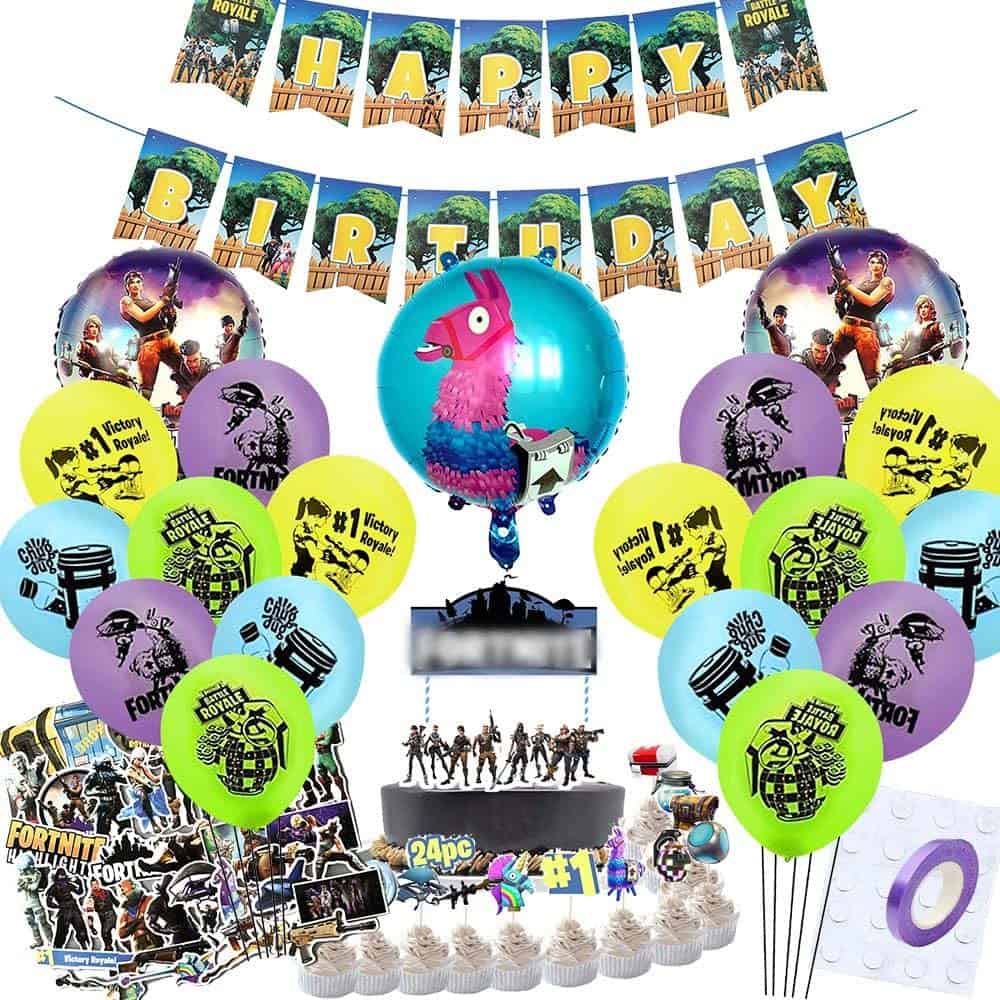 If there is one thing I love when planning a party is getting everything I need in one place. It saves time and headaches but adding one thing to my shopping cart and solving three things simultaneously. This decoration set is the right purchase if you're anything like me.
Price Range: $10 – $15
Type of Decor: mixed
What's Included: balloons, birthday garland, stickers, cupcake toppers
This pack some with many different goodies you want to take advantage of. It has 24 different cupcake toppers that resemble in-game characters that your guests are bound to recognize. There are loads of different balloons, all bearing the Fortnite theme. You get a birthday garland, 50 different stickers, and even the stuff needed to set up the balloons.
Pros
Loads of miscellaneous decor items.
Balloon kit included.
Includes birthday banner.
Cons
The latex balloons have a chemical smell.
Best Fornite Party Dishes
No party is perfect without something to snack on. Decide if you want to go full pizza/barbecue-style or just have a candy bar set up. Regardless, you can't leave your guests without some edible treats. And, in the spirit of Fortnite, I've prepared some ideas for those who want to match the tableware with the theme.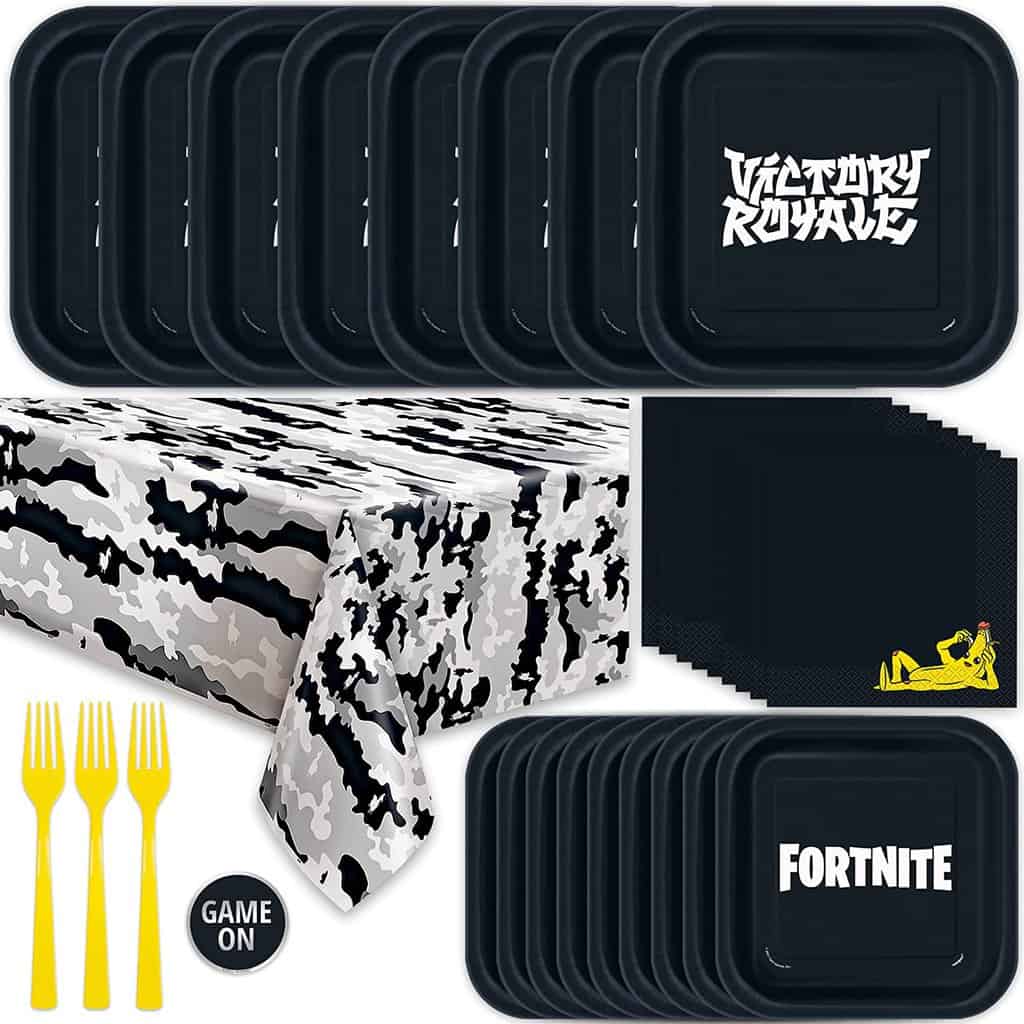 Much like in real life, food in Fortnite is meant to heal and shield you. Coconuts, peppers, fish, apples, you name it! Well, you probably won't serve actual fish at a Fortnite-themed party, but you will likely have some goodies for your guests to eat. In that spirit, you need some Fortnite-themed tableware.
Price Range: $25 – $30
What's Included: large plates, dessert plates, tablecloth, napkins, forks
Good For: 16 guests
This set includes pieces for 16 people. You get large plates for food and smaller plates, which are good for cakes, cupcakes, fruit, snacks, and other such treats. The set also comes with matching Fortnite napkins (yes, that IS a banana on the napkins) and a camo-style tablecloth.
I would have liked to see some spoons included with this set. Since all the plates are disposable, you don't have to worry about cleaning after guests have left. I like that these are made from sturdy cardboard so you can hold them and interact with other guests without needing table support.
Pros
Waterproof tablecloth included.
Comes with large and small plates.
Forks included.
Cons
Some spoons would have been nice.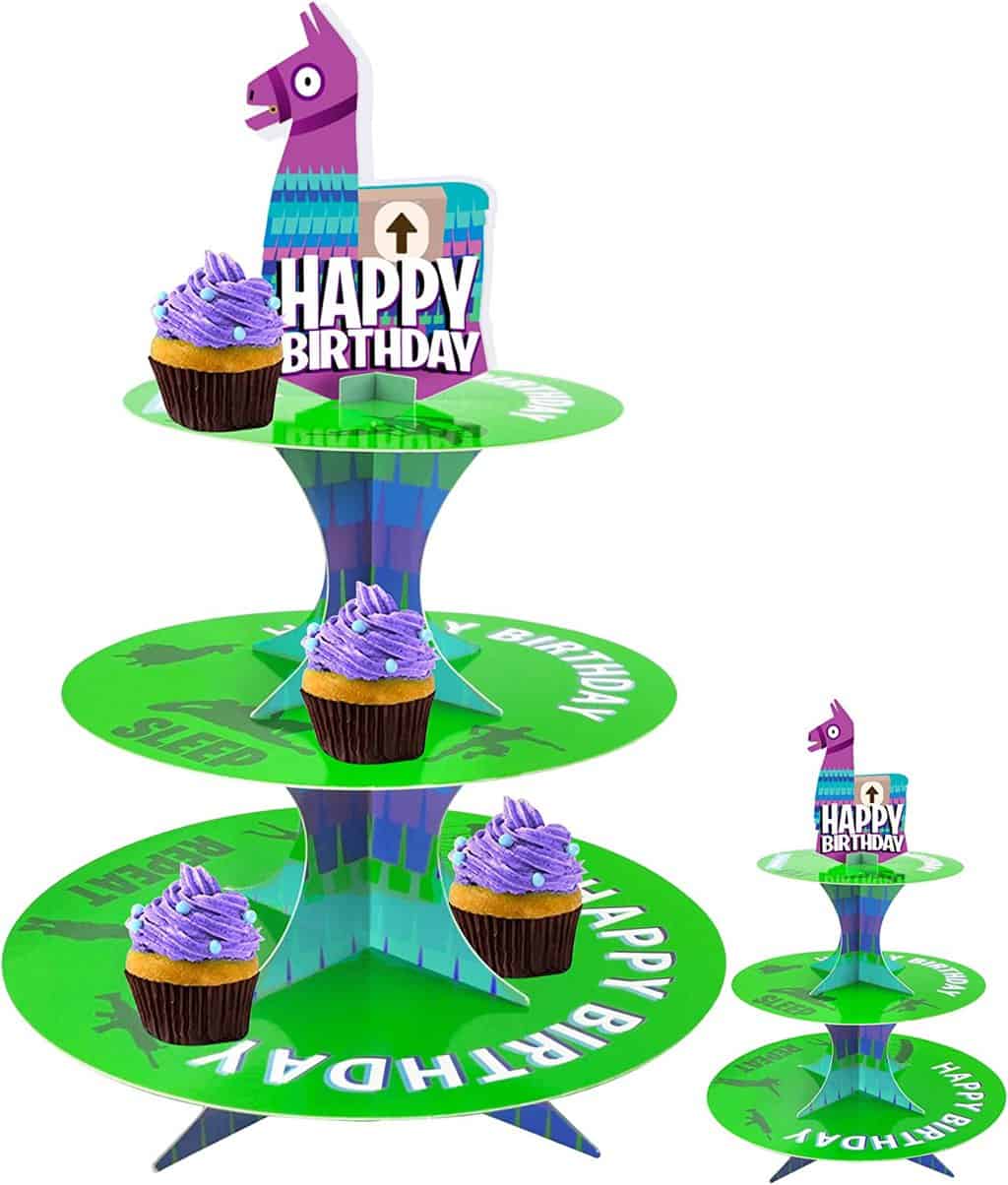 Looking to make your Fortnite party candy bar looks astonishing and on-theme? Then you have to check out this cupcake stand. It's a 3-tier stand that works for cupcakes, fruit, donuts, muffins, and other treats worthy of being served at your party.
Price Range: $10 – $15
What's Included: 3-tier cupcake stand
Good For: 24 cupcakes
While I love the design and utility of this stand, I would have liked to know the maximum weight capacity. I'd love to use this for heavier things, like apples and bananas (since they're both consumables in the game). I like that you can easily wipe this clean, take it apart to save space, and reuse it as needed.
Pros
Easy to clean.
Versatile.
Easy to store.
Cons
No mention of weight capacity.
Best Fortnite Game Ideas
Party games help bring people together. Besides, what's a Fortnite-themed party for kids without some games? The truth is that you can take a lot of party games and add a Fortnite twist to them (as you're about to see with the Jenga game). Here are some ideas if your imagination isn't at full capacity today.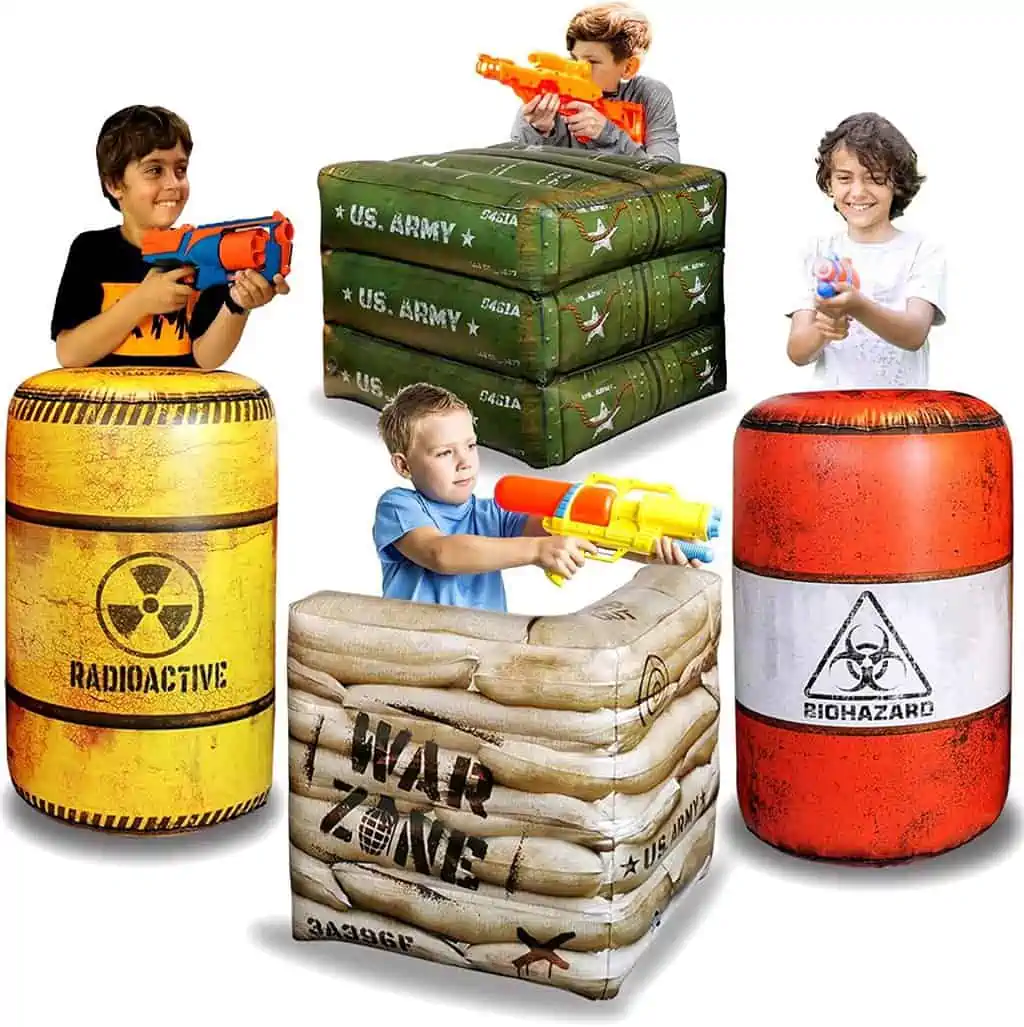 Down to its core, Fortnite is a massively multiplayer shooter. Like it or not, children are scavenging for SMGs to eliminate the other players in the game and be the last man standing. Let me introduce the battlefield prop set if you want to get your child and their guests to spend time outside during the party.
Price Range: $55 – $60
Type of Product: outdoor game props
What's Included: 4 battlefield inflatable balloons
These four giant balloons are designed to look like giant chemical waste barrels or bags of sand. You know, the usual stuff you might see on a battlefield. These are filled with water and air (the water adds some weight to the balloons), and children can hide behind them while playing. You'll need more sets if you have a lot of players and a larger outdoor space.
They'll make the perfect addition to your shopping cart if you've planned some fun outdoor activities with nerf guns. I'm not entirely sure about their durability, so I think it's better to play with water guns instead of Nerf guns around these.
Pros
Realistic design.
Can add water for stability.
Reusable.
Cons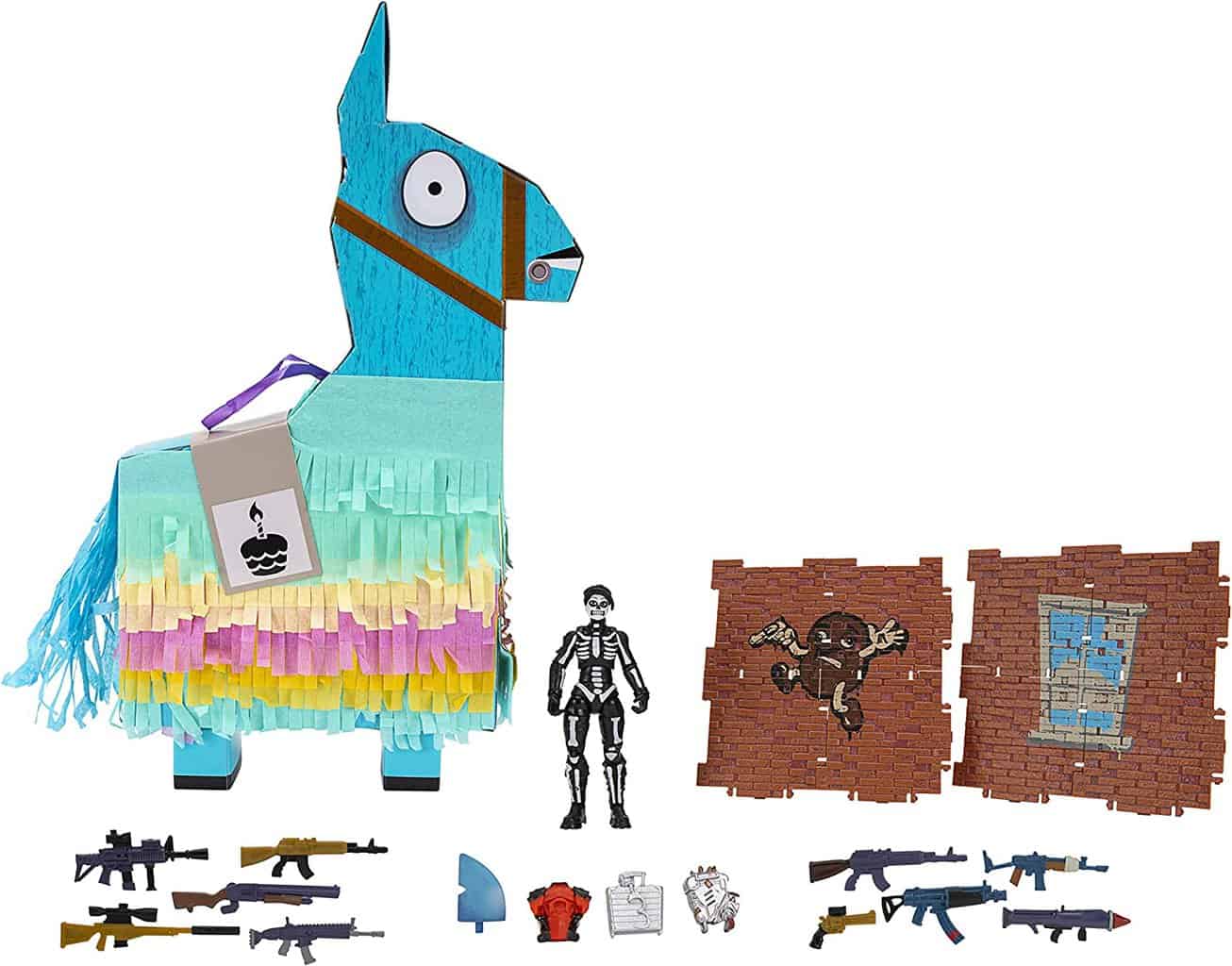 The supply llama is a treasure cache that may be found in Battle Royale. The community commonly refers to it as the loot llama or a llama. Each match has a maximum of five supply llamas, and the positions of those llamas are randomly picked. Even if you might not know what a llama is in Fortnite, players will immediately recognize it when they see it.
Price Range: $20 – $25
Type of Product: pinata
What's Included: llama pinata, 10 weapons, 8 building materials, war figure.
Simply put, if you hand a llama pinata at a Fortnite party, everyone will expect it to be filled with goodies. It's entirely up to your what those goodies are. While most opt for adding candy to a pinata, this set includes building materials and tiny in-game weapons that can make up for an entertaining Fortnite-themed party game.
Pros
Includes some nice collectibles.
Very accurate design.
Collector's guide included.
Cons
Not meant to be an actual pinata, but you can get crafty.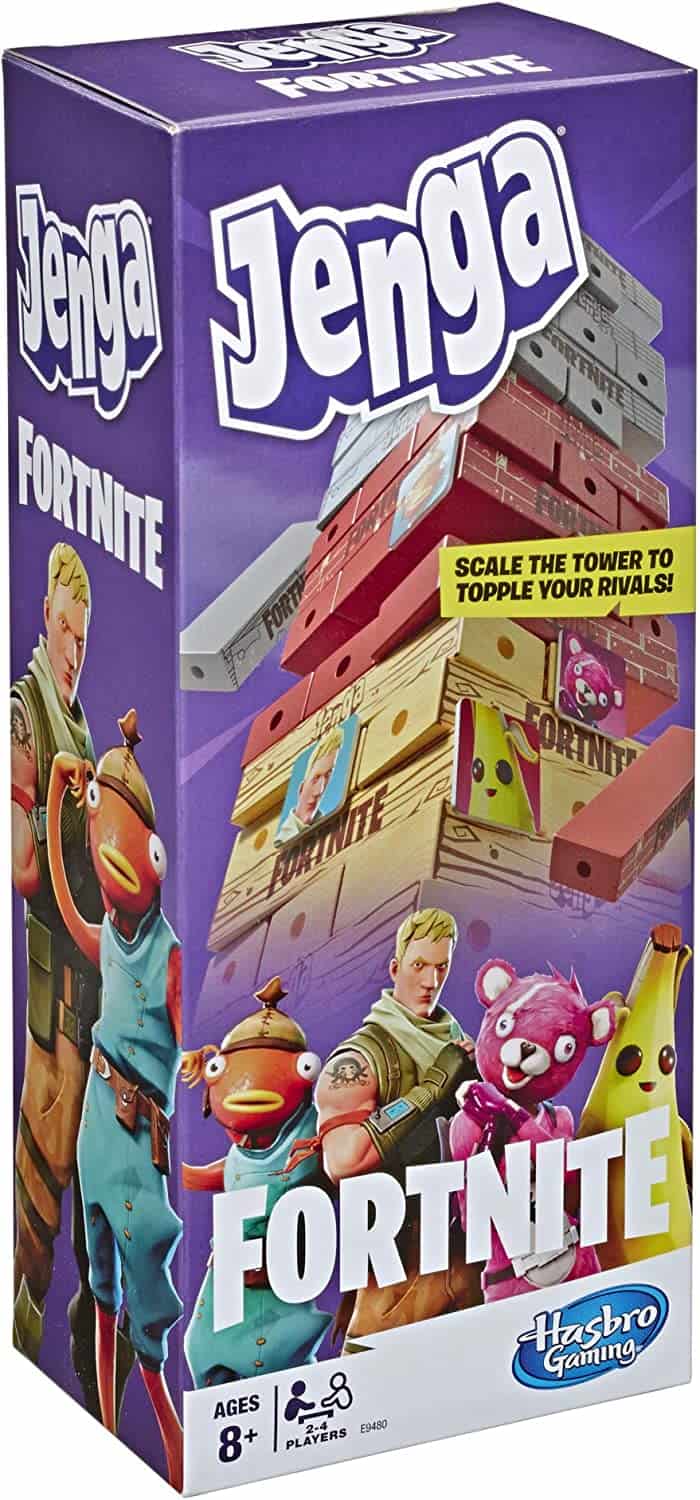 The video game Fortnite served as the inspiration for the Jenga: Fortnight edition board game. In this game version, players race their Fortnite avatar up the tower to be the first person to reach the peak. However, the watch outfit If a player's turn coincides with the tower's collapse, they will be eliminated from the competition.
Price Range: $30 – $35
Type of Product: Jenga tabletop game
What's Included: one Jenga set
Turn the spinner to find out your next move, including the number of levels you need to climb and the kind of blocks you need to stack. Players struggle to reach the top of the tower by moving their pegs up and their opponents' pegs down while simultaneously attempting to keep the tower from collapsing. Adults might actually like this game too!
Pros
Simple rules.
Adults can play too.
Fortnite-specific elements.
Cons
The box might arrive damaged.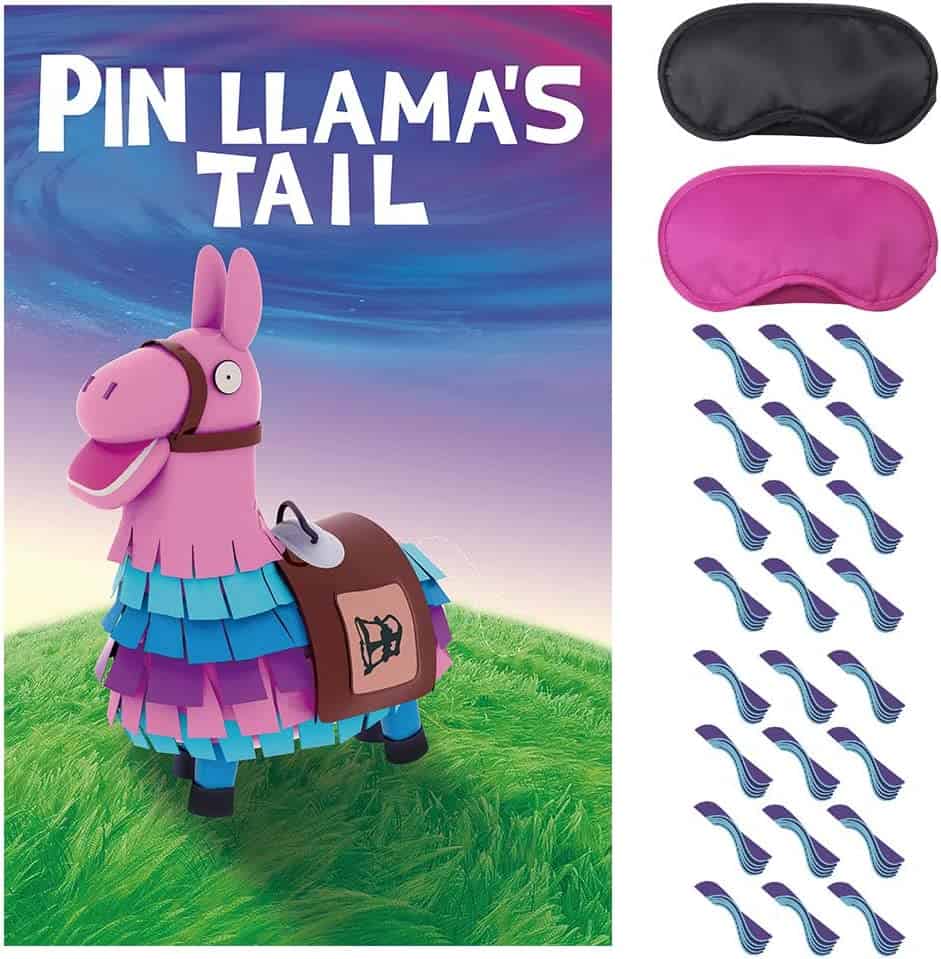 For the longest time, children have gathered together in groups to play the game "pin the tail on the donkey." It is typical behavior at birthday celebrations and other types of get-togethers. A photograph of a donkey that is missing its tail is affixed to a wall where children can easily access it.
Price Range: $5 – $10
Type of Product: pin the tail game
What's Included: poster, 2 blindfolds, 24 tail stickers, 8 glue dots
Blindfolds are placed on each child one at a time, and they are each given a piece of tail-shaped paper with a push pin or thumb tack. The child is then given a blindfold and made to spin in circles until they become disoriented.
Now, for children who love Fortnite, we have to switch things up a little and use the game's official mascot: a llama instead of a donkey. This comes with everything needed to set up a game of pin the tail on the llama, including a 19.7 x 29.5-inch waterproof llama poster.
Pros
Complete game kit.
Waterproof game poster.
Soft blindfolds included.
Cons
Stickers aren't reusable.
Best Fortnite Party Favors
In essence, party favors can be defined as any object that hosts of celebrations hand out to their guests. These things could be anything at all. Celebrations such as birthdays and baby showers are perfect opportunities to hand them. Next best event on the list? Your upcoming Fortnite-themed party!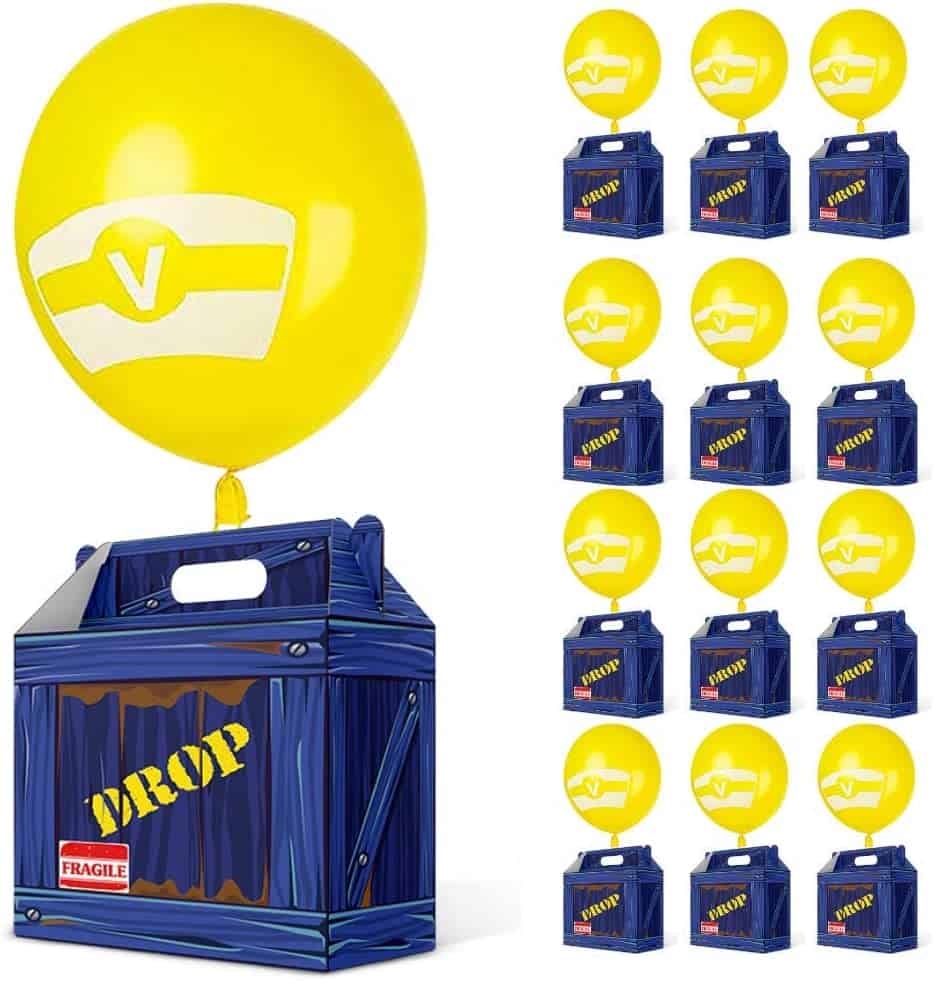 In Battle Royale, a supply drop is a chest containing various supplies that are dropped somewhere in the playing area. The supply drop is a loot box dropped at a random location in the storm zone that is considered safe.
There are loads of goodies inside the supply drop, so players always rush to get them. Can you see how these boxes make the perfect packaging for your Fortnite party favors?
Price Range: $10 – $15
Key Items Included: boxes, balloons
Good For: 12 guests
The package comes with 12 boxes that you have to assemble and 12 latex balloons to attach to the boxes. The boxes need to be assembled, and after you put them together, they measure 6.5 x 5 x 4 inches each.
That should be enough for a considerable number of treats or small trinkets, such as pins, bracelets, keychains, and other Fortnite-related supplies that children would love to take home.
Pros
Very accurate drop design.
Latex balloons included.
Spacious.
Cons
The bottom of the boxes should be taped.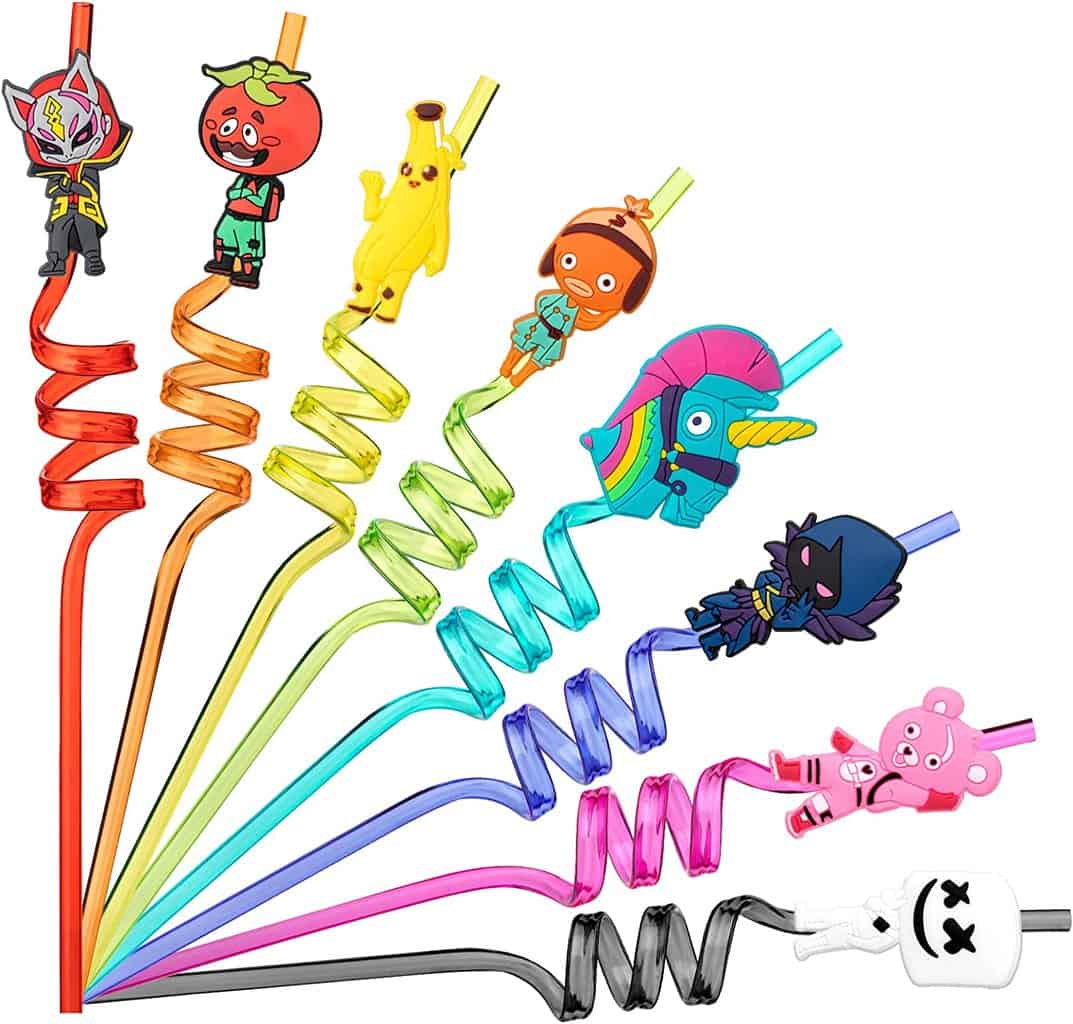 If you're whipping up some blue potions for your Fortnite party, you need some cool-themed straws to go along with it. Children are going to love these curly straws embellished with removable Fortnite-themed accessories. Cosmetics have always been a great part of Fortnite, and when you look at these cool embellishments, you can understand why.
Price Range: $15 – $20
Key Items Included: reusable straws
Good For: 24 guests
While I love that these straws are reusable, giving them as collectible party favors makes sense. That's because cleaning the spiral part will be a nightmare if you don't have a proper straw cleaning tool. The package includes 24 straws in eight different colors.
Pros
Fortnite accessories on each straw.
8 colors included.
Fun design.
Cons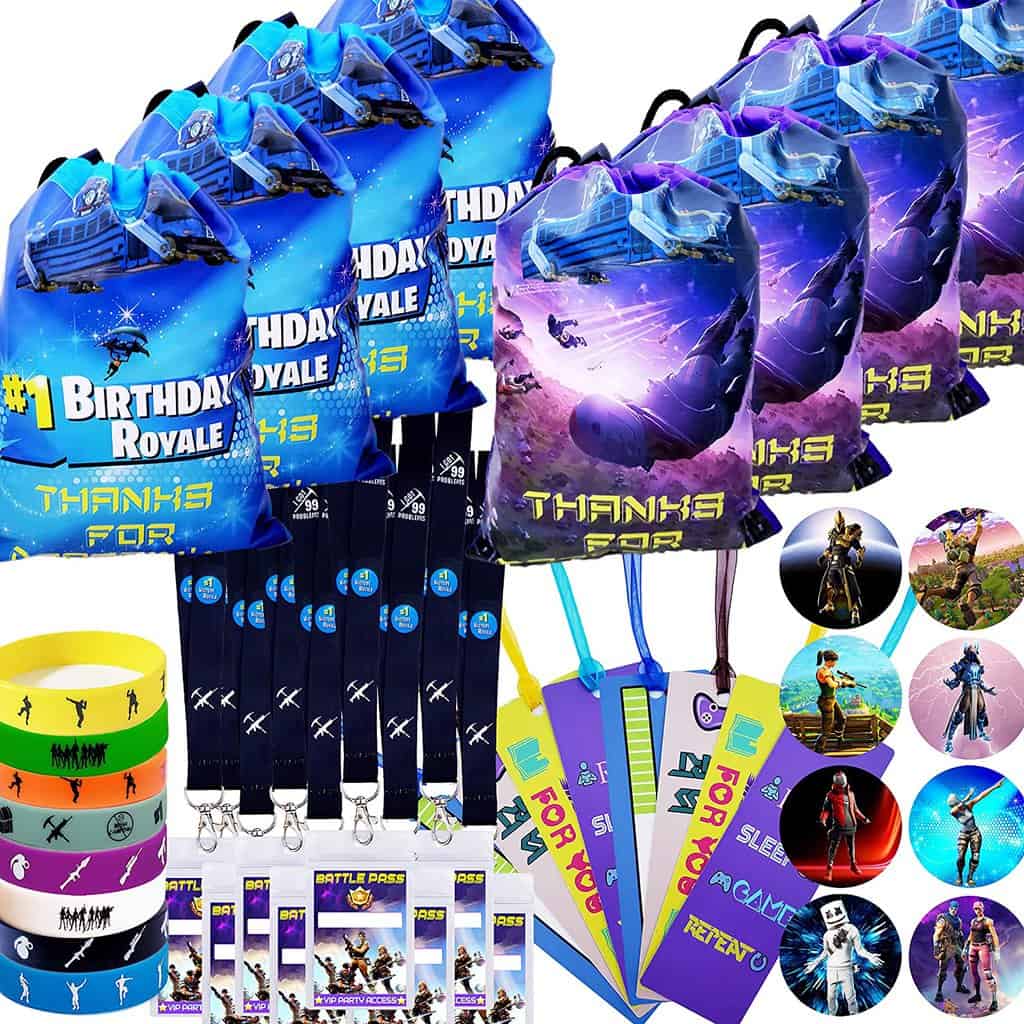 When putting together party favor bags, it can seem tedious and time-consuming to purchase all kinds of items separately. If you're throwing a Fortnite party for your kid or someone else and don't play the game yourself, the lore will confuse you. No one wants to spend hours researching a game they don't play just to know what to include in a themed party.
Price Range: $20 – $25
Key Items Included: lanyards, badges, bracelets
Good For: 8 guests
This package will deliver goodies for eight guests, including the bags you need to pack everything nicely. The drawstring bags are reusable and have Fortnite-specific designs. You get different gaming badges with Fortnite characters, bookmarks, VIP passes with lanyards and eight cool silicone bracelets that can be worn even after the party ends.
Pros
Complete goodie package.
Reusable drawstring bags.
Easy to put together.
Cons
Some complaints that a few items were missing.
FAQs
Question: What age range is Fortnite for?
Answer: Fortnite is rated for anyone over the age of 13. However, this game is more prevalent amongst children than adults. That's because of the playful elements included in the game, such as the wonky emotes and dances or the colorful items and decorations found throughout the game.
Question: Where can you play Fortnite?
Answer: Fortnite is available across many platforms, including PC, Xbox, and PlayStation. To play Fortnite on your computer, you need an Epic Games account (Epic is a platform similar to Steam). Fortnite is also available on mobile and is compatible with Android phones.
Question: Is Fortnite free to play?
Answer: Fortnite is a free-to-play game, but some of the cosmetics in the game are only available if you pay. You use real money to buy V-coins, a virtual Fortnite currency you can spend in-game. You can still win the game without having to spend any real money.

Bottom Line
Fortnite has between 2.5 and 4 million concurrent users at any given moment, indicating that millions of gamers are still logging in every day in 2022. That's why throwing a Fortnite party is quite a common thing. If you're struggling to put together a Fortnite party because you don't know the game, you have come to the right place! I'd suggest going with a complete set like the TOYOYO Video Game Party Supplies to save time and money. And if you want even more great party planning tips, head to our site!
Recommended Reads: