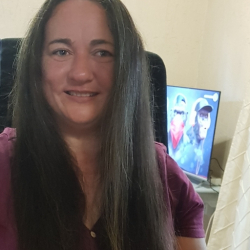 Latest posts by Caroline Lambert
(see all)
I'm about to slam-dunk your creative mind with the most impressive basketball cake ideas. It doesn't matter if you love shooting hoops or feel like America's most avid NBA fanatic. I might not have NBA or basketball expertise. Still, I'm a baker who loves challenging myself with artistic designs for themed-party cakes.
I've baked hundreds of cakes for friends and family, and basketball is merely another idea for sports-loving fans or the kid who takes his Spalding ball everywhere. I've also helped family and friends with party ideas and party supplies. It's another passionate avenue I love and enjoy as an artisan baker.
However, I make it easy for amateurs to find inspiration in my cake ideas. So, let's slam-dunk this cake idea.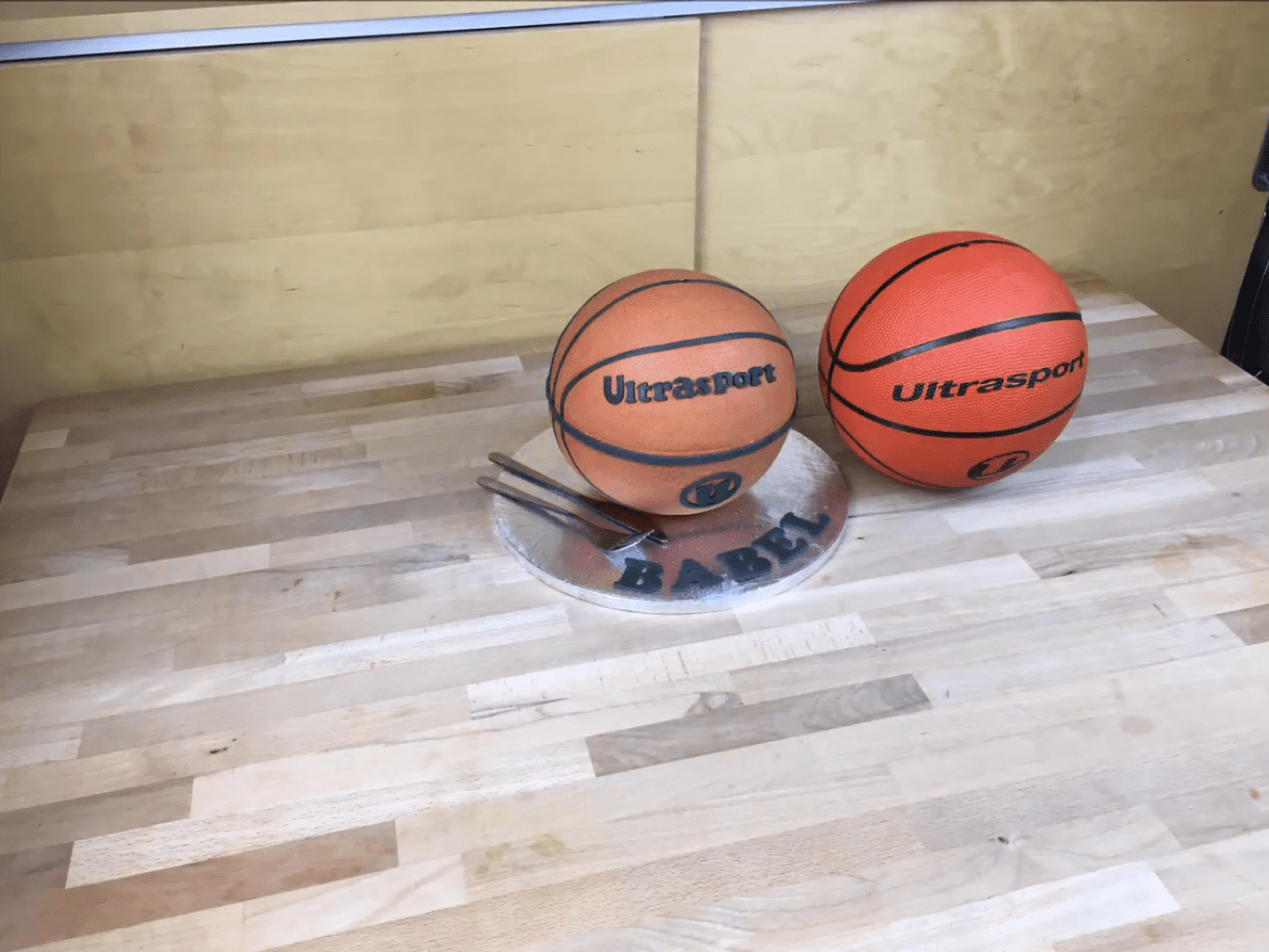 A Slam-Dunk Basketball Cake Idea Upfront
Basketball cakes that look good and professional aren't too challenging, even if you must carve a ball-shaped cake. I'll share tips on how you can create the much-needed cake toppers and techniques to make basketball cakes exceptional. But first, check my favorite basketball cake idea. It's a slam-dunk of note.
The "LA Laker's Shrine" Basketball Cake Idea appeals to my passion for the Lakers, which is the favorite of many fans. I love the Lakers enough to create a basketball cake shrine, and this cake idea is perfect. The cake toppers and logos aren't too challenging, and the tutorials will help you get them right.
The studded effect on the cake's second tier is stunning. It adds depth and only requires some knife work to create it. This cake feels mature enough for older basketball fans because not every birthday cake needs to suit a child. However, this cake idea would undoubtedly impress a children's birthday party.
Beyond my Laker's cake idea, there are many more incredible designs to inspire you. But first, let me share how the best cake ideas come to me and what you can do to make your cakes look aesthetically beautiful.
Selecting the Best Inspiration for Basketball Cake Ideas
Basketball cake ideas have many possibilities, depending on your favorite theme, ball brand, championship, or team. For example, I love the Los Angeles Lakers. I'm a fan of Lebron James and Shaquille O'Neal. I don't follow basketball much, but this team and the player combo are the ultimate for me.
However, my point is that I'll be picking basketball cake ideas that speak to fandoms, particularly the major league players and teams from the NBA. In addition, I'll share a few simple cake ideas with a Spalding basketball to inspire your creativity to use a team, design, or name you desire.
Finally, the cake ideas must be aesthetically good-looking. What makes an artisan-style cake look excellent? These factors make cakes stand out from amateur designs:
The cake should have sharp or neat fondant or buttercream edges. Even round basketballs can look neat, and the only exception to smooth buttercream edges is if you use piping techniques over them.
The cutout fondant and gum paste letters and numbers must be the same size and font. Different words and logos can change fonts according to their original designs.
The cake should have piping techniques to give it depth, or it can have a cake topper of your favorite player or team's logo. But, of course, you don't always need cake toppers and piping techniques on the exact cake to create something gorgeous.
The colors of team logos or the Spalding ball should be accurate for a beautiful design. You'll need to use gel color pastes to create better color matches with fondant.

The Slam-Dunk Basketball Cake Ideas for Epic Parties
Basketball hoops, NBA teams, dribble cakes, and Spalding balls are excellent ideas for basketball cakes. Let's see which basketball cake ideas best inspire you to create something beautiful and artistic. Some ideas are more straightforward, but I'll try to add tutorials for the more challenging designs.
I'll add the more straightforward basketball cake designs before complicating them more. Challenge yourself to the complicated designs if you wish because they look more aesthetically beautiful than the easier basketball cakes. Let's see how the slam-dunk cake ideas inspire you.
"Easy-Peasy Spalding" Basketball Cake Idea
I have to share the buttercream piping and coloring techniques. I'm starting you with a simple cake design that still looks fabulous. The Spalding basketball cake idea won't take hours to decorate, and it will leave guests wishing they had a basketball hoop. Heck, they might feel the urge to dunk the poor basketball cake.
You could also use a smooth fondant wrap around the cake to create a neater look, but the buttercream frosting is gorgeous. It adds texture, as you'd find on a Spalding ball. In addition, you could consider adding a cake topper you make or buy to improve the cake's aesthetics if it feels too plain.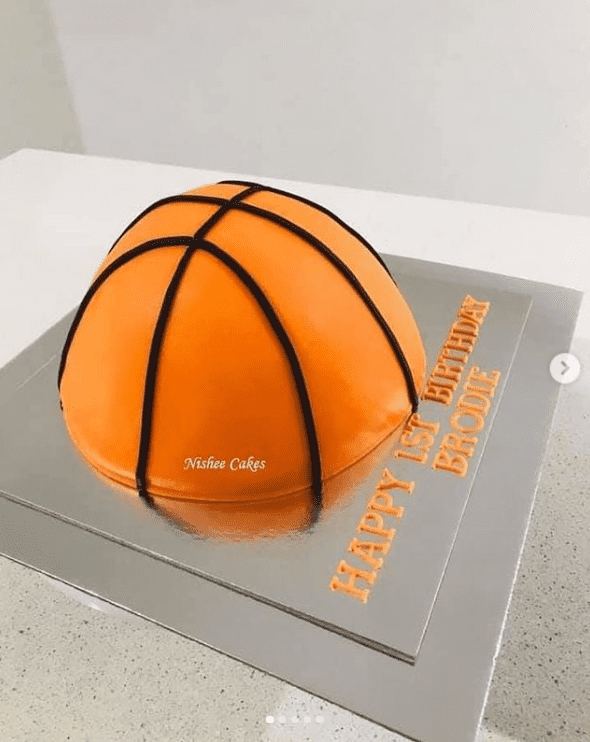 Some cake ideas are simple yet beautiful, and this Spalding cake idea suits the style perfectly. It's a half-chopped Spalding ball cake that brings the sport to life with bright colors and impossible-to-fail decorations. Unfortunately, the decorations might be too minimal. So, add a Spalding over the cake or a team logo under it.
The Spalding stripes look a little off on this cake, though. So, spend time improving the black lines across the cake. I advise you to cut the same size strips from black fondant before wrapping it over the basketball cake. You could also have a break in the stripes on one side to add numbers and names to the cake itself.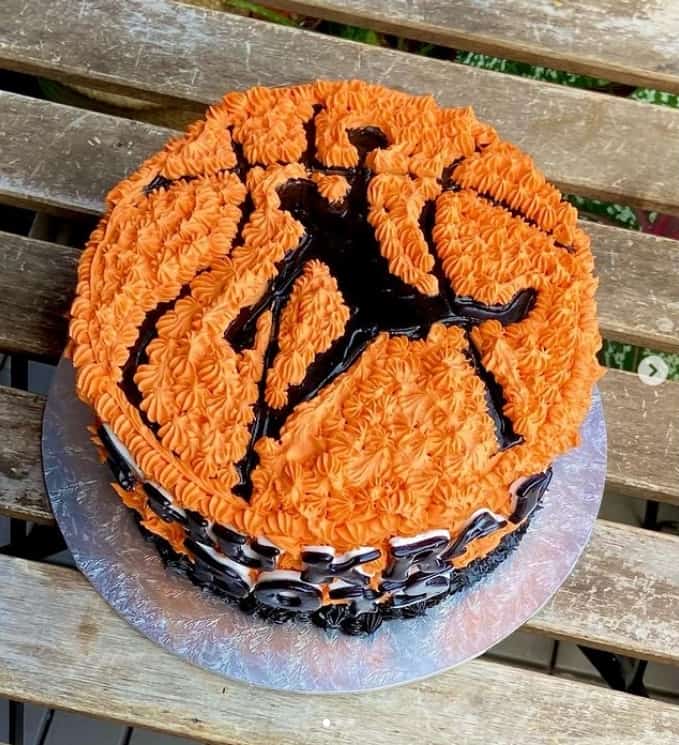 This basketball cake idea uses the buttercream frosting Spalding ball again. However, it adds the effect of a basketball player dunking the ball into a hoop. Melted chocolate would work perfectly to create this effect over a piped basketball cake. Otherwise, use ganache over the cake and pipe the orange bits, which can be tricky.
However, the cake's sides feel too busy to look professional. I'd tone the colors down by adding an ombre coloring around the cake. It would look much neater than an entirely piped cake design. The patterns can look too busy and distract guests from the beauty of your basketball cake design.
"Spalding Macarons" Basketball Cake Idea
Spalding basketball macarons can make a cake look brilliant. In addition, it takes away some of the extreme sweetness from fondant cake toppers when you add macarons decorated like Spalding balls. Of course, you could use a similar cake design, but I'd change the colors to suit a basketball team or theme better.
One idea I had while looking at this gorgeous basketball cake was to add a black, orange, and yellow ombre buttercream frosting design around it. Use the white chocolate drippings around the edges, but replace the higher piping techniques with lower roses and add a Rice Crispies Spalding ball in the middle of the cake.
"Courts & Hoops" Basketball Cake Idea
Some fanatics will love a simple basketball court cake idea, and the better news is that they're easy to make. You could add anything as a cake topper, but use the tutorials if you choose the player's jersey. The Rice Crispies Spalding ball will also work well on the rectangular basketball cake.
The biggest issue I see with this basketball court cake idea is that the court is the wrong color. Remember that my requirement is for accuracy. However, it's an easy change. You could use a darker blue court or traditional orange and black. This baker might've avoided it to prevent too much orange against the ball.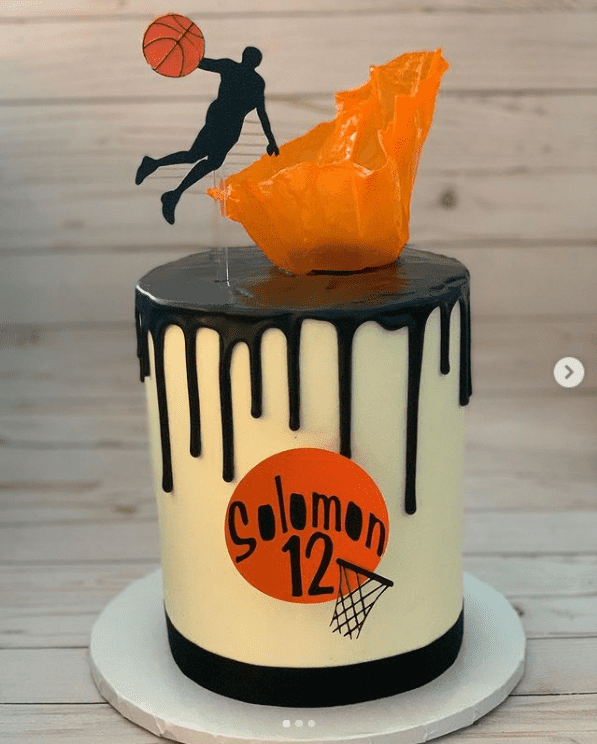 I love cakes with a dripping effect around the smooth buttercream edges. The idea works well with basketball cakes if you want a minimal but impressive design. Unfortunately, the cake topper is a printed edible player, which I would change to your favorite player instead. I'd also change the nameplate to a Spalding ball.
The sugar paste cake topper that doesn't seem to fit the design theme is the only thing that boggles me. Of course, you could remove it and move the basketball cake topper to the middle instead. However, you can also create a hoop design, which changes the basketball cake idea to a more challenging task.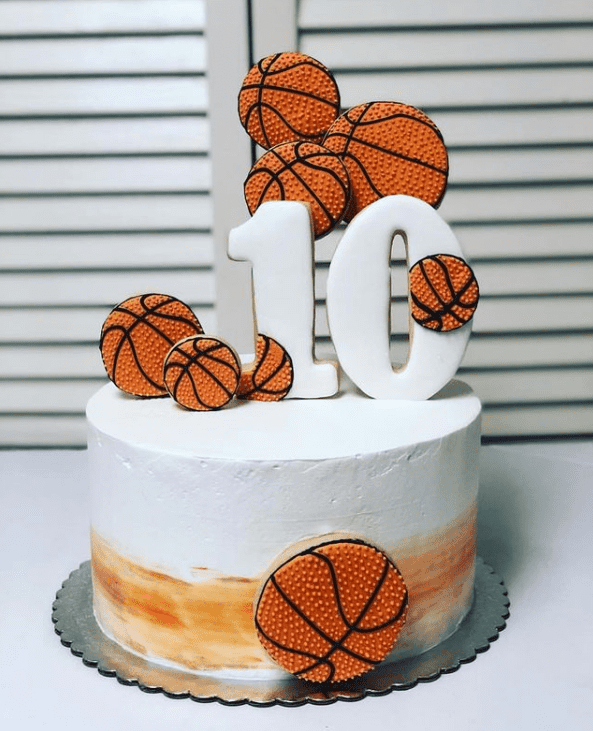 Another minimalist basketball cake idea includes using Spalding cookies as cake toppers. The cake design is gorgeous and neat, and you can add any cake topper for your favorite team, player, or tournament. Balancing the Spalding basketball cookies isn't challenging using thin cake pop sticks.
The macarons were sweet, and sometimes, they're too sweet, pun intended. However, the cookies add a milder sweetness to the cake topper's design. I advise not to worry too much about the textured decorations on the basketball cookies if you make them yourself. Instead, use smooth techniques to finish the balls.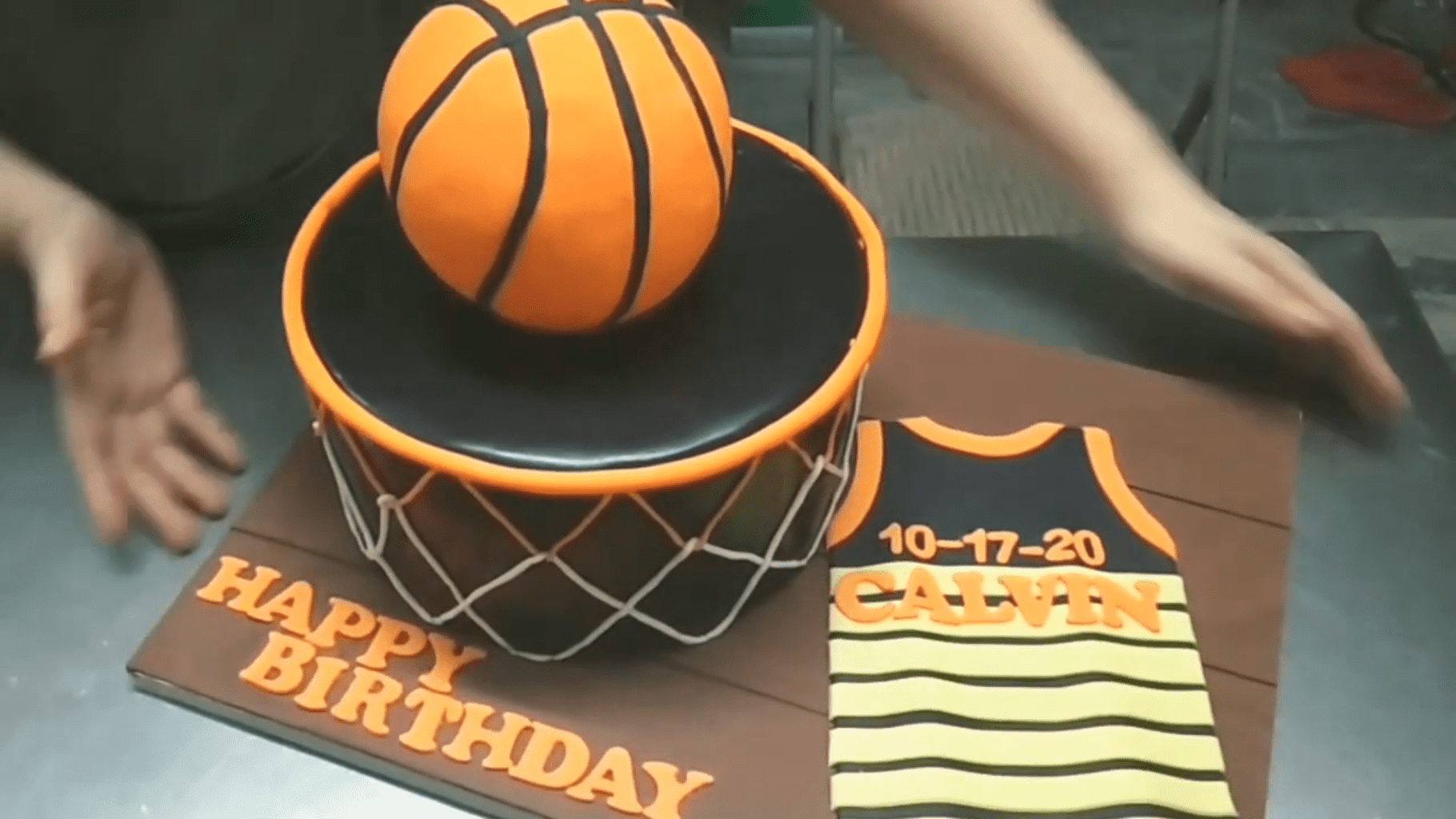 I loved the simple design of this basketball cake when I shared the tutorial for a Rice Crispies cake topper. It's a fun design that makes the ball look like it's falling through the hoop. It's another easy-to-decorate basketball cake idea that brings the Spalding ball to life, but I'd add the Spalding logo on the ball to create more depth.
Moreover, this cake idea is versatile because you can change the jersey and hoop color and enhance the design. Black doesn't seem to work well as a background with this basketball cake idea. Instead, try a lighter yellow or orange contrasting the Spalding ball cake. The current color scheme looks a little dull.
"Slam-Dunk Gutted" Basketball Cake Idea
I found that a little bit of humor goes a long way in cake designs, and this one has a touch of laughter. I imagined seeing a basketball player getting a slam-dunk in his gut when I saw it. Of course, not everyone will see the humor in the design, but it adds the potential. I'd create a messy fondant design around the ball.
It's the one time I'd make an exception for a messy fondant design. Make it look like the ball has slammed right into your player's gut to ensure your guests will see the humor in the design. I'd use a cut basketball or squish the Rice Crispies ball into the cake before layering the fondant over it. Your guests will never forget the giggles.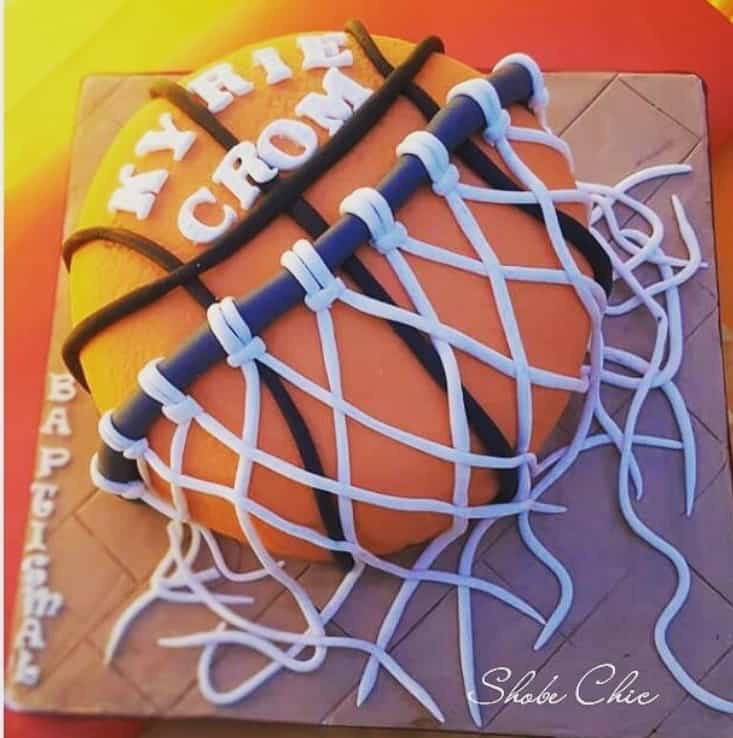 Suppose you're looking for an easy basketball cake idea that looks like an artisan design. The broken hoop with a half Spalding ball cake design is ideal. You could keep the person's name on the design but use the Spalding font to add a more profound and better-known basketball brand. The hoop's net is simply fondant.
However, I recommend cutting the fondant net pieces out before adding them to the cake again. That way, you can see if they're similar sizes. You want the cake to look neat, even if it's a broken hoop. I also love the baker decorating the board to remove some background dullness. It's an excellent idea for any cake.
"Michael Jordan" Basketball Cake Idea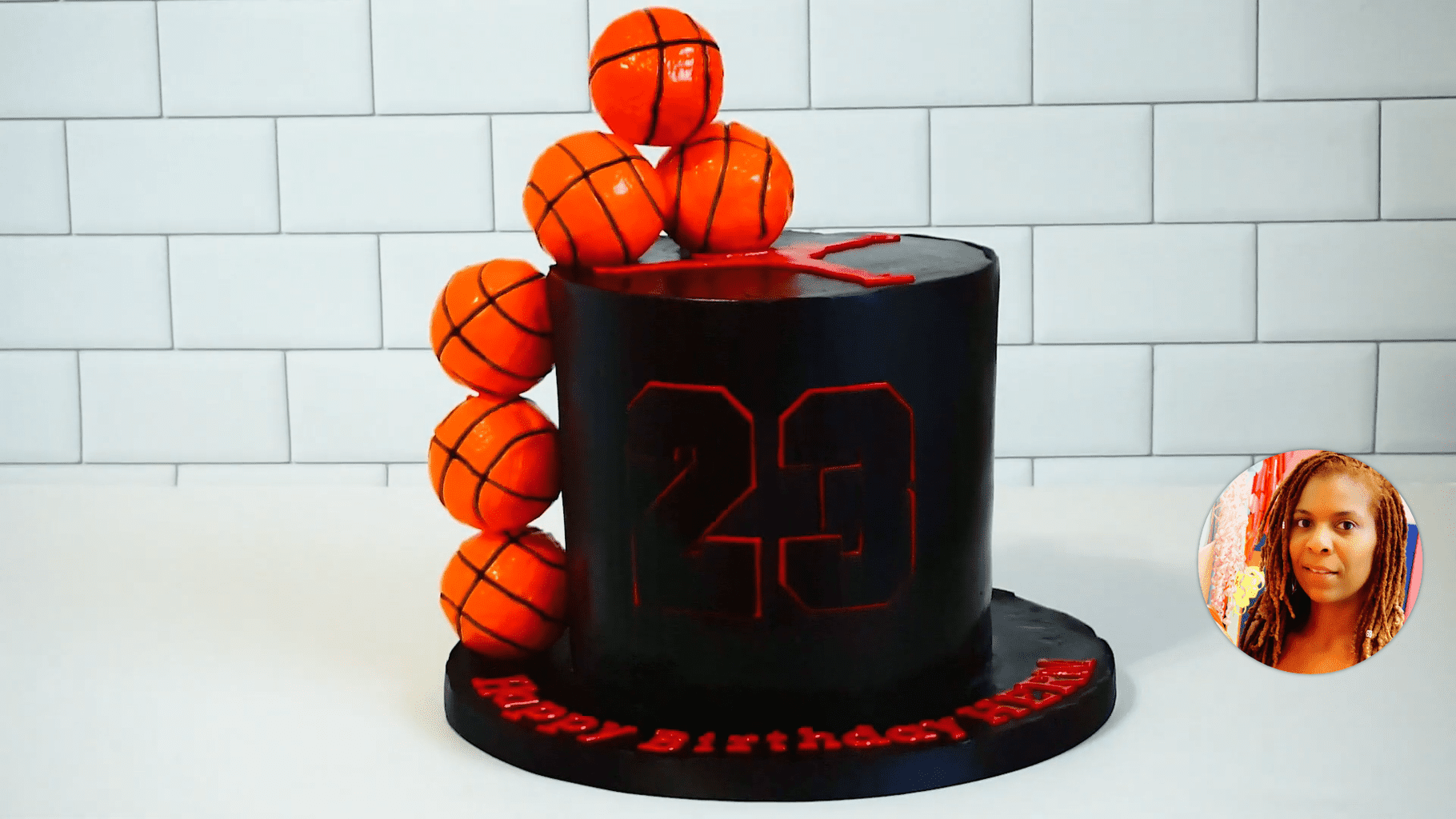 Michael Jordan appeals to many basketball fanatics, and this cake idea would work beautifully for basketball enthusiasts. It doesn't show Michael Jordan, but the colors and numbers represent his jersey. In addition, the black background looks fantastic against the orange Spalding balls, for which I recommend using Rise Crispies.
Black backgrounds don't always work for basketball cake ideas, but it does in this case. The contrast of colors between the black background and exceptionally bright orange Spalding balls make it work. Unfortunately, the balls aren't super neat on this cake design, and I recommend using the lighter Rice Crispies balls instead.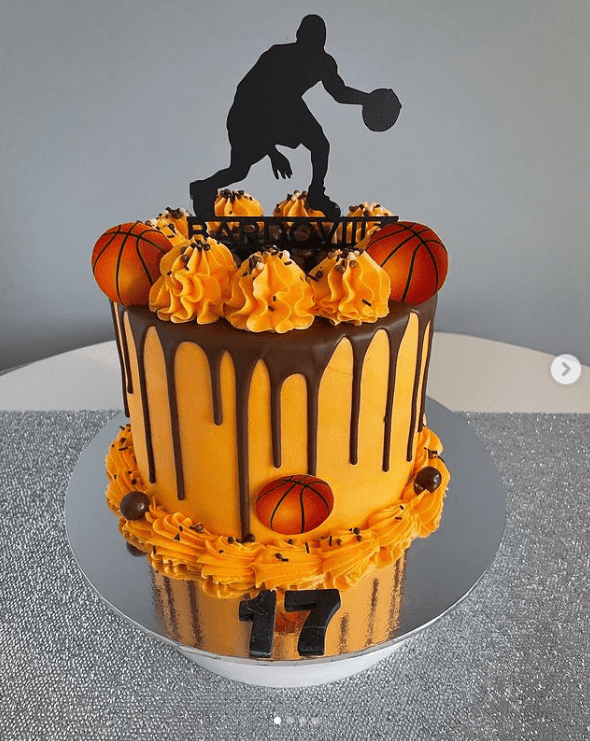 This basketball cake idea inspires me with its gorgeous color arrangement. You could use an ombre effect to enhance the bright orange colors around the cake. The dripping chocolate makes it look deliciously edible. However, the basketball player's cake topper looks menial, and I'd replace him with a fondant cake topper.
In addition, you can step up the Spalding balls using miniature Rice Crispies basketball cake toppers. However, I wouldn't change a thing about the color contrasts or design other than the cake toppers. The entire cake looks neat, especially if you take away the randomly printed edible wafer paper ball on the front of the cake.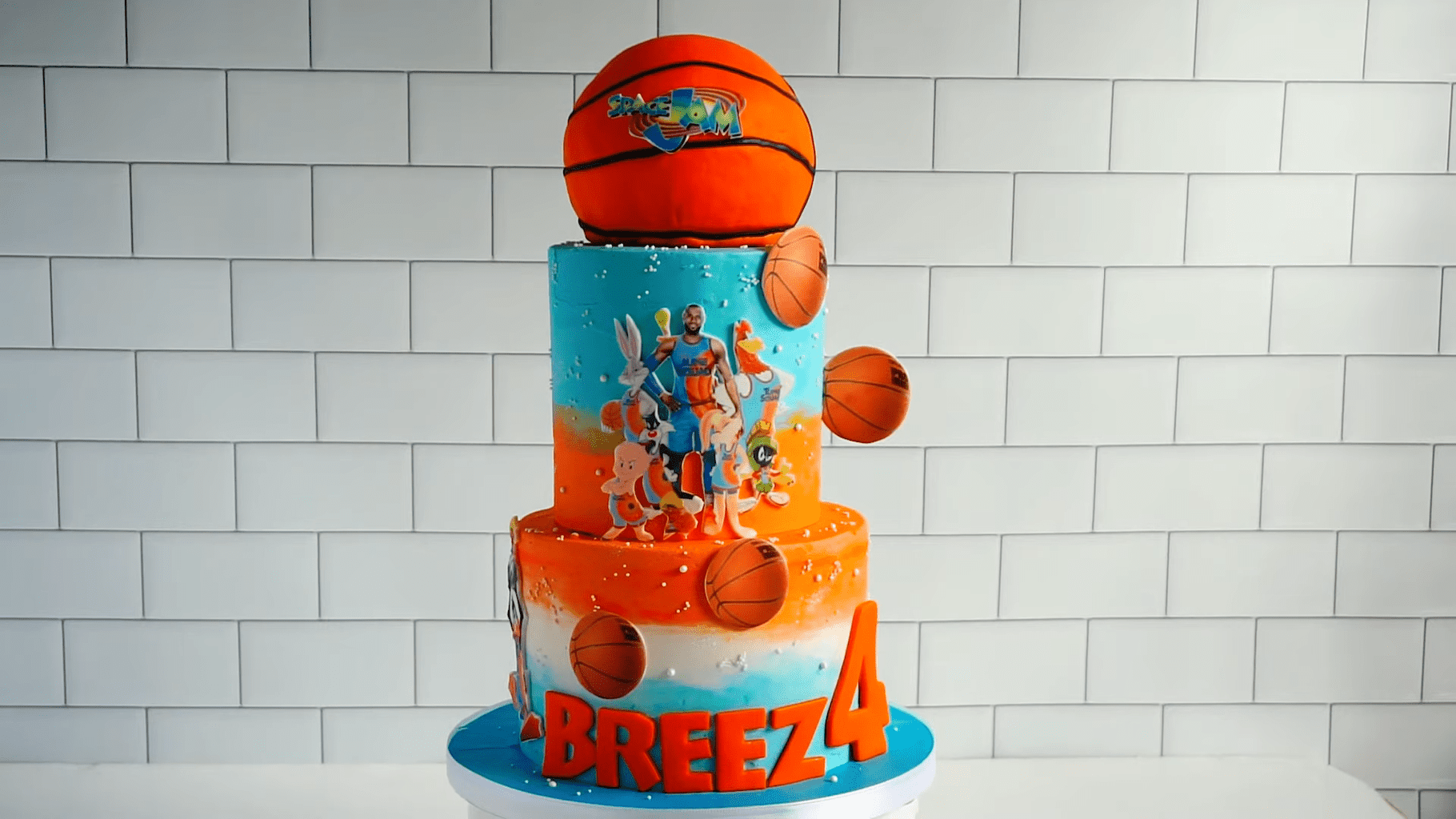 Are you baking a birthday cake for a young basketball fan? Have you considered the Lebron James Space Jam designs that appeal better to younger fans? This triple-tiered cake design has popping color, printed wafer cake toppers, and ombre frosting around the tiers. Of course, you'll need patience, but this cake idea will stun you!
The cakes are becoming more challenging, but I promise it's worth the effort. I'm not sharing any basketball cake ideas that stump amateur bakers. Space Jam is also well-known and much-loved, and it includes Lebron James. I'd only change the basketball cake topper because it looks messy.
"Dunking NBA" Basketball Cake Idea
Transcend your basketball cake idea by adding another layer, some more printed, edible cake toppers, and an NBA logo for serious basketball fanatics. The design is similar to the last one with a black background, but it adds more details and crushed cookies leave a sandy impression at the bottom.
However, I'd change the printed figure to a fondant player. The NBA is one of the best basketball tournaments, and you'll need a cake design for avid fanatics. The black background is also far too shiny on this cake. Tone the shine a bit, and you'll have a multi-tier beauty that looks more professional than single-tier cakes.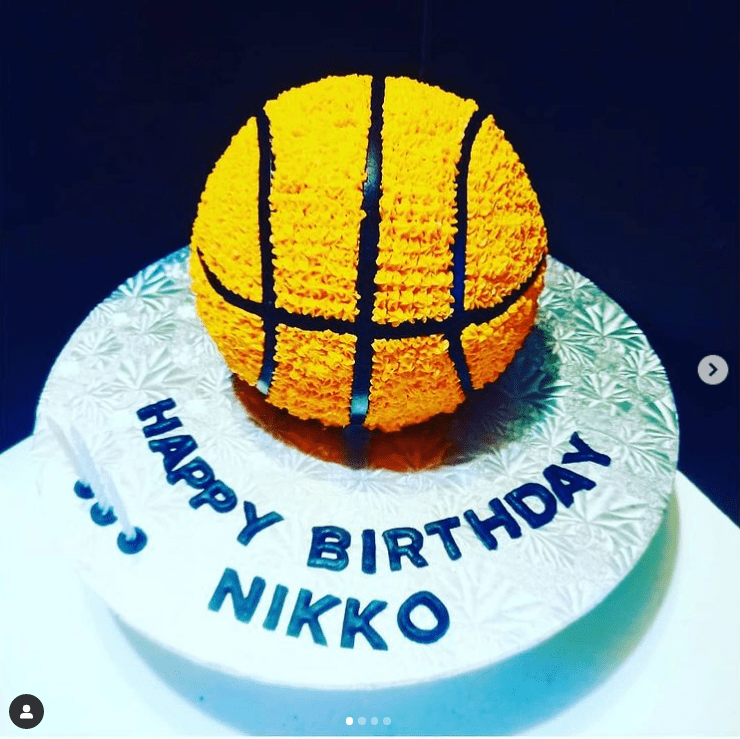 I'll throw in a few challenging basketball cake designs to inspire you more. This cake idea is phenomenal. It seems like a simple buttercream piping design, which it is. However, it's piped onto a round Spalding basketball cake. Trust yourself to be patient and create this aesthetically addictive basketball cake idea.
I advise that you pipe the cake on the base above your cake board because you won't be able to move the completed cake. In addition, I'd add some lighter orange or yellow fondant wrapping to the board to remove the shiny silver background. However, you'll have tons of fun trying to cut this basketball cake at the party.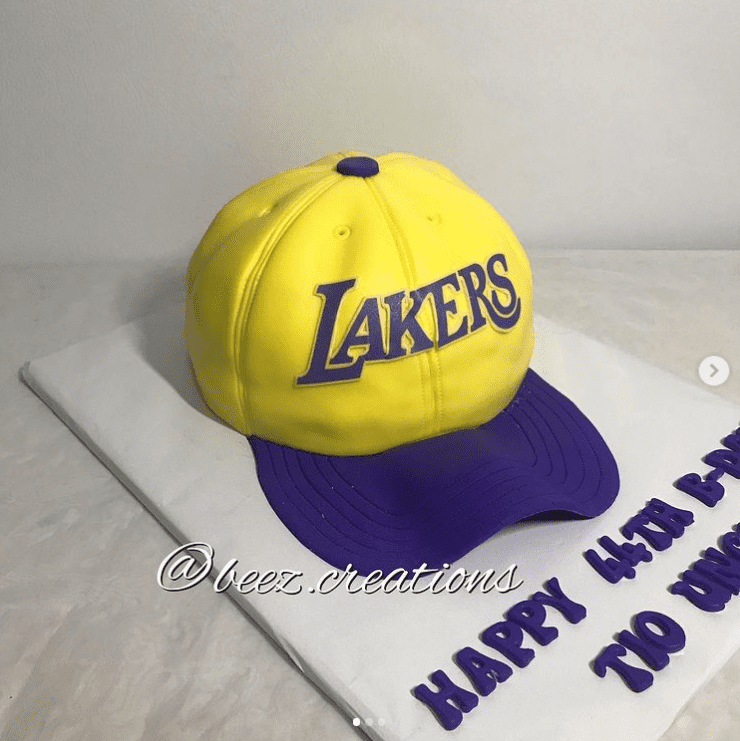 Designing a Laker's cap is undoubtedly a far more significant challenge to consider. However, an easy-to-follow tutorial will help you carve the cap's shape. First, use the New York Yankees Baseball Cap tutorial to get the shape right. Then, rest something under the cap's brim to leave the impression you see on this cake idea.
The basketball cap cake idea seems more complicated than it needs to be. However, the textured allowance of a cap gives you the room you need to be a little messy with the fondant wrap. Creating the texture on the cap's lines and the brim is another simple task you can do with a knife. This cake will wow your guests for sure.
It's time to kick the design up a notch, pun intended. The Air Jordan cake idea uses Michael Jordan's famous shoe brand to create something unique. It will be challenging, but the video has a tutorial to follow. In addition, you can add a Spalding ball cake idea to make everyone think you ordered this beauty from an artisan baker.
The Air Jordan cake idea details seem challenging, and I won't lie, they can be. Carving the cake is the first step. Use this tutorial focusing on the Air Jordans alone to make the carving and details more accurate. The baker also shows you how to create the sneaker's textures and cut all the fondant bits.
The NBA is the heart of basketball fans and their prime-time viewing. This NBA cake idea would challenge you as an amateur cake designer, but it will impress the hardest of critics. The most formidable challenge with this NBA cake idea will be creating the perfect letters, fonts, and logos. However, fondant cutters will help achieve it.
The rest of the cake design is straightforward and only requires careful fondant cutouts. However, you could add more details and depth to the cake by bringing your favorite NBA player's cake topper to the front. In addition, you could add a rope border around the cake's edge to increase the aesthetics that seem a little plain.
Gravity-defying cake ideas come in all themes, including basketball. It looks like Michael Jordan's finger holding up a Rice Crispies Spalding ball. The carving will require effort, but the video has step-by-step instructions to help you perfect the zero-gravity cake. However, I'd make the nets look neater and elevate them.
Use fondant cutouts to make the net strings stand out more because the flatter net looks boring. The hand defies gravity for you by using a solid metal rod through the finger, so you won't have to worry about the technique behind the design too much. So, using a Rice Crispies ball makes sense to prevent a heavy cake.
FAQs
Question: What's the Best Flavor for a Basketball Cake?
Answer: The best cake flavor for basketball cakes is undoubtedly chocolate. However, the cake needs to hold the weight of the decorations while remaining moist. Fortunately, I have the perfect recipe for you. Use my famous firm but moist chocolate cake recipe for the best basketball cake ideas.

Ingredients for Chocolate Basketball:
13.5 fluid ounces of boiling water
3.5 ounces of cocoa powder
9.8 ounces of self-raising flour
2 teaspoons of baking soda
1/2 teaspoon of baking powder
1 level teaspoon of salt
6.7 ounces of unsalted butter
12 ounces of granulated sugar
6 ounces of beaten eggs

Instructions for Chocolate Basketball Cake:
Preheat your oven to 350°F before preparing three six-inch cake pans with non-stick spray.
Use parchment paper and grease to line the cake pans if you don't have non-stick cooking spray.
Blend the cocoa powder and boiling water in a bowl until they form a smooth paste.
Sift the flour, baking soda, powder, and salt in a separate bowl.
Cool the cocoa and water mix before adding it to the dry ingredients.
Use medium speed to beat the sugar and butter with a blender for six minutes. It should form a fluffy and light texture.
Add the eggs slowly into the blender while it continues running.
Add the flour and cocoa mixtures by alternating between the two until both are entirely in the blender. The blender should remain at a low speed during the process.
Spread your cake batter evenly in the three pans and bake for 60 minutes or until a wooden skewer comes out clean.
Question: How Much Should A Good Basketball Cake Cost?
Answer: Basketball cake prices depend on the size and quality of design. More miniature basketball cakes with simple decorations will cost around $15 to $20 from Walmart, particularly the rectangular shape cakes with printed edibles on the top. Larger, more detailed professional basketball cakes will cost around $100 to $150.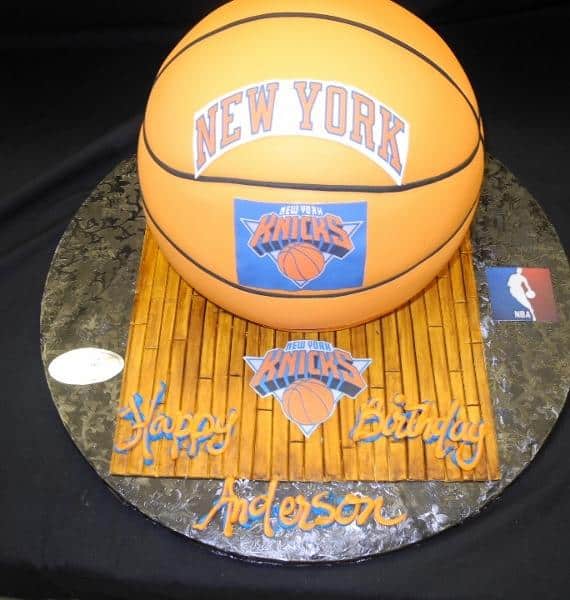 Question: Where Can I Find Basketball Cake Toppers?
Answer: Nothing impresses guests more than hand-made cake toppers. However, some bakers don't have the time to make cake toppers for their basketball cakes. In that case, you could buy gorgeous cake toppers from Walmart, including players, basketball hoops, and packages. Unfortunately, these cake toppers aren't edible.
Basketball Cake Ideas: Final Call
The best basketball cake ideas start at home. I also doubted my baking and decorating skills until I watched tutorials that helped me learn about the basics of fondant and buttercream frosting. You can bake any top basketball cake ideas once you use a few tutorials as guidance.
However, don't allow a failed attempt to break your creativity. It's easy to remove a lousy fondant wrap or obscured cake topper and replace it with a second attempt. Admittedly, it would cost you to fail repeatedly. Still, you won't believe how much fun creating these gorgeous basketball cake ideas can be.
Believe in yourself enough to attempt one of the easy or challenging basketball cake ideas. Then, watch how everyone looks impressed at the party, much like you just slam-dunked the masses. So, choose the design or inspiration of your dreams, and make the basketball party theme rock.
For more slamming party ideas: