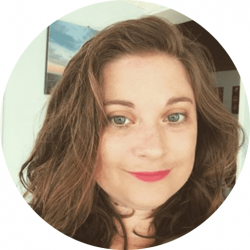 Latest posts by Samantha Bellinger
(see all)
Anyone with a toddler in their life can likely recite all things Cocomelon with their eyes closed. That is undoubtedly true for all my friends with toddlers. Being the resident event planner in my group of friends (10+ years of experience means I am routinely tapped to plan parties), I naturally have many ideas for an adorable CoComelon-themed party. I can't wait to share all my favorite CoComelon birthday party ideas with you! 
Bottom Line Up Front
Out of all the Cocomelon Party Ideas below, I recommend the music the most. Why? Well, having the official soundtrack to Cocomelon will increase excitement from your youngest guests and can be used by the guest of honor long after the party is over.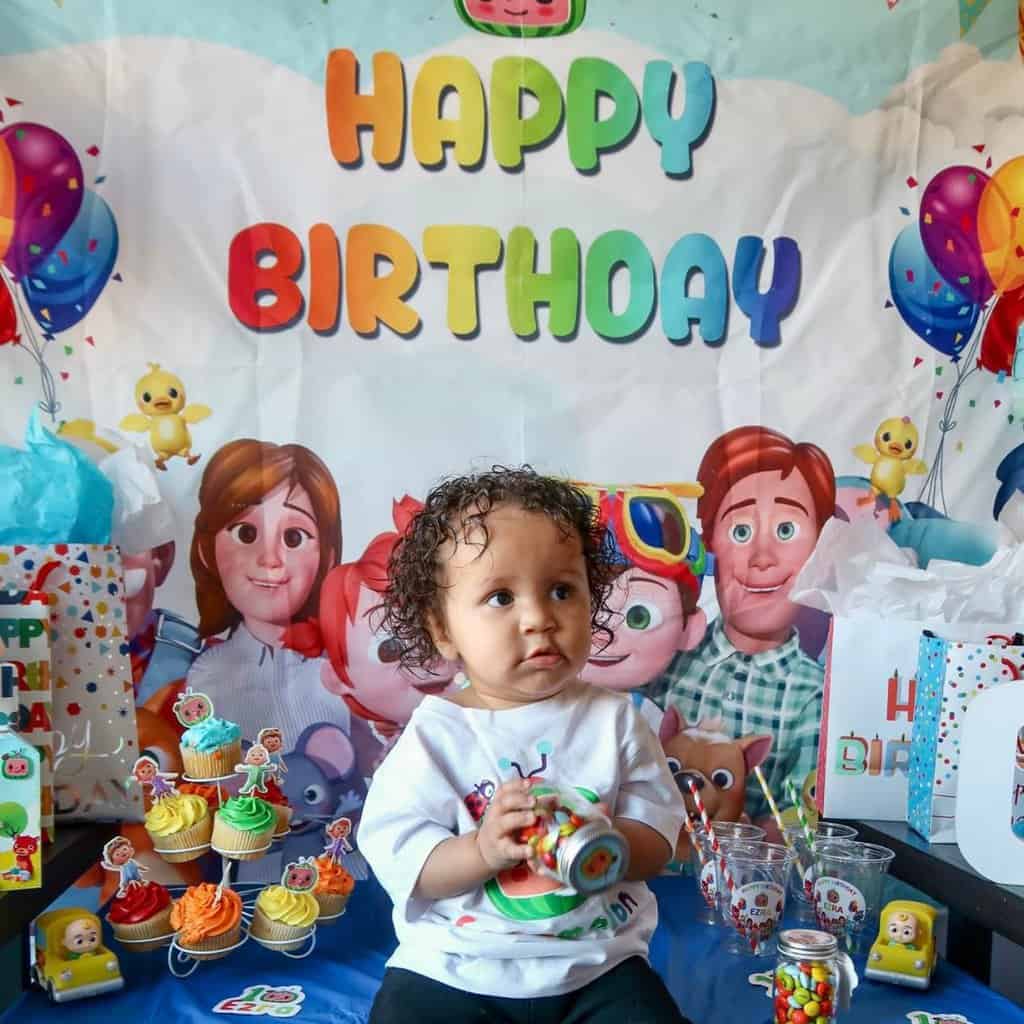 Things to Consider when Planning a CoComelon Birthday Party
Age of the kids attending the party
Determining the age of the guests can help you plan accordingly. A party for a group of preschoolers has different considerations than a party for elementary school kids. My advice is to consider how to make the activities and goodies appropriate for your young guests. The good thing about CoComelon is that it already targets toddlers, so many of the themed party ideas already have the ideal age range in mind. 
Size of the Party
Knowing how big you want the party is crucial when planning the party. Specifically, how many kids are you inviting? Also, are you asking the parents of guests to stick around? If so, will any of them bring other kids with them? Think about your potential guest list and determine a rough estimate. The number you come up with will help you plan all other aspects of the party (location, food quantities, amount of supplies, etc.)
Your Budget
Budgeting isn't the most fun thing to consider when planning a CoComelon Birthday Party, but determining the amount you want to spend upfront will help you prepare. 
Selection Criteria
With the above things (budget, size of party) in mind, I started to form my selection criteria for Cocomelon Birthday Party Ideas. My selection criteria for this party idea guide ended up being fairly straightforward.
My friends' kids had to love it
The supplies were readily available (either online or locally)
Could be adapted to any party size
They didn't break the bank (aka relatively affordable)
I hope you enjoy the following list of Cocomelon Birthday Party Ideas.
Cocomelon Birthday Party Ideas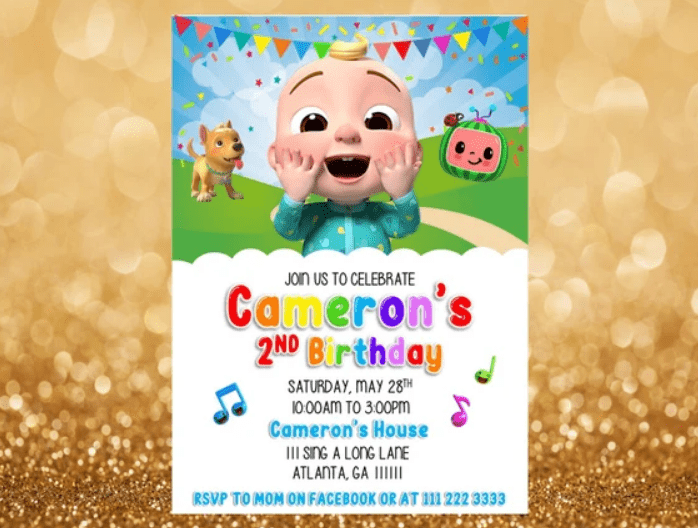 I love when party invitations start the theme even before the party. It gets invitees excited for the party and prepared for what to expect. Check out these cute invitations as an option.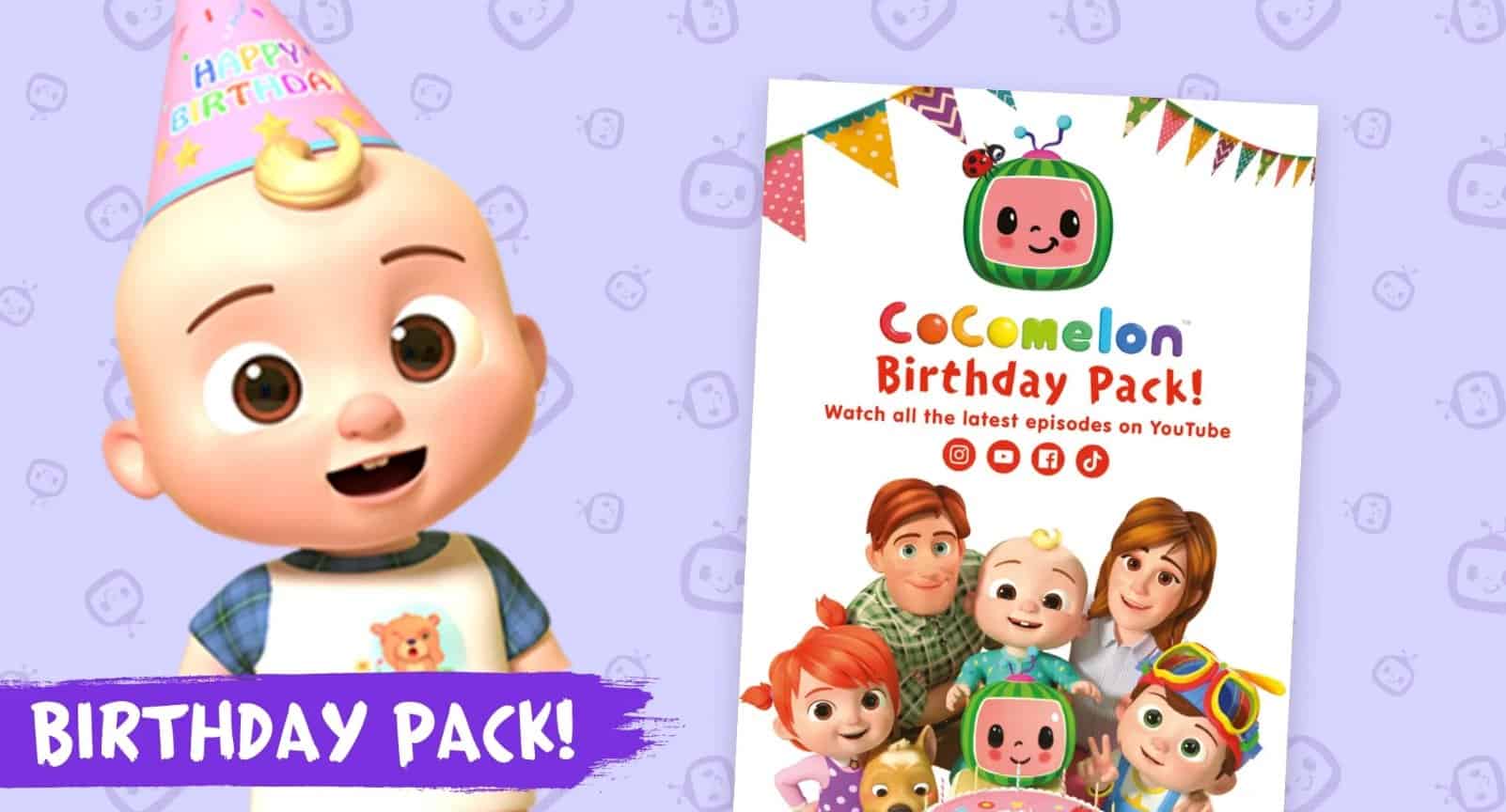 It is fun to see the party packs available for themed parties; the official CoComelon party pack doesn't disappoint. I love that it is downloadable straight from the official site. Here is the link to the PDF. 
I only wish it came with the option to buy everything pre-printed.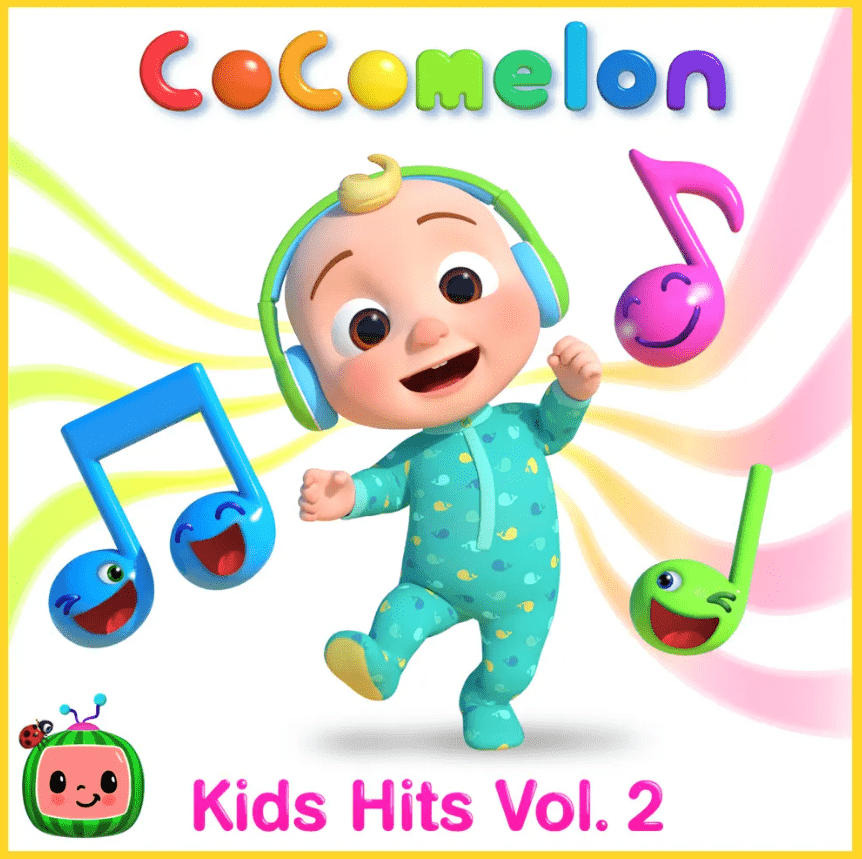 Party music is a must, and CoComelon has four different albums of kid-friendly hits. My favorite recommendation out of all the songs is JJ's surprise song; it is perfect for a Cocomelon birthday party. The official website provides us with the titles of the albums and information on where you can find that music online. Check it out here: https://cocomelon.com/pages/music.
Decor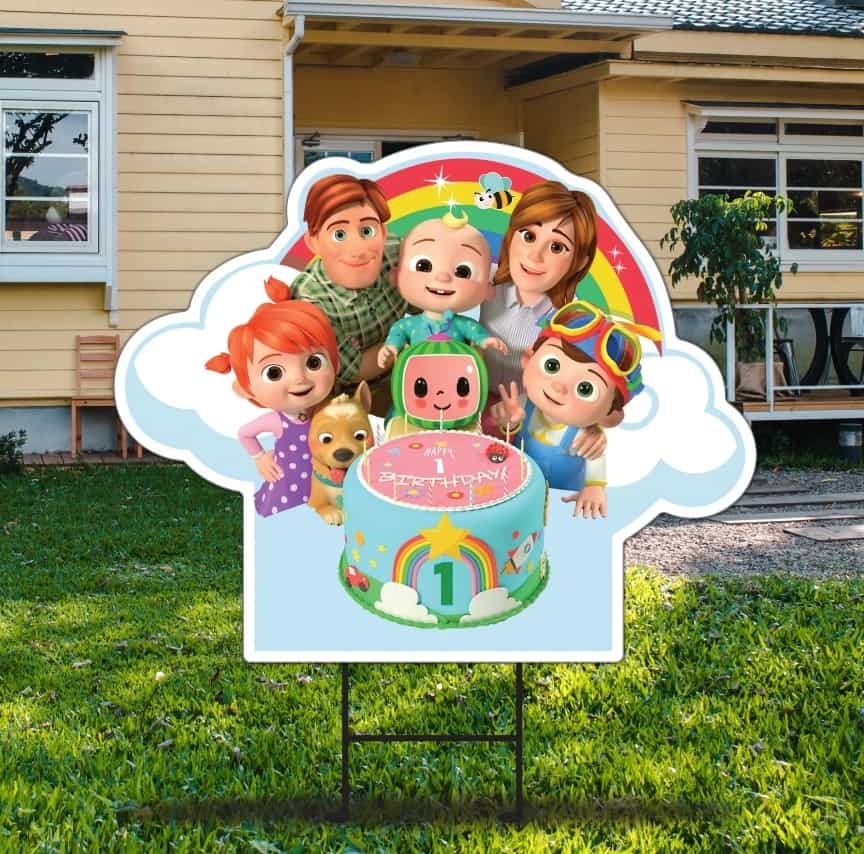 Placing a sign in your yard or outside where you are holding the party is a great way to let guests know they are in the right place. Plus, you can customize them!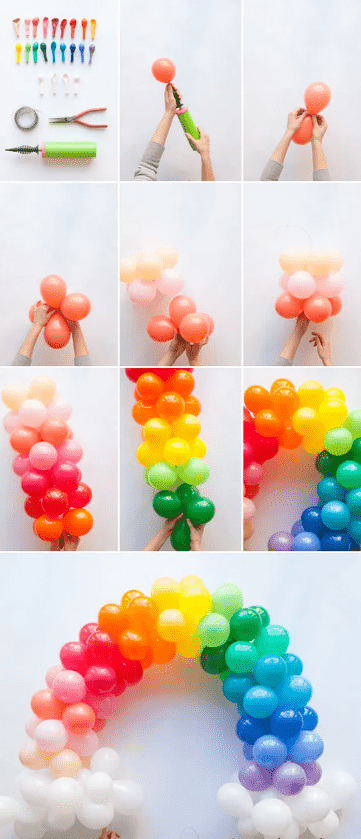 I love this balloon arch! Balloon arches are a cute way to decorate, and this rainbow version is a perfect addition to the Cocomelon theme. 
Birthday Banners are an easy way to incorporate the theme into your Cocomelon Birthday Party.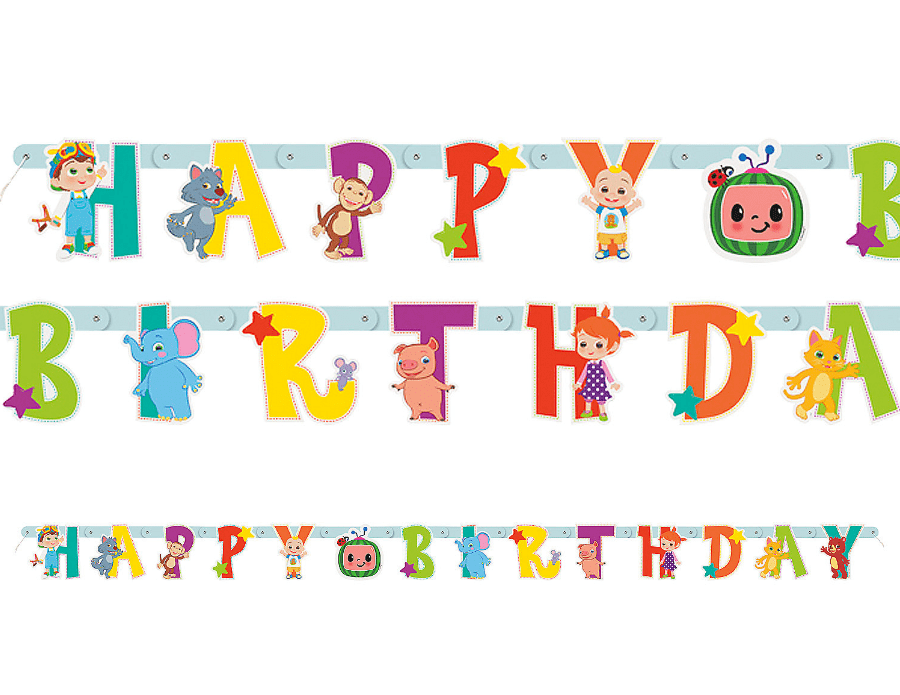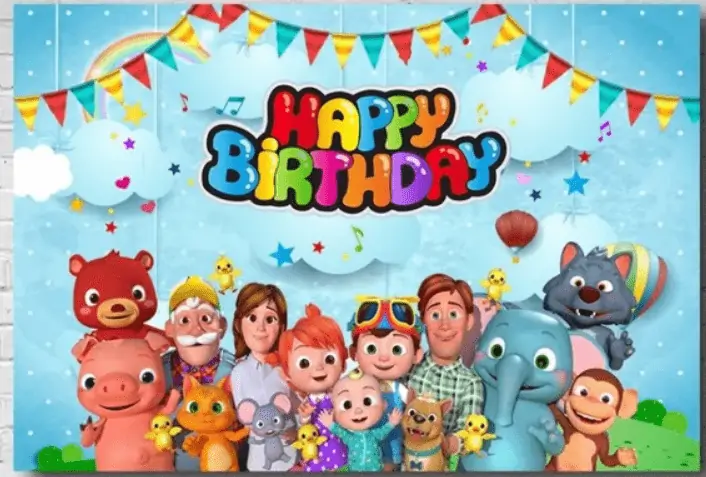 Like banners, backdrops are easy ways to incorporate the theme without much fuss. This backdrop features the characters from Cocomelon so that you can celebrate with the whole gang.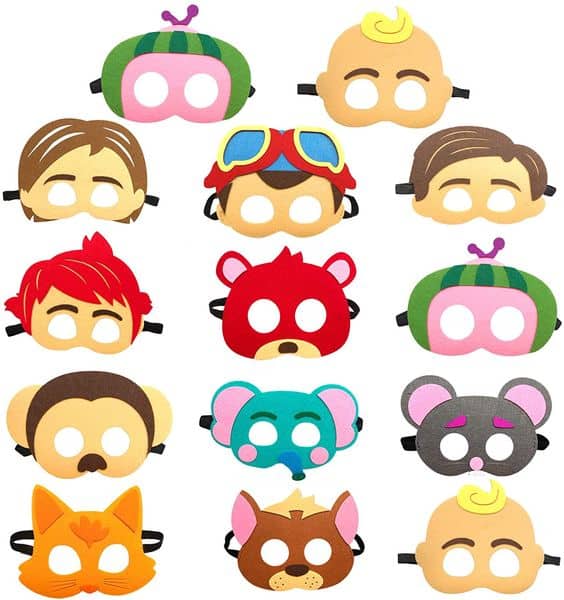 Wearable party gear is a cute addition to your Cocomelon party. It allows attendees to masquerade as their favorite characters and makes for an adorable party photo. My only word of caution: know if the kids in attendance have a fear of people in masks. In my experience, most are okay with half-facemasks like this, but it is always better to be safe than sorry.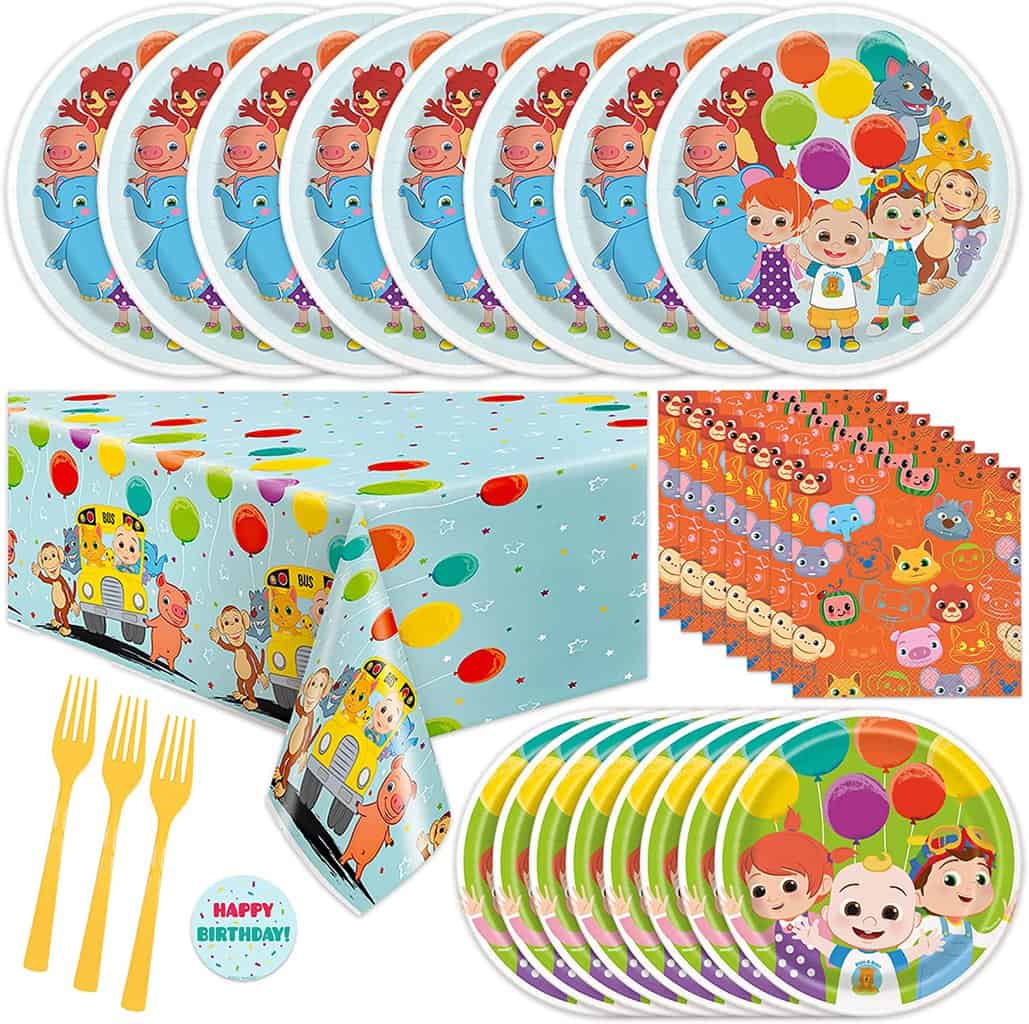 When searching for party tableware such as plates, cups, and tablecloths, be aware that there are officially licensed and unlicensed products. It is up to you what you decide, but be mindful of that distinction. Most big retailers will state that their products are officially licensed, so it's easy to determine the status of each item.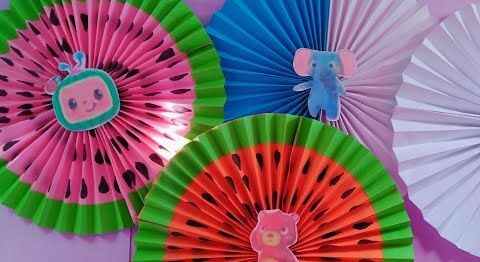 Another decoration idea for your CoComelon Birthday Party is paper fans. I love that you can DIY or buy these decorations. Their lightweight nature makes them the perfect addition to the hung decor.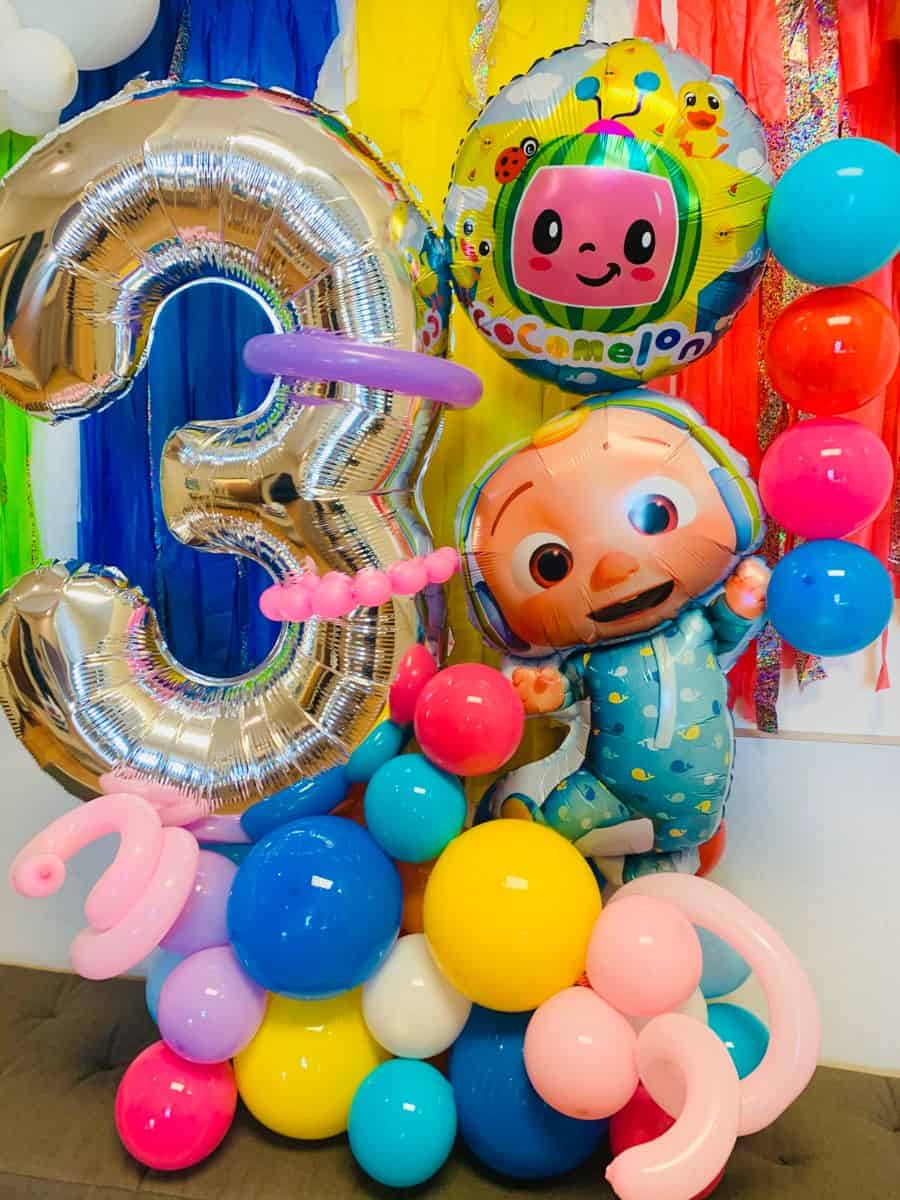 I love having balloons at events, and kids' parties make balloons even more fun! I recommend looking for a combination of printed latex and shaped foil balloons. It helps to keep on theme without breaking the bank. 
Refreshments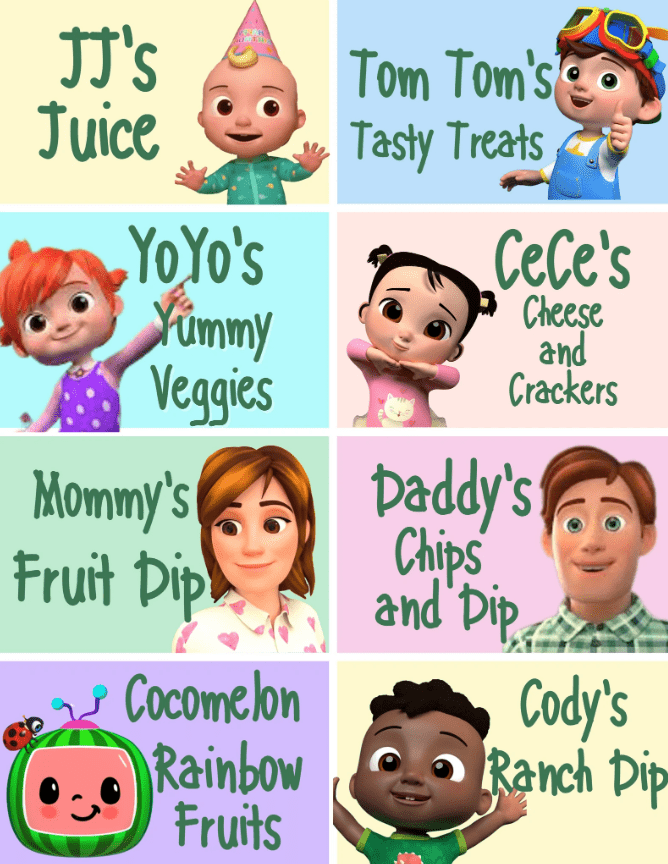 Themed food tags are a fantastic way to incorporate the theme into the refreshments. I appreciate that each snack is associated with a character in this example.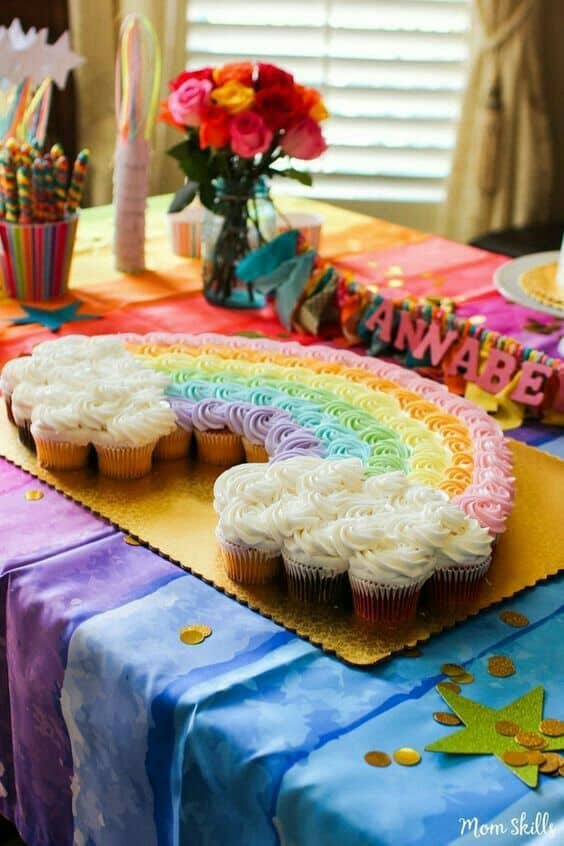 This cupcake cake is an adorable way to have a rainbow cake, but with the ease of serving cupcakes! A word of warning: ensure you have an adult serving and/or handing out the cupcakes. Little hands like to touch every single one trying to pick their favorite one. I'd also suggest you instruct the adult handing out cupcakes to ask each kid what color they want. I can't tell you how often I've witnessed meltdowns at parties because the kids don't get the exact color or design they want.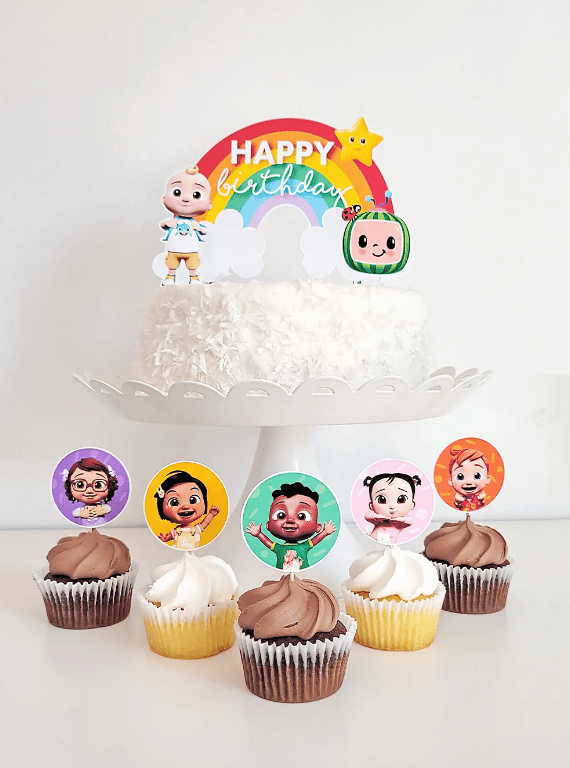 I highly recommend utilizing cake and/or cupcake toppers when planning a themed birthday party. The toppers are easy to purchase, plus they allow you to DIY a simple cake or make cupcakes and add the decorations on top.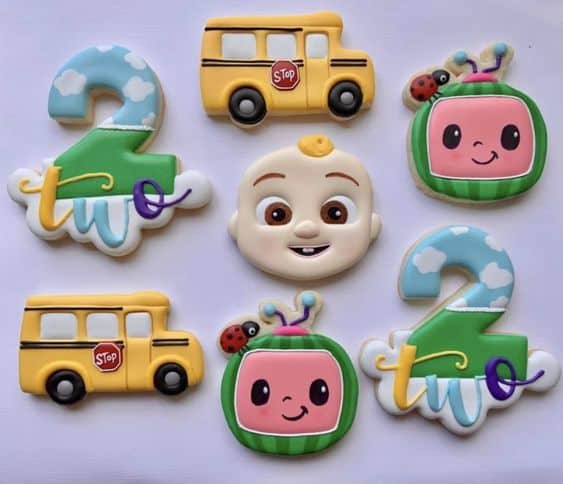 Don't want to deal with the cake mess at your Cocomelon Birthday Party? Then consider having themed cookies instead. The kids still get a sweet treat to celebrate with but won't be left with sticky fingers and icing everywhere.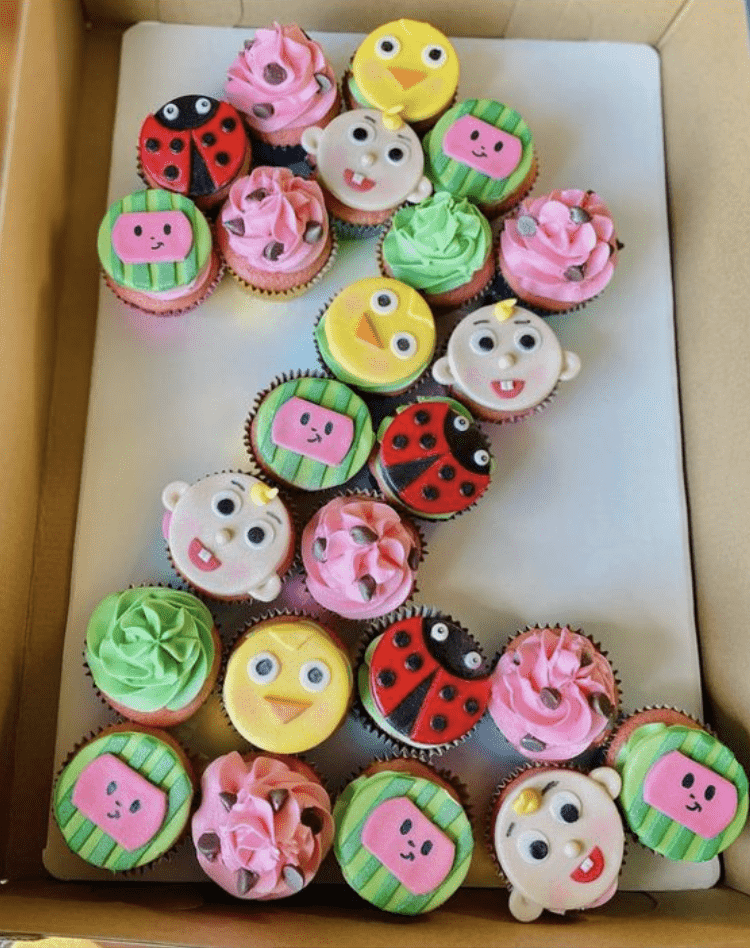 I love these! They are charming, and cupcakes can be easier for toddlers to handle. However, I don't love that they are decorated with fondant. Fondant makes for adorable decoration, but it doesn't taste terrific. Toddlers can be picky, so I usually warn against fondant for the youngest guests.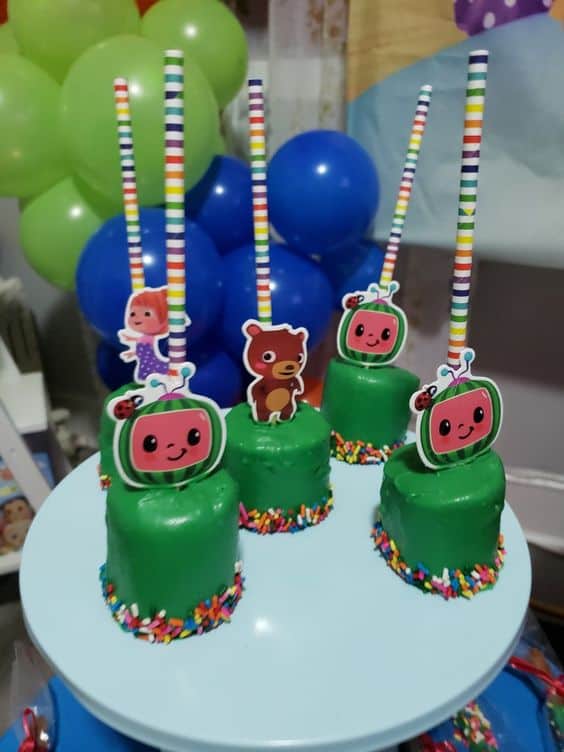 Cake Pops are a popular alternative to cake, so I wanted to provide you with a CoComelon version. My only suggestion for these is that you look for sticks that are toddler friendly. For example, try Popsicle sticks; the thicker stems make them easier to hold and rounded edges to avoid any injuries.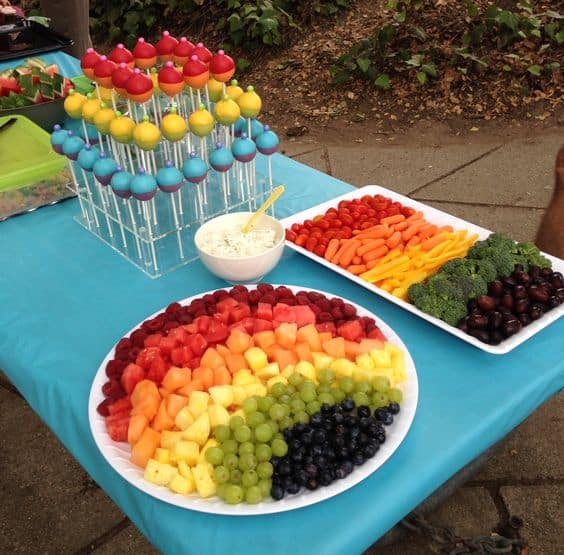 One way to entice kids to eat healthier options at the party is to organize the fruit and veggies into a rainbow. Use the rainbow order (ROY G BIV) as a guide for organization. For example, have rows of raspberries, strawberries, watermelon, cantaloupe, pineapple, bananas, green grapes, blueberries, and purple grapes. Similarly, try tomatoes, carrots, yellow peppers, celery, broccoli, purple cauliflower, and black olives for veggies.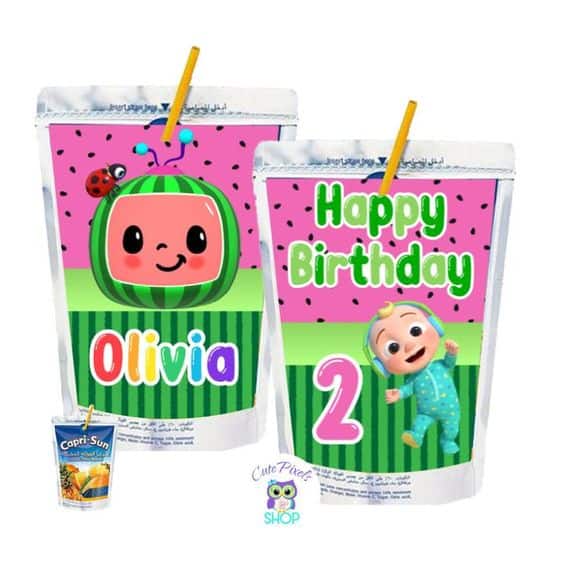 What toddler doesn't like juice boxes or Capri Suns? Consider making or buying customizable Cocomelon labels for your drinks. This way, you continue the theme while sticking with the products kids already know and love. 
Activities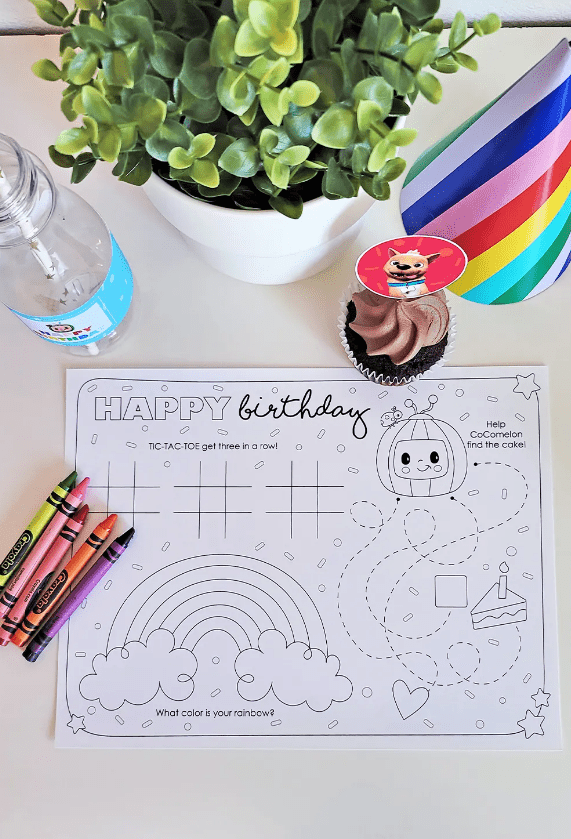 Want to find a large number of coloring and activity pages for free? Check out the official Cocomelon website and their downloadable section: https://cocomelon.com/pages/downloads.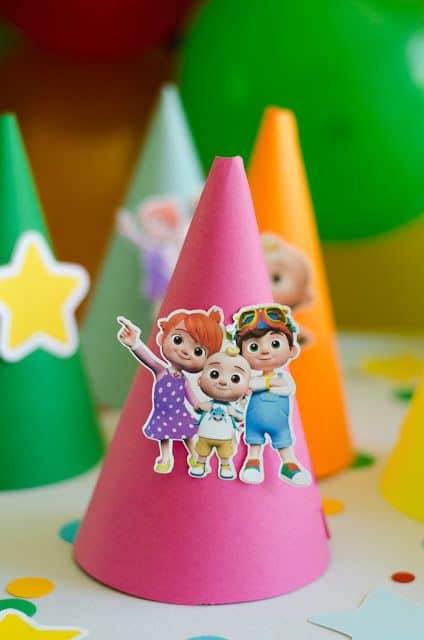 One of my favorite kids' activities at parties is to make party hats. It provides not only an activity to keep young guests entertained but also an adorable, wearable party accessory. These party hats are simple to make, especially with the help of an adult.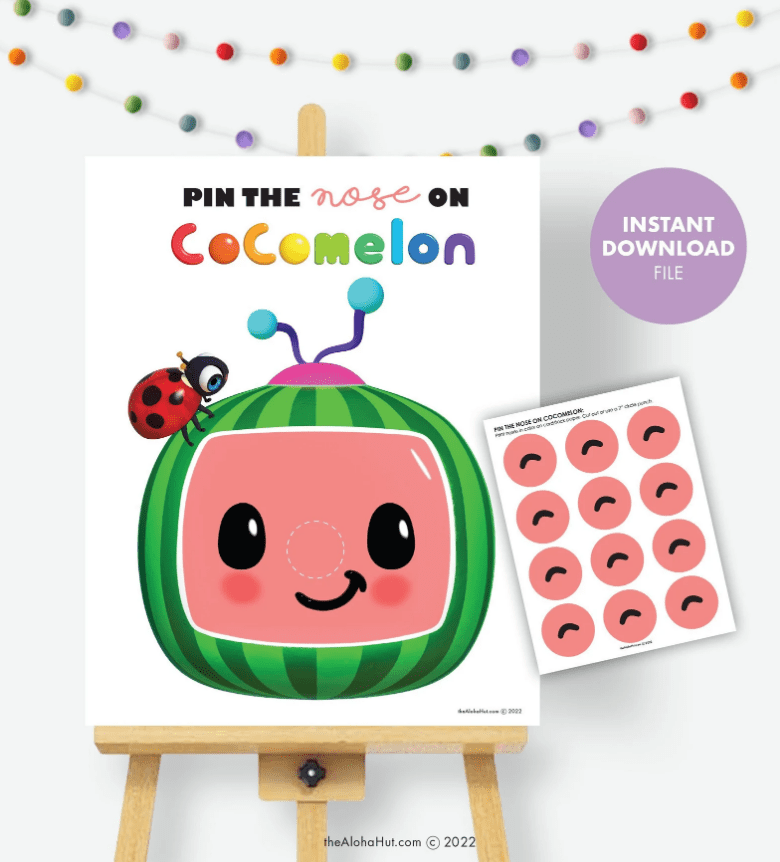 This Cocomelon version of Pinning the Tail on the donkey is not only fun, but it comes as a free downloadable file. You just need to print it to the desired size and let kids try to pin the nose.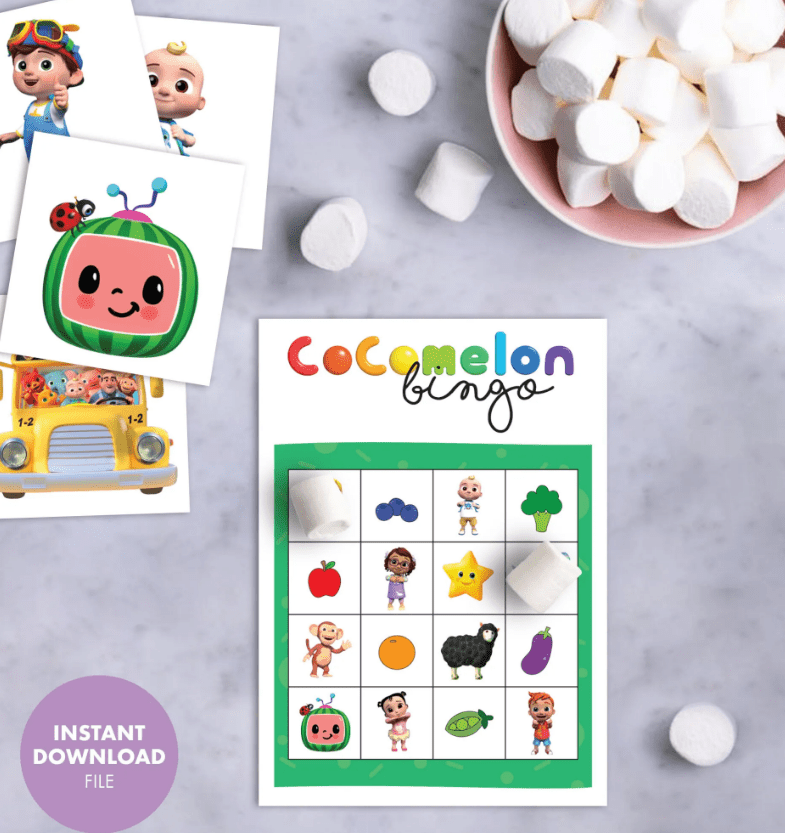 This free downloadable version of Cocomelon Bingo is an easy game that any young guest can play. In the photo above, they used marshmallows to mark each spot. Please ensure you have extra marshmallows in case the players eat them.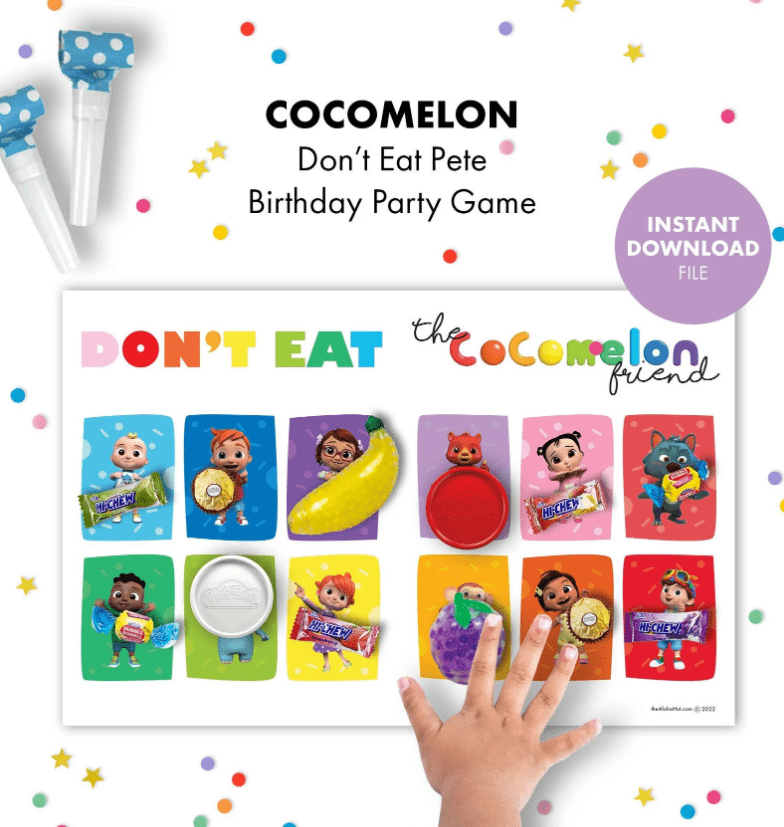 Want an alternative to playing bingo? Try this Don't Eat Pete game. This particular Cocomelon version comes as a downloadable file that you can purchase on Etsy.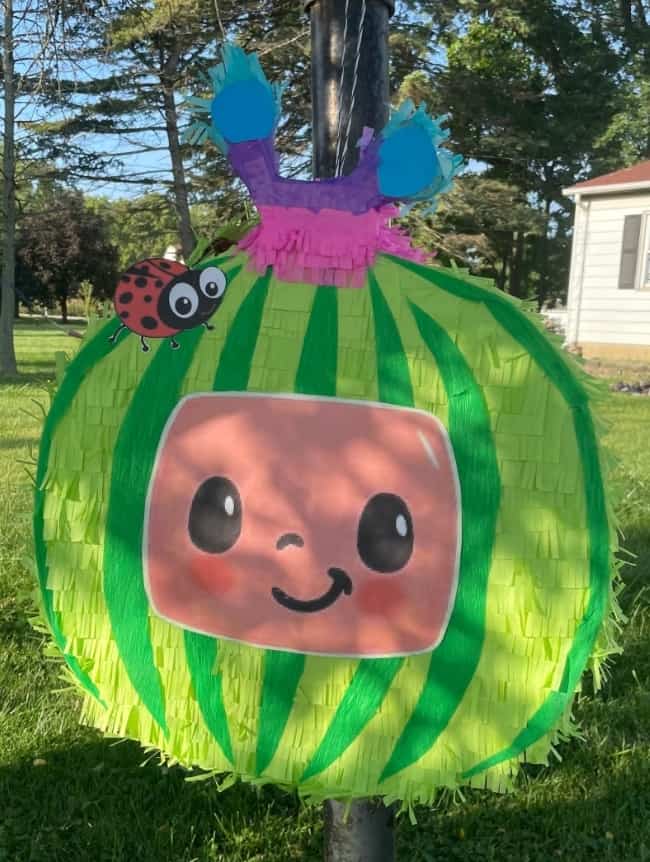 Piñatas can either be purchased or DIYed. There are a few options at major party retailers and from sellers on Etsy. If you decide to go the DIY route, here is a YouTube video discussing the process: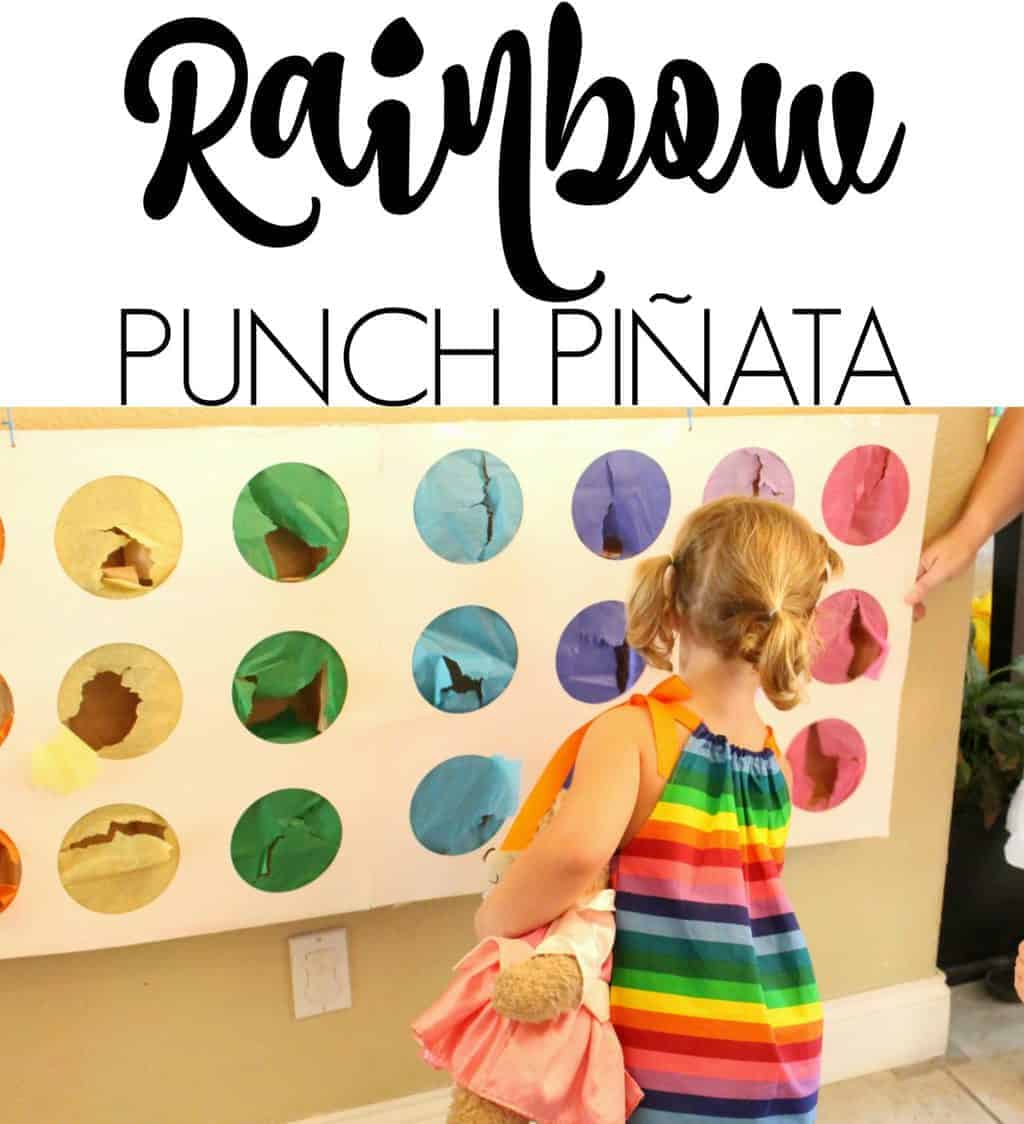 Are the kids too little to handle a piñata? Try this alternative. It is called a "punch piñata" and is a series of holes covered with colored tissue paper. Each child gets a chance to punch through the hole and get the prize inside. Made with Happy has a great tutorial on their website: https://www.madewithhappy.com/rainbow-punch-pinata/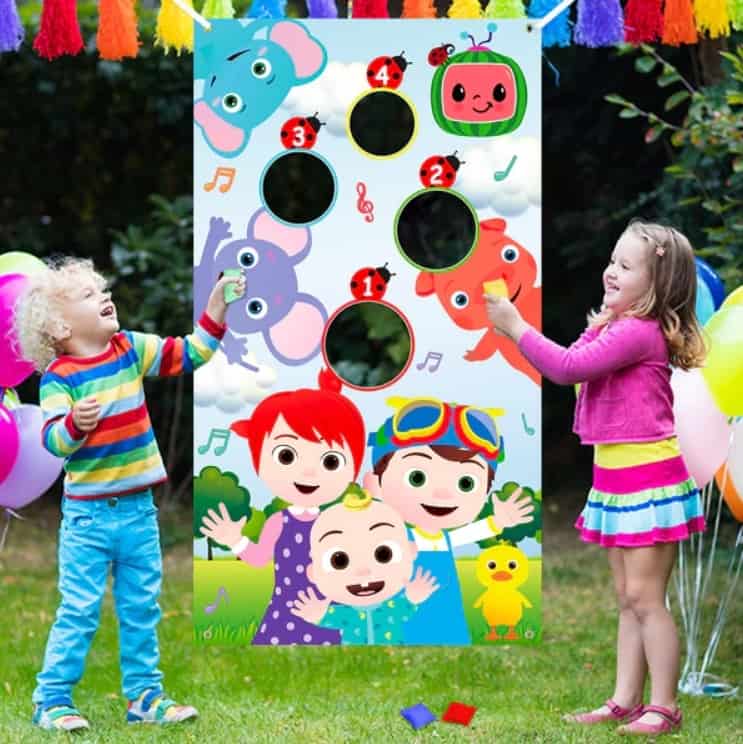 Another way to incorporate the Cocomelon theme into your party is through a bean bag toss. I recommend only using this if the party is being held outside or in an indoor space where flying bean bags aren't going to cause damage.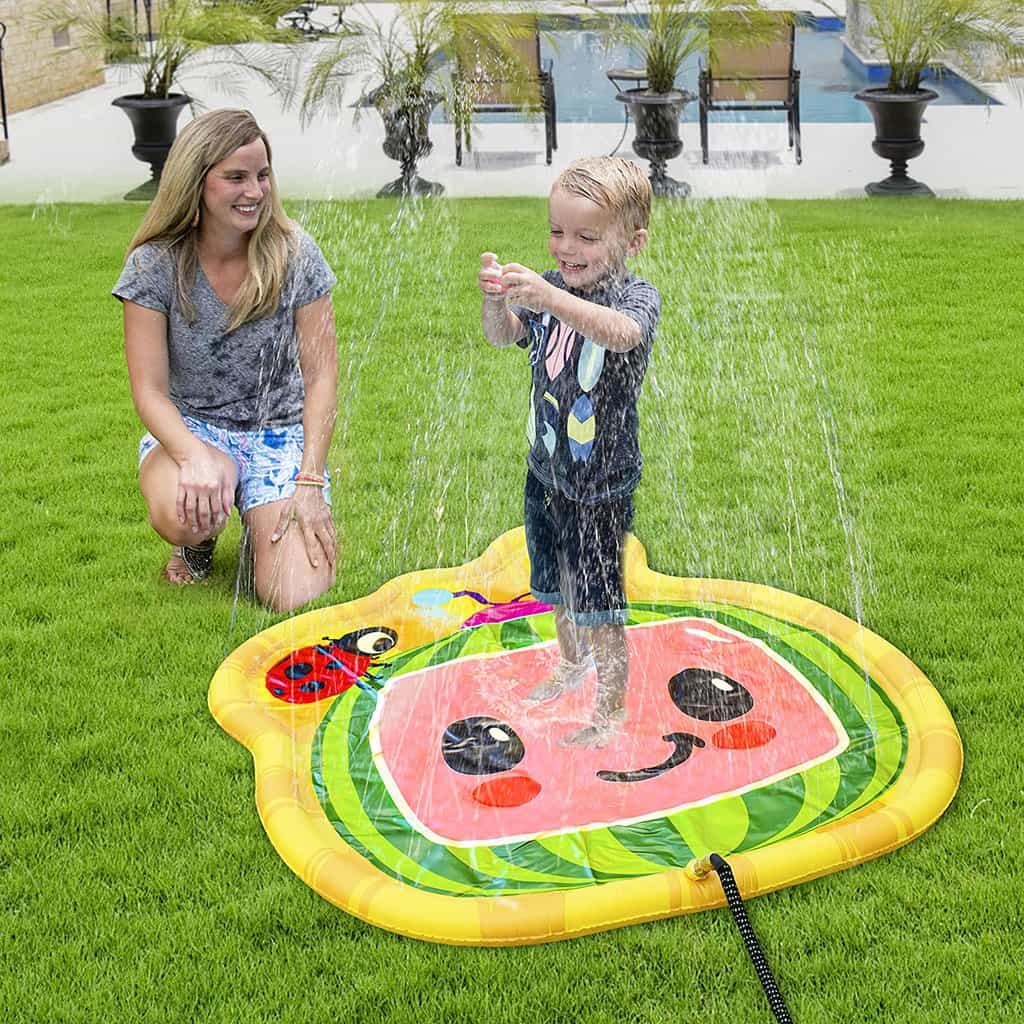 This inflatable splash pad is an enjoyable way to incorporate the Cocomelon theme into an outdoor summer Cocomelon party. A word of advice: just make sure the guests' parents know to bring an extra change of clothes.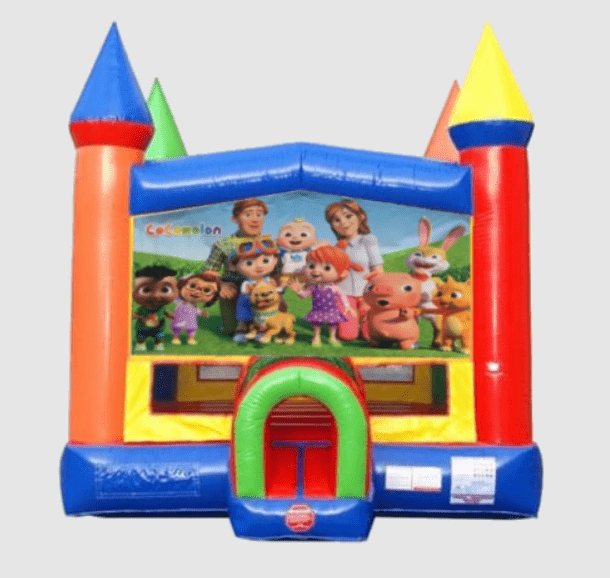 I love the idea of a bounce house at a kid's Cocomelon party. It provides endless entertainment and helps to expend the boundless energy younger guests will have. 
Goodie Bags
Another way to incorporate the theme into your Cocomelon party is to add Cocomelon-themed goodie bags. Below are a few ideas of what to include.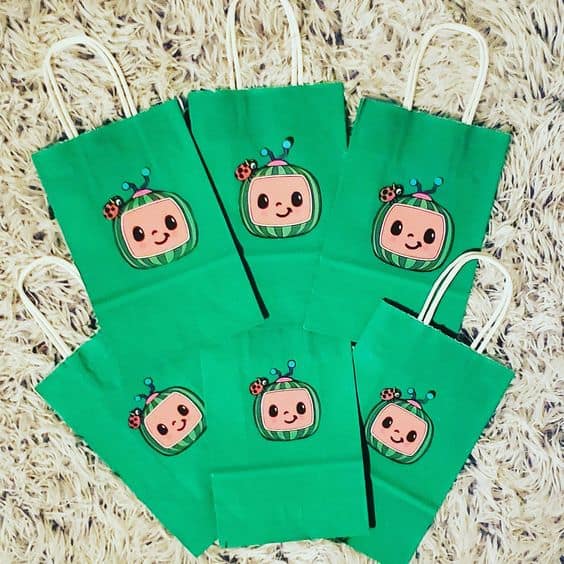 Let's start with a way to carry the goodies. These paper goodie bags are an excellent carrier for the items you'll be sending home with guests. I advise using these if your goodie bag items are on the lighter side. Being a paper bag, it has a weight limit.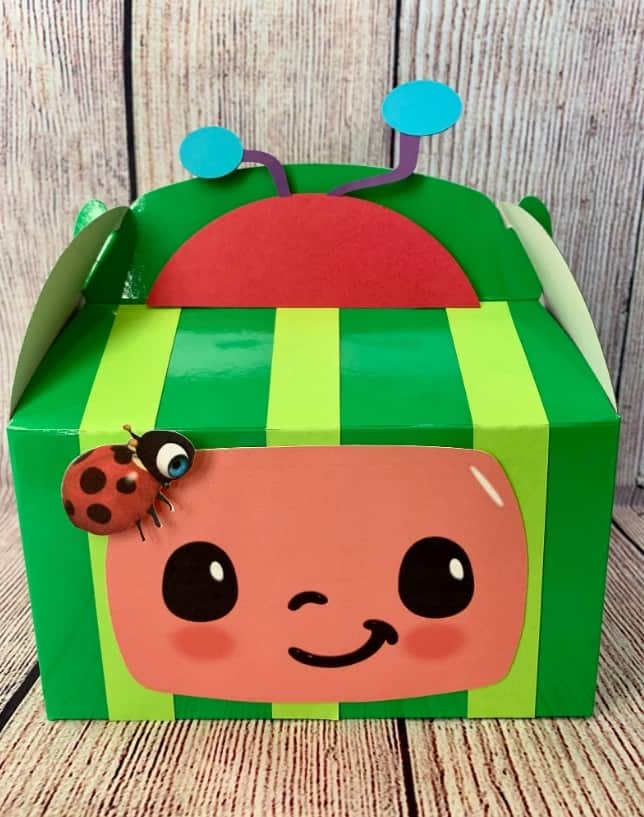 If you need a sturdier container, consider a favor box instead. This particular kind comes in a set of 6 and is available on Etsy. I like these favor boxes because no glue or tape is needed to put them together!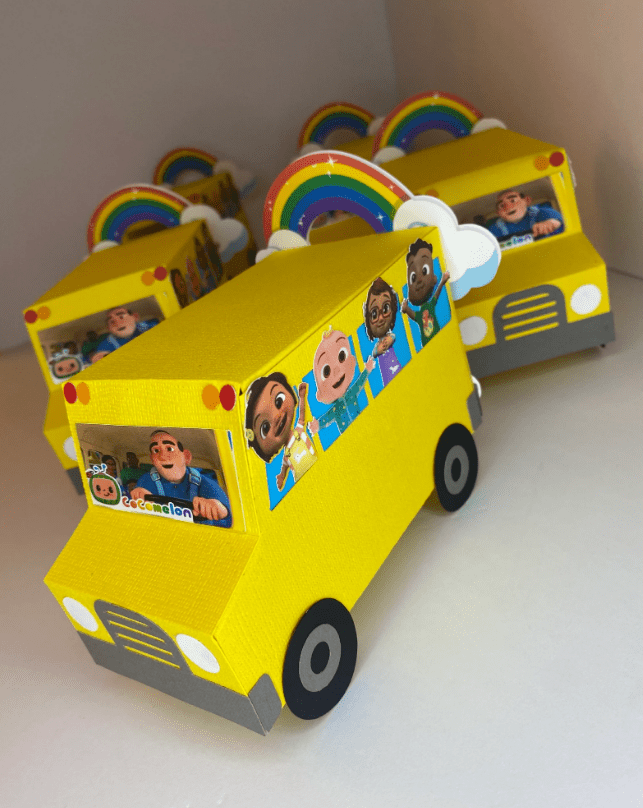 Like the option above, this favor box can hold heavier items. I particularly like this option because it allows you to customize it according to your wishes.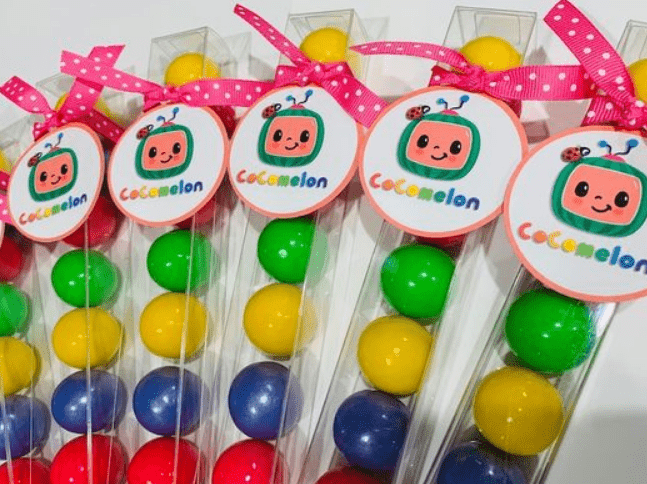 Now onto the Cocomelon party favor ideas; this gumball favor is an excellent addition to any Cocomelon-themed goodie bag. These sets of rainbow-colored gumballs come in themed packaging, with six sets per order.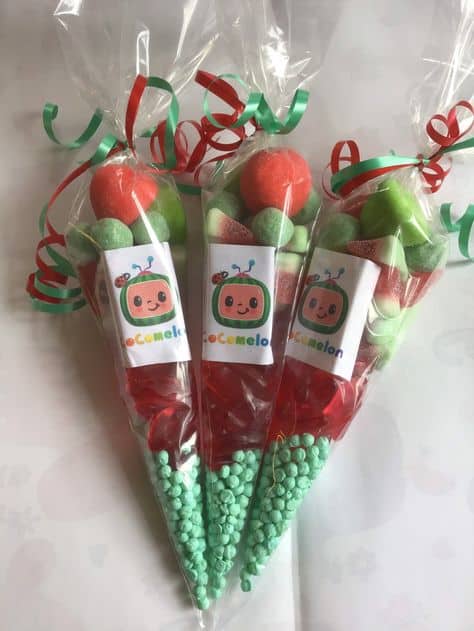 These Cocomelon candy packs can either be purchased or DIYed. If you decide you don't like the color scheme or candies within, you can customize it by doing it yourself. Before tying off the bag, you can fill a bag with your favorite sweets and add the Cocomelon label.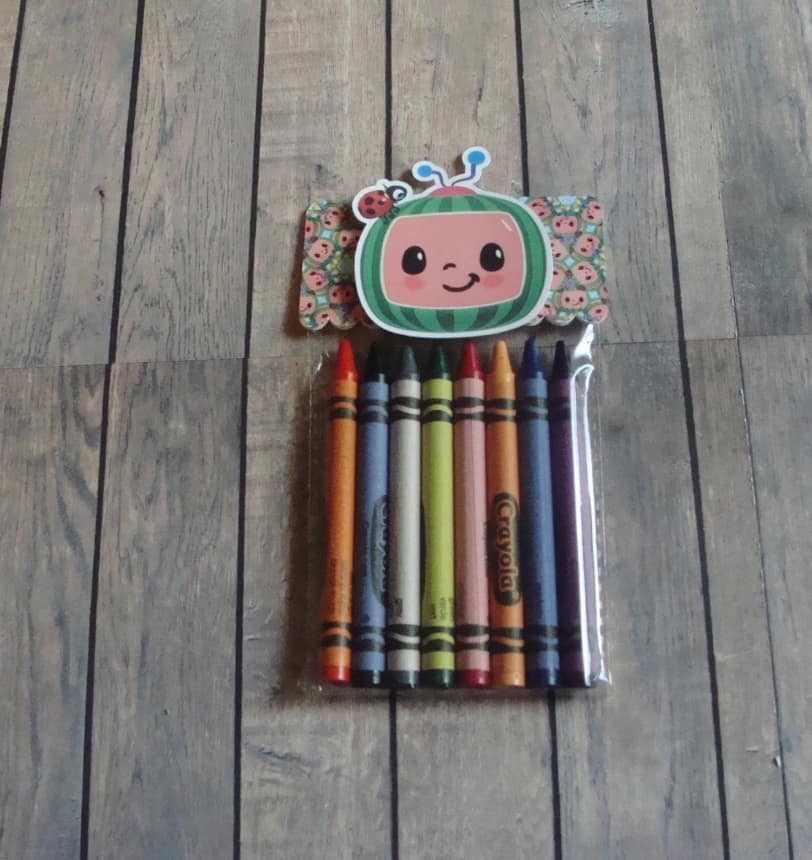 Crayon packs should be a staple in goodie bags. They are cost-effective, the packaging is easily customizable with a sticker, and they are something most kids need regularly.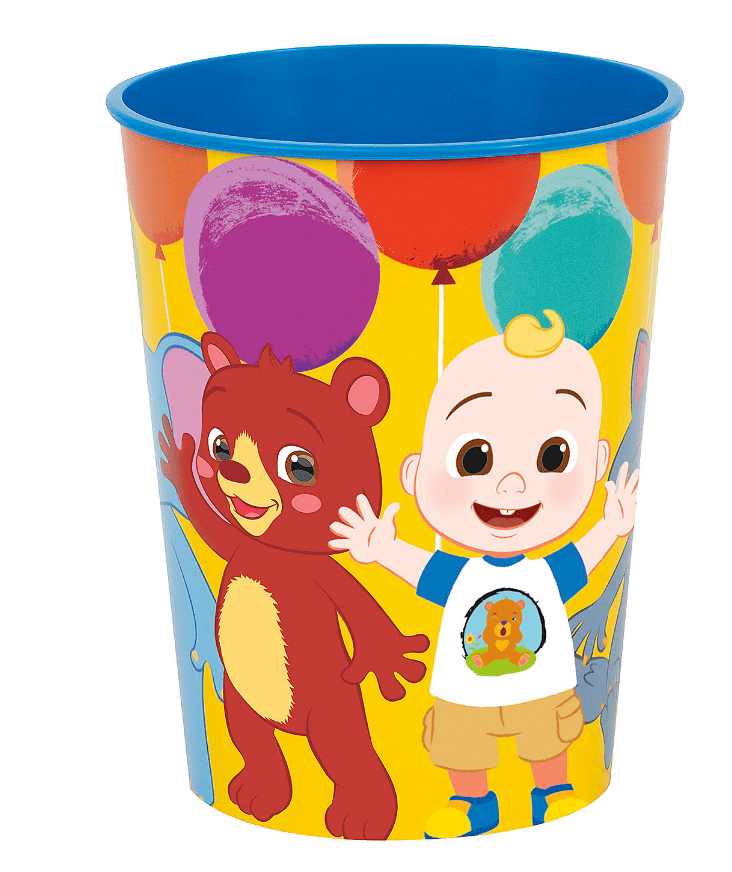 I always recommend that party hosts look for a reusable party favor. These reusable plastic cups allow kids to have a reusable cup not only during the party but also to take home! It is a win-win.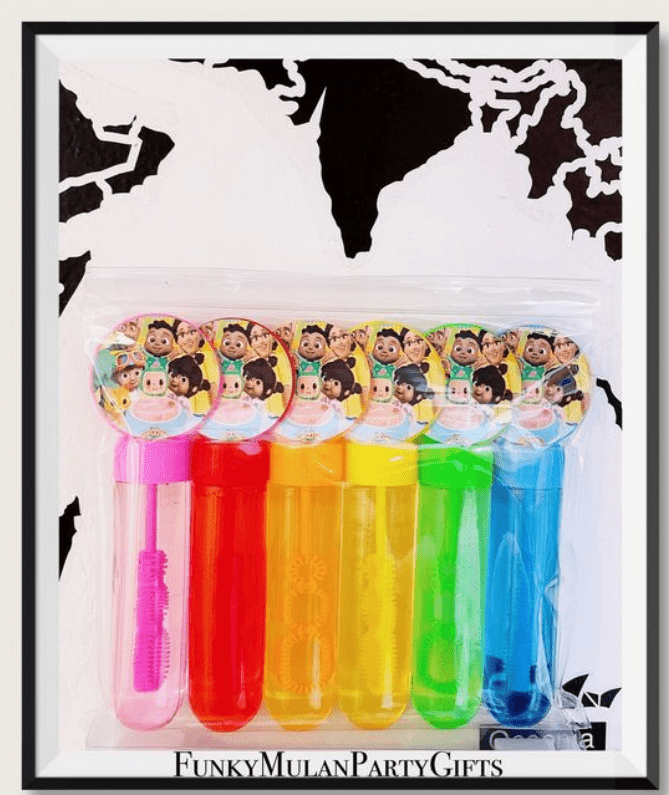 What kid doesn't like bubbles? Not only are they practically a guaranteed hit, but they are also cost-effective. These Cocomelon bubble packs are only one option; there are so many options available!
Frequently Asked Questions (FAQs)
Question: What is CoComelon? Who are the characters?
Answer: CoComelon is an animated show that is highly popular with toddlers. It follows the main character JJ and his family. The show comprises nursery rhymes, age-appropriate learning, and fun adventures for preschoolers to follow. You can find out more about each character on the official CoComelon website. They have a whole page dedicated to introducing everyone.
Question: Why pick a CoComelon Birthday Party?
Answer: If you are reading this article, you probably already have a toddler in your life that LOVES CoComelon. The expression on that child's face and the collective joy a CoComelon Birthday Party will bring to the group will be worth it. If you want a more practical reason to pick this theme over another, I'm happy to oblige.
CoComelon is wildly popular, so you should have no problem finding CoComelon supplies, and everyone attending the party will understand the theme (and likely equally excited about it). A bonus is that most bakers (including those at the grocery store) can help you find the perfect cake for the theme. 
Question: Where can I watch CoComelon?
Answer: You can watch CoComelon on many major streaming services such as Netflix, Prime, Hulu, and YouTube. For a complete list, visit Cocomelon's website. It lists a few other services where you can watch the episodes. 
Conclusion
I hope you enjoyed browsing through the CoComelon party ideas above. If I were to pick one idea from everything I mentioned above, I'd have to recommend the music. The reasoning is simple; having the official CoComelon playlists promotes excitement and provides positive associations for your young guests. As a bonus, the birthday kid can use it long after the party is over.
I look forward to hearing what you are doing for your CoComelon party and what your birthday boy or girl is most excited about. Let me know in the comments below!
Recommended Reads: