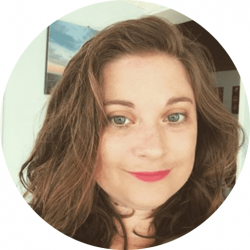 Latest posts by Samantha Bellinger
(see all)
My nephew will be baptized this fall, so naturally, I'm looking for ways to contribute as the resident event planner. One easy way to help from afar is by providing curated ideas. Read on to see my recommendations for the 31 best Baptism Cake Ideas.
Bottom Line Up Front
I started picking these cakes with my nephew in mind and then expanded the list to be for any gender and any size party. There is something on here for everyone. If I had to choose just one of the 31 unique options, I'd recommend the Rosary Cake (#6 on the list). The primary reason is that it is the one I'm recommending to my family for my nephew's baptism.
With a few color changes and a different topper, it is perfect for the type of ceremony and the number of attendees. That said, the aesthetics of the cake also draw me in. It is elegantly decorated and guaranteed to be sophisticated enough for the church setting.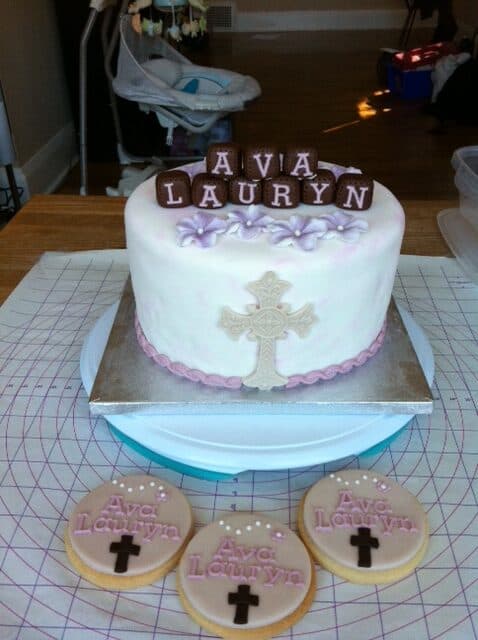 Things to Consider
Selecting a Flavor
Selecting a flavor is always a fun process but has the potential to be controversial, depending on your choice. I usually tell clients to consult the guest of honor because they have the right to enjoy the cake. That might not work in this case. Since the baptized person is often an infant, you can't rely on the guest of honor to pick out their favorite flavor.
In the case of baptism cakes, I usually recommend going with a classic taste that is widely accepted, such as vanilla or chocolate. It isn't as exciting as flavors like carrot cake, fruit-filled, spiced, etc., but they are standard enough that you won't hear flavor complaints. 
How Many People Do You Need to Feed?
Knowing how many people you need to feed can help you determine the size and shape of the cake. Sometimes this is easier said than done. Whether it is a private ceremony or at the end of a regular service, you might not always know who will attend. If it is a small, intimate ceremony, you can efficiently work with your baker to create any shape/size cake that'll fit your needs.
If you are opening the celebration up to all in your congregation, I recommend going for the cost-effective cakes that can feed the most people. I recommend sheet cakes, cupcakes, or even cupcake cakes as a way to feed many.
Baptism Cake Ideas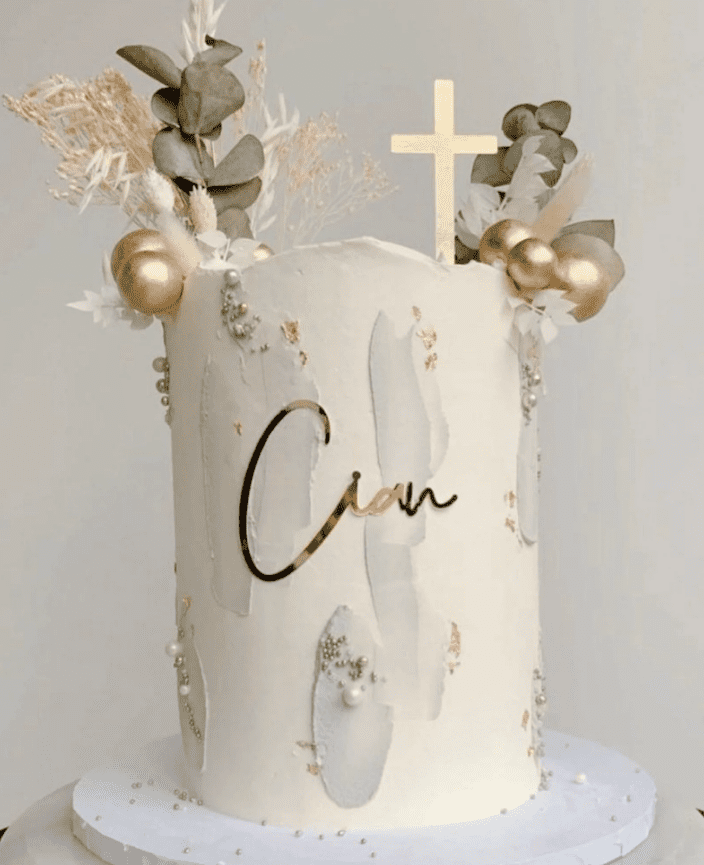 This gender-neutral baptism cake comes in white and gray tones. I love that the cake is a relatively simple design, but the toppers give it an elegant, elaborate appearance.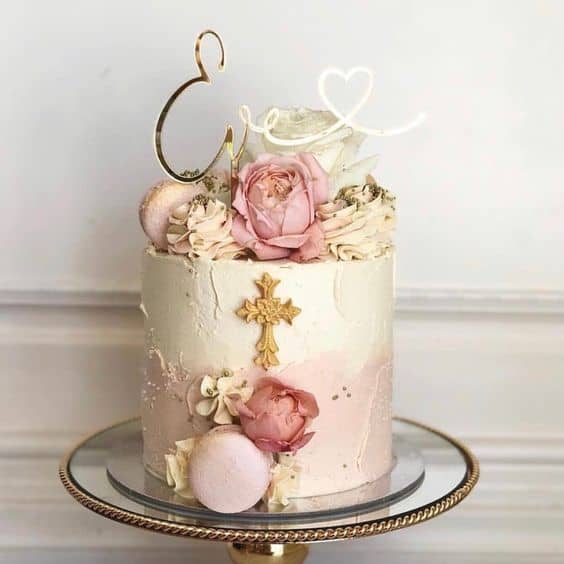 This lovely cylindrical cake boasts subtle shades of rose. It is elegantly decorated with roses, macaroons, a topper in elegant script, and a gold cross along the side. I particularly love the cross as a way to identify this as a Baptism cake, and you can customize the topper to say the child's name.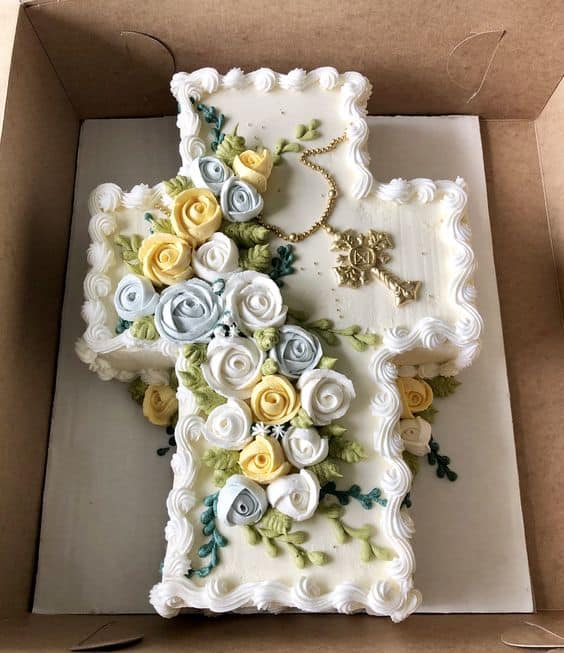 I'd see this type of cake at baptism receptions growing up in the south. It is in the form of a cross and decorated with icing roses. The elaborate cross makes this appear to be more of a Catholic Baptism cake, but there is nothing that prevents the cake from being used for all Christian denominations.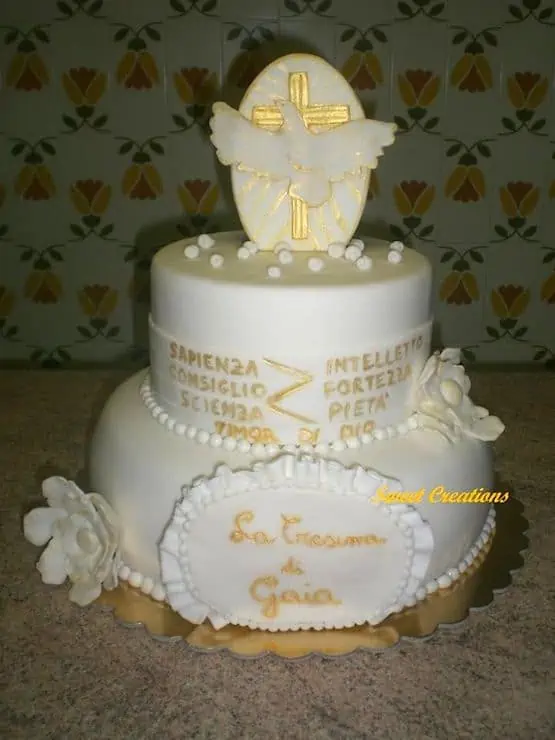 I'm always looking for exciting cake ideas; this Italian cake design is perfect as a baptism cake. It is topped with a cross and dove representing the holy spirit. For those curious about what the text says, the top tier has a list of attributes (wisdom, advice, science, clever, fortress, stone).
The bottom level says something like "the confirmation of Gaia." (Apologies for the rough translation, it has been a long time since I've lived in Italy, and I'm a bit rusty). You could easily replace the attributes listed with ones you hope the baptism provides the child and then change the bottom text to "the baptism of [name]."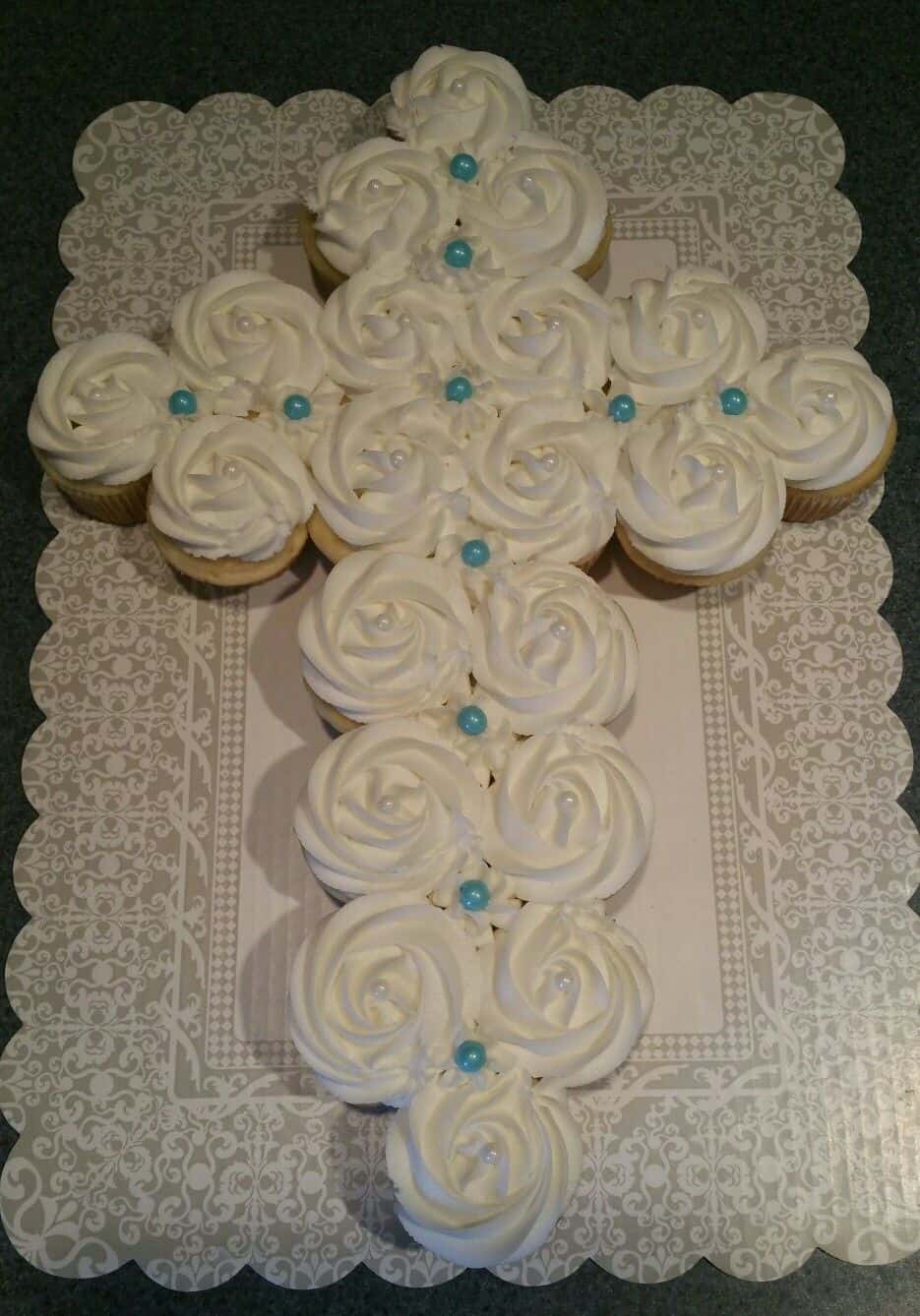 Cupcake cakes are a favorite of mine. They allow for elaborate shapes with the ease of cupcakes. I particularly like this one because of the tiny icing flowers placed where the cupcakes touch and how they topped the connecting flowers with blue pearl sprinkles. It is a creative use of the negative space.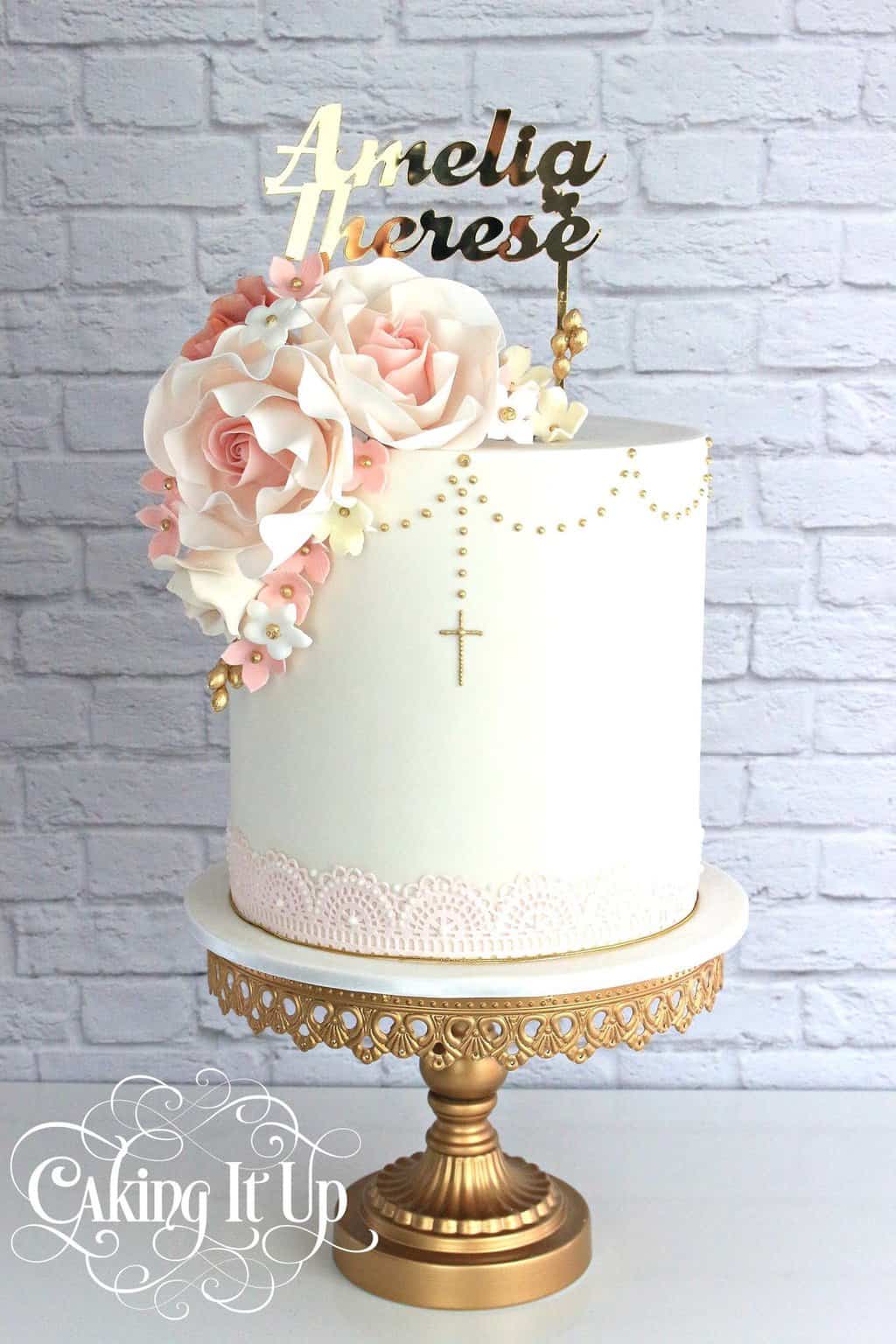 I am thoroughly impressed by this cake. It starts with a seamlessly icing base, and then the cascading flowers down the side make it a show stopper. I picked this one because I love that the decorator incorporated the rosary-like design attached to the cross and the lace around the bottom. It is tasteful and perfectly understated. It is the one I am recommending for my nephew's baptism; we'll change it from pink to blue and add his name to the topper.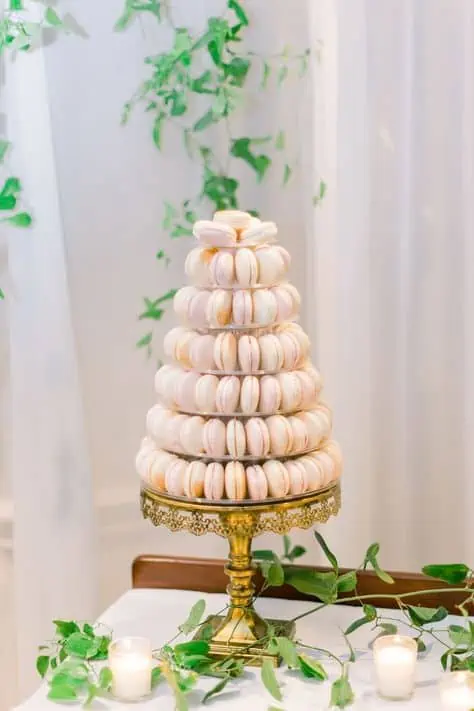 Who says your baptism cake has to be limited to just cake? This Macaroon tiered baptism "cake" is a perfect way to offer a cake alternative to guests. You can easily add a cross or dove topper at the top of the macaroon tier to make it more appropriate for the party's theme.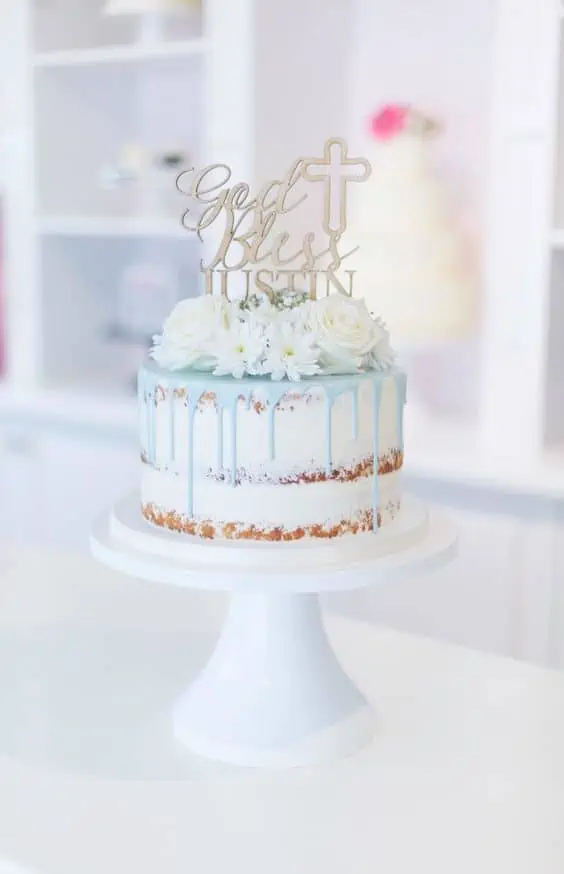 Ganache drips always impress me. As someone who repeatedly tries to master that type of drip when cake decorating, I can tell you it is much harder than it looks. I routinely fail at the process and am consequently fascinated by this type of cake. I also picked this particular drip cake because of the customizable cake topper that says, "God bless Justin." It can be changed to display the guest of honor's name.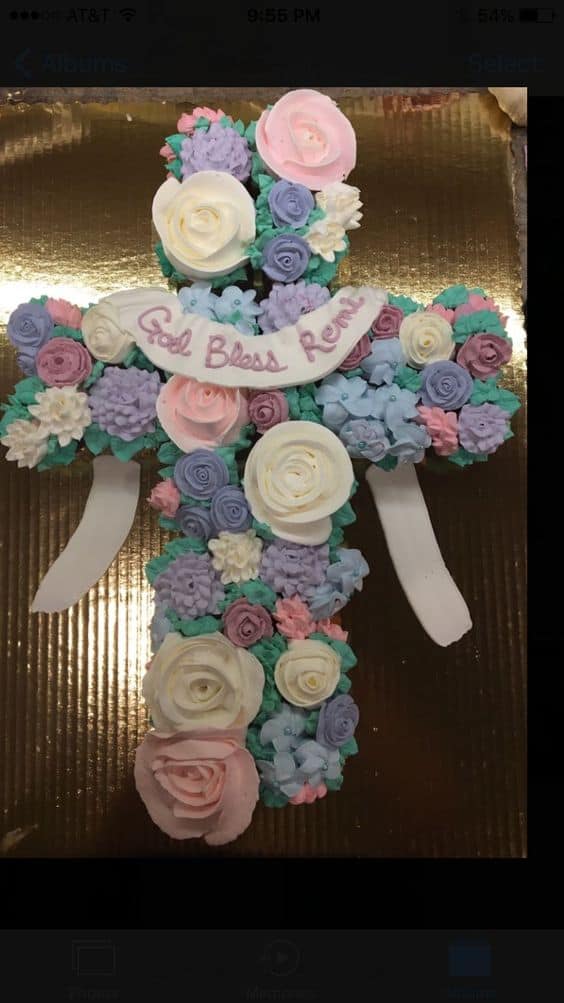 I saw this cake and was blown away by the amount of detail in the floral icing decorations and the icing drape expertly added to the cross. It's beautifully done that I'd be hesitant to cut into it. Even so, this baptism cake will get your guests to say, "wow!".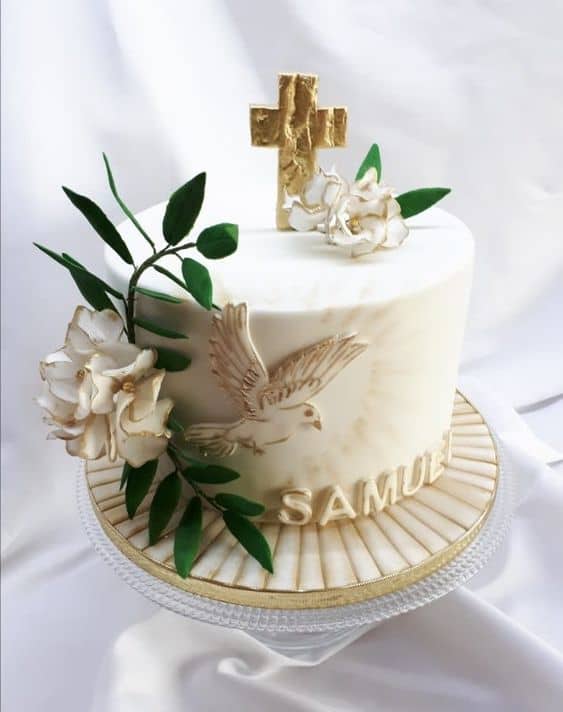 So often, I see lovely photographs of cakes, but I rarely see descriptions of the cake flavors. This cake provided a caption that said it contains two flavors: nut cream with rum and chocolate cream with strawberries. This piece initially struck me because of the symbolism (dove, cross, etc.) and how the maker used faint coloring to give the impression that the dove was glowing. It reminds me of Christian artwork featuring the dove as the holy spirit.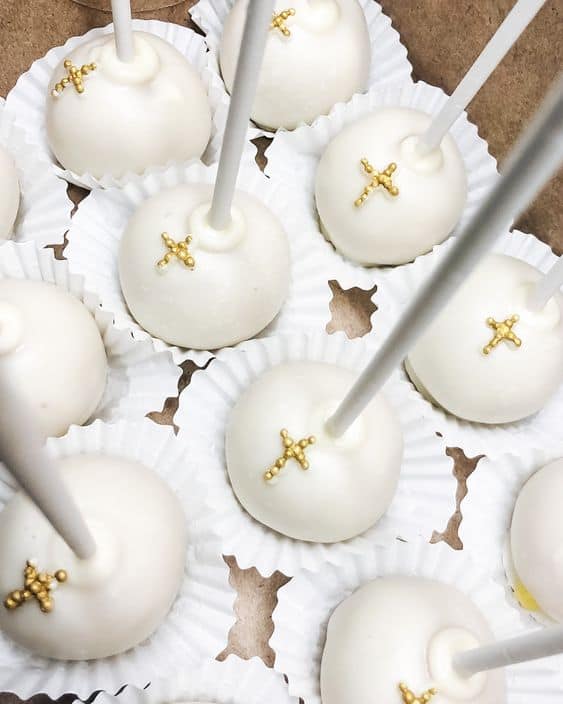 Little Blue Apron gets the credit for this baptism cake pops. I love that the gold cross decoration pops against the white icing. I highly recommend considering cake pops if it fits your audience. They are an easy, mess-free way to incorporate cake into a formal event like a baptism.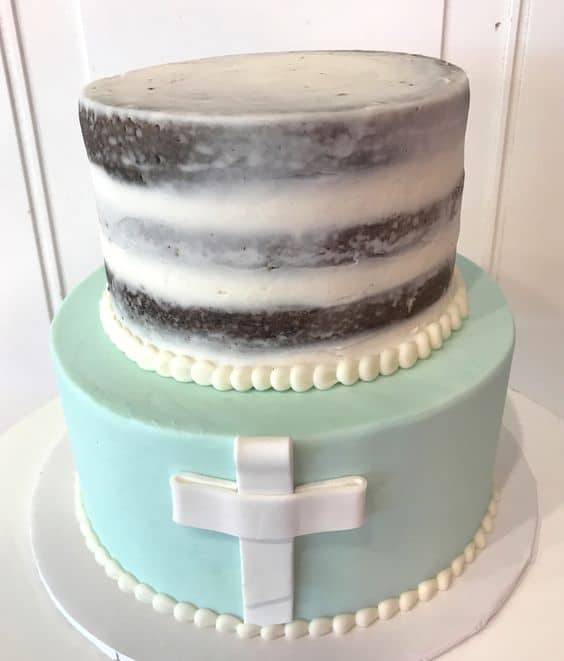 This two-tiered baptism cake has the best of both worlds. The bottom layer is covered in flawless fondant icing and added cross decoration, also made of fondant. The top layer has a light layer of another type of icing and will likely be much tastier. I love that you can achieve perfect decoration and taste in one cake.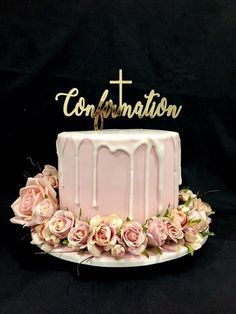 This particular cake was made as a first communion cake, but it could easily be used as a baptism cake. The simple ganache drip is suitable for any occasion. You just need to change the cake topper for one that reads "baptism."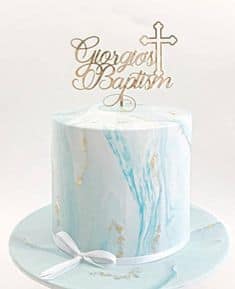 I love the marbled look of this icing. I'm not sure how the cake decorator accomplished the look, but I highly recommend you add it as one of the baptism cake ideas you are considering. The topper is customizable on Etsy, so you can easily add in your own child's name.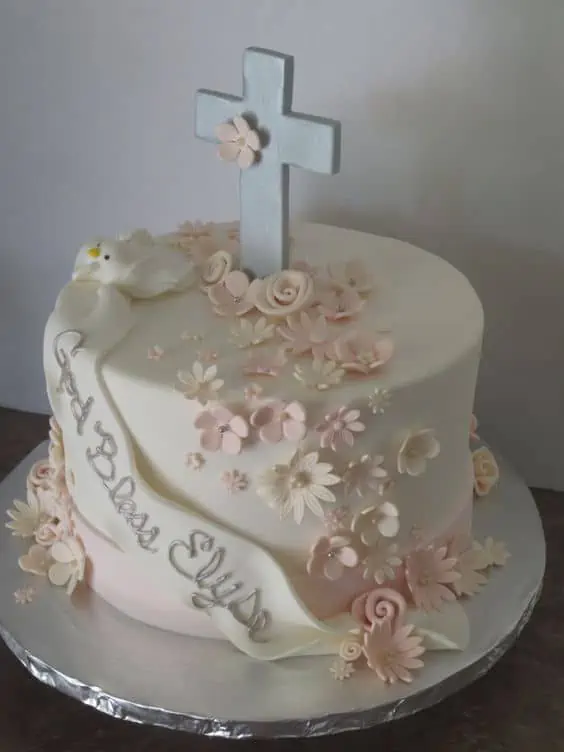 Talk about a creative way to use a combination of icing types! The description of this cake on the maker's blog (https://byrdiegirl.wordpress.com/2014/06/16/flower-baptism-cake/) describes how the outside of the cake is vanilla buttercream icing and then covered in fondant. The tiny sugar flowers are what was the most impressive for me. The cross and dove were also hand-made out of fondant.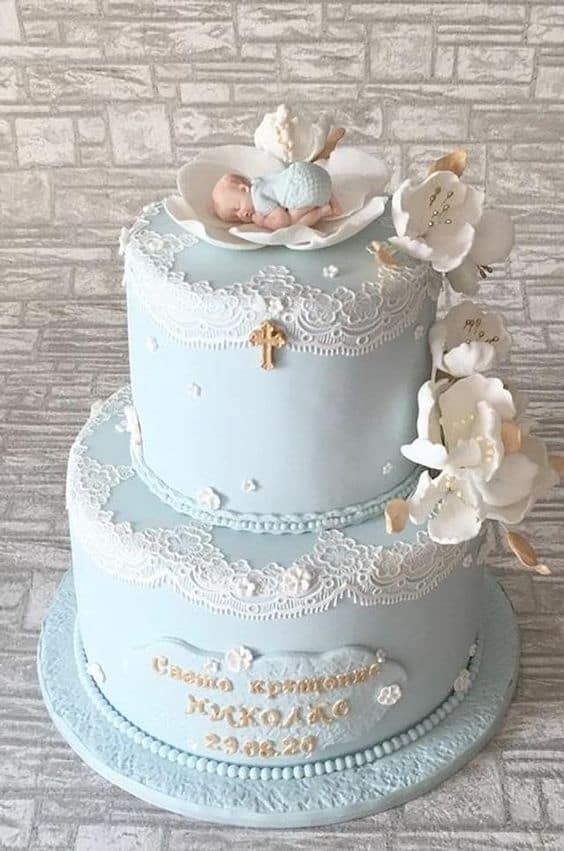 Something about replicating intricate lace on a cake stops me in my tracks. It is a feat of skill to be able to accomplish that. This blue lace cake is no exception; it is expertly crafted. I'm also impressed by the flower decorations on the side and the baby figurine on the top. They come together perfectly for this baptism cake.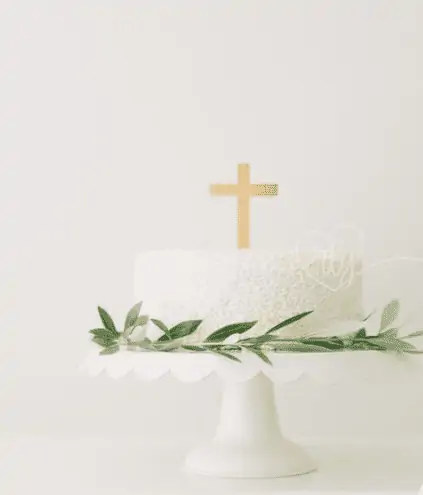 One way to keep things easy is to purchase a cross cake topper and add it to a simple store-bought cake. It is a classy, elegant addition like the cake pictured here.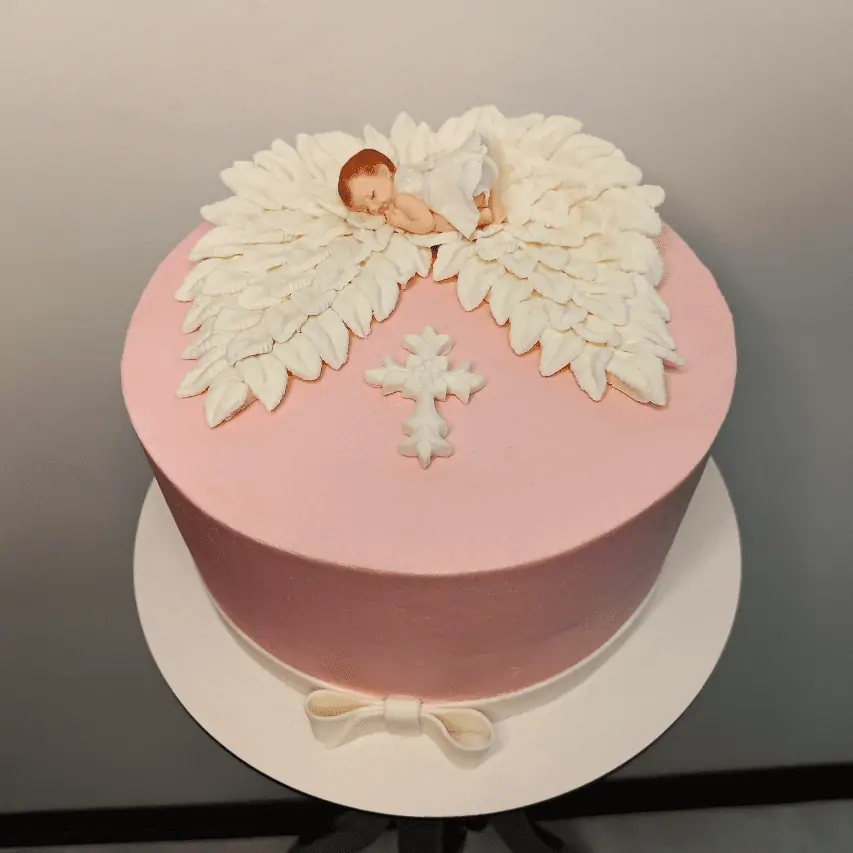 This cake features a tiny baby figurine on top of an elaborate set of angel wings and an added cross. I particularly like this cake because much of the design can be credited to a customizable topper. You can choose the baby's skin tone, and the set comes with wings and a cross.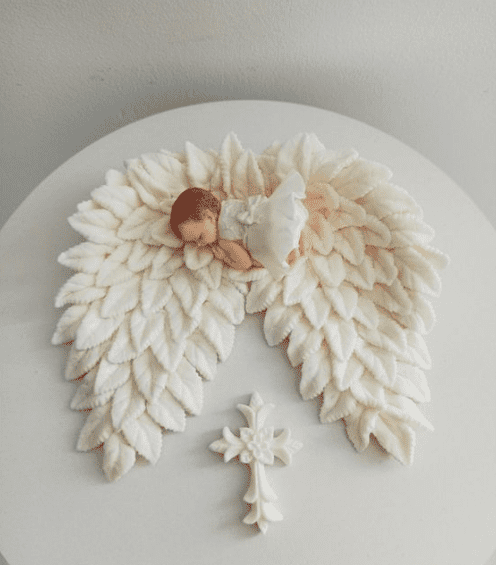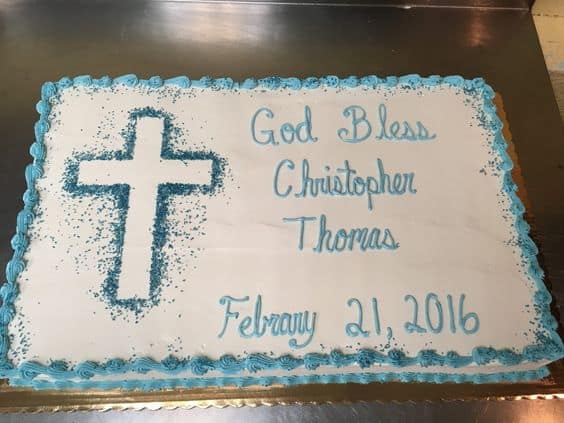 Sheet cakes are excellent if you are expecting a large number of guests or even if you aren't sure who is coming to celebrate. They feed a large number of people. This cake won't disappoint in that arena.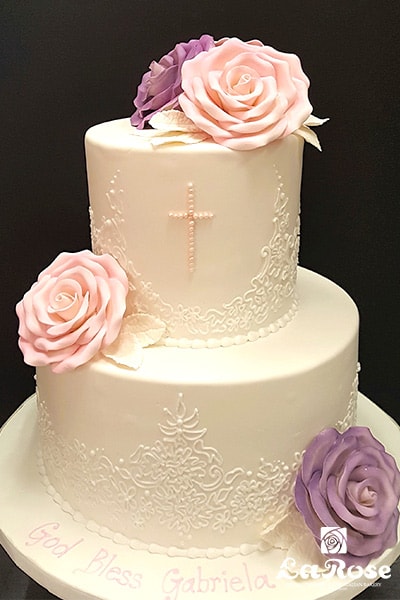 Created by La Rose Bakery in Ontario, this cake's floral design matches the creator's name. It is delicately decorated with lace-like decoration and highly realistic pink and purple icing flowers. Around the bottom, it can be customized to say "God Bless [insert child's name]."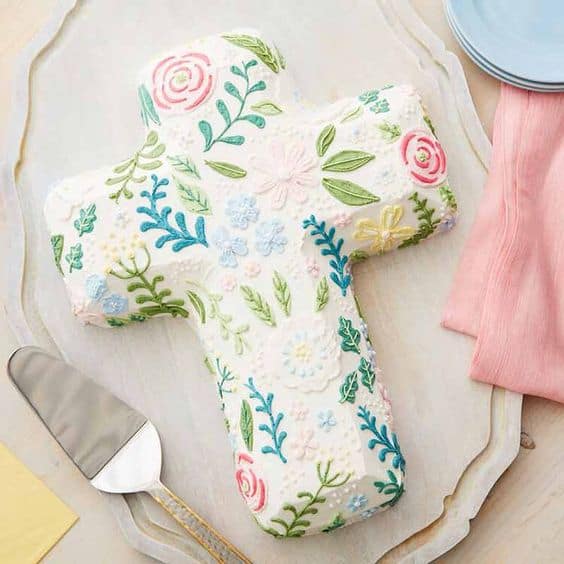 Wilton is well-known in the cake decorating world. They are the ones that posted this particular design, and I had to share it with you. It is in the shape of a cross, but the informal floral arrangements make it feel more relaxed than some of the options I've shared in this Baptism Cake idea list.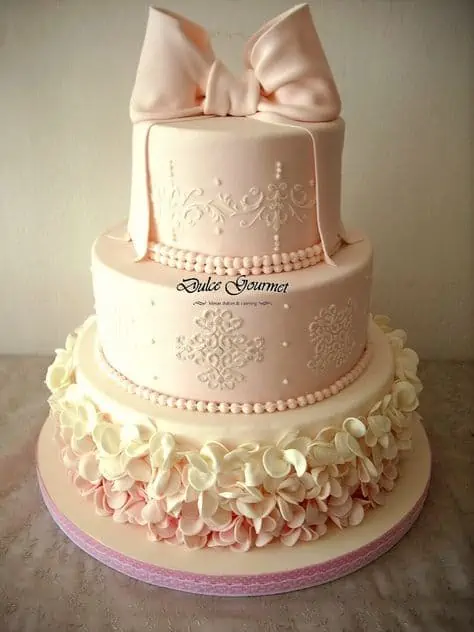 The lace-like detail and dramatic bow were too impressive not to share! I'm always impressed that cake makers/decorators can achieve such detail on their cakes. I'm also partial to the ruffles of icing on the bottom tier.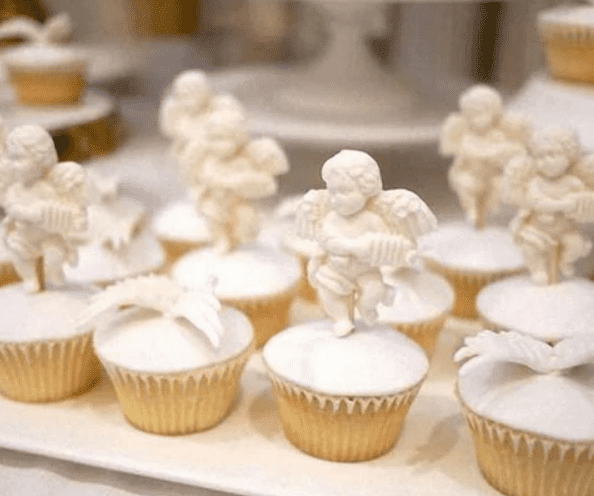 These adorable cupcakes are all thanks to the sugar angel toppers perched on top. I love when there is an option to purchase your preferred cupcakes and add a decoration on top to help to celebrate. In this case, these sugar angels are made in a silicone mold that you can purchase for reuse.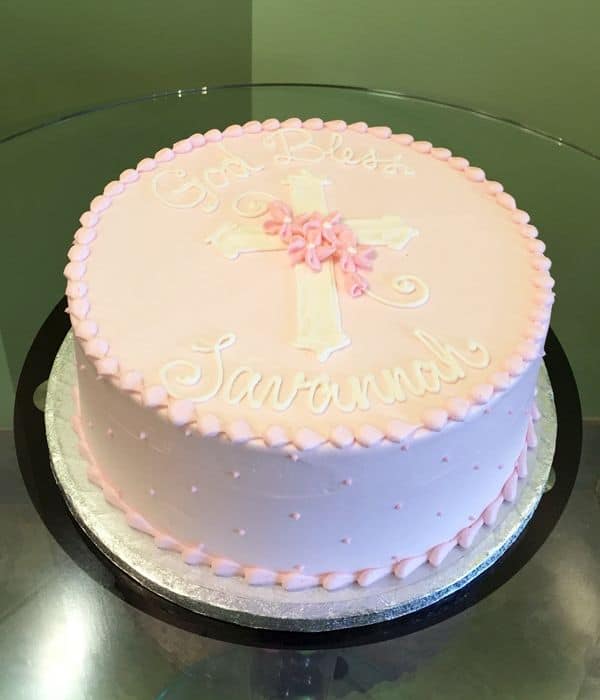 Simplicity can be critical when looking for a duplicatable baptism cake. This cake is a simple round cake, and most cake decorators achieve the decoration/writing cake. I should note that while this particular cake is meant for girls (i.e., pink), a simple icing color change can make it be for any gender.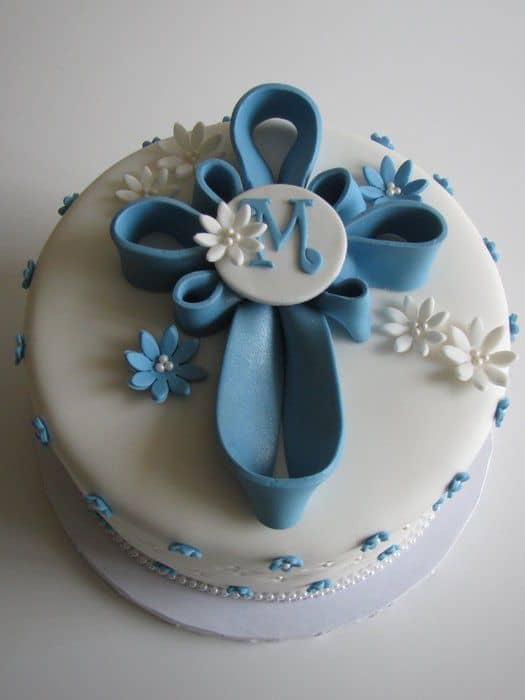 The blue cross on this particular baptism cake is impressive. The three-dimensional nature of the decoration gives it a sculptural look. It is precisely the reason I chose to include it in this list.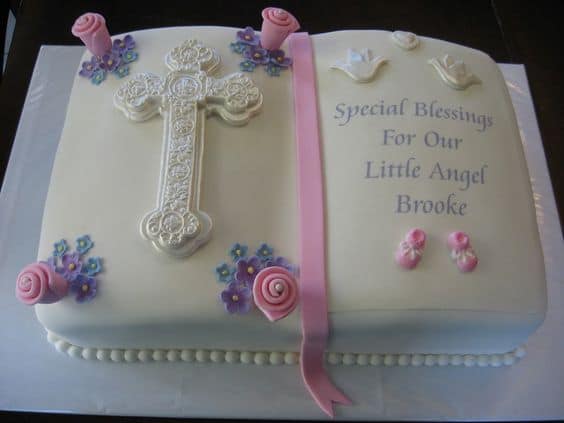 What better way to celebrate a baptism than with a bible cake? This particular cake appears to be a slightly sculpted sheet cake covered in fondant and then decorated. I picked this bible cake to share because it was a bit more straightforward than some other options. It also has a simple message that you can easily change to incorporate your child's name.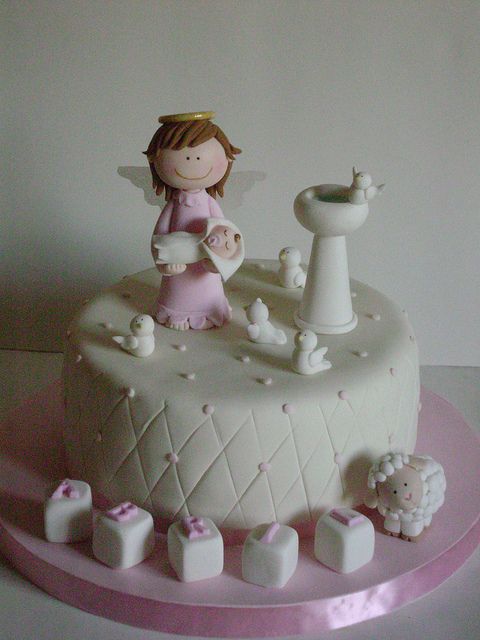 I love the adorable molded decorations on this cake. It is impressive and nicely illustrates the baptismal font. It is a unique design and the only one I saw like it when researching baptism cakes.  
Mili's Sweets made this cake which resembles a baptism dress. The folds in the fondant are impressive and look like fabric folds. This cake could be an excellent option for your baptism celebration.
This cake has a cutesy look that is perfect for a baby's baptism. It is also a two-tiered sculpture that would feed many guests. I'm particularly impressed by the "quilted" bottom layer and the ruffle around the top tier. Expertly done!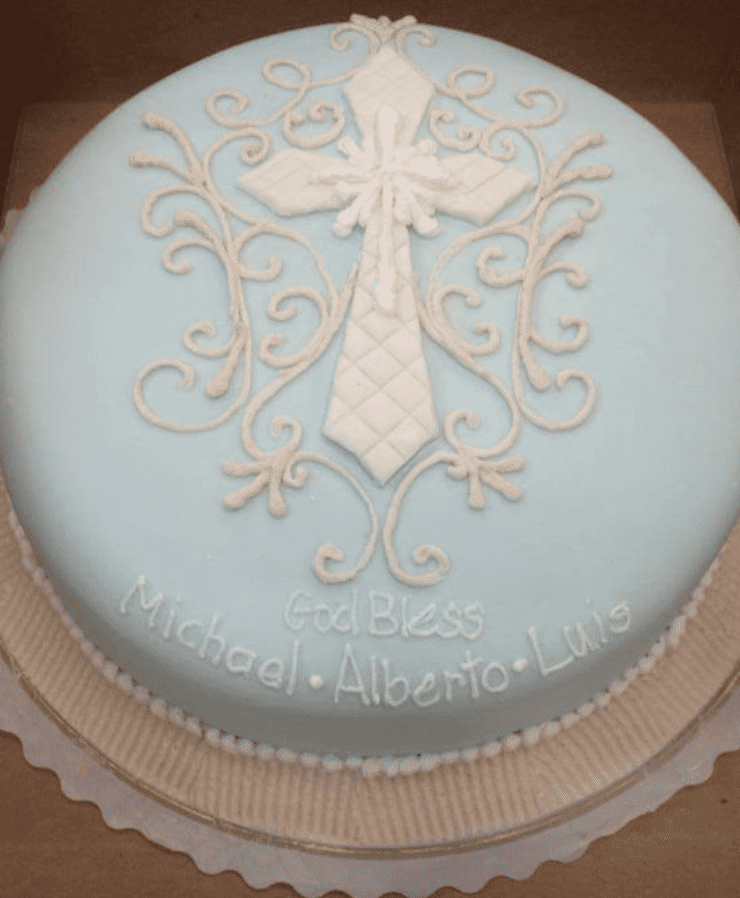 The arabesque design on this light blue christening cake caught my eye. The scrolling nature of the design around the cross makes it stand out even more. Around the bottom edge of the cake reads God Bless and the child's name.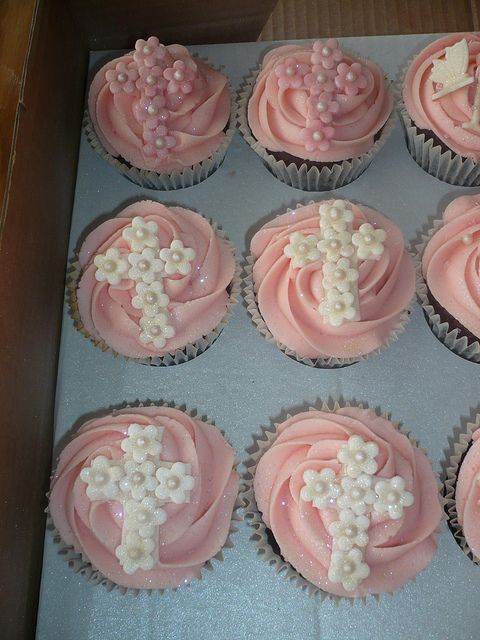 These pink frosted cupcakes are topped with tiny crosses made up of a series of flowers. These cupcakes would be a perfect addition to any baptism celebration. The cupcake style would also allow easier serving and less mess for guests. This ease is something to consider.
FAQS
Question: What is the difference between Baptism and Christening Cake?
Answer: When it comes to the cake, the only difference is the name. These cakes are usually made for the celebration after the ceremony where the person is baptized and christened. The terms baptism and christening are used interchangeably, but there is technically a slight difference. The difference is just the part of the ceremony.
Baptism is a sacrament where the person is identified as a part of that religion. The christening is the naming portion of the ceremony. Most traditions have both parts in the ceremony, so they are used interchangeably. It doesn't matter which term you use because the cake will help you celebrate regardless.
Question: What should I write on the cake?
Answer: That is up to you and your traditions. Some people include the baby's name, the date of baptism/christening, a religious phrase such as "God bless" or "Child of God," or a biblical verse. Others leave off writing altogether and use symbolic decorations (dove, cross, etc.). 
Question: Do you put candles on a Baptism cake?
Answer: Not usually. Depending on your tradition, you might receive a special baptism candle, which is supposed to be a keepsake. I don't see this candle ever added to the cake, but that might just be my experience. 
Conclusion
Thanks for browsing this list of 31 of the best baptism cake ideas. Out of all of them, I have to recommend number 6, the Rosary Cake. It is a medium size, so perfect for a family affair, I can change the accent colors to make it appropriate for any gender, and the understated elegance of the design will elegantly complement your celebration. But the biggest reason I recommend it is because, with a few minor tweaks, it meets all the requirements my family laid out for my nephew's baptism cake.
Are you planning a baptism ceremony and celebration? I'd love to hear which cake you choose and why.
Recommended Reads: