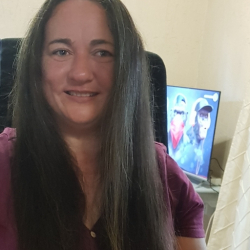 Latest posts by Caroline Lambert
(see all)
I'm always ready to bake another Spongebob cake. My first attempts weren't the best, but you'll learn how I changed that before I share the best Spongebob cake ideas. I've planned countless parties and bought themed party supplies for Spongebob Squarepants and numerous other famous characters.
Everything begins with party ideas, and my successful events often started with the best cake ideas. I've designed Spongebob cakes that looked like molten nightmares. Still, I also created aesthetically gorgeous Spongebob cakes that made my guests think a professional baked them.
So finally, I'm ready to share the secrets. But first, let's see which top Spongebob cake idea would wow guests.
My Top Spongebob Cake Idea in a Nutshell (Or Should I Say, Clamshell?)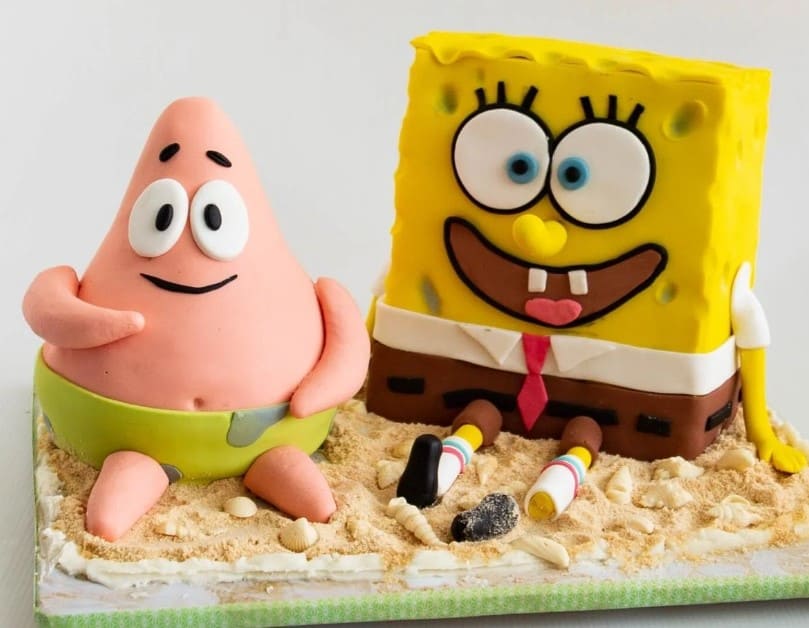 My family is Spongebob fans, and I've baked my fair share of Spongebob cakes over the years. However, I saw one idea that stunned me for two reasons. Firstly, it's beautiful and pops with details. Secondly, it's simple enough for the newest baker and decorator to enjoy. The Lego-Style Spongebob Cake Idea wins!
I love how simple the details are while adding so much depth to Spongebob. This cake idea is a step-up from the regular flat Spongebob cutouts people decorate. However, the holy details make it next-level impressive. There isn't much work that goes into this gorgeous Spongebob cake, but it stands out more than most.
You could add the Patrick Star cake topper on the side, or you can change the characters. The cake has excellent potential. You don't need to be a decorating wizard to pull it off. The holy sponge effect is simple if you take fondant rounds and press holes into them with a teaspoon. This Spongebob cake idea is perfect.
However, I have a whole lot of ideas. But first, dig into my tips and cake beauty list before hopping into the magnificent Spongebob cake ideas.
How I Select Aesthetically Beautiful Spongebob Cake Ideas for Beginners
Aesthetic beauty is the key to Spongebob cake ideas that wow guests. Unfortunately, I've seen some oddly-shaped Spongebob cakes and poorly planned tiers fall over. However, I'm here to pick Spongebob cake ideas that avoid embarrassment. And can I tell you a secret? You don't need professional skills to pull these cakes off!
First, let me define what makes a cake aesthetically pretty. A good Spongebob cake has one or more of the following:
buttercream or fondant or both (for the best children's flavors)
smooth edges with perfectly wrapped fondant (which is simpler than you think when you go into my tips)
sculpted Spongebob and friends character figures (again, I'll show you how)
simple yet pretty piping techniques
small details, including seaweed, bubbles, and beach sand
the correct coloring techniques for fondant
neatly printed edible wafer paper art for names or characters
personalization (adding a child's name and age with fondant cutouts or wafer paper edibles)
Yes, you can create the most beautiful Spongebob cake idea for any child's birthday. But, of course, Spongebob appeals to older fans. Still, I'm picking Spongebob cake ideas that meet two or three of the aesthetic details above. Additionally, even a beginner must be able to bake and decorate the cake.
Don't stress about the techniques and details because I've added all the tips you'll need for achieving the aesthetic qualities you want on a Spongebob cake.
Tips to Make the Best Spongebob Cakes
I can describe the steps you should follow to create Spongebob figures and smooth edges. However, watching video tutorials is the best method of learning professional decorations as a beginner. So, I've added these tutorials to help you achieve what appears complicated in my aesthetically beautiful cake ideas:
Finally, you might want some sculpted Spongebob figures, which isn't difficult if you follow tutorials. Here are some Spongebob cake topper tutorials:
Now, you're ready to try any Spongebob cake idea because you have the tools and tutorials to help finish the job. Trust yourself to create a masterpiece. After following my first video tutorial, I was surprised, which changed my cakes forever.
The Best Spongebob Cake Ideas for Newbie Bakers
Are you ready, kids? I'm barely able to contain myself with the gorgeous Spongebob cake ideas I found. I suppose I'll be baking one soon again. Sometimes, ideas are all you need to inspire the most breath-taking cakes for birthday parties or any party with Spongebob fans. So, let's hop aboard the Spongebob train.

Spongebob's face is welcome to any fan. This cake idea showcases the one thing people love about him, the goofy smile. The cake looks neat, even though it's entirely piped with buttercream frosting. It takes time to funnel this beautiful cake, but the result is awe-inspiring. Spongebob's smile lights up mine.

The "Beach Party" Spongebob cake idea looks complicated, but it's far from challenging. The buttercream is neat and looks like beach sand. You can swap the plastic figures for edible or printed versions to improve the aesthetic beauty of the cake. The cake looks like a beach playground, and you can add anyone.

Printed edibles are the ideal match for beginners. This Spongebob cake shows you can use a simple under-the-sea theme with coral decorations and shells. Add any edible wafer paper or sculpted fondant figures to the top, and you have a simple yet beautiful Spongebob cake.
I love this Spongebob cake idea because it uses a standard box cake shape with pretty decorations you can change as you wish. I'd keep the houses because they represent the most exciting place in Bikini Bottom. I'd also ensure the fondant figures go on top. First, however, I'd neaten the buttercream frosting around the cake.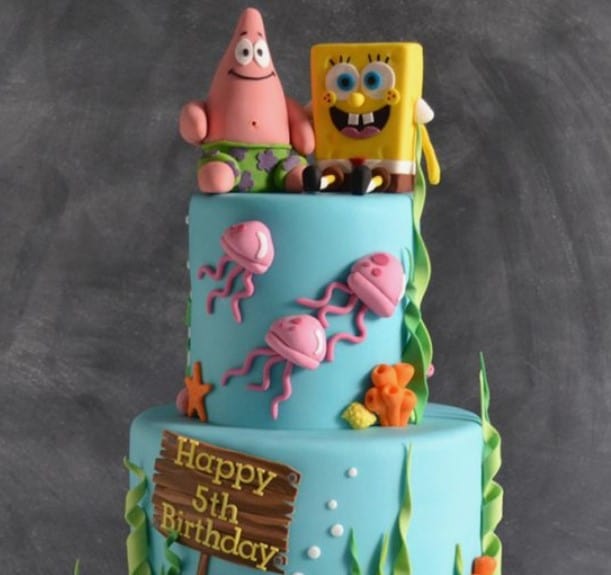 I initially added a jellyfish tutorial because besties Spongebob and Patrick love jellyfish hunting. This Spongebob cake is an incredible feature for larger parties with more guests. The fondant wrap neatly encases the tiers, and the shells and coral decorations look impressive. Add Spongebob, Patrick, Gary, and a Pineapple.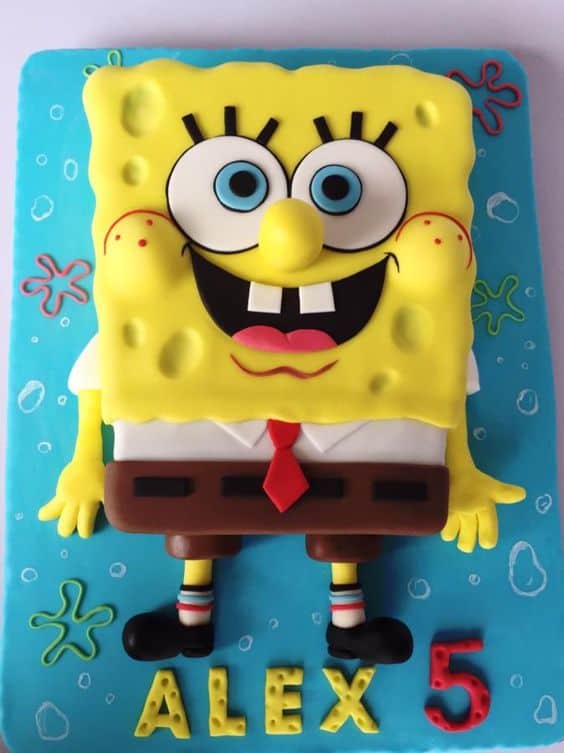 I imagine every grandmother would squeeze the life out of Spongebob's cheeks because he's adorable. This Spongebob cake is a simple flat design you can easily cut out before wrapping it neatly with fondant. Even the decorations work as fondant cutouts. Use a spoon to create the sponge holes and extra cake for the cheeks.

Patrick is undoubtedly the second-favorite character from the show, and kids will love his cakes. I'd change Patrick's cake idea because he doesn't live in Spongebob's pineapple. Instead, I'd replace the pineapple with a fondant cutout that looks like Patrick's rock. The rest of the cake looks incredible.

Many episodes begin with the "so many hours later" story, and you can use it to add a child's birthday. This Spongebob cake worked for a 22-year-old. But, again, there's no limit on the fandom age for Spongebob and his friends. I'd undoubtedly add more coral and shell decorations and even a Spongebob fondant figure on top.
No one said you couldn't use Spongebob cake ideas for Christmas. Sure, this Spongebob cake idea is far more challenging than most. Still, I added the video tutorial to help you feel more confident. Follow the steps carefully or change the depth of details if you struggle. It's a masterpiece Spongebob cake.

No one's sure whether Spongebob and Squidward are friends or frenemies. Either way, this cake idea would be perfect for fans who enjoy Squidward's dull nature. Use the tutorials for Squidward and Spongebob to create more beautiful fondant figures. Still, the rest of the cake is fantastic as you see it. Shake things up if you wish.

Adding too many Spongebob fondant figures can be challenging. However, can you imagine how impressed guests would be to see this gorgeous Bikini Bottom cake idea? It includes many of the much-loved characters. Unfortunately, the colors are slightly off with Gary and Spongebob, but use the tutorials to fix them.
Making a simple cake with a printed edible wafer paper pineapple in the background and the besties in front is a good choice. It's also a brilliant choice for little ones or as a smash cake. I'd improve the fondant name cutout with one of the tutorials or remove it entirely and put it on the front of the cake.
Simplicity is often the answer to a beautiful cake design. Spongebob's color and smile are enough to brighten any party. Of course, you could replace the face with fondant and the top with sculpted figures, but the arms can remain edible paper prints. Imagine what would be in Spongebob's thoughts if you could have a peek.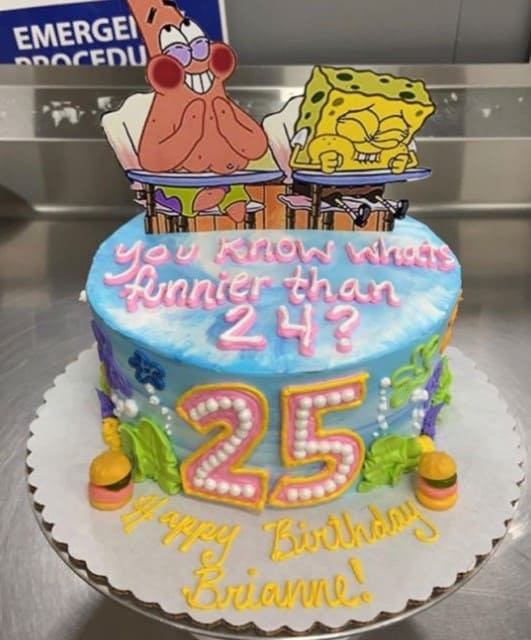 The printed edible wafer paper of Spongebob and Patrick on this cake idea appears popular. I saw them on many different cakes. I also love the humor of the cake's writing, which is simple piping. The cake is neat and gets a few giggles. You could go with plain buttercream frosting or wrap the cake with fondant.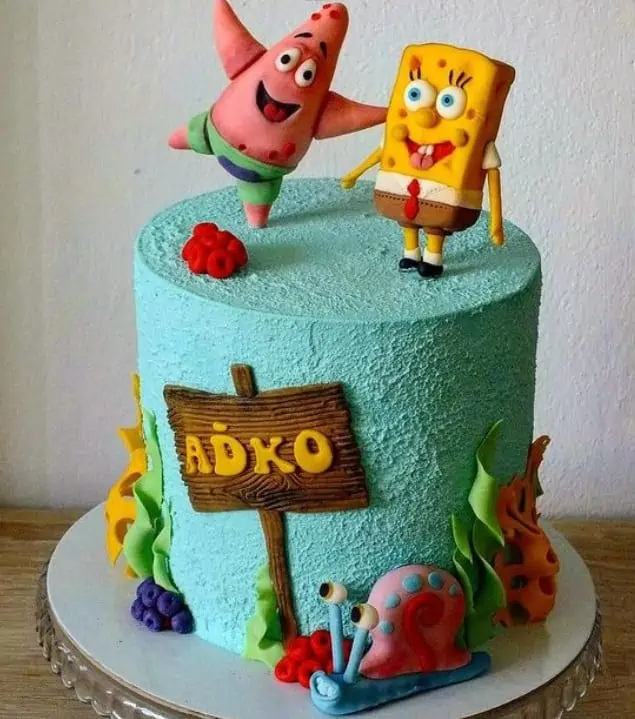 Some Spongebob cake ideas are phenomenal, but the little details ruin them. For example, I'm not crazy about the fondant Patrick and Spongebob figures. I'd replace them with improved cake toppers. However, the texture of the buttercream frosting is gorgeous, and you can achieve it with a silicone mold of your choice.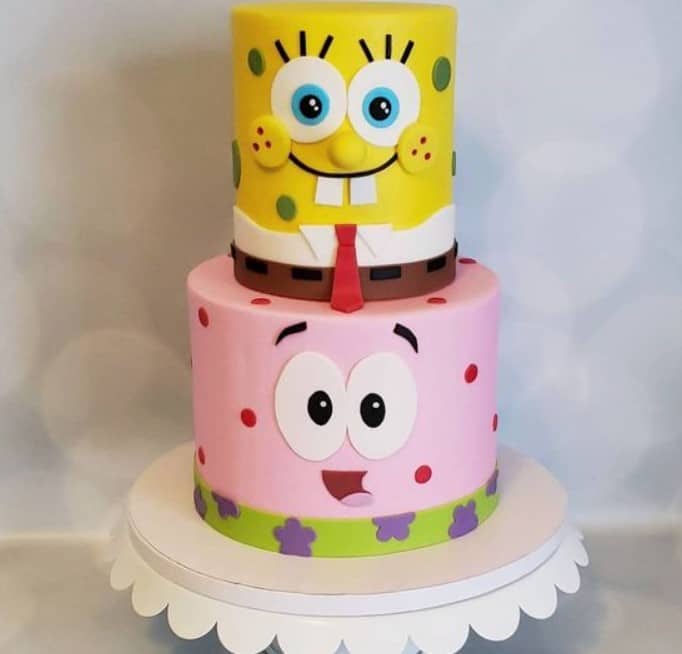 Again, I'm thinking simple rather than complicated here. Spongebob and Patrick's cake ideas also work as a two-tier besties feature. You don't need much more than yummy buttercream frosting covered in neat fondant. Every decoration is a fondant cutout, making this a quick go-to Spongebob cake idea for a medium party.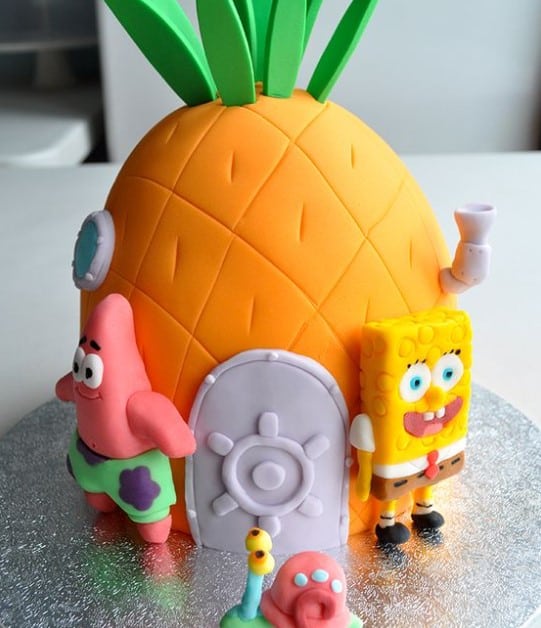 I can imagine Patrick and Spongebob playing hide-and-seek around a cake. I had a similar idea to this cake for Spongebob a few years back. But instead, I imagined a cake for Squidward's house with his face looking out the window. Spongebob and Patrick would hide like naughty children next to Squidward's house.

This Spongebob and Mr. Krabs cake idea undoubtedly match my original idea better than the last cake. It looks like Spongebob and Patrick are hiding from Mr. Krabs. However, the depth and details on this cake are impressive yet uncomplicated. The beach sand merely adds more depth and color to the blue background.

You can design and decorate Spongebob's pineapple home in countless ways. This Spongebob cake idea is another pineapple inspiration. The tutorials in my tips will help you create all the decorations around the cake. The pineapple is a simple fondant cutout. Use a textured sheet to recreate the wooden board.

This Spongebob cake idea looks simple but has many details and fabulous features. Firstly, it represents Spongebob running like a child, saying, "I'm ready." I imagine him off to work with this cake. You could use the same idea as the creator because they used edible printed wafer paper around the cake.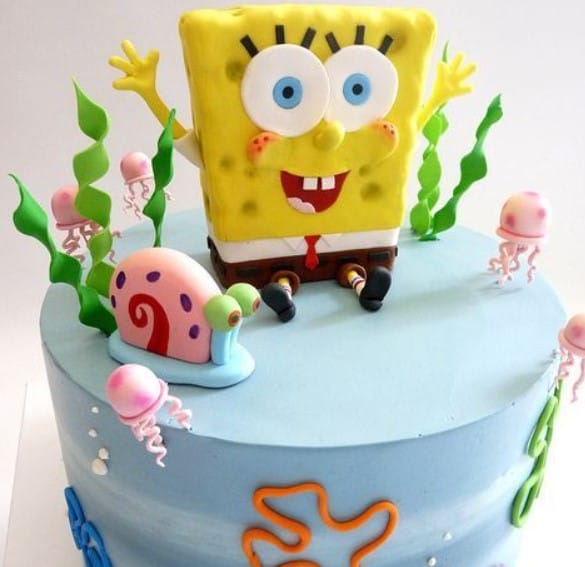 Spongebob loves Gary, jellyfish, and all his Bikini Bottom friends. This cake salutes his jellyfish passion, and the gravity-defying jellyfish are simple to make. Use cake pop sticks to attach your jellyfish fondant cake toppers to anywhere you imagine them swimming. I'd put a name and age between Spongebob's legs.

Spongebob's brain has more Krabby Patty inspiration than other Bikini Bottom characters. The sponge protects the secret recipe and makes mouth-watering burgers. Spongebob likely dreams of Krabby Patties. This cake idea's greatest challenge is copying the burger on top. Fondant cutouts and cake stuffing will do the trick.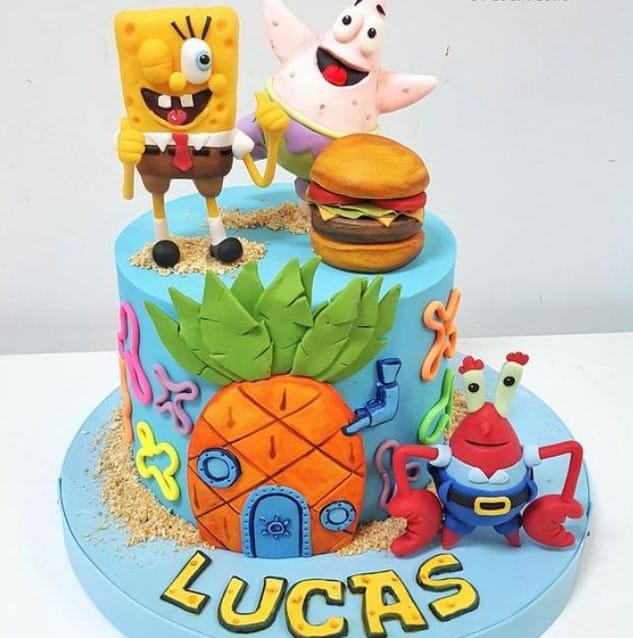 I'm not sure what this Spongebob cake means to say, but I'd change the cake to look like the Krusty Krab rather than Spongebob's home. It has the famous burger and Mr. Krabs. In this idea, you could use fondant cutouts to create the Krusty Krab as the baker did with Spongebob's pineapple. It would be explosively incredible.
Spongebob looks like he's about to tell you something with this ideally-shaped cake idea. Spongebob has many stories to share, and I love how this cake makes guests think he'll tell one. The cake is another simple and effective way to portray the famous cartoon character. The colors are bright, and the carving is easy.

Spongebob cake ideas don't always have to center on the sponge, his friends, or Bikini Bottom. A carved number cake wrapped with fondant opens your decorations opportunities. Spongebob's arms are too long on this cake topper, but the details are gorgeous. Sculpt some fondant figures and watch the cake take shape.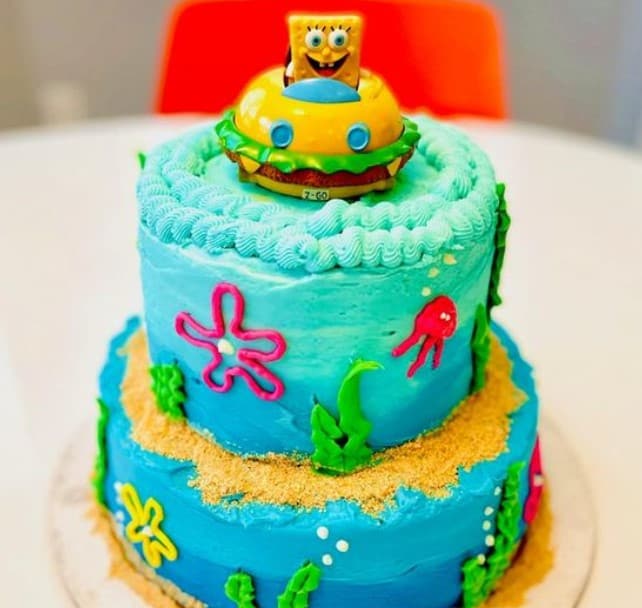 I nearly drop to the floor with laughter every time I see Spongebob driving a boat because we all know he can't. Poor Mrs. Puff's heart can't take much more of Spongebob's driving lessons. Therefore, this Spongebob cake idea blows my mind. The Krabby Patty boat will need some work, but it's so funny I'd even use a printout.

Mr. Krabs is always looking to make more money and get to the top of the world's riches. This Spongebob cake idea represents his desire to reach the top. I love how Spongebob joins him in the spotlight. I'd change the edible wafer paper to fondant cake toppers, but the idea is brilliant. The cake also looks super neat and pretty.
Spongebob's pineapple home comes up in many cake ideas and is brilliant. I love this Spongebob cake idea because it's a carved version of the pineapple. Use the carving tutorial to get the right shape, but the fondant cake wrap shouldn't be too challenging. The pineapple hairs require already-dried fondant cutouts.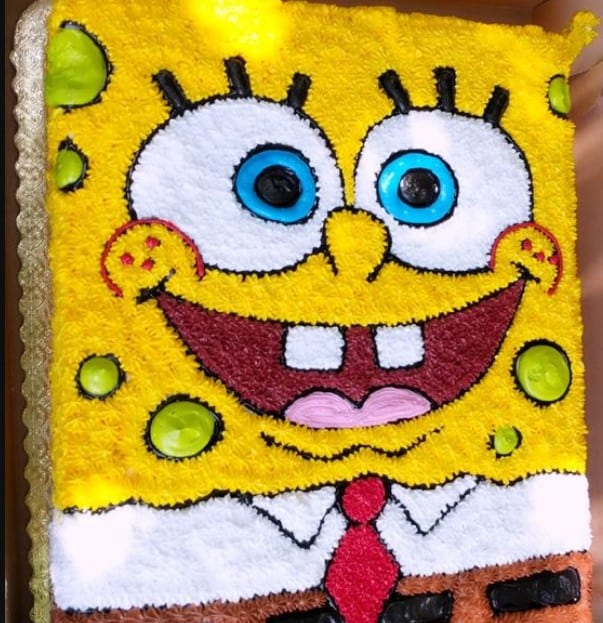 Some bakers love piping an entire cake, and there's nothing wrong with it if you notice you're good at the fine-point techniques. A flat box Spongebob cake with patiently-piped details works as well as any other idea. You'll use around five piping nozzles and all your patience, but you'll love the results when Spongebob smiles.

Spongebob also looks incredible as a sitting cake. The arms and legs merely require support pipes, but the entire cake is simple tiers with tasty buttercream frosting. You don't even have to pipe a border around Spongebob's body. Instead, cut fondant decorations for his face, and add fondant shells near his feet.

Spongebob focuses on perfection with each Krabby Patty he makes with love. This Spongebob cake shows his passion and determination and doesn't require too much work on the decorations. The burgers are simple fondant creations with leftover cake inside. You can print Spongebob's arms on edible wafer paper.
Spongebob sitting cake ideas are beautiful enough to share a second one. This Spongebob cake idea is slightly easier than number 30 on my list because it has less depth. It also has an easy-to-follow video tutorial to ensure you get the carving right. Spongebob looks happy with this idea, and it would make guests smile.

Smash cakes are a rave, especially for first birthday parties. You want something aesthetically pretty, but you don't want a child smashing the cake to break your heart. I've baked many smash cakes, and my heart folds when I put too many details into them. You don't even need Gary on Spongebob's head. It's pretty enough.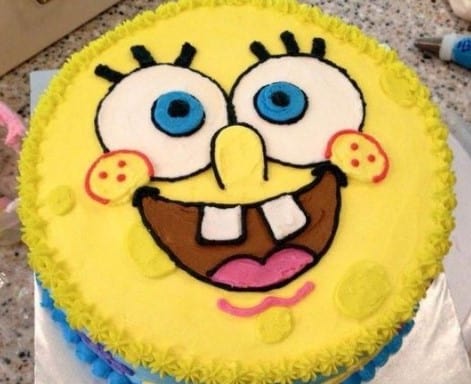 On the topic of smash cakes, this Spongebob cake idea would also work. It's pretty and neat enough to wow a little child, but they can get their hands dirty and their faces covered in frosting. I'd add a little more detail to the cake's sides, but Spongebob's face is merely a few fondant cutouts and piping techniques.
Spongebob is square. That's why people call him Spongebob Squarepants. Cartoons often go with the most obvious names. Making a square cake with Spongebob's smile and holy bubbles would do the trick. I'd add more details around the cake again, maybe with some sculpted shells and coral decorations.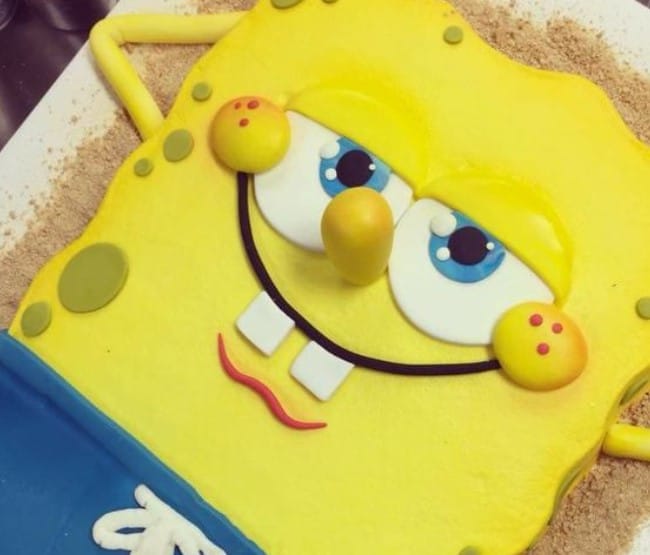 Would you like to make a flat Spongebob cake that looks different? I love this Spongebob cake idea because it shows the character sunbathing on a beach. Sure, he lives under the sea, but I know there's a "beach" in Bikini Bottom. It makes no sense, but nothing in the show does. It's another quick bake and decorating option.
The easiest way to make Spongebob's pineapple cake idea is with this gorgeous inspiration. It's pretty and neat. I'd focus heavily on getting sharp buttercream edges or use fondant over the cake. I would love to see a Gary fondant cake topper on top of the pineapple to add more detail, but it's simple and gorgeous.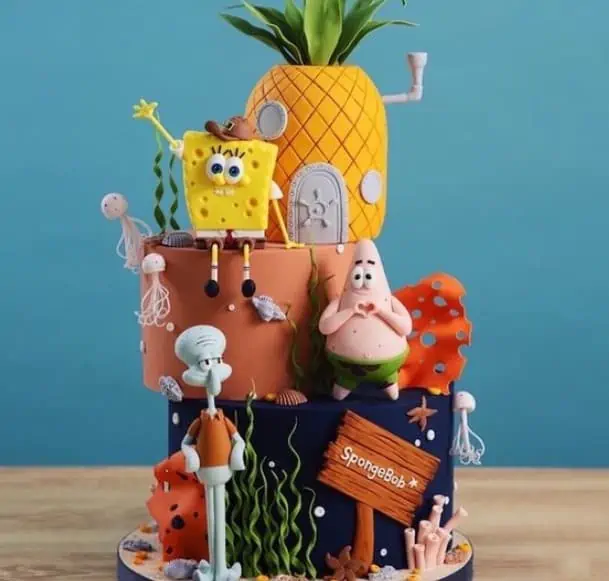 I promised easy cakes for beginners, but this Spongebob cake idea blows me away. It's not rocket science for beginners if you use the tutorials to create the cake toppers. Your jellyfish don't have to be as detailed as the cake. I'd also tone down the hair on top of the pineapple with dried-out fondant cutouts.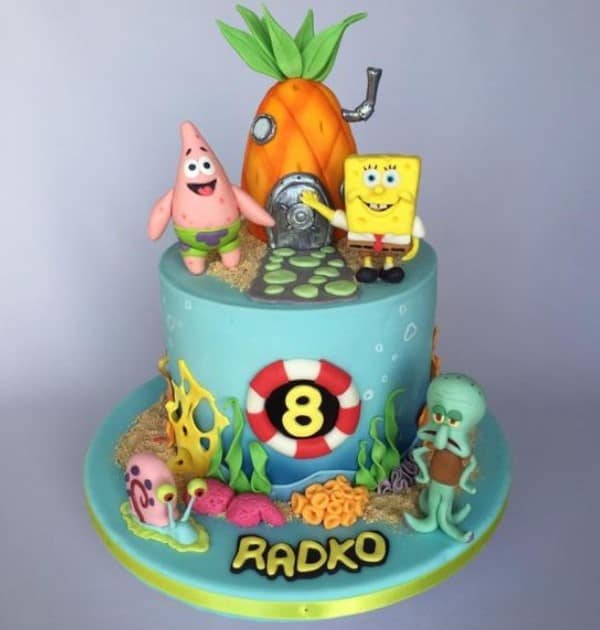 I call this cake idea "unfriended" because poor Squidward stays at the bottom. However, I picked it as a good idea because I love the life-saver on the side. It adds a portal to another depth. You can put a child's name or age inside the portal. Otherwise, the cake's fondant details are simple to make with the shared tutorials.

Spongebob's world seems weird but wonderful. This Spongebob cake brings his world and mind to life. You could replace the printed cake toppers with anything. However, I'd change the fondant cutout dots to another color, maybe a darker yellow. The blue color doesn't fit. I'd also add more shell and coral decorations for depth.
Top Spongebob Cake Ideas FAQs
Question: Which Buttercream Spongebob Cake Ideas Work Well?
Answer:Avoiding fondant can be challenging because you'll need plenty of patience to pipe Spongebob's colors and details. It's not impossible for beginners. For example, the Spongebob Face Cake Idea is an easy-to-copy buttercream dream. In contrast, the Spongebob Squarepants Cake Idea requires more patience.
Question: How Would a Two-Tier Spongebob Cake Idea Look?
Answer: There are countless ways to use Spongebob as a two-tier cake. The Best Friends Spongebob Cake Idea uses Patrick and Spongebob on top of a double-tier cake with coral decorations around the edges. You could also decorate the tiers to look like Spongebob and Patrick, like the baker did with this cake idea.
Question: What Is the Best Spongebob Cake Recipe?
Answer: Honestly, Spongebob and his friends represent friendship, fun, and surprises around every corner. I recommend using fondant and buttercream frosting combinations to make the cake tasty. However, I created this recipe to help you bake a fun, surprising cake sponge for the Spongebob cake idea you love:

The Spongebob Piñata Cake

Spongebob Piñata Cake Ingredients:
Ten ounces of unsalted butter
Ten ounces of dark Muscovado sugar
Three jumbos eggs
Ten ounces of self-raising flour
Three teaspoons of baking powder
Eight tablespoons of hot water
Two ounces of natural cocoa powder
Eight ounces of m&ms

Spongebob Piñata Cake Instructions:
Preheat your oven to 350°F while lightly greasing two round cake tins
Cream the sugar and butter together until they look fluffy and light
Add your eggs one by one while beating them into the soft mixture
Sift the baking powder and self-raising flour into the moist mixture
Create a paste in a separate bowl with the cocoa powder and hot water
Add the cocoa paste to the dough and mix it properly
Pour the cake mix into the two  greased pans and bake for 30 minutes
Allow the sponge cake to cool completely on a wire rack once baked
Cut a full circle out of the cake's middle when it's cool
Use buttercream frosting to stack the tiers before pouring the m&ms into the circle cutout
Stuff leftover sponge from the circle cutout over the m&ms to create a flat surface for frosting the cake
Continue decorating your cake as you wish.
Spongebob Cake Ideas: Conclusion
Spongebob cake ideas inspire you to create something bold, beautiful, bright, and happy. Spongebob Squarepants is all about happiness and life deep in the ocean, where everything's colorful. You don't need a world of experience to decorate the cakes I shared because I carefully chose tutorials to help beginners.
Make your masterpiece and wow your party guests. I recommend the Lego-style Spongebob Cake Idea because it's beautiful, detailed, and straightforward. Don't be afraid to mash ideas into a new one, either. You could add to my Lego-style Spongebob cake idea. You could add to many of the ideas I shared.
Additionally, the tutorials will help you with the most famous decorations for Spongebob cakes. The sky isn't your limit. Only your imagination and patience will restrict your design. So, go on! Bake something beautiful.
Recommended Reads: