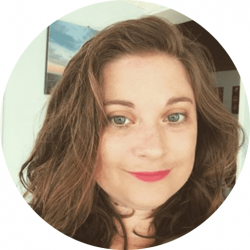 Latest posts by Samantha Bellinger
(see all)
Dinosaurs make a perfect theme for all types of parties, and no dinosaur theme is complete without a few dinosaur party supplies. 
As I mentioned in the article 27 Dino-Mite Dinosaur Cake Ideas, one of my earliest jobs was at a natural history museum. The museum had a giant dinosaur skeleton at the entrance, so it shouldn't be a surprise that the museum played host to many dinosaur-themed events. I mostly worked at educational events but occasionally was tapped for rental events such as birthday parties, weddings, and retirement parties. This list of dinosaur party supplies would have been perfect for any of those events!
Bottom Line Up Front
Dinosaur party supplies might be one of my favorite themes to buy for an event; they are so wide-reaching. Out of all the supplies I list below, I particularly love the Inflatable Dinosaur Sprinkler. It doubles as a fun party game and an impressive decoration. I also particularly love it because you can reuse it for many parties or even everyday occasions. It is the one dinosaur party supply I'd buy even if I didn't have a dinosaur party to plan.
Dinosaur Party Supplies: Selection Criteria
I created the following Dinosaur Party Supplies Guide with one main criterion in mind: the guide incorporates supplies for every occasion and age level. I hope this list will meet your party supply needs regardless of why you celebrate.
Dino-mite Party Supplies for All Occasions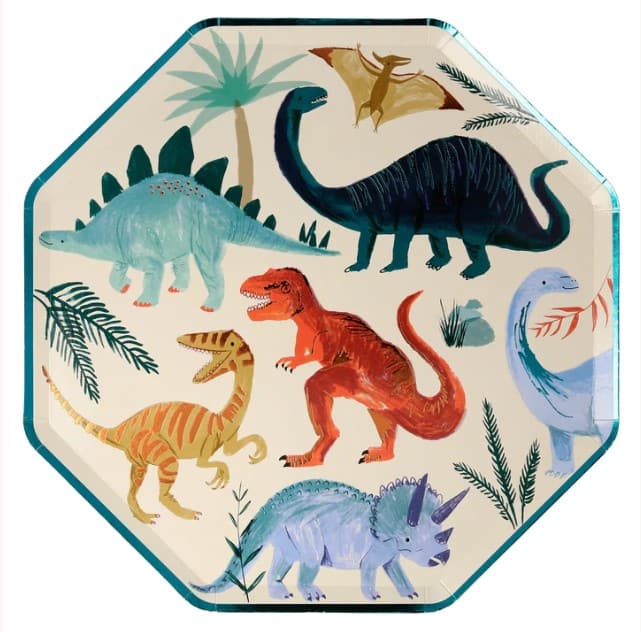 Plates are a must when it comes to dinosaur party supplies. These octagonal plates stand out from the crowd with their artsy design. I'd recommend these for any party and all occasions.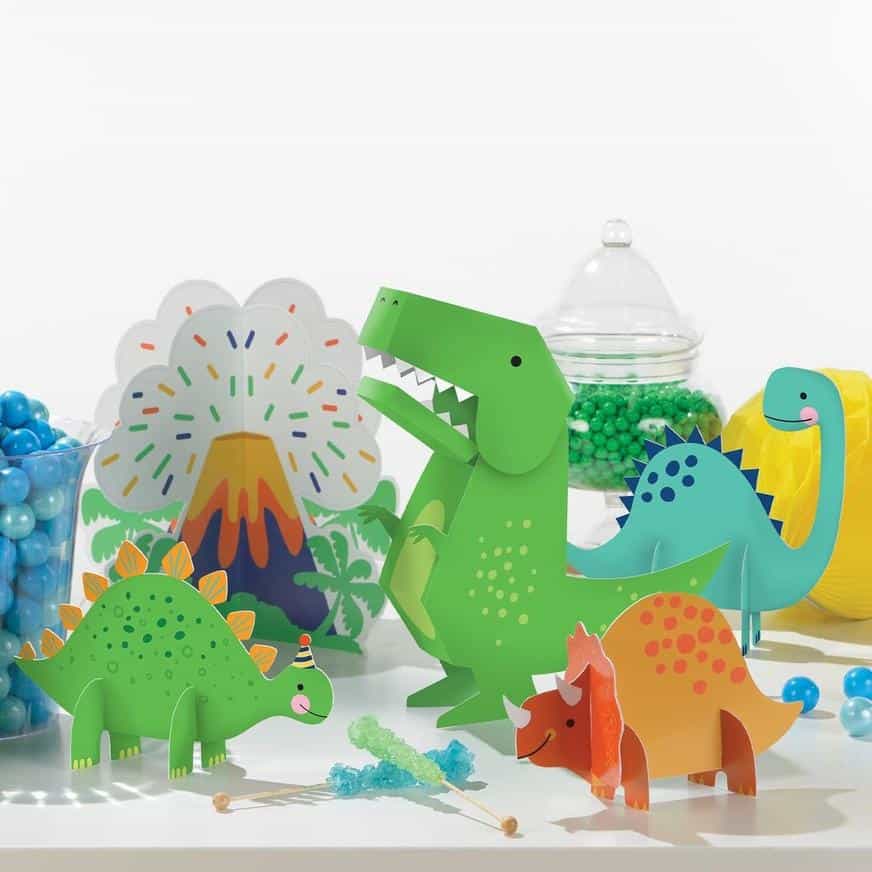 Party City offers a five-piece table decor set with various dinosaur designs. Three (T-Rex, Sauropod & Volcano) are 8 inches tall while the remaining 2 (Triceratops & Stegosaurus) are smaller, standing at 4.5inches tall. They make for a colorful set for your table.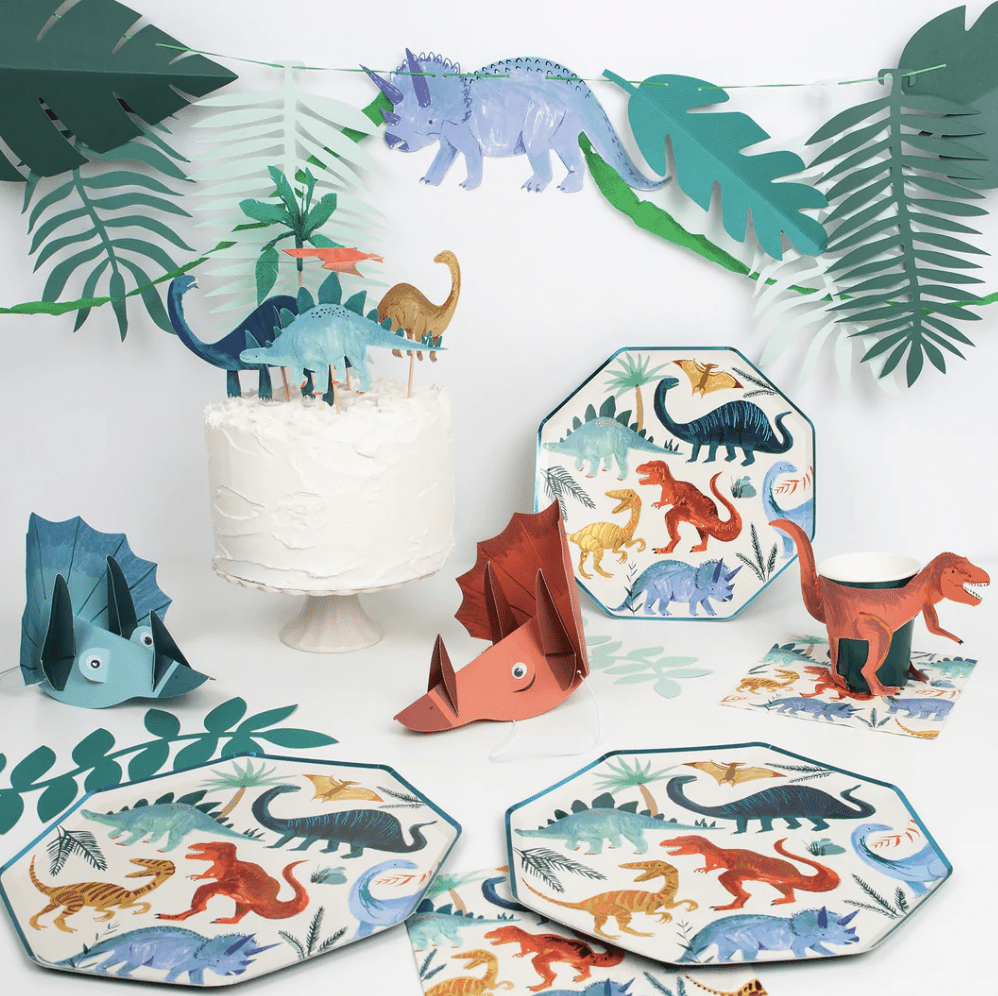 I'm a big fan of party bundles; they make planning and decorating considerably easier. This bundle is no exception. Made for a party of 8 little dinos, it contains dinner plates, cups, napkins, party hats, cake toppers (a few to choose from), and a garland. I believe it's worth buying the entire bundle; it has everything you need and saves you time!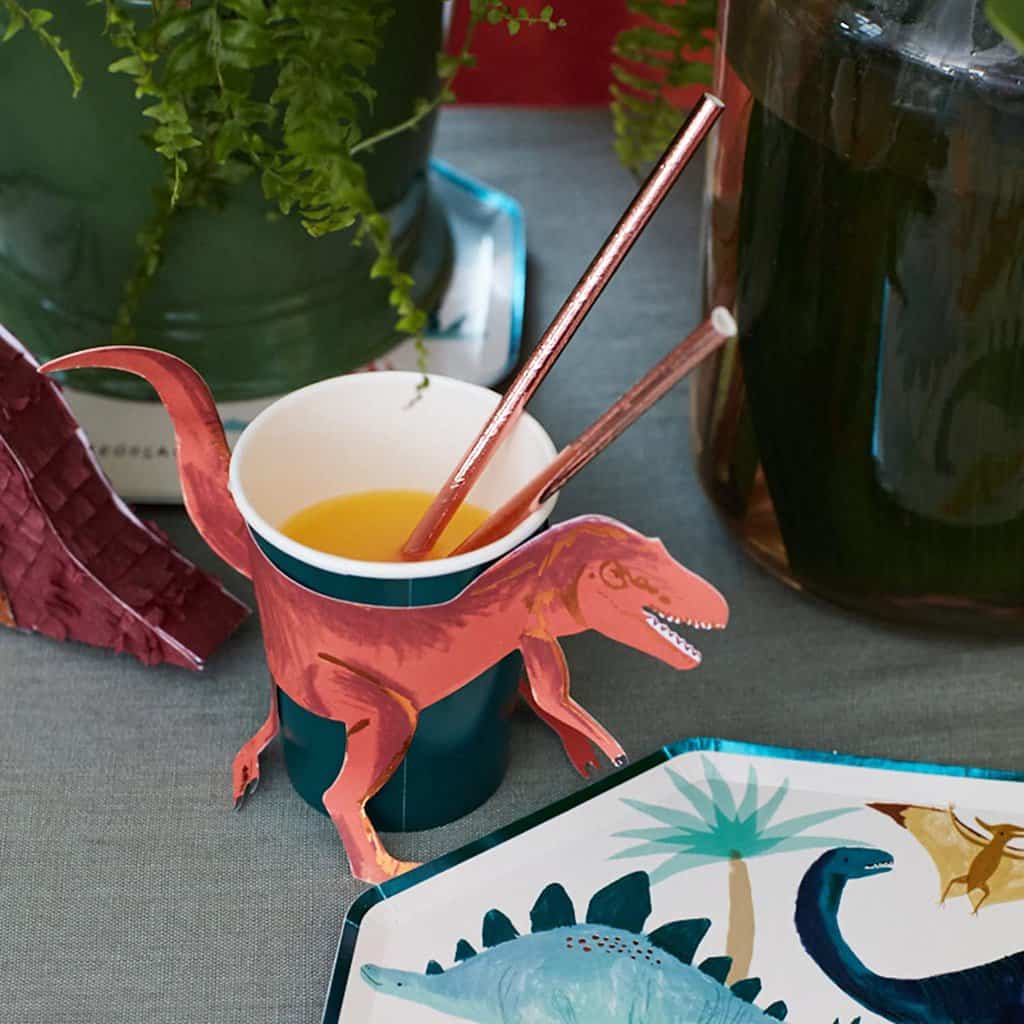 These are so cute! They'd make a great addition to your dinosaur party supplies list. My only concern with these is that they might be hard to drink out of for the youngest guests.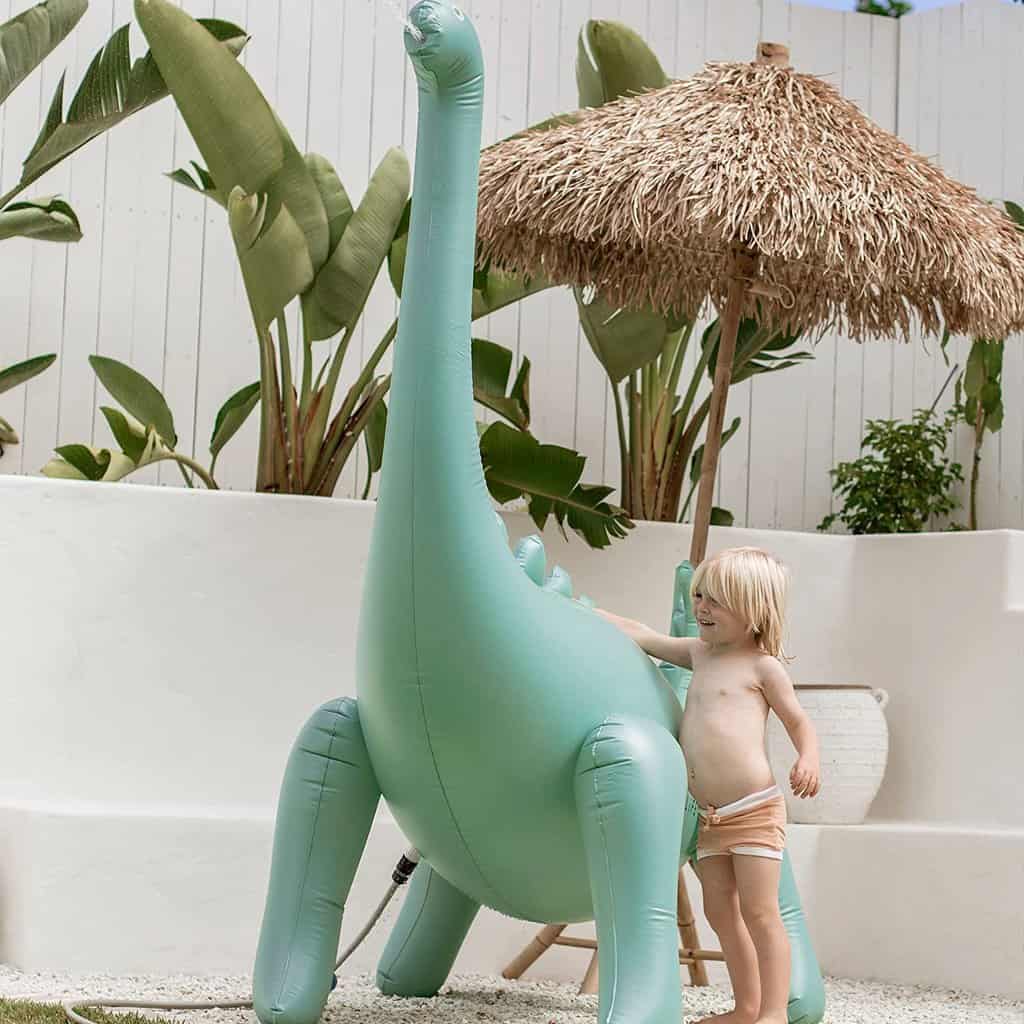 If you are having a backyard party celebration during the hot days of summer, I highly recommend this inflatable dinosaur sprinkler. It'll keep kids cool and highly entertained for hours. It's my personal favorite. Part of my reasoning is that you can reuse it for multiple celebrations or everyday summer fun. The other part is that I want to buy this sprinkler regardless of party status. It just looks like fun!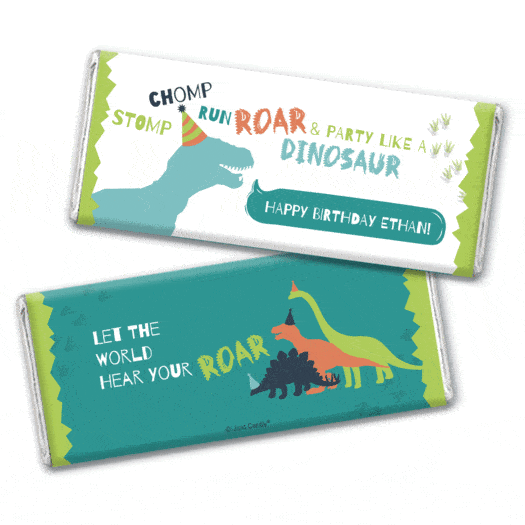 These personalized candy bar wrappers are a great way to incorporate your dinosaur theme into the party favors. I particularly love that they are customizable so that you can utilize them for any party.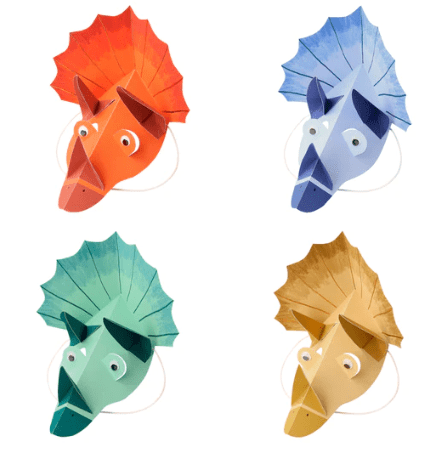 I'm a giant fan of having party hats, especially when they make for brilliant pictures like these do!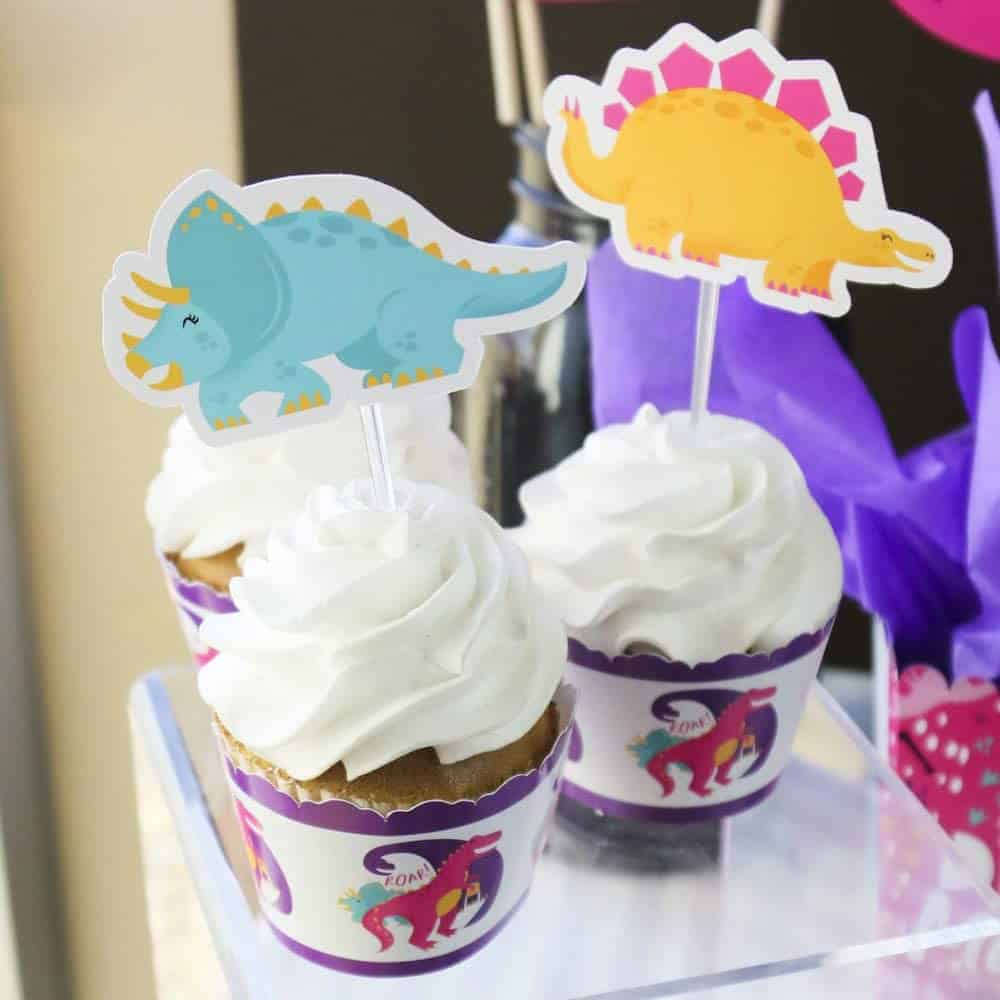 What a cute way to incorporate dinosaurs into your drinkware! I love that they give you multiple copies of 4 different designs; it is a great way to help tell drinks apart.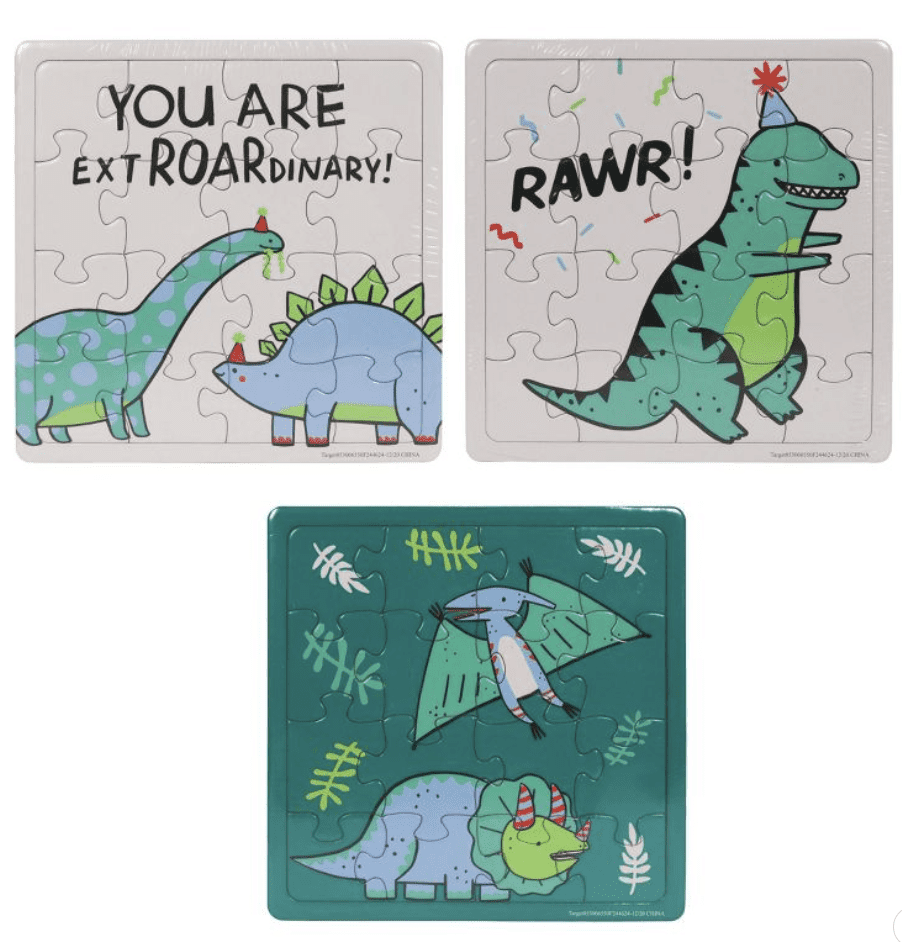 These mini-puzzle favors are a perfect gift for partygoers over three years old. They are one toy that can be reused over and over by recipients.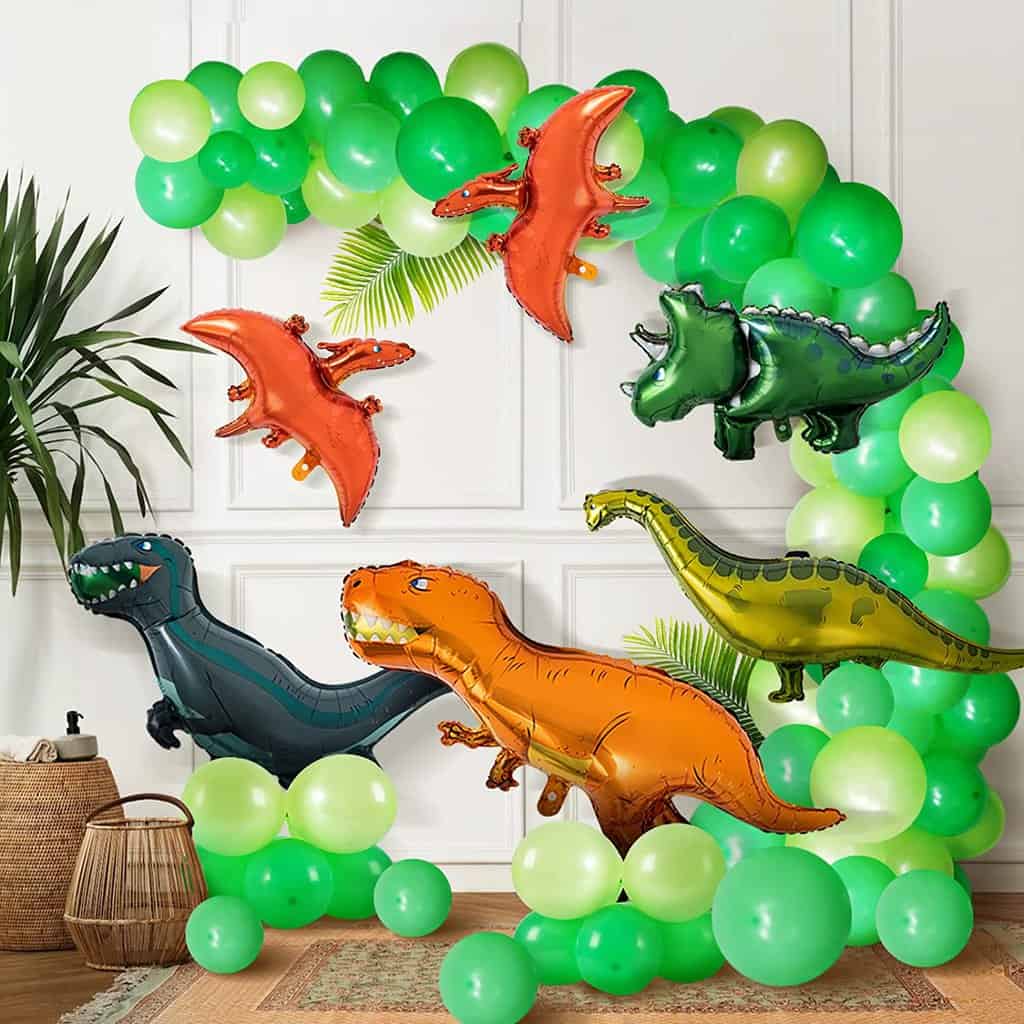 Balloon bundles are always a great option when buying party supplies. This dinosaur balloon bundle comes with dinosaur-shaped foil balloons and makings for a balloon arch. It even comes with a balloon pump. Overall, this is an excellent option for one-stop balloon decor.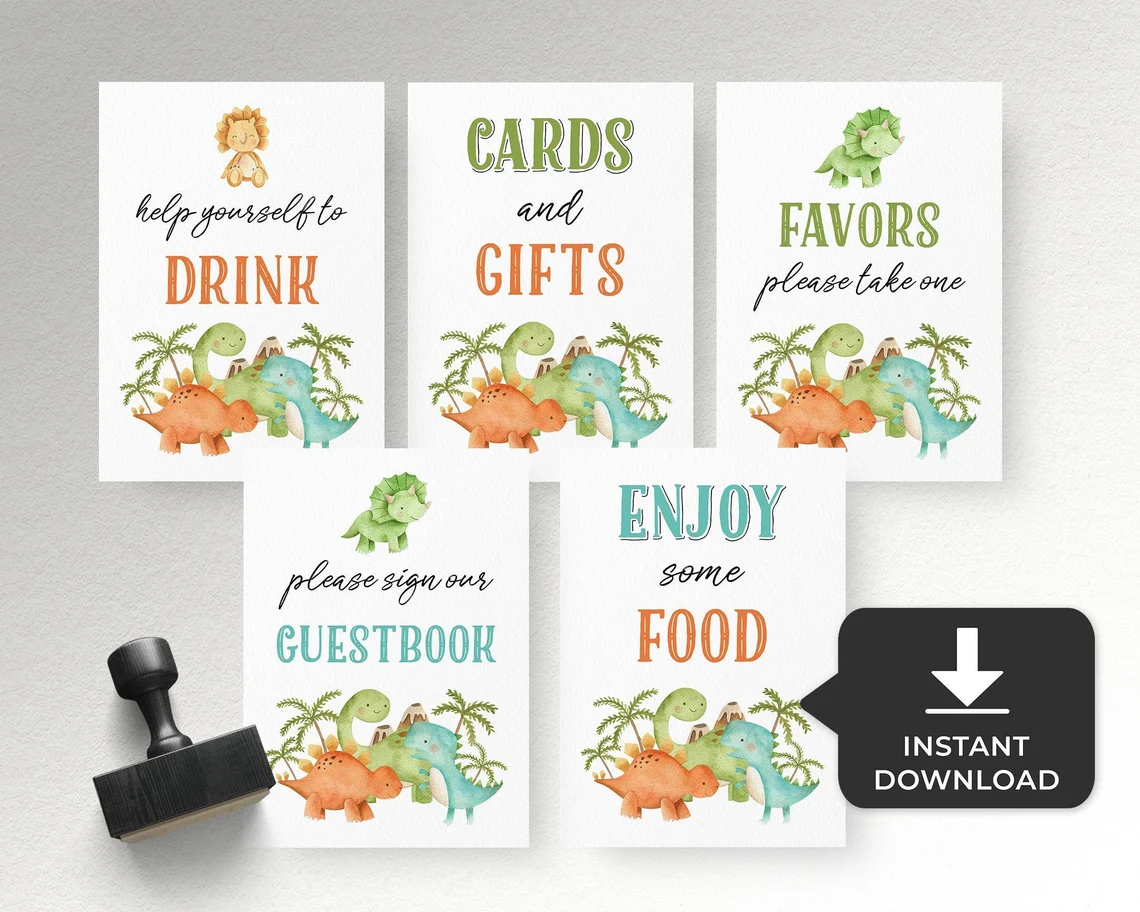 This digital download is a great way to get dinosaur-themed table signs for any celebration. It includes signs for food, drinks, gifts, favors, and a guest book.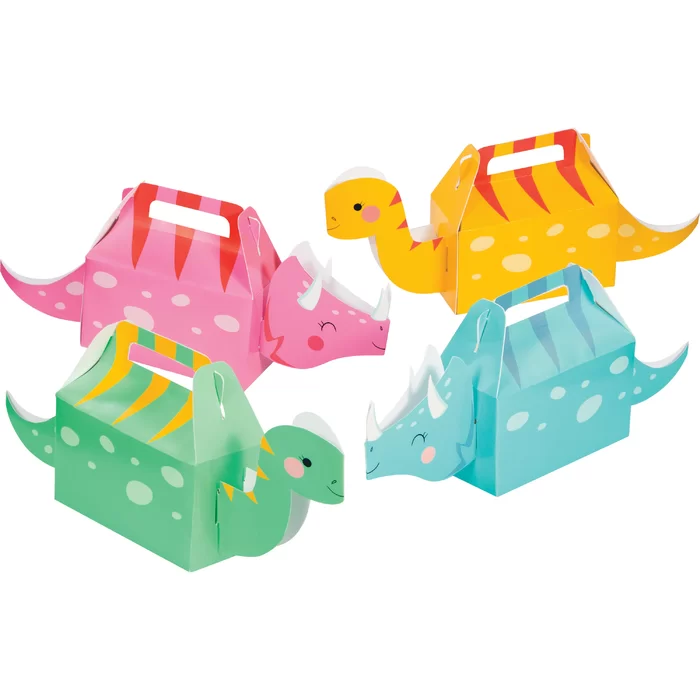 If you are looking to package your favors, try these favor boxes. There are four different colorful designs per pack.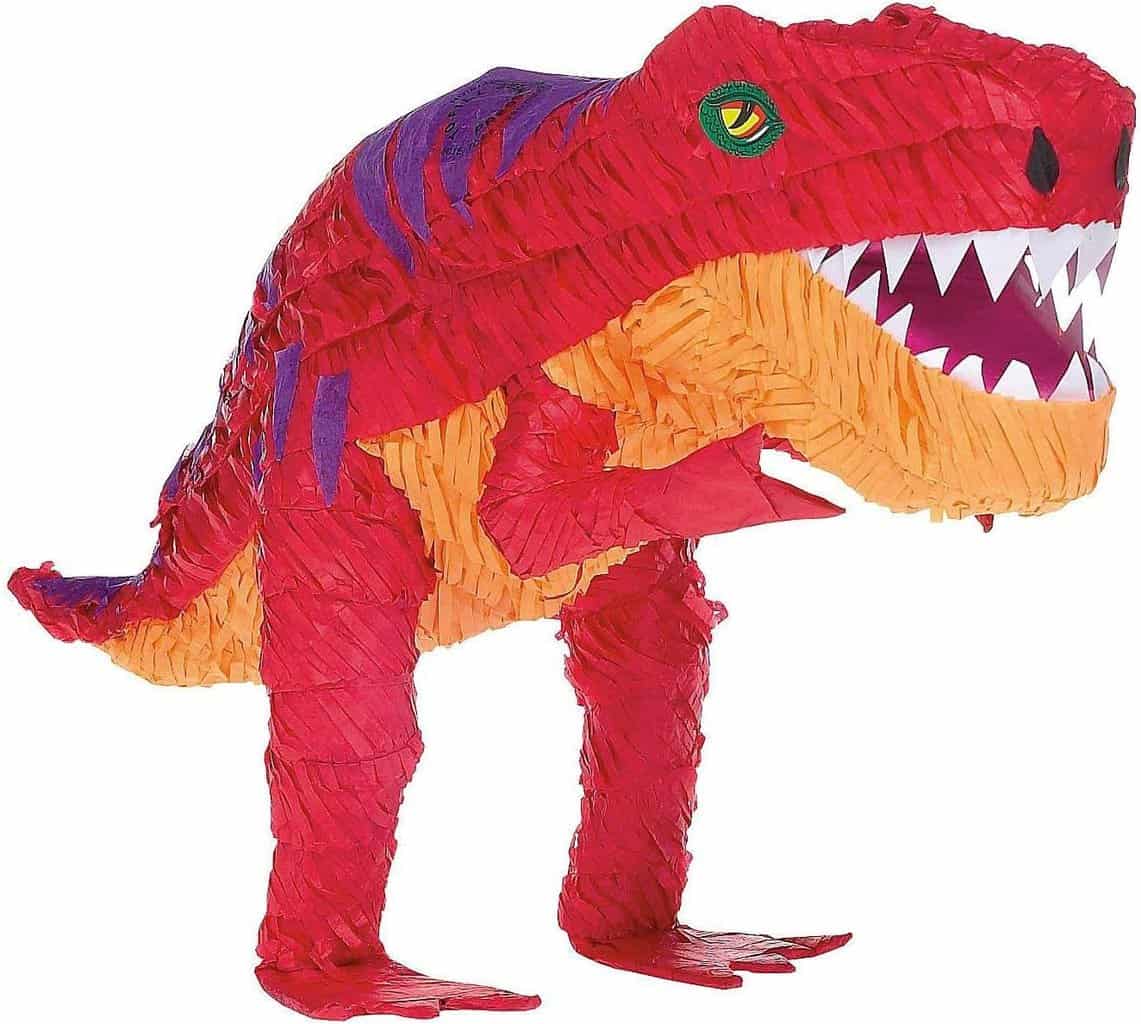 Piñatas are a big hit for all types of parties, and I highly recommend this T-Rex version for your dinosaur party. This particular one comes unfilled so that you can pack it full of your favorites.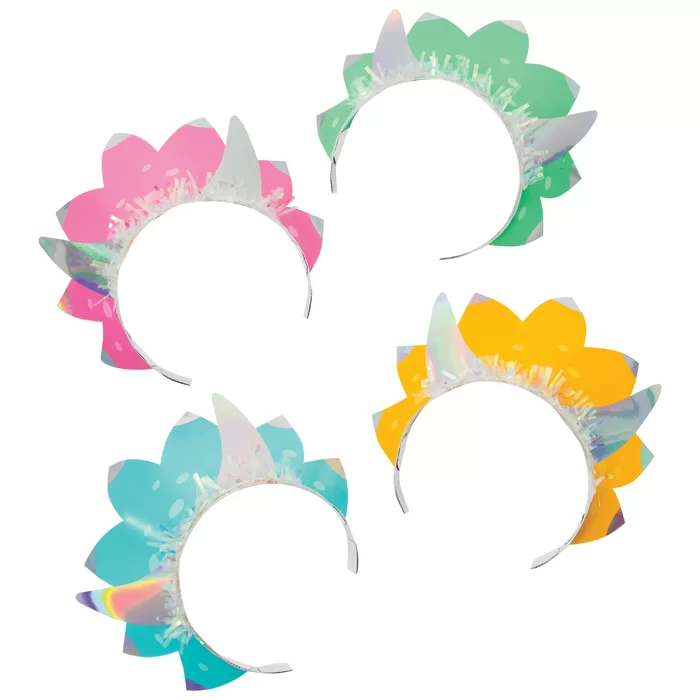 What is better than dinosaur party hats? Dinosaur party headbands. The foil material gives these headbands a fun shimmer, and the variety of colors makes them perfect for all tastes. I should note that these are child-sized, so they would need to be limited to your littlest guests.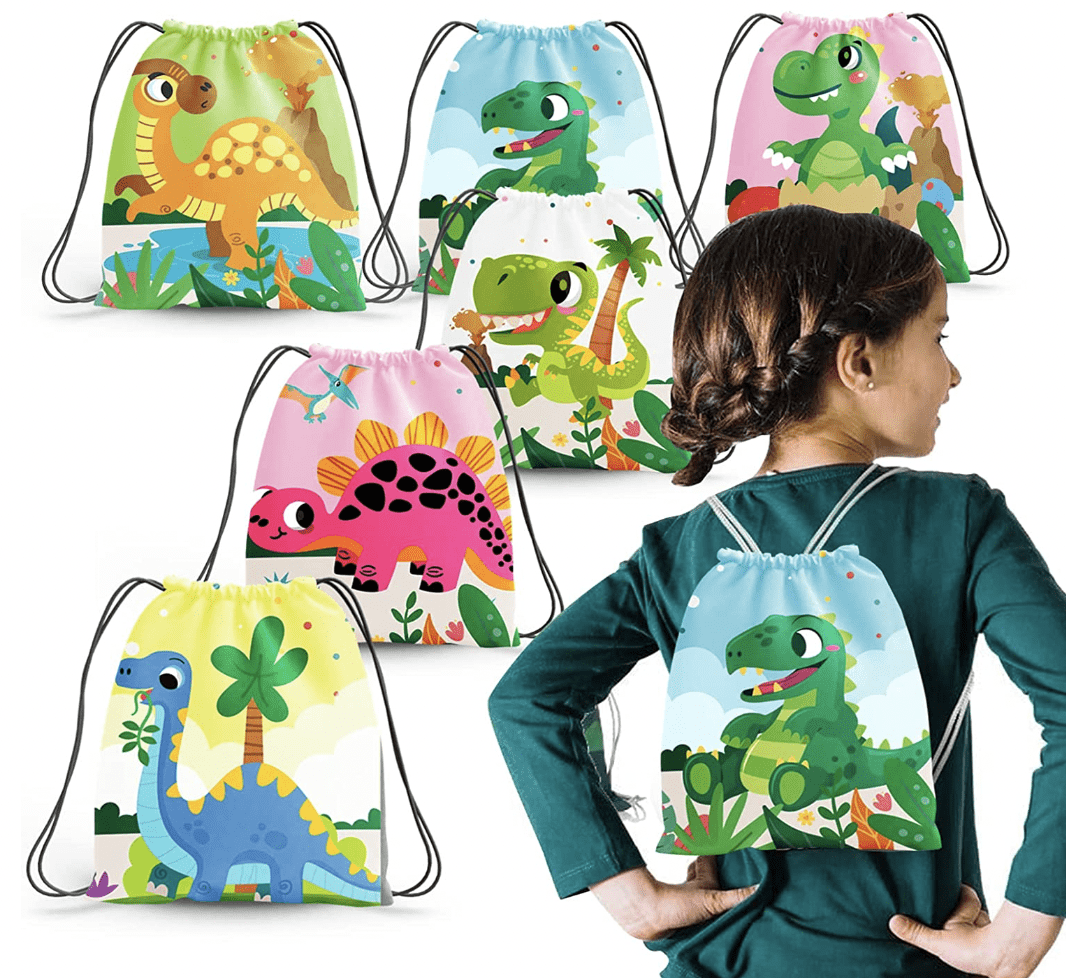 Party supplies are notoriously disposable, but these drawstring party bags would be the perfect way to incorporate reusable bags into your dinosaur party. They'd be great favor bags and could be used by guests long after the party.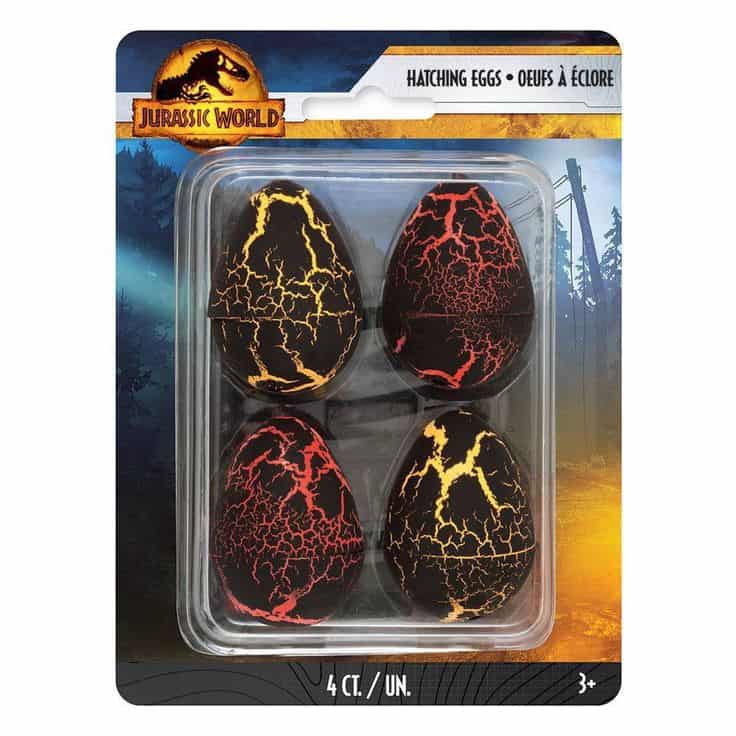 I love these grow-your-own dinosaur eggs. As a kid, I used to love watching they grow in water. So when I saw these, it was a no-brainer. These eggs would make a great party favor for all ages!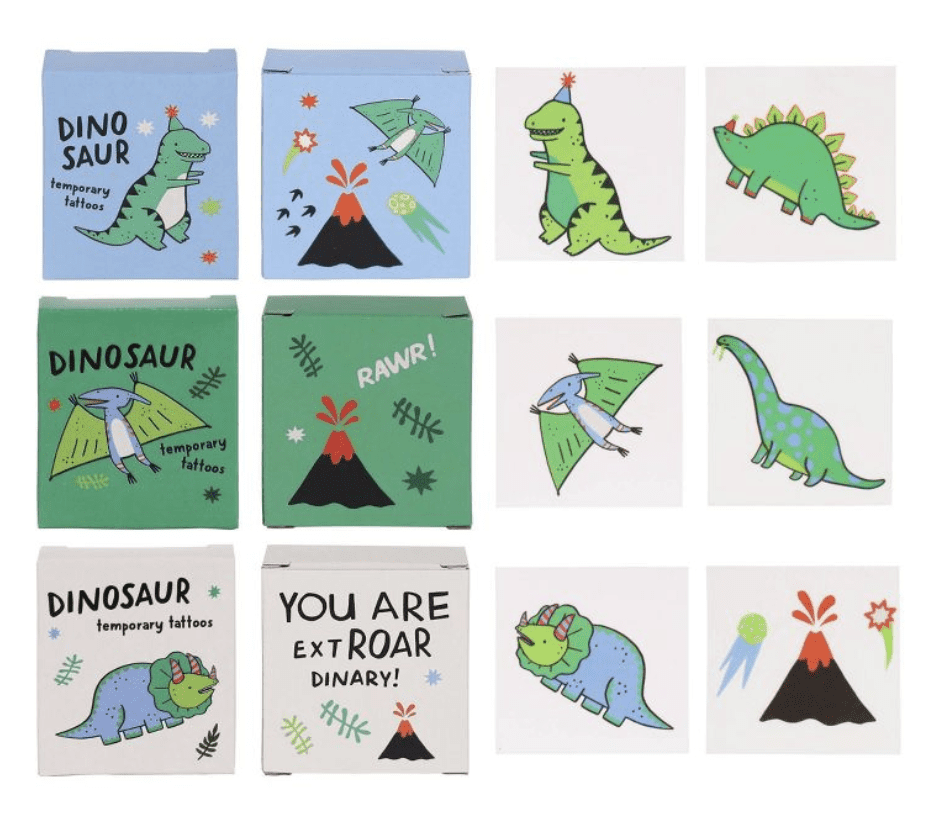 Temporary tattoos are always a cost-effective party favor. While they seem to be loved by kids, I've seen some adults get just as excited for them. You just need to know your crowd.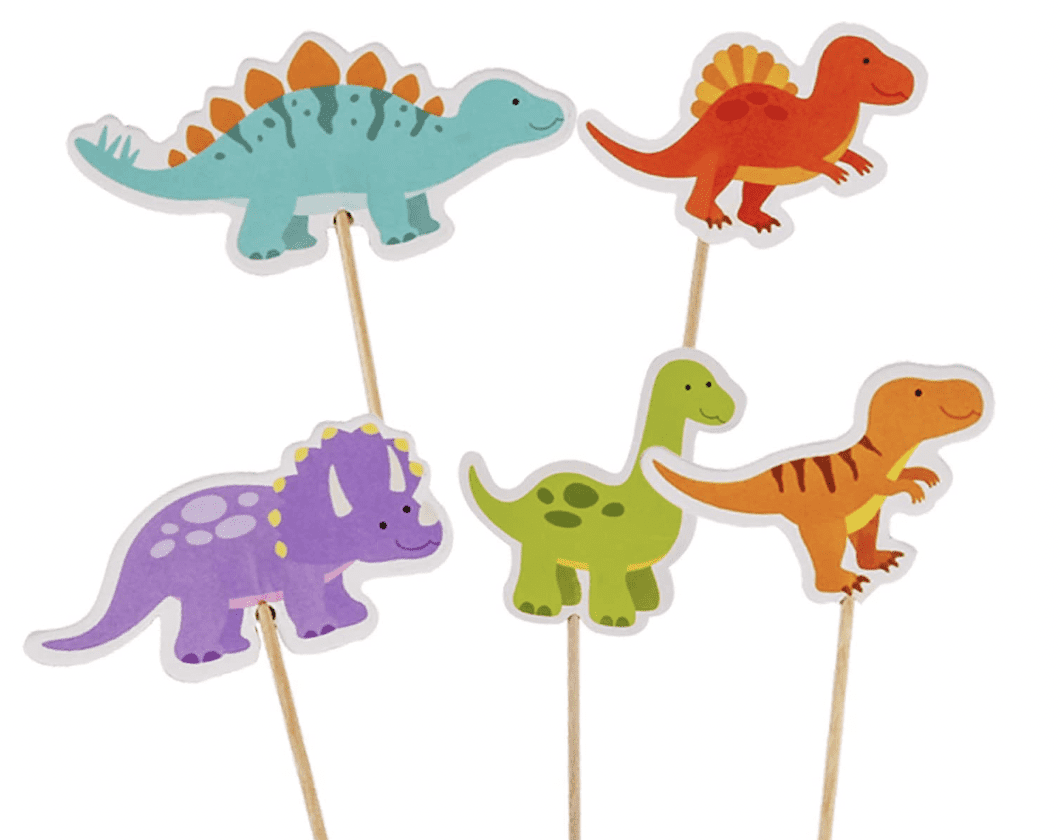 Cupcake toppers are an excellent way to include your dinosaur theme in your event. They are easy to use and can be added to any cupcake flavor/design you want.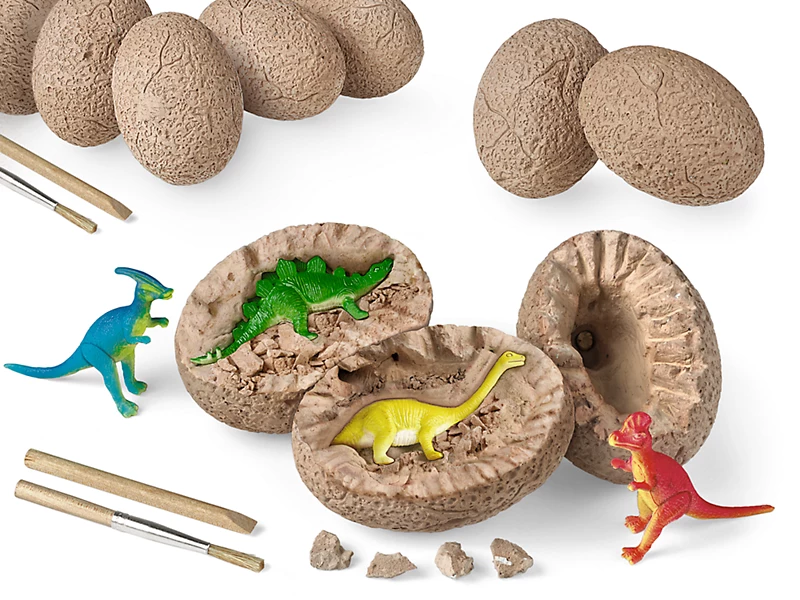 These would be great as a party activity or a favor, especially for budding archeologists.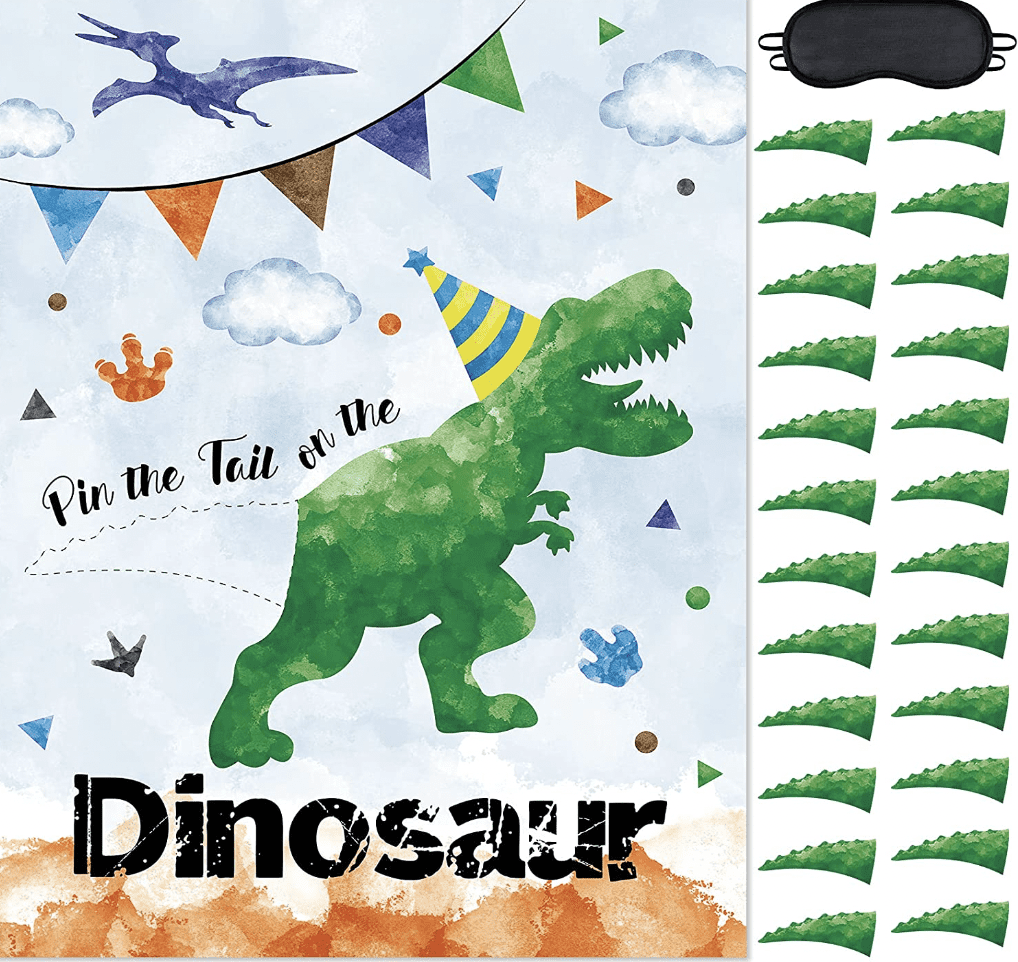 I love this pin the tail on the dinosaur game and would argue it is for all ages. I know this game is typically seen at kids' birthdays, but I've also seen versions played at baby showers. I recommend you consider it for your get dinosaur-themed party.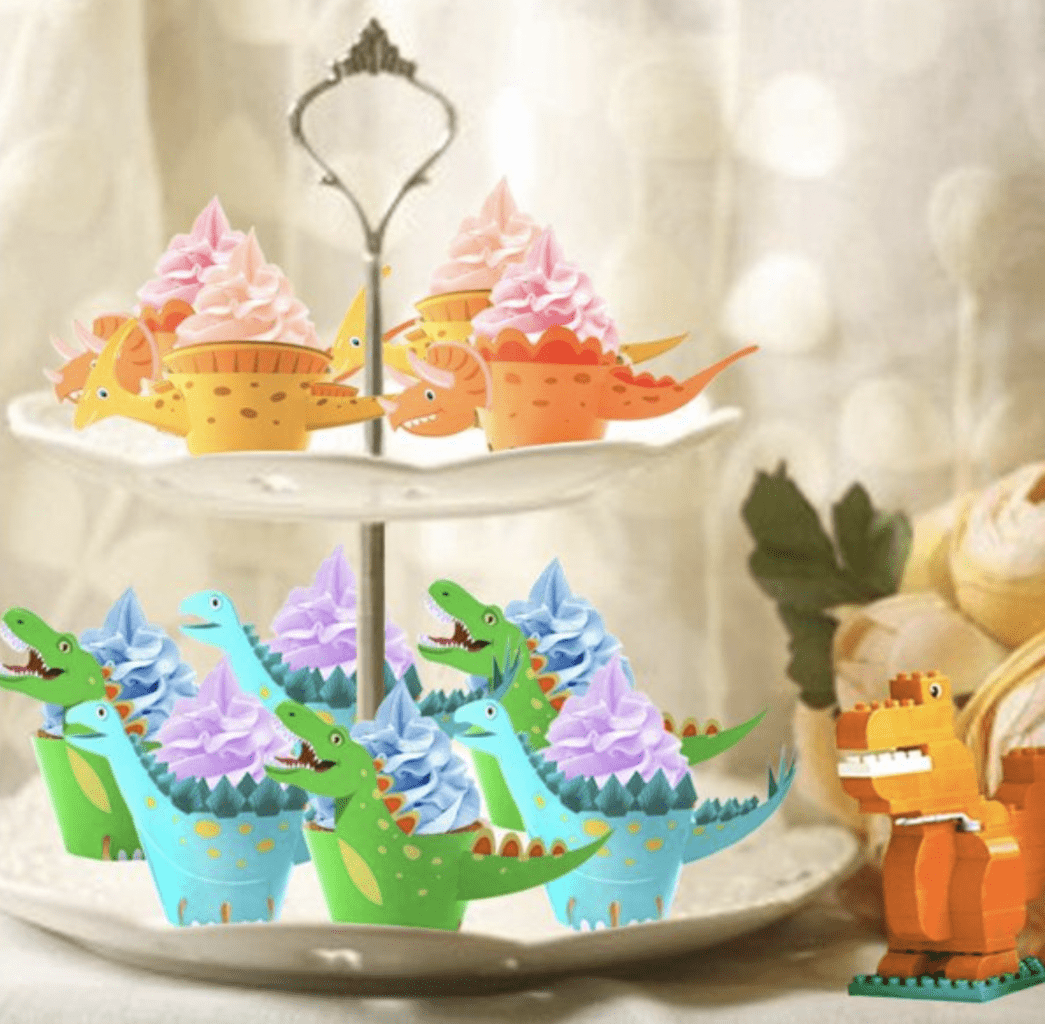 Can we talk about how cute these dino cupcake wrappers are? They come in 48 to a pack and feature four different dinosaur designs. 
Birthday Party Supplies for the Partysaurus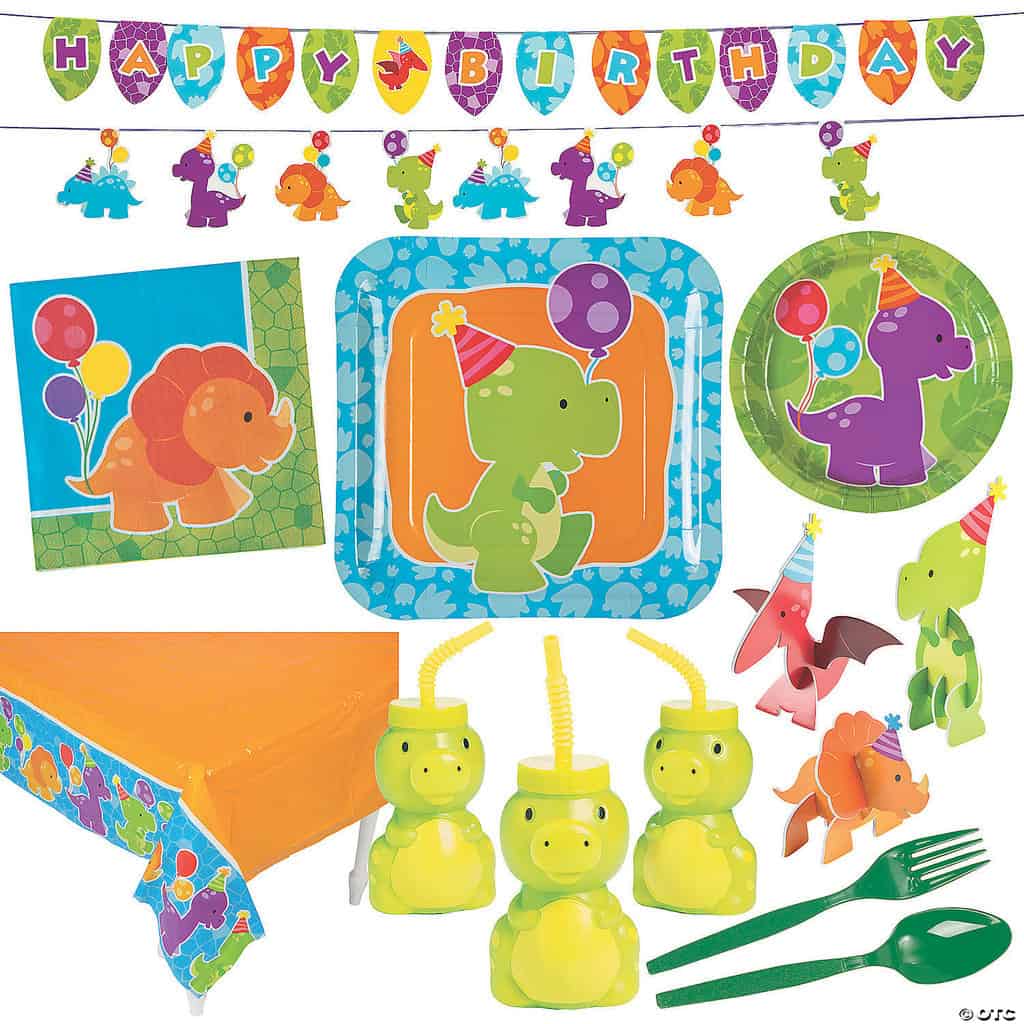 I love party bundles, and this birthday party bundle for little kids is no exception. The whimsical design caters to younger kids and the happy birthday banner suggests one should use it for birthday parties. However, you could use all the plates, napkins, drink containers, and cutlery for any occasion.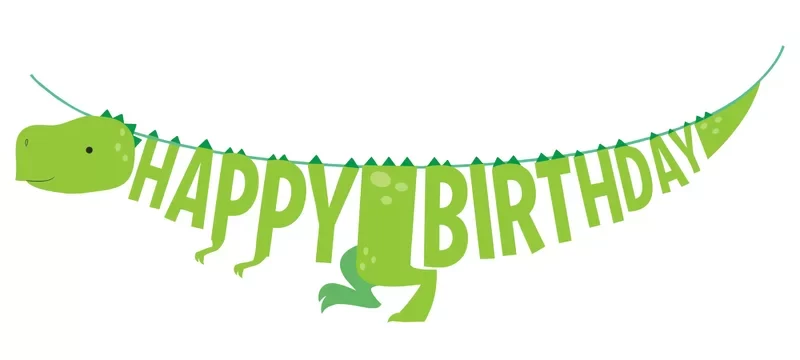 What an adorable birthday banner; it starts with a head, ends with the tail, and the words happy birthday are separated by the hind legs. The two arms on the p's of happy are hilariously cute. I highly recommend this dinosaur birthday banner for your birthday celebration.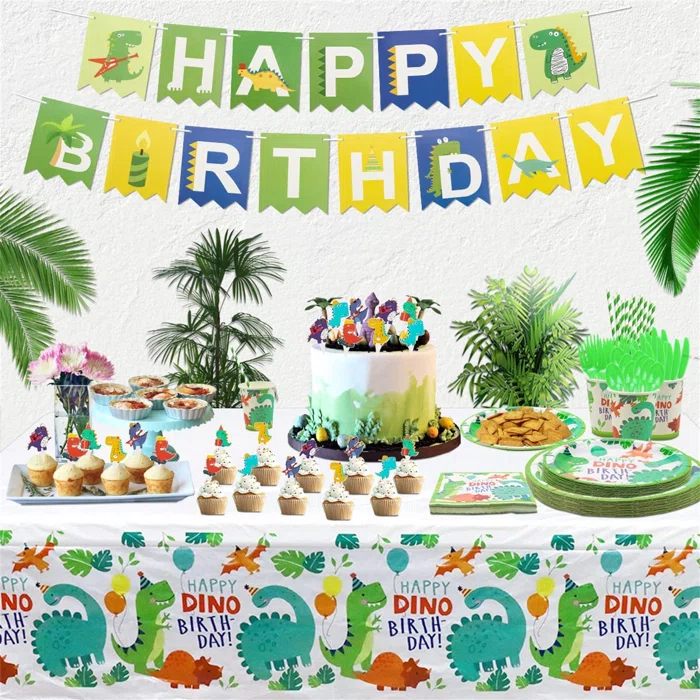 Talk about a dino party; this tableware bundle comes with plates, cups, napkins, cupcake toppers, and a birthday banner. I picked this particular supply bundle because some of the supplies read "happy dino birthday" and "dino party." Plus, some dinosaurs have little party hats to add to the festive mood.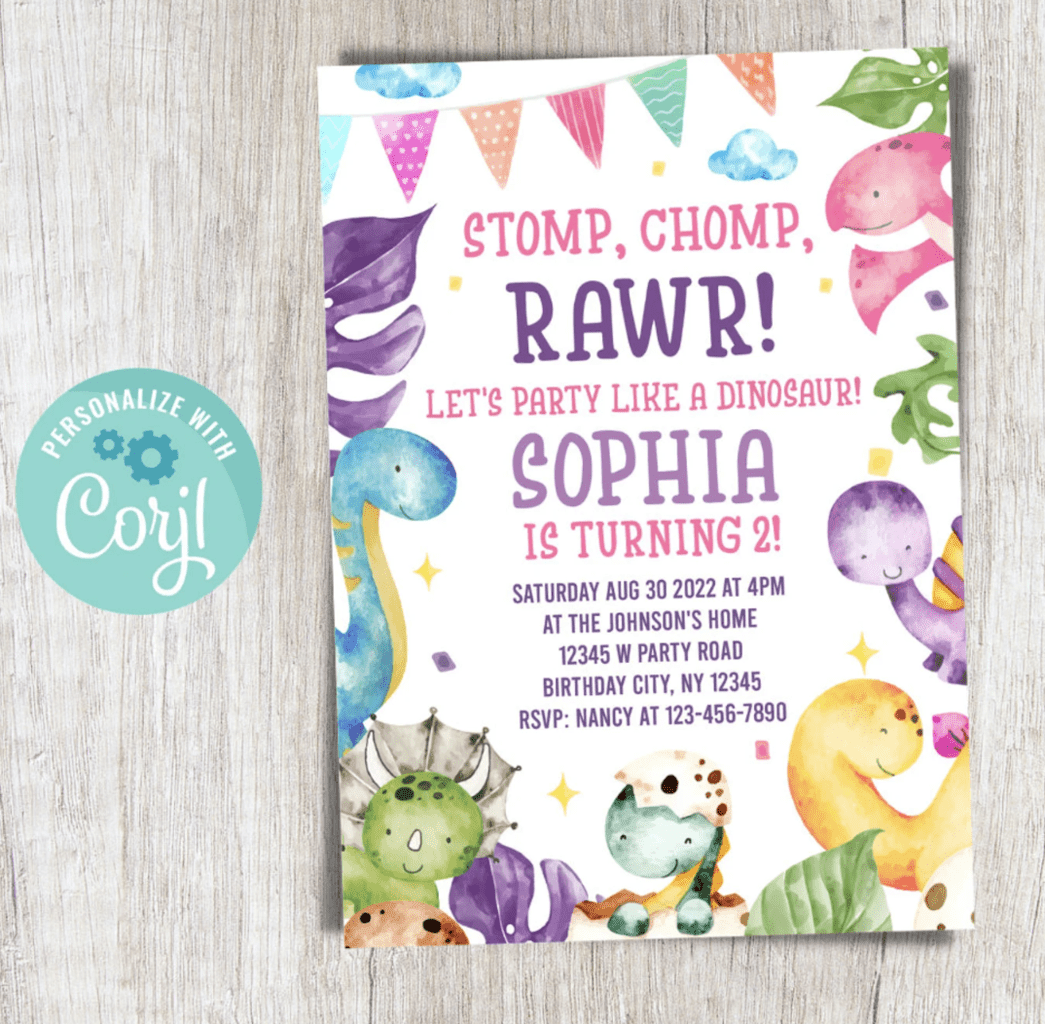 This downloadable dinosaur party invitation is perfect for your next birthday celebration. It is editable so that you can customize it to your needs.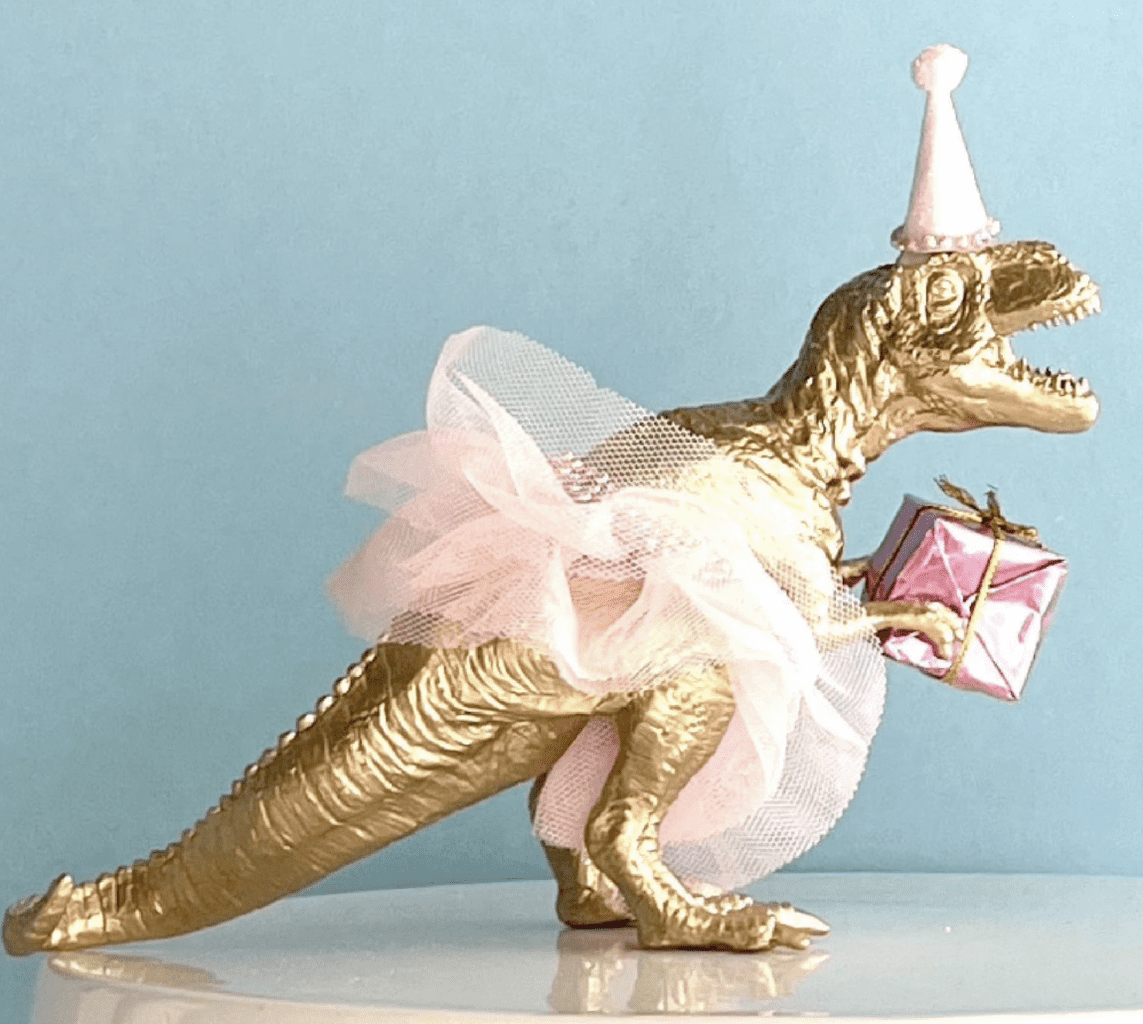 This dinosaur cake topper is hilarious. It is a gold figurine wearing a tutu, sporting a party hat, and carrying a present in its hands. It is advertised as the perfect cake topper for a little girl's birthday cake, and I agree; it makes me smile ear to ear.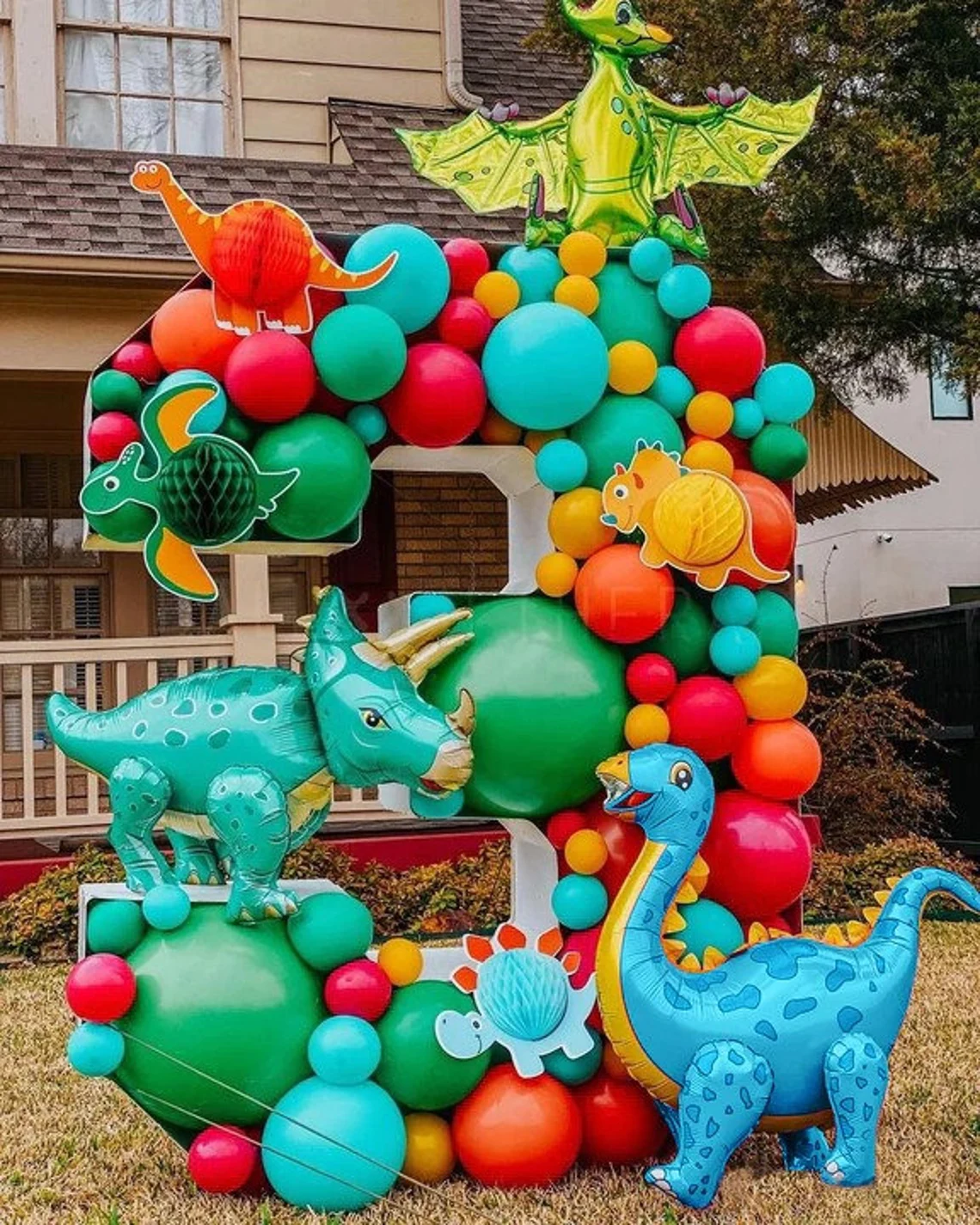 I love that there is a kit to make a balloon garland on your own. I dislike that some comments say that it didn't come with instructions.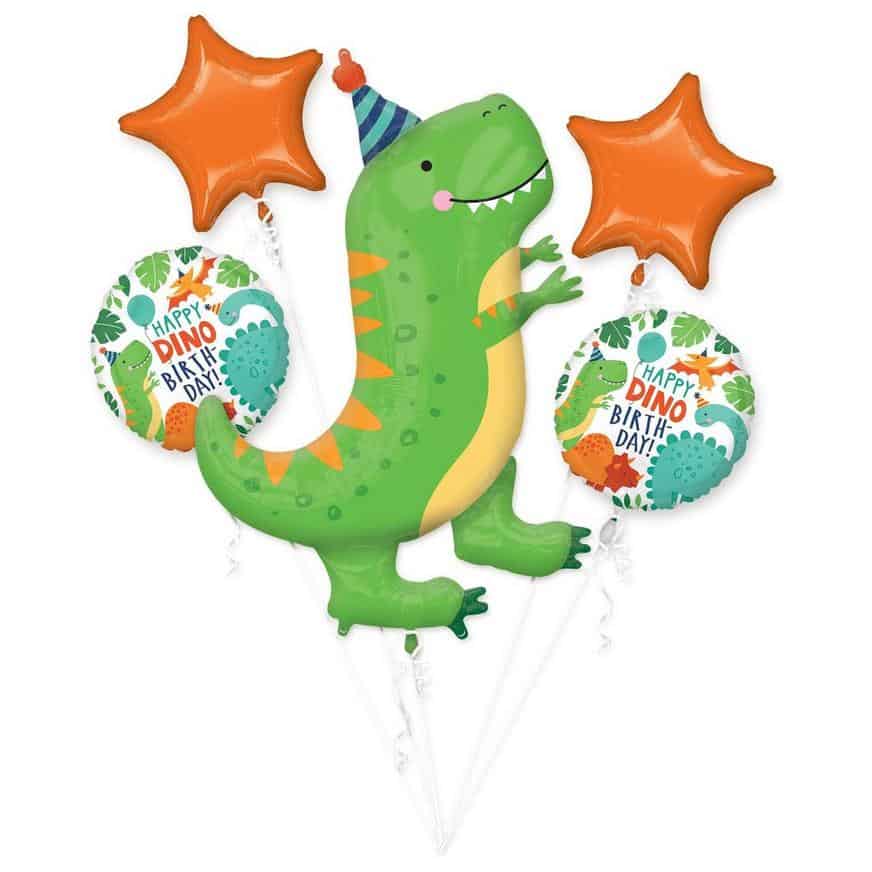 Balloons are perfect decorations for your next birthday party. This particular Dinosaur Balloon Bouquet includes a foil dinosaur wearing a party hat, 2-star balloons, and two balloons saying "happy dino birthday." While this link lets you buy them online, you can also go to a local Party City and pick them up already blown up. 
Dino Wedding Supplies
Are you looking to incorporate a dinosaur theme into your wedding preparations? Try the following dinosaur party supplies that any "bridesaraus" would approve of.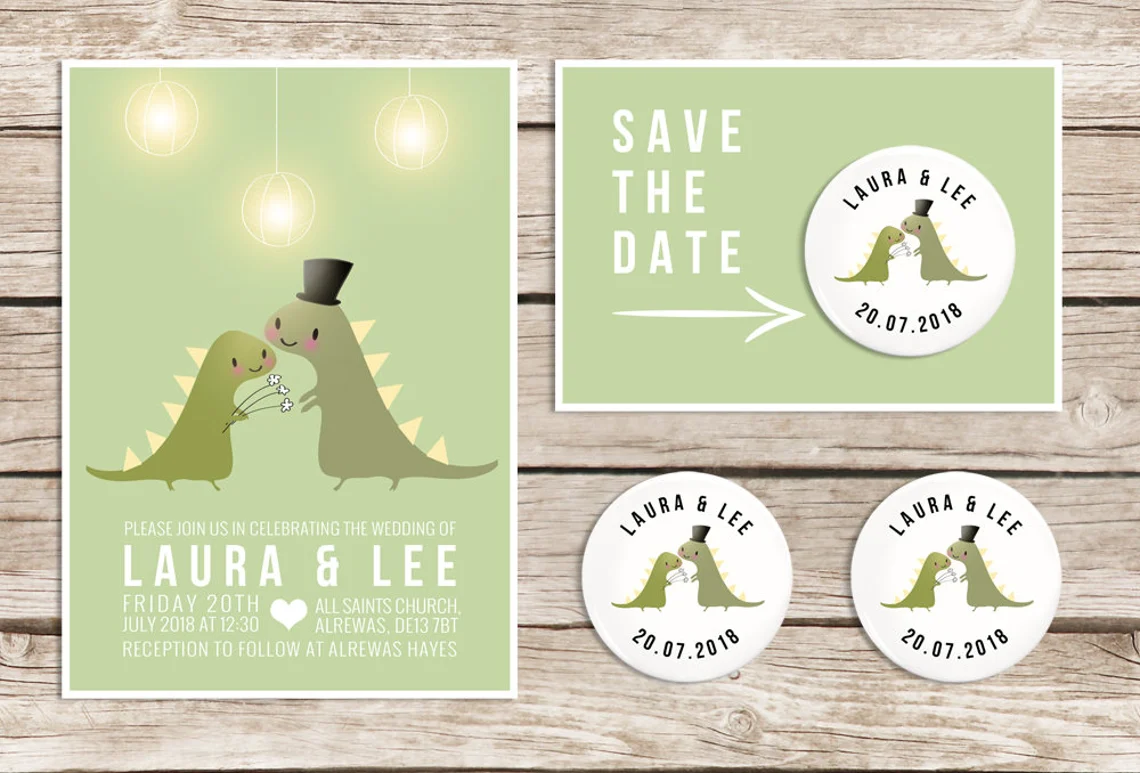 Start the dinosaur theme off right with these cute dinosaur wedding invitations. I love the cutesy design and that the text is entirely customizable.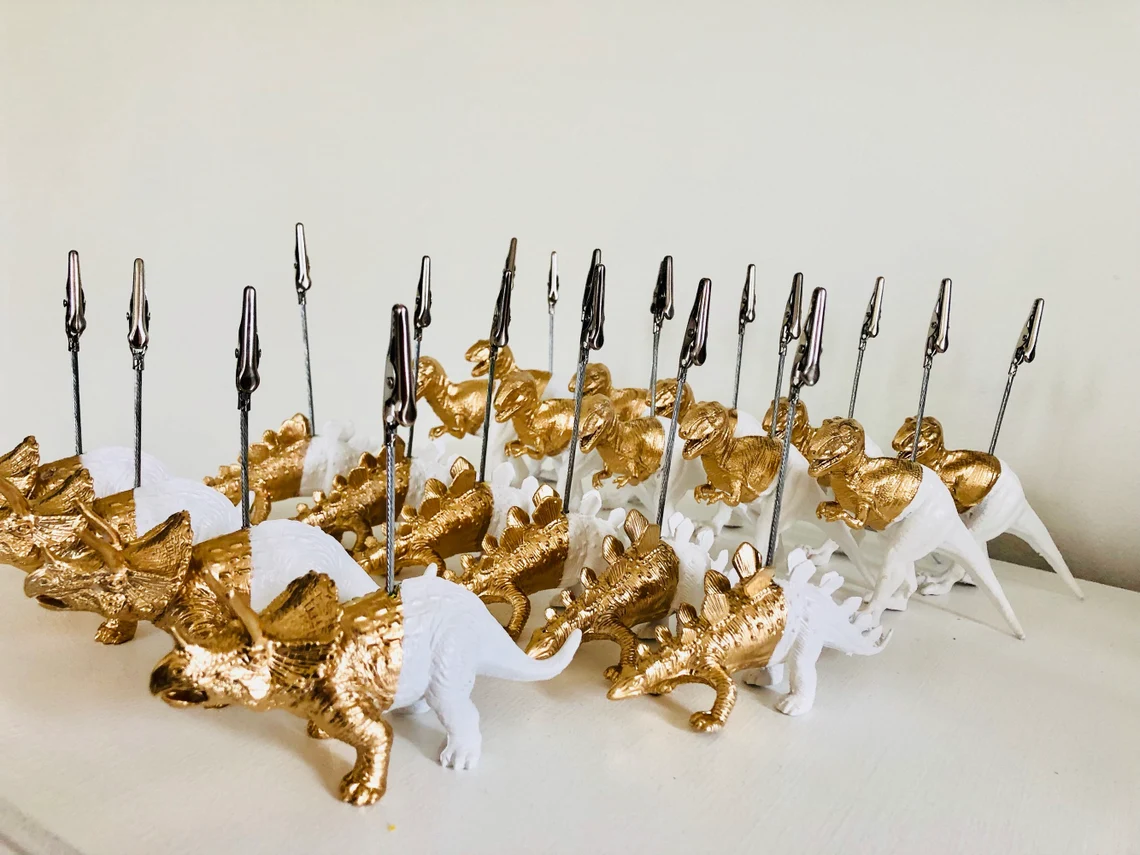 Help your guests find their assigned tables with these dinosaur clips. They can be used as either table number holders or name card holders.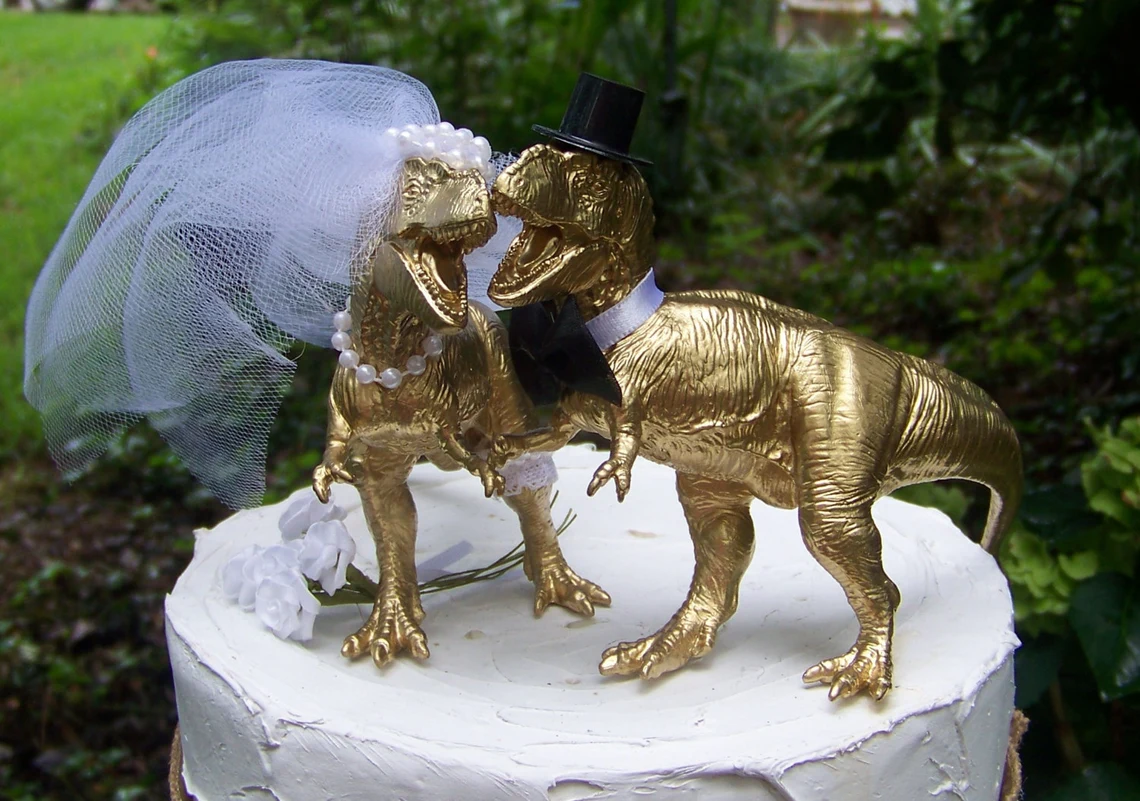 This gold T-Rex couple makes for a uniquely fun wedding cake topper. I love that the dinosaurs come in various colors (gold, bronze, green), but I dislike that you can't choose a same-sex couple option.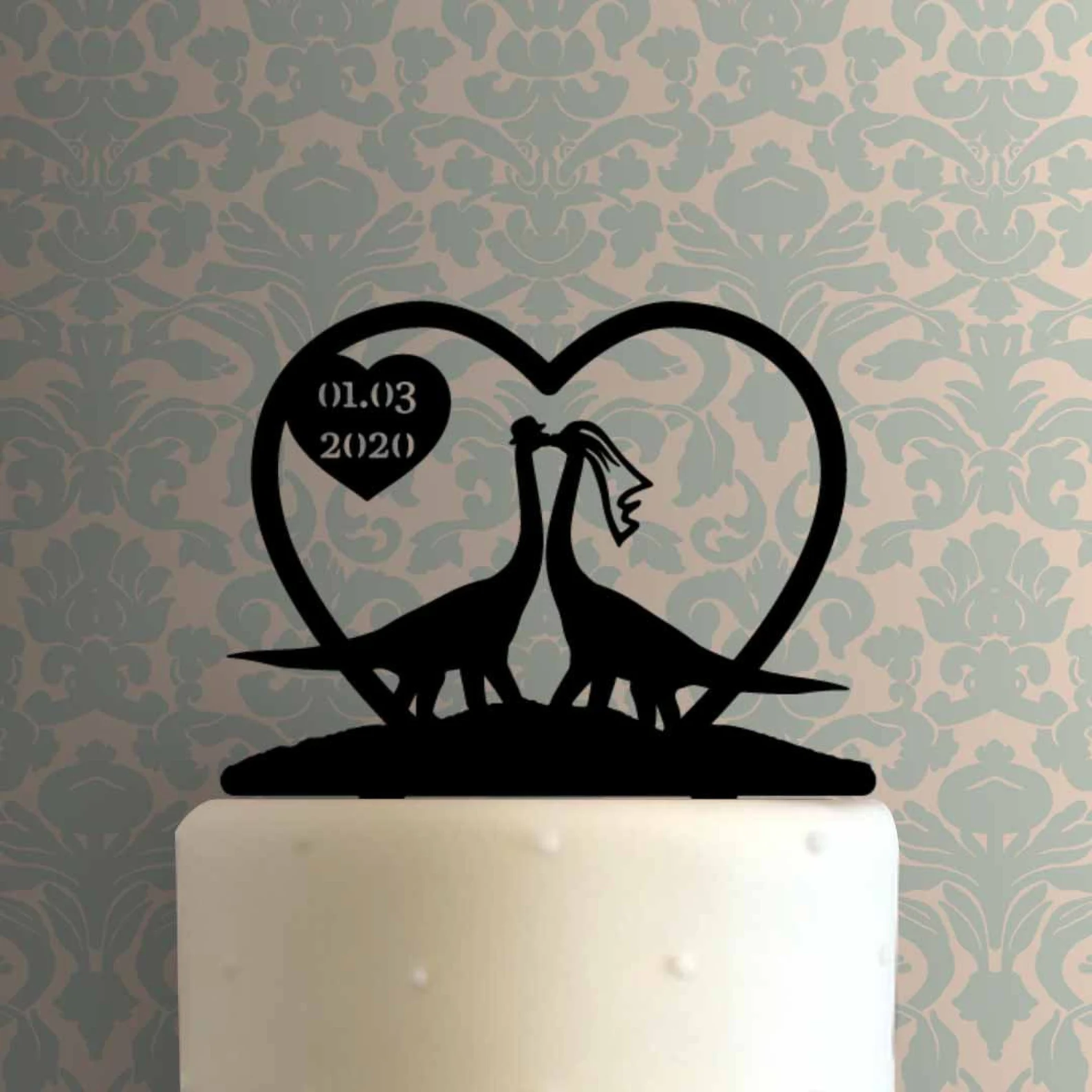 Do you want a dinosaur cake topper for your wedding cake, but are you looking for something less flashy than the T-Rex couple above? Then check out this Silhouette Cake Topper. You can customize this one with your wedding date and pick a color that compliments your wedding colors.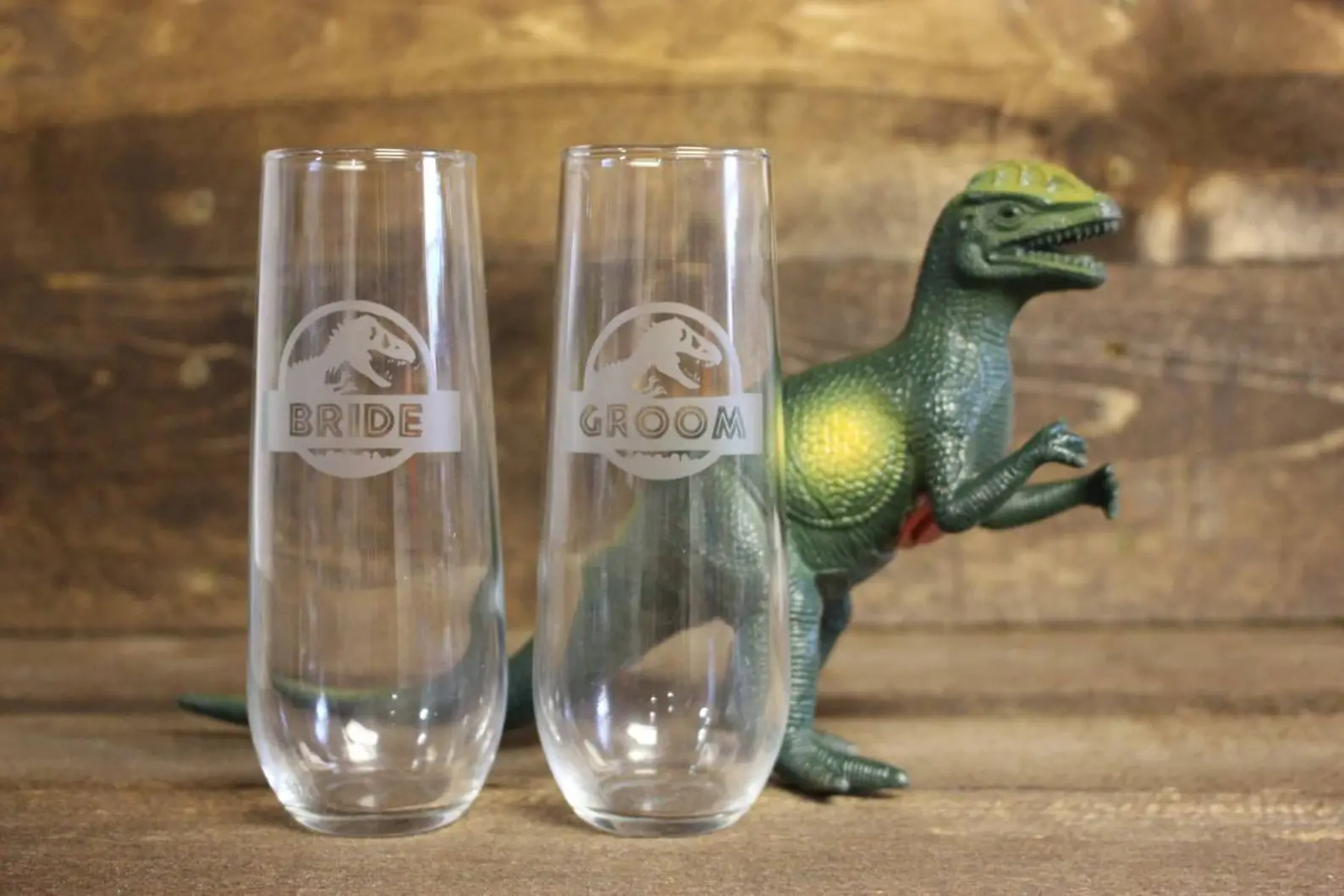 Cheers to your wedding! Why not add a Jurassic Park-themed image to your champaign flutes? This pair of bride/groom wedding glasses are perfect and can even be customized at your request. 
Babysaurus Supplies for Baby Showers
Are you a "preggosaurus" or planning a dinosaur-themed baby shower for someone who is? Then look no further than these nine dinosaur party supplies that celebrate the incoming babysaurus.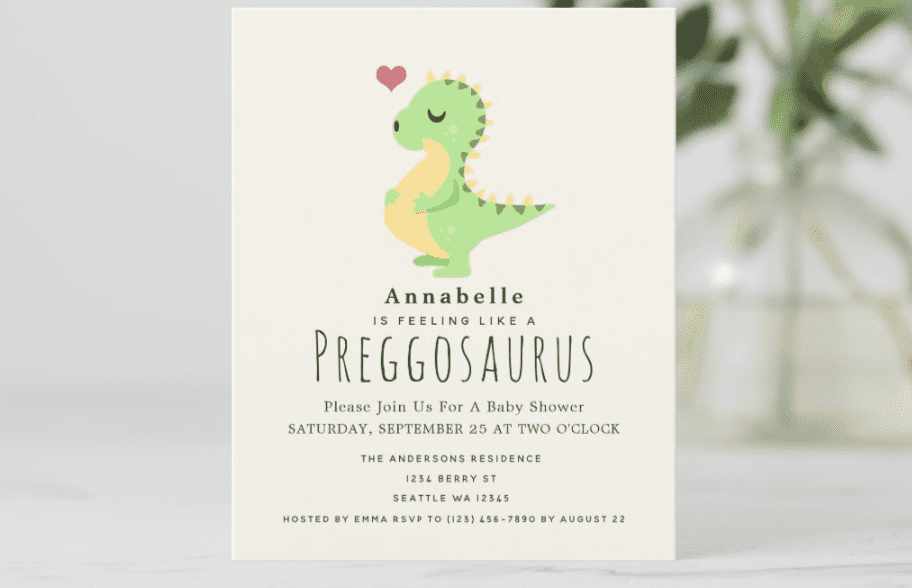 I laughed hard at this baby shower invitation. As a pregnant woman, I can't express how much I identify with the statement "feeling like a preggosarus." I might need to request this invite for my baby shower.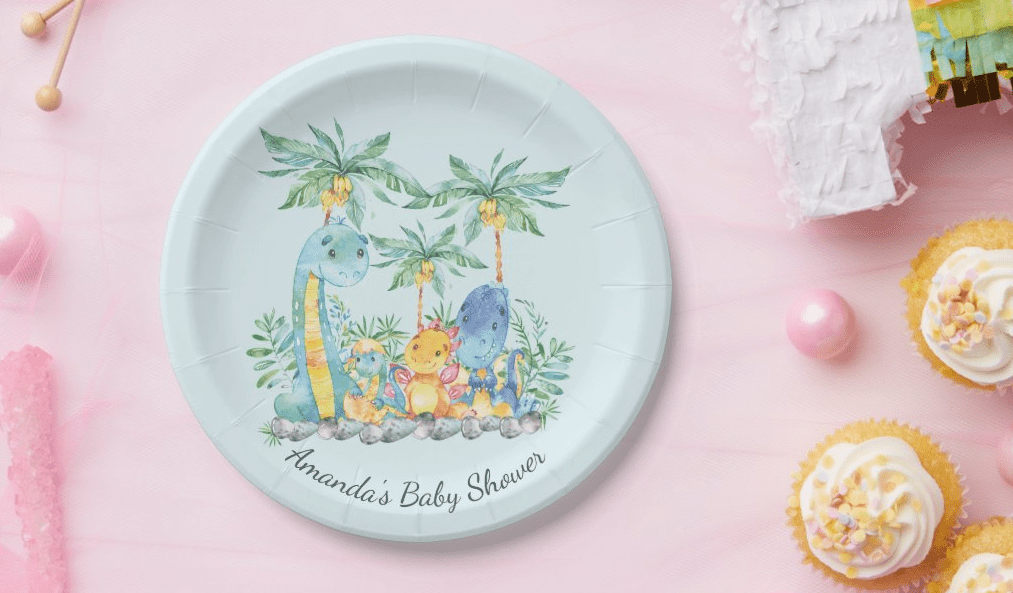 These customizable dinosaur plates are a great way to celebrate a baby shower. Since they are from Zazzle, you can customize the size, shape, and text.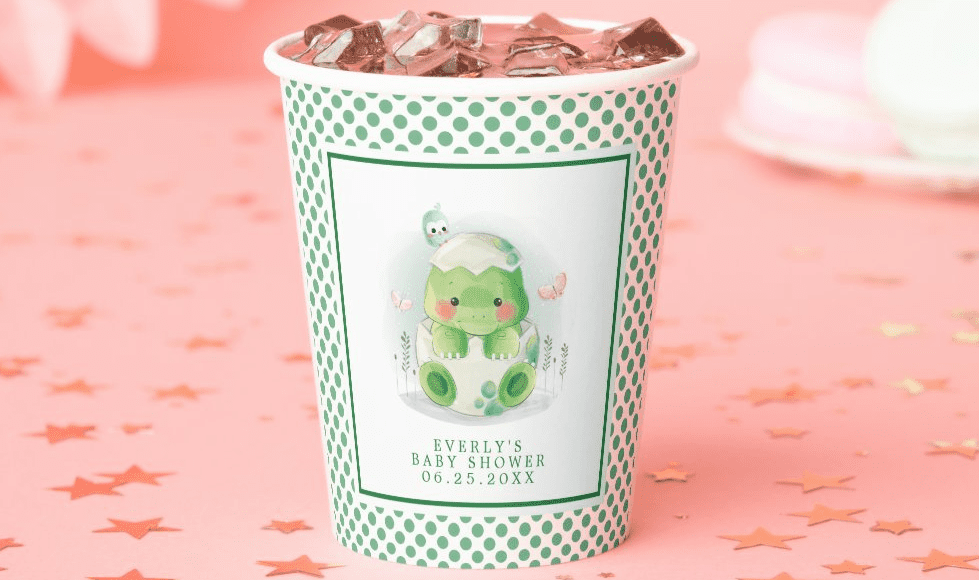 These disposable party cups feature a hatching baby dinosaur. You can customize the text, and you get an option of a lid.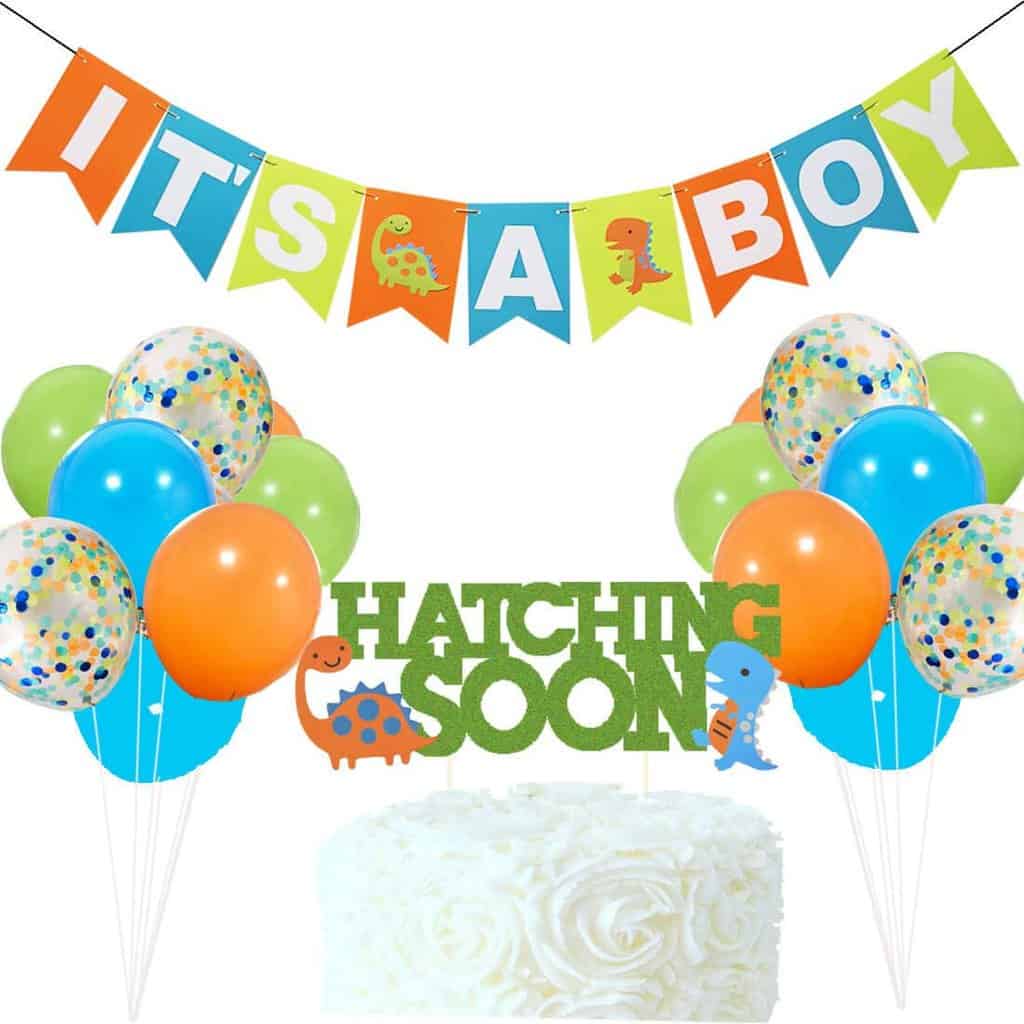 If you or your guest of honor is expecting a baby boy, this bundle is the perfect addition to your dinosaur party supplies. It includes a "hatching soon" cake topper, multi-colored balloons, and an "it's a boy" banner.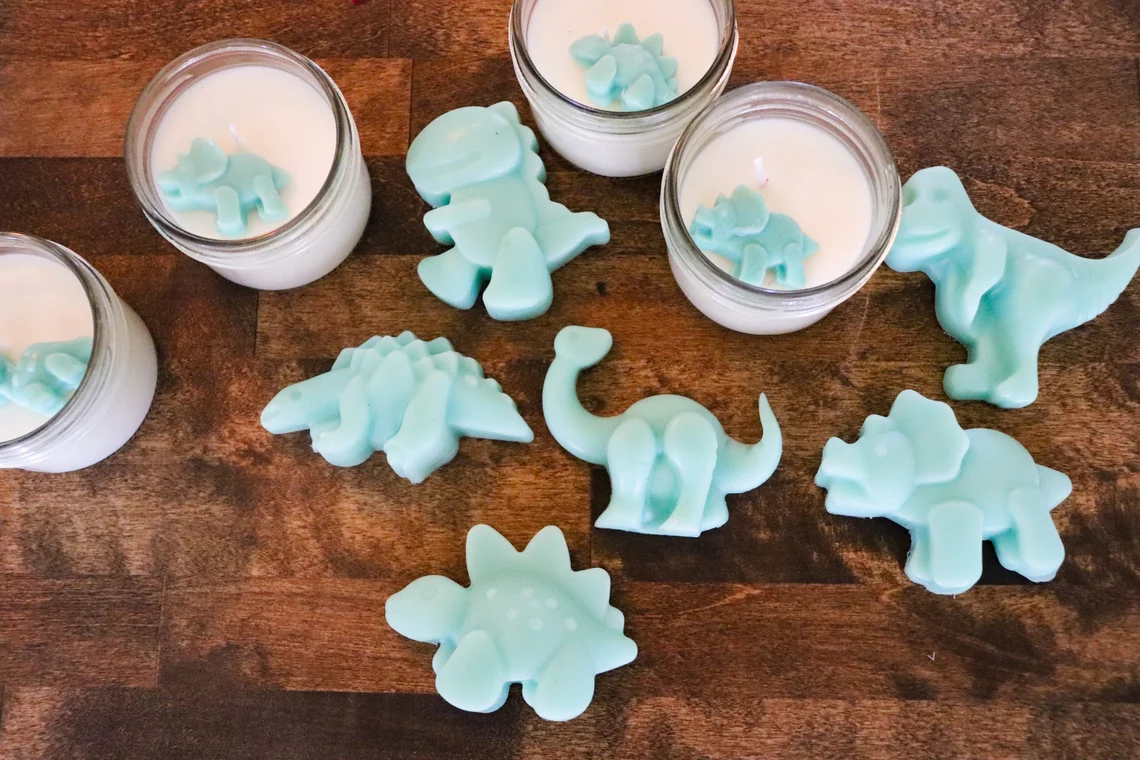 This favor set gives you the option of this dinosaur mold as either goat milk soap or a soy wax candle. I love that the maker lets people can pick between a vast number of scents.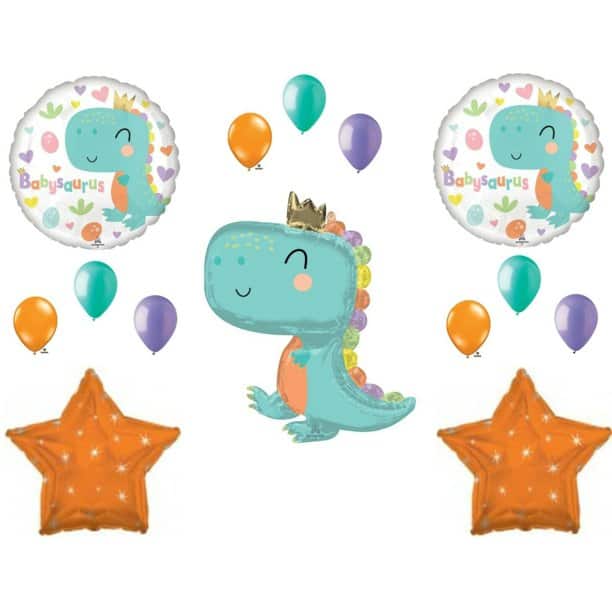 This item might be the most adorable balloon set for a baby shower and can be used for any gender baby. It includes a shaped dinosaur balloon, multi-colored balloons, two star balloons, and two babysaurus ballon. My favorite is the foil baby dinosaur balloon, a child-like character with rainbow scales and a gold crown on its head.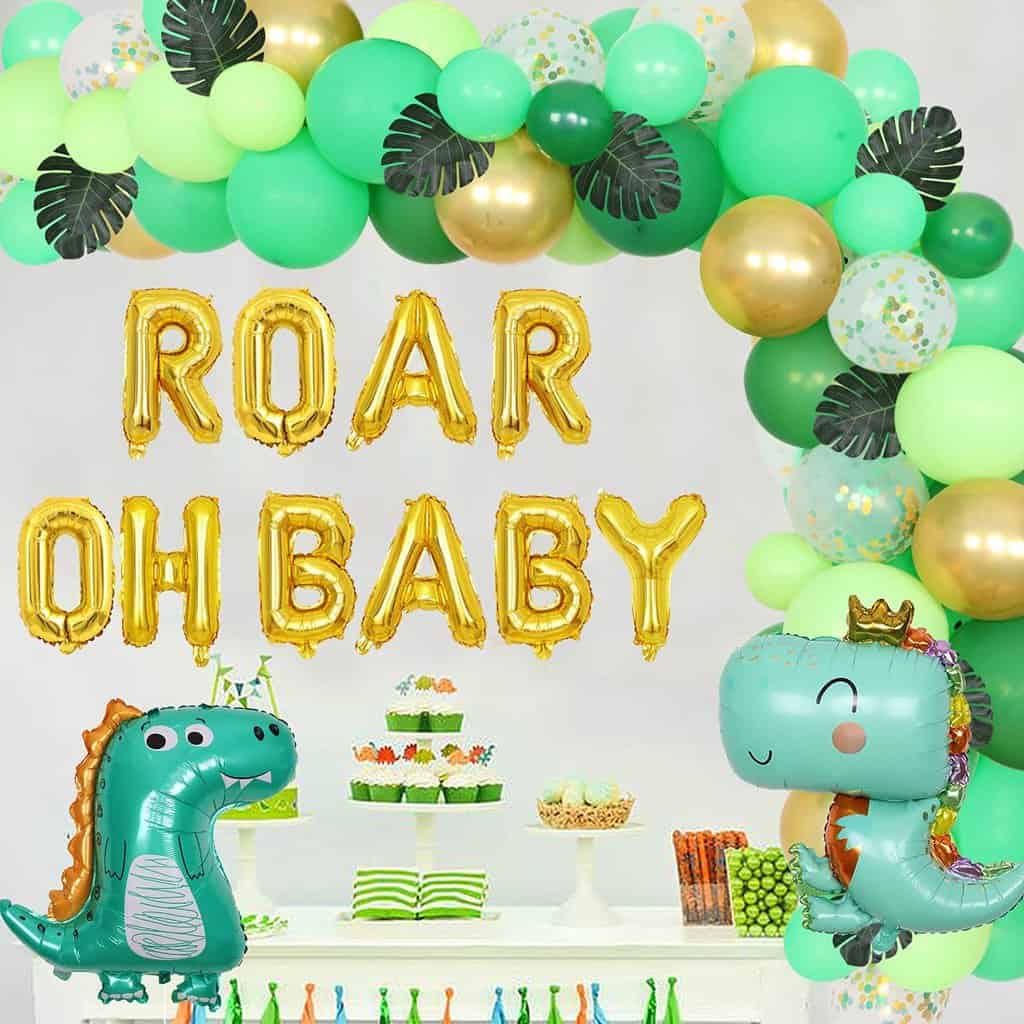 This Jungle Dinosaur bundle will come with everything you need to decorate for a baby shower. It includes two different shaped dinosaur balloons, word balloons that spell "roar" and "oh baby," and enough latex balloons, artificial leaves, and adhesive strips to create a monumental balloon arch.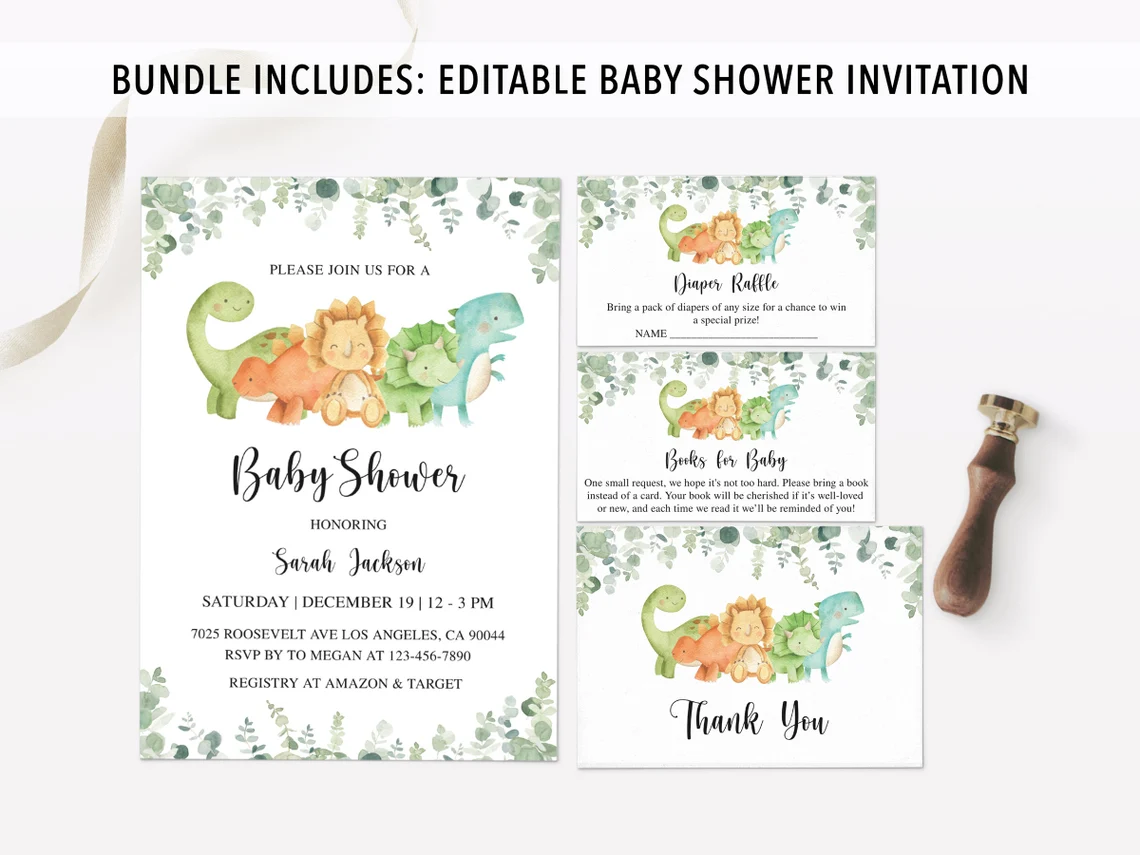 I love this all-in-one bundle. You get invitations, inclusion cards (diaper raffle & book requests), thank you notes, 14 shower games, favor tags, table signs, bottle favor tags, and cupcake toppers! This Etsy purchase is a downloadable file, so it lets you customize everything and then print on your terms.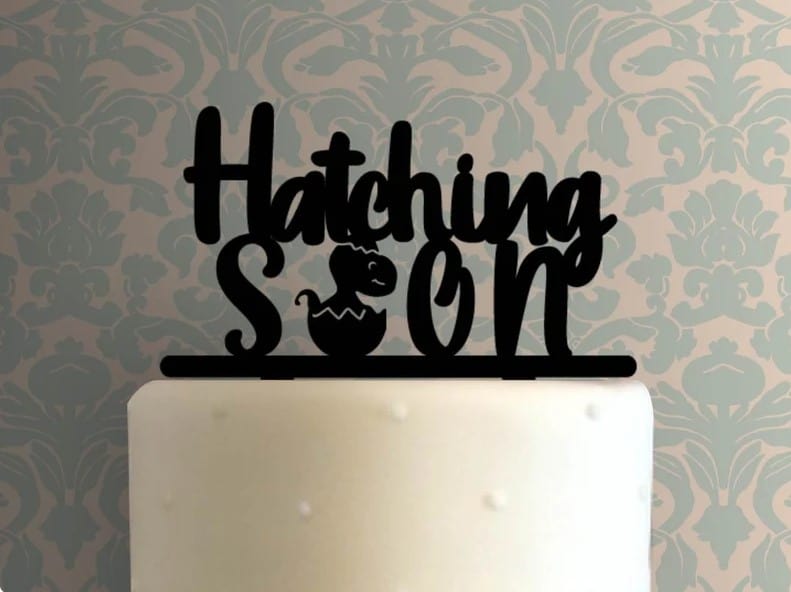 This adorable cake topper reads "hatching soon" and is great for any baby shower. I especially love this topper because you can use it for any gender and color scheme. You can even customize the topper to be any of 17 colors. 
Frequently Asked Questions
Question: Where should I buy my Dinosaur Party Supplies?
Answer: Unlike some party themes, dinosaur party supplies don't come with "official" and "unofficial" merchandise. That means you get the best of both worlds when shopping. You can pick big retailers like Walmart, Target, Party City, Oriental Trading, Wayfair, and Amazon. Or you can support smaller businesses through Etsy sellers, local stores, or even their shop websites. It depends on your preference of retail locations and/or available supply designs. The beauty of dinosaur party supplies is that you will have many different dinosaur options regardless of where you shop. 
Question: Why Choose a Dinosaur themed party?
Answer: If you are reading this far into the article, I bet you already have a solid answer, and I'm willing to bet it has something to do with the guest of honor. If you need a further reason to pick dinosaur party supplies, then consider this: dinosaur parties can be used for various events and age groups. You can tailor supplies to meet any aesthetic, from cutesy to whimsical to scary. It is a perfect theme for most parties.  
Question: What do I need to run a dinosaur party successfully?
Answer: Great question! The answer depends on your party and how elaborate you want it. The bare minimum would be dinosaur-themed invitations to let guests know where to be, a comfortable location that fits the desired size of the party, food, and drinks (preferably themed), and people (guest of honor, host, and guests). I recommend going a few steps more and adding in dinosaur decorations (balloons, banners, table decor), themed tableware (cups, plates, napkins), and party favors. There are also dinosaur-themed games and activities if those fit your vibe. 
Conclusion
All of these dinosaur party supplies would be a great addition to your next dinosaur-themed celebration. But I can't help recommending my favorite: the Inflatable Dinosaur Sprinkler. What an excellent idea for your next summer party. It is both a party activity and a prominent decoration. I want it just for everyday events and love that I could reuse it for multiple occasions. That said, I know there is a wide range of tastes and many exciting dinosaur party supply options. Which one is your favorite?
Recommended Reads: