Hello Kitty has been around for almost five decades, but she's still one of the most well-recognized and well-loved cartoon characters to this day. In fact, the Hello Kitty franchise is one of the highest-grossing of all time. And it's not just little girls who are Hello Kitty fans; even grown-ups are into her. So, don't be surprised if you just got a request for a Hello Kitty party. And since cakes are part of the deal, you'd need some solid Hello Kitty cake ideas.
In the past several years of helping people plan and execute fun and memorable parties and celebrations for their loved ones, I've seen Hello Kitty constantly on the list of choices for themes.
That's because there's never a shortage of Hello Kitty merchandise, and aside from being a household name, Hello Kitty is simply illustrated — with just a cat outline, black dots for the eyes, a pink dot for the nose, a red ribbon on one side of the head, and whiskers on the side of her face — so she is easy to replicate and it's easy to get creative with her.
This means that when you look into Hello Kitty cakes online, you'd get an overwhelmingly wide assortment of ideas. And sometimes, having too many choices can be crippling. That's why a narrowed-down list of Hello Kitty cake ideas would come in handy.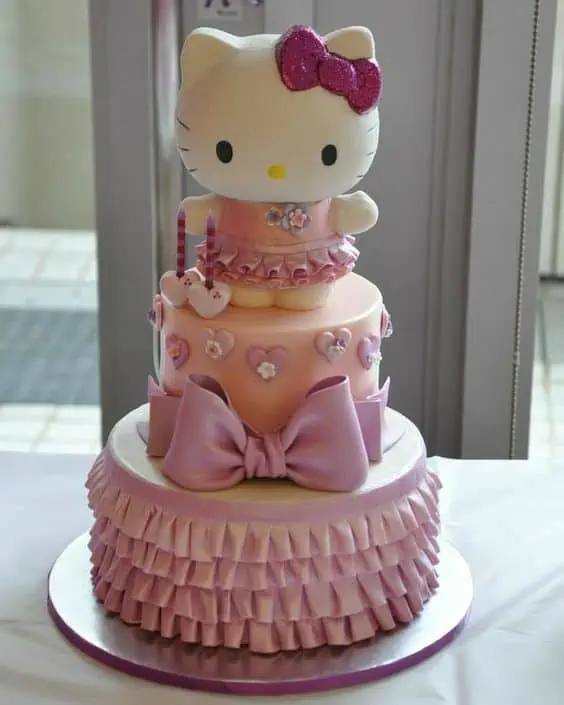 My Bottom Line Up Front
I have seen many a Hello Kitty cake in my lifetime. I have also scoured the internet for Hello Kitty cake ideas. I tend to gravitate towards cakes with fondant or gumpaste for Hello Kitty figures because they look smooth and well-polished. However, I am pretty meticulous with the gumpaste modeling, so Hello Kitty has to be done perfectly and all the other fondant or gumpaste elements have to look well-sculpted.
Here's an example of the kind of fondant Hello Kitty cake I'm talking about:
Shortlisting Hello Kitty Cake Ideas
Because of Hello Kitty's simple aesthetics, your Hello Kitty cake could easily fall into the common and ordinary category. I'm talking about run-of-the-mill designs, such as a simple cake and a figure of Hello Kitty right in the middle, sometimes with hearts or stars as fillers. But you see, there are many ways to bring in a unique take to a Hello Kitty cake.
I looked for Hello Kitty cake ideas with one-of-a-kind designs to show you how it can be done. So even if you chose a theme that's pretty common, you can still go for that wow factor. I specifically looked for Hello Kitty cakes with a combination of any of these characteristics:
Modern cake decorating trends. People have been making Hello Kitty cakes for a long time, so the usual basic and simple design is pretty much outdated. That's why a combination of new cake trends like fault line cakes and number cakes would give it a more contemporary look.
Excellent fondant or gumpaste work. Even with Hello Kitty's simple form and outline, only a few people can get the proportions of her face right. It's either the face is too long or too round, the eyes are too near each other or too far up her head, etc. Needless to say, cakes with the perfect Hello Kitty face in fondant or gumpaste are sort of rare.
Hello Kitty with friends. It's not always that we see Hello Kitty and her Sanrio pals like The Little Twin Stars, Keroppi, My Melody, Cinnamoroll, and Sugarbunnies together in one cake. So cakes that got the others or the whole gang together are pretty cool in my book.
Out-of-the-ordinary color combinations. Most Hello Kitty cakes come in a color combination of white and pink, or white and red. So ones with an unusual color palette really pop out.
Unique Hello Kitty Cake Ideas
1. Hello Kitty Number Cake
Number cakes are a trend these days, so to have Hello Kitty elements incorporated into that would make your cake look out of the ordinary.
This red velvet number cake has pink buttercream, chocolate-covered strawberries, pink macarons, and Hello Kitty accents on top. You can use Hello Kitty molds for your chocolates, Hello Kitty sugar cookies, and acrylic, paper, or plastic Hello Kitty toppers.
You get Hello Kitty macarons to decorate your number cake along with meringues and buttercream swirls.
You can also just print or get little Hello Kitty paper toppers to put on the buttercream swirls of your number cake.
2. Hello Kitty Drip Cake
Drip cakes are also quite a thing now. It's when melted chocolate drips down from the top edges of your cake, but leaves the rest of the top to your imagination. Since you can decorate the top however you like, this is where your creativity comes in.
This pink buttercream cake has white chocolate dripping down the sides. It has three Hello Kitty toy figurines as toppers, and metallic stars, chocolate balloons, and a pompom arch as decorative elements.
Here's another drip cake with sprinkles, lollipops, cake popsicles, macarons, white chocolate bars, and a plastic Hello Kitty head on top.
A white-on-white drip cake looks really delicate. You have gold and silver pearl sprinkles, light pink cake chocolate hearts, and a Hello Kitty face topper in either fondant or sugar cookie.
3. Hello Kitty Cookies on a Cake
Custom-decorated sugar cookies always make a great design element to your cake. And what I love about it is that cookies provide a whole different texture that you can eat. They make a great addition to cakes for kiddie parties because some of the kids will scramble to get them first. If they get to pick between a decorated cookie and a slice of cake, it's always the former.
Here's a cake bedecked with cookies. For this one, however, Hello Kitty isn't the star of the show since the entire Sanrio gang — all in cookies — is here. Even the name of the celebrant, the balloons, and the rainbows are in cookies. I can already imagine all the little guests having a blast picking the cookies.
This drip cake has only one Hello Kitty sugar cookie as main decor, but with the multi-colored sprinkles, it looks far from boring.
And here's another Hello Kitty with cookies as decorative elements, including the little hearts and flowers. It's also quite unique that the buttercream frosting is blue with purple glitters at the top.
There is another way to customize a cookie aside from piping colored royal icing on it. You can have your design printed or transferred on the cookie using edible ink. Just like these two Hello Kitty cookies on the cake.
4. Hello Kitty Jelly Cake
Jelly cakes are also quite a thing now, with more and more people being mesmerized by 3D gelatin art and more people trying to avoid cream and too much sugar. Gelatin art makes your jelly cake look like one of those glass paperweights, where the floral designs are created from under the jelly cake using syringes with stainless steel nozzles.
This fan-shaped jelly art cake has the usual flowers, but with Hello Kitty in gelatin on top of it. This jelly cake may be too small to be a party cake, but you can make yours a bit bigger. Jelly cakes, however, can't be too large since they need molds to take shape.
Here's another take on a Hello Kitty jelly cake. In here, Hello Kitty is done in jelly art.
5. Hello Kitty Wrapped Cake
You can use edible wraps printed with Hello Kitty images for your cakes. Edible wraps are thin rice paper or wafer sheets with color images printed using edible ink.
This small cake has an edible image of Hello Kitty wrapped around its side. Add pink roses on top and on one side, some sprinkles, and gold candles and a topper and you're good to go.
6. Hello Kitty Cakes Not in Your Usual Colors
If you look for Hello Kitty cakes online, you'd find a sea of pink and white cakes, sometimes red. There are also plenty of Hello Kitty cakes in a combination of pastel colors. So other colors would really look out of the ordinary.
This red velvet Hello Kitty cake has solid black buttercream frosting on the side, giving it a dramatic effect. The Hello Kitty on top is an edible image.
And look at this gold Hello Kitty on a black buttercream cake! This fondant Hello Kitty is apparently from the Shu Uemura x Hello Kitty collection and it looks like a glam rock cake. It has black and gold chocolate balls on the sides, as well as thin fondant lines forming stars and lines on the buttercream.
A Hello Kitty cake in sky-blue buttercream frosting is also not too common.
This two-layer fondant cake has the trendy gold chocolate balls cascading from the top. And while red is a more common color for Hello Kitty cakes, the zebra stripes on the bottom layer is not.
How about a purple Hello Kitty cake? This one has purple sprinkles, white and purple meringue lollies, and sugar cookie toppers.
7. Hello Kitty Pocky Cake
Are we talking about someone who loves both Hello Kitty and Pocky? Well, get them a cake wrapped in Pocky sticks all around and tie a ribbon around them. Cover the top with buttercream swirls, plant a fondant Hello Kitty on it, and a few other decorative elements that fit your color scheme.
8. Hello Kitty + My Melody Cake
Among the other Sanrio characters, it's My Melody that usually keeps Hello Kitty company on cakes. Perhaps it's because their colors complement each other. So if you think Hello Kitty shouldn't be alone, then My Melody is your girl.
This little drip cake just looks so sweet and pretty, with My Melody and Hello Kitty figurines sitting on top, seemingly holding gold star wands.
Here's another drip cake with Hello Kitty and her BFF in candyland. There are meringues, buttercream swirls, sprinkles, a paper pinwheel, heart-molded chocolates, and a marshmallow lollipop.
Now this yellow buttercream cake uses a more traditional design technique, which is piping icing on the buttercream. But the overall effect is pretty charming.
9. Hello Kitty/Sanrio Cake
If your celebrant is a fan of Sanrio, then you can make a cake with not just Hello Kitty but also other members of the Sanrio gang. Sanrio characters are all cute and fun, and they'd make a good party crowd.
This cake, for instance, has Hello Kitty, Little Twin Stars, and who I believe is Tuxedosam.
And here's one with Hello Kitty, My Melody, Tuxedosam, Pompompurin, and Cinnamoroll, all in fondant.
You can also use Sanrio toy figurines to decorate your cake. Just like this two-tier fondant cake.
Hello Kitty and her friends were done in bright-colored fondant and in 2D. They are plastered around the cake, against a blue sky and grassy background.
10. Hello Kitty Mousse Cake
Mousse cakes are great for small and intimate celebrations. But since mousse cakes are very soft and airy, decorating it can be tricky. So how do you incorporate Hello Kitty into it?
This mango lychee mousse cake has fruits and mint leaves as decorative elements, and Hello Kitty is done in chocolate powder via stencil.
This mousse cake, on the other hand, is shaped like Hello Kitty's head. It is topped with lychee popping boba and white fondant for the eyes, nose, whiskers, and ribbon.
11. Hello Kitty Marshmallow Cake
I am not a fan of having too many Hello Kitties on a cake because it would look like overkill. But if these Hello Kitties are made of marshmallows, then it's a different story.
12. Hello Kitty Faultline Cake
Faultlines are another modern cake decorating trend. So you might as well use the technique on your Hello Kitty cake to make it look unique. This cake, for example, is a white, red, and blue double faultline cake. It has cookies as decorative elements.
13. Hello Kitty Pudding Cake
There are different types of pudding cakes, depending on where you live. In this case, the pudding cake is a flavored custard cake. And because custard is formed in a small mold, this cake has several individual Hello Kitty custards.
14. Soft and Dainty Hello Kitty Cake
If you know someone with excellent palette knife painting skills, then let's see them put these to good use. This very delicate and dainty-looking two-tier cake has the softest pastel tones smeared on its white buttercream frosting. Wafer paper adorns it diagonally on one side while small sugar flowers are planted here and there.
Find the softest shade of pink and start from there. This cake has a Hello Kitty figurine on top, with meringues, marshmallows, stars, molded chocolates, a lovely ribbon, and a Happy Birthday topper.
15. Super Trendy Hello Kitty Cake
This cake shows a combination of several decorating trends: geode with isomalt "crystals" inside, pulled isomalt, paper palm leaf, gold-coated chocolate balls, and metallic fluttering butterflies. Of course, you can do better with your gumpaste. Hello Kitty.
Frequently Asked Questions
Question: What makes Hello Kitty so popular even now?
Answer: Hello Kitty is almost 50 years old, so people who knew Hello Kitty from their childhood introduce her to their kids. And this "introduction" would come naturally considering that Hello Kitty's image has been etched onto so many fashion accessories, household items, cosmetic products, school supplies, and even gadgets. So even if there are no more Hello Kitty shows on TV, people — including the kids — still recognize this iconic white bobtail cat.
Branding expert Dorie Clark has explained that part of what makes Hello Kitty popular is her simple and mouthless design, which makes her expressionless and which allows people to associate her with any kind of emotion.
Question: How much would a Hello Kitty cake cost?
Answer: There is no absolute answer to this question because the price of a Hello Kitty cake, or any party cake for that matter, would depend on a lot of factors. It would depend on the type of cake you have chosen, the flavors, the frosting, the size, and the design.
And even if you got all of these things figured out, it would still be hard to say how much it would cost you because it would depend on your cakemaker or baker. Experienced and professional bakers and cakemakers create better-tasting cakes that look a lot more polished, so you can expect their cakes to be pricier than those made by home bakers.
Question: Why do I see cakes with so many Hello Kitty characters? Is there more than one Hello Kitty?
Answer: There is only one Hello Kitty, but there are other similar-looking bobcat characters in the Sanrio family, so it's easy to get confused. There's Mimmy White, who is Hello Kitty's twin sister. While Hello Kitty typically wears a red bow below her left ear, Mimmy White wears a yellow bow below her right ear.
There's also Hello Kitty's boyfriend, Dear Daniel, who has hair on top of his head. Hello Kitty also has a grandma, grandpa, mom, and dad, as well as pet cats called Charmmy Kitty and Honeycute, who have more cat-like features.
Conclusion
Hello Kitty has been around for so long and her simple yet aesthetically pleasing design has endeared her to generations of fans. And because of that, Hello Kitty has become a household name. So having Hello Kitty for a party and cake theme sounds sensible, not just for kids but also for grownups. And when we're talking about Hello Kitty cakes, you can incorporate yours with modern cake trends to make it look more non-traditional and unique.
Recommended Reads: