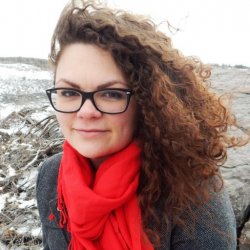 Latest posts by Candace Osmond
(see all)
Ready to plan an upcoming birthday party but having a tough time shopping for supplies? You're probably searching the wrong places or have yet to make a list with everything needed. Listen, I've planned a gazillion parties for birthdays and special events, so I have some tips for you. To save the time and effort of doing the research yourself, I'll show you where to buy birthday party supplies online and have them delivered to your doorstep.
Best Places to Buy Party Supplies Online
Looking for stores that sell party supplies? These are my go-to spots.
Essential Birthday Party Food Ideas
Every party I've ever planned began with food. To be clear, when planning a birthday party, you can serve any food you want. Whether it matches the theme or the guests like it, go with whatever you want to see people enjoy.
Some common and essential party food ideas include:
Salty snacks (like pretzels, peanuts, cashews, chips, etc.)
Pizza
Barbecue food
Fruit platters
Cupcakes
Sandwiches
Chicken wings
Popcorn
Nachos platter
Deviled eggs
Pigs in a blanket
Cake
Ice cream (just don't put it out on the table. It, uh…melts *cringes at memory*)
Essential Birthday Party Supplies
Okay, with two kids under my belt, a hoard of nieces and nephews, and the title of a former cake decorator, I've planned a party or two. These are always on my list of must-haves.
Disposable Plates and Cutlery
These make cleaning up after the guests leave way easier. Trust me! You don't get left with a pile of dirty dishes. You can throw them away when done. I know, I know. It's bad for the environment…but it's good for your mental health, haha.
Balloons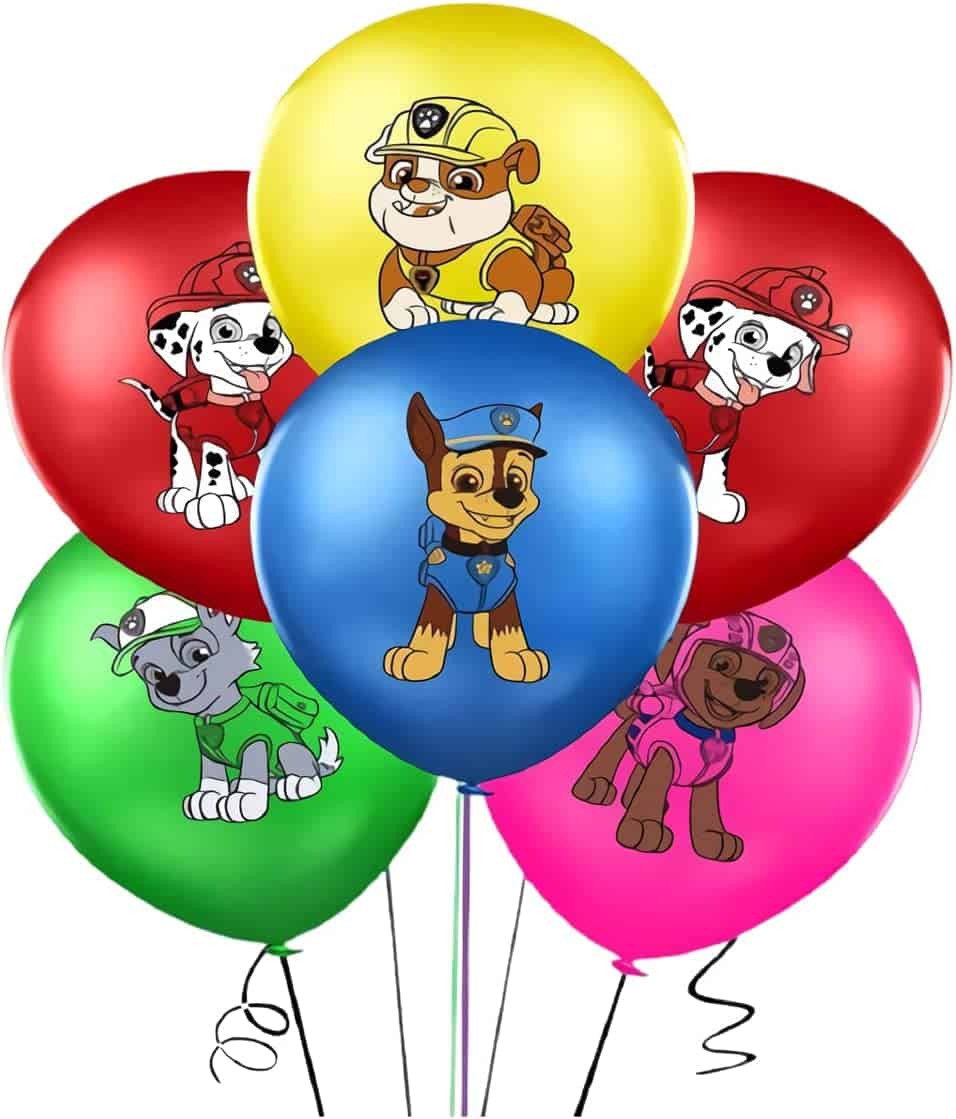 Nothing sets the mood for a kid's party more than balloons. They give off this festive vibe and are now available with all kinds of prints to match different common birthday themes.
Birthday Banner
Birthday banners are another festive addition to a party. They are usually hung on the most visible wall or above the cake table. Sometimes I get my kiddos to help make one, but sometimes it's just easier to buy a premade banner.
Party Favors
Favors are a great souvenir that guests can take home after the party. They could be anything from tiny candy jars to themed silicone bracelets. My husband is a children's book author and illustrator, and we gave out copies of his new book one year. It was a huge hit!
Popular Birthday Party Themes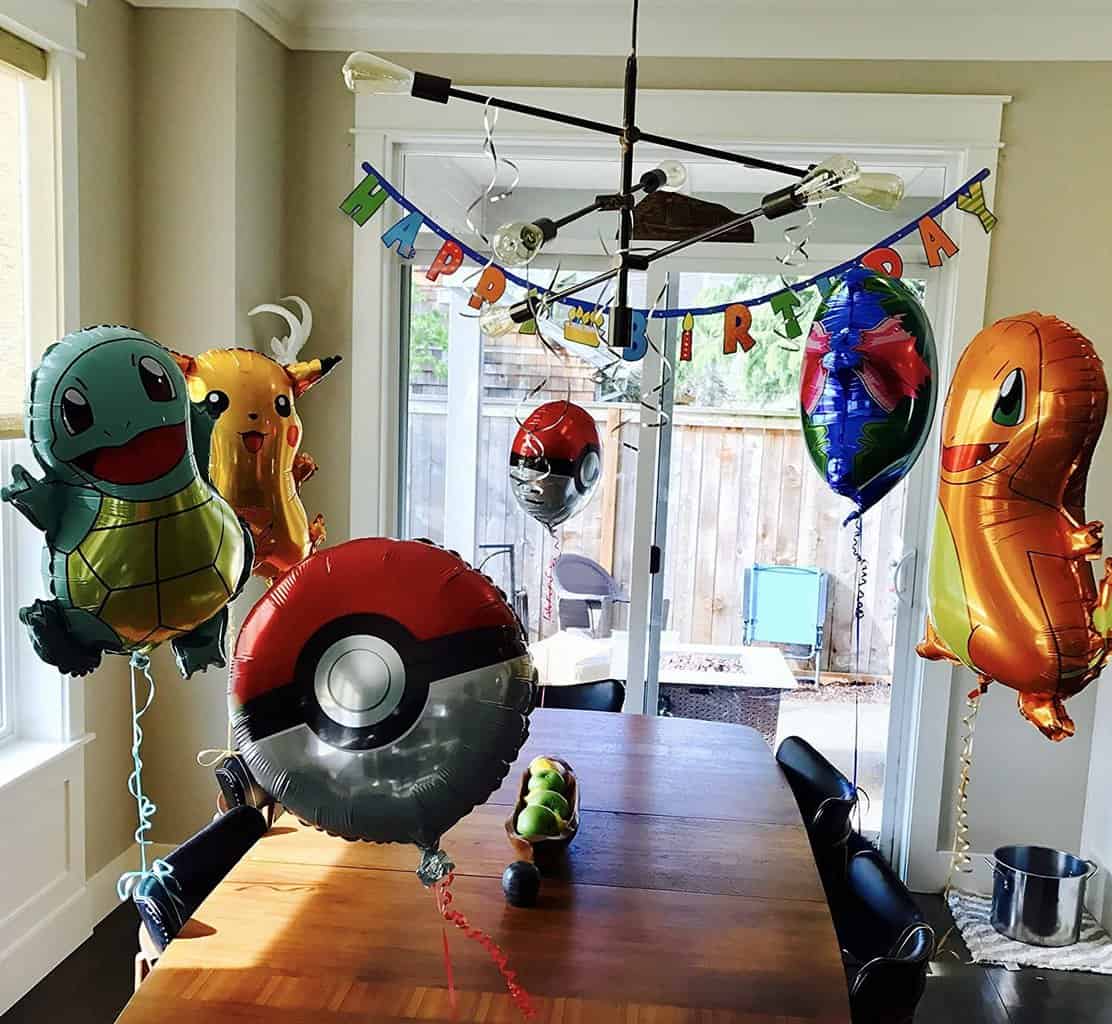 Listen, take it from me; themed parties aren't just for kids, okay? If you're a gamer, book nerd, cinephile, or any sort of nerd for anything at all, you can have a themed birthday shindig.
Fortnite Birthday Party
It's the most popular shooter game in the past few years, and Fortnite is a hit with kids up to 14 years of age and then some. To throw a proper Fortnite birthday party, think of nerf guns, black, blue, and purple balloons, and as many games that require physical activity as possible. I actually have an entire guide to planning Fortnite parties if you want to check it out.
Minecraft Birthday Party
Another very popular sandbox game is Minecraft. With the complexity of the Minecraft universe, many party supplies match the theme available in both online and offline stores. Minecraft parties are common amongst younger kids. Just think pixels, large and small. And, you guessed it, I also have a guide to planning Minecraft parties.
Pokemon Birthday Party
Pokemon birthday parties are popular amongst kids and teenagers, especially considering the size and age of the franchise. From Pikachu decorations to Charizard party hats, there are loads of Pokemon-themed supplies to look out for. Here's my full guide for Pokemon party supplies.
Paw Patrol Birthday Party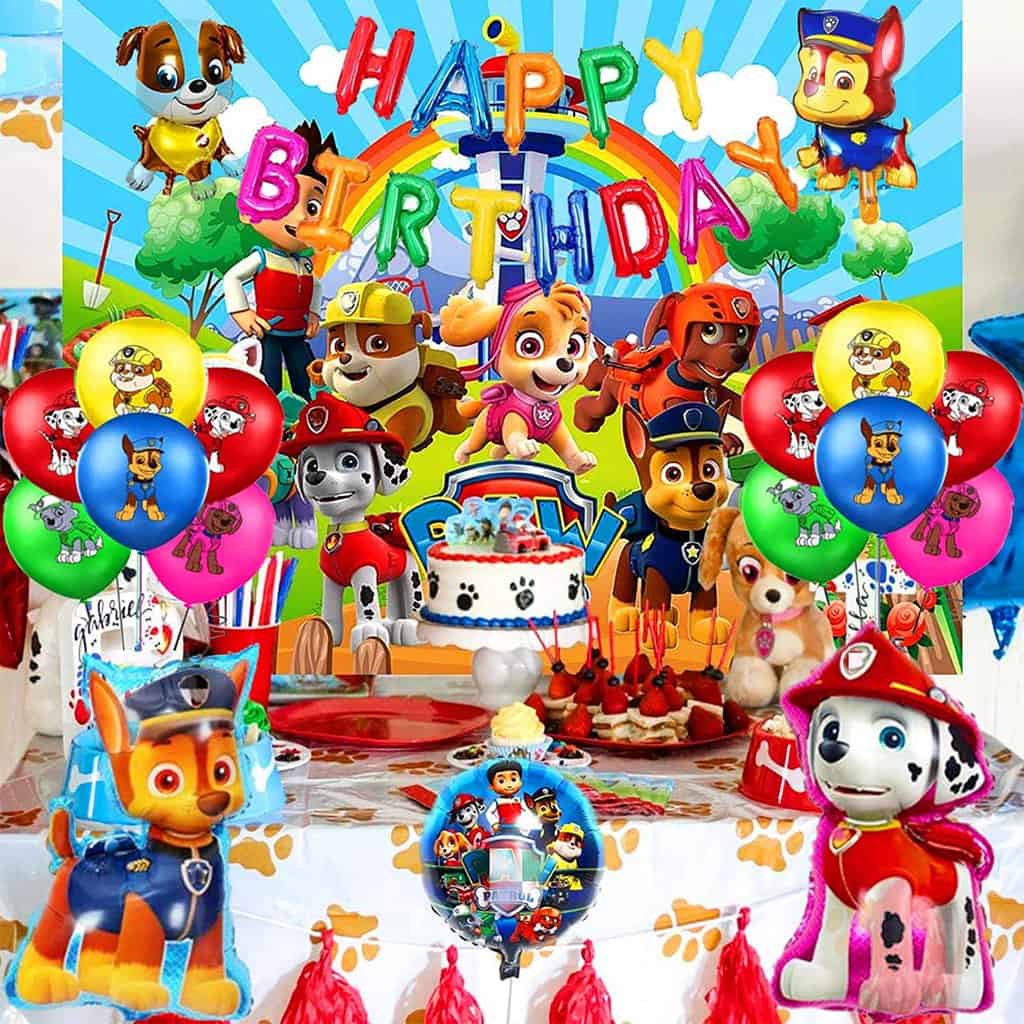 I'd say it's one of the most adorable kids' parties theme because it's about puppies, and who doesn't love puppies? The market is flooded with Paw Patrol birthday supplies: from disposable paper plates and napkins to reusable balloons and tablecloths. Yes, I have a guide for Paw Patrol parties, too! I'm crazy like that.
Barbie Birthday Party
Barbie birthday parties may be somewhat easier to organize because it's all about the colors. You could get away with pink and white, but if you want to make your little girl's party special, consider Barbie coloring books, cupcake toppers, or a Barbie-themed UNO card game. Check out our 27 Best Barbie Party Supplies Guide here!
Harry Potter Birthday Party
Forever changing children's fantasy books as we know them, The Boy Who Lived makes a perfect theme for both adults and children's parties. That's because the stories are old, and most of us grew up with books and movies. Treasure hunts, potion-making craft tables, and wands handed out as party favors are a must-have. Check out our Muggle's Guide to the 13 Best Harry Potter Cake Ideas here!
Birthday Party for Adults
With adult birthday parties, there are no limits regarding chosen themes. You can choose anything from Batman to The Great Gatsby. The supplies will be different based on the theme chosen. You also get more variety in terms of food, and you can create your signature alcoholic cocktails.
The Best Birthday Party Supplies Online
I broke this section up into neat little categories to make things as easy as possible for you. You'll find a few options for each, so choose which ones work best for your party needs.
Best Birthday Party Balloons Online
Balloons, in their many guises and iterations, have been around for a long time. The earliest known examples of rubber balloons date back to the early 1800s. They have this festive vibe everyone likes to see at a birthday party.
If you're throwing a Minecraft birthday party, you need themed balloons! Whether they have specific prints or are in Minecraft's most common colors (like green or brown), that's up to you. This is a set of 30 Minecraft-themed balloons with cute and on-point prints, like creeper faces, pigs, TNT, and warm birthday messages. I love the double-sided design, so the print is always visible, regardless of the angle.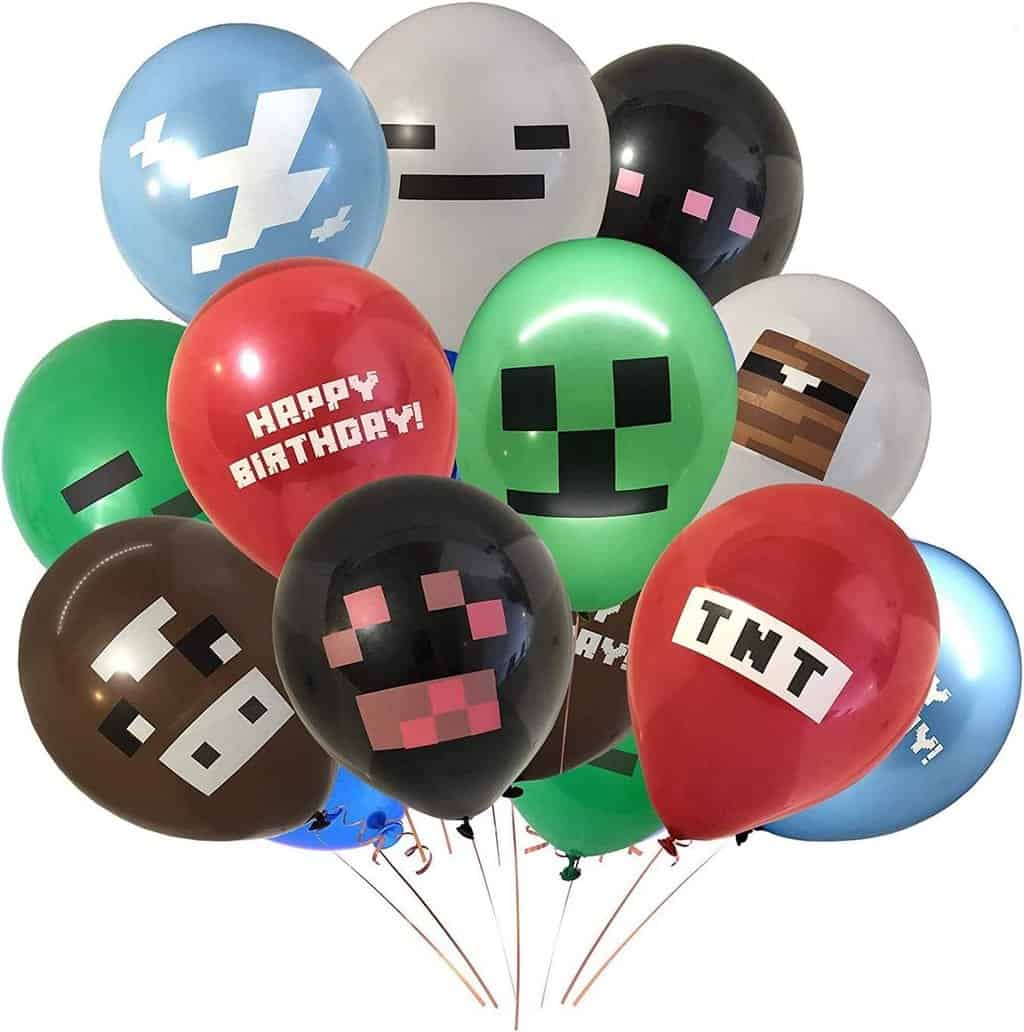 Key Specs:
Price Range: $10 – $15
Number of Balloons: 30
Material: latex
No Fortnite-themed party would be complete without some purple, blue, and black balloons. This set has so many pieces you can make an entire arch with all 114. They come in different sizes, which is always cool because you can group them for some stunning visuals. The metallic finish on these balloons is gorgeous, and if kids don't pop them, they can be reused for future parties.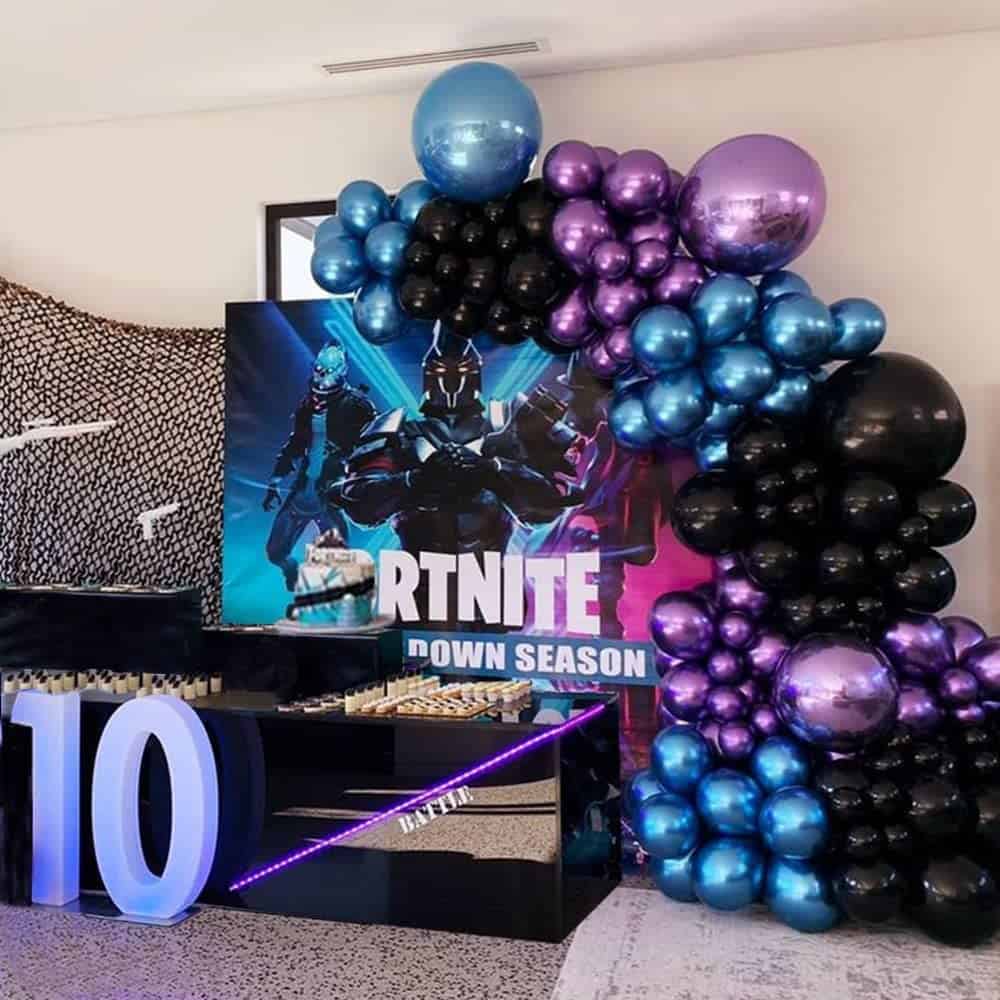 Key Specs:
Price Range: $15 – $20
Number of Balloons: 114
Material: Plastic
What's a Pokemon party without a Pokeball or a Pikachu balloon? Aside from making amazing decor pieces, these balloons could be part of a scavenger hunt if your venue is large enough to hide fully-inflated balloons. Since you gotta catch em all, it seems fitting to have a game like this as part of the party's entertainment.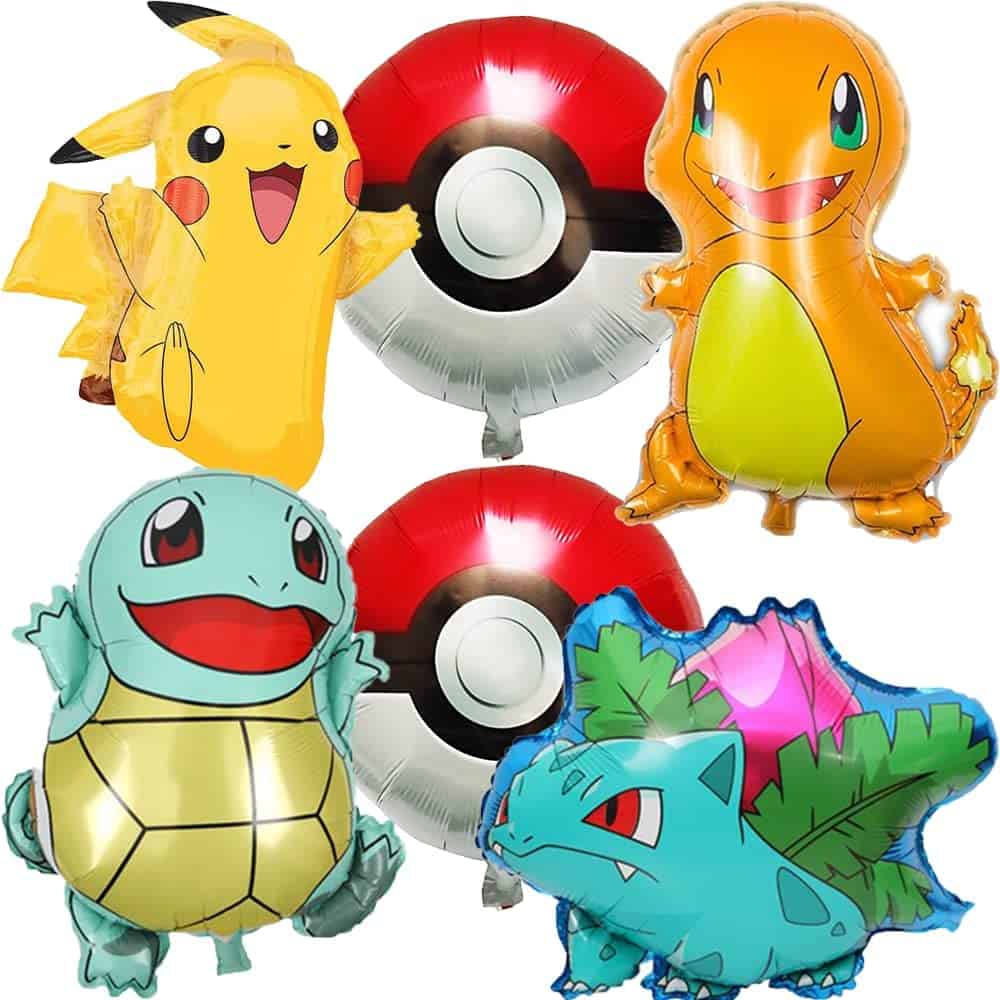 Key Specs:
Price Range: $15 – $20
Number of Balloons: 6
Material: Rubber
Paw Patrol fans will fall in love with these adorable balloons. Rubble, Rocky, Everest, and the gang are here to make an entrance and add pops of color throughout the birthday venue. The set includes five foil balloons and 12 12-inch latex balloons. You also get a birthday banner which is made from letter-shaped balloons of different colors.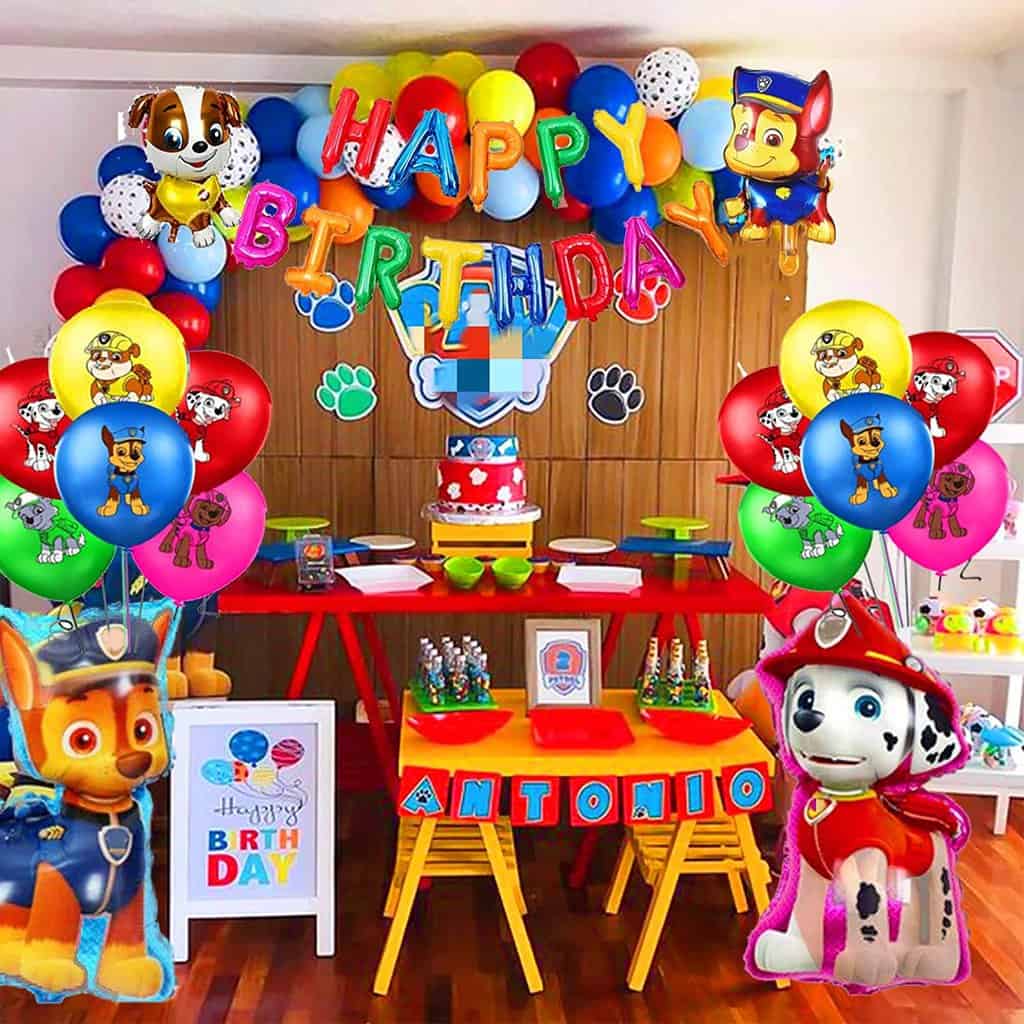 Key Specs:
Price Range: $15 – $20
Number of Balloons: 18
Material: latex
Here is a bunch of balloons in pretty colors for Barbie fans of all ages and genders! With the 20 balloons in this set, you can make a large and beautiful bouquet to adorn the venue. The balloons are purple, pink, white, and blue, and none of the colors are too flashy. If no one pops them, you can also deflate and reuse them for upcoming parties.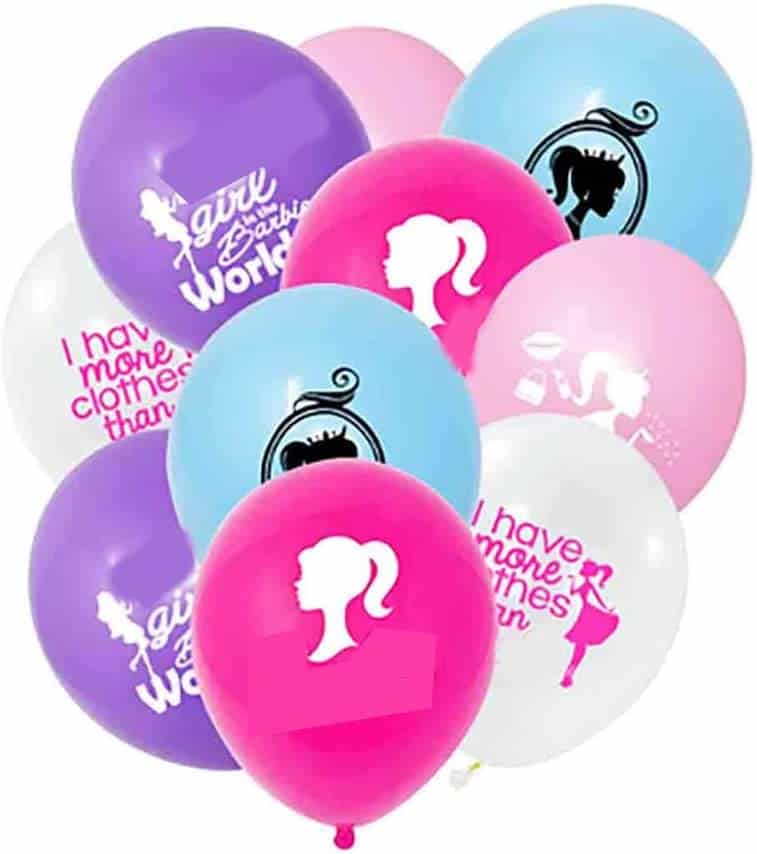 Key Specs:
Price Range: $10 – $15
Number of Balloons: 20
Material: Rubber
Harry Potter birthday parties might be common amongst children, but considering how old the movies are, they're also popular amongst adults now. This adorable set includes 24 Harry Potter balloons. There are eight designs in total, each of them repeated three times. Some prints include Harry, Ron, Hermione, and even the Hogwarts official logo.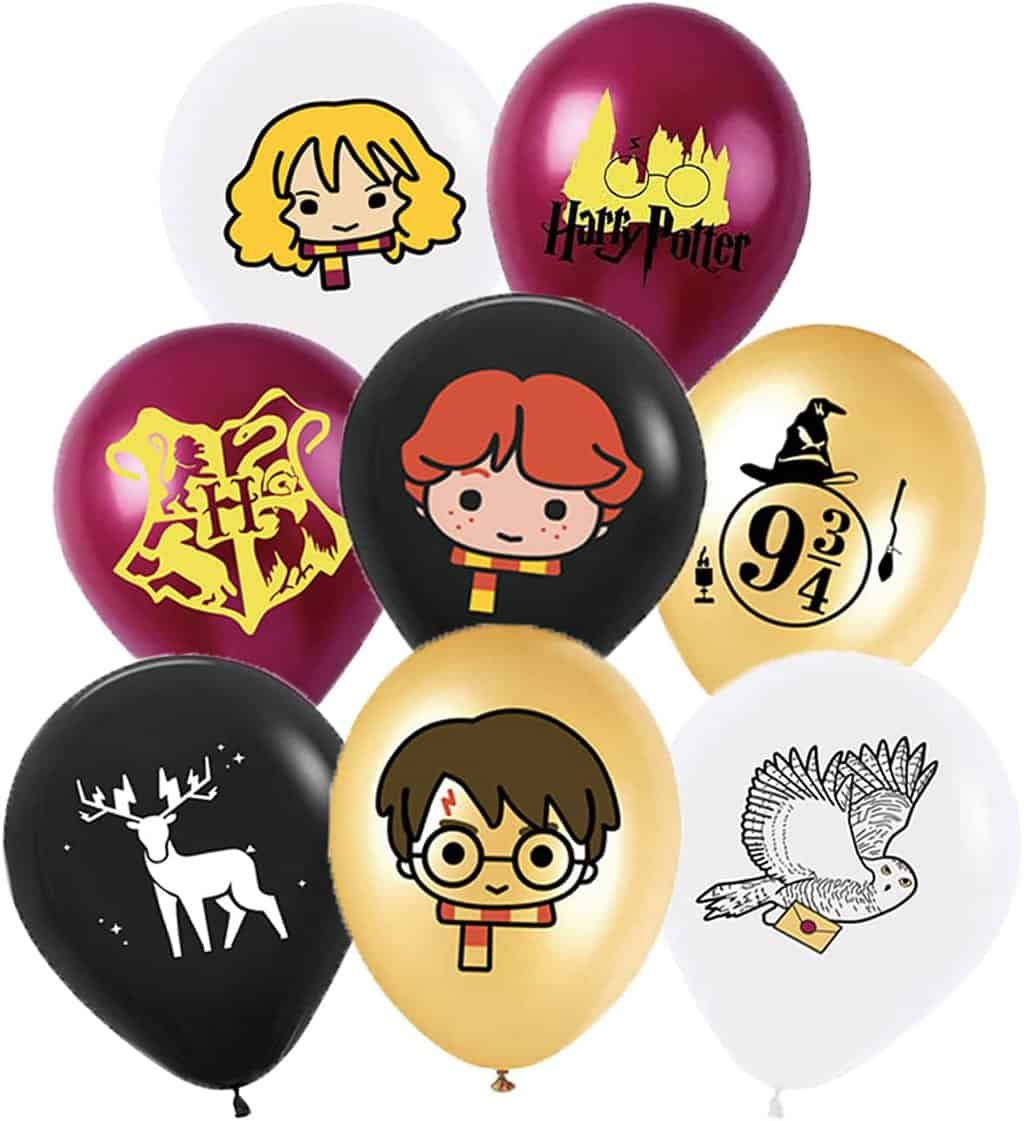 Key Specs:
Price Range: $10 – $15
Number of Balloons: 24
Material: Rubber
Best Birthday Party Decorations Online
Everyone knows that the decor around us can influence our mood. If you're having a birthday party at some and your living room looks just as it does every day of the week, it's not going to feel very festive. However, hang a birthday banner, make a candy bar, and throw some confetti around and you've got yourself a party!
This pack will come in handy if you want to throw a Fortnite party but don't want to place 100 different orders for theme supplies. It includes various decorations and goodies, including some waterproof stickers that could be handed out as favors. I love that this includes a Happy Birthday banner that matches the theme because it would have been tricky to buy it separately.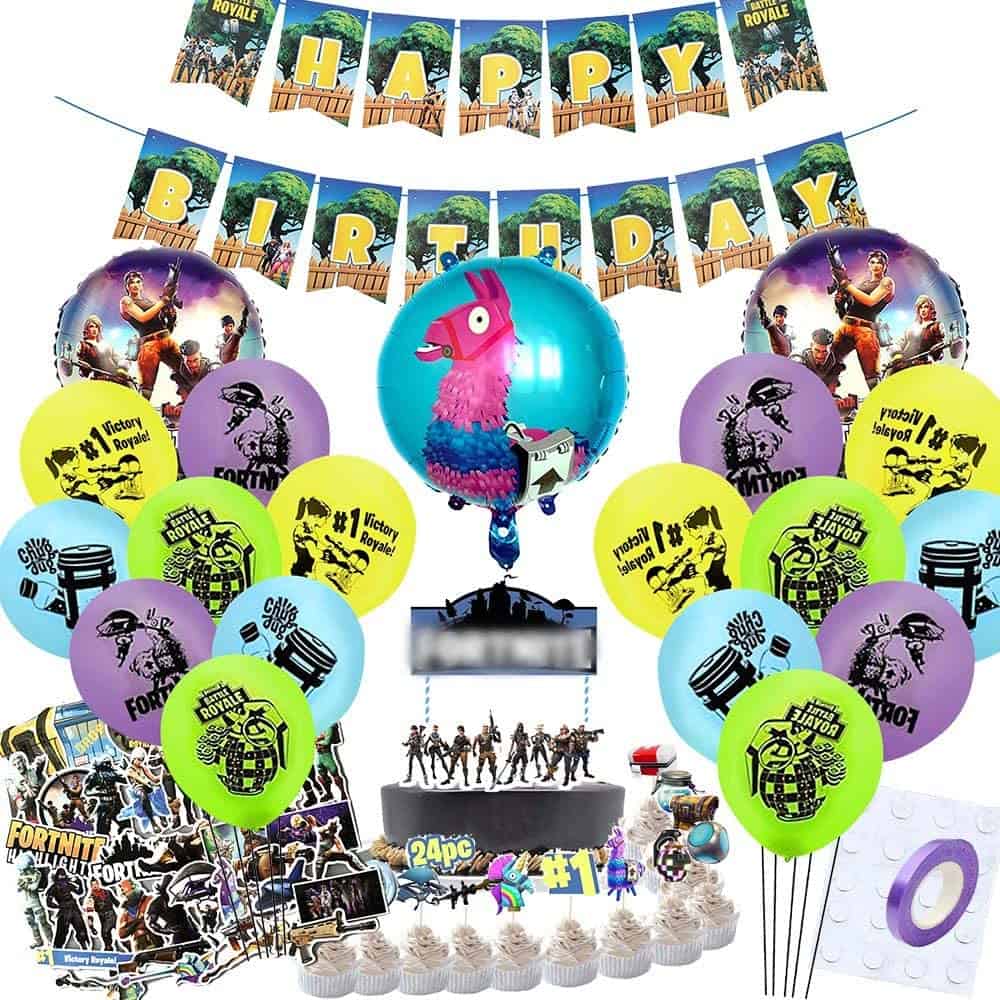 Key Specs:
Price Range: $10 – $15
What's Included: balloons, cupcake toppers, waterproof stickers, birthday garland, cake topper
Theme: Fortnite
If you want to throw your children a birthday party with a Minecraft theme, this 130-piece party supply package is the best option. What I particularly like about this party supplies set is the inclusion of plates, knives, spoons, and forks. This makes after-party cleaning a lot easier. Other goodies are also included, like chocolate stickers, latex balloons, and cupcake toppers.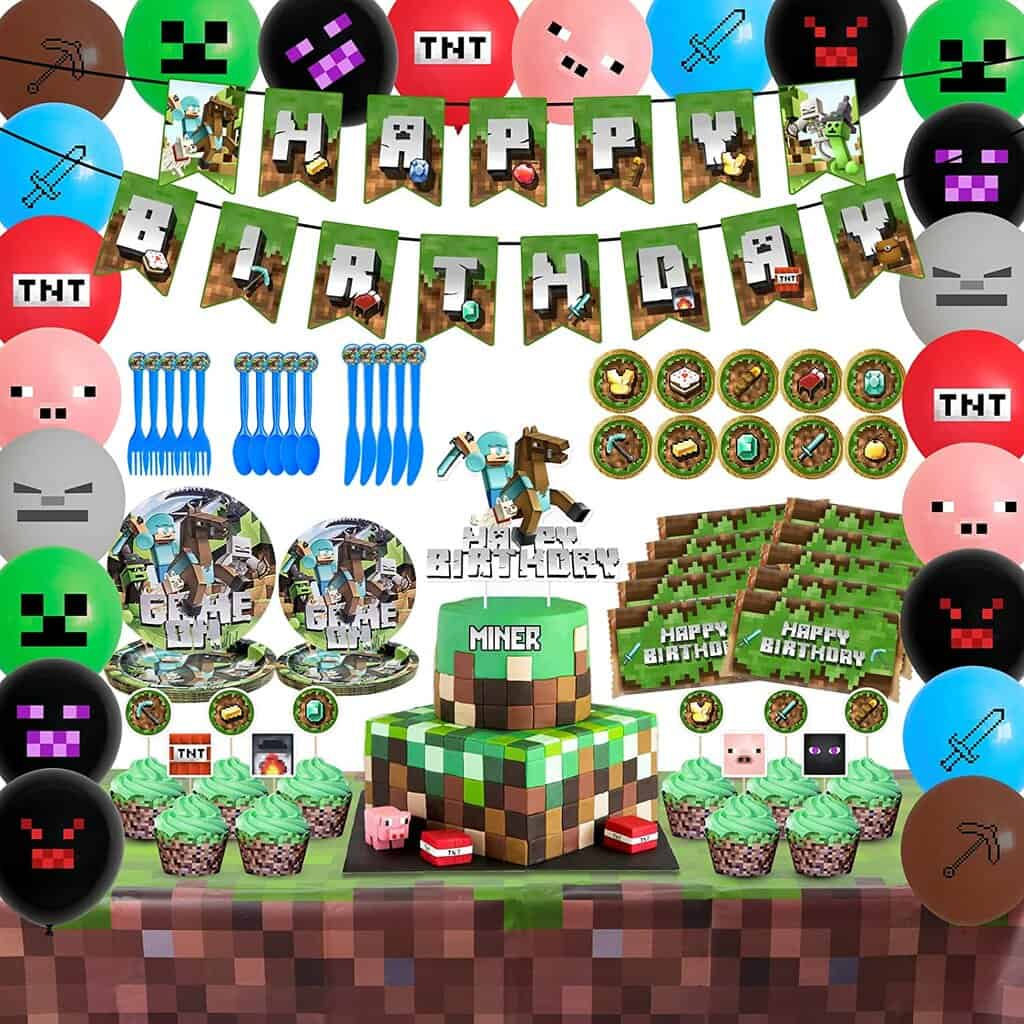 Key Specs:
Price Range: $20 – $25
What's Included: cutlery, plates, cupcake topper, balloons, birthday banner, chocolate stickers
Theme: Minecraft
We have this adorable set of Paw Patrol party supplies for puppy lovers. You get the cutlery needed to eat cake, decorate cupcakes, balloons for the venue, invitations for the guests, and even a themed birthday banner. Every piece included in this set has Paw Patrol prints in vivid colors, turning even the gloomiest venue into a color explosion that kids are bound to love.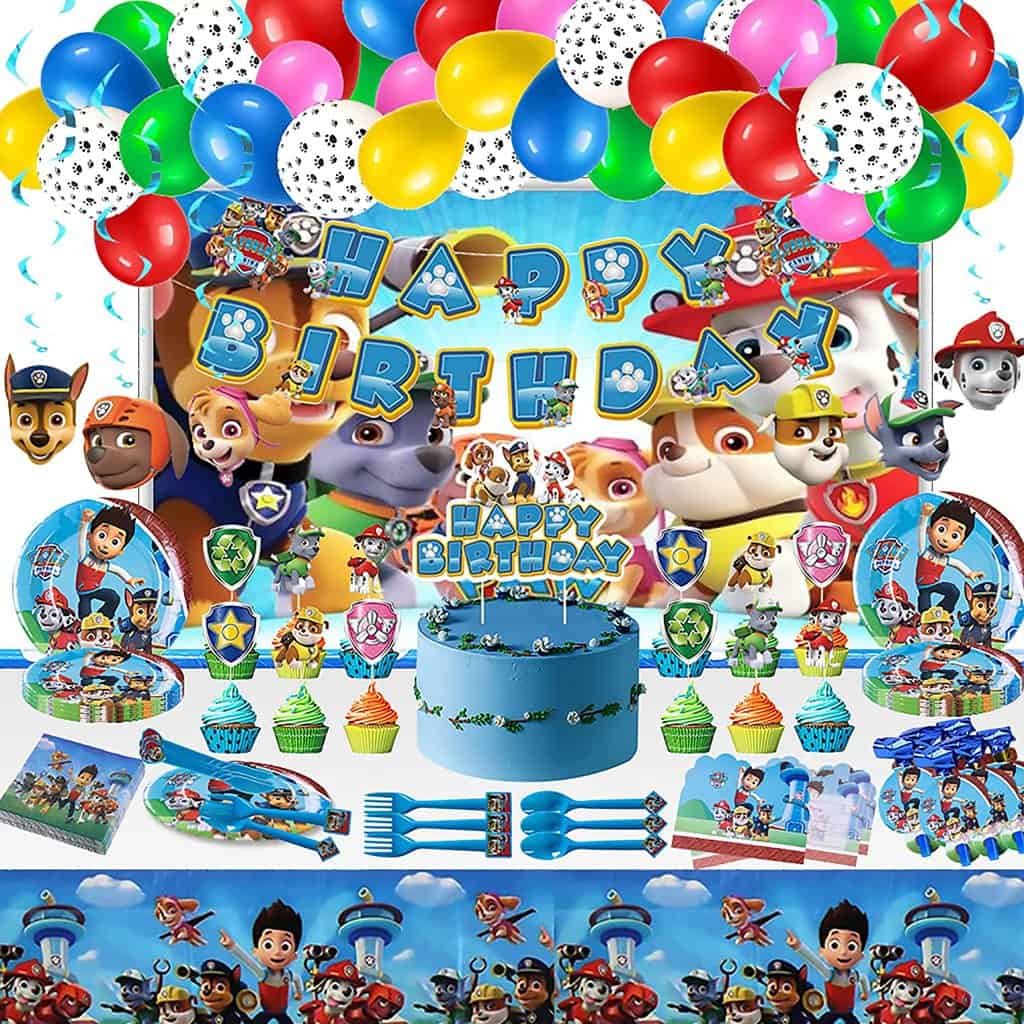 Key Specs:
Price Range: $35 – $40
What's Included: knives, forks, balloons, cake topper, invitations, tablecloth
Theme: Paw Patrol
Is pink the predominant color of your upcoming party? Then you need to check out this Barbie-themed set. It comes with pink and white balloons, a neat cake topper, a birthday banner, and a large cake banner. If properly taken care of, all these pieces are reusable, so you don't have to spend money on more supplies for the next party.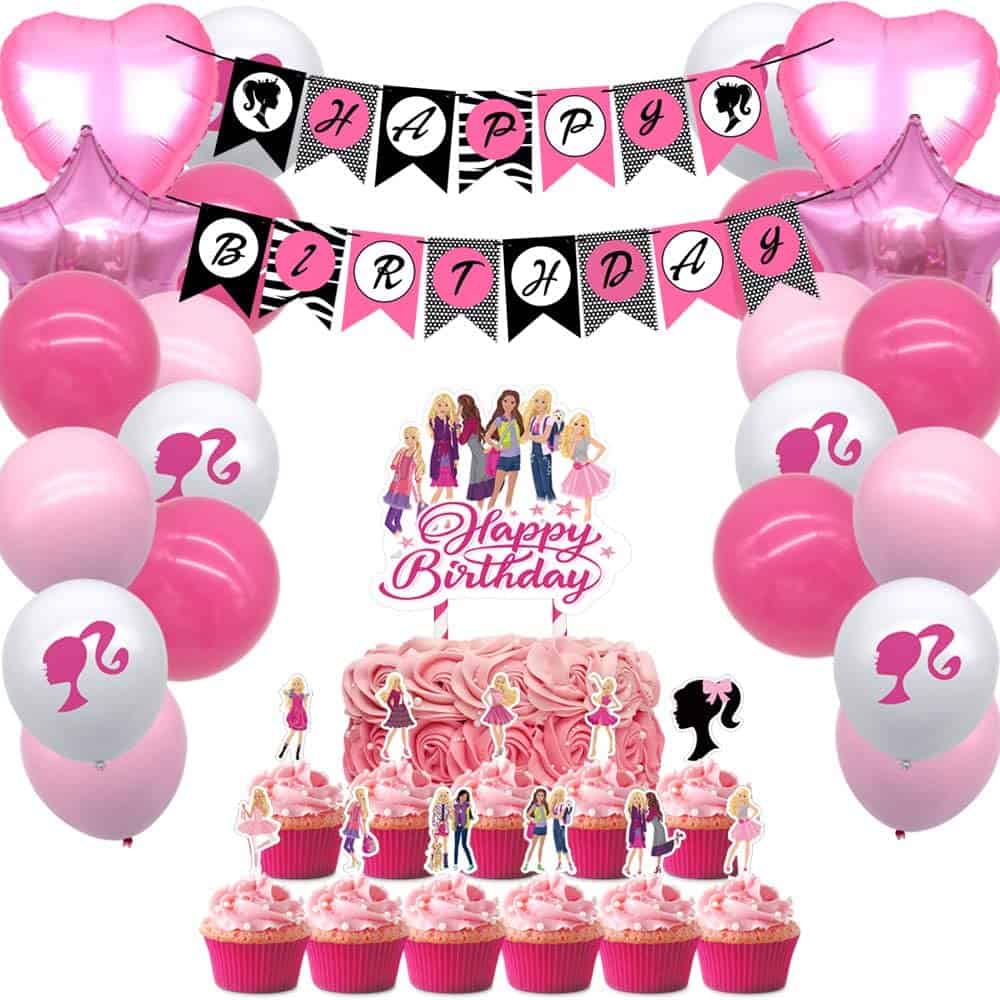 Key Specs:
Price Range: $15 – $20
What's Included: cupcake toppers, balloons, birthday banner
Theme: Barbie
Those passionate about all things magic will love the Harry Potter-themed items included in this party supply pack. The balloons recreate Hogwarts' famous colors and come with wizardry prints that fans immediately recognize. The large cake topper is splendid and rich in detail. The cupcake toppers have printed portraits of the movies' iconic characters.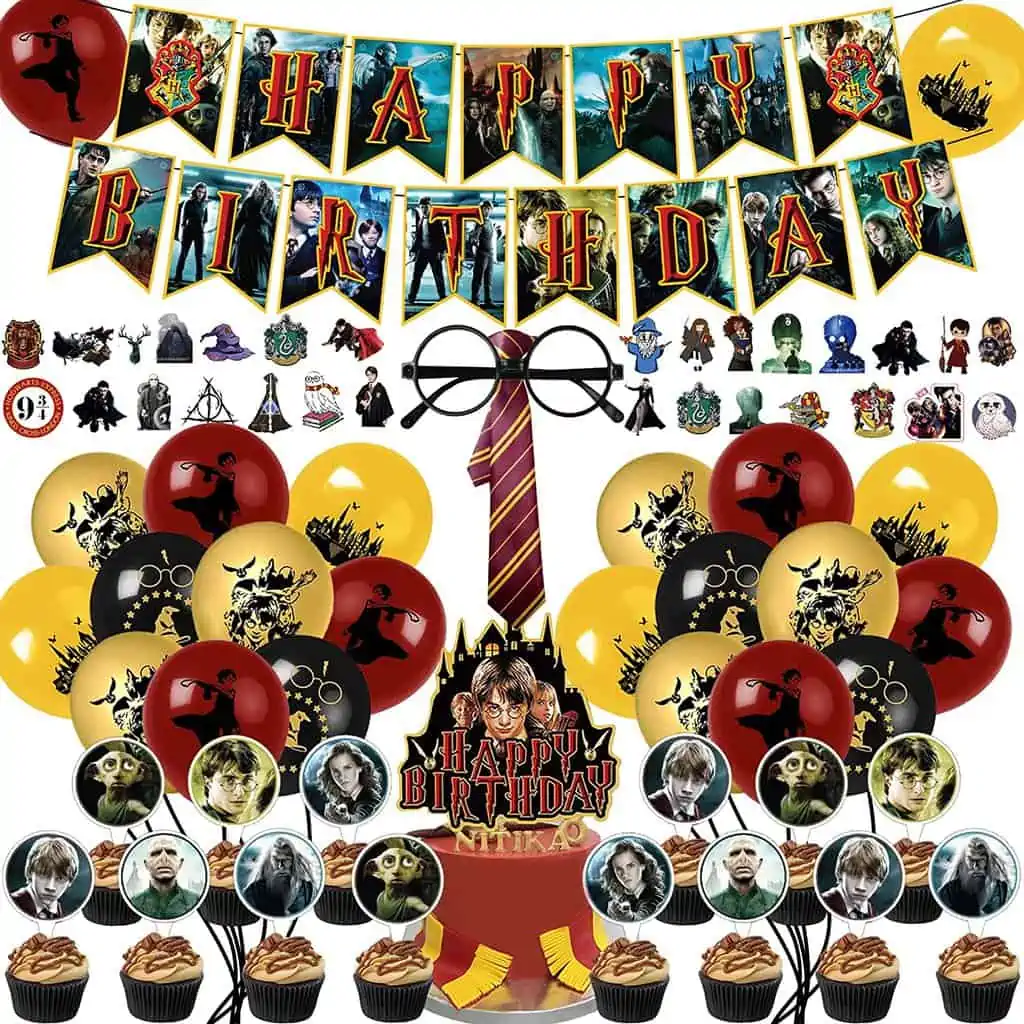 Key Specs:
Price Range: $15 – $20
What's Included: balloons, birthday banner, stickers, cake topper
Theme: Harry Potter
Best Birthday Party Dishes Online
There are two ways to approach the dish situation at a birthday party. You either provide your dishes and are left with tons of stuff to wash at the end, or you buy disposable plates and cutlery and make cleaning afterward a breeze. Plenty of disposable plates made from cardboard help reduce plastic waste if you are concerned about the environmental impact. Allow me to show you some.
Time to unite all Fortnite fans under a single banner and feed them properly on these excellent disposable plates. You get enough of them to feed 16 people, and the pack comes in two sizes: one plate size for food and the smaller one for sweets and cake. You also get a camouflage tablecloth and matching disposable napkins.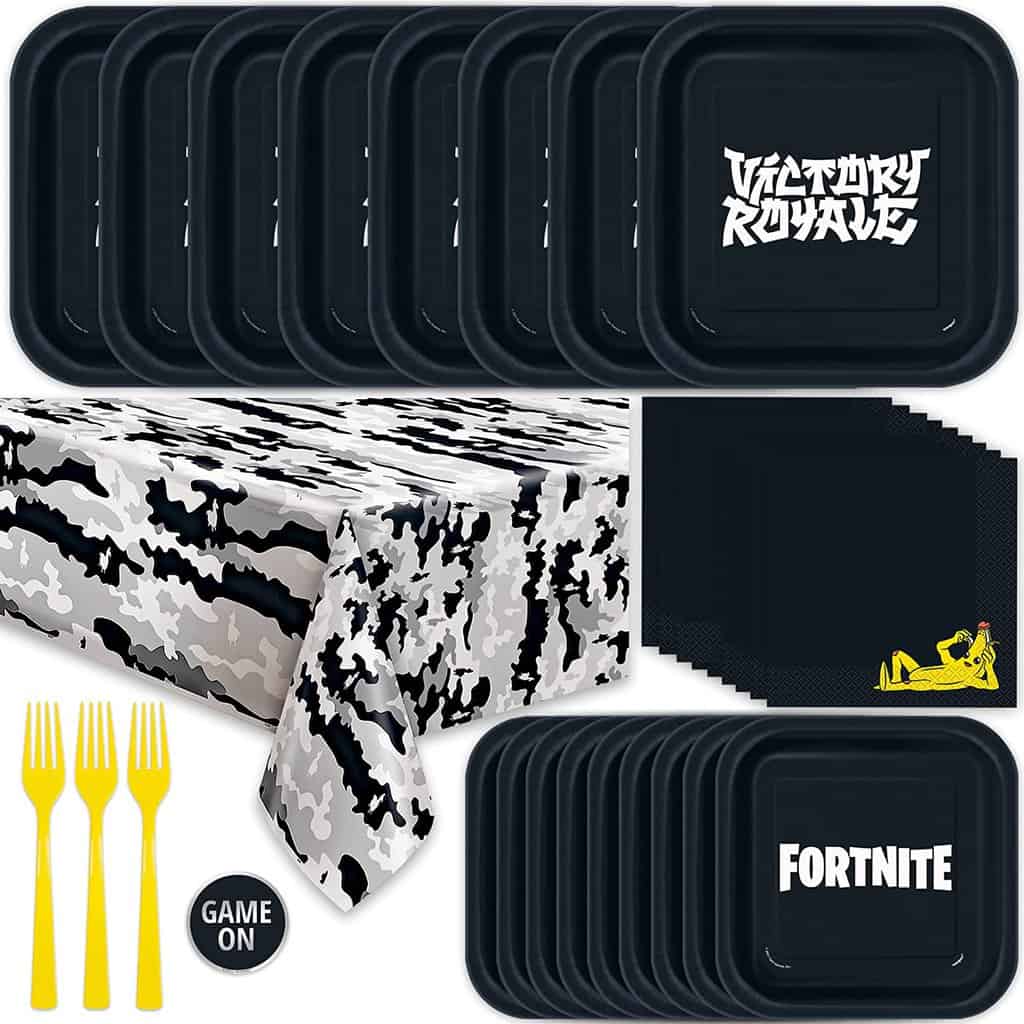 Key Specs:
Price Range: $25 – $30
Theme: Fortnite
Good For: 16 guests
Minecraft has more than 141 million players, so it should be no surprise that your kid wants a Minecraft-themed party for their next birthday. This set is suitable for up to 16 guests, with large and small paper plates for food and snacks. You get a matching Minecraft tablecloth that measures 54 x 84 inches. The package also contains napkins and cool Minecraft temporary tattoos.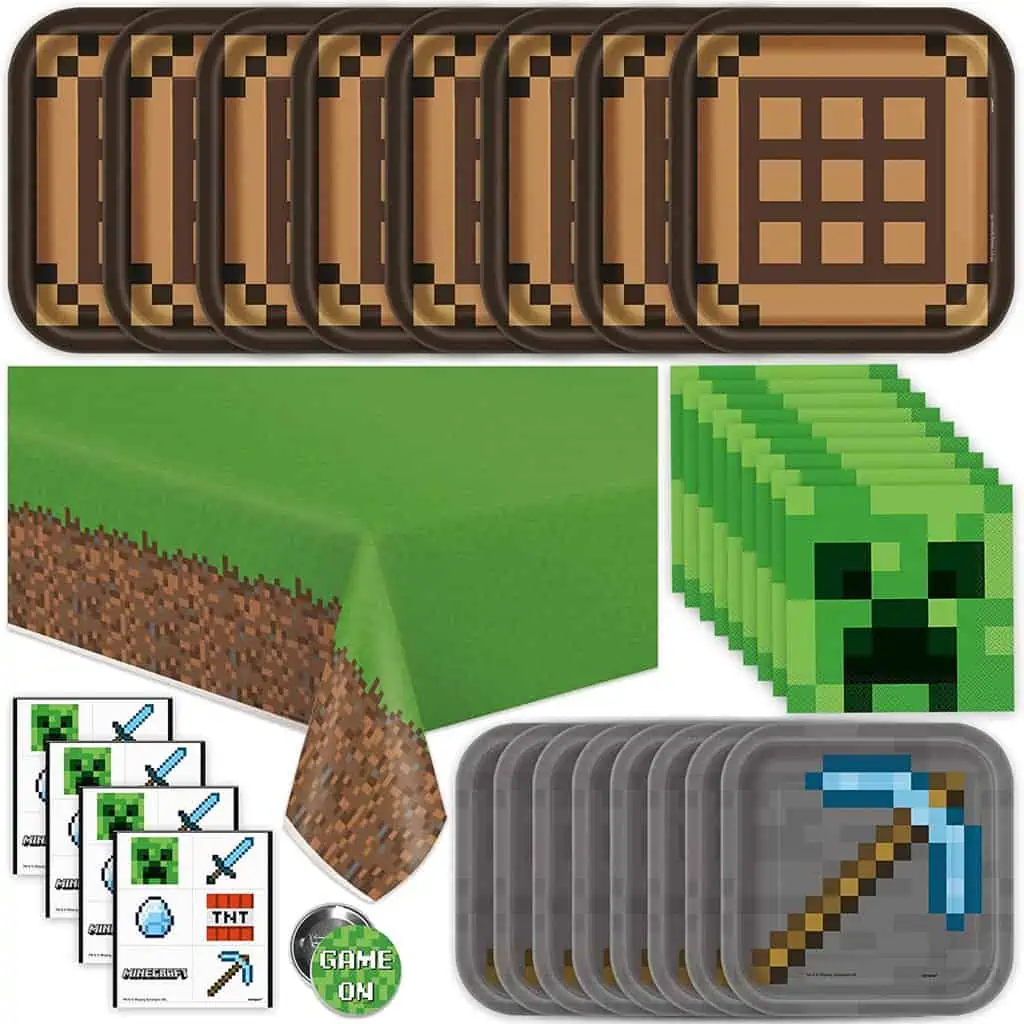 Key Specs:
Price Range: $20 – $25
Theme: Minecraft
Good For: 16 guests
Since you gotta catch em all, why not start with the ones printed on these plates? Good for up to 16 guests, this set delivers 16 paper plates with matching napkins, cups, and even candles for your little one to blow out as they make their wish. I love that you get a matching tablecloth that's reusable since it's made from plastic.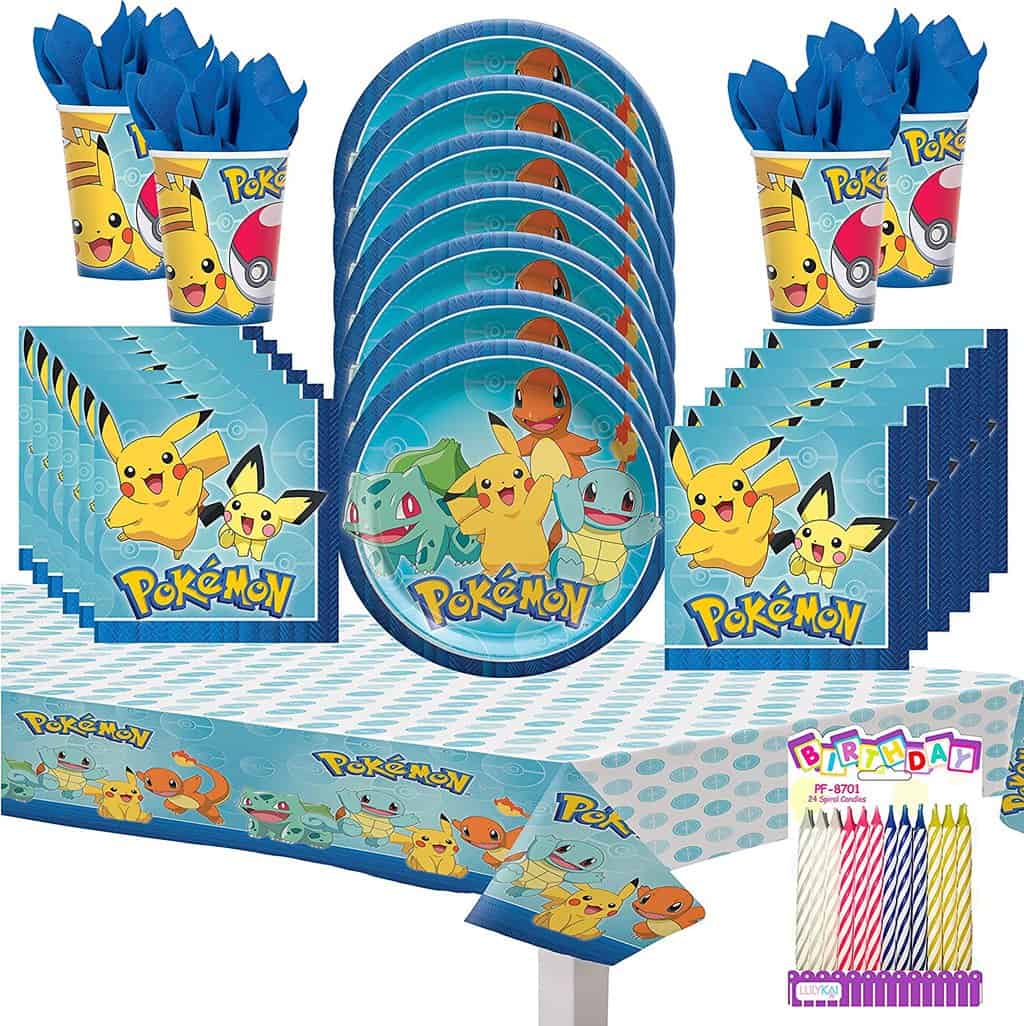 Key Specs:
Price Range: N/A
Theme: Pokemon
Good For: 16 guests
Who doesn't love these smiling furry companions that have teamed up to keep the neighborhood streets safe? This is probably the most generous party supplies pack in this article. It comes with enough cups and plates for 16 guests, cake candles, temporary tattoos, a birthday button, a birthday banner, and even a Paw Patrol-themed tablecloth.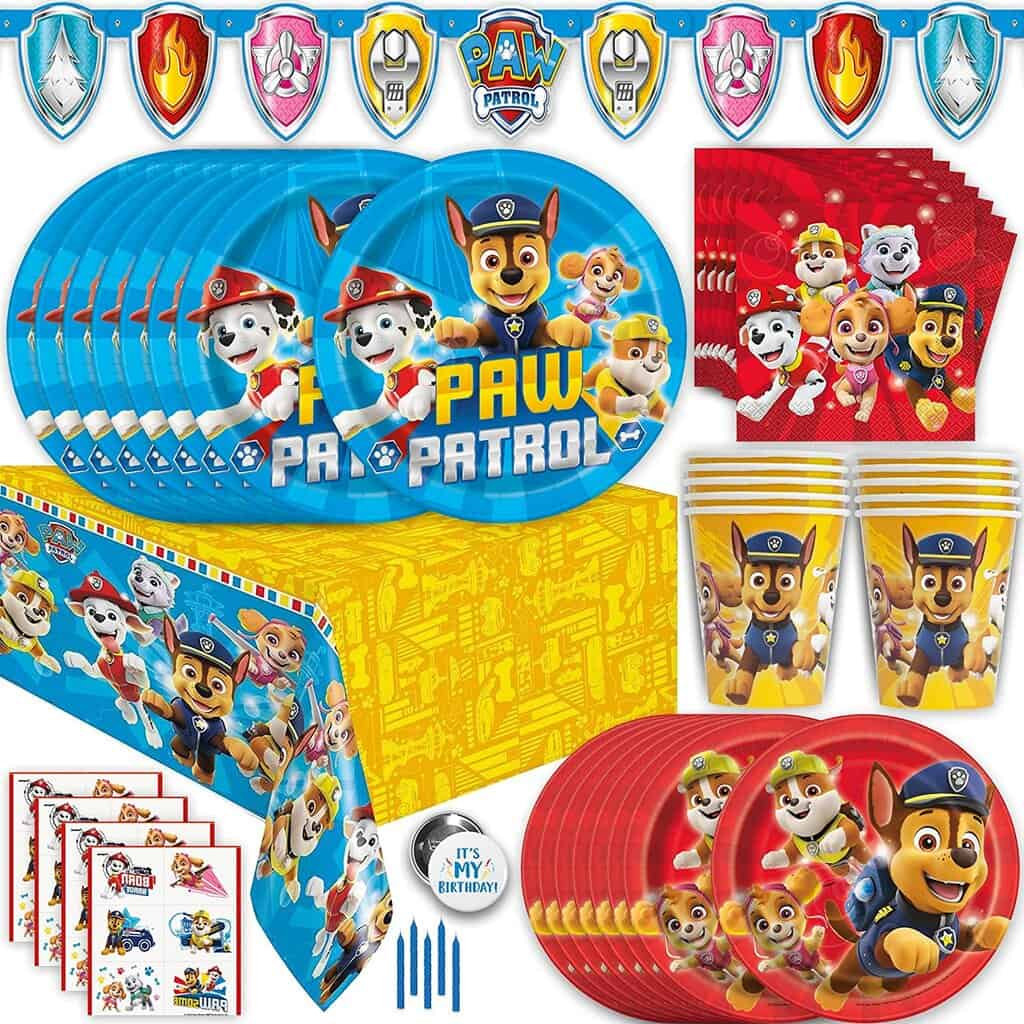 Key Specs:
Price Range: $25 – $30
Theme: Paw Patrol
Good For: 16 guests
Come on, Barbie, let's go party! Grab these paper plates to spend less time cleaning and more time resting after having planned the most amazing party! The set comes with 20 paper plates and 40 napkins, all available with the same classy birthday print. These plates are constructed of paper, so they are soft, dependable, and highly water-absorbent.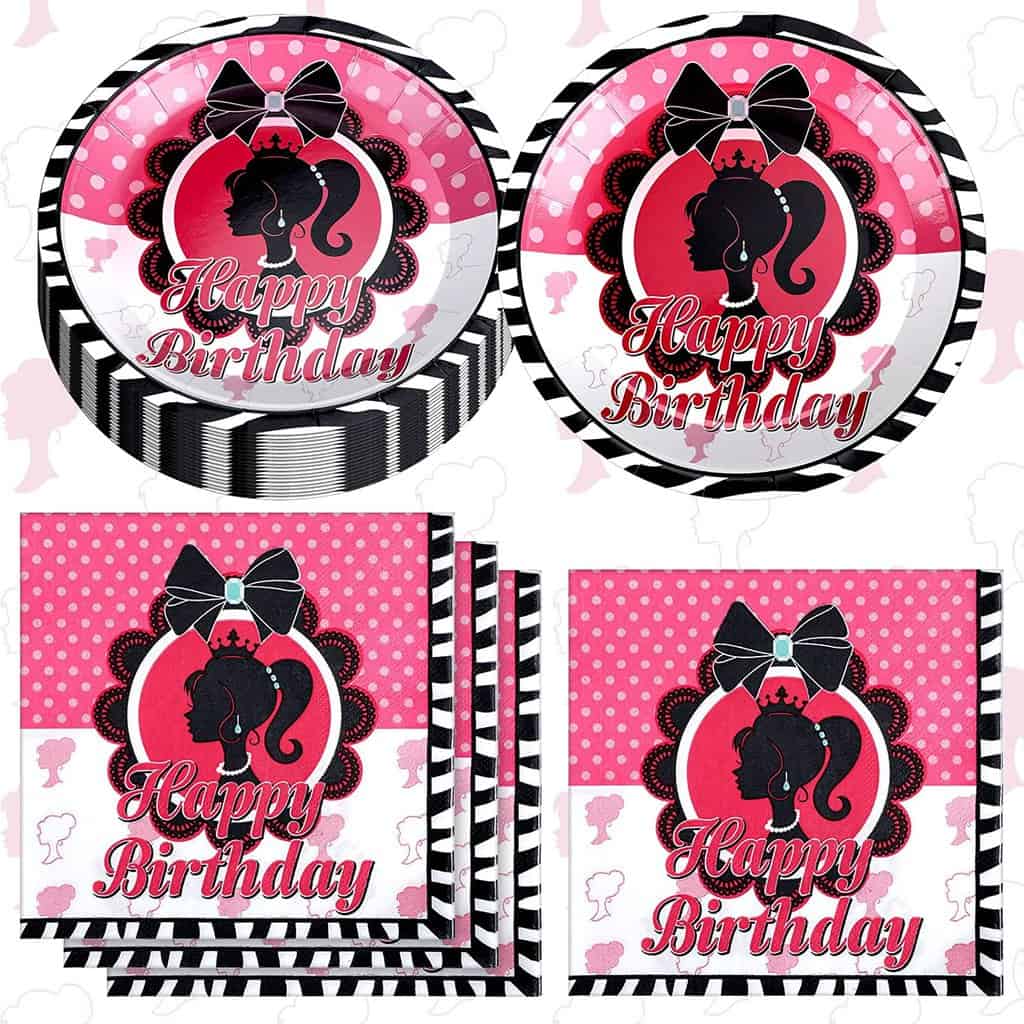 Key Specs:
Price Range: $10 – $15
Theme: Barbie
Good For: 20 guests
Time to unite Harry Potter fans under one Patronus and give the people what they want! And what they want is Harry Potter-themed party decorations! This set comes with gorgeous disposable plates, the Hogwarts crest, and symbols of the four houses. You also get matching napkins, paper cups, and a rectangular plastic table cover.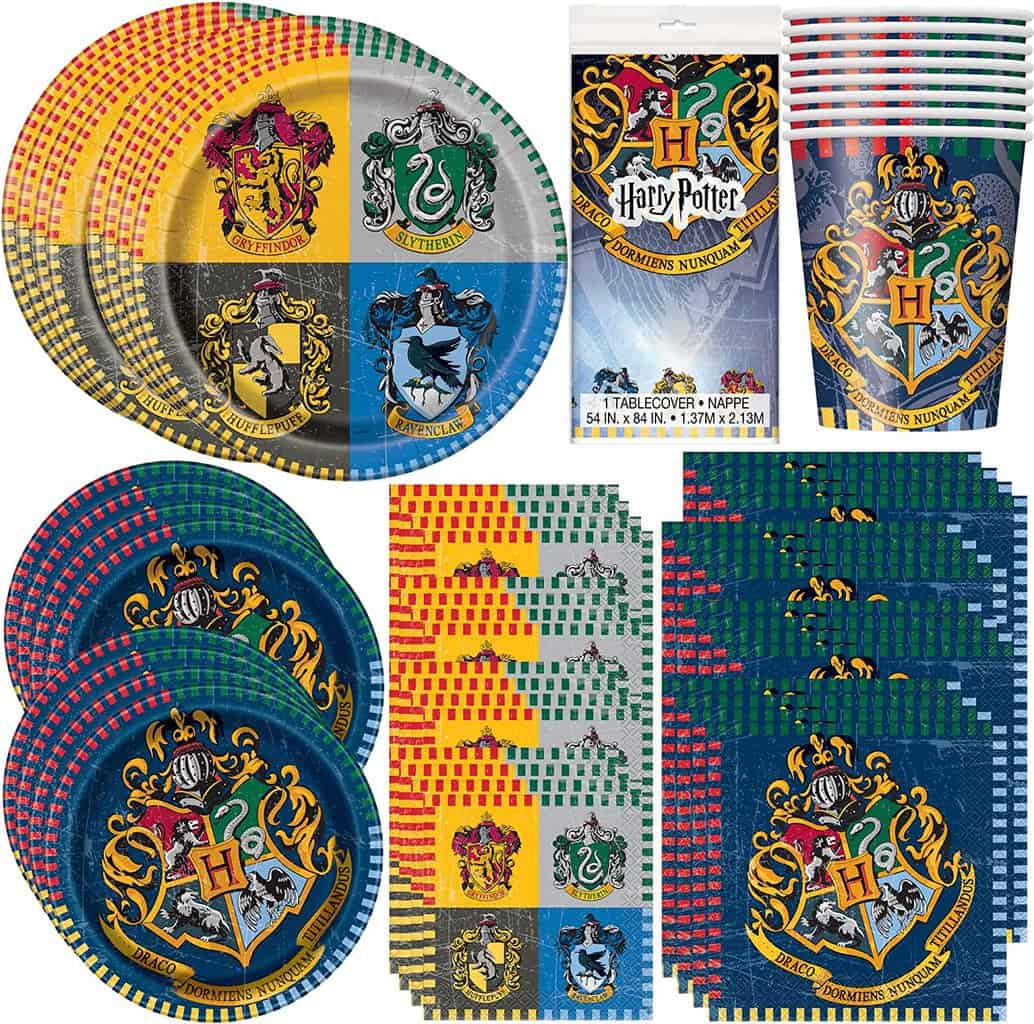 Key Specs:
Price Range: $25 – $30
Theme: Harry Potter
Good For: 8 guests
Best Birthday Party Games Online
You gotta have games at a party to keep the heathens entertained. These are some great games that are affordable and can even be reused.
Bag toss has always been the most popular game for picnics, BBQs, and outdoor birthday parties. Here you have a modified version for gamers who want to have fun while away from the computer. You get one garage gaming-themed banner with points allotted to different-sized holes. You can get some points depending on which hole you throw the bag in. Whoever gets the most point out of a certain number of tosses wins.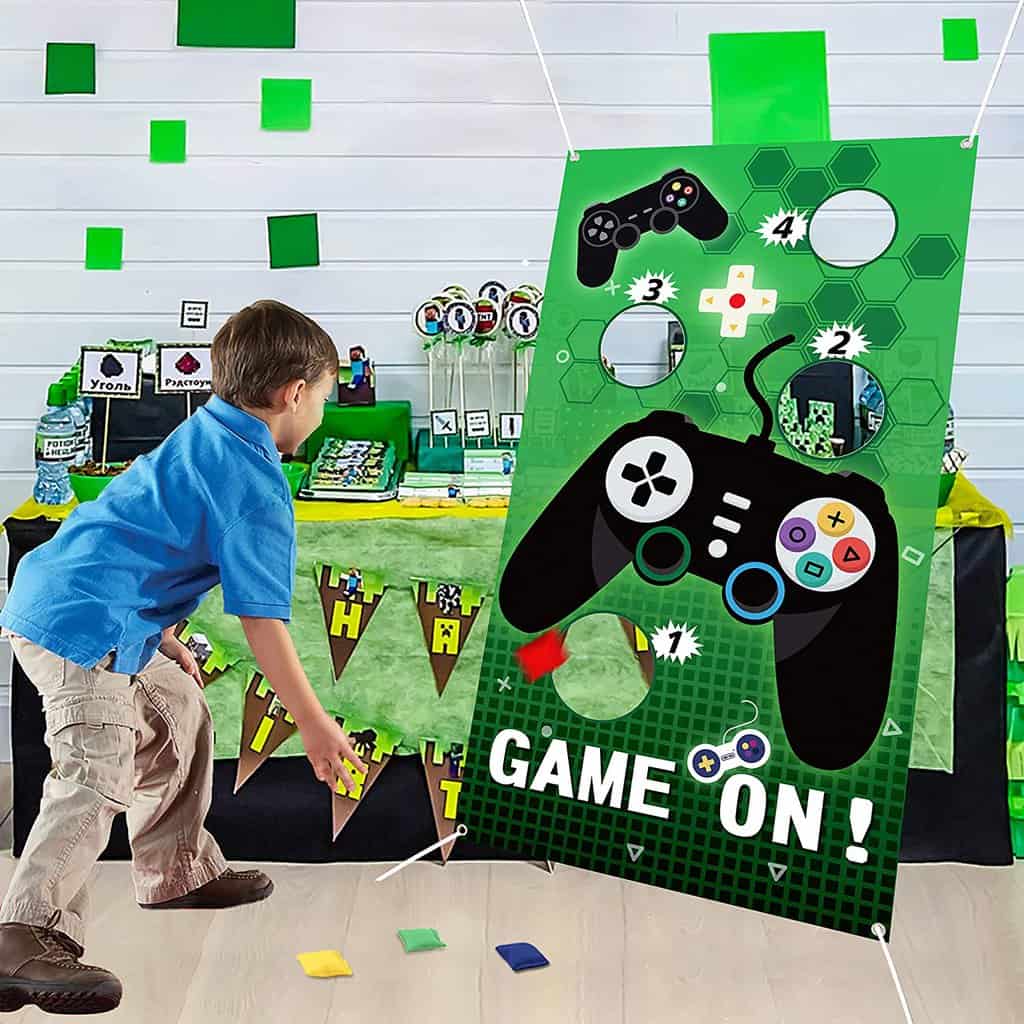 Key Specs:
Price Range: $10 – $15
Game Type: bag toss
Theme: Gaming
A great party game, pin the tail on the donkey is very easy to adapt to the theme in question. In this case, we have a poster with a Minecraft scene and one of the game's cutest and most beloved animals: the pig. The game comes with blindfolds, and whoever plays it has to pin the nose on the piggie. The set also comes with adhesive tape, so you can hang the poster on almost any surface.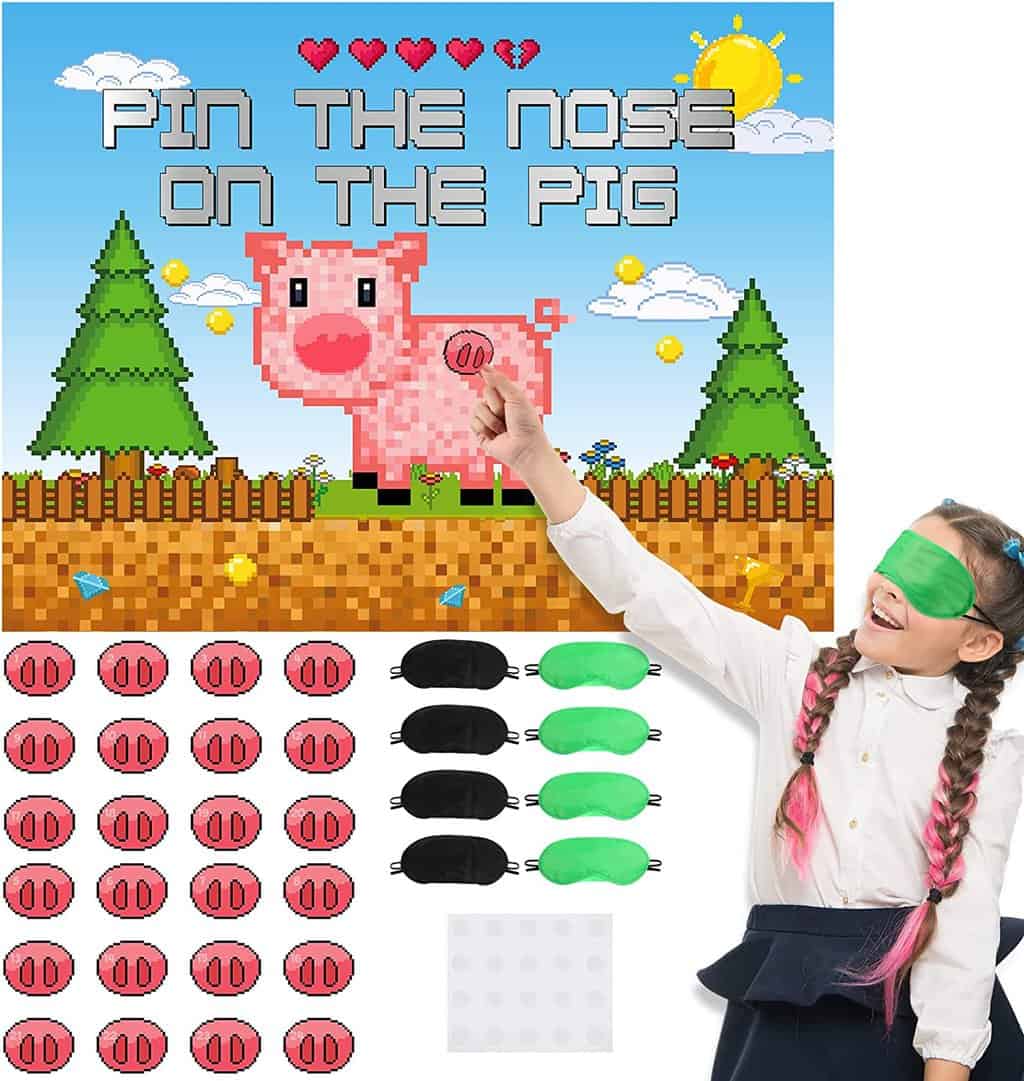 Key Specs:
Price Range: $10 – $15
Game Type: pin the tail on the donkey
Theme: Minecraft
Pinatas are usually the life of a kids' birthday party because they are filled with candy. Measuring 11 x 11 x 11 inches, this Pokeball pinata is made to be filled with candy but also other treats, toys, or things kids might enjoy (like stickers or silicone bracelets). It's made from paper and plastic and has a weight limit of two pounds.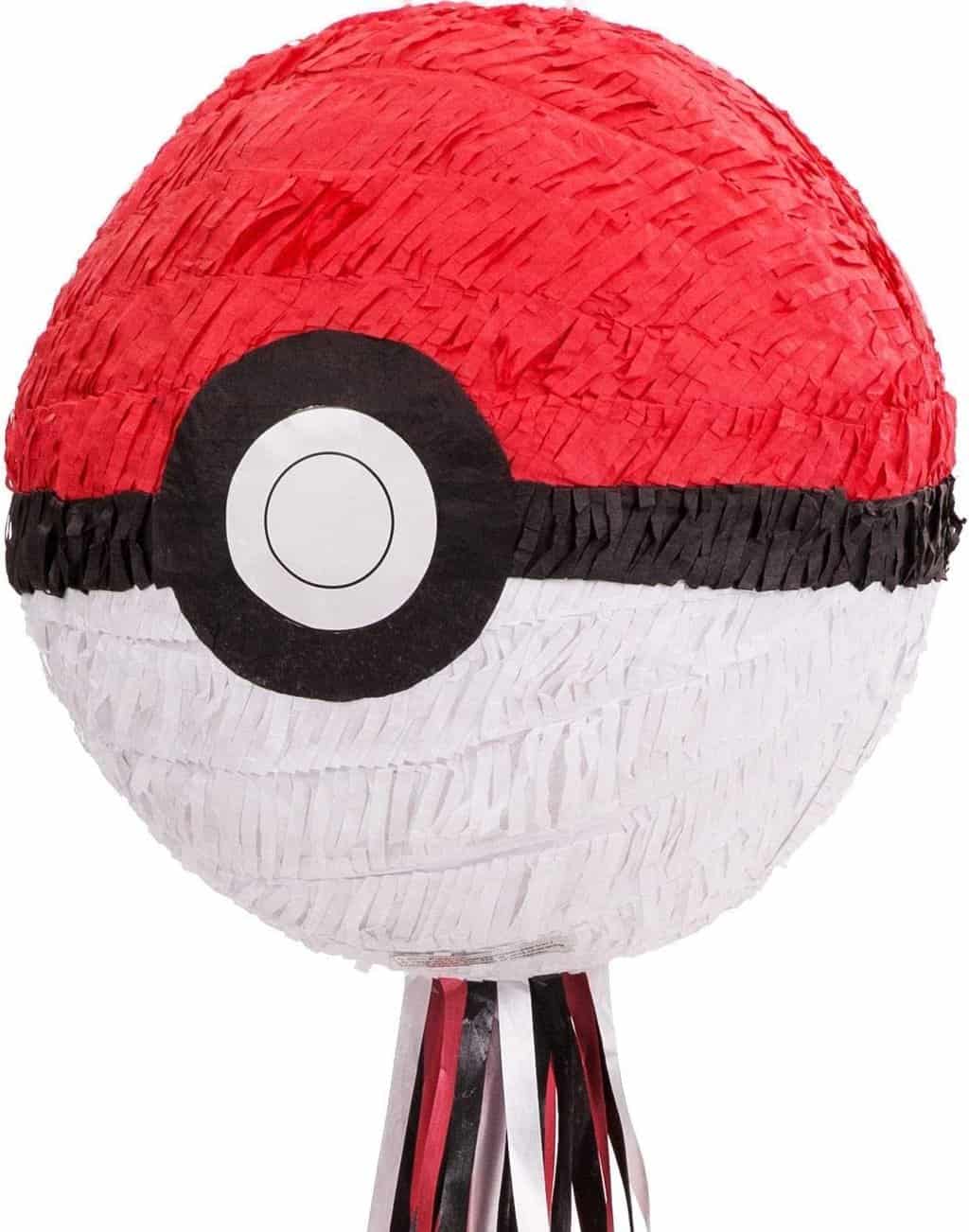 Key Specs:
Price Range: $35 – $40
Game Type: pinata
Theme: Pokemon
This is a variation of the classic tic tac toe game that can be played inside and outdoors. You get a bunch of discs that you have to toss to get three in a row and win the game. The material is made from polyester fibers, and it's water resistant. And because the theme is Paw Patrol, the discs are printed with the cutest puppies ever.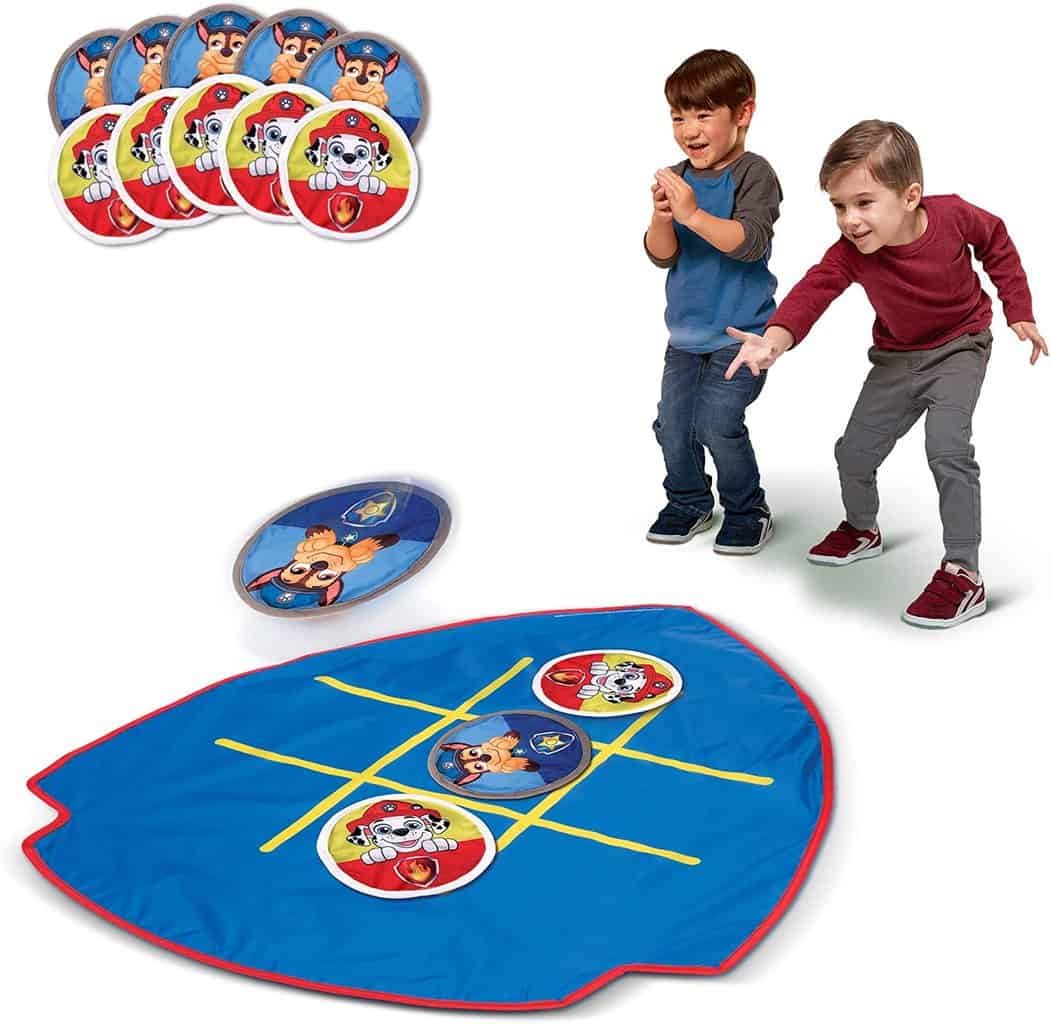 Key Specs:
Price Range: $15 – $20
Game Type: tic tac toe
Theme: Paw Patrol
Who doesn't love a good UNO card game, especially when the cards have adorable Barbies printed on them? The great thing about getting your guests engaged in a game of UNO is that the rules are universal and simple to understand. Children and adults can partake in this fun activity, and adults will most likely know the rules.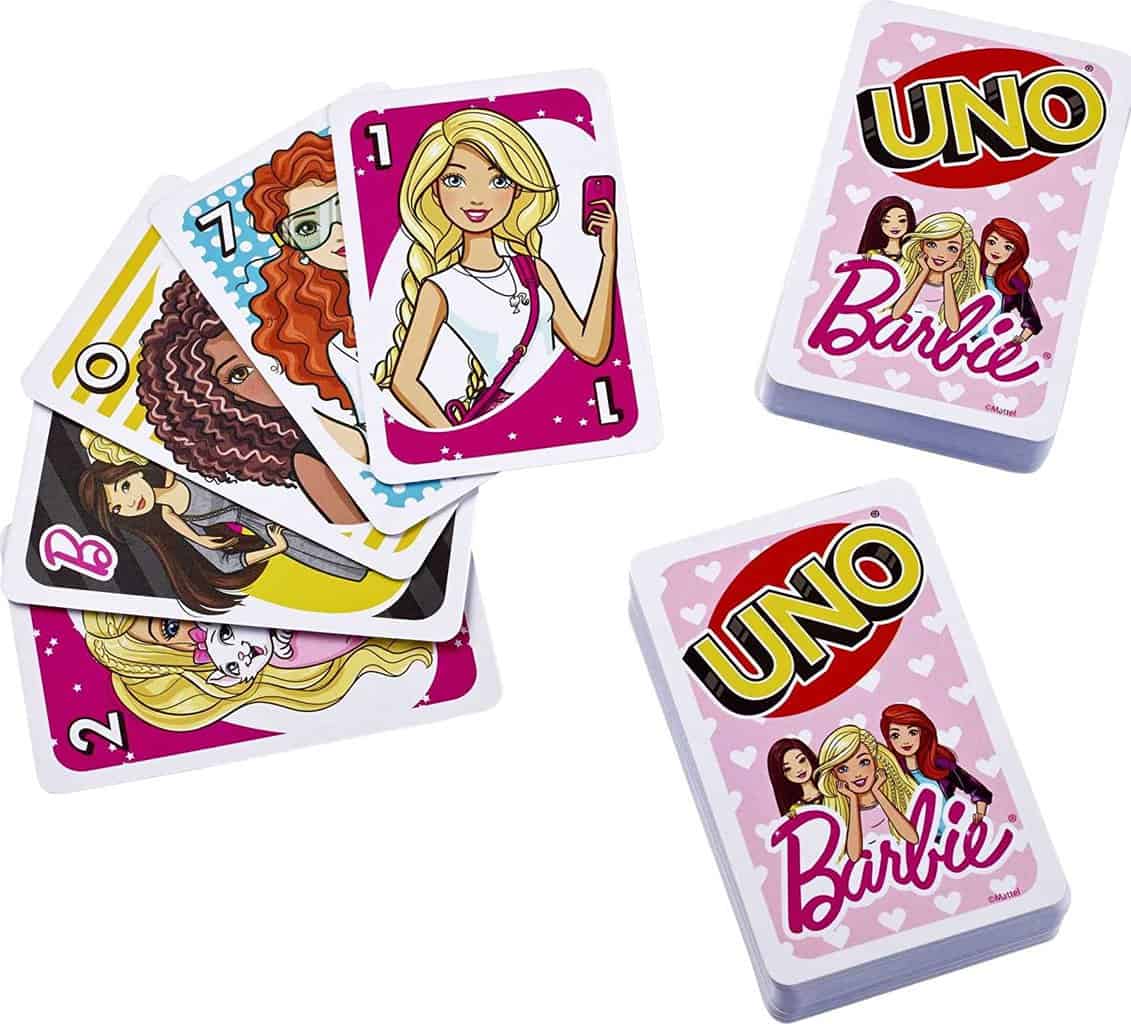 Key Specs:
Price Range: $5 – $10
Game Type: UNO card game
Theme: Barbie
Kids spend tons of time in front of a screen, so engaging them in some physical activity would be nice. This is why this treasure hunt card game is a phenomenal idea. Using these treasure hunt cards, you may place sweets or a large gift at the end of the trail for children other to find. Fill the treasure chest with gifts to give the youngsters attending the party a memorable experience at the wizard's birthday celebration.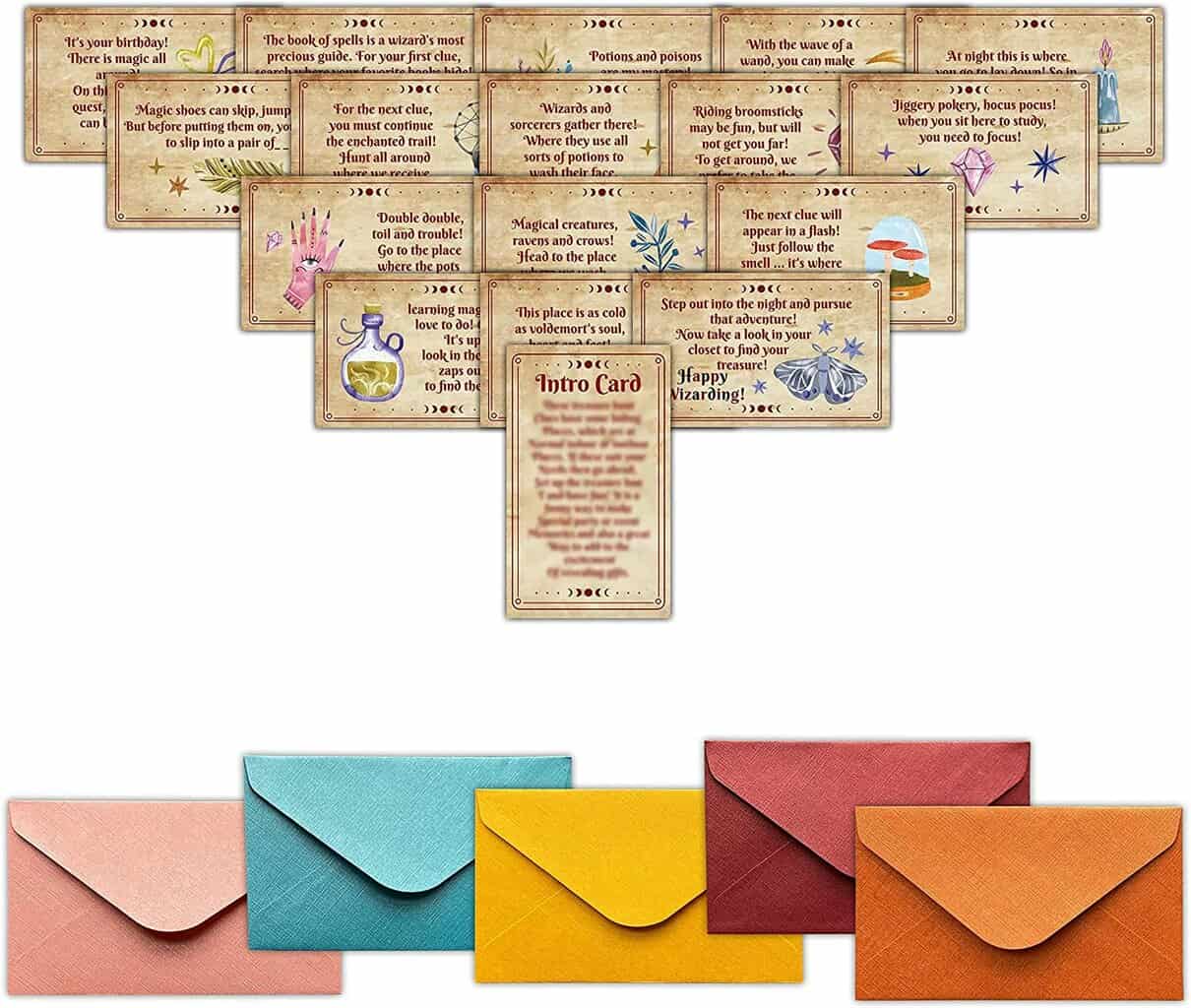 Key Specs:
Price Range: $10 – $15
Game Type: treasure hunt
Theme: Magic
Best Birthday Party Favors Online
Party favors are never a mandatory thing when it comes to a birthday. More often than not, people stress over buying party favors because it takes a little bit of thought to put together a gift for your guests. However, with the many different party favor packs currently available on the market, you should be able to buy everything in one place.
Considering the age of the average Fortnite enjoyer, this party favor goodie back will have them very excited. Suitable for up to 12 guests, this pack includes a bunch of game-themed silicone bracelets, bookmarks, stickers, gift bags, and gaming badges. Kids will be very fond of the quality vinyl stickers since they depict relatable in-game characters they're bound to recognize.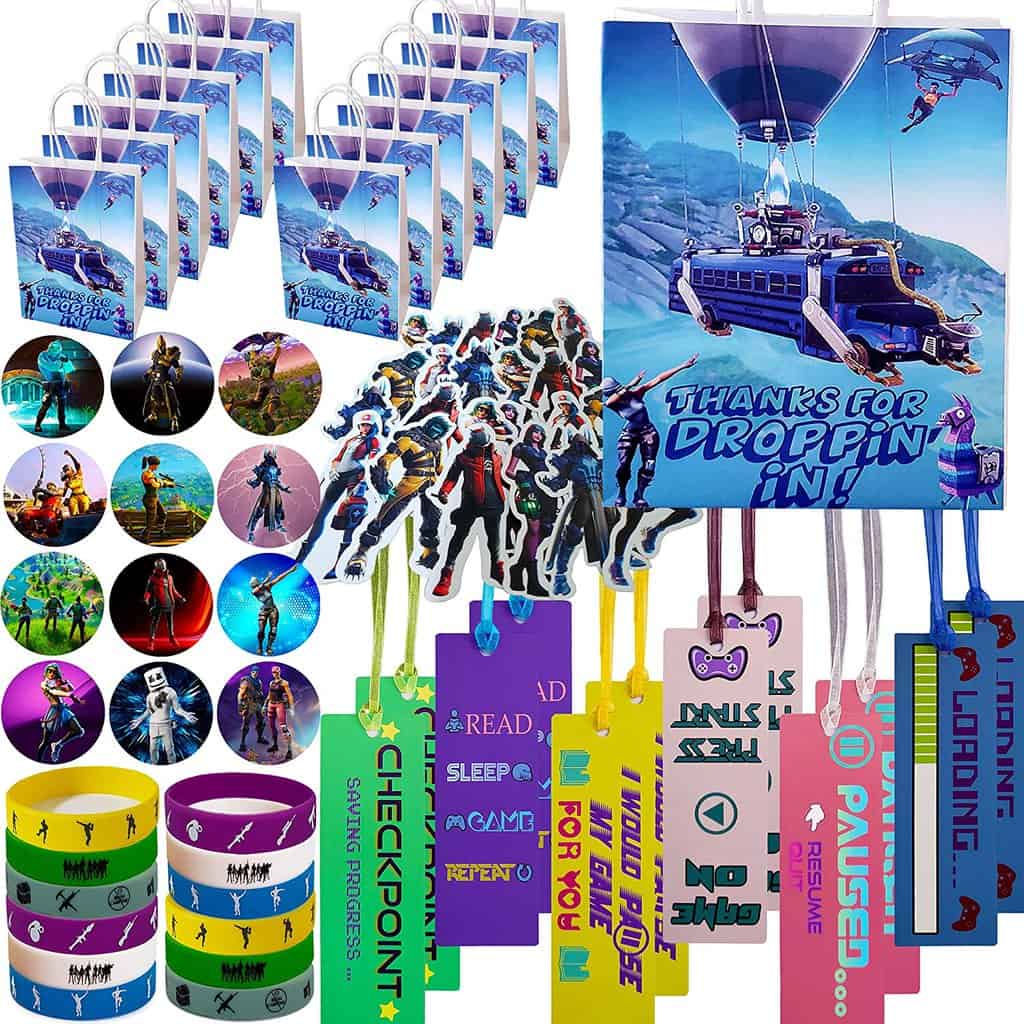 Key Specs:
Price Range: $25 – $30
Theme: Fortnite
Good For: 12 guests
Throwing a Minecraft-themed birthday party is incredibly easy, considering how many themed supplies you can find. To make the event even more awesome, you can put together a lovely goodie bag for each of your guests to take home. This one comes with gift boxes, stickers, silicone bracelets, keychains, and badges for up to 10 guests. Everything here is rich in Minecraft detail and made from quality materials.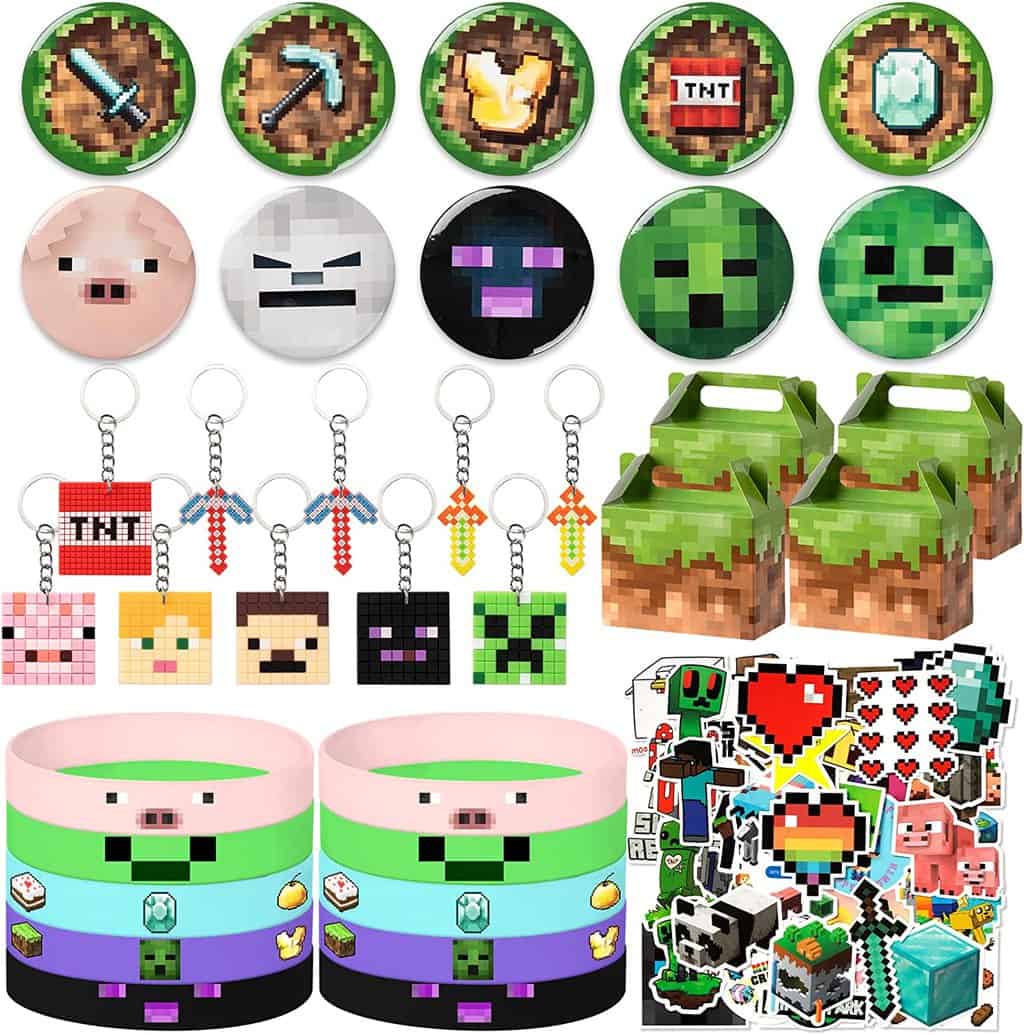 Key Specs:
Price Range: $20 – $25
Theme: Minecraft
Good For: 10 guests
Looking for some party favors for your Pokemon-themed party? This set includes masks, stickers, bracelets, and temporary tattoos. The masks are manufactured of high-quality felt and are soft, comfy, and odorless. The stickers and tattoos have been thoroughly examined for quality by the appropriate departments and given the green light for use. Plus, the gift bags are just adorable!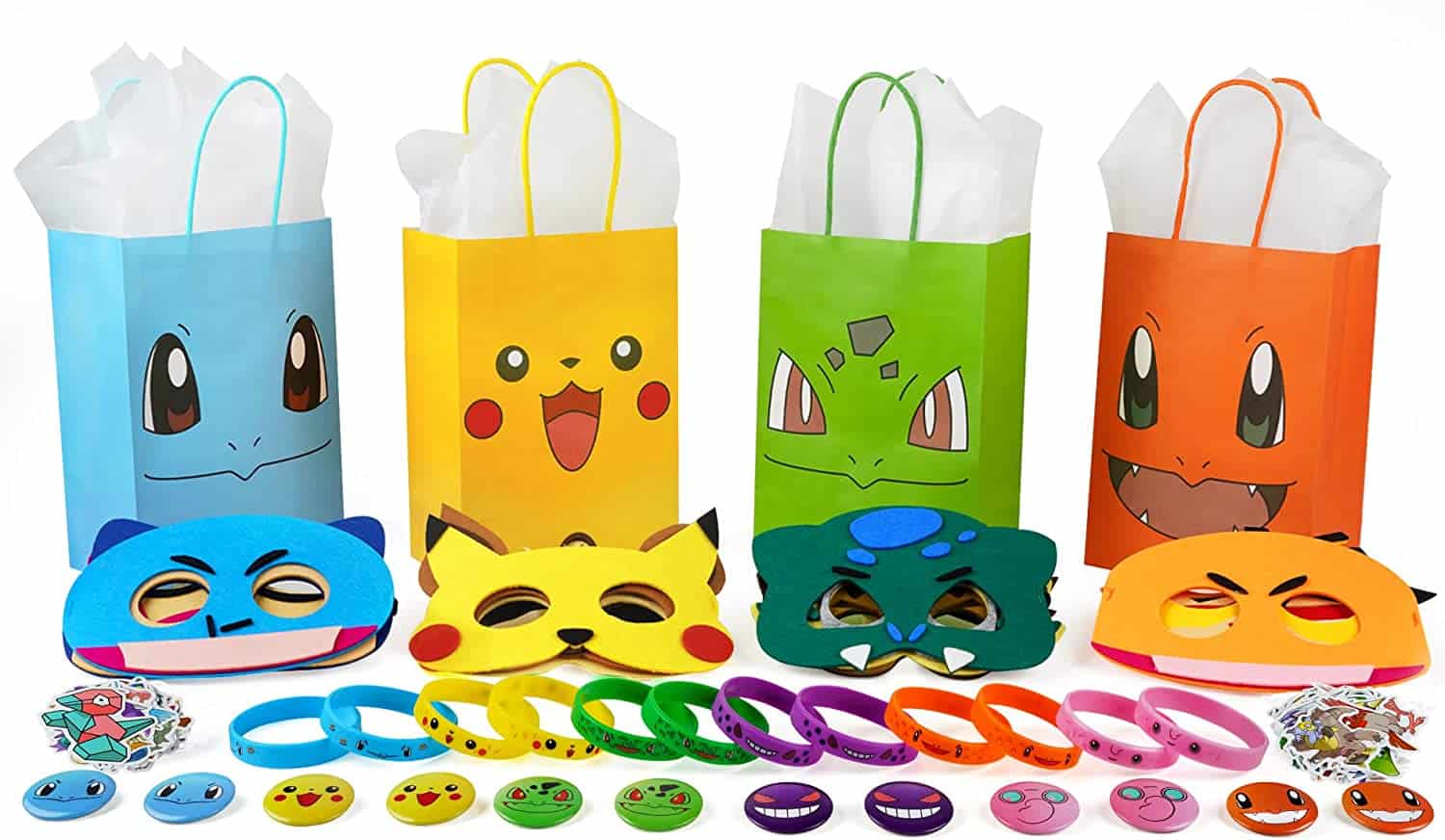 Key Specs:
Price Range: $25 – $30
Theme: Pokemon
Good For: 12 guests
Paw Patrol is an absolute delight when it comes to animated series for kids. For themed birthday parties, this party favor pack brings all the goodies for your guests under a single purchase. The pack contains ten gift bags, 12 blow horns, ten badges, 100 stickers with non-repeating patterns, and 12 silicone bracelets with the cutest paw prints.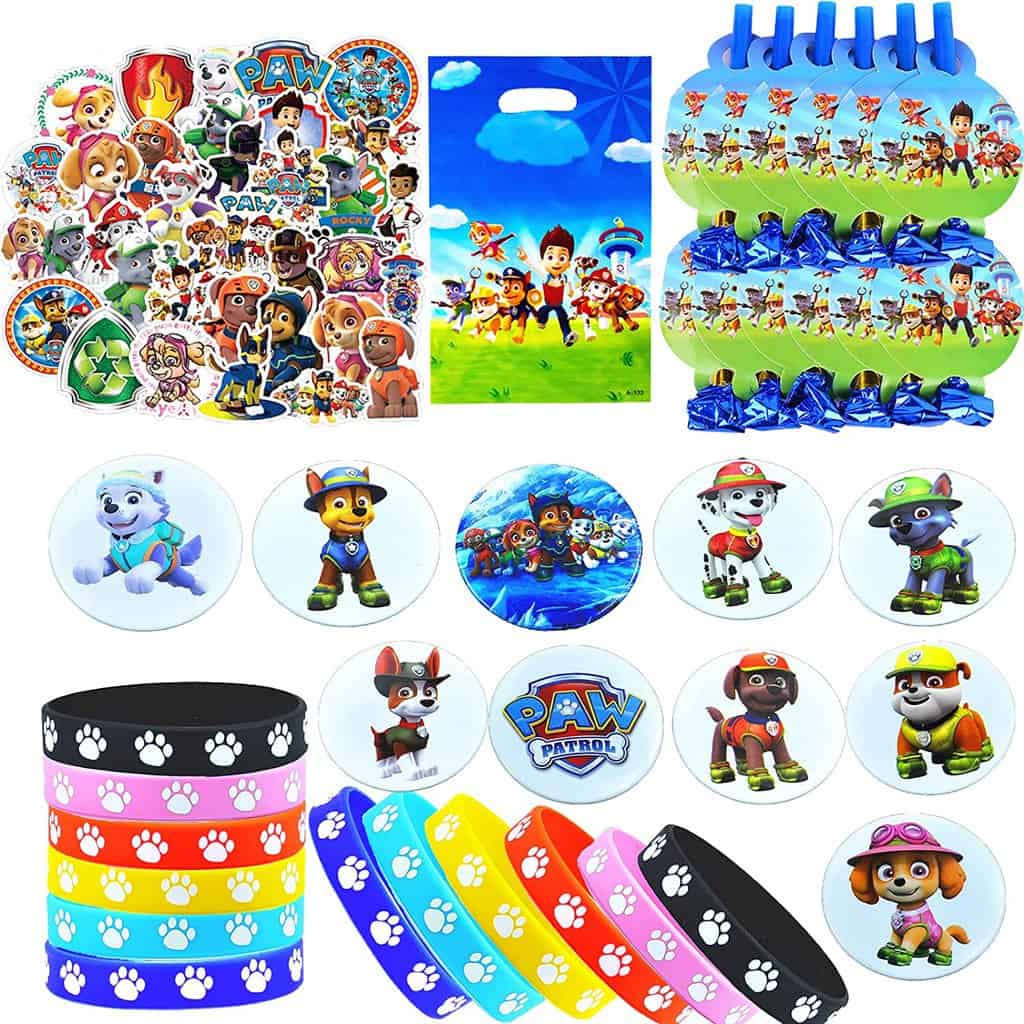 Key Specs:
Price Range: $15 – $20
Theme: Paw Patrol
Good For: 10 guests
A little different compared to the other favor packs we've looked at, but still a great idea, this Barbie goodie bag comes with a children's coloring book, coloring crayons, and stickers! You could hand these out at the beginning of the party and organize a coloring corner. It will give kids a fun activity to engage in, and guests can take these home when they leave.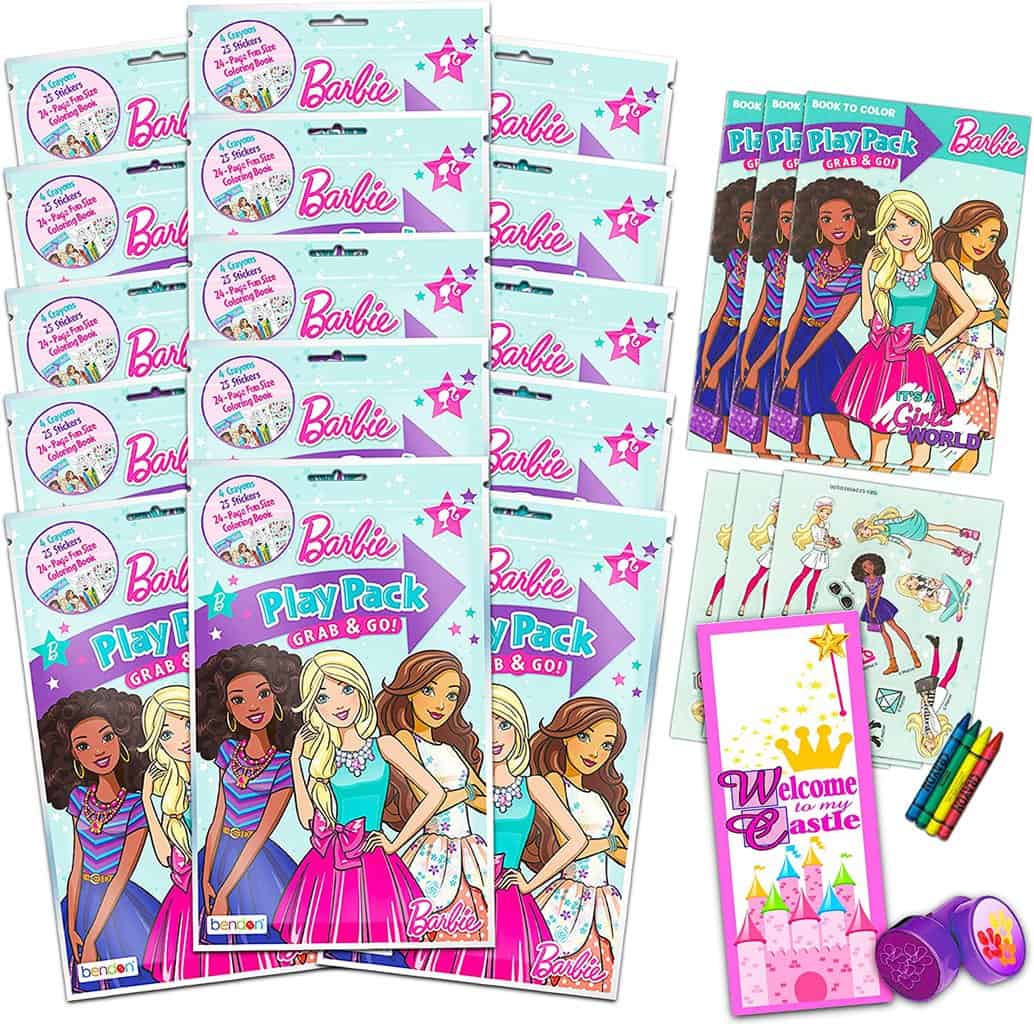 Key Specs:
Price Range: $20 – $25
Theme: Barbie
Good For: 15 guests
Harry Potter birthday parties will never go out of style because the books and movies changed children's entertainment as we know it. If you have a killer HP party planned and want to hand out some good party favors to your guests, this is the only pack you'll ever need. It has the most adorable favor boxes, keychains, bracelets, stickers, and more. I am in love with the beady-eyes design of the characters!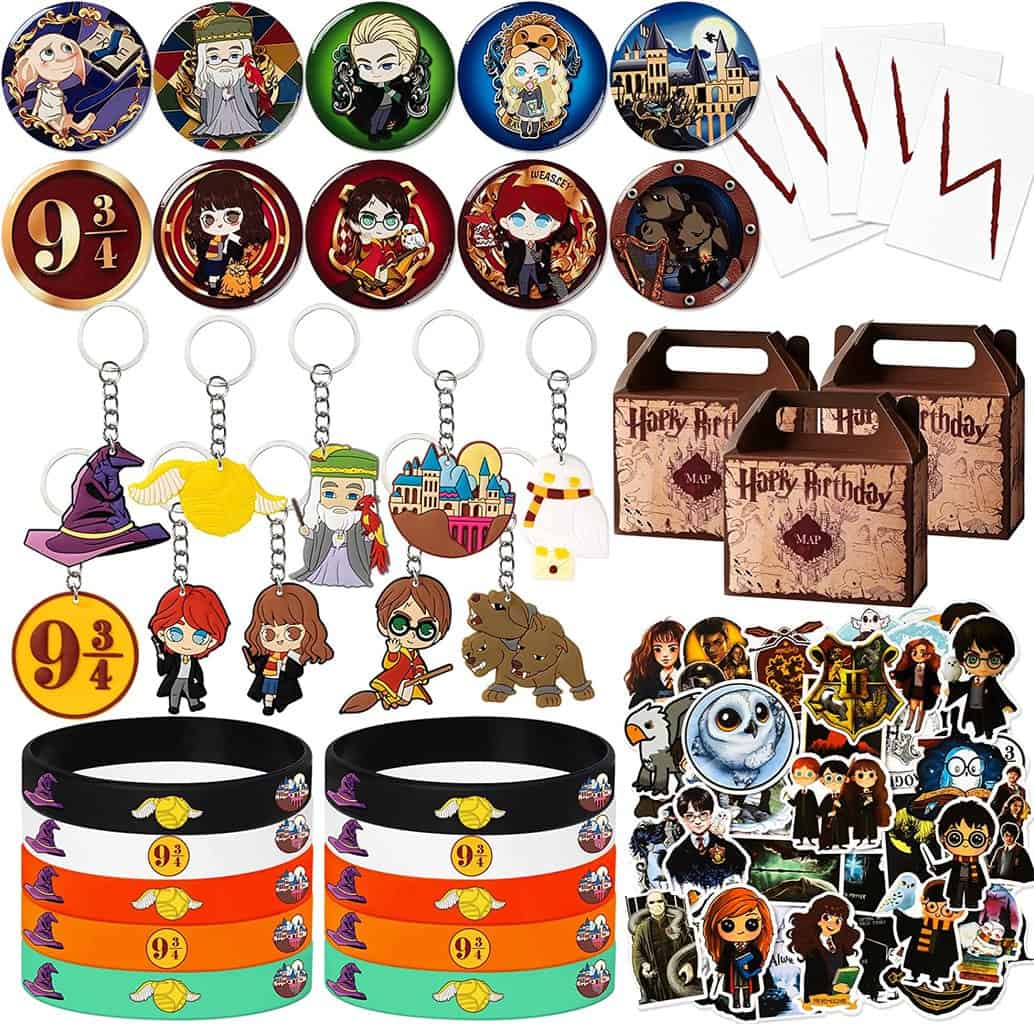 Key Specs:
Price Range: N/A
Theme: Harry Potter
Good For: 10 guests
Common Problems and Solutions with Finding and Buying Party Supplies Online
If you're buying party supplies online, chances are you'll encounter either of these problems, so let's see how you can solve them.
Problem #1: Colors don't match
Solution #1: This is quite a common problem, and, in most cases, it's because of your phone or computer screen. If this happens a lot, check the product colors on multiple devices. If the seller sent the wrong color, just send the product back and ask for a replacement/refund.
Problem #2: Materials feel cheap
Solution #2: This often occurs when you don't read the fine print on a product page before buying anything. When the page says, "super soft cotton-like material," it's likely made from polyester. Ask the seller or the other buyers if you're unsure about the materials used to make a certain product.
Problem #3: Items are missing
Solution #3: This usually happens when you purchase large party supply packs or balloon sets. In this case, you have two options. Either contact the seller and tell them to send you the missing items/ask for a replacement or leave a lower rating mentioning the problem and get the missing pieces from somewhere else.
Best Tips for Planning a Birthday Party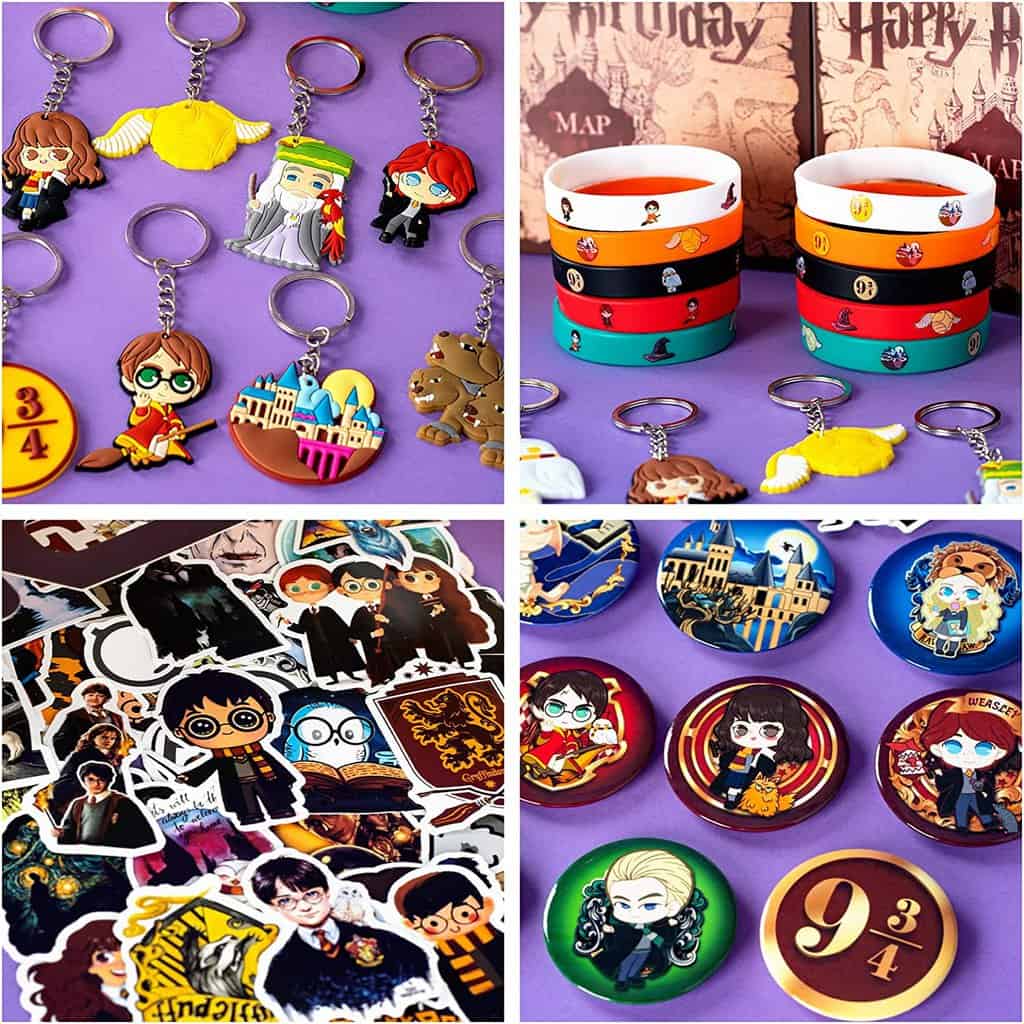 Even if you think you can plan a birthday party, I feel there is always room for improvement. I've thrown together a list of tips to help make the process more efficient:
Make a budget and stick to it. It's easy to go overboard with expenses.
To avoid spending time cooking, consider ordering pizza for everyone. Who doesn't like pizza?
Go with a party theme. It will be easier to decide on which supplies to get when you have to stick to a theme.
Set up a Swedish buffet so everyone can pick up food whenever they're hungry.
Have someone be in charge of the music. Otherwise, guests will fight over who gets to choose the next song.
If you have an outdoor party, have a backup plan in case it rains.
See also: The Best Birthday Party Ideas
What to Consider When Buying Birthday Party Supplies Online
Establish the Location
Consider how much room you have where you are. Once you know the available space, you may select the appropriate number and size of tables and seats. Ensure there is energy available at the event location if it will be held indoors.
If you don't have electrical outlets within reach, consider purchasing battery-operated candles or other non-electrical decorations. Renting indoor LED screens can make any gathering into a show stopper. This is a fresh concept that has the potential to add a lot of excitement to your party, so keep it in mind as you gather materials.
Consider the Theme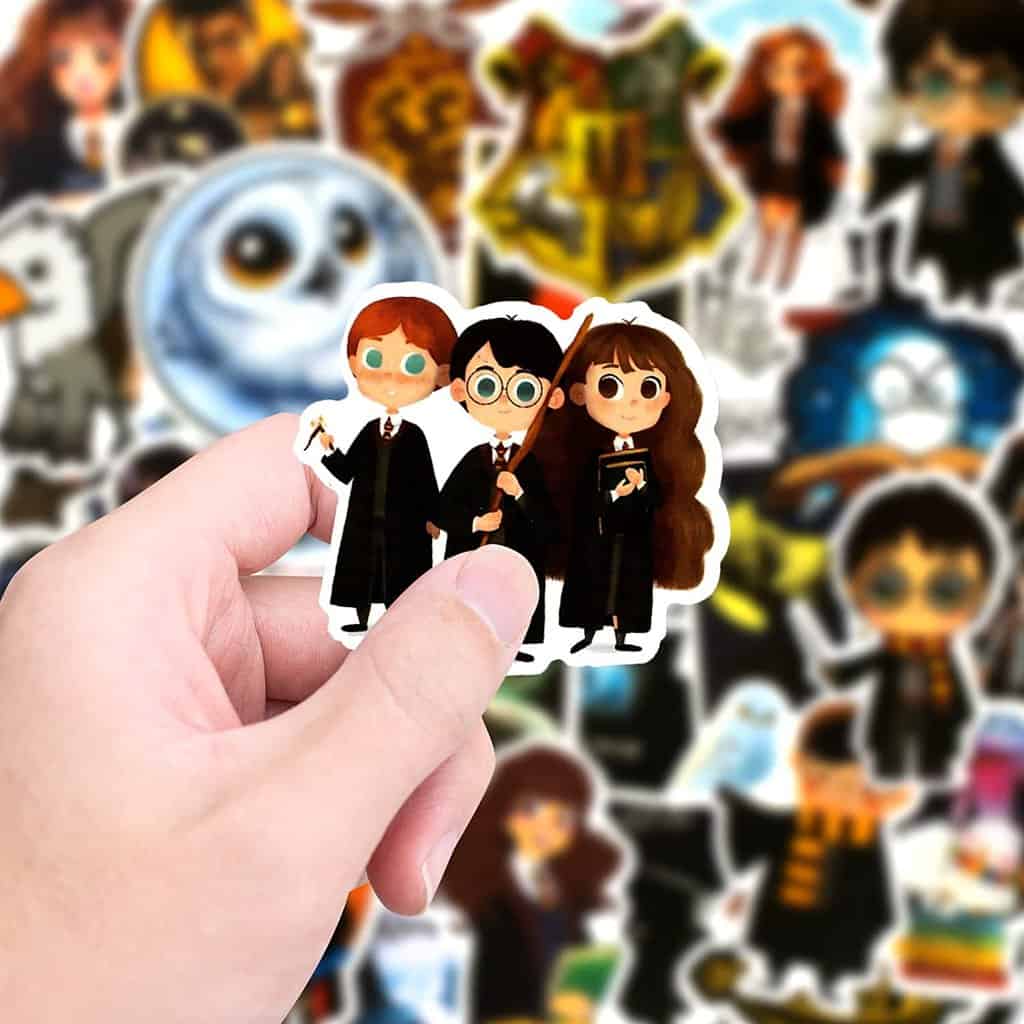 The first thing to do while looking for party supplies is to figure out what kind of party you'll be throwing. So, if it's a kid's birthday party, think about what kinds of games and activities might be appropriate. It's possible that you can have a successful party without spending a fortune on food or décor.
When planning a huge event, it's important to find out in advance what kind of theme the host wants to use. Consider picking up some fun outdoor games if you intend on hosting a BBQ and other activities for guests. If you're looking for something classier, consider how you may fit into the event's general aesthetic by bringing in complementary elements.
Plan the Activities
Knowing what you need before shopping for party materials is a good idea. Establishing the party's theme or motif before shopping for decorations and favors is vital, as the two may require distinct sets of items.
It's important to think about everything you might need regarding materials, as there are numerous kinds of supplies. For instance, if there will be crafts or games at your gathering, you will need things like pass-the-parcel bags and supplies for those activities.
Number of Guests
Make a list of all the people attending the birthday party and shop accordingly. You might have plates to serve ten guests but if you have 30 people coming over, buying disposable plates is a much better idea. It saves time with cleaning, too.
Who Is the Party For?
When planning a kid's birthday party, the shopping list will be very different compared to what you buy for an adult party.
FAQs
Question: What are the things needed for a birthday party?
Answer: Decide how much you want to invest in a birthday party. Some of the most common things required to plan a birthday party include a cake, sweets, snacks, food, balloons, music, party favors, party games, and party hats.
Question: How can I decorate my birthday for cheap?
Answer: You can plan a beautiful birthday party without spending a fortune on decor items. Put confetti inside balloons, make your items for game time, use throw pillows to add colors to the room, make a decorative photo wall, and make your cake, pizza, and sweets.
Question: How long should a 10-year-old birthday party be?
Answer: A party for children between the ages of 8 and 10 should usually last between two to four hours.
Bottom Line
Celebrating a birthday is a joy, but planning the party may be a headache. There are many moving parts to a successful party, and it's on you to ensure everyone has a great time. To make the job easier for you, this guide on where to buy birthday party supplies online should come in handy. Our site is full of great guides, tips, and party product recs, so check it out and get everything you need!
Recommended Reads: