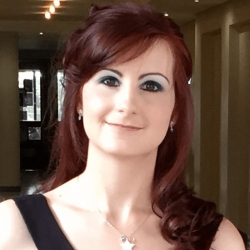 Latest posts by Denine Walters
(see all)
My daughter and I are probably Harry Potter's biggest fans (and I mean it). We have everything from matching Dobby onesies to signed collectors editions of all the books. So when my daughter asked me to help her find the perfect Harry Potter cake idea for her friend's farewell, I was ecstatic (to put it mildly).
If you are muggle-born (parents who aren't witches or wizards) and you are struggling to choose the perfect Harry Potter cake (because, let's be honest, where do we even start?) that will transport your guests straight into the halls of Hogwarts, then look no further my fellow Potterheads. I have put together the most fantastic cake ideas for all your Harry Potter cake needs. 
My Bottom Line Upfront: The Best Harry Potter Cake 
The absolute best Harry Potter cake idea has to be the butterbeer cupcakes. These extraordinary cupcakes are perfect for any celebration, from kiddies' birthday parties to a bachelor's stag party. By adding some British ale to the butterbeer sauce, the lads are sure to have a stag party they won't forget. 
Your Harry Potter Cake Checklist 
Diving into the world of cakes, especially the wizarding kind, can be overwhelming as there are many decorations, colors, flavors, and awesomeness to choose from. I suggest keeping these considerations in mind when selecting your magical Harry Potter cake:
What's the Celebration
Harry Potter works well with just about any celebration, and why wouldn't it? In my humble opinion, Harry Potter is a timeless classic, and there's a perfect cake out there for everyone.
For example:
My daughter wanted to make a cake for her friend's farewell party, so we chose a simple layered cake in her favorite

Hogwarts house colors

, Gryffindor.

Do you need to make a cake for a special someone's birthday? Great, there are plenty of cakes to choose from.

A baby shower, anyone? Harry Potter baby shower cakes are an absolute treat.

Harry Potter-inspired

cake smashes

make memorable photos and are a hit.

Halloween cakes? Oh boy, you can go to town with this one.

Trick or Treat cakes

decorated with candy and an edible figurine of

He Who Must Not Be Named

will undoubtedly have your friends talking.

Stag and hen parties? The options are endless, and the Harry Potter cakes I share with you will make a lasting impression.
Harry Potter Cake Colors 
Ooh, this is my favorite part. Harry Potter is famous for the Hogwarts House colors, and what better way to showcase them than by incorporating them into your cake: 
Gryffindor:

Play with gorgeous shades of red and gold to show your support for the most popular house. Imagine the colors of flames.

Slytherin:

Accentuate your cake with shades of green, turquoise, and silver to show some love for the most despised house. Think about the color of the water.

Hufflepuff:

Use colors like yellow and black to show off the kindest and most natural house. Think about the color of wheat and soil.

Ravenclaw:

Bring in colors such as blue and metallic bronze to amplify Hogwarts wisest house. Imagine the color of air.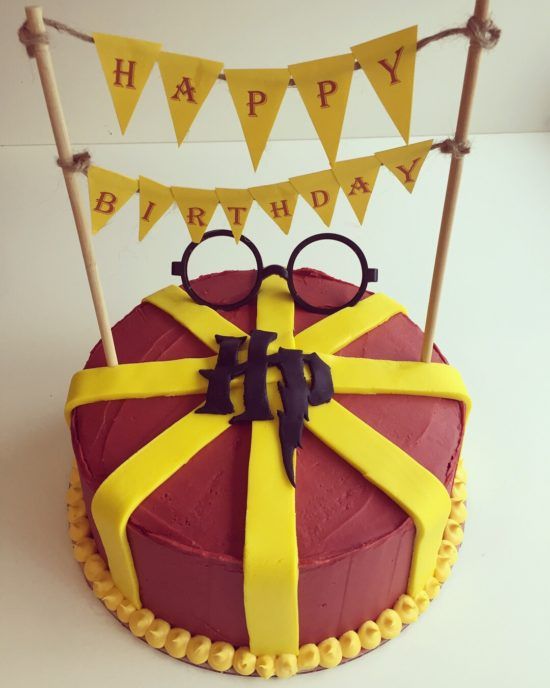 Cake Flavors 
That's the beauty of cakes. The world is your oyster, and you can pick any flavor you like. Why not try your hand at conjuring up some unique flavor combinations, such as:
Banana sponge cake with a cream cheese topping

Chocolate coconut and strawberry whirl flavor

Red velvet cake with a unique twist 

Classic vanilla and chocolate cake with a delectable pumpkin spice buttercream frosting

Raspberry cake with a sneaky avocado chocolate mousse
Budget for Your Cake
To get more bang for my buck, I decided to look for DIY options to make this farewell cake unforgettable. I looked up party shops and online stores. Finally, I stumbled upon my very own Diagon Alley (known in muggle circles as Amazon.) 
There it was: molds, decorations, edible art, and cake pans to make any witch or wizard's cauldron bubble. Here are a few items that made my job so much easier:
If you are in a rush and need a cake that isn't going to hurt your budget, consider getting your cake made by a baker. I asked a local bakery to make a two-layered maroon and yellow sponge cake for me, without any decor or icing. 
I ordered some awesome cake decor items from Amazon and decorated the cake myself. It tasted terrific and looked like something straight out of a Harry Potter book. Making it this way was a piece of cake (wink, wink).
Harry Potter Cake Ideas: What Are My Criteria? 
Any good wizard (or witch) knows that a good cake spell requires the perfect combination of elements to conjure up the perfect Harry Potter cake.
I decided that the Harry Potter cakes I chose should:
Be true to the books and the movies

Use the Harry potter color scheme (red, yellow, black, bronze, gold, green, silver, and blue) to attract attention

Make sure to bring in classic elements from the books, such as wands, chocolate frogs, and butterbeer (to name a few)

Most importantly, I had to take the celebration into consideration
I also had to think about the person making this cake. Was the cake easy to make? Trust me; I was prepared to go all or nothing when it comes to Harry Potter. Still, as I started getting my goodies together, I realized it wasn't as simple as I had imagined. 
That's why I decided to put together 13 spellbinding (and muggle-friendly) Harry Potter cake ideas for any occasion.
13 Best Harry Potter Cake Ideas 
So, my fellow muggles, what are we waiting for? Wingardium Leviosa!
Here are my 13 best fantastical Harry Potter cake ideas:
1. Hermione Granger Smarty-Pants Cake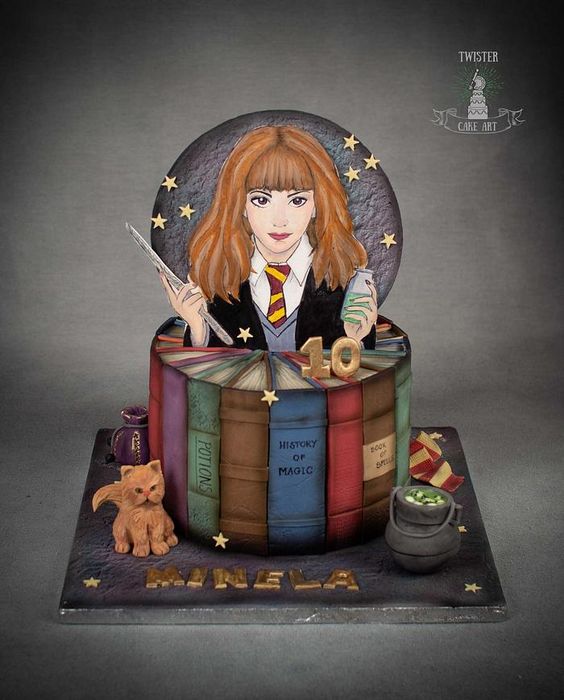 Hermione Granger is the book-smart, level-headed heroine of the series. What better cake to choose for someone who has just passed their finals with soaring grades. 
The Hermione Granger smarty-pants cake is a gorgeous 10-inch tiered cake that can serve between 30-40 people. So why not invite the whole class to indulge in this decadent chocolate-flavored cake bursting with pockets of orange-flavored syrup?
2. The Famous Hagrid "Happee Birthdae" Cake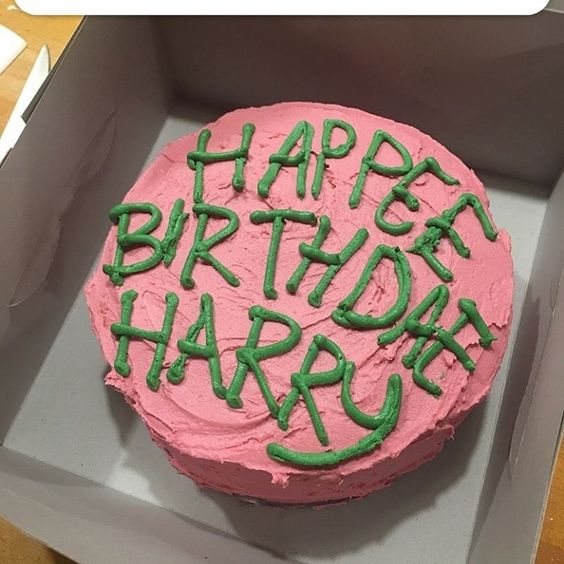 I get a lump in my throat just thinking about this cake. This was Harry's first "happee birthdae" cake (given to him when he was 11 years old) by the gentle and oh-so-hairy Hagrid. In the book, the cake is described as a sizable sticky chocolate cake. 
I don't know about you, but this sounds like the perfect cake idea for your little ones' first birthday cake smash. I can just see it now, sticky chocolatey goodness covering their little hands and face (and probably their feet and your feet too).
This little delight is easy to make with a simple chocolate one-layered sponge cake covered in a thick layer of pink frosting. Now, just a heads up, you will need quite a bit of frosting and red food coloring to get the perfect pink shade of this classic cake. 
The best thing about this cake is you don't need to get the lettering perfectly spaced, as the idea is to make it look like it's been handwritten by Hagrid himself. He doesn't have the neatest handwriting (or spelling, for that matter.) 
Another idea is to use the same decorating concept on a much smaller scale. Birthday party at school? No problem. These delicious mini Hagrid "happee birthdae" creme cakes will be the talk of the class. 
3. Hedwig Baby Shower Cake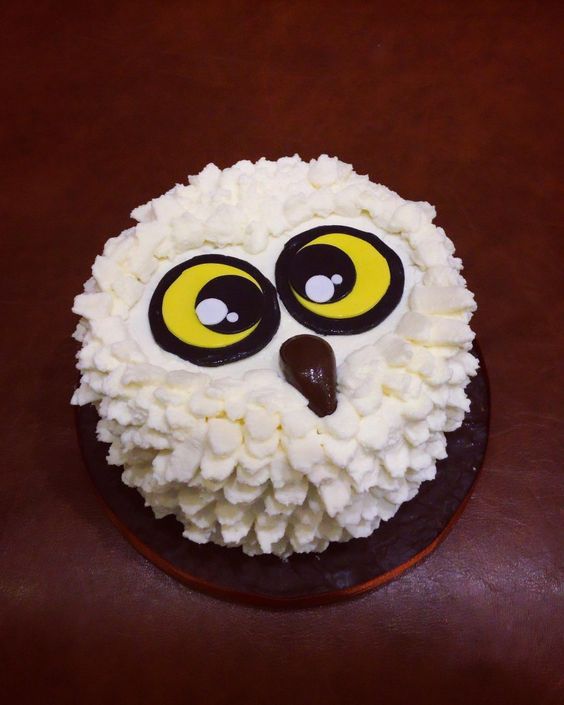 This sweet little Hedwig baby shower cake will have the mama-to-be and all her friends sighing from the cuteness overload of this cake. This gorgeous buttercream cake is made with a soft and fluffy vanilla sponge covered in sweet cherry-flavored buttercream.
How can anyone resist baby Hedwig's face and big yellow eyes? It's almost too cute to eat (who am I kidding). You could also use this cake as gender reveal for your baby. Depending on the gender of your baby, you can color the sponge pink or blue, and when you cut it into the cake, the gender will be revealed. Is your little bundle of joy a little witch or wizard?
Suppose you wanted to participate in the surprise. In that case, you could ask a baker to make your cake and give them an envelope with the gender of your baby (gotten from your OB-GYN), and they can color the sponge accordingly. Imagine finding out the gender of your baby with a Harry Potter cake (#dreamcometrue).
4. Harry Potter Gryffindor Layer Cake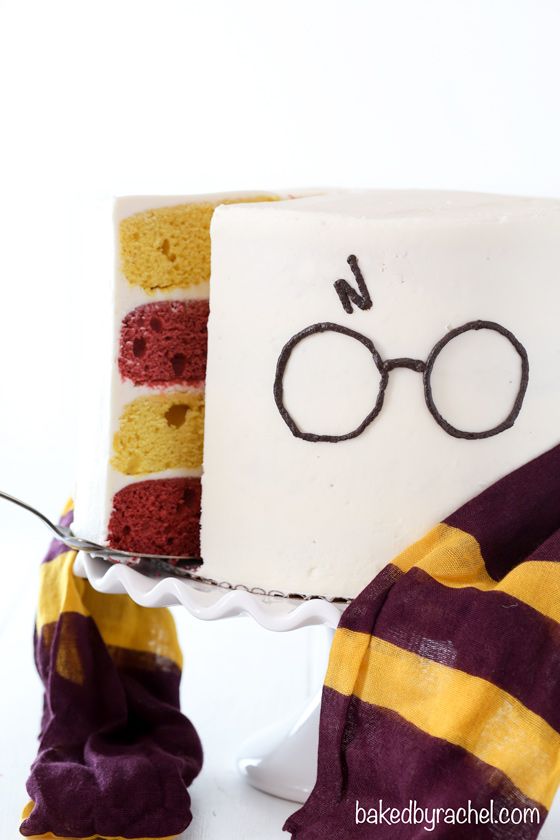 This simple Harry Potter layer cake will be a hit at any celebration. Its smooth white exterior is decorated with nothing more than Harry's glasses and the lightning bolt scar that changed his life forever!
But wait, nothing is ever straightforward when it comes to Mr. Potter. Once you cut into the cake, you will be blown away by the four beautiful layers of the Gryffindor house colors (red and gold). Why not wrap a Gryffindor scarf around the bottom of the cake to give it character.
And remember, if your guest is a Slytherin, Hufflepuff, or Ravenclaw fan, then you can do the same with their cake and color the sponge according to the Hogwarts House of their choosing.
5.
Unicorn Harry Potter Cake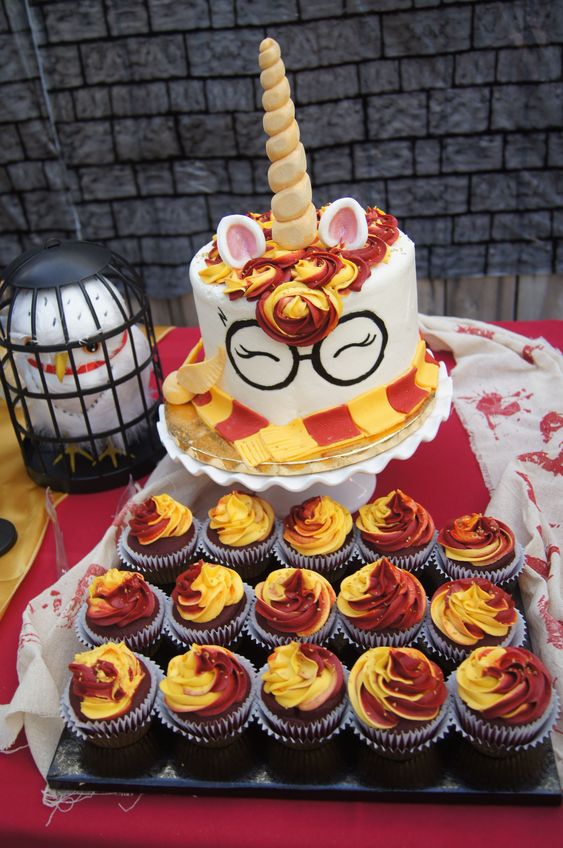 This beautiful unicorn Harry Potter cake is a winner in my books. This cake is easy to decorate at home and an absolute hit at little girls' birthday parties. It just adds a softness to the Harry Potter traditional-style cakes. 
I designed a cake for my niece's 11th birthday and gave the unicorn cake a little bit of a makeover by adding some gorgeous pastel colors. This pastel unicorn Harry Potter cake was magnificent, and I made sure not to go too overboard so that I didn't lose the Harry Potter theme. 
6. Loopy Luna Lovegood Cupcakes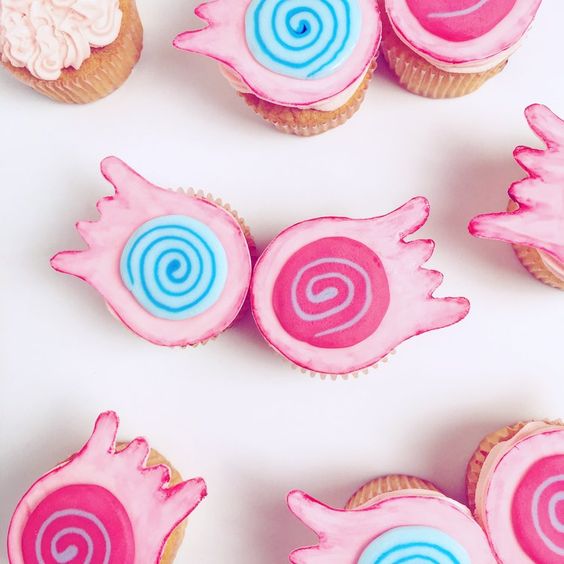 "Being different isn't a bad thing" is one of my favorite quotes from Luna Lovegood. These Loopy Luna Lovegood Cupcakes take this quote to heart with their unusual and pretty icing design. 
When it comes to these stunning cupcakes, I recommend judging this book by its cover. I promise you, once you sink your teeth into one of these cupcakes and you are greeted with a sticky toffee center, you will be coming back for more. 
Imagine adding this to a High Tea buffet or presenting them to your friends at a picnic. Marvelous, I tell you, they are simply marvelous.
7. Harry Potter Butterbeer Cake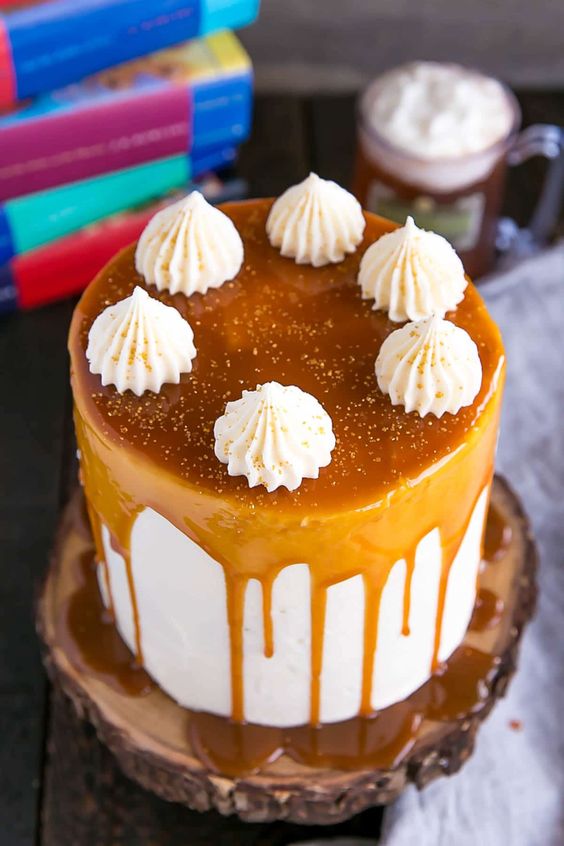 Hold me back! This Harry Potter Butterbeer cake is an absolute game-changer, in my opinion. This towering beauty is bursting with layers of thick butterscotch-flavored butterbeer cream, with hints of creme soda, honey, marshmallow, and a dash of pumpkin spice. 
My mouth is watering just thinking about it. The top of this masterpiece is sprinkled with a heavenly butterscotch ganache. 
I went to a Harry Potter-themed Kitchen Tea a couple of years ago. I made some delicious Butterbeer cupcakes for the celebration. To say these small cakes of yummy goodness were a hit is an understatement. Those cupcakes didn't stand a chance, and the plate was cleared within minutes (and I made extras!).
Here's a link to the most simple and divine butterbeer sauce you can make at home. Use it on cupcakes, cakes, and even in your coffee (naughty, naughty). 
8. Mandrake Cupcakes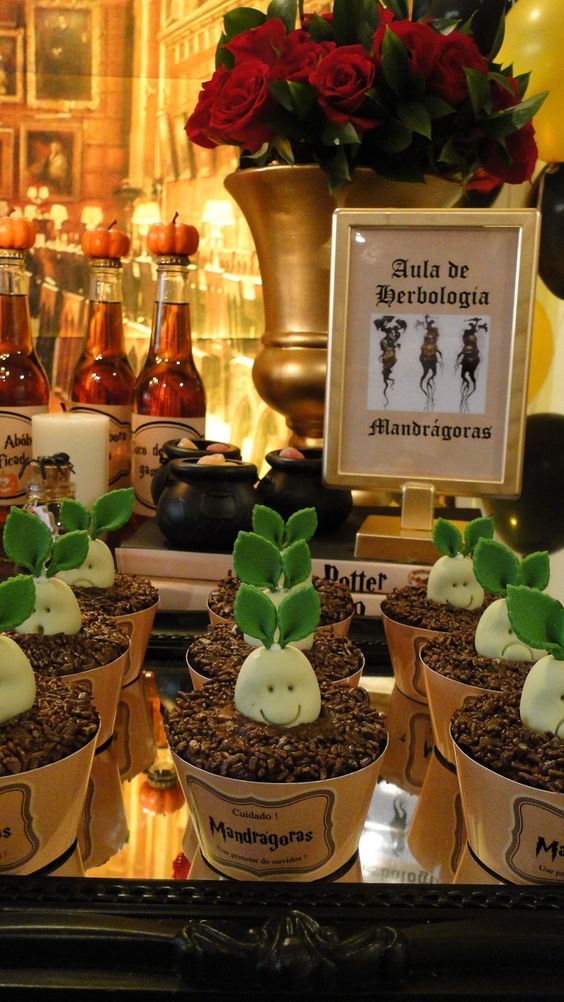 These Mandrake cupcakes were an absolute scream (haha, get it? Mandrakes scream when they are uprooted) at a Halloween party I attended. The guests couldn't keep their eyes or hands off these little monsters. 
Initially, I searched for tutorials on how to perfect my Mandrake design. To be honest, I was failing dismally as my Mandrakes kept coming out looking like sad little carrots. That's when I came across this awesome Mandrake cupcake tutorial video. 
I can happily report that I am now a pro at Herbology, and I am pretty sure Professor Sprout would be impressed. 
9. Harry Potter Cakesicle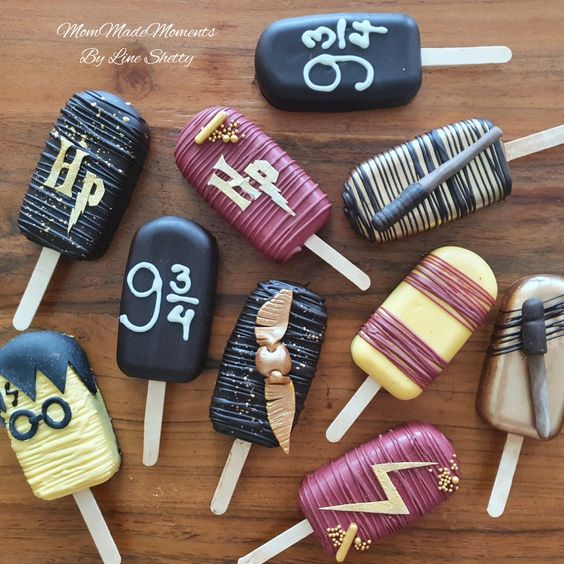 Now here is something you don't see every day. I have made cake pops before, but this was the first time I tried my hand at a cake's ice, and it was glorious. These Harry Potter cakesicles were so easy to make. 
I chose different flavored cake batters from a local bakery, filled some popsicle molds with the batter, and popped them in the oven. Once they were ready for decorating, I simply dipped them into bowls of different colored melted chocolate. I added some stunning Harry Potter designs, such as:
Harry's glasses

A golden snitch

A lightning bolt

A scarf

A wand
I tried to keep the colors of the chocolate to the true Harry Potter spirit, and I was chuffed with the overall outcome. These little gems made excellent snacks at a 12-year-old boy's birthday party.
10. Harry Potter Patronus Wedding Cake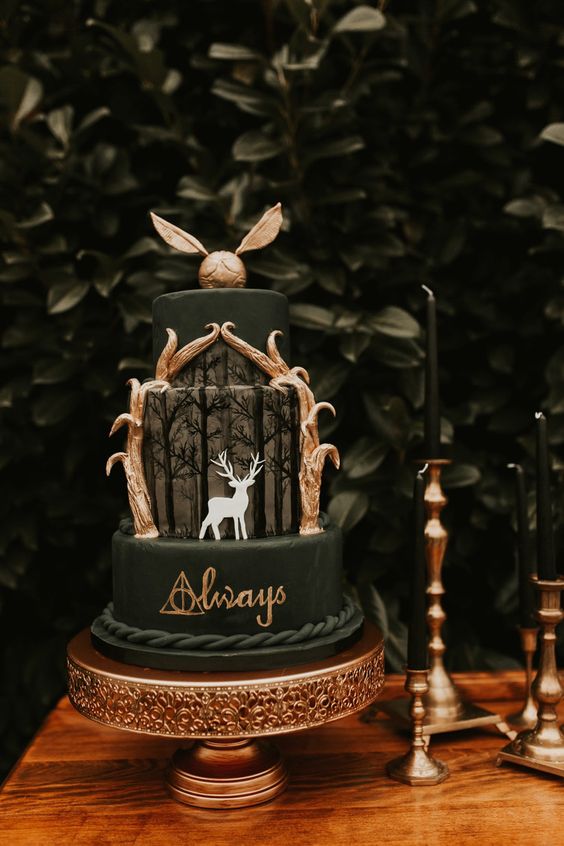 Are you getting hitched? And you're a die-hard Harry Potter fan? Well, why not combine the two and have the most magical wedding on this side of the muggle world with this breathtaking, tear-jerking Harry Potter Patronus wedding cake. 
I mean, come on, it has the word Always on it. What a powerful and beautiful word to use on a wedding cake, and it packs such a punch for those of us who are Potterheads. The Patronus – a guardian, a light in the dark (someone hand me a tissue). 
This 3-layered cake is perfection, and I wish I had thought of this when I got married. I recommend getting a baker to make this for your special day as a wedding cake is timeless and should be perfect.  
11. Golden Snitch Donuts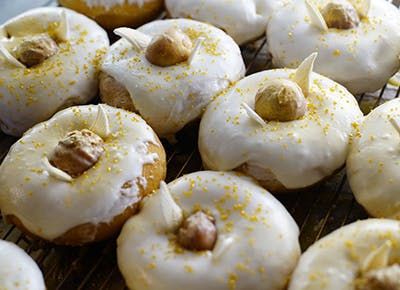 These Golden snitch donuts will put a smile on anyone's face. They are super fluffy and covered in a decant white chocolate that gives a satisfying crack as you bite into them. 
Sprinkle some orange-flavored sugar on top, and pop a golden snitch into the center. I used a wrapped Ferrero Rocher chocolate in the center of my donuts. I added some golden snitch wings to give it that elegant snitch look.
I have always believed that donuts are one of the best inventions of our time. They are small enough that you don't feel guilty when eating one (I never stop at one, though) and big enough to make an impression.
12. Harry Potter Cauldron Cakes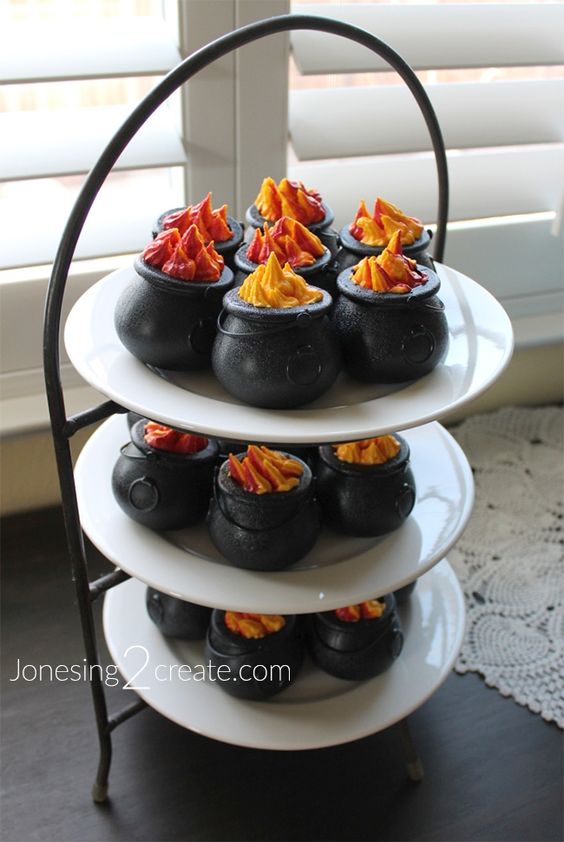 Another great cake to make that can be used at any celebration is the Harry Potter cauldron cake. These mischievous little cakes are made with a chocolate sponge and can be filled with any concoction you can imagine. 
Stuff some with marshmallows or caramel as a treat. The great thing about these little cauldrons is that you can also track your guests. Stuff a few random cauldrons with Bertie Bott's flavored jelly beans. Now, I am warning you, you won't be popular when someone is unlucky enough to chew on an earwax-flavored jelly bean (oh my, but they are vile), but what a neat party trick. Right?
I know for a fact that Professor Snape from the Defense against the Dark Arts wouldn't be impressed with these shenanigans.
13. You-Know-Who Cake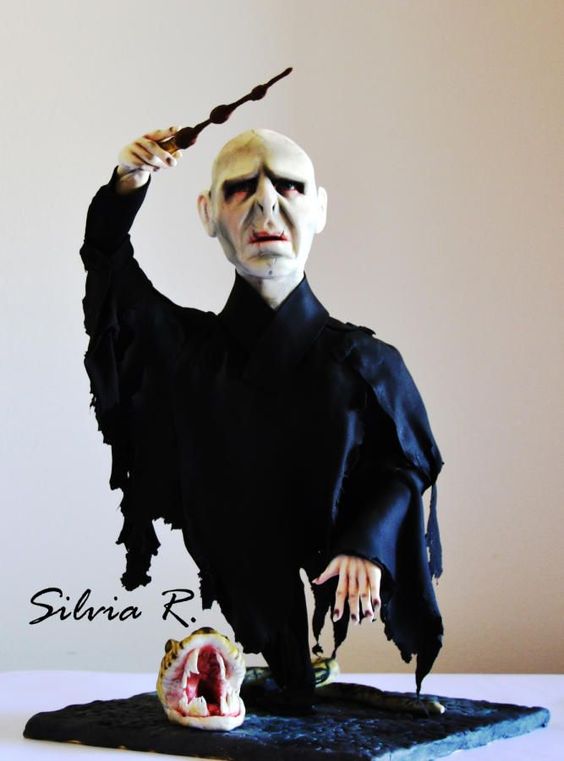 I have saved the best (or rather the worst) for last. The You-Know-Who cake is likely to send your guests running, as Voldemort and cake are not something that should go together, but somehow it just works. 
Voldemort is one of the most essential characters in Harry Potter, so I think this cake does him justice. It's simply horrifying. This carefully crafted cake will look amazing at a Halloween party and make for an excellent photo booth prop.
Harry Potter Cake Ideas FAQS 
Question: How do you make Hedwig out of fondant?
Answer: To make Hedwig out of fondant, you firstly need some white-colored fondant, then follow these simple steps to make Hedwig:
Roll the fondant into a ball and then smooth out the general shape of an owl
Use the back of a paintbrush to help shape the eyes and beak
Use a heart-shaped cookie cutter to make the shape of the wings and stick them to Hedwig's body with a bit of water
Use a straw or a fork to make small indentations over the body and wings of Hedwig
Use food coloring for the eyes and beak and to shade a few feathers. 
Question: What kind of cake did Hagrid give Harry?
Answer: Rubeus Hagrid made a big, sticky chocolate sponge cake. The cake was covered in a thick pink icing with the words "Happee Birthday Harry" written with lime green icing on top. He gave this cake to Harry on his 11th birthday.  
Question: Why is a Slytherin cake green?
Answer: A Slytherin cake should be green to represent their house colors! The main reason that Slytherin is green is to depict the element that the house is associated with, which is water. Green is also the color for jealousy and is related to dark magic. If you're baking a Slytherin cake, it should reflect these themes! 
My Final Thoughts on the Best Harry Potter Cake Ideas
I can't think of a more extraordinary way to celebrate any event than by adding one of these spellbinding cakes to the mix. I made sure to include a cake that caters to everyone's Harry Potter needs, from a Hedwig gender reveal cake to a sneaky Defense Against the Dark Art's cauldron cake bursting with mischief.
If these magical cakes have put a spell on you and you need more inspiration, then check out our Halloween birthday cakes or the amazing space cake ideas.
Further Reads: