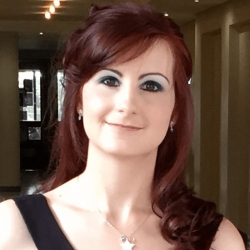 Latest posts by Denine Walters
(see all)
Geode cakes are a must-have. These cakes look elegant, intricate, and to-die-for, no matter the occasion! I knew when I got married that I wanted a stunning three or four-tier geode cake. So I set off to find the best geode cake ideas to show my baker (and figure out exactly what I wanted my geode cake to look like).
You may be surprised to learn that geode cakes are NOT only for weddings. These beauties work for any occasion and party – from birthdays and gender reveals to kitchen teas.
So if you aren't sure where to start with geode cakes, I've compiled this comprehensive guide, especially for you!
My Bottom Line Upfront: The Best Geode Cake
If you are in a hurry and want to know what the best geode cake is, I vote for the white and pink hearts geode cake. It's perfect for a wedding, and you can easily choose a different color combo to suit your wedding theme.
But I must admit the abstract butterfly geode cake also holds a special place in my heart. It's perfect for a birthday celebration, and the only thing I'd change is the colors. After all, pink, purple, turquoise, and silver are more me.
Your Geode Cake Checklist
When considering a geode cake (or crystal cake) for your event, keep the following in mind:
The Focal Point
Generally, the focal point of a geode cake is the shiny, colorful edible crystals. You don't need more than the geode component to make a geode cake beautiful. However, this is a rather naked or minimalist cake, and you may prefer something much more extravagant.
In this case, consider a marble fondant finish with the geode. Or add a cake topper, flowers, butterflies, or other decorating elements to make your geode cake vision come to life.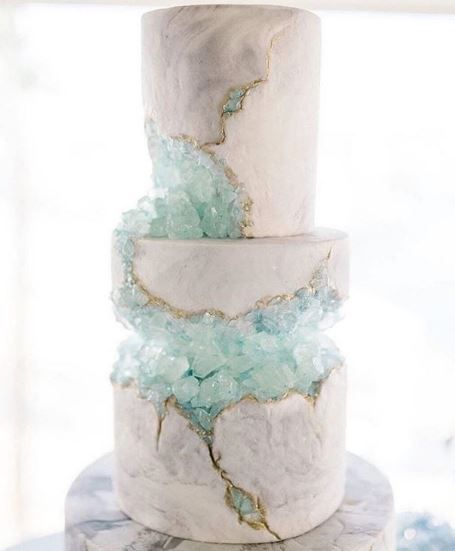 Examples of minimalist geode cakes:
Examples of elaborate geode cakes:
The Baker and Your Budget
Ordering geode cakes from a professional baker or cake decorator can cost more than $100 for a small geode cake. A larger geode cake with more layers and tiers can cost $3,500 or more, depending on what extras you'd like.
But then again, surely you can't bake a geode cake. Right?
I mean, it's detailed, and there are all these crystals, and how do they come to be? (Not from digging up an actual geode – luckily!)
I wanted my wedding cake to be perfect, but forking out thousands of dollars isn't in everyone's budget.
That's when I turned to my good ol' trusted bestie – Google. There are plenty of tutorials on how to make a geode cake, and with some time, cake ingredients, patience, and a whole lotta practice, I learned how to make geode cakes. And I could make my own geode wedding cake!
Making a geode cake shouldn't be a daunting experience; not with the help of these tutorials will teach:
To make your life easy, you can buy the following when making the geode cake yourself:

Geode Colors
The geode is meant to stand out in your cake, so the edible crystals are usually vibrant. The geode can be:
One color
A monochromatic ombre
Complementary colors
Contrasting colors
Geodes are usually also lined with a metallic color or a darker shade of edible crystals for emphasis.
Cake Flavors
With all the focus on a geode cake's decorations and crystals, you can choose any cake flavor or color for the batter.
You can opt for traditional cake flavorings in vanilla, chocolate, or red velvet. So the cake batter is most likely white/cream, chocolate brown, and rich red, respectively.
Interesting cake flavors are also an option. Consider the following flavors:
| | | |
| --- | --- | --- |
| Raspberry and matcha | Espresso, olive oil, and lemon | Mocha and lavender |
| Earl Gray with lemon curd and honey-rose buttercream | Peanut butter, chocolate chips, and zucchini | Mexican hot chocolate |
Two Geode Cake Warnings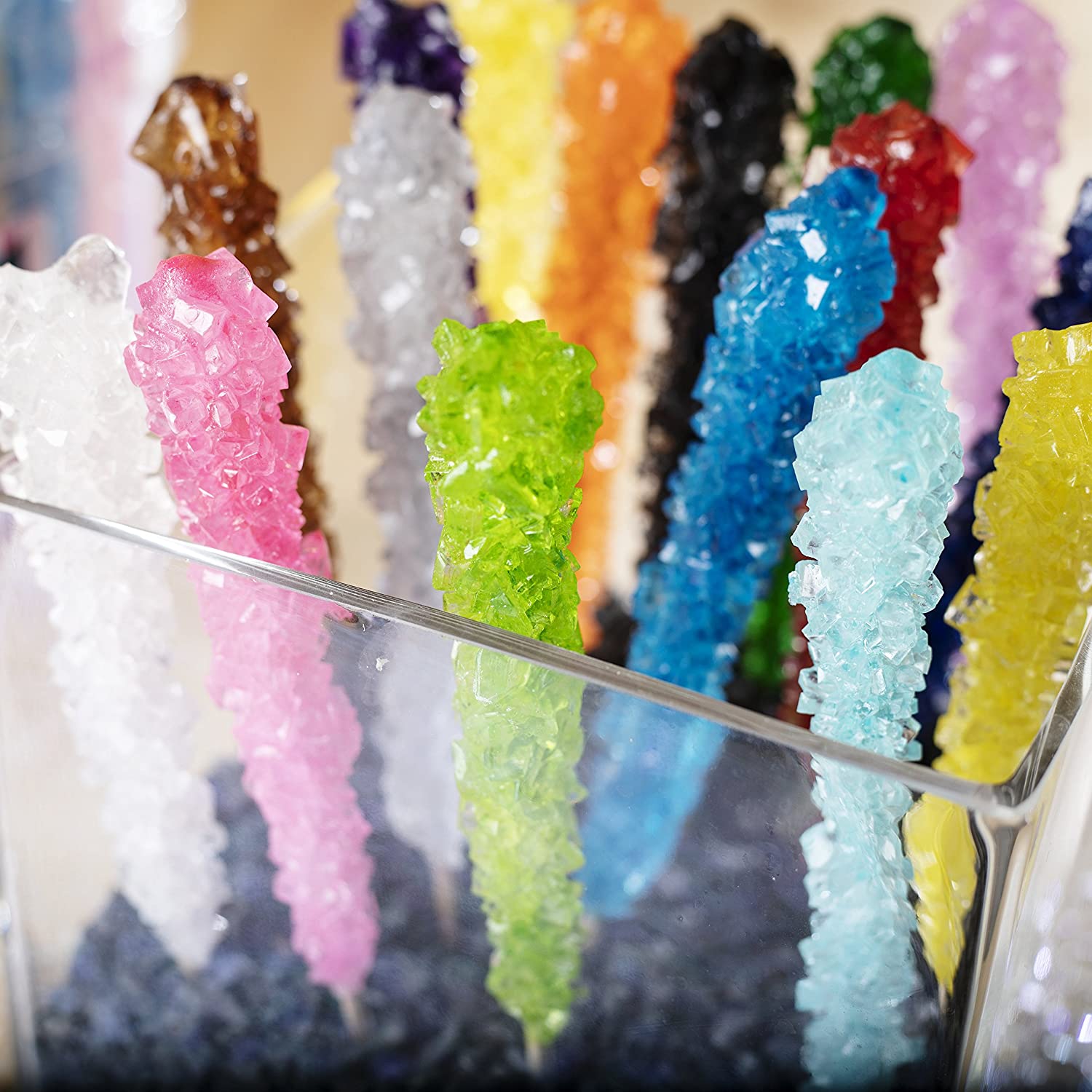 While a geode cake may be the next best thing, there are two things you should keep in mind:
Geode cakes aren't easy to eat.
It's difficult to slice through the edible crystals, and eating chunks of isomalt shards or rock candy should come with a warning. You don't want your guests to chip a tooth now, do you?
I wouldn't recommend these cakes for a little one's birthday party. You know the little rugrats will be pleading and begging till no end for the shiny yummy-looking crystals. So rather keep a geode cake for older kids and adults (who am I kidding – that's basically the same thing – sometimes).
Vageode cakes are a thing.
There is absolutely nothing wrong with making or ordering a vageode cake … but that isn't appropriate for all occasions, unless you are into #shockvalue.
A vageode cake is a geode cake that looks like a specific part of female genitalia because of how the cake and edible rocks are colored in various shades of pink. These cakes are pretty trendy and have invited a lot of puns.
Geode Cake Ideas: What Are My Criteria?
Before we get to the fun part of the best geode cake ideas, you may wonder how I chose these ideas. I used the following criteria:
The cake needs to have a geode of some kind. Some of these are in the cake (like a geode rock), while others have geode cake toppers or decorations.
The geode cake has to be beautiful.
The cake should be easy to make if you don't have the budget to hire a baker and cake decorator. However, I also included elaborate and intricate geode cake ideas to cater to everyone.
15 Geode Cake Ideas
Here are the best geode cake ideas for your party, wedding, or special occasion:
1. Blue Marble Geode Cake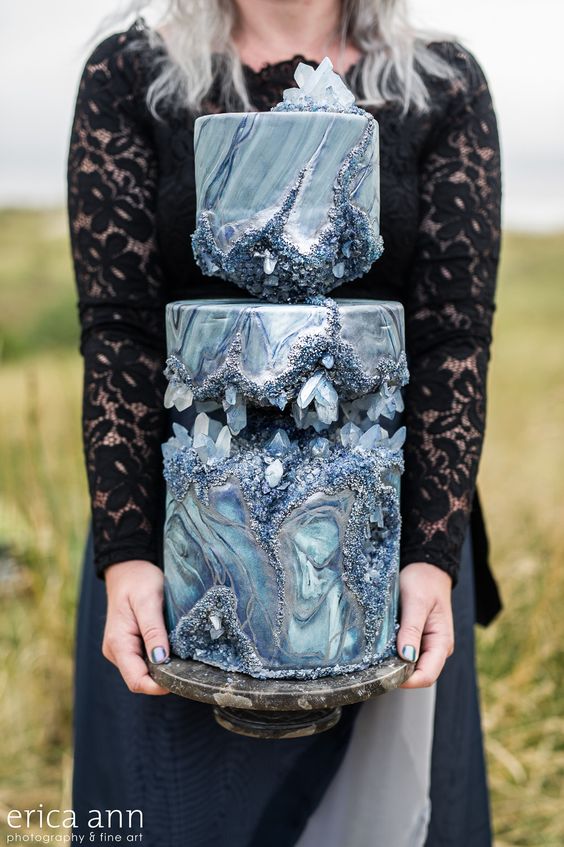 The blue marble geode cake is quite something else. And while I'd usually have a simplistic and easy-to-make cake first, I wanted to surprise you this time.
The cake has a very tall bottom tier – probably 9-12 cake layers – and a smaller, shorter top tier. The cake's outer is wrapped in smooth fondant. A marble pattern with various shades of blues and silver gives this cake a heavenly feeling.
There are geodes all over the cake. You can see geode pieces along the bottom and side. A big geode has been carved into the tall bottom tier, making you think the top part of the bottom tier floats. Even more eye-catching is the bottom part of the top tier that's fully covered with geodes.
Icy blue-white isomalt crystals on top finish the elegant cake that's fit for a fancy wedding.
Similar cakes if you are looking for more inspiration are:
2. Green Marble Geode Cake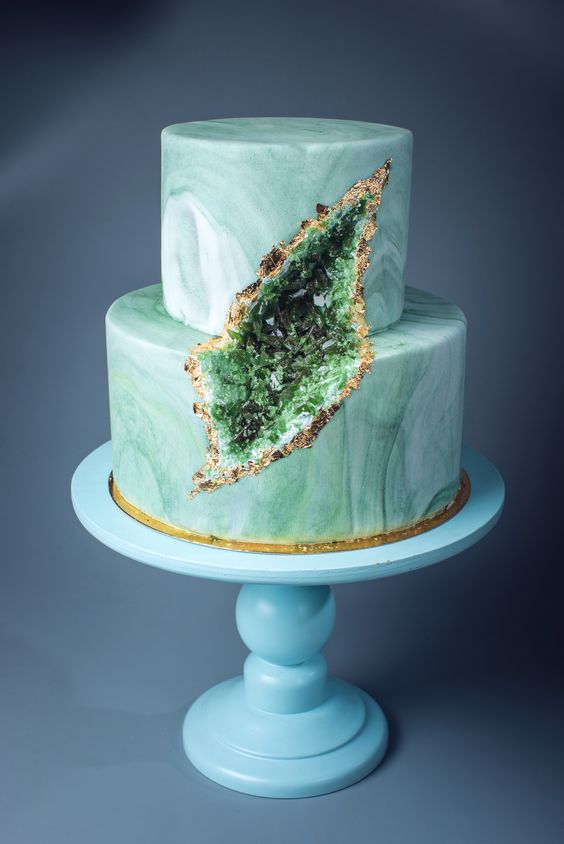 This cake is more simplistic. The green marble geode cake sports two tiers. The outer of both tiers is a green marbled fondant. It's quite easy to make a marble cake, especially if you use this marble cake tutorial by Cake Advisor.
The geode is flame-shaped, covering one side of both cake tiers. It's lined with crystals in various shades of green. The geode is lined with edible gold leaf to make the green geode pop against the green marbled fondant.
This is it if you want a stunning but minimalist geode cake for your wedding or party.
Other marbled geodes cakes are:
3. Galaxy Geode Cake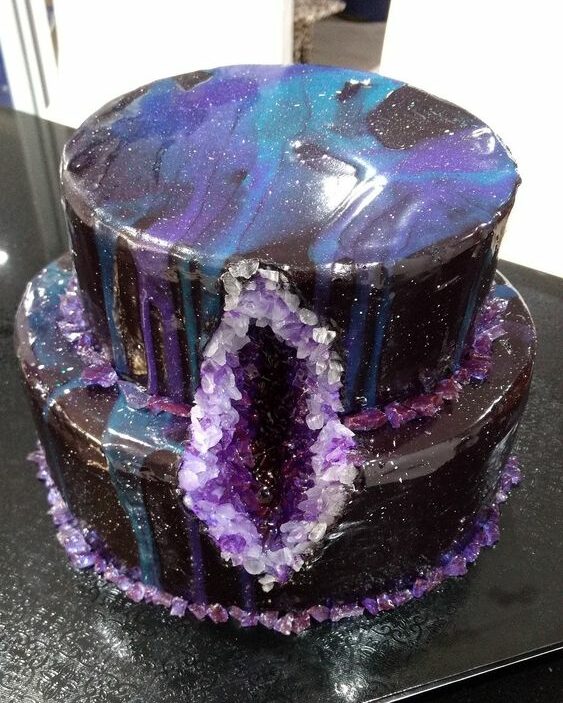 Galaxy cakes are just as popular as geode cakes, so why not combine the two trends to make an extra-trendy cake?
I adore galaxy cakes, and there is so much playroom when you add edible crystals. My favorite galaxy geode cake is this two-tiered galaxy geode cake. The cake's exterior is covered with a black, blue, and purple galaxy-printed fondant.
At the bottom of each layer, the decorator added purple edible crystals to echo the geode found on one side of the cake. The edible crystals start out as a light purple, and the deeper the geode cavity, the darker the purple. It reminds me of a black hole – very fitting for a geode galaxy cake.
Here are a few more galaxy geode cakes ideas for you:
4. Bee and Honey Geode Cake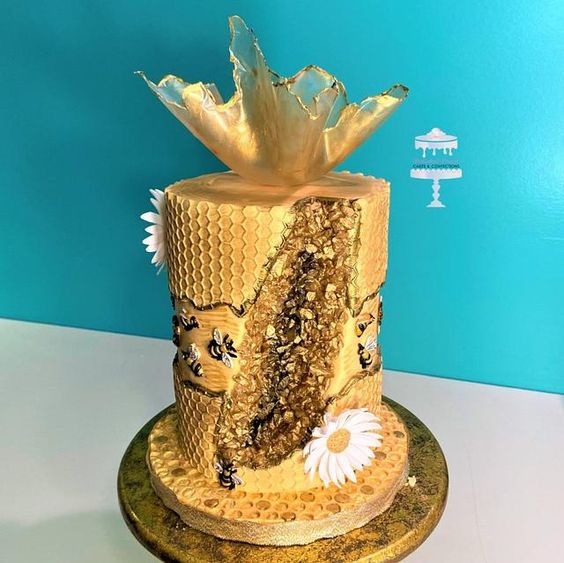 For the right occasion, this golden honey-bee geode cake will be perfect. The very tall one-tier cake sits atop a honeycomb layer.
The exterior of the cake is yellow gold with a honeycomb pattern. There's a horizontal fault line with bees, and the geode extends vertically on the whole tier. It reminds me of the inside of a beehive.
Two large white daisies break up all the yellow and gold, and a glass water splash made with isomalt sits on top of the cake.
If you are looking for other honey and bee geode cakes, consider:
5. Pink Hearts Geode Cake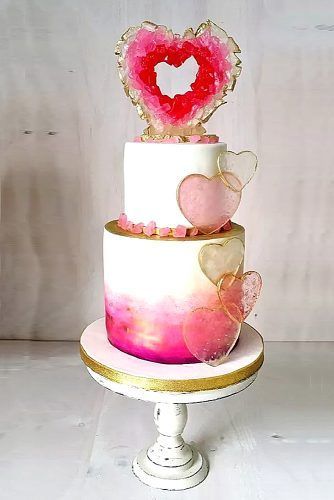 I absolutely love this white and pink hearts geode cake. It works perfectly for a Valentine's Day party, birthday party, or wedding.
The cake sports two tiers, with the bottom tier higher and larger in diameter than the top one. Both tiers are covered in a smooth all-white fondant; however, the decorator painted the bottom half of the bottom tier in shades of pink.
Edible pink and gold hearts are glued onto the right side of the cake. Edible crystals are scattered all along the bottom of the top tier.
You may wonder where the geode part of the cake is. The heart cake topper features red, pink, and see-through edible crystals. The heart topper is surrounded by more crushed rock candies, completing the geode look.
Making the geode heart topper isn't tricky. Here's a tutorial by Asma Qureshi showing you how.
6. Red, Black, and Silver Geode Cake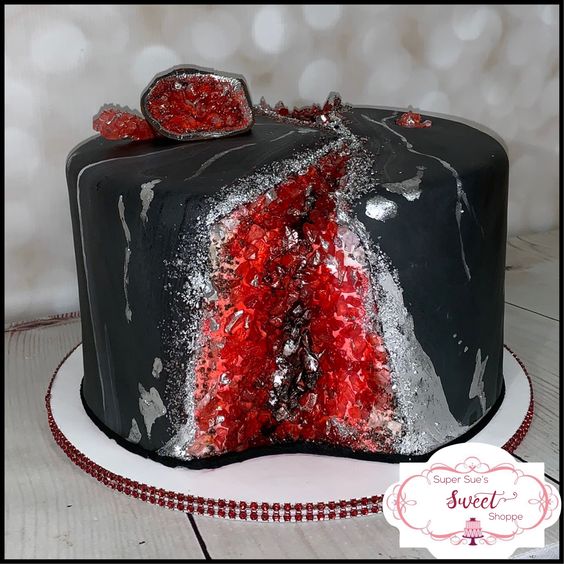 A dramatic take on the geode cake is this one with its black buttercream exterior and splashes of silver.
The geode is filled with bright red edible crystals, and the geode center has black rock candies covered with silver.
The semi-tall one-tier cake has scattered red crystals on top, and a geode-filled cookie that resembles a rock adds a finishing touch.
7. Unicorn Geode Cake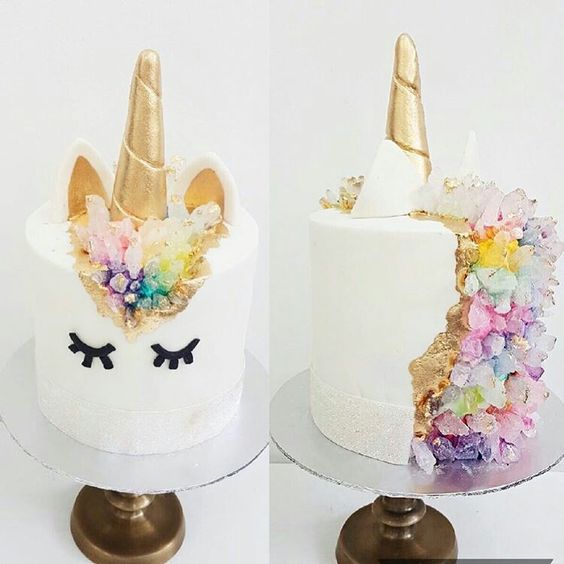 Everyone goes utterly ga-ga over unicorn cakes. I'm no different.
This unicorn geode cake is cuteness personified. Instead of a mane decorated in swirls of buttercream or edible flowers, the mane here is the geode. Rainbow edible crystals start from the unicorn's forehead, move over the top of the cake, and run down the whole cake's backside.
Make the eyelids and lashes, ears, and horn out of fondant. Or, for an easier option, get this coonooe unicorn cake topper with a golden horn.
8. Abstract Teapot Geode Cake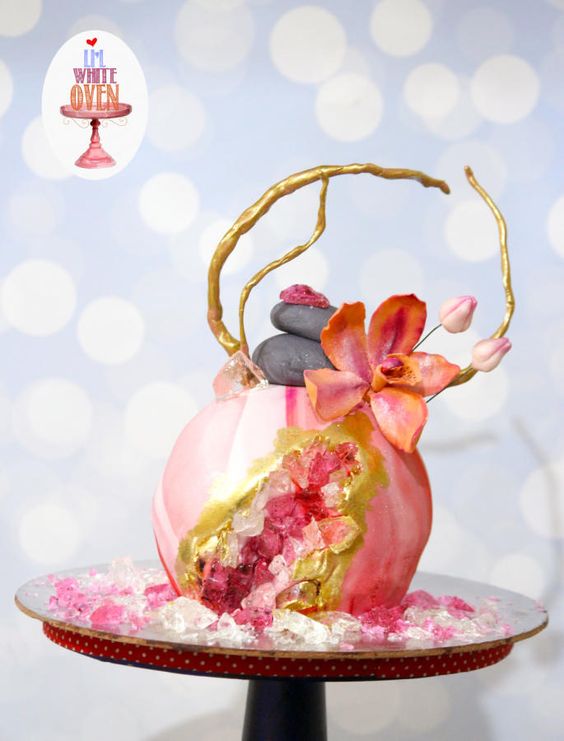 This interestingly shaped cake reminds me of an abstract teapot. Alice in Wonderland, anyone?
The semi-teapot-shaped cake is covered with a peach marble fondant. The geode on the one side of the cake is filled with large white and pink edible crystals and thickly lined with edible gold paint.
This cake is elegant, with two gray geode rocks, a large edible flower, two rose buds, and two golden branches forming a semicircle. I can see this Zen cake at a kitchen tea, Mother's Day, or special birthday celebration.
9. Butterfly Geode Cake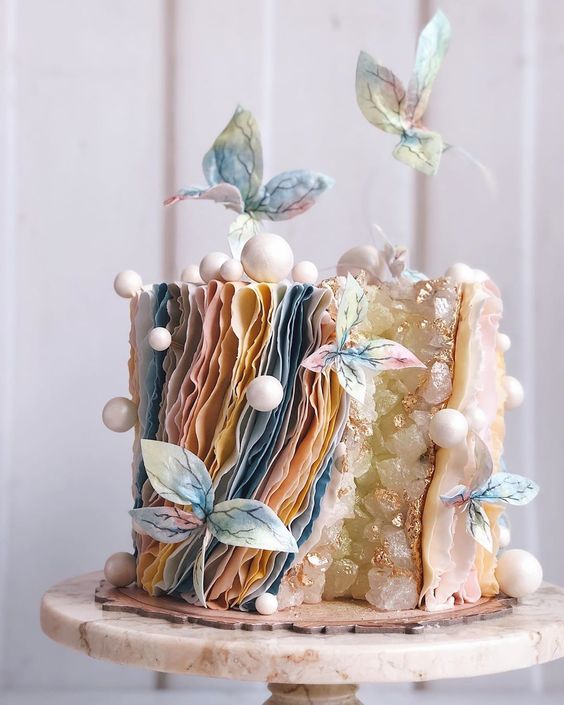 Of course, there will be a butterfly geode cake! I think I'm in love with this tall-tiered cake.
It looks like a whole slice of cake has been cut to make space for the geode filled with white, cream, and pale rose gold crystals.
The cake's exterior is wrapped in blue, peach, salmon, and light mauve folded layers, resembling crinkled book pages. Edible white spheres are haphazardly glued onto the sides and top of the cake.
The cake sports abstract delicate multi-colored butterflies that are on the cake sides. Two of these butterflies seem to be floating on top of the cake, giving it a whimsical feeling.
Another lovely butterfly geode cake is this golden beauty. The geode crystals are big geometric golden hearts, rose buds, and chocolate balls.
10. Turquoise Fault Line Geode Cake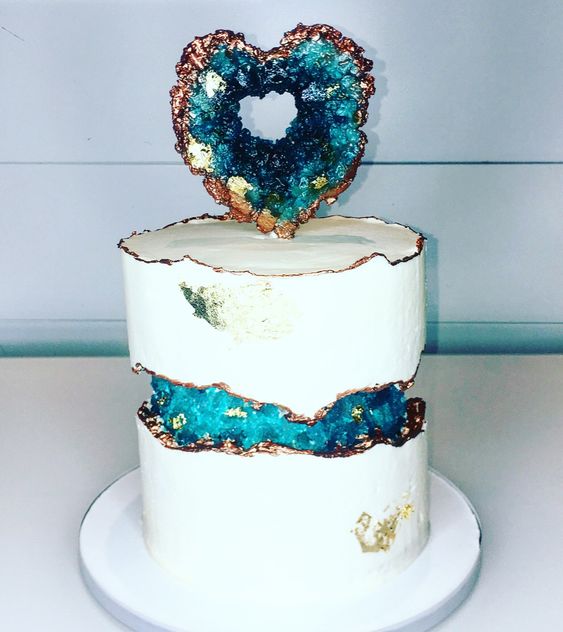 Some fault line cakes are also geode cakes. This turquoise fault line geode cake is covered in a smooth white buttercream. The fault line is filled with turquoise rock candies and has spots of gold here and there.
The fault line and the cake top are lined with rose gold, and finally, your eyes are drawn to the deep turquoise heart geode cake topper.
11. Black, White, and Burgundy Geode Cake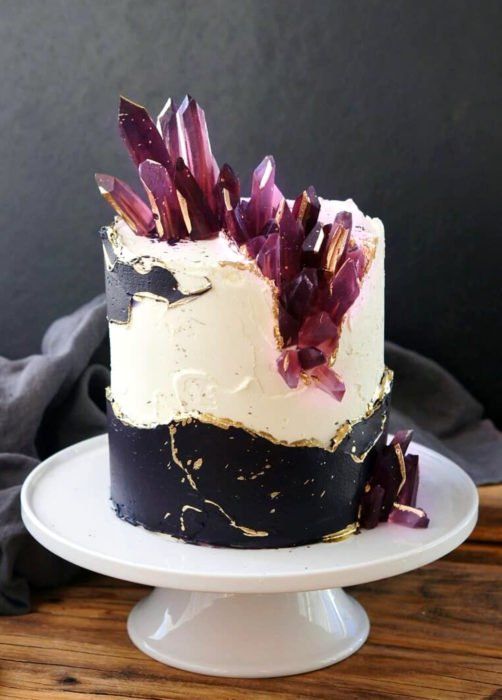 This black, white, and burgundy geode cake is fit for any wedding. The tall tiered cake is covered in black and white fondant – the bottom third of the cake is black, and the rest is white. However, there are specks of black near the top of the cake on one side to ensure the white isn't too monotonous.
Splatters of gold break up the black fondant and add an elegant touch. The geode cavity is cut from the top and down one side of the cake. It's filled with deep burgundy and wine-colored crystals.
12. Purple Geometric Block Geode Cake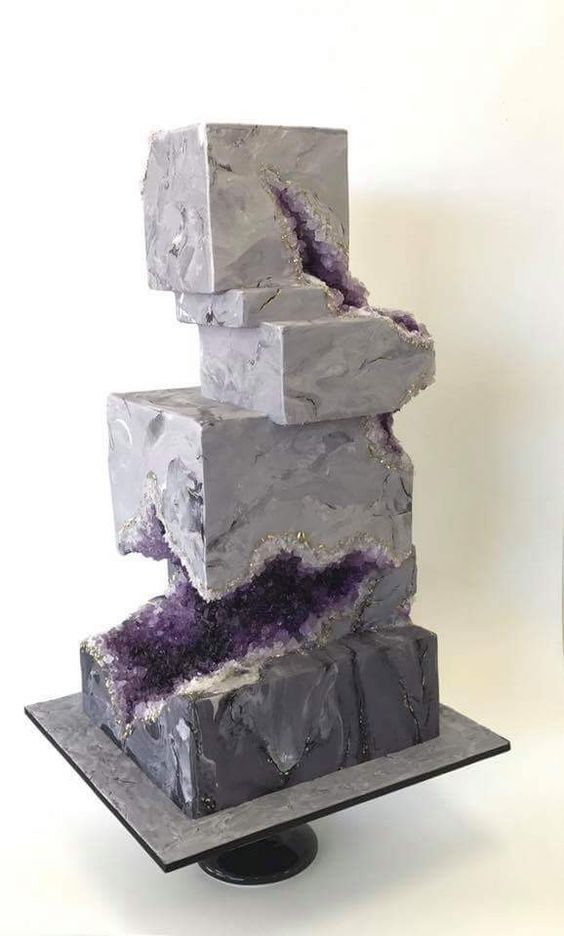 Not everyone wants a traditional tiered cake, and this purple geometric block geode cake is unique while still not too much out of the box.
The cake is made with five blocks of different heights, and the exterior is a mauve-gray marble fondant. The largest amethyst-like geode is in the bottom two boxes, while another tinner geode runs down the opposite side on the top three blocks.
This cake is certainly big enough for a wedding, and it'll be the talk of the party too!
13. Flower Geode Cake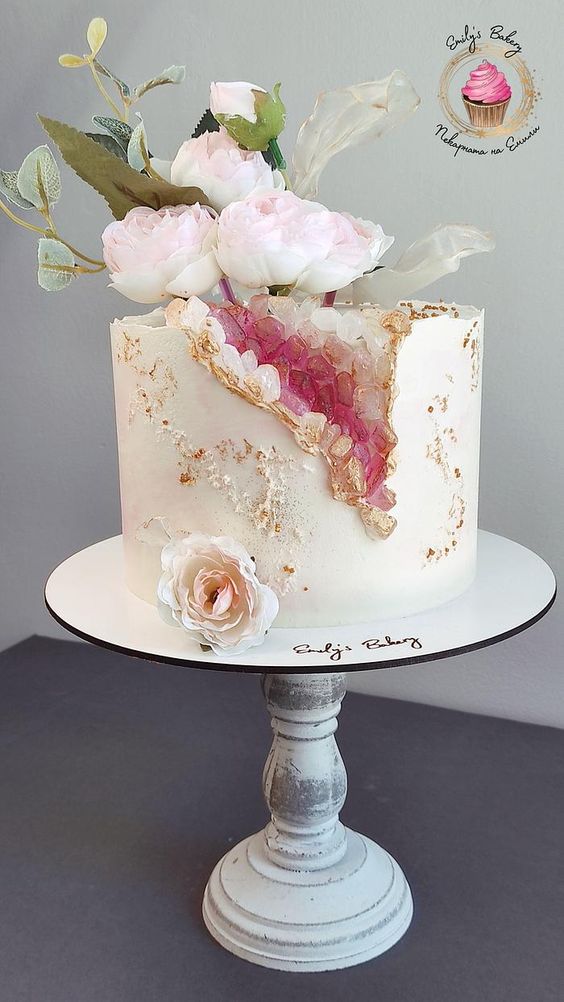 Flowers and geode seem like a classy combo, so this pink, rose gold, and white flower geode cake had to make my list.
The white fondant exterior is covered with minimalist abstract patterns in white and rose gold. The geode is filled with dark pink and white isomalt crystals. Real or edible flowers top the cake, making it ideal for birthdays, Mother's Day, or wedding celebrations.
Other flower geode cakes you can use for inspiration are:
14. Gold and Purple Crystals Geode Cake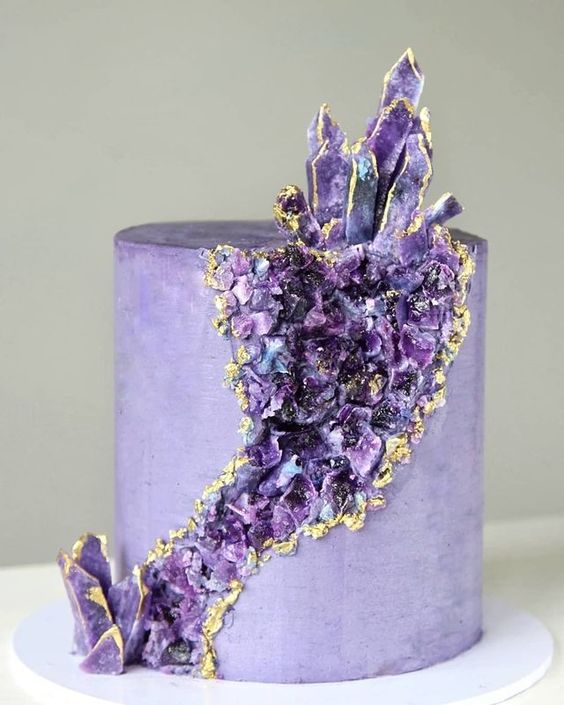 The gold and purple crystals geode cake is perfect for a teen's birthday party or a wedding. The tall tier cake is wrapped in lavender buttercream. The geode makes up the whole one side of the cake, starting smaller at the bottom and ending wider at the top.
The purple crystals filling the geode look like flowers. The decorator added tall purple and gold isomalt crystals on top of the cake for height. I'd like to see butterflies and a cake topper with this cake, but it is pretty enough as is.
15. Watercolor Geode Cake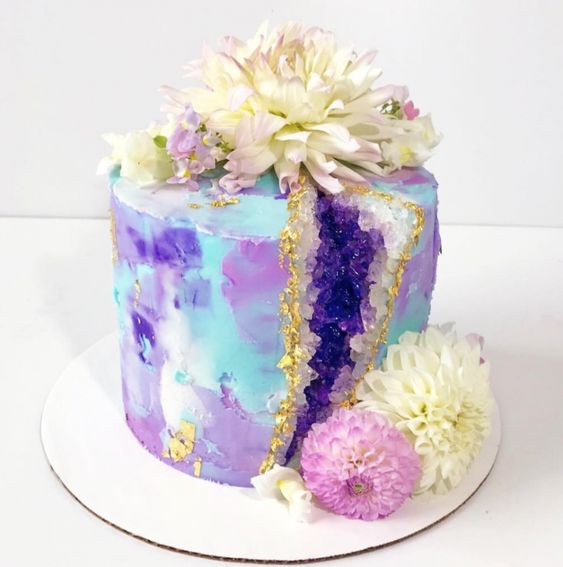 Another trendy cake is the watercolor geode cake. This one-tiered cake is wrapped in a smooth fondant, and then the decorator painted it in lavender, dark purple, and turquoise.
The geode cavity is on the cake's side and is filled with white, light purple, and dark purple crystals. The gold lining adds a stylish touch.
Large pom-pom flowers are laid next to the side of the cake, while an even larger cream flower and purple and pink petals sit on top.
Other watercolor geode cakes are this taller tiered purple, white, and turquoise geode cake or this purple, white, and green geode cake with geodes on top. 
Geode Cake Ideas FAQS
Question: What is a geode cake? 
Answer: A geode cake is meant to look like natural geodes, spherical or subspherical rocks with hollow cavities lined with mineral materials that look like crystals. They are usually colorful and irregularly shaped. Thus, a geode cake is a cake that has an internal cavity that's lined with rock candy or isomalt shards to resemble the crystal structures found in geodes.
Question: What are the geodes in a geode cake made out of?
Answer: The geodes – the edible crystals – in a geode cake are usually made from crushed rock candies, isomalt shards, or sugar crystals. These crystals are attached to the hollow cavity cut out of the cake with buttercream.
Question: Can you keep a geode cake in the fridge? 
Answer: Eating a whole cake can only be accomplished if you have enough guests, so storing the leftover geode cake in a fridge is a good idea. Keep the cake in the fridge for up to 7 days. Before you cut and serve the cake, take the geode cake out, and place it on your kitchen counter for an hour to two.
My Final Thoughts on the Best Geode Cake Ideas
Stay on par with geode cakes, and capitalize on their trendiness by adding other features like fault lines, watercolor, marbled fondant, or unicorns. You can't ever go wrong when choosing a geode cake for your special occasion, and it's a win that these cakes work in any color or theme.
The best cake is the pink hearts geode cake because I think it's perfect for celebrating love.
Ready to see more amazing cake ideas for your next party or a wedding you are helping to organize? Check out my comprehensive guides on minimalist cake ideas, galaxy cake ideas, and rose gold cake ideas.
Recommended Reads: