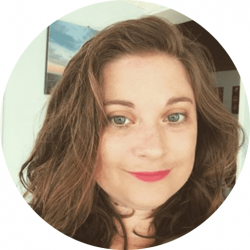 Latest posts by Samantha Bellinger
(see all)
Naruto is a series that began years ago, but it still captivates audiences of all ages.
As I mentioned in my Naruto Party Supplies Guide, my college friend was obsessed with Naruto when he returned from studying in Japan. He was so excited about the series that he made all of us watch it with questionable subtitles (it was long before it was dubbed in English, and it was too new to have official subtitles yet).
I can't tell you how much I wish I'd had this idea list back then. My friend would have loved these cakes and asked for at least one at some point during our senior year of college. 
Why not celebrate your next milestone with a Naruto cake? Keep reading for 33 amazing Naruto Cake Ideas!
Bottom Line Up Front
My most important criteria for this list of Naruto cake ideas was: would my college friend have gone crazy for these cakes if they'd been available 15+ years ago. All 33 on this list match that criteria. Out of all of the ones I included, my favorite Naruto cake idea is by far the Naruto & 7-Tailed Beast Cake (number 7 on the list). I love this cake because it features both parts of the main character; it has half the face of the 7-tailed beast and half the face of young Naruto. The rarity of the combined image and the elaborate design won my favor. 
See also: How To Find The Best Cake Ideas
Things to Consider
After a 15-year event planning career, I recognize how important it is to visualize cake ideas before forging ahead. There are also a few necessary things to consider before selecting a cake.
Budget
Start by figuring out your budget. Budgeting isn't always an enjoyable portion of the decision process, but it is vital. Having a budget up front means you'll be able to pick a cake that doesn't break the bank. 
Size
Before hiring someone to create a cake for you (or making one yourself), you'll also know how many people the cake should feed. The number of servings dictates the size of the cake. Most bakers will be able to talk you through the process of what you'll need to serve the desired number of guests. That said, knowing that information beforehand can make that conversation more straightforward. 
Naruto Cake Ideas
Now onto the beautiful Naruto cake ideas, I have tracked down for you.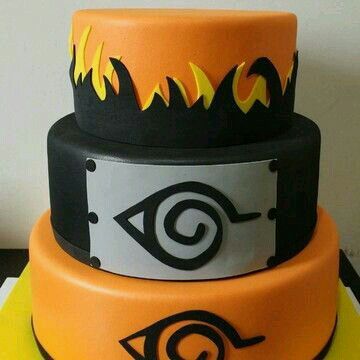 Let's start the list with a simple nod to the main character's headband and favorite colors. The middle layer of this three-tiered cake is meant to look exactly like the ninja headband of Naruto's village. The black background recalls the cloth band, the silver rectangle is the metal plate and the symbol on top is the symbol used for the Hidden Leaf village. The orange on the bottom and top tiers is a nod to the color of Naruto's outfit. 
I'm always impressed when cakes can take a shape like this and remain sturdy. This fondant-covered cake idea is perfect for a kid's birthday. The cake is in the form of a number and presumably the kid's age. The coloring and symbols reference Naruto without needing to feature a specific character.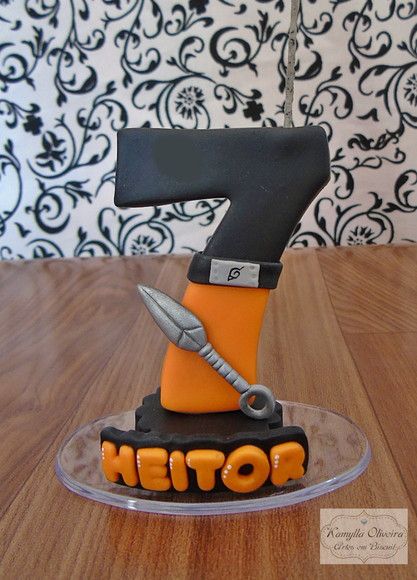 I love this option; anything with additional characters catches my eye. I am especially appreciative that it is a relatively simple cake, and someone utilized figurines/action figures to complete the look.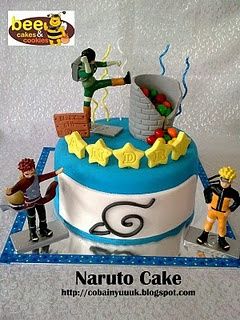 While not an entire cake, no Naruto cake ideas list is complete without cupcakes. These Naruto headband cupcakes are reasonably straightforward, and there is even a YouTube video if you want to try and DIY these cupcakes.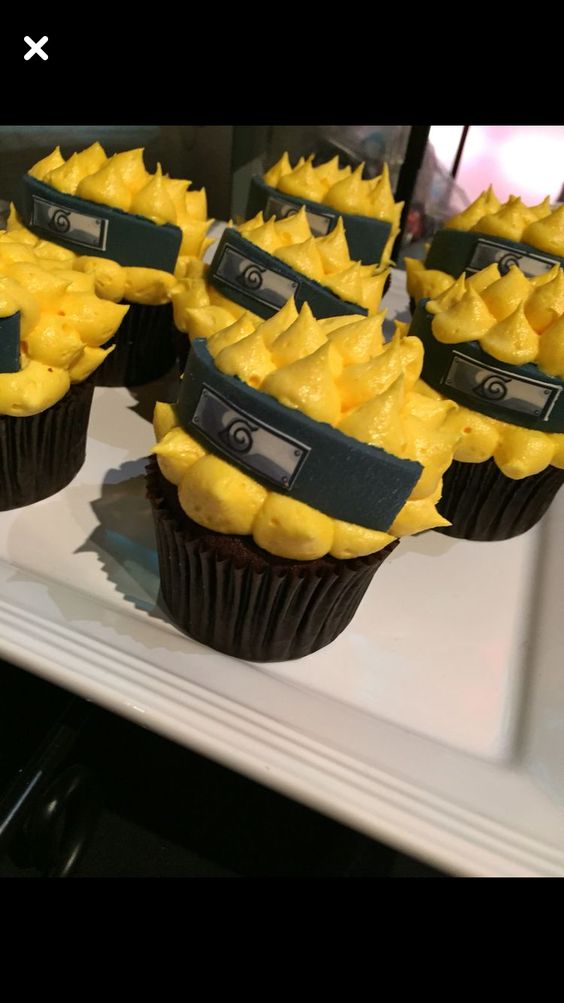 You can find a tutorial here:
If you've watched the series, you know it features Naruto eating ramen a lot. So naturally, I wanted to pay tribute to that detail with this ramen Naruto cake idea. Not sure how I feel about eating a sweet cake that looks like savory food, but it is too cute to stop me.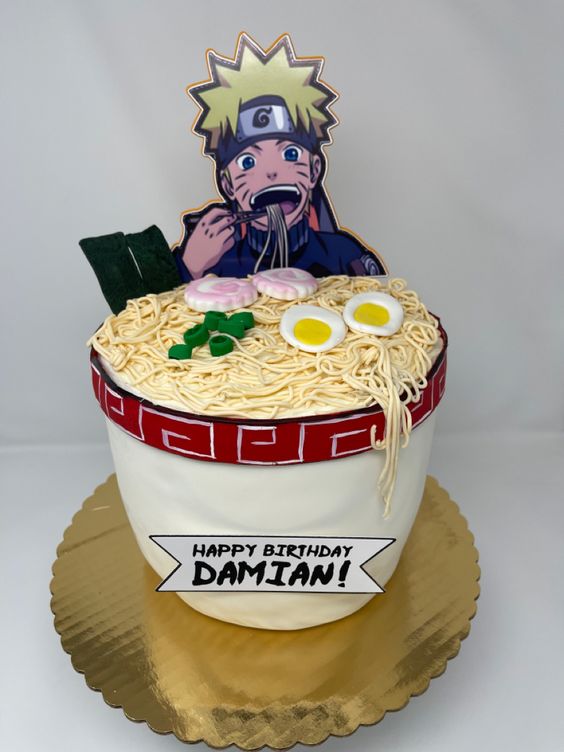 While these are titled Sharingan Cupcakes, there are a few different symbols in this example: the triple Sharingan, Itachi, Madara, and Obito. Each of these symbols represents a different eye illustration in the story; they come with specific powers and belong to various characters. Adding the symbols onto cupcakes is a reasonably easy way to reference the Naruto series without relying on elaborate decoration.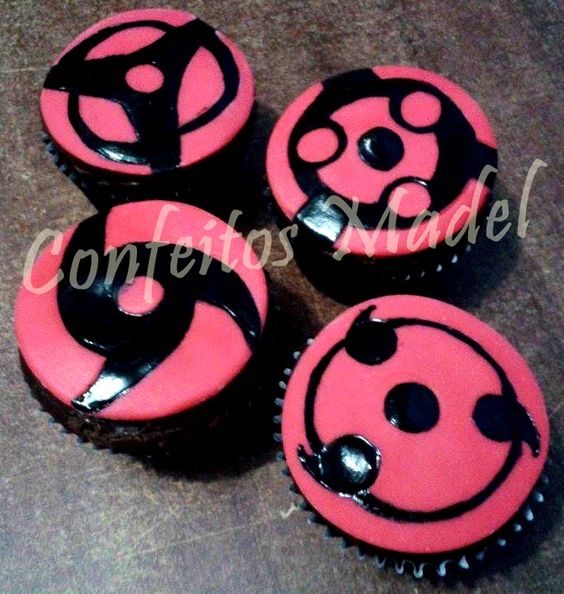 In honor of the 7th Hokage himself, I opted to include a Naruto cake that references Naruto once he is named Hokage. It features a split image on the side — half 7-tailed beast and half Naruto. This cake is my favorite example out of all 33 Naruto cake ideas. Why? Because it shows both sides of the main character, which appeared rare in all the cake ideas I browsed while making this list. Plus, it is beautifully executed, and the intricacy makes for a breathtaking design.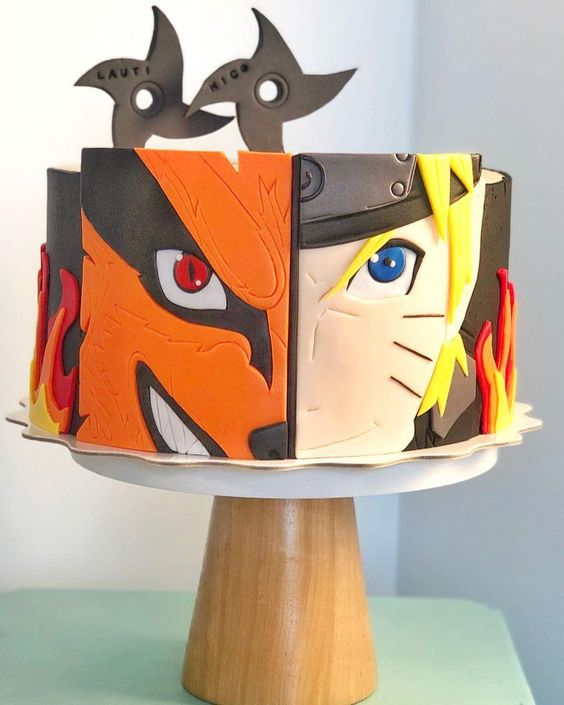 Akatsuki clouds are an excellent cake theme. It references the Naruto series but doesn't have to rely on the bold orange and black color scheme like many of the Naruto cake ideas.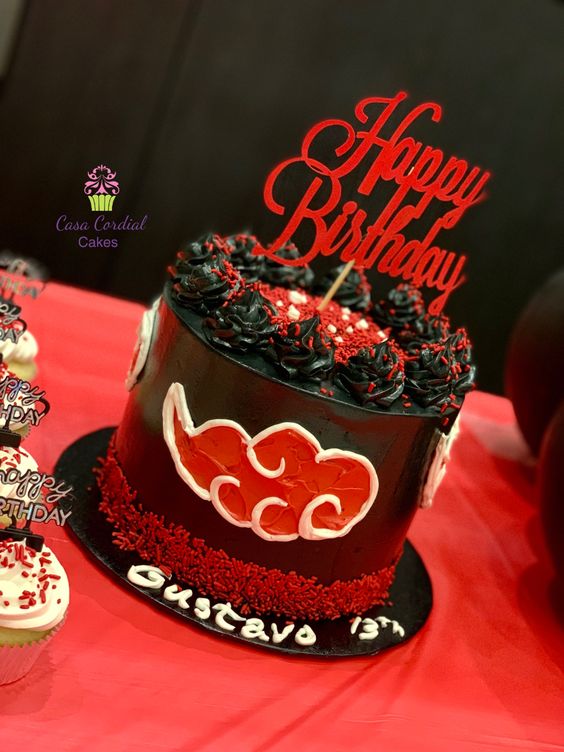 This fantastic cake has a dual image of Naruto & Sasuke. The strong contrast between orange and blue draws my eye, but I particularly love that the characters are atop backgrounds illustrating their fighting power. The flames behind the age are also a nice touch.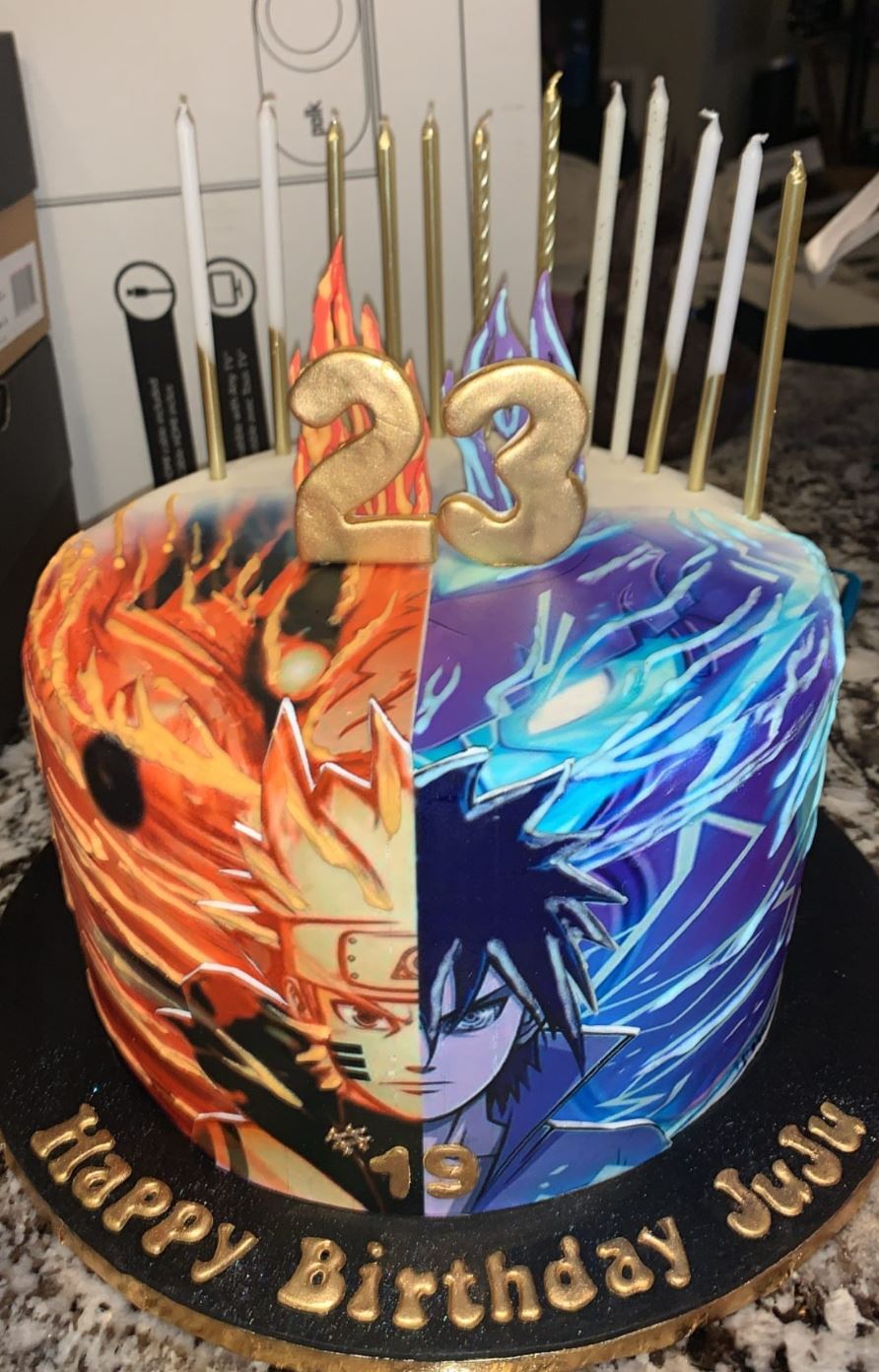 This pink cake is an attractive option for any fans who love Sakura. I love that the cake is reasonably simple gradated pink icing with a few berry accents. Then cutouts are used to reference Sakura and the Naruto series. I also love the pink/red lollipops placed on top. It brings visual balance to the cake while staying with the color scheme.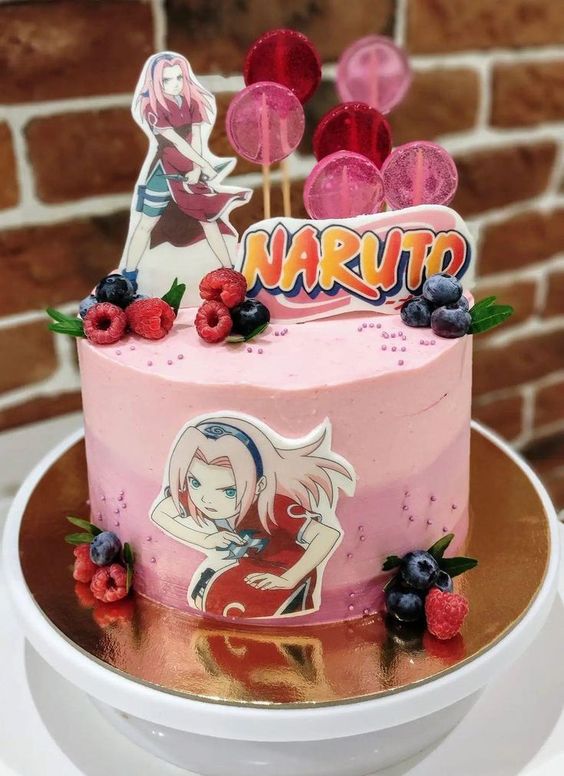 This Itachi cake looks more like a sculpture than a cake. The three tiers are covered in dark black fondant and decorated with symbols associated with the Itachi family. The top layer is why I chose to include this cake in this list of Naruto cake ideas. It features a headband with a scratch through the hidden leaf symbol (to show the ninja is no longer part of their original village), a collar of red and black mimicking the characteristic cloak, and then pieces of fondant hair falling over the headband. It is a creative way to recall a character without using the face. So creative!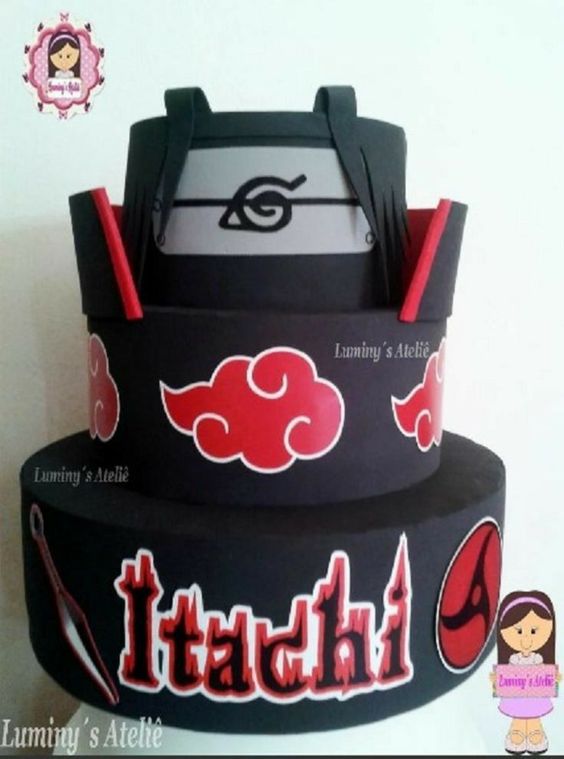 Hidden Leaf cupcake toppers are the perfect way to include a Naruto theme in any cupcakes. The topper references the Hidden Leaf Village where Naruto grew up and is the symbol on the ninja headbands. It is also a simple enough design that it doesn't take away from any other decorations you might have.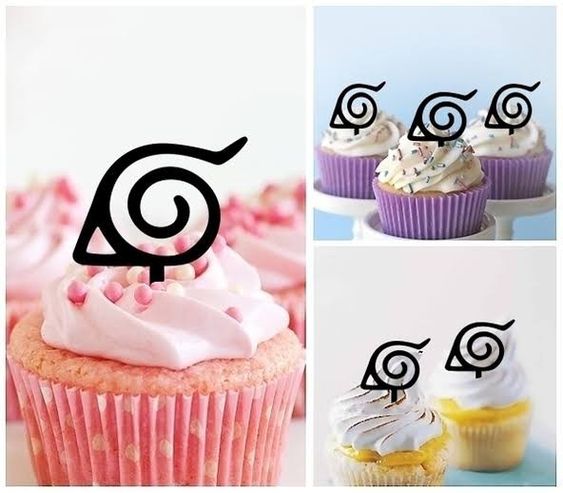 I'm a big fan of edible cake toppers. This particular example takes up the entire sheet cake and features Naruto as the 7-Tailed beast. While I love this type of topper, I'm not a giant fan of the graphics. The style of this depiction is too stylized for my personal taste. That said, I do love that it includes a variety of hard to find Naruto images on this cake.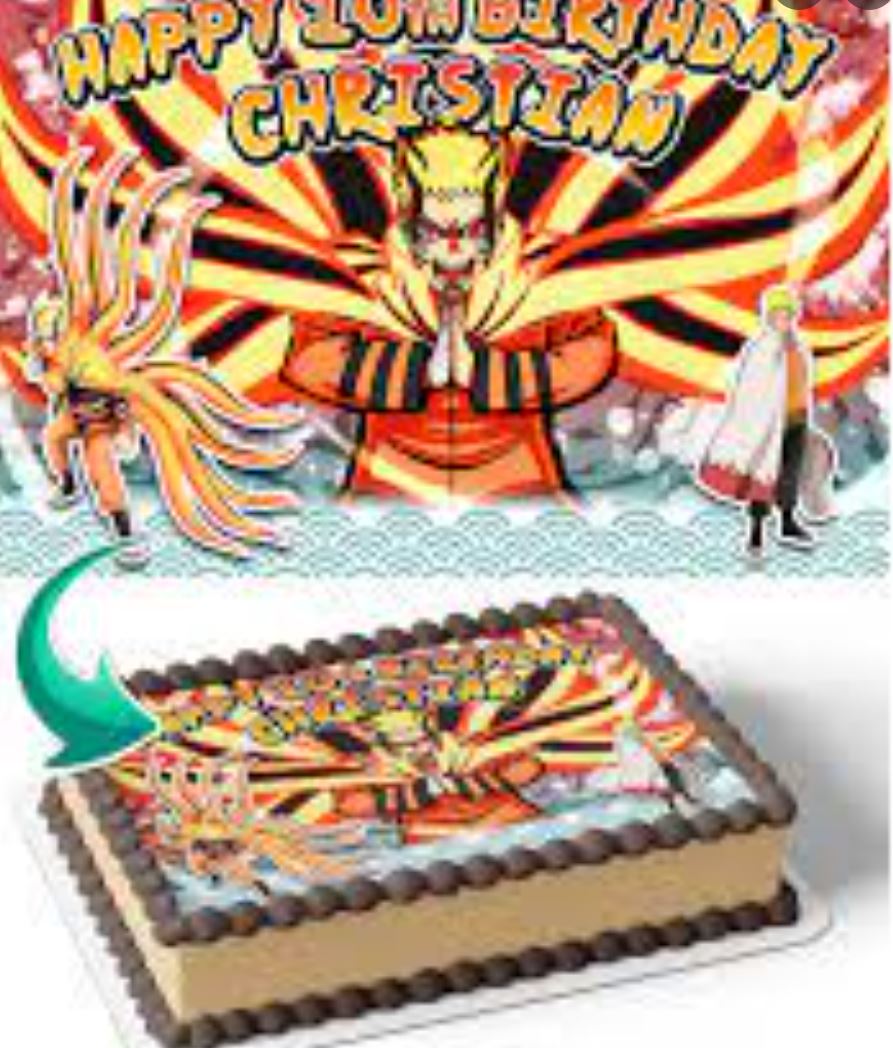 Like the Sharingan Cupcakes mentioned above, these Symbol cupcakes feature a few different symbols; only they are more representative of the ninja towns in the series. What I love about these is that adding the characters onto cupcakes is an easy way to reference the Naruto series without relying on elaborate decoration.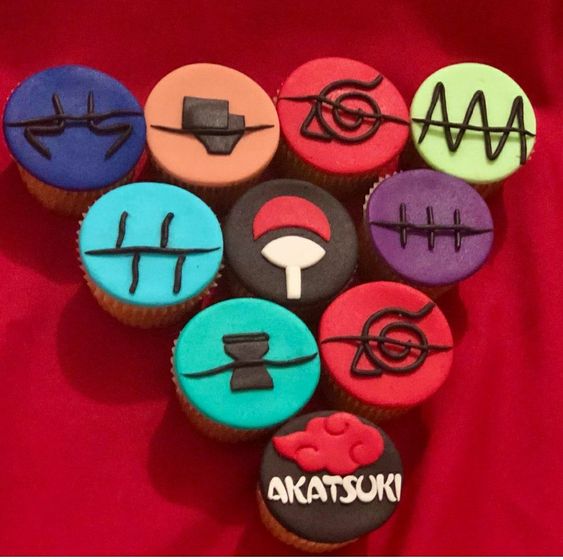 Sheet cakes are usually used because they can feed a lot of people. However, this one takes fondant sculpture to a new level. It looks like Naruto's uniform – both the jacket and the headband. I'm awed by the talent it must have taken to create this cake.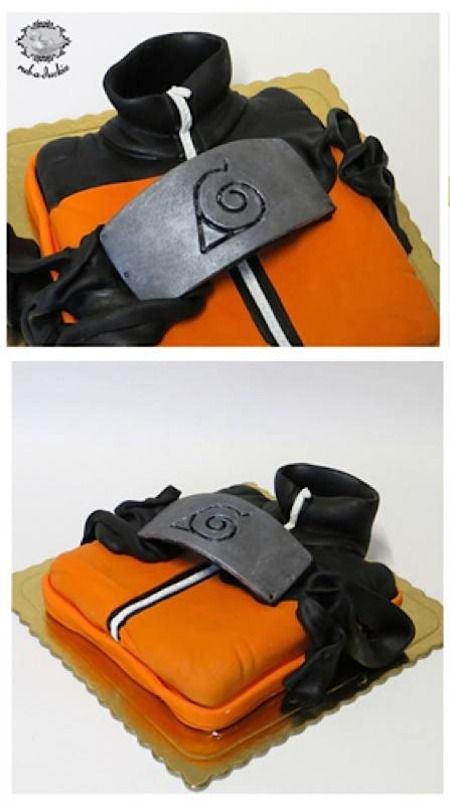 This 3-d masterpiece was too impressive not to share in this Naruto Cake Ideas list. The Makers Cake Company of Colorado created this particular sample. I'm always blown away by three-dimensional cakes, so I included this example here.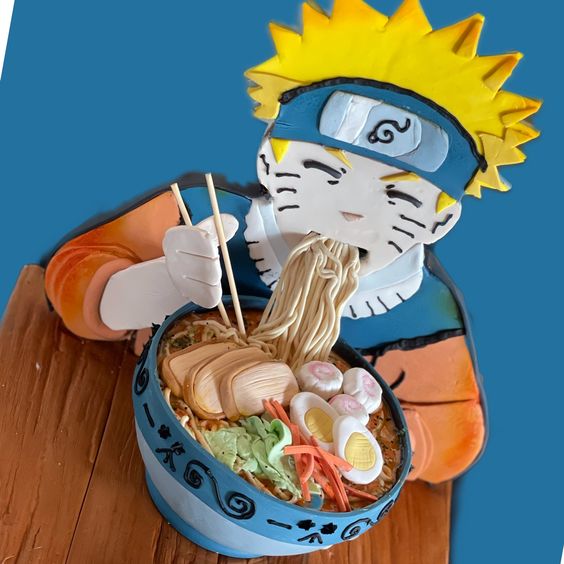 I'm a big fan of Kakashi, so I included this cake in the list. I picked this particular rendition of Kakashi because it shows him with both eyes visible; often, he has his headband covering one eye. I'm not sure how they created/printed this image, but even without that information, I felt compelled to include it.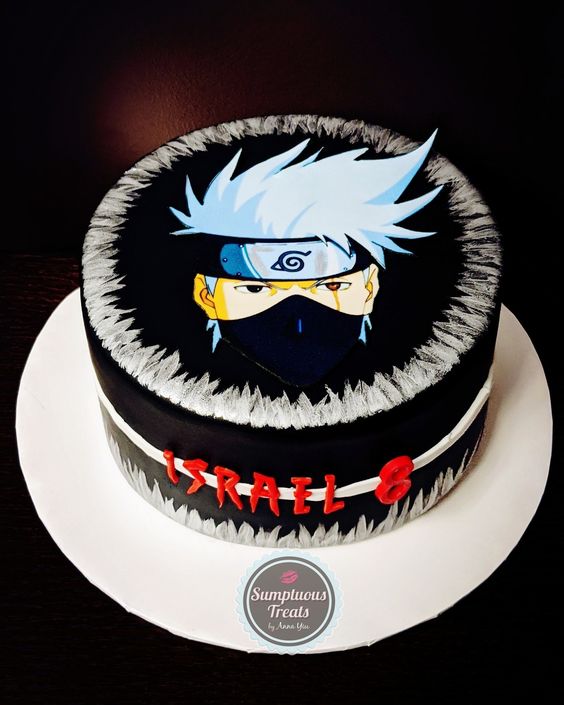 Nothing says happy birthday like this Naruto Birthday cake by Jolie Fille Cakes. The orange frosted cake has Naruto's face front and center and has the birthday person's age surrounded by flames on top. It is a perfect option for any birthday person, regardless of age.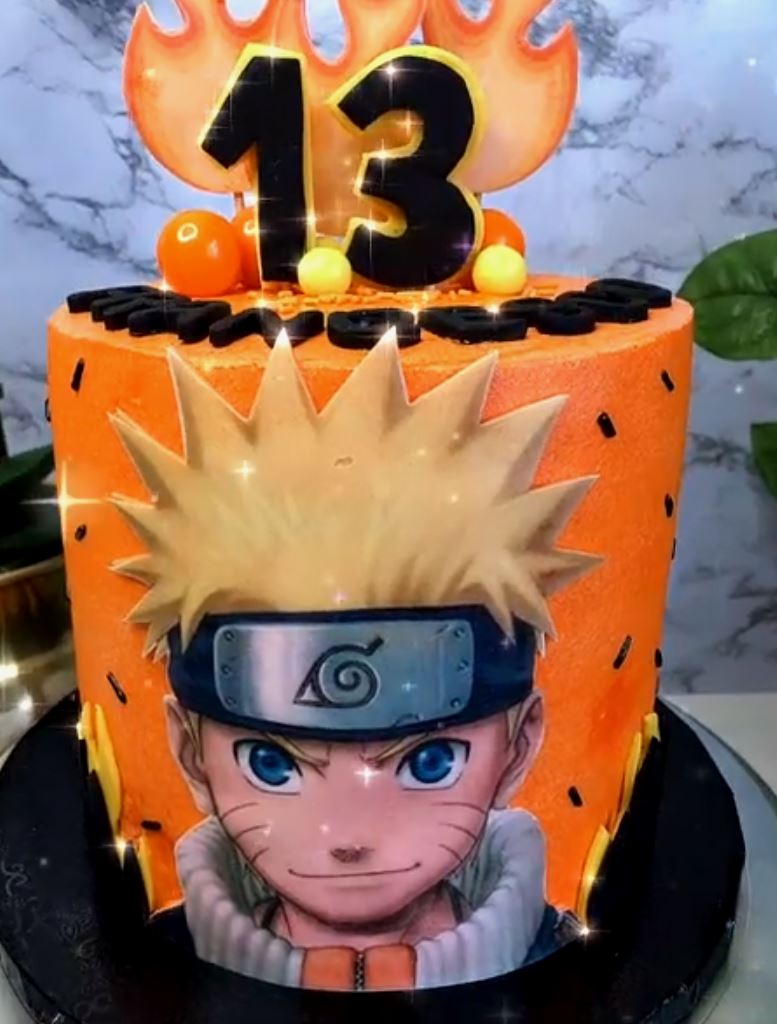 This Naruto birthday cake by Emily's Bakery blurs the lines between toppers and frosting. I love the transitions where it isn't entirely clear where the topper ends and where the icing begins. The texture of the orange icing also catches my eye and seems to compliments the cake design.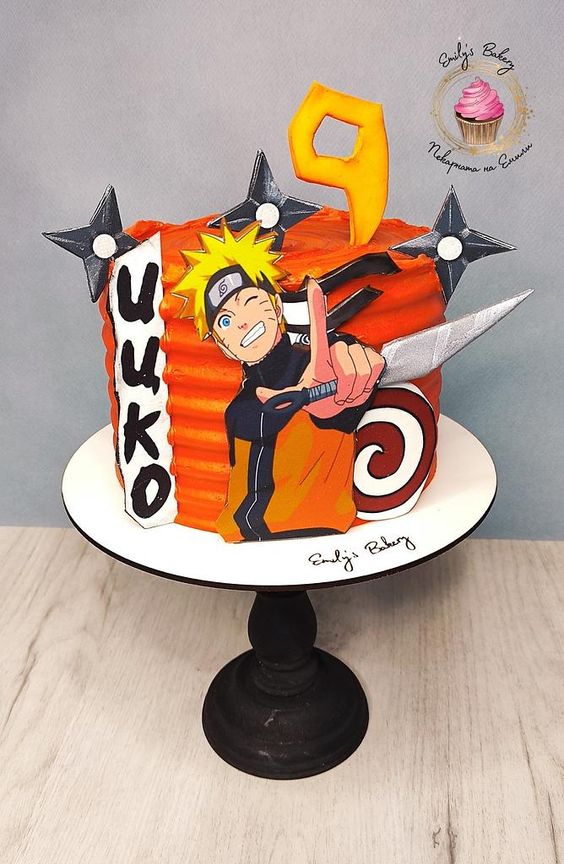 A team of characters accompanies Naruto on top of this cake. The sides feature ninja stars and knives. I particularly like that they used a relatively simple cake and added toppers to achieve the look; it captures the vision without requiring an overwhelming amount of technical skill.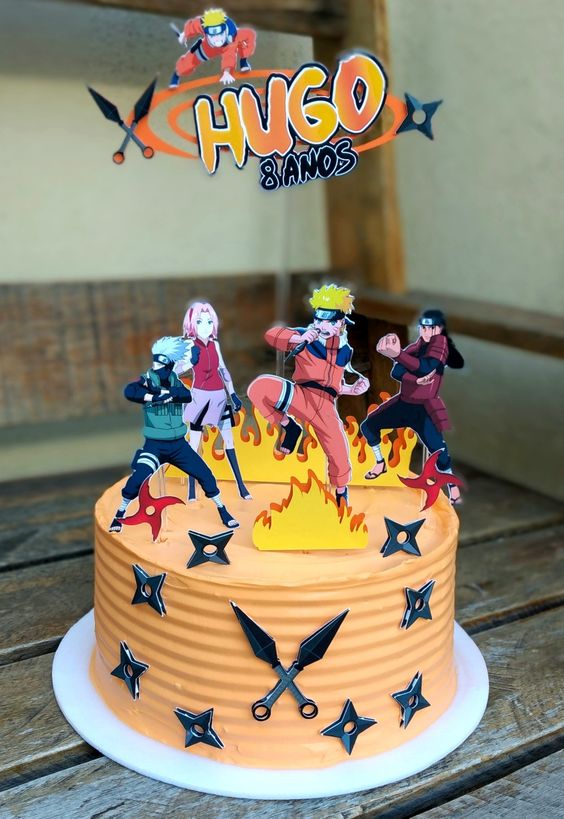 Wow, just wow. This cake is visually stunning. The black and white gradient of the icing is a perfect backdrop for the Itachi character placed against the red circle and the Akatsuki clouds on either side of him. The dripping red icing is a great touch. The cake topping deserves an entire love letter of its own. The Oreos compliment the round shapes of the symbols, and the birds add an ominous feel to the whole thing. Overall, I love this cake. If this list only featured Itachi cakes, this might have my vote, but since it is all Naruto characters, it'll have to come in second place.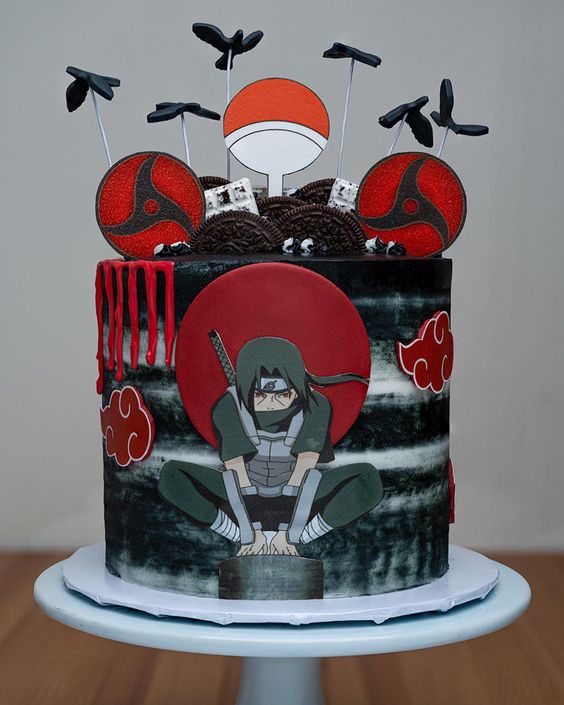 Why not combine both a tiered cake and cake pops for your guests? This particular Naruto cake idea is two in one. The three-tiered cake sits on top of a cake stand, surrounded by cake pops that spell out the birthday person's name. I'm a big fan of this combination approach. You'll get the wow factor with the cake, but you don't need to make it nearly as large. You can feed many more guests with the addition of cake pops. It is a win-win, in my opinion.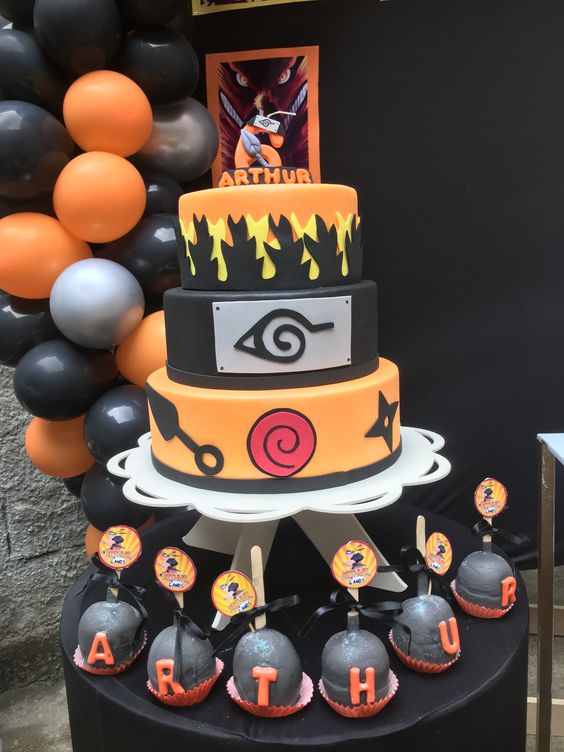 When I found this cake, I knew I had to include it. It is rare to see a cake featuring an older Naruto or any character from the later seasons. In addition to the rarity of this inclusion, it is a lovely cake design. The cake itself is pretty minimalistic, with simple white and orange icing. The candy topping is what provides texture. I'm a big fan of the lollipops behind the numbered candles. The whole design is well thought out and an excellent option for older fans of the Naruto series.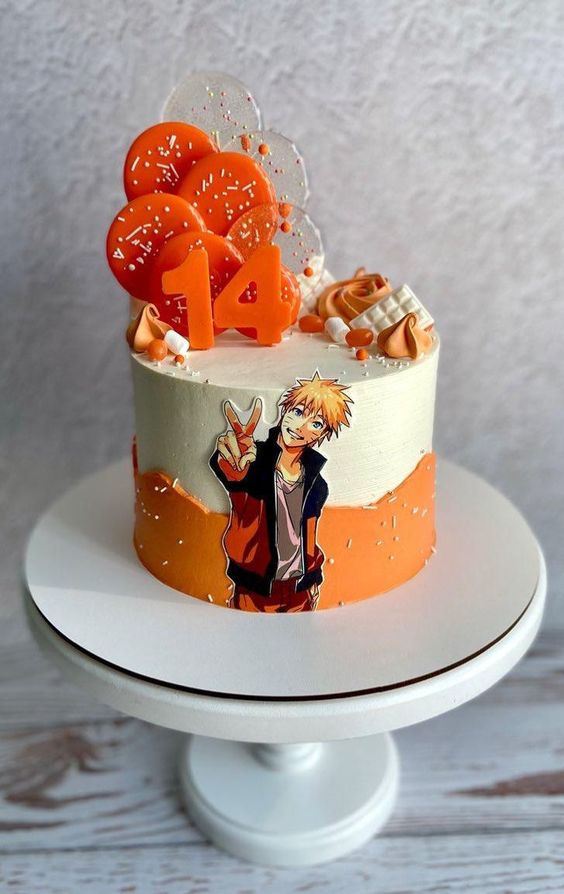 I am always fascinated by how designs are printed on hard sugar toppings. This example is no exception. This type of topper makes it easy to include an official design on any standard-sized cake. This particular example hides the edges with frosting to make it harder where the sugar image ends and the cake begins.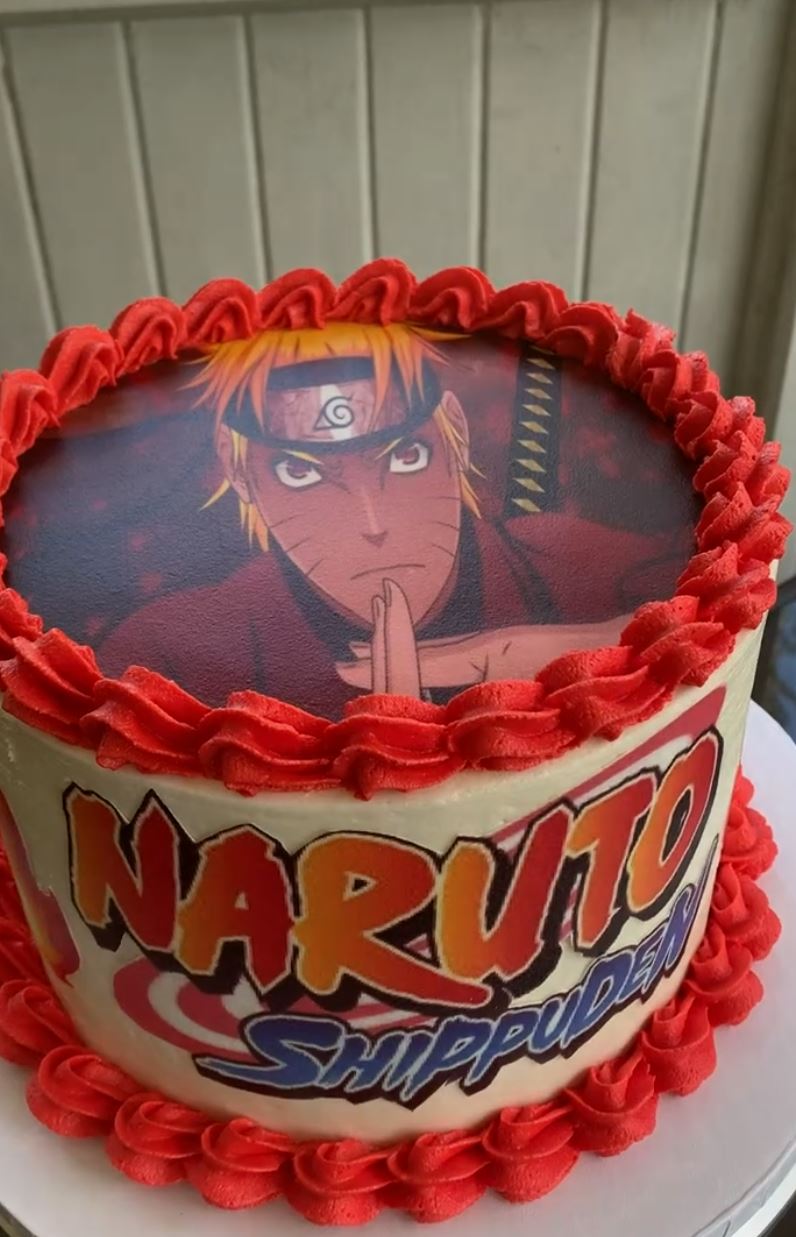 This cake features a film strip around the side featuring some of the cast from Naruto. On top of the cake are toppers of Naruto and the show's logo. I like the designer's choice of malted milk balls to provide visual balance around the cake topper. It is a creative addition.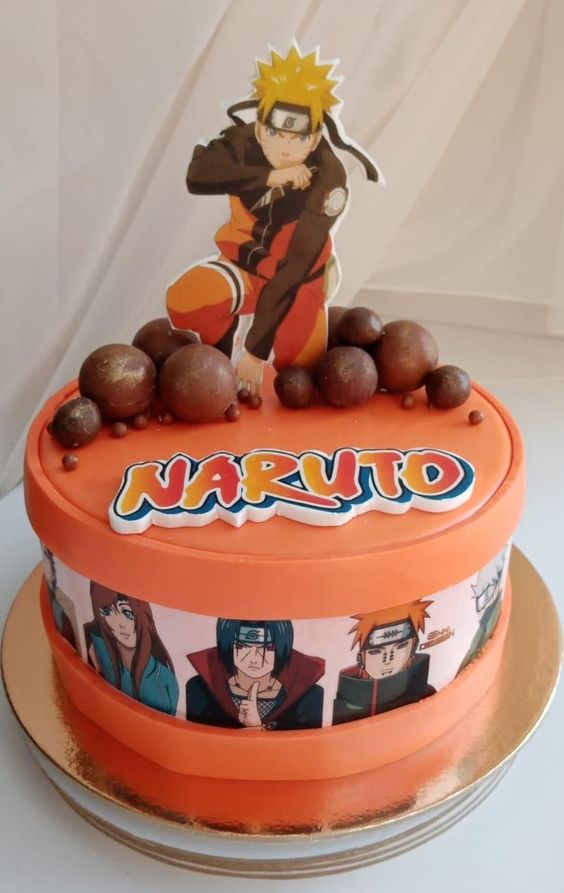 This nod to the later season, Naruto features a cake topper perched on a metallic blue round cake and surrounded by a fire design around the bottom rim. I appreciate that it features an older Naruto rather than the commonly seen younger ninja.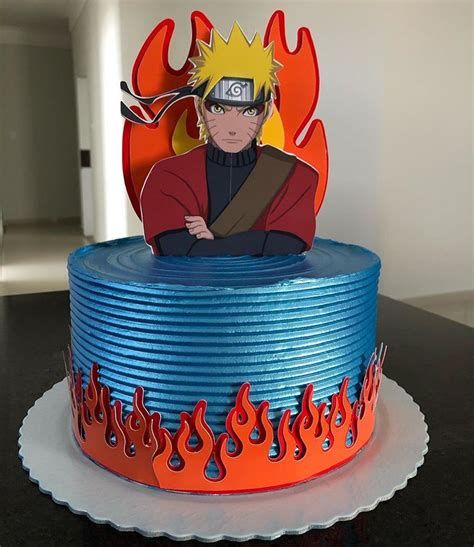 Something I saw a lot with Naruto cakes was lollipops on the top. That isn't something I've seen much of in other cake themes. While I don't know the origin, I love this trend. This particular cake idea takes it to a new level; the entire top of the cake is covered in layered lollipops. Unlike some examples, this one utilizes lollipops with printed designs featuring Naruto and well-known symbols from the show. I recommend adopting this trend for your own Naruto cake idea.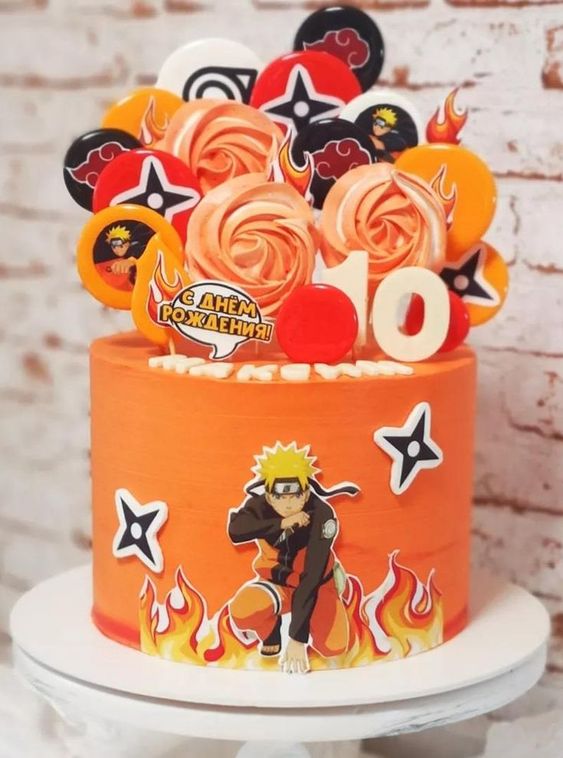 The Pinterest description of this cake mentions that it has a checkerboard cake inside, which you clearly can't tell from this image. It does, however, complement the design of the cake. The top shows Naruto with the face of the 7-tailed beast looming behind him. The edges of the cake are a gradient of color.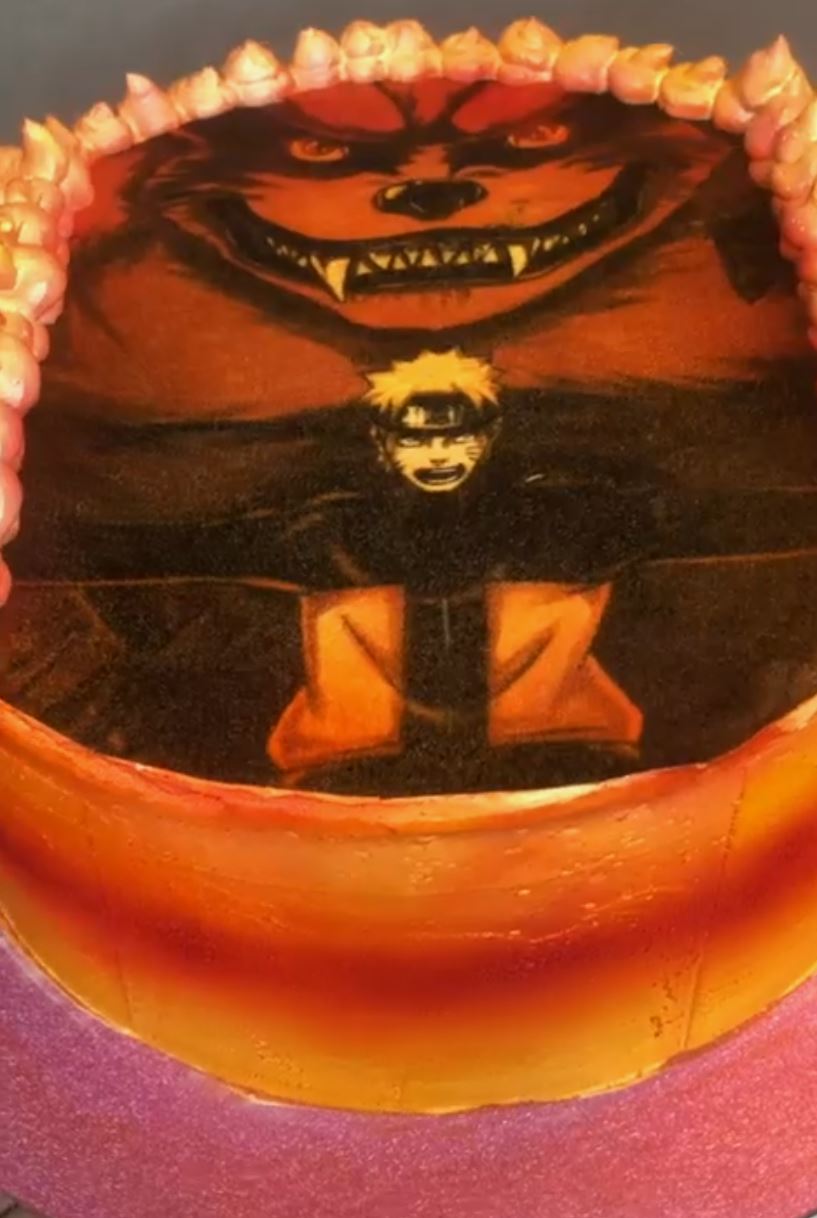 Early in the Naruto series, Gamabunta the toad is introduced. I particularly like this cake because it features Naruto sitting on top of the toad's head. Fans of the series will know that only a handful of ninjas were allowed this honor (Jiraiya and Naruto are among them). I'm also impressed that the cake decorator captured the toad's head and pipe. That doesn't seem like an easy task!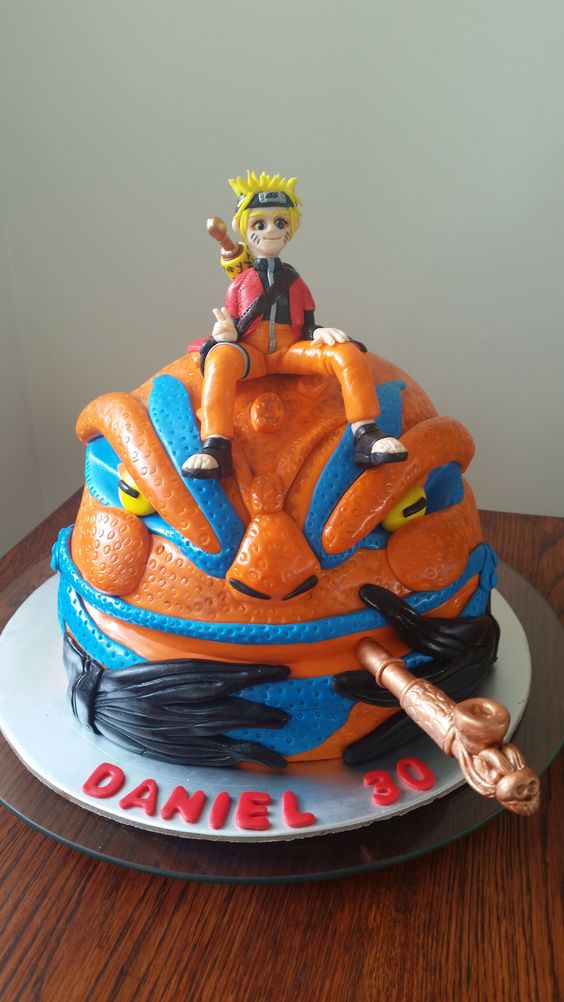 This cake is adorable. I'm a big fan of having Kakashi depicted in this child-like manner. The ninja star, knife, and hidden leaf symbols complement the theme nicely. I also like that these additions could be easily added to any pre-made cake.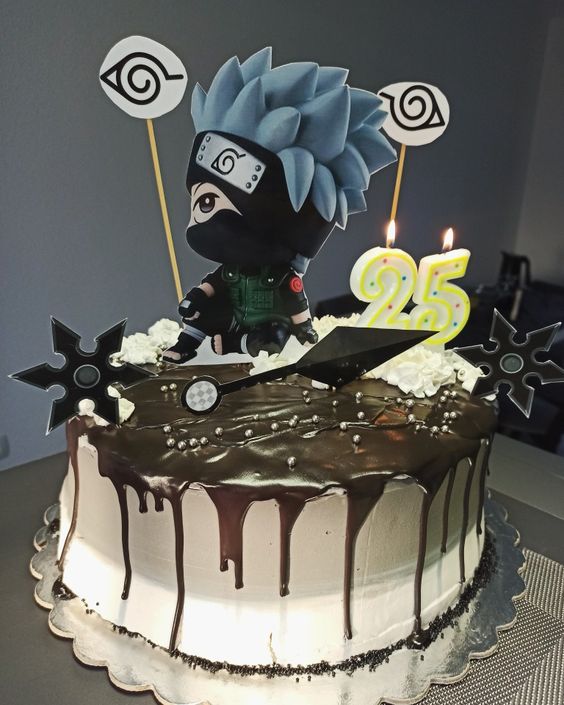 I don't know if I believe the original poster who claimed this was an "easy" Naruto Cake. Is it easier than some of the fondant sculptures I included on this list? Probably. However, I wouldn't call it easy; I always have difficulty getting consistent icing drips or color striations around the side. On the other hand, the Naruto decorations appear to be a birthday topper set that can be added to any cake; I'll concede that that part of the decoration is relatively easy to manage.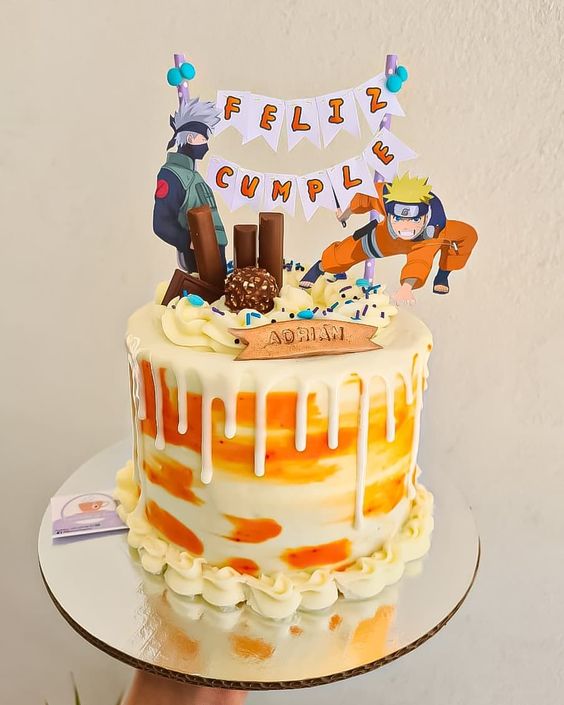 So often, Naruto cake ideas stick to the orange/black color scheme with an occasional deviation to black and red. Naturally, this purple cake stood out in the sea of orange on Pinterest. This example is a simple round cake with purple icing and a Sharingan design on top. It is a great way to change things up when celebrating with a Naruto theme.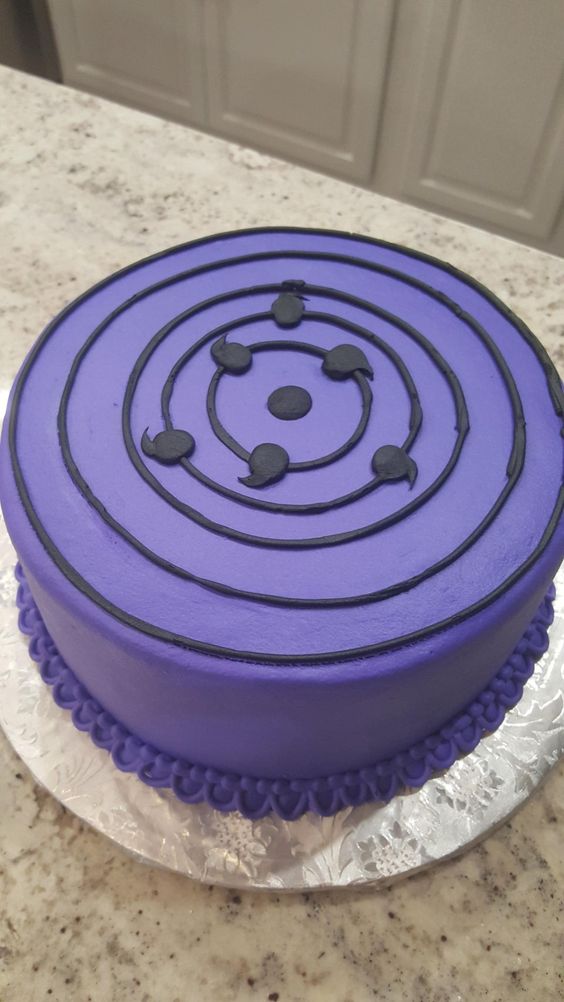 Finally, I want to end with these cupcakes topped with cutesy versions of the characters. I love that the toppers are in this "baby" style and feature several characters. It is an adorable way to include Naruto in any celebration utilizing cupcakes.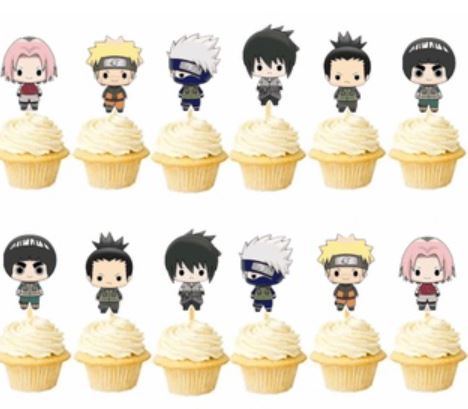 FAQs
Question: Which Naruto Cake idea is best?
Answer: My particular favorite is the Naruto & 7-Tailed Beast Cake. However, I recommend talking to the guest of honor before deciding. They can tell you which ideas are their favorite. The Number / Age Cake cake might be a good bet if it is a young kid's birthday. Or, if it is for a baby shower, the cupcakes with Cutesy Toppers would be a good choice; the cupcakes can be gendered just by changing the icing color. Alternatively, an adult or teen birthday celebration might call for the Naruto & Sasuke Cake.
Question: What is Naruto?
Answer: If you are reading this article on Naruto cakes, I'm guessing your guest of honor loves Naruto. However, that doesn't mean you (the reader) are familiar with the character or storyline. Let me provide some background: Naruto was a printed Japanese manga series (think comic book) that was adapted into an anime tv series (think cartoons). It aired between 2002-2007 (when I initially saw it), but the show has gained more popularity in the US, thanks to a dubbed version available on Netflix. The storyline revolves around a ninja named Naruto. You can learn more about it here: https://www.viz.com/naruto.  
Question: Buttercream or Fondant Icing?
Answer: This is a routine question. Buttercream and fondant are the two of the most common icings used for cakes. Let's break down the pros and cons of each:
Buttercream:
Pros: delicious, easily colored
Cons: melts in extreme heat (it is made primarily out of butter) 
Fondant:
Pros: the stiff texture makes it perfect for elaborate designs
Cons: taste
The decision on icing type comes down to what you want to prioritize: design or taste. Fondant cakes provide a visual "wow" factor, and buttercream cakes prioritize flavor. 
Conclusion
You can't go wrong with any cake ideas on this Naruto Cake Ideas List. All would be excellent additions to your party. My favorite is the Naruto & 7-Tailed Beast Cake (number 7 on the list) because it features both parts of the main character. I am also super impressed by the elaborate fondant design. But I recognize my taste is my own. Let me know which option you choose for your celebration!
Recommended Reads:
References
VIZ. (n.d.). The official website for Naruto Shippuden. VIZ. Retrieved May 26, 2022, from https://www.viz.com/naruto