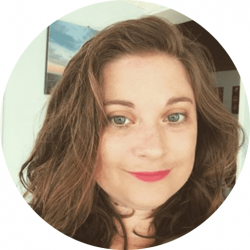 Latest posts by Samantha Bellinger
(see all)
I spent my senior year of college watching Naruto episodes with subtitles of questionable quality. (It was long before the series was dubbed in English, but the original language track made it much more enjoyable for me.) My friend had just returned from studying aboard in Japan, and he decided that the rest of us would love Naruto as much as he did.
If only there were Naruto party supplies available in the US at the time, I would have purchased everything on this list and thrown an epic Naruto-themed party.
Now that I have 15 years of event planning under my belt, I feel honored to recommend the best Naruto Party Supplies. Whether you're looking for Naruto birthday party supplies for children or planning a Naruto party for adults, I'm sure you'll find what you're looking for in this guide. Please keep reading for my favorite Naruto Party Supplies.
Bottom Line Up Front
There are now hundreds of options available for Naruto Party Supplies – everything from decor to tableware to favors. After combing the internet for the best options, I'm happy to provide you with a guide to my favorites.
Out of all of the Naruto Party Supplies in this guide, I have to say the Akatsuki cloud lights are my favorite. I highly recommend purchasing it if you are throwing a Naruto party. They are festive, on theme, and reusable. The best part is you can keep using it as decor long after the celebration is complete.
The Naruto Party Supplies Guide
I created the following Naruto Party Supplies Guide with a few criteria in mind:
All supplies were available online and available to be shipped.
My college friends would have gone crazy for these party supplies if they'd been available 15+ years ago.
Preference went to official Naruto merchandise, but I didn't rule out options by small businesses.
I hope you enjoy browsing the following options!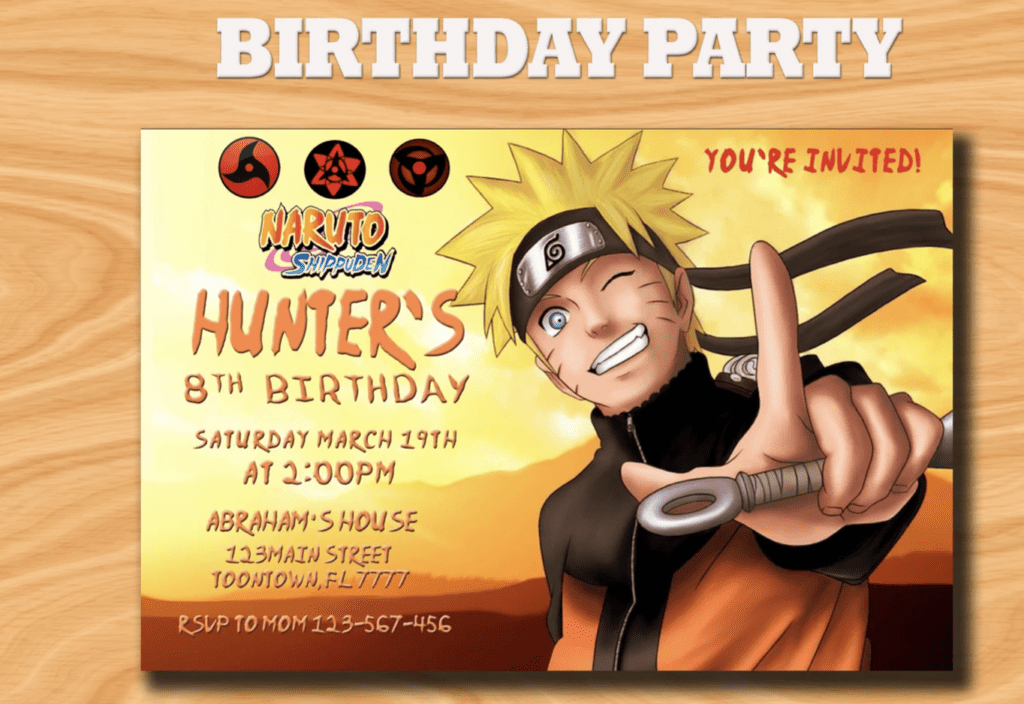 The best way to kick off buying Naruto Party Supplies is with invitations. It is the first thing you'll need when planning a Naruto party. My favorite invitation option is by FruitsByFruit on Etsy. You just have to tell the seller your event information, and they customize it for you. Plus, you get a downloadable design that you can print anywhere.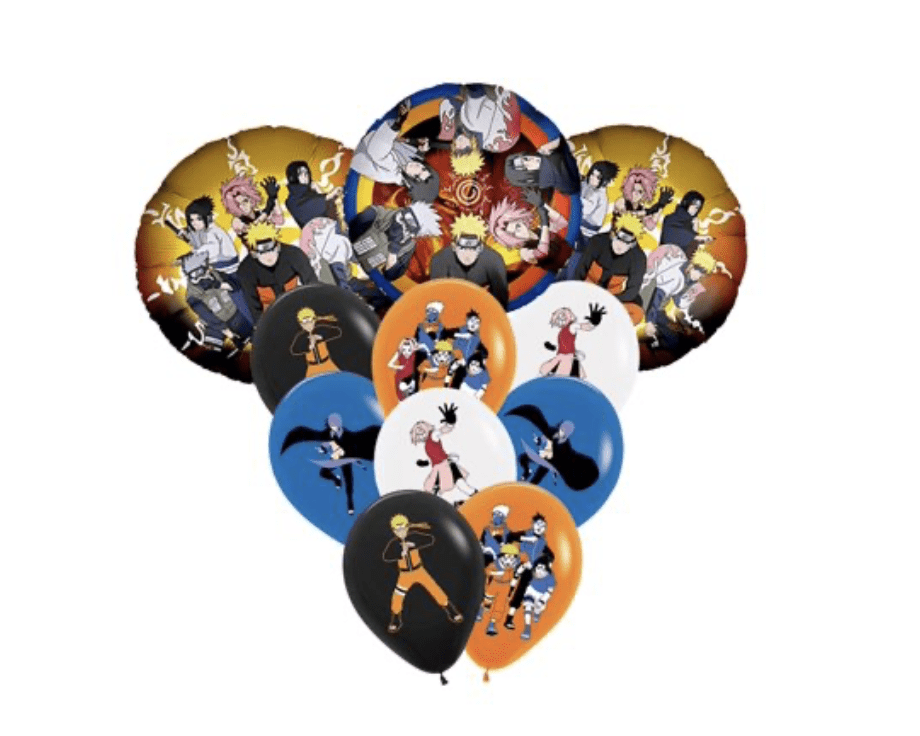 I'm a giant fan of using balloons to decorate for a party. They are a cost-effective way to make a big splash at your next event. They are a must for your next Naruto party supplies list.
 I recommend two types of balloons for a Naruto party: shaped foil balloons and printed regular balloons. The combination of balloons allows you to get more bang for your buck. I particularly like the set of balloons featured above.
The bundle from Walmart includes three foil balloons and eight printed latex balloons. Not only is this combo pack cost-effective, but it features a wide variety of characters from the show.
Table Settings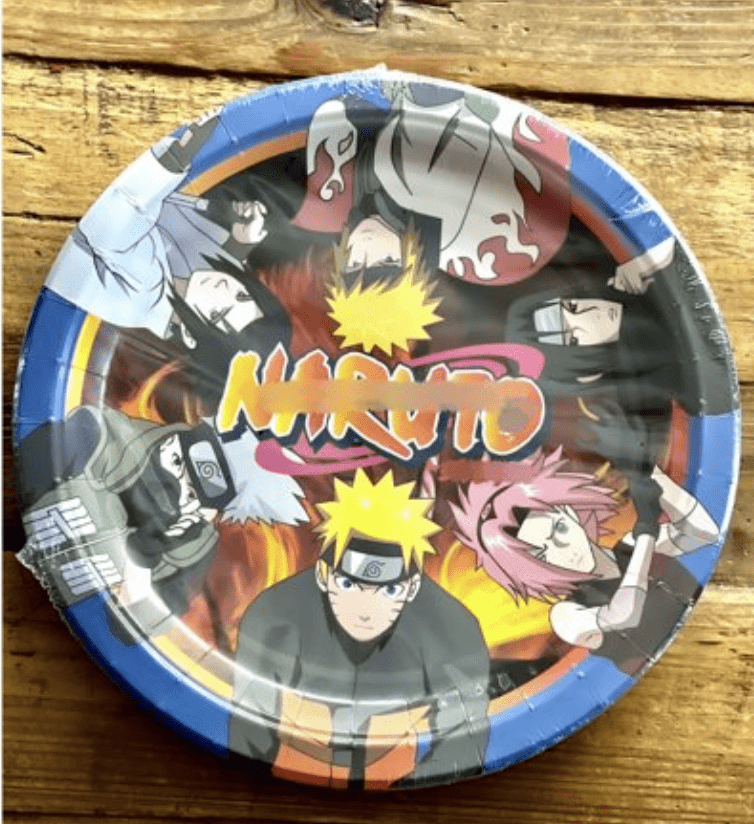 This set of eight paper plates is a fun way to add the theme into every aspect of your Naruto Party supplies. I'm a giant fan of including multiple characters from the show, and this plate won't disappoint with its multi-character design.
Cups
These paper cups feature Naruto in an action stance looking directly at the person holding the cup. So many character party cups have a posed group shot and rarely give an action-packed feel. This version breaks the mold and is much more eye-catching than the other options. I recommend this cup if you are looking for something less ordinary to take your Naruto party supply game to the next level.
See also: How to Find the Best Cake Ideas
I recommend these particular napkins because it is the only party supply I came across that actually features Kurama, the nine-tailed beast that lives inside Naruto. I also love that the characters are in an adorable baby-like animation style. It offers a different look than most of the supplies out there, and I'm always looking for the Naruto party supplies that stand out.
This Akatsuki cloud tablecloth is perfect for a Naruto party. I recommend this one because it is fabric, unlike most party tablecloths. That means it can be washed and reused long after the party; what a fun way to be eco-friendly!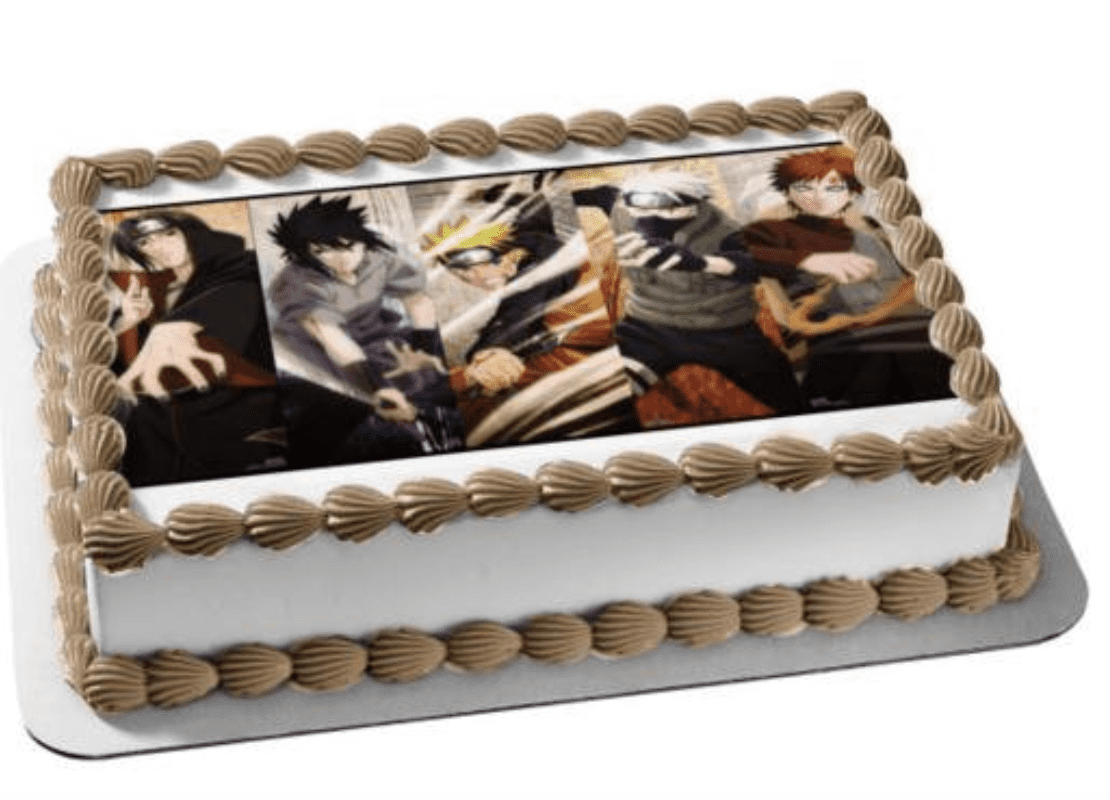 Surprisingly, it isn't easy to find local bakeries or grocery stores that routinely create Naruto-themed cakes (at least it is hard to find near me). If that is also the case for you, I found the perfect solution!
You can add this edible cake topper to any sheet cake, and it is conveniently available at Walmart. All you have to do is determine the size topper you need, order it, and then place the edible icing artwork onto the fresh icing of the cake. It makes for an official Naruto cake without the hassle of trying to find someone who will create an elaborate-themed cake for you.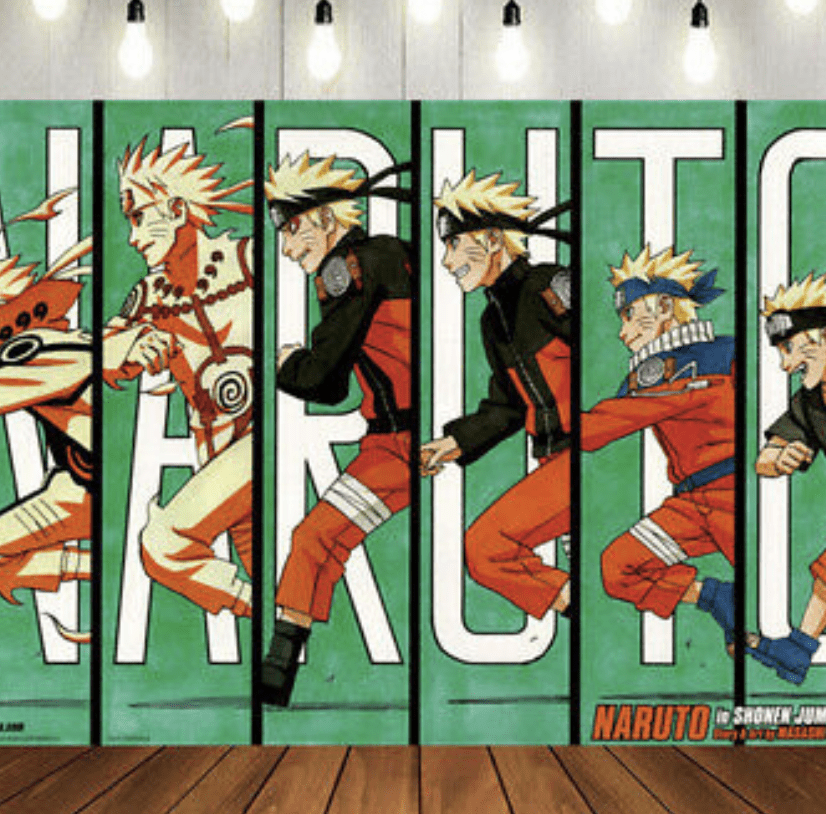 One party feature I highly encourage is a full-sized wall banner. It makes a great backdrop, either behind your cake table or as a photo backdrop. It sets the scene and communicates the party theme with little fuss on your end. This particular backdrop is one of my favorites.
I recommend this one because it has the evolution of the Naruto character throughout the series. So often, Naruto party supplies just focus on young Naruto from the first few seasons; I love that this banner takes a different approach. Plus, it is easy to use. You can attach it with tape, and it is okay for both indoors and out. It also takes up a 5ft by 3ft space, making decorating even easier!
See also: 27 Coolest Winnie the Pooh Cake Ideas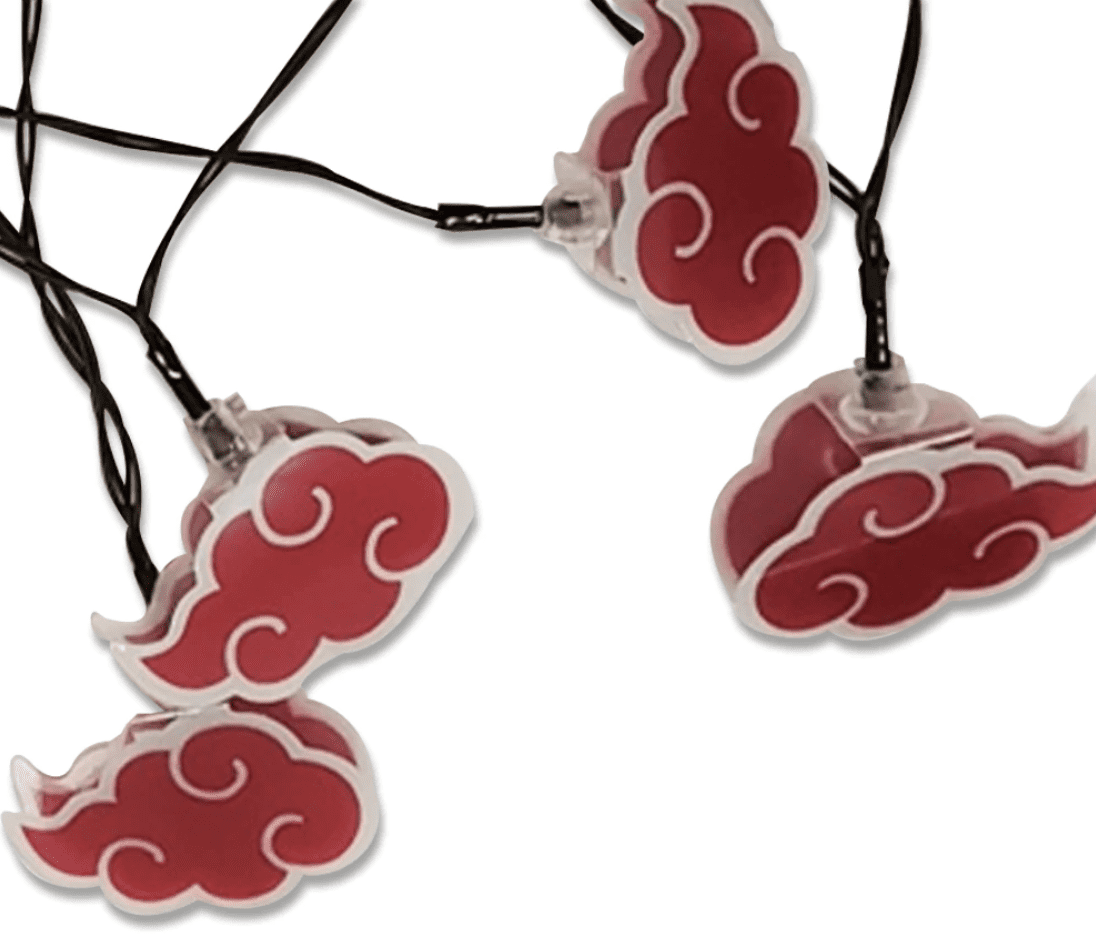 I love these lights! Nothing screams "I'm a Naruto fan" more than this string of Akatsuki clouds. A single strand would be perfect for above the food or gift tables. But why stop at just one? These lights would be perfect for an outdoor party at night. Talk about lighting up the night and setting the tone for your celebration!
Not only do they perfectly complement your Naruto party theme, but they can be used anywhere and for any reason. They could be saved after the party and used to decorate for the holidays or even your kid's room. These battery-powered lights are precisely the type of thing my college friends would have decorated their dorm room with if they were available in the US back then.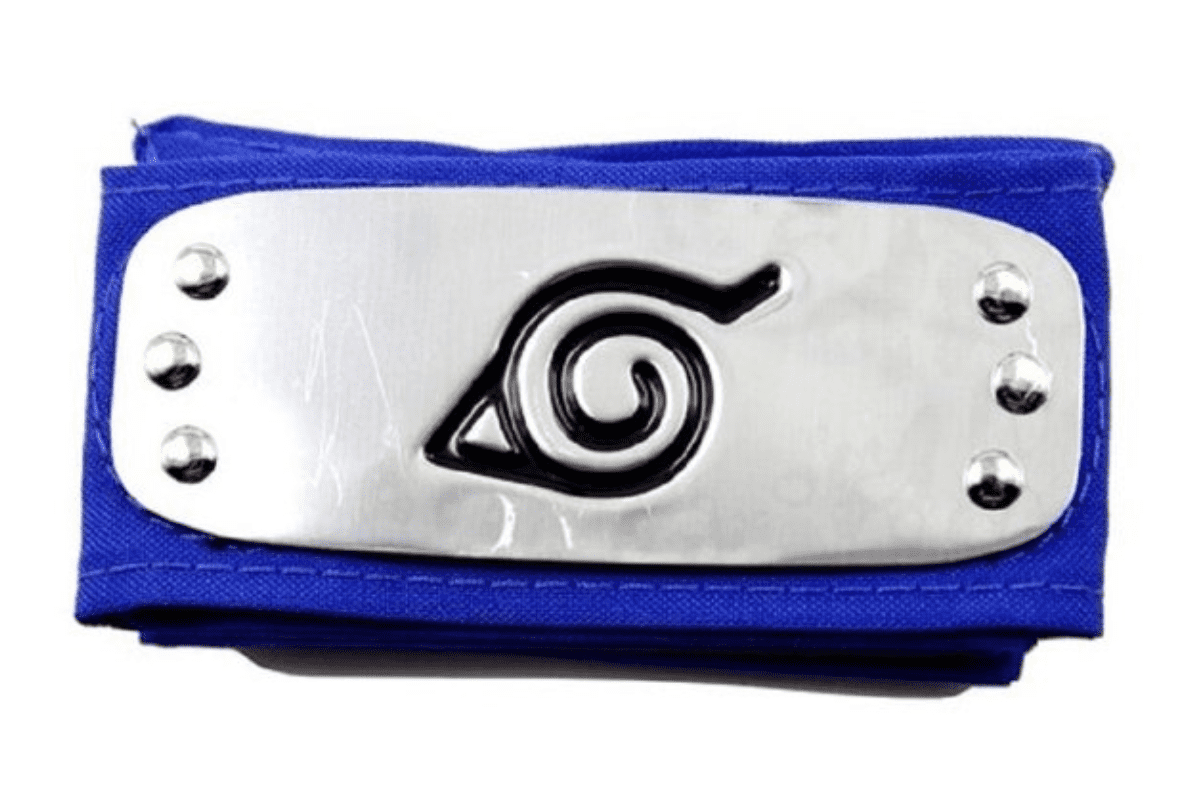 One thing I love working in events is a wearable prop, party hat, or something similar. It creates a cohesive feel to the party when all the guests don a matching hat or costume piece.
I had to include this Shinobi headband for this Naruto Party Supply Guide. It recalls the one that Naruto wears. The design on the front is the Konohagakure symbol, which represents Naruto's hometown, the Leaf Village. I love this version from Walmart because it is affordable and easily assessable. Plus, it'd make a great party favor for your guests.
Favor boxes
Favor bags and/or boxes are a must when considering party supplies. The size of the favor container will depend on the treats you are providing. With this in mind, I wanted to provide two options to accommodate all favor ideas: a small bag and a larger box.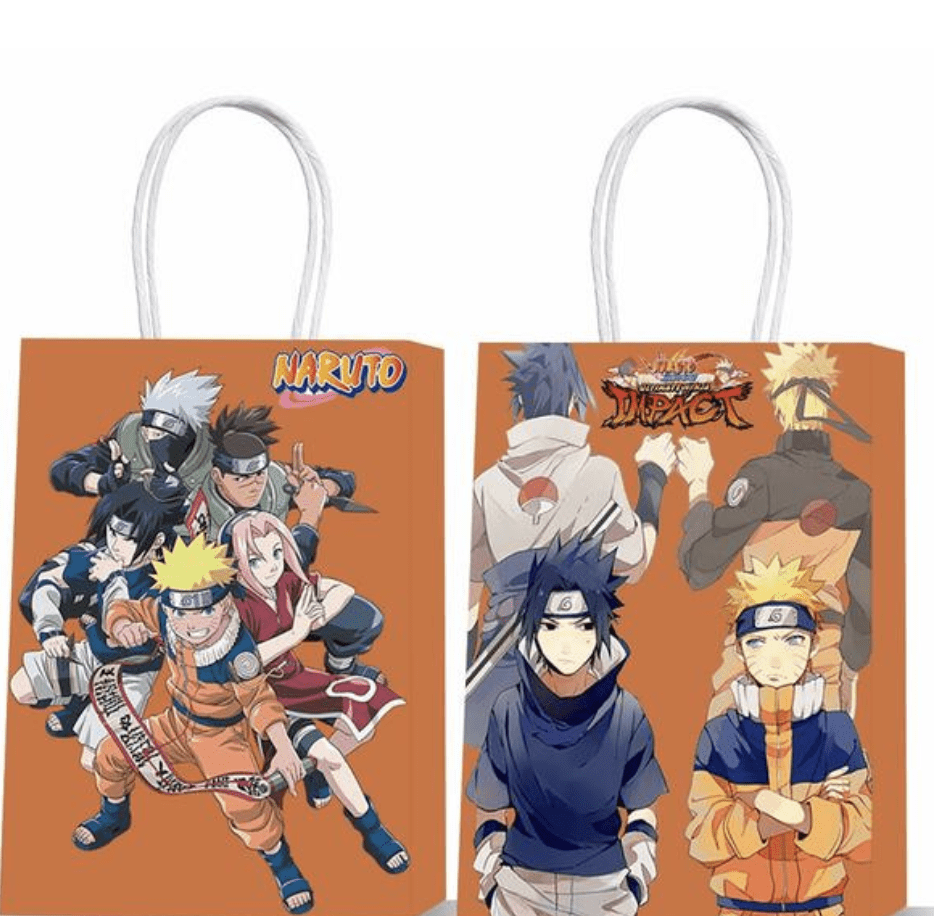 These paper bags would make a great addition to your Naruto party supplies. They make the perfect favor bags for anyone with a few lightweight gifts for their guests. A bonus: they are double-sided!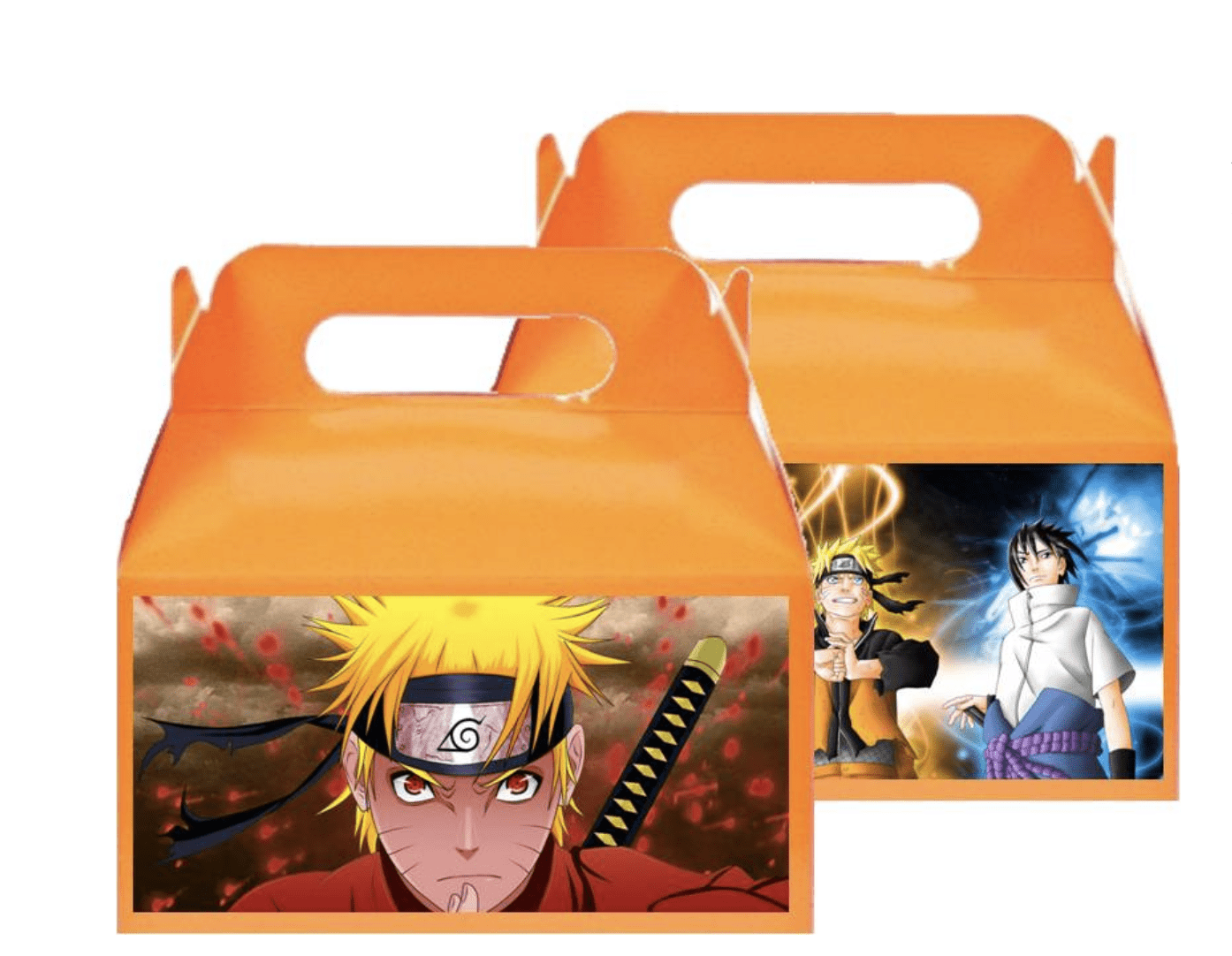 If you want something a little more heavy-duty, consider this favor box. Like the bags discussed above, these boxes are double-sided. They are also large enough to hold the Shinobi headbands I mentioned earlier. I highly recommend these if you plan to include heavier favors.
Naruto-themed Favors
You can't have favor bags or boxes without something to fill them. I wanted to add a few favor options to complete your Naruto party supply list.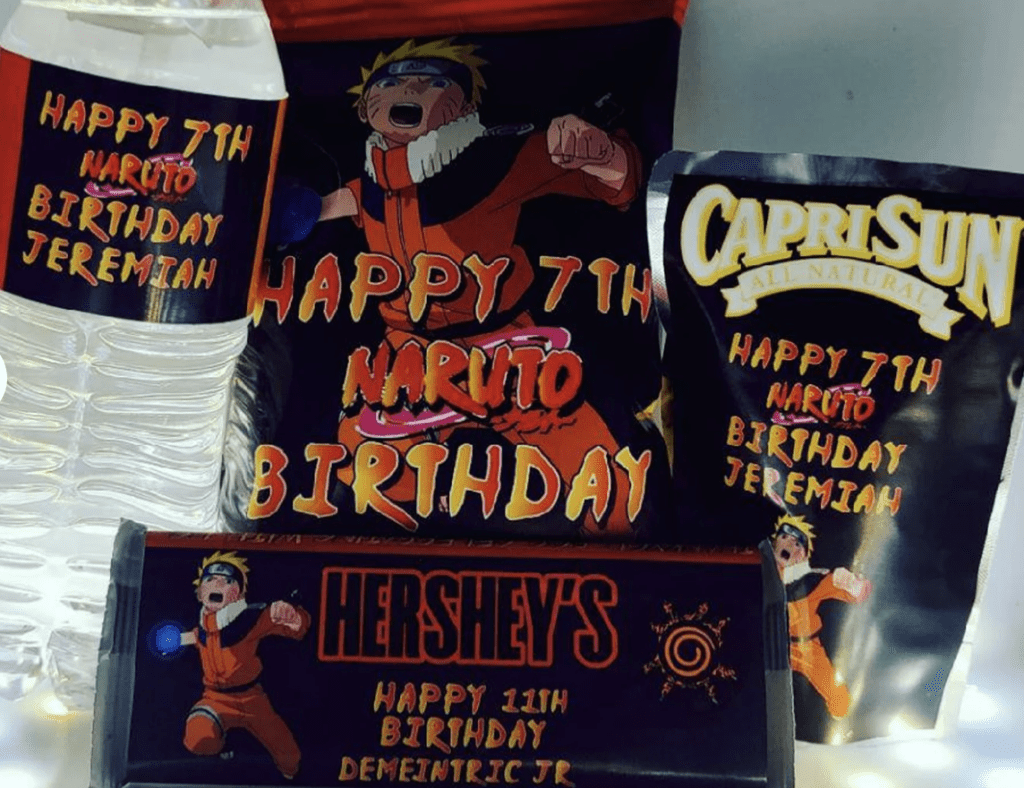 These printable snack wrappers are a great way to add the Naruto theme to your favorite snacks. This particular set has customizable wrappers for water bottles, chocolate bars, chips, and a Capri Sun pouch. I highly encourage this as a favor option for your next Naruto party.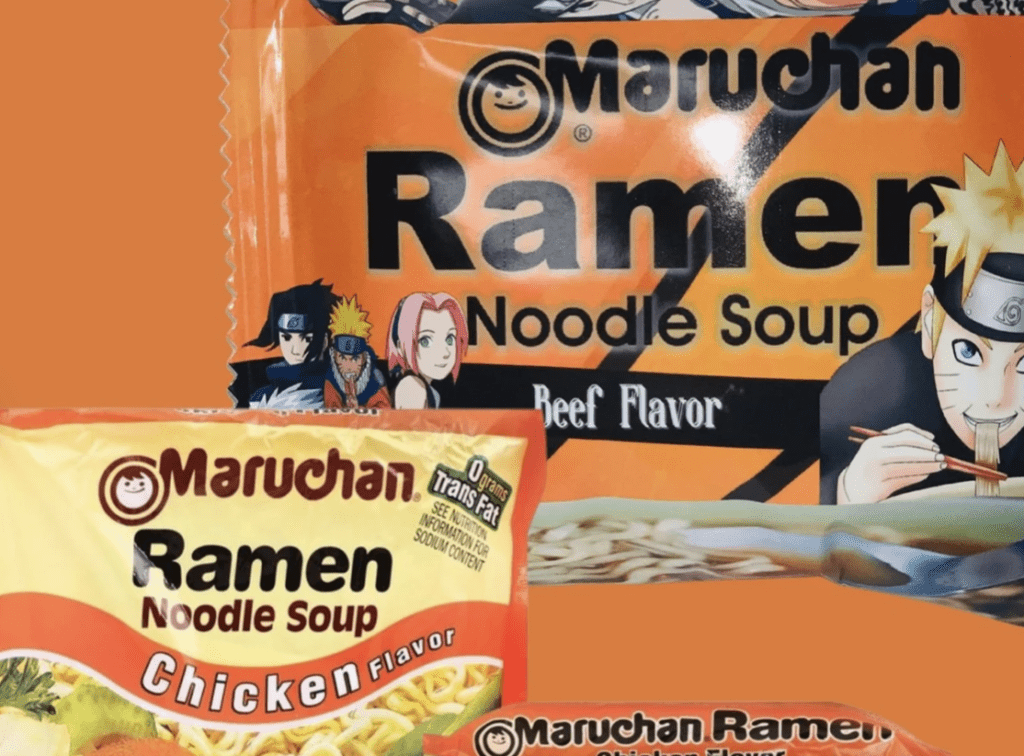 This option made me laugh. If you've seen the series, you know that ramen is frequently featured. This sticker allows you to turn any packet of instant ramen into a Naruto-themed pack. It'd be a quirky, unexpected inclusion in your favor bags.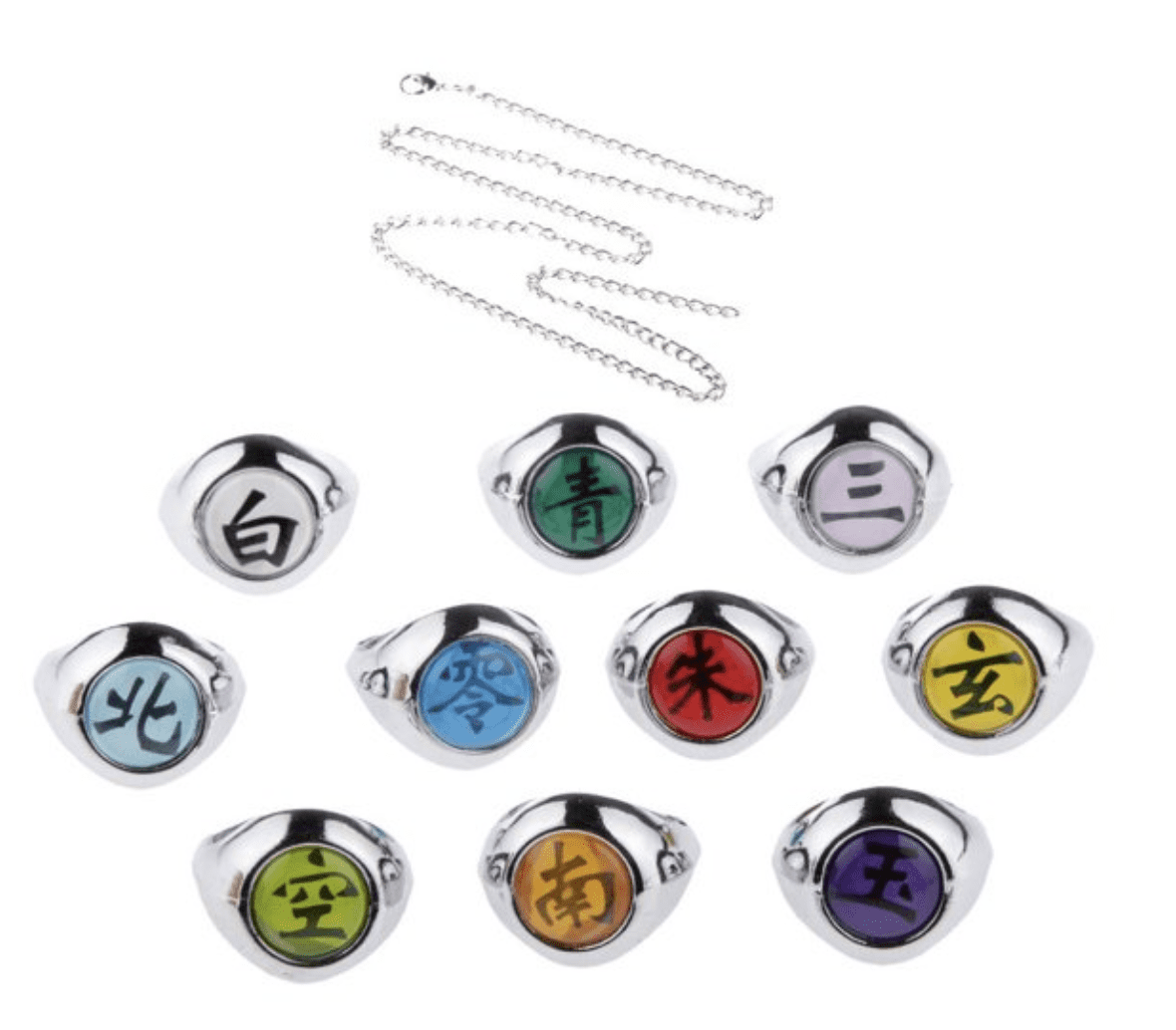 A fun addition to your favor bags would be one of these resizable rings. They come in a set of 10, but I'd recommend distributing one per guest. I love that they are resizable, so there is a better chance they'll fit.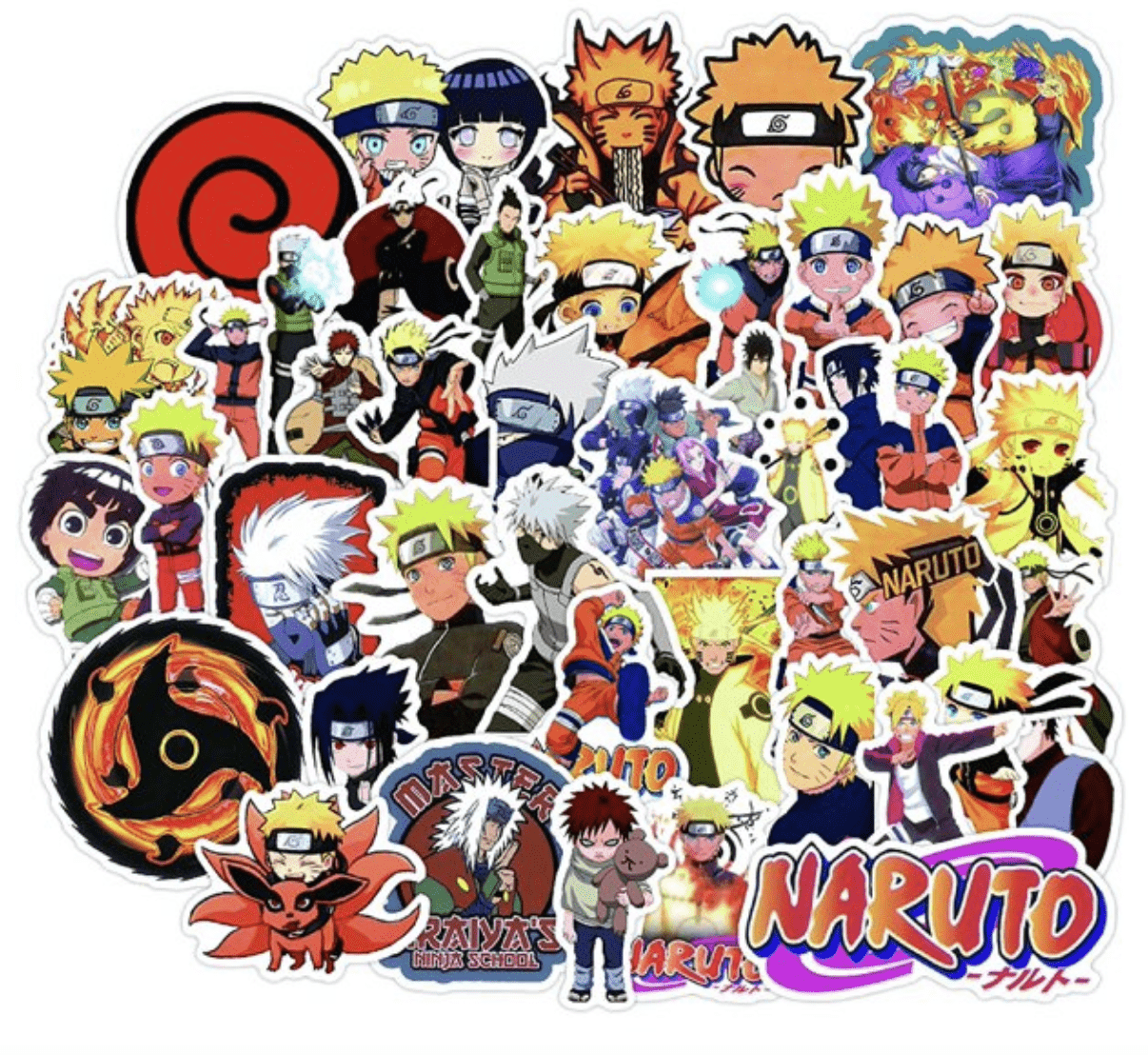 Stickers are a staple of favor bags. This 50-pack of Naruto stickers is a great option. Unlike typical stickers, these are waterproof vinyl stickers. They can be attached to almost anything – water bottles, bikes, electronics, notebooks, etc. I highly recommend considering adding these to your Naruto-themed favor bags.
This set of small buttons is officially licensed and sold online at Walmart. Naruto is still the main character in this set, but it comes with 15 different buttons (so you get a variety of characters and symbols). I recommend buying the set and then distributing individual buttons amongst your party favor bags or boxes.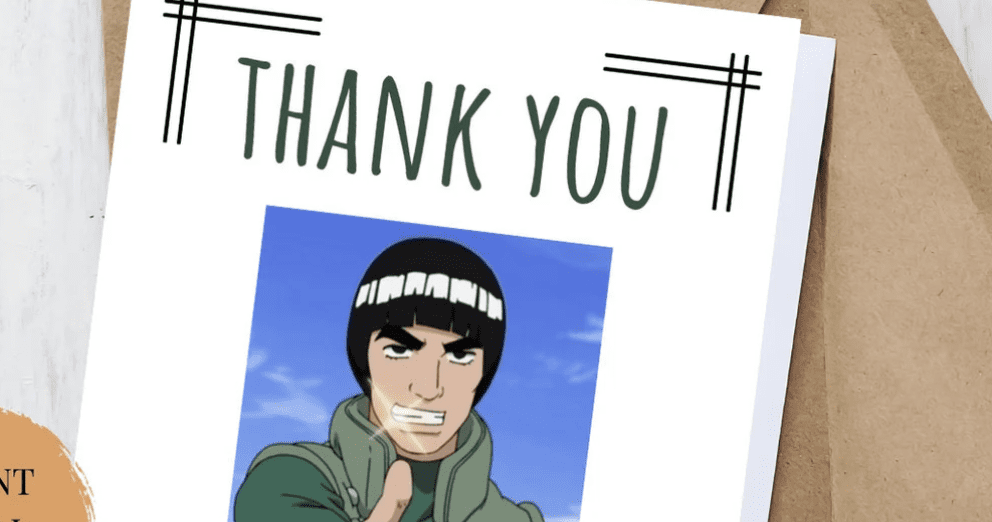 One thing I try to encourage after events are thank you notes. It is a dying art but always appreciated by the recipient. Consider sending these thank you notes to your guests. This is a downloadable template, so you can print as many as you need. Plus, you can customize your interior message thanking guests for coming and/or their gifts.
FAQs
Question: What is Naruto?
Answer: Naruto is a printed Japanese manga series that was adapted into an anime tv series. It originally aired between 2002-2007 but has gained popularity in the US more recently thanks to a dubbed version of the show. Both the manga and the tv series feature the main character named Naruto. He and the other characters in the series are ninjas. You can learn all about it here: https://www.viz.com/naruto
Question: How do I know if it is official Naruto Merchandise?
Answer: It can be hard to tell what is official Naruto merchandise and what isn't. I've found that the larger chain retailers tend to carry party supplies that are officially licensed. That said, I thought they were limited in style. With the popularity of Naruto, I honestly thought there would be more variation in the official Naruto party supplies. ETSY is an excellent option if you are okay with purchasing from small businesses that might not have official merchandise. You can usually find much more variety for Naruto Party Supplies.
Question: Should I focus only on the title character (Naruto) for my party, or should I include supplies with other characters?
Answer: My personal favorite is to include supplies with multiple characters from the show. I actively encourage it. Naruto is on everything in this Naruto Party Supply Guide, but he isn't the only character making an appearance on the supplies. Many of the other main characters show up periodically. I love that it provides variety to the party.
Conclusion
If it wasn't clear before, let me reiterate that I consider the Akatsuki cloud lights the best option in the selection above. If you have to buy only one thing, buy the string of lights. You won't be disappointed. Not only are they adorable, cost-effective, and battery-powered, but you can use them long after the event is over. You can decorate your child's room or save them for a cute addition to the holiday decorations.
Regardless, you can't go wrong with anything on this Naruto Party Supplies Guide. All would be excellent additions to your party.
Let me know if you plan your own Naruto party and what you are celebrating! I'd love to hear your supply ideas too.
Other Reads:
References:
VIZ. (n.d.). The official website for Naruto Shippuden. VIZ. Retrieved May 26, 2022, from https://www.viz.com/naruto