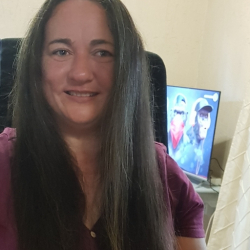 Latest posts by Caroline Lambert
(see all)
The right anime cake ideas will blow your guests away. From planning the best anime party to selecting the top party supplies, I've loved coming up with the most eccentric party ideas, and my cake ideas often follow suit. My guests likely loved my parties for my unusual hand-crafted and sculpted artisan cake designs.
Sure, they loved the vibes in my themed parties. Still, I also received compliments for my decorative efforts and unique sponge flavors. My experience with cakes, parties, and sculpting is why I'll show you the best anime cake ideas with intricate details. And don't worry, I'll share tutorials on creating the sculptures.
Bottom Line Up Front
The most memorable day I hosted was six years back. I had to host a party for four birthday children between three and eight, and I had three adults to celebrate. I baked for days, sculpting figures and decorations until my fingers went numb. However, it was one of my most incredible days, and I felt proud of my creations.
Anyway, I'm here to share top tips for sculpting intricate details so that you can present the most beautiful anime cakes. My anime cake ideas will inspire you to customize the designs, put crazy fillings into the cakes, and wow your guests. So, how will I select the top ideas from so many anime choices?
It's simple; I'll share three fabulous ideas for the top anime shows in 2022. But first, let's see which anime cake idea spins my creative baking juices into overdrive.
My Top Anime Cake Idea: Pokémon
I love various anime shows, and it's a split down the middle between Naruto and Pokémon for me. Pokémon cakes win narrowly because of the vast ocean of ideas available. There are hundreds of characters, Pokémon, and designs. Additionally, Pokémon cake ideas appeal to the largest audience of anime lovers.
I watched every episode of Ash Ketchum and Pikachu in the 1990s. Today, my children still follow every episode and play every game. It's an anime series as classic as they come. Sure, Dragon Ball Z and Naruto are the same types of classics, but Pokémon's available variety is unmatched.
It was challenging to choose only one idea I would recommend above them all. However, after countless hours of deliberation, the classic Pokéball cake idea stands out. Firstly, styling a ball is already challenging. Secondly, it includes various classic characters and Pokémon, including Pikachu, Charmander, and Ash.
You can also change the ball's color and switch Pokémon to your favorites. It's a party-planning delight.
Sculpting Tips for Anime Cakes
Anime cakes have more potential than most, but creating detail and depth is challenging if you're not used to carving edible characters. I've made so many edible figures that I feel confident with most of my ideas. However, this tutorial will give you an essential foundation for sculpted figures using modeling chocolate.
Don't be hard on yourself, either. Sculpting requires patience and trial. Your anime cake figures might not look like showstoppers at first, but practice will improve each one. Ralph shares more tutorials on sculpting human-like figures with modeling chocolate. I never went to culinary school. Instead, I learned through Ralph's videos.
Use this tutorial from Charm City Cakes if you prefer sculpting gum paste figures for anime cakes. It's similar to fondant, but they're not the same thing. Gum paste maintains its structure better than fondant when you're sculpting figures. So, sculpt figures with fondant as a last resort, as long as the day won't be too hot.
See also: 10th Birthday Party Ideas That Your Little One Will Never Forget
Here's a quick secret. If you can't sculpt the anime figures yourself, ask your local artisan bakery to provide the figures while you decorate the cake. Your kids will never know.
How to Select the Best Anime Cake Ideas
I want cakes with detail, hand-crafted edibles, and fabulous colors. Additionally, I'll share three ideas for anime cakes from the top series kids (and older fans) enjoy. The cakes should have one or more main characters (animal or human) from the show. The series I cover include:
Attack on Titan Cake Ideas
Attack on Titan follows a young man determined to protect his people after giant Titans surround the cities. It's a typical Japanese storyline with excellent imaginative styles, and it makes incredible cake ideas.
Any fan of the show will want a cake showcasing the defeat of a Titan. Eren stands proud on top of the defeated monster. The cake itself is a simple design, but the Titan's head with Eren's figure requires carving, which turns the cake into a masterpiece. You can change the cake's fondant wrap to look like the city walls.
You can add any Attack on Titan edible figure to the top of a simple caked wrapped in concrete-styled or plain fondant. The Wings of Freedom Emblem is one cake accessory that makes every Attack on Titan idea stand out. You also won't spend hours creating the emblem, and it looks beautifully edible.
How bold are you with your party planning? This Attack on Titan cake idea is for advanced-level bakers and artisans. However, it would be an excellent choice if you're hiring someone to create this highly-detailed cake for your children's party. The video is a tutorial, but don't be fooled by the needed level of expertise.
Avatar: The Last Airbender Cake Ideas
Avatar: The Last Airbender is another classic anime series running for years now. Many children would love to see Aang, Katara, Sokka, and Appa, the flying bison. They make for exciting cake ideas.
I've watched my son pretend to bend the air like Aang when he thinks no one's watching. Aang and his friends are famous with children, and their cake ideas are smashing hits. This cake idea looks brilliant with Aang standing at the top, bending the air with modeling chocolate effects. I also love the colorful sponge inside.
Appa is the most-loved creature from The Last Airbender anime series. The flying bison is adorable and makes a fantastic sculpted cake. This cake will require dedicated work and a few hours of fondant sculpting, but it will be the showstopper at any child's party. You can include the Aang edible figure or not.
If carving Appa sounds too daunting, there's another option that pleases Airbender fans. The entire cake will also look like an Appa figure. This anime cake idea merely requires piping skills more than modeling and carving. Appa even gets Aang's arrow. I'd fill this cake with something magical like sprinkles in the middle.
Demon Slayer Cake Ideas
Demon Slayer is one of the darkest anime series children watch. However, it has a gripping storyline with Tanjiro losing his entire family to demons, even his sister, who becomes one. I'd recommend this anime theme for older kids or adult fans.
I'm highly impressed with the Tanjiro Demon Slayer cake idea because it has details I'd battle to replicate, and I've designed some insane cakes before. The Tanjiro edible figure is a challenge, but the water effects coming around the cake and toward the dragon's head are next-level difficult. You'll need support for it.
Undoubtedly, this Demon Slayer cake idea is for older and adult anime fans. Nezuko is a significant part of the story, and some fans will love this wicked cake idea at their parties. The tutorial even shows a beginner how to carve the Nezuko figure. You can also make the cake round with a wooden effect on the top.
Demon Slayer cake ideas are the most challenging and detailed I've encountered. That comes from me, who was once an artisan baker. Sometimes, the best idea comes from simple inspiration. I can do so much with this Demon Slayer cake idea, and it won't take me three days to carve each character and accessory.
Digimon Cake Ideas
I always thought Digimon was a sideshow to Pokémon, but some fans prefer the Digimon franchise, including the anime series. The storyline is similar to Pokémon, except that the creatures are digital. They make for excellent cake ideas anyway.
Yes, I just married Tai and Agumon into a ship name. The two main characters from the Digimon series would please any child who loves the digital monsters. It's a simple anime cake idea with bright colors, and you can use a few printed edible papers around the tiers. Then, top the cake with the Taigumon duo for welcome smiles.
Digimon also has too many creatures to add to every cake. I'm sharing this Digimon cake idea to inspire you if your kids love the monsters. Ask them which monsters appeal the most to them. Bake and wrap a simple two-tier cake, and add a few leaves to give it a jungle vibe. Then, pop a few edible sculpted Digimon around it.
Baking and carving an edible arena for the Digimon monsters would also be a simple task for at-home moms. You'll add your child's favorite Digimon monsters, which I'd place facing each other instead. Forget about the Chinese print. Instead, use the inner ring to write a birthday message or the Digimon monster names.
Dragon Ball Z Cake Ideas
Dragon Ball Z is another classic anime series I watched, and my kids still watch it. Goku is a master of the fighting arts, and he's determined to protect the earth from external forces. Again, the cake ideas are insane eye candy.
Dragon Ball Z also has boundless potential for cakes, cupcakes, and cake pops. Designing a simple double-tier cake wrapped in the famous orange color fondant with a few cupcakes and cake pops around it will pop your mind. I'd replace the paper figures with sculpted ones and extend the cake pops from the cupcakes.
I prefer detailed cakes with edible sculpted figures. However, I never said the sculpture had to be the main character alone. I accept the printed edible for Goku on this cake. Instead, it comes with a gorgeous sculpted Shenron dragon that wraps itself around the cake and rests its head on the top tier. Wow, that is all I can say.
I promised to share some detailed anime cake ideas because printed options are boring. This Dragon Ball Z cake idea is next-level impressive. You'll need two edible character figures, support structures, and patience with the cake design. However, I can imagine a peanut butter and strawberry filling for this tasty eye candy.
Haikyu!! Cake Ideas
Haikyu is another fantastic anime series that inspires children to love the sport. Hinata Shouyou is an avid volleyball player determined to succeed at his school. The cake ideas are more straightforward than you think.
https://www.youtube.com/watch?v=kwRVS1IDtQw
Hinata is the show's star, even though newer seasons bring more teammates and competition. This Hinata cake idea is ideal for children's parties with an anime/sporty theme. My son loves Haikyu!! Hinata has taught him so much about teamwork. Anyway, this cake idea comes with instructions for a quick fix for parents.
Sometimes, the simplest cake ideas topped with fabulous edible accessories make more sense than carving hundreds of figures. It also looks much better than a flat, printed cake. The Haikyu cake idea only needs two sculpted figures for each side of the net. You can use wafer sticks with beige-colored edible lace for the net.
Gum paste and fondant wrapping work wonders to create a shirt style over a regular cake. First, use a fondant stencil to create the pleated design on the shirt's collar. Then, top the cake with your child's favorite edible sculpted players. Imagine a hazelnut and almond sponge with cream cheese frosting under the fondant wrap.
Hatsune Miku Cake Ideas
Hatsune Miku is another Japanese joy for children who want anime cake ideas for Eastern-themed parties. My daughter loves Hatsune Miku because she's a musical wonder with her violin. She wants to be the character.
Hatsune Miku is an inspiration for my little girl, and I'd encourage her musical passion for the futuristic sounds of Japanese pop. The cake looks fantastic, and you can change the decorations around the notes as you like. For example, you can add an edible guitar next to Hatsune or sprinkle stardust over the edible singer's head.
Hatsune is a pretty girl with big blue eyes and electric hair. She makes a fantastic cake topper in any scenario. Sitting here on the edge of the cake can make it look like it has more depth. This cake idea would likely work better for smaller anime edibles, though. Or, use this idea for the third tier on a giant Hatsune cake.
Hatsune's cuteness already makes her a chibi-style anime character. However, adding a shorter, cuter version as a cake topper works as well as the first idea. I'd add humor to this cake by carving a massive microphone to lay down at her feet. You can extend her hand to make it look like she dropped the mic.
My Hero Academia Cake Ideas
My Hero Academia is a highly inspirational anime series because it follows Izuku, a boy without powers. He's determined to become a hero to protect his world. The cake ideas pop with color and details.
Shoto Todoroki is one of my son's favorite characters from this series. He makes an incredible cake if you're willing to spend time on the details. I chose a video tutorial for this anime cake idea because it can be challenging. The result will send all My Hero Academia fans into a wild party mood.
You're likely wondering about the explosive part. This simple piped Katsuki Bakugo cake idea doesn't look explosive. My concept is wild enough to make it explosive. Spice the inside with a marble sponge cake with bright orange buttercream frosting. Use orange and yellow colorants instead of chocolate sponge.
Making a round cake that looks like the planet from My Hero Academia is challenging and highly satisfying if you pull it off. This anime cake idea suits experienced or confident bakers because round cakes are intricate. Add a few My Hero Academia edible figures around the cake, and you have a masterpiece.
Naruto Cake Ideas
Naruto is a classic anime/manga series that follows a more traditional storyline with ninjas. I follow Naruto, and the cake ideas are ideal for fans of all ages. The color schemes are often the same, but the series is well-known.
Young Naruto's dream was always to become the Hokage of his village. This three-tier cake places him on a pedestal, raising him from the bottom layers where he began the journey. I love the colors and simple fondant wrapping. However, I'd change the edible paper Naruto figures to hand-crafted figures.
Nothing looks more Japanese than this Naruto cake idea. Naruto enjoys some noodles, which aren't hard to make with this tutorial. I'd have Naruto's eyes open, but there's nothing I can fault with this anime cake idea. It looks fabulous, and it would taste even better if you use a Matcha cake recipe to make it full Japanese.
Admittedly, this cake idea is far more challenging than a three-tier version. Carving anime cake figures isn't as challenging as you'd think when you use modeling chocolate and gum paste. However, piping the details of Naruto's face can shake your hands more than usual, but every party-goer will love the effort.
One Piece Cake Ideas
One Piece is a fantastic anime series that brings Nami, Monkey D., and Vinsmoke to life. Yes, anime names can be strange, but the manga-inspired series came from Japan. Children know the characters, and they'll go wild to see them on cakes.
This anime cake idea encumbers the storyline perfectly. Monkey D. is a young man, or shall I say pirate, who ventures to find the one treasure that will make him the best pirate ever. I see this as a modern Japanese twist on traditional pirate-themed cakes for my kids. The video also shares easy instructions for the cake.
Simple remains a compelling choice for anime cake ideas. One Piece is all about pirates, so why don't you bake a yummy Reese's peanut butter cake and add a few beach and pirate-style decorations. Edible sand is one of the easiest things to make. You'll need to crush Graham crackers or ginger biscuits until they look like sand.
Monkey D. undoubtedly wins the round with this anime cake idea. It has a few sculpted pieces, so you'll need the patience to create this simple but beautiful One Piece cake. The wooden panel effect wrapped around the single-tier cake gives it extra depth, and the pirate's ship behind Monkey D. is the ultimate push for intricacy.
Pokémon Cake Ideas
Pokémon remains my favorite anime series of all time. I wish I had the time to show you about 100 ideas, but I'll stick to three more, not including the one I already shared. It's tough to narrow them down, but let's do it.
Pokémon are the most adorable creatures you'll find in anime shows. The first Pokémon cake idea is simpler than you think, and you can customize it to any of the animals your children love. You won't sculpt Pokémon cake toppers. Instead, you'll have fun shaping regular cakes like Pokémon and wrapping them in fondant.
I adore this anime cake idea, but I'd change a few things. Firstly, I'd put my favorite Pokémon on top. Then, I'd use sculpted edible Pokémon figures around the cake to represent every evolution of my cake topper. Finally, I'd add a bunch of cupcakes with piped Pokémon around the cake. I'd keep the molten effect, though.
Pikachu is my number one, and I'm sure most kids love the electric-type Pokémon. I love this cake idea because it showcases Pikachu's innate powers, while the cake topper is an impressive sculpture. I'd move the Pokémon logo to Pikachu's feet and use the cake's wrap for additional decorations, including vibrant prints of Pikachu.
Sonic X Cake Ideas
Sonic, the Hedgehog, has also come a long way, and now there's a fantastic anime series for the speedy blue animal. The bright colors from the show make excellent cake ideas, and most children know the characters.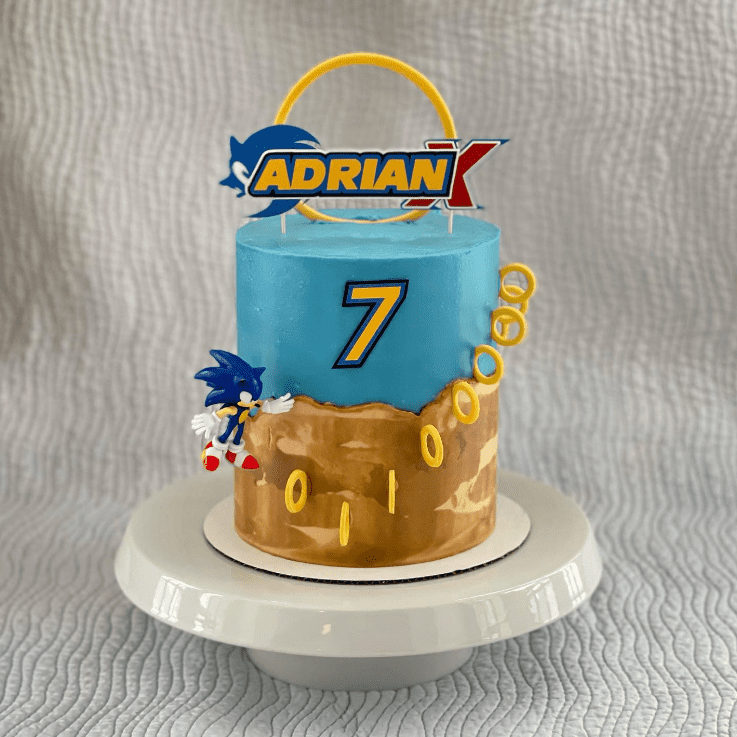 The most brilliant Sonic X cake idea I found was where he chases the rings up the cake's wrap. Of course, I'd use sculpted figures and edible rings instead of the plastic toys added to this cake. I'd also finish the cake with a Sonic X logo as a topper. However, the simplicity of the cake itself is fantastic for birthday parties.
Sonic has a look that lacks fear on his face, and this anime cake idea fits him perfectly. It's also not the most complicated cake. I'll enjoy wrapping it with fondant before using gum paste to create the standing edges. It would last longer with gum paste. I'm thinking of a cookies & cream sponge with an Oreo-filled frosting inside.
Who is Sonic's trusted friend? I'm sure your kids will yell the answer if you don't know. Tails is like Sonic's shadow. This Sonic cake idea is incredible because it's a double-sided cake that shows the two unbeatable friends from the show. It will be tough to make and master, but the tutorial will help you finish a masterpiece.
FAQs
Question: Which Anime Cake Ideas Are the Most Popular?
Answer: Instagram shows which anime cake ideas win. The undefeated winner is Pokémon cake ideas because you'll find more than 100,000. Naruto has over 30,000 ideas, and you'll find well over 10,000 Dragon Ball Z cake ideas. Of course, other anime cake ideas are popular, but these top three picks are all over cake-loving pages.
Question: Which Types of Anime Cakes Rock?
Answer: Honestly, the anime cake idea types you commonly find on Instagram and YouTube are dull. Anyone can print edible wafer paper and stick it on a cake. I'm already yawning at the idea because I'm an avid baker and designer. Instead, I highly recommend sculpted cakes, which aren't too difficult with some tutorials.
Anime Cake Ideas: Conclusion
Ramping up a birthday party with an anime cake idea is too easy when you print the characters on the cake's top. Designing an anime cake with sculpted and detailed ideas will wow any guests and turn your children into highly satisfied birthday champs. It's not beyond your experience if you have the patience to follow tutorials.
However, I'm not saying you should make it yourself, either. There's nothing wrong with taking some of my ideas for your child's favorite anime series to a professional designer. My ultimate favorite anime cake idea remains the Classic Pokéball. Your next birthday cake idea will come from your child's favorite anime.
https://www.instagram.com/p/Cdq_QD0L1zG/embed
The "Shirts Down" Haikyu!! Cake Idea is ideal for Haikyu fans. However, the "Two-Tone Shoto" My Hero Academia Cake Idea appeals to kids who love the superpowered anime series. The "Noodles" Naruto Cake Idea is simple yet effectively detailed for Naruto fans. The "Battlefield Goku" Dragon Ball Z Cake Idea is fabulous.
I've shown you 37 fantastic anime cake ideas. Now, it's time to put your creative baker mind to the task. Lastly, have fun if you're making the cake yourself. Baking and sculpting are two of my top hobbies, and I love seeing children engulf the art inside the cake with or without surprises.
For more party inspiration: