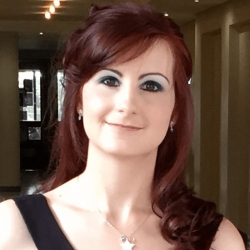 Latest posts by Denine Walters
(see all)
I wish I had a guide to the best mermaid cake ideas when planning my cousin's mermaid birthday party. I fell down a rabbit hole looking at all the wonderful mermaid birthday party supplies, but looking at the mermaid cake ones was worse. Like a black hole or something. 
I want you to avoid the same fate so you can easily decide what mermaid-themed cake is best for you. So check out this comprehensive guide with easy-to-make cake ideas, elaborate cake decorating ideas (if that's your thing), and a few unique ones I found. 
My Bottom Line Up Front
Here's a mermaid cake I'm absolutely obsessed with if you're in a hurry. Actually, it's a tie.
I love the pretty-as-a-dream mermaid tail cake with the fragile gelatin bubbles. Still, I'm also crazy about the shiny turquoise and gold mermaid cake because it's so simple. 
Your Mermaid Cake Checklist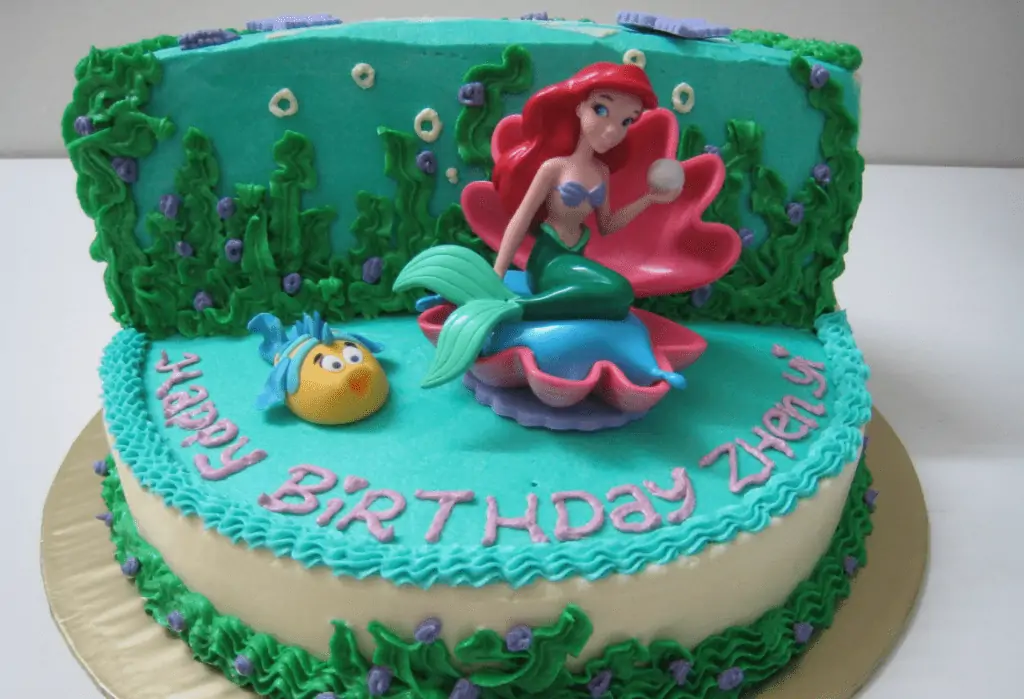 Keep these considerations in mind when you are looking at mermaid cake ideas and even when you are ready to make the cake for your celebration:  
The Guest of Honor 
Many people think that a mermaid cake is for kids. I don't blame them. The young ones are pretty obsessed with watching Ariel's adventures in The Little Mermaid. But if you are a teenager or adult in love with mermaids, you don't have to keep this a secret. 
Anyone can love mermaids, and I guess most of us are intrigued by mermaid stories and whether they are real (or were once). A mermaid symbolizes renewal, life, and growth. Suppose you believe you have a mermaid personality. In that case, you crave freedom, and you are the perfect mix of fierceness, independence, strength, love, and beauty. 
So when choosing a mermaid cake, which can work for a birthday celebration, baby shower, bridal shower, or a housewarming party, consider who the cake is for. The guest of honor's preferences should trump those of the guests. Go more cutesy with the mermaid theme with brighter colors for kids and opt for more subtle colors with gold or silver for an adult.     
Mermaid Cake Colors  
A cake with mermaid decorations should represent the ocean and the colors you think of when you think of the sea and anything "under the sea." When I think of a mermaid cake, I see blues, greens, turquoises, pinks, purples, whites, and pearly elements. But you aren't compelled to stick to these colors only. 
There are stunning mermaid cakes in shades of turquoise or coral, making the cake more monochromatic than colorful. 
The other consideration for a mermaid cake isn't just the outside. I believe the inside of the mermaid cake should "match" the exterior – it should also be mermaid colored. 
This mermaid-like cake is three-layered in light blue, lavender, and bubblegum pink. In contrast, this watercolor layered cake has the same layers, except that the pink layer is white. This cake is funkier with a bright purple bottom layer, pink-coral middle layer, and orange top layer. Want a mermaid cake inside that reminds you more of the ocean? Then look at this cake's interior mix of ocean turquoise and green.     
Flavor of the Cake 
The flavor of your mermaid cake can be whatever you like. You can go classy with a vanilla cake or a chocolate cake, or you can go a bit more exotic and opt for a raspberry vanilla cake.  
Size of the Cake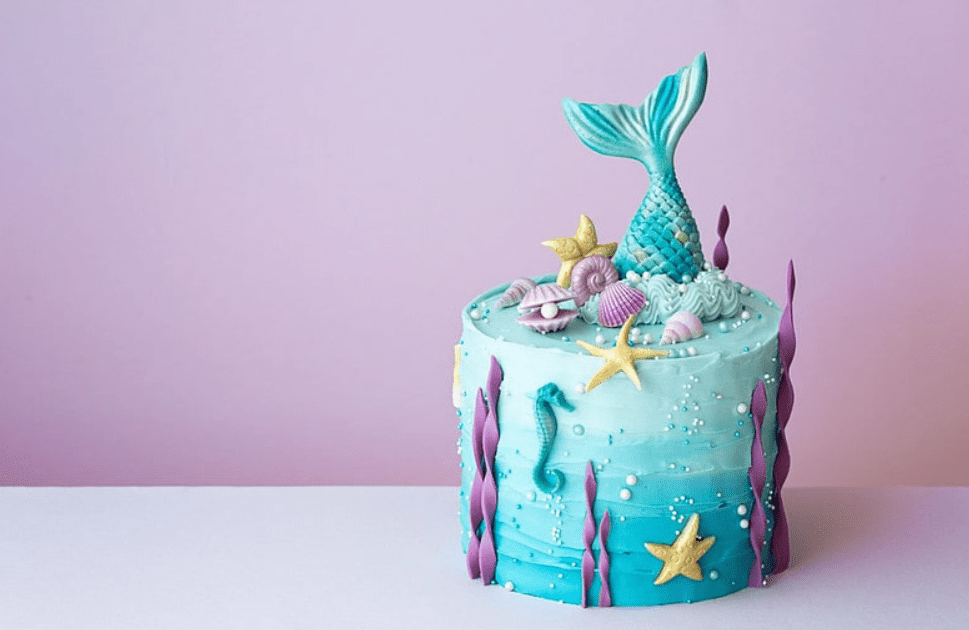 Your budget and the number of guests will influence how small or big the mermaid cake is. Remember that you can serve 12 guests from a standard-sized cake, and the more layers you add, the more people you can serve. Plus, everyone can get a bite of the yummy-looking decorations too!
Budget for the Cake
You can see the most beautiful mermaid cake, but it'll stay a dream if you don't have the budget for it. So before you even look at ideas for a mermaid cake for your party, see what you can afford. 
You don't need a fancy cake to impress; there are stunning "simple" ideas too that will not break the bank while being a worthy focal point at the festivities.  
See also: The Best 3rd Birthday Party Ideas (With 5 Theme Ideas)
Who Makes the Cake
Choose a mermaid cake you can make … or that your baker can. 
Luckily, if you are making the mermaid cake, there are amazing molds and cake toppers you can buy to help you decorate the cake. 
Some mermaid-themed cake decorations you can consider are: 
Mermaid Cake Ideas: What Are My Criteria? 
How did I choose the best mermaid cake ideas? Well, it wasn't easy, but I decided to be practical. 
All the mermaid-theme cakes I chose are pretty, and I mean PRETTY! But to make things easy for you, I divided the cake ideas into various categories: 
Easy-to-make mermaid cake ideas –

budget-friendly and ideal if you don't have "a degree" in cake decorating 

Ruffle mermaid cake ideas –

can be budget-friendly but a bit more involved in terms of creating the ruffles. If you want to learn a new skill, check out this

easy video tutorial on creating fondant ruffles

.  

Ariel mermaid cake ideas –

cakes that feature Ariel, the little mermaid 

Mermaid cupcakes, cookies, and cake pops ideas –

because sometimes you want to serve smaller mermaid cakes   

Number or letter mermaid cake ideas –

instead of baking a traditional square, round, or layered cake, why not cut the cake into the number (for the birthday girl's age) or a letter (the first letter of the birthday girl's name)? 

Mermaid tail cake ideas –

cakes created in the shape of the mermaid tail and then decorated 

Fault line mermaid cake ideas –

if you want a trendy cake, opt for a fault line cake 
22 Mermaid Cake Ideas 
Ready for the best mermaid cake ideas? (I know, me too!) 
Here are the most incredible cake ideas to fit your mermaid party:  
Easy-to-Make Mermaid Cakes  
Mermaid cakes that are easy to make are perfect if you don't like elaborate decorations, need to watch your budget, or if you need to bake and decorate the cake. 
Shiny Turquoise and Gold Mermaid Cake 
The shiny turquoise and gold mermaid cake with hints of purple is ideal for a teenager or adult. I love the gold spirals that resemble ocean plants and the turquoise and gold mermaid tail on top of the cake.   
Brunette Mermaid on a Cake 
For a cutesy cake for your little girl's birthday party, why not go for a cake like the brunette mermaid on a cake? 
You can buy a little mermaid and make the sea stars and shells. Color and scallop fondant for the cake outer, and making a mermaid cake is this easy.     
Rectangular Mermaid Cake 
This rectangular mermaid cake by Thùy Dúóng is easy to make, and it won't break the bank. 
Bake a rectangular cake, and decorate the cake with frosting. Place the frosting in a piping bag to create the swirls you see on the bottom of the cake. Then draw the mermaid tail, color it with the frosting, and create the scales. Add some seaweed and bubbles, and complete the look with a "Happy Birthday" message. 
See also: 10th Birthday Party Ideas That Your Little One Will Never Forget
Ruffle Mermaid Cakes 
Ruffle cakes add an interesting visual element, while in the case of mermaid cakes, the ruffles resemble the ocean waves.  
Ruffle and Mermaid Tail Cake 
The ruffle and mermaid tail cake is a two-layered cake. The bottom cake has the ocean wave ruffles, starting with a brighter turquoise and ending in a lighter turquoise. A shimmery blue mermaid tail sticks out from one of the waves, so it looks like the mermaid is swimming close to the surface. 
The top white fondant layer has scales in turquoise, pink, and gold shades, and the cake is topped with a gold "6."   
See also: Amazing Space Cake Ideas That Are Out Of This World
Gold and Mauve Mermaid Cake 
The gold and mauve mermaid cake is something to behold. Starting from the bottom, you can see various seashells, pearls, clams, and corals on the cake board. Then the bottom ruffle layer of the cake starts, and each layer is decorated with pearls, shells, and a gold seastar. 
The mermaid cake's high top white and light pink fondant layer features more pearls, sea stars, corals and aquatic plants, seahorses, and golden mermaid tails. 
This is the best mermaid cake idea for a young lady.     
The turquoise ombre ruffle mermaid cake is simplistic yet visually stunning. The cake outer is decorated with ruffles only, starting with a deep turquoise at the bottom and ending with a light turquoise to white at the top. 
A blue mermaid tail cake topper is the only decoration, making this cake very wallet-friendly.  
Ariel Mermaid Cakes  
This mermaid cake ideas guide wouldn't be complete without some cake ideas featuring The Little Mermaid herself.  
First Birthday Party Ariel Cake
This Ariel birthday party cake features bright colors in pink, purple, green, orange, red, turquoise, yellow, and blue. It's ideal for little kids. The cake has 2 layers; however, the top layer is a floating layer (even though it floats on a stainless steel bowl). 
The mermaid cake is decorated with various under the sea elements – corals, sand, plants, and flowers. Then there's Ariel, Flounder, some other fish, and a seahorse to keep them company.  
Pink and Turquoise Ariel Cake 
Ecumple.com's pink and turquoise Ariel cake is super cute. The cake's decorations are also bright. The scaly bottom layer is turquoise, and the horizontally scraped top layer is pink. 
The cake is decorated with a more cartoonish Ariel who sits atop the cake, seashells, gold stars, and pearly bubbles.  
Classy Ariel Mermaid Cake 
The classy Ariel mermaid cake by Tua Casa is suitable for a guest of honor (and their guests) of all ages. 
The high bottom layer is an ombre light sea green. It is decorated with seaweed, bubbles, and starfish on a layer of edible sea sand. The top layer is shaped like a rock, and a stunning Ariel cake topper (or is she edible too?) sits on top of the rock.  
Elaborate Ariel, Flounder, and Sebastian Cake 
If you want a truly unique cake, then this one it is. The Ariel, Flounder, and Sebastian cake features two layers separated by a glass bowl that resembles an aquarium. 
The rich turquoise fondant cakes are decorated with sea sand, flowers, plants, corals, shells, and characters from The Little Mermaid.  
Mermaid Cupcakes, Cookies, and Cake Pops 
Sometimes, serving smaller cakes is better than serving one large cake. You can also serve a traditional mermaid cake and pair it with cake pops, cookies, and more to create a feast for the eyes and taste buds.  
Mermaid Cake, Discs, and Cake Pops Combo
The mermaid cake, discs, and cake pops combo just work together. The cake is decorated in turquoise ombre mermaid tail scales, with some pops of pink and gold. Some seashells are placed next to the cake and on top of the cake too. 
The mermaid discs (chocolate or cookie) look delectable with their mini "under the sea" decorations. At the same time, the cake pops fit in with the turquoise and pink mermaid color theme.   
Mermaid Tail Cupcakes  
Mermaid tail cupcakes are all the rage, and they are a must-have item for your mermaid party. These vanilla cupcakes are decorated with star-and-swirl frosting and a mermaid tail. 
Buy silicone molds to make the mermaid tails, or opt for cupcake toppers.   
Seaside Cookies 
These seaside cookies by eatcakebemerry.com look divine. The cookies resemble a seashore with sand and shells on one side, and on the other side, there's the ocean, complete with bubbles and pearls.
Mermaid Cheesecake Jars 
Why not go for mermaid cheesecake jars for a unique mermaid food for your party? There's crumble at the bottom, lavender and pale turquoise cheesecake filling, blueberries, seashell-shaped meringue, edible pearls, and mermaid tail toppings. 
Clam Mermaid Cookies 
These clam mermaid cookies look divine. Make two cookies in the shape of a clam, and fill them with frosting. An edible pearl adds the finishing touch.  
I'd play around with color and make sure the frosting matches my cake decoration.  
Number or Letter Mermaid Cakes 
Why not opt for a unique mermaid cake in a meaningful letter or number shape? 
The cake could be in the shape of a "1" because it's your daughter's first birthday, or it could be a "30" because you are turning 30. Or maybe your name is Emily, so the mermaid cake is in the shape of an "E"?  
A Letter Mermaid Cake 
I mean an alphabet letter! 
This Q-shaped mermaid cake by sugarmaya.co is unusual, but for something non-traditional, it's perfect. 
The "Q" cake is decorated with blue, green, and light pink frosting in star shapes and waves. The mermaid tails, shells, and sea stars are made with white chocolate and stuck in between the frosting. The sprinkles and edible pearls all over the cake complete the decoration.   

A Number Mermaid Cake 
This mermaid number cake is perfect for a two-year-old's birthday party in the shape of a two. The cake is decorated in turquoise, pink, purple, light green, and gold colors. You can see mermaid tails, seashells, corals, and seaweed on the bed of textured frosting.   

Mermaid Tail Cakes 
What could be more iconic than a mermaid's tail? These cakes are mermaid tail shaped to make a visually-interesting cake.    
Rainbow Mermaid Tail Cake 
The CakesDecor's rainbow mermaid tail cake is perfect for the little girl in all of us. The scales on the tail are marbled shades of pale blue, green, purple, and pink, while the fin is alternating pink and sea green with gold accents.   
Mermaid-Tail Shaped Cake 
If you don't want a vertical mermaid tail cake, opt for one lying down. This mermaid-tail-shaped cake by bennisonscakes.com is a rectangular cake shaped into a mermaid's tail and then decorated in pale pink, purple, and blue.     
Pretty-as-a-Dream Mermaid Tail Cake 
The pretty-as-a-dream mermaid tail cake is one of my favorites and the cake that inspired my cousin's mermaid party cake. 
This turquoise and purple tall cake is decorated with a soft blue, purple, and pink mermaid tail and what looks like glass bubbles (gelatin bubbles) in pink and turquoise. The one side of the cake to the top is further decorated with star piped buttercream frosting to add a textural element.  
Fault Line Mermaid Cakes 
Fault line cakes are very trendy, and of course, you can make a fault line mermaid cake too, especially when you are inspired by these wonderful ideas.  
Turquoise Fault Line Mermaid Cake
I love this subtle fault line mermaid cake by Croft Cake Design. The fault line looks like the actual sponge cake, meaning the top and bottom of the fault line are frosted in shades of turquoise.
The sides of the mermaid cakes are decorated with seashells, sea stars, and a mermaid tail. You see more seashells on top of the cake, and there's an edible disk decorated with a few shells and pearls. Write the birthday girl's name on the disc to complete the cake.    
Purple and Turquoise Fault Line Mermaid Cake 
I also like this fault line mermaid cake in turquoise and shades of purple. The fault line is decorated in scales, while the top of the cake features a shimmering mermaid tail and piped buttercream frosting.
FAQs
Question: What is a mermaid cake? 
Answer: A mermaid cake is any cake that's decorated to feature a mermaid – in some way. The cake can be decorated with a mermaid tail, mermaid tail scales, seahorses, sea stars, shells, pearls, seaweed, fish, and anything that reminds you of the ocean and "under the sea." 
Question: What color is a mermaid cake? 
Answer: A mermaid cake can be decorated in any color. Popular color choices for a mermaid cake are "ocean" colors – turquoise, blue, green, pink, coral, white, and purple. However, you can choose to make a unique mermaid cake and decorate the cake in various shades of purple and gold, or go monochromatic and decorate the cake in shades of coral and rose gold. 
Question: How do you make a mermaid cake? 
Answer: You can make a simple yet stunning mermaid cake even if you have limited baking skills. You need to make the batter for the cake, bake it in the oven, make your decorations using mermaid cake molds, and then construct your cake. Alternatively, take a picture of what you'd like to a professional baker and let them bake the cake. 
My Final Thoughts on the Best Mermaid Cake Ideas 
A mermaid cake is suitable for all ages and any celebration. You can go all Ariel and Flounder for the cake, or be more subtle and use ruffles to represent the ocean waves and top the cake with a mermaid tail. 
Any color works for a mermaid cake, but choose brighter colors for the little ones and pastel or various color hues for mermaid-loving teenagers and adults.   
Now that you know which mermaid cake you like, you may realize you aren't sure about ideas for the party. Check out my article on the best mermaid birthday party ideas to inspire you. 
Recommended Reads: