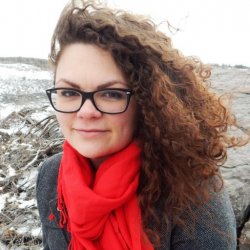 Latest posts by Candace Osmond
(see all)
It's a great idea to buy or make a space cake for your loved one if they have a love for our solar system and all the stars in the sky. There are so many ways to create gorgeous space-themed cakes that you might feel lost in a never-ending void of options. Lucky for you, I'm going to walk you through the 26 best space cake ideas, so your loved one's birthday, graduation, or anniversary has the best dessert possible. Let's get started right away!
Bottom Line Upfront
Who wasn't a space nerd as a kid? Now I'm just a space nerd adult, perusing the internet for space cake ideas for my next birthday LOL. My fav on this list is the Modern Planetarium Cake. I need it. And those planets better be cake pops.
Top 3 Picks
Let's launch this space party by looking over the 3 best options for space cakes. Though there is something special about each cake I have to show you, these three win blue ribbons for showcasing masterful designs. If you aren't sure where to start when it comes to space cakes, don't worry. Start here!
Best Space Cake Idea: Modern Planetarium Cake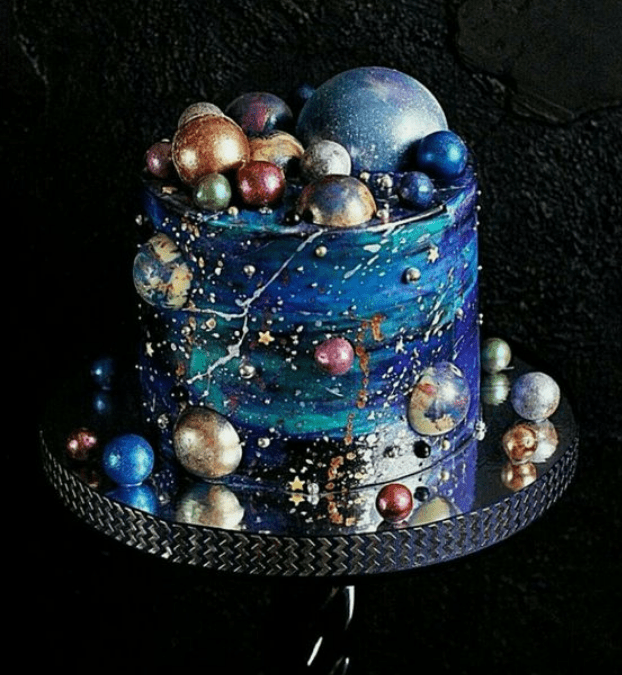 Best Space Cake for Adults: Sophisticated Space Cake
Best Space Cake for Kids: Cute Space Explorer Cake for Kids
Best Space Cake Ideas
Let's blast off into the 26 best space cake ideas! Each of these gorgeous and unique cakes features stunning designs in a wide range of styles. Want a tiered cake? A cake with fondant and modeling chocolate figurines? A solar system made of cake pops? We'll cover all of the above and then some. Without further ado, let's take a look at your loved one's next amazing cake.
1. DIY Rocket Ship and Solar System Cake
Want to practice your fondant-shaping and modeling-chocolate-molding skills at home? Try out this space cake if you've never worked with either before. I've worked with both and they just take some playing around. Though the details in some of the chocolate planets may look intricate, many of them are simple round balls.
You'll need fondant for the stars and the sunrays, but neither require expert-level skill to shape. The backdrop for our rocket ship and solar system is black buttercream that's been smoothed down with an icing spatula.
2. Modern Planetarium Cake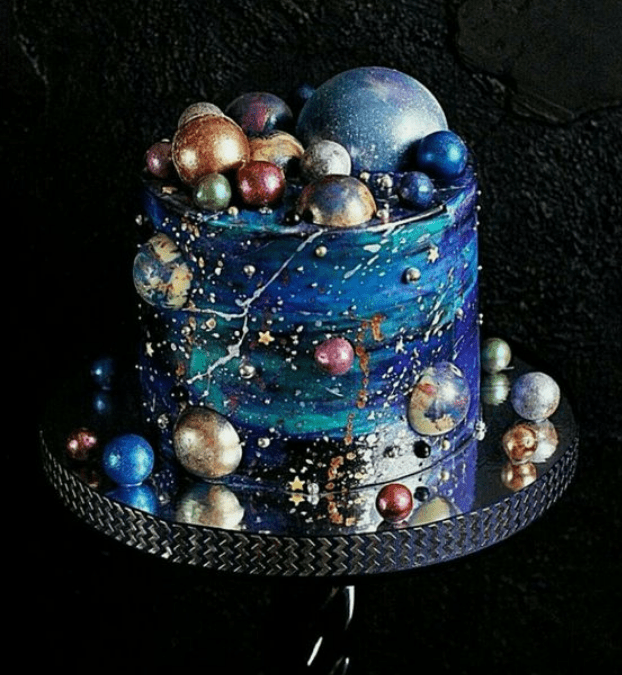 This is one chic cake if you ask me. A trend you may have noticed with high-end cakes over the years is to stack small circular layers of cake on top of each other until they reach a height like this one. Then, it's stylish to smooth down buttercream or place fondant over the sides before airbrushing the sides to perfection as you see here. Remember, for a modern look, coordinated asymmetry is your friend.
See also: Bluey Party Supplies Guide: Everything You Need for a Bluey Birthday Bash!
3. Prepare for Takeoff!
What a wonderful NASA-themed cake you could make at home! My husband would LOVE this! You don't have to worry about smoothing down the white buttercream frosting-it looks more like puffs of smoke coming from a rocket ship if you leave the frosting wispy.
Place a toy NASA ship on the cake, and behind the ship you can place glittery cut-out stars on food-safe wooden sticks. The blue, purple, pink, and silver candy rocks add the colorful touch this cake needed.
4. Black Space Cake with Silver Stars
I'll admit it. Airbrushing these planets to perfection is going to take a near-professional level of skill. If you don't want to sit around frustrated trying to make these highly detailed moons and planets just right, you could take this idea to a professional.
Local professional bakers with high customer ratings love to take on fun challenges like this cake. If you were to make this yourself, applying black fondant and airbrushing the words using a stencil would be one of the easiest parts.
5. Moon Landing Cake
It's not every day you see such beautiful use of fondant and modeling chocolate. This layered cake is covered with black fondant and then coated with yellow fondant stars to make a cute space backdrop.
The rocket ship on top has been made from modeling chocolate and some fondant, too. The good news is that the shapes making up the ship aren't complex. Even though the ship requires patience, it doesn't require an experienced cake baker.
See also: 10th Birthday Party Ideas That Your Little One Will Never Forget
6. Out of this World Space Cake Idea
Holy moly. I wish I had the patience of this god. The maker of this space cake is an airbrushing master. Look at how gorgeous the sides of the cake look! Galaxies and smaller scattered star clusters have been painted everywhere. The planets truly do look out of this world. Let's not even talk about the rocket ship that's been mounted on top-now they're just showing off. Yeah, this idea is probably one to take to a professional baker unless you want a serious challenge.
7. Astronaut Cake
Wow! This astronaut wearing a golden helmet has impressive detailing! Making a 2-tiered cake like this one means you'll be stocking up on all kinds of cake decorating supplies. Buttercream frosting, an icing spatula, piping bags, edible pearls, white sprinkles, modeling chocolate, fondant, and food-safe dye should all be on your list. Keep in mind that oftentimes you'll need more pieces to stick down into the cake so the larger decorations don't fall-like that giant sun hanging off the edge of this cake.
8. Cute Space Explorer Cake for Kids
Does your little one dream about growing up to be an astronaut one day? One of mine Is currently going through that phase and I hope it sticks until his next birthday.
Buy or make your little space explorer a cake like this one to inspire them! The little fondant astronaut attached to the red and blue rocket made from modeling chocolate is positively adorable. Most of the shapes you see on this cake are chunky and round-this is what gives it its cuteness factor. You can get creative with the star and planet placement.
See also: 30th Birthday Cake Ideas: All The Inspiration You'll Need
9. Galaxy Cake Pop Cake
There's something so modern and serene about this cake, isn't there? For one, it's got 7 cake pops sticking out of the top to represent our solar system. The cake itself is coated in light blue buttercream frosting that's been swirled with white frosting. The white pearls placed around the cake look like stars. These add to the cake's serene, mystical style. This is a great space cake idea to try out at home!
10. One Small Step for Man
There's been one giant leap for mankind! This dome-shaped cake has been iced with white frosting to look like the surface of the moon. Don't worry about smoothing down the edges-the surface of the moon isn't smooth, anyway.
You can add gray fondant circles to create the craters. No need to pull out the modeling chocolate for this one. Save yourself the trouble by buying a plastic astronaut figurine and an American flag cupcake topper to place on top.
11. 4-Tiered Constellation Cake
Know someone who's obsessed with constellations? My hippy, kitchen witch MIL definitely comes to mind. This jumbo 4-tiered constellation cake could be just the birthday surprise they wanted. A beautiful ombre works its way down from light blue to dark blue with each tier. Constellations and other stars have been made with edible pearls, some of which have been connected with white icing. If you have a steady hand, you can write the names of the constellations on the cake as you see in this picture!
12. Jumbo Planets Cake
What huge cake decorations! You'll definitely need some food-safe wooden or metal skewers to keep the planets, sun, and rocket ship anchored to the cake. Fondants in all colors have been used here, so despite the cake itself being mostly black, the entire display is very bright. The little moon stacked on top of the Earth is a small but absolutely adorable decoration.
13. Hidden Galaxy Cake Idea
https://www.pinterest.ca/pin/354940014367479036/
Ever seen these hidden galaxy cakes being made by bakers on the Food Network? With a bit of time and a smidge of patience, you can make your own. The key is to make the planet cake balls extra moist. Once the cake balls are done, you place them inside the rest of the cake batter to be baked a second time. This time, you'll have to dye the cake batter itself to give it a believable galaxy look on the inside.
14. Sophisticated Space Cake
There's nothing more sophisticated than sleek black and white. With tasteful white buttercream frosting and sparse yet beautifully crafted black decorations, this cake is perfect for an adult party with wine. Placing edible pearls around the fondant makes this cake gleam, which only adds to its luxuriousness. A small amount of black ganache has been dripped over the sides in a few areas.
15. Black Galaxy with Colorful Planets
Does your loved one always seem to have their face buried in a telescope? Are they fascinated with worlds beyond our own? To celebrate them and their deep fascination with space, try making them a cake like this one. This 2-tiered cake has been covered in luscious black fondant then decorated with white food dye and pearls. Every planet from our solar system has been created with modeling chocolate and/or fondant and then skewered into the cake.
16. Blue and Silver Planets and Stars Cake
What a gorgeous masterpiece! This cake is the epitome of what beautiful cool-toned cakes can be. The blue and white glossy cake appears to be coated in resin despite being 100% edible. Glossy silver stars have been drawn on top, which matches perfectly with the stunning solid silver planets. Other solid-colored planets in blue and purple in various sizes attract attention and contribute to the space color scheme.
17. The Cheeriest Space Cake Around
I feel happier just looking at this cake. Instead of making the stars white or yellow, this cake has been adorned with cute rainbow sprinkles and multicolored star sprinkles. Each planet is colorful and bright. The brightness of the colors is made even more apparent by the black fondant, which gives this cake a believable space-like backdrop.
18. The Astronomer's Cake
Maybe your loved one has loved the stars too fondly to be fearful of the night, as the old poem goes. If that sounds true, then they're sure to enjoy this gorgeous cake showing off our solar system. I like how this cake appears to feature planets pretty accurately to their relative size scaled-down. If your loved one's a stickler for accurate details, use this space cake idea for inspiration.
19. Galaxy Colors Cake
Galaxy print has been wildly popular for years. Taking one look at this cake makes it easy to see why. Gorgeous black fondant has been decorated with swirls of purple and blue. It's trendy to use white food-safe dye and edible pearls to make a star design, which you can see here. This is a large 3-tiered cake with a design that's fairly simple to recreate.
20. Aliens on the Moon!
There are aliens on the moon! They're cute, chubby green aliens like you see in cartoons! If your kid is about to celebrate a special occasion and they adore all things galactic, check out this idea. A dome-shaped cake has been frosted with gray buttercream. Once again, gray fondant circles have been used to make the craters. These aliens may be tricky to shape just right out of modeling chocolate at first but keep trying and you'll get it!
21. Space Cake for Kids
This is another wonderful idea for a kid's birthday or another special occasion. Instead of black, the fondant backdrop of this 2-tiered cake is a brilliant deep blue. Dark blue ribbons form a border at the bottom of each cake, which helps give both layers a definition from each other. Planets, stars, moons, and a green rocket ship have been cut from fondant, too. The inviting colors and cute shapes will capture any child's imagination.
22. Beautiful Galactic Cupcakes
If you want more than one cake flavor for your loved one's special day, then have you considered cupcakes? I love them because they're easier to make and decorate, plus easier to serve. By making space-themed cupcakes like these, ½ of the batch can be vanilla and the other ½ can be chocolate (or whichever combination of flavors you prefer.) To make these gorgeous cupcakes, you'll need an icing piping bag and edible silver decorations like glitter, orbs, and stars.
23. Black Velvet Cake with Galaxy Design
Ever wanted to try a black velvet cake? By following along with this guide by Sprinkle Bakes, you can! Not only that, but you can learn how to decorate your black velvet masterpiece with fondant and food dye, so it looks like a galaxy. You'd be surprised at what you can make with sponges, small paintbrushes, and a few hours.
24. Geode Galaxy Cake Idea
I'm sure you've seen the geode cakes all over Instagram. If you're a little too intimidated by the process of making this one yourself, I'm sure a local baker near you would be happy to take on this challenge. Where the cake has been cut into to make the geode pattern, tons of black, white, silver, and blue candy rocks have been placed. Cakes like these are showstoppers every time.
25. Pretty Pastel Space Cake
Beautiful pastel colors were used to make this space cake. This 2-tiered cake has been coated in pale yellow fondant, then decorated with gold fondant stars. Pastel pink and blue fondant planets have been strategically placed around both tiers, too. With a few edible pearls here and there to give the cake a bit of glamor, this is an enchanting piece of art.
26. NASA Cake
Launching in 3… 2… 1! If the NASA fanatic you know and love has a special event coming up, try wowing them with this NASA-centric cake. The classic color scheme of red, white, and blue fits the NASA brand perfectly. A spaceship made from modeling chocolate and fondant has been placed on top, demanding the attention of everyone in the room.
How and Why I Chose These Ideas
I picked the ideas on this list based on their overall design, uniqueness, and use of color. Color is important when making or buying space cakes.
Best Colors for Space Cakes
These are the colors you typically see on space-themed cakes. These are the colors of space, galaxies, and the sun. Feel free to add colors outside of this list to your cake, because you may need more colors for extra planets or stars.
Black
White
Blue
Purple
Orange
Silver
Elements to Look for in a Space Cake
These are some of the most popular elements of a space cake. Your cake doesn't have to have all of these, but make sure it has a few elements such as these to define its theme.
Planets – You can get creative when it comes to the planets you place on your space cake. For a 3D effect, roll out spheres of modeling chocolate. If you'd like to keep things simpler, cut circles out of fondant using a cookie cutter.
Stars – It wouldn't be space without stars. No matter what kind of space cake you make, I highly recommend you add stars. You can either make dots on the cake with dye, add edible pearls, make stars with icing, cut out fondant stars, etc.
Rocket Ships – You'll commonly find astronauts and rocket ships on space-themed cakes. As you've seen above, you can make cakes that stick strictly to a NASA theme, too. Avoid the trouble of shaping your own, buy a rocket ship toy to place on top.
Galaxies – You'll need a black background to create the ever-popular galaxy print design. Placing sheets of black fondant all over your cake is one of the best ways to achieve this. After that, you can go wild with colors like blue, purple, pink, green, silver, and white (but try to pick 3 colors and stick to those.)

FAQs
Never made a space cake before? Have some questions before you start?
Question: What tools are needed to make a Space Cake?
Answer: This is dependent upon the kind of space cake you want to make. For any cake, I'd recommend:
Cake pans
A hand mixer or stand mixer
A sieve for the flour
Piping bags
An icing spatula
A rolling pin for fondant and/or modeling chocolate
Question: What flavor is best for a space cake?
Answer: You can make a space cake in any flavor you like best! If you want yours to be an all-around crowd-pleaser, I recommend vanilla. Almost everyone likes vanilla cake with vanilla frosting.
Question: What food coloring is best for dark colors?
Answer: Personally, I think Americolor food dyes work the best for coloring buttercream frosting to a darker color. If you're using this type of food dye for your frosting, make sure to mix in a little cocoa powder, too! This covers up the slightly bitter dye taste.
Blastoff!
It's time for takeoff! Did you enjoy learning about the 26 best space cake ideas today? Out of the many ideas we looked over, was there one cake that stood out to you? Let me know which one you're thinking of making or buying for the astronomy lover in your life! Was it my fav, the Modern Planetarium Cake?
Making and purchasing themed cakes can seem like a handful if you've never done it before, so please leave me any questions or concerns you may have down in the comments. For even more amazing cake ideas, please come visit our website!
Recommended Reads: