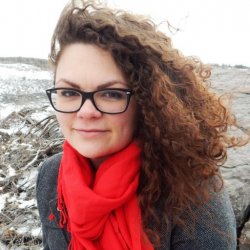 Latest posts by Candace Osmond
(see all)
It was 1983 when the first Mario Bros arcade game was released, and ever since the world has been in love with Nintendo's #1 game franchise. Today, characters like Mario, Luigi, Princess Peach, and Bowser light up our Nintendo Switch screens in epic platformers like Super Mario Odyssey and Super Mario World 3D.
If someone you love is a huge Mario fan and you want to make their day special, try out one of the 23 Super Mario cake ideas I'll show you today! Whether you DIY the cake or take the idea to a professional, you're sure to make a Mario superfan smile.
Bottom Line Upfront
I'm a huge Super Mario fan so it's no surprise that I love pretty much every cake on this list. But if I were choosing one for my own birthday, I'd go with the Elaborate Super Mario Cake with Green Pipes. Like…COME ON! How amazing is that?
Top 3 Picks
These are the 3 best Super Mario cake ideas overall. This estimated $805,000,000,000 franchise is beloved by children and adults alike, so tons upon tons of Mario cakes have been made. If you don't know where to start, look at these 3 ideas first for inspiration!
Best Overall: Elaborate Super Mario Cake with Green Pipes
Best for Any Kid: Crazy Super Mario Kart Cake Idea
Best for Non-Crafty Adults: Mario 8-Bit M&M Cake
The Best Super Mario Cake Ideas
Are you ready to head to the next level? These are the 23 best Super Mario cake ideas you can find on the internet. Each of these cakes features favorite Super Mario characters and quality detailing.
Whether you're searching for the perfect Mario and Luigi cake, Bowser cake, or even a wedding cake, you'll find a wide range of ideas here featuring all the different characters and unique styles. Let's take a look at these masterfully made cakes right away!
Cutesy Mario and Luigi Cake
OMG, how cute is this? See how modeling chocolate and fondant have been used to craft these adorable Mario and Luigi figurines? You'd almost feel bad eating them. These same desserts have been used for the piranha plants, gumbas, mushrooms, and other little details you see. If your fondant-shaping modeling-chocolate-molding skills are rusty or unpracticed, it might be a better idea to take this idea to a professional.
See also: Naruto Party Supplies Guide
Blue Mario, Luigi, and Yoshi Cake Idea
The blue buttercream frosting on this cake looks absolutely delicious. I thought the rainbow sprinkles were a nice addition to a Super Mario cake because these sprinkle colors are the same bright colors you see throughout the games.
If you're making this Mario cake yourself and don't want the hassle of molding modeling chocolate, just buy plastic figurines to place on top. Doing this ensures your Mario, Luigi, and Yoshi all look perfect.
Double Decker Super Mario Cake
This cake brings layers of fun! Here you can see Mario and Luigi standing on top of the second tier underneath Mario world-esque palm trees. Yoshi stands on the second tier. One eggs-citing detail fans are sure to love is having their name spelled out on Yoshi eggs. Perfectly shaped piranha plants, coins, clouds, and more Yoshi eggs have been made from fondant.
Yellow Mystery Box of Birthday Magic
Words can't encompass how much I love this idea. You never know what you're going to get when you see the yellow mystery box! What will it be? A mushroom? A star? Some coins? This year, you'll get an awesome birthday party out of it! Adding on various power-ups you can receive from yellow mystery boxes are excellent decorations for this cake. You can please fans with classic favorite characters like Mario, Luigi, and Yoshi.
4-Tier Super Mario Cake Idea
Whoa! When they say Super Mario games are long platformers, they weren't kidding. This cake is huge-it's got 4 tiers! I've never made a 4-tier cake before but this is tempting me to try it.
If you've got lots of hungry Nintendo fans on your hands, a larger cake like this one is the way to go. The best part is the top tier. You've got to make sure the eye-catching top cake featuring Mario popping out of a green pipe is perfect. Luckily, the Mario figure is small, so you won't waste much modeling chocolate if you need a few do-overs.
Mario 8-Bit M&M Cake
Who else remembers the old 8-bit animation style for Mario? (Or am I just THAT old?) When adults see a design like this one, they're sure to feel nostalgic. This cake mimics that animation style by creating Mario out of pixel-like M&Ms. Each M&M represents one pixel, so by placing the M&Ms carefully, you'll find this cake is easy to make at home! If you don't like chocolate cake and chocolate frosting, this idea works just as well on vanilla cake with vanilla frosting.
See also: Baby Yoda Party Supplies Guide [2022]
Super Detailed Super Mario Cake Idea
This is an idea to take to a professional. Each detail is precisely made and placed onto the cake delicately. The truly amazing features are the shading that had to have been done with an airbrush. If you squint and look hard enough, you can spot that the fondant rocks and bricks have depth.
The other fondant creations have been indented with patterns that add detail to the cake. In other words, to capture the true essence of this cake, experience in cake decorating is needed.
Keep It Simple with Mario
After the last extravagant Mario cake idea, let's take it down a notch and keep things simple. Some of us prefer a birthday cake that isn't so loud. Check out this cake which features Mario leaping out of a green pipe. The cake is decorated minimally with white fondant, gold coins, stars, and piranha plants. A tiny mushroom sits beside the green pipe Mario's standing in, which shows attention to detail.
Mario Kart Cupcake Cake
If you'd rather mix up the cake flavors and have half the cake be chocolate and the other half be vanilla or yellow, you may want a cupcake cake. Mario Kart is a wildly popular series of games, so Mario fans of all ages are sure to appreciate cupcakes that look like a racetrack (try to make the notoriously hard rainbow road if you're up for a challenge.)
Mario Face Cupcake Cake Idea
I love a good video tutorial. What's nice about this video showing you how to make a Mario face cupcake cake is that it gives a demonstration of how to smooth the icing correctly. It can be tricky to make sure the icing is even all over the surface of each cupcake, but you'll be a pro in no time after watching this guide. The design for Mario's face used in this video is adorable while keeping in line with the real Mario art style.
See also: Best LEGO Cake Ideas To Love For Your Next Birthday
Artsy Super Mario
This Mario cake is packed with goodies. You'll need to make several tiers with smaller circles of cake to create a look like this one. Make sure to frost in between each layer of cake and use an icing spatula to smooth down the sides.
Do the wave-like pieces that stick out on top look intimidating? Don't worry! All you'll have to do is melt the white chocolate you've dyed with food coloring, spread it out on wax paper, add sprinkles, and freeze it. Once frozen, you'll just need to break pieces off and stick them on the cake.
Super Mario Cake and Cupcakes with Fluffy Icing
This cake is so colorful and festive even though the only icing color used here is white. By adding rainbow sprinkles, colorful fruit, and cookies decorated to look like Mario characters, you can make a bright cake like this one. I think this is a great DIY cake to start with because you won't have to worry about shaping fondant or modeling chocolate.
See also: 15 Best Halloween Birthday Cake Ideas For A Spooky Birthday
Koopa Shell Cake Pops
These are so adorable I want one right now! While these Koopa shells might be a pain when you're racing down Rainbow Road in Mario Kart, they couldn't be more delicious here. Using fondant, gel icing, and your immeasurably deep well of patience, you too can make cake pops just as cute. Make different colored shells as you see here to make your cake pop display extra eye-catching.
Mario and Princess Peach Wedding Cake
Do you hear the wedding bells? Mario and Princess Peach do! If you and your significant other are huge Nintendo fans like me and mine, and have a shared love of Mario, consider a fun wedding cake like this one. Some of us would argue dainty wedding cakes are so 100 years ago. You can make your special day extra fun by creating a wedding theme around something the 2 of you love, like video games.
Elaborate Super Mario Cake with Green Pipes
I wouldn't know how to begin telling you how to recreate this cake. While it may be difficult to make an award-winning themed cake like this exactly how it is in the picture, you can take inspiration from the decorations. You could make a 3 or 4-tiered Super Mario cake with a less complicated system of pipes if you wanted to try and DIY this one. If you could make this cake like the picture, it would be a showstopper.
Tiered Mario Kart Cake Idea
Here's another seriously impressive Mario cake. Most of the tiers have been separated by platforms instead of stacked on top of each other. Each cake layer shows off a different aspect of Mario's world-such as a map with green pipes, mushrooms, a yellow mystery block, and rainbow game board spaces. What helps make each layer so distinctive is to use a different colored fondant for the background of each cake.
Giant Mushroom Palooza
You've earned an extra life! This 4-tiered Super Mario cake showcases a red mushroom power-up on the very top. Fondant and modeling chocolate has been used to create most of the decorations you can see here. Try looking up some videos about how to lay fondant onto cake perfectly before you DIY your own tiered masterpiece.
See also: Toy Story Birthday Party Ideas – Top 10 Most Exciting Options
The Power-Up Cake
There's nothing like playing on your last life and finding a power-up, right? This cake showcasing a mystery block, a brick block, and a mushroom power-up is perfect for serious Mario gamers. The trick to making sure the mushroom on the top reaches maximum cuteness is to spend time getting the eyes just right. Precision is key here because these relatively small cakes need delicate handiwork.
Mario Cake with Surprise Coins Inside
It's been a trend for years to fill cakes with extra candies and goodies so that when you cut the cake open, the treats all spill out. I once made a Star Wars cake for my son that was filled with teeny Yoda candies.
While some of these cakes are filled with rainbow sprinkles or M&Ms, this Mario cake is overflowing with chocolate coins. The gold-wrapped chocolate coins look a lot like the golden coins you receive in Mario games. It's genius to put these inside a yellow mystery block, where coins can sometimes be found.
Mario Cake with Bowser on Top
If the Mario fan you're making or buying a cake for loves to choose Bowser in every round of Mario Kart, this may be the cake for them. Mario has been made from fondant and placed on the second tier. If you look up to the third tier, you can see a tasty, yet menacing Bowser made from modeling chocolate. Yoshi and other characters at the bottom of the cake have been made from modeling chocolate, too.
Creative Piranha Plant Cake Pops
I love a good cake pop and what a creative twist them! Both the top plant and the green pot the plant sits in are made of cake. I've never seen a cake pop with cake on both ends, have you? You might have to muster up some patience to correctly place all the piranha plant's teeth, spots, and little leaves, but it will be so worth it. These cake pops are meant to wow Mario fans of all ages.
Crazy Super Mario Kart Cake Idea
This Mario Kart cake has so many details it's making my head spin! The chaotic nature of this tiered cake is reminiscent of an actual Mario Kart racetrack and how you feel while driving in one. The idea of having a racetrack go down the tiers of the cake in a spiral is super fun. It lets you place either figurines or modeling chocolate replicas of Mario Kart racers on the track. If you have kids, this one is sure to be a big hit.
Decorative Mario Cookie Cake
Is cake not your deal? No worries! Check out how you can use 2 giant cookies and a lot of turquoise buttercream frosting to create a Mario cookie cake masterpiece. Place marshmallows, macrons, candies, and Mario characters around the frosting to fill in any blank space. This gives the appearance of organized chaos, which is popular with modern desserts.
How and Why I Chose These Ideas
When I was researching Super Mario cake ideas I was looking for cakes that would appeal to a wide range of ranges. The fandom began decades ago and is still strong today. So adults and kids alike would love to have Super Mario cakes. I tried to find elaborate designs as well as easy-to-DIY ideas, too.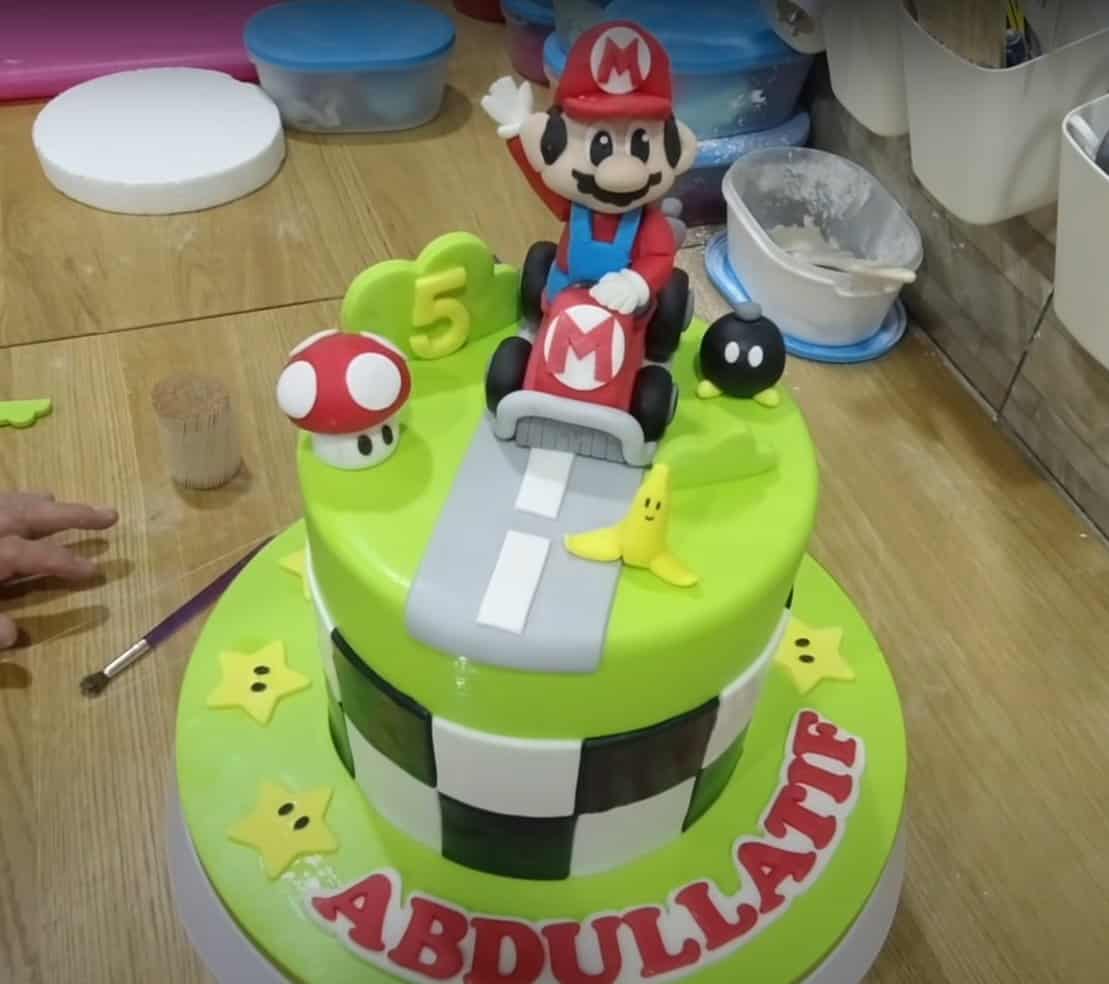 FAQs
Learning how to create your own themed cake or researching where to have your themed cake made can feel confusing!
Question: Where Can You Get Themed Cakes?
Answer: I recommend taking your idea for a themed cake to a reputable baker in your area if you aren't making the cake yourself. Check the reviews of the baker you have in mind to be sure past clients have been satisfied with their work.
Question: Is It Easy to Make a Theme Cake?
Answer: Yes and no. It can be tricky to get the hang of working with fondant and modeling chocolate if you aren't used to it. Not all themed cakes use either of these, and some cakes are certainly easier to make than others.
Question: Are Cakes or Cupcakes Better for Birthdays?
Answer: Cakes can be a good idea if all the guests in attendance like the same flavor. Choosing a vanilla cake is usually a safe bet because most people will eat vanilla cake. Cupcakes are better if you want a variety of flavors, like vanilla, chocolate, and red velvet.
Here We Go!
Ready to put your cake decorating skills to the test? Would you rather take your Super Mario cake idea to a professional? Either way, the Mario fan you know is sure to appreciate a cake with their favorite character decorating the top.
If you were inspired by one of the cake ideas we talked about today, let me know which one was your favorite! Was it mine, the Elaborate Super Mario Cake with Green Pipes? For more delicious and eye-catching cake ideas featuring all your favorite pop culture icons, come check out our website!
Recommended Reads: