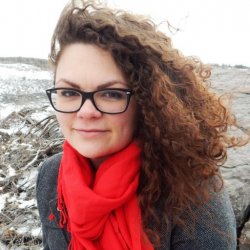 Latest posts by Candace Osmond
(see all)
Is your kid a budding builder like mine? Here are 24 incredibly cool LEGO cake ideas I know they'll love! I've made dozens of LEGO cakes in my life, so I jumped at the chance to write about them! I'm confident that at least one of these will make your kid's next birthday party unforgettable.
Even if you're an adult, you should totally have a LEGO-themed cake at your next birthday party! Age is nothing but a number in the realm of LEGO cakes.
Bottom Line Upfront
Okay, after making this list, I might just be having a LEGO birthday this year. My fav is, hands down, the LEGO Dripping Cake because not only is it cute, but I could totally pull this off! Just have to swap out the characters for my fav LEGO mini-figures.
Top 3 Picks
Here are my top 3 picks you can prepare from the comfort of your home with a bit of practice.
Best LEGO Cake for Adults: LEGO Dripping Cake
For fellow adults who are not quite ready to give up on LEGO-themed cakes, I suggest this LEGO drip cake?
Best LEGO Cake for Boys: Construction LEGO Cake
A construction LEGO cake, complete with figurines at work, will surely do the trick for your boy.
Best LEGO Cake for Girls: The LEGO Reveal
When an aesthetic mix of colors meets carefully designed LEGOs, it's clearly a match made in cake heaven.
The Best LEGO Cake Ideas
WOW, the other moms at your kids' next birthday parties with any of these 24 unique LEGO cake ideas. I tried to pick a range that would work for any age or occasion but also considered skill levels for the DIYers out there.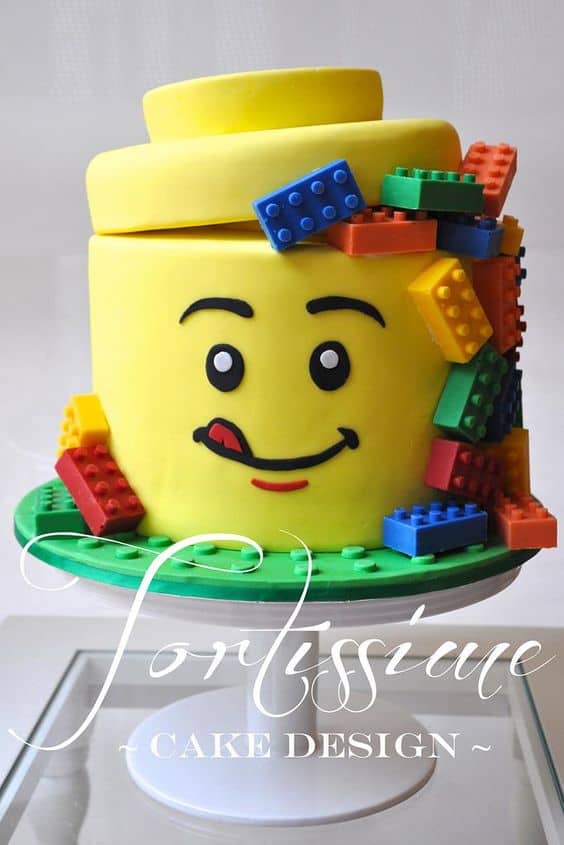 With this image inspiration and enough practice, building a high-quality, highly accurate Minifigure Head Cake at home should be easy. I rate this build a novice-intermediate level project, and all materials required can be found at your local store.
Also, feel free to play around with the facial expressions and use chocolate LEGO blocks of different sizes and colors.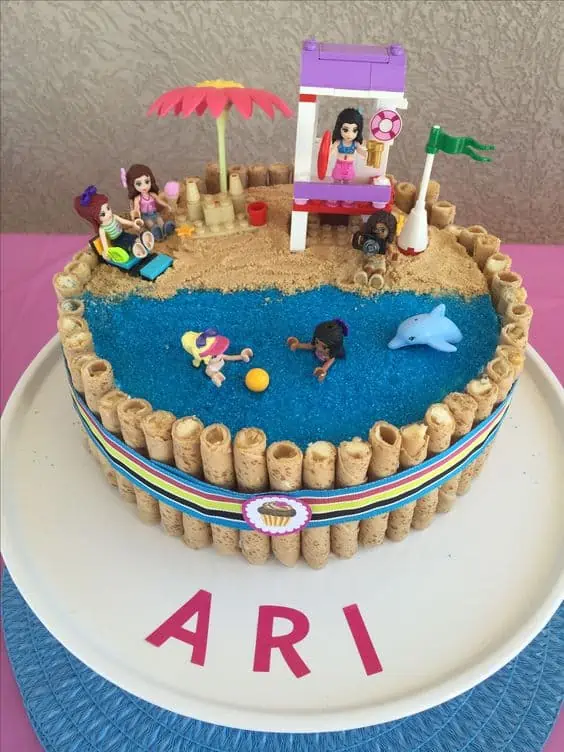 I fell in love with this beach-themed LEGO cake at first sight. Unfortunately, I needed a cake for my niece's birthday, which was in 2 weeks. Why unfortunate? Because I knew I needed more than two weeks to learn how to pull off this magnificent creation.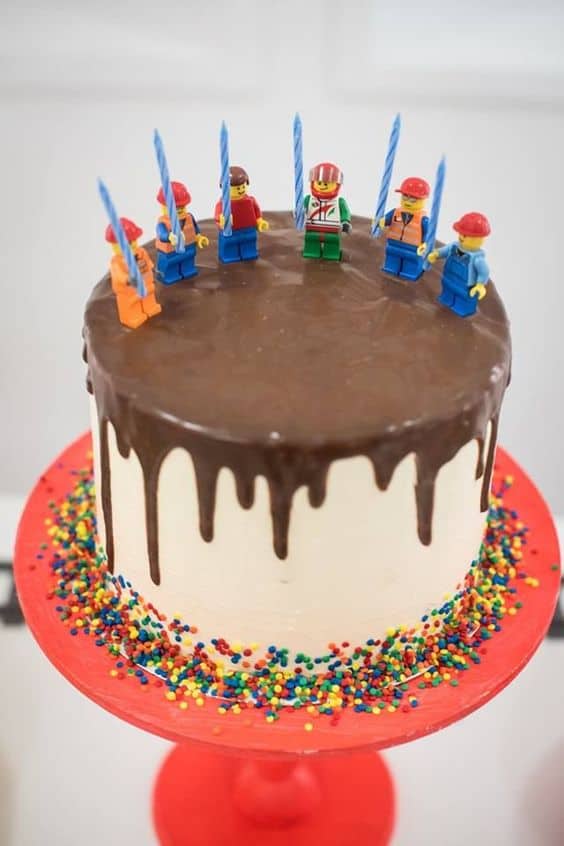 This adorable baking idea uses the famous drip cake design to create a homemade LEGO cake. In this case, the decorators created homemade candy Minifigures and placed them around the top half of the cake.
They also sprinkled M&Ms around the cakes' bottom to add color and fun to the whole design. I'd probably use Smarties for mine, though.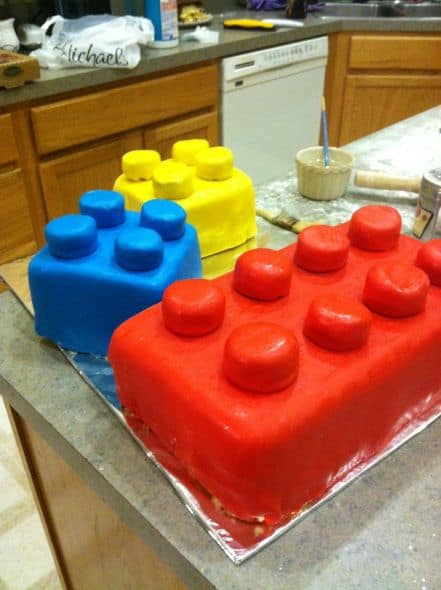 LEGO cakes with too many details can be frustrating endeavors, particularly if the baker is an inexperienced one. If that sounds like you, try out this LEGO block cake. Instead of a complex cake with lots of LEGO bricks, simply make a cake that's just one extra-large LEGO brick.
To simplify things even further, buy a box of cake mix (I promise I won't tell!)
See also: 10th Birthday Party Ideas That Your Little One Will Never Forget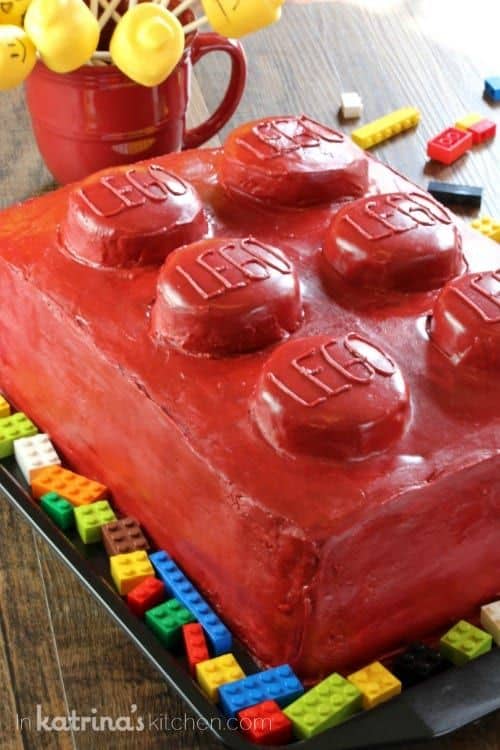 Like the LEGO block cake we just looked at, this LEGO brick cake design is simple. No special tools are needed, and no decorating skills are required to pull off. The main difference between this and the block cake is you can decorate this LEGO cake with smaller LEGO bricks.
And take it a step further; try decorating with LEGO cake pops. Use yellow candy melts while preparing the cake pops to streamline the process. You can make things even easier by substituting the cake ops with marshmallow pops.
Remember to use small bricks of varied colors and sizes to keep things interesting.
See also: How to Find the Best Cake Ideas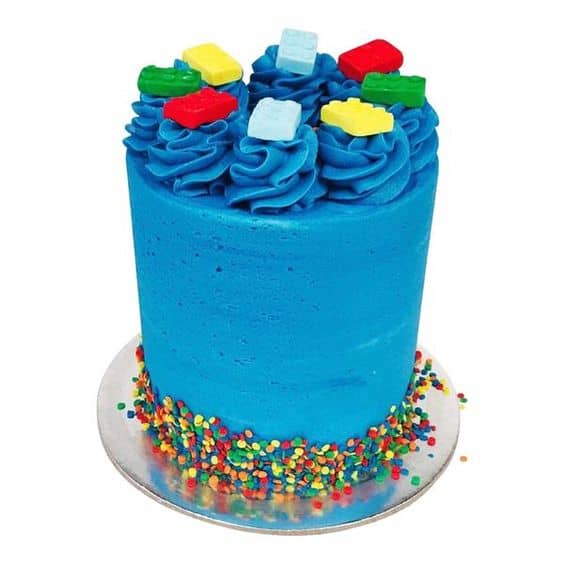 With this buttercream LEGO cake in my corner, I already know my daughter's next birthday will be a huge success. Measuring approx. 6 inches high and 5 inches in diameter, this cake is available in chocolate and vanilla.
It'll also easily feed up to 12 people. (Or one hungry mom in the dead of night while her kids sleep unknowingly.)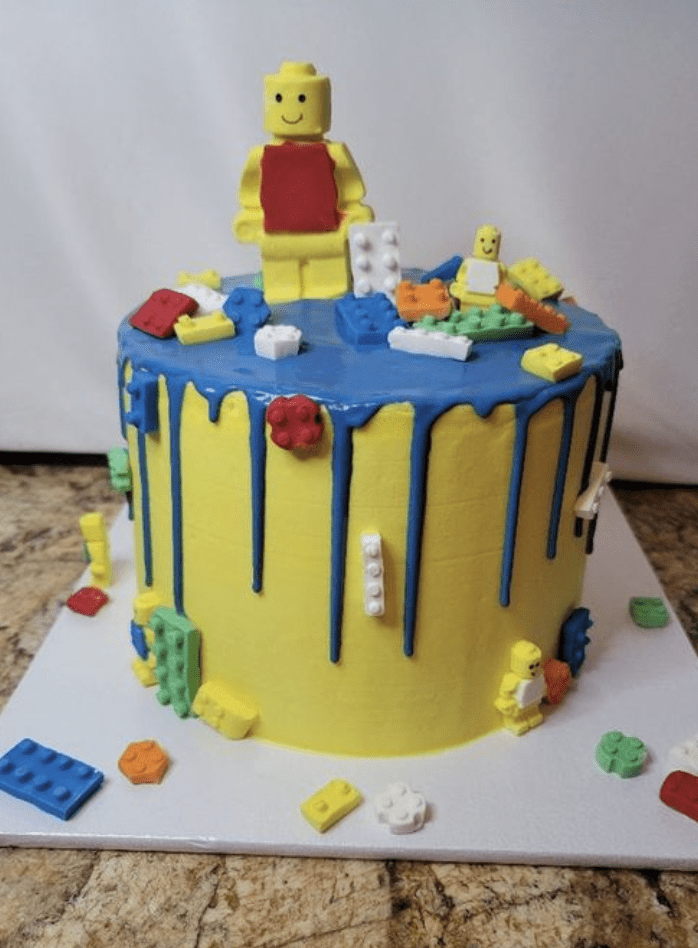 One of my favorite things about LEGO cakes is that I can bake the cake with a figurine of my choice. With this drip cake, I suggest creating a LEGO figurine that best represents the birthday girl or birthday girl.
To top things off, also bake matching cupcakes to go with this main cake.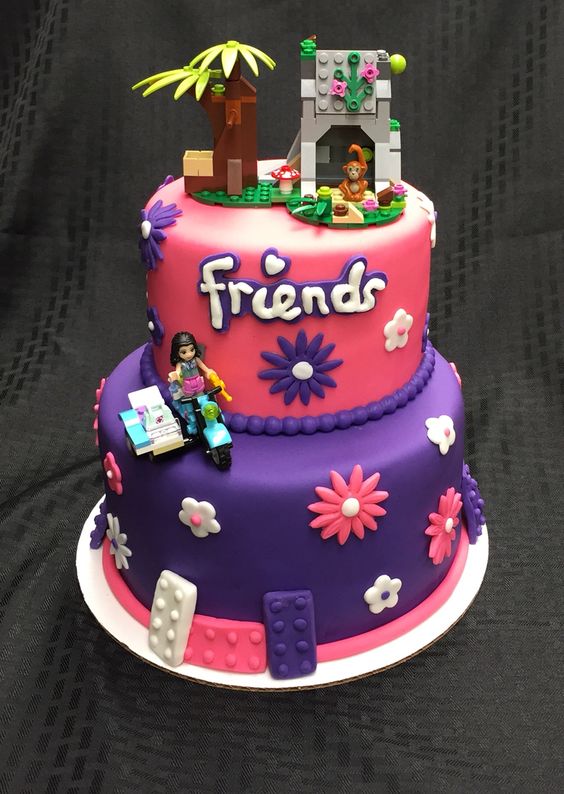 Get ready to blow everyone's mind at your kid's next birthday party. Needless to say, this LEGO cake won't be easy to pull off, mainly if you've never made one like this. That said, with enough patience and a month's worth of practice, you should be able to pull it off.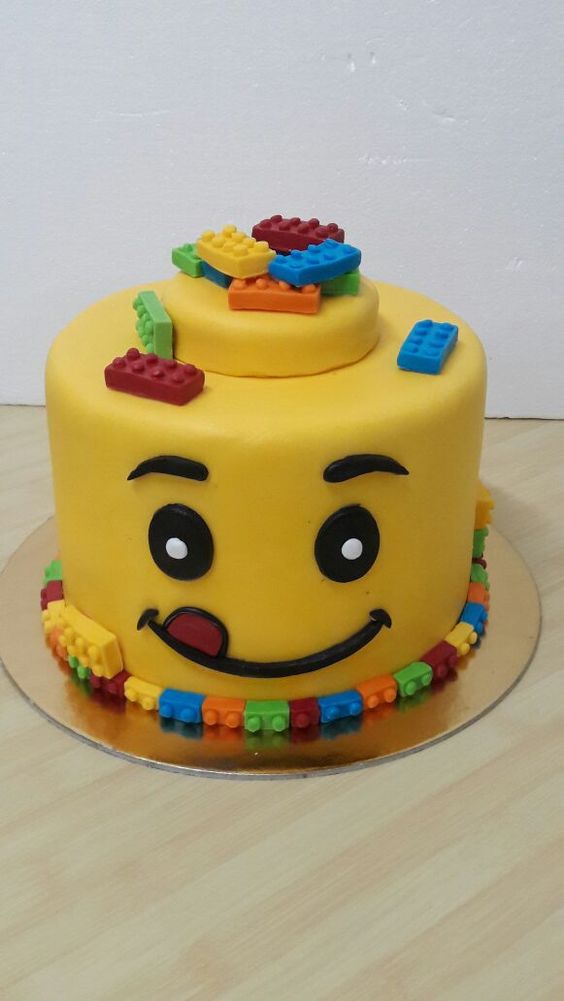 When I first came across this smiling LEGO cake, I thought it'd be an easy and quick one to prepare. The figure's head itself wasn't an issue. But boy oh boy did those edible LEGO blocks take up a lot of my time.
Overall, it was a fun cake, and it tasted just as good as it looked. My best friend's kid also loved it. The cake was for his 10th birthday.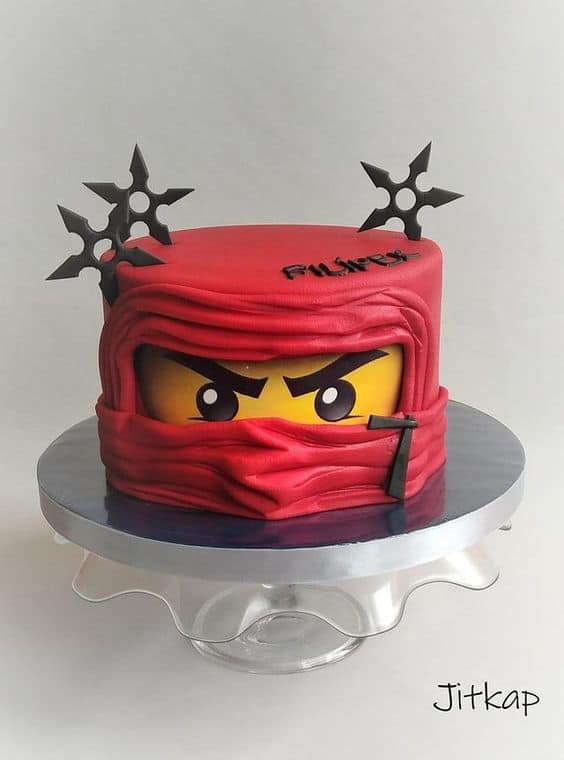 If you have some experience working with fondant, this Ninjago Cake by Jitkap should be a must-try for you. The cake is both visually impressive and super easy to make. To top it off, everything on the cake is edible, including the aesthetic ninja stars at the top.
If the red shade doesn't work for your kid, feel free to play around with different colors. Don't forget to change the stars' shade as well to a color that best complements the color you settle on.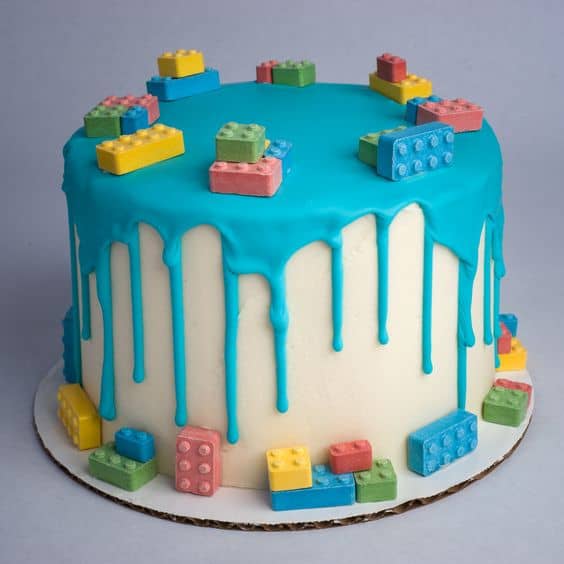 A Funfetti cake layered with vanilla buttercream and topped with white chocolate ganache drip and fondant LEGO blocks. What beats that? I also appreciate how easy this LEGO cake is to prepare. Use LEGO bricks of different colors and sizes for added variety.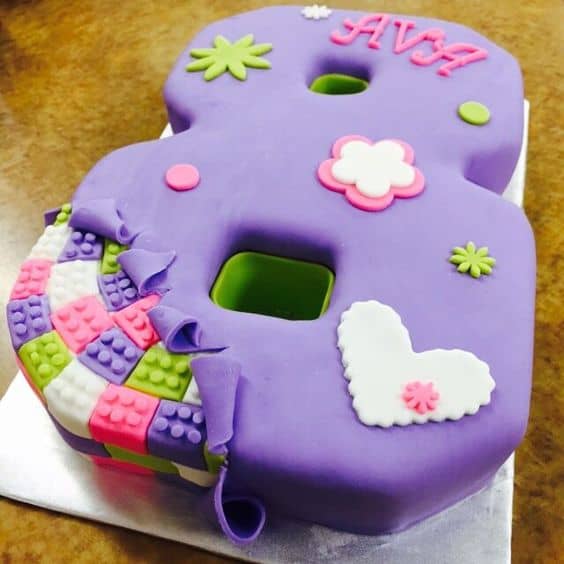 Both LEGO and number cakes are always a hit with kids and are deceptively simple to pull off. Imagine if you put the two together? How much of a hit would that be? Note, though, that you'll need the correct cake tin to pull it off.
Feel free to play around with multi-colored marzipan for added layers of coolness.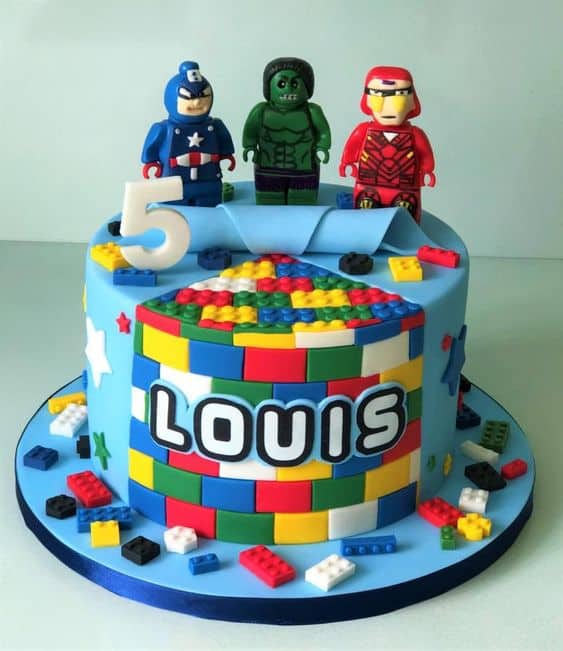 Chances are it'll take more than hulk's strength and captain America's morality to pull off a LEGO cake this amazing. If you manage to do it, you will have hit the jackpot of any superhero lover's dream.
The cake itself is a 4-layered vanilla sponged cake filled with chocolate ganache.
See also: Amazing Space Cake Ideas That Are Out Of This World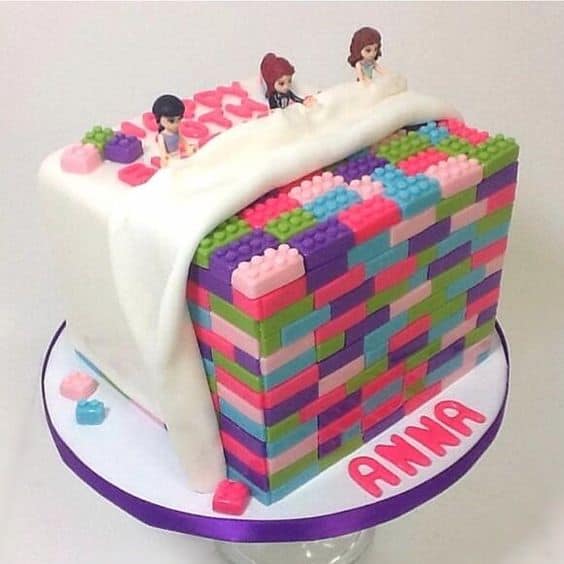 Another popular LEGO cake idea among young girls is a cake unfolding to reveal the bricks behind a solid color. The solid shade is usually white icing. To create the cool 'reveal' look, simply roll your fondant. The only challenging bit will be seamlessly integrating the figurines with the unfolding "sheet."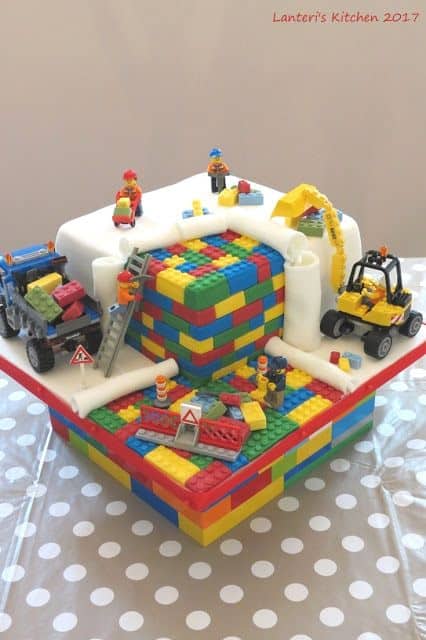 LEGOs are construction toys with construction workers as main characters. As such, it makes sense this detailed guide would feature at least one construction LEGO cake. With this cake, the goal is to display LEGO figurines at work, drilling the cake's core.
Oh, and the cake tastes fantastic too.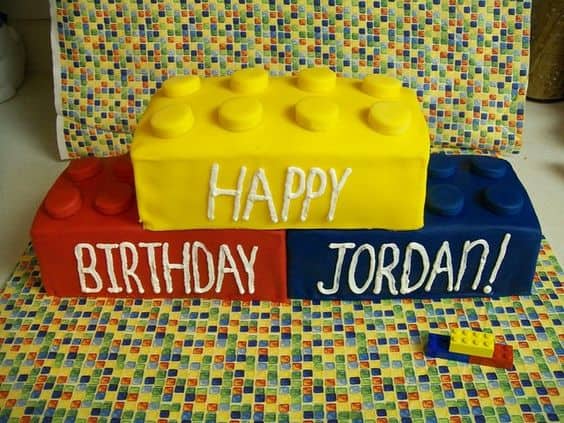 The first LEGO cake design I ever took a stab at looked like the one above. My son was turning 6, and he decided that he'd like to have a LEGO-themed party for the first time. I've always believed in my culinary skills and my background in cake decorating. So even though I'd never prepared a LEGO cake before, I decided to try it anyway.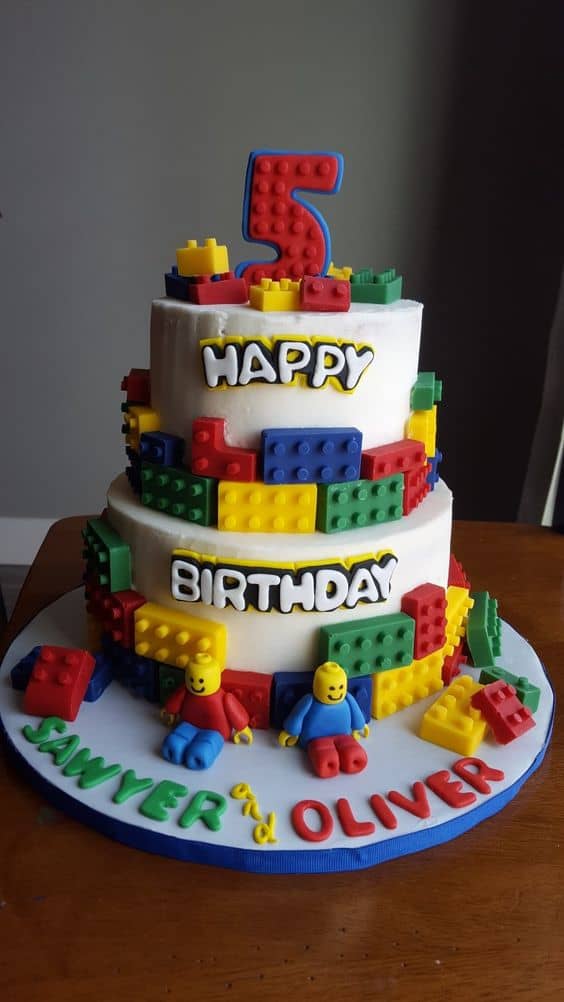 Happy birthday to your little one! Another cake, another rotation around the sun. Fortunately, today's cake is an extra special one, with an edible number gracing its top to denote the child's age. You're not just limited to just the kid's age. You can even use triple digits to represent the birth date.
Would you like to personalize the design further? I suggest adding your own little LEGO brick designs and authentic figures.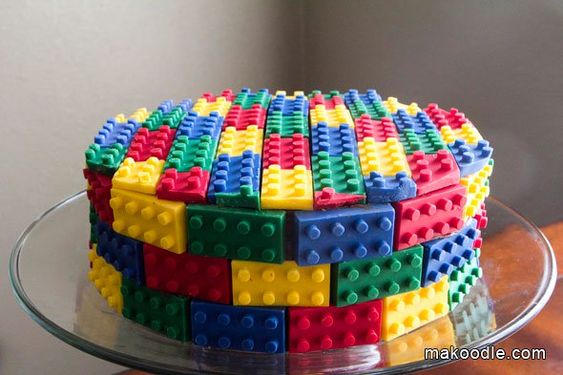 The highlight of my baking career was when I managed to bake a flat-top-LEGO-cake like the one pictured above. I had a long-term client who needed a LEGO cake, but one without any fondant. So, I opted to make it with buttercream.
The only downside with this cake is it'll take a lot of time to prepare. I had to prepare it row by row, filling in the parts using different colored and sized LEGOs. Doing the whole cake took approximately 6 hours.
Once I was done, I also included one giant yellow LEGO in the middle. That's where I wrote the clients' daughters' names.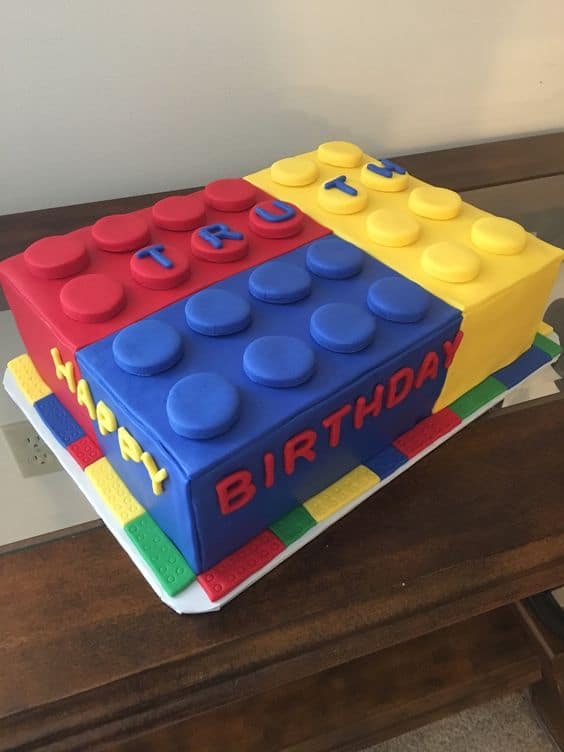 This looks simple, but fondant is a *insert bad word here* to work with. Getting it to sit properly over the LEGO bumps is enough to make you pull your hair out. But if you can do it, it's totally worth it.
For an exciting twist on the LEGO cake idea, use building blocks of different styles and sizes. Also, use gel paste food coloring to add vibrance to the LEGO bricks.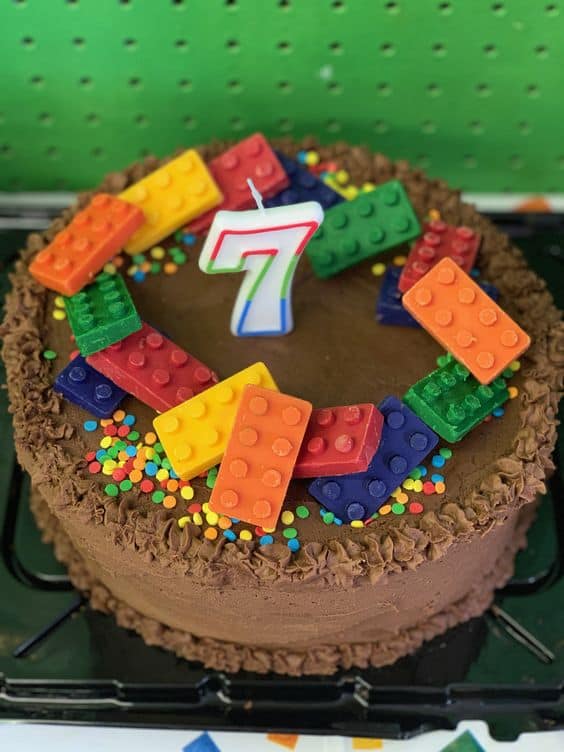 Would you prefer a LEGO cake that is simple yet elegant? I recommend trying out the round cake with LEGO toppings. As shown in the image above, this round cake allows you to skip the countless mini bricks. It's the perfect solution for time-poor parents.
To keep things even simpler, consider getting a plain cake from the bakery and then decorating it with fondant. The LEGO molds sprinkled on top are filled with candy melts.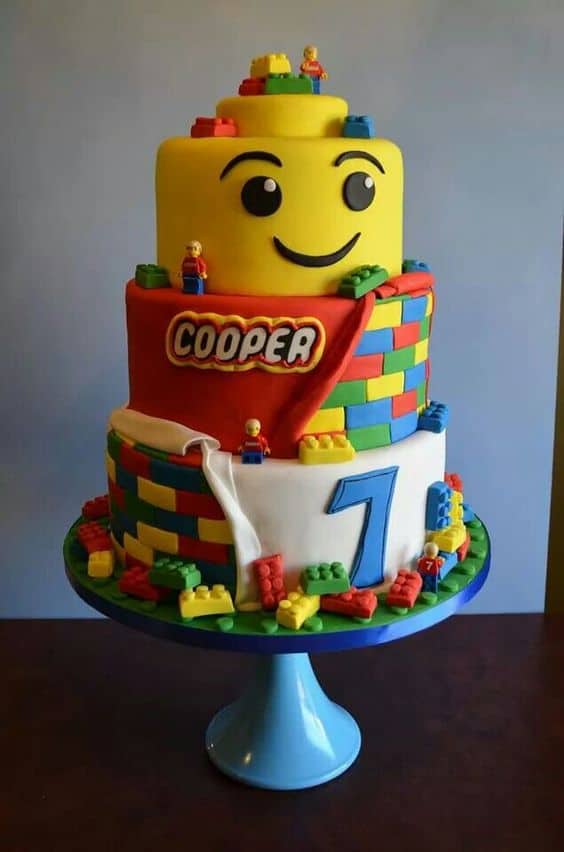 Release your child's inner master LEGO builder and inspire your inner baking goddess with this tower LEGO head. Thanks to the cake's tall structure, it also creates the perfect opportunity to cram many LEGO minifig characters.
What's more, iconic, classic, and easy to replicate, the standard yellow brick head at the top is any kid's ideal party centerpiece.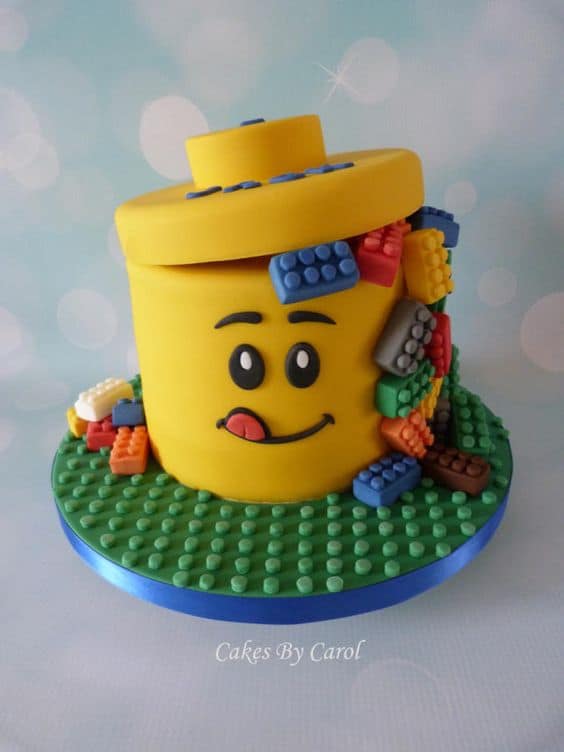 This LEGO head cake looks positively lovely when frosted with pale frosting and topped with strategically arranged candy bricks. The tiny green spots on the mainboard are an appealing addition to the cake. That said, according to Cakes Décor, they were very time-consuming to accomplish.
Including the hat-like cake structure on top is another nice touch.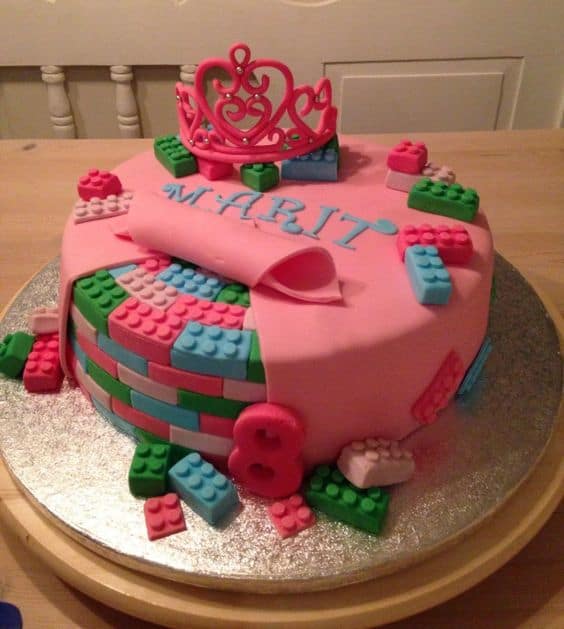 This LEGO cake idea shows an excellent way to personalize and decorate any cake. The downside is you'll need to be confident in your skills with fondant, frosting, and other cake decorating materials.
Roll the fondant in a manner that reveals the cake full of colorful bricks. If that doesn't delight the eyes and taste buds of all those attending the party, I don't know what will.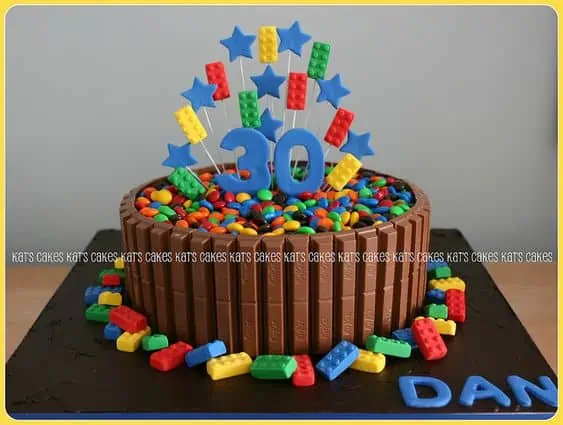 I prepared this exact M&Ms Kit-Kat cake for my daughter's birthday one year, and all the kids went crazy for it. I get it. Only a few things are as appealing as handmade LEGO bricks and Kit-Kats all over a chocolate mud cake.
Remember, while preparing this cake, you may want to freeze your Kit Kats to avoid fingerprints from showing.
Must-Have Elements for LEGO Birthday Cakes
If you're looking to make a LEGO brick cake, there are several elements your cake must-have. Without these, your cake cannot qualify as a LEGO cake.
LEGO Studs
LEGO studs are perhaps the most must-have (but tedious to make) element of creating a LEGO cake. To create the LEGO studs, you can either use frosting, the actual cake, or half-cut marshmallows. Each LEGO stud sticks right onto the frosted cake to give it the final LEGO-like appearance.
LEGO Colors
The actual LEGO color palette has exploded from the classic red, yellow, and blue colors. That said, these three shades (as well as white and green) remain must-haves in the realms of LEGO cakes. Point to a LEGO cake without at least one of these colors, and I'll show you an unrecognizable LEGO cake.
LEGO Minifigures
A LEGO cake can lack Minifigures and still qualify as a LEGO cake. That said, I can guarantee including them will be a treasured addition for your little one.
These Minifigures were introduced in 1978 and have since become the most beloved toys worldwide. They're made from anthropomorphized plastic and then into original characters with facial and clothing designs.
Finished LEGO Minifigs range from classic space astronauts and Indiana Jones to Blacktron and San Diego comic-con superheroes.
Tips for Making a DIY LEGO Cake
Whether you're making a small or oversized LEGO cake, these tips and tricks should help improve your chances of success.
Do Not Chase Perfection
From time to time, you'll come across LEGO cakes that have been so professionally created that you'll start feeling discouraged. Last year, I came across a design I knew my son would love. Unfortunately, I knew I'd never be able to pull it off. Not even if I spent decades learning how to make LEGO cakes.
When this ultimately happens to you, do not feel bad about it. I didn't. The key idea to note is that children want CAKES first and fun cake designs second. So do your best while making the cake, but do not sweat it.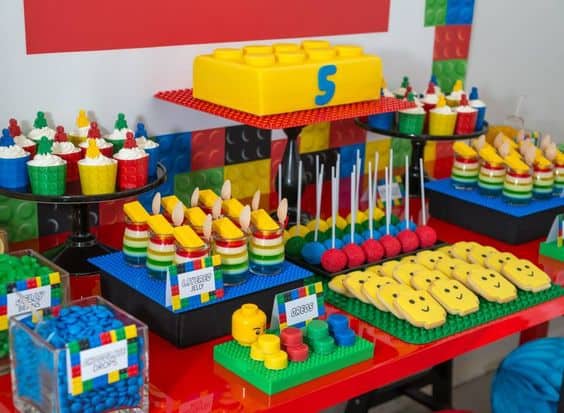 Prepare the Top Block 2 Days in Advance
48 hours before the day you'd like the cake, make several block pieces using the block mold for the top. You should do this two days in advance because it allows the pieces to dry and get a "sharp" appearance.
Remember, dry fondant is sharper-looking fondant, and a sharper-looking fondant will look cleaner on the finished cake.
If you're already late, do not stress it. Last-minute fondant works as well.
Storing the Top LEGO Layer
If you made the top LEGO blocks in advance, store them on trays in your drawers or cabinet. Ensure they're out of bulb light and sunlight, lest they fade and change color.
That said, under no circumstances should you store them in an air-tight condition. This causes the fondant to sweat and stay soft. The farthest you can go is keeping them in a paper box.
Be Systematic
While preparing your LEGO cake, I recommend starting with the lightest color and going to the darkest. That means doing yellow, green, red, and then blue. This way, you prevent cross-contaminating your fondant colors.
You also save yourself from overly dry hands due to overwashing.
Keep Fondant Soft
When working with fondant, cover your hands with shortening or butter. They help keep the fondant soft.
Cake Studs
Would you prefer LEGO brick studs made from the cake itself and not just fondant? Simply slice off equal pieces from your main cake's ends and use them for the number of studs you need. Remember, you'll still need to cover them in fondant icing before attaching them to the main cake.
Rising Cake
I have two different tips that'll help you end up with a better rising cake. First, try not to open the oven too soon while the cake is cooking. Second, do the sifting by hand to add air to the batter.
Refrigerate Your Cake
After letting your cake cool, cover it and place it in the refrigerator. Let it sit in the fridge for two to three hours. Why? Well, this cooling period makes the cake easier to ice and deal with than when it's hot.
FAQs
As we wrap this baby up, here are answers to three of the most frequently asked questions about LEGO cakes.
Question: How Do I Make a LEGO Cake?
Answer: The easiest way to make a LEGO cake is to invest in a LEGO mold that resembles LEGO block pieces. The other option is baking the rectangle cake separately, covering it in fondant icing, then individually placing the little fondant nubs on top of it. The rectangle cake acts as the LEGO brick.
Question: What Are the Common LEGO Colors I Can Use for a Cake?
Answer: Many colors are used in LEGO cakes today, but the most common are blue, yellow, white, green, and red.
Question: Can Adults Have LEGO Birthday Cakes?
Answer: Adults enjoy LEGO birthday cakes just as much as children. Whether you're turning 30, 40, 50, 0r even 60, feel free to enjoy a LEGO cake with all the fanfare.
Bottom Line
I know your toddler may be confused about why they're not allowed to swallow their LEGO sets. However, your big kids will be thrilled to get any of these LEGO cake ideas on their birthday. I promise! Did any of these awesome ideas strike your fancy? Was it my simple pick of a LEGO Dripping Cake? Want more sweet ideas like these? Check out our site!
Recommended Reads: