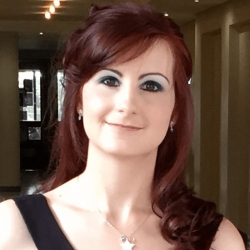 Latest posts by Denine Walters
(see all)
I've always been fascinated by galaxies, the moon, and the stars. When you stand outside and look up at the night sky, it brings a certain calm – I feel so small when I see the vastness of the universe. When I had to plan a party for my partner, I knew I wanted a galaxy cake and a galaxy-themed birthday party (luckily, he is also obsessed with galaxies). I started looking for galaxy cake ideas and fell in love with many decorating options. 
There were too many ideas, to be honest, and I wish a guide for the best galaxy cake ideas existed to help me narrow down my top choices more easily. But at last, I finally found a galaxy I could bake and decorate, and one that fitted my budget. 
If you are looking for ideas for the best galaxy cakes for your wedding, birthday party, or any other occasion, I've got the best ideas here for you!        
My Bottom Line Upfront 
The best galaxy cake idea is the buttercream and sprinkles galaxy cake. It's different from all the other galaxy cakes, it's affordable, it's easy to decorate, and it's a winner at a birthday party. 
Need I say more?  
Your Galaxy Cake Ideas Checklist 
When planning your galaxy cake, use this checklist to fine-tune your idea. The checklist will also guide you toward the best kind of galaxy cake for your celebration.  
Galaxy Cake Design  
One of the first considerations is the design of the galaxy cake. Ask yourself these questions:  
Do you want a round, dome, or square cake? 

Or do you want

cupcakes

,

a roll cake

,

donuts

,

macarons

, and/or

cake pops

? 

How many layers and/or tiers should there be?

Do you want a simple yet stunning galaxy cake, or one that's more elaborate and a definite show-stopper?

Is there a specific trend you want to follow? A wrap cake, geode cake, unicorn cake, fault line cake, or something unique?  

What galaxy colors do you want? Choose between black, purples, blues, pinks, and turquoises, or choose a unique

galaxy color palette

. 
Cake Flavor  
You are lucky that you can choose any cake flavor for your galaxy cake. Most bakers just go with vanilla or chocolate, but some bakers think more in terms of the cake interior and making it interesting like this: 
Have just as much fun when planning your cake batter flavor and colors as when you decorate your cake. 
Your Budget  
Not everyone has the budget for an elaborate cake or to hire the best patisserie. If you need to make the cake yourself, you'd likely prefer a cake that's easy to decorate and one that will be a success (and not a mess). 
Luckily, party shops, bakeries, and online retailers sell cake decorating elements to make your job easy: 
If you are creative and have some mad decorating skills, you can experiment with edible spheres, black holes, and more to make your galaxy cake design unique.   
You can opt to hire a baker and/or cake decorator to make the galaxy cake for you. I recommend finding a galaxy cake idea you love, printing out the image, and taking this with you when you place your order so the baker/decorator knows precisely what you want. 
See also: 15 Best Minimalist Cake Ideas You Need for Your Next Party
Galaxy Cake Ideas: What Are My Criteria? 
There are so many pretty galaxy cake ideas that choosing the best of the best wasn't easy. And sometimes a cake looks like it could be a galaxy cake (because the decorator kinda used galaxy colors), but then I enlarged the image … and nope. Not even close. 
So I felt the galaxy cake ideas I chose should:
Look like a galaxy or remind me of it

Have the galaxy color scheme (usually black, purple, blue, and pink), but something unique can make the cut too  

Have galaxy shapes (barred spiral, irregular, spiral, elliptical, lenticular, or peculiar) in some kind

Have a galaxy system (disk, bulge, and halo consisting of stars and clusters of stars) – preferably   
I also thought about how easy the cake was to make and which occasions or parties it would be suitable for. You have a range of options and can choose the best galaxy cake idea for you and your event.  
15 Galaxy Cake Ideas 
Ready to explore the galaxy, captain? 
Here are the best galaxy cake ideas you need for your next event:   
1. Buttercream and Sprinkles Galaxy Cake  
This buttercream and sprinkles galaxy cake stole my heart. So many of the ideas are so similar that I thought I was looking at the same galaxy cakes over and over again. 
This cake, however, is different. It isn't a traditional galaxy cake; the color and choice of sprinkles remind you of the galaxy. I also think anyone can successfully make this galaxy cake, whether you are a pro baker or someone baking and decorating their first cake. 
The one-layer cake has a smooth blue, aqua, and purple galaxy patterned buttercream exterior. The top edge of the round cake is decorated with piped buttercream (it looks like the large star pipe nozzle was used) in a cream color. The rest of the cake top has loads of jimmies (a sprinkles type) in black, pink, purple, blue, and aqua and some small edible silver stars. 
The side of the cake has fewer jimmies, and there's piped buttercream where the cake meets the serving plate to complete the look.  
2. Galaxy Disk Cake 
The galaxy disk cake is another winner in my books. It's perfect for any kind of party where you want a show-stopper for a cake. I also like that it's so vibrant. 
The one-tier (semi-tall) cake has a dark purple-blue fondant exterior decorated with white, light gray, and silver nonpareils (sprinkles) and stars. I can also see that a moon or planet has been painted on the fondant. 
The top of the galaxy cake is quite busy, but not in a bad way. There are edible stars – in marshmallow or fudge – with edible silver pearls, and gelatin disks decorated with sprinkles and stars. (I would love to steal a disk of the cake and take a bite; I think one of the pink ones has my name on it, actually.)  
See also: Amazing Space Cake Ideas That Are Out Of This World
3. Galaxy Geode Cake 
This galaxy geode cake is fit for an out-of-this-world wedding or birthday party. Geode cakes are very trendy, so if you want to be in with the in-crowd, you should go for this kind of cake. 
I love the color of the geode, it makes me think of a space ripple with the white and turquoise that becomes dark purple, blue, and black (very mysterious). The geode spans the tall two-tiered cake, and it's lined with a metallic gold that emphasizes it. 
The cake has a fondant exterior with a galaxy pattern in black, purple, purple-pink, blue, and aqua. There are crystal rocks (most likely sugar work) at the top and bottom of the cake where the geode starts and ends. Some crystals are placed on the middle tier next to the geode. 
4. Moon and Stars Galaxy Cake  
I was speechless when I saw this multi-tiered cake. The moon and stars galaxy cake has 8 tiers (but the bottom one is a foil-wrapped spacer and another is a perspex spacer), with each tier a different thickness. 
The exterior of each tier is hand-painted with a smooth, silky blue buttercream frosting with galaxy patterns. I can see a galaxy spiral, stars, and what looks like a light purple planet. 
Clusters of non-edible stars are placed all along in a semi-arc on the side of the cake until they reach the top, where they look like fireworks. There's a dark blue moon on the second top tier.    
5. Purple Geode Galaxy Cake 
This black frosting, purple geode galaxy cake is another stunner. It immediately caught my eye, and I think it's the perfect cake for a wedding, tea party, or birthday.  
The one-layer cake has a smooth, primarily black buttercream frosting exterior. I see dark turquoise, purple, and pinkish-red splotches forming the traditional galaxy colors. There is black edible glitter all along the bottom of the cake where it meets the cake stand. 
The top and sides of the galaxy cake are decorated with edible silver glitter spatters and silver stars. 
There's also a sugar-crystal deep purple geode lined with a silvery light purple edible paint, making the purple geode stand out even more. 
6. Painted Galaxy Cake 
This painted galaxy cake looks phenomenal with the glass-like shards on top of the cake. I think I would like this galaxy cake for my next birthday party (hint, hint for those who know me). 
The cake's exterior is hand-painted in blue, purple, and pink shades with some black edible paint to resemble a galaxy. I see some gold dots have been painted on the galaxy print to resemble star clusters. 
The top of the cake is what grabs my eyes. There are various paper-thin glass-like shards with edible gold pearls to complete the decorator's masterpiece of a galaxy cake. If you wanted a galaxy cake for your wedding, this one would be ideal!     
If you are looking for another glass-shard option galaxy cake, this one is stunning. The glass shard cake is more colorful with the green, blue, and purple galaxy formations on a black buttercream frosting background. The shard matches the colors on the cake perfectly.    
7. Mirror Glaze Galaxy Cake 
 Mirror glaze galaxy cakes are all the rage, and I understand why. The cake looks decadent with the rich colors of the glaze, and the mirror-like shine seems like something only a professional cake decorator can achieve. But you can easily make a mirror glaze galaxy cake like this one!   
Here's a tutorial by Tasty Recipes to show you how easy the mirror glaze process is. 
Looking for some other mirror glaze galaxy cake ideas? Here are a few more just for you: 
8. Sprinkle Fault Line Galaxy Cake  
I think this sprinkle fault line galaxy cake was something unique. Usually, fault line cakes have a fault line that runs for X inches in the middle of the cake, but this cake has its fault line running down one side of the cake in an interesting shape. 
The cake exterior is decorated with a black, blue, and pink galaxy buttercream pattern. Then the fault line is filled with black, purple, aqua, and silver nonpareils, dragees, and star sprinkles.  
The top of the cake offers another focal point with the isomalt sail on top. It makes me think that someone is sailing through the galaxy. 
9. Black Hole Galaxy Cake 
Another interesting design I love is this black hole galaxy cake. It's perfect for a birthday party for your teen or another loved one obsessed with galaxies and space. 
The three-tiered cake has a dark purple, gold, blue, and light purple buttercream exterior decorated with galaxy patterns and shapes. 
The middle layer is the black hole layer. I'm not sure if a hole has been cut in the cake because it matches the background the cake was photographed on or has just been painted black with spirals around it. 
The cake topper says "infinite black hole," but you can add some gold star cake toppers or a gold "happy birthday" cake topper if you'd like. 
10. Gold and Blue Galaxy Cake 
This gold and blue galaxy cake is simply stunning. It's perfect for a wedding or a fancy birthday party.   
The four-tiered cake has galaxy patterned buttercream frosting in black and shades of blue. You can also make this cake with a mirror glaze.   
Starting from the left on the bottom cake tier and ending on the left of the top tier, the cake's been painted with edible gold paint. Next to the inch-thick gold line, I can see white and gold sprinkles. There are edible gold tropical flowers on the bottom tier and middle tier.   
11. Purple and Silver Galaxy Cake 
The tall one-tier purple and silver galaxy cake is easy to make. The exterior frosting is buttercream in pink and shades of purple that form a galaxy pattern. Still, you can use a mirror glaze too! 
The outside of the cake is decorated with edible silver glitter, nonpareils sprinkles, larger edible pearls, and an edible silver sphere with a star here and there. 
The top of the cake has a cluster of five silver spheres, and I can see lots of sprinkles, edible glitter, and stars.    
12. Starry Galaxy Cake 
I adore this starry galaxy cake because of the rich blue and royal purple that wraps around the side of the round cake. 
The frosting on the cake forms a spiral, and the whole cake is decorated with splatters of food coloring and star sprinkles here and there.   
13. Purple and Stars Galaxy Cake 
Another easy-to-make cake! The tall one-tier purple and stars galaxy cake has a black and rich purple galaxy-like buttercream frosting splattered with white and silver food coloring to represent the stars. 
The top and sides of the cake have also been decorated with edible silver star sprinkles. Then the two-toned purple buttercream frosting is piped in star or spiral shapes along the top edge of the cake. The piped buttercream has some star-shaped sprinkles to complete the galaxy cake look.    
14. Unicorn Galaxy Cake 
Unicorns are very popular now, and what would a galaxy cake idea guide be without a few unicorn galaxy cakes? 
I adore this unicorn galaxy cake with its black, purple, and pink buttercream frosting. The unicorn's mane and tail are pink, aqua, white, and purple (aka unicorn colors) with piped buttercream. 
If you have patisserie skills, you can make the eyelids and lashes, unicorn horn, and ears to complete the unicorn or buy a unicorn cake topper. If the eyelids and lashes are black, you can "bedazzle" them with edible glue and gold dragees to stand out against the cake's background.  
I made this unicorn cake (with the help of a unicorn cake topper) for my little girl's fifth unicorn-themed birthday. It was such a hit with her and the other guests! I've got a few orders to make a few more unicorn galaxy cakes, meaning I needed more inspiration:
15. Pastel Galaxy Cake 
What if you want to make or get a galaxy cake for your one-year-old or toddler? I think a galaxy cake in pastel colors is perfect for those occasions. This pastel galaxy cake is ideal for a little girl, but you can swap the pink and purple for blues and greens for your little man. 
The two-tiered galaxy cake has a simple two-toned buttercream frosting exterior in lavender and baby turquoise. Pink icing drips onto both layers. 
Mini meringues in purple and light turquoise are placed next to the bottom tier on the glass cake stand. Some meringues decorate the surface between the tiers and the top of the cake. Three cookie stars with pastel galaxy icing are placed on the cake.   
There are also galaxy cupcakes placed around the cake with a gold candle and mini meringue. 
Galaxy Cake Ideas FAQs
Question: What are the galaxy colors? 
Answer: When looking at galaxies through a telescope, a galaxy will be primarily blue or red, and the color depends on the color of the stars. For galaxy products and product ideas – like wallpapers, cakes, placemats, bedding, and more – the traditional galaxy color scheme includes black, purple, pink, and blue shades. 
However, galaxy colors can also be more on the black and purple side of the spectrum, or black and blue, or purple and blue. There are also galaxy designs in green, aqua, red, and pastel shades that work together beautifully. 
Question: What is a galaxy?  
Answer: A galaxy is a cosmic system comprising various elements like stars, solar systems, interstellar gas, dark matter, dust, and stellar remnants, that gravity holds together. The Milky Way is one of the most famous galaxies; others are the Andromeda galaxy, Messier 87, Pinwheel galaxy, and Sombrero galaxy.  
Question: Why do people like galaxy cakes?
Answer: So many people are fascinated by space, what's out there, and the prettiness of the universe. It makes sense that we want to capture some of that beauty when looking at the night sky. It's cool to have the stars, moon, and galaxies printed on daily items like clothing, bedding, stationery, etc. 
Cakes are just one more item we can decorate in the galaxy theme to show our fascination with outer space. 
My Final Thoughts on the Best Galaxy Cake Ideas
My partner loved their cake (and the fact that I didn't go over the party budget this time!) I made sure the inside of the cake was finger-lickin' delicious, and the rich chocolate fudge with hints of cinnamon batter hit the mark and then some. Everyone came back for seconds and wanted the recipe, but a girl can't reveal all her secrets, right?  
Ready to see more cake ideas to inspire you? Check out my ultimate guide to the best mermaid cake ideas, or if you are in the mood for more "serious" cake ideas, I've got a guide on rose gold cake ideas too!  
Recommended Reads: