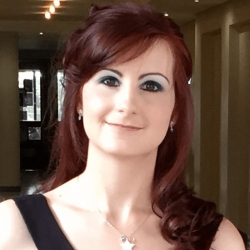 Latest posts by Denine Walters
(see all)
Less is more, right? Don't agree? I'd love to change your mind with these awesome minimalist cake ideas where less really is more. 
I'm a big fan of elaborate cake ideas, and over-the-top cakes are stunning. But that doesn't mean we need to dismiss other cake trends, where the cake design is simple, elegant, and gorgeous in its own right. 
Plus, do you ever look at a fancy cake, and it's just too pretty to slice up and eat? Like it's art-piece worthy, and you need a glass container to keep it intact so you can admire the beauty and genius every day? (You may even have that problem with some of the ideas I share today, but hopefully not.) 
My parents recently renewed their vows, and they wanted to keep things low-key. I thought a minimalist cake fitted the bill. The cake I chose was simplistic, but everyone talked about how understated, beautiful, and delicious it was for weeks afterward. Don't worry; I'll let you know which of the ideas below I chose. 
So if you are looking for a guide to the best minimalist cake ideas, you are in the right place. These ideas will be the talk of the town (err, party, I mean). 
My Bottom Line Upfront 
There's one minimalist cake I'm totally and utterly in love with (and I even printed out a picture of this cake to put next to my PC – that's how obsessed I am). The purple butterfly minimalist cake stole my heart, and it meets all the criteria of a minimalist cake. 
It's trendy, it's pretty, and it's minimalist. 
Your Minimalist Cake Checklist 
When making, decorating, or ordering your minimalist cake, keep these considerations in mind: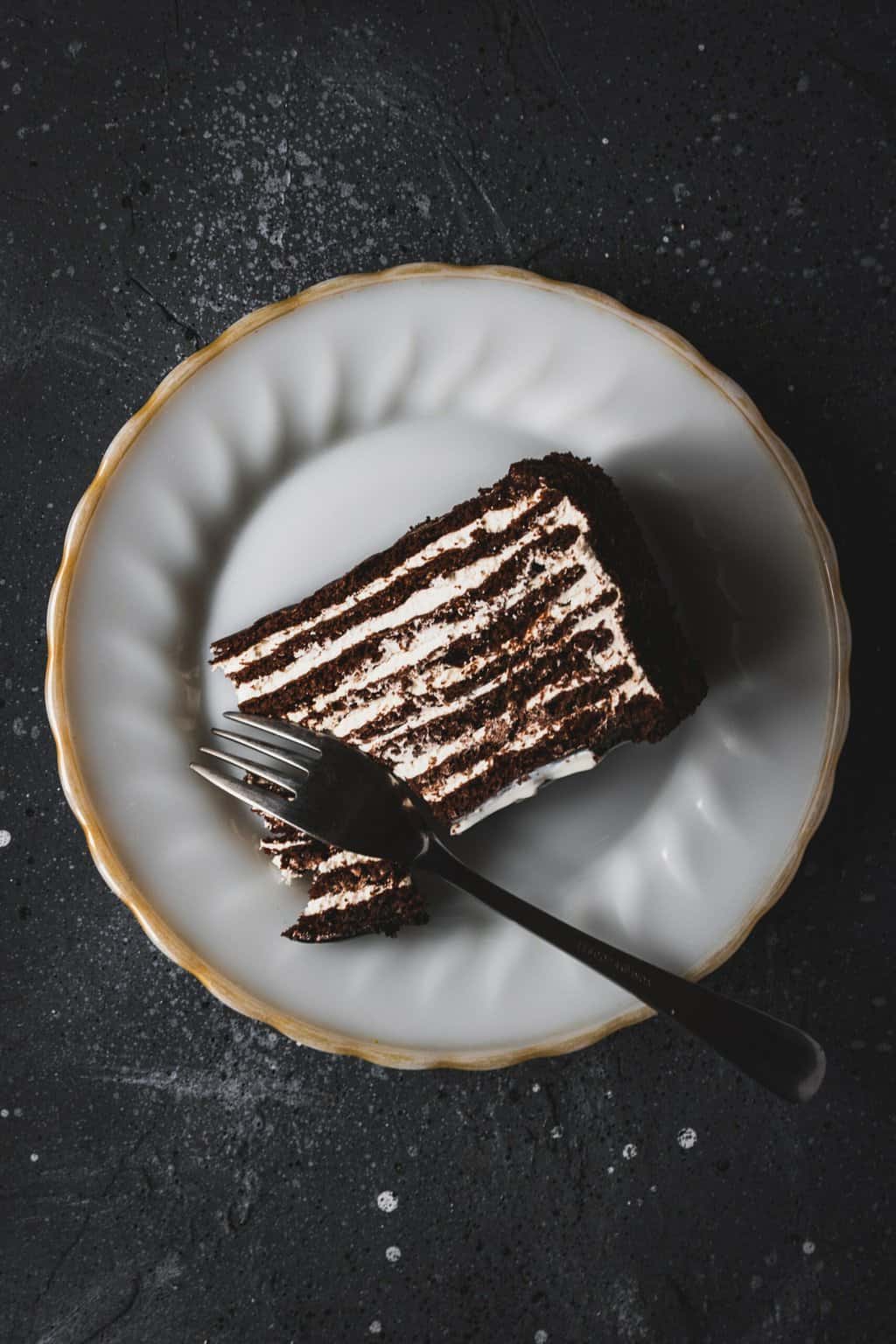 How Minimalist Can You Go? 
Minimalism means different things depending on whom you ask. Some people may say minimalism is the bare essentials, but someone else may say it's a little more than that. 
Essentially, a minimalist cake isn't elaborate like this animal circus cake, the picture-perfect fairy-tale forest cake, the cloud floating and raining in an ocean teacup cake, the cathedral cake, or tea party-pouring tea cake. These are WOW cakes (I needed to capitalize the "wow" because … wow!). They look like works of art and are way too pretty to eat.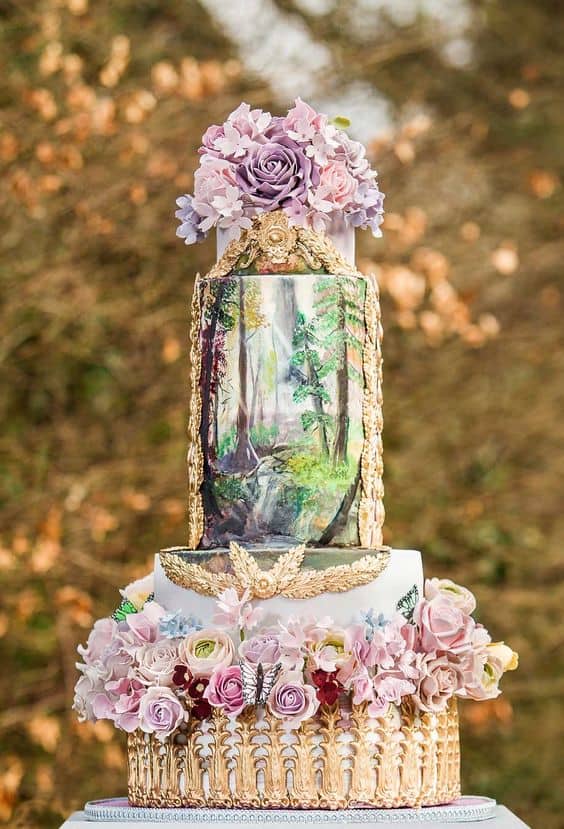 A minimalist cake is eye-catching in its own understated right. So you can choose how minimalist you go. 
Just add a pretty butterfly (coz I'm all about butterflies) and write HBD (short for "happy birthday"). Or you can add a few butterflies and a pearly detail here and there, or you can have a tall white cake tier with some stems, leaves, and different flowers sparingly on the side. 
What's the Occasion? 
You can create a minimalist cake for any occasion. It can be for your Friday meeting because you want to jazz things up a bit (or get back in your boss' good graces). Or how about it's Sunday afternoon, and you feel like having cake. After all, you're an adult, so who says cake's only for your birthday or a special party? 
You can get a minimalist cake for your tea party, kitchen party, baby shower, bridal shower, mother's day, earth day, father's day, wedding, or vow renewal. 
Last week, I felt like making a special dessert and I was in the mood for cake, so I made this high altitude hummingbird cake, decorated in white with pink hearts. (I know, you are surprised it wasn't butterflies.) And just yesterday, I made a few minimalist bento cakes (aka lunchbox cakes) inspired by this "happy days" bento/mini cake for work.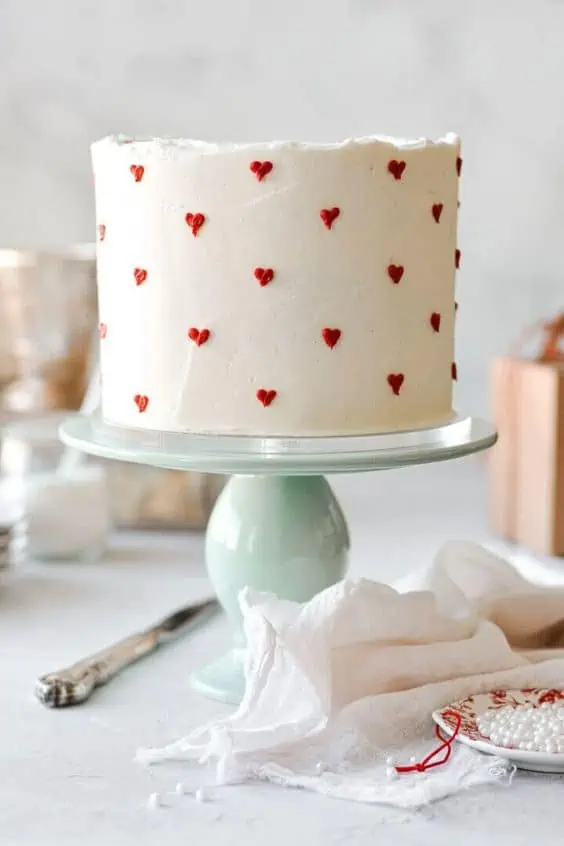 So match your minimalist cake decor with the occasion or party. 
See also: How to Find the Best Cake Ideas
Does the Cake Flavor Matter? 
The cake flavor matters even more when it's a minimalist cake. There's so much for viewers to feast their eyes on a fancy cake, and they probably think it must be delicious because it looks so good. The eyes and brain trick the nose and tongue. 
While a minimalist can also be a feast for the eyes, it's understated. So people would expect the cake to be divine. 
You can go for the classic flavors that just always work: vanilla, chocolate, red velvet, or cheesecake. Alternatively, experiment first. Bake a mini cake (or a few if you need practice like me), and then create the size cake you need and want to bake. 
I'd like to share a tip with you here. I bake a few mini cakes to practice my minimalist designs and colors. I make sure the cake looks simplistic enough, and then I know exactly what I want to do on the real-size cake that I plan to serve. 
What's Your Budget?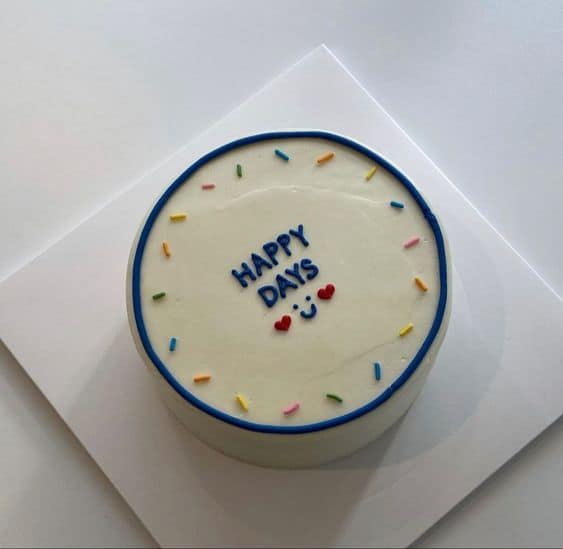 The wonderful thing about minimalist cakes is that they are budget-friendly. You don't need anything extra special to make or decorate the cake. You certainly don't need expensive cake decorating classes (and what feels like years of study before you'll master a technique!). 
Who's Making the Cake? 
You can quite easily make and decorate a minimalist cake yourself. However, if you feel more comfortable letting someone else do this for you and have the budget, you can ask a baker to create a minimalist cake, cupcakes, or bento cakes. 
When you go see a baker about your cake, I'd suggest showing them precisely what you want or taking a picture of the cake with you with notes on what you'd like done differently. 
Minimalist Cake Ideas: What Are My Criteria? 
Choosing the best minimalist cakes wasn't all that easy. What you think is minimalist may look a little too much on the elaborate side for me, and the opposite is true. So I decided to look at both the very minimalist end of the spectrum and the relatively simplistic cake designs that still fall into my theme of minimalism.
I also chose cakes suitable for birthdays, weddings, tea parties, and other special occasions. And I wanted to give you some minimalist decoration ideas for bento cakes, so I've included some of these too. 
Another factor I considered was how easy the minimalist cake is to make. You can simply copy these designs or ideas even if you don't have the equivalent for green thumbs in the kitchen. 
15 Minimalist Cake Ideas 
Here are the best minimalist cake ideas I could find, and these are cakes I really want to share with you too! 
1. Butterfly Minimalist Cake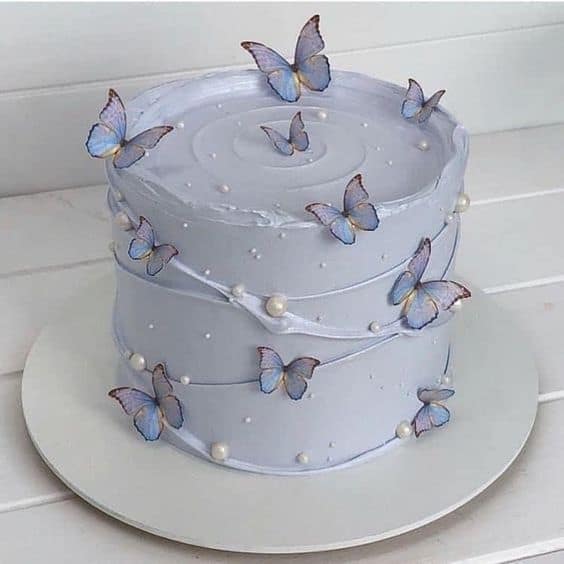 Number 1 on my list of minimalist cake ideas just had to be butterfly-inspired. I'm simply in love with this purple butterfly cake by Hairstyles & Beauty.
The design looks more elaborate than it really is. The tall one tiered-cake has a lavender fondant outer. Then there's a haphazard geometric line that starts as a spiral on top of the cake and runs down the sides, almost in a semi-criss-cross pattern. 
Edible pearl elements are placed here and there, while purple and blue butterflies make the cake more visually attractive. 
I also adore these butterfly cakes (similar design) in different colors: 
2. Starry Blue Ombre Minimalist Cake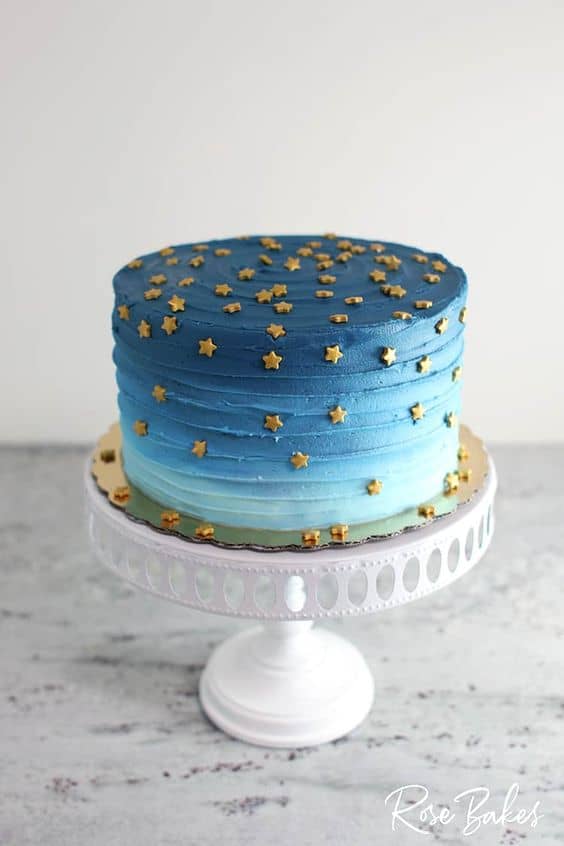 Another winner in my book of minimalist cake ideas is this blue ombre minimalist cake with gold stars by Rose Bakes. The cake is presented on a white cake stand and placed on a golden plate to match the stars. 
The bottom layer of the cake is a light blue, and then the shades of blue are well-blended until it's a dark indigo blue at the top. Golden stars are placed on top and on the sides of the cake, but they also follow the ombre design – more stars on top and fewer scattered to the bottom of the cake. 
3. Berry Minimalist Cake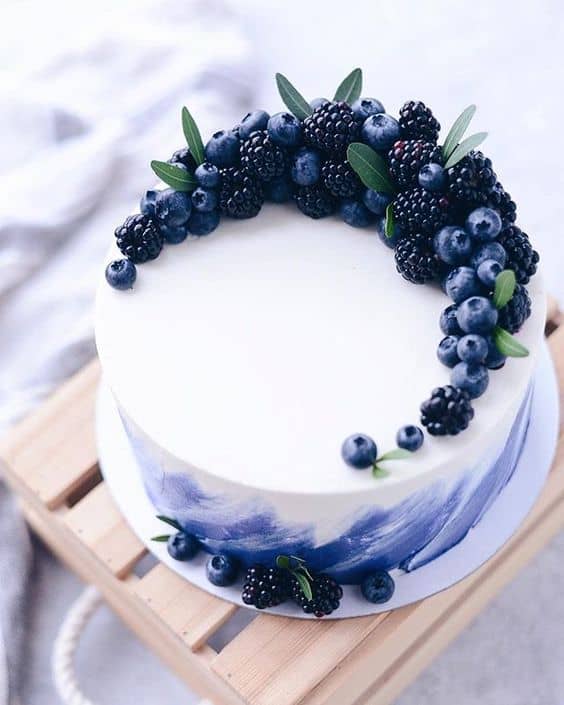 The very minimalist design of this berry cake by brittanymahri catches my eye. 
The single-tier cake is wrapped in a smooth white fondant. There are purple-blue brush strokes on the sides of the cake. 
The rest of the cake decoration is berries: blueberries and blackberries to go with the purple-blue on the sides of the cake. Dark green leaves are added between the berries to make the purple color pop even more. 
You can also add wording to the cake, like this cake that says "happy birthday [add name]. 
An alternative option is this red berry cake with red brush strokes instead of purple-blue ones. The cake is decorated with raspberries, pomegranate, cranberries, figs, red and white flowers, and light green leaves.
Or there's this strawberry option too. The top of this minimalist cake is decorated with strawberries, raspberries, blueberries, green leaves, and scatterings of pistachio and rose crumbs. My mouth waters as I look at this cake … I wonder if the flavor of the cake is vanilla strawberry? 
4. Heart-Shaped Minimalist Cake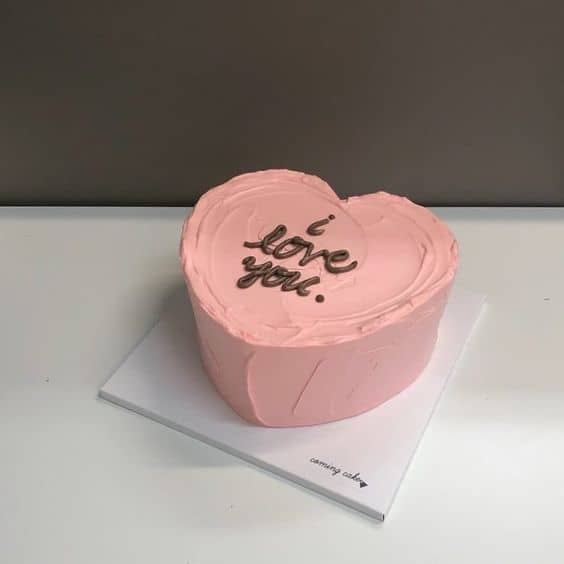 Okay, I don't think anything can be easier to make and decorate than this heart-shaped minimalist cake. You need your cake ingredients, a heart-shaped cake pan, and icing. 
This cake is iced in a dirty pink and has "I love you" written in brown icing. 
I'd choose different colors for my heart-shaped minimalist cake:
A red cake with silver words

A purple cake with black words

A white cake with red words
I'd even add some red hearts on the sides for the white cake. 
5. "To the Moon" Minimalist Cake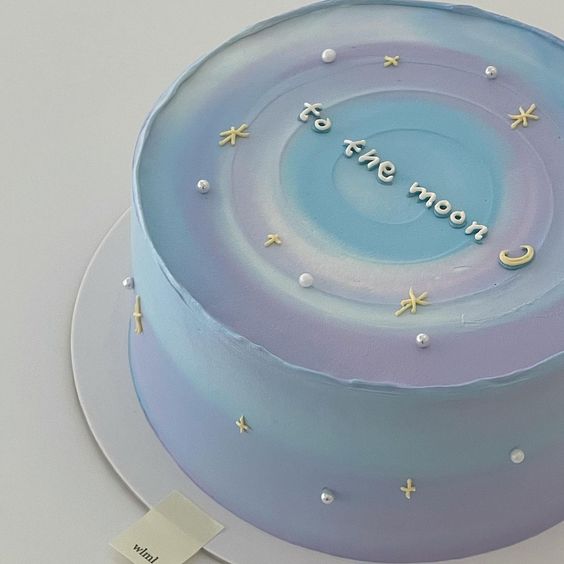 I really like this "to the moon" minimalist cake. The cake has a dreamy galaxy feel when I look at the purple, pink, and light blue fondant that makes a swirl of color on top of the cake. 
"To the moon" is written in white, pearly, or silver icing. The rest of the cake is simply but sparsely decorated with edible pearls, gold icing stars, and a crescent moon. 
I think I will make this cake for mom on Mother's Day. 
6. Periwinkle Daisy Minimalist Cake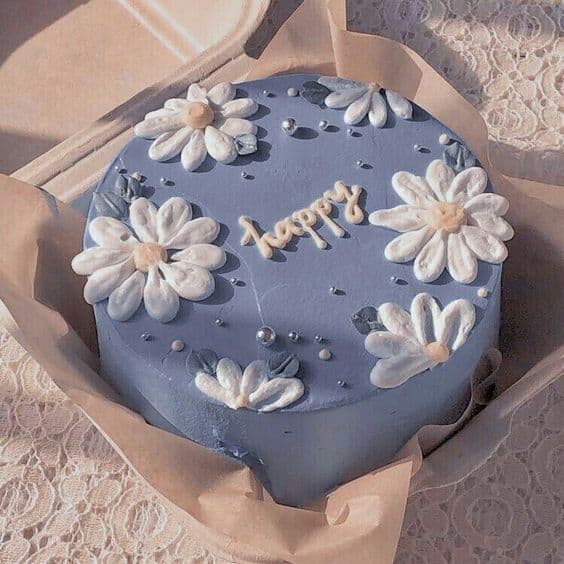 Another lovely minimalist cake design is this periwinkle daisy cake. The single-tiered cake has a periwinkle fondant outer. Then the decorator made daisies all around the edges on top of the cake. 
Periwinkle pearls add some texture, and the word "happy" is iced in the middle of the cake. 
There's no denying that the cake is simple and visually stunning. 
7. Moon Sky Minimalist Bento Cake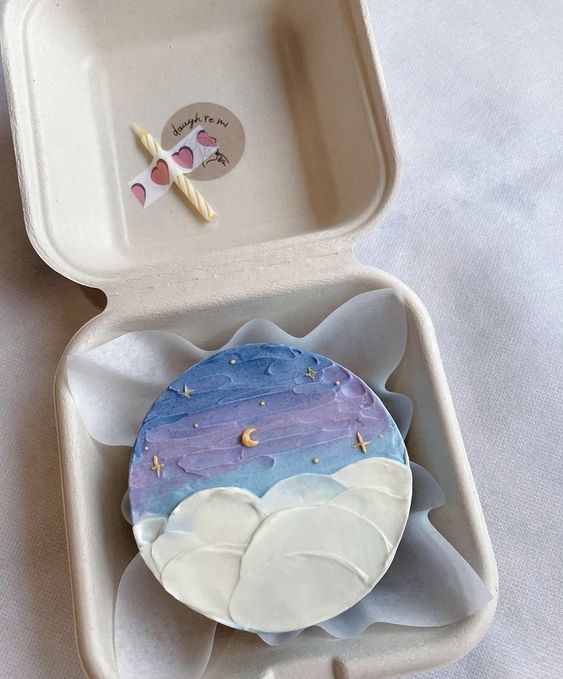 I enjoy making bento cakes. They are big (or small?) enough to eat all by myself (or when I have a health-conscious moment, I can save the other half for later). And I can also make a few of these and give some to my friends or coworkers. 
This moon sky bento cake is easy to make. You need a small cake pan, your cake batter ingredients, and icing in 5 colors: white, purple, light blue, dark blue, and gold. 
8. Flower Minimalist Cake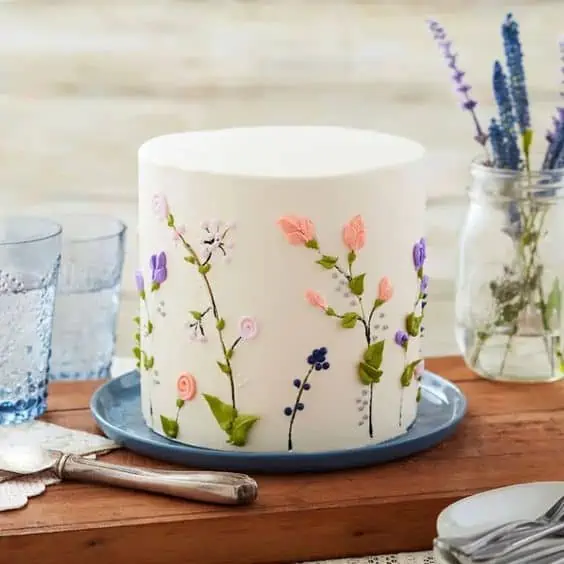 If you love flowers, you'll love this minimalist flower cake. The flowers on the side of the cake may have you wanting to run for the hills – I know, it doesn't look like these are NOT elaborate. It probably seems like these flowers would be difficult to make. 
The flowers are dainty, and you need a few piping skills, and viola, you'll be a pro! Watch and follow this Donna Foulk tutorial to learn how to pipe flowers on your cake. 
You can also "cheat" and use edible flowers. Your flower minimalist may just look more like this cake with edible flowers.
Or maybe you feel more comfortable with a paintbrush in your hand. You can paint flowers on your minimalist cake like this water-painted flower cake by Rosalind Miller Cakes. (And if you want to try this, I've found this video on water-painting on cakes for you.) 
9. Purple Flower Minimalist Bento Cake
This purple flower minimalist bento cake is cute. The mini cake has a mauve purple fondant exterior. The top of the cake is decorated with small white daisies and edible dots or pearls. 
The decorator wrote "Happy Mimi's Day" in white icing. 
Another version of this bento cake is this black fondant mini cake with white flowers, dots, pearls, and the letters "19th." 
10. Galaxy Minimalist Cake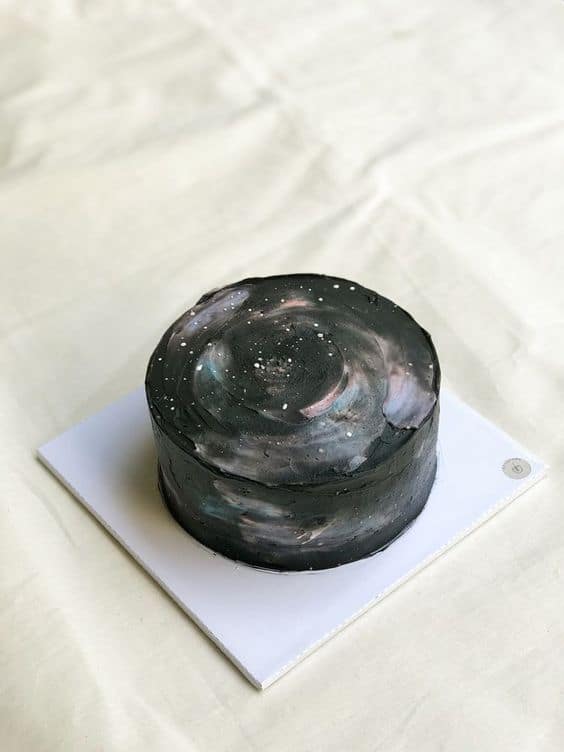 Galaxy cakes are all the rage. Yes, some of them are pretty elaborate, with pâtissiers trying to outdo each other. Luckily, there are minimalist galaxy cakes too. 
The galaxy cake has a blackish buttercream background with pink, blue, purple, and light gray strokes here and there to mimic the galaxy. The white splotches on the cake represent the stars and Milky Way. 
I found this galaxy cake tutorial valuable, so check it out if you would like to learn how to make this kind of minimalist cake. 
11. Constellation Minimalist Cake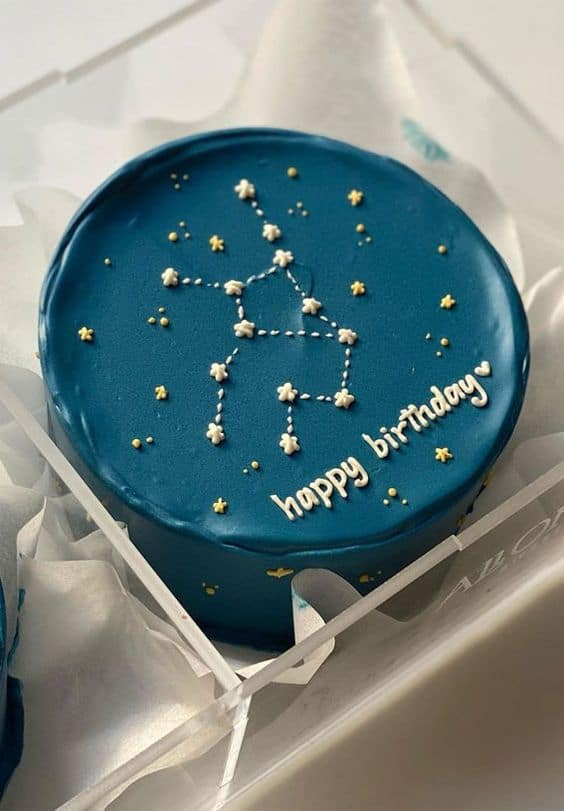 Who doesn't love the stars and trying to make out the constellations? If you have a star-lover in your family or tribe, this constellation minimalist cake is perfect for them. And you can make it yourself too! 
The dark indigo fondant outer of the one-tier cake is decorated with gold buttercream stars on the sides. The top of the cake is the focal point with the gold buttercream stars in the background, a white or pearly silver constellation in the center, and "happy birthday" written in the pearly silver icing at the bottom. 
Print out a copy of the constellation you or your loved one likes, and then use this to "draw" the constellation on the cake with buttercream and a piping tool. 
12. Black "Love You" Minimalist Bento Cake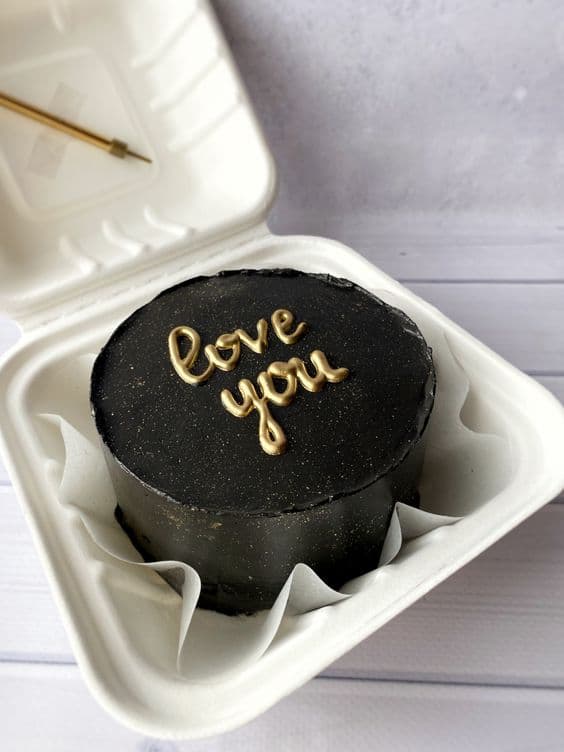 How about sending a bento cake with your loved one to work one day as a surprise? This black bento cake is perfect. The cake is layered with black fondant, and the decorator simply wrote "love you" in gold icing. 
You can play around with colors and experiment with other cake decor elements like pearls and hearts to personalize your cake. 
13. Buttercream Smear Minimalist Bento Cake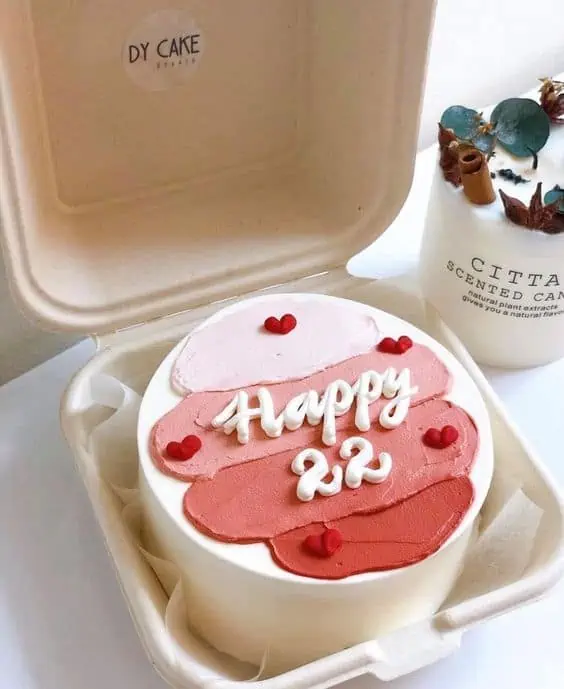 For another easy minimalist bento cake that you can personalize in various ways, check out this buttercream smear cake. The cake has a white fondant outer. The top of the bento cake has 4 red ombre buttercream smears with scattered blood-red hearts and "happy 22" piped in white icing. 
I want you to feel inspired, so look at this red/light red smear cake with strawberries and green leaves to add an interesting visual element. Or go with light purple and baby pink smears and pipe "love you" with a small heart. An option I like is this pink and purple buttercream smear bento cake with gold stars and "happy birthday" piping. 
14. Cutesy Rainbow Heart Minimalist Cake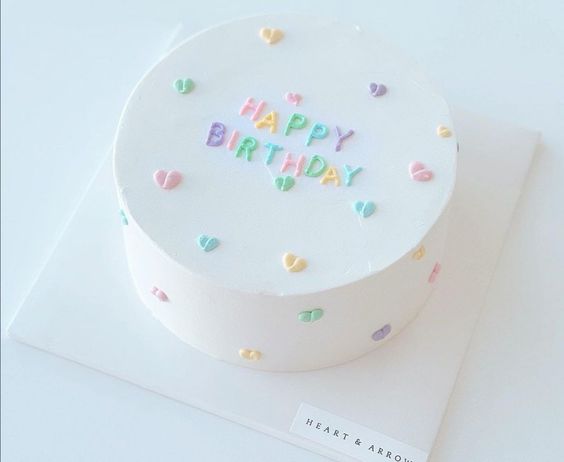 I love this cutesy rainbow heart minimalist cake for a baby's or toddler's birthday. The white fondant cake is simply decorated with tiny hearts in rainbow colors. Even "happy birthday" is piped in rainbow colors. 
You can swap the hearts for flowers, stars, leaves, spirals, or doodles to customize the cake for your needs. 
15. Pearl Wedding Minimalist Cake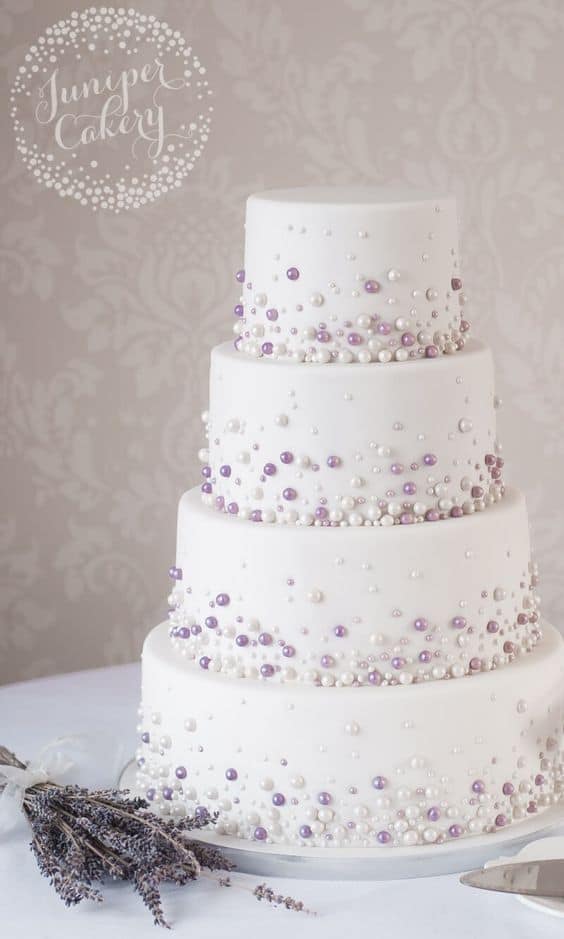 We went with this four-tiered pearl minimalist cake for my parent's vow renewal ceremony. Every tier looks almost identical, but not quite. I decorated the cake with white and light purple edible pearls on a white fondant background for an elegant, minimalist, and trendy cake. 
If you are getting married, this cake would be simply stunning. You can play around with the fondant color, go with an ombre background, and consider other colored pearls. 
Minimalist Cake FAQs 
Question: What is a minimalist cake?
Answer: A minimalist cake is a popular cake trend that originated in South Korea, where cakes and cupcakes don't have complicated or elaborate designs. Instead, the cakes are decorated in a simple yet enticing way, and the simplicity of the design is appreciated. 
Minimalist cakes usually have one or two tiers. They can be decorated with frosting, watercolors, or a few cake accent decorations like flowers, butterflies, or pearls. These elements add the "wow" factor to the minimalist cake, and they need to be perfect. 
It's easy to notice a feature that's out of place on a minimalist cake. But who sees the one leaf missing on an elaborate flowery cake when there are too many elements to feast your eyes on?
Question: Why are minimalist cakes trendy? 
Answer: Minimalist cakes are popular because they are: 
Budget-friendly – anyone can make a cute and visually appealing minimalist cake 
Instant eye-catchers – your eyes are automatically drawn to a minimalist cake, and you wonder how something so "simple" can look so beautiful, cute, poetic, or neat 
Personalized – you can create a minimalist cake to suit your budget, the guest of honor, and event or party.
Question: What icing or frosting is generally used for minimalist cake design? 
Answer: Buttercream frosting is popular for minimalist cake design because it's silky and has the right consistency. You can also mix buttercream frosting in any color or flavor and use tools like piping bag nozzles to customize the cake. 
My Final Thoughts on the Best Minimalist Cake Ideas 
Minimalist cakes can work in any size – from one-person bento cakes to single or multiple-tiered cakes – and for any and all occasions and parties. Make a minimalist cake because you have a cake craving (and you should totally enjoy something pretty), because it's your bestie's birthday, or because it's Mother's Day. 
Remember that simple is better, but the cake should be eye-catching. Have fun when you look for inspiration, and write down your ideas. Practice on a mini cake, and then when you are ready, do the final design and decoration on the actual cake. 
Looking for more trendy cake ideas? Check out my guide on the best rose gold cake ideas or these mermaid cake ideas to inspire your next party!
Recommended Reads: