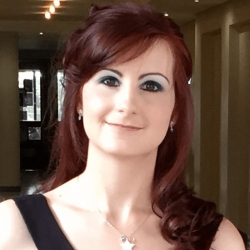 Latest posts by Denine Walters
(see all)
Everyone who's seen Moana loved the movie. There's something magical about watching a feel-good kids' movie – even if you are an adult. Throwing a Moana-themed birthday party isn't easy if you haven't seen the movie. This guide to the best Moana birthday party ideas will make your life easier, whether you have or haven't seen Moana. 
I've considered everything you'd need for the best Moana party. I am in the midst of planning one for my best friend's little one, who is simply obsessed with Moana, Maui, and Hei Hei the Rooster. I'm having fun with this party planning journey. I started by watching the movie again so I could include some finer details to give the birthday party an authentic Moana feel.  
If you need to plan this kind of party for your little one, keep reading for all the best Moana party ideas that your birthday boy or gal will simply fall in love with. It's bound to be a party to remember!   
My Bottom Line Up Front 
When you plan a Moana-themed birthday party, it's best to watch the movie first. Then see what party supplies are available so you can absolutely nail the theme. My best Moana birthday party idea is the Tropical Moana Balloon Garland Arch Kit. 
You have the right Moana colors to work with, and you just need to add the rest of the party items you need to throw a fab event!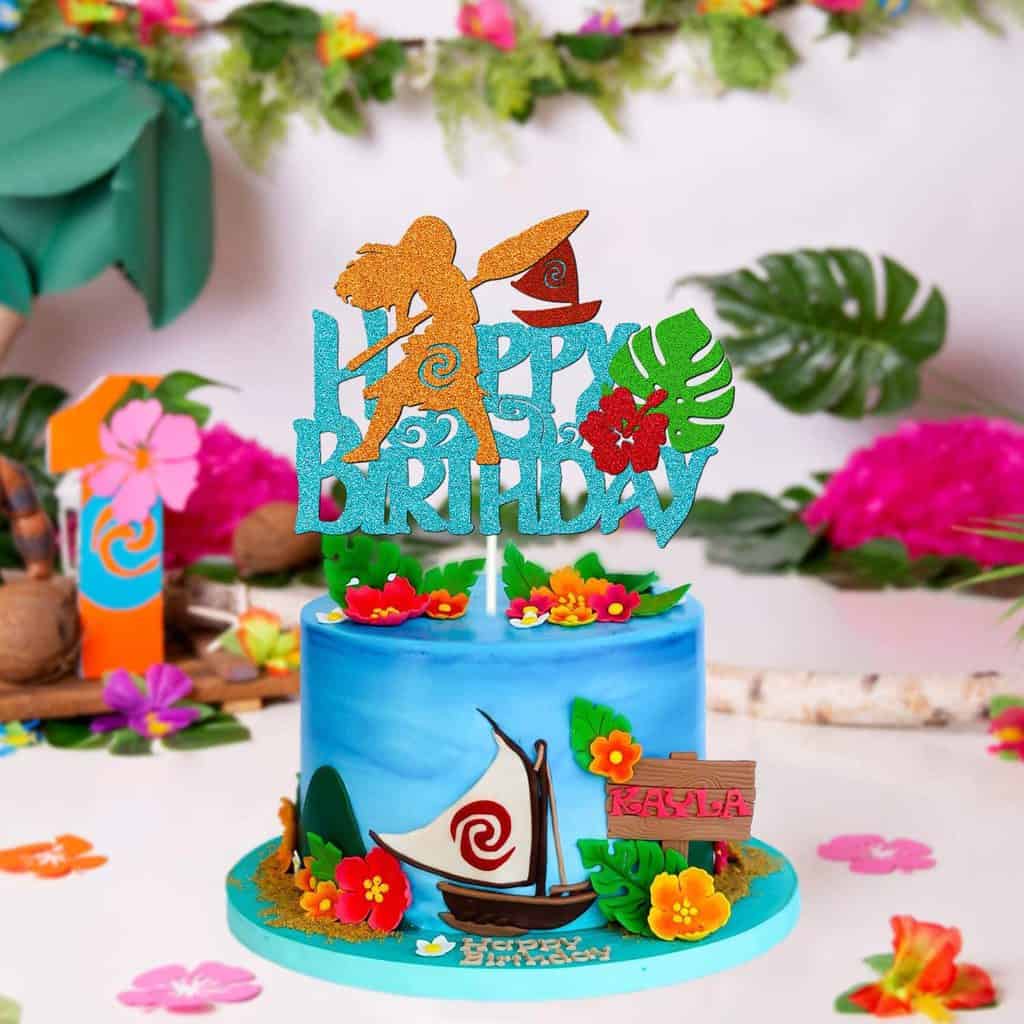 My Top Picks
If you are short on time, here are the best Moana birthday party ideas for you:
25 Moana Birthday Party Ideas 
Here are the best birthday party ideas if your theme is Moana:  
Moana Birthday Party Invitation Ideas 
One of the key elements that set the tone for a party is the invitation. 
Here are the best invitations you can consider for your Moana birthday party:  
Moana the Movie Birthday Invitations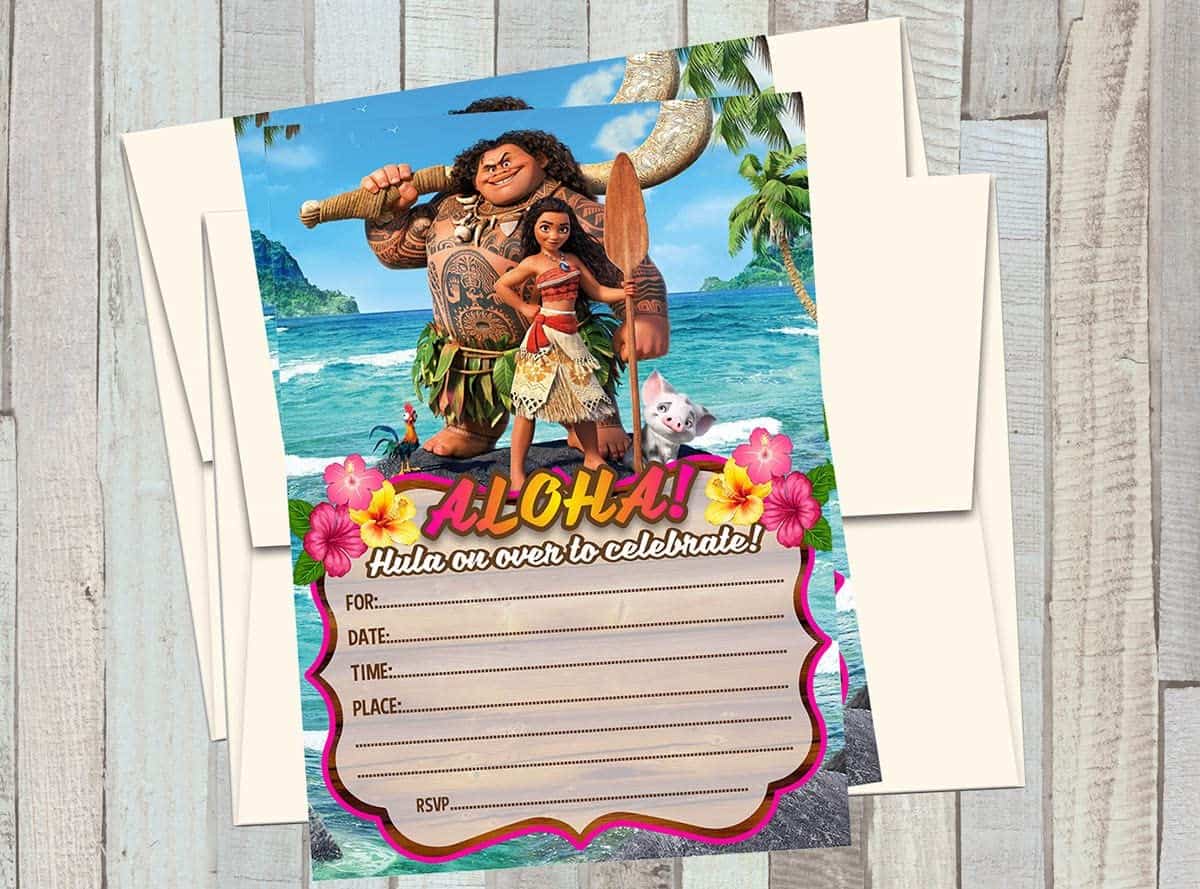 The Moana the Movie Birthday Invitations are currently an Amazon's Choice product. The 12 invites with plain envelopes feature Moana, Maui, Pua (the pot-bellied pig pet), and Hei Hei, along with the wording "Aloha, Hula on over to celebrate." 
There's enough space for all the party details on the glossy paper, so remember to write with a ballpoint pen, so the ink doesn't smear and ruin your invites.
I'm a lefty, so smeared ink is kinda commonplace for me, but I do try to avoid it. And using a ballpoint pen where the ink dries fast has been a "reputation saver!"   
Free Moana-Themed Invites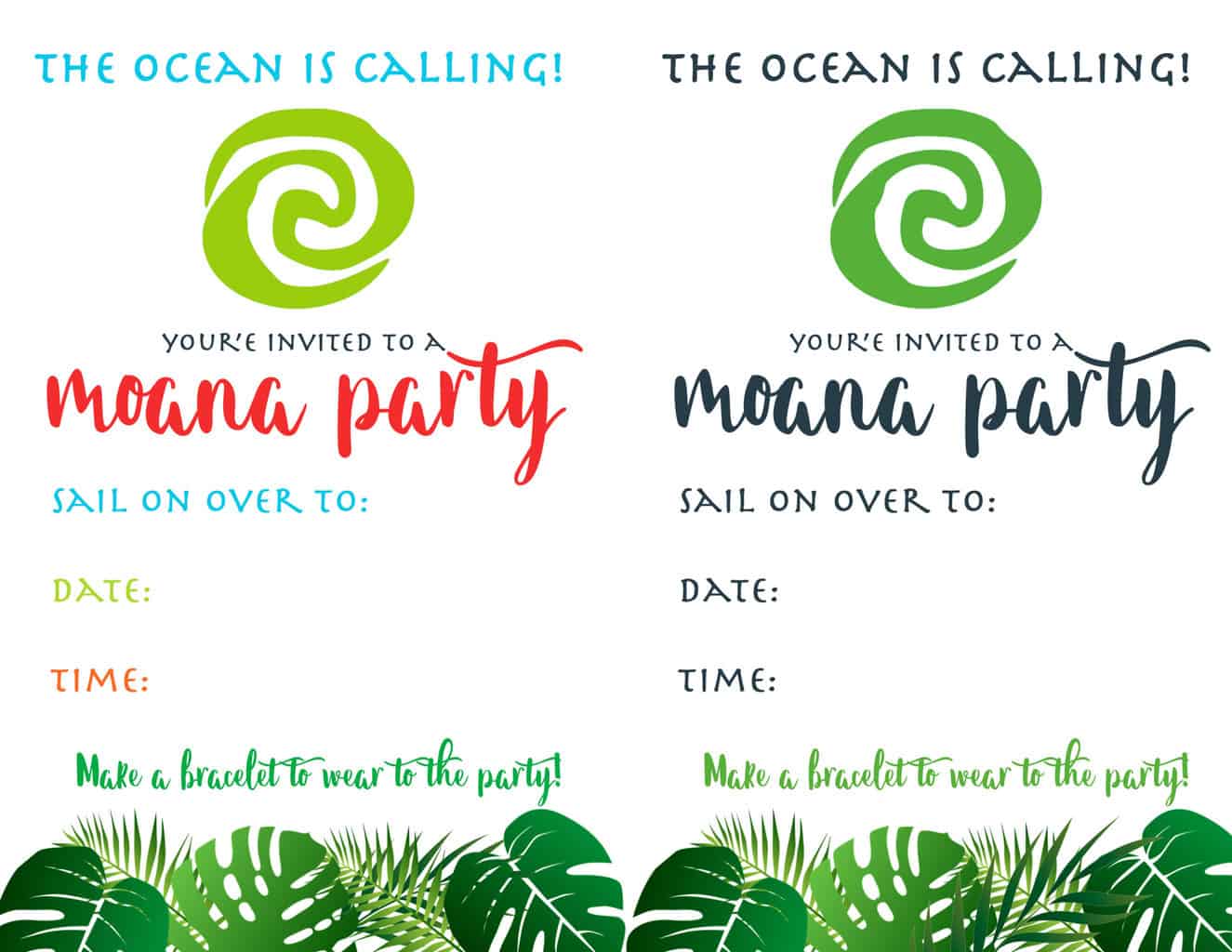 If you want the budget-friendly option, opt for free Moana invite templates that you tailor to your party needs. 
There are various free templates you can choose from: 
All you need to make these invites look fancy is a color printer and glossy or photo-quality matt paper. I really like the Bagnavia Moana invites because I can choose from 6 templates. For the party I organized, I actually picked 3 designs (to be funky), and I sent these out so the invitees got different invitations.     
Aloha Party Celebration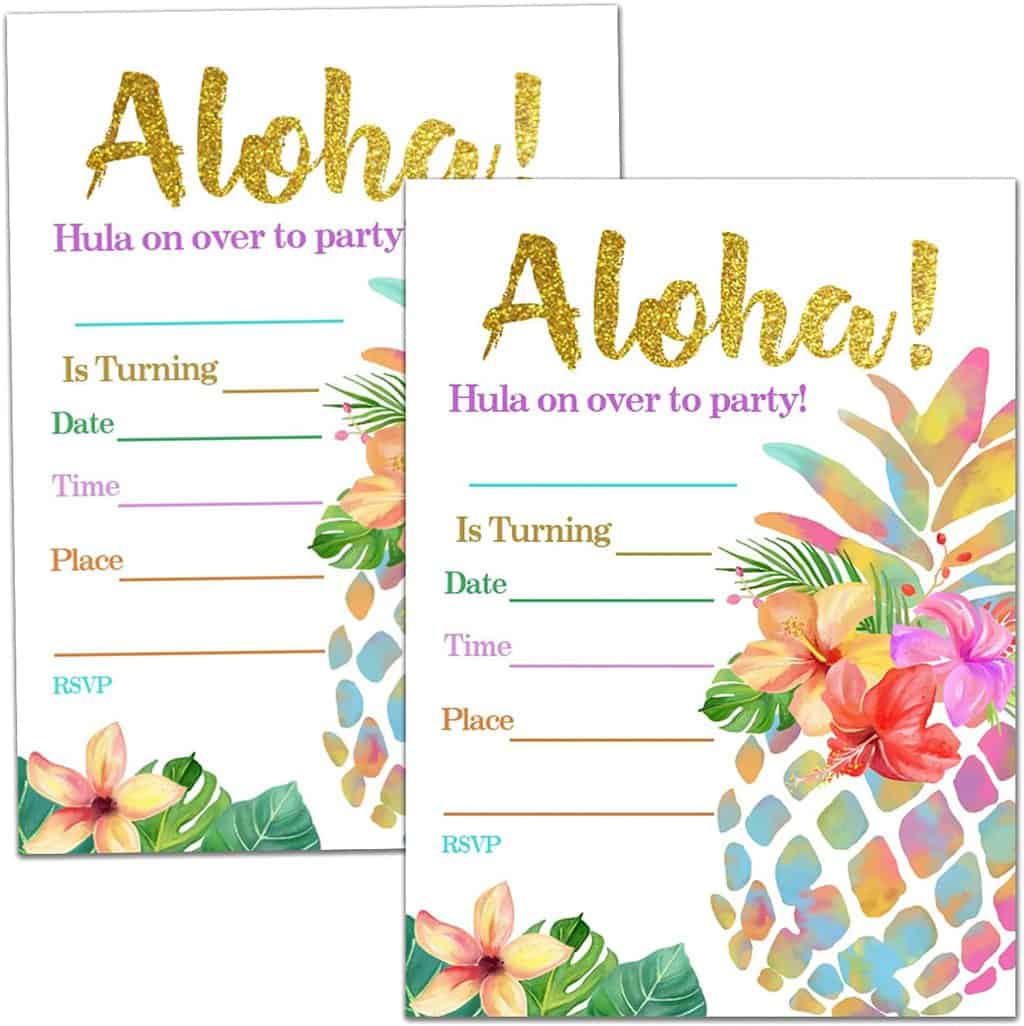 The Aloha Party Celebration invitations (set of 20 cards and matching envelopes) are perfect if your teenager (or an adult) wants to throw a Moana birthday party. 
I love the colorful pineapple and tropical flowers and leaves with the gold lettering. 
See also: 10th Birthday Party Ideas That Your Little One Will Never Forget
Moana "All-in-One" Birthday Party Solution 
All-in-one birthday party solutions are ideal whether you are on a tight budget or don't have a lot of time. These supply kits contain various party items, making it easy to just buy what else you need to plan and organize a Moana-tastic party.  
Moana Birthday Party Supplies Set (Serves 16)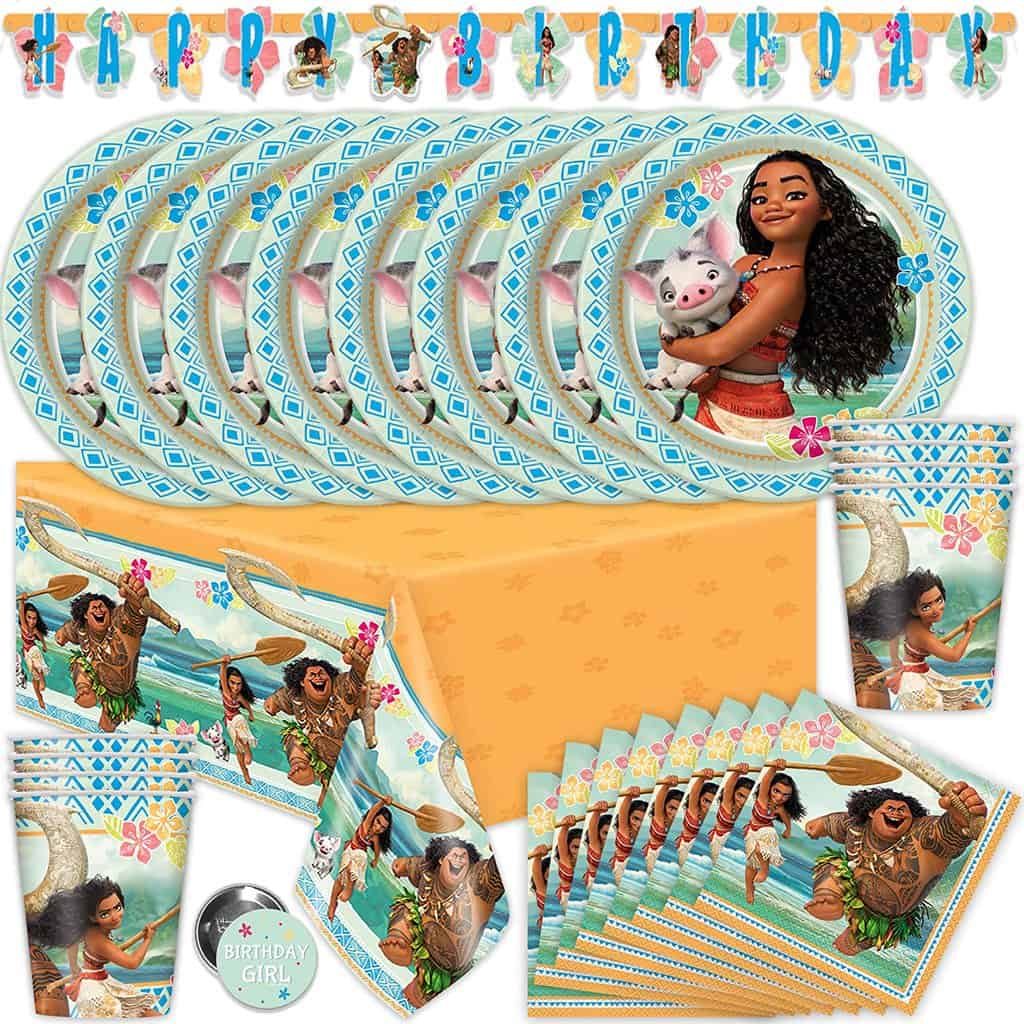 The Moana Birthday Party Supplies Set is an Amazon's Choice product, and it serves 16 guests. 
What I found ideal about this set is the "happy birthday" banner, tablecloth, and some tableware that's included.
If you are planning a small party, go with this Moana birthday party setup. And this Moana-themed setup works better for a larger birthday party.  I'd just recommend you space out the tables, and the banner is a perfect photo backdrop! 
Moana Birthday Party Supplies (Serves 10)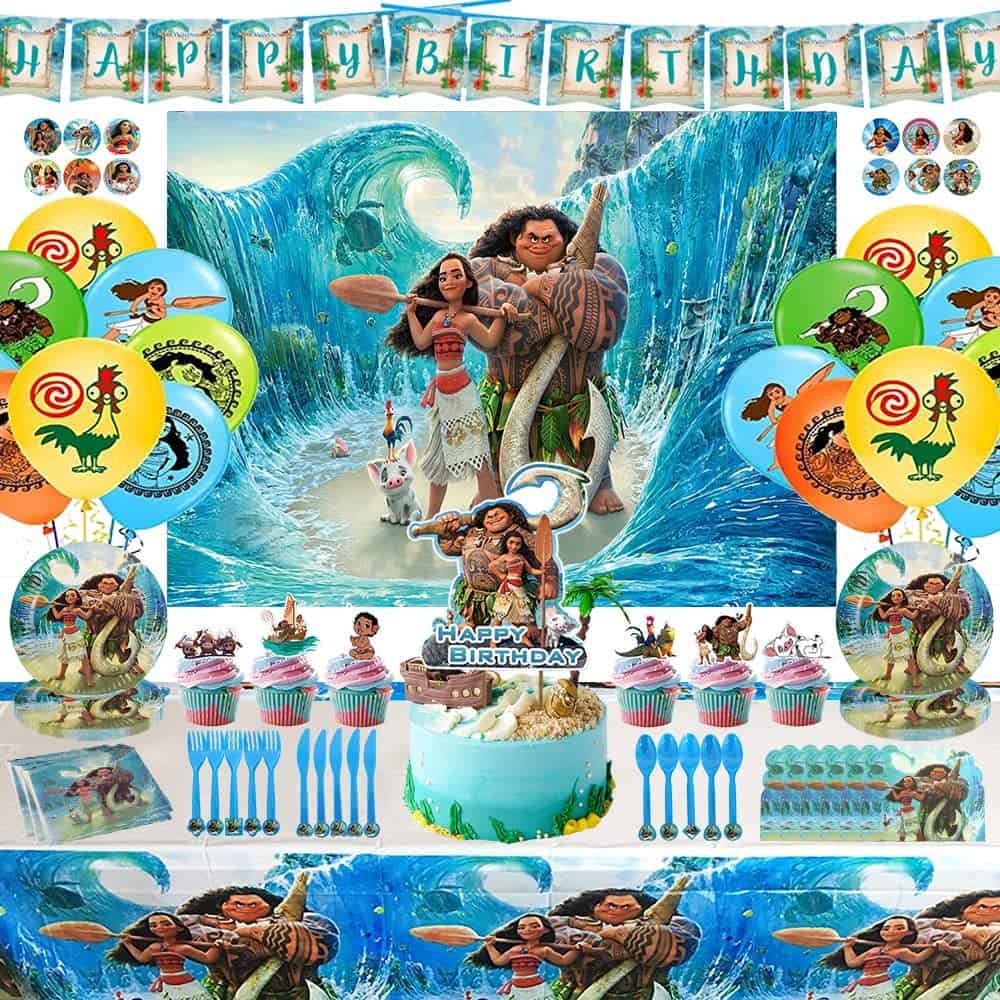 This Moana Birthday Party Supplies kit serves 10 guests, but you get many more products in this set. All the items in this kit are safe and environmentally friendly, which is a plus in my books. Like the set above (#4), you also get a banner and tablecloth but you also get invitations, more tableware if you are serving more than just snacks, balloons, stickers, a cake topper, and cupcake toppers. 
Interesting ideas for the cupcake toppers are:
Flower Moana cupcakes where you can make buttercream frosting tropical flower and then add the cake toppers (1 of each per cupcake)
Aqua frosting Moana cupcakes with tropical flowers, edible pearls, and the topper
Moana boat cupcakes with the cupcake holder top that's shaped like waves, and instead of spiral frosting, it's flat to resemble water. 4-5 pretzel sticks form the boat and the cake topper is the sail.
See also: Amazing Space Cake Ideas That Are Out Of This World
Moana Party Decor Ideas 
The decor is an essential aspect of any party. If you look around the party venue and see "Moana" everywhere, you'll feel at home. Plus, it'll put all the guests in the right mood.  
Some cool Moana birthday party setups to inspire you are these: 
Auihiay Tropical Party Decoration Set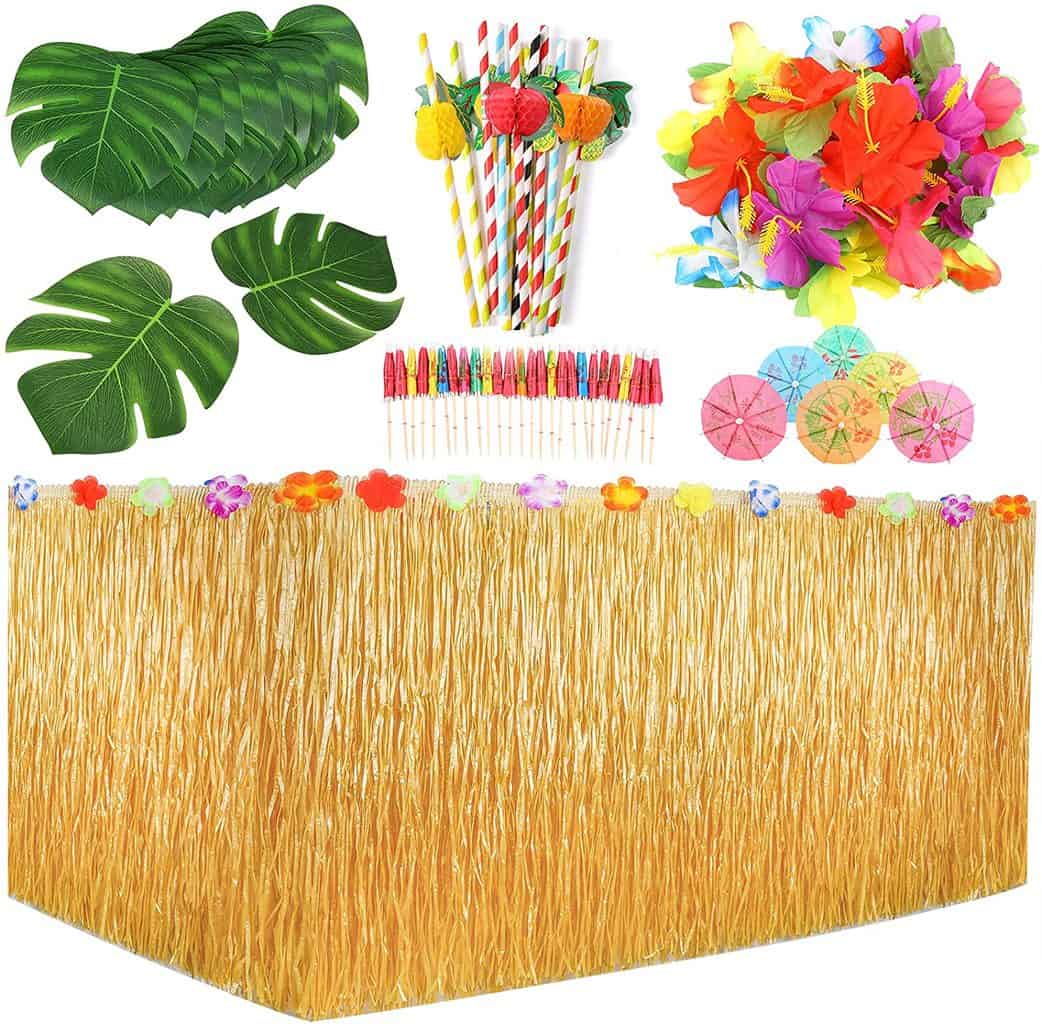 The Auihiay Tropical Party Decoration Set is perfect if you don't want everything printed with the Moana characters. And this decor set is perfect for a more mature Moana party! 
I'm a big fan of the Hawaiian grass table skirt you get in this set and the fruit straws. I feel like this set is more suited for a teenager or adult Moana-themed tropical party. 
Tropical Moana Balloon Garland Arch Kit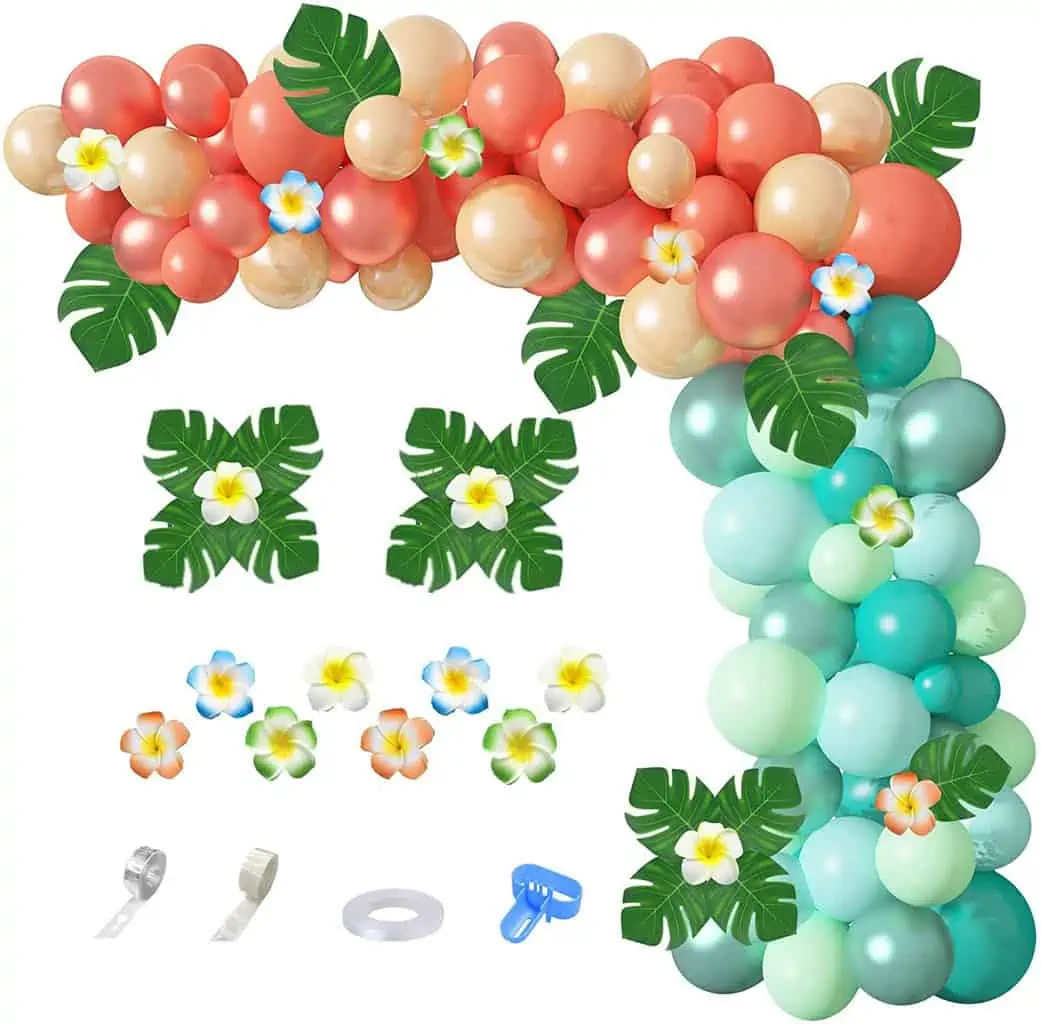 What is a party without balloons? That's precisely why you need something like the Tropical Moana Balloon Garland Arch Kit. Setting up the balloon garland arch is easy peasy, and everything you need is included. 
The balloons in the kit are shades of red, rose gold, green, and blue. You also get palm leaves, plumeria flowers, the arch strip, a balloon tying tool, glue points, and ribbon.     
JeVenis Glittery Moana Birthday Decoration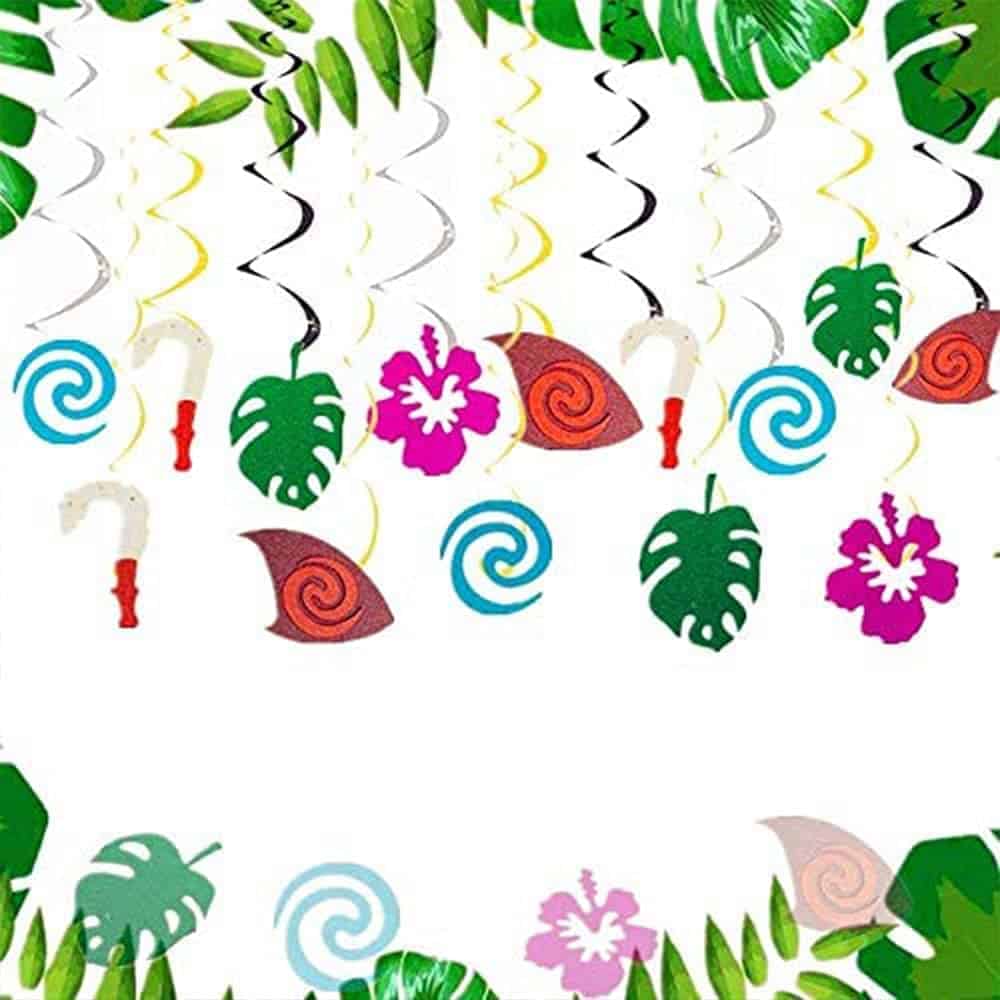 The JeVenis Glittery Moana Birthday Decoration set is perfect for adding some glittery hanging decorations around the party venue. The set comes with 15 Moana hanging swirl decorations made from high-quality card stock.   
Moana Birthday Party Food Ideas 
The food and drinks you serve at the party help keep the guests entertained.  
JeVenis Glittery Moana Inspired Cupcake Toppers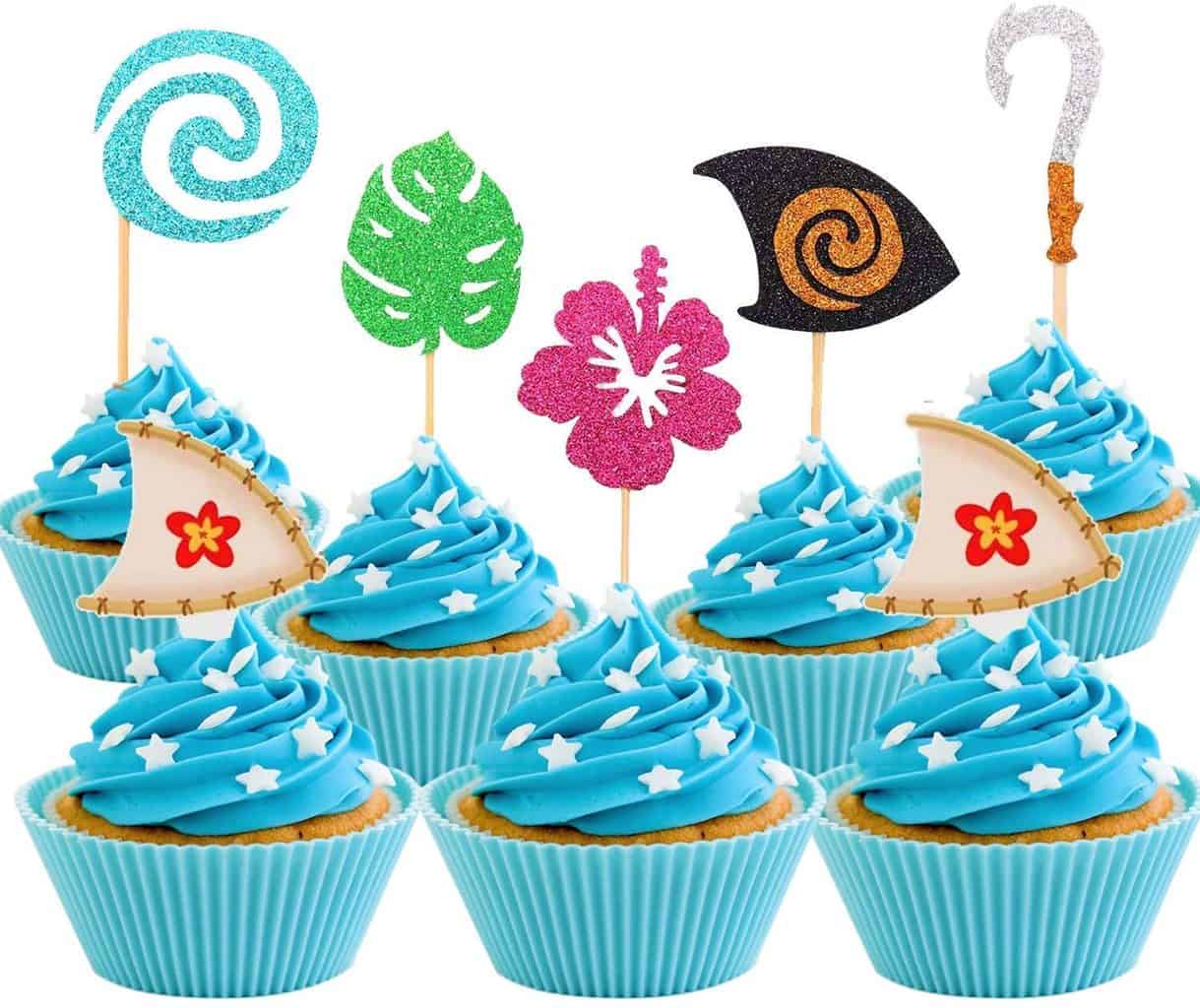 You can opt for a Moana birthday cake, mini cupcakes, or even both. Make the cupcakes fit in with the Moana theme with these 30 cute Moana cupcake toppers. 
I used my toppers for my Moana-inspired dessert cups, and I think the creativity of using the boat topper on a caramel pastry is genius!
Wrilicyoki Moana Inspired Cake Topper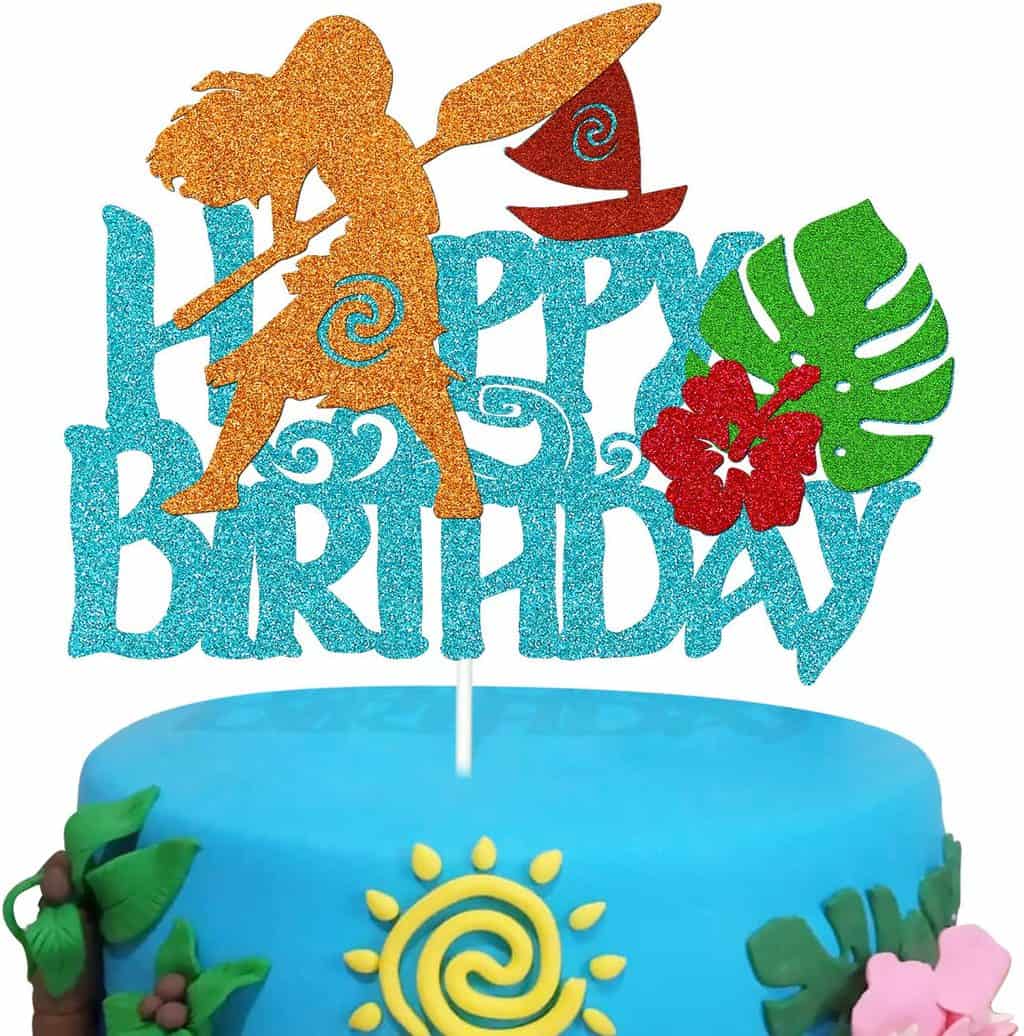 I really like this Wrilicyoki Moana Inspired Cake Topper. And what's there not to love about the cake topper? It's ideal for a 6-10" cake, it's glittery, it's eco-friendly, and it's double-sided!    
Moana Tropical Themed Moana Birthday Cake Topper Set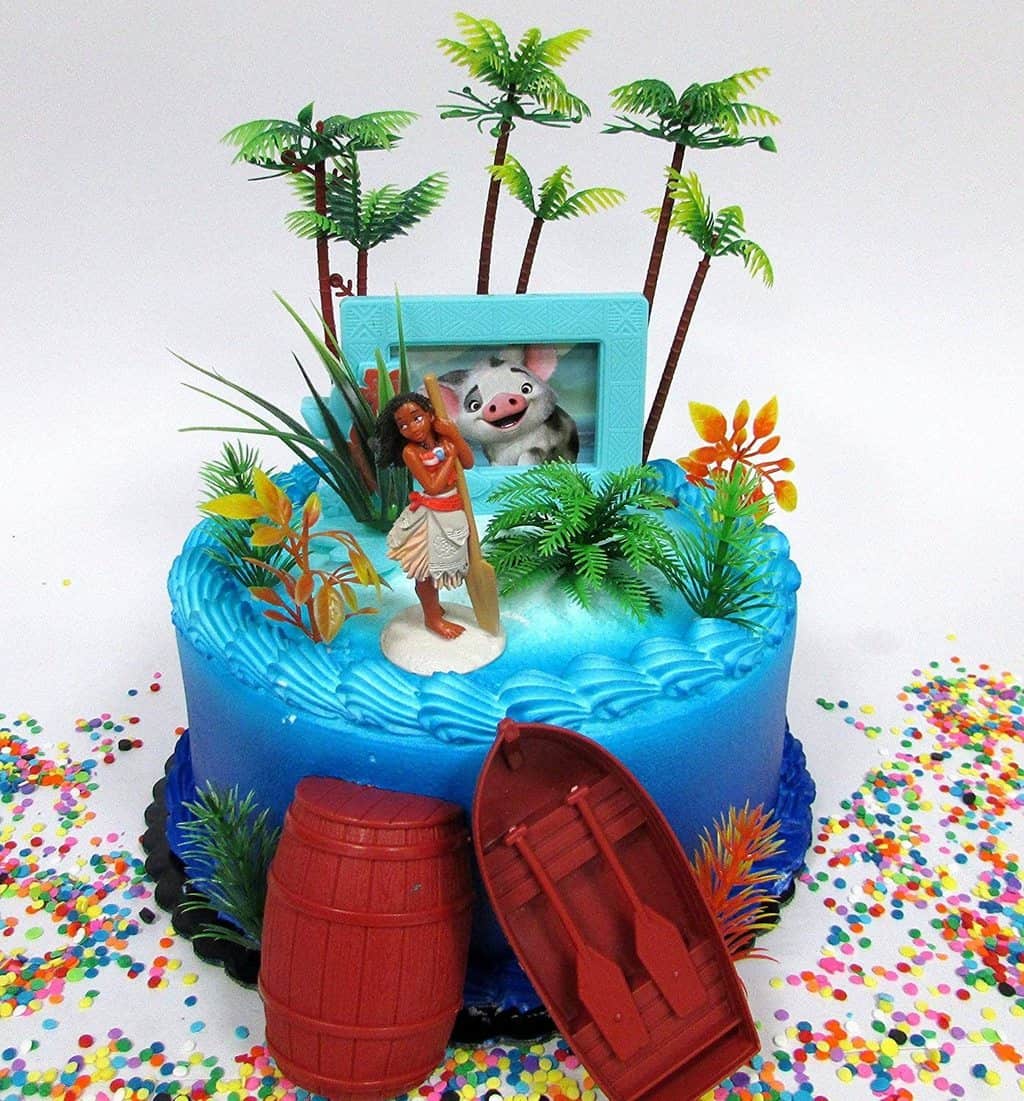 If you want something different, then the Moana Tropical Themed Moana Birthday Cake Topper Set is the way to go. You can really let your creativity shine with these cake decor items. 
You get a Moana figurine, a photo frame featuring Pua, a boat, palm trees, and various other tropical plants in the set.  
Moana Birthday Party Cake and Cupcakes Ideas
There are so many Moana birthday party cake ideas that your head will spin – just like mine when I started looking. 
Here are some ideas you can consider for your Moana-themed party: 
Moana Treat and Drink Ideas 
There are also various other food, treat, and drink ideas that will reinforce the Moana theme: 
Moana Birthday Party Activities Ideas 
What's a party without some fun, games, and laughter?  
WOOACME Moana Birthday Party Supplies – Pin Moana's Necklace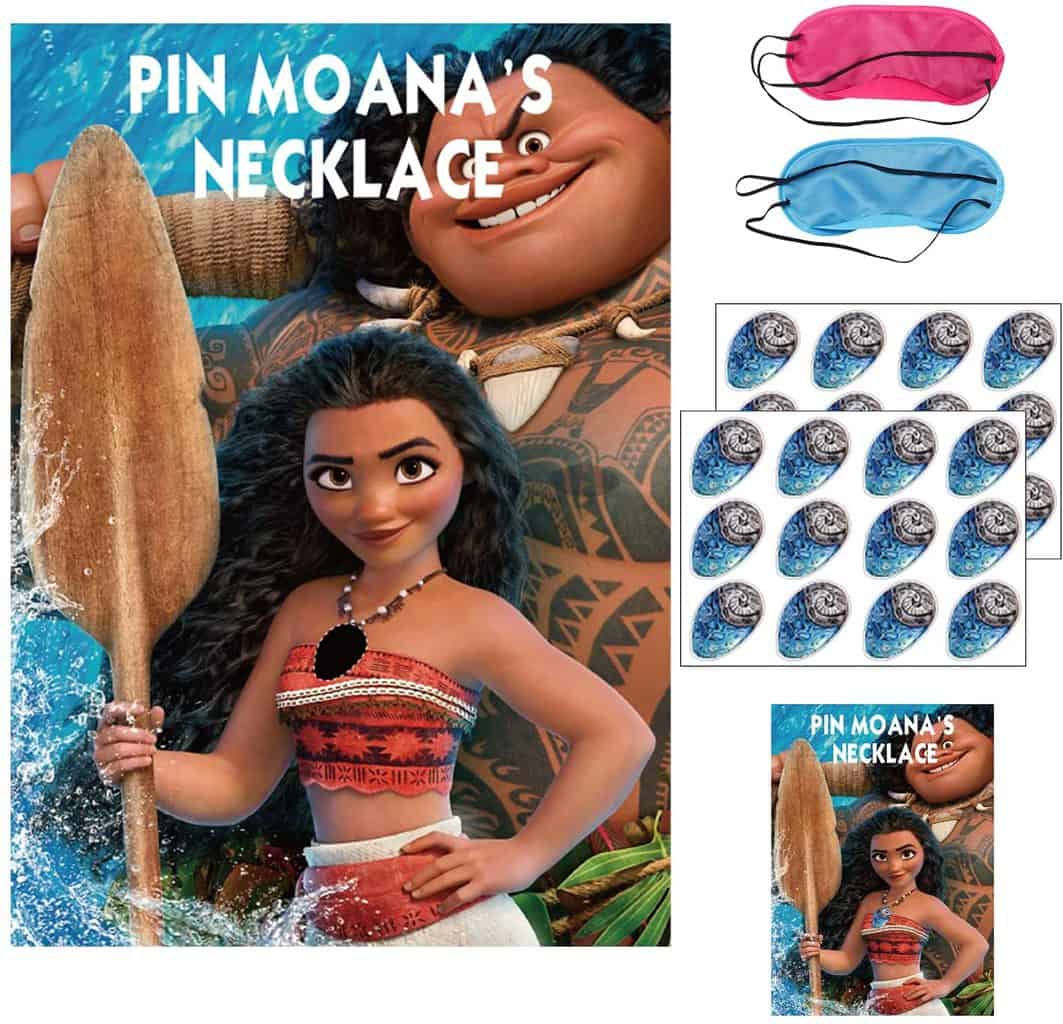 A classic spin on "pin a tail to the donkey," the guests can take turns pinning Moana's necklace. Everything you need for the activity – a Moana theme poster, 2 blindfolds, 24 necklace pieces, and 20 glue dots – are included in the kit.   
Kokomora Coconut Pirate Bowling 
You can set up a Kokomore Coconut Pirate Bowling station. This adds tons of fun to your Moana birthday party.  
You need paper bags with the Kokomora face glued on – these are your pins. You can fill the brown paper bag with shredded paper. 
Use coconuts for the bowling balls, and simply paint the Kokomara face on them. 
Make the bowling lanes using PVC pipes to demarcate the lanes, and have fun!  
A Moana and Maui Boat Race
Your guests can make their own Moana-themed boats and then race each other in a tub of water. 
Check out these DIY boats by Activity-Mom or these easy DIY boats by dealsscoop.com for ideas.    
Moana Party Tableware Ideas 
Tableware should ideally be party-themed too. Here's some great Moana-themed tableware for your birthday party: 
Prextex Coconut Cups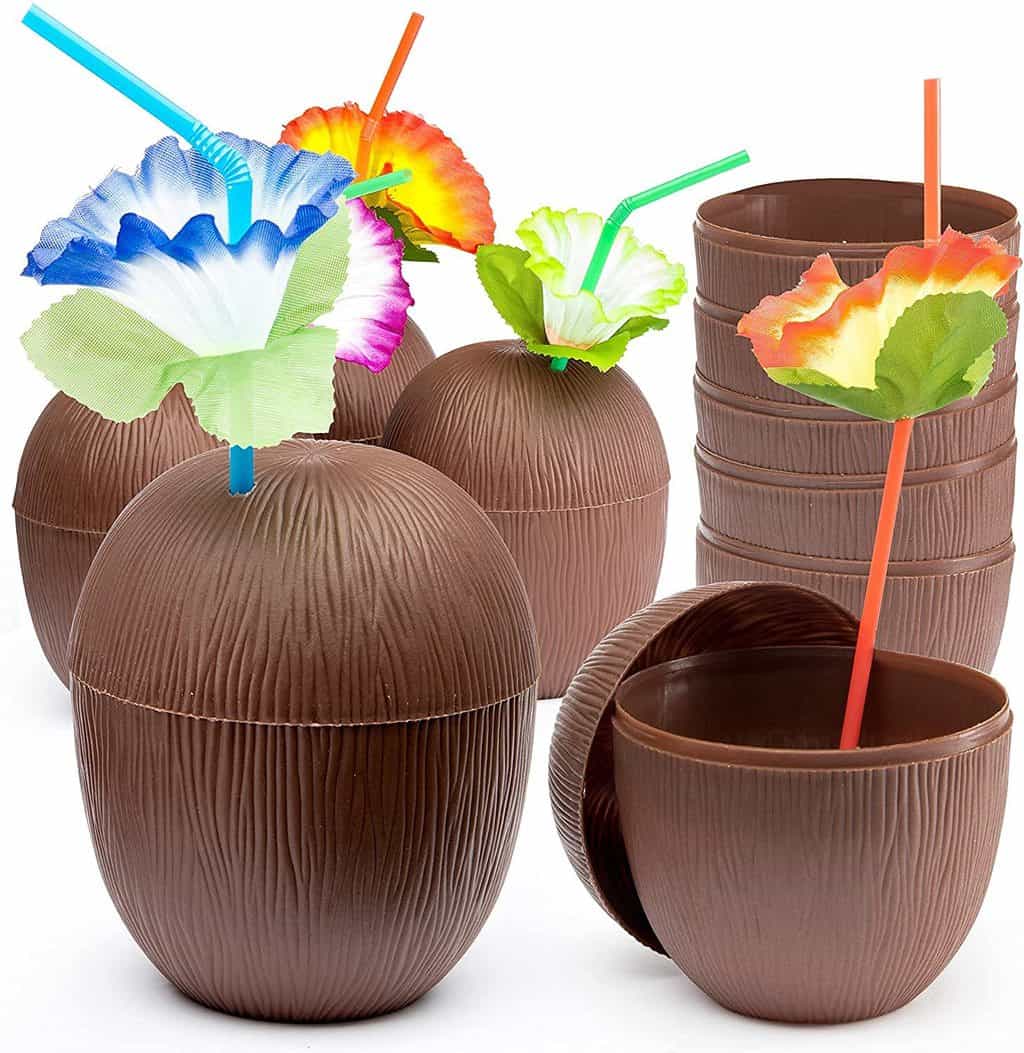 I adore these cute, reusable Prextex Coconut Cups that come with bendable straws in an assortment of colors. Each cup holds 16 oz of liquid, so you can serve your Moana punch in these coconut cups that fit perfectly with the Moana party theme.   
Palm Leaf Hawaiian Style Food Reusable Snack Trays 
These Palm Leaf Hawaiian Style Food Reusable Snack Trays are ideal for your birthday party.
In these 10 tropical, Moana-inspired snack trays, I decided to serve chips, popcorn, cookies, pretzels, and candy.    
Moana Party Favor Ideas 
Every party planner tries to outdo themselves with party favors. But doing so isn't easy. I've got some cute ideas for the party favors for your Moana party right here!  
Luau Party Favor Boxes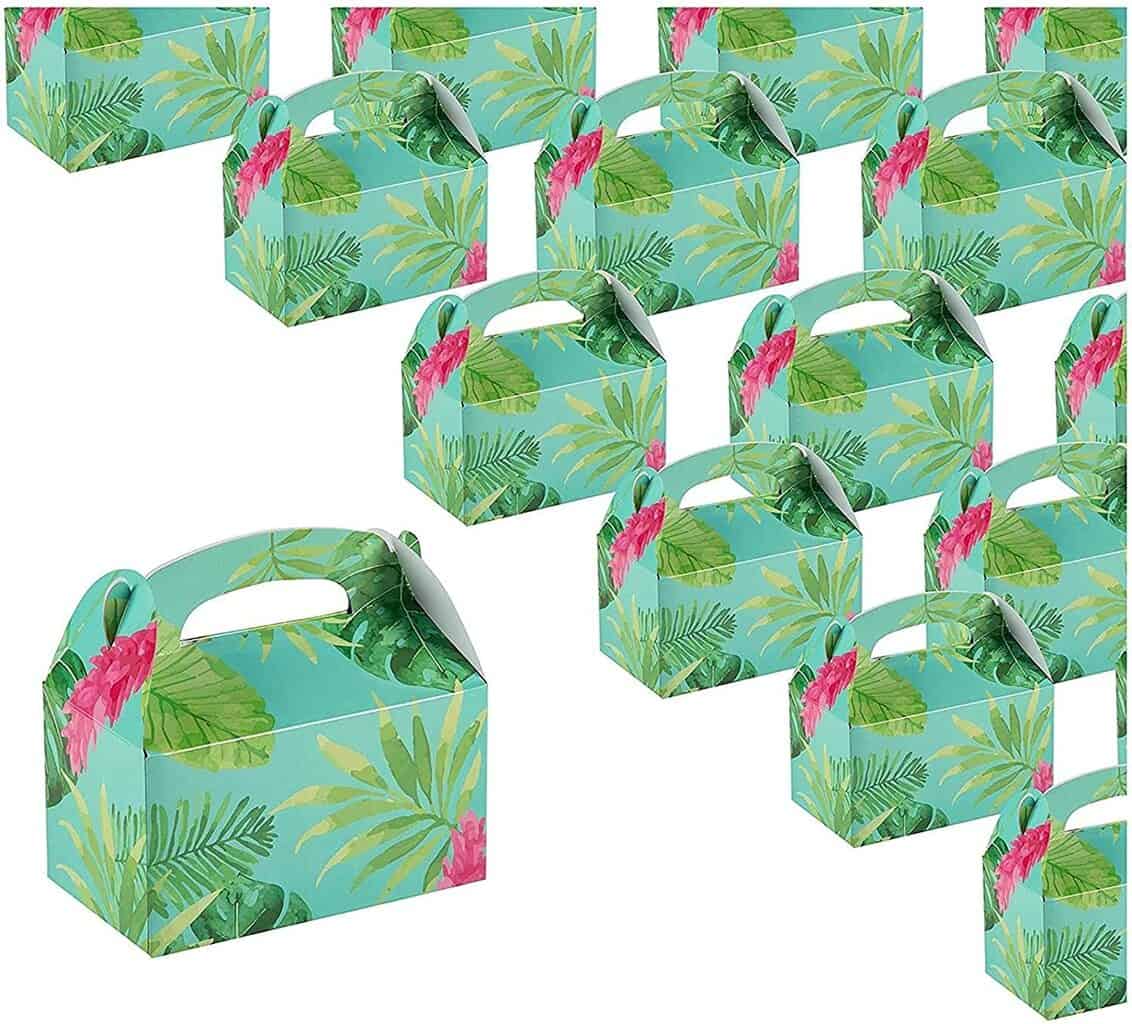 The pack of 24 Luau Party Favor Boxes features palm leaves and pink flowers on an aqua background, and they are ideal for adults AND kids. One box measures 6" x 3.3" x 3.6" (including the handle), so it's perfect if you want to send some Moana-themed snacks and goodies home for the guests.    
Another Dream Disney Moana Party Favor Pack Supplies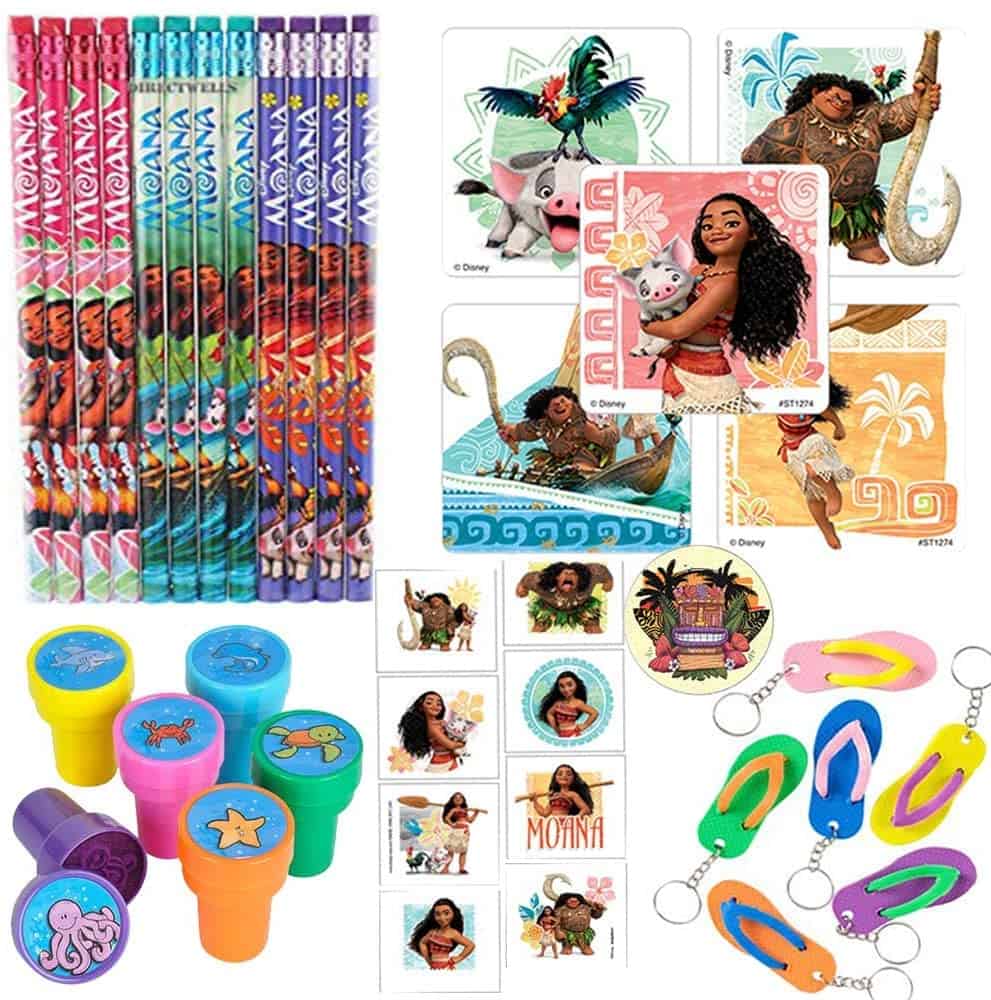 The Another Dream Disney Moana Party Favor Pack Supplies are ideal for your Moana party favor bags. You get pencils, stickers, stampers, tattoos, and keychains.
Add these Disney Moana Coloring and Activity Sets if you have the budget. 
I'm impressed how adding these items bulks up the party favor bag so it doesn't look like you skimped out.    
Zak Designs Moana Stainless Steel Kids Water Bottle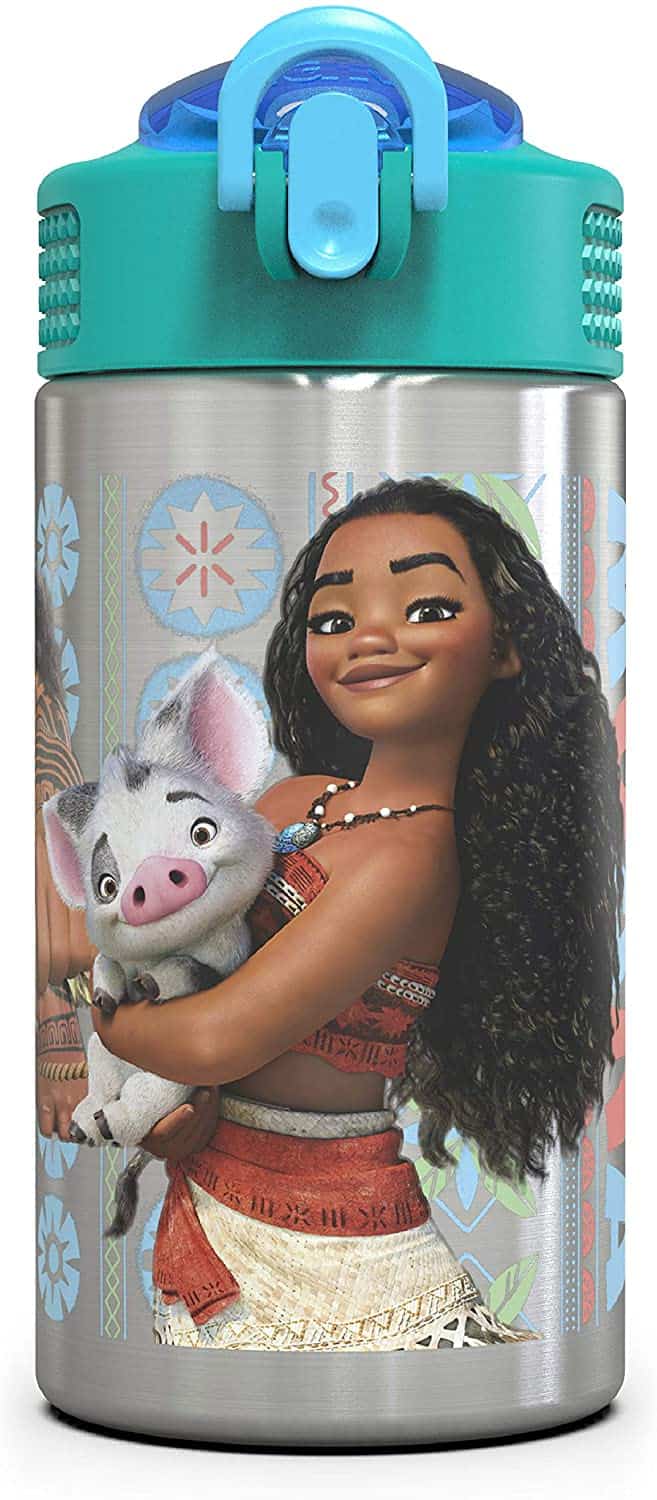 Choose the Zak Designs Moana Stainless Steel Kids Water Bottle if you want an original party favor item. Every party guest can use the water bottle at school, during a break when they play sports, or at home – and they'll think about the fantastic Moana party you organized too!   
I went with this party favor because it's long-lasting and usable.
Moana Necklace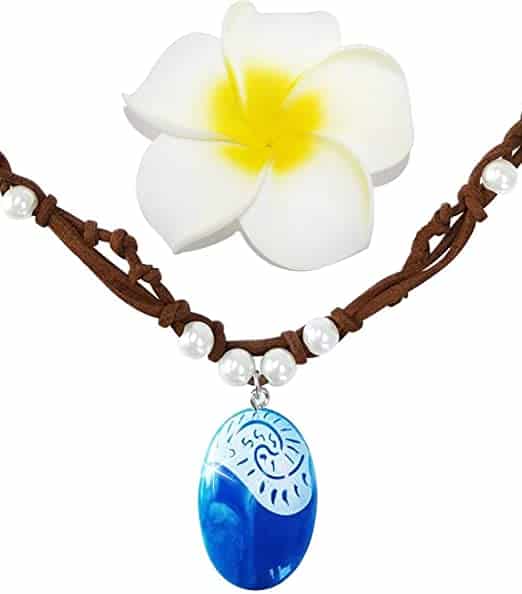 Another perfect Moana party favor is the Moana Necklace and flower hair clip. The necklace had a length of 17", and it features an easy-to-adjust lobster clasp, faux leather and pearl accents, and a two-toned blue Heart of Te Fiti pendant.   
You can add both goodies to a gift bag, or split it up if strapped for cash.   
Unique Moana Birthday Party Ideas 
You can also get a few unique add-ons for the Moana birthday party you are planning.  
Hawaiian Leis Floral Necklaces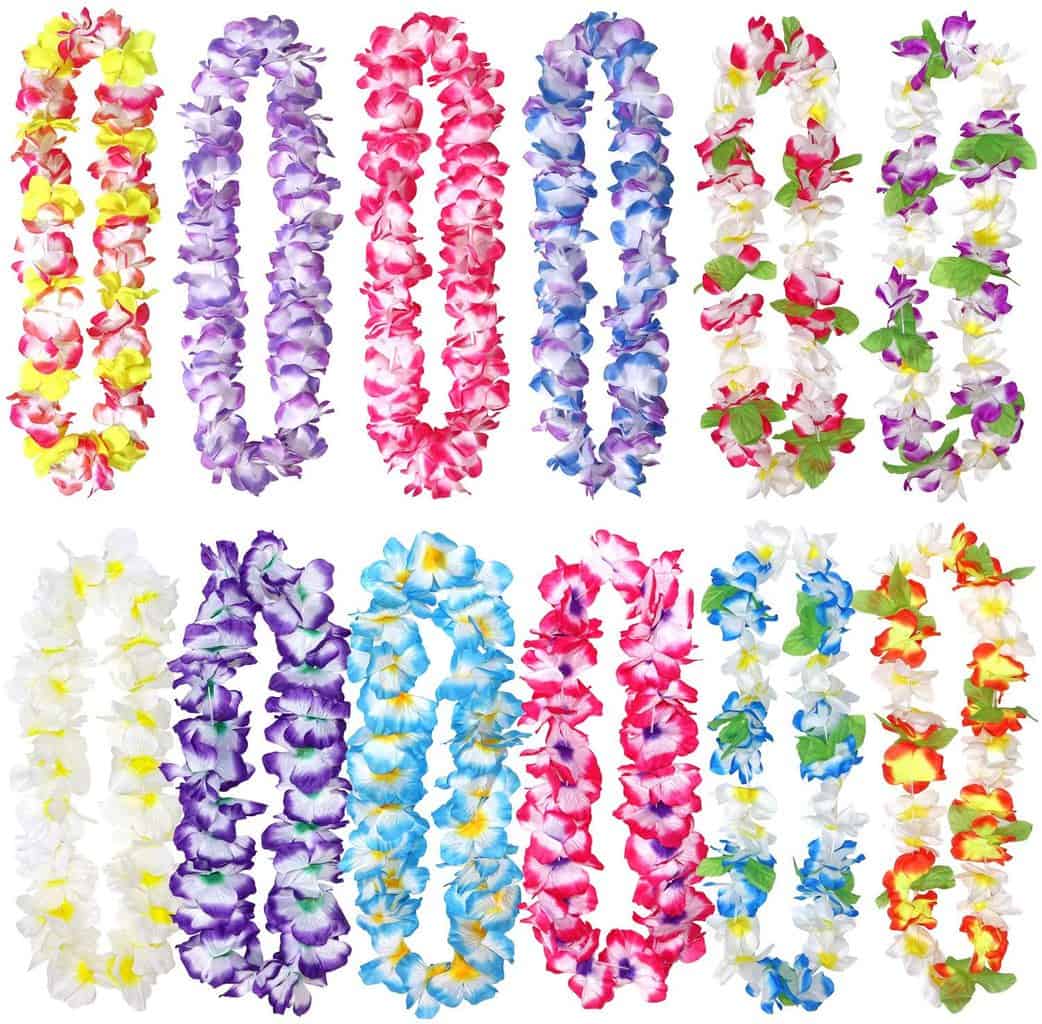 Put every guest in the Moana mood with these Hawaiian Leis Floral Necklaces that you can hand out as everyone arrives at the party. 
There are 12 different designs, so everyone will look a little different when wearing their leis. These come in a 42" circumference, and the leis are soft, ensuring your guests will feel comfortable wearing them. 
An alternative option is this pack with 36 leis.  
My little guests looked stunning in these leis! And the parents wanted a lei too (of course, they did, right?).  
Jollylife Hawaiian Luau Hula Skirts and Wristbands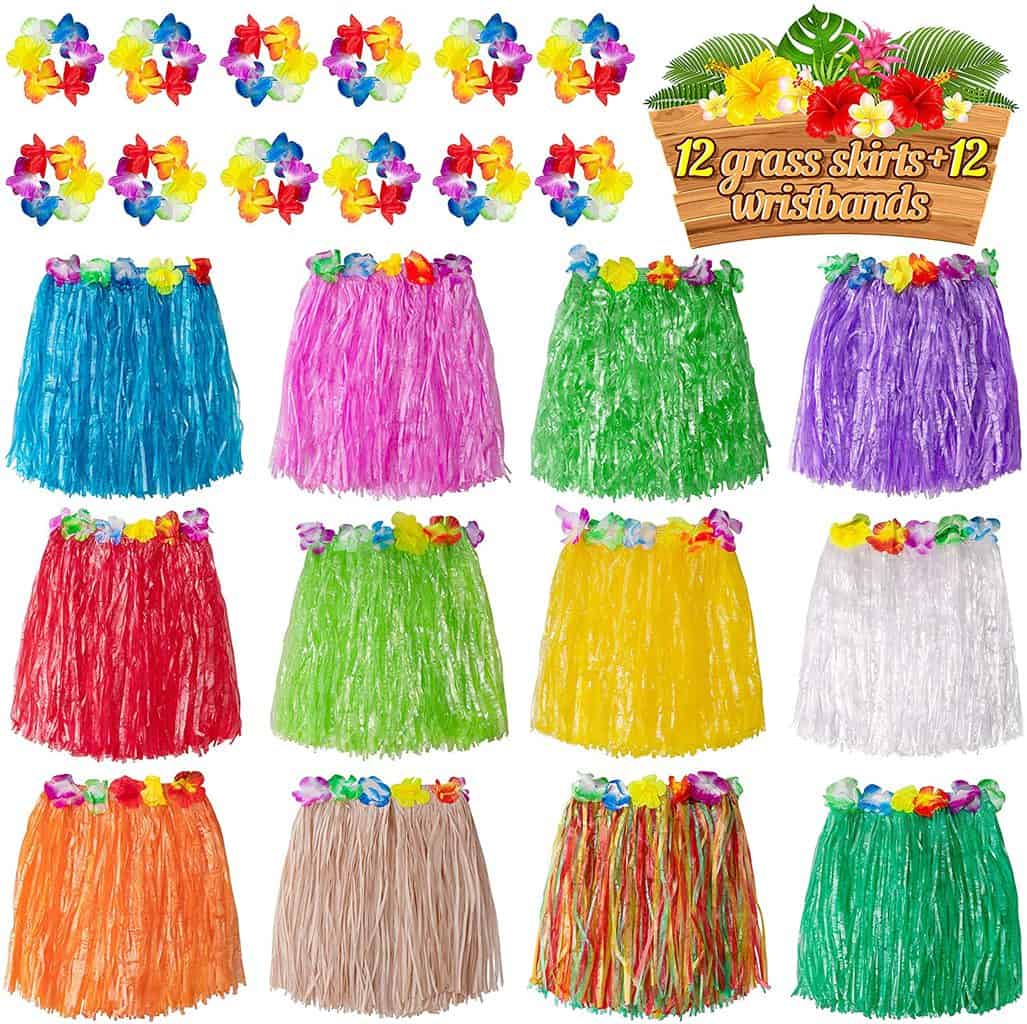 Inject some more festive mood into your Moana birthday party with these Jollylife Hawaiian Luau Hula Skirts and Wristbands. The grass skirts feature a row of colorful silk faux flowers, and one skirt measures 15" in length and fits waists of 19.6-48." The 10" circumference wristbands are also colorful.   
Tropical Palm tree Inflatable Cooler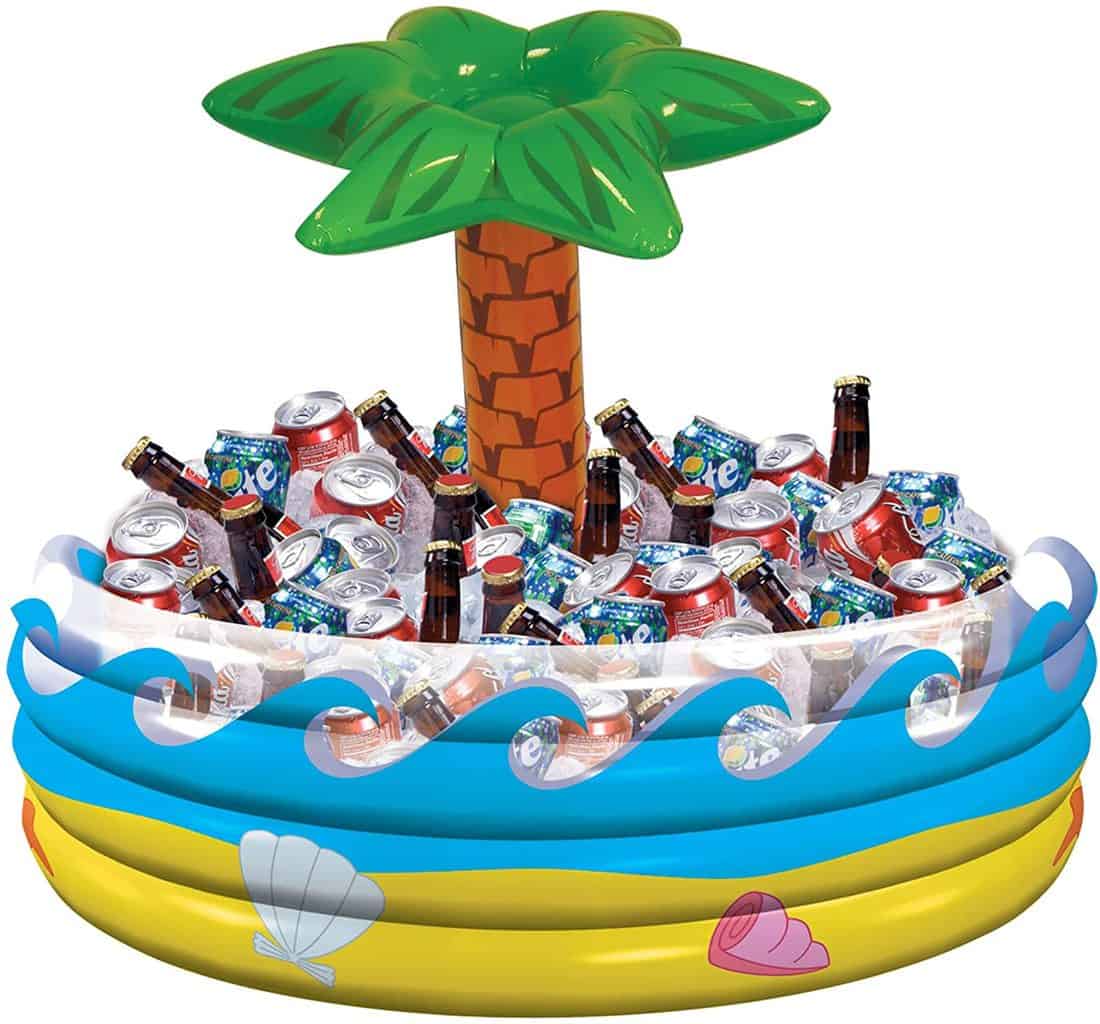 To keep the drinks and bottled water cool on a hot day, get a Tropical Palm tree Inflatable Cooler. The funky cooler will add to the tropical Moana vibe you are trying to create at the party. 
Simply fill the cooler with ice and drinks, and voila! Your guests can grab a cool drink when they are thirsty.     
My Selection Criteria for Moana Birthday Party Ideas 
When I looked at the movie and made notes of ideas for the birthday party, I quickly became overwhelmed. Plus, I didn't have a massive venue or budget, so I had to rein myself in. Otherwise, my best friend would kill me if she got the bill for the party. 
I decided to go back to basics. I asked myself what considerations should guide my planning and spending, and I am closely sticking to these three as I plan the Moana birthday party.   
Affordability 
The number one consideration guiding my planning and shopping is the budget – how affordable is each item, and where does it fit into the budget as a whole? 
I don't want to spend 70% of my budget on decor, and then the snacks look stingy, and there are no activities to keep the little ones entertained. 
It's all about balance. So I've drawn up a balance sheet, and I add every item I'm considering for the party and the price so I can stick to my budget.   
The Moana Theme 
An important factor is a theme, of course. I can't plan a Moana birthday party, and then suddenly, there are elements of a mermaid. Or what if Stitch and Lilo appear in the decor, invitations, and activities? That isn't fitting – or appropriate – at all. 
So with every item, I ask whether it fits the theme of Moana. If I can't answer my question, I know I need to find a better item for the birthday party.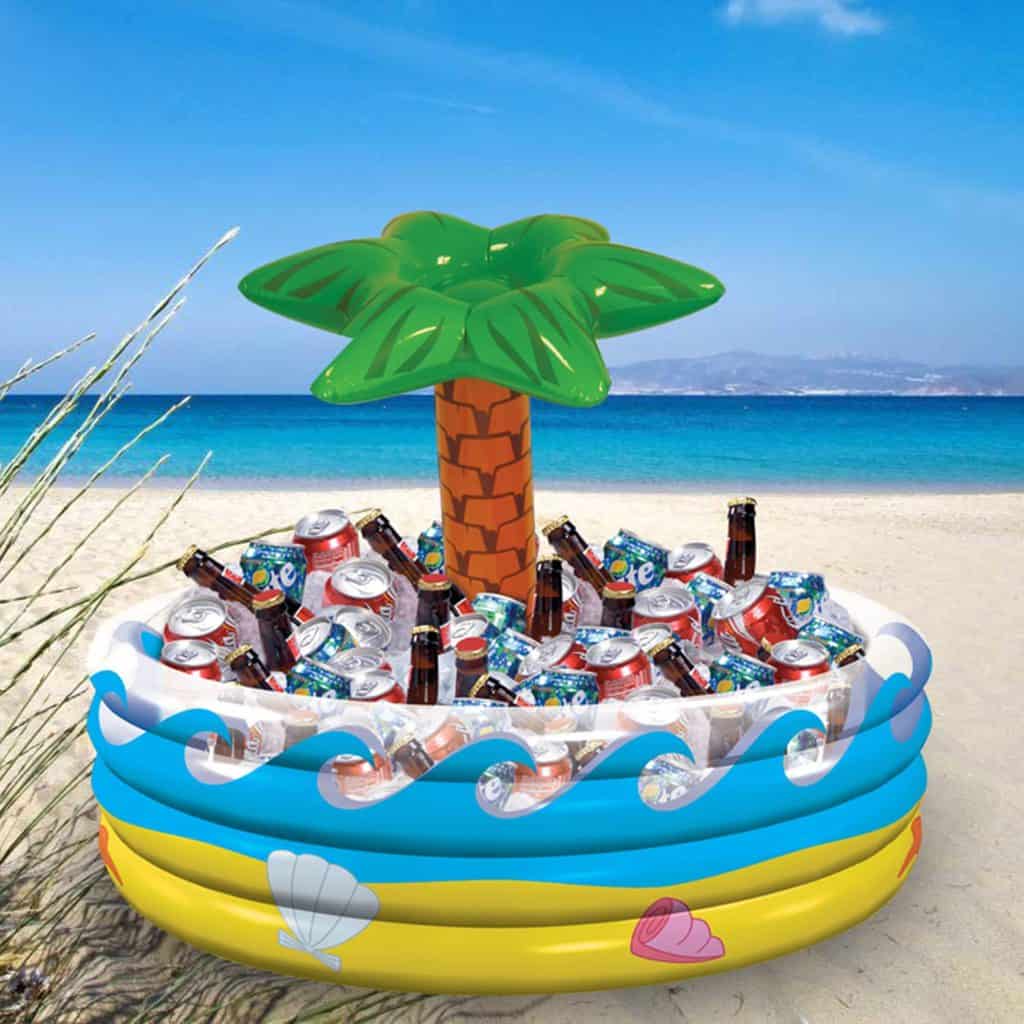 Customer Reviews and Appropriateness  
I also consider the customer reviews of every Moana birthday party supply item. If other customers are rating the product highly, they are happy with it, and I know there's a good chance I'll be happy too. 
So when I put this guide together, I looked at the star rating and customer reviews. 
If I chose an idea from another site, I considered whether something looked appropriate – Is it fun? Does it look yummy?   
FAQs
Question: What is a Moana birthday party? 
Answer: A Moana birthday party is a party that's centered around the Disney movie Moana. The movie's storyline is basically that the plants and fish on Moana's island start to die, so she embarks on a brave quest to return a mystical object to Te Fiti, a Maui goddess. So a Moana-themed birthday party will include elements of the movie like the characters, tropical and Polynesian decor, and more.   
Question: How do you organize a Moana birthday party? 
Answer: Organizing an epic Moana birthday party starts with watching the movie and becoming familiar with the characters and the plot. Decide on your budget, consider who the party is for, and find Moana and related birthday supplies on sites like Amazon, Walmart, and other party stores. Remember to keep the age of the guests in mind when planning snacks, drinks, and activities. 
Question: Is a Moana birthday party appropriate for all ages? 
Answer: While a Moana birthday party can be appropriate for guests of all ages, it is better suited for kids aged 3 to 12. If you want to throw a Moana party for teenagers or adults, focus more on the tropical elements to ensure the party looks age-appropriate. 
My Final Thoughts on a Moana Birthday Party 
My best friend's kid adored her Moana-themed birthday party, and it was all she could talk about for weeks after her birthday. I was ecstatic. And I hope these Moana birthday party ideas will help you plan and organize an epic Moana party for your kid, cousin, or friend. 
Remember to have fun with the planning. 
If you are looking for other party ideas, why don't you check out my guide on the 18 best Mermaid birthday party ideas or the 15 best rose gold cake ideas?
Further Reads: