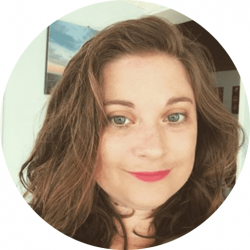 Latest posts by Samantha Bellinger
(see all)
Are you searching for ideas for an ocean-themed cake? Want Ocean Cake Ideas for a birthday party, wedding, or baby shower? Then look no further!
I used to work for a natural history venue that specialized in events for children. Most were educational, but our clients occasionally hired us to do birthday parties. We had an entire summer full of birthday parties focused on the ocean one year. It would have been nice to give this list of ocean cake ideas to the parents who were struggling with which ocean cake to choose. 
So often, cake ideas provide you with showy, beautiful cakes. You know the ones; they are practically fondant sculptures on a cake base. While they make for a gorgeous idea list, they require you to find a skilled baker to recreate them. It leaves the DIYers out there (aka me) incredibly inspired, but later they are deeply disappointed with their cake fails (also me).
My solution to this dilemma is to approach this ideas article differently. I want to still show the magnificent cake creations for inspiration but then follow them up with a more simple, achievable option for DIYers.
This list is perfect for any occasion. I made sure that each ocean cake idea is adaptable for a birthday party (regardless of age), wedding cake, and/or baby shower. If you want an ocean cake for any reason, these 22 ocean cake ideas will help you celebrate.
Bottom Line Up Front
There is one ocean cake idea that captured my admiration. I particularly love the Minimalist Sea Shell cake. It is breathtakingly beautiful and deceptively minimalistic in appearance. It meets my criteria and easily won my appreciation. I highly recommend going for a Sea Shell cake for your ocean themed celebration.
My Selection Criteria
Given my unique approach to this list of ocean-themed cakes, I had to develop some solid selection criteria. Below are the three main criteria: 
Had to Achieve Balance
To achieve a balance of beauty and realistic expectations, I ensured each theme idea had two options. One option is something you could have a professional baker create for you and the second option is one DIYers could reasonably achieve.  
Aesthetically Pleasing Professional Options
My criteria for the professional options were ultimately aesthetic. They needed to be showy enough to catch the eye but still only involve ingredients that professional bakers might have at their disposal. They also needed to provide enough inspiration to help inspire party ideas. I used myself as the barometer; if I could imagine an entire party theme based on the ocean cake, it made the cut. 
Reasonable DIY Options
My criteria for DIY were the opposite of aesthetics. It was purely practical and based on the ease of creation. While I love baking, I'm not the best cake decorator. Okay, I'm rather terrible. So, I decided only to include options that I believed I'd be capable of accomplishing.  
Adaptable to All Occasions 
The final selection criteria I adhered to was that all the ocean cake ideas had to be adaptable to all celebration types. None were specific to a specific kind of party. 
22 Ocean Cake Ideas
I'm very excited to share the following ocean cake ideas. There are 11 themes, with two cake options for each concept, for a total of 22 choices. 
Nothing says ocean like a trip to the beach. This cake captures the seaside ambiance with a multi-teared cake. While this particular cake was made for a wedding, it could be easily adaptable to any occasion but simply change the messaging.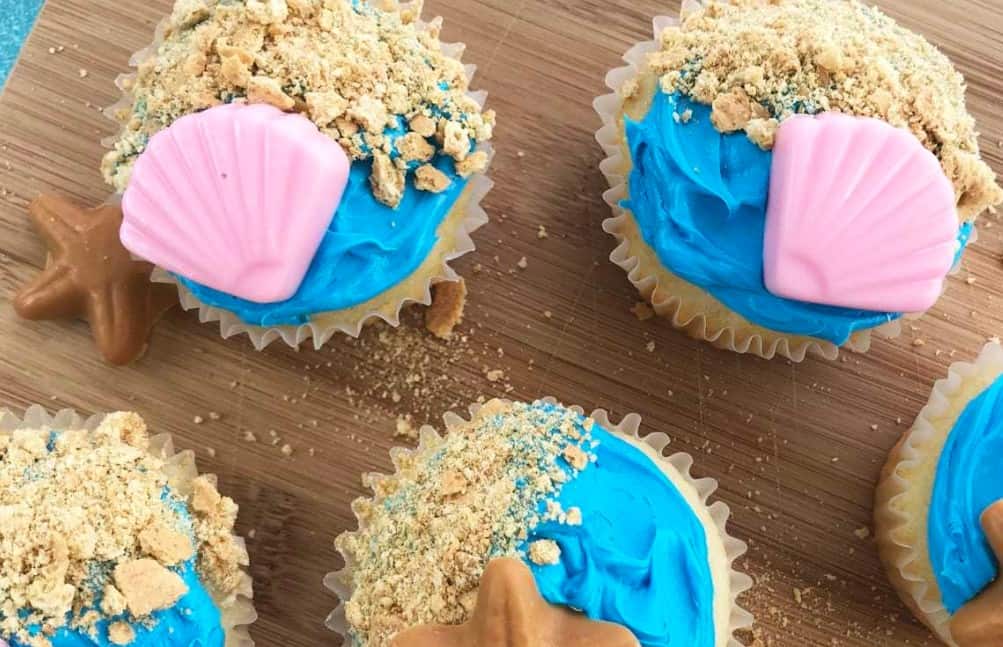 I'm not one to attempt multi-tiered cakes during a DIY bake-off. So, I'm offering a cupcake version of the sand & surf theme. You can bake simple cupcakes, frost with blue icing, add cookie crumbles to half the cupcake, and add a candy shell or starfish into the mix. In terms of DIY cakes, it is incredibly straightforward. You could also recreate this as a large round cake by changing the proportions a bit.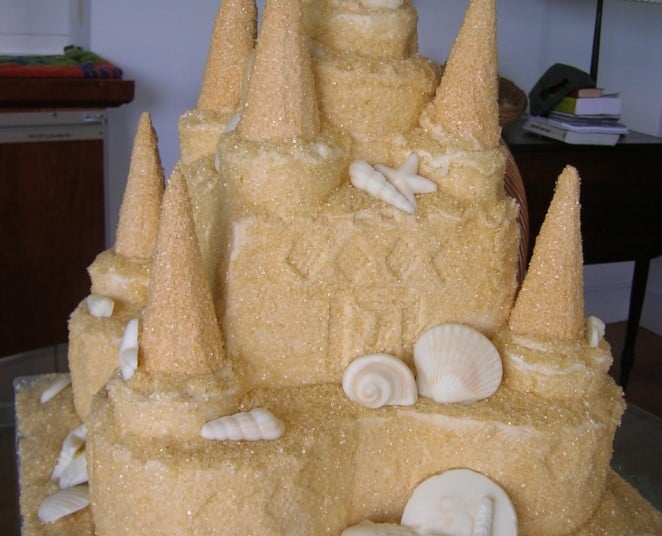 What a jaw-dropping sandcastle cake! It is a series of cake layers in various shapes, and they use ice cream cones to help with the spires. I'm intrigued by the sand-colored substance covering the icing. I'm guessing it is sugar or sprinkles, but it could also be finely ground cookie crumbs. 
I don't know about you, but my sandcastles always fall apart if I make them too large. I foresee my cakes doing the same thing. Therefore, I included this much more modest version of a sandcastle cake for my DIY option. It is a round-tiered cake that you can make with standard-sized cake pans. Much to my delight, cookie crumbles cover the icing. I'm also thrilled that the spires are entirely separate and use two ice cream cones: a cake cone on the bottom and a sugar cone on the top. I also appreciate that the extra decorations are easily adaptable; they can be candy seashells, sprinkles, or a flag made of straws and glitter Washi tape.
See also: Baby Yoda Party Supplies Guide [2022]
This gorgeous ombre teal cake is delicately topped with an arrangement of shells, pearls, and coral. These elements are repeated along the base of the cake. It is simply elegant and something a professional baker could recreate.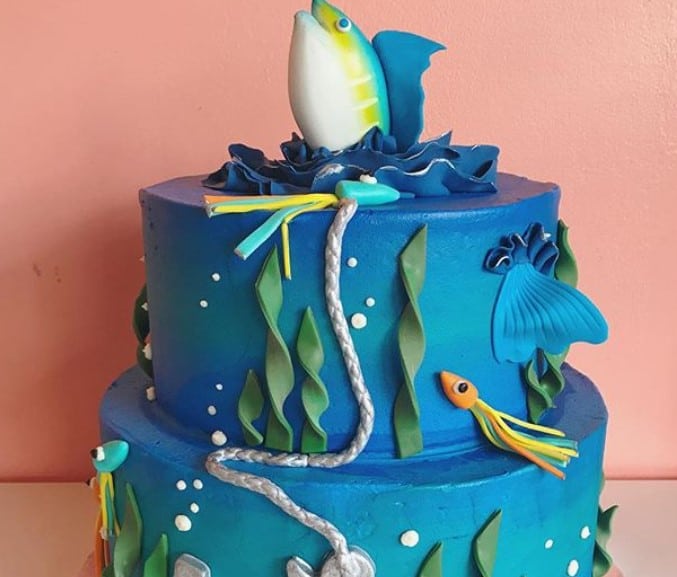 This deep blue cake is adorable and an excellent example of the ocean theme. It features a fondant anchor, seaweed, and a spectacular swordfish popping out of the top layer. It certainly requires the hand of a professional, especially someone who specializes in fondant work. 
This cake is an attractive underwater alternative, perfect for any DIYers who are intimidated by fondant animals like me. This deep below ocean cake involves a simple double-layer round cake with blue icing. The top and base have multicolored sprinkles. One of my favorite parts of the decoration on this cake is along the sides. I loved the twisted seaweed on the professional cake, and this version gets a similar look with an ingredient that is much easier to work with: fruit roll-ups dipped in sugar. Being a sticky surface, they will stick to themselves when twisting and stick to the icing. It is a win-win in my opinion. 
See also: 40th Birthday Party Ideas: The Only Inspo You'll Need For Your Big Day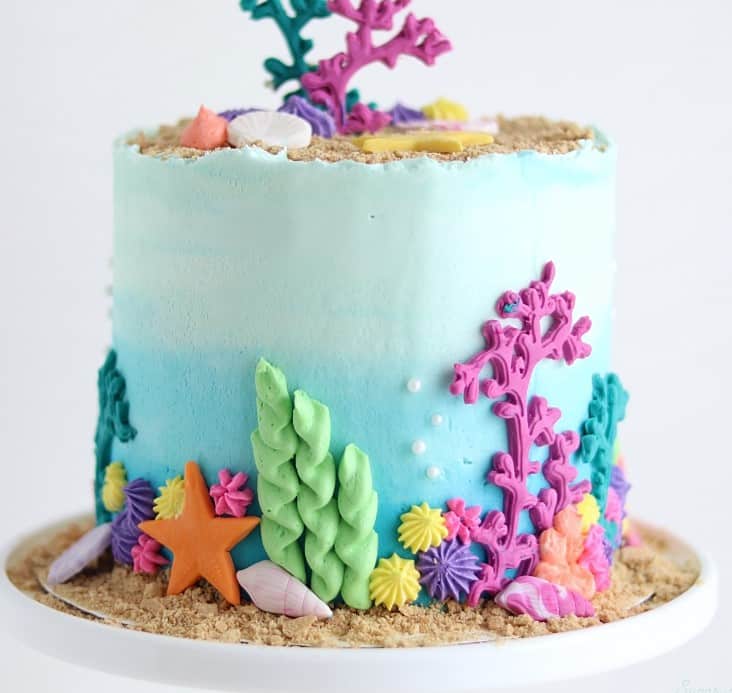 This professional coral reef cake is more straightforward than some of the professional options I've included in this list. My choice was deliberate. I wanted to provide a coral reef cake with enough detail that a professional is needed, but not so much that the baker can't recreate it. This particular option has intricately crafted coral pieces and delicate icing work that captures the idea of a coral reef without an overwhelming amount of detail. 
This sea anemone cake is the perfect alternative for DIYers who love the idea of coral reef cakes but have no idea how to achieve the intricate designs of coral. This cake allows you to create a basic round cake and let the icing do all the work. You'll only need an icing piping tip to help make the spikes. Alternatively, you can even DIY the icing piping bags; all you need is to add the icing into a plastic sandwich bag, push it all to one corner, and cut off the tip. It makes for an excellent make-shift piping bag. In terms of the Nemo character on top, I'd recommend adding in a plastic toy rather than trying to recreate it out of something edible.  
A two-tiered dolphin cake is a beautiful example of what a professional baker can achieve. There are not one but five fondant dolphins jumping over rolled swirling waves.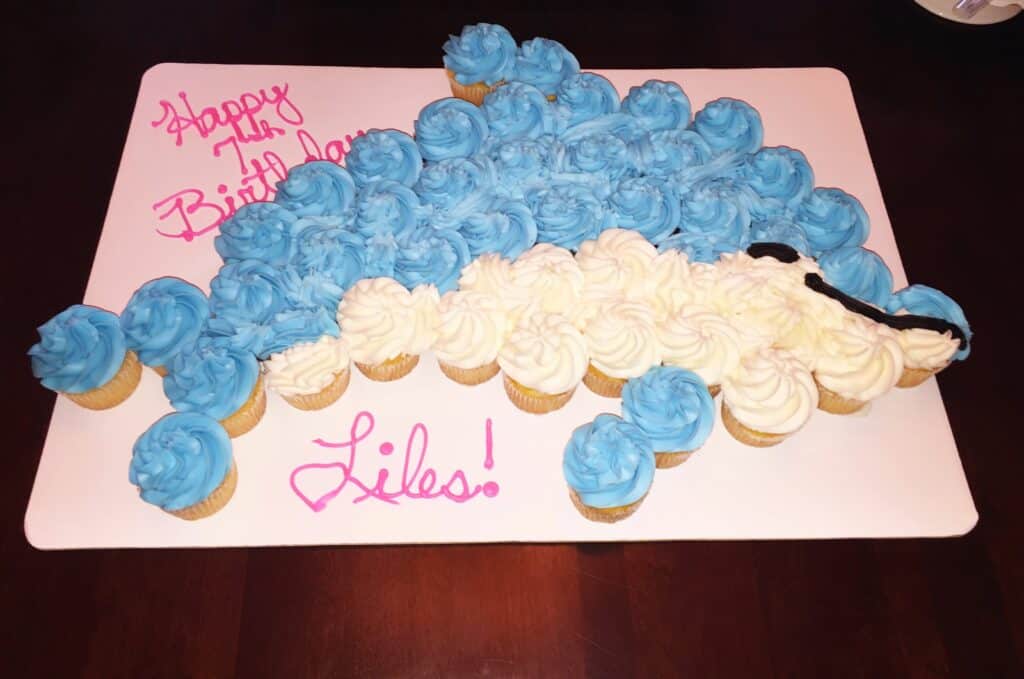 I particularly love cupcake cakes. Cupcake cakes are cupcakes arranged together in the shape of something and icing everything to make it appear one big cake. This DIY dolphin cupcake cake is a relatively easy shape to create. First, you set out the cupcakes on a tray and arrange them into what resembles a dolphin. Then you add colored icing in a way that shows it is supposed to be a dolphin. For this example, the body is blue, the underbelly is white, and the eyes and mouth are black. It's a great option when DIYing but still wanting the shape of a dolphin. 
Shaped Shark Cake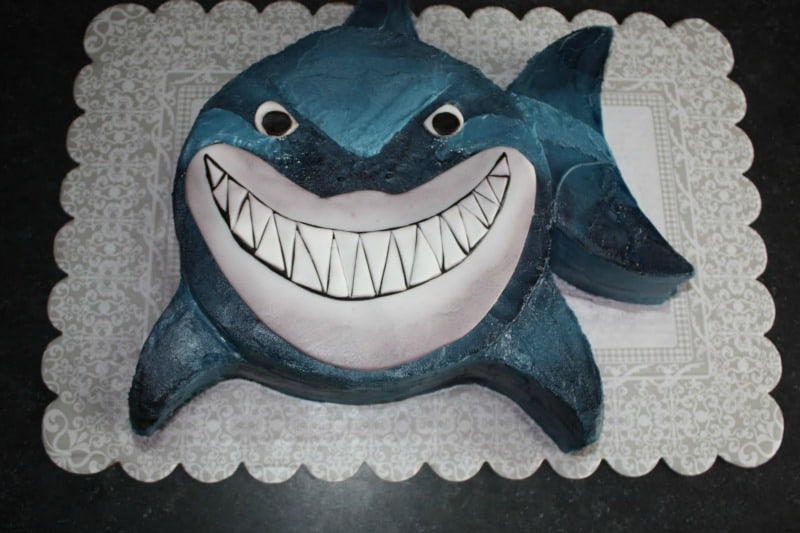 The best part is that the cake is a red velvet cake, so you naturally have a red color for the mouth area. The cake maker just has to form the grey fondant around the shape.
If you are like me and thinking about trying to shape a cake exhausts you, then I have an easy alternative. You have an ordinary sheet cake, add blue icing on top, and then decorate it with a non-edible shark fin and Swedish fish swimming away from it. Tada, a DIY shark cake with minimal effort!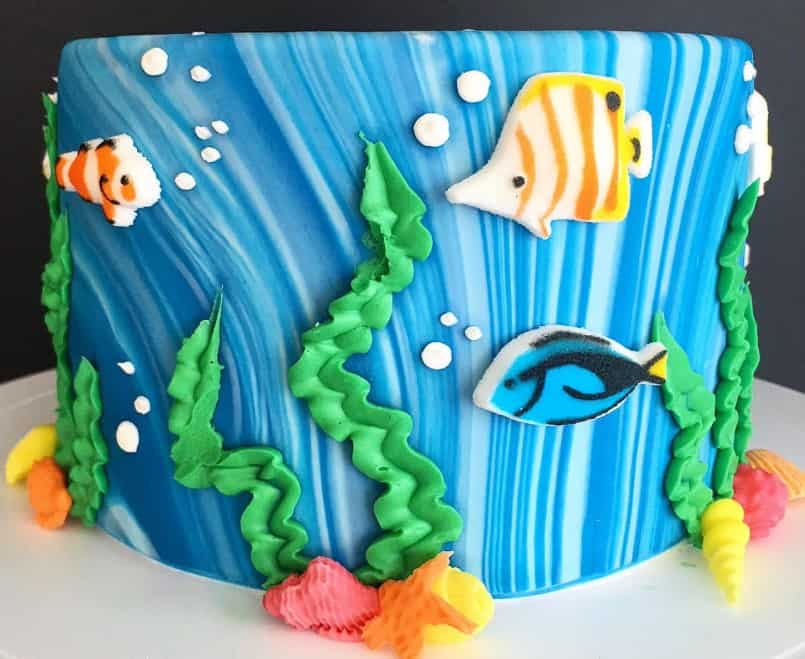 This fish-themed ocean cake would be perfect for a kid's celebration. The striations in the blue and white fondant icing immediately catch the eye. The candy fish along the sides of the cake are bright, and the icing air bubbles are an adorable touch. 
While this one isn't as elaborate as some of the other DIY versions on this list, it is a perfect option for those who need a more straightforward ocean cake option. You start with a standard round cake with icing. Then you decorate with candy fish. My favorite thing about this is that you can customize what candy fish you use. You could use Swedish fish, hard sugar fish, or even fruit roll-ups as seaweed or waves.
This whale cake takes some fondant skills. Not only did the baker need to wrap both layers of cake smoothly, but then needed to add layers of blue for waves. I'm particularly impressed by the swirls made of rolled fondant! 
This ocean cake is a much simpler version. An icing tip would help achieve the desired waves, but they aren't necessary for a successful cake. Plus, the whale on top appears to be non-edible and flat. It looks like a topper you could DIY or even buy and add to your DIY cake—all in all, a relatively simple version.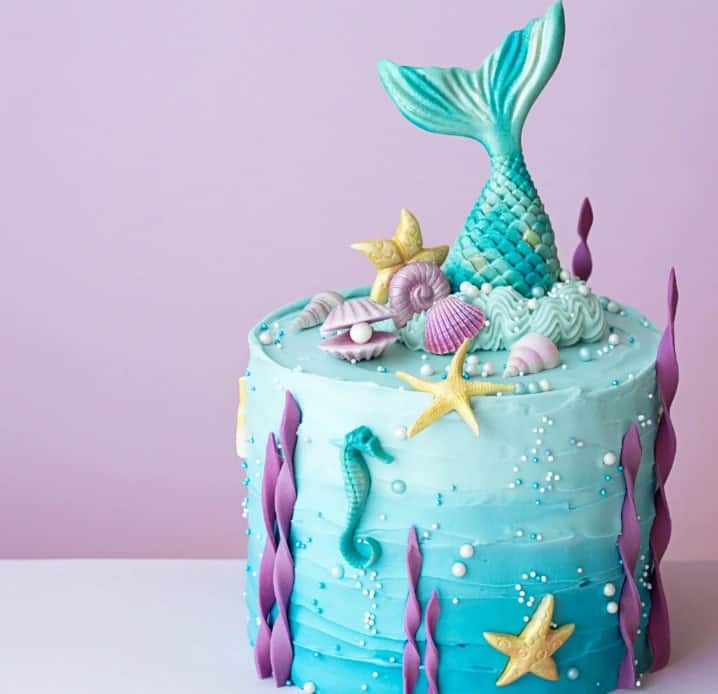 I think this is an adorable mermaid cake. The ombre blue icing gives the illusion it is going from deep to shallow water. The sides are delicately decorated with pearl sprinkles, fondant seaweed, and sugar sea creatures. Similarly, the seashells surrounding the mermaid tail are made of sugar. This cake is something a professional baker would be able to recreate. They might need to purchase a mermaid tail especially for the order, but that type of thing is readily available at online merchants.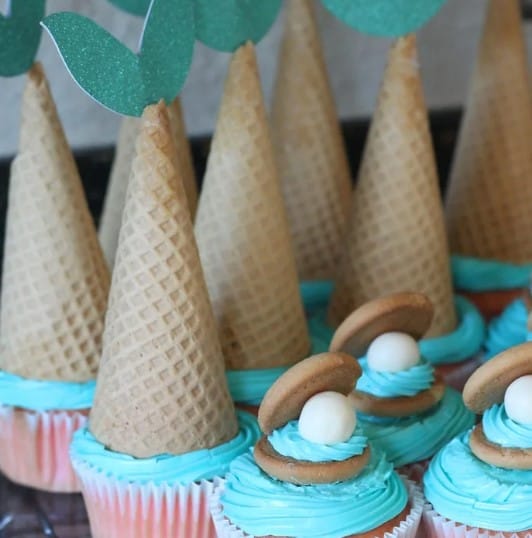 Again, I opted to provide cupcakes for the DIY version. Why? Because it is easy, and it still looks adorable. You make cupcakes as usual and frost them. Then you place a sugar cone face down on the top of the cupcake. Finally, you can fashion a tail fin out of your choice of paper. This option is something I'd have a hard time messing up on; I hope it works for you too!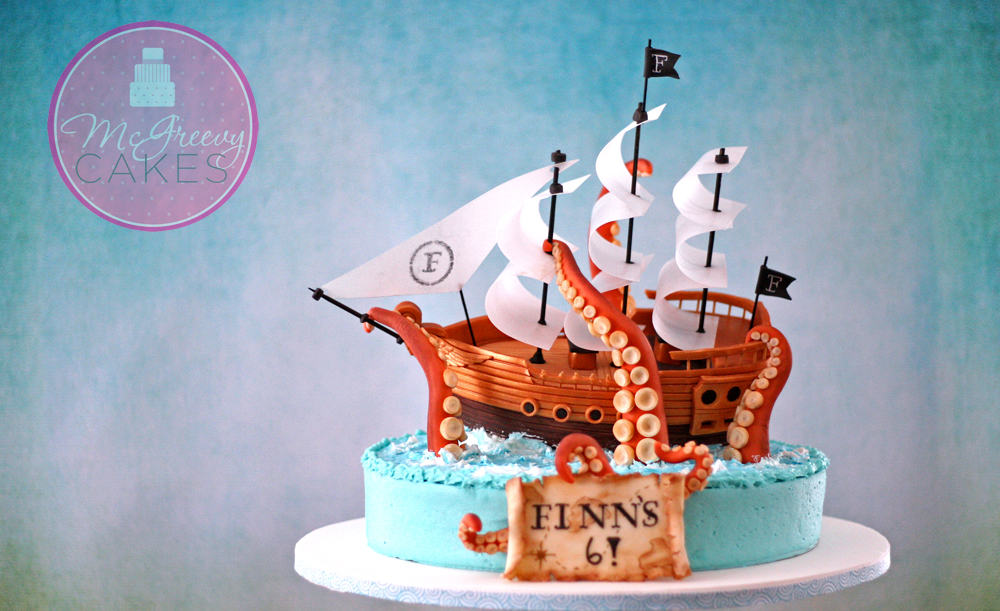 While pirates have a historical basis, most pirate stories have an element of myth these days. That's why I chose this magnificent combination of cake and fondant sculpture. Nothing says adventure like a giant squid attacking a pirate ship. It is a specular feat of engineering and a job I'd leave to a professional baker.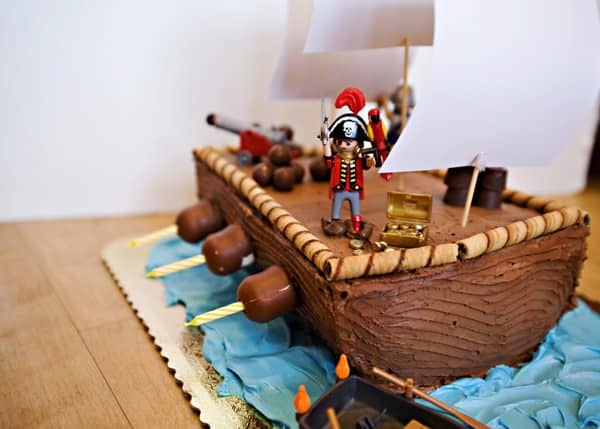 Before you think I've set you up for failure, let me explain the illusion of detail and the true simplicity of this cake. You start with a rectangular cake out of any cake pan you already have. Then you cover it in chocolate icing. This one looks like they took the time to make the lines of the boards. I know my icing skills are so poor that the knife marks will naturally resemble the lines of the boards (or so I'd hope).
Along the top edge are likely something like Pirouettes. I'm reasonably sure most could successfully lay them around the edge. The "cannons" on the side are chocolate-covered marshmallows with a candle stuck through them to hold them on the side. The top has non-edible items such as lego people, treasure chests, etc. The sails are also easy to recreate; they are kabob skewers stuck through a sheet of white paper. There is some decorating involved with this cake, but it is mostly sticking items into the icing. Not too bad for how interesting this option looks! 
FAQ
Question: Which Ocean Cake theme is best?
Answer: Talk to the guest of honor. They can narrow down which ideas resonate with them. If it is a young kid, the mythical sea cakes (mermaids, pirates) might be a good bet. Or if it is for a baby shower, any of the sea animals can be made to be cutesy or gendered. Alternatively, an adult birthday celebration or retirement celebration might call for a sand & surf-themed cake. My particular favorite is the minimalist sea shell cake. However, I recommend talking to the guest of honor before deciding.
Question: Is it better to purchase a cake or try DIY?
Answer: My question back to you: are you comfortable DIYing cakes? I know talented cake decorators, others who fail so badly that they proudly laugh at their blobs, and then others like me are in the middle. If you know you are successful with cake decorating, go with DIY. If cake decorating isn't on your list of talents, don't worry; plenty of professional bakers can do it for you. If you are in the middle like me, you have to determine the difficulty level of the desired cake and the potential frustration level. Assess your skills and feeling about DIY honestly, and then make your decision. 
Question: How do I pick a professional baker?
Answer: This is an important question. First, I recommend searching for professional bakers in your area. Then look check out their websites and determine if they have cakes similar to what you want; this is vital. You need to pick someone who has the skills required to bake the cake you want. Let me provide an example.
I have a friend who makes spectacular cakes, but she never uses fondant in her creations due to the taste. I would hire her for a delicious cake, but not if I wanted a spectacular cake sculpture. I'd look for a baker who specializes in fondant and uniquely shaped cakes. Once you narrow down the list, contact each qualified person and see if they are able and willing to create the type of cake you desire.
Question: Is Buttercream or Fondant Icing better?
 
Answer: I get this question all the time from my clients. Buttercream and Fondant are the two most common icings used for commercially available cakes.
Buttercream is rich, creamy, and tastes delicious. It is easily colored, flavored, and used for simple decorations. However, it is essential to realize the primary ingredient is butter. That means that buttercream icing tends to melt in extreme heat. Therefore, it's not recommended for outdoor summer events, especially where it is sweltering (summer in my home state of North Carolina comes to mind).
Fondant is smooth and stiff. It is used for intricate designs and elaborately decorated cakes. It is made with gelatin and corn syrup, which does not require refrigeration. However, I have to warn you that the taste is severely lacking.
The decision on icing type comes down to what you want to prioritize: design or taste. For a visual "wow" factor, go for fondant cakes with elaborate designs. If you want to go for flavor, go for a simple buttercream frosting. It won't be as visually stunning, but the taste will be much more pleasant.
Conclusion
As I mentioned earlier, there is one ocean cake that I recommend over all other ocean cake ideas: the Minimalist Sea Shell cake. I love the aesthetic beauty and delicate details of the shells. The relative simplicity of the blue cake really compliments the shell designs.  Overall, it is breathtakingly beautiful and has my utmost admiration. I highly recommend going for a Sea Shell cake for your ocean-themed celebration.
Let me know what you think. Do you prefer the purchased options, or are you a DIYer at heart? I'd love to hear your thoughts on creating ocean-themed cakes.
Recommended Reads: