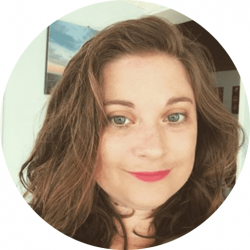 Latest posts by Samantha Bellinger
(see all)
Blues Clues is one kid show that has been around for years but never seems to lose popularity. I planned a Blues Clues party when my friends first started having kids. Now that I'm revisiting the theme, I realize that longevity (aka reboot) means many excellent party supplies available. Join me in reviewing 33 of the best Blues Clues Party Supplies.  
Bottom Line Up Front
Out of all the supplies I came across during my planning, I personally love the video invitations. It is the newest trend in party invites, is affordable, and readily available. I also love that you don't have to worry about having the lead time to print and distribute the invites. After customizing your video invite, you can send it immediately! 
Things to Consider
I find it helpful to consider a few things when planning a Blues Clues party and before diving into purchasing supplies. Determining your answers to the following issues will help you decide which party supplies are right for you and how many of each item you need to purchase. 
1. Size of the Party
One main thing to consider upfront is the size of your party. How many kids does everyone want there? Also, are you including the parents, siblings, and family members that might tag along without RSVPing? Think this through, and then come up with a rough estimate of how many people you hope to invite. Then add a few extra to that number to be on the safe side. Remember, this number will help you determine the quantities of supplies you'll need.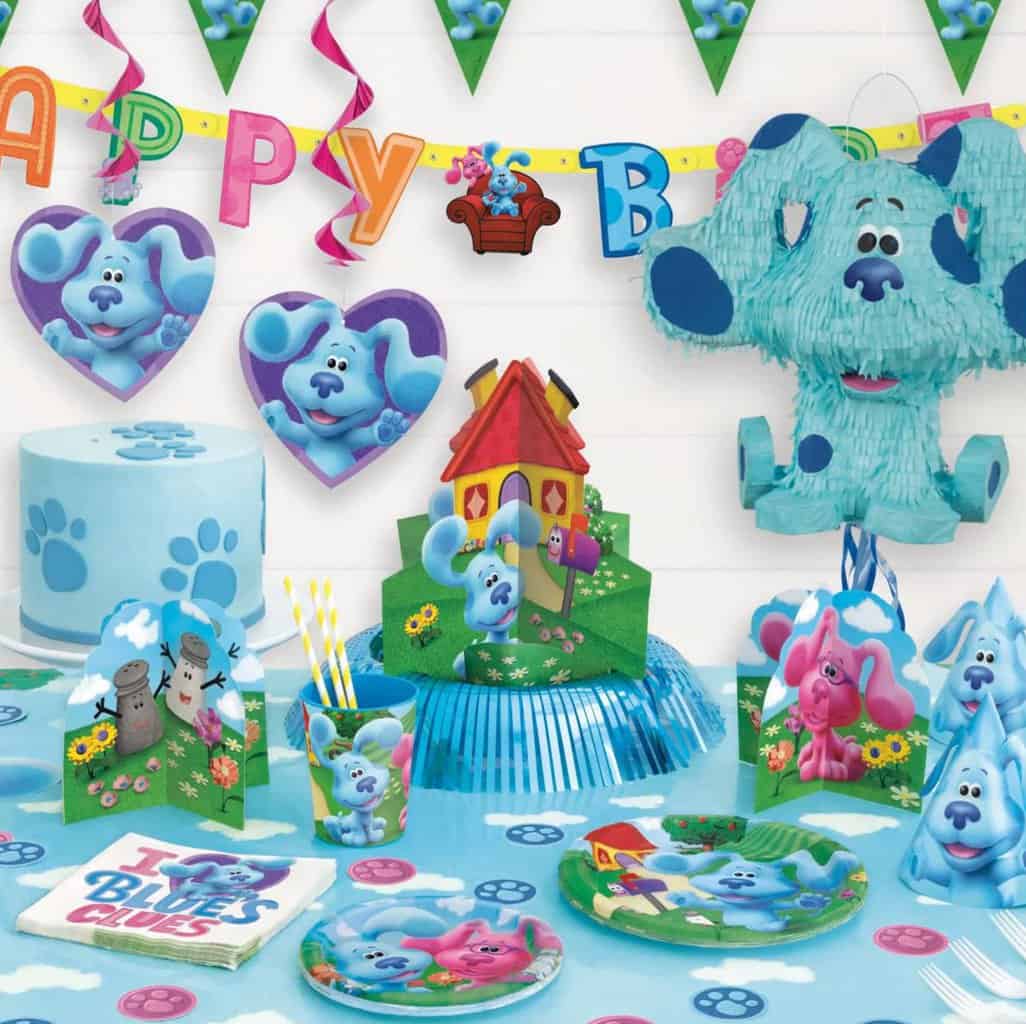 2. Age Range of Attendees
The age of guests doesn't always factor into people's party planning, but with a kid's party, that is surprisingly important. Think about it, a party for a group of 3-year-olds has a few different considerations than a group of 7-year-olds. You can plan a Blues Clues party for both, but make sure the party activities and goodies are appropriate for the age group. 
3. Style of the Party
Okay, for this one, you don't need to be able to describe your desired style with the correct terminology. This step is more about getting a rough idea of what you like, what your guest of honor will enjoy, and how those work with the Blues Clues theme. Is it necessary? No, but deciding on the look upfront, or at least getting a basic idea, will help you more easily pick which supplies to buy.
Now that you know the party basics, we can start deciding which Blues Clues party supplies best fit your party needs.
Selection Criteria
You are probably wondering how I narrowed down Blues Clues party supplies when there are hundreds of options. My selection criteria for this supplies guide were straightforward.
They didn't break the bank (aka relatively affordable)

The supplies were readily available both (preference went to those vendors who had both an online and in-person option)
I should also mention that I preferred items I could find at retailers that sold licensed Blues Clues merchandise. However, I wasn't exclusive on this; there are a few unofficial options. 
33 of the Best Blues Clues-Themed Party Supplies
Now onto the fun part, the best Blues Clues party supplies! They aren't in any particular order, but I did loosely organize them into stages of the party (inviting to the party, what we need during the party, and what we send people home with). It isn't absolute, but it'll give you an idea of where to find things in the list. 
I always recommend printed invitations; all celebrations need an invitation, so why not make it a printed, themed invite? This Blues Clues invitation is fully customizable. I love that you can change the wording to fit any celebration type; it isn't limited to birthday celebrations like the example invite. The ease of printing is also a perk; you can have it printed directly from the Party City website!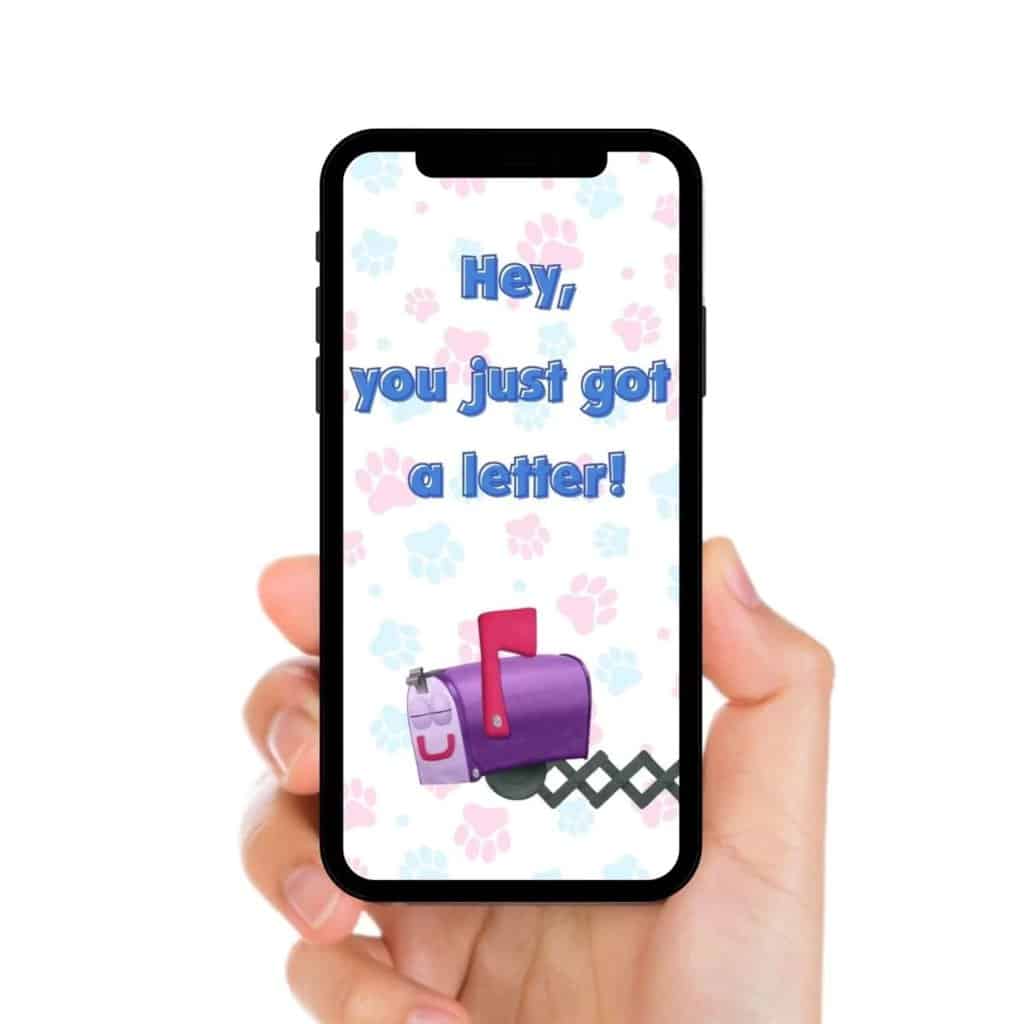 The newest event trend is to send out video invites to all your party guests. Have you gotten one yet? If so, you know how exciting they can be. If not, why not be the first in your batch of friends? The example linked above is for a gender reveal party (using Blue and Magenta as the representatives for gender). I appreciate that it is easy to customize and can be immediately ready for instant distribution!
Honestly, this might be my personal favorite out of all the supplies on this Blues Clues Party Supply Guide. It might be because I'm pregnant and looking at baby shower invites of my own, or it could be that I'm a huge event planning nerd and love the idea of riding this invite trend.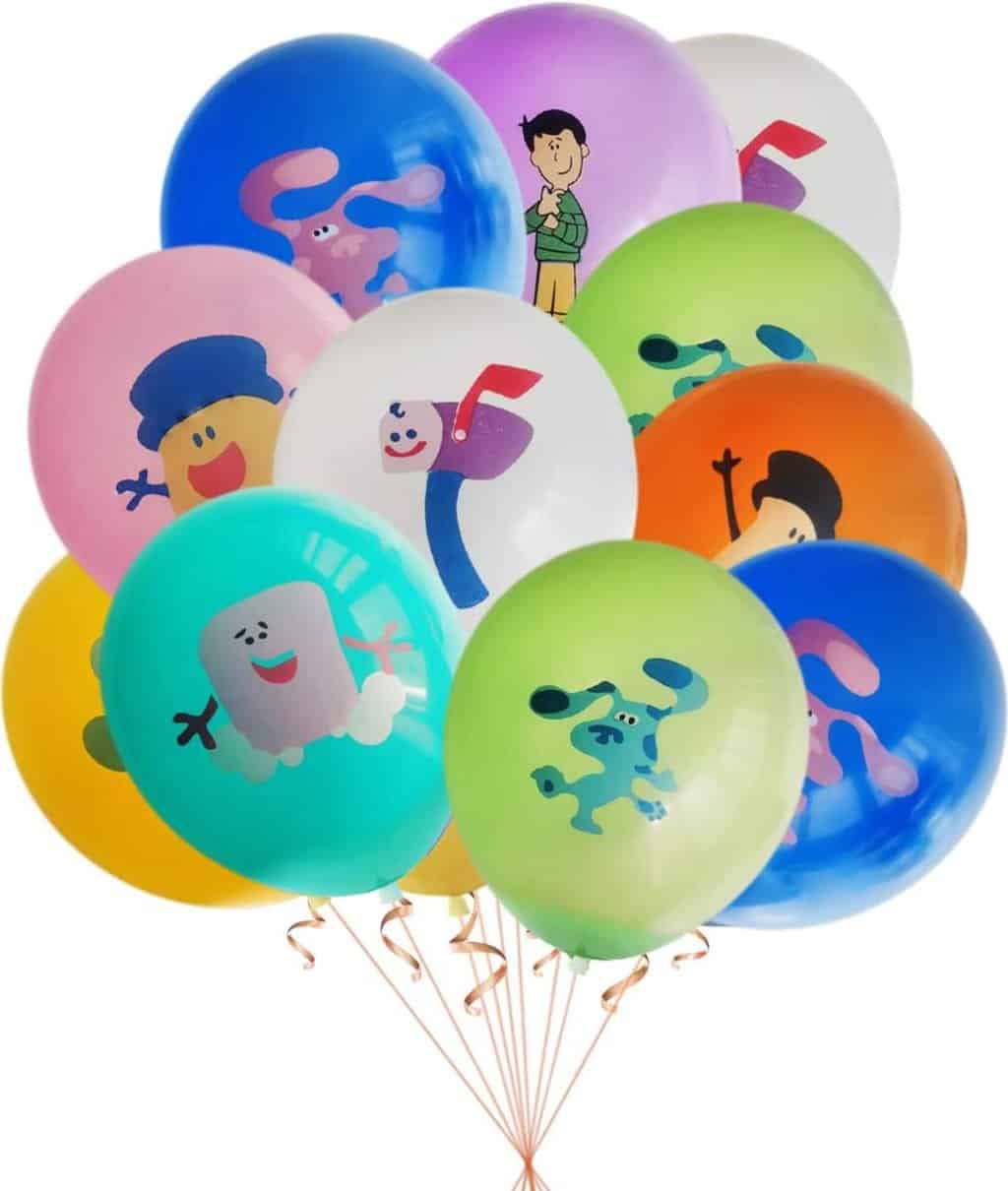 Most people will agree that balloons are a favorite for kids' parties. I think they are a MUST (anyone who has seen my younger nephew with balloons would agree), and these latex balloons would be perfect for your Blues Clues-themed party. I love the unconventional drawing style and how cutesy it is. They might be an unofficial design, but they are still adorable and would make a solid addition to the party decor.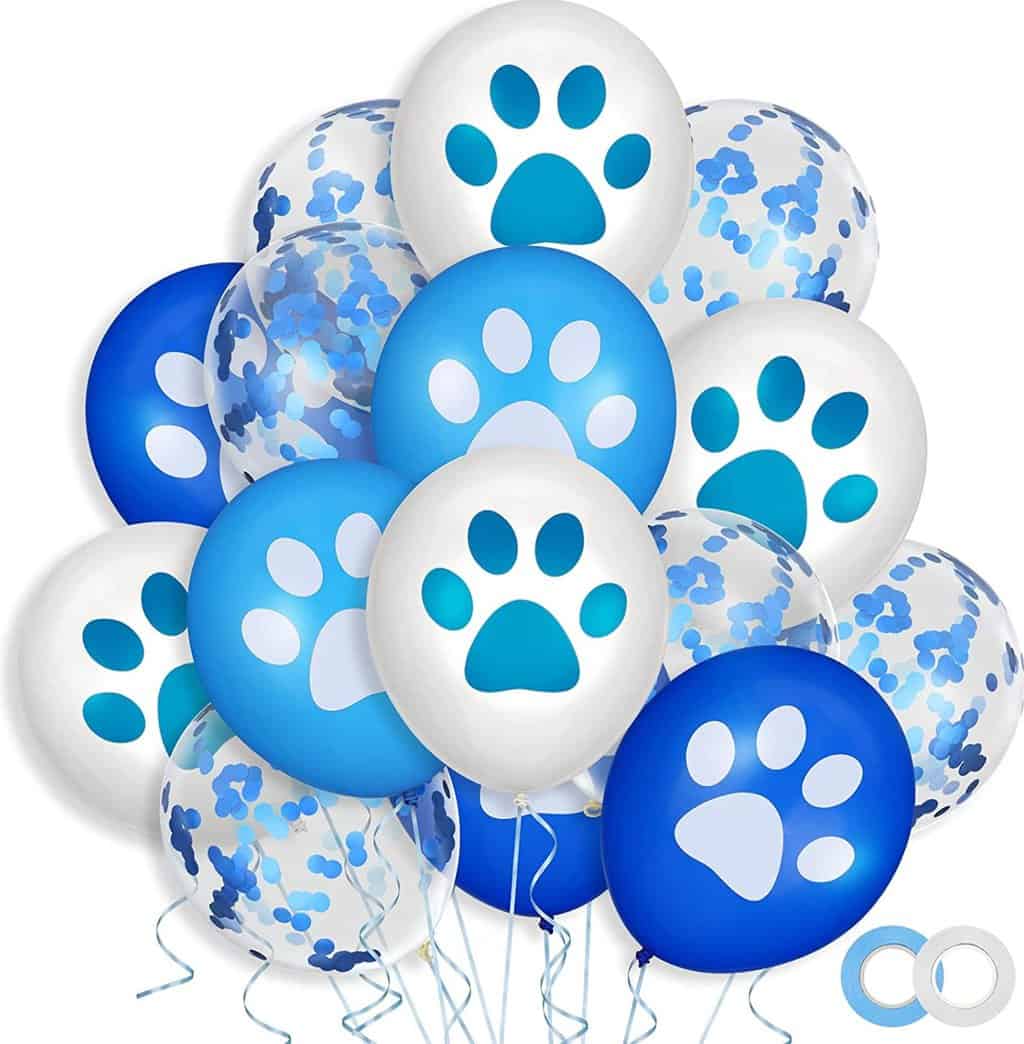 I'm always on the lookout for supplies that indirectly relate to a party theme; in other words, things that are close enough to match the theme, but if you saw them on their own you wouldn't immediately associate them with the theme.
The idea is that guests don't get overwhelmed by the strong prints associated with official decor. Paw print balloons are my suggestion for this filler. They are an excellent option to fill out that balloon bouquet or build a balloon arch without spending a ton extra on all Blues Clues-themed items.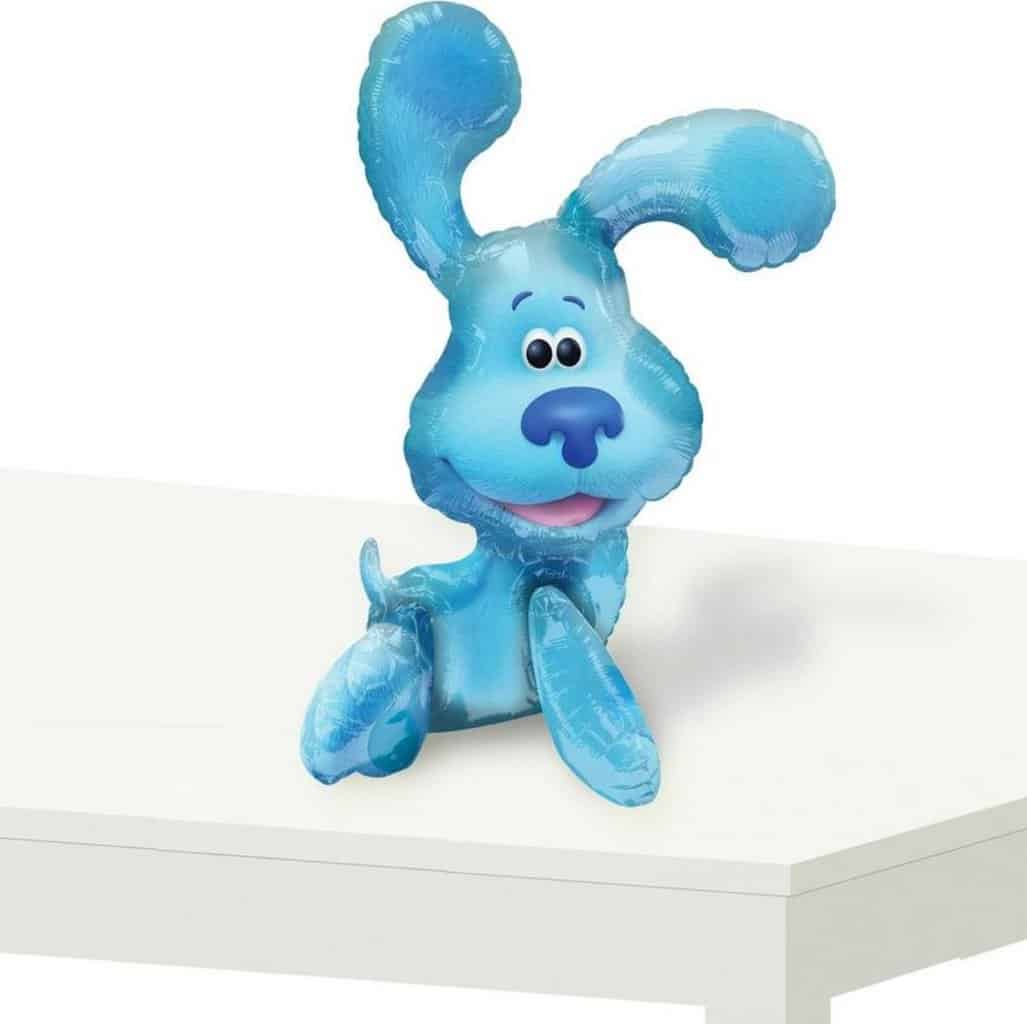 Shaped balloons catch my attention, and these foil balloons in the shape of Blue are adorable! How can you go wrong? These balloons come from party city, so you have two buying options: online or in person. What I find fascinating about these balloons is they are designed to be reusable and meant to sit on a table as decor. They don't take helium, so they never float.
That solves an issue that only occurs with little ones – the profound disappointment when a balloon deflates and doesn't float anymore. I always encourage creative ways to keep kids happy. This particular balloon means the kids can have you refill the balloon with air so they can keep them for days after the party.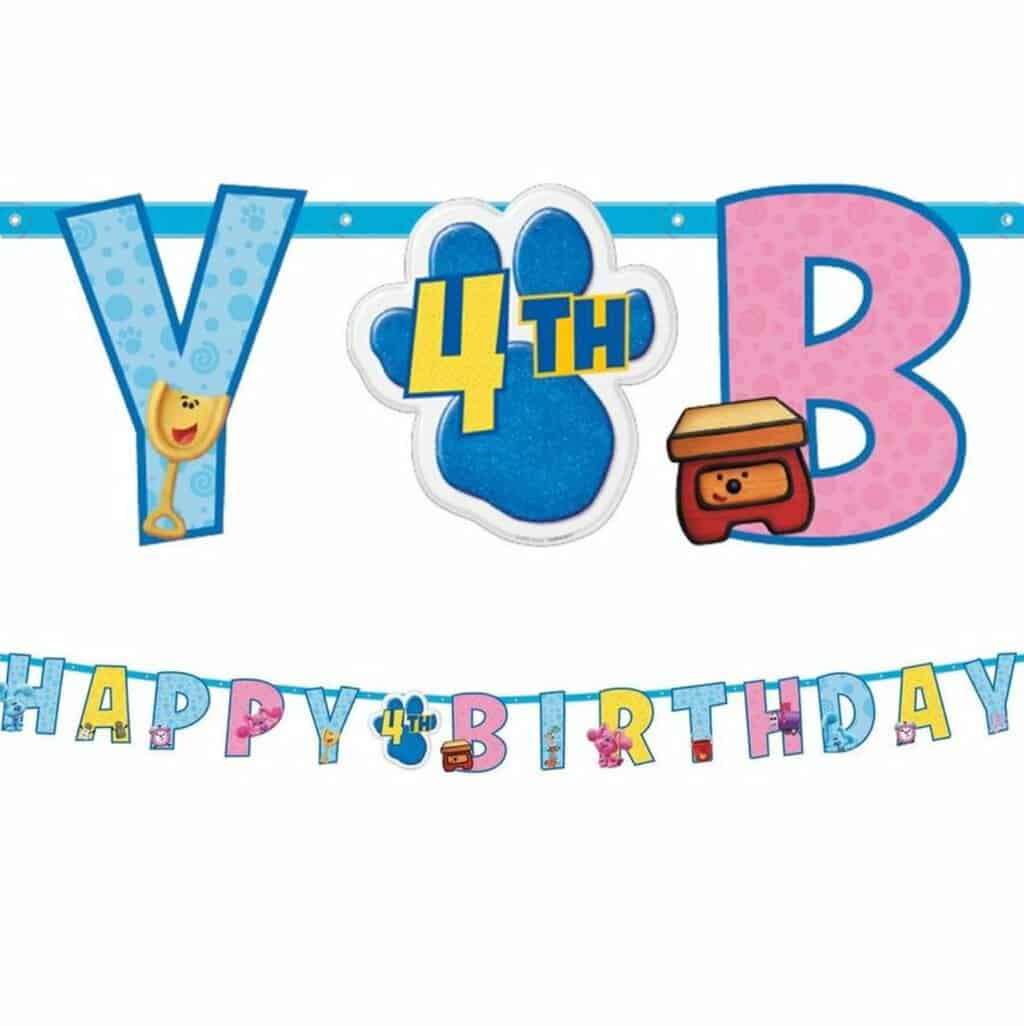 Banners are a staple of party decor. They are great for every occasion, but this one, in particular, is birthday specific. So if you are planning a birthday shindig for your Blues Clues fan, consider this Party City Birthday Banner. I picked it because it is customizable, colorful, and filled with Blues Clues characters. I especially like that it has blue, pink and yellow so it can be used for all genders. As a bonus, it is affordable and an official Blues Clues product.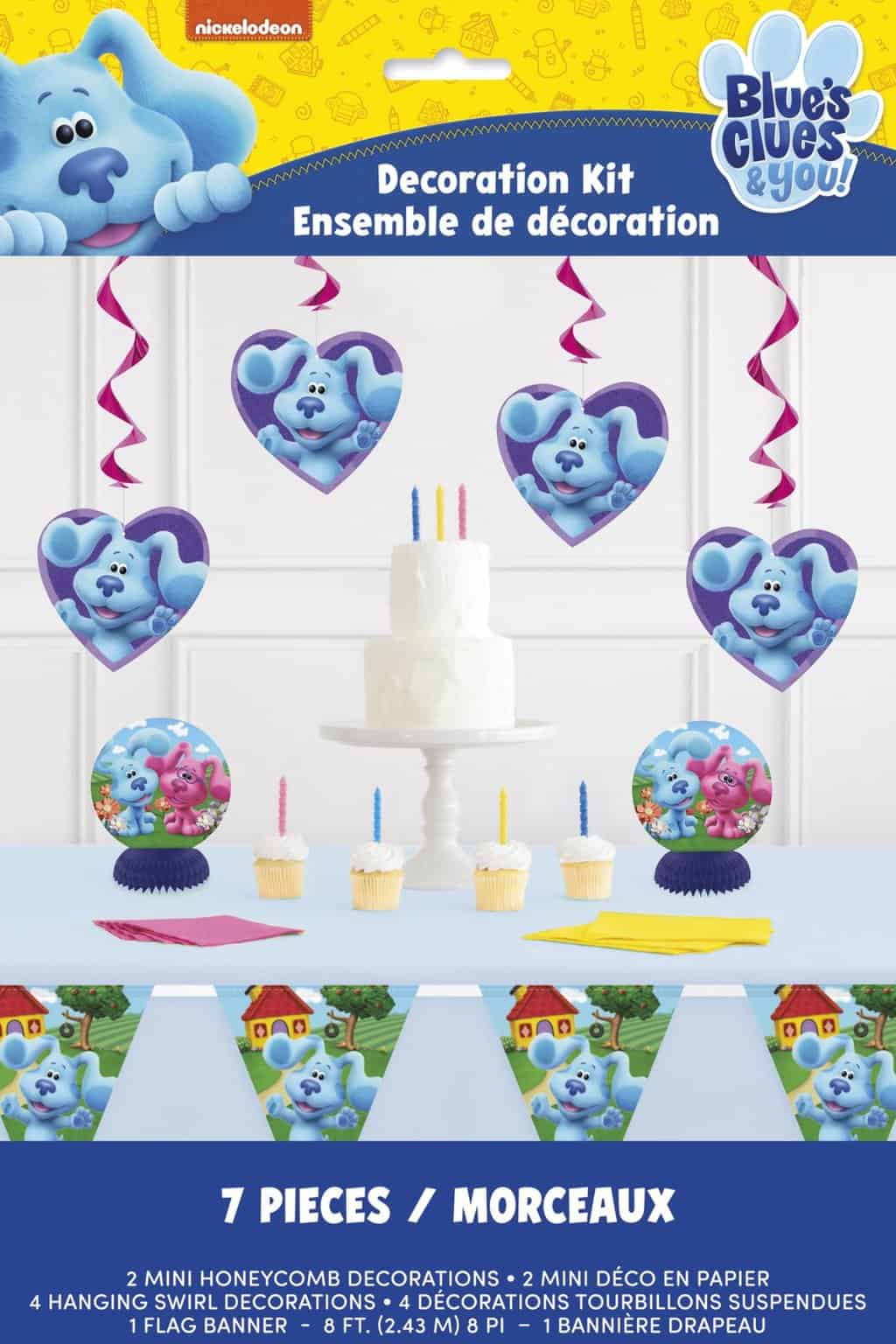 Walmart offers a 7-piece decorating kit with table decorations, bunting, hanging decor, and more. I love when everything comes in one bundle. It helps streamline the party planning process and is perfect for busy parents who need to be efficient with their time and mental load. My mom friends would tell you it is a no-brainer, and I agree!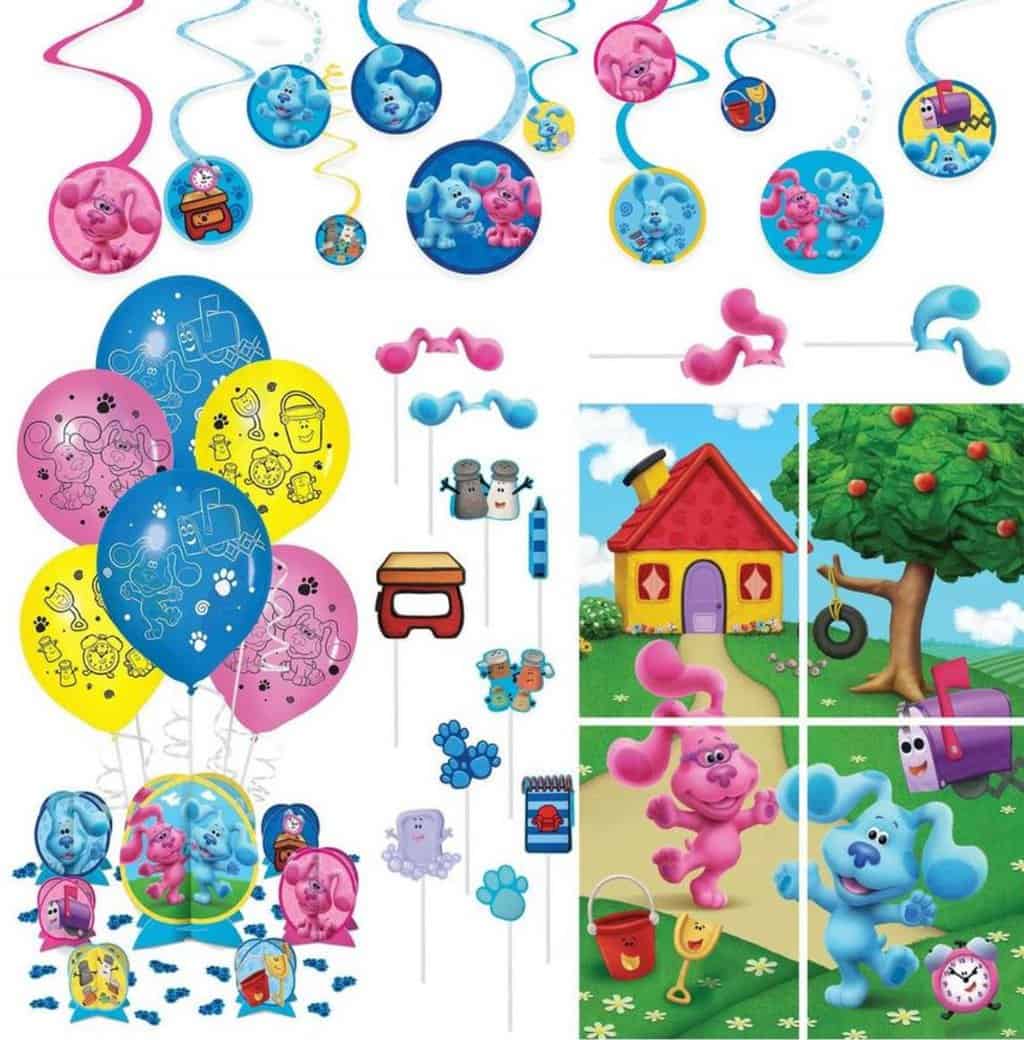 Want to go all out? Try this ultimate Blues Clues decoration combo kit. It includes latex balloons, photo booth props, table decor, hanging swirl decorations, and even backdrops for the wall. It is the ultimate decor kit! This package is the perfect way to incorporate Blues Clues into the party decor without all the hassle of buying each item piecemeal. Time is money, but more importantly, time is sanity. Save yourself some time (and your mind) and buy everything you need at once.
Party hats are a favorite of mine; I don't care about the theme; I need them. I always place one on my head, strike a pose, turn to the young guest of honor, and dramatically ask, "do you like my party hat?" It gets giggles every time and an eager partner in encouraging hat-wearing. Michael's offers this set of officially licensed Blues Clues Party Hats. They come in an 8-pack and feature Blue. Party hats are an excellent way to get kids in the party spirit and make for adorable group photos.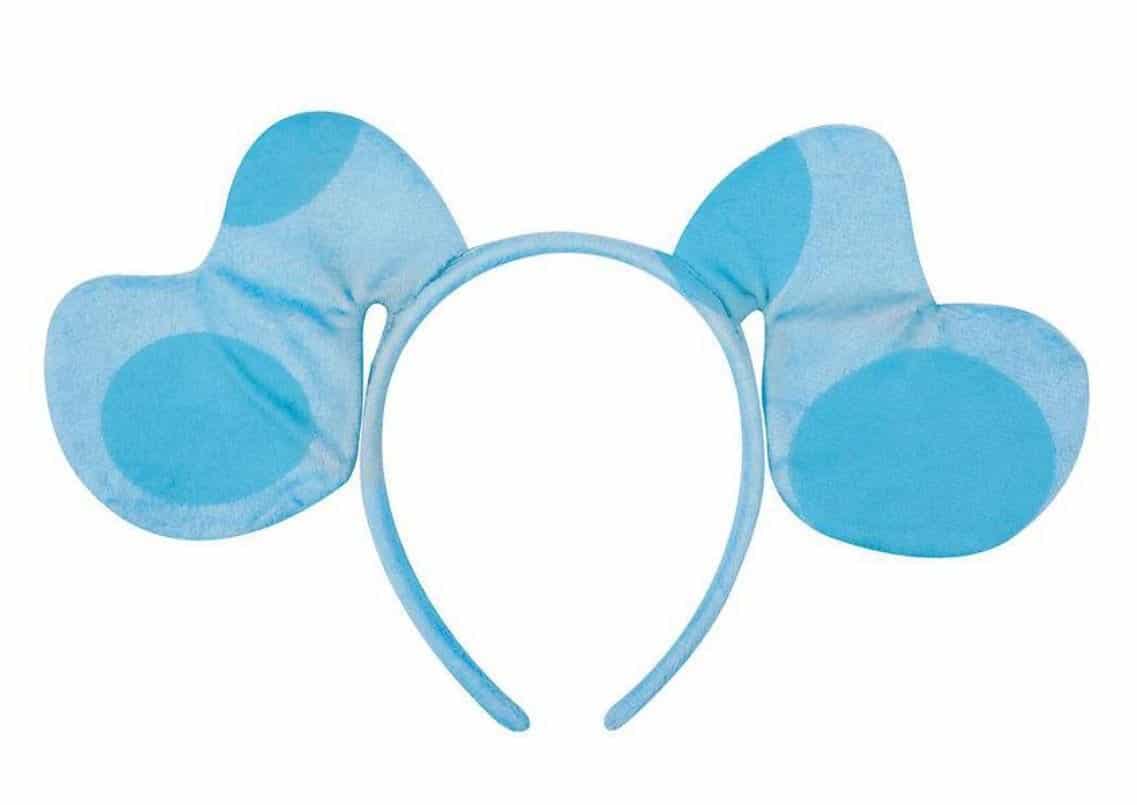 Are you not into party hats (a pity) or just looking for a way to distinguish the guest of honor? Look no further. This adorable wearable Blue's Clues headband is perfect for your Blues Clues party. I love that it is a headband that easily perches on a kid's head without much fuss. Plus, the giant puppy ears are adorable. I already want to use them in a photo op!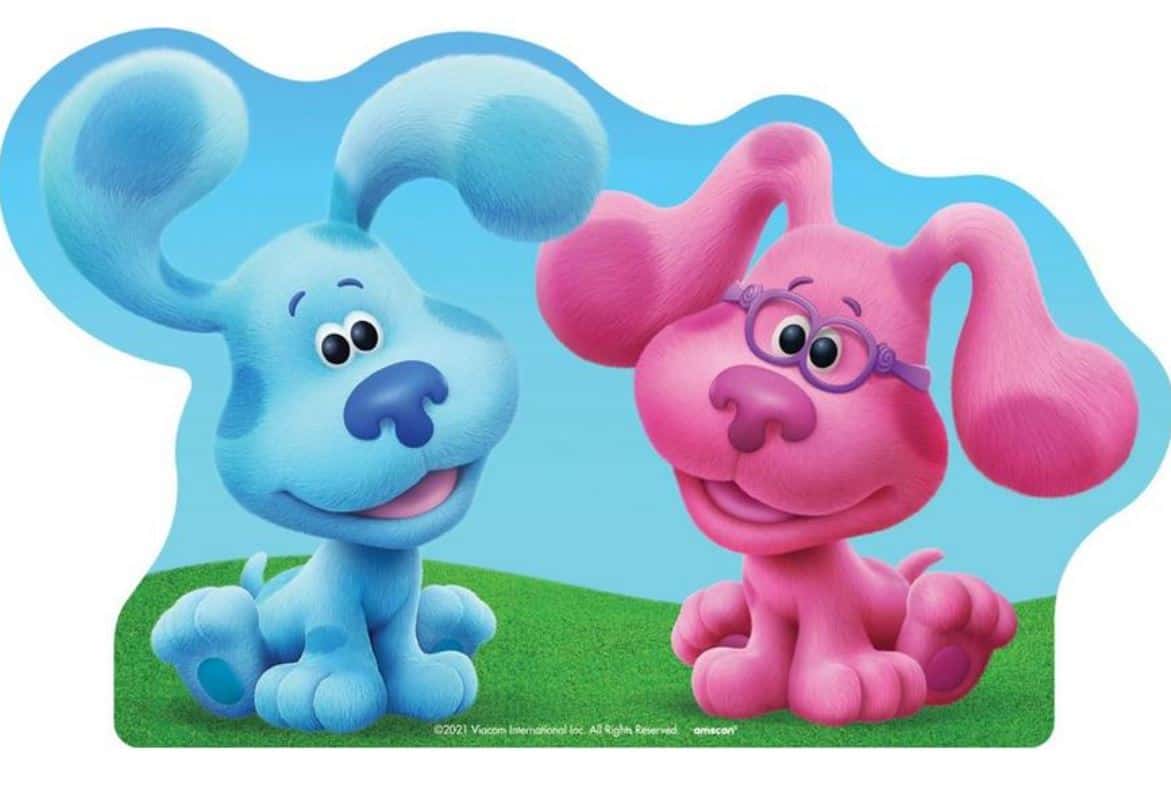 Have Blue and Magenta attend your Blues Clues party with this freestanding cutout! I love that this cutout features both pups and gives you an option of sizes. You can buy it in sizes ranging from 3 feet to 6 feet tall. While I'm a big proponent for cutouts at kids' parties, there is a downside to these. You can't pick them up in person. They are only available online. As you can imagine, shipping something that large isn't cheap, and Party City only offers ground shipping. All this to say, plan ahead if you want these puppies to join the party!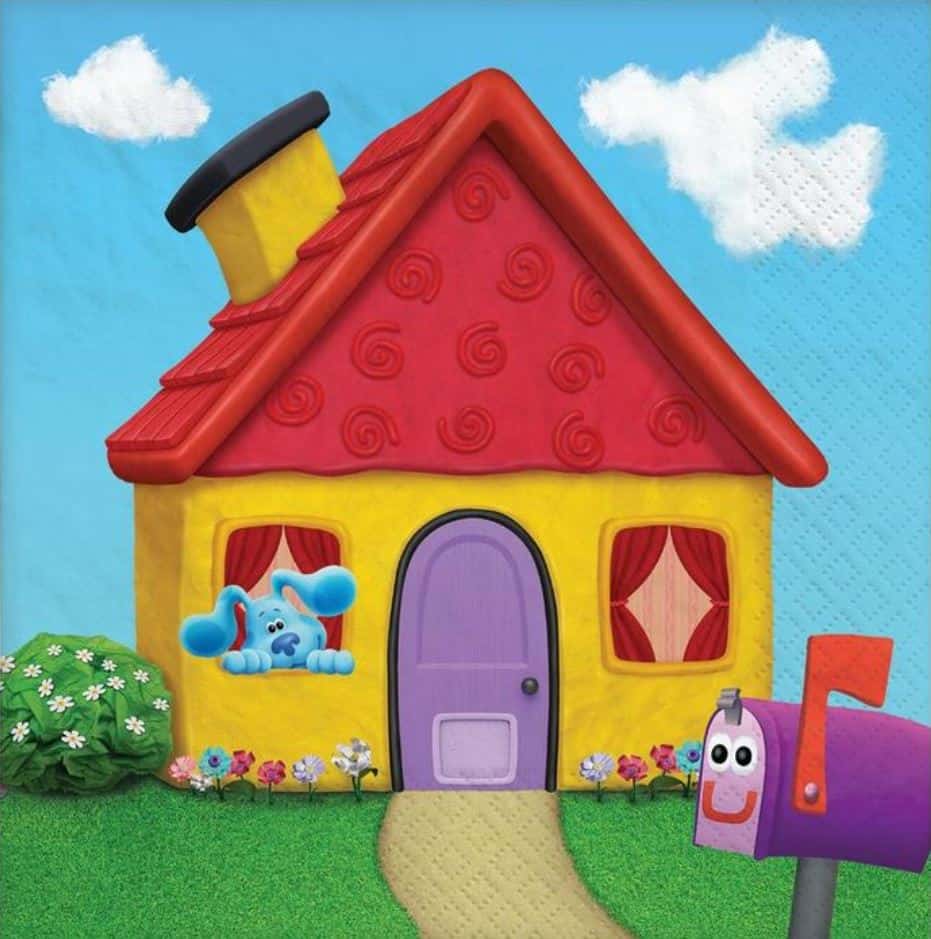 These themed napkins will match your theme and pick up any messes that might occur. Anyone who has planned a kids' party knows you can never have too many napkins on hand. I routinely buy twice as many as I would for an adult party. I've seen entire stacks of themed napkins be used to contain spills while waiting for a paper towel or sponge. Consequently, I opted for a reasonably priced but colorful Blues Clues napkin pack. I love that they are inexpensive enough that I can buy extras but cute enough that I'm not skimping on the details.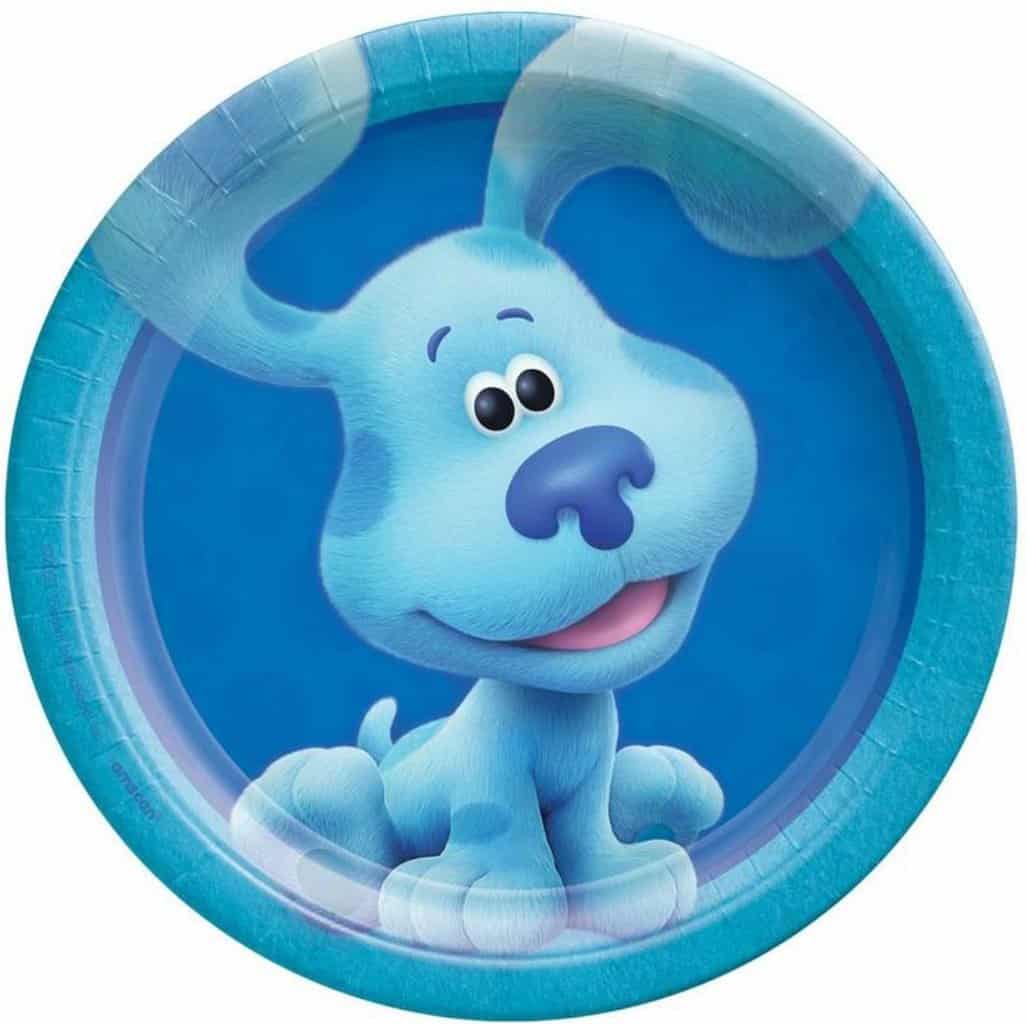 This set of dessert plates is on the smaller side (7 inches) and features an official portrait of Blue. I picked these because the small-sized plate is excellent for little ones. Not only are they more likely to hold the plate themselves, but the smaller size also helps limit how much food kids put on their plates. That is a necessary consideration for my nephews; I'm guessing I'm not alone.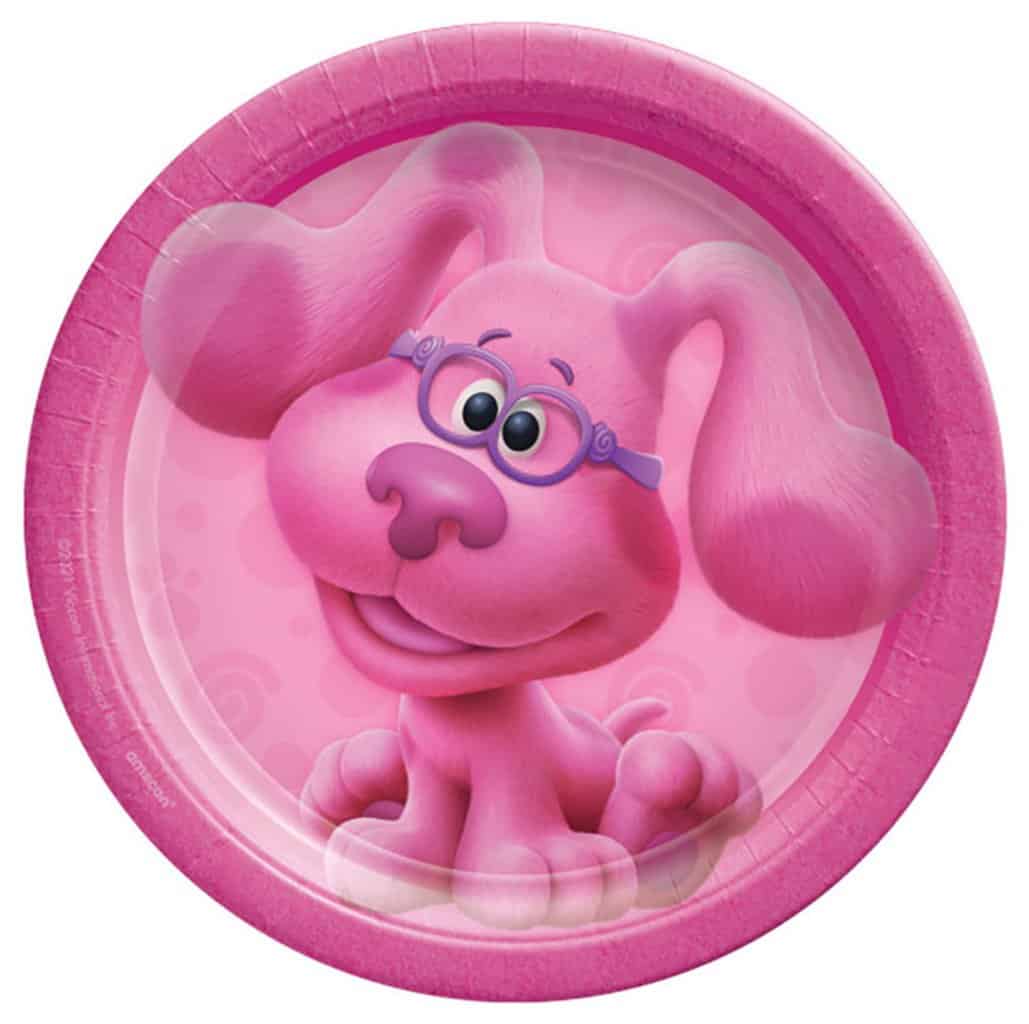 These Magenta-themed dessert plates are adorable. I picked these for two reasons: 1) these plates are a great way to incorporate the other characters into your Blues Clues Party, and 2) this particular design features Magenta the dog. Like the plates described above, they are dessert plates too. The smaller size is also suitable for little hands.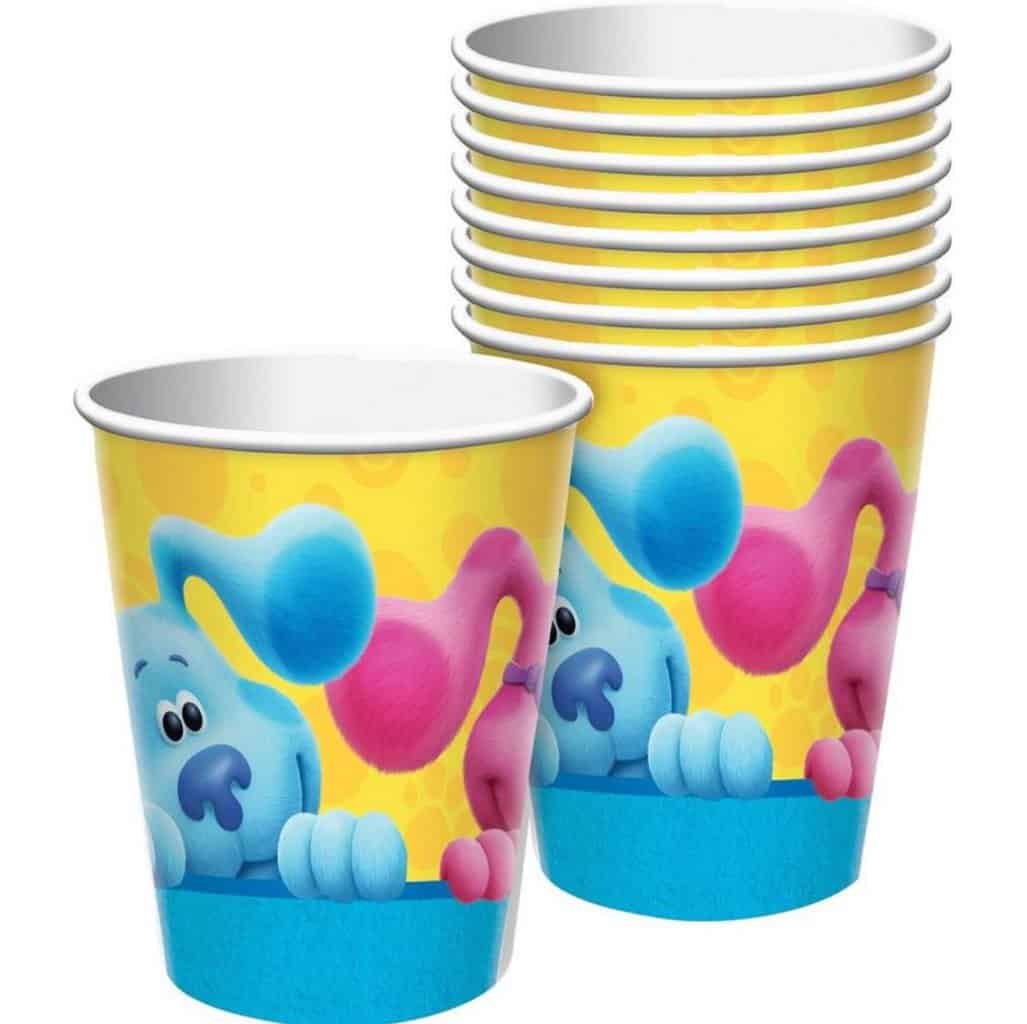 Paper cups are a staple for any kid's party. I recommend these Blues Clues cups from Party City. I decided to go with the Party City ones because of one particular experience. I was working a party for the kids of a local celebrity, and they broke the record of most abandoned cups in 2 hours. It was impressive; each guest must have misplaced at least 2 cups each.
That meant I had to run up the run to Party City mid-celebration and get additional cups for the family while my co-worker tried to keep an eye on the venue. The fact that these cups were available locally was a godsend. It was easy to grab a few extra packs up the road, and we were back in business. That is why I picked this set; they are affordable enough that you can buy extra to accommodate all those half-drunk cups left unattended by your youngest guests, and you have the option of grabbing extras nearby if you need to.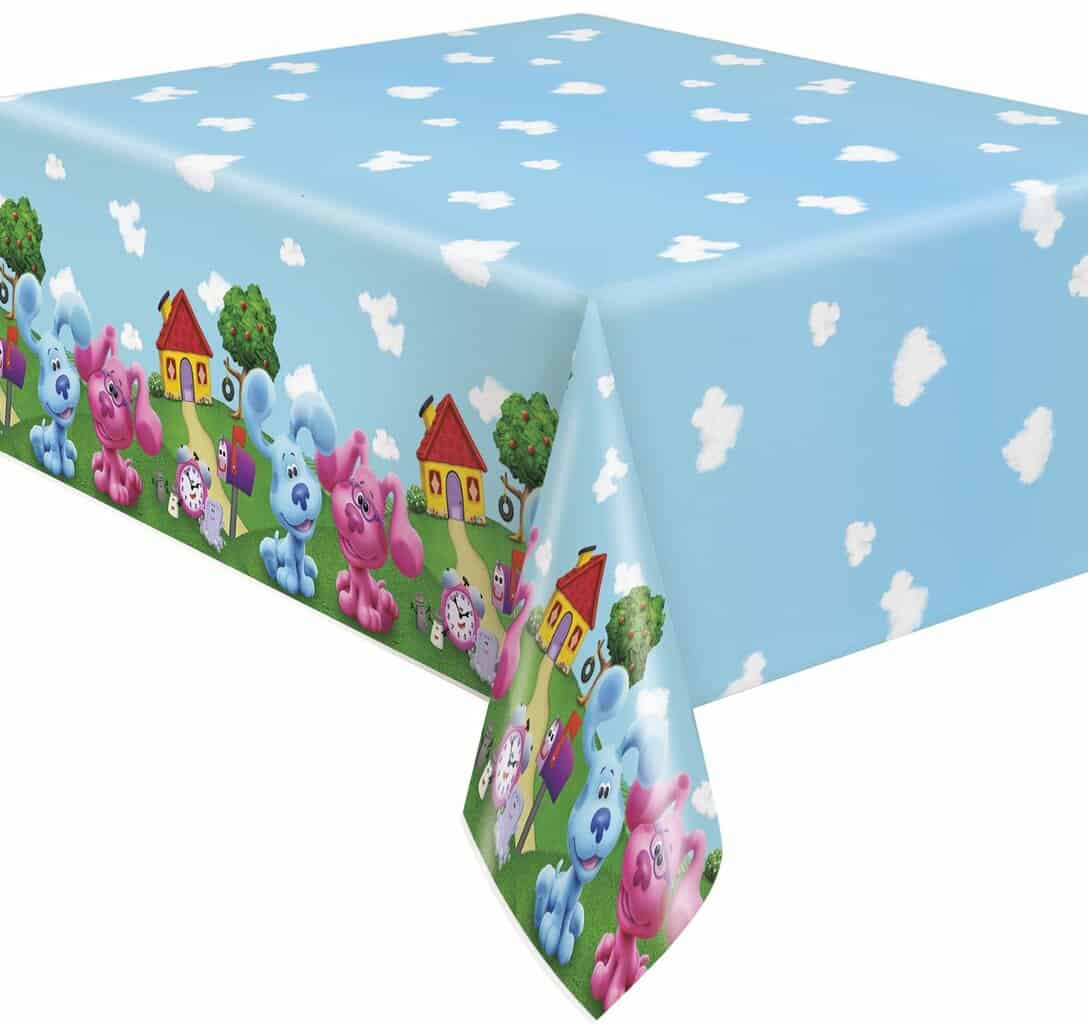 Tablecloths always seem to be an afterthought in party planning, and I can't say I'm surprised. It isn't the most flashy decor but is vitally necessary for kids' parties. This particular plastic tablecloth is 84 x 54in and should withstand the demands of a child's birthday party (i.e., spills) for a few hours.
I picked this option because the Blues Clues-themed images can be seen on either side of the table and won't be hidden once you place items on top of the table. I've seen little ones remove things from a table because they sit on top of their favorite character. Putting the images on the sides eliminates that concern for your youngest visitors.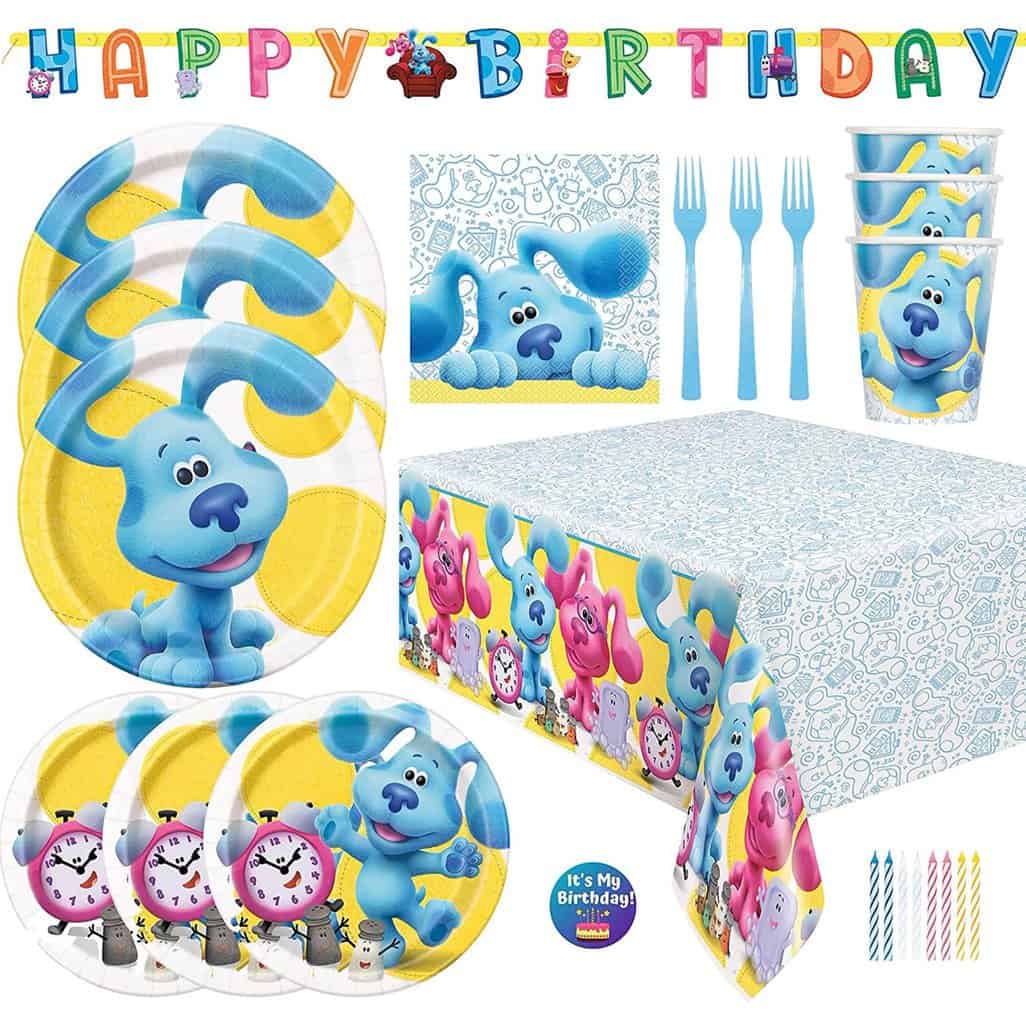 One thing I always look for as a party planner is a party supply pack like this one. I routinely have clients become exhausted by all the little decisions they have to make about decor and supplies. This party pack takes care of everything and prepares tableware for 16 people; it includes lunch plates, dessert plates, cups, napkins, tablecloths, happy birthday banners, silverware, and even candles. It is the perfect Blues Clues one-stop shop. Save yourself some time and opt for this pack.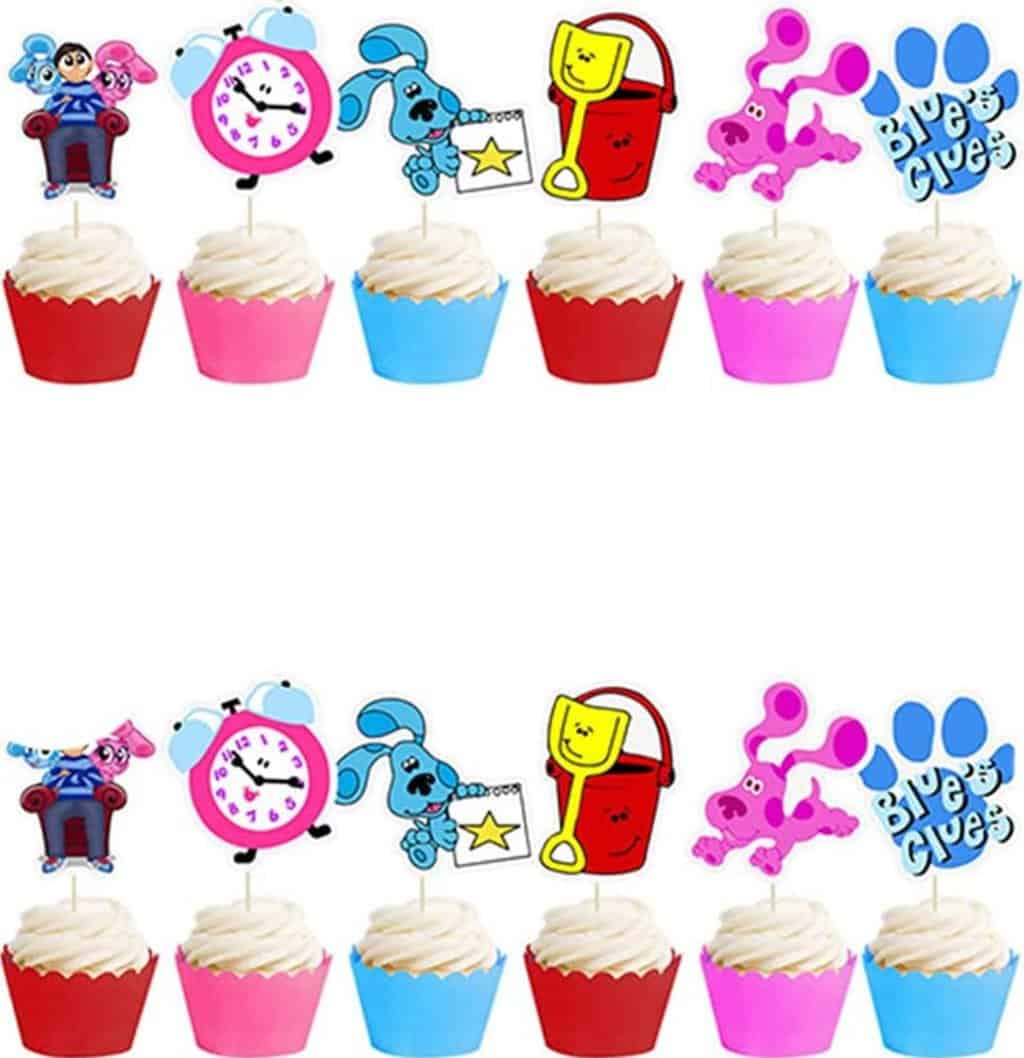 Cupcake toppers are a must if you plan to serve cupcakes at your celebration. This set of Blues Clues cupcake toppers comes in a pack of 24. I picked this option over the rest because it features several characters from the show. I'm not fully satisfied with the design (it has a funny cartoon style to the images), but the wide variety of pictures and the reasonable price tag won me over.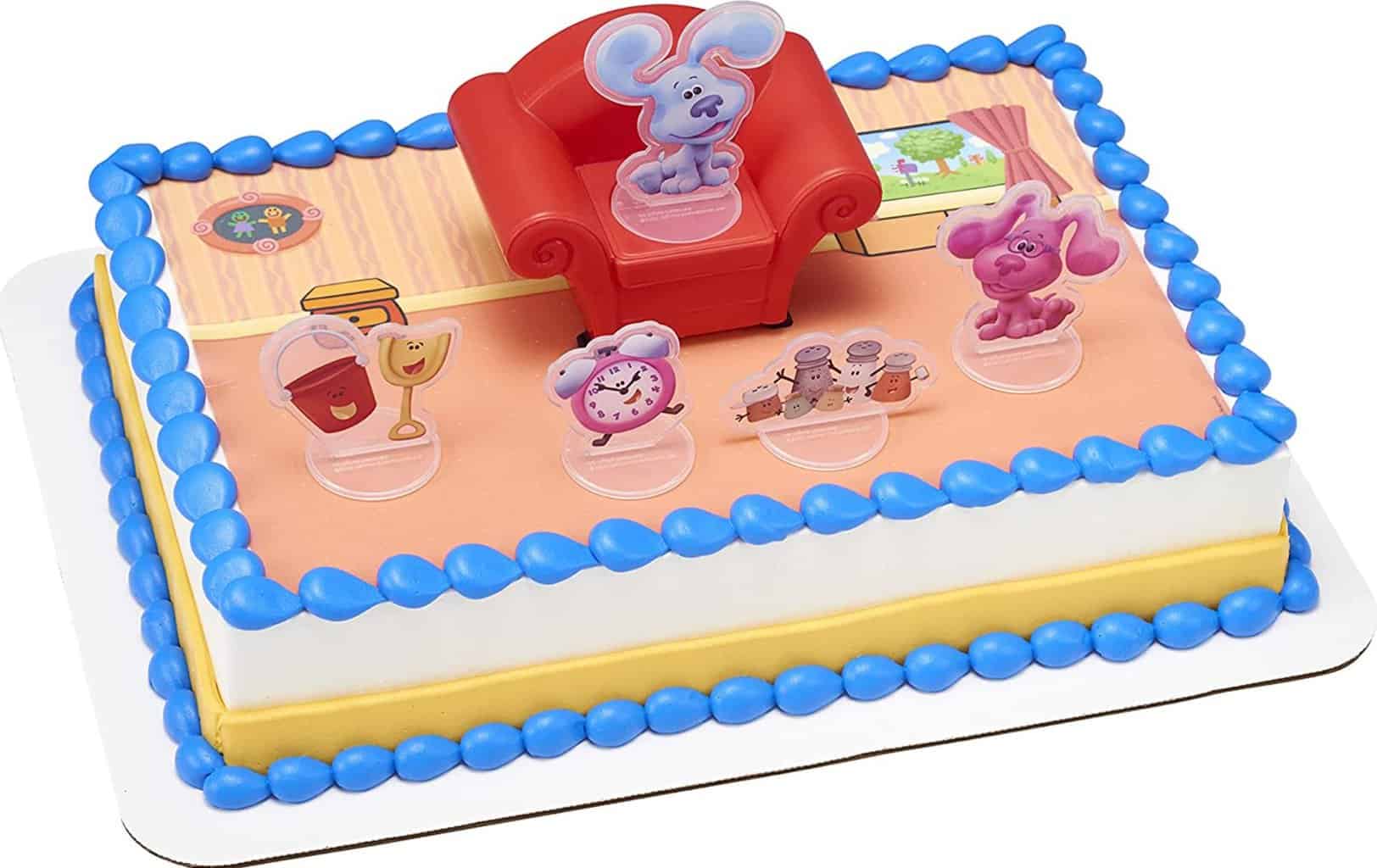 Cake toppers are a go-to for the parties I plan. I'm always recommending clients find one they like. It adds so much flair to your cake, regardless of how simply decorated it is. I picked this set because, unlike an average cake topper, you can move each piece individually, giving you the power to create the scene you want. The only thing missing is something addressing the guest of honor; I wish this set were customizable somehow. Personalization goes a long way on a cake, especially for kids. I can't tell you how often kids are thrilled to see their name on a cake.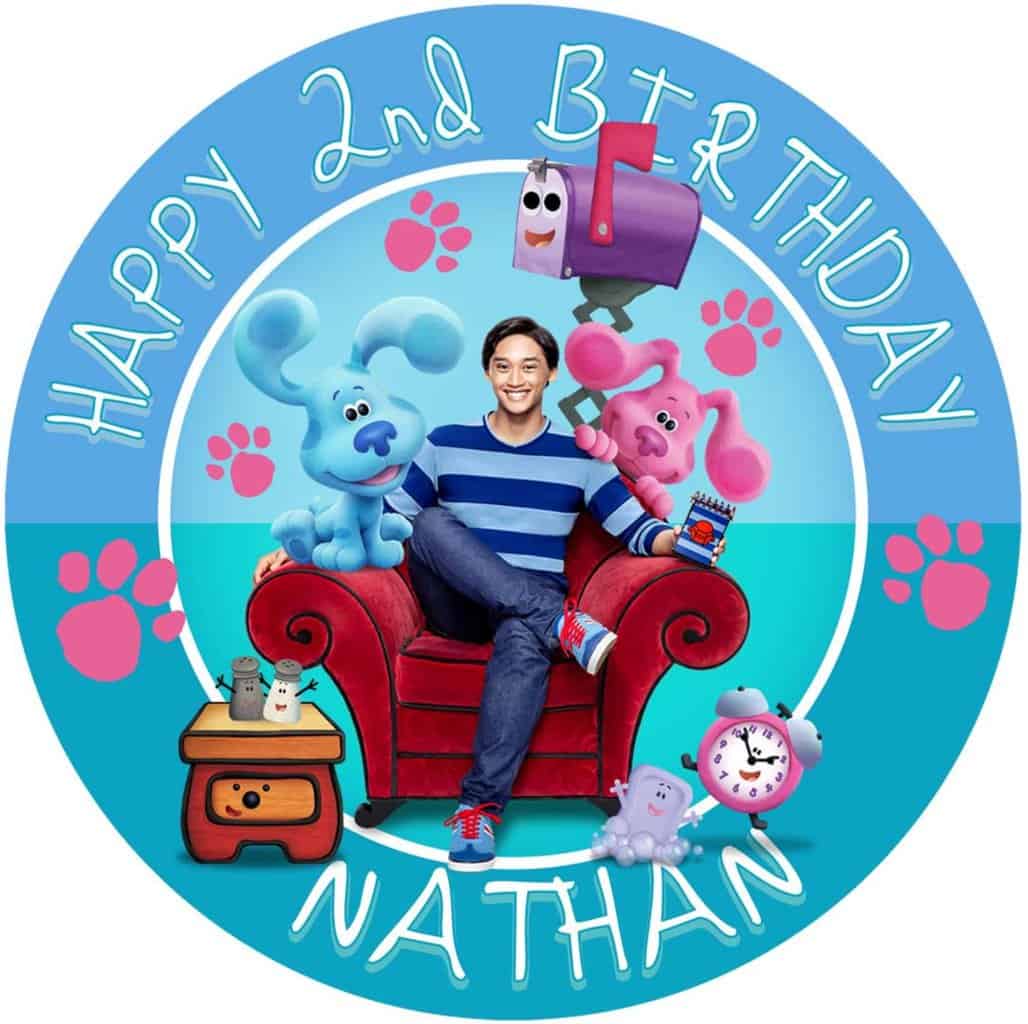 After the last set, I was determined to find something customizable. This particular edible cake topper allows you to customize it and is a tasty addition to the top of your cake. I love that you can add the guest of honor's name and age. I have always loved customizable items, so I included this option even though I'm not personally familiar with the vendor.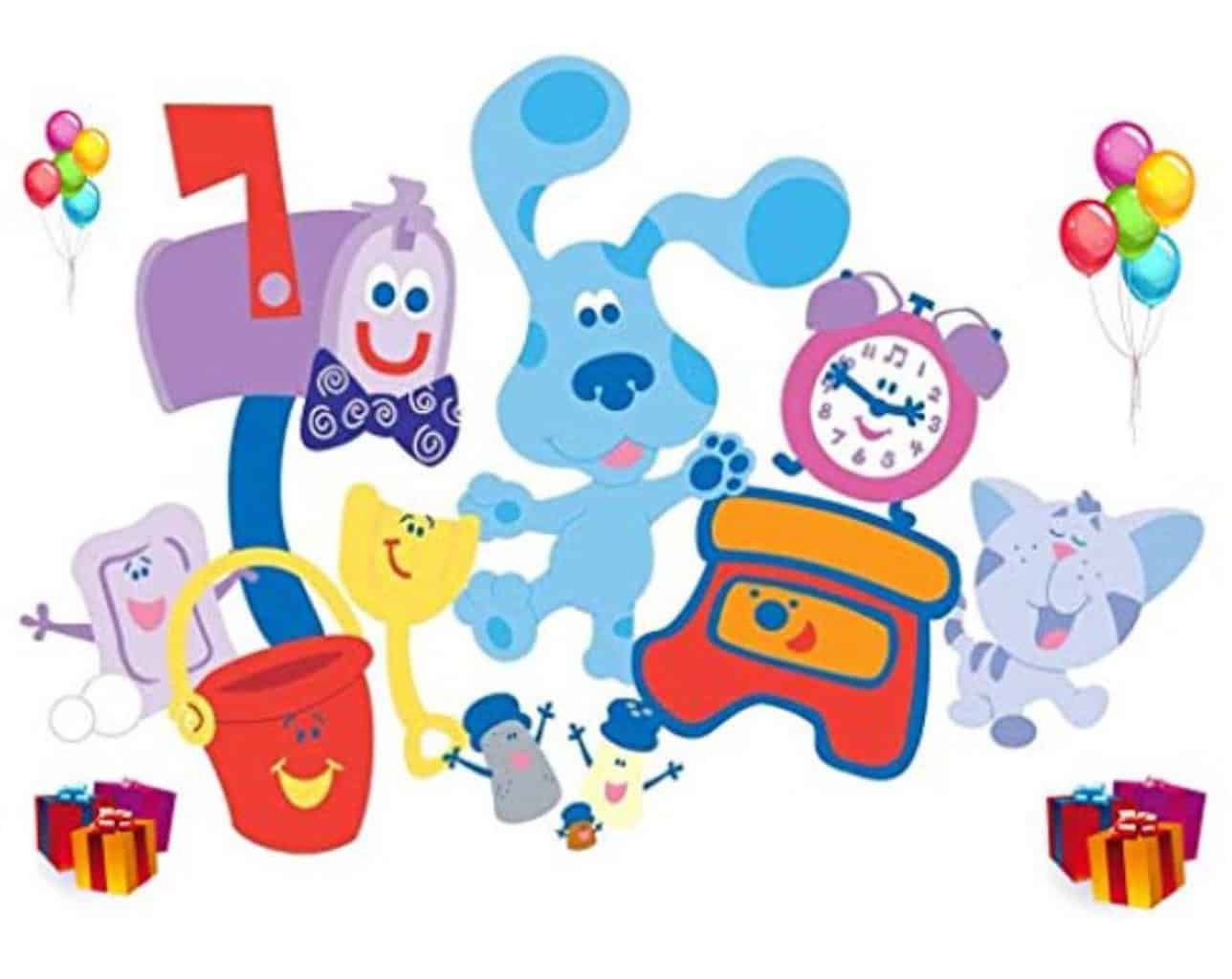 I love the ease of edible icing images and how you can add them to any cake to achieve a professional look. I picked this one because you can add text to the design; I'm a sucker for personalization options, so it won me over. The only downside to this is that it is shipping online, and you can't go pick it up in-store. That means there is a greater chance of it getting damaged/broken in transit. I recommend ordering this early, so you have the option of ordering a replacement if need be.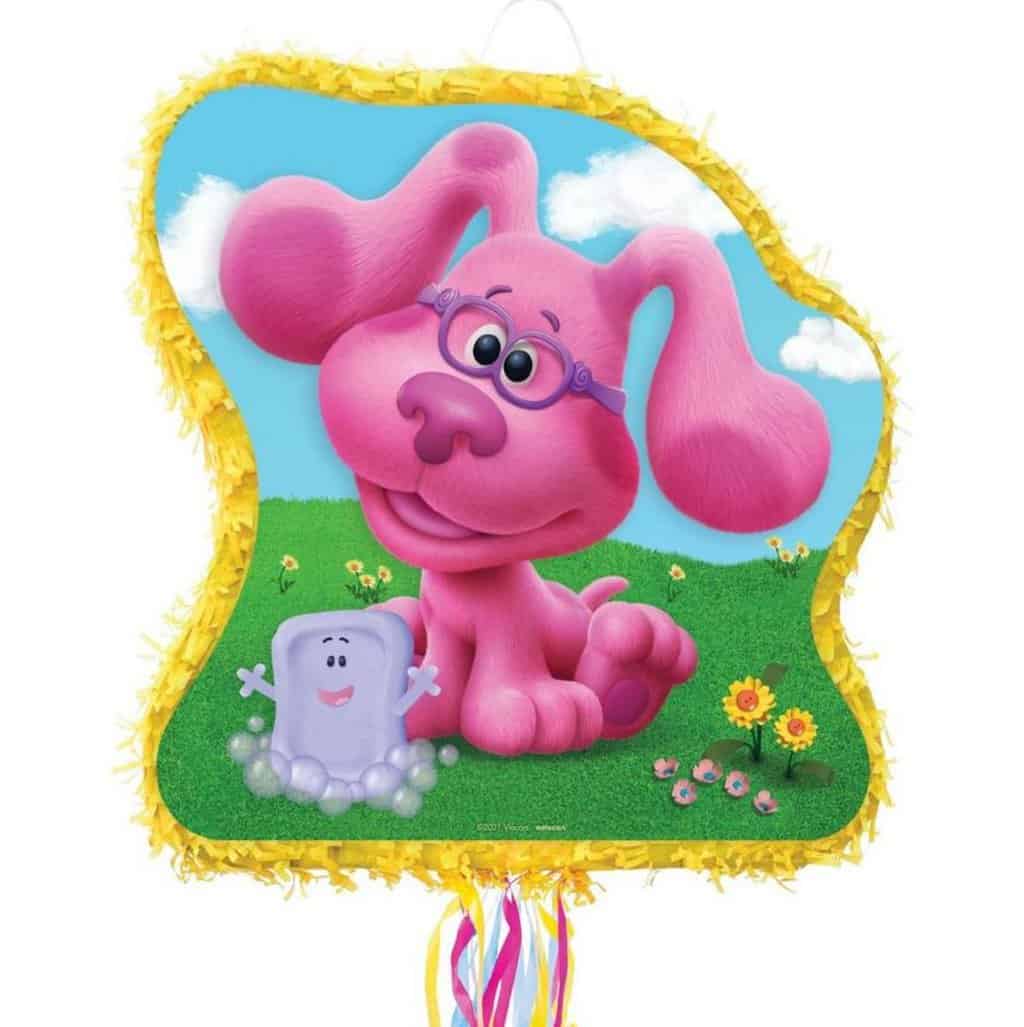 While I'm hesitant to recommend piñatas for young kids' parties, this option takes care of my initial concerns. I am usually worried about little ones swinging a stick (regardless of if they are blindfolded or not) and know from experience how many kids cry because we ask them to hit something in the shape of their favorite character. This particular piñata has pull strings to get around both issues. You can simply help the guest of honor pull on the ropes and release the candy for the group.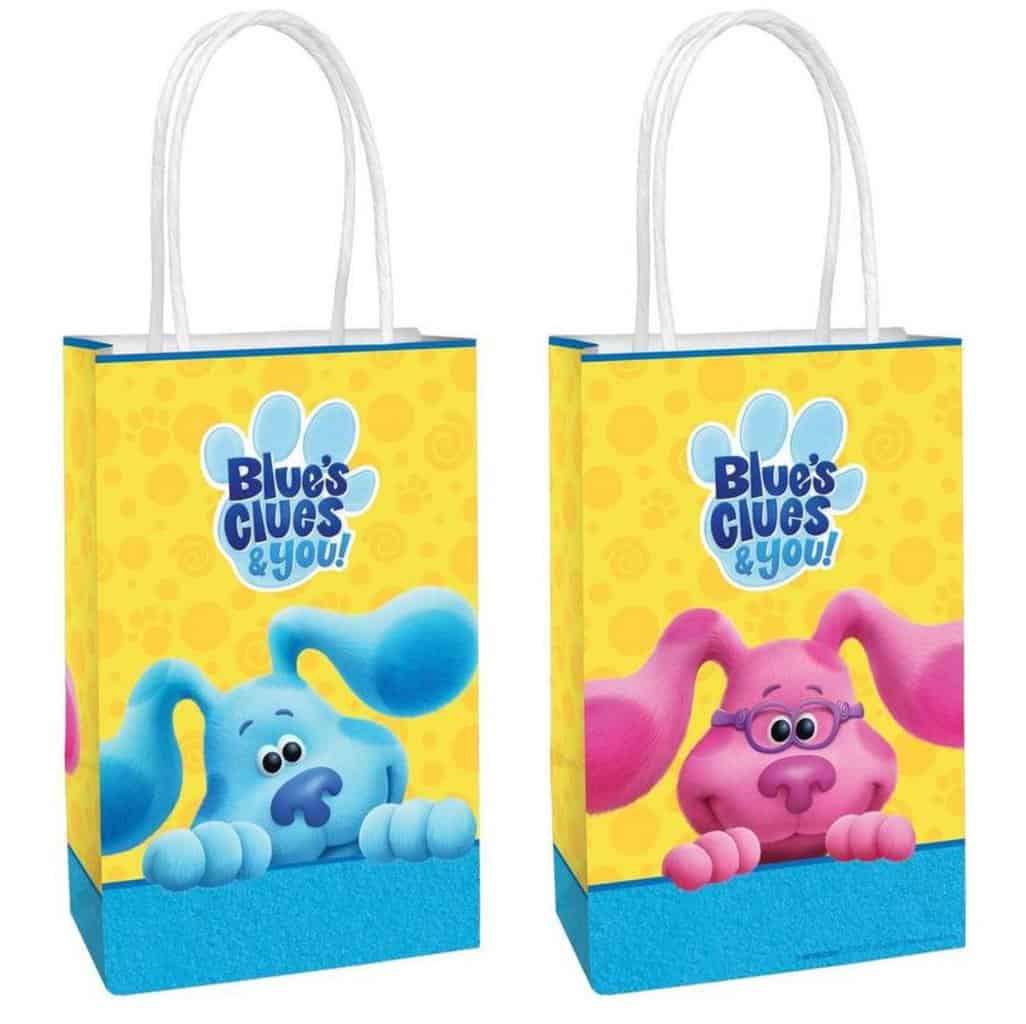 One of the most enjoyable parts of party planning for me is determining how to package goodie bags. These Blues Clues paper favor bags come in an 8-pack and are perfect for lightweight favors. I picked these because they were reasonably priced and readily available. Plus, I love their design! I appreciate that Blue is on one side of the bag and Magenta is on the other. It is like two designs in one!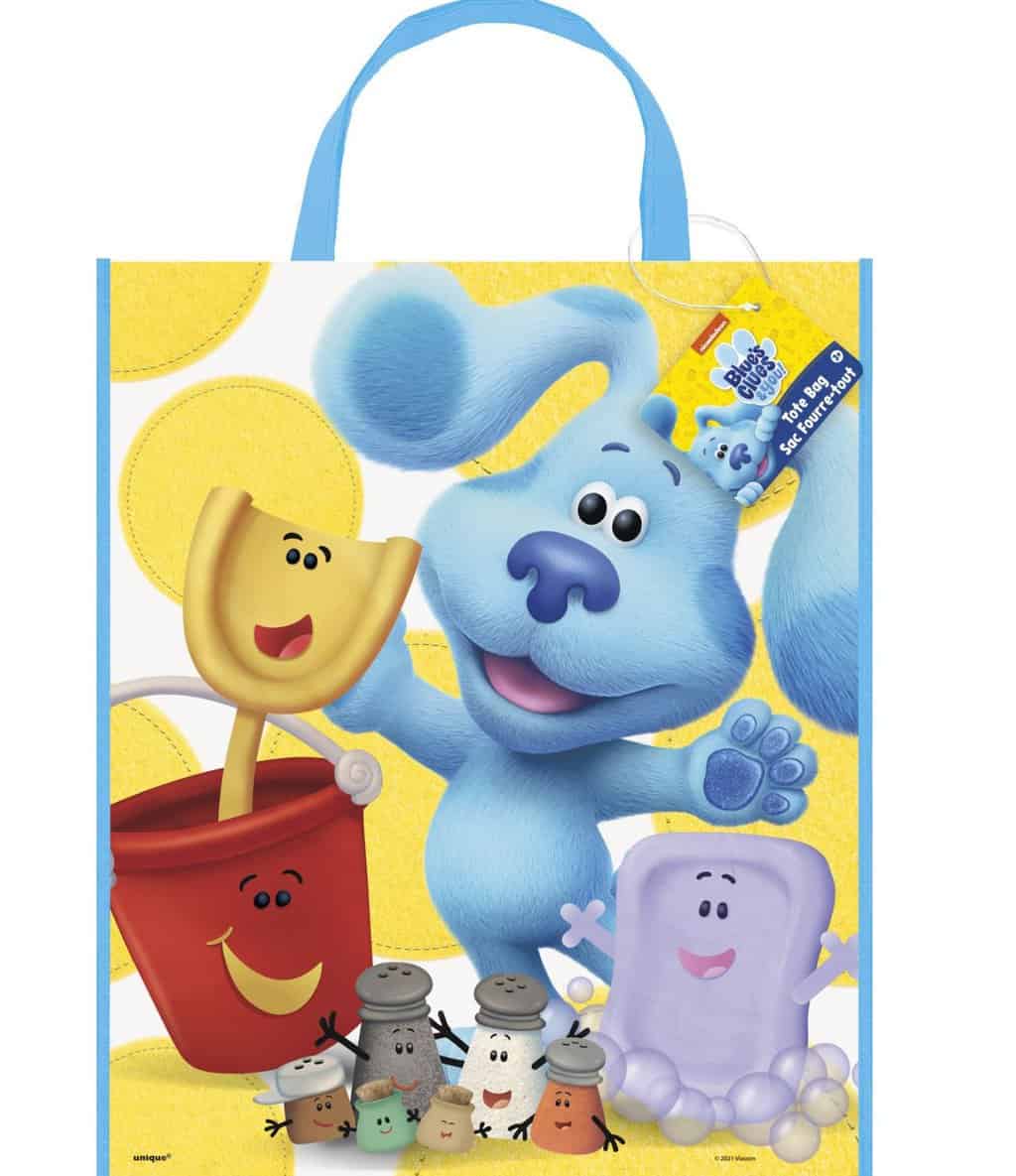 Most of my clients live in Vermont, and we are well known for our Eco-conscious ways (everyone carries a multi-use water bottle, we all have use own grocery bags, etc.); that tendency extends to sustainable party products. These totes are certainly environmentally friendly and a fun way to package favors. Plus, they can be a favor in of themselves; they can use them for years to come.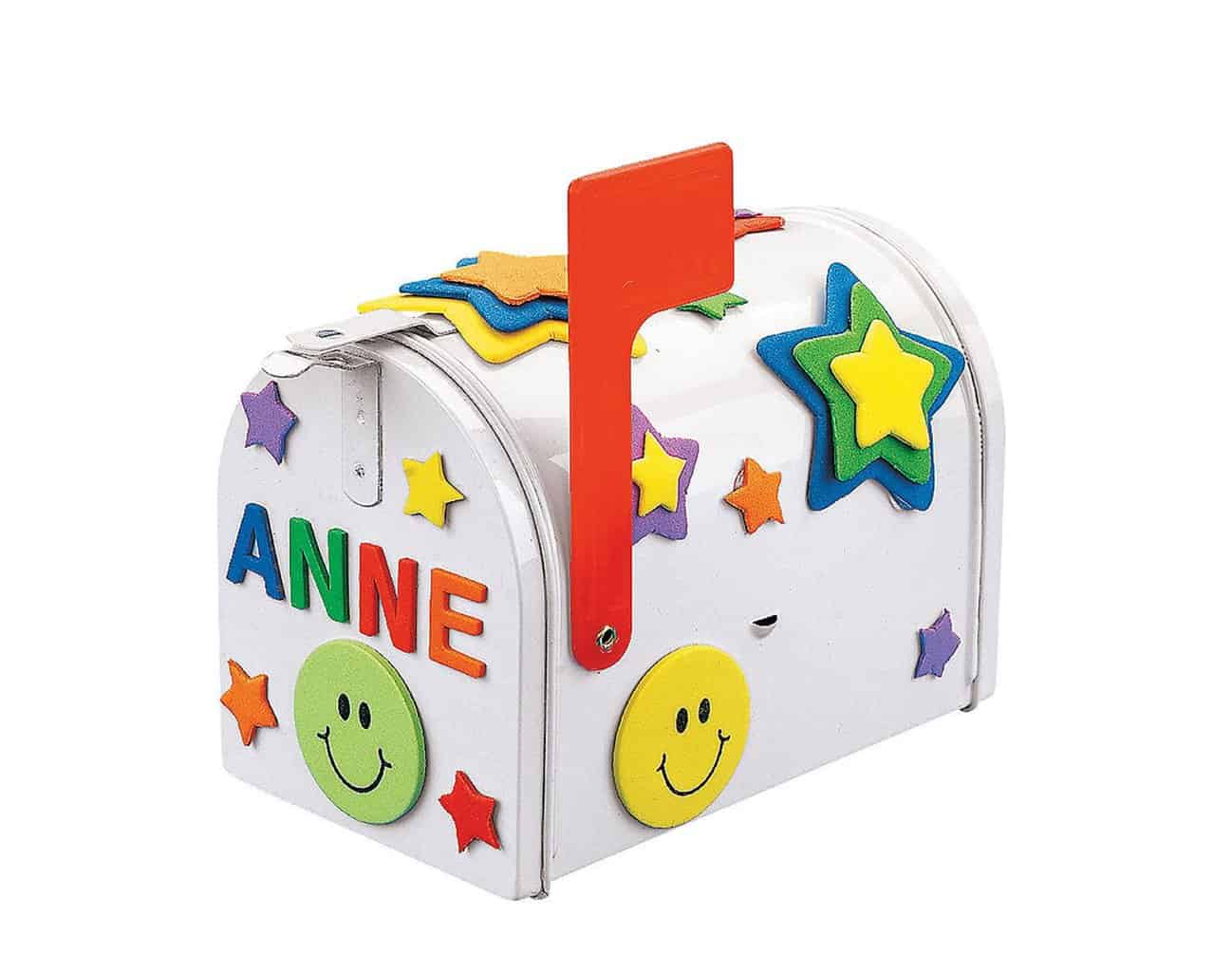 How about having favors in your very own mailbox? So I know that the Blues Clues mailbox is purple, but I saw a DIYed version (they added a face) that was too cute for words. These mini mailboxes from Oriental Trading would be perfect for a Blues Clues favor box. I usually don't add favor boxes that are this expensive, but I felt they needed to be on your radar in case you are in the mood to splurge. The unique concept is too extra for me to ignore.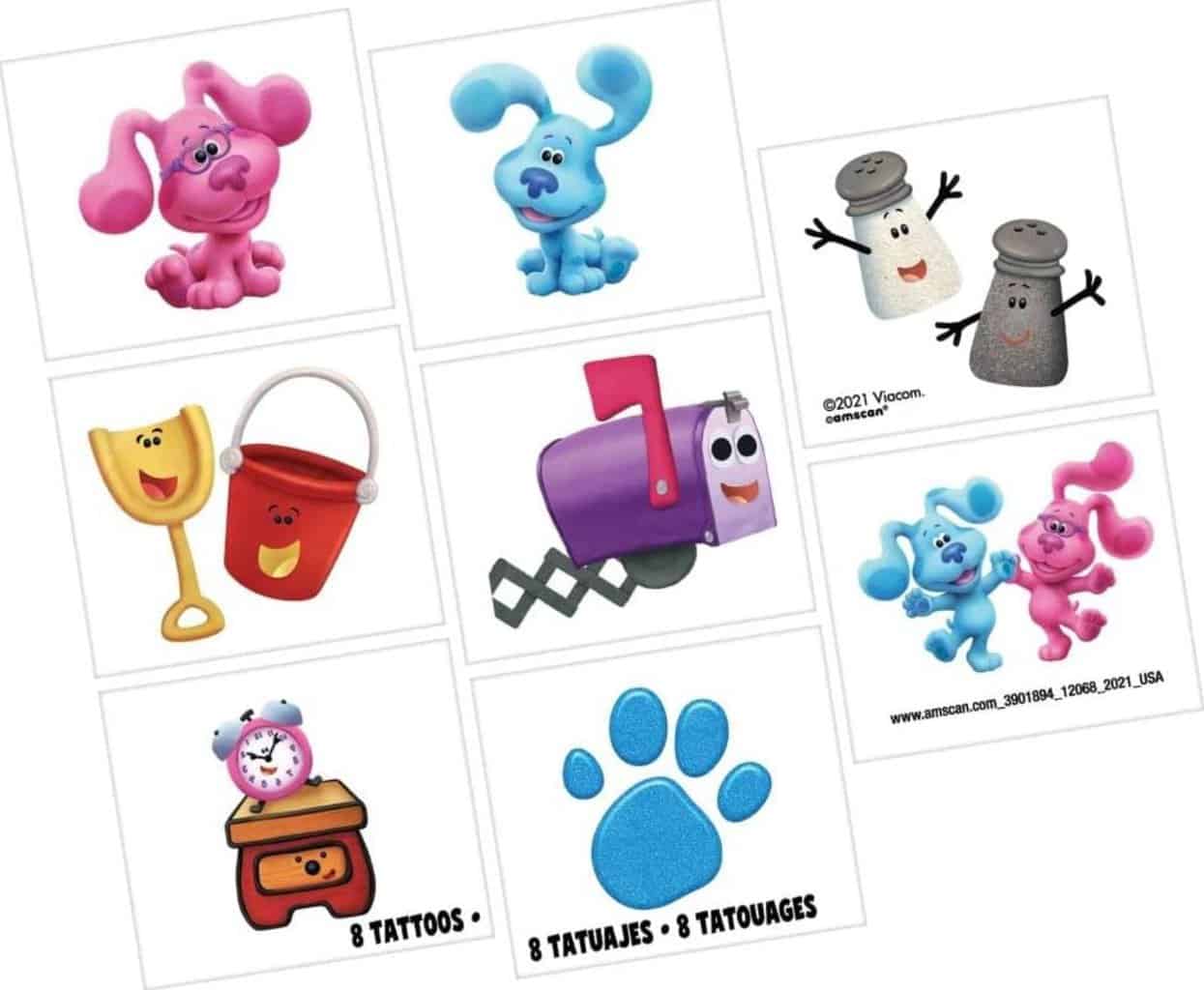 I've never seen a kid happier than when I gave my nephews temporary tattoos. If your kiddos share this fascination with them, I highly recommend them for your favor bags. They are cheap and provide lots of entertainment for your young guests. Just be aware they might want to put them on immediately and have a wet sponge handy.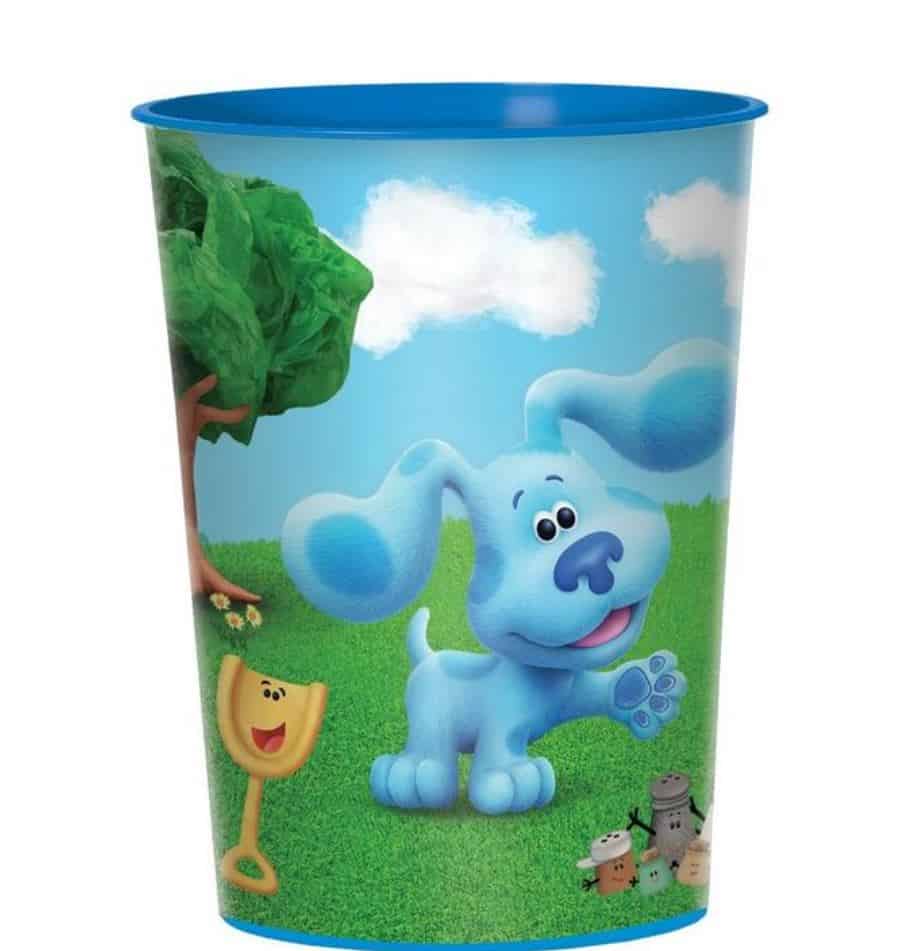 Do you hate that there is so much disposable waste during your Blues Clues Party? I cringe a little bit whenever I see the trash after a party. One option I love is using themed plastic favor cups. You give them to the kids at the beginning of the party and then rinse them out before sending them home in their favor bags.
The key is to keep each cup with the assigned kid. One way to do that is with masking tape and a marker. You can temporarily label each so there aren't missing cups partway through the party.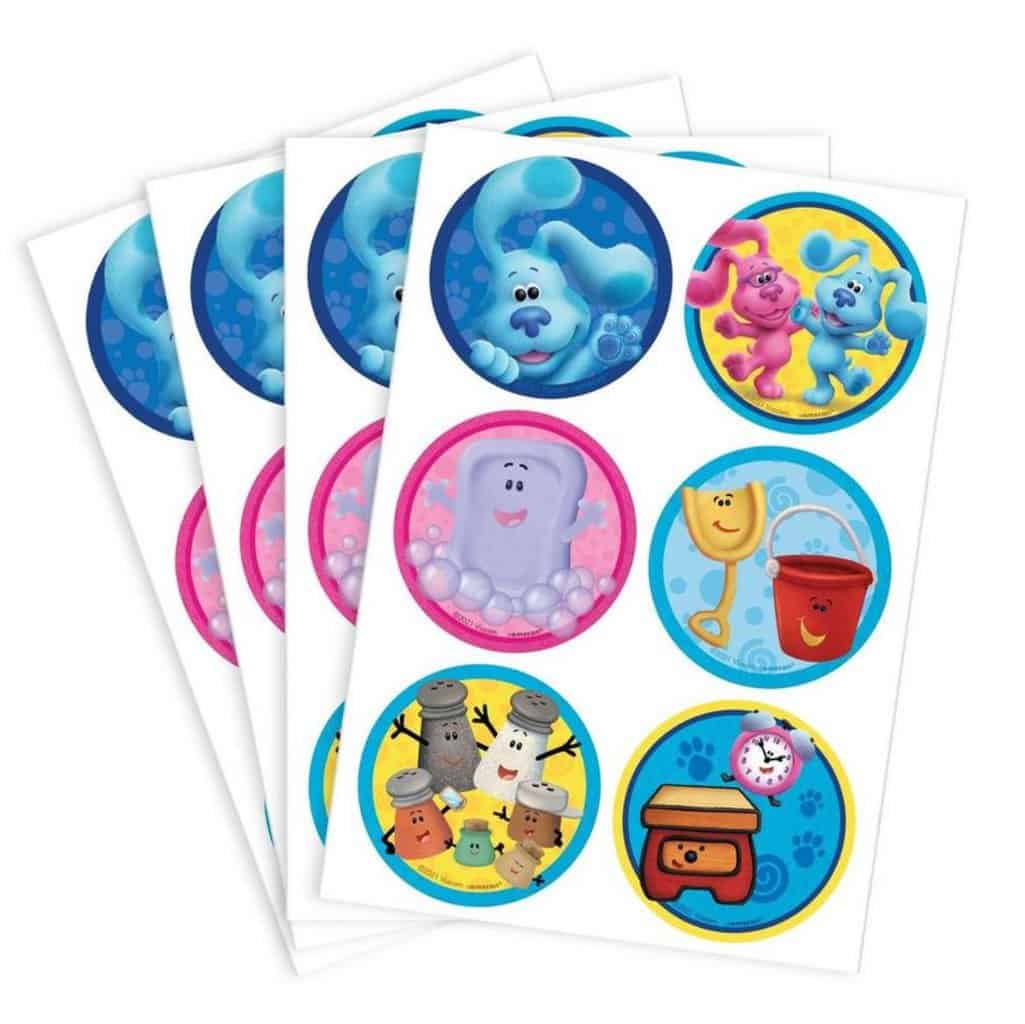 Stickers! How can you go wrong with stickers in the goodie bags? They always bring joy to kiddos. I'm always looking for ways to add themed stickers into goodie bags. You can get 24 pieces in this Party City pack. That means each kid can get a few options in their goodie bag, and you don't have to break the bank.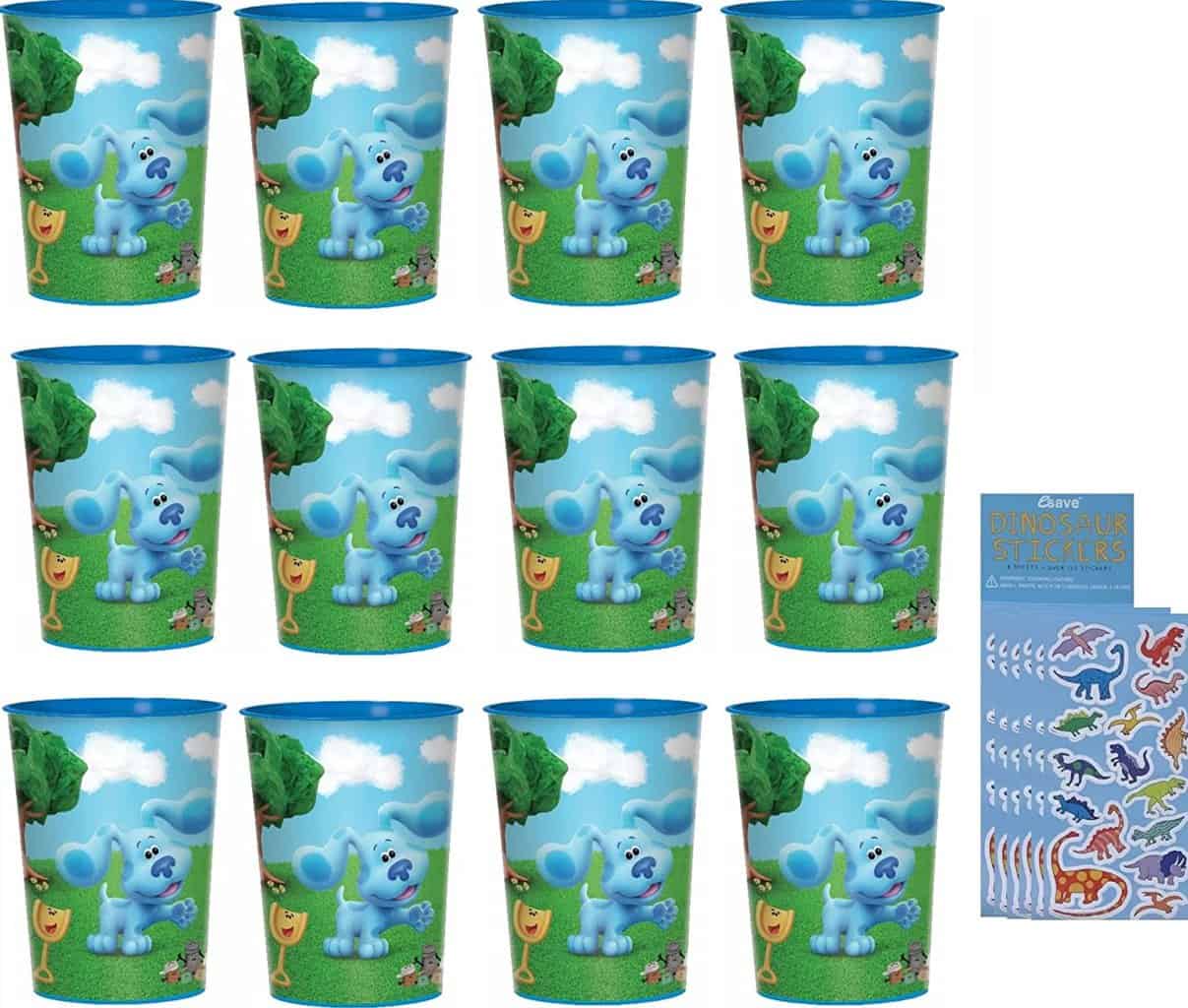 It should be no surprise that I'm a big fan of pre-packages of party supplies; that include favors. Why? I love the simplicity of it, and every time I've suggested a party pack to my busy mom-friends, they are relieved that it is one and done. Even though I'm not a mom yet, I still love the option of buying a larger quantity of favors in one purchase. It is a good deal and takes care of a few things on my to-do list.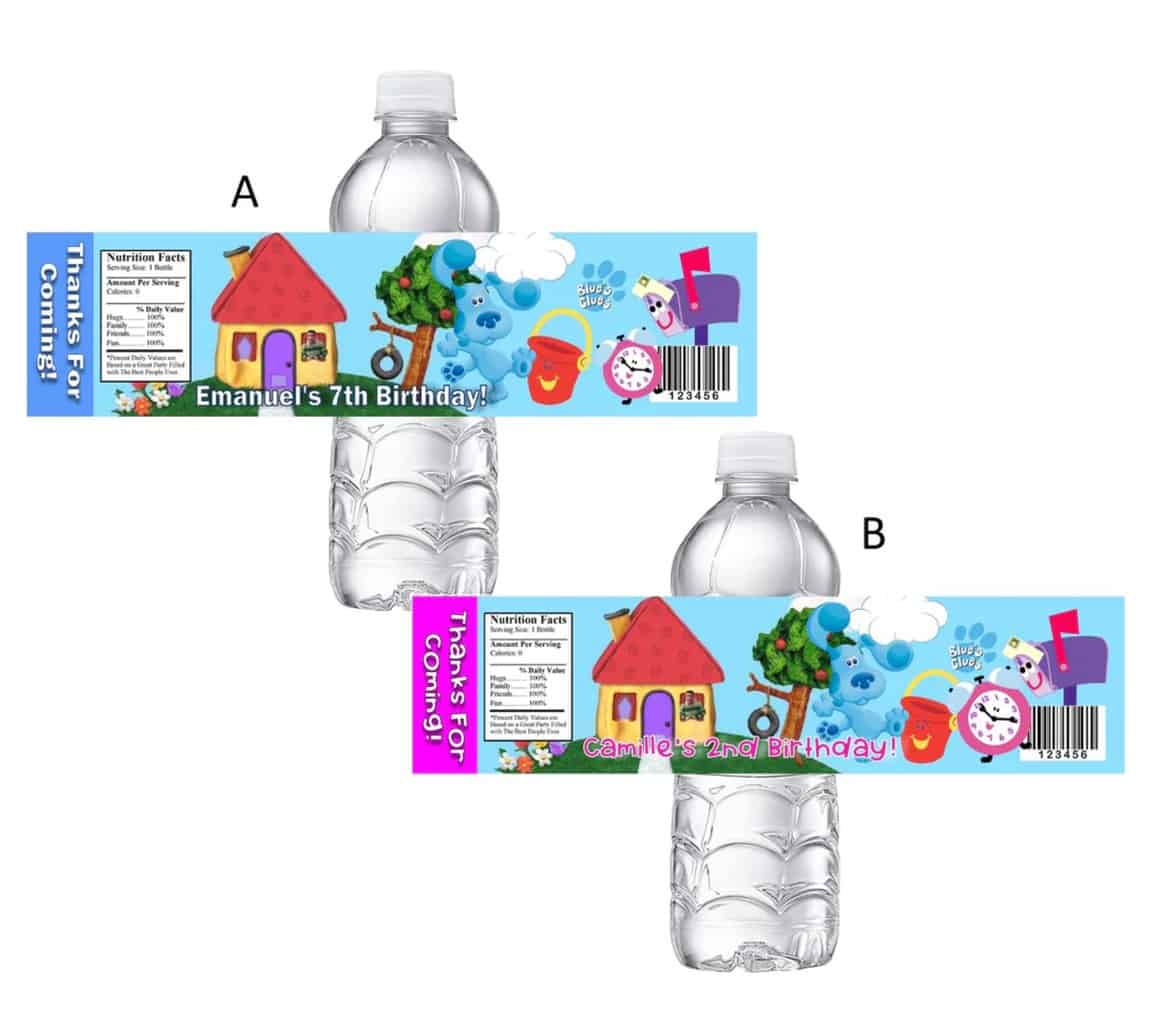 I routinely include food or drink items with a customized wrapper in goodie bags. My nephew would argue it tastes better if it has his favorite characters on the package. It doesn't matter if it is the exact same product inside the wrapper; the themed packaging makes it more delicious.
This option for water bottle wrappers allows you to write the guest of honor's name, age, and a thank you message. Plus, water is always needed at a party, so it's a cute way to include your theme on a necessary item.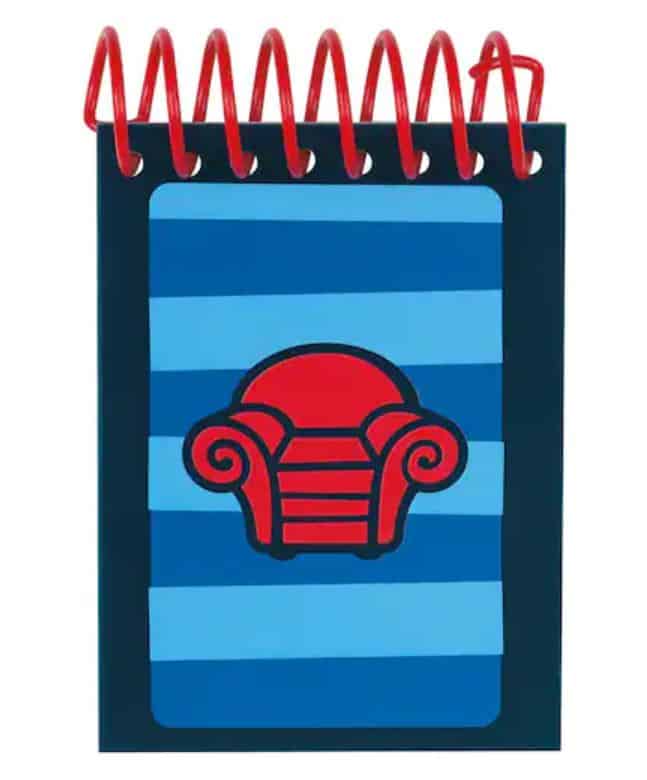 This notebook and crayon combo pack are a bit more expensive than I'd like for a favor, but it is something that fits the Blues Clues Party Supplies Guide so well that I couldn't leave it out! Anyone who has seen the show knows about the notebook and will instantly recognize it in their favor bag.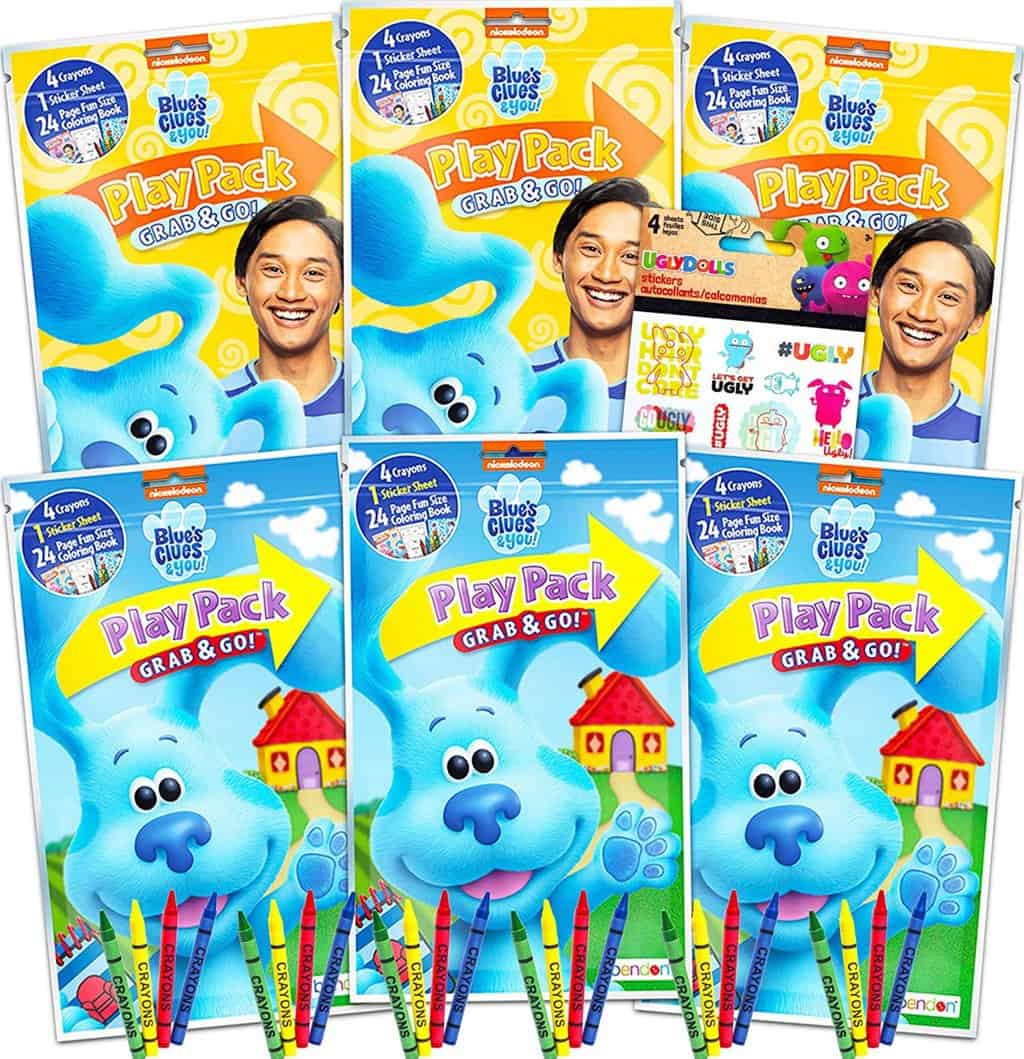 I know, I know. It is another favor pack. This set allows you to get coloring books, crayons, and stickers all in one. After working for art venues for years, coloring-based favors have become a go-to. It is a simple way to let kids take the party home.
FAQs
Question: Why Choose a Blues Clues-themed party?
Answer: If you've read this far, I bet you already have a solid answer to this question. I'm guessing it has something to do with your guest of honor and that they are fans of Blues Clues. If you are on the fence between Blues Clues and another theme, know that Blues Clues Party Supplies are readily available, and the longevity of the show means there are tons of options to fit all tastes and budgets. 
Question: What is Blues Clues?
Answer: Blues Clues was a TV show that aired in 1996 and lasted for ten years until 2006. Recently, it has gained popularity again thanks to a 2019 reboot. Both show versions feature live-action hosts who follow the animated Blue and friends. You can learn about the newest episodes on the official Nick Jr site. 
Question: How do I know if it is official Blues Clues Merchandise?
Answer: Sometimes I find it hard to tell what is official Blues Clues merchandise and what isn't. I've found that larger chain retailers tend to carry party supplies that are officially licensed. With the long-standing popularity of Blue Clues, there is also a lot of unofficial merchandise.
ETSY is one option if you are okay with purchasing from small businesses that might not have official merchandise. You can usually find much more variety there, but they will have generic names like "blue dog" and "magenta dog" to describe their products.
Conclusion
I hope you enjoyed browsing through the 33 best Blues Clues Party Supplies in the guide above. If I were to pick one supply from everything, I'd have to recommend the video invitation. The reasoning is simple; it is affordable, readily available, and will save you time when distributing invites. Plus, it is the newest trend in party invites. Nothing says "awesome Blues Clues party" like the most trendy party invites.
I look forward to hearing what you are doing for your Blues Clues party and which supplies your guest of honor loves. Let me know in the comments below!
Recommended Reads: