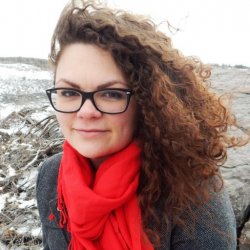 Latest posts by Candace Osmond
(see all)
Are you looking to throw a Minecraft-themed birthday party but have no idea where to start? If you're not a gamer but have a child, a friend, or a family member who is, it's frustrating to put together a party with zero knowledge about the theme. No worries, I've thrown a Minecraft-themed party or two in my time, so I'm here to show you everything you need to know and buy this in-depth Minecraft party supplies guide.
Bottom Line Upfront
I'm a busy mom, so I always go for the biggest bang for my buck and something that saves me time. That's why I'd definitely go with a full package deal like the Minecraft Birthday Party Supplies, which comes with basically everything I need.
Top Picks
Key Minecraft Elements for Birthday Parties
Stay on theme with these style and aesthetic tips.
Block Style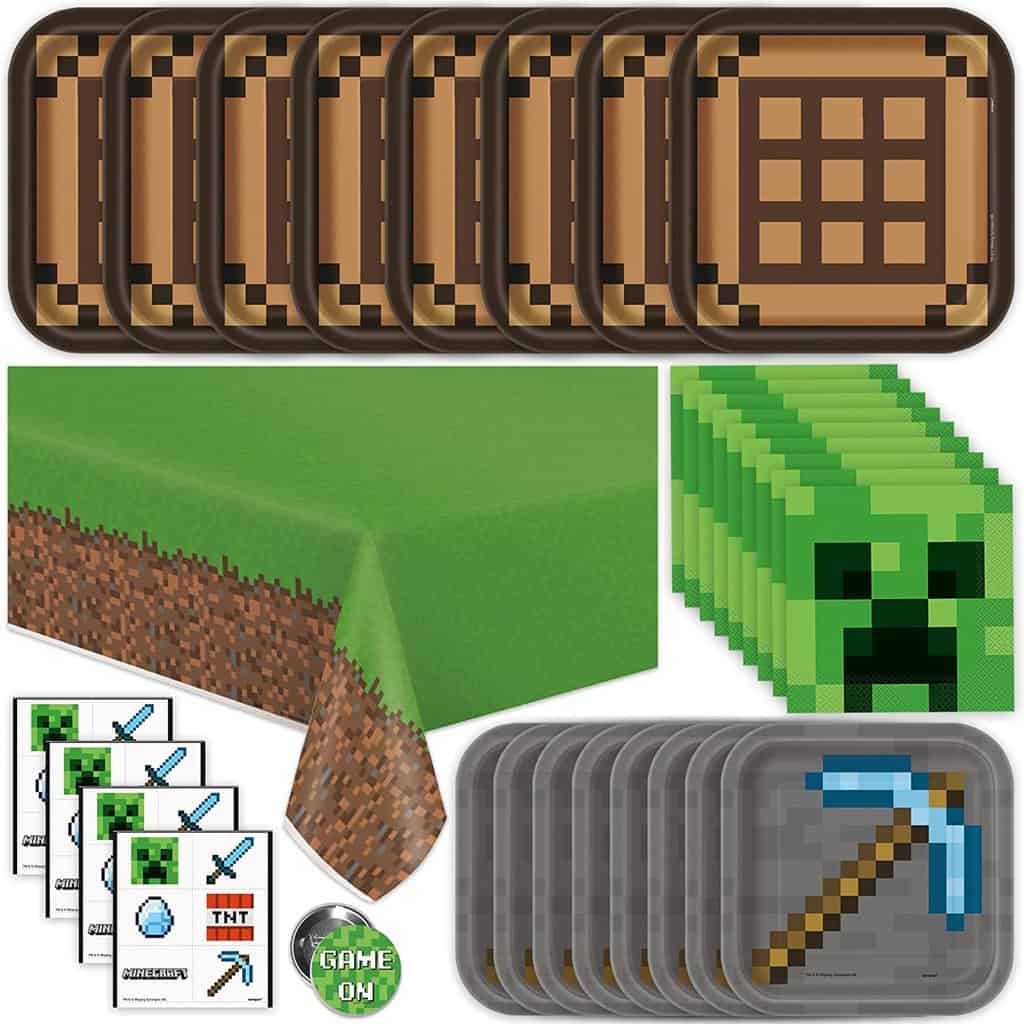 In Minecraft, the world is built out of blocks, which are the most fundamental building component in the game. Many of the game's world's blocks can be gathered and set anywhere the player chooses, in addition to serving as useful resources.
They are easily recognizable even by people who don't play Minecraft, which makes them excellent for including in a themed birthday party. Making dirt-like cakes that mimic the appearance of these blocks is the easiest way to go.
Minecraft Animals
The phrase "Animal" means the type of mobs and blocks primarily based on actual animals and animals that only exist in mythology. Minecraft has plenty of these animals, from chickens and cows to pandas and ocelots. They can easily be made out of cardboard or, if you feel crafty, even out of edible ingredients.
Minecraft Colors
People think that Minecraft's colors are mostly variations of green and black. However, the world of Minecraft is rich with colored blocks: from the blue used to make water to the pink used to color friendly pigs. Depending on which biome will conquer your party, you can go wild regarding Minecraft colors.
Tools & Weapons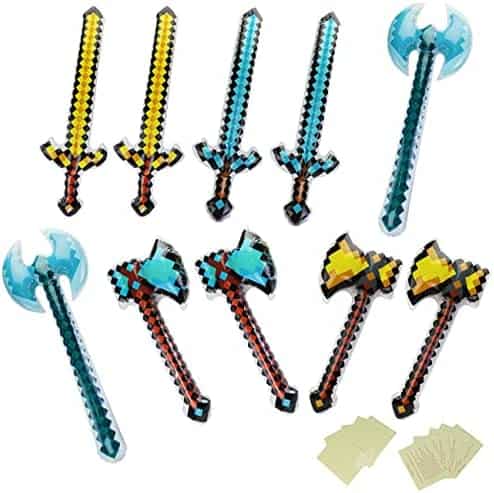 Weapons in Minecraft are used to kill monsters and players faster.
These tools and weapons are an iconic element in the game, and having them in your Minecraft will help make many tasks easier.
Because of their pixelated nature, these tools and weapons are easy to make using cardboard pieces. You can also make a large cardboard "loot" chest and fill it with tools. Leave it at the entrance so every guest can pick up one.
Minecraft Birthday Party Food Ideas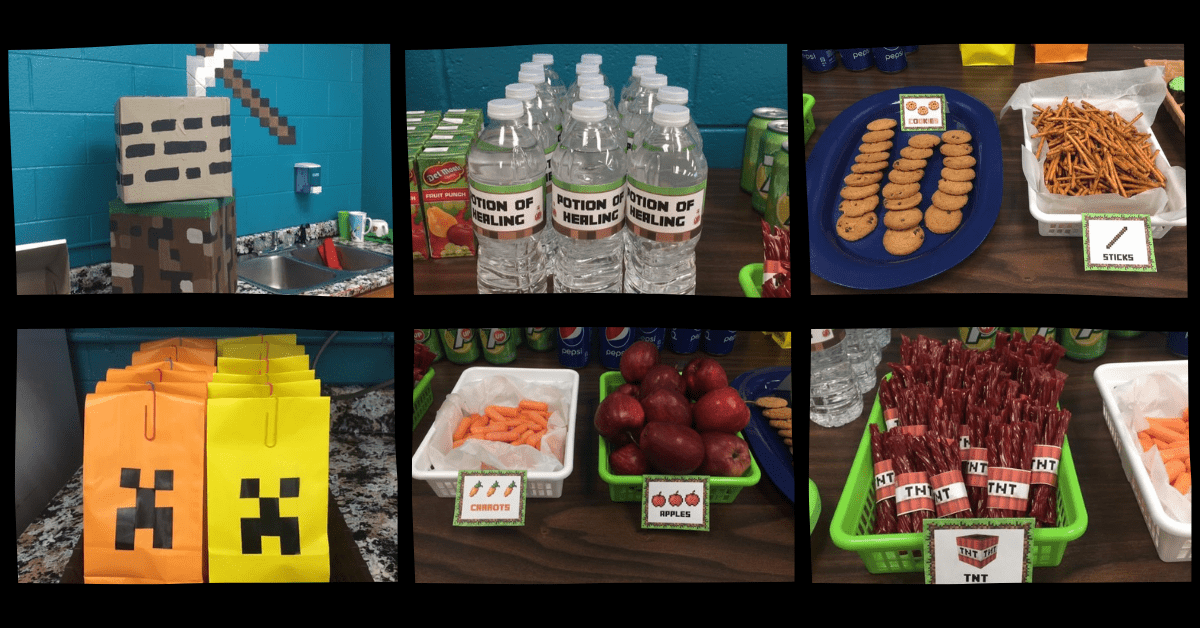 The devil's in the details with themed birthday parties, trust me. If you're throwing a Minecraft party for children to remember, here are some cool party food ideas I've done myself. I even included some pics to show you!
Use crispy rice treats to make dirt cubes.
Put green gumdrops in clear square containers and give them as party favors.
Put bowls of gold and silver-foil chocolates that resemble tiny gold and iron bars.
Make TNT sticks using red licorice.
Make green apple mocktails and label them as Creeper punch.
Use straight pretzels as sticks.
Fill a bowl with goldfish crackers and label them as fish.
Make square cake pops and use them as Creepers.
Put labels on water bottles.
Use green J-ello for slime blocks.
The Best Minecraft Party Supplies
Fret not, my fellow parents! Here are the best options for supplies so you don't have to waste time searching.
Best Minecraft Balloons
Balloons are at the heart of every birthday party. Children like to play with them, and adults use them to make decorative arches and give the place an even more festive look. Because Minecraft has some pretty well-known colors, expect to see them in these four balloon product reviews we have in store for you.
The first choice for today is a set of 6 custom Minecraft balloons that are all different from one another. You get two adorable blue and green star-shaped balloons and four others printed with different Minecraft elements.
They are made from aluminum foil and would be perfect for decorating a candy bar at a birthday party. They can be deflated and inflated repeatedly, making them excellent for multiple Minecraft or gaming-themes events.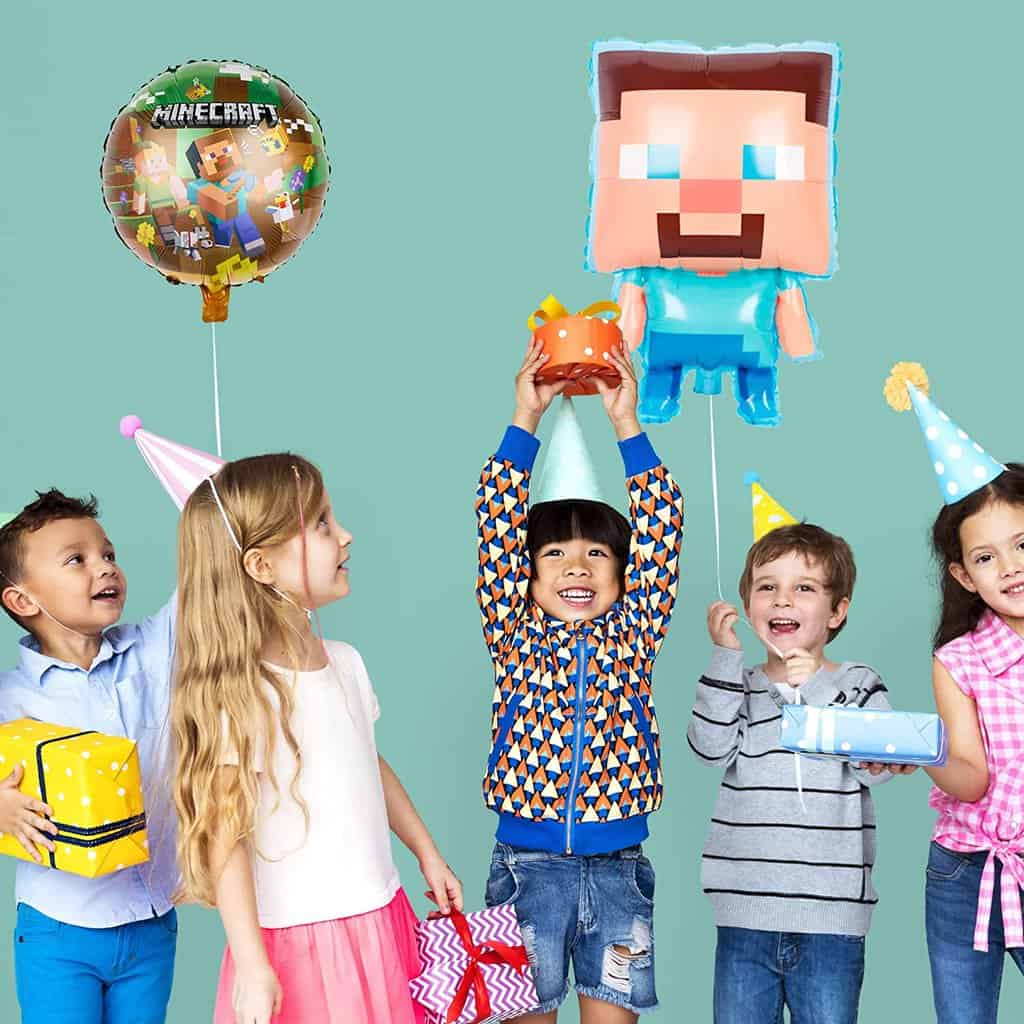 Pros:
Quality aluminum foil.
Reusable.
Easy to inflate/deflate.
Cons:
Don't hold up to outdoor weather.
Key Specs:
Price Range: $15 – $20
Quantity: 6
Colors: mixed
This generous pack of 24 balloons is perfect for decorating for a Minecraft party. Some of the balloons included in this package are four brown pixel cows with "Happy Birthday" written on the other side, four green pixel zombie monsters with Creeper monsters on the other side, and four red TNT bombs with "Happy Birthday" written on the other side.
They are made from quality latex, so they might not be the best choice if attendants have a latex allergy.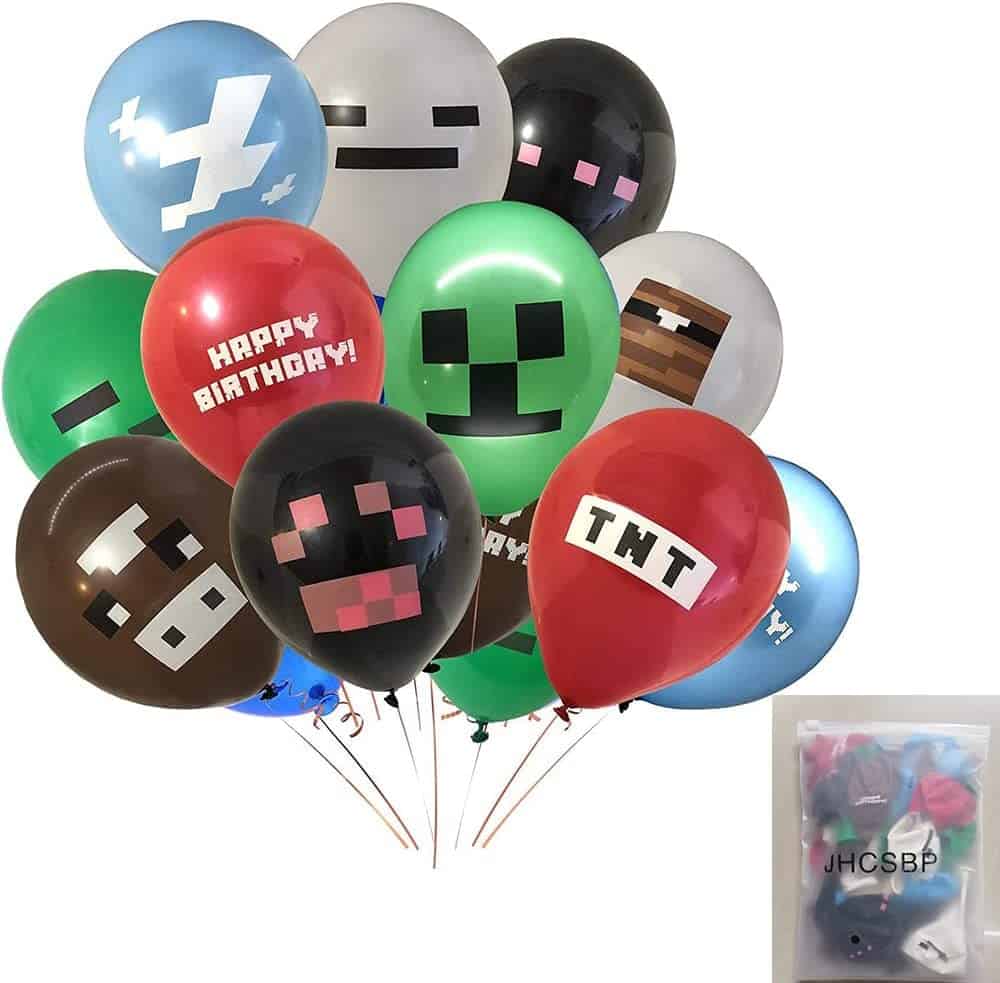 Pros:
Multiple print options.
Made with durable latex.
Easy to inflate.
Cons:
They don't hold air for too long.
Key Specs:
Price Range: $5 – $10
Quantity: 24
Colors: Multiple
If you're throwing a party for a hardcore Minecraft gamer turning nine this year, this is the set you want to buy. Since you deflate and inflate these balloons, you can use them even at future birthday parties (minus the 9).
I also love the controller-shaped balloons that are perfect for other gaming-themed parties. The holes found at the bottom of each balloon make it easy for you to tie them up and place them around the venue.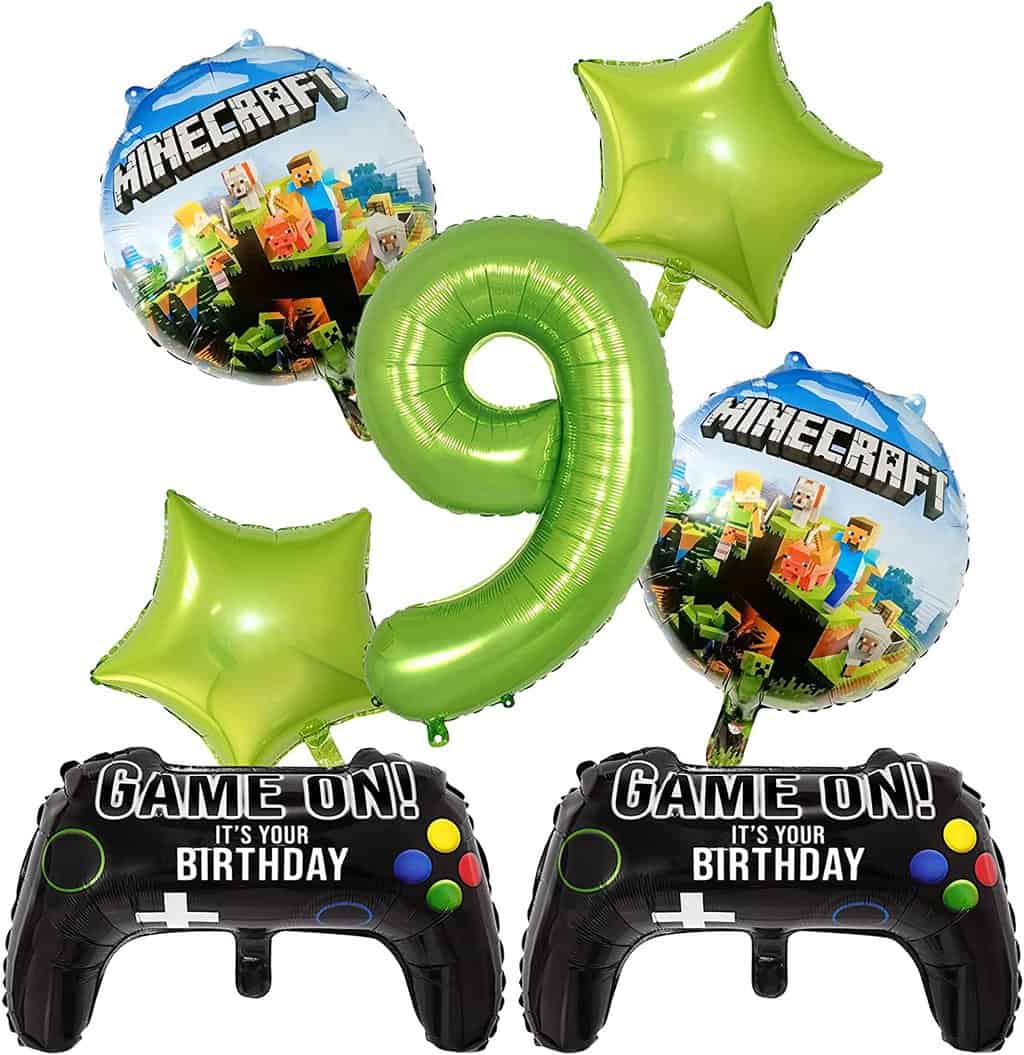 Pros:
It can be reused.
Easy to inflate/deflate.
Hole at the bottom to tie them up.
Cons:
Key Specs:
Price Range: $10 – $15
Quantity: 7
Colors: green, multicolor
When you're looking to throw a big Minecraft birthday party, you'll need a lot of balloons. Here is a set that includes 100 balloons of different sizes, Minecraft-specific colors, and other elements needed to set them up.
You'll receive a birthday garland, a tool for tying the balloons, and even a 16-foot arch strip. I love that, with this set, you don't have to worry about not having enough balloons. Some people might dislike that they are just plain-colored and don't have any Minecraft-specific prints.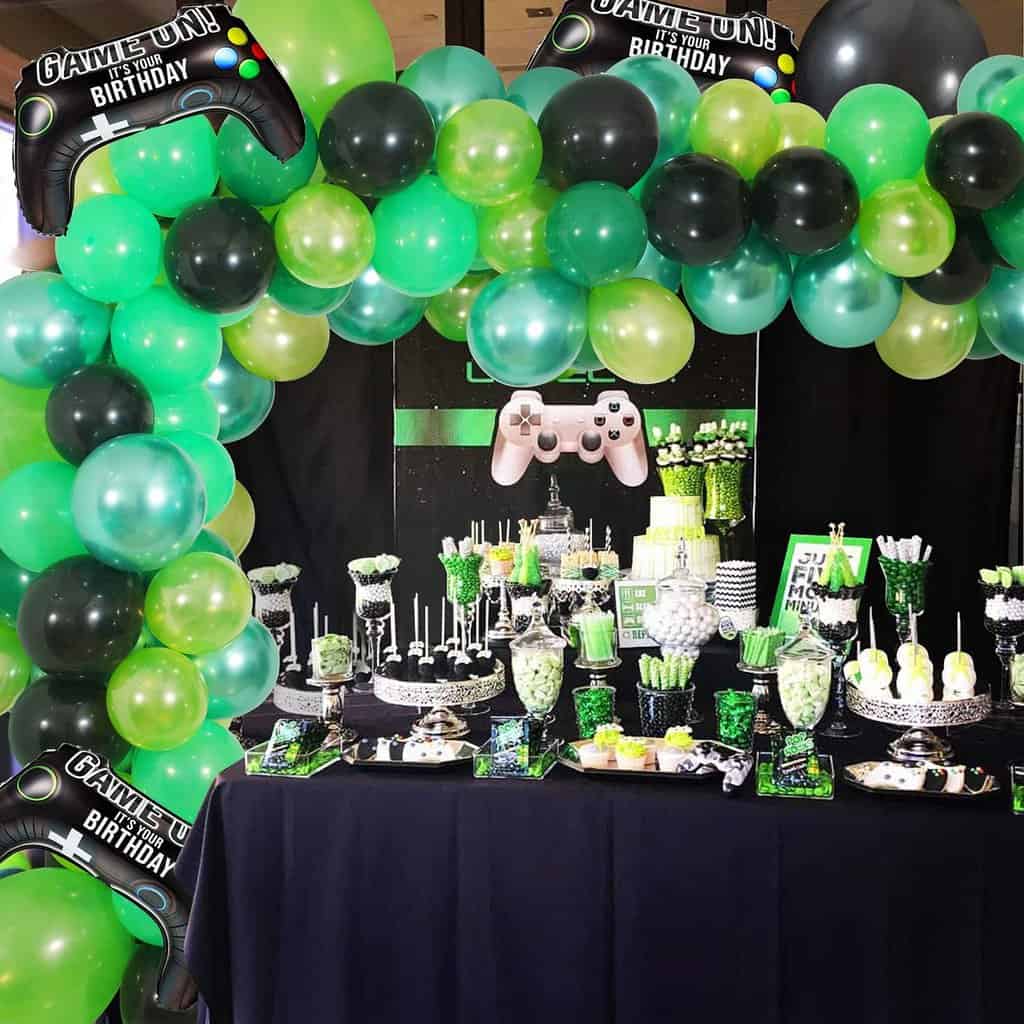 Pros:
Good for larger venues.
Tying tool included.
Birthday garland included.
Cons:
Key Specs:
Price Range: $10 – $15
Quantity: 100
Colors: green, black, lime
Best Minecraft Party Decorations
Party decorations are a must for a themed birthday party. They will make the guests feel like they are part of the game's universe. Decorations could mean anything from something you put on the tables to things you hang on the walls. This category includes banners, curtains, photo props, or other objects meant to make the venue more Minecrafty.
Nothing speaks more to a hardcore Minecraft fighter than Creepers and TNT. You can have both as part of your backdrop with the fringe foil curtain ready to be set up on any wall in the venue.
The pack includes two curtains measuring 6.6 x 3.3 feet each. I love how you can use these to set up a photo corner for the guests. It's a great setup for some Minecraft party pictures.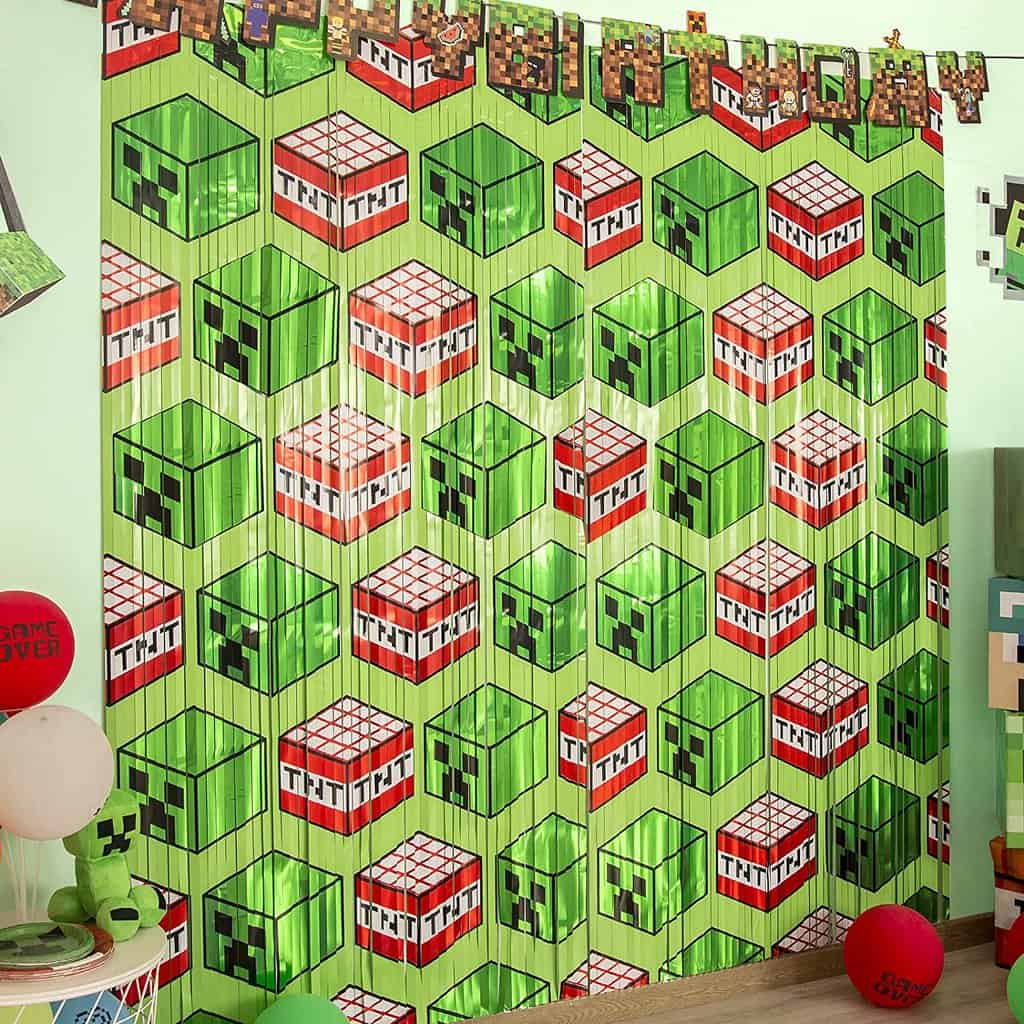 Pros:
Easy to set up.
Quite large.
Perfect for a picture corner.
Cons:
Key Specs:
Price Range: $10 – $15
Product Type: fringe curtain
Materials: foil
If you're a Minecraft fan or looking for the perfect backdrop for a Minecraft-themed party, you must check out this one. It's a giant banner adorned with many well-known Minecraft elements.
Game lovers will immediately recognize the weapons and tools, the Minecraft cake, and even a crate of TNT. The banner measures 71 x 48 inches, and I would have liked it a bit bigger, but the details and quality of the print are just amazing!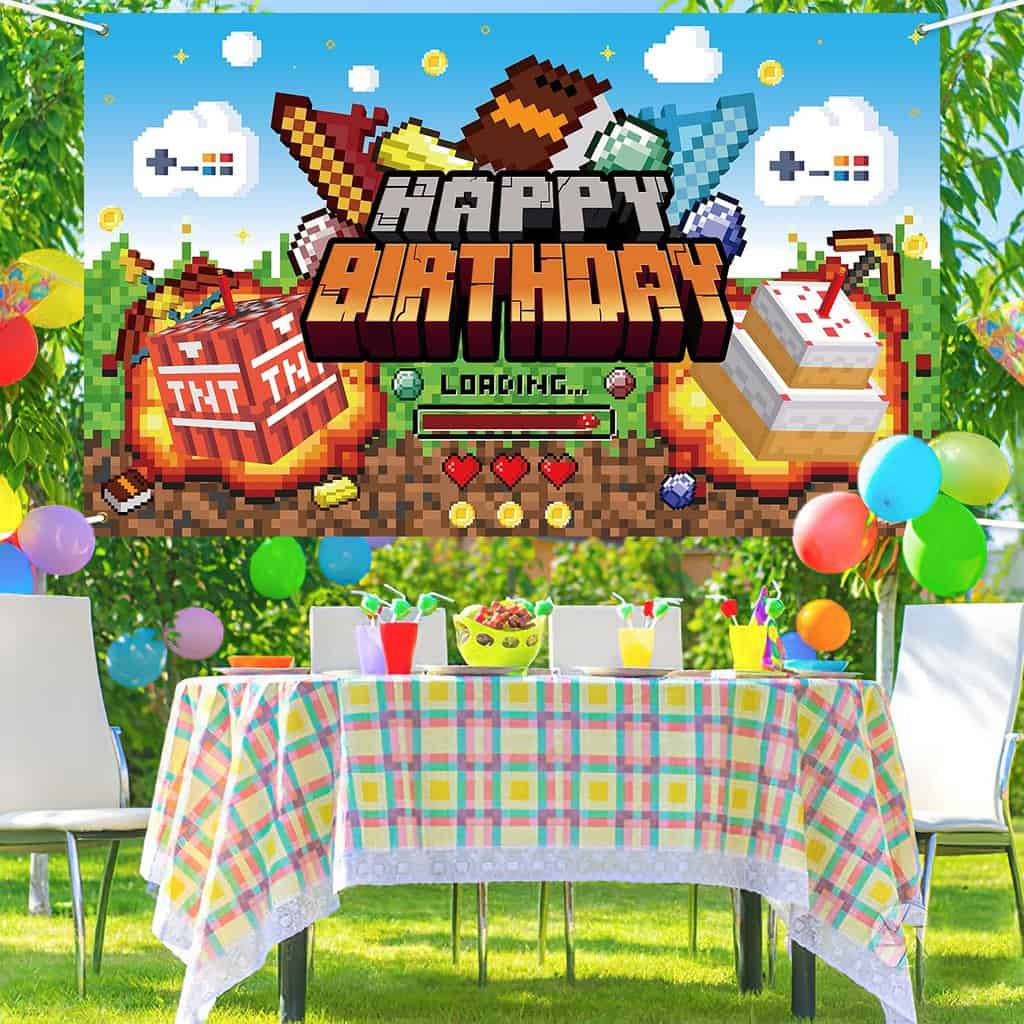 Pros:
High print quality.
Easy to set up.
Tear-reistant polyester.
Cons:
Key Specs:
Price Range: $10 – $15
Product Type: banner
Materials: polyester
Decorating party tables is my favorite part because you can get creative. If you're planning a Minecraft birthday party, having some characters from the game seems like the right way to go.
The bundle contains eight unique honeycomb centerpieces designed like the Pixel Miner birthday party decorations. They are all made from double-sided cardboard; unless your guests tear them to shreds, you can use them to decorate future party tables too!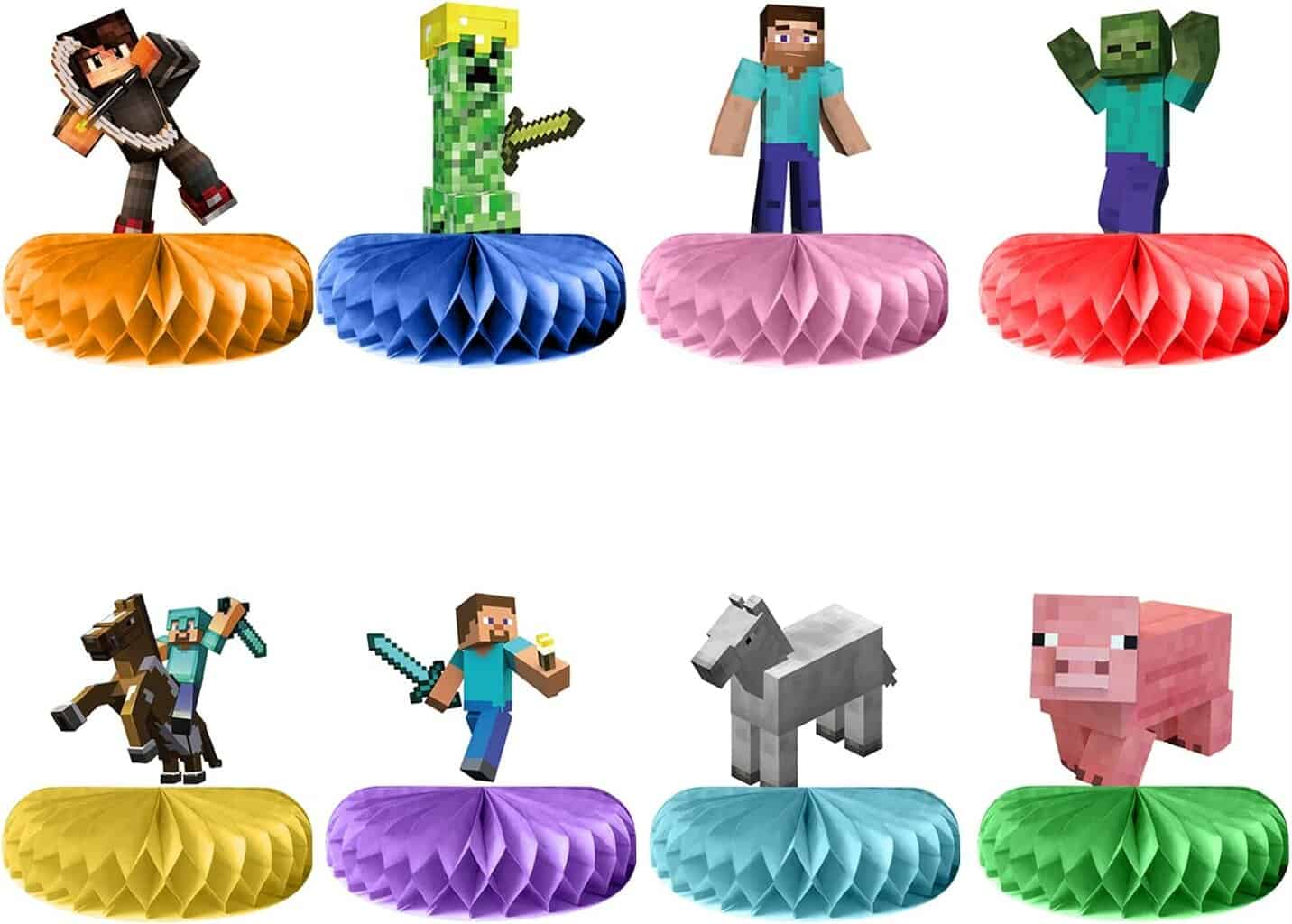 Pros:
Reusable.
Easy to assemble.
Don't take up too much table space.
Cons:
Key Specs:
Price Range: $10 – $15
Product Type: table decorations
Materials: paper, cardboard
Sometimes you have to throw a birthday party for your kid, and you're not in the mood to go shopping. I get it. Party packs like this one will come in handy in those situations because they contain almost everything you need.
This particular one comes with plates, spoons, knives, cake toppers, birthday garland, invitations, and more. The products are made from non-toxic materials because we all want what's best for our children.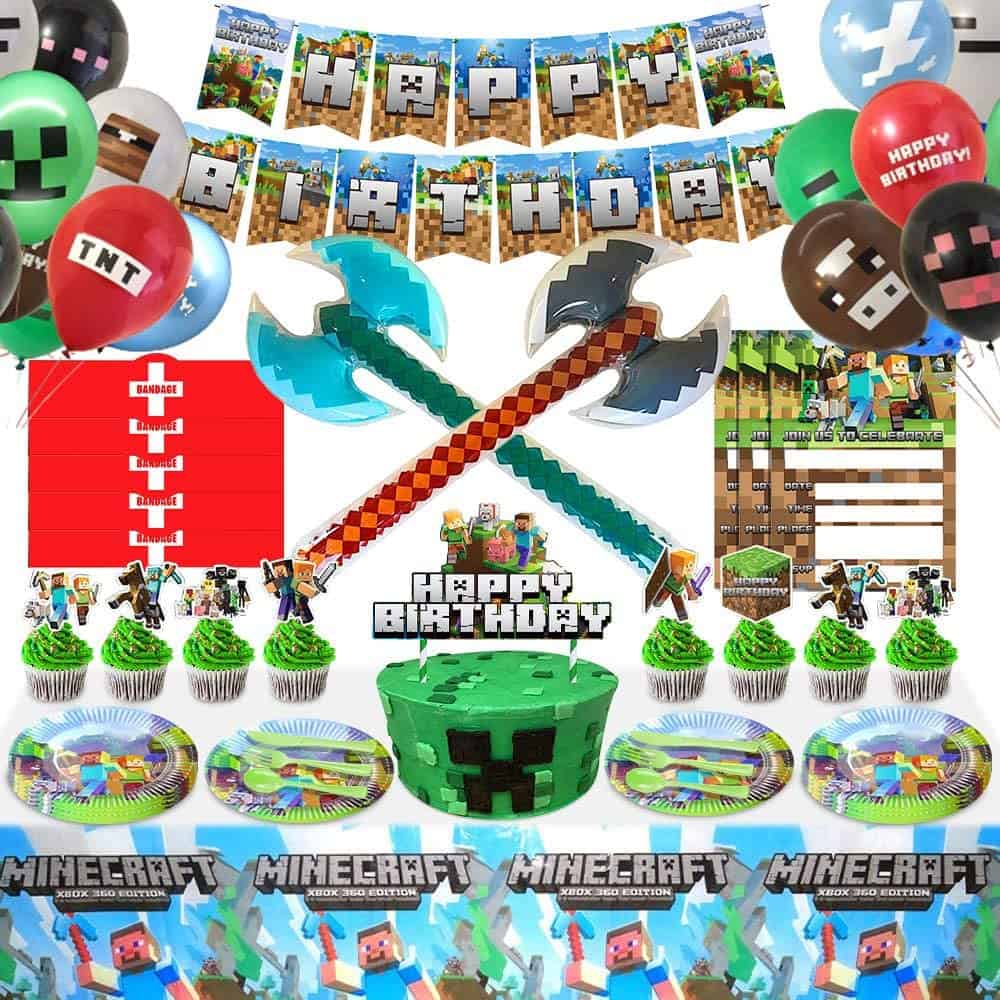 Pros:
A generous variety of items.
Make with non-toxic materials.
Includes decorations and tableware.
Cons:
The banner requires assembly.
Key Specs:
Price Range: $25 – $30
Product Type: mixed supplies pack
Materials: mixed, non-toxic, BPA-free
Best Minecraft Party Dishes
Party dishes are mandatory for every birthday party, regardless of the theme. Even if you don't plan on serving food, you still need them for treats, snacks, and cake.
When it comes to Minecraft parties, there are plenty of options to choose from. You want to go with either square plates (because of the block style of the game) or round plates with Minecraft-specific prints or colors).
Do you know what I hate about parties? Having to clean up after. If it's not fun cleaning after an adult party, it won't be cleaning after children. To make things easy, consider using disposable tableware.
This set includes cups, plates, napkins, and disposable cutlery that match the party theme. And, when everyone has gone home, you can simply dispose of everything without wasting time doing the dishes.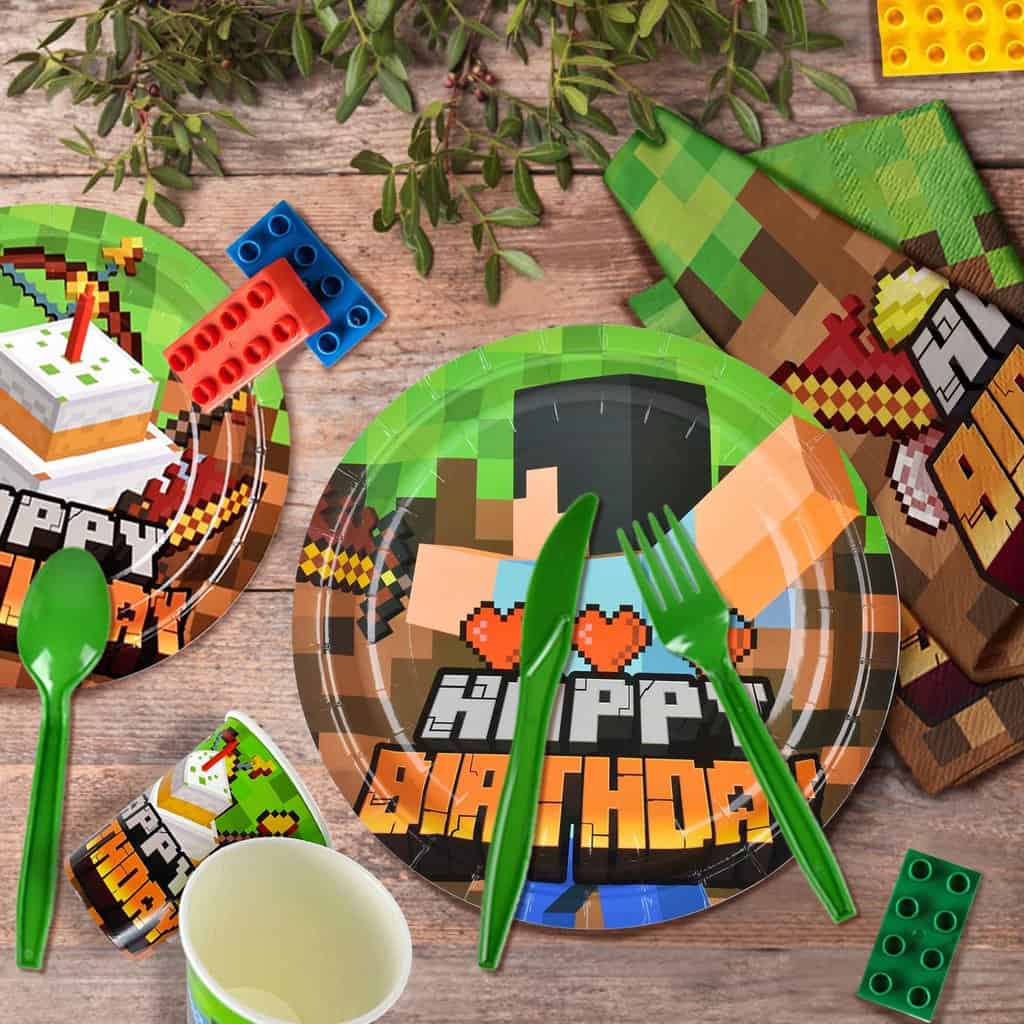 Pros:
Includes pieces for 16 people.
Accurate and quality Minecraft prints.
Includes plates for cake and dessert.
Cons:
No information on materials.
Key Specs:
Price Range: $15 – $20
Number of Pieces: 80
Reusable: no
Nothing screams Minecraft like squares and blocks. To stay true to the theme, you must get these square paper plates. The set also comes with a reusable tablecloth, some extra dessert plates, and some napkins.
I'm not sure why the seller threw in some temporary tattoos but hey! We'll take all the Minecraft goodies we can get. I like that you get a GAME ON pin, but I would have liked about 15 more of them, one for each guest.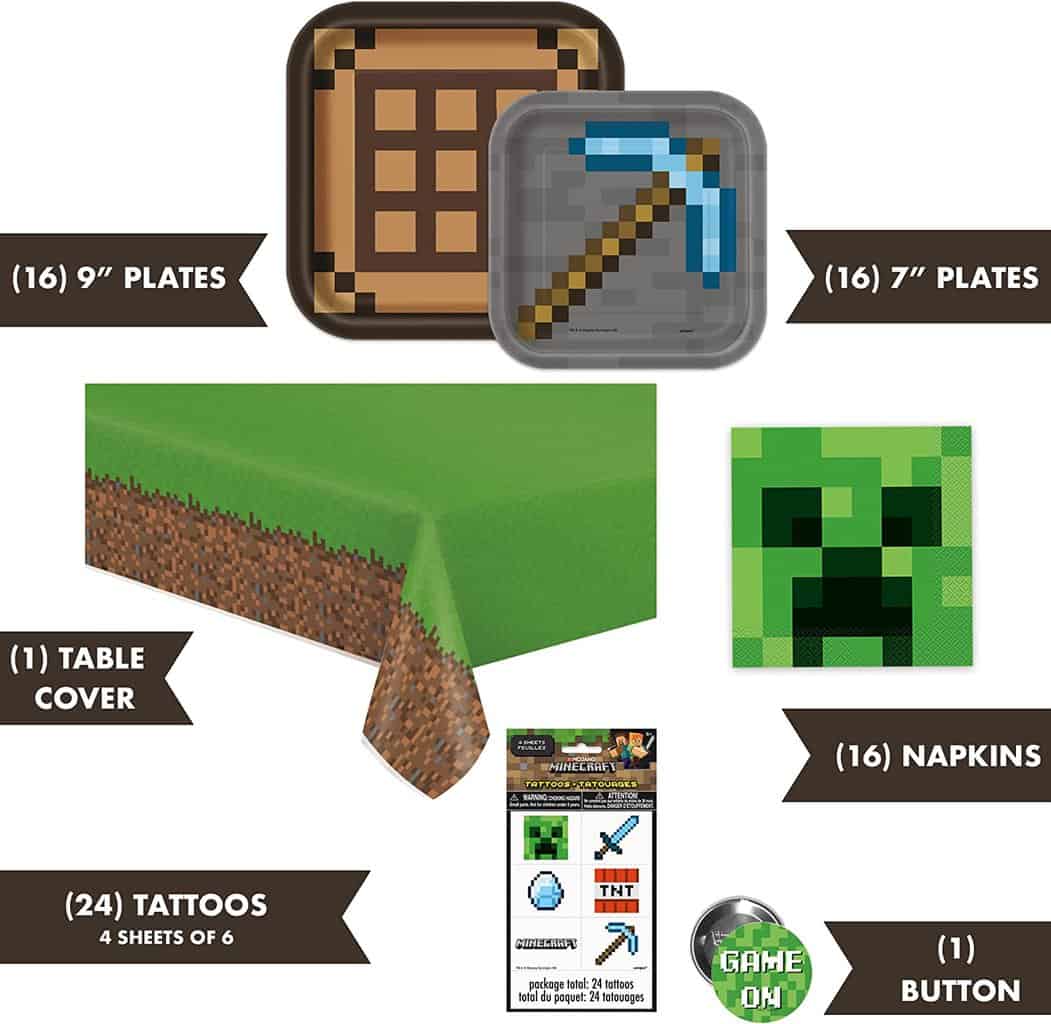 Pros:
Reusable tablecloth.
Includes awesome temporary tattoos.
Desert plates included.
Cons:
Only one gamer pin is included.
Key Specs:
Price Range: $20 – $25
Number of Pieces: 74
Reusable: no
Creepers and TNT are a match made of Heaven, especially since you need one to help you get rid of the other. Your guests will love these eye-catching plates branded with Minecraft's TNT font.
They come with matching Creeper napkins and a dirt-block tablecloth. I wish you could select the side of the tablecloth, but you're stuck with the standard 70 x 42-inch option.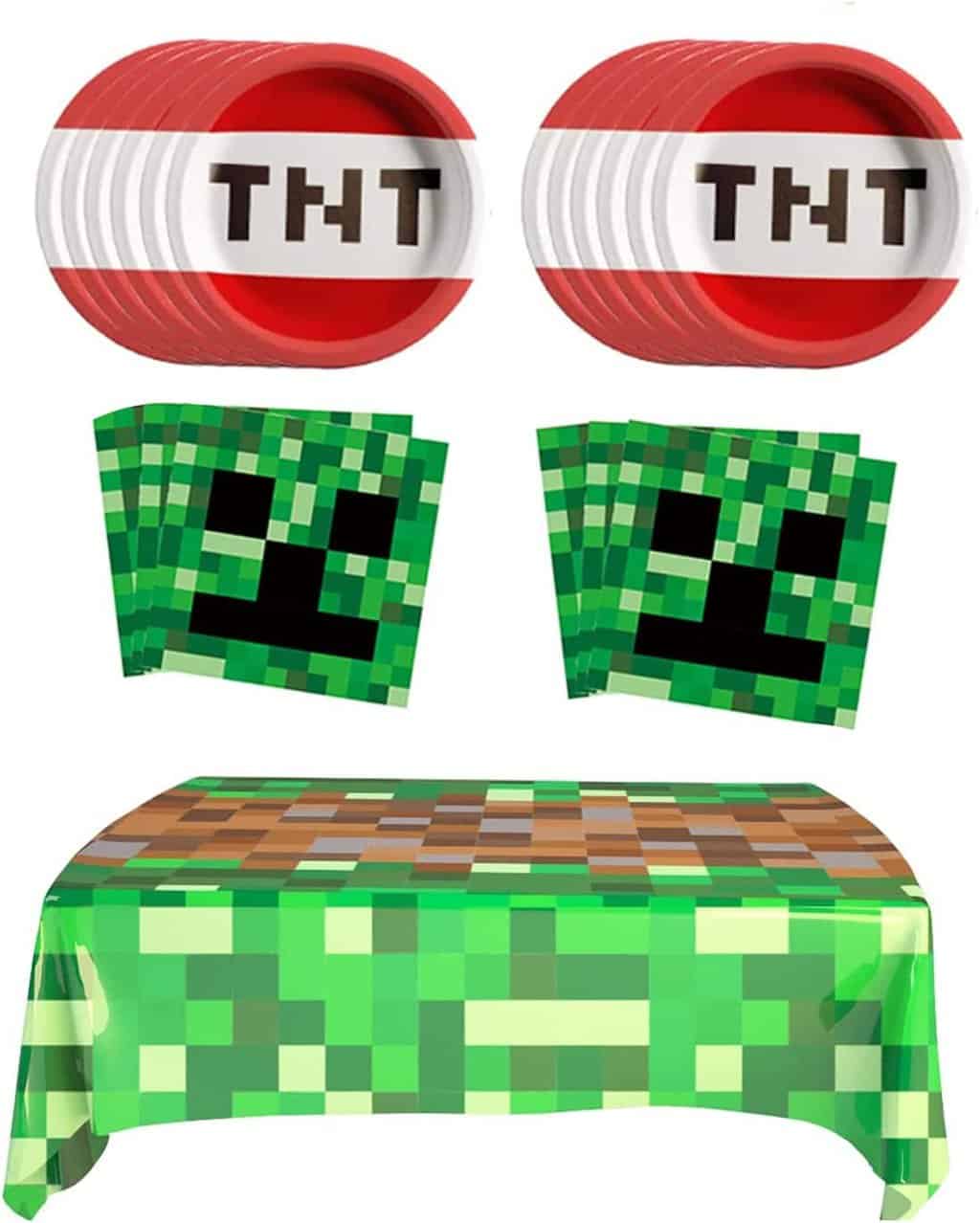 Pros:
The tablecloth is reusable.
Soft and absorbent napkins.
Resistant PVC tablecloth.
Cons:
The tablecloth has a chemical scent.
Key Specs:
Price Range: $15 – $20
Number of Pieces: 41
Reusable: no
Best Minecraft Party Favor
While many parents adore receiving goodie packages, others view them as unnecessary clutter. It's up to you to give favors or not, but there is no requirement that you go all out. When it comes to Minecraft, there are loads of party favors that you can hand at the end. You could also give your guests some of the decor items or games you played during the party.
Minecraft tools and weapons are a must for a themed birthday party. Don't get the wrong idea. These props are entirely harmless, and your guests can take them home to have something to remember the party by.
If you're not in a crafting mood, you can always buy a set of inflatable tools like these. It's a set that comes with four swords and six axes of different varieties. They're perfect for indoor and outdoor parties, especially if you're having a Minecraft pool party.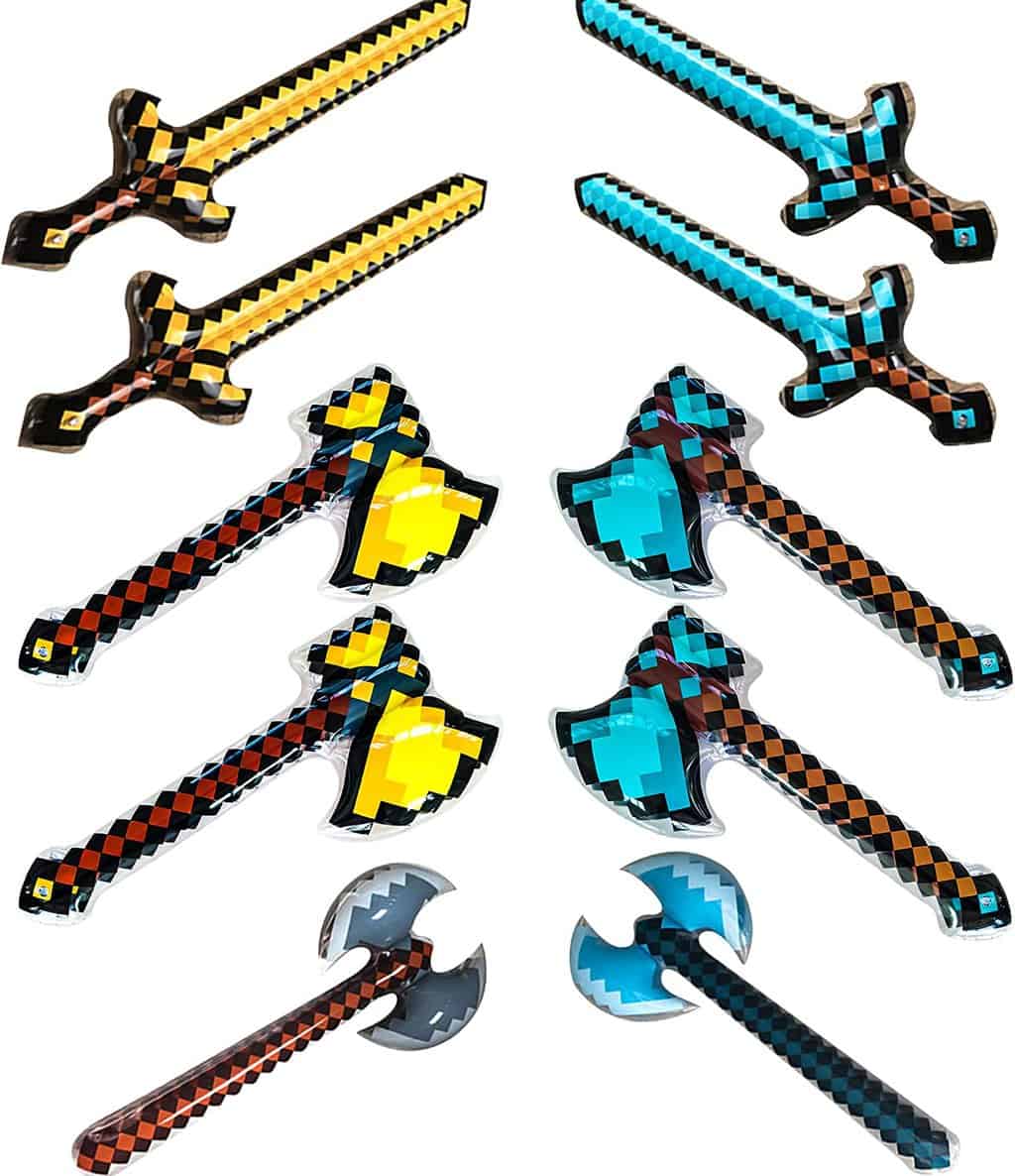 Pros:
Safe for kids.
Different designs.
Good for indoor and outdoor use.
Cons:
Key Specs:
Price Range: $20 – $25
Product Type: inflatable tools and weapons
Quantity: 10
By definition, party favors are gifts that your guests can take home after they leave the party. They are usually keepsakes to remind guests about having attended your party.
What I love about this is that it offers variety, and it's more than just a bag of candies that you eat until you're left with nothing. The set comes with ten Minecraft boxes, ten pins, ten bracelets, 50 stickers, and ten keychains. Each product is made with non-toxic materials.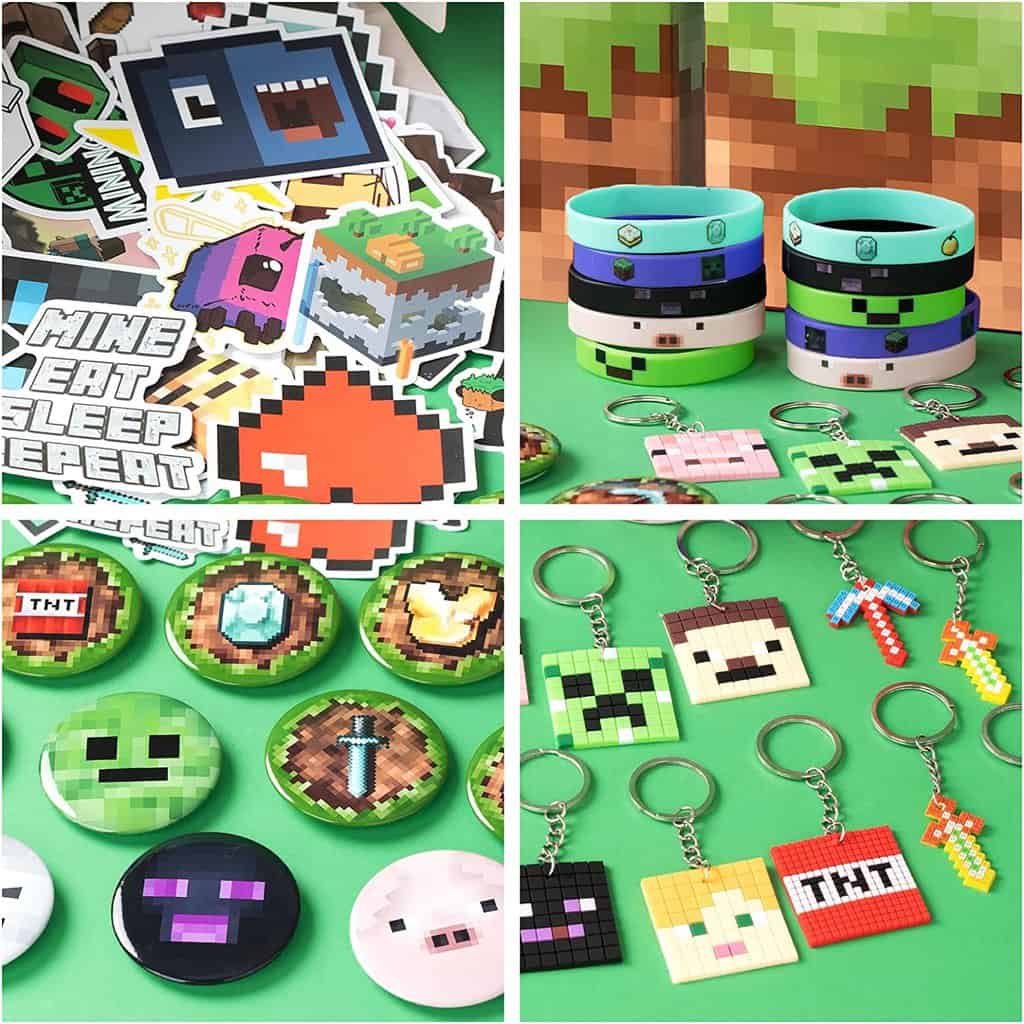 Pros:
Includes plenty of goodies.
Comes with favor boxes.
Products made with non-toxic materials.
Cons:
Some stickers are Roblox and not Minecraft-themed.
Key Specs:
Price Range: $20 – $25
Product Type: box with goodies
Quantity: 10 of each, ten boxes in total
I love the idea of reusable straws. They beat buying single-use straws that end up polluting the ocean. This set comes with 25 of these that would be perfect for a Minecraft party. Each straw has an attachment that could be a tool, a monster, or an animal from the game.
However, my dilemma is how are the guests supposed to clean their straws at home if the set only comes with two cleaning brushes?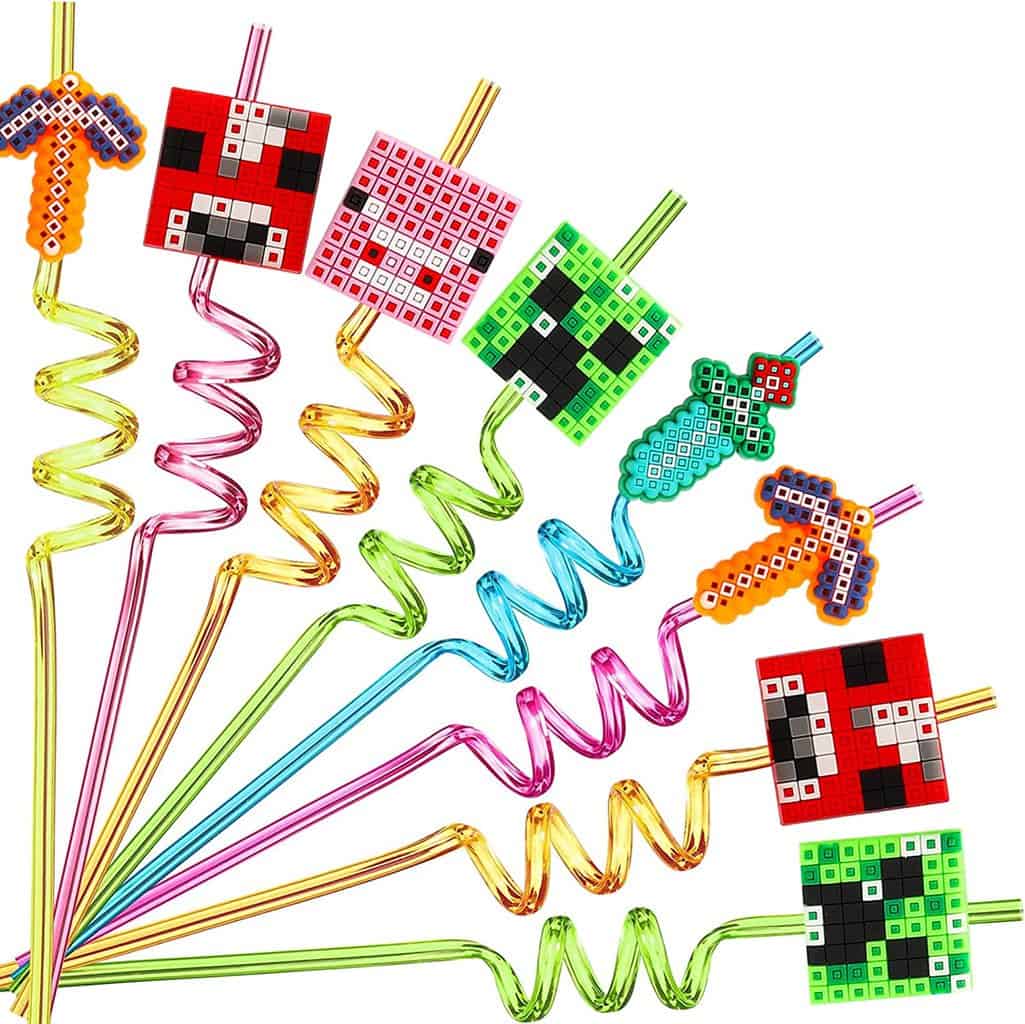 Pros:
Reusable, environmentally friendly.
Removable attachment.
Cleaning brushes included.
Cons:
Only two brushes for 25 straws.
Key Specs:
Price Range: $10 – $20
Product Type: reusable straws
Quantity: 25
You have to do it right if you're handing out party favors! With this set of 16-party favor bags, you can't go wrong in terms of packaging. Each set comes with four bags in four different designs: TNT, tools, dirt blocks, and Creepers.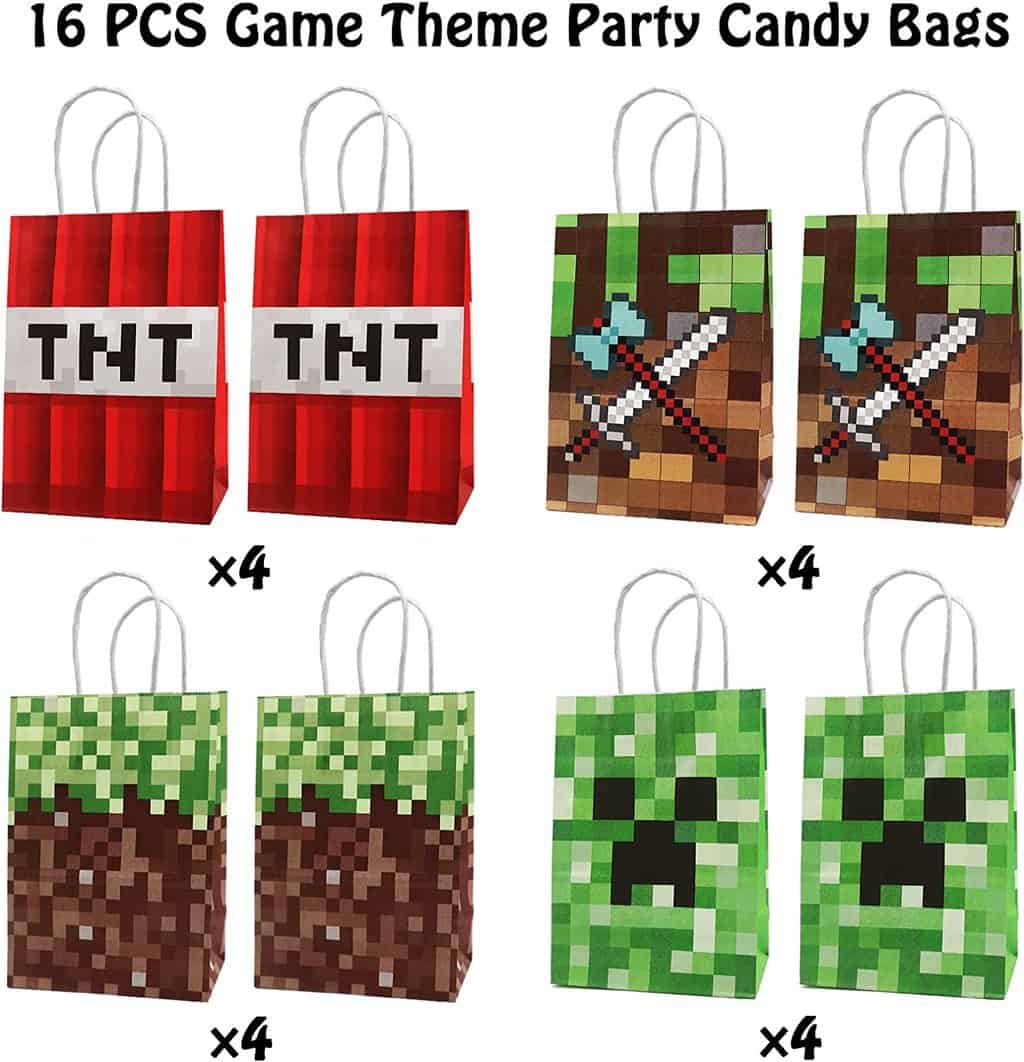 Pros:
Reusable.
Different designs.
Can add/remove favors with ease.
Cons:
Some complaints about receiving torn bags.
Key Specs:
Price Range: $15 – $20
Product Type: party favor bags
Quantity: 16
Best Minecraft Party Game
A party just isn't complete with some games to play! Of course, a Minecraft birthday party should have a group play the game on a big screen, but it also helps to have some good ol' fashioned non-tech games.
Made from the concept of the game "pin the tail on the donkey," this is a game that uses one of Minecraft's most famous animals: the pig. Instead of pinning the tail on the pig, you have these cute snouts that need to go in the correct place.
I love that this game comes with blindfolds that look like sleep masks and are available in two colors (I'm guessing to identify the members of two opposing teams).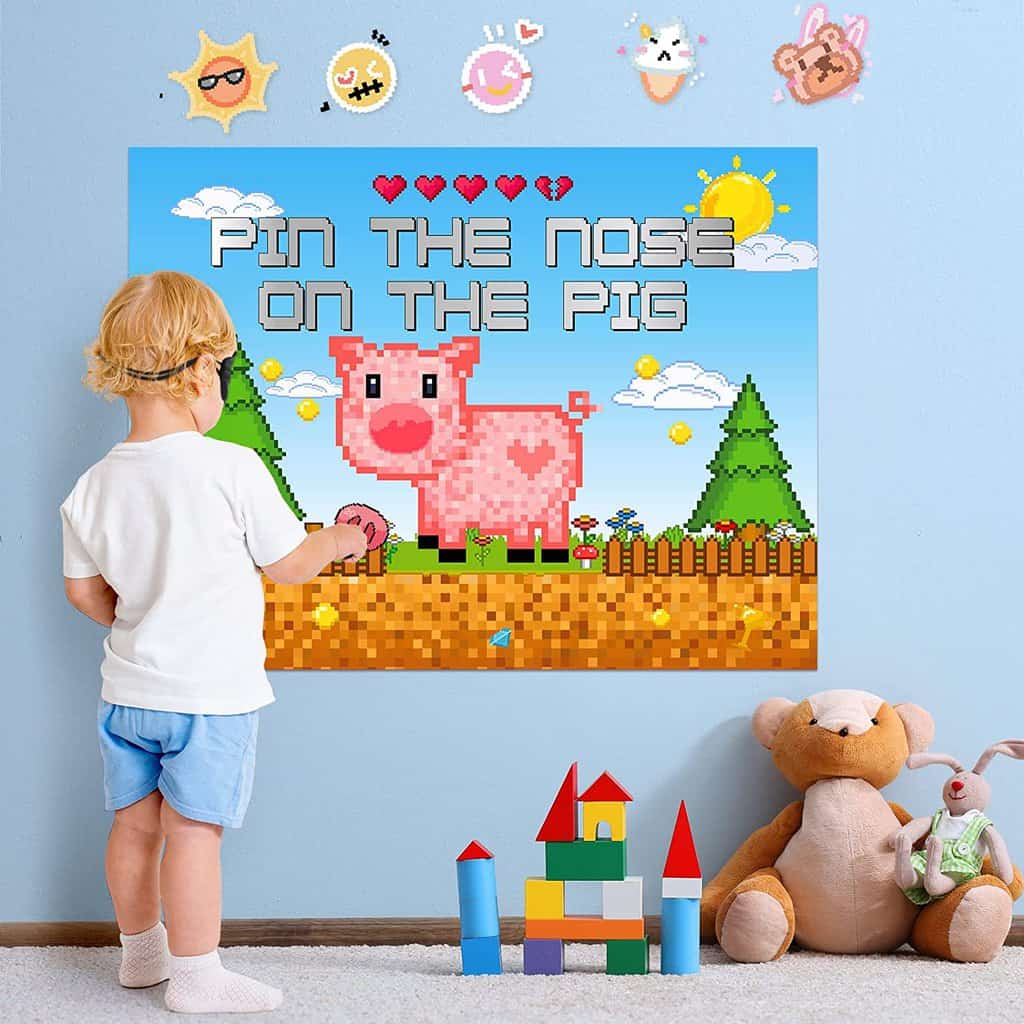 Pros:
Easy to set up.
Includes blindfolds.
Includes adhesive for the poster.
Cons:
Key Specs:
Price Range: $10 – $15
Type of Game: pin the tail activity
Suitable for Ages: 8+
If you're hosting an outdoor Minecraft party, you can't say no to a tossing game. It's suitable for children and adults and a great excuse to get everyone engaged in some physical activity. The poster you get up has holes of different sizes, and you have to throw the bean bag into a corresponding hole to earn points.
With a pretty resistant construction, you can take down the game banner when you're done with the party and put it up again whenever you or your children feel like playing.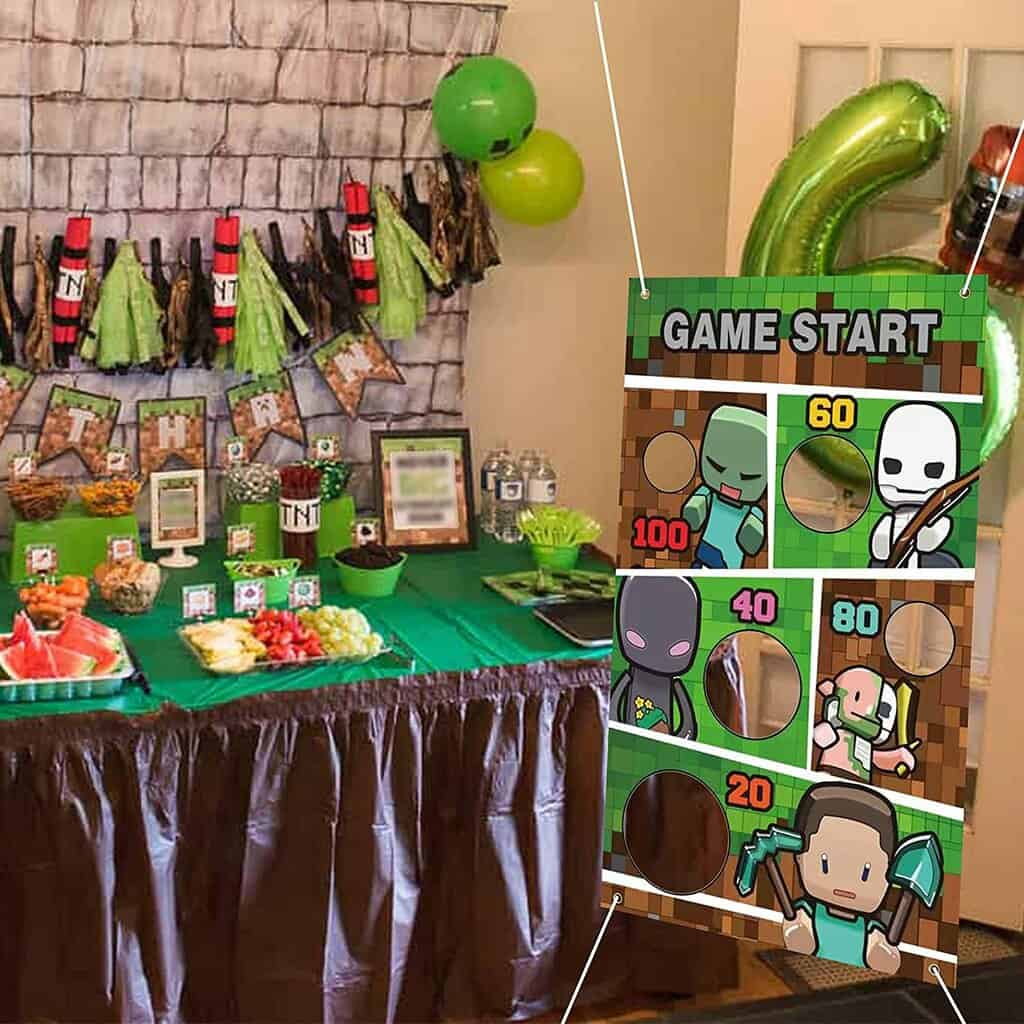 Pros:
Reusable.
Good for adults too.
Helps engage in physical activity.
Cons:
Bags feel a little flimsy.
Key Specs:
Price Range: $10 – $15
Type of Game: bag toss
Suitable for Ages: 5+
UNO is a card game that needs no introduction. The game's goal is to be the first to get rid of the cards in your hand, discarding them according to a set of rules. This particular game is the Minecraft version of UNO.
The rules stay the same, but the card design is different, including characters and animals from the game. Children will love it, and adults can play too since the rules are the same.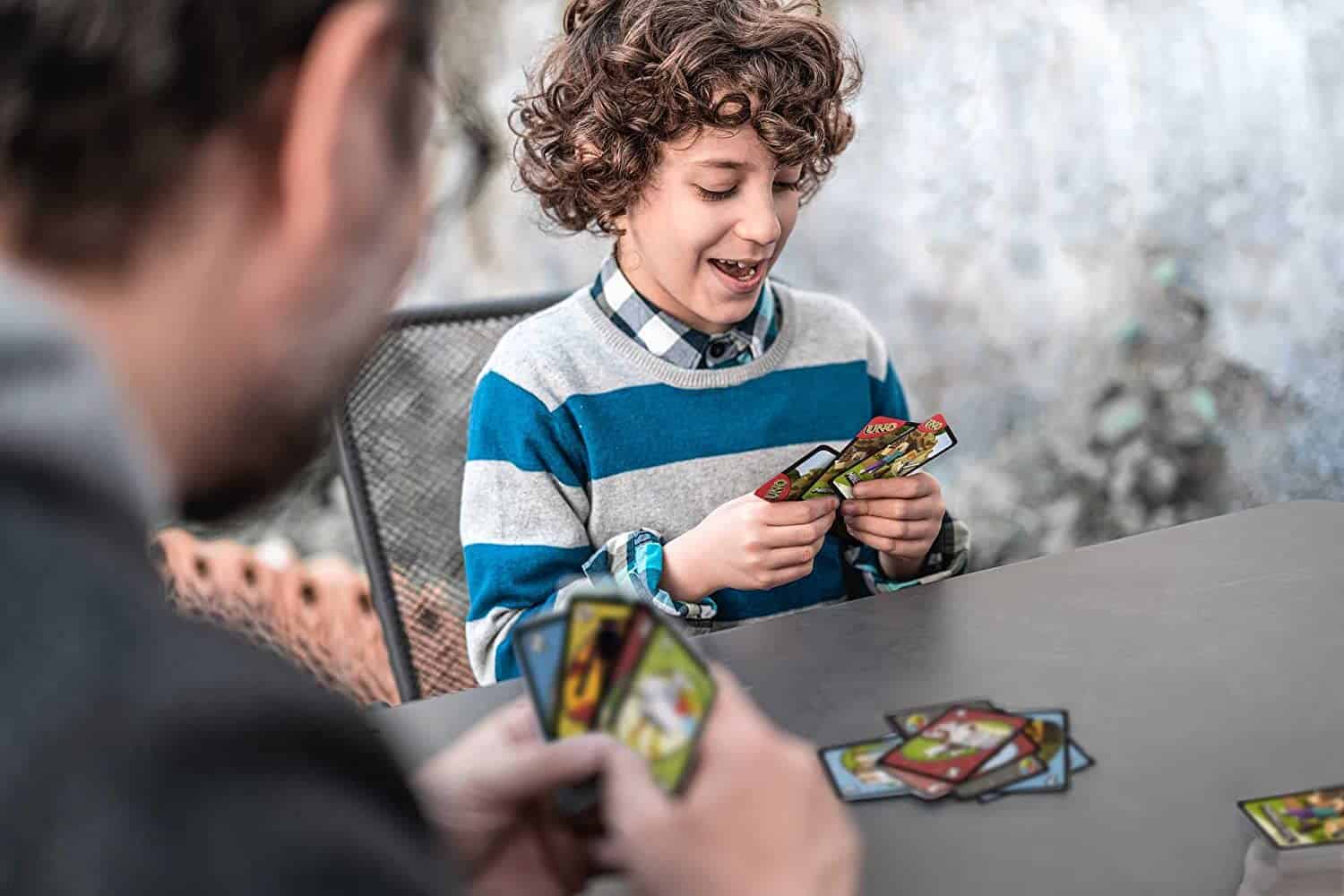 Pros:
Same UNO rules, easy to learn.
Minecraft card design.
Suitable for kids and adults.
Cons:
It can have ten players max.
Key Specs:
Price Range: $5 – $10
Type of Game: card game
Suitable for Ages: 7+
Best Minecraft Pinata
Did you know that pinatas are hundreds of years old? These figures were handcrafted and packed with seeds to celebrate the beginning of a new year. The figures would be beaten with sticks until seeds fell out, which was part of the celebration.
Afterward, they would burn whatever was left and then collect the ashes to use as a good luck charm for the following year. If you want kids beating a paper Minecraft figure until candy comes pouring out, here are some great pinatas to buy.
TNT blocks are explosives in Minecraft. It's used to make traps or help players with mining. It's also used to prank other players a lot, which is why it's one of the most popular elements in the Minecraft world.
This pinata won't technically explode, but the little ones can hit it until rivers of candy come out, much to their delight. It's 10 x 10 x 10 inches, so it won't be able to hold a significant amount of candy. If you like it but feel too small, you can always buy more than one.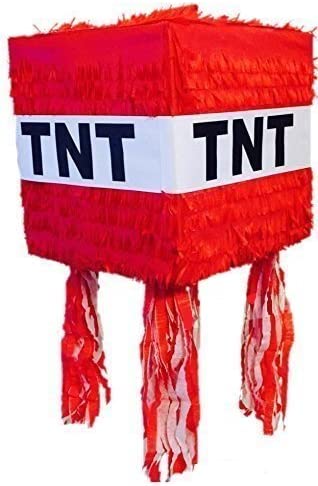 Pros:
Very accurate TNT design.
Made with non-toxic materials.
It can be used as table decoration too.
Cons:
Key Specs:
Price Range: $25 – $30
Size: 10 x 10 x 10 inches
Design: TNT block
A creeper is a frequent type of hostile creature that creeps up on players stealthily before exploding on them. Gamer gamers and others who have never tried the game consider creepers one of Minecraft's most recognizable aspects.
This is because Creepers have a distinct appearance and a significant potential for murdering naive players and causing damage to the environment and players' creations. This Creeper pinata will be a hit at your Minecraft birthday party!

Pros:
Accurate Creeper representation.
Large enough to fit plenty of sweets.
Easy to hang.
Cons:
Key Specs:
Price Range: $40-$60
Size: 20.5 x 9 x 6 inches
Design: Creeper
FAQ
Question: What age range is best for a Minecraft birthday party?
Answer: Kids ages 6 to 10 are those who love a Minecraft-themed birthday party. However, if you're a true fan of the game, nothing stops you from throwing a Minecraft party, even if you're 30.
Question: Do I need party favors?
Answer: Party favors are not mandatory, but they're something guests always love. You can opt for a consumable (like some licorice wrapped up to look like Minecraft TNT) or a keepsake (like a cardboard Minecraft pickaxe).
Question: Can I make a Minecraft birthday party?
Answer: Yes. Many elements specific to a Minecraft party can be made as crafting projects. Whatever you can't make or don't have time to craft by yourself, you can purchase online.
Bottom Line
Minecraft is one of the best games of all time, so throwing a Minecraft party should be easy because there are loads of ideas to put into practice. And, since it's a Minecraft party, having your guests play Minecraft seems like a good idea too.
You have the internet for party favors, decorations, and supplies… well… you have the internet to help you! But if you're pressed for time and want a one-click option, go with the Minecraft Birthday Party Supplies. Then, check out our site for even more great party ideas!
Recommended Reads: