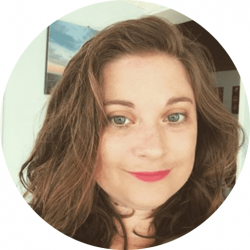 Latest posts by Samantha Bellinger
(see all)
Sometimes I feel like I'm surrounded by Cocomelon, and it is the unofficial soundtrack to my life. Most of my good friends have babies and toddlers, so Cocomelon is everywhere (that includes all their birthday parties). 
I'm also the resident event planner in my group. I've had 10+ years planning every type of event imaginable. So it shouldn't be a surprise that I get tapped for advice about all these Cocomelon birthday parties. 
It means this is one party theme I can talk your ear off about — what the kids liked, what they didn't, and all the strange things that came up while planning those parties. 
I am excited to share my observations with you and some of my favorite Cocomelon party supplies.
Let me start by saying that the amount of Cocomelon party supplies can be overwhelming. I mean, how are there that many versions of plates out there? That said, it is also downright impressive that there are many versions of each item and all different price points! Fortunately for you, I'm a giant event nerd and love wading through all those Cocomelon-themed party supplies. Below are the 37 BEST Cocomelon Party Supplies out there. 
Bottom Line Up Front
You are probably a busy parent trying to plan this Cocomelon party around the 5 million other things on your to-do list. So, I want to make it easy for you and give you a hint about the best of the best. Out of all the Cocomelon Party Ideas I'll be discussing, I recommend the Cocomelon Party Bundle (#4 on the list) the most.
Selection Criteria
You are probably wondering how I got thousands of products narrowed down to 47. Let me tell you. My selection criteria for this supplies guide were reasonably straightforward.
The supplies were readily available (online or in nationwide stores)

They didn't break the bank (aka relatively affordable)

My friends' kids have to LOVE it (i.e., more thrilled than I could have imaged)
I do have to admit that I tended to stick with stores that had both an online and in-person option. I love the ease of online orders. However, I've had far too many last-minute party needs that require I quickly run to the party store to pick up extras.
Case in point: my nephew; if he ever finds the supplies ahead of time, he will insist on using them immediately and throws a fit if he is told no. Since I'm the fun aunt who has issues saying no to his cute, mischievous face, I like to ensure that I can run out and find last-minute replacements if needed. I realize that isn't the case for everyone, but I wouldn't be surprised if having an in-person backup ends up helping a few of you. 
37 of the Best Cocomelon Party Supplies
Now onto my favorite part, the party supplies! I can't wait to share all these exciting options.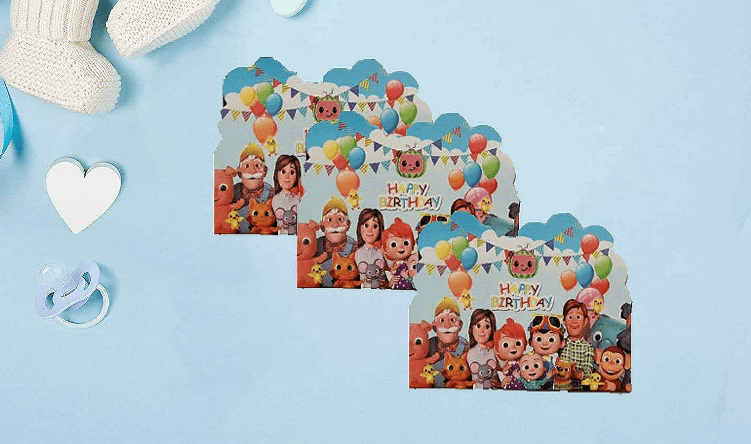 I'm a sucker for printed invitations. I know it is old school, but I've watched enough kids hold onto their themed invitations to see that they treat them like cherished trading cards. It might take more work for the parents, but it just might be worth it.
These amazon versions let you order the pack and hand-write the party details. I admit that hand-writing a dozen invites isn't high on my list, especially since most printed invites let you fill in the info before printing. That said, a certain nostalgia factor might hit home with the parents reading those invites (that is what caught my attention).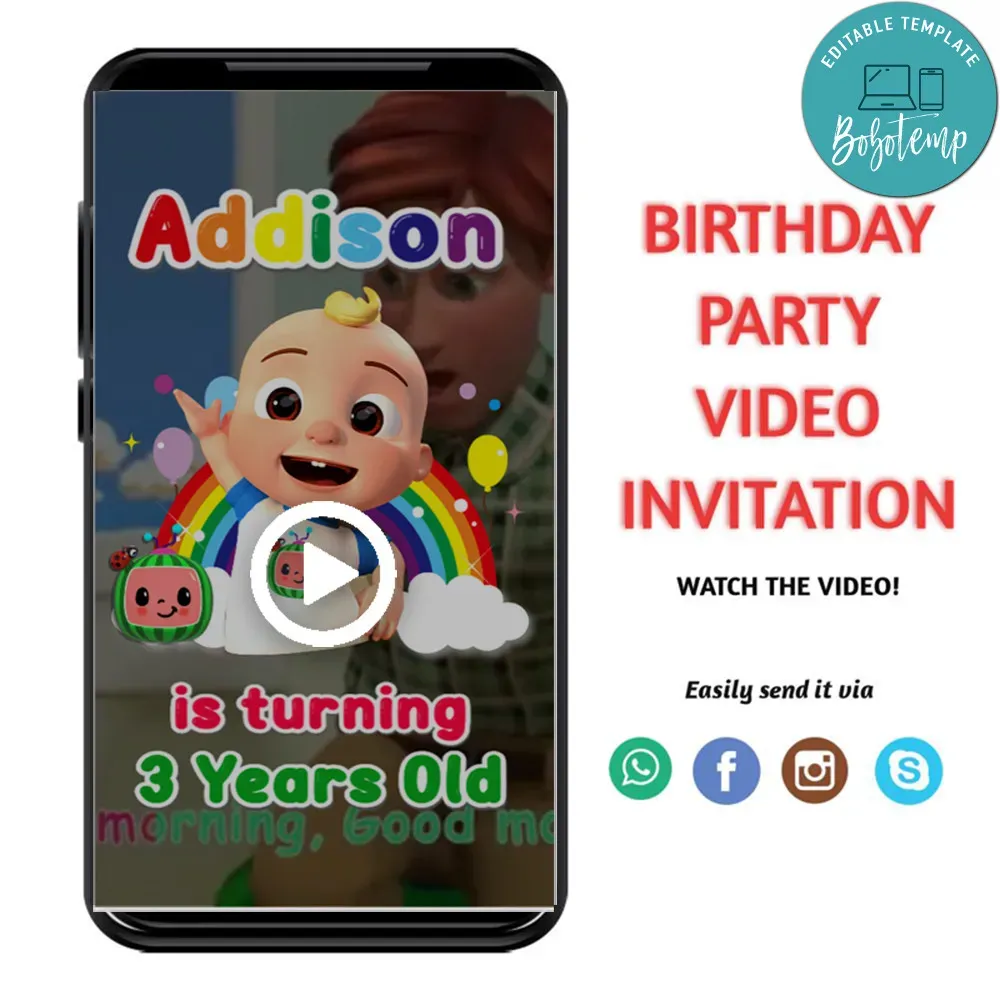 Okay, so this invite is a little different. Have you tried video invitations before? I can tell you that they are the next hot trend for kids' parties. I've already gotten a few myself, and I'm also impressed. This particular version is instantly downloadable.
I love that they are customizable and that you can immediately send them out virtually. Being from Vermont, many parents are eco-conscious and always looking for new ways to help reduce waste. I'm constantly recommending this type of thing to my Tesla-driving Eco-friendly friends.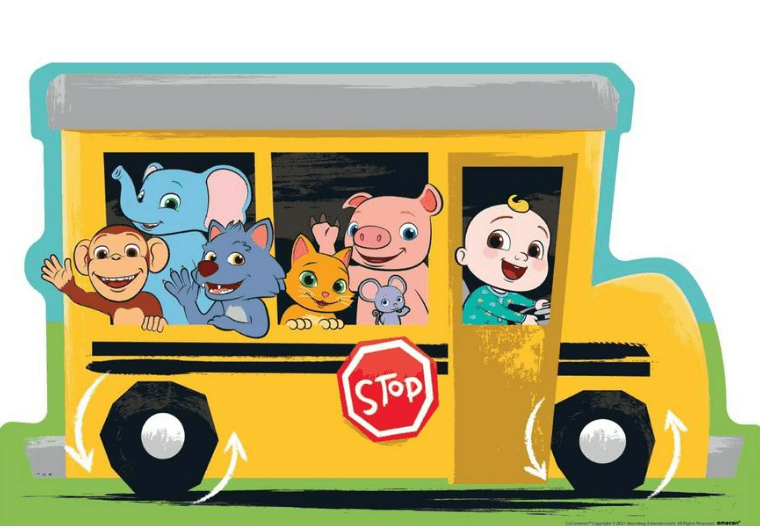 It might be my event-planner anxiety talking, but I always recommend finding a way to make sure guests know they are in the right place when they arrive at the party. It is a visual clue for guests to indicate they are in the right place and can confidently get the kids out of the car.
One option I am particularly fond of is a cardboard cutout that is placed in the front yard (or on the mailbox or the door). This particular cutout is from Party City, which I'm happy to report sells this both online and in-person – the perfect combo!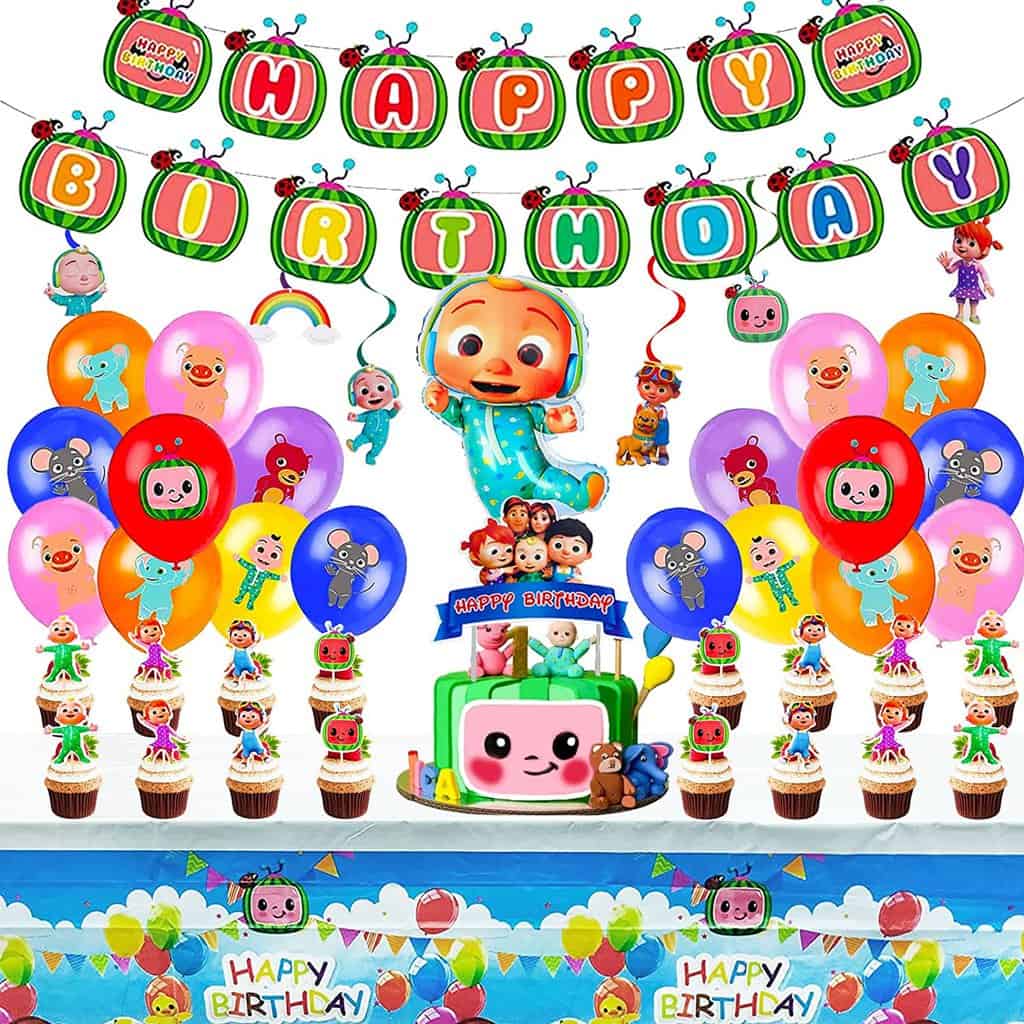 This bundle is hands down my favorite option on this party supply guide. Like I said in the bottom line up front, I recommend party bundles any chance I get. They are the perfect way to incorporate the theme into the party with the least amount of stress. You not only receive almost everything you need in one fell swoop, but you save time!
If you are anything like my mama-friends, then the amount of time and mental energy you save is directly correlated to your ability to maintain sanity, especially when planning your kiddo's party. This bundle will be the one thing that helps protect your sanity and still gives your child the Cocomelon party they deserve!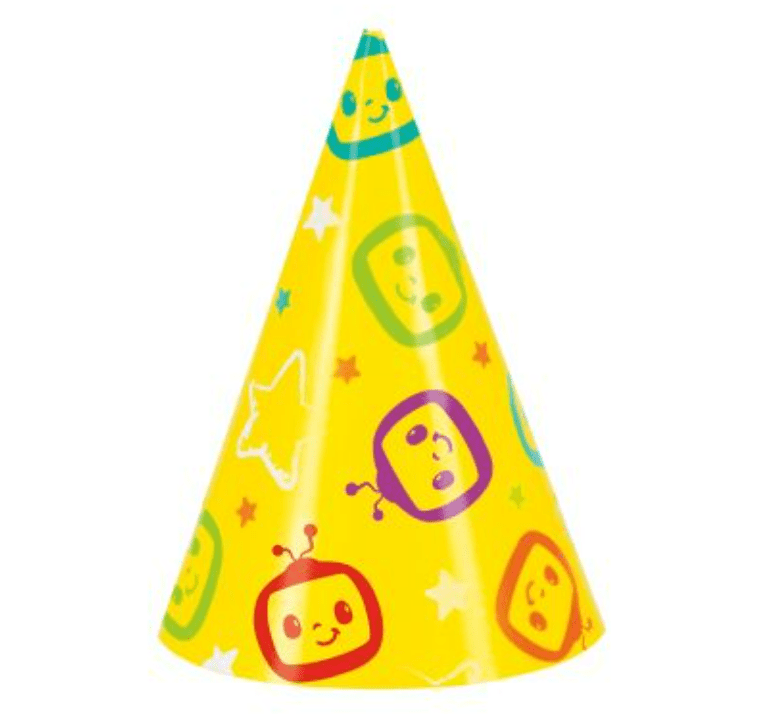 OMG, Party Hats. Does anyone remember the book Go Dog Go where they repeatedly say something like, "I like your hat, I like your party hat?" That was a common saying in my home growing up. That means party hats still make me smile like a 5-year-old kid. There is something about seeing a room full of kids wearing party hats that warms my heart and makes me grin ear to ear.
Plus, it is the perfect photo op. Those photos always end up being a cherished memory by the guest of honor (Okay, more like a treasured keepsake for the parents, but one can hope).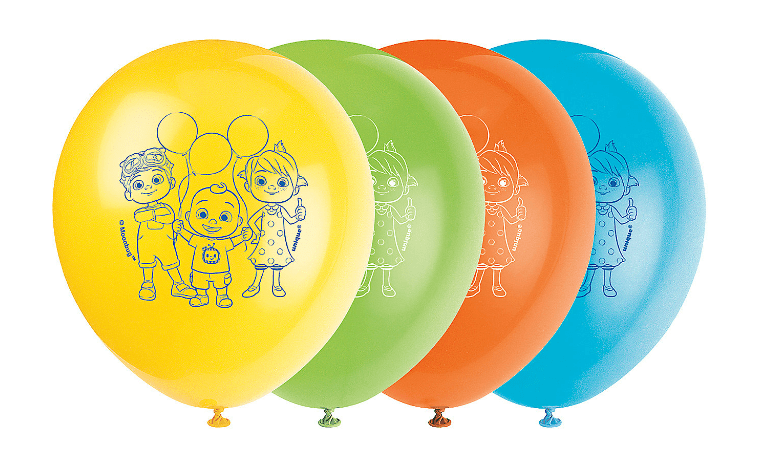 Balloons are a MUST at a kid's party, and a Cocomelon-theme is no different. This set of latex balloons from Oriental Trading features an assortment of colors (including yellow, green, orange, and blue), so they are appropriate for all occasions and all genders. I know oriental trading doesn't have physical stores that are easily accessible to everyone, but the low cost of their products means I'm always buying from them or recommending them to my clients.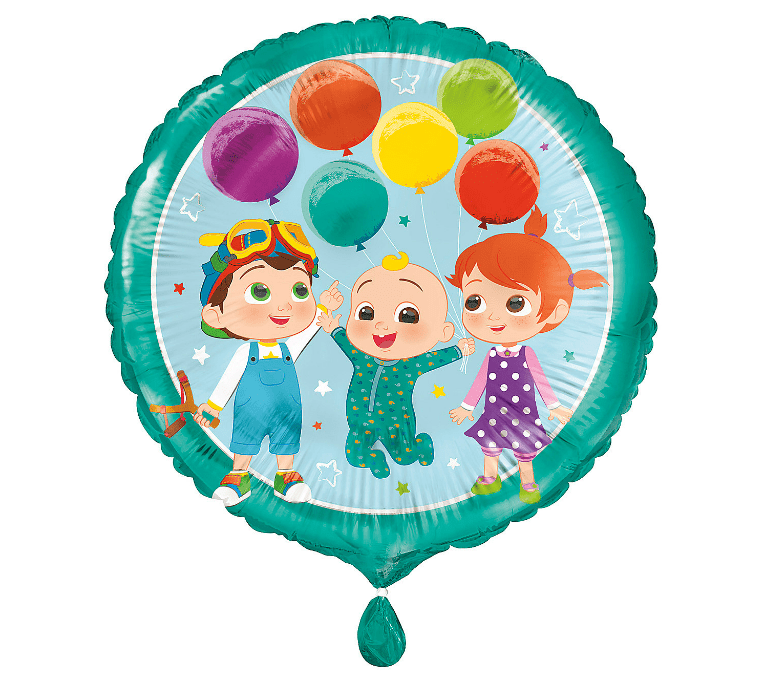 Let's continue this balloon trend with this mylar balloon option. Again from Oriental Trading, it is a single balloon that features characters from the Cocomelon show. Regardless of what wide selection of balloons you go with, I always recommend adding at least one mylar balloon, and it isn't only because they are shiny (that helps, though).
My primary reason for recommending mylar is because they are known to hold their air long after the party. If your kiddos are anything like the one I know, they want to keep their balloons for weeks after. I once had a birthday balloon keep floating for over a month! It was like magic. So why not give your kid the satisfaction of holding onto their Cocomelon balloon long after the party is over?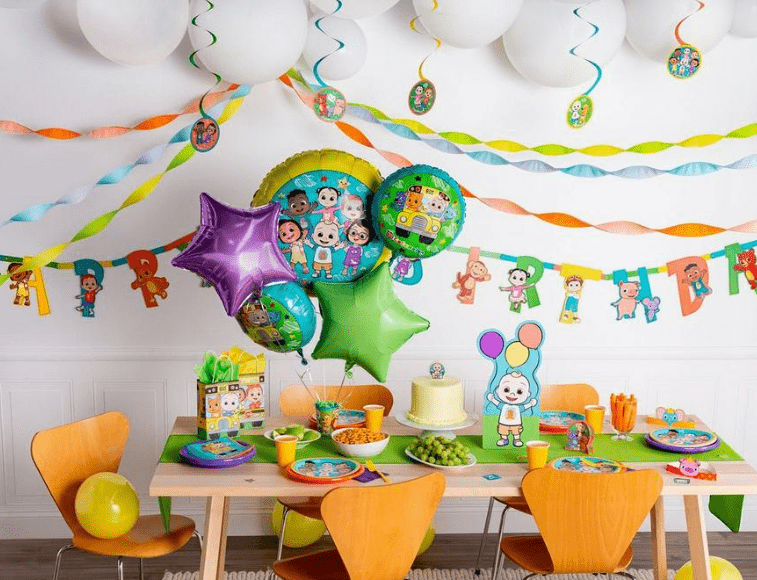 Okay, this one is birthday specific, but I couldn't neglect this option. Birthday banners are a great way to decorate when celebrating a kid's birthday. They add to the decor and are customizable. It is one of those cheaper options with a lot of bang for its buck.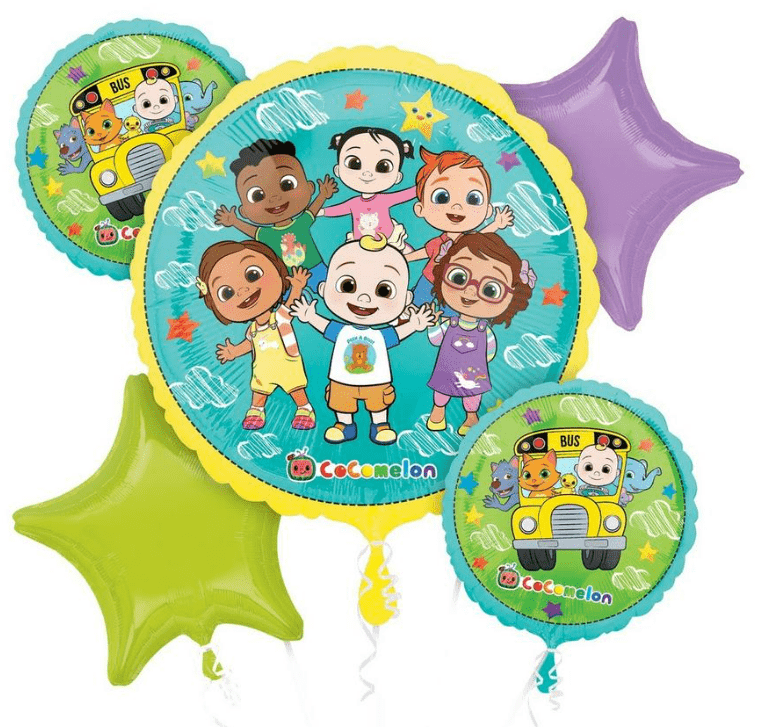 I'm a sucker for any pack of party supplies. Make it a bunch of balloons, and you've made this event planner happy. I'm guessing your little ones will have a similar reaction if it's a kid's party. There is something about having a bouquet of balloons that captivates kids (and event planners).
You are probably wondering if I love balloons so much, why this pack? Primarily because it is from Party City. That means you have two choices 1) buy the deflated balloon pack online and have it shipped to you directly, or 2) you can go into the closest Party City location and buy them pre-filled. I personally love picking up pre-blown balloons; it saves me so much time not having to fill them myself.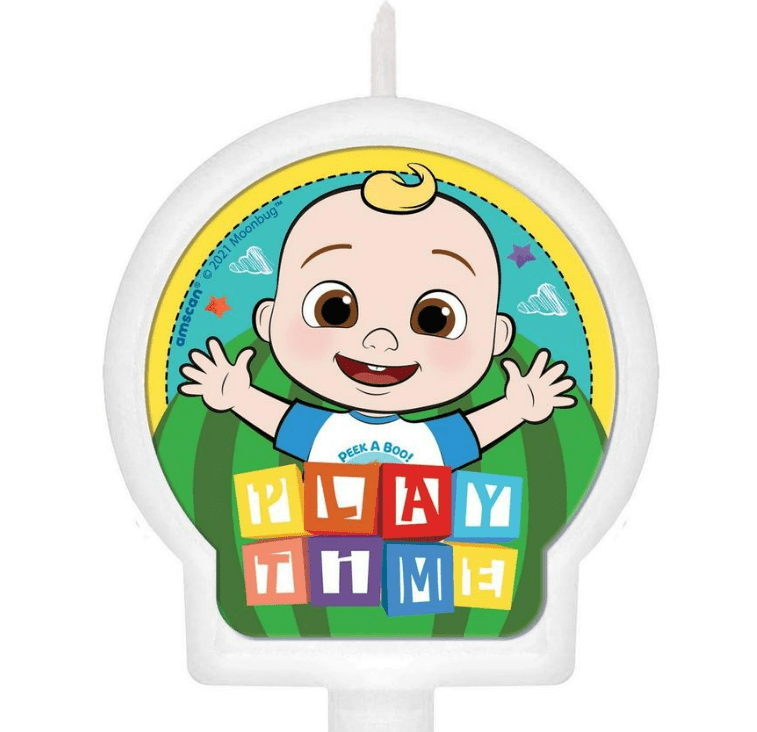 I still remember the wax candle my family broke out for every birthday party I had or my sister had. It is a tradition I've been encouraging my mom-friends to adopt. Even if they aren't sold on it being a tradition, they love the idea of buying one big candle and getting to reuse it year after year. Regarding Cocomelon, this wax candle is a perfect centerpiece for your party cake. It introduces the theme to your sweet treat without trying to find a Cocomelon-themed cake.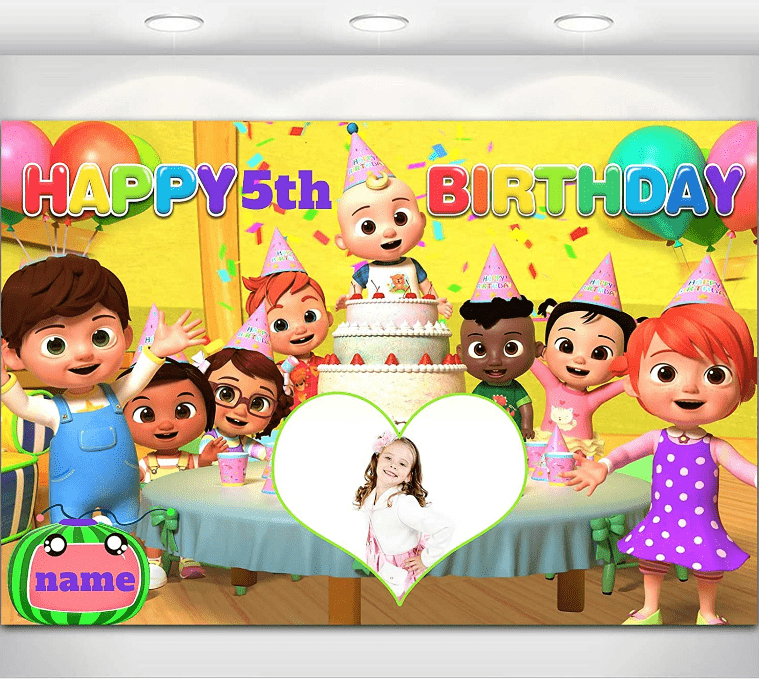 Photo op set-ups at parties have been a thing for years, and I don't foresee them going anywhere any time soon. Some people go all out, while others don't have the bandwidth to spend days on something the kids will use for maybe an hour or two.
That is why I love the idea of wall banners at parties. I recommend it to all my busy friends who want to add a photo op at their party. Not only is it super easy, but it is a perfect backdrop for photos. It could even double as a visual aid to draw attention to the gift table or food station.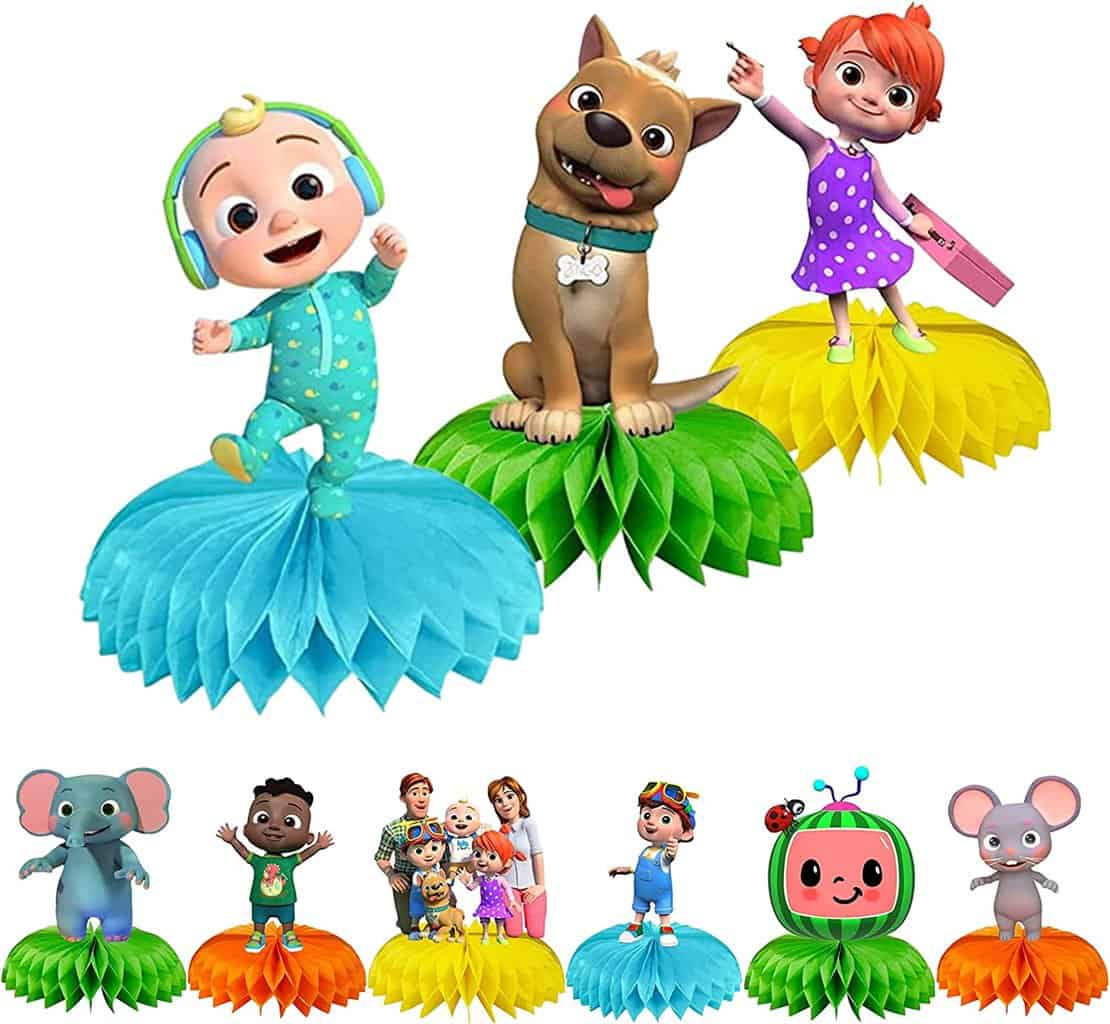 Centerpieces can be difficult for kids' parties. I can't tell you how often I've seen my friends lovingly spend hours on table decor for their kid's party and then have to watch as those kids destroy them in a matter of minutes. I am always telling parents to skip the heartache and find cheap table decor they are okay with the kids playing with and possibly destroying.
For Cocomelon, I recommend these honeycomb centerpieces; they are great for adding table decor without breaking the bank. They are cost-effective and keep the theme alive while kids are messily eating.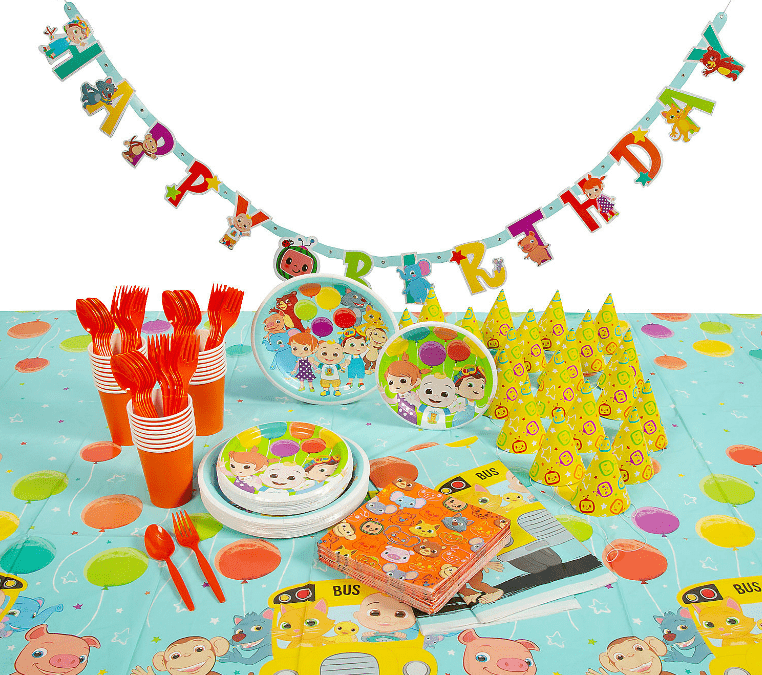 Another party kit? Yup! They are my favorite time-saver. This kit is for those of us who want a larger Cocomelon party. This particular tableware kit has enough items for 24 guests. Not only does it make setting the table much easier, but it means you might have some extras to put to all the spills and dropped plates that occur at least once a party.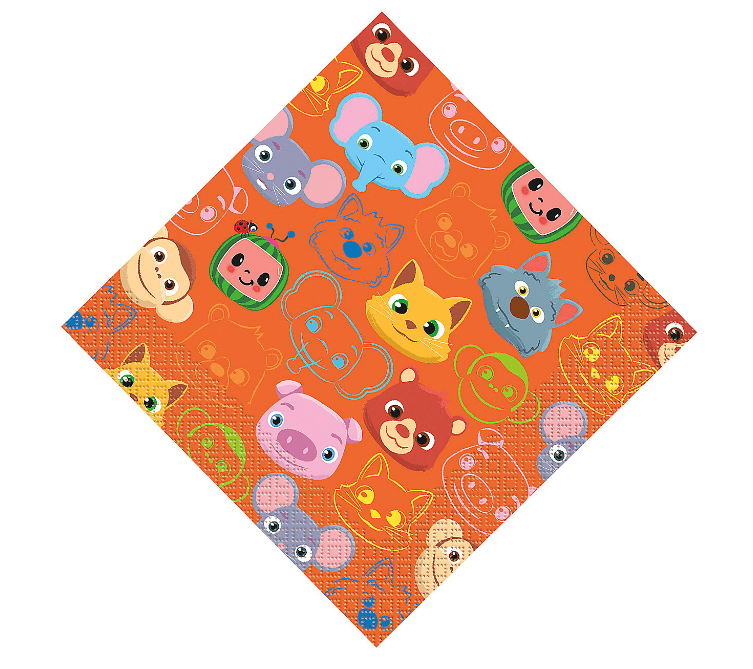 So I know I like party packs, but I'm still a picky event planner and need to have options. Curating an entire table set myself is extremely rewarding. I recognize there are others out there like me who like the option of picking each item individually. That is why I had to add these napkins to the list. Even if you use them as a supplemental purchase, they would be perfect for the extras you'll need just in case of a few spills. 
One thing I've noticed about party packs is that they sometimes give out dinner plates rather than dessert plates. Most people might think: a plate is a plate; who cares? Event planners like me do. Why? Because we've seen how much it makes a difference, especially during parties for kids. Kids have smaller appetites and bodies, so a smaller dessert plate is beneficial. These particular Cocomelon dessert plates are the perfect size for little hands.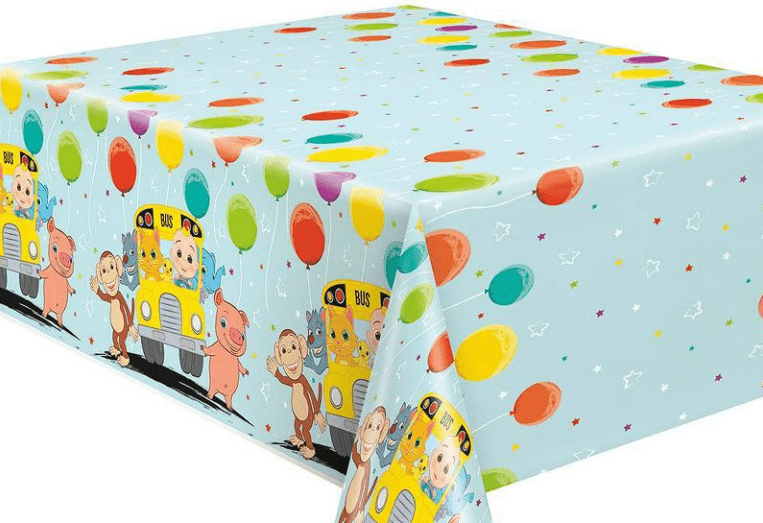 Tablecloths are a must for a Cocomelon party. Kids are messy eaters, and you'll be super thankful for the tablecloth when cleaning up after the party. I've started to have two layers on the tables: one taped down and one draped over the top. This arrangement is to prevent the dreaded breakthrough spills.
I once spent hours trying to get the stains from blue icing off a venue's table so we wouldn't be hit with a cleaning fee. Since then, I have added two layers for my peace of mind. This particular Cocomelon tablecloth is perfect for the top layer.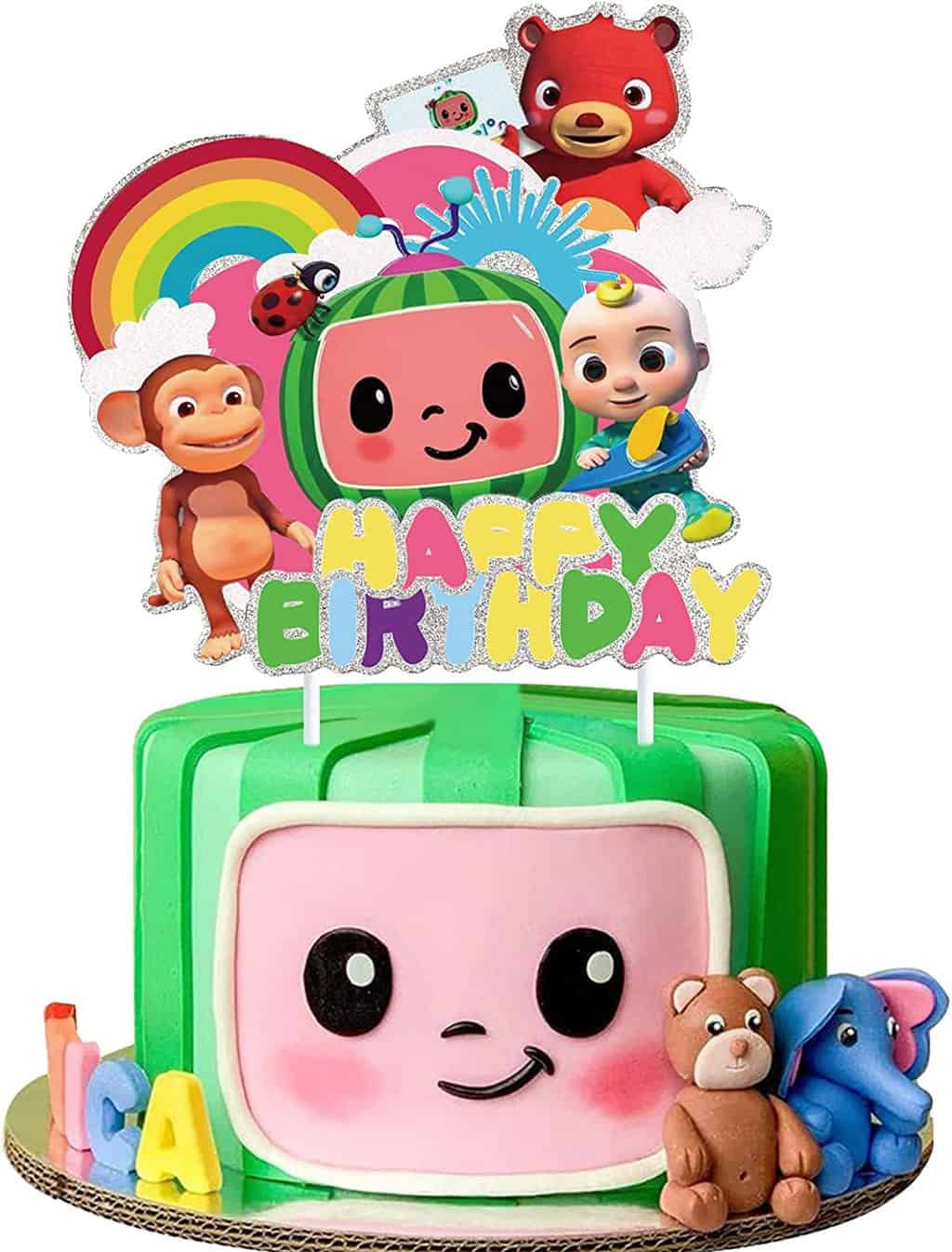 Yay for cake toppers. Cake toppers are a great way of adding to the Cocomelon theme without needing to find a baker who can create a theme-specific cake. I picked this particular version because I'm a sucker for colorful designs and glitter. After a friend's daughter nearly lost it with excitement over a glittery cake topper, I always look for shiny cake decor. If your kiddo is also fascinated by shiny things, consider this item from Amazon.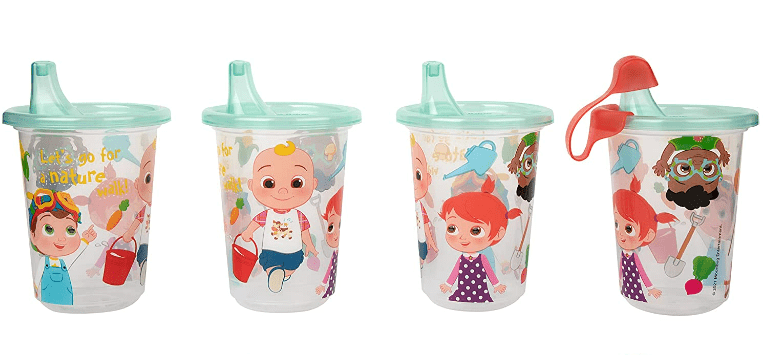 I was intrigued by these take-and-toss sippy cups. So often kids themed party supplies feature paper cups that start disintegrating by the end of the party. I love the idea of lidded plastic cups for kids' parties, and the sippy cup lid is ingenious! Less mess from spills, and adults can monitor who needs refills. I'm so going to recommend these to the next friend planning their kid's party.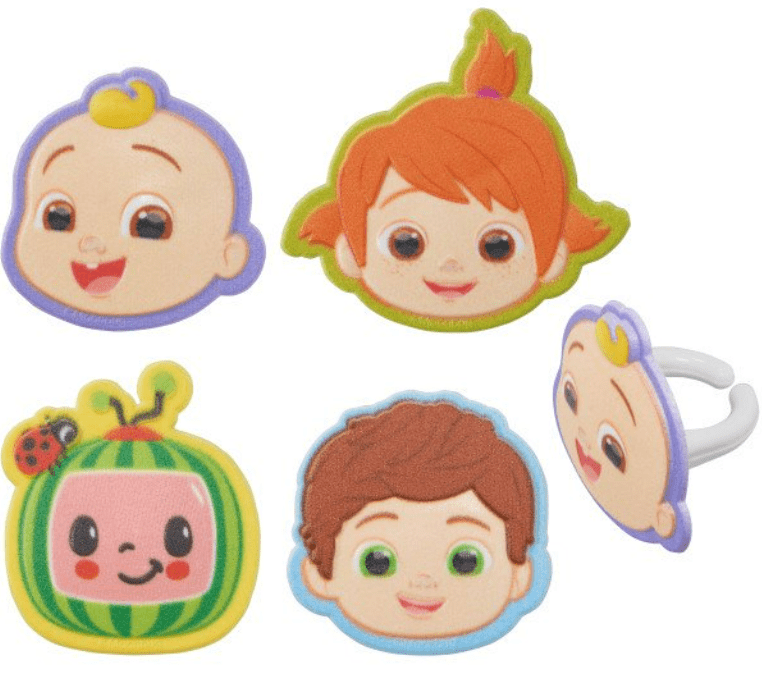 Walmart really came through on these cute Cocomelon-themed cupcake toppers. Not only are they small enough for mini cupcakes, but they can be worn as rings long after the cupcake is devoured. When I see these, all I can think about is the time I had a little one decide they wanted rings for each finger, and she tried to convince her adult that it was okay to eat ten cupcakes since she had ten fingers.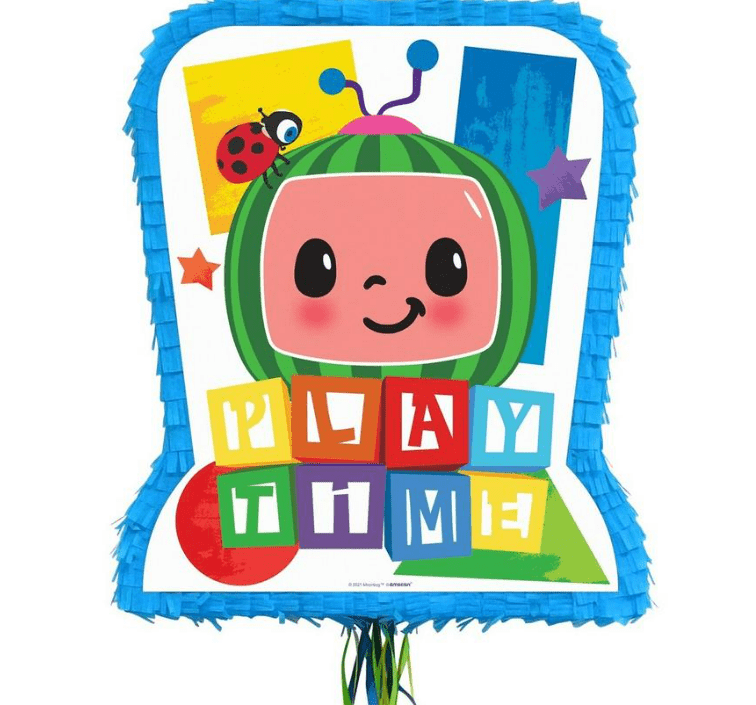 I love offering piñatas at kids' parties. Still, with the target audience of Cocomelon being so young, I'm hesitant to suggest regular piñatas. This hesitancy is mainly because a blindfolded toddler with a stick terrifies me, plus I've witnessed some epic meltdowns because we asked them to hit a favorite character.
The best solution? A pull-string piñata. It allows kids (with an adult's help) to release the candy without ever having to break open the piñata. No kids with sticks and no crying; it is a win-win in my book!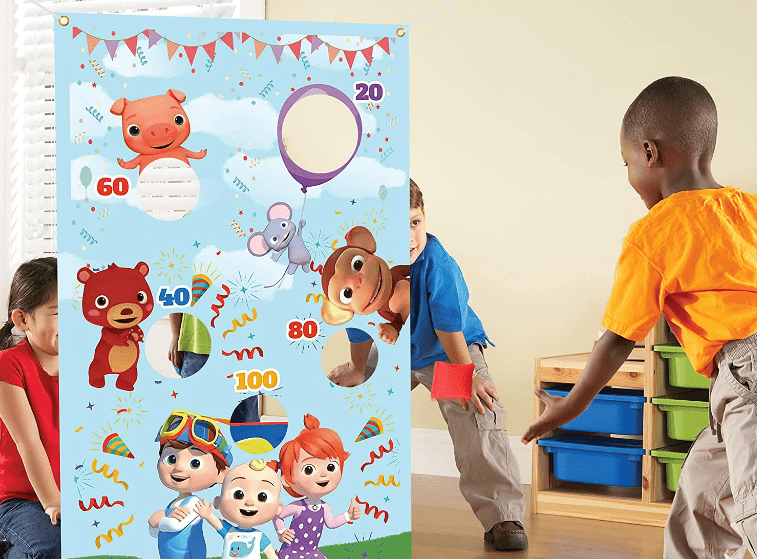 Keeping kids active during a party is imperative, especially if you feed them something sugary like cake. Bean bag toss is an excellent outdoor activity. It might also be okay in an ample open indoor space without breakables nearby (think indoor gym). I always recommend keeping kids engaged with a themed activity; this Cocomelon version of bean bag toss would be perfect for your next party.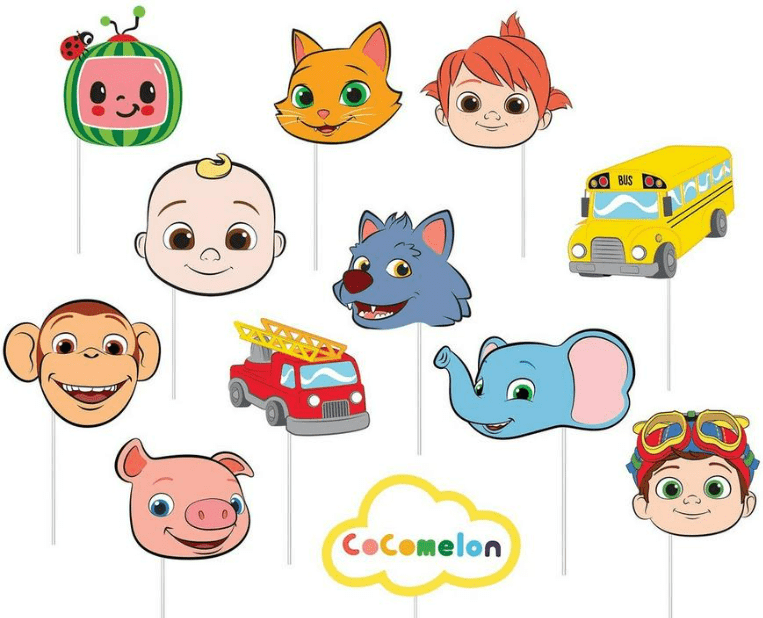 One thing that has been super popular lately is having photo booths for kids. It's been a theme for adults for decades, but younger and younger kids are getting into the spirit. This photo booth kit will get you started with all kinds of props. Pair it with the backdrop (#11 on the list), and you'll have two backdrop options and fun props. 

Depending on the age and attention span of the kids you invite to your party, you might want to consider Bingo. It is an activity that can help ensure the adults accompanying the kids get to participate in the activities. I've been to too many parties where adults are bored out of their minds while the kids run rampant. My solution is to offer at least one themed activity where adults must help kids. Amazon provides a Cocomelon Bingo game that would fit the bill nicely.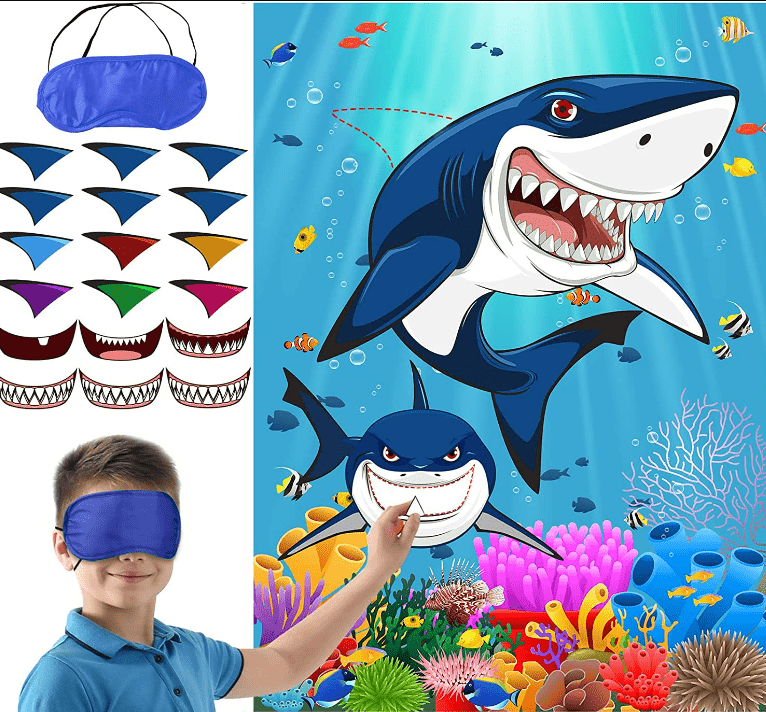 Pin the tail games keep getting more and more creative. This unique version from Amazon lets kids play pin the mouth on baby, a Cocomelon twist on the traditional pin-the-tail on the donkey game. This is one game I'm okay with having toddlers blindfolded for, mainly because the likelihood of it hurting if they put a velcro sticker on another person is very low.
I particularly love this version because the poster is made of felt, and the "stickers" can repeatedly be re-stuck to the felt material. It is an ingenious way to create a party game that can be used for a long time after the guests have gone home.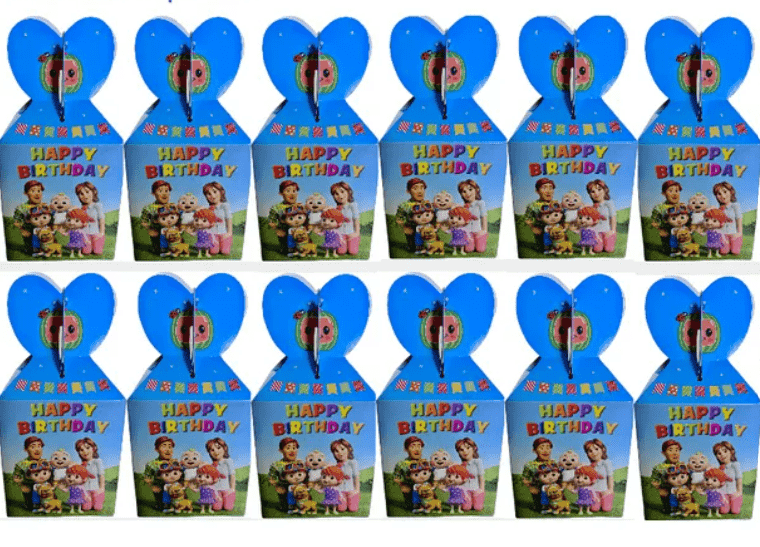 Nothing says "thank you for coming to my party" like favors. I recommend favor boxes for younger kids because they are more durable. Favor boxes are also a great way to present favors if you have slightly heavier items for your guests. This option from Walmart should hold a solid number of trinkets for your guests, but if you doubt the weight it can hold, just put a piece of packing tape on the bottom, and you are all set.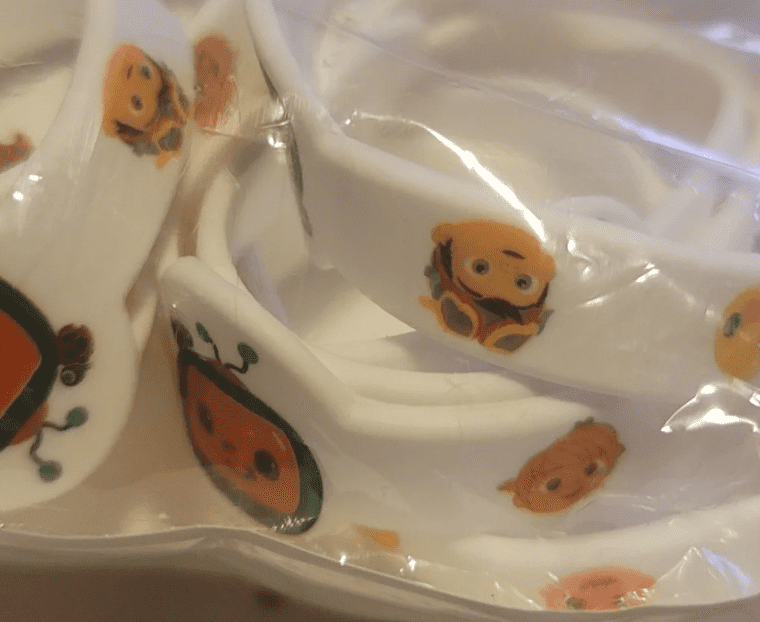 Whenever I recommend favor options for my friends with kids, I try to find the most durable options. Some kiddos are surprisingly strong and destructive, and I like to be prepared (maybe that is the girl scout in me). These Cocomelon wristbands are a great wearable option for your favor boxes. While I haven't used this particular product, I have used similar items for other themed parties. Their plastic nature makes them durable and perfect for younger guests.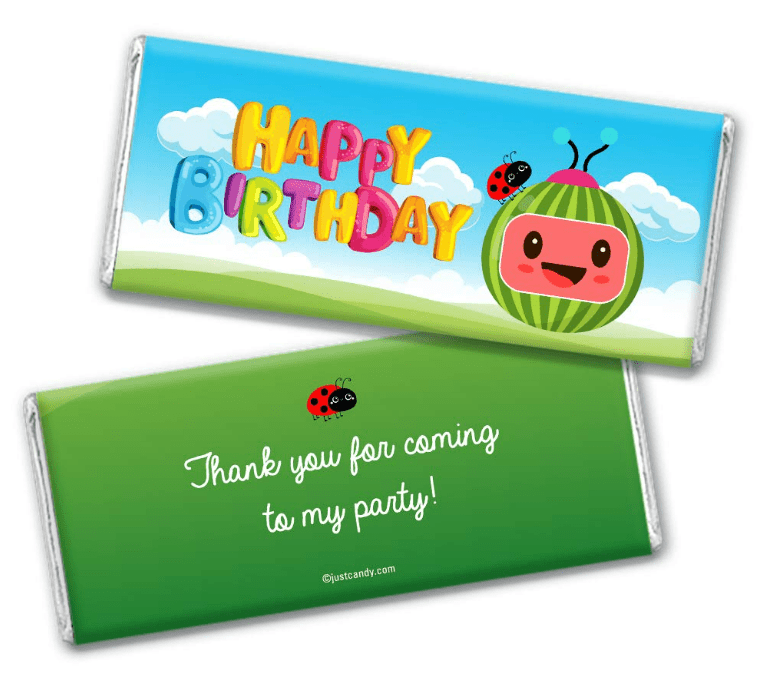 I've always found it hilarious how excited my nephew seems to get about themed snacks. It is as if they taste better just because they have his favorite characters on them. I've adopted this insight into a kid's mind into my event planning tactics. I try to find an edible favor that can be themed (even if it isn't the original packaging).
This pack of customizable Hershey chocolate wrappers fits that purpose for Cocomelon parties. If your child has similar thinking as my nephew, consider these wrappers as an option for your next favor bags.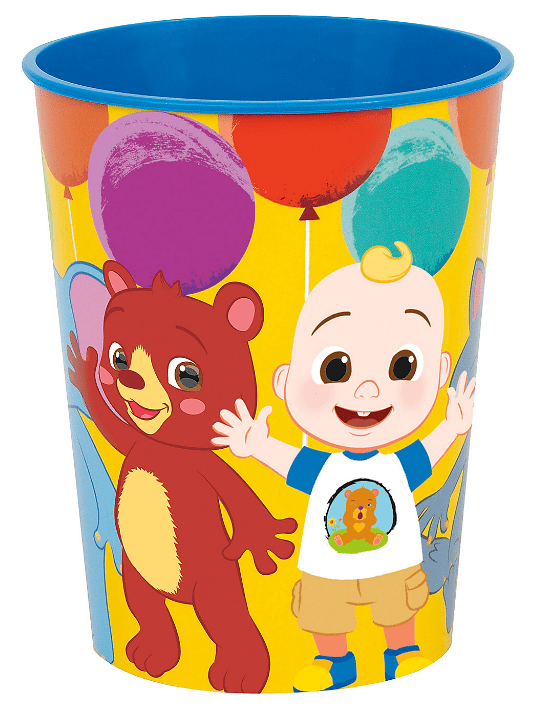 Most of my clients live in Vermont, and we are known for our eco-conscious ways. That includes finding sustainable ways to plan parties. I've become a huge proponent of providing reusable cups as party favors.
I suggest that kids use them throughout the party and then get to take them home afterward. It's a fun way to reduce waste and give a fantastic take-home favor. My only suggestion is to make sure you label the cups at the beginning of the party, so there aren't any missing at the end of the day.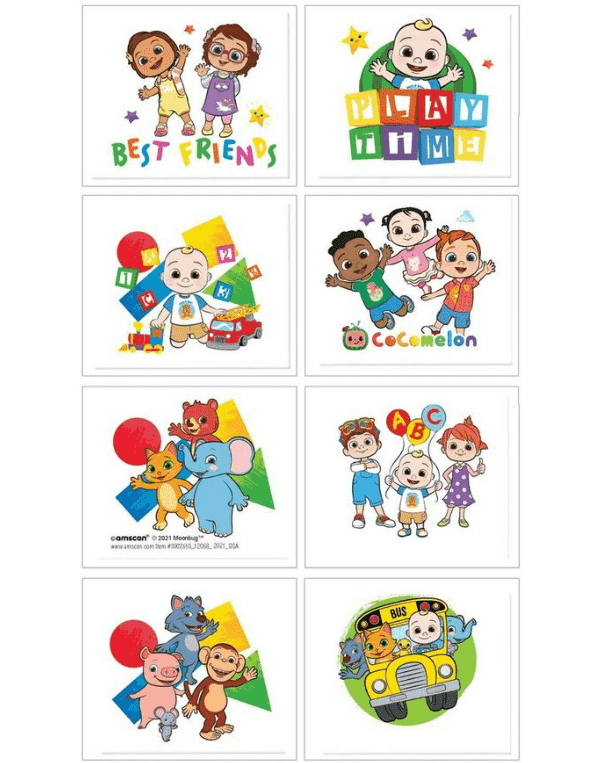 One of my mom friends is heavily tattooed, and if you ever see her kid go crazy over temporary tattoos, you'd swear the love of tattoos is hereditary. He asks for them whenever he sees them, and I've seen him with up to 5 at a time on his arm.
That is an extreme case, but I have seen a consistent love of temporary tattoos with the youngest party goers. Temporary tattoos are always a hit as party favors. Your wallet will thank you; temporary tattoos can be a cost-effective addition to your goodie bags.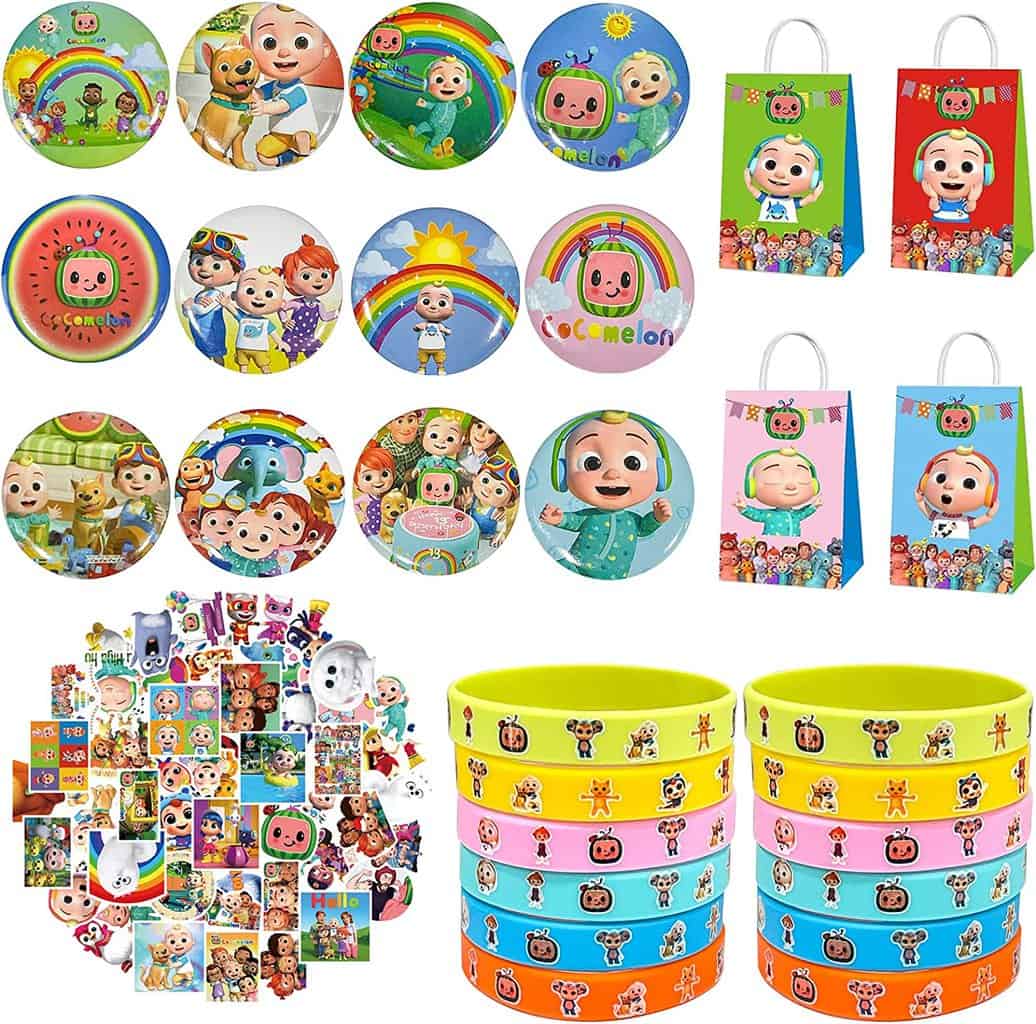 Like all other party supplies, picking favors can be daunting when you have an indecisive toddler and 5 million other things to do. I recommend this amazon special for parents who prioritize time and ease. It is a perfect pack if you want a one-and-done favor for your guests. It is a convent way to save you time and mental energy. 

Everyone in my area carries their reusable water bottles everywhere they go. You'd be hard-pressed to find single-use water bottles for sale outside a grocery store. This new norm means events have adapted to the trend, and one unique way I do that is recommending that families give out water bottle decals as a favor.
It's like a sticker for a reusable water bottle. You could give the decals to kids as is (they inevitably already have a water bottle with them here in Vermont), or you could put them on reusable bottles and distribute them as favors. It is up to you and what the norms are in your area.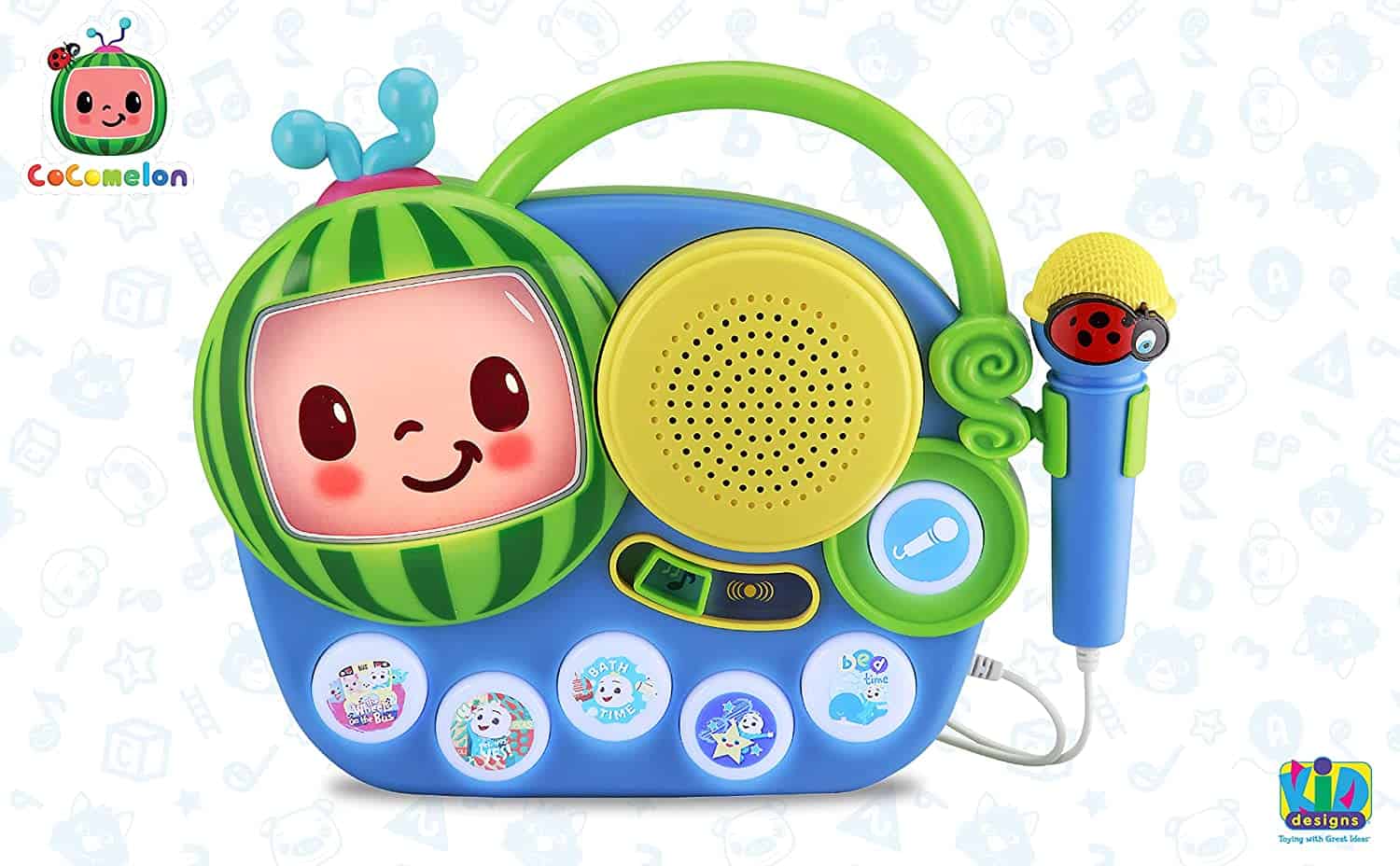 Think karaoke for toddlers! This singalong boombox would be a unique party activity that'd be remembered for years. Have you ever been to a singalong kid's party? I haven't yet, but you can bet I'm suggesting it next time someone plans a Cocomelon party.
I've watched my friends' twins belt out Cocomelon songs for hours on end, so I know some kiddos would be thrilled at this addition to their party. I love that this boombox could double as a gift for the guest of honor (after being an activity for the party-goers). The twins would undoubtedly love it, but the parents might want some noise-canceling headphones as a companion gift. 🙂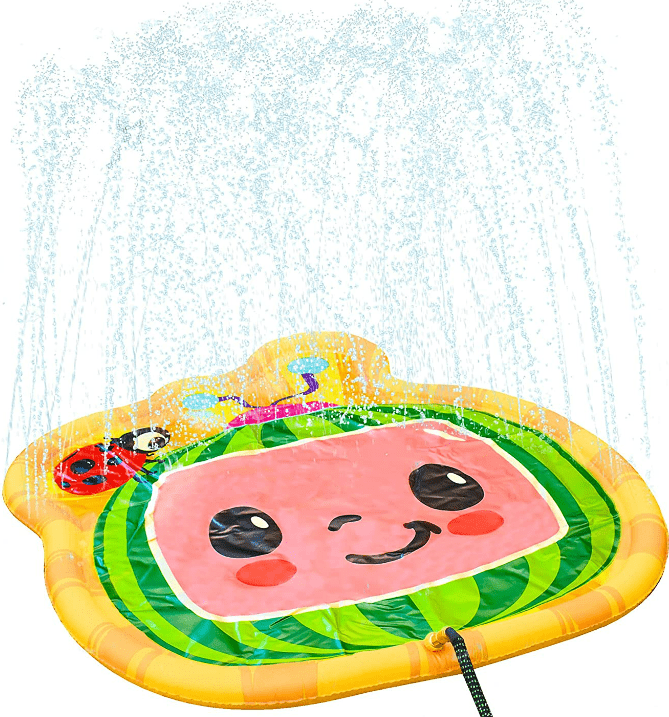 I just attended a neighbor's party the other week, and they had a splash pad like this for their little boy. It was a massive hit with all the little ones in attendance. They hooked it up to a hose and had endless entertainment for the youngest guests.
Outdoor summer parties would greatly benefit from this Cocomelon splash pad. As a bonus, your kid can use it all summer long! Of course, it only works if your party is during the summer; I wouldn't recommend it for cold winter temps.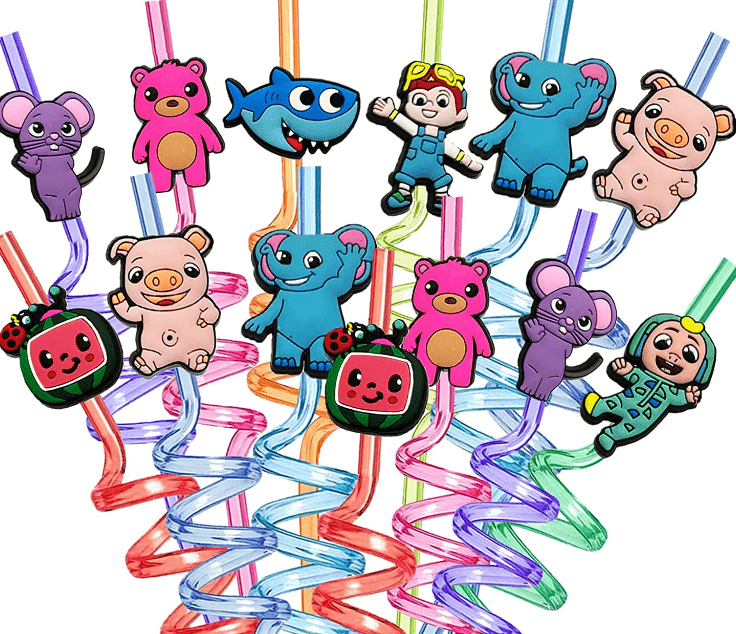 At this point in the list, it shouldn't be a surprise that I'm always looking for reusable options when I pursue party supplies. These Cocomelon straws from Amazon could be used during the party and/or placed in the goodie bags. Reusable straws are having a moment in event planning, and if you live in a heavily Eco-conscious area, you might want to consider these for your next party. 
FAQ's
Question: What is Cocomelon?
Answer: Toddlers are obsessed with Cocomelon; if you have a little one in your life, you probably already know the answer. For those of us who don't have kids yet or have much older kids, let me fill you in. Cocomelon is an animated tv show focusing on baby JJ, his family, and friends. It is full of nursery rhymes, music, and age-appropriate adventures. If you really want to immerse yourself in the world of Cocomelon, visit the official Cocomelon website.
Question: Why pick Cocomelon Party Supplies?
Answer: I'm guessing the preschooler in your life LOVES Cocomelon and would be thrilled with any of the party supplies on this list. I've been to enough kids' parties to know that a group of kids is almost always overjoyed by the Cocomelon-theme and, in turn, super excited about all the fun decor. 
If you are really asking, "why should I pick Cocomelon over another theme?" Then let me give you a few practical reasons. Cocomelon is wildly popular, so you will have no problem finding appropriately themed party supplies online and in person. Plus, you can even get last-minute backups at your local party store. It'll save you a lot of hassle.
Question: Do I need to watch Cocomelon before planning the party?
Answer: That is entirely up to you. It is likely that if you are the parent of the guest of honor, you've already seen Cocomelon so often you have memorized every episode. In your case, don't bother. If you are a relative or friend throwing a party and don't live with a preschooler, you should probably watch one or two episodes to get a basic understanding. 
Cocomelon is on most major streaming services. Since those contracts aren't set in stone, check out Cocomelon's website for a complete list of where to watch it.
Conclusion
I hope you enjoyed this Cocomelon party supplies guide and feel prepared for your planning. If I were to recommend only one item, I'd have to recommend the party bundle (#4 on the list). As a busy parent, saving time and mental stress is incredibly valuable. This pack allows you to buy almost everything you need in a single order and is a relatively affordable option. It seems like a no-brainer for my mom-friends, so I thought you'd love it too.
Recommended Reads: