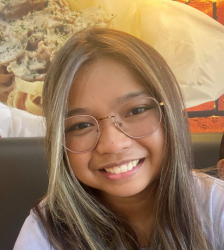 Latest posts by Elitz Caballero
(see all)
Cosplays and anime conventions are among every anime fan's favorite events. For someone like me who likes anime a lot, I would host an anime birthday party focused on my most-loved anime show, Attack on Titan. I'd dress up as Mikasa and wear the iconic red scarf. I'd encourage my friends to cosplay with me too. This is my ideal anime party — but to each their own! 
If your S.O. or friend is into anime, celebrate their special day with an anime-themed party! First, ask them about their favorite anime shows and check which ones are the easiest themes to pull off. The party planning might seem slightly more unconventional and a bit overwhelming, but you'll get everything down pat with this comprehensive guide to the best anime birthday ideas! 
Bottom Line Up Front
It's hard to pick one anime birthday theme with so many creative ideas and inspirations out there. That's why it's important to know the celebrant's favorite. Whether you're hosting a party for your young one who's turning ten or for a close friend, you need to figure out a theme first. Focus on how you can set the party scene and keep your guests engaged.
Here are my top favorite ideas for an anime birthday: 
How Did I Choose My Picks On This List?
With so many anime themes and concepts to choose from, it's extremely hard to narrow down your search. So, how should you choose which ones work for you? Well, I tried to make the decision-making simple. In this list, I included a selection criteria to help you out. 
My selection criteria only consist of seven factors: 
My friends and I love and enjoy the theme. 

The party supplies can DIYed, accessible, and available, whether it's online or locally.

I want it to be scalable and adaptable to any party.

It should look nice but must be relatively affordable. 

The party can fit with whatever gender the celebrant is. 

Ideally, kids and kids-at-heart will love the party theme and concept. 

It shouldn't be not intimidating or overwhelming to non-anime fan attendees. 
I hope you find the following list of Anime Birthday Ideas helpful! Read on.
Setting the Party Scene: How to Get Started?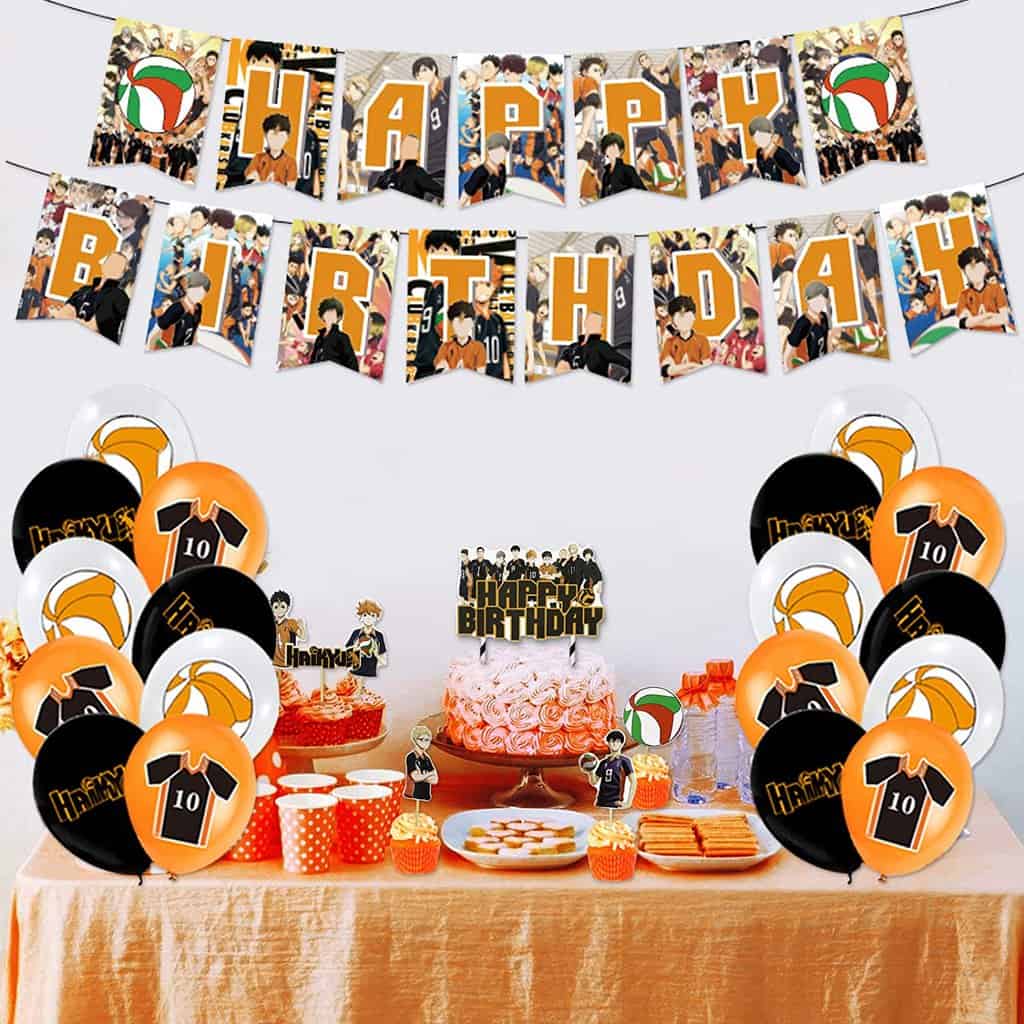 Focus on a Theme: What Is Your Main Anime Concept?
Of course, there are dozens of anime or manga choices! That's why it's essential to pick and start with a theme. If you're hosting a party for a friend, know their favorite anime. Do they like shonen jumps? Perhaps they're into Attack on Titan or One Piece. However, it's not a problem if they can't pick a favorite! A crossover of their favorite anime characters might do the trick. 
If you're stuck picking a good theme, don't hesitate to ask your potential party guests. Take the party planning to another level by involving your guests—this makes them more invested in the party. 
Determine a Dress Code: Should Your Guests Cosplay?
After picking a specific theme or anime show, it's time to set a dress code. The best way to enjoy an anime-themed party is to amp it up with a cosplay dress code! While creating a cosplay outfit takes a lot of time, your guests don't have to stress over the details. They can create unique fits that highlight the theme. This way, no one feels too pressured to come up with an extremely accurate costume! 
Aside from that, you can also tell your guests to be creative and zhuzh up their casual wear. But how? Through cosplay bounding—it is a way to dress as an anime or manga character in a more discrete way using inexpensive and readily available streetwear. 
Choose the Right Tunes
It's pretty obvious that your music choices will reflect your theme. However, don't be afraid to mix up songs to amp up the party vibe! Selecting songs and music that highlights the anime theme can certainly make the party more memorable. 
During my first-year high school party, my classmates and I had a cosplay-themed party; we got to dress in any anime or manga character we wanted! Since we dressed up as different characters, we made a playlist of our favorite songs or music in line with the character we dressed up as. It was a fun way to have a mix of the most popular anime tunes—perfect for getting everyone involved! 
Catering: Serve the Best Japanese Dishes
Of course, food is always the star of every party! I've hosted most parties for my friends, and they love eating typical party food, like pizza, pasta, and chicken wings. An anime-themed party would be great with some authentic Japanese treats! You can add some gyoza, ramen, tempura, sushi, or some Japanese pica-pica to the menu; have them delivered straight to the venue for your convenience. 
Some of the anime delights you can easily prepare or make are bento boxes, Dango, katsudon, and rice balls. By preparing anime-inspired treats, you can also introduce new kinds of dishes to your guests. This takes your anime-themed party up a notch.
As for the beverages, you can have a matcha or boba station. You can let your guests decide on the flavors and sinkers they want. Matcha is always a classic drink that your guests will truly enjoy. If you're hosting an adult-only event, no party is complete without the booze! It's time to try out authentic Japanese wines, like sake, umeshu, or even Japanese beer.
Mixing some anime-inspired cocktails is also another way to spice up your party. When it comes to food and drinks, the more options, the better. 
Decorate the Venue
Aside from finding good food, I take time to decorate the venue! Finding the best decoration boils down to your own personal style. Of course, you have to consider the theme to make it look more cohesive. 
Turn your party venue into an inviting anime setting through posters and scenic anime backdrops. Don't forget to add streamers and balloons that complement your theme. Whenever the space feels empty and you're running out of decor ideas, you can always put Japanese-styled decors, paper lanterns, origami, or cherry blossoms. 
Fool-Proof Anime Party Themes and Ideas
Hosting an anime party is not just great for kids but for kids at heart! To create the perfect anime-themed birthday party, I included a detailed list of everything you'll need—from catering, decorations, party favors, and even anime-related activities! This makes planning easier and more convenient. 
Anime Invitations
Every birthday party should have a unique invitation — of course, your guests will want a sneak peek of the event! You can make a customized anime invitation card with your closest pals to send to your guests.
But if you want to save time, the best thing to do is to order online. I've scoured some of the best options to shop for.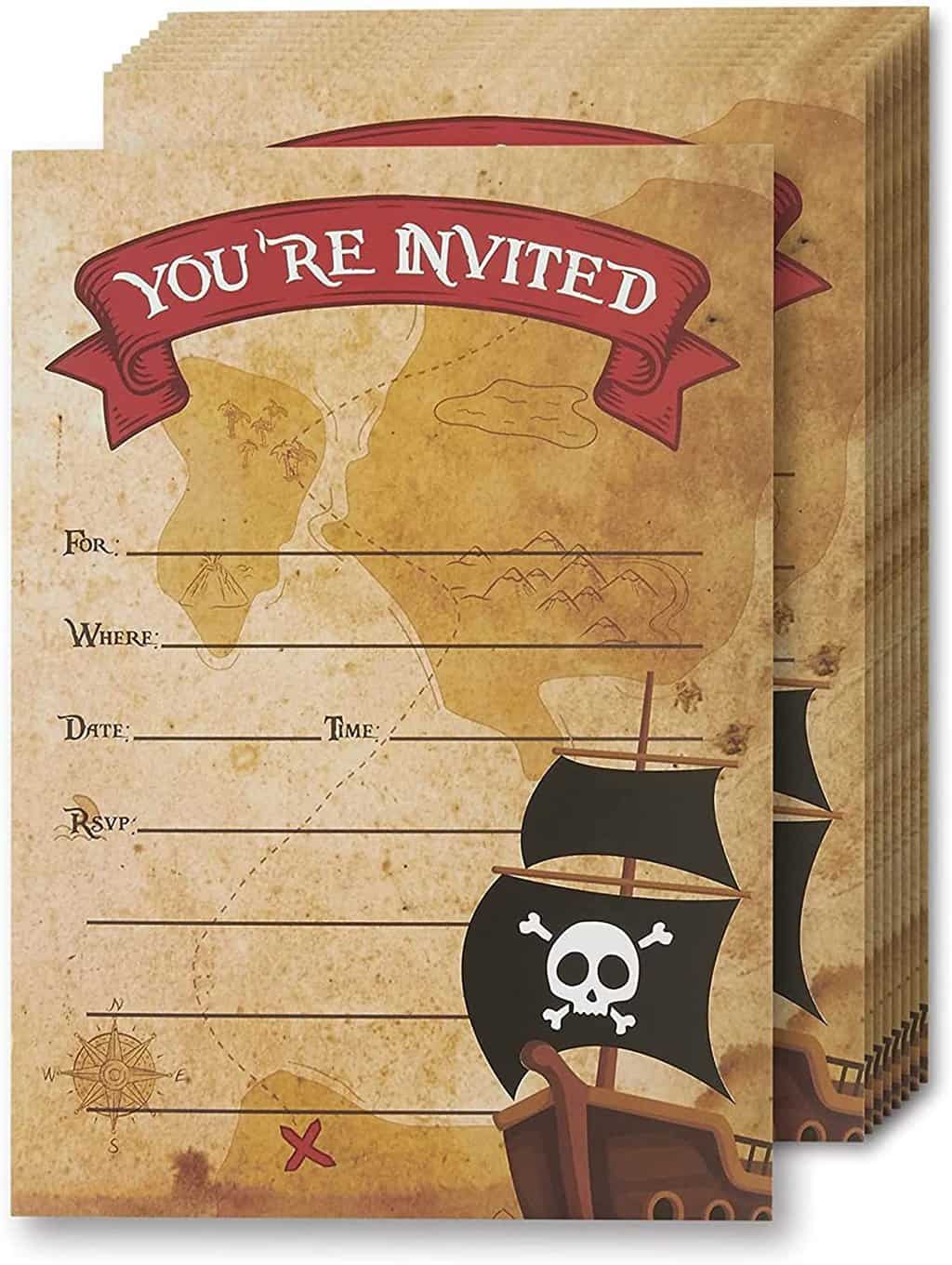 If your kids are into One Piece, check out this Thousand Sunny-inspired invitation. It's simple and no-nonsense, so you can simply let your kids write the details of their party.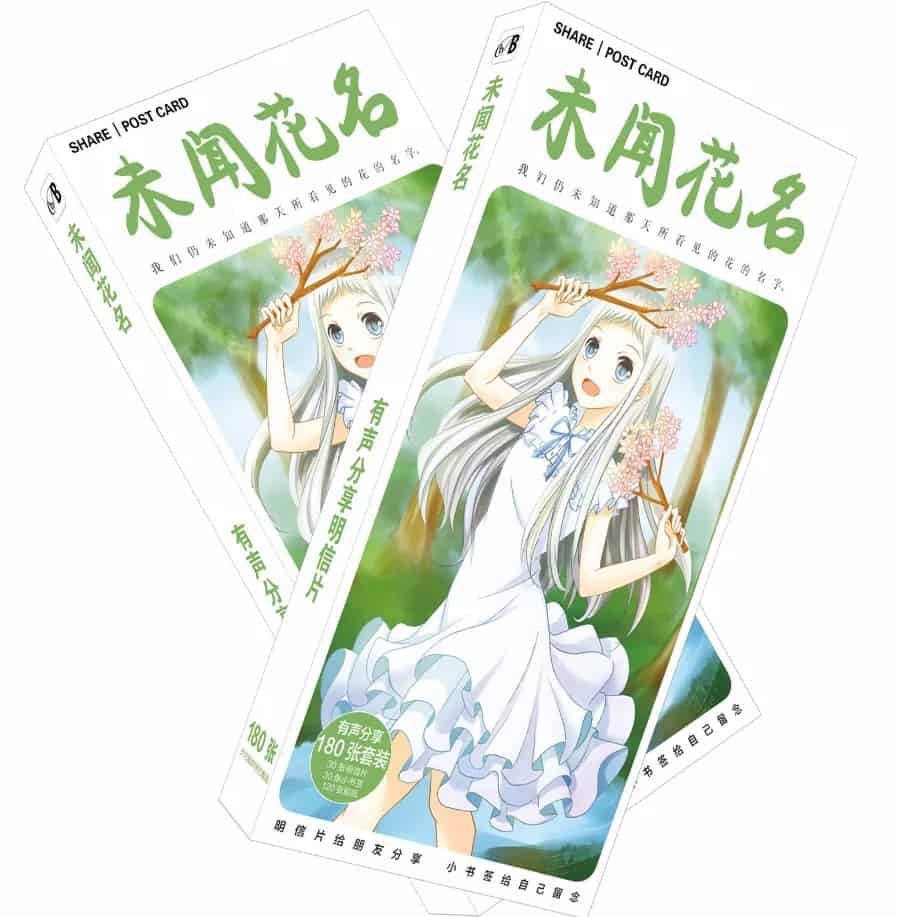 With over 180 pieces per set, this is actually perfect for those who want to celebrate birthdays with a huge crowd. I love how this looks like a postcard with the best scenes from the anime. It can work both as an invitation and a keepsake for your party!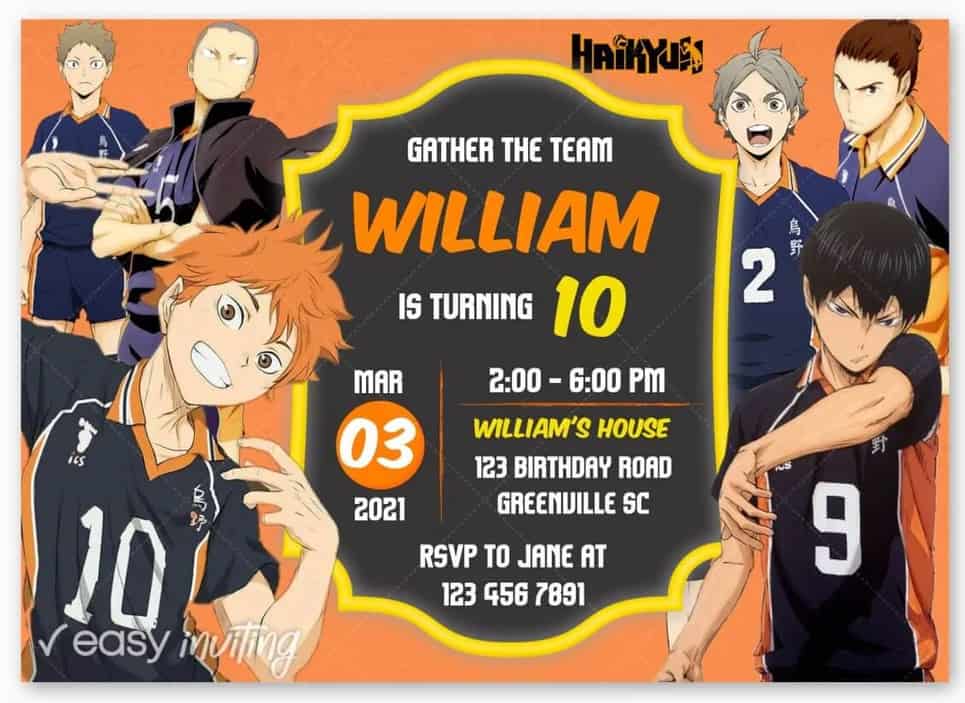 You can also print your own invitation cards using anime templates available online. This works best if you want to print many invitation cards; 16 pieces of ready-made invitations are priced around $9 to $12, while the templates would only cost you $4 to $5. 
Every Sports anime fan has probably seen Haikyu! It's an exciting anime that follows an incredible set of characters. What I love most about this Haikyu-themed customizable card is definitely its design. It's not only focused on the protagonist but the whole team. 
More than anything, it's an ideal solution for any host wanting to send online invites instead of paper invitations. You can avoid incurring such costs by sending your invitations! 
You can simply send your guests an e-vite and ask them to RSVP. Don't forget to add interesting details to your invitations—should they cosplay? Can they bring a plus-one? Do they have to bring gifts? Being keen on the details helps you with party planning. 
Anime Tablescape
Parties look even better when you set the mood right! That's why it's crucial to be thoughtful in your tablescape. The best color combination for an anime birthday party depends mainly on the overall theme. 
For instance, an orange and black color combo would look absolutely perfect on a Naruto-themed birthday party. The color scheme would undoubtedly blend well and match Naruto's color palette.
Adding themed plates, cups, and napkins to your table setting is an effortless way to make your theme pop. You can find a complete set of all these party supplies online or in major retailers.
Here are some of the best anime-inspired tablescapes: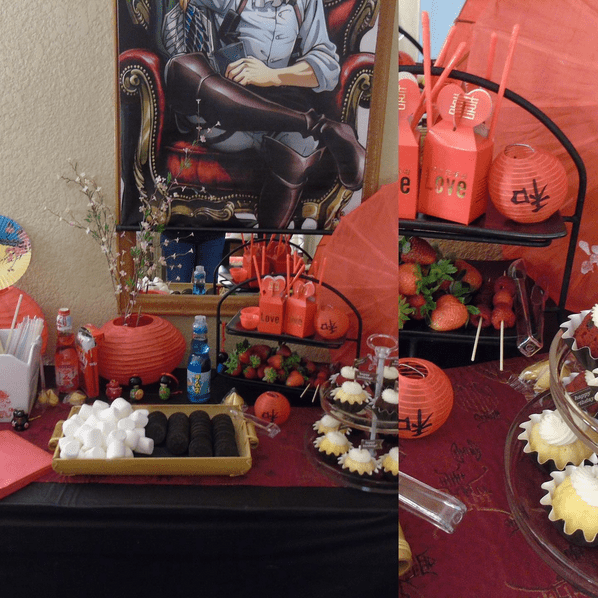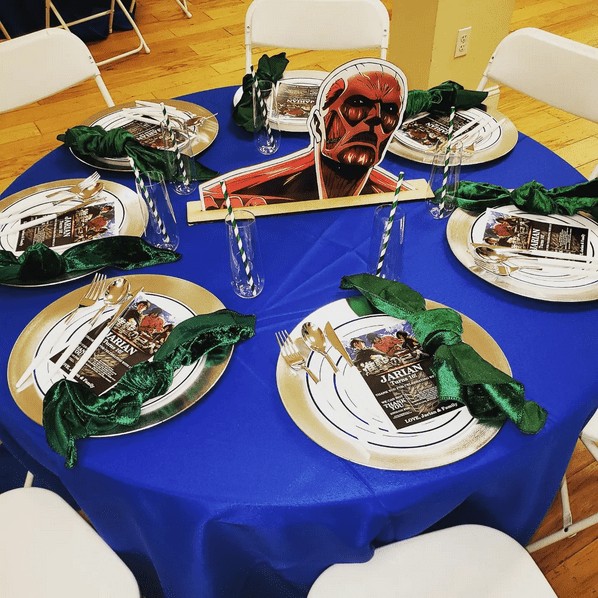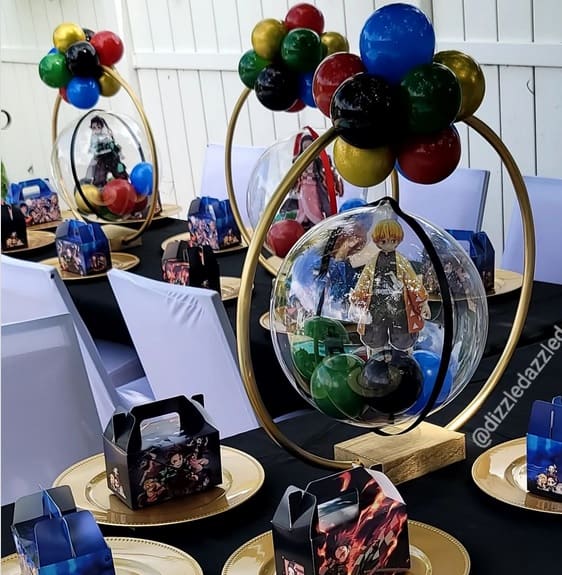 Anime Cakes and Dessert Station
Worried about picky eaters? An assortment of sweet treats will surely do the trick—make a dessert station with an anime-themed cake. A party is not complete without a cake! You can opt for a character cake with your desired color combo, plus cupcakes and cookies with anime toppers. 
I love the idea behind this cake; it's cute and highly customizable. You can add more characters or even more toppers to emphasize the theme. As for the cookies, you can bake butter cookies and add icing designs that suit your theme, just like this. 
Here are the best anime cakes and dessert bars I found over the internet: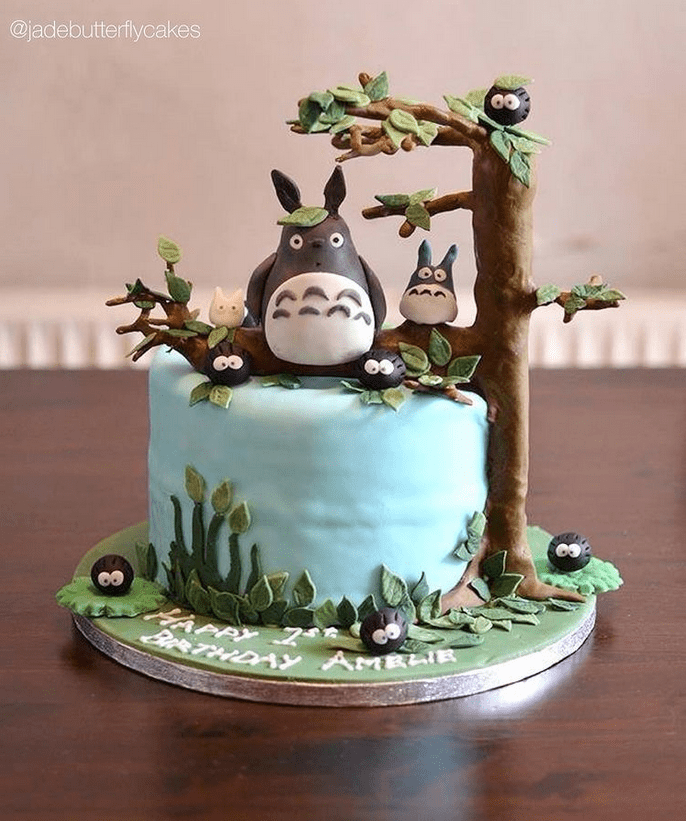 Need inspiration on what kind of anime design to give to your baker? This list will help you big time! It includes some of the nicest (almost too nice to cut/eat) cakes I've ever seen!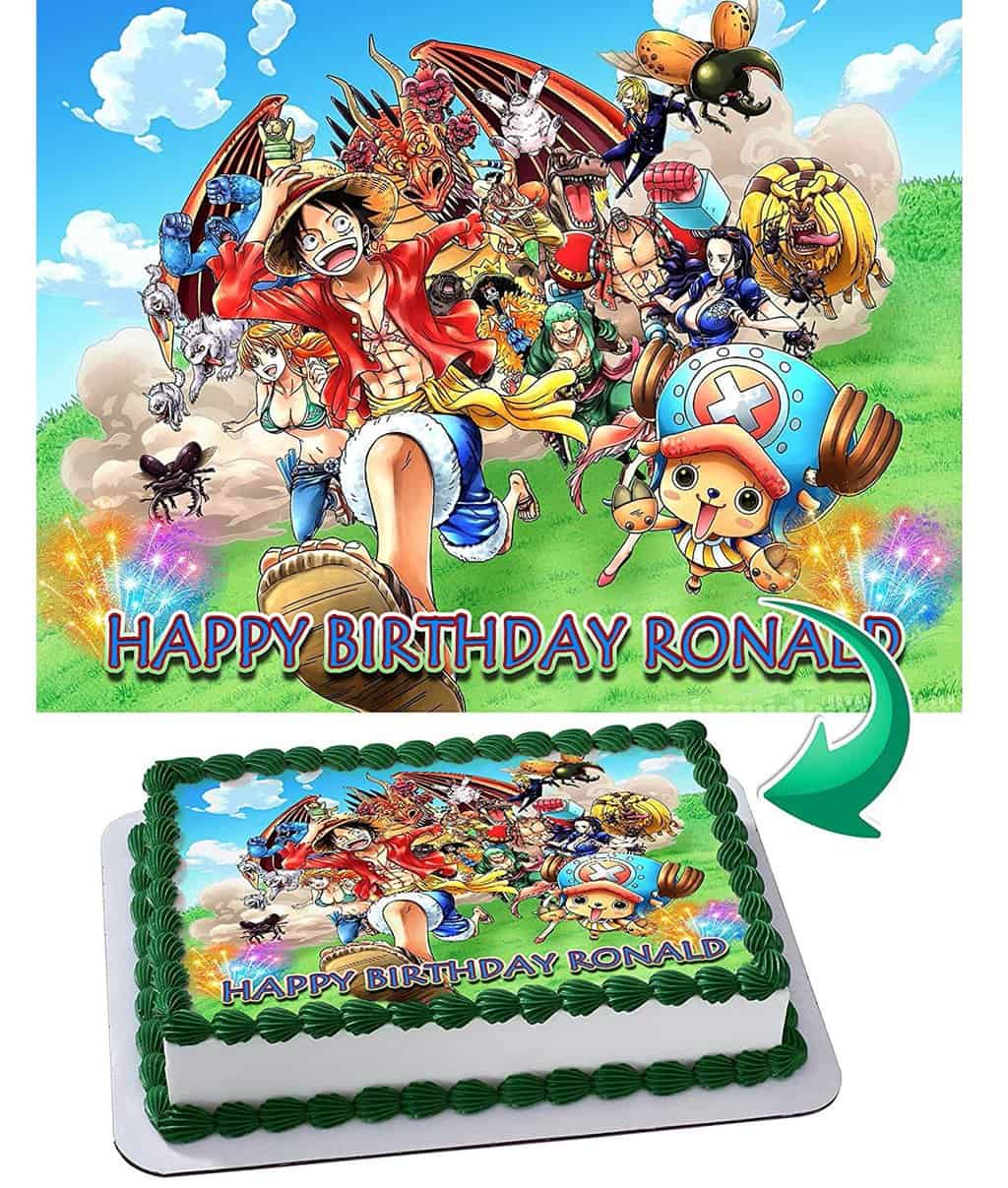 This One Piece cake is going to be a treat for your guests! It looks so delicious you'd almost not want to eat it. What's more? It can serve as the perfect centerpiece for your catering or dessert bar.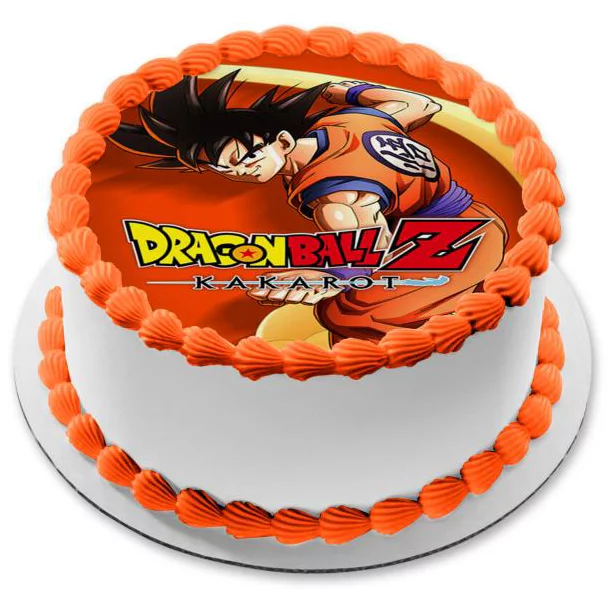 I was extremely surprised to find out that Walmart sells anime-inspired cakes. For only $16 to $35, you get a cake topped with your favorite anime picture. 
Anime Favor Bags
The excitement shouldn't stop when the party is over! Send your guests home with a thoughtful anime-themed goodie bag.
Anime Gift Set for Adults 
If you're hosting an anime party for adults, I recommend you check Rising Sun Anime; the shop has a well-curated favor bag perfect for adults. The kit includes valuable everyday items, like tumblers, pins, journals, and even photo cutouts every anime enthusiast would love!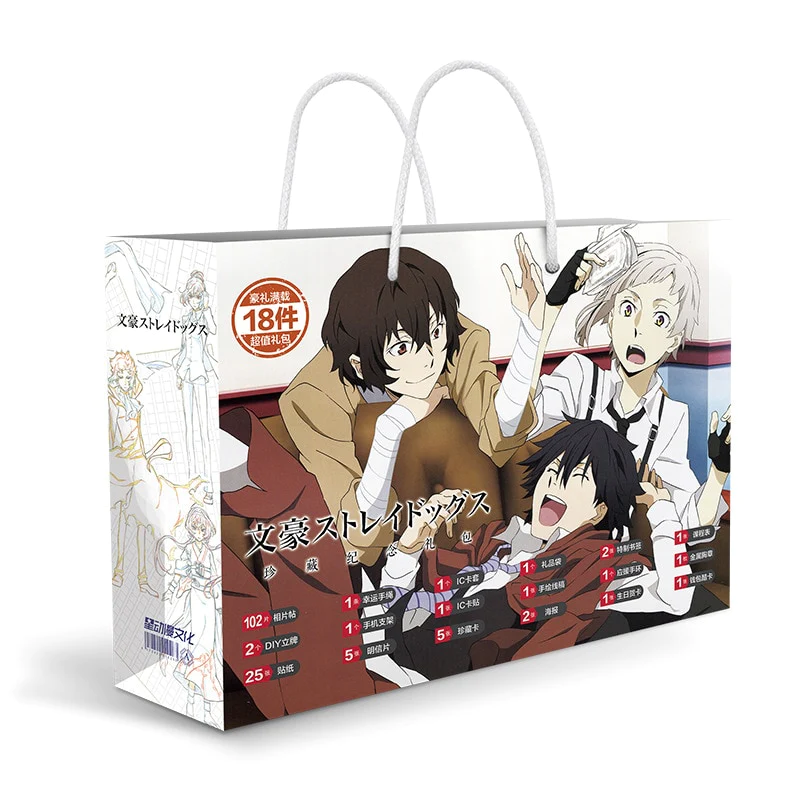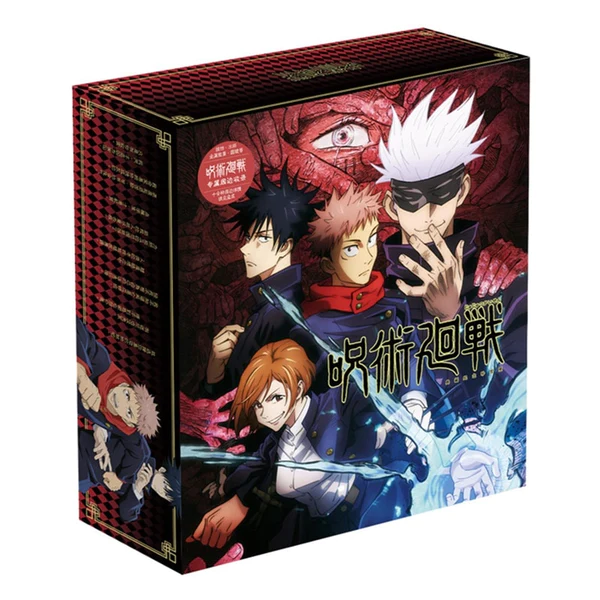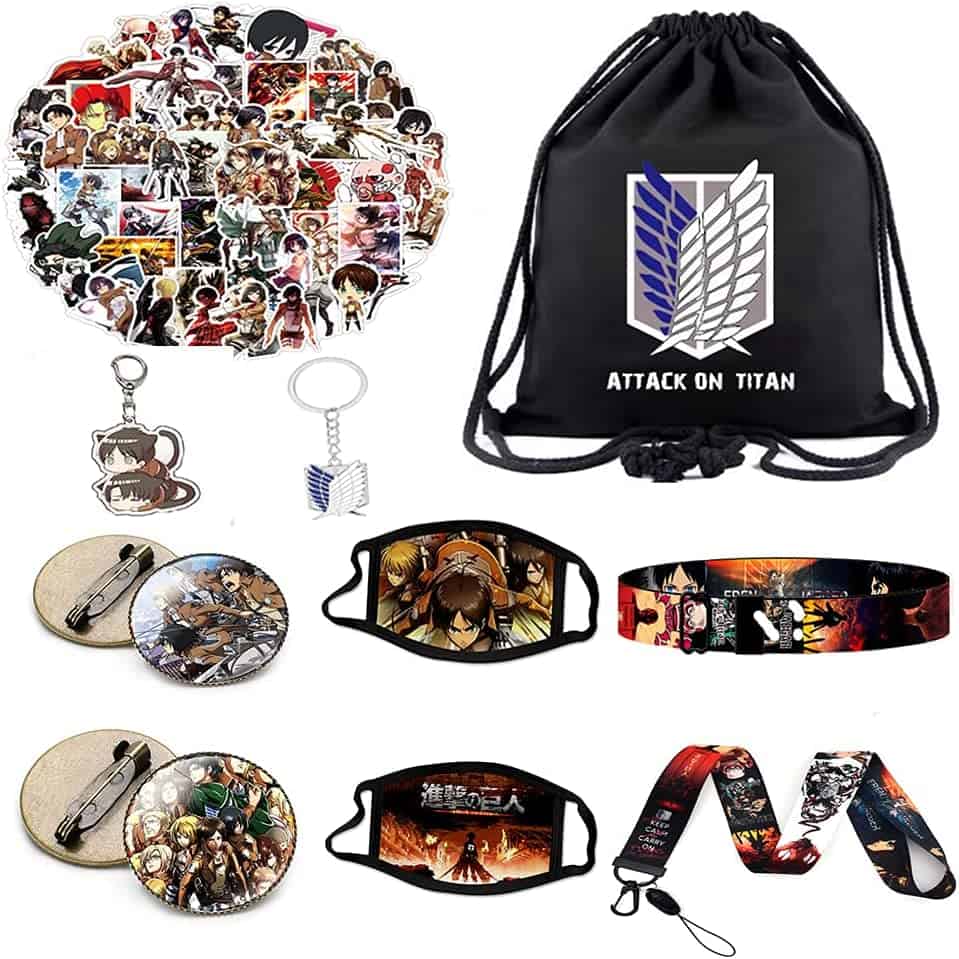 While this gift set is quite pricey, I love how each set is filled with different sets of collectibles that fans like me truly appreciate. If I attend a party and get this at the end of the event, I'd jump for joy. I'd probably buy it when I'm hosting a mini-event with my closest friends.
Party Favor for Kids
For young kids, you can purchase this favor set from Amazon. You get ten favor bags with an assortment of anime-inspired trinkets for only $25. It would also be great to include a variety of candies or treats for your guests to enjoy at home.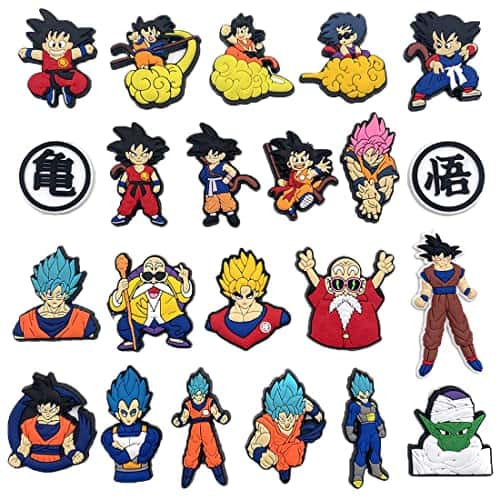 This is among the unique party favors you can include in your party bag. It's hip and cool because Crocs are so popular almost everyone wears them.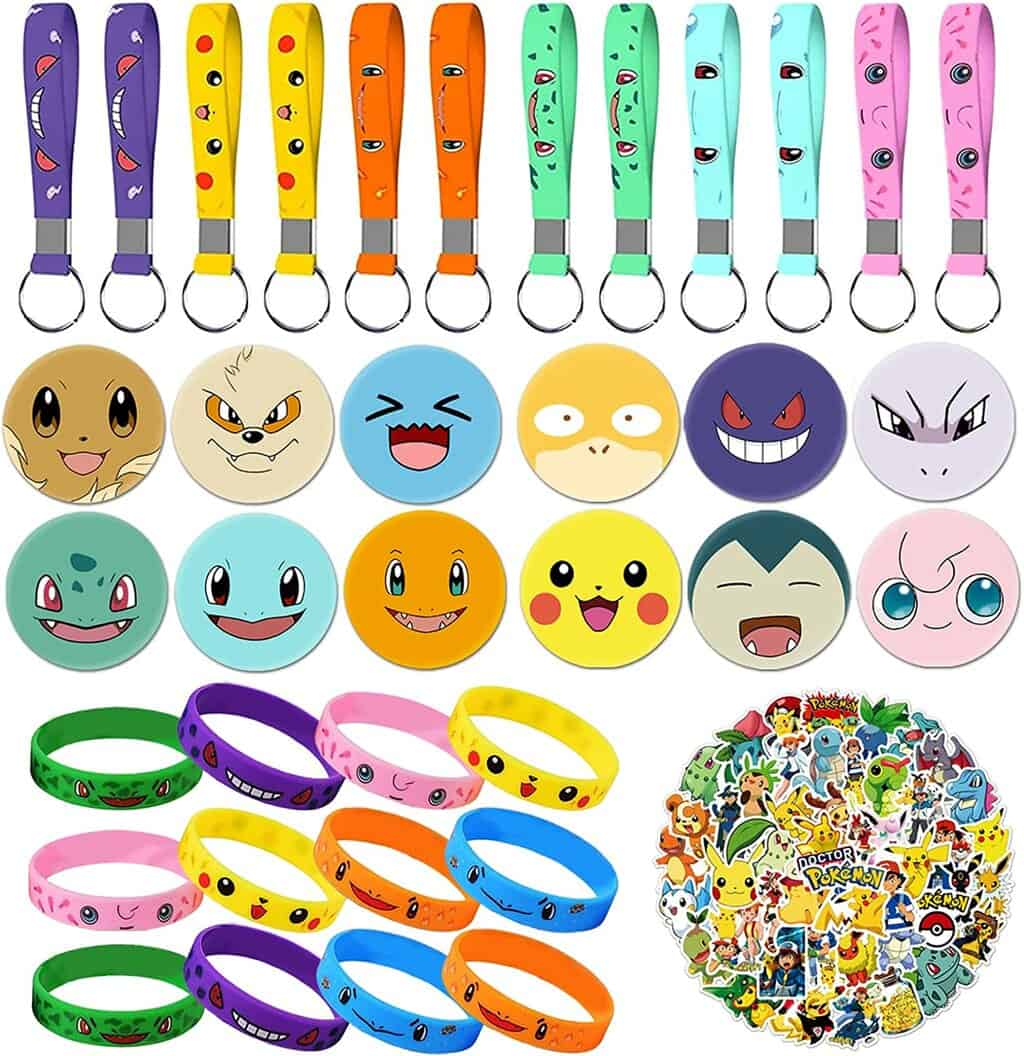 Into Pokemon? Perhaps, you want to purchase this set. It comes with 86 pieces of little trinkets, including 50 anime stickers, 12 button pins, 12 bracelets, and 12 key chains—the perfect mix to meet your party needs.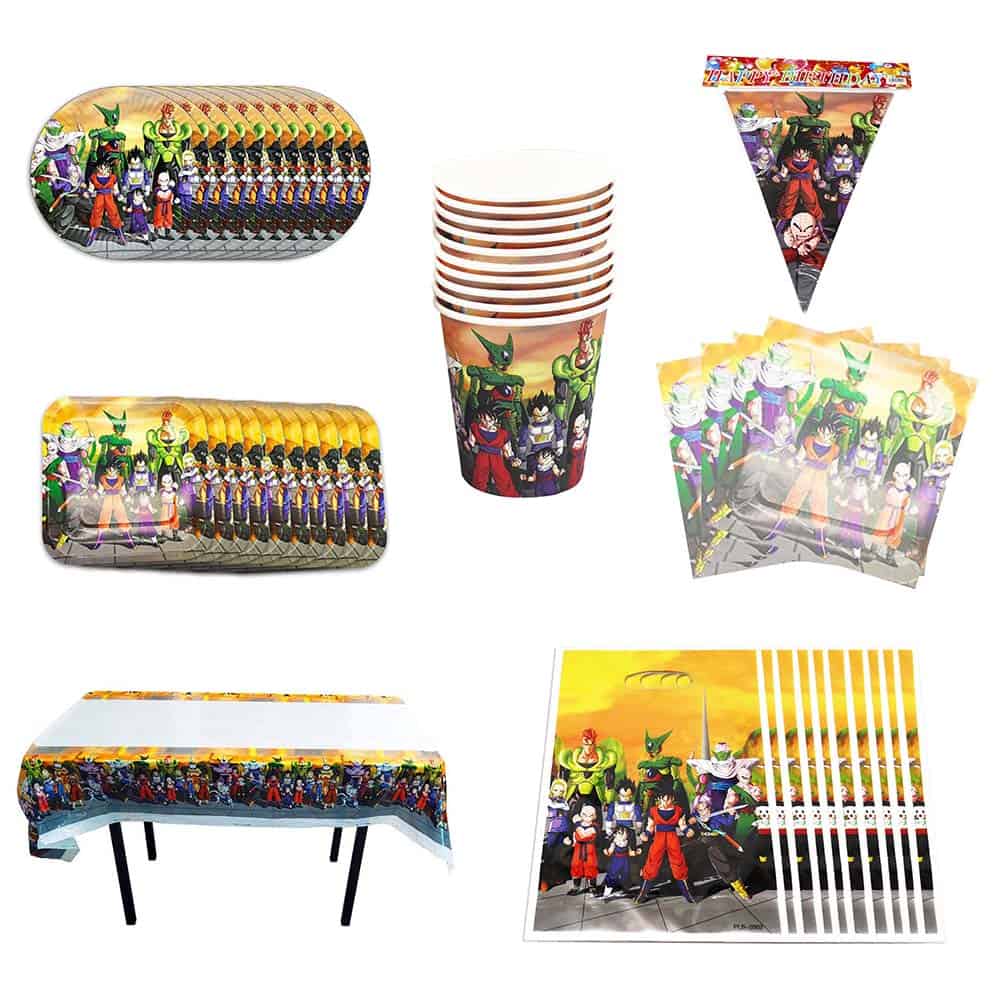 Not keen on buying anime-inspired trinkets that might just be tossed aside? There's a good way to ensure your party favors will be enjoyed by your guests! You can simply purchase an anime-inspired loot bag, such as the Dragon Ball Loot Bag, and fill it with chocolates, candies, or healthy treats! 
Party Supply Kits
When it comes to party planning, I try to customize everything. But sometimes, I'm pressed for time. Fortunately, there are dozens of party supply kits to choose from; they've got everything you need: banners, streamers, plastic cutlery, table covers, and even dessert toppers.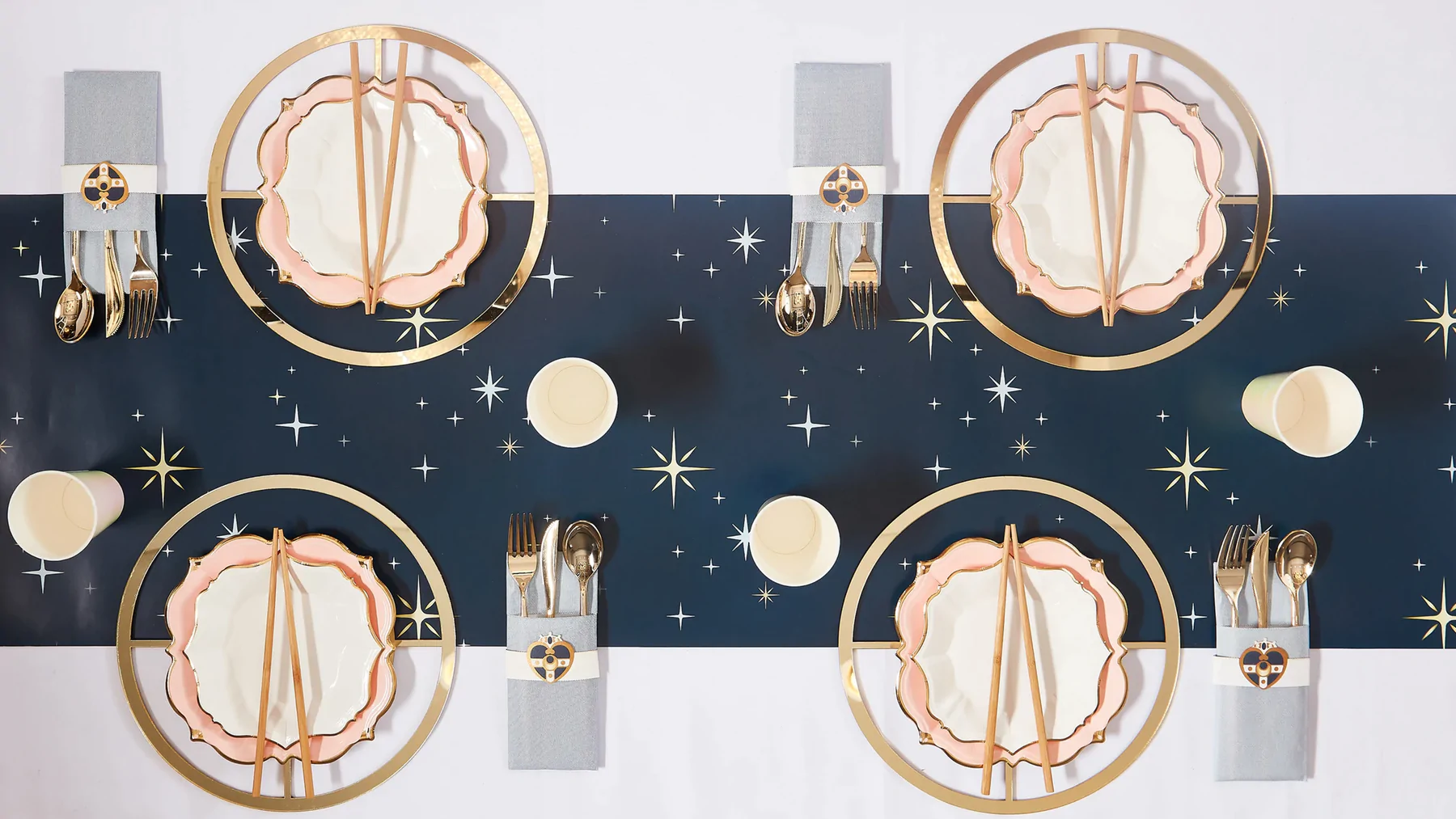 This is one of the best party supply kits I found online. It looks neat and dainty, unlike most party favors that are screaming with color and anime characters. I like how subtle the details are—which makes it perfect for an adult anime party.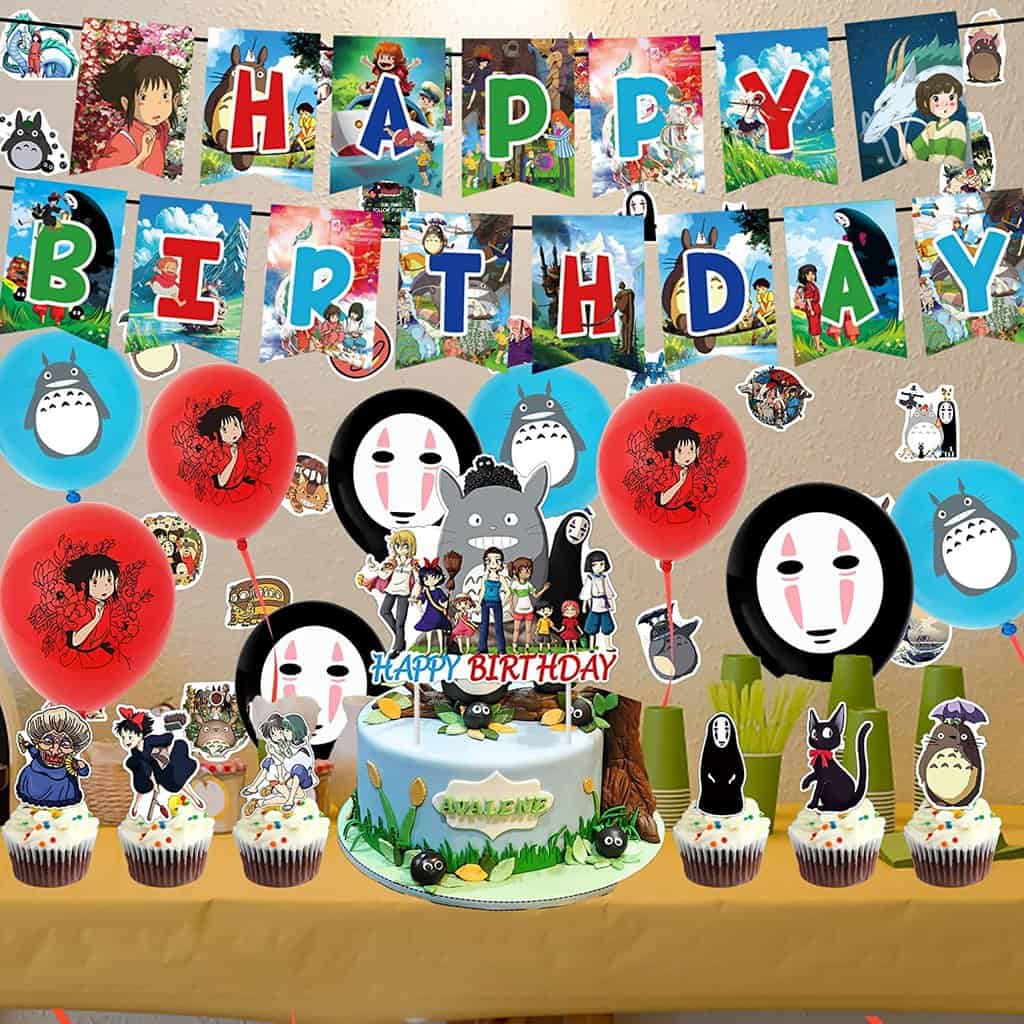 This supply kit has got everything you need, from a birthday banner, 24 pcs balloons, 24 cupcake toppers, one cake topper, and even 50 stickers. It is a great all-in-one design solution for kid's birthday parties. 
The cute anime design and decorations will certainly transform your venue into a magical place kids would surely love. This kit also comes in different anime character designs, such as Demon Slayer, Naruto, or even Pokemon. 
Designing a venue is ultimately my favorite task; I love how an artless venue can turn into a party place beaming with fun! Whenever I'm done adding the decors and party supplies, I always take the time to capture the moments and watch the overall design. Ultimately, the right party supplies can transform any space into your desired anime setting. 
Party Activities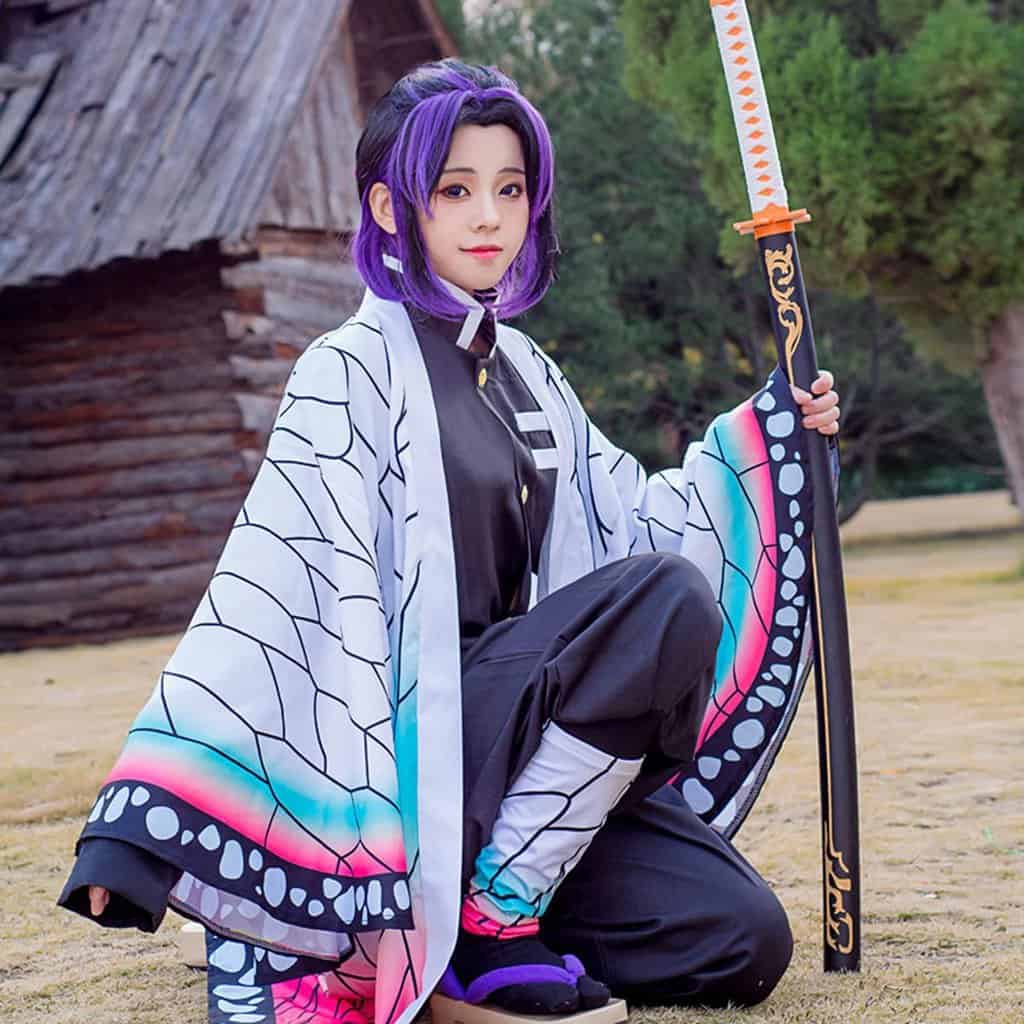 Since I've covered all the visual elements of the party, it's time to plan out the fun and games! The best types of activities involve all the guests. That's why it's essential to come up with games that will be enjoyable for guests of all ages. 
Usually, when I plan birthday parties for my friends, I mix up games and sit-down activities. This accommodates your guests who have varying interests. Some of your guests love to chill while doing art and crafts. Other kids might enjoy running around and playing parlor games such as "Musical Chairs," "Slipper Game," "Straight Face," or even "Charades."
To amp up the fun, I suggest including some activities, like:  
Cosplay Runway
An anime party wouldn't be complete without your guests dressing up for the occasion. So, why not make it a fun-filled activity? Turn your party into a fashion extravaganza and let your guests show their creative outfits. 
To make it even better, incentivize your guests to dress their best by including different awards and categories such as best dressed, most silly costume, people's choice award, etc.
Streaming Party 
After the cosplay runway, you can relax and watch your favorite anime highlights! I love this activity; it's an excellent way to keep your guests engaged without exerting much effort. More than anything, it sparks fascinating conversations among your guests, allowing them to socialize and share their favorite scenes about the anime. 
Jackbox & Party Games
While classic parlor games are enjoyable, they tend to make a whole lot of mess. You can incorporate video games if your kid isn't into playing parlor games, cracking open a piñata, or playing musical chairs. I love Jackbox since it's filled with party games that won't involve any customized game props; all you need to do is install the app and divide your guests into groups. The best thing about it is you can purchase the game and use it whenever you host a party! 
There are also simple yet enjoyable games; be creative when it comes to hosting your activities. Make sure to include everyone and let others participate so they won't feel bored or left out.   
Frequently Asked Questions
Question: Why host an Anime-Themed Birthday Party?
Answer: There are tons of reasons why you should host an anime-themed birthday party! It's a perfect theme for both kids and kids at heart! Because of its popularity, you'll never have difficulty finding anime party supplies. Personally, hosting an anime-themed birthday party just introduces something new for your guests to enjoy! 
Question: How to pick an anime theme? 
Answer: Picking an anime theme for your party might be difficult, given that overwhelming options exist. To avoid choice paralysis, I always consider the celebrant's favorite. Since I'm also an anime fan, I'd love to have an AOT-themed party. But who says you have to choose? You can host a general anime theme, where you can decorate the venue with your favorite anime shows. 
Question: Are anime-themed parties great for adults? 
Answer: Anime-themed parties are perfect not only for kids but for kids at heart. Many adults love anime shows and are incredibly interested in their plots and characters. It would be a perfect party gimmick for your friends who love anime.
Question: Should I make DIY anime party decor?
Answer: It depends. Hosting a party requires a lot of work. Designing your own decor might save you money, but it can significantly cost you your time. Creating DIY anime party decor is ideal if the party date isn't near. This gives you ample time to check on the different aspects of the party, including the catering, goodie bags, invitations, etc.  
Hosting Parties for Anime Lovers!
When it comes to planning, anime birthday parties are just like any other parties. You have to consider different factors to make the party fun and successful! That's why I've come up with a comprehensive guide to help you out!
Need more fun party ideas? I've got you covered. Check out the rest of our party planning guide for the latest ideas and tips.