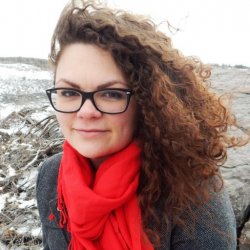 Latest posts by Candace Osmond
(see all)
I was a massive fan of the original–yes, I know, I'm dating myself here–and I was stoked to share that fun and excitement with my kids when the recent remake came out.
Released in 1996, Space Jam was nothing short of an out-of-this-world story about Michael Jordan and the Looney Tunes. Even more impressive, the film still retains its hit status in the pop culture realm 26 years later. It's truly hard to comprehend how much success the movie has amassed.
To touch on that sweet Space Jam nostalgia for yourself, contemplate theming your next party after the cult-classic film. Here are all the space jam party supplies you'll need to deliver an unforgettable experience. I promise you they're all…out of this world (Sorry! I'll see myself out)
Bottom Line Upfront
I'm a busy parent, so when birthday season comes (we call it birthday season in our house because mine, my husband's, and both my kid's birthdays are within a few weeks of each other) I tend to go for the biggest bang for my buck, but also something that's easy and less work. The Iselitir Party Decorations set is my choice for the best item in this guide. I mean, it has EVERYTHING. Except for the cake.
Top Picks
If you're crunched for time, here is a rundown of the five top picks from the list.
Best Space Jam Balloons: Elepplrty Space Balloons
For the most versatile accent piece, go with these Elepplrty Space Balloons. From holidays and pool parties to family gatherings and baby announcements, these will easily complement any space jam-themed interior.
Best Space Jam Party Decorations; Iselitir Party Decorations
This Iselitir Party set is designed to meet a party's every need, including disposable tableware and party decorations.
Best Space Jam Pinatas: Bugs Bunny Space Jam Pinata
This Bugs Bunny Space Jam piñata will be a slam dunk for any basketball or sports-related birthday party.
Best Space Jam Party Dishes: Unique Store Supplies Set
This Space Jam party dishes collection contains everything you'll need to host a party of 16 guests.
Best Space Jam Cake Ideas: 3-Tier Space Jam Cake
Get ready to be a hit among your peers if you manage to pull off this 3-tier space jam cake.
What Do I Need to Throw a Birthday Party?
For most people, their birthday is among their favorite days of the year. And why not? It's a day dedicated solely to them, complete with presents, singing, balloons, and cakes.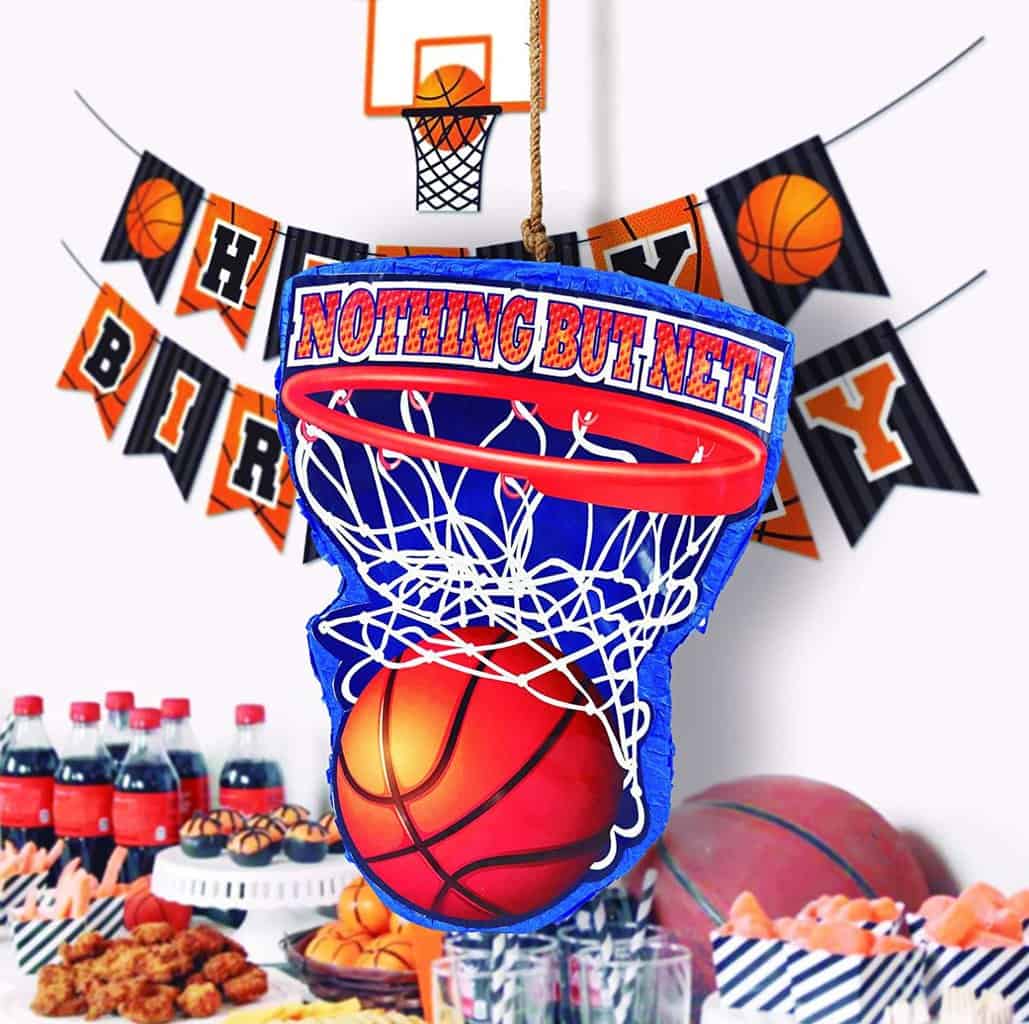 Are you currently stressing over how to throw a birthday party for a loved one? Here is everything you'll need to maintain your sanity and ensure that everyone will have a great time.
Streamers
A delicious birthday cake
Entertainment rentals. These could include karaoke machines, bouncy castles, and magicians.
Party favors like bubbles and candy bars
Food and beverage party supplies. This includes everything from cups to serving platters
Invitations. Feel free to make your guest list long because only an average of 60% of attendees will respond "Yes."
Signage that'll mark parking areas and direct guests toward your private venue
Balloons (is any birthday party complete without balloons?)
Tables and chairs. If the furniture you already own isn't enough, consider renting some.
Tablecloths and other centerpieces
Key Features of Space Jam to Look For
Not sure how you'll get started throwing a 1996 or 2021 space jam-themed party? We've broken it down for you using these key features of Space Jam. Use them as inspiration.
The Characters
In both space jam films, characters ranged from alien antagonists to athletes portraying fictionalized versions of themselves. The characters also had varying likability ranges. They ranged from heroes the audience rooted for to villains the audience was meant to hate.
The first, most iconic character is Bugs Bunny. Bunny was easily one of the most lovable characters in both space jam films. He is a fun, charismatic character who constantly comes up with most schemes throughout the films.
He is also the Looney Tunes' de facto leader and was eventually the one who persuaded Jordan to join them.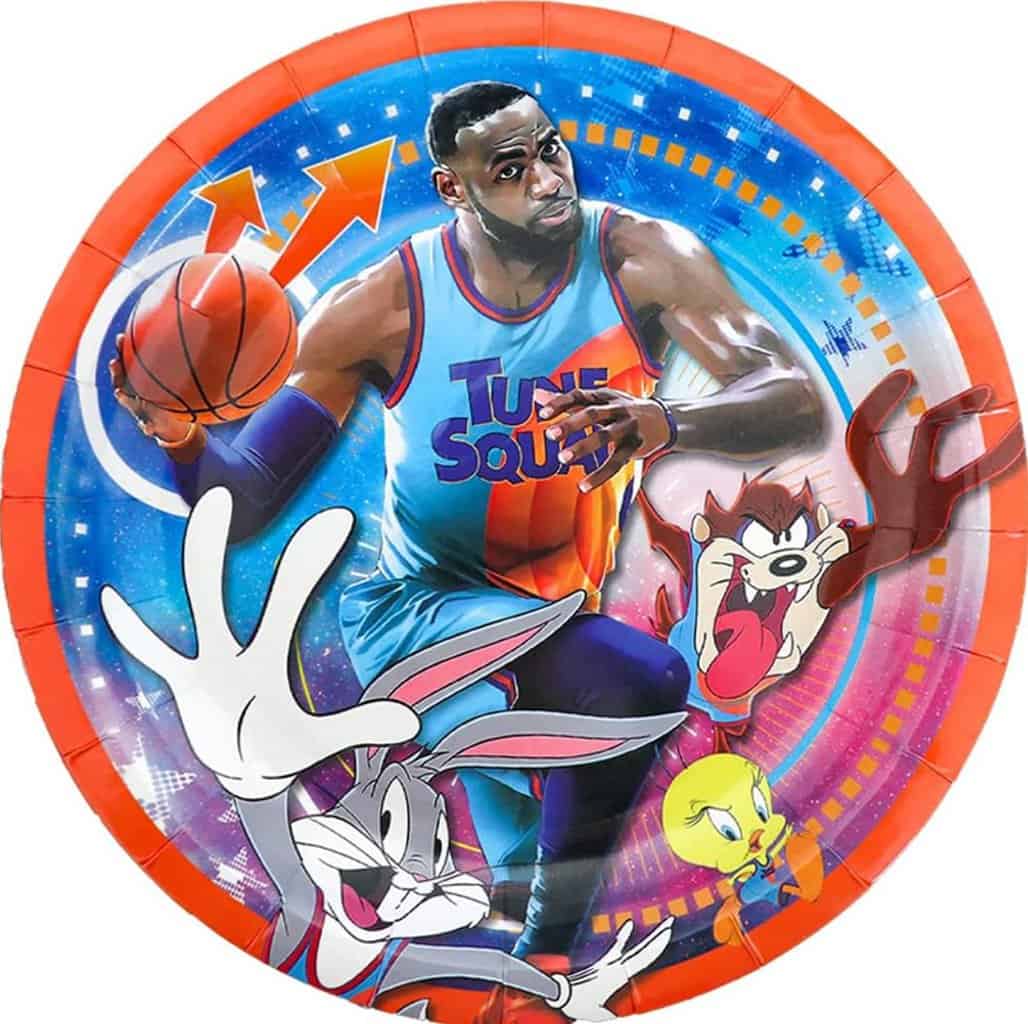 Another lovable character from the lineup is Lola Bunny. She is immediately intriguing in the film as she's found working with Wonder Woman (Rosario Dawson.) That proved to little children that she's tough as ever.
In the second film, Lola also brings that toughness and her basketball skills to help save the Tune Squad's day. She even gave a speech that got the team going.
Additional legendary characters you could incorporate in a space jam party include Granny, Daffy Duck, The Monstars, Swackhammer, Porky Pig, and more.
Fonts and Colors
To style the text, designers of the Space Jam logo used a font similar to Carol Twombly's Lithos Black modification. It's characterized by geometric shapes, wide lines, and many angles.
These designers added even more symmetry by cutting off some oblique lines and dropping the letters. What's more? The inscription elements aren't just skewed. They're creeping on one another because letter spacing is absent.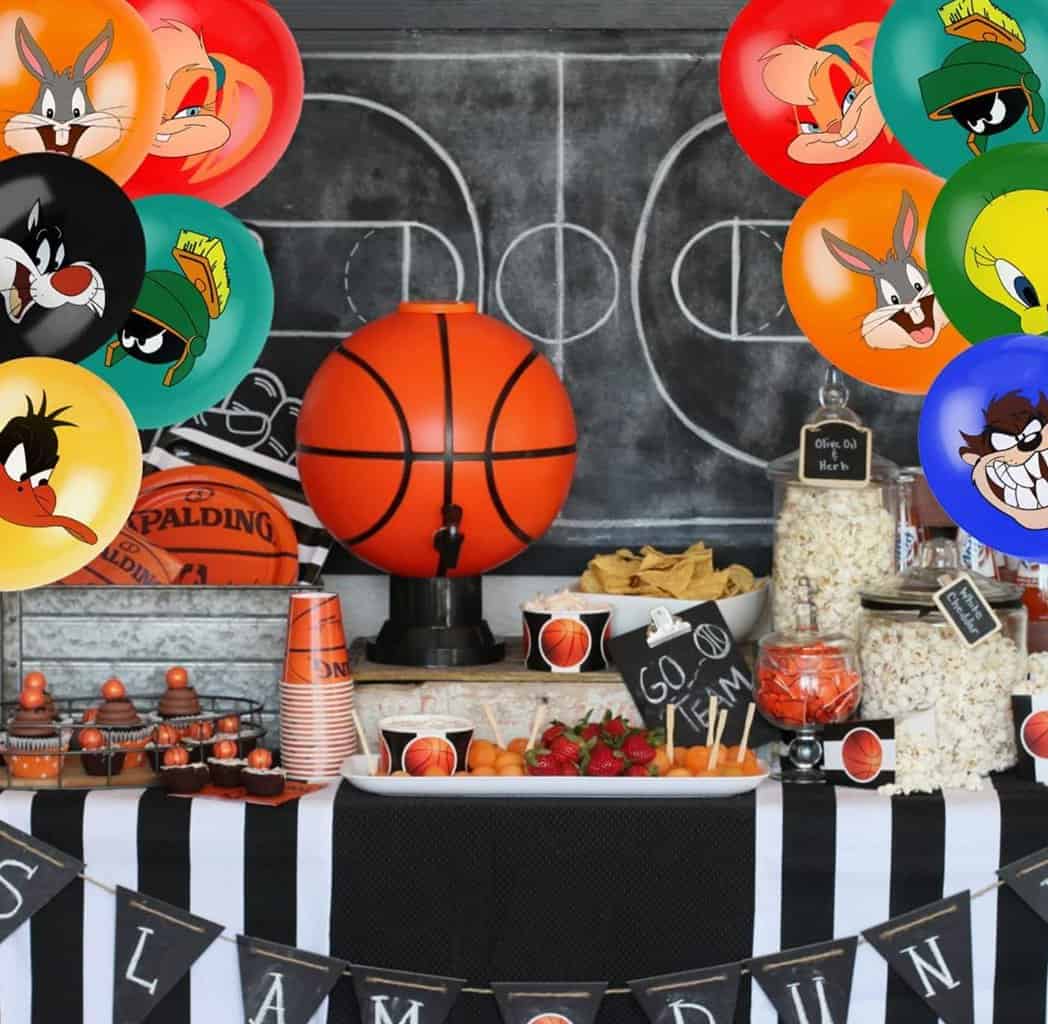 The concentric rings are separated by thin light orange lines in the original Space Jam logo. They're also painted dark red with a gradient. The logo's center is orange, and the film's title is green (an additional transition to a yellow tint is also there.)
The letters cast black shadows of varying widths and have been outlined with yellow outlines.
Music
Most people already knew that space jam had characters we all would want: from Michael Jordan and Bugs Bunny to the Looney Tunes. Most, however, were surprised when they dusted their Space Jam soundtracks and found that they were actually pretty good.
In this section of the guide, I'll attempt to rank these awesome tracks.
The first was "I Believe I Can Fly" by R. Kelly. It's unfortunate that R. Kelly turned out to be a major piece of garbage because he really is a talented artist. Separating the artist from their art, 'I Believe I Can Fly" is a bonafide R&B classic.
The second hit from the Space jam soundtrack is "Space Jam" by Florida-based Quad City DJ's. While the group has released additional tracks since then, they're still majorly associated with the Space Jam theme song.
Additional music strongly associated with Space Jam includes:
Hit 'Em High (The Monstars' Anthem) by B-Real, Coolio, Busta Rhymes, Method Man, and LL Cool J.
Fly like an Eagle by Seal
For You I Will by Monica
Basketball Jones by Barry White & Chris Rock
All of My Days by R.kelly Featuring Jay Z and Changing Faces
I Found My Smile Again by D'Angelo
That's the Way (I Like it) by Spin doctors Featuring Biz Markie
The Winner by Coolio
Buggin by Bugs Bunny
I bet you never knew Space Jam had so many bangers backed by serious talents. Am I too old to use the word 'banger'?
Space Jam Party Supplies Guide
Are you ready to start planning the party? These Space Jam Party supplies will make you a star among your friends.
Best Space Jam Balloons
Balloon installations are one of the easiest ways to bring a splash of color to a space. Here are the best space jam-themed balloons.

With this VDESFUEBY Space Jam Balloons, you'll get a balloon chain, 100 glue dots, and latex children's balloons. The balloons retail in four shades: black, orange, blue, and purple, and retail in three distinct sizes. The sizes in question are 15.5, 12, and 10 inches.
Price Range: $12 – $15.99
Material: Rubber
Color: Purple, Silver, Blue, Orange, and Yellow
Unit Count: 1 Count
Also included in the package are 2 blue & purple long balloons, 4 silver, and 5 yellow balloons. Use these to form space planets. Ensure you place them in a well-ventilated place for 1-2 days before using them. This will get rid of the latex smell balloons tend to retail with.
Pros
Backed by a 30-day money-back guarantee
Easy to use
Safe to use for children
Made of non-toxic, natural latex
They're reusable for different events
They boast a wide application range
Cons
Some previous customers claimed some balloons were missing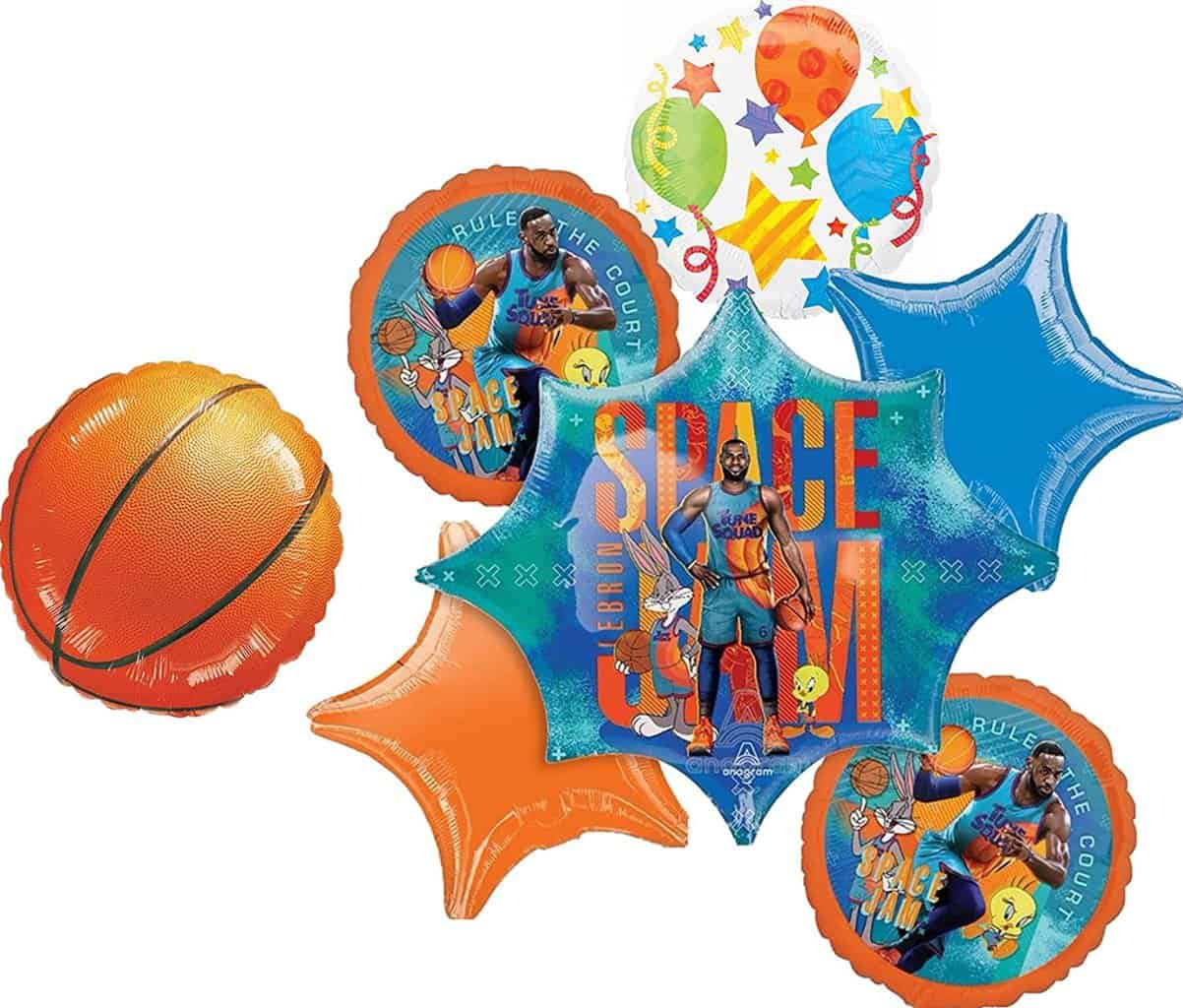 Inside this Mayflower Space Jam Balloon Bouquet, you'll find two 19″ Star Foil Balloons (a blue one and an orange one), one 18″ Round White Jubillee Foil Balloon, one 17″ Round Championship Basketball Foil Balloon, 2 17″ Round Space Jam Looney Tunes Foil Balloons, and one 26″ Jumbo Space Jam 8 Point Star Foil Balloon.
Price Range: $16.99 – $22
Material: Rubber, Foil
Color: Multi-Color
Unit Count: 1.0 Count
Just add Helium into the balloons and enjoy your space jam-themed party. If the party is indoors, the balloons should deliver an average float time of 12 – 24 hours. Expect the float time to drop significantly due to the elements if you intend to use them outside.
Pros
Easy to store and fill with Helium
The foil balloons will last multiple days if filled and stored properly
Impressive indoor float time of 12 – 24 hours
It will perfectly complement other space jam decorations
Balloons have different colors and shapes
Cons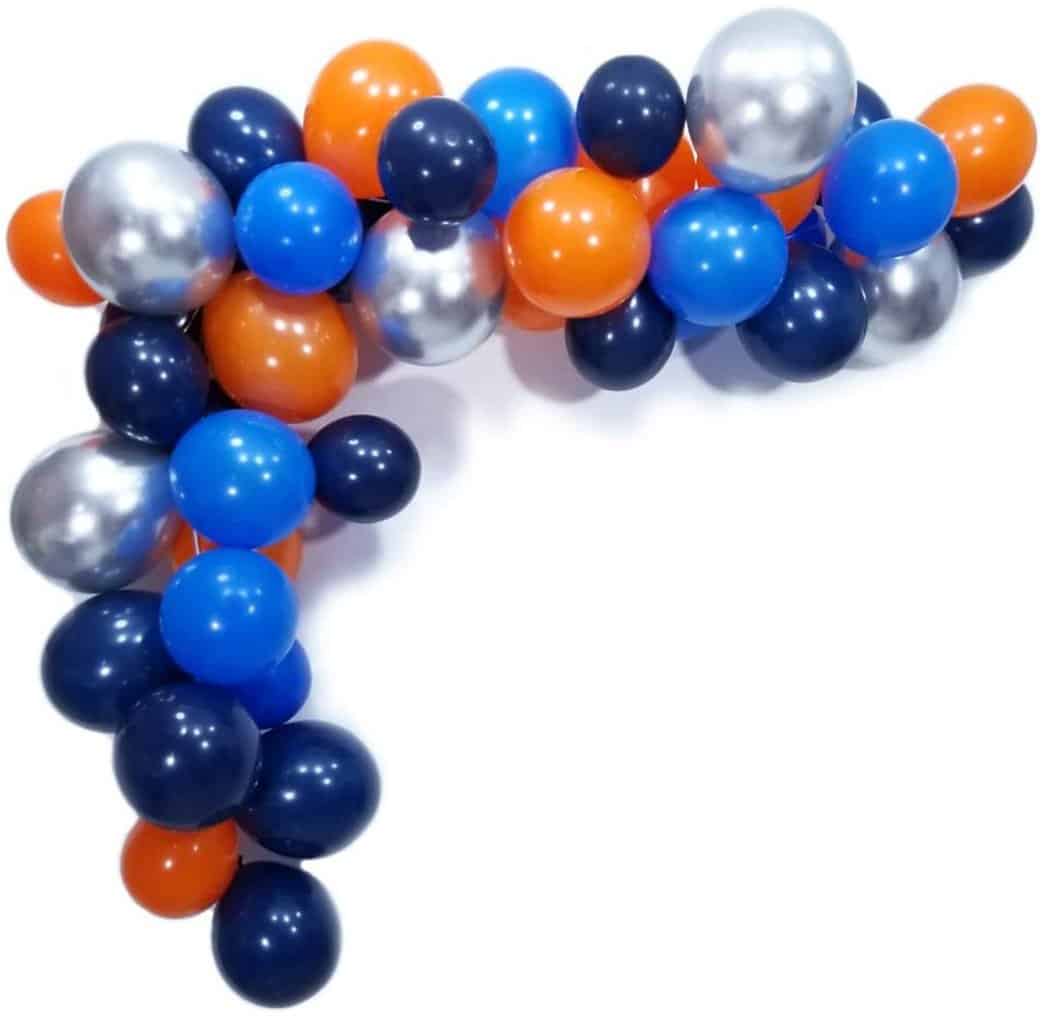 For versatility, I suggest these cute, lively, and colorful space party-themed balloons from Elepplrty. You can use the balloon decoration strip to create a variety of rainbow-colored balloon arch kits and sci-fi-themes. Better yet, from carnival parties and baby showers to parties for both girls and boys, these will fit an array of events.
Price Range: $13 – $16
Material: Rubber
Color: Multi-colour
Unit Count: 1 Count
The balloons retail in three shades (navy blue, orange, and metallic silver) and are backed by a 30-day return replacement. If, for some reason, the balloons don't meet your needs and requirements, reach out to Elepplrty's customer service. They'll promptly respond and do everything they can to resolve the issue.
Pros
Pack of 70
Extremely versatile
Satisfaction guaranteed by the manufacturer
Safe to use around children
It can be filled using both air and hydrogen
Easy to put together
Cons
Some people said the tablecloth is too small for their liking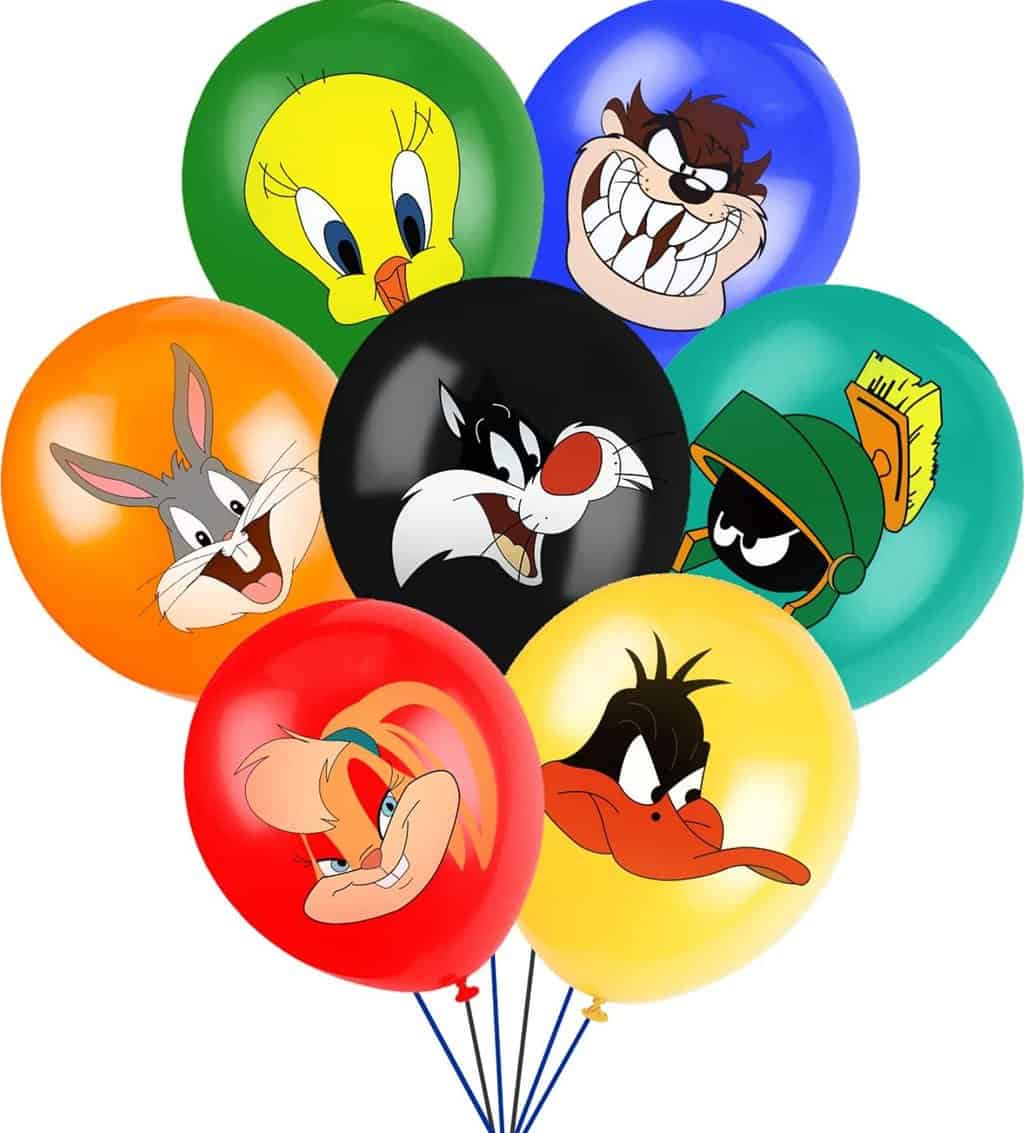 These multi-color balloons from Panxi are the perfect accent piece for a kid's Space Jam party. The package retails with 28 pcs of balloons that already space jam characters printed on their surfaces.
Price Range: $11 – $14.99
Material: Rubber
Color: Multi-Color
Unit Count: 28.00 Count
Additional events you can use these balloons as party decorations include basketball parties, family fun parties, and baby showers. PANXI's team has manually selected and rigorously tested each balloon to ensure quality. Not to mention the balloons are made with natural, non-toxic latex.
Pros
100% satisfaction guaranteed
Made with natural, non-toxic latex
Versatile
7 different patterns included
Balloons already feature famous Loony Tunes characters
Cons
Too small for some people's liking
Best Space Jam Party Decorations
These are some of the simple space jam party decorations that'll make your loved one's birthday a welcoming one.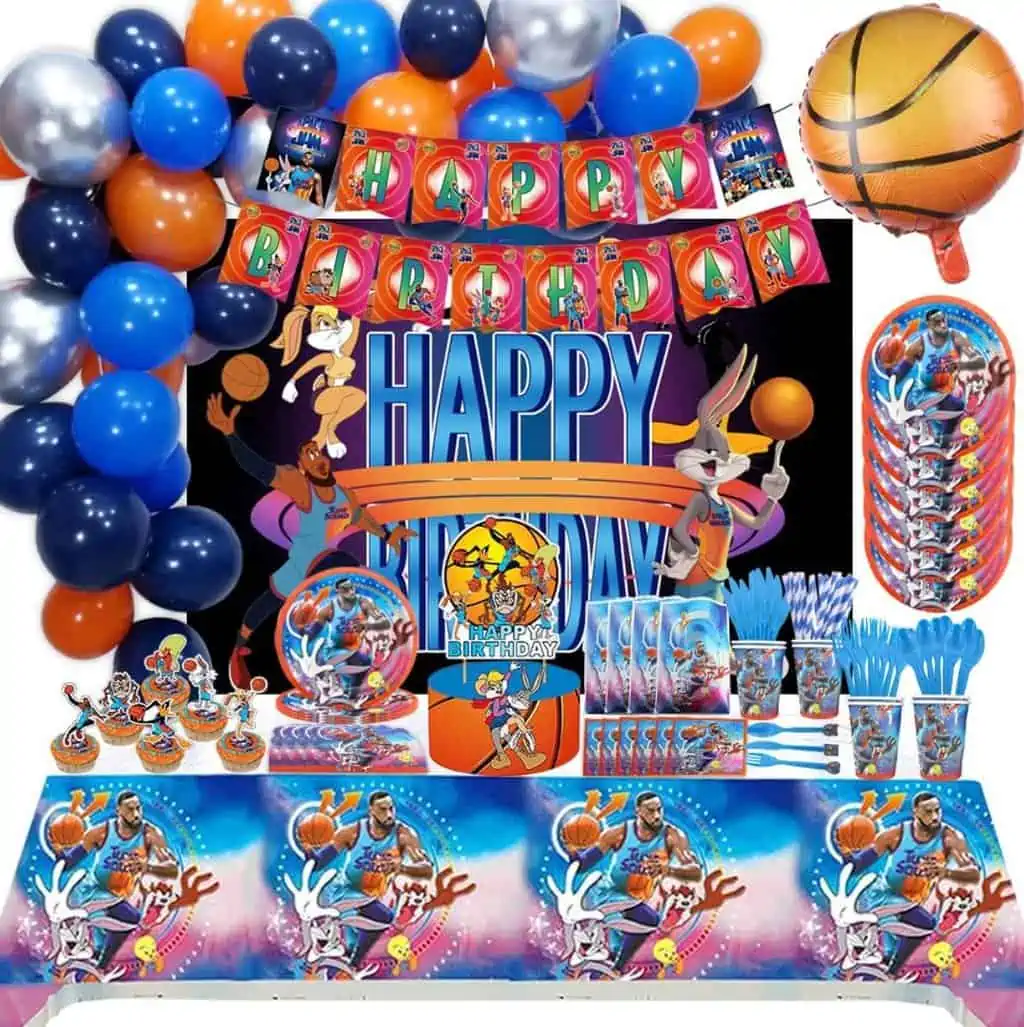 If this Iselitir package doesn't qualify as the ultimate space jam party decorations package, I don't know what does. You'll receive one tying tool, points glue, balloon arch strip, 20 napkins, 10 spoons, 10 knives, 10 forks, 10 plates, 20 straws, 10 cups, one tablecloth, and more.
Price Range: $28.66 – $35.99
Recommended Age: 10 years and Up
Item Weight: 2.05 pounds
Pieces: 183 Pcs
Every item in Iselitir's collection is also reusable and reliable. A backdrop cloth for taking pictures has also been included. The fabric is made of high-quality material and features rich patterns. If you have an issue with the packaging or products inside, contact Iselitir, and they'll respond promptly.
Pros
Friendly customer service
Every item is reusable and reliable
Will fit multiple occasions
This is a complete party decorations box
Easy to use and put together
Cons
Time-consuming to put together
The table cloth can rip easily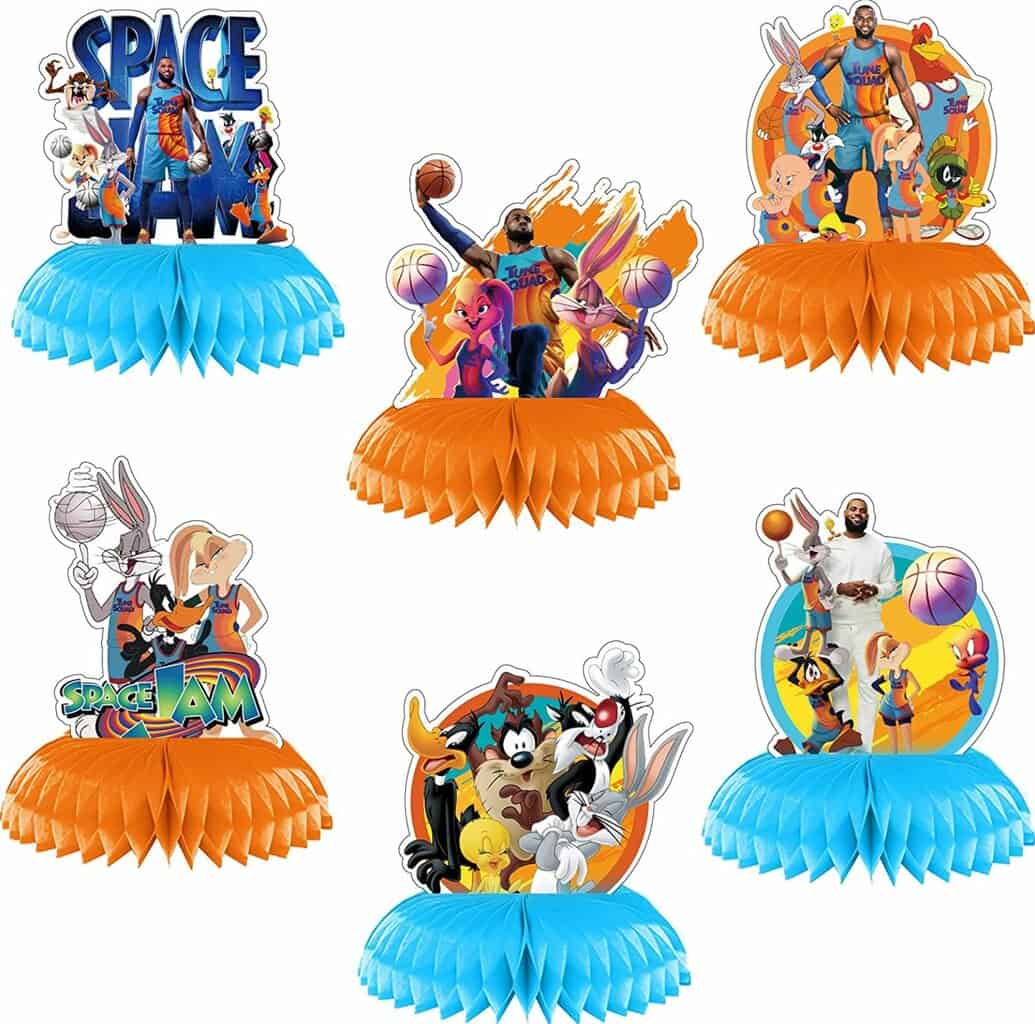 This bright and fun birthday party decorations set includes 6 space jam-themed honeycomb centerpieces. Each centerpiece measures approximately 6 inches and comprises high-quality, thick, non-fading, lightweight, and durable cards.
Price Range: $13 – $20
Recommended Age: 12 Years and Up
Item Weight: 3.2 ounces
Pieces: 6 Pcs
Assembling these table toppers is also extremely easy. Tear off the honeycomb ball's sticker, stick it to an area on the card, and repeat on the other side.
Pros
Quality assured
Easy to assemble
It will look aesthetic on the table
Each Lenglet piece features a unique design
3D double-sided printing design
Created using high-quality materials
Cons
These decorations are too simple for some people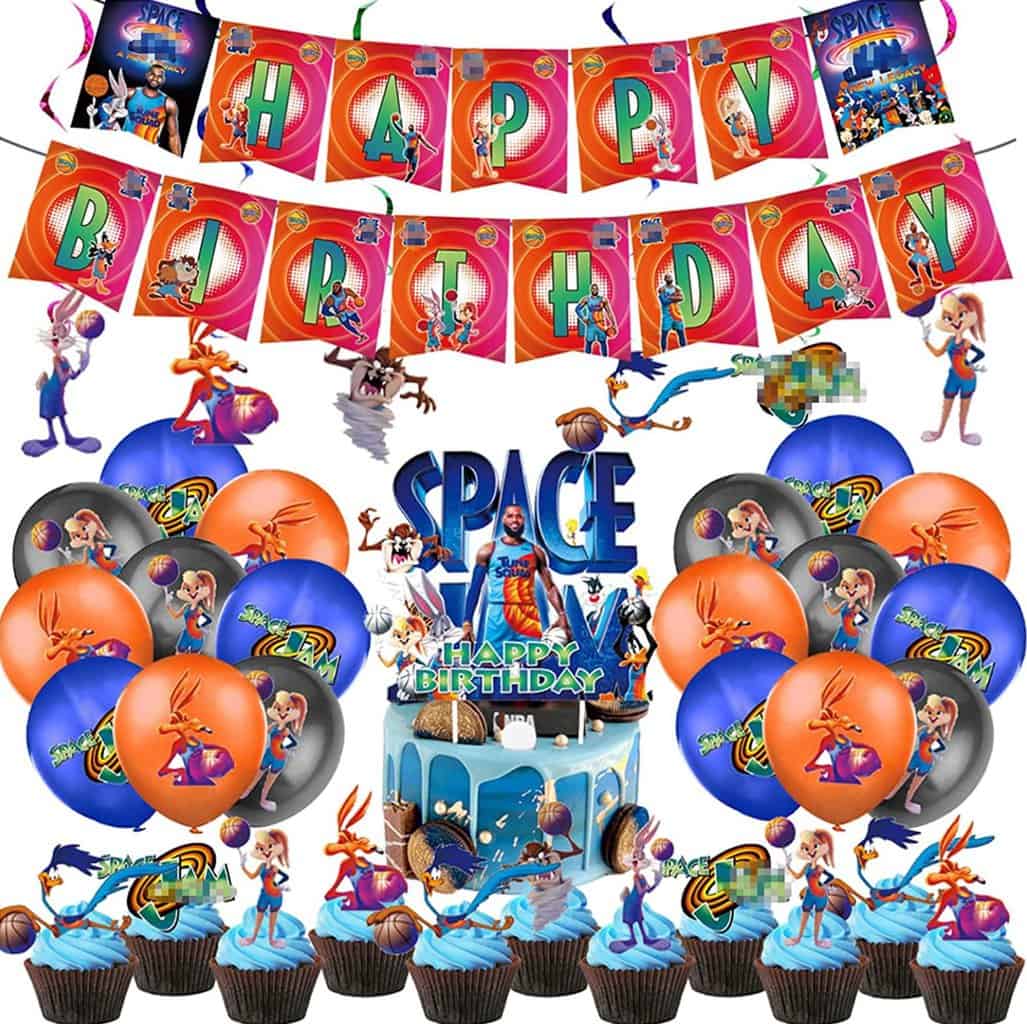 Deliver an unforgettable experience at your (or your loved one's) party with these space jam-themed decorations from YZNIN. Putting these together with your friends will be fun if you're all space jam fans.
Price Range: $12.69 – $15
Recommended Age: 12 Years and Up
Item Weight: 6.7 Ounces
Pieces: 50 Pcs
Ensure the package includes 24 pack space cupcake toppers, one pack space cake topper, 6 pack space swirl decorations, 18 pack space jam balloons, and one set space jam banner. If you notice any issues with the package, reach out to YZNIN's customer service, and they'll respond promptly.
Pros
Will fit various occasions
Perfect gift option
Fun and easy to put together
This is the complete package
Friendly customer service
Cons
Some customers reported that their balloons kept popping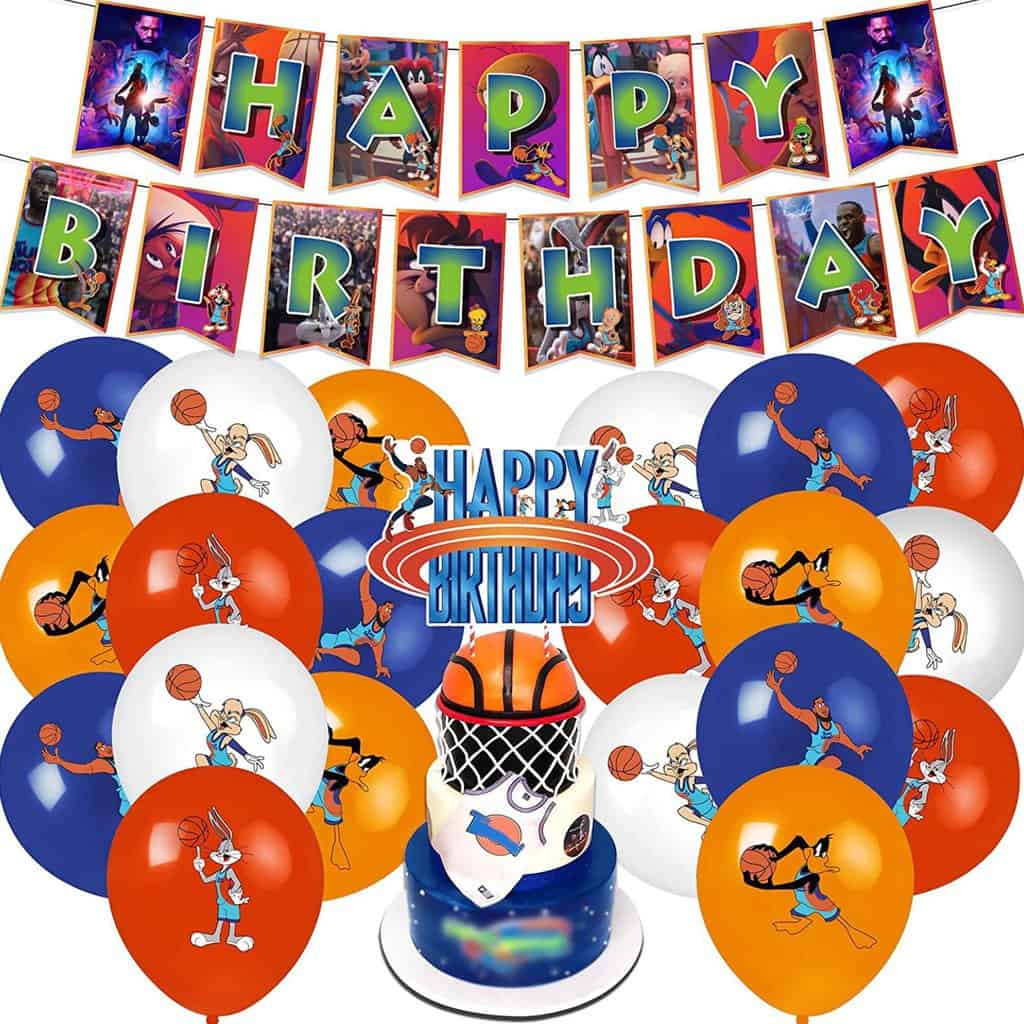 Throwing a space jam-themed party doesn't get easier than this all-in-one pack from Milomelo. Every product in the package is designed with bright colors to highlight a lifeful atmosphere and deliver a memorable party.
Price Range: $14 – $18
Recommended Age: 10 Years and Up
Item Weight: 6.4 ounces
Pieces: 24 Pcs
Every item is also made of safe and environmentally friendly materials for upgraded quality. When the party is over, take down the decorations and store them carefully for use at a later date.
Pros
Extremely versatile
Satisfaction guaranteed by the manufacturer
Upgraded quality
Easy to install
The latex balloons have no obvious pungent odor
Material is safe and healthy
Cons
Time-consuming to assemble if you're doing it alone
Best Space Jam Pinatas
Take the classic childhood birthday favorite of pinatas to the next level with these excellent options. Get ready to blow everyone's minds.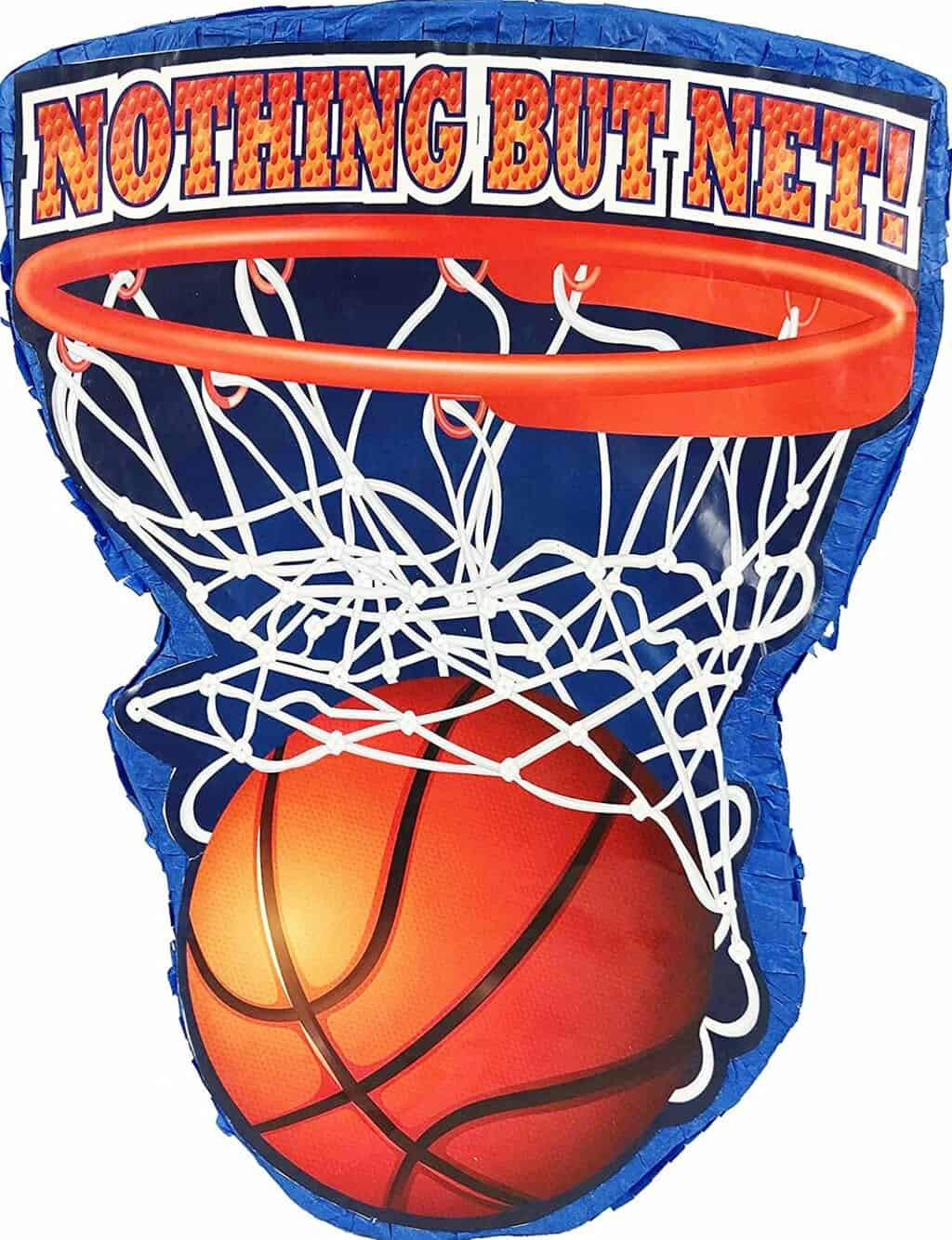 Measuring 17x6x13 inches and 8 inches deep, this space jam pinata can hold up to 2 lbs. of toys. If no toys are available at the party, fill it with candy instead.
Price Range: $20 – $35.99
Material: Paper
Recommended Age: 13 Years and Up
A strong cable that you can use to hang the piñata is also included at the top. Be sure to use it and not just regular rope or ribbon. Trust me.
Pros
Made in bright colors to stand out
Lightweight and portable
Reusable and durable
It can be used as the centerpiece decoration
Safe to use around children
Cons
Very flimsy, so don't overload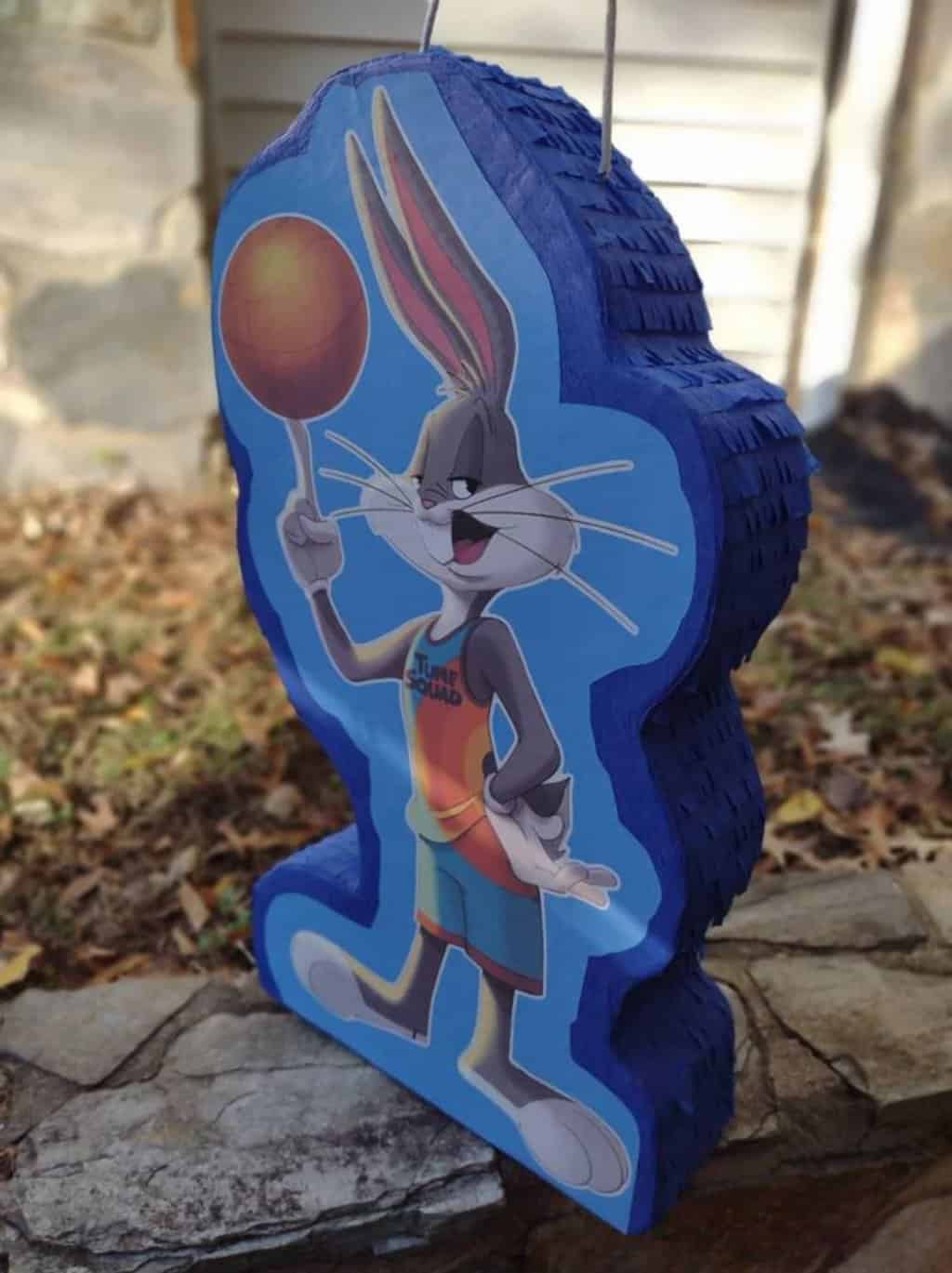 This Bugs Bunny Space Jam Pinata from HelloPinatas is cute and all, but that's far from its Unique Selling Proposition. If the party is fast-approaching, but you've yet to order your Bugs Bunny piñata, use HelloPinata's Express Work option.
Price Range: AU$48.24
Material: Corrugated Cardboard, Hemp Thread, Crepe Paper
Recommended Age: 13 Years and Up
The express work option implies that the company will ship your piñata to you the next business day.
Pros
Handmade
Rustic appearance
Can be the centerpiece at the party
Friendly customer support
The company promises fast shipping
Cons
No other characters are available
Best Space Jam Party Dishes
These space jam party dishes are the perfect futuristic take on the classic franchise. You can also introduce them at regular, space jam-themed meetings and gatherings.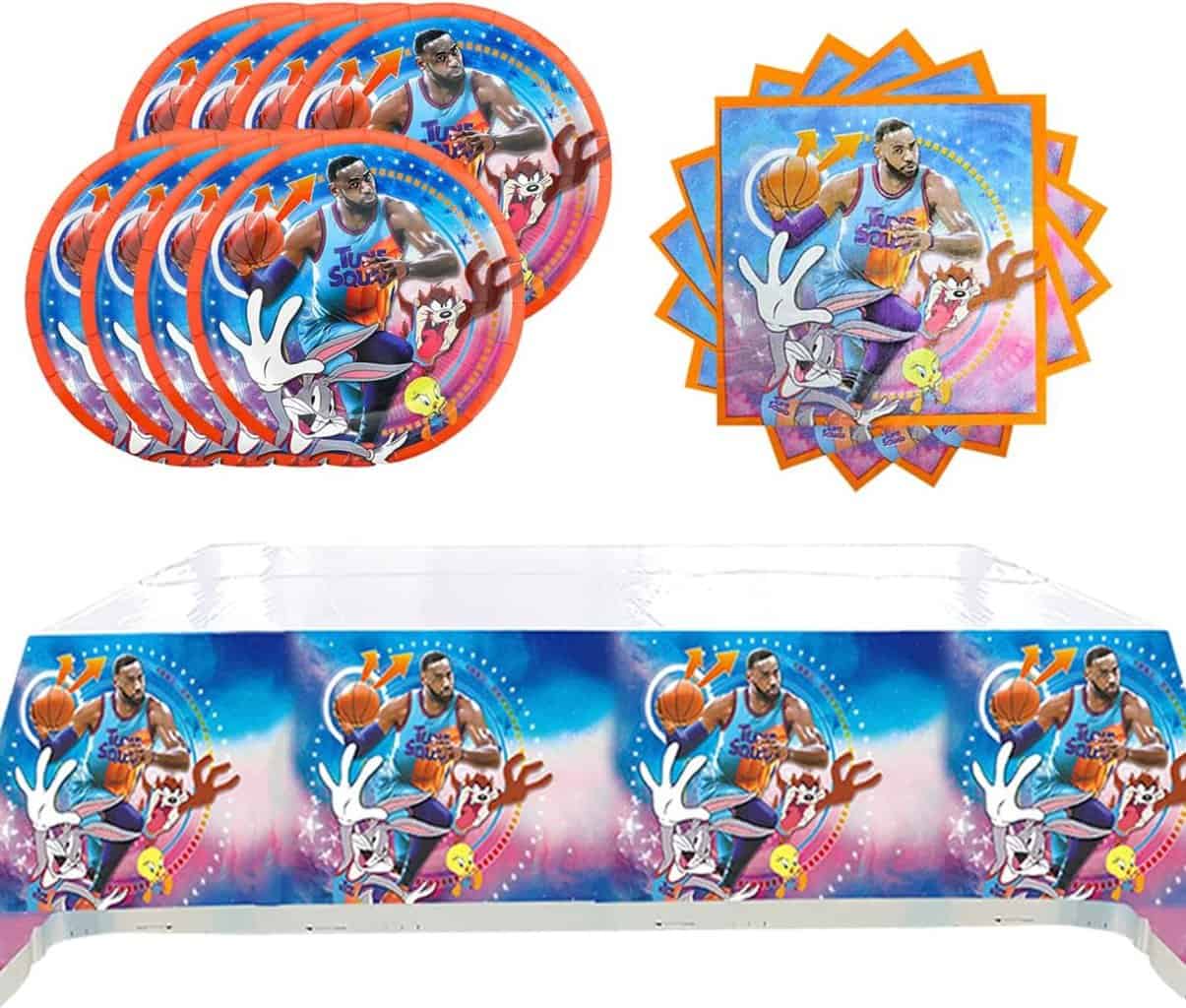 Are you scouring the internet looking for space jam party supplies that'll leave the kids in awe without breaking the bank? Look no further than this space jam birthday party decoration kit from Hongfeng. In addition to party dishes, the set also includes 20 napkins and one tablecloth.
Price Range: $12 – $15
Material: Paper
Recommended Age: 3 Years and Up
Pieces: 41 Pcs
A 30-day money-back guarantee backs the purchase to ensure your satisfaction. That's awesome!
Pros
It will fit a wide array of events
Made of safe and environment-friendly material
20 plates included
Backed by a 30-day money-back guarantee
The napkins are soft and absorbent
Cons
The table cloth was too small for some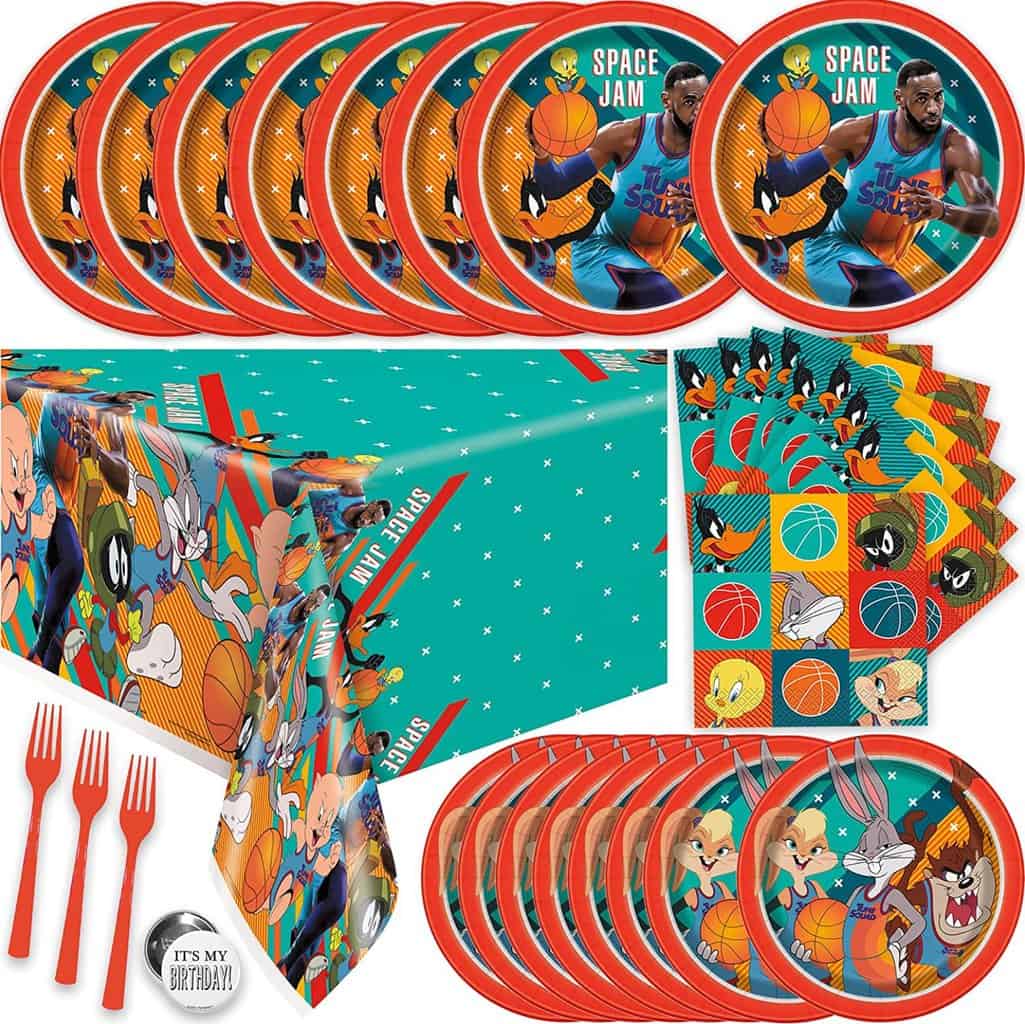 Unique Store is a company committed to bringing a fresh and vibrant atmosphere to your kid's next birthday party. That commitment is evident in this space jam party supplies set from the company.
Price Range: $23.99 – $35
Material: Paper and Plastic
Recommended Age: 3 years and Up
Pieces: 68 Pcs
Inside, you'll find 16 large 9″ paper plates, paper napkins, plastic forks, smaller 7″ paper plates and more. The leak-proof tablecloth should fit a six-people dining table comfortably or a handful of ravenous cake-eating kids.
Pros
All dishes and napkins are made from high-quality and heavy-duty paper
Tablecloth is leak-proof
This is a complete space jam supplies set
Easy and fun to put together
Supplies available in a wide array of characters
Cons
The plastic forks could've been stronger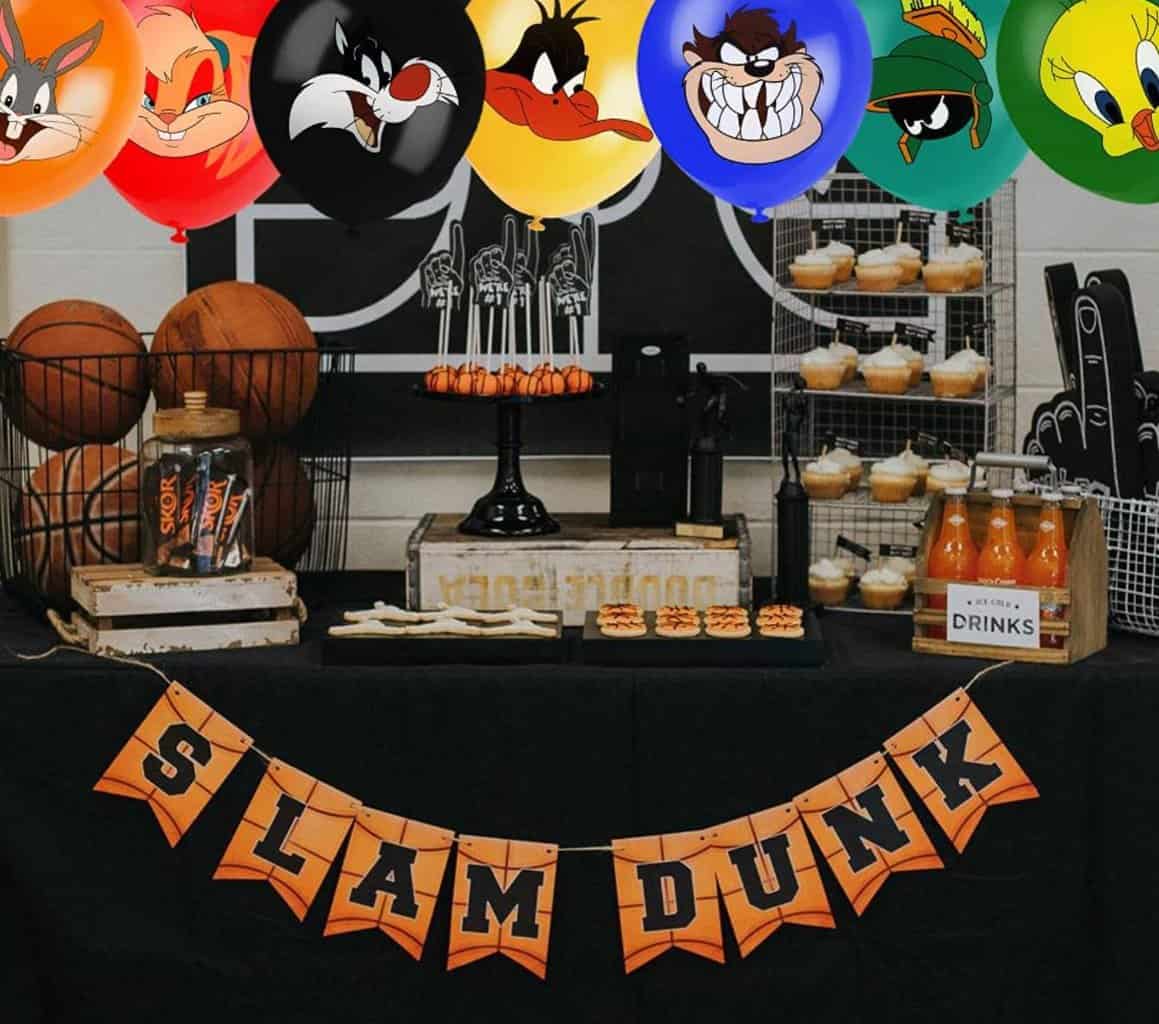 Join Daffy, Lola Bunny, and Buggs in throwing your child a fun, memorable Space Jam: A New Legacy birthday party. I just love the designs on this set!
Price Range: $11 – $14.77″
Material: Paper
Recommended Age: 3 years and Up
Pieces: 41
This Space Jam party supplies kit features everything you need for an easy, fast setup. The takedown process will be equally easy and fast. Music to my ears!
Pros
Durable and reusable
Easy to put together and take down
Total pieces you need to host included
All products are made from high-quality paper
Not time-consuming
Cons
The tablecloth is too small
Best Space Jam Cake Ideas
So, you've decided to go for a space jam-themed party? Then why not go all in with one of these hard-to-beat space jam cake ideas? These cakes can also be perfect gifts for the space jam lovers in your life.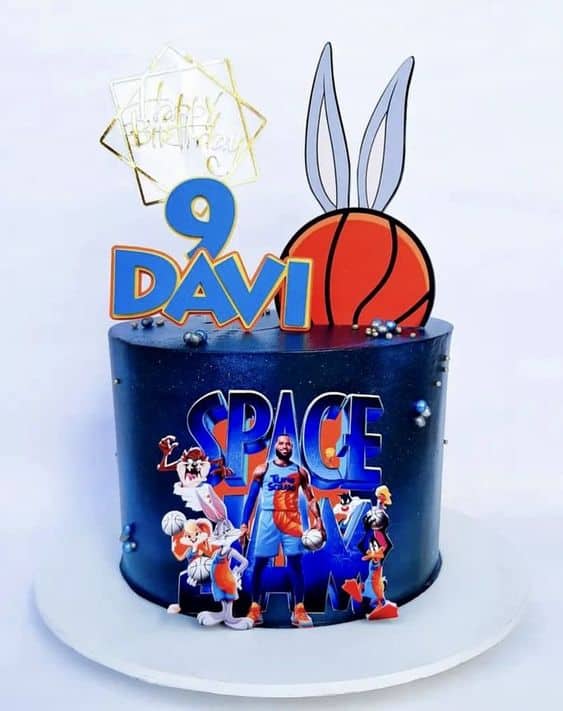 Ready to hold the entrée at the Space Jam party you're throwing (or planning to attend?) This Space Jam: A New Legacy cake idea is just the solution to add excitement to the table setting. The cake features LeBron James running a Tune Squad uniform.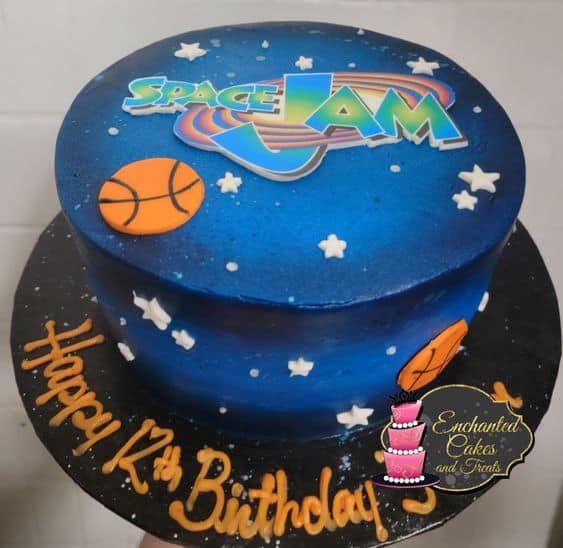 This premium space jam round cake in vibrant shades will enhance any party's color scheme. The cake also looks delicious. So, you can rest assured your Tunes and Goons will enjoy the space jam delicacy at halftime.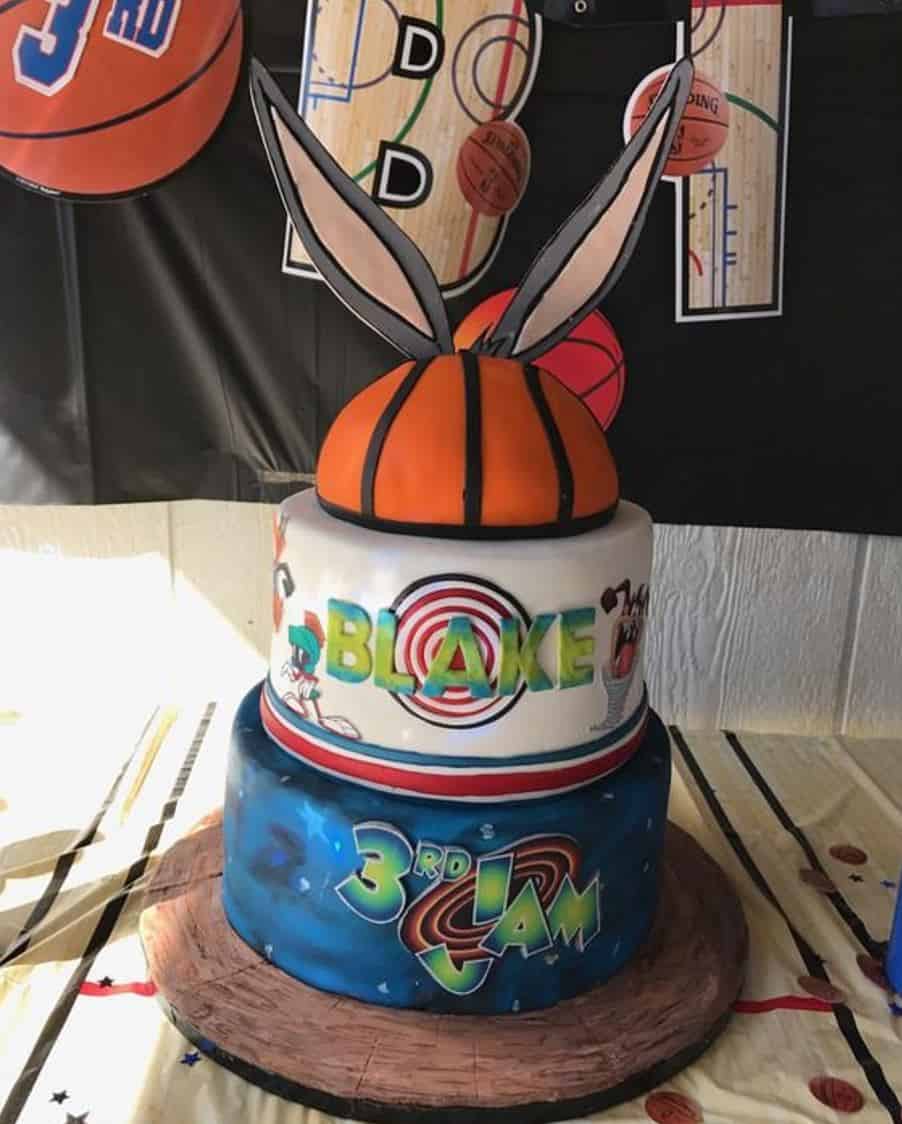 Feed the hungry Monstars at the party with this basketball-decorated top cake and watch it deliver festivity to their taste buds. You can also style the cake with the recipient's name decorated to look like the film title (as shown above.)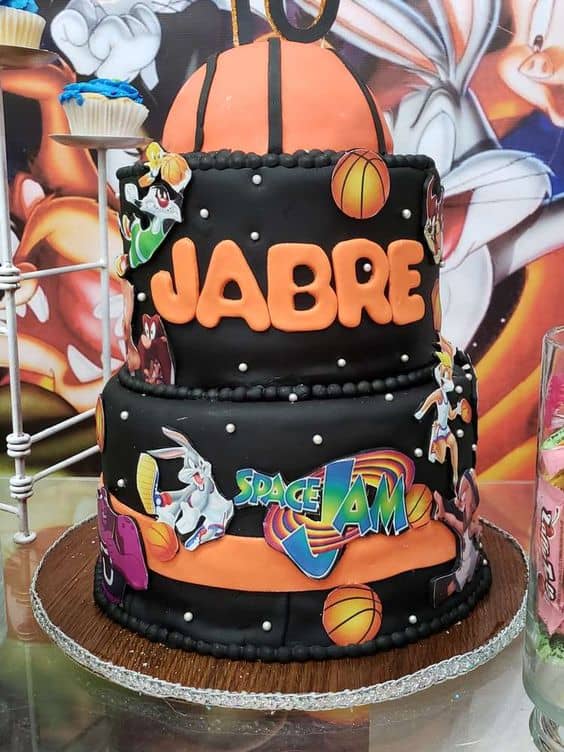 Are you open to the idea of decorating your space jam-themed cake with unusual colors? If yes, this 3-tier space jam cake could be the idea you are scouring for. The only downside is that the design won't be easy to pull off.
FAQs
Question: How Many Space Jam Movies Are There?
Answer: There are two Space Jam movies released to date. The first one, Space Jam, came out in 1996 and starred Michael Jordan, Bill Murray, and Danny Devito. The sequel, Space Jam: A New Legacy, came out in 2021 and starred LeBron James, Zendaya, and Don Cheadle.
Question: Is Space Jam 2021 a Reboot?
Answer: Yes, Space Jam: A New Legacy was a standalone sequel to the original Space Jam film released in 1996. The 2021 iteration starred basketball player LeBron James as a fictional version of himself. Cedric Joe Star, Sonequa Martin-Green, Khris Davis, and Don Cheadle starred in live-action.
Question: What Characters are in the Space Jam Movies?
Answer: More than 40 characters star in the space jam movies. Bugs Bunny, Lola Bunny, Daffy Duck, Tasmanian Devil, Marvin the Martian, Swackhammer, Sylvester, and Porky Pig are the most notable ones.
Bottom Line
You'll need a clear and compelling vision to throw a great party for a space jam fanatic. And when that vision informs the space jam theme, you can rest assured the party will be meaningful, gleeful, and memorable. I just highlighted all the Space Jam supplies you'll need to deliver an extraordinary experience for the littles. Still, I highly recommend the Iselitir Party Decorations set if you're looking for a one-stop-shop kinda idea. Also, we have tons of cool party planning ideas on our site, so go check them out!
Recommended Reads: