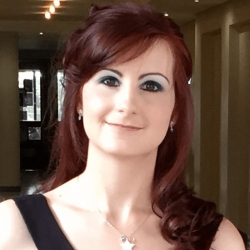 Latest posts by Denine Walters
(see all)
Most parents today know that at some point in their toddler's life, they will ask for a Peppa Pig cake. Well, that day finally arrived for me. My 3-year-old daughter marched up to me one day and insisted that I come up with the bestest (her words exactly) Halloween Peppa Pig cake idea in the whole world.
I know, right? Peppa Pig + cake + Halloween? Should that even be a thing? 
So, I started looking for ideas and was overwhelmed by all the cakes. I took a deep breath and thought, "What would Madame Gazelle do?" And that's why I've put together the bestest cake ideas for all your Peppa Pig cake needs.
My Bottom Line Upfront: The Best Peppa Pig Cake!
If you're in a hurry and need to whip up a Peppa Pig cake quickly, I've got you covered (in chocolatey mud that is #sorrynotsorry). 
This Peppa Pig muddy puddle cake is the perfect cake for any occasion. It's super simple to throw together and will have everyone's taste buds humming the Peppa Pig theme song.
Your Peppa Pig Cake Checklist 
Jumping into the world of cakes, especially Peppa Pig's colorful and playful world, can be very intimidating. After all, Peppa Pig is a global hit, and toddlers take this show very seriously. Trust me, they know every character by heart. 
Keep these considerations in mind when choosing your oink-tastic Peppa Pig cake:
Peppa Pig Cake Colors 
Choosing my cake colors was a blast. The Peppa Pig show has so many vibrant and fun colors, so I decided to focus on specific elements and characters from the show and incorporate them into my cakes:
The Little House on the Hill (aka Peppa Pig's House):

Imagine a beautiful shade of pastel yellow for the house's walls and a burnt-orange-reddish color for the roof.

Peppa Pig:

Bring in the color of Peppa's vibrant red dress and shades of pink to match her complexion. 

George:

Aaah, little George (my personal favorite). Use colors such as blue (for his shirt) and neon green to match his best friend, Dinosaur.

Daddy Pig:

Add the gorgeous turquoise shade of Daddy Pig's shirt.

Mummy Pig:

Play with colors like a soft orange to match Mummy Pig's elegant dress.

Muddy Puddles

: Oink! But what is a Peppa Pig cake without different shades of brown to show off the chocolatey goodness of mud?

Madame Gazelle:

Let's not forget the teacher that inspired me to make these cakes by using a deep purple color to show off her dress.
What's the Celebration? 
With all the characters and sing-along-songs, there is bound to be a cake for any toddler or preschooler celebration.
For example:
My 3-year-old wanted the bestest Peppa Pig cake for Halloween, so we chose this cute

pumpkin cake

.

Peppa Pig-inspired

cake smashes

are just too cute to handle!

Birthday cakes, anyone? The options are endless, and the sky's the limit.

How about a baker's day at kindergarten? Your toddler's Peppa Pig-inspired

cupcakes

will be the highlight of the week.
Cake Flavors 
In my humble opinion, this is the best part! I love choosing cake flavors. 
With the little ones, I found that they enjoy basic cake flavors; nothing too exciting as their pallets aren't as experienced as ours. So keep the flavors simple, and add some syrups and different frosting or toppings to make it fun. 
Here is a list of flavors that are a hit with my kids and their friends:
Chocolate sponge cake with a creamy chocolate buttercream frosting

Coconut sponge cake topped off with a passion fruit syrup

Chocolate and strawberry drip cake

Banana and caramel cake with a white chocolate icing

And my personal favorite: a chocolate sponge cake with a crunchy topping of sea-salt caramel 
Peppa Pig Cake Budget 
As I mentioned, Peppa Pig is a global hit, so there are plenty of over-the-top options. And trust me, they have the price to match. I searched for DIY options when I made my daughter's Halloween cake. It was cheaper, so much more fun to make, and I was super chuffed with the result (and so was she #momoftheyear).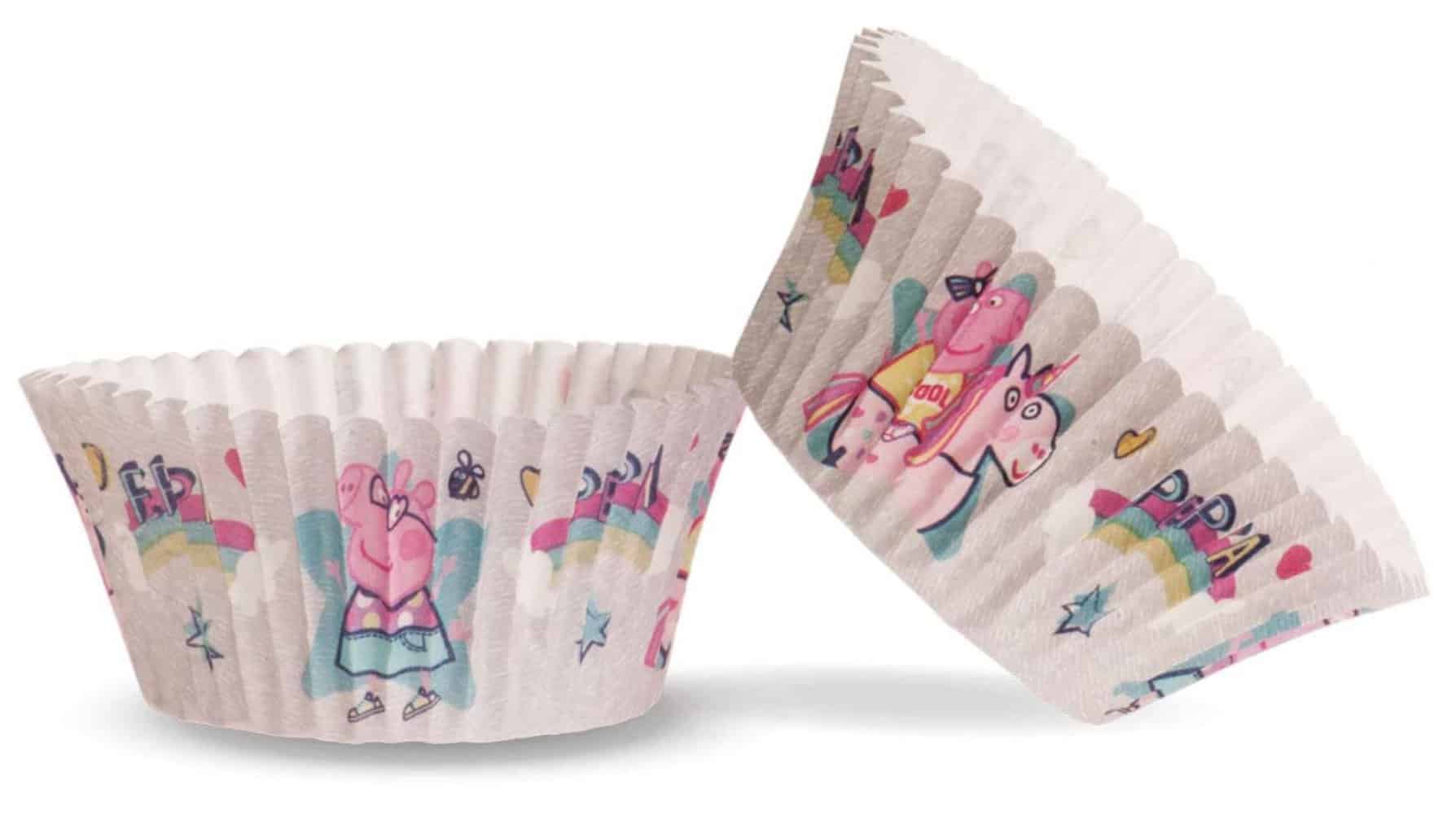 Try your local party supply shops for funky theme-inspired cake decor. Online shopping is #life. Amazon is my absolute fave for finding unique cake decorations and toppers. 
Take a look at some of the fantastic goodies I tracked down on Amazon: 
If you're running out of time or don't have a big budget, you can bake some simple and delicious cupcakes (or even better, you could get a baker to make them). 
Make them pop by adding some edible wafers on top of some blue or red buttercream frosting in true Peppa Pig style. I promise they will taste amazing, and your little guests will be thrilled.
Peppa Pig Cake Ideas: What Are My Criteria? 
Peppa Pig has so much to offer little children, from the TV show to music albums and even Peppa Pig-inspired games. 
I decided the Peppa Pig cakes I chose should:
Bring in all the classic Peppa Pig colors, such as red, yellow, blue, pink, orange, purple, and green

Be true to the TV show and games

Try to incorporate as many of the characters and Peppa Pig elements into the cakes, such as muddy puddles, the famous house, and Peppa's teddy bear

Suit different celebrations
With Peppa Pig cake ideas, I thought ensuring I kept my target audience happy was very important. Toddlers and children love bright colors and simple designs. 
With this in mind, I thought searching for the perfect Peppa Pig cake would be a piece of cake (drum roll, please). But, it wasn't as easy as I had imagined. 
That's when I decided to tap into my inner Madame Gazelle and put together the bestest 11 Peppa Cake ideas for any celebration.
11 Peppa Pig Cake Ideas 
"If you jump in muddy puddles, you must wear your boots." So what are we waiting for then? 
Come on! Get your boots on. We're going puddle jumping!
Here are my 11 bestest Peppa Pig cake ideas: 
1. Candy Wonderland Peppa Pig Cake
Step back and admire the perfection that is the candy wonderland Peppa pig cake. This cake was everything my daughter had dreamed of. So much so that, at first, she didn't want me to cut into the cake. 
This cake is made out of a beautiful strawberry and chocolate sponge. The pastel pink covering makes it so Pepperish (wink). Colored chocolate is drizzled around the edge of the cake and left to drip along the sides, leaving a gloriously sticky trail behind it. 
Decorate the top of the cake with some daisy sprinkles and a good amount of edible glitter (sorry, Madame Gazelle, I know how much you hate glitter in the classroom). Trick or treat anyone? Well, this cake certainly provides lots of treats.
To make this Halloween cake even more unique, add some Peppa Pig figurines, a few multicolored shards of candy glass, and some yummy lollipops. Some candy ice cream cones also add a fun element.
2. Peppa Pig Cupcake Cake
Here's a fun idea for your child's baker's day! Bake some strawberry, chocolate, and vanilla (trust me, when it comes to children, variety is always best) cupcakes.
Lay your cupcakes on a green board in the shape of Peppa (for girls) and George (for boys). Decorate your cupcakes with a simple buttercream frosting color to match Peppa's red dress or George's blue shirt.
Voila! You now have the cutest Peppa (or George) Pig cupcake cake. Your child's friends will be excited to see their favorite characters in cupcake form. 
The best thing about making cupcakes for baker's day is they are small enough that your little guests will enjoy and devour a whole cupcake (no crumbs will be left behind). Plus, it's so much easier and cheaper than baking a whole cake.
Peppa says: To make your cupcakes extra moist, add some yogurt or sour cream to the batter.
3. Little House on the Hill Cake
"Everything is on a hill around here. My house is on a hill, the supermarket is on a hill, Rebecca Rabbit lives inside a hill; it's all hills, hills, hills!" ~ Peppa Pig 
The Little House on the Hill cake is perfect for any occasion. Don't let this two-layered cake fool you with its simple design. This cake bursts with flavor and is made from a fluffy vanilla sponge cake. Inside, between the two layers, is a sticky, toffee syrup that is simply delicious. 
The cake is covered in a gorgeous shade of blue icing to show off the animated clear sky from the television show. Use some colored marzipan or fondant to create your own little House on the Hill. 
To bring in more color, add some trees and bright yellow sun for extra effect.
4. Cookie Cutter Cupcakes 
I am such a huge fan of cupcakes. There are so many cute and beautiful ways you can decorate them.
These Peppa Pig cookie-cutter cupcakes are an absolute hit with my kids (and I will tell you why in a little bit). Bake some creamy chocolate cupcakes and add a few chocolate chips to the batter (just because you can).
Mummy Pig says: Add some hidden veggies or fruit to your cupcake batter, like grated carrot, zucchini, apple, or baby spinach.
Let me tell you, Mummy pig is onto something here. My children are always begging me to make these cupcakes, and I am too happy to oblige, as they are yummy and healthy #onepointotmom. Decorate your cupcakes with a piping bag and some colored coconut frosting. 
For the toppers, I found these cute cookie cutters shaped like Peppa. I rolled out some pink and blue fondant and pressed the cookie cutter lightly into the fondant. I then cut around the stamp and popped them on top of the cupcakes. There you have it: healthy cupcakes with a gorgeous stamp of Peppa. I have one word: irresistible.
5. George and Dinosaur Birthday Cake
Grrrr! Dinosaur! This George and dinosaur birthday cake is roaring with fun and is the perfect addition to any birthday party where you have children that are fans of Peppa Pig and her baby brother, George. 
George never goes anywhere without his best friend dinosaur. Make a little boy's day by adding these two inseparable friends to his birthday cake. This vanilla cake is decorated in the classic Peppa Pig colors with a string of bunting flags wrapped around the edge.
Adding the birthday boy's name to the flags can make the cake even more personal. 
If you don't have the time to make George and Dinosaur figurines to add to the muddy puddle, you could always add these fun figurines to the cake. The birthday boy then gets to eat his cake and keep the toys.
6. Mr. Bull's Cake Smash Cake
This sweet little dome cake is the stuff that dreams are made of, with the lightest sponge cake filled with layers of banana, chocolate mousse, and vanilla buttercream. The perfect dome shape is covered in pastel pink, smooth ganache, and decorated with fluffy candy clouds.
Add some Peppa Pig cake toppers to finish Mr. Bull's cake smash cake. You can even sprinkle some candy corn around the base of the dome. Once you are satisfied with your cake, you can SMASH IT! Well, I'm sure that got your attention. Yes, smash it in true Mr. Bull style. Dome cakes make amazing cake smashes, and the photos are stunning.
Imagine your little one digging into the cake and grinning from ear to ear, with cake all over their hands, clothes, and face (#photoworthy). I also found that there weren't as many leftovers after this cake demolition.
Daddy Pig says: Dome cakes aren't as straightforward to make as regular square or round cakes. If you would like to try your hand at making a dome cake, then check out this easy tutorial. 
7. Peppa Pig and Friends Cake Pops
You can never go wrong with a good cake pop. A cake pop is a marvelous little invention that helps parents all over the world when it comes to budget-friendly cake options. 
Basically, it's a cake lollipop without the crunchy candy coating (although you could cover it in candy syrup and leave it to harden, similar to a toffee apple). Sorry about that. I went off track there (but that sounds amazing, doesn't it?).
These Peppa Pig and friends cake pops are made from a soft vanilla and strawberry sponge cake. 
Now for the fun part. Dip the cake pops into a rich, chocolaty coating of your choosing and frost them with pink, blue, green, purple, orange, and yellow frosting to match Peppa's friends.
8. Peppa Pig Photo Cake
Do you know what cake makes a big impression on little ones? Photo cakes. If you aren't familiar with a photo cake, it's a cake with a photo on top. Sounds simple enough, doesn't it? It most definitely is. 
This Peppa Pig photo cake is made from a simple chocolate sponge cake, with an edible image of Peppa and her family on top. Most cake shops have an option to get an edible ink printing of any photo you choose. The picture can be printed on a sugar-based frosting sheet or, my favorite, wafer paper.
Get creative with some blue buttercream and a piping bag. You can create a standard border around your cake or a zig-zag pattern. I guarantee you, this cake will be the talk of the party.
9. Peppa's Rainbow Delight
The Peppa rainbow delight cake is my absolute favorite. I love how happy this cake looks and makes other people happy. Plus, it isn't a complicated cake to put together. This 3-layered passionfruit cake boasts a simple pastel blue covering with a fondant cut-out of Peppa. 
She is wearing a crown on her head and holding a bunch of balloons in her hand. Add some cake pops dipped in white chocolate to the top of the cake. You can color the pops in various pastel colors and play around with the different sizes of the pops. 
Follow this fun tutorial to make a fondant rainbow. Attach the rainbow to the top of your masterpiece and drop it down the side of the cake into a bundle of different-sized cake pops at the bottom. This will make any little girl's day.
10. Peppa's Halloween Surprise Cake
Halloween is my favorite time of year. Not just because of the candy (I mean, obviously, that is a big part of it), but I love the colors of Halloween and seeing how the children get so excited to go trick or treating. 
That's why I think Peppa's Halloween surprise cake is the perfect cake for a Halloween bash. This cake is made from a coconut toffee sponge and is covered in a thick layer of buttercream. To make it extra Halloweeny, add a dash of pumpkin spice and cinnamon to the buttercream (you're welcome). 
Use some black-colored fondant to cut out silhouettes of spooky haunted houses and angry cats. Put Peppa on a broom with a tall witches hat for an extra eerie effect.
But wait, there's more. When you cut into this delight, it bursts with various candy-coated chocolates and jelly beans.
11. Madame Gazelle's Number Cake
And last but certainly not least is the famous Madame Gazelle's number cake. Would we expect anything else from Peppa's playgroup teacher? She always takes the opportunity to teach her class something new. 
For this cake, I would suggest asking your local baker to bake a cake in the form of the number you are celebrating. For example, this cake is in the shape of a 2. From there, you can decorate it any way you like. 
Add some yummy frosting and cover the entire cake in a shade of your choice. Make a few fondant characters of Peppa and her friends to add to the cake. You could also purchase a few toys that will work just as well. I cut out some fondant daisies and placed them along the cake. Sometimes the little details make a cake.
There you have it, as simple as an A, B, and C. 
Full disclosure: I made sure not to add any glitter to this cake as I know how much the teacher dislikes it. 
Peppa Pig Cake Ideas FAQS 
Question: How old is Peppa Pig in the TV show?
Answer: Peppa is the main character in the hit TV show Peppa Pig. In the show, she is a 4-year-old toddler and the big sister to her baby brother, George.
Question: What is Mummy Pig's name?
Answer: Mummy Pig is Peppa's mother. Her real name in the show is Rachel Pig, but she is more fondly known as Mummy Pig or Mrs. Pig. 
Question: When was Peppa Pig invented? 
Answer: Peppa Pig is a British animation created by Astley Baker Davies and follows the adventures of Peppa Pig and her family. The first episode was aired on television on May 31, 2004. They now have a seventh season that began broadcasting on March 5, 2021.
My Final Thoughts on the Best Peppa Pig Cake Ideas
If your children are just as crazy about Peppa Pig as mine are, make sure to add one of these oink-tastic cakes to their party or celebration. I made sure to include a cake that suited every child's Peppa Pig needs.
From budget-friendly cakes to super-easy cakes, Madame Gazelle has it all right here for you.
If these fun-filled cakes have made you want to put on your boots and jump in the muddy puddles, that is cake baking (#cakegoals), then do yourself a favor and check out our Toy Story cake or the adorable Blues Clues cake ideas.
Recommended Reads: