Kids – and even grown-up- loved Toy Story so much that Pixar Animation and Walt Disney released three sequels and one spin-off. This series of sequels is also why Toy Story's fan base encompasses several generations of children. Moreover, there's just something appealing and engaging about toys coming to life and embarking on adventures while their owners are not around.
As such, I'd say it's pretty typical for kids to want a Toy Story-themed party for their birthday. Because Toy Story is a popular theme for children's parties, there's no shortage of Toy Story cake ideas.
My own daughter had her Toy Story phase, too, and we did get her a Toy Story cake for one of her birthdays. I have to admit that looking into the wide assortment of cake ideas online was time-consuming because there are just so many good ones. In fact, sifting through all the great choices was even harder than eliminating those cake ideas that didn't appeal to me.
So if you are here because you need help finding the perfect Toy Story cake design without having to wade through an entire online universe of ideas, just continue reading. I have done the dirty job for you and shortlisted Toy Story cake ideas to make your selection process quicker, easier, and stress-free.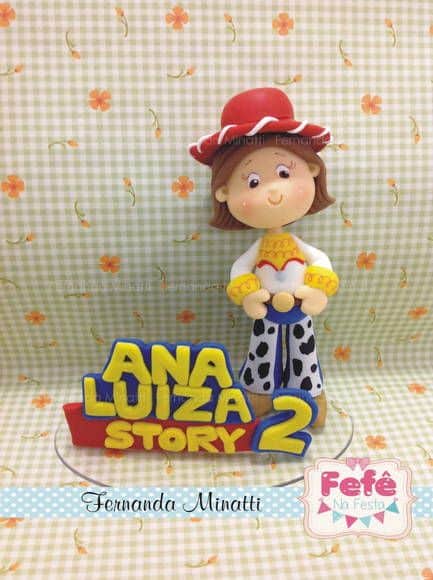 My Bottom Line Up Front
When it comes to kids' birthday cakes, I always prefer using toys as decorative elements. This way, the kids get to keep a souvenir from their birthday cake. In other words, I find it practical, without taking away from the aesthetic factor.
For more intimate celebrations, I prefer number cakes. You don't have to stress out about the design, and you can get creative with whatever you put on top. You can add the usual macarons, chocolates, meringues, and even flowers, then toss in tiny Toy Story figurines or Toy Story sugar cookies to make it a Toy Story cake.
Selection Criteria for Toy Story Cake Ideas
I really didn't adhere to any strict rules in narrowing down my list of cake ideas. They just have to stick to the Toy Story theme, be aesthetically pleasing, and showcase the cake maker's well-polished cake decorating skills.
However, most good-looking Toy Story cakes have fondant or gumpaste design elements, basically the same color schemes, and, expectedly, the same characters headlining the cake top. So, I tried to mix it up a little bit to give you a wider variety of options. I looked out for cakes that applied more modern decorating trends, that showcased other Toy Story characters, and that were more adventurous with its choice of colors.
Toy Story Cake Ideas
1. Toy Story Number Cake
Number cakes are a trend these days. They are mostly naked cakes shaped in the birthday celebrant's age. You can see the buttercream filling piped in between the cake layers. The buttercream piped on top of the cake will hold whatever decorative elements you decide to put on it — chocolates, macarons, candies, paper toppers, etc.
This cake has colored chocolate bars, buttercream swirls, jellybeans, Toy Story-inspired cookies, and toy figurines as decoration.
Here's another way to do a number cake. This cake has blue buttercream swirls with sprinkles, sugar stars and clouds, and edible Toy Story images.
If you or someone you know can make custom macarons, you can do a macaron number cake like this. These macarons are shaped as Woody, Buzz, and aliens. Add some fresh strawberries for color and variety and you're good to go.
Here's a number cake with chocolates, macarons, meringues, and paper toppers.
This number cake is different from the other trendy number cakes because it is simply covered in smoothened buttercream frosting and decorated with sugar Toy Story elements. Still works for me.
2. Toy Story Cake with Toy Figurine Toppers
Using toys as cake toppers or decorative elements is practical and a good way to avoid wastage. This gives your little celebrant a souvenir from their cake that they can actually keep and even play with.
This lovely two-tier cake has fondant details. Its first layer is inspired by Woody's cowboy costume and the top layer is done in the signature blue sky and clouds from the title, with the celebrant's name in Toy Story's official font and colors. Toy figurines of Buzz Lightyear, Woody, Rex, and Jessie are added to complete the look.
Here's another sample of a buttercream and fondant cake decorated with toy figurines of more of the Toy Story gang.
Of course, you can also use Funko Pop or Bobblehead figurines if you want your cake to look a bit different. The buttercream pipings make this cake even more colorful and give more texture to the overall look.
3. Mr. Potato Head Cake
Mr. Potato Head isn't a leading character, but he is well-loved. So if you want a Toy Story cake but also a bit different from the usual, you might want to give him the spotlight.
This cake is a three-dimensional Mr. Potato Head cake and is perfect for dads who are fans of the animated movie. The cake makes up his body and all the other details are done in fondant.
You can also make a Mr. Potato Head topper in gumpaste. This cake features his alter ego, One-Eyed Bart, who sits on top of a faultline cake with cow print and decorated with chocolate balls. The "wanted" sign is a quirky addition, as well as the money bags and the sheep.
4. Little Green Men Cake
Who doesn't find the aliens or the Little Green Men cute? If you want a Toy Story Cake that goes off the usual Woody-and-Buzz course, doing the LGMs would be an awesome alternative.
Check out this fun LGM cake. It's a simple white and blue buttercream cake. But with those adorable three-eyed aliens made out of gumpaste, the cake is far from looking plain and boring.
5. Lotso Bear Cake
This cake is a departure from the typical Toy Story cakes because it features a character that's not as well-loved as the others. In fact, the plush hot-pink teddy Lots-O'-Huggin' Bear was the antagonist in the third installment of the film.
This Lotso strawberry cheesecake is perfect for an intimate party among grownups. This cake has a strawberry jam topping, with Lotso's face in either fondant or royal icing.
6. Palette Knife Art Toy Story Cake
Using a palette knife to "paint" colored buttercream on a cake's frosted surface is also quite a fad now. You can apply this modern cake decorating technique to add texture to your cake.
Like this cake, for example. Even with the toy figurines, the white buttercream frosting would have looked plain and lackluster without the bright colors smeared on it.
Here's another beautiful example of a palette knife art cake.
7. Forky Toy Story Cake
Forky is the spork with googly eyes and a mouth made of clay, arms made of pipe cleaners, and feet made of popsicle sticks. What makes him a funny character is the fact that he considers himself more of a piece of trash than a toy.
If you adore this character, then make him the star of your cake. This is a simple blue buttercream cake and Forky is made of gumpaste. To add a bit more color, the cake maker added mini buntings with various prints.
8. Buttercream Artwork Cake
Sometimes all you really need to come up with a lovely cake is buttercream in different colors. You can pretend the frosting on your cake is your canvas and then transfer your design using a palette knife and piping bags.
If you only need a small Toy Story cake for a very intimate or family-only party, then this cake would be perfect. The cake maker demonstrated their buttercream decorating skills with this one. It is simple, but not devoid of artistry. Even with only a single tier and a relatively flat surface, it showcases the Toy Story theme. Everyone can recognize the characters illustrated in buttercream even with only the top of their heads showing up.
This is a different take on the buttercream art cake. The cake maker did Buzz with a palette knife and the three aliens with a piping bag.
Who says you can't paint Buzz Lightyear using buttercream?
9. Toy Story Candyland Drip Cake
This cake gives you multiple decorative elements. It has green chocolate dripping down the sides against the blue buttercream. Aside from the toy figurines on top, you have colorful candies and sprinkles. You also have text made out of fondant.
Here's another take on the candy drip cake. But it also uses toy figurines and lollipops as toppers.
10. Not Your Usual Toy Story Colors
When we talk of a Toy Story color palette, we automatically think of red, yellow, sky blue, and bright blue. So if you want to be different, you can use different colors as your Toy Story backdrop.
A cake that is dominantly sky blue, pink, and cowhide print looks a bit subdued and unique without the usual colors we see in the "Toy Story" title. Good thing Woody, Jessie, and Bullseye are here to show us it is indeed a Toy Story cake.
This two-tier cake shows us that even with sky blue and bright yellow, it's still a deviation from the usual Toy Story colors without the red and the bright blue. Without the toy figurines, this cake might as well be something other than Toy Story-themed.
11. Toy Box Cake
How about a cake that looks like a wooden toy box, and all your favorite Toy Story toys are right outside?
This carrot cake has cream cheese filling, and the wooden finish is made of fondant.
12. Toy Story Cookie Cake
You can use cookies that have been printed with edible images or decorated with royal icing as toppers or accents for your cake.
This buttercream cake does exactly that. These sugar cookie toppers have been printed on using an edible ink printer. Buzz and Woody are planted on buttercream grass, and behind them are lollipops that look like balloons.
13. Buzz Lightyear Ball Cake
Colored chocolate balls are a trendy cake decoration these days, and you'd usually see a cluster of them cascading down one side of the cake. This cake uses these balls and makes them look like balloons that a toy figurine of Buzz Lightyear is holding. I'd say it's pretty creative.
14. Buzz Lightyear Galaxy Cake
Here's a cake that shows us Buzz Lightyear in his true element. The cake's buttercream frosting is done using the marbled technique in the colors of the galaxy. It's also a drip cake with isomalt sails and chocolate balls.
15. Fondant Toy Story Cake
Of course, fondant Toy Story cakes will never be out of style. But like I always tell people, never get your cakes decorated with fondant or gumpaste unless you know someone with excellent gumpaste modeling or sculpting skills and who can execute your design perfectly. You would want your characters looking exactly how they ought to look.
This cake has a 2D Buzz, Woody, and the Greenman done excellently in fondant.
Here's a lovely three-tier cake with three-dimensional fondant characters.
Frequently Asked Questions
Question: How much does a Toy Story cake cost?
Answer: There is no definite answer to this because cake costs vary, regardless of theme. Many factors affect or influence pricing, and these include size, availability of ingredients, materials used, type of cake and how complicated it is to bake, complexity of the design, and the skill level of your baker or cake maker.
For example, there are types of cake and cake flavors that require more steps and more time to make, as well as those that use more expensive or hard-to-find ingredients. These cakes would naturally be more expensive. Fondant cakes would also cost more than those that just use buttercream frosting.
Even more so if you ask Toy Story figures or characters to be made by hand using gumpaste. This would require a lot more time and skill. Moreover, bakers and cake makers with more years of practice and experience would charge more than those who are just starting out.
Question: I'm trying to decide on a cake flavor. What flavor do kids like?
Answer: This is kind of tricky because we know kids have different tastes and preferences when it comes to food in general. But one thing is for sure: if you are planning a kiddie party and would want to get a cake that most of your young guests would love, then get something that's basic, simple, and familiar. That's because kids don't have very refined palettes yet. I'm talking about simple flavors like chocolate and vanilla.
Conclusion
Many children grew up – and are growing up – watching Toy Story. The story, the movies, and the characters are really appealing and captivating. So it is not surprising if your kid would want a Toy Story cake for their birthday. The good thing about this theme is that there are many characters for you to choose from and you can highlight or showcase them in your cake.
The theme also represents a broad color palette. You can incorporate these with new cake decorating trends or techniques. You have plenty of room to play around and be creative with your cake design.
Recommended Reads: