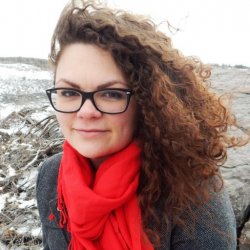 Latest posts by Candace Osmond
(see all)
Is your dad's birthday coming up, and you feel at a loss when it comes to picking out his cake? Are you all ready to celebrate your boyfriend's birthday, but you're not sure what to do about the cake?
I know choosing the perfect birthday cake can feel like an intimidating process, which is why I'm going to show you my favorite trendy birthday cakes for men. With a wide assortment of themes and colors on my list today, I'm sure you'll find a cake that suits the man you know.
Bottom Line Upfront
Okay, my hubby's birthday is coming up, and I'm totally going to make him the Lumberjack Cake for Champions idea because it looks easy enough but also because my husband is a major woodsman. He spends all his time at the cabin, hitting the trails or out in the workshop.
Top 3 Picks
All the cakes I'm going to show you today are special in their own ways, but I have to hand it to these 3. Each of these 3 cakes wowed me with how they demand to be the center of attention, and I'm sure you'll love them, too. Let's take a look!
Best Overall: Lumberjack Cake for Champions
Best for Older Men: Funny Jack Daniels Birthday Cake
Best for Young Men: Avengers Assemble! Birthday Cake for Men
Awesome Birthday Cake Ideas for Men
Without any more preamble, let's get into it! Just below, you'll find 32 of the most stunning, masculine, and sometimes hilarious birthday cakes. Whether the man you know prefers humor, elegance, or a themed cake, you'll find it all here. I tried to choose a selection of easy and hard cakes and picked them all based on their overall design.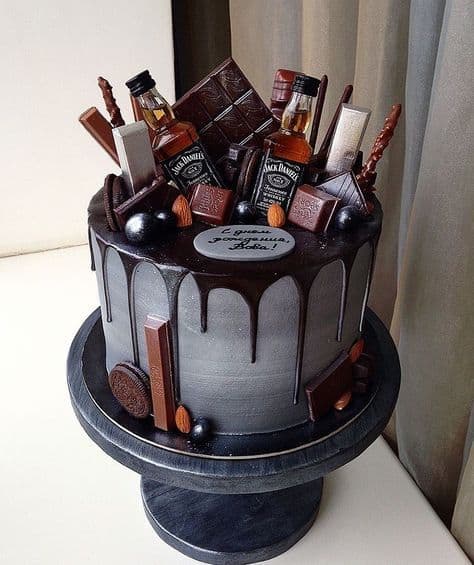 I dunno about you, but I know my dad loves a good Jack Daniels drink after work, and he'd love this cake. If your loved one has a party personality and enjoys some good booze paired with chocolate, I can't think of a better idea. Did you notice the small bottles in the cake are real? They're what gives this chocolate ganache-coated treat a little something special.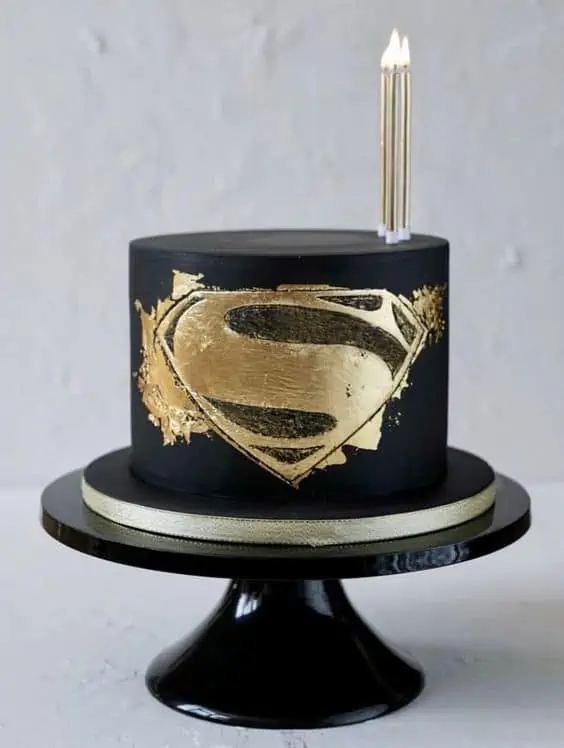 Black and gold never go out of style. Neither does Superman, who has been capturing the world's heart since 1939. This cake is great for adult Superman fans because the color scheme is so sophisticated. I recommend buying the tall gold candles you see on the side, so the birthday candles match the color scheme. What I love about hero cakes is that giving them to someone special is a sweet way of telling them they're your hero.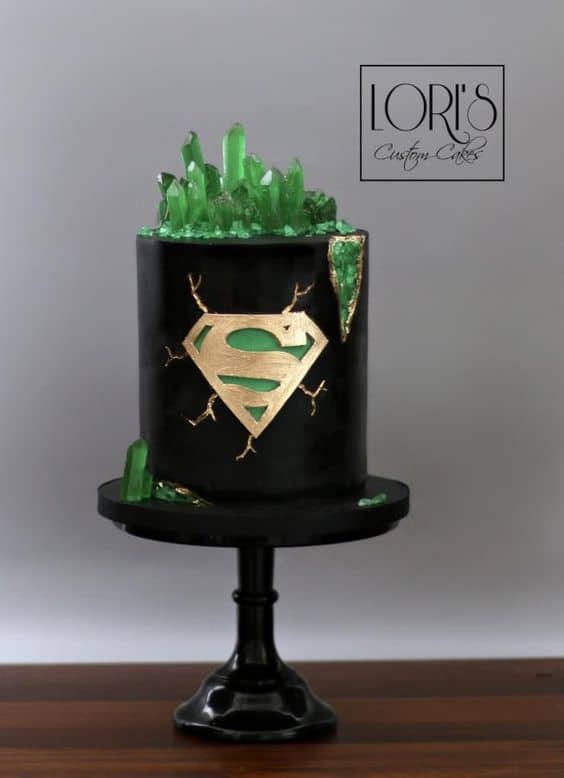 This is another Superman cake, but it's really different from the last one. Have you seen the geode cakes on Instagram- where part of the cake is missing, and rock candy fills in the gap to make an edible geode design? This cake features a green geode pattern, and the green rock candy crystals on top look like kryptonite!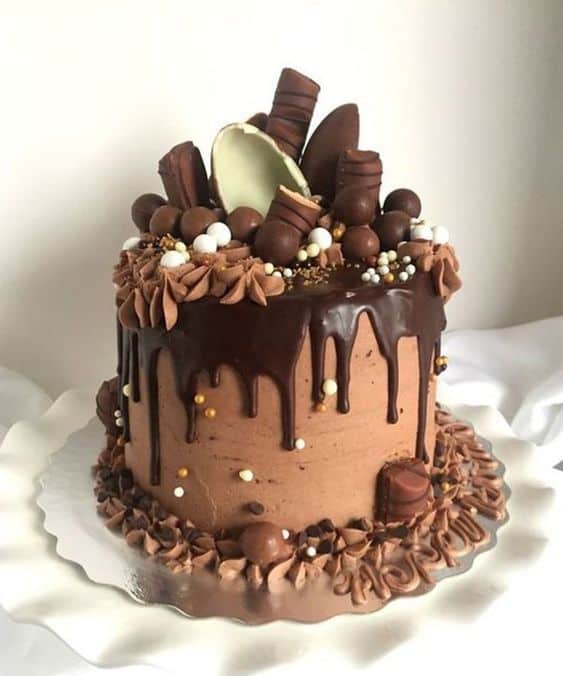 Got a chocolate addict on your hands? I know my boyfriend's always going for seconds when chocolate cake is involved, and he'd eat himself into a sugar coma if he saw this cake in person. This idea incorporates all the good stuff-chocolate pretzels, Whoppers, and ooey-gooey chocolate ganache. Mini chocolate chips decorate the chocolate frosting on the bottom, just in case there wasn't enough chocolate on top. Ah~ What a dream.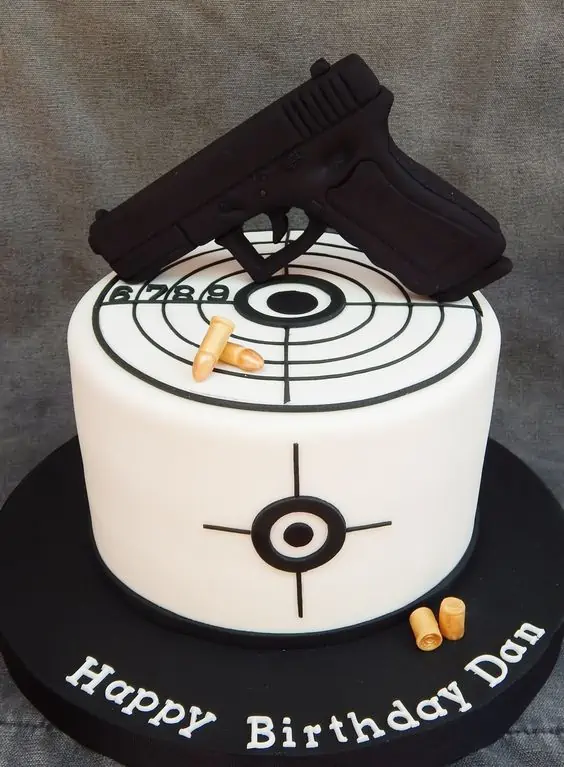 Can you find your loved one practicing down at the shooting range? Does the birthday man you know enjoy learning about weapons and firing them? Well, I think they're sure to appreciate this tasty gun cake. The gun and gold bullets have been made from modeling chocolate, so you won't have to worry about any misfires. The bullseye is made from fondant, which is perfect for creating crisp lines.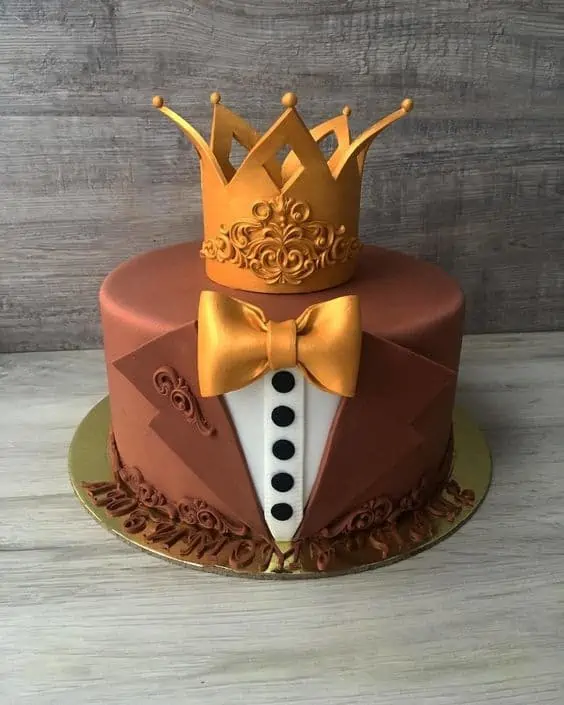 Show the modern king you know that you care by providing them with this upscale chocolate cake. I think the gold crown decoration is simply beautiful but still masculine. The gold bowtie to match was a perfect way to tie the bold color into the brown, black, and white color scheme. This is an idea for a professional baker unless you're exceptionally good at carving fondant.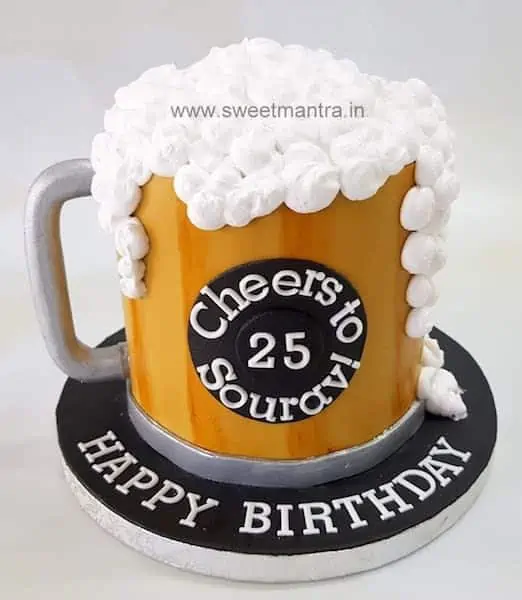 3 cheers for the birthday man and his favorite drink-beer! While this cake is fun (and would be even more fun if you went the extra mile to provide mugs of beer at the party), it's expertly made. The sides of the cake have been glazed to give it that beer-in-a-mug look. The fluffy white foam consists of many, many round icing circles. The men I know would love this cake for how different it is when compared to a standard cake.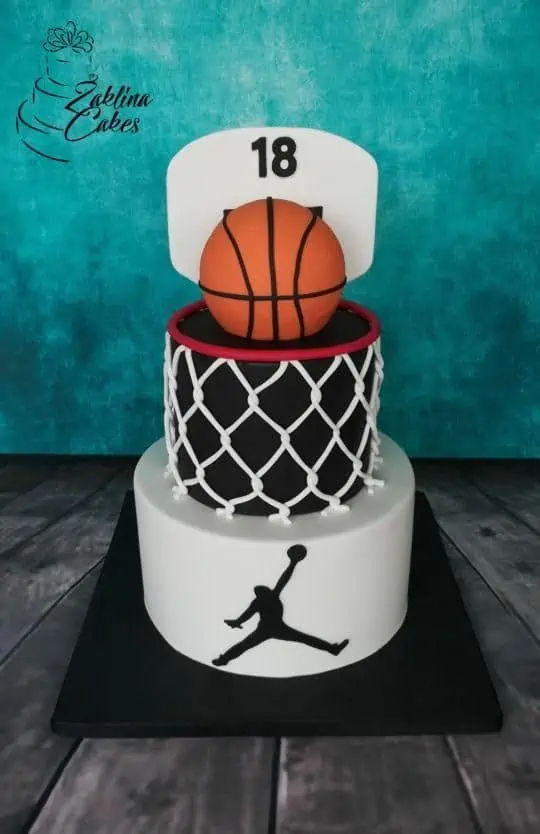 Is your man outside shooting some hoops? Is your dad a huge NBA fan? Basketball lovers will go nuts when they see you pair their favorite interests with their special day. I love that each cake tier feels distinctive while contributing to the theme. The 3rd tier on top-the circular orange basketball going into the hoop, is the star of the show here.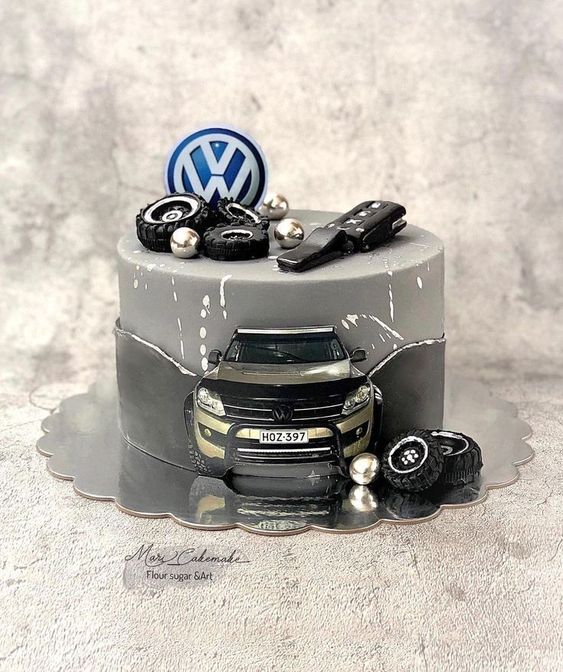 Vroom vroom! That's the sound of your loved one's birthday cake pulling up to the party. Does your dad, uncle, boyfriend, or brother drive a Volkswagen they're obsessed with? I just know they'd love this cake. I love the Volkswagen logo featured on top and that the car driving out of the cake looks 3-dimensional!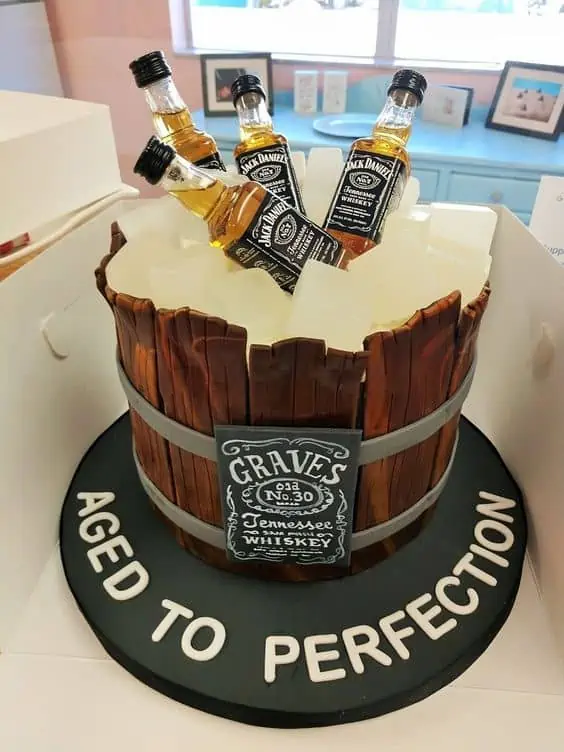 This cake gave me the perfect idea for my dad's next birthday. Not only does this cake look like a realistic barrel full of whiskey-it is! The 4 small Jack Daniels bottles on top are all real, so the birthday guy can have an intense surprise. "Aged to Perfection" is written in icing in front of the cake, sure to make your loved one laugh.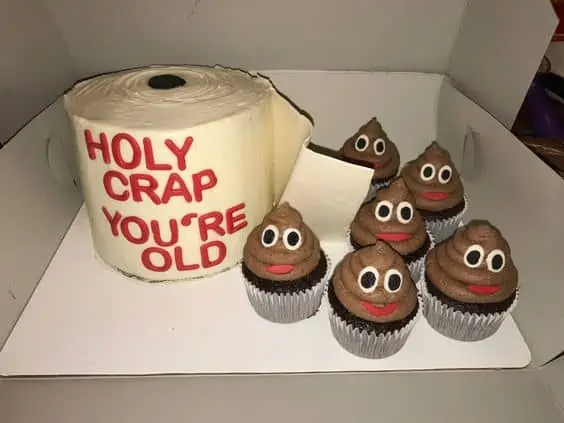 If the birthday guy you're making or buying a cake for can take a joke, why not get them this funny cake and cupcake set? "Holy Crap You're Old" is written in icing on the toilet paper cake, and smiley poop cupcakes finish it off. Some guys find stuff like this hilarious.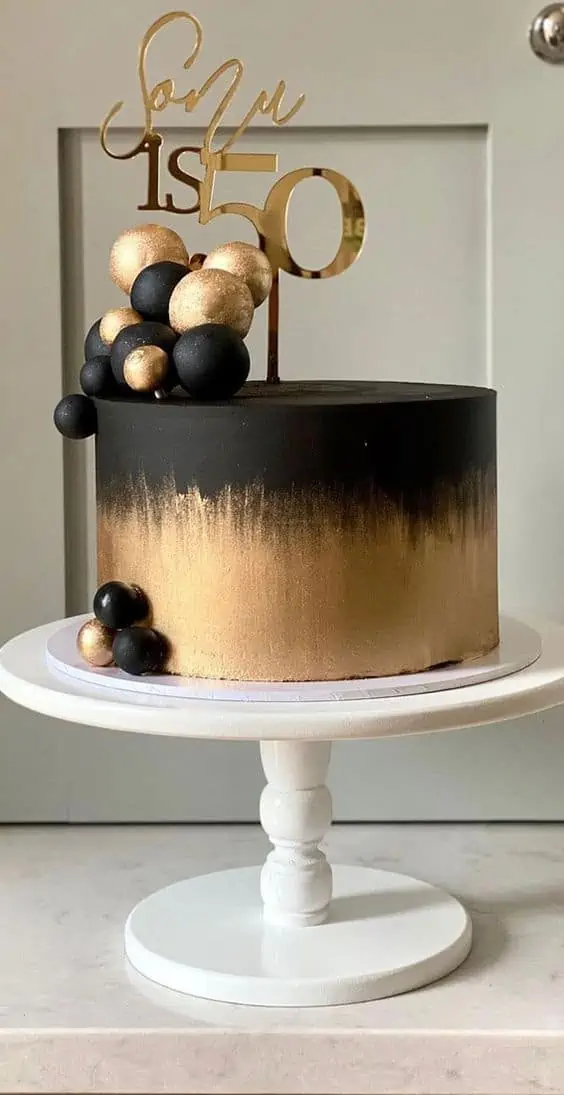 In stark contrast to the last idea, this idea is for those that appreciate a finer, more sophisticated touch. I think this black and gold cake is stunning. It's simple yet bold with shining gold color. If the man you know wants an upscale cake with modern flair, this cake with asymmetrically placed black and gold balls will wow them.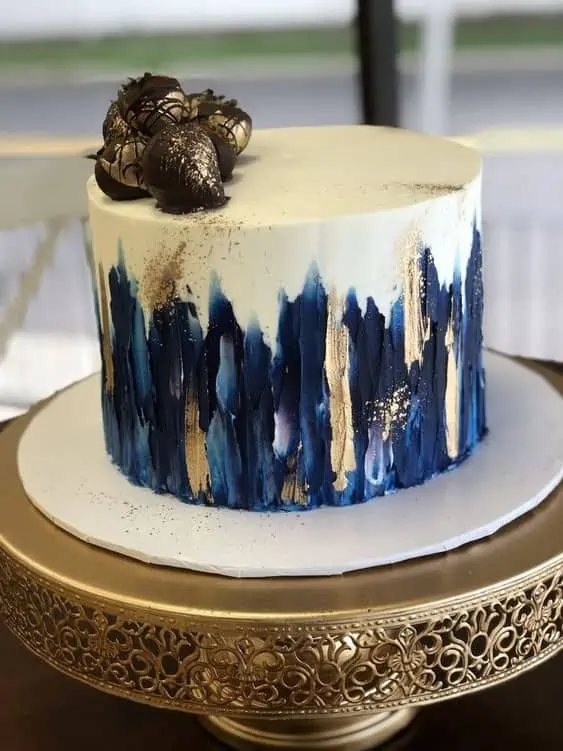 Let's keep things modern for a moment so I can show you this next cake, which will surely blow your birthday guy's mind if he has an eye for style. Each detail here is stunning-from the dark chocolate-covered strawberries dusted with gold to the dark blue and gold design in the frosting. The inside cake flavor can be whatever they like best, but consider something decadent like strawberry jam swirl or dark chocolate bourbon.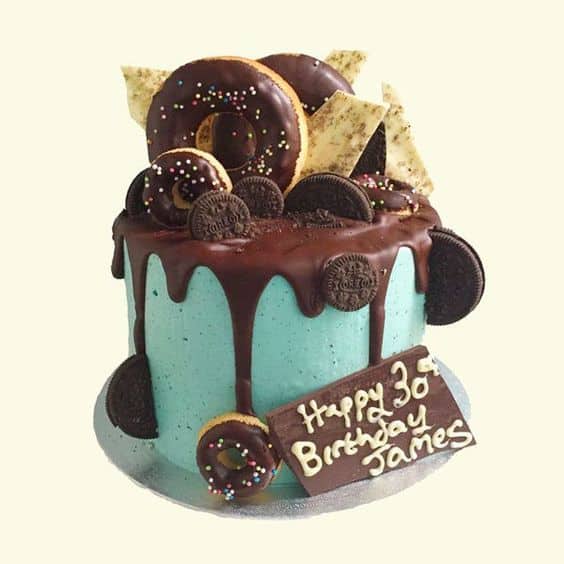 This is a birthday cake for men who have a real sweet tooth. Donuts and Oreo cookies cover this cake that's all about the sugar. The blue color of the frosting reminds me of the Cookie Monster, which is nice because the blue livens up all the browns of the chocolate. A chocolate ganache on top makes this birthday treat all the more delicious.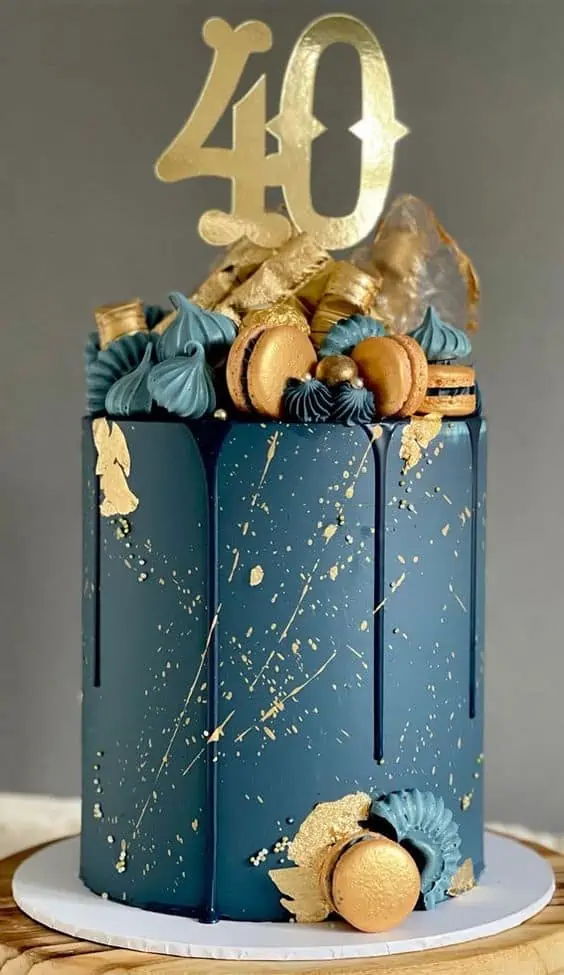 Man, I would love to buy someone a birthday cake like this one day. Blue and gold have been used to make the most gorgeous display of macrons, candy, and gold foil. The cake even has a blue ganache, which adds to the elevated appeal of the cake. I can't get over how modern yet classy this is!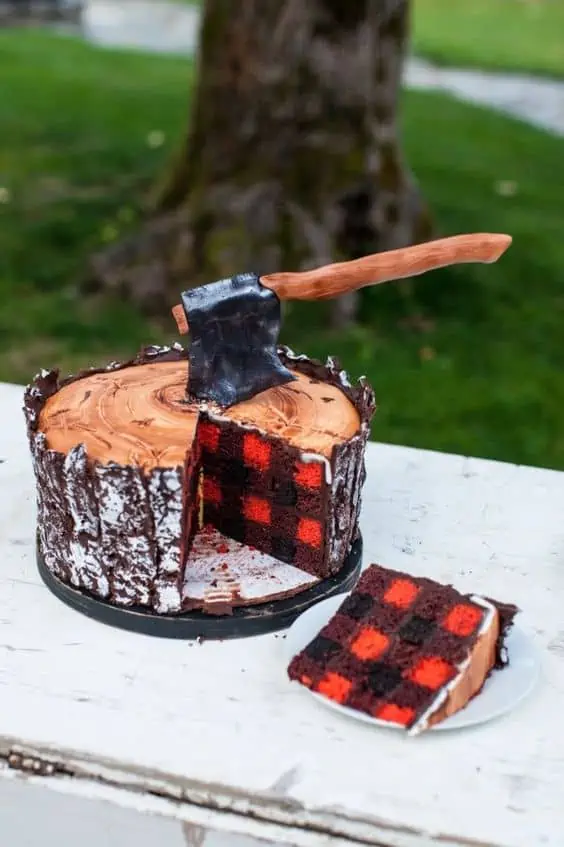 I honestly think this might be one of the most creative birthday cake ideas I've ever seen. I might even make it for hubby's next big day! It's the perfect cake for lumberjacks or outdoorsy type guys! The outside looks just like a realistic tree stump, and you could make the outside with dark chocolate and powdered sugar. Even more cleverly, the inside cake looks like a plaid shirt. How awesome is that? It takes patience to achieve the checkered pattern inside the cake, but it's so worth it for this idea.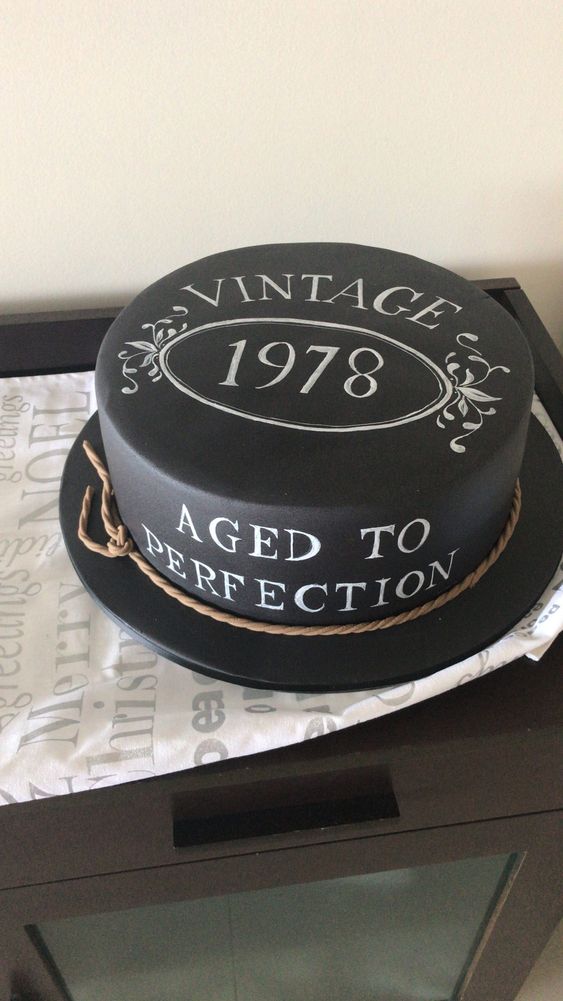 I love this cake because it managed to merge being funny with being elegant. The typography on the cake is beautiful, but the words say "Vintage" and "Aged to Perfection." For a figurative cherry on top, add the year the birthday person was born. This cake even looks like a top hat, which I think adds to the classiness.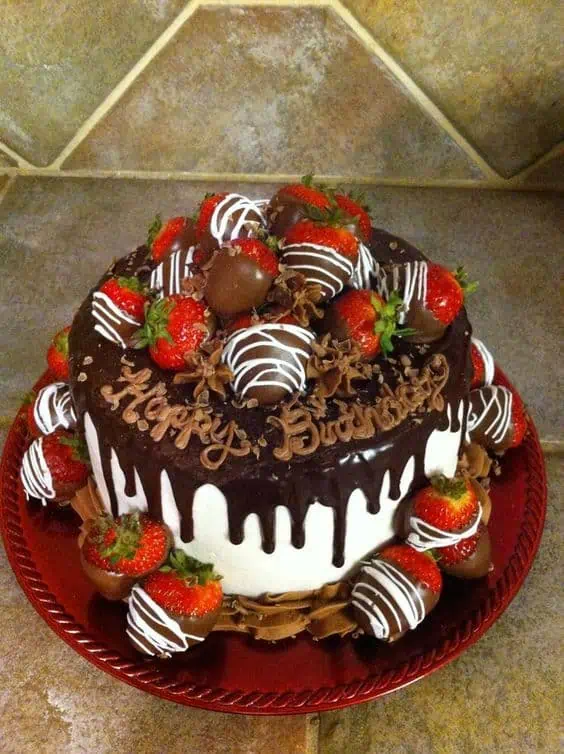 What a delight! If the man you're planning a special day for loves chocolate and strawberries, their mouth will water when they see this cake. Tons of chocolate-covered strawberries have been piled on top of the cake and along the sides. You could make this idea at home yourself, so try it out if you're into DIY.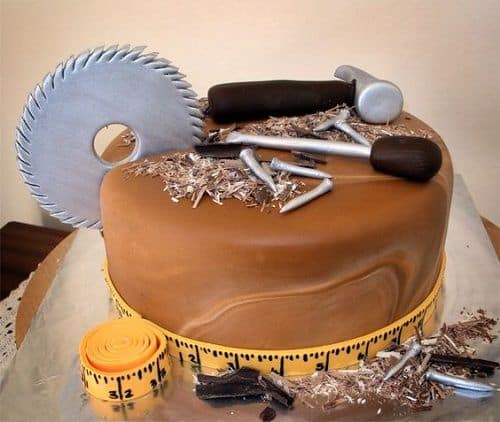 Some guys absolutely love fiddling around with projects in their shed. Does this sound like a man you know? Well, take a closer look at this tool shed-inspired birthday cake, complete with modeling chocolate tools! My favorite detail is the yellow fondant measuring tape rolled up next to the cake that's measuring the circumference of the bottom.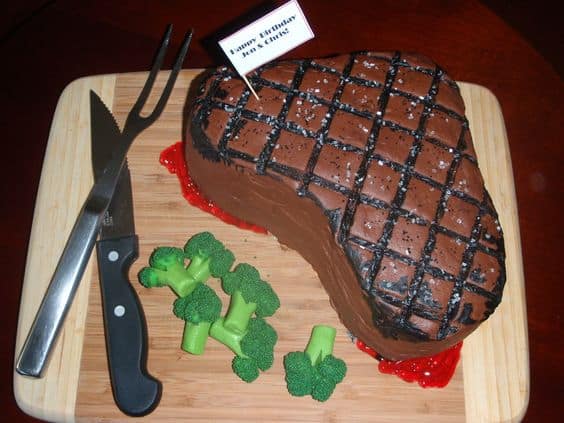 Does your dad always want a steak for his birthday as mine does? This cake, which looks like a realistic steak, is a funny way to give it to him. Modeling chocolate broccoli on the side completes this deceptively sweet display. Using plain sugar sprinkles as salt on the steak is smart and hilarious, so make sure to note the little details in this idea.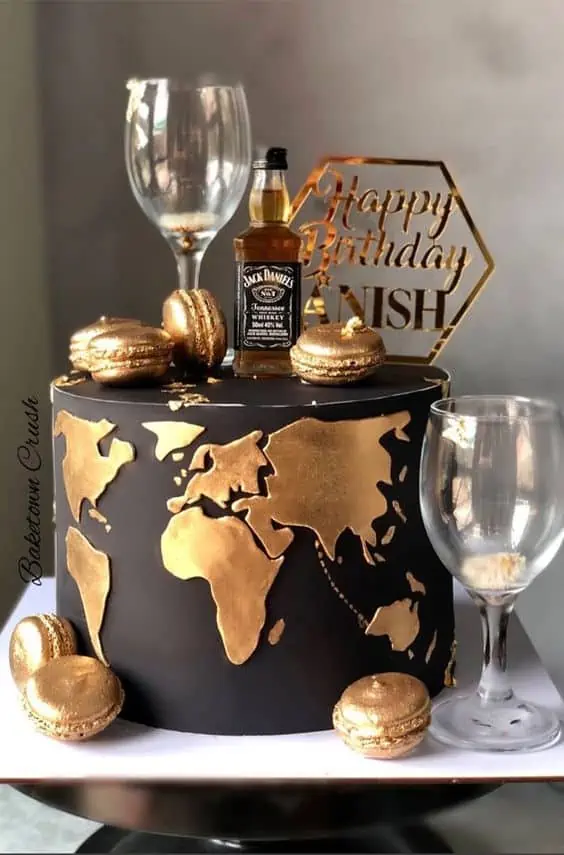 Show the special birthday man he's the ruler of the world with this classy black and gold birthday cake. I love how the continents have been intricately carved from solid gold fondant. This idea is gorgeous and masculine, with a Jack Daniels bottle and gold macarons placed on top.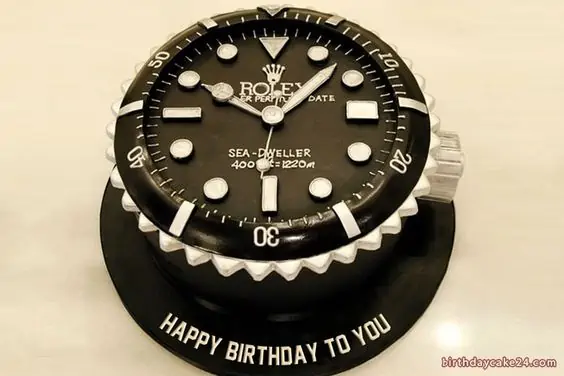 Ahh, this cake feels decadent and expensive. If your boyfriend is always sporting his favorite Rolex watch or your brother has an impressive Rolex collection, the guy you're buying for will be seriously impressed with this cake. This idea has some complicated layers of decorations, so I recommend visiting your local cake decorator.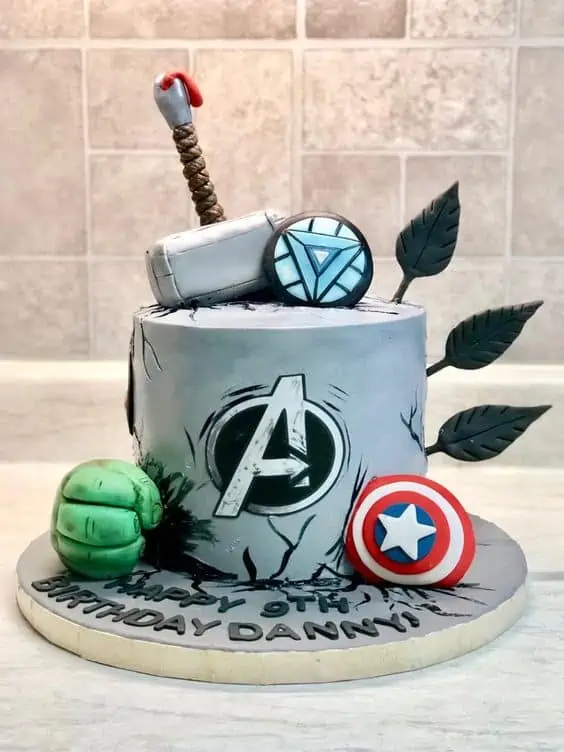 Is the special guy in your life a huge Marvel fan? If you've seen The Avengers movies repeatedly with a fanatic as I have, then you know how excited they'd be to receive an Avengers cake. Thor's hammer is smashing into the top of the cake, giving it some wow factor. I love the shading in Iron Man's Arc Reactor and the Hulk's fist.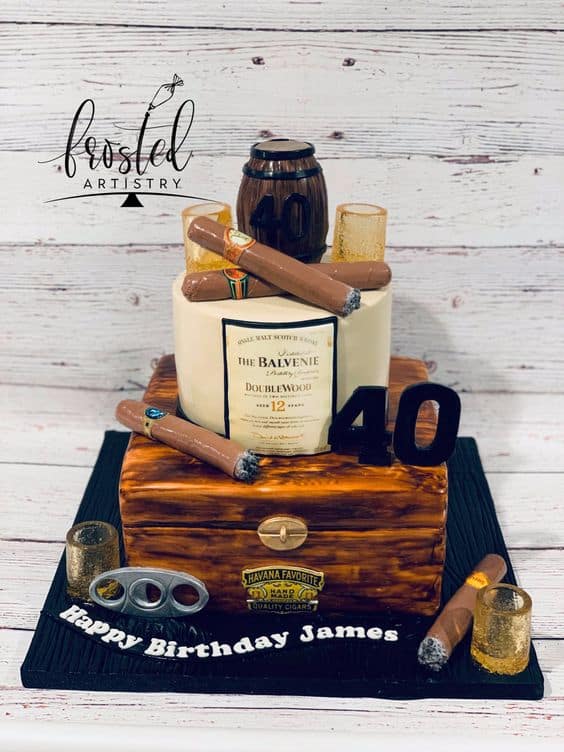 This is a manly cake if I've ever seen one. My dad would definitely appreciate the black, brown, amber, and silver aesthetic. How will you beat cigars, scotch glasses, and brass knuckles when it comes to "Man Cakes"? That's right. I just dubbed a new word. MAN-CAKES. The bottom tier looks just like a glossy cigar box, while the cream tier on top features a classy scotch label.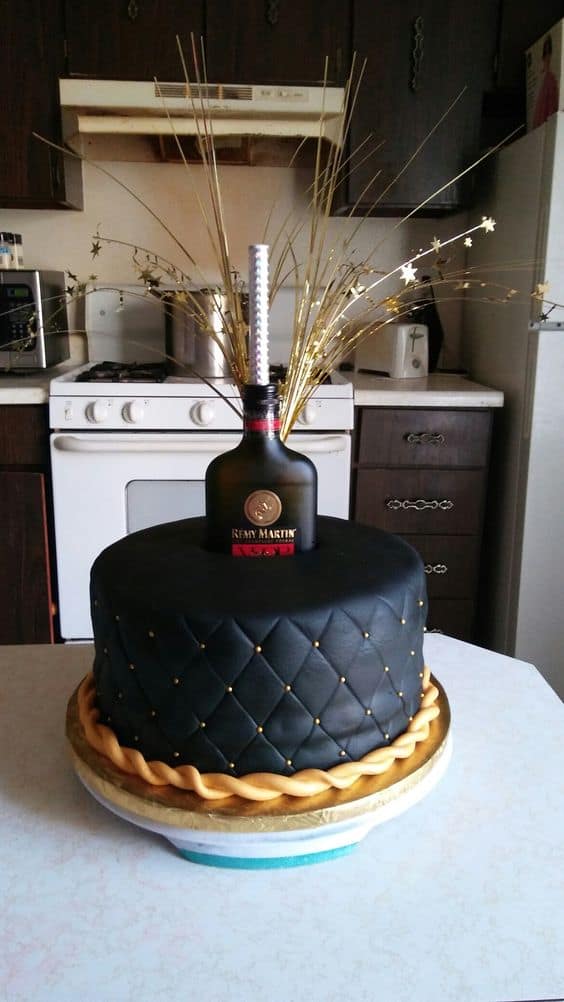 I know I've shown you a few black and gold cakes, but this one is truly gorgeous. You can place a full-sized bottle of your guy's favorite alcohol inside with a hole in the center. Don't worry about it getting messed up with frosting-this cake has a protective layer of black fondant. Using the tall gold stars gives this cake height, which is why I think it looks so impressive.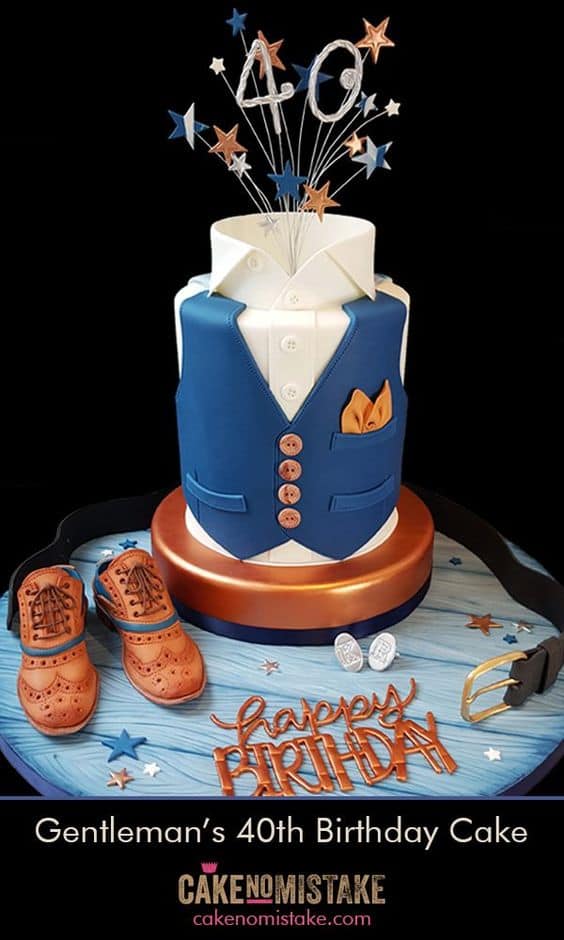 What a dapper cake for a dapper gentleman! The shoes, handkerchief, vest, and collar may look realistic, but they're all perfectly edible. White, brown, blue, and gold always make for a classy combination, so give a cake like this to a man who appreciates vintage and sophisticated style.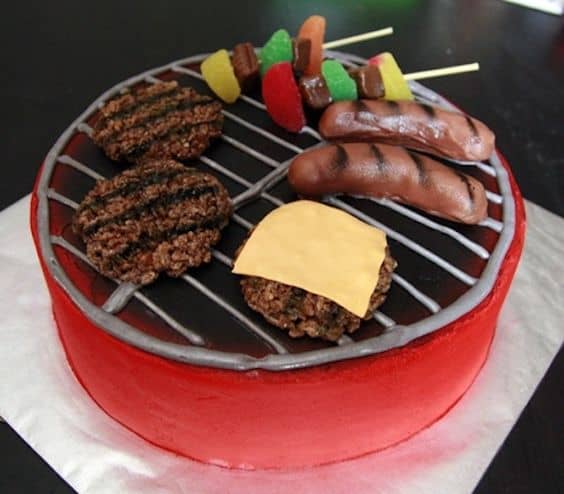 Dads and grills are inseparable during the summer. They're like peanut butter and jelly. Your dad would be so amused by this cake that looks like a grill. Burgers made out of no-bake cookies and modeling chocolate hot dogs complete with grill marks make this cake so fun to me.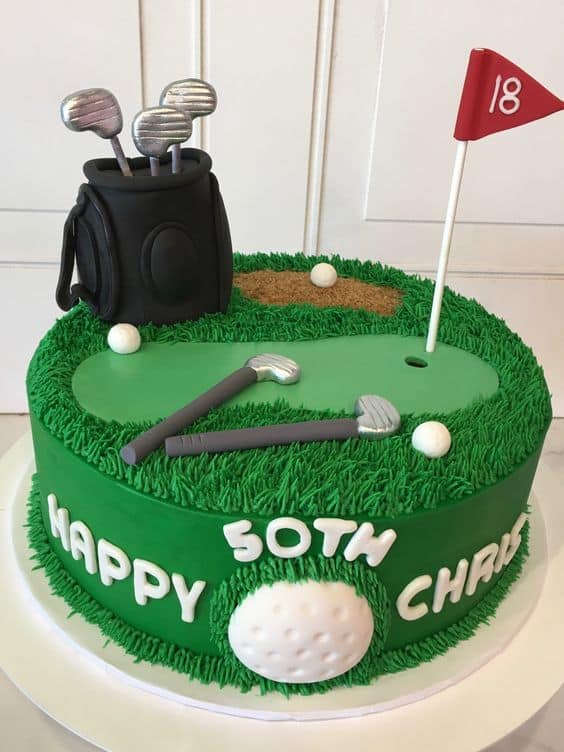 If the guy you're planning a birthday for can always be found on the golf course, I'd take a look at this cake. Using a piping bag and the right tip, you can make green frosting that looks just like grass. The golf bag and clubs made from modeling chocolate and fondant are going to represent the biggest challenge, but with some patience, you could make this one at home.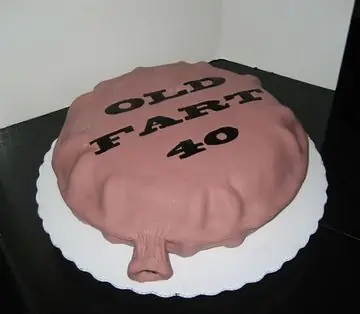 If you're buying or making a birthday cake for an older man who can take a joke, I think he'd appreciate this cake. The cake itself looks like a whoopie cushion (and it was no easy task to make all those details!) The print looks just like the print on a whoopie cushion, too, so it's very realistic.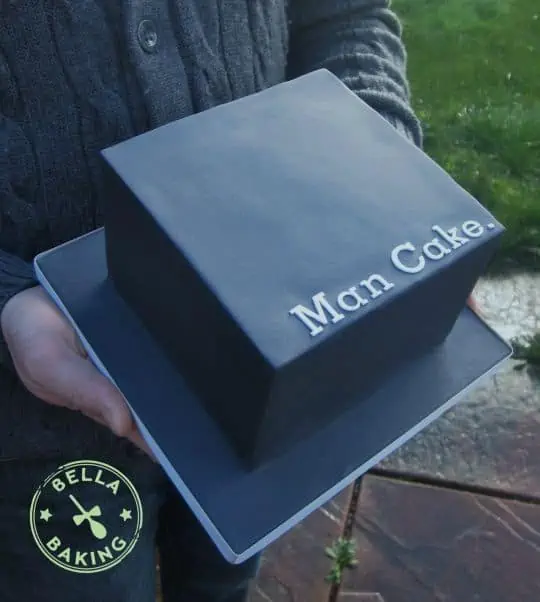 Man Cake. The simple print, simple color scheme, and simple fondant layer says it all. Some guys just like things plain and simple. This cake is a hilarious idea that lots of guys would think is amusing and delicious. You could make this yourself, so give this simple cake for a simple man a try.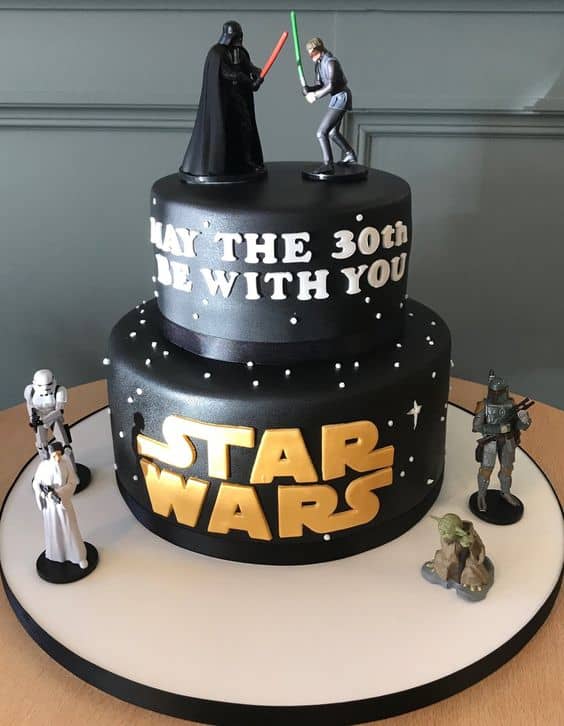 I'm in love with this cake! This Star Wars cake has shiny black fondant with white dots, and it looks just like the Star Wars galaxy animations! The action figures of Luke, Darth Vader, Princess Leia, and more can be found around the cake. What I love about this is that your special guy can keep the action figures once all the cake has been eaten.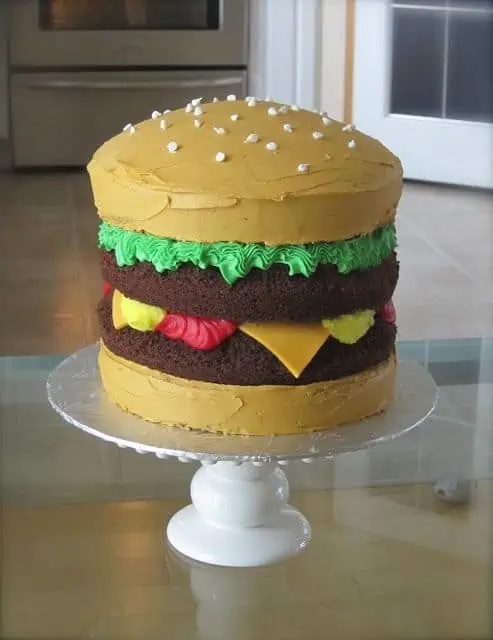 Let's end today's voyage through many great cake ideas for men with a big, juicy burger. This cake is super easy to make at home, so if you want a DIY project, check this out. You'll need 4 circular layers of cake, 2 of which have to be chocolate. Ice 2 layers with yellow frosting and keep 2 of the chocolate cakes plain. See how you can layer the cakes with frosting to make the perfect treat?
Things to Look for in Mens' Birthday Cakes
Pick a color scheme that showcases the birthday man's favorite colors
Look for a theme that speaks to the birthday man's particular interests
Choose a style the guy you know likes best-rustic, elegant, funny, electronic, etc.
Decide on a cake flavor that the birthday guy enjoys
FAQ
Before I close today's article, I'd like to answer your most frequently asked questions about birthday cakes for men.
Question: Do Men Like Birthday Cakes?
Answer: Of course! Everyone loves birthday cakes. Trust me, the guy you know would be much more offended to not receive a cake from anyone.
Question: How Do I Pick a Birthday Cake for My Husband?
Answer: Think about what your husband's interests and hobbies are. Does he like Marvel, Star Wars, basketball, golf, or space? There are cake ideas for all those themes!
Question: How Do I Pick a Birthday Cake for My Dad?
Answer: I'm going to give the same advice I gave above. As long as you know some of your dad's most prominent interests, you can base his birthday cake around that. Does he like grilling out, boats, or cars? You can work with that!
Have Your Cake and Eat It, Too
I hope you found it helpful to look through the trendiest birthday cakes for men. Whether you're going to whip up a cake yourself or take the idea to a professional, personalizing a cake is a great way to show someone you care.
Let me know which of the cake ideas for men we covered today was your favorite in the comments below! Is it my personal pick, the Lumberjack Cake for Champions idea? Come on. It's super easy. I know you can do it! For more exceptional cake ideas for your loved one's special day, please come check out our website!
Recommended Reads: