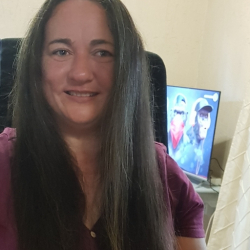 Latest posts by Caroline Lambert
(see all)
The best beer cake ideas turn a party into a rocking disco! I've baked enough artisan cakes to confirm that beer cakes are famous for men. You'll impress guys who enjoy a sundowner with their buds at the local bar, whether you're planning a wedding or birthday party cake. Go bold or go home is my party-planning motto.
Why should a party be dull and unoriginal? Party ideas come from my friend's deepest cores, and sometimes, the party supplies have to go bottom up to impress everyone. I planned countless successful parties for kids and adults, and I've baked artisan cakes that left the crowd stunned, though I haven't baked a beer cake yet.
However, the idea sprung to mind when I saw this exciting opportunity. So, let's dig into the frothy ideas.
Bottom's Up!
Beer cakes are an out-of-this-world experience at parties, father's day events, and weddings. I'd bake one for my brother or partner. The possibilities are endless, especially when you're selecting beer cake ideas from the most enjoyable brands in America. I'll share my top picks for newbie and expert beer cake ideas.
Then, I'll dive into the countless creative ways to design beautiful beer cakes. I'll also include some unique recipes and a tip for amateur bakers. Additionally, I'll show you some bonus beer cake ideas that simply look creative. So, let's raise our glasses and see the winners.
The Best Newbie Beer Cake Idea in 2022

The "Star-Spangled Hammered" Beer Cake Idea wins because it's hilarious and easy to design. I have a cooky sense of humor, and any cake that makes me laugh will do the same for my guests. Replacing the word banner with hammered is relatable to beer lovers, and the cake is sure to be the talk of the town.
The Best Expert Beer Cake Idea in 2022
The "A Man's Meal" Budweiser Beer Cake Idea is the top pick for experts. Why should you only give a man what he loves without the accompanying pleasure? The craftiness of the sculpted cake is next-level impressive, and it has beautiful edible paint techniques to make the steak and beer look real. Imagine this cake at a barbeque.
Selecting the Best Beer Cake Ideas Made Simple
Beer cakes have a broad creative horizon for bakers. My number one rule for picking the best beer cake ideas is that they must represent one of the leading 25 beers in America. A 2021 survey shows the top picks, including some names like Budweiser, Heineken, Coors, Guinness, Miller, and Corona.
Selecting beer cake ideas from the most famous brands ensures that every beer fan gets his ideal cake. Secondly, I'll choose the best ideas for newbie and expert bakers because you might not have the baking and decorating experience. Finally, the cake must look aesthetically pleasing, even the newbie ideas.
I'll include some bonus creative beer cakes for the kicks after the top picks.
Fabulous Beer Cake Ideas for Newbies
Newbie beer cake ideas are as fantastic as the expert options. The only difference is that you don't need expert experience with cake decorating. The designs are simple enough to pull off as a beginner. Of course, nothing says you can't attempt an expert cake idea, but newbie cakes are an excellent start to impress guests.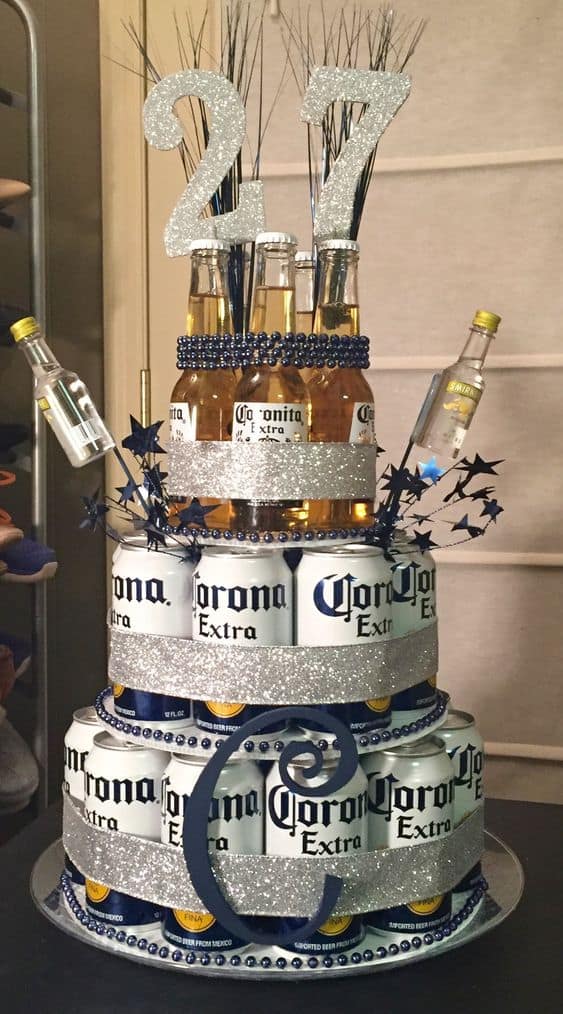 Beer can tower cake ideas are trending. They're simple enough to complete and look fantastic. All you need is two tiers of tasty beer cake surrounded by your choice of beer cans. Using ribbons to hold it all together can also improve the design aspect. Be sure to use separation boards to avoid a falling tower.
Bottled beer cap cake ideas are another favorite that welcomes newbies to experiment with fondant wrapping. The cake design is easy because you don't need perfect wrapping. Of course, you'll need the right color for your favorite beer, but cutting out the shapes and letters will be another breeze.
Wooden barrels, beer kegs, and ice buckets are easy designs for newbies, and they look incredibly yummy. I chose this wooden beer barrel cake idea because the texture is a matter of drawing lines on fondant. Don't stress too much about getting the black binders shiny. The cake would wow guests either way.
Beer can cakes are another simple yet stunning idea for hops fans. You could design any beer can, but I chose the Miller cake idea because it has easy colors to match. You can try your hand at painting the beer can cake, or you can cut pieces from fondant to attach with a blotch of buttercream frosting. It looks brilliant both ways.
Admittedly, I'm too fond of chocolate. Beer lovers aren't always chocolate fans, but this beer cake idea suits the few who are double passionate. The cake is a beautiful buttercream frosted design with sharp edges, and using beer frosting recipes would work wonders. The dripping effect with the chocolate decor suits me to the tee.
Beer mug cake ideas are a little more complicated, especially if you're talking about sculpted cakes. However, this beer mug cake is excellent for newbies because it merely requires little frosting techniques. The foam is messy, which gives it depth. The mug itself is made with the simple trick of sliding the frosting knife upward around the cake base.
Did you think all beer cakes were for men? Nope, I have a beer cake idea for women. The tasty design of this Corona cake idea screams feminine, and the roses aren't too complicated. Use this easy rose-piping technique tutorial to guide your hands for a gorgeous feminine beer cake idea to bring glamor to the beer front.
Newbies can also make gravity-defying beer cakes. I love this tutorial because it walks you through the balancing act you think is intimidating. Additionally, it gives you the technique to frost the beer mug cake from number eight on my list. You even learn how to frost the frothy bit at the top for a thirsty treat.
Would you believe that beer cakes can add pizazz and glamor? This beer cake idea is the most beautiful one I found. I love the colors and gold spray paint ideas around the tiers. You might need help with the gold paint technique, but you can skip it. Instead, use edible luster spray to add the method at home quickly.
Admittedly, I don't drink much. I'm a social drinker, but Guinness is my top pick. It also makes the most incredible food. Guinness cake ideas don't have to be as layered as the food flavors. This cake has a simple dripping effect with a few chocolate pieces for extra details. Use actual beers if you wish.
I'm showing you another gravity-defying beer cake idea. You can take inspiration from the tutorial on number ten on my list. Balancing this beer can would be much simpler because it's real. It doesn't weigh much, and the bubbly bits are melted marshmallows, another easy-to-finish, beautiful result.
Now I'm adding this to the list of beer cake ideas with melted marshmallows as the foam. The hardest part of this Corona cake idea is the mug's handle. It's okay to use a metal frame that goes into the cake. Wrap fondant around the frame, and voila. The Corona logo is challenging, but I would print it on fondant or edible wafer paper.
I've never tasted Modelo beer, but the Modelo cake idea works for those who have. It's also an extravagant design with simple techniques. The logo's font is super complicated. So, I recommend you have it printed on edible wafer paper, which also sticks easily to buttercream frosting. It's a mature and elegant cake idea.
I had fun naming this cake idea because it looks like limes with flowers in-between. Sure, it's not flowers, but my idea is slightly different from the picture. Suppose piping buttercream flowers is too complicated. In that case, you can stick to the simple piping done in the picture. It still looks brilliant.
I undoubtedly got stuck on the sour idea for beer cake decorations. However, beer and limes are friends, and the combo on a cake makes sense. This beautiful beer cake idea is another elegant masterpiece for newbies. It has lime cake toppers you can buy or make yourself. You can also use polymer clay to make them.
I don't only love chocolate. I loved baking and decorating cakes because I have a terrible sweet tooth. So, add some glitter, a dripping effect, Oreos, and easy piping techniques to get a "sweet tooth" beer cake idea. I'm hungry looking at this masterpiece. It's also another beer cake idea that appeals to men and women.
I love the Heineken cake ideas because they add bright greens and a famous brand most beer drinkers know. The topsy-turvy idea is another easy treat to wow guests at your party. I'd remove the Heineken logo and replace it with a personalized nameplate and birthday message. The beer can is enough on its own.
Drinking an ice-cold beer on the beach is as close as men get to sipping margaritas in the sun. It's refreshing, and the beer cake idea shows how much leisure comes with the concept. The cake is another easy-to-design beauty because you can use non-edible or edible printed cutouts for the decorations. The piping is a breeze.
Incredible Beer Cake Ideas for Experts
So, do you have some cake baking and decorating experience? Then, these expert ideas will blow your beer-loving guests away. Additionally, beer cake ideas are versatile and work for birthdays and weddings. I never had a regular cake at my first wedding, so who said you couldn't say "bottom's up" with your showstopper.
Sadly, beer can affect drinkers when they have one too many. However, I'm not here to judge. Instead, I'm here to show you some clever beer cake ideas to get friends laughing at the party. I'd even challenge you to make the beer bottle cake itself because you're an expert with the cake decorating experience.
I threw an idea for a beer can cake to newbies, but I have one for you, too. This beer can cake idea also looks uncomplicated. Still, an expert designer would brush up their edible paint techniques to blow guests away. The colors can also be complicated, and the foam adds extra depth. Nevertheless, it's an easy cake idea for experts.
I love purple, and my partner loves beer. So, we'd consider this gorgeous Budweiser cake idea for our wedding. It's feminine enough for me while tough and rugged enough for him. Although, I'd undoubtedly request that the Budweiser can change to a sculpted piece from fondant or modeling chocolate.
I recommend baking and decorating a beer cake that looks like a cooler box if you have some experience. It's not too complicated unless you want to add actual beer bottle cakes inside the cooler. I'd be super impressed if you did the ice cubes as sculpted decorations. Most decorators would use real ice cubes.
I love the Heineken bottle cake idea because it looks fantastic and doesn't require days of sculpting. Once you cut the cake in the right shape, you'll only have to sculpt and cut the fondant pieces for the Heineken logo and design. I dare you to challenge yourself to cut out every tiny letter. Go wild with this simple artistic idea.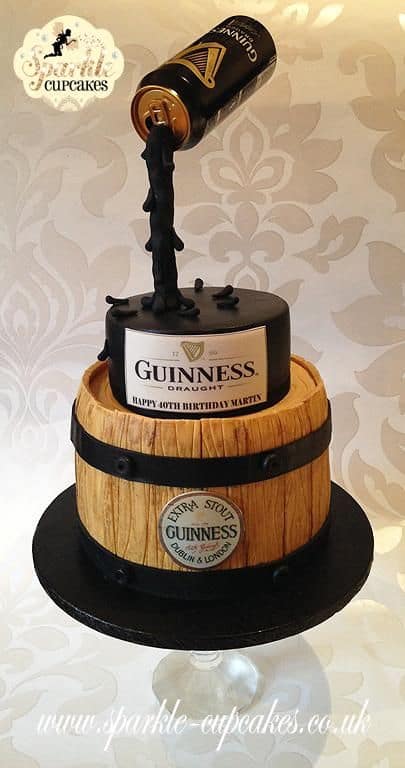 If there were one masterful beer cake idea I'd recommend for a wedding more than number 23, it would be this beautiful Guinness cake idea. The decorating depth of this cake is next-level, and the gravity-defying effect results in a knockout. In addition, the barrel's texture and the logos are ultra-impressive.
The two-tier beer cake ideas work well for large celebrations and weddings. You'll need a few guests to enjoy this fun Corona cake idea. I love how the beer looks more accurate than other gravity-defying beer cakes. As an experienced baker and designer, I re-challenge you to sculpt a can for the top, which is tricky to balance.
I'm being a little biased now, but I'm sure Guinness cakes are for winners because the designs look fabulous. In fairness, it's likely because the black beer can makes a more elegant cake design. However, the beer mug cake idea with the gravity-defying Guinness bottle is impressive. The foam also has a unique design.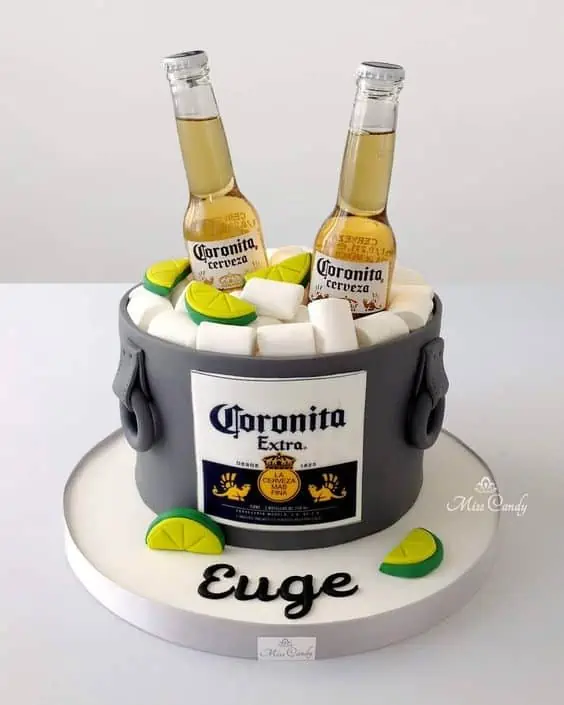 Do you consider an ice bucket full of Corona beers the same as a pot of gold? In that case, this beer cake idea is phenomenal. I love this cake design for father's day and birthdays. It also feels super manly, even with the random pot design. However, the label details are complex and might require printed edible wafer paper.
This beer cake idea is my second favorite for the expert range. The details on the barrel are impressive, and I love the drunken beer fan lying on the floor. You could add more humor to the mix and change the beer labels. I'd use the beer label fonts to write the birthday message because men recognize their favorite brand labels.
7 Bonus Beer Cake Ideas
I like to cover every aspect of cake ideas for a theme. Sometimes, I must add a few bonus options that appeal to creative messages or designs rather than my strict selection criteria. Check out these fabulous beer cakes.
What do men love drinking on their budding fishing trips? Of course, beer is a massive part of the excitement. Some guys even forget they're fishing and enjoy the drinks with friends. I love this beer cake idea because it marries two favorite activities for guys. Impress your man with this beautiful cake idea.
This beer cake idea is ideal for newbies looking to spend less time on their cake design. Cutting the half-bottle shape is simple, and you don't have to worry about mistakes because imperfection won't show as much. Wrapping the cake in fondant will also be a breeze; you can cut fondant labels for your favorite beer.
Have any beer cake ideas shown a proper harmony between men and women? This beer cake idea is the epitome of a man and woman joining to celebrate. It would make a beautiful two-tier wedding cake or look brilliant as an anniversary or engagement beer cake idea. It has class and masculine vibes.
Do you know the beauty of a beer keg cake idea? It's a glorious idea because you can add any brand or logo to the design. Beer kegs might be a preferred design for younger crowds who want something to remind them of the campus parties. It would work as a beautiful campus party beer cake but requires some experience.
I saw this beer cake idea and initially passed it because of my criteria. However, I love the rhyming wordplay used on the cake. I saw many "cheers" cakes, but this message took it to a new level. The designer created three matching words related to beers and birthdays. The cake is also a beautiful design for newbies and experts.
You don't have to smack a branded beer on a logo or design a can. Beer mug cakes work just as well as others. This beer mug cake is gorgeous and has intricate details an experienced baker might enjoy. I love how the droplets look real. The edible paint technique around the beer mug cake is another winning detail.
Beers once came served in a pewter mug, and this beer cake idea salutes the memory of a classic time. It's also a different design for beer mug cakes. Everyone creates the same designs, but I love how "Oh, For Heaven's Sake Cakes" picked the vintage style of a pewter mug. This cake is better suited for experienced designers.
Beer Cake Recipe Ideas
Do you want to step up the wow impressions at your party? Why don't you consider baking a beer cake to decorate with your favorite design idea? I'm known for creating unique recipes. Here are two self-made recipes for moist, tantalizing beer cakes.
1. Sour-Cocoa Guinness Beer Cake Recipe Idea
Sour cream, beer, and chocolate make the best beer cakes. I've baked this recipe before, and it's a uniquely rich Guinness cake that leaves a creamy texture on your tastebuds. Use Guinness milk stout for the best results.
Ingredients for Sour-Cocoa Guinness Beer Cake:
18 ounces of self-raising flour
26 ounces of granulated sugar
Seven ounces of Hershey's cocoa powder
One teaspoon of baking soda
A pinch of salt
Eight ounces of unsalted butter (melted and restored to room temperature)
12 fluid-ounces of Guinness milk stout (room temperature)
Three extra-large eggs (beaten)
Two tablespoons of vanilla extract
12 fluid-ounces of sour cream
Instructions for Sour-Cocoa Guinness Beer Cake:
Preheat your oven to 350°F before greasing two eight-inch round cake pans
Whisk the flour, baking soda, salt, cocoa powder, and granulated sugar in a bowl
Combine the melted, unsalted butter, sour cream, Guinness, beaten eggs, and vanilla extract in a separate bowl until the mixture becomes frothy
Mix the wet and powdered ingredients with a whisk until smooth
Pour the mixture equally into the greased pans, and bake the sponge for 45 minutes
Leave the cake to cool for ten minutes before removing the sponge from the pans
Cover the sponges with a clean, wet cloth to trap the moisture inside
2. Fruity Vanilla Beer Cake Recipe Idea
Did you know that dried fruit and beer make a tantalizing cake? Well, this is another one of my unique beer cake recipes I've used to create mouthwatering results.
Ingredients for the Fruity Vanilla Beer Cake:
18 ounces of self-raising flour
20 ounces of granulated sugar
One teaspoon of baking soda
A pinch of salt
Six ounces of finely-chopped raisins
Four ounces of diced and pitted dates
Five ounces of unsalted butter (melted)
Four extra-large eggs (beaten)
18 fluid-ounces of Coors Lager
Instructions for the Fruity Vanilla Beer Cake:
Preheat your oven to 350°F before greasing two eight-inch round cake pans
Sift the flour, sugar, baking soda, and salt together in a bowl
Mix the dates and raisins into the dry ingredients with a wooden spoon
Combine the beaten eggs, melted butter, and Coors lager in a separate bowl and beat until it becomes frothy
Blend the powdered and wet ingredients and whisk it until you get a smooth batter
Pour the beer cake batter equally into the greased pans
Bake the cake for 40 minutes before leaving it to cool for ten minutes without removing it from the pans
Place a clean, wet cloth over your sponges to soak up the moisture once they're out of the pans
Expert Tip for Moist "Beer" Cakes
Beer is an excellent addition to most cakes because it keeps the sponge moist while leavening it without the other wet ingredients. So, here's a secret: beer can replace the wet ingredients you add to store-bought cake mixes. I baked a few cakes from a store with beer when I was in a hurry.
I add a standard 12 fluid-ounce beer can instead of adding eggs, oil, milk, or water. Beer is carbonated and levels the dry ingredients the same way the traditional elements would. Additionally, it adds a moist, fluffy, soft texture that melts in your mouth.
Buy a box of dry cake mix at the store and add beer if you're not ready to use a home-baked recipe. Then, you won't regret the sensual pleasures on your tongue, and the taste won't overwhelm you, either. Instead, the cake's flavor will deepen for a richer result. And don't worry about getting drunk from beer cake sponges.
The beer in baked cakes is already evaporated and can't make you drunk. You'll only feel the effect of alcohol in cake recipes if you soak the spongecake after baking it as you do with coffee cakes. It's safe for anyone to eat as long as the beer goes into the oven and is not put raw onto the baked sponge cake.
Frequently Asked Questions
Question: Which Beers are Popular for Beer Cake Ideas in 2022?
Answer: Every man loves a different beer, but a few beers are traditional favorites in America. Baking and decorating any cake with the top beers will win a man's heart. A 2021 survey shows Coors, Budweiser, Heineken, Guinness, Corona (the beer and not the pandemic), and Miller make fantastic beer cake ideas.
Question: How Does Beer Work in a Cake Recipe?
Answer: Beer is a carbonated drink with active yeast ingredients that bind and moisten a cake sponge. Yeast is a common ingredient in popular beers, which leavens a cake by creating fermentation that turns sugar into gas. It sounds insane, but the process allows cakes to become lighter and airier, making them feel moister.
Question: For Which Events Can I Use Beer Cake Ideas?
Answer: You can use beer cake ideas for any man (or woman) who loves the popular drinks. I've seen beer wedding cakes and birthday cakes, two more trending ideas for the beer range. However, you can also bake and decorate a beer cake for father's day and end-of-year work parties. It's a versatile concept.
Beer Cake Ideas: Final Thoughts
Beer cake ideas come with broad opportunities for experts and newbies. I hope you enjoyed my cake recipes. I don't often share my secrets, but the beer cake recipes fit nicely into my ideas. It would be insanely impressive if a cake looked and tasted like the same theme. Adding some beer to frosting merely finishes the job.
I also hope my ideas inspired you to bake your favorite person the best beer cake possible, especially if they love one of the top brands. I highly recommend the "Star-Spangled Hammered" Beer Cake Idea for newbies because humor and beers go down like a sasquatch in headlights.
I also recommend the "A Man's Meal" Budweiser Beer Cake Idea because you'll win a man's heart in two ways simultaneously. My mom also taught me that a man's heart path was through his stomach. I must agree because my partner loves my Kooky cake ideas and creative kitchen skills.
So, I remind you there's a beer cake idea for any man (or woman). So, pick your idea and get baking.
For more cake ideas: