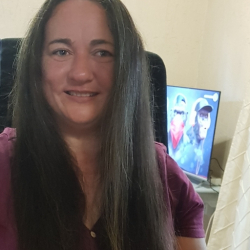 Latest posts by Caroline Lambert
(see all)
Baking and cake ideas are closer to my heart than you can imagine. Writing about shark cake ideas inspired a new venture. I see myself designing one from a much-loved picture I snapped of a shark species that intrigues me. Yes, I'm also a shark enthusiast. Party ideas are just one of my many obsessions.
I use the weirdest inspiration to find the best party supplies and artisan cake ideas. Perhaps my eccentricity and creativity exist because I have many passions. There's nothing wrong with it, I hope. Nonetheless, I'm here to bring you an ocean of shark cake ideas, pun intended. Sure, humor is another passion.
So, let's dive into the deep.
My Top Shark Cake Ideas
I used to be an artisan baker, spending hours designing and carving cakes for family and friends. I know there are various levels of baker challenges, and I'll share my top picks for each baker's class before sharing the 10+ ideas for each. A baker requires patience, but readers don't always have it.
The Best Shark Cake Idea for Beginners
The easiest and most popular shark cake idea comes from a trend: Baby Shark. The cakes are super easy to design, and they're tons of fun for young shark fans. The "Baby Shark" Easy Birthday Cake will wow little ones who love the trending song and dance related to the character a good time. You can also pick multiple colors.
The Best Shark Cake Idea for Intermediate Bakers
So, do you have some experience designing and decorating cakes? Do you work with fondant and modeling chocolate? If so, the winning medium-level idea is the "Resting" Shark Cake. The cake wrap looks gorgeous with different shades of blue to match the ocean, and it has simple cake toppers to design with fondant.
The Best Shark Cake Ideas for Expert Bakers
If you're an artisan baker, I won't bore you with a dull shark cake idea. Instead, I'll impress you with my top pick: the "Nightmare Jaws" Shark Cake Idea. I'm not sure if my skills could achieve this beautiful shark cake, but I'm not afraid to try. I notice my neck hair stand up when I look at this gorgeously sculpted shark.
My (Almost) Shark Cake
Before we get started, I want to show you a weird cake. I have yet to design a shark cake, but I carved this beautiful multi-design cake for a friend. I'm sharing it because it's the closest thing to sharks I created. The friend loved a specific sports team, played golf, and loved bass fishing.
As a result, I created this hilarious design, and the paint techniques on the fish were challenging.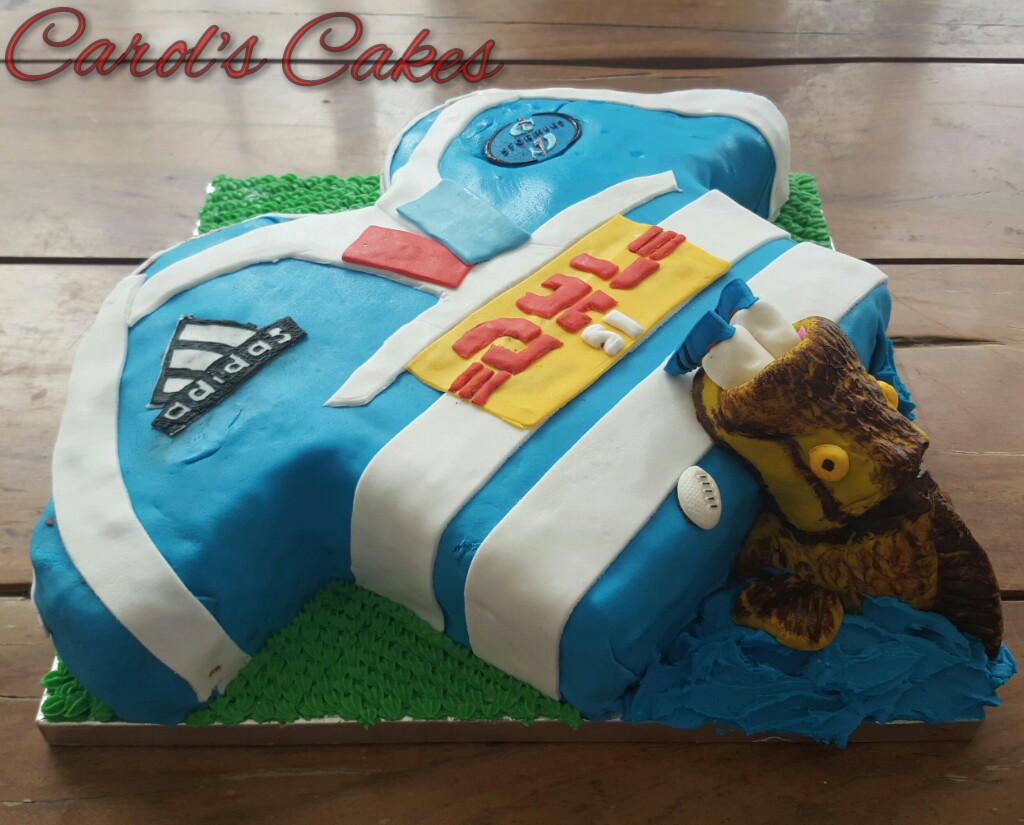 This cake article is about sharks, though. I have an obsession with the fierce sea creatures, and I often capture them at the aquariums. I'd love to design a cake based on this beautiful Tiger Shark I caught.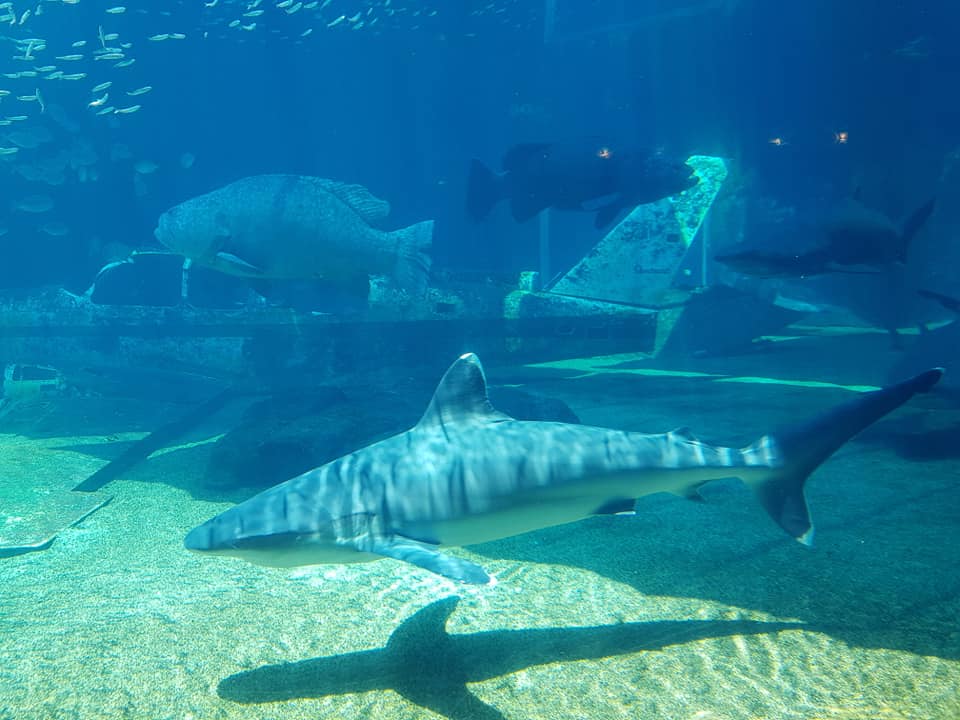 Now you know why I'm writing about shark cake ideas (other than being a baker!)
How to Pick the Best Shark Cake Ideas
Honestly, I'm turning this cake article into something fun for everyone, whether you've never baked a cake before or you're an expert designer with multi-tier beauties under your belt. I searched for the most epic cakes for each baker's experience level, from beginners to experts. Additionally, the cake must look fantastic.
A Quick Note About Shark Cakes and Ages
The intermediary level of designs will also mainly determine the appropriate age groups. For example, shark cakes for beginners will work better for kids. In contrast, shark cakes for expert bakers would appeal more to Halloween fans or adults who love the ocean beasts.
Again, it's not a strict rule, but scarier cakes appeal to adults. And don't worry because I'll put child-friendly cakes separate from the scary ones under each baker's level. Child-friendly ideas will be ideal for kids under eight. In contrast, older kids and adults can enjoy the more terrifying versions.
Top Picks for Beginner Shark Cake Ideas
Welcome to the world of beginner's shark cake ideas. There are many beautiful options you can make at home. You won't need tons of tools and experience to pull these gorgeous cakes off, and they'll work for various fans. So, let me show you the excellent beginner's shark cake ideas.
Beginner Child-Friendly Shark Cake Ideas
Little ones won't love blood-dripping cakes and prefer the cuter versions. They might love sharks and sea creature themes, but there are appropriate cakes for them. Check the fabulous cake designs for kids under eight.
The adorable connection between the seemingly friendly sharks on this cake makes it ideal for little ones. The sharks look so peaceful that you think they're whales. It's also a tiny cake for young children's birthday parties, and you can use it as a smash cake. The pale colors are beautiful, and the sharks are simple fondant cutouts.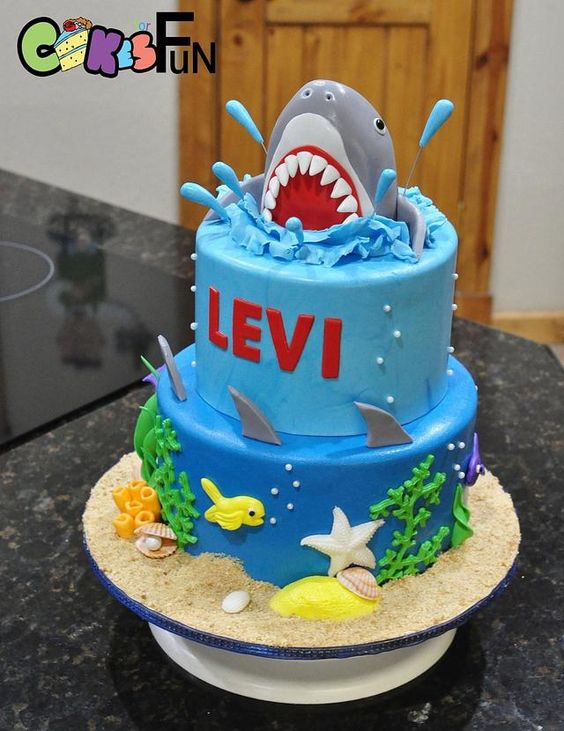 The bubbles cake idea for sharks may look scary, but nothing is frightening about this gorgeous cake. It has a cartoon theme, and the teeth aren't even sharp, making it ideal for beginners to line a simple row of teeth. The buttercream piping is a breeze, and the cake comes together perfectly for little ones.
I bet you're waiting for Baby Shark cake ideas. Yes, I'm a parent who also went insane when the song came out. However, I loved how my daughter danced her heart out to the tune. It's a favorite cake theme for toddlers and preschoolers. Believe it or not, Riri, a young baker, shares the tutorial for these beautiful cupcakes.
Baby shark cakes are trending on YouTube channels, and I love how this dancing shark cake idea works for beginners. The tutorial shows how to blend two shades of blue frosting around the cake easily. Furthermore, the decorations and baby sharks are simple fondant cutouts with solid colors. The cake's sure to excite kids.
Non-scary shark cakes are a must for little ones, and this idea shows a neutral shark swimming through the seagrass. It's perfect for amateurs because you only need a single-tier cake with pale blue buttercream frosting. You can find edible cake toppers for the shark and seagrass at a local bakery.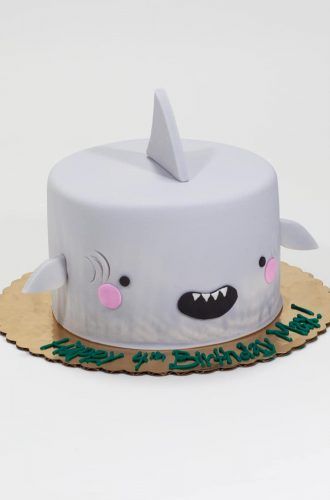 This shark cake reminded me of a shark Squishmallow. It has the same friendly cartoon vibes, and it's a super easy cake to make for sealife fans. Maybe it would be the perfect cake for Squishmallow fans. The cake has a fondant cover, but there are no complicated edges or effects you need to worry about as a beginner.
I had fun naming this cake because a collection of sharks are a shiver. Hence, the many pretty cutouts around the cake look like shivering sharks. The subtle background with delicate decorations between the sharks is easy for any beginner to achieve, and it looks brilliant for little ones.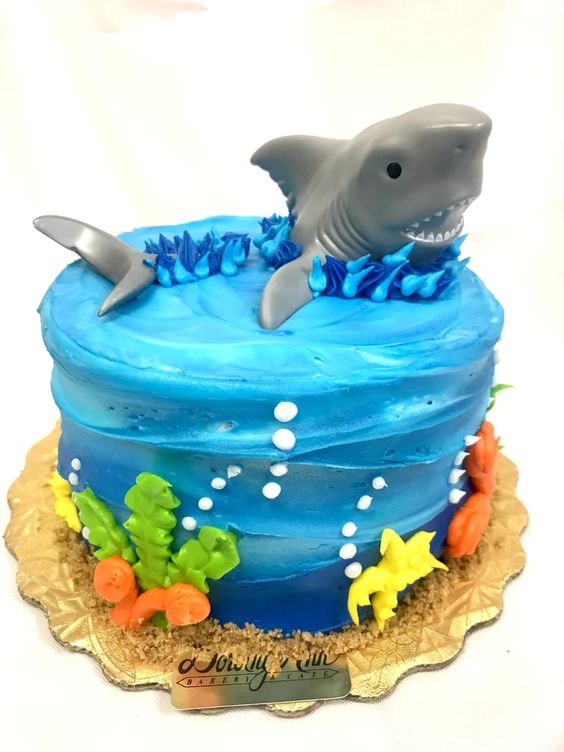 I'm now challenging you to a slightly more complicated shark cake. However, I believe you can make this beautiful shark that looks like it's sunbathing above the water. First, I'd shape the shark, whether it's perfect or not. Then, I'd use edible cake paints to draw the teeth and eyes. The rest is a bit of piping practice.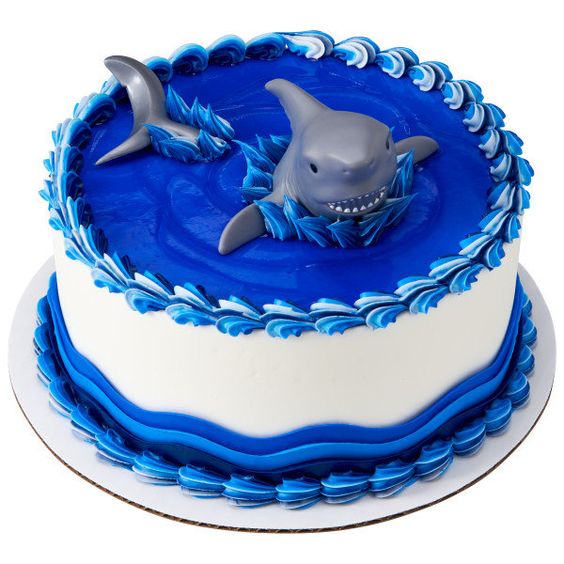 The surfing shark cake idea is similar to the last one, but there's less skilled piping you need to do. I'd still paint a fondant or gum paste shark with edible colors. I love this cake idea because it has fewer details than the last one. Sometimes, busy cakes aren't the best choices for little kids.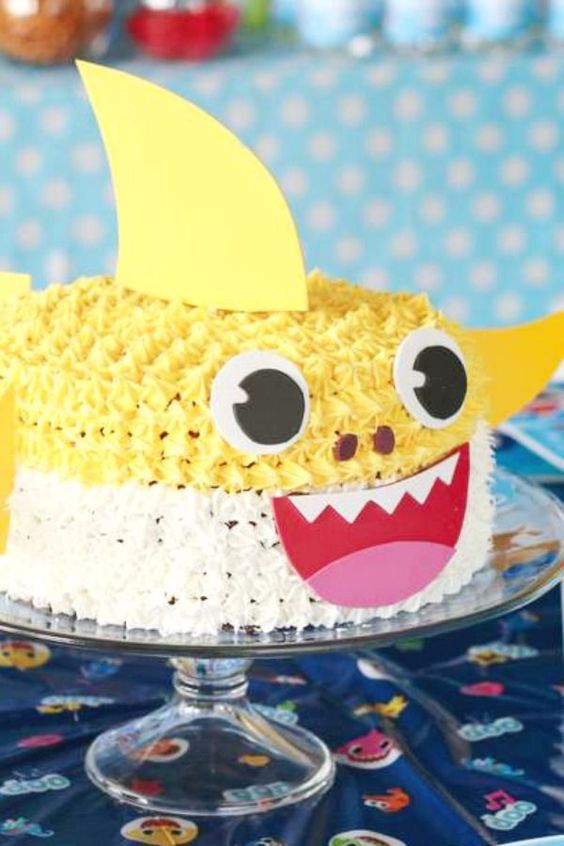 Smash cake ideas are in the same league as baby sharks regarding little ones. This smash shark cake idea is a simple buttercream joy for tasty birthday pleasures, while kids get to dive into the cake itself. The decorations are easy enough for a beginner to make, and the piping goes fast.
Beginner Shark Cake Ideas for Older Kids
At some point, kids start enjoying finer details on their cakes. They appreciate the layers, sculpts, and mature colors. Some older kids also love the scary-looking sharks with teeth sharp enough to slice the cake. Let's see what ideas I found for beginners to make shark cakes suitable for older kids.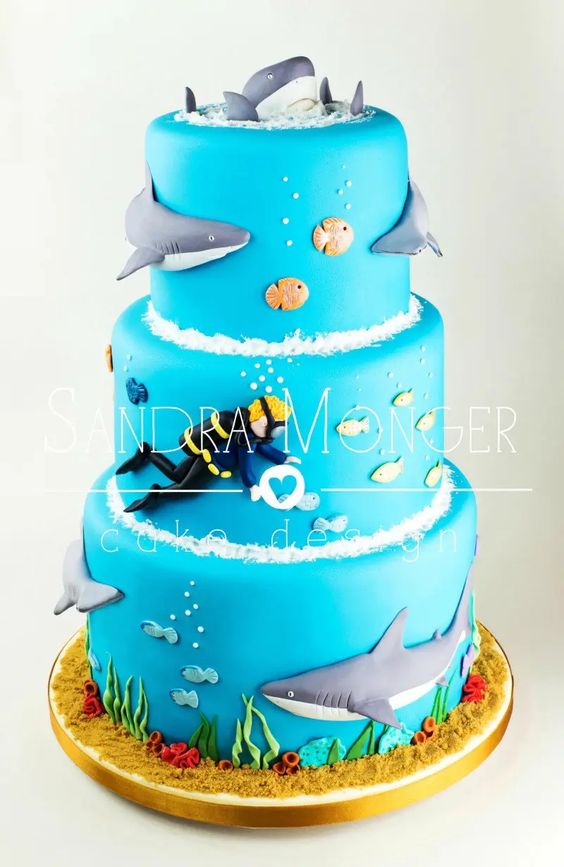 The deep-diving shark cake isn't scary, but I picked older kids because it can inspire them to seek careers in the marine world someday. The flat diver figure against the cake's side is also far easier to design from a few rolled pieces of fondant than a standing figure. So, you'll only need to learn about fondant coloring for this idea.
I'm not sure which is more popular now: Jaws or Baby Shark. However, Jaws undoubtedly appeals better to older kids. Many of the designs are challenging, but this idea works for beginners. It's a flat image of the terrifying shark against the cake. The dripping blood is effectively gory but easy enough to pull off.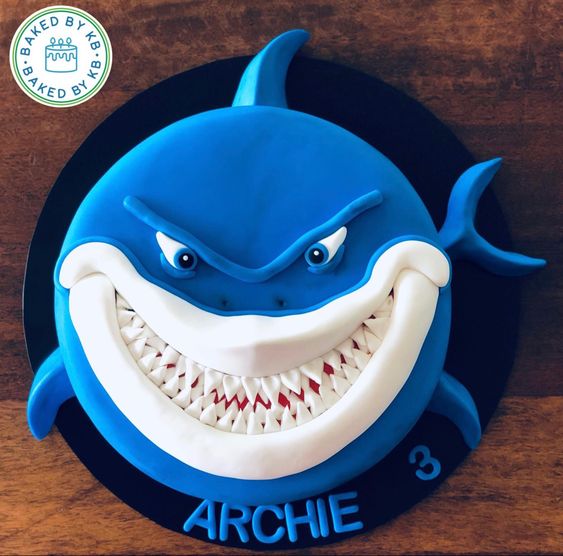 I put this shark cake in the older kids section because the teeth can give toddlers nightmares. However, you can design the exact cake with a closed mouth or less-scary teeth to work for little ones. I'm impressed by how fabulous this shark cake looks, considering it's a flat, single-tier design with bits of fondant for effect.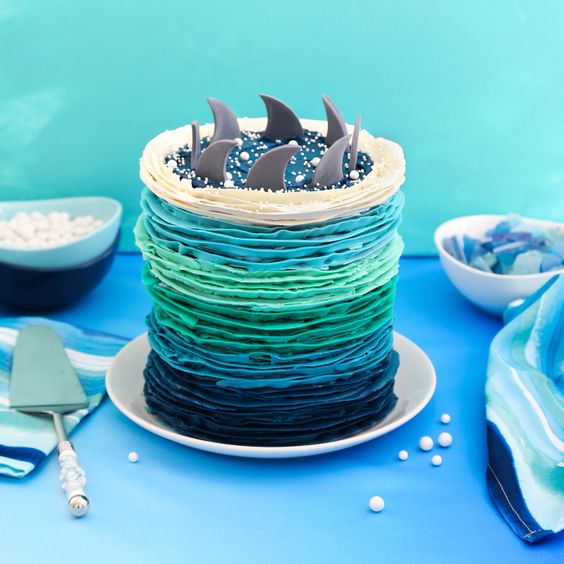 This gorgeous cake is another non-scary idea for beginners. I selected older kids because they'd appreciate the piping work more. Even I'd love this cake for my birthday. The design is beyond beautiful for a simple cake idea, and the buttercream ruffles aren't as hard as you think. Use this tutorial to pipe the ruffles.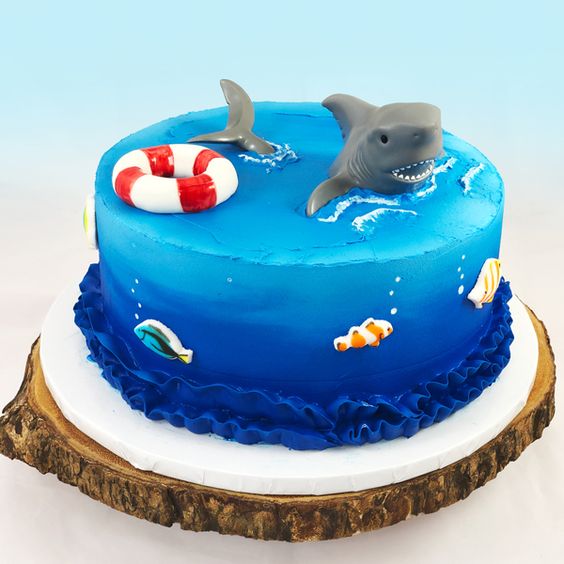 I chose older children for this shark cake because the lifebuoy might make you think the shark just enjoyed a snack. This cake is a subtle take on a shark's innate nature. However, I love the little fish swimming around the sides and how the water waves against the easy-to-shape shark fondant figure.
Top Picks Shark Cake Ideas for Intermediate Bakers
Intermediate cakes appeal to kids and older fans. They come with a few more features, sometimes using sculpted pieces and intricate piping. They're not the most challenging cakes to make if you have some design experience. By experience, I mean anyone who bakes and creates on the odd occasion.
Intermediate Child-Friendly Shark Cake Ideas
Intermediate shark cakes appeal to children and older fans again. Hence, I'll separate the ideas to prevent mishaps with scary cakes at little ones' birthday parties. But, first, let's see which kiddie cake ideas are fabulous.
I call this the clumsy shark cake idea because it looks like the little guy smashed through an ocean wall. The details are more impressive than beginner's cake ideas. However, this little guy is exceptional for young children because he looks super friendly. The tutorial will help you design a similar shark cake.
Not every shark cake has to give little children nightmares. Googly-eyed characters always bring an inviting feel to creatures that would otherwise be scary. The sharks on this cake are hilarious, and I'd bake this any day. The decorations need a little more skill, but you can use gum paste or fondant to create them.
Yes, sharks can also be adorable. The flat fondant shark cutout on this cake looks like a pet that little kids will love. The teeth aren't even scary, and it has googly eyes to give a cartoon effect. The work isn't too intricate, but you'll have problems if you don't attach the cutout to the cake's side right after piping it.
Baby Shark cake ideas represent dancing and singing. Therefore, you'll become the parent of the century for making this gorgeous cake. With this beauty, you're moving from flat cutouts to solid shark fondant sculpts. There's another easy-to-follow tutorial to make baby shark figures with fondant.
https://www.youtube.com/watch?v=Rw9yvUGt5Ew
The songful friend's version sees the babies more peaceful and not bouncing around the place. I'd use baby fondant sharks swimming peacefully while adding a few pretty ocean decorations on the tier's edges. Follow the tutorial's advice about cooling the buttercream cake before slapping heavy fondant over it.
Intermediate Shark Cake Ideas for Older Fans
Are you ready to add more details to your cakes for an aesthetic wow factor with older fans? In that case, I have a few more gorgeous shark cake ideas for intermediate bakers.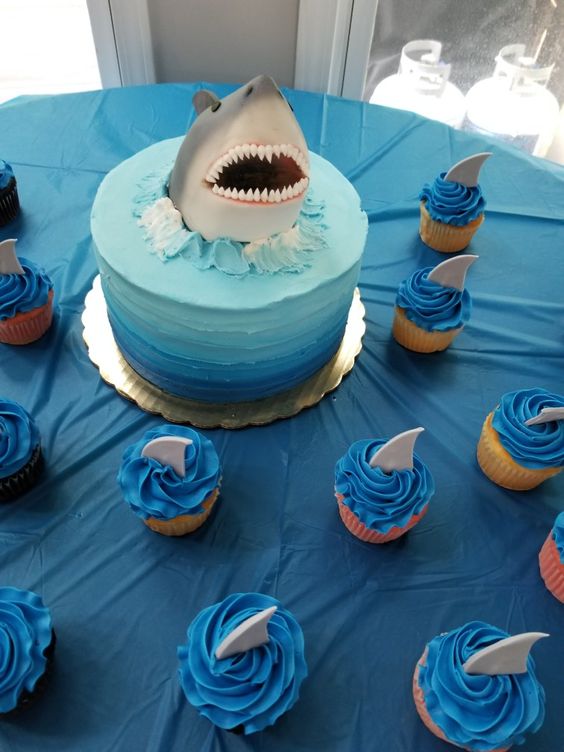 It's time to increase the dangerous levels for shark cake ideas with more teeth, sharper points, and a feeling that sharks surround your birthday guests. Adding sharkfin cupcakes to any of the options is brilliant. However, this idea's details on the attacking shark are more impressive. As a result, the fear level goes up a lot.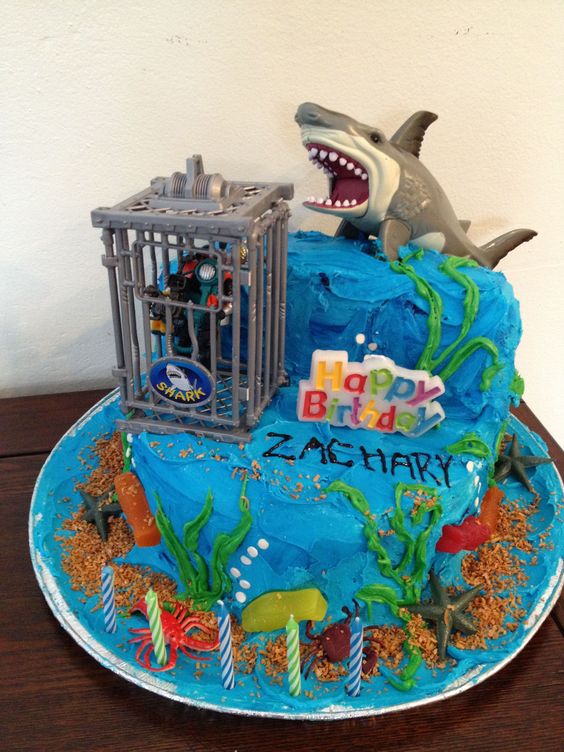 I wasn't sure if this cake belonged to the intermediate or expert level. However, the aesthetics fall short of expert designers. The cage and diver will be your greatest challenge, but pulling them off would blow your party guests away. Consider buying a fondant figure from a local bakery if the diver is too intricate.
Improving your details on a shark cake doesn't always require fancy gadgets and hours of sculpting. Sometimes, making the water look foamy around the shark can do the trick. I love this shark, but I'd use gum paste to make it. The goofy look on the shark's face is insane, and I'm genuinely impressed.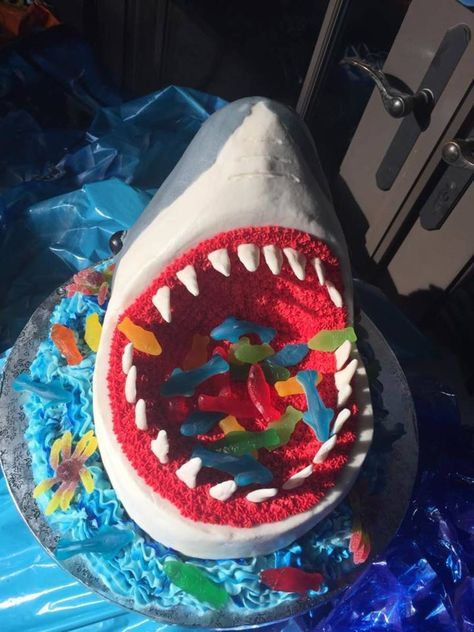 You can also improve the aesthetics by adding accessories. For example, this shark cake uses the Jaws inspiration and adds edible gummy sharks to make it look more impressive. Of course, you'll spend some time piping the gums and cutting spongecakes in suitable shapes, but the result is oddly satisfying.
The Great White Shark inspires most of the Jaws-style cakes. However, there's another fantastic shark, much like I want a cake to commemorate the Tiger Shark (it has more beautiful patterns on the sides). I searched long before finding a hammerhead cake idea. But, I'm not disappointed, and this cake would also work for little ones.
Shark cakes appeal to sea fans, but who said you couldn't add other fandoms? Marvel and Spiderman are massive hits for older kids, and adding the hero to the jaws of death would stun a crowd like never before. Use this tutorial to make Spiderman. The shark design is excellent, and you deserve to be proud for pulling it off.
This shark cake blew my mind because it has a miniature Tiger Shark figure swimming on the lower tier. It's officially my second favorite idea for intermediate shark cakes. The double-tier cake is simple, but the frosting gives it more depth. You could create the result with a frosting knife.
I shared some shark cake ideas with the beast smashing through the cake. However, this one is an intermediate challenge because it's a double-tier cake with the shark breaking through the top tier. The balancing act requires some finesse, but the result is strikingly gorgeous. I also love the name board idea.
Top Shark Cake Ideas for Expert Bakers
Expert-level cake ideas require experience working with fondant, edible paint, gum paste, and modeling chocolate. The designs are intricate and complicated; even the colors have depth and details. I'm an intermediate designer, but I'm interested in trying them. Expert designs are also best for mature shark fans.
Important Note: You can still look at the inspiration and ideas as a beginner or intermediate baker. Who knows? You might consider asking your local artisan to prepare a shark cake.
It's nearly impossible to match my top pick for the expert shark cakes. However, this beauty comes close because it's a fully-sculpted, shaped shark that offers a tremendous challenge. You'll need paint technique and sculpting experience to pull this cake off. Nevertheless, it tempts me to try the beauty with my Tiger Shark idea.
Expert bakers and designers love experimenting with paint techniques when sculpting gorgeous sea beasts. I can see the effort on this shark cake, even if the cake itself is minimal. The shark's head looks near-real, and the glossy effect impresses me. It doesn't make it look unreal like you'd expect. Instead, it adds to the texture.
I love this cake for the same reason as the 3D attack version: it's a sculpted and shaped beauty with gorgeous edible paintwork. However, I added another version because it's different. This shark cake looks like a stone carving you'd find on a beach. The effect is similar to the painting technique on my bass fish, which is tricky.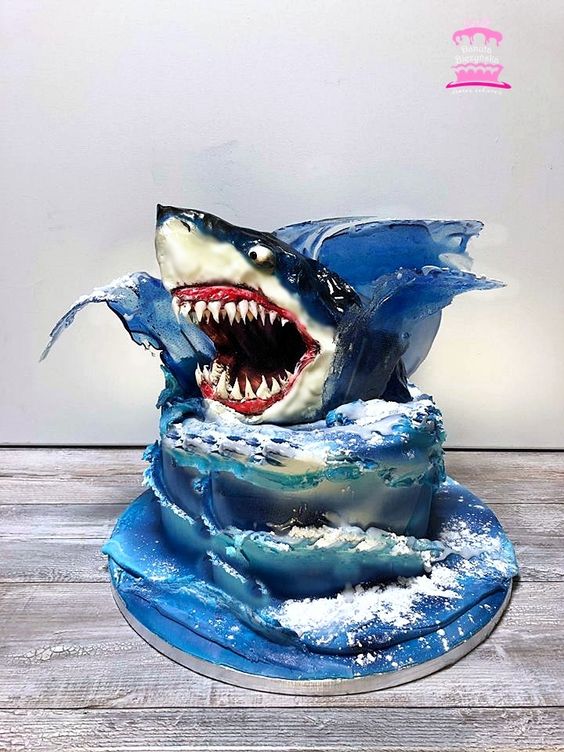 I get chills from looking at this masterpiece shark cake idea. This shark cake is undoubtedly not suitable for kids under twelve. The terrifying design is something an expert would feel proud of, and it takes skill to make this beauty. The shark cake requires balancing acts, paint techniques, and intricate sculpting. Challenge yourself!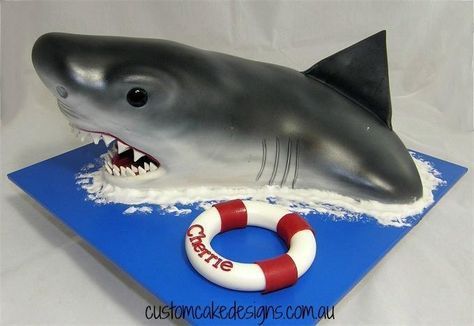 Expert bakers sometimes love shark cakes without the gore and terror Jaws-style cakes inspire. This idea is the ideal shark cake for an expert designer who'd love to challenge themselves to masterful cake paint techniques. However, even experts need some inspiration sometimes, and this tutorial will inspire you.
The Megalodon shark was a prehistoric wonder. Some people don't believe it existed, while others enjoy movies and horror fests about the shark. Use this cake idea to bring the megalodon and dinosaurs to life. The paint techniques are impressive, and I'd sculpt all the creatures and avoid pre-made figures.
Shark cakes can also contain other sea creatures to add depth and detail. This cake is a gorgeous challenge for expert bakers and designers who would love to add a marine story to their double-tier cakes. The designer applied various paint techniques to the fondant figures and buttercream frosting to finish this beauty.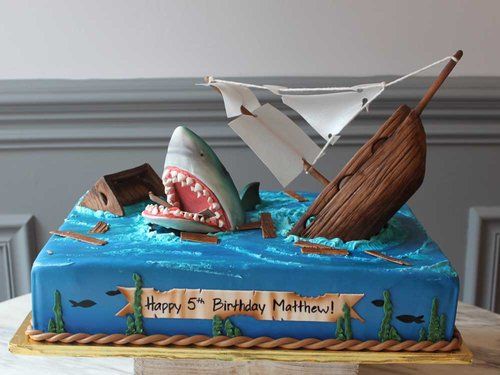 As you saw with my weird bass fish cake, I love adding a story to the cake board. So, what story could you tell with a shark cake? The most obvious answer would be a shipwreck. However, this cake is expert because the piping techniques and paintwork on the wood and shark are tricky.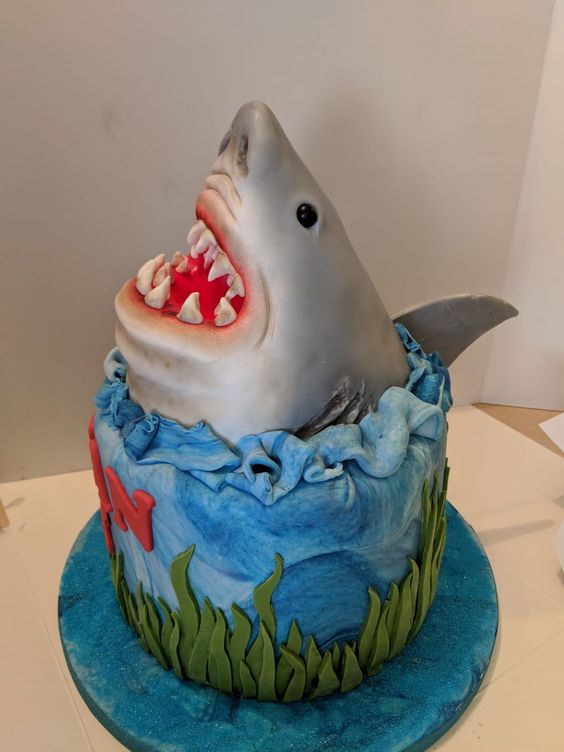 The shark's beady eyes, jaws, and teeth undoubtedly add a hint of horror to the cake. However, what do you think makes this cake more challenging? The water is buttercream frosting, and the designer used a painting technique on the frosting before piping it into an oddly-shaped effect. I'm impressed by the paintwork.
Quick Cake Design Tips for Beginners
Before sharing tips, I want to reassure you that beginners make many mistakes. Shark cakes provide a challenge, especially if you want paint techniques, sculpted figures, and multiple tiers. I messed so many cakes up before making my perfect artisan project, which isn't the bass cake. I made better ones.
Anyway, let me share a few quick tips for beginners to remember:
Try and try again is the first rule of making artisan or themed cakes. Don't give up; there's no reason why you can't push an intermediate cake design for your child's favorite baby sharks. Some ideas have tutorials attached to help you through every step.
My second rule is that you must consider a fondant shark's weight before attempting multi-tier cakes. Never use fresh cream to cover a cake if you're putting a heavy shark on it. Instead, put thick buttercream frosting around the cake, and cool it in the fridge for an hour before placing fondant weight over it.
Go easy if you're wrapping a cake in fondant before adding your baby sharks. I didn't get smooth edges for a long time. You can see from the bass cake that the edges were rough. This tutorial shows you simple tricks to get smooth fondant edges, which still require practice.
FAQs
Question: What is the Easiest Shark Cake Idea for Little Ones?
Answer: Yes, there are easy shark cake ideas. Moreover, they're also pretty and appeal to little ones without giving them nightmares. For example, the "Shivering" Shark Cake Idea brings aesthetic value to a shark fan's birthday party. However, the "Baby Shark" Cake Ideas wow little ones and don't require much skill.
Question: Which Shark Cake Ideas are Popular in 2022?
 
Answer: There are two primary types of shark cakes making waves in 2022. Firstly, "Baby Shark" Cake Ideas work wonders for kids who enjoy annoying songs. They're also relatively easy to make. On the other hand, "Jaws" Cake Ideas trend for older fans who loved the movies. The best Jaws cakes require skill and experience.
Question: Which 3D Shark Cake Ideas are Popular in 2022?
Answer: 3D shark cakes are mind-blowing but require experience and skill. However, hours of tutorials can also work for creative bakers. The "Bloody Mouth" Shark Cake Idea shows spectacular edible paint techniques. The "Nightmare Jaws" Shark Cake Idea offers next-level sculpting and paint techniques.
Shark Cake Ideas: Final Snap
Shark cake ideas are a world of deep-sea wonder, and there are options for any age and baker's experience level. I'm at the intermediate designer level now, but practice makes perfect. The article ideas tempted me to try sculpting the "Jaws" Shark Cake Idea because it's the most attractive option.
Secondly, I'd also love to make the "Dancing Marine Party" Baby Shark Cake Idea for a young person who loves silly songs. Yes, my daughter drove me out of the house with that song, but the cakes are adorable. I'd start by considering what experience level I have before picking a shark cake idea for inspiration.
I'd also stick to the different ideas for little ones and older kids. For example, don't frighten the hair off a toddler's head with a 3D Jaws model. Additionally, don't give a teenager a Baby Shark cake unless they're massive fans, which is mildly possible because of Tik Tok trends.
Otherwise, pick your inspiration and get into the kitchen.
Recommended Reads: