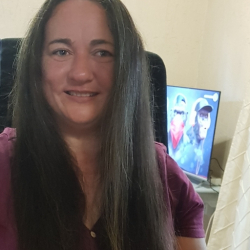 Latest posts by Caroline Lambert
(see all)
Oh, thank goodness, LoL refers to the cutie pie dolls and fandom popular with young girls and not "laughing out loud" in this scenario. But I'm here to share inspirational LoL cake ideas for LoL Surprise girls. My daughter goes wild for these adorable dolls and the candy behind them.
I suppose the dolls and candy match in sweetness, and the enchanting LoL brand makes a baker like me happier than a pig in mud. I love baking artisan cakes at home and am the resident party ideas and supplies fundi. Nothing brightens a child's birthday more than a colorful, well-baked, and beautifully-decorated cake.
So, let me inspire your little girl's next birthday with the best LoL cake ideas.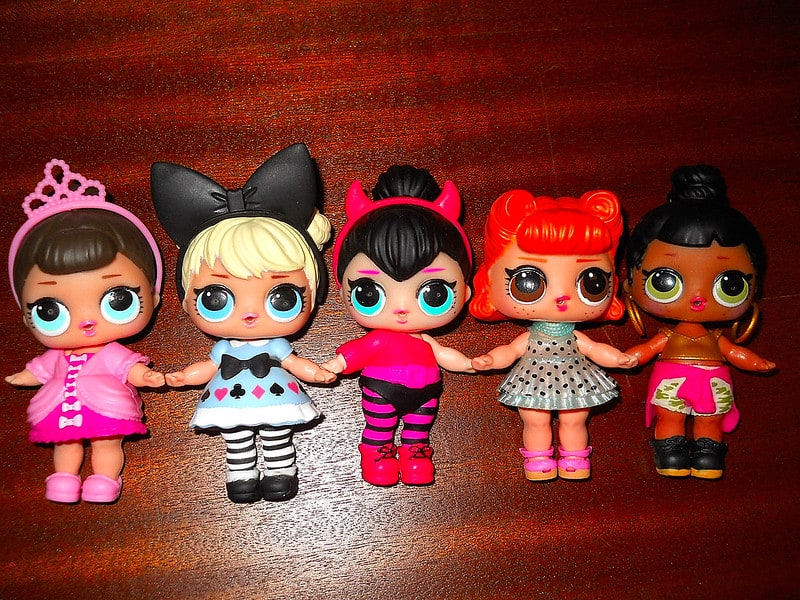 My Favorite LoL Cake Idea Upfront
Every mother's dream is to make her daughter feel like a princess on her birthday, and LoL cakes can do that. I love seeing my little girl prance around like a princess, feeling like she owns the world on her birthday. I noticed she loves when I bake doll cakes, and LoL Surprise cakes allow the trending idea to unfold.
So, my favorite design is the LoL Surprise OMG Doll Cake. All girls go through the phase of wanting a doll cake, and LoL is all about dolls and their girly universe. So, it's a heavenly match for little princesses. Moreover, doll cakes are easy to make at home. You'll only need one of the fabulous dolls, which can double as a birthday gift.
Furthermore, your daughter will blush when she sees the princess-styled LoL doll cake. But first, let me share how I picked professional-looking LoL cakes you can easily bake at home before I share more ideas, which range from easy to difficult. Don't worry; I'll share some tips where necessary.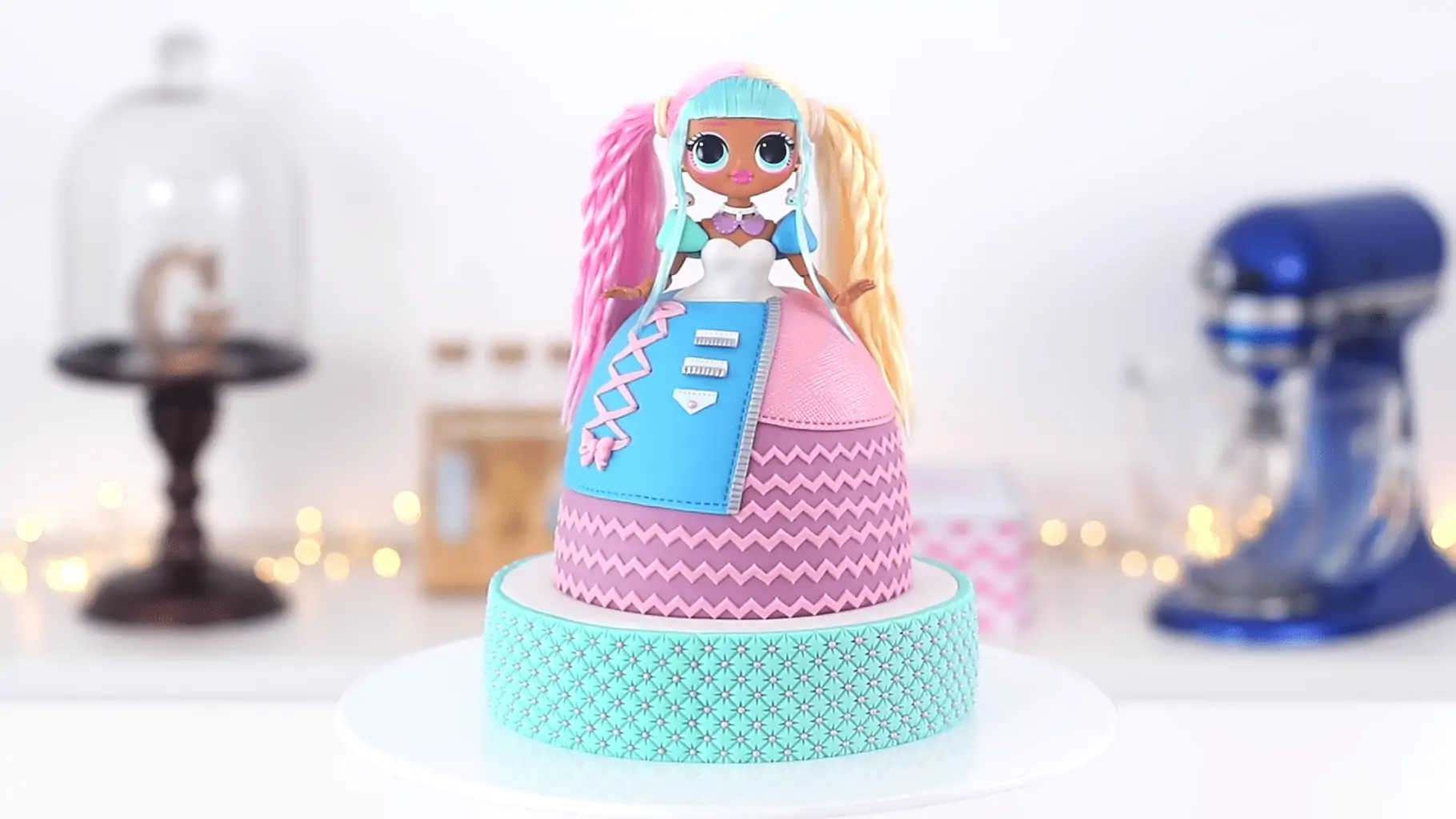 How to Pick the Best LoL Cake Ideas
I'm constantly talking about how I bake artisan cakes at home. But first, I must explain that I have no formal training or experience. I merely became a baker once I pulled off my first masterpiece by fluke. Since, I've baked numerous artisan cakes for family, friends, and my kids at home. My secret is that I follow tutorials.
I'll explain any cake idea that seems to belong to expert bakers, and I'll share tips and tutorials to help you master the designs shared among the best ideas. And yes, I made many mistakes and had to redo my cakes. It happens, and it might happen to you. However, as a mom, you'll likely get practice, eventually perfecting it.
So, my inspirational LoL cake ideas will look fantastic yet be possible for home bakers. My LoL cake ideas have to look as good as the pretty dolls that inspire them, meaning they must meet two or more of my criteria:
The cake must have neat and clean edges, whether fondant or buttercream.
It should include an LoL Surprise doll or character, either sculpted or using a fondant cutout. I'll also consider using only faces or the pretty doll's eyes against the cake.
It should have bright, girly colors to invite young children for a tasty treat. I'll also welcome ideas with ombre colors or buttercream ruffles
It should have one or more girly decorations, including flowers, colorful chocolate balls, ribbons, rosettes, fondant candy cutouts, rainbows, stars, or macarons.
I'll also include cake ideas with pretty piping techniques that finish the design. Edged piping with rosettes or meringue-style shapes is an ideal example.
Finally, I'll include some LoL cake ideas with printed and edible wafer paper dolls. I recommend changing the printed papers to fondant cake toppers for a professional look. Of course, you can stick to the paper edibles if fondant scares you. You can use tutorials on YouTube to make them or buy them in stores.
My requirements look endless, but I'm here to inspire you to bake the best-looking LoL cake possible. In addition, the cakes need to meet two or more criteria, not the entire list. I also initially felt intimidated, but I used video tutorials to help with basic decorations and piping techniques. So, I'll share tips on my ideas.
The Legends of LoL Cake Ideas to Inspire You
I'm as excited as a young girl waiting to see her cake for the first time. So let me not waste time. Instead, I'll list my recommended cakes by their difficulty level, including tips when difficult cakes come. Some designs use more decorations and techniques, making them harder to accomplish, but I'll leave them for last.
So, let's get to the best LoL Surprise cake ideas. In addition, please note that some cakes have printed edibles. I recommend changing to fondant cake toppers if you feel patient enough to attempt them as a home baker. Cake toppers seem intimidating, but you'll get the hang of them with a cake-sculpting toolkit.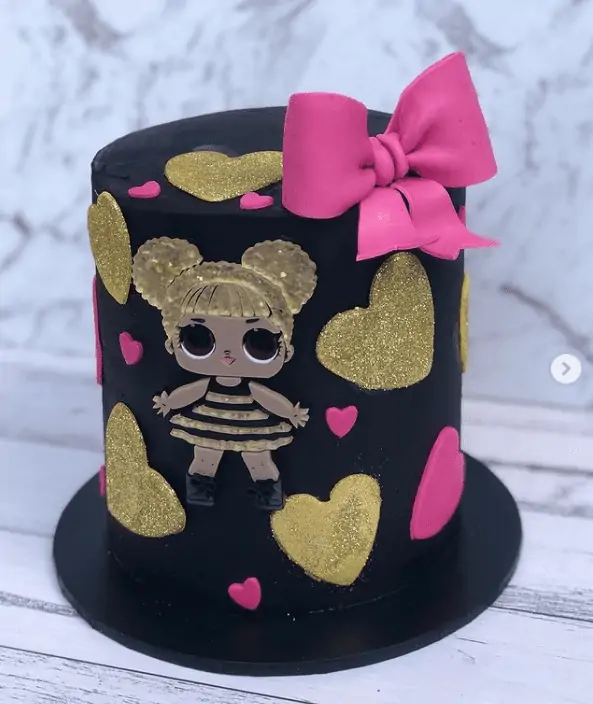 I'm not mad about black fondant cakes for little girls. Still, this easy LoL cake idea works magic against the bright pink and golden glitter hearts. The ribbon idea is a simple fondant creation, and the hearts are fondant cutouts. You can wet the fondant slightly to stick the edible glitter over them.
Queen Bee is a simple fondant cutout broken into different pieces. You can change her colors slightly to remove some of the black and gold contrast. I would make the dress ruffle cutouts a shocking pink that matches the hearts and ribbon. The brown eyes also don't fit well. So, I recommend making her eyes blue.
Color-blending for LoL cake ideas can be tricky. Therefore, I'll share a tip on gel food coloring. You'll need to learn how to blend colors properly with fondant and buttercream. Gel food coloring works better than liquid coloring.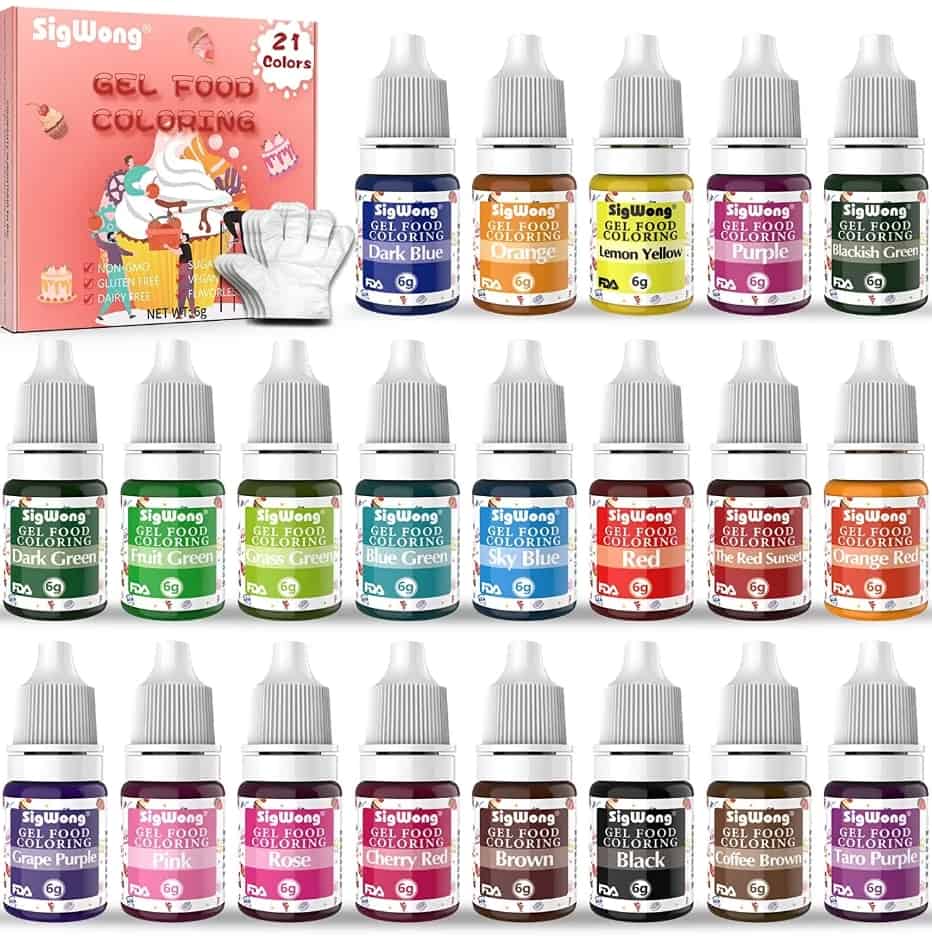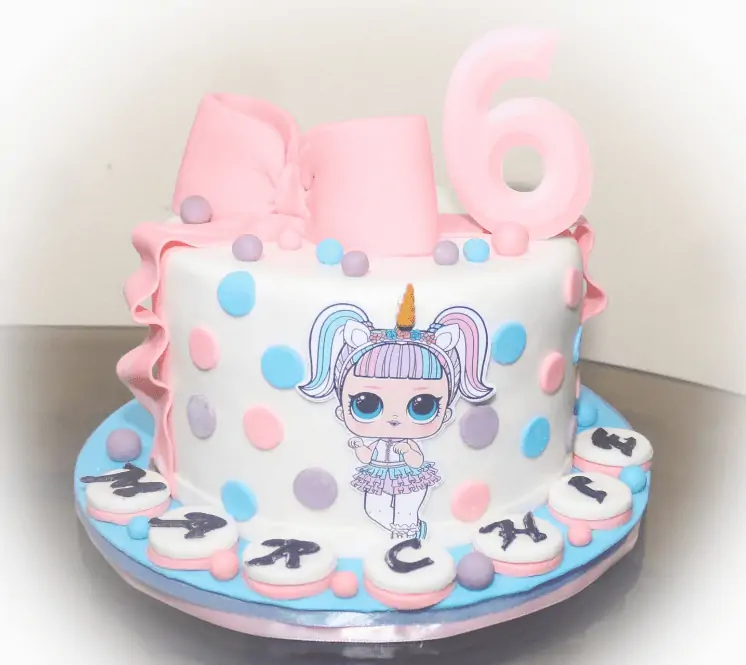 Smash cakes are smashing ideas, pun intended. I baked one for my daughter on her first birthday. It's an incredible experience, and you'll get memorable photos from the birthday party. However, smash cakes shouldn't overwhelm kids or have too bright colors. This pastel-colored LoL smash cake idea works perfectly.
It also won't break your heart or your pocket when your little girl smashes it to pieces. The decorations are simple: a printed edible doll for the front, fondant polka dot cutouts, and a pretty ribbon. However, I recommend removing the miniature fondant balls because they act as choking hazards for babies.
Queen Bee LoL Cake Idea
One of the best LoL Surprise cake ideas starts with simple designs. You'll use a little fondant for the eye cutouts, but the flat doll face cake looks brilliant. Of course, you could change the cake's doll if you wish, but Queen Bee undoubtedly has glitz and glamor in her sights. Meanwhile, adding glitter is a simple task with the video.
In addition, you won't need many tools to achieve the fondant molds and shapes around the mouth. Fortunately, the video explains the entire process. The cake topper doll face takes up the whole cake, making it look fancy enough for any LoL fan. Finally, the fondant wrapping is simple and can be any color.
Pretty Faces LoL Cake Idea
Alternatively, you can add an LoL Surprise doll cake topper face to the front of the cake. It depends where you'll display the cake at the party. This cake idea uses another doll from the franchise, and she blends well with lighter backgrounds. So, you can stick to the white fondant or add pale pink as her contrast.
However, I would remove the printed LoL cake topper and replace it with the ribbons on the cake board. In addition, you can add your child's name and age instead. Fortunately, the idea comes with an easy-to-follow tutorial. Still, please follow it closely because the patterns on the doll's hair can be challenging.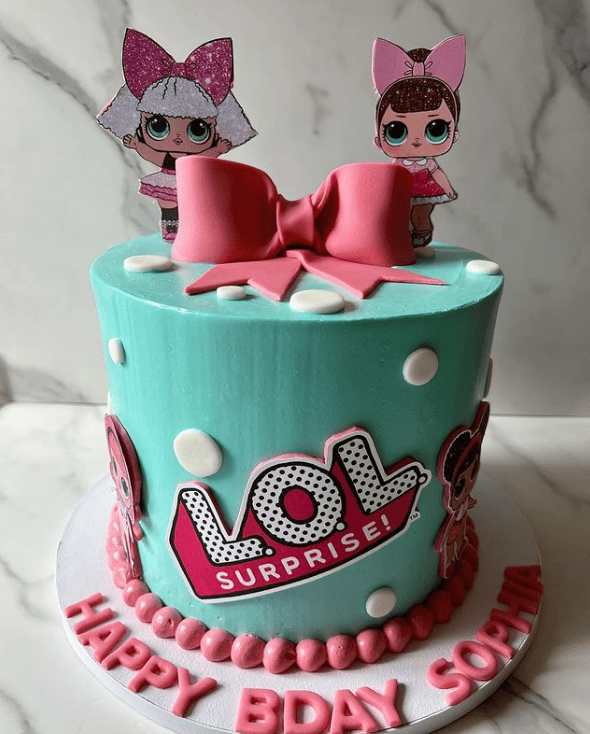 Ribbons make LoL Surprise doll cakes look fantastic and girly. This cake idea is another example of how you can use easy designs to make professional-looking LoL cakes. It's a simple sharp fondant cake with a few polka dots, which you can change to any shape. First, I'd remove the printed edibles around the cake.
Instead, I'd replace them with a child's name and stick to the polka dots. The printed cake toppers can change to a single LoL Surprise doll cake topper behind the beautiful ribbon. Meanwhile, the bordering buttercream frosting is an easy technique where you squeeze balls on repeat around the cake.
You could also make the border frosting look better with simple piping techniques. You could finish the edges with mini meringues or use a rosette piping technique around the bottom of the tiers. Placing macarons over the rosettes will increase the girly glitz tenfold.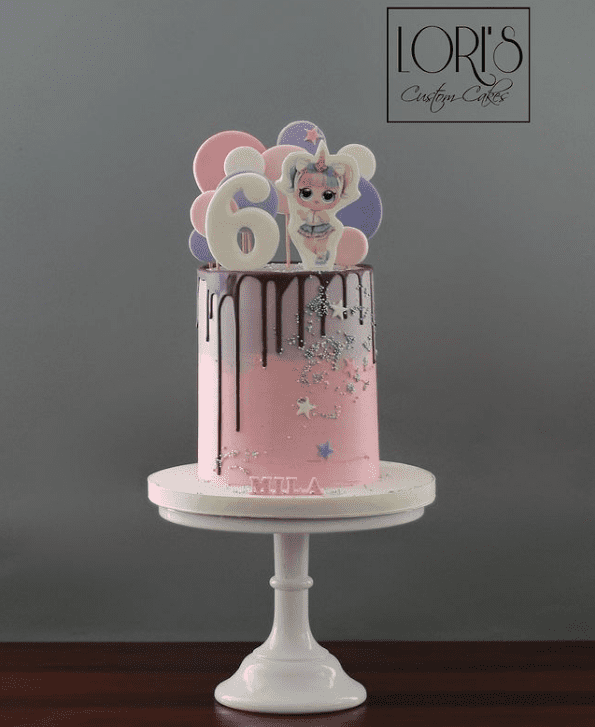 I love drip cakes, and LoL Surprise is a matching theme for these beauties. This cake idea is phenomenal. It uses minimal decorations around the cake. Yet, the ombre coloration with glitter and stars looks ideal. Also, the dripping chocolate allows you to experiment with ganache rather than royal frosting, which is trickier.
The cake's top is beautiful with the flat balloon fondant cutouts. Indeed, you can use cake pop sticks to stand flat balloon cutouts on a cake. Just remember to chill the fondant before standing it upright. The only change I would recommend is the LoL Surprise doll cake topper. I would replace her with a fondant cake topper.
There are two ways to create the dripping design on a cake. Firstly, you can use a ganache drip that looks like yummy chocolate. However, it doesn't always match LoL cakes with pink colors. Alternatively, use white chocolate ganache or runny royal frosting to make the white drip.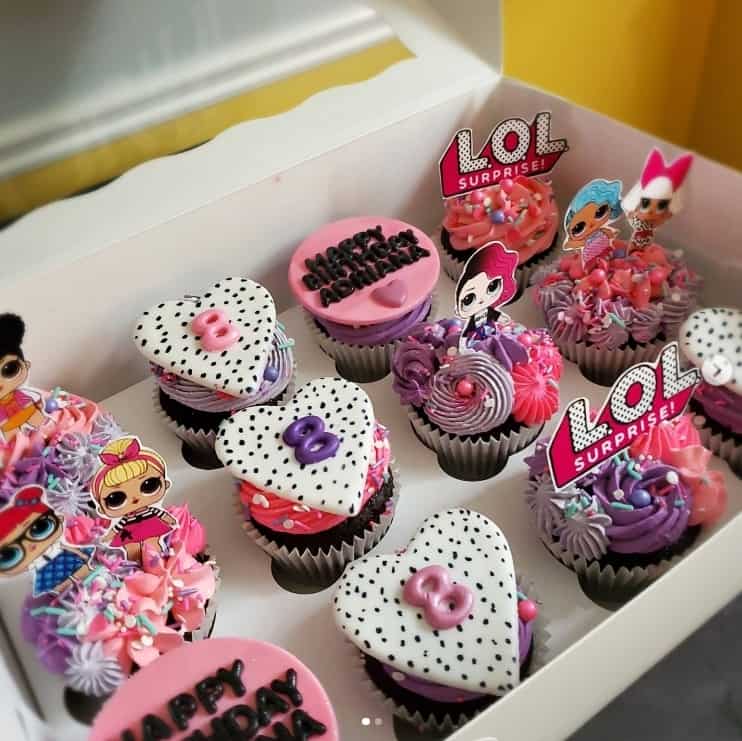 Children love cupcakes, and they're fantastic choices for birthday parties because kids learn to eat on the run among friends. Having a massive birthday cake doesn't always allow children the freedom to run around. Instead, cupcakes have children bouncing all over the place, and you can add them to any larger cake idea.
LoL Surprise cupcakes are ideal for store-bought decorations, including LoL cupcake toppers. In addition, you can change the toppers on the other cupcakes to add anything you can find that looks brilliantly girly. I love these toppers, especially the black and white hearts that remove some of the noisy buttercream colors.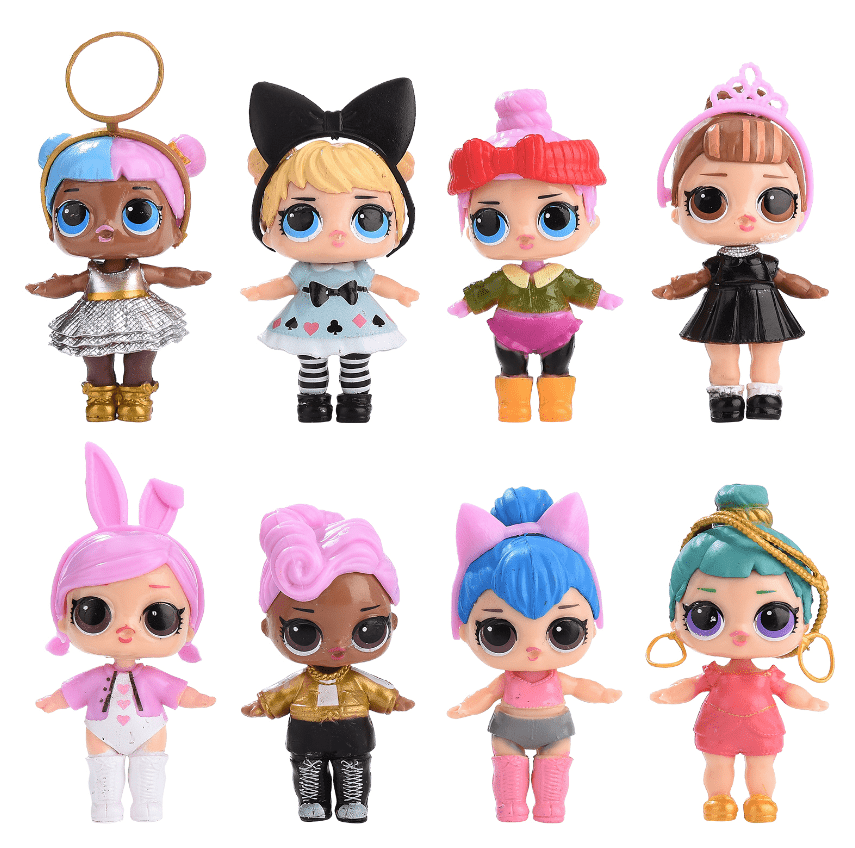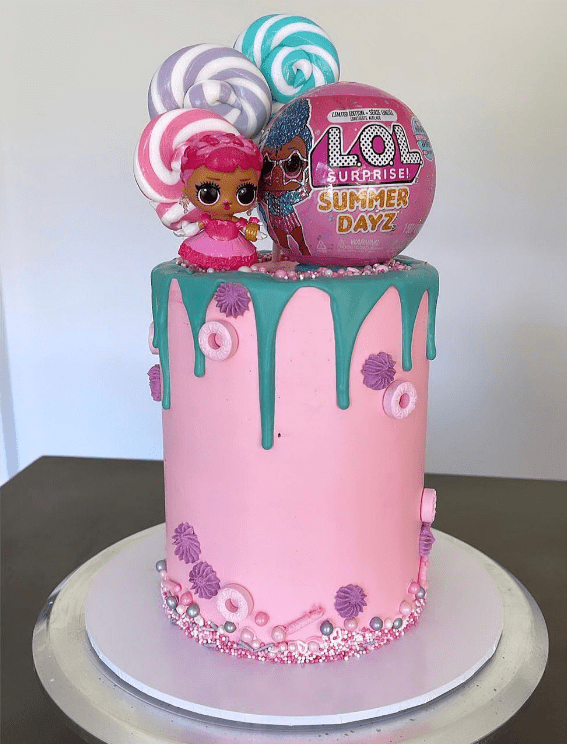 There are ways to change the LoL drip cake ideas. For example, this cake has a plain pink background with a blue, royal frosting drip contrasting the wrap well. The little decorations also change. You could also use a sultan piping nozzle to make the miniature meringue shapes before chilling them in the fridge overnight.

In addition, you can add candy or fondant Lolipop cake toppers as complementary decorations. Remember not to overkill the cake. It looks beautiful as you see it here. This baker cleverly used an LoL Bratz doll as a cake topper with a Surprise ball. I never said you couldn't use real dolls and candy balls on the cakes.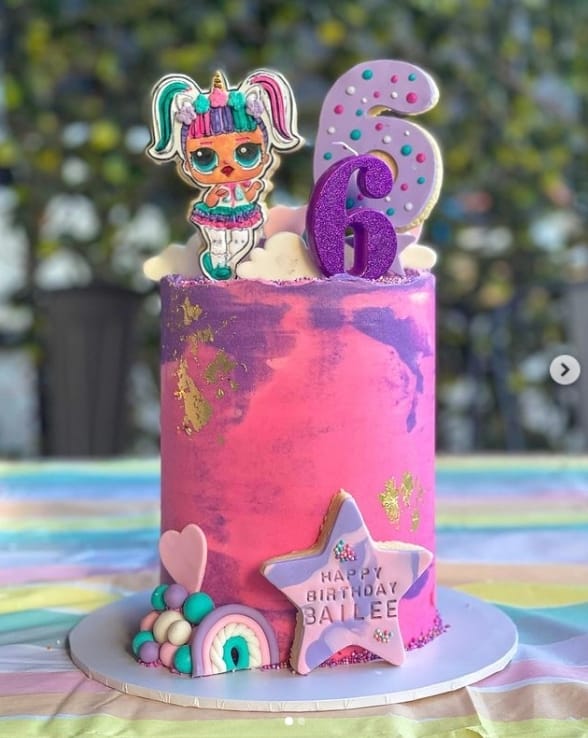 Your little girl will know what she sees when using the right cake toppers and decorations. So, you don't need too many LoL Surprise dolls on the cake, and you undoubtedly don't need the logo. Instead, adding a single cake topper or fondant cutout does the trick. Meanwhile, adding ombre coloring will spruce it up.
Courtney shares a simple ombre buttercream technique. The buttercream frosting on this cake blends purple and pink, two favorite colors for LoL fans. It then uses a cookie star with a fondant cover and a miniature rainbow. Your daughter will know what she sees in this cake.
Additionally, the clouds are simple fondant cutouts you can support with cake pop sticks again.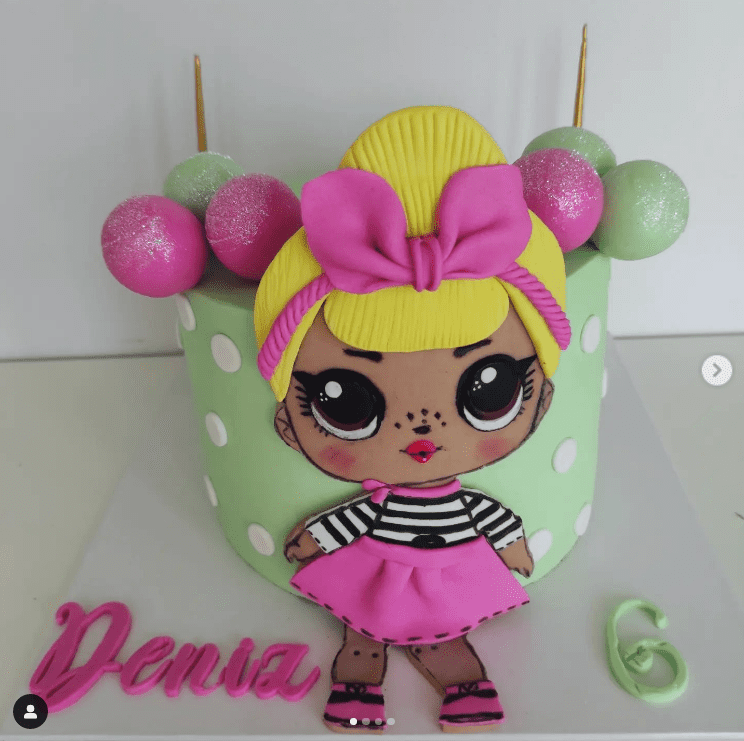 I'm in love with the flat fondant LoL cake topper ideas. However, this one takes it to another level by attaching the doll to the cake's face and adding legs and details. Indeed, it will be more challenging than the last ideas, but you've got this task! I haven't seen a more adorable LoL cake idea, even among the more challenging ones.
The details on the fondant are simple to achieve with a kitchen knife, and the little body doesn't need to be perfect. The cuteness comes from imperfection, and what more do we want to teach our little girls? The cake's fondant wrap and polka dot design also add the final touches to make this a pretty and girly cake.
Double Trouble LoL Cake Idea
Polka dots undoubtedly make a cake look more girly than plain fondant covers. This double-trouble design is the first of a few two-tier LoL cake ideas. It mainly uses fondant cutouts, making it a simple task for home bakers and designers. The pink and blue colors are perfect. So, I wouldn't change them.
I once enjoy the LoL Surprise cake topper, and the video shows you how to make it. However, I would add something other than the number to the top of the cake. Spruce this cake up more with an LoL doll cake topper, using a real doll or a fondant sculpture. Meanwhile, I would leave everything else as you see it.
Macarons LoL Cake Idea
Two-tier LoL Surprise cake ideas are perfect for larger birthday parties or show-stopping displays. In addition, some designs aren't too complicated for home bakers. This cake marries Barbie and LoL Surprise dolls, but I'd stick to the latter instead. You can use fondant doll cutouts around the cake and a prettier cake topper.
However, the pretty ribbon, polka dots, chocolate balls, and Lolipop cake toppers are gorgeous. It makes the cake feel like a celebration on its own. You don't need too many fondant cutouts around the cake's tiers. You could use genuine Lollipops and macarons on top of the cake in any display you want.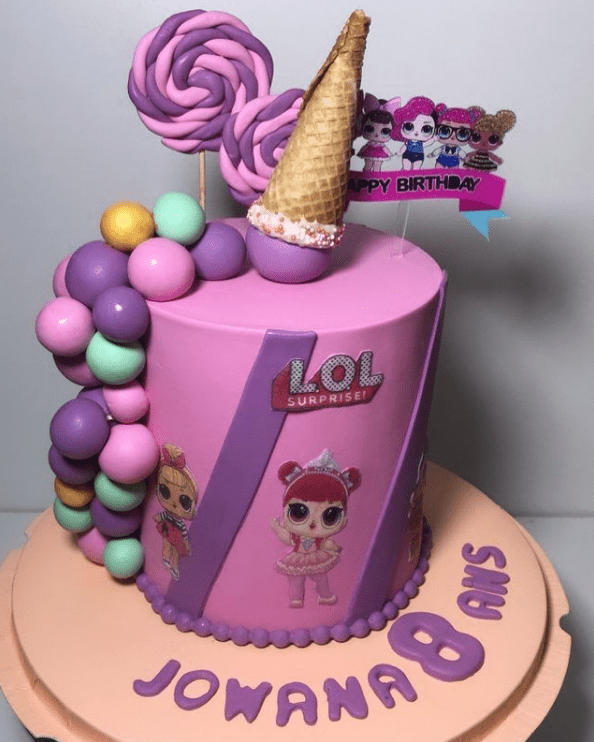 Ice cream and LoL cake ideas go together like peanut butter and jelly. Moreover, you can use natural ice cream cones at the top because they're edible. This pretty LoL cake idea makes it look like the edible chocolate balls are scoops of ice cream running down the cake's side. The cake's border is another ball-piping glory.
However, I would make simple changes to the cake. For example, I would replace the printed doll with a proper cake topper next to the ice cream cone. Alternatively, take the Lollipops away from the background and use a doll cake topper instead. The super easy design is quite flexible and remains professional-looking.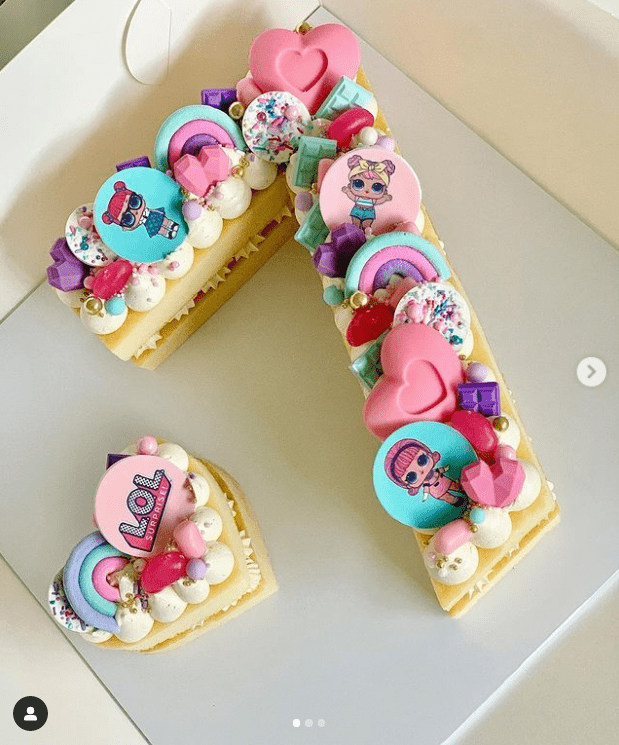 Number cakes are famous designs for birthday children. However, this cake idea is a little more challenging because it requires many cakes sculpts and cutouts. So first, I would remove the edible doll pictures and replace them with miniature cake toppers, real or fondant. Printed edibles don't look professional on cakes.
In addition, I would use some buttercream frosting over the sponge cake because it will be dry, like in this example. The miniature meringues make ideal space-consumers on the cake between the many cake toppers. Meanwhile, adding some candy, chocolate, and Jelly Beans will make the workload lighter.
Ruffles LoL Surprise Cake Idea
I have a prettier idea in mind. Use a ruffle design to create a girly effect on your LoL buttercream cake. In addition, the polka dots in the background never grow old. However, you can replace them with stars or hearts if you're sick of polka dot ideas. This LoL cake idea brings together various girly features for a pretty design.
The miniature ribbons look adorable, and the piping around the ruffle's top border is simple button techniques. You can change the button piping, but it would look too busy if you do. My best tip is to follow the tutorial and ensure that the ruffles are complete first. Then, chill the cake before decorating it to get the best results.
LoL Surprise OMG Doll Cake
Little girls go wild for doll cakes, and LoL doll cake ideas will stun and wow them. I chose a video for this cake idea because you'll need to follow the carving instructions for a doll cake. There's nothing worse than designing a doll cake, and the entire thing collapses or looks skewed.
In addition, the fondant patterns require some mentorship for home bakers. They're pretty challenging to try without a tutorial. However, I have good news. You can use a real doll inside the cake. Use your daughter's favorite doll to create her dream princess. You could also make a smaller cake by omitting the bottom tier.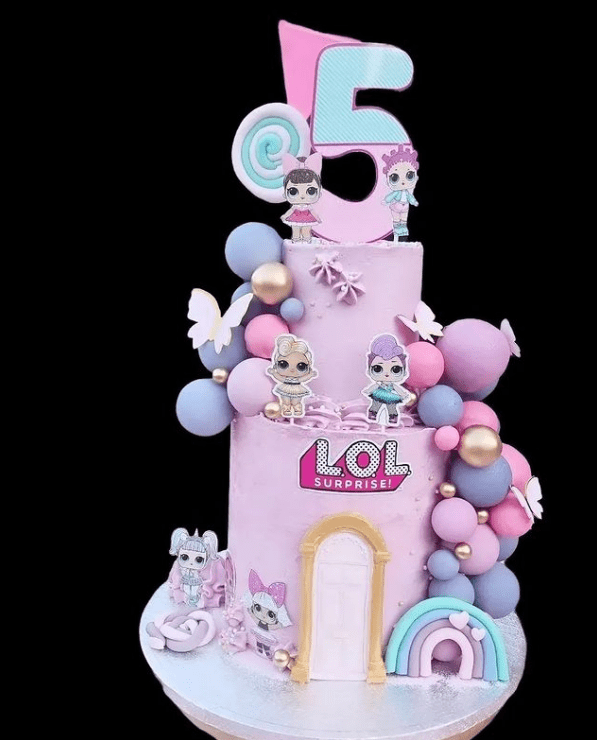 I bubbled over with excitement when I saw this LoL cake idea. Indeed, it's more challenging than you think, but it's possible for home bakers. The trick is to support the chocolate balls while keeping the cake edible. I use a touch of royal frosting to attach the balls to the cake's side instead of wetting the fondant or buttercream.
However, my secret is to make a few extra balls because they can fall off before the cake chills properly. In addition, I wouldn't recommend the gravity-defying LoL cake idea for a hot summer day or a sunshine party in the backyard. As for the decorations, you can change them as you find inspiration among my cake ideas.
Candy Wonderland LoL Cake Idea
LoL cake ideas famously use candy as decorations, meaning I must add a candy wonderland option. The easiest way to achieve this pretty cake is by using real candy canes and Lollipops. Alternatively, you can impress your birthday party guests by making them with fondant. Either way would be a smash hit with young girls.
Meanwhile, I recommend changing the cake's buttercream color to solid. This cake is too busy. The drip effect is beautiful, but use blue, royal frosting to drip down pink buttercream sides. Avoid the rainbow-color buttercream design because the cake looks like Willy Wonka's candy cane factory. It's an eye sore.
LoL Surprise Doll Face Cake Idea
It's time to challenge yourself by inspiring you with a sculpted doll face cake idea. I'm not crazy about this LoL cake idea because the doll's face looks wonky. However, it's a brilliant design, and I can't expect a cake-shaped doll face to look perfect. That said, you don't need to worry about perfection.
Instead, follow the video's easy tutorial to create the doll face cake idea. You can change the colors because they also seem off and unmatched. I know purple and pink are standard LoL cake colors. Still, I would change the bow to blue because it contrasts the pink hair better. In addition, I'd make the pink shocking.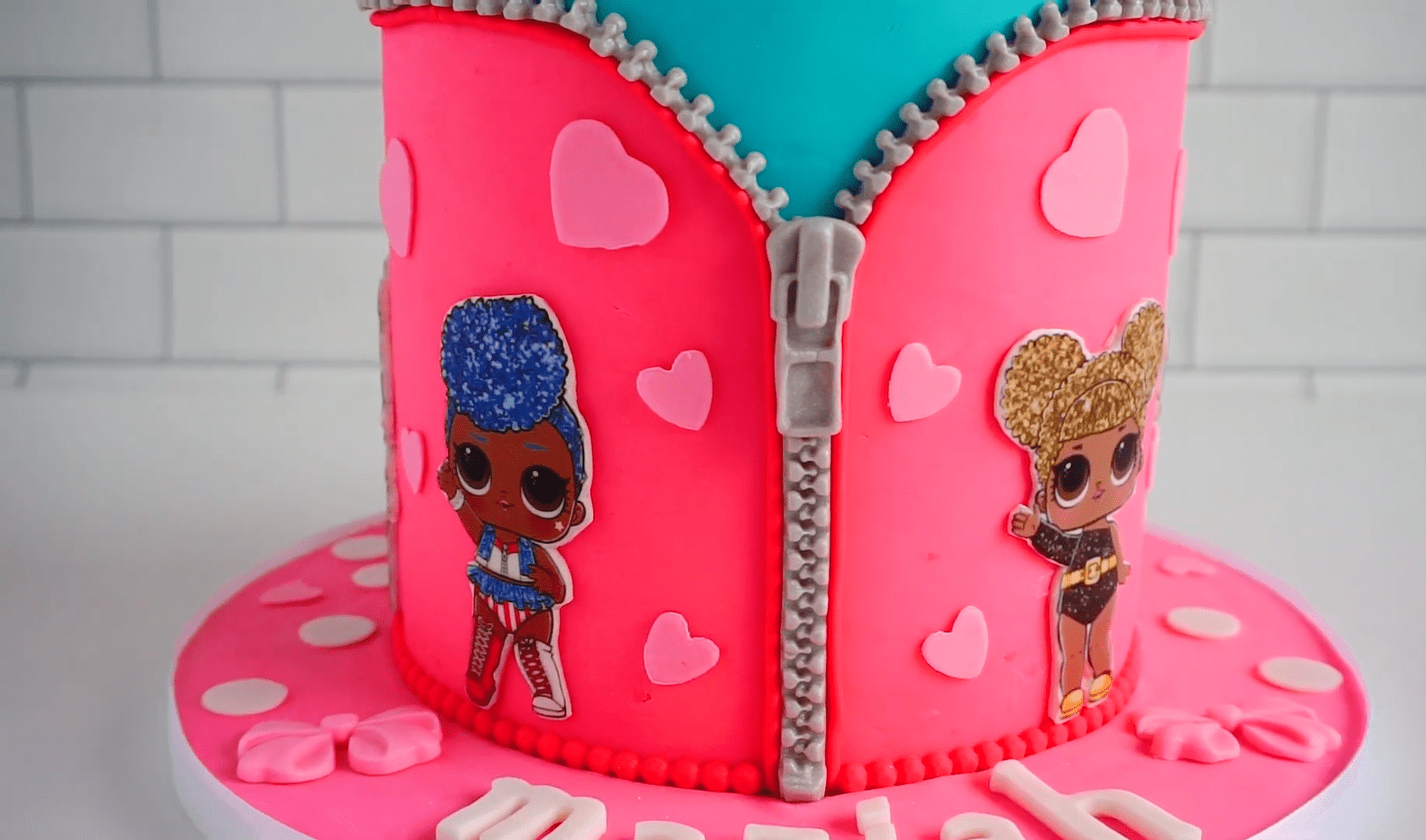 I love how ironic the connection is between unzipping an LoL cake and the surprise factor. This more challenging cake idea uses the unzipping effect, which looks professional and adorable. The cake doesn't have many decorations and relies mainly on flat fondant cutouts around the tiers.
However, the two-tier LoL cake idea unzips a world of girly magic and fandom fun. You'll need to follow the video tutorial closely to design the fondant zipper properly. Still, you'll have tons of fun creating the rest of the cake. Again, you can use printed edibles or flat doll cake toppers around the bottom tier.
LoL Surprise Pets Cake Idea
LoL fans also love pets, and this cake idea is a challenge that brings LoL pets to life. Indeed, it will be challenging, and you'll have to follow the tutorial to carve the ball. In addition, be sure to use a firm sponge cake to support the ball's weight. Alternatively, you can use this as a cake topper on a larger design.
Ball cakes aren't easy to make at home, but the practice gets you there. The rest of the cake toppers are simple if using the sculpting toolkit. Also, never chastise yourself for making an imperfect cake topper as a home baker without experience. Instead, try again until you master it.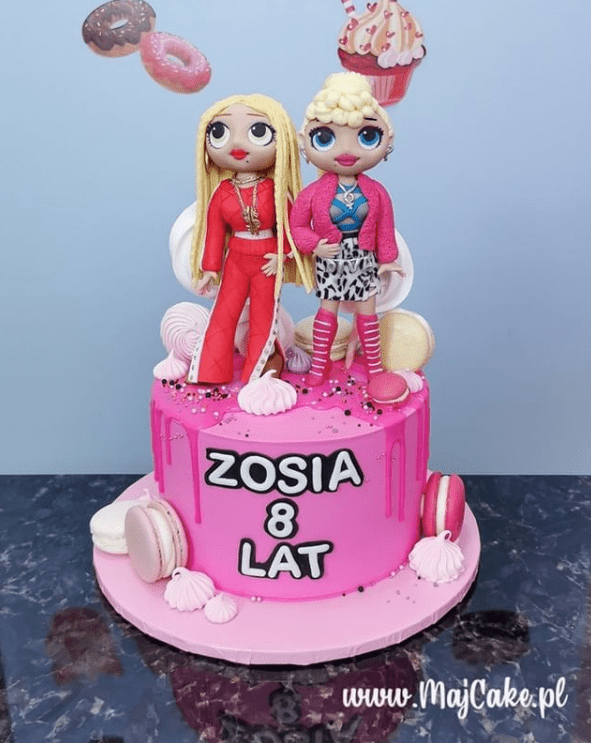 Sometimes, sisters share a birthday, and LoL cake ideas are ideal for a sister party with two or more birthday girls. The same idea works for besties or classmates sharing a birthday. However, this LoL cake idea is slightly more challenging because of the details of the two doll sisters on top of the cake.
These gorgeous LoL cake toppers aren't the regular ones for which you can find tutorials on YouTube. Instead, this idea will challenge you, or you can take it to a professional decorator to ask for the life-like sister cake toppers. The rest of the cake is a simple design with pretty girly elements you can pull off at home.
FAQs
LoL Cake Ideas: Conclusion
The best LoL Surprise cake ideas begin with a touch of magical inspiration, which I hope I shared. I showed you many easy LoL cake ideas and some more challenging options. In addition, I shared tips and tutorials where needed to make the complex designs less complicated for home bakers, of which I'm also one.
I would recommend the LoL Surprise OMG Doll Cake Idea for any little girl who wants to wow her birthday party friends and guests. However, most cake ideas are flexible, and you can change the designs. I merely inspired your LoL cakes. But now, it's time to turn your inspiration into a beautiful masterpiece at home.
For more awesome party inspiration: